Need some destination inspiration to plan a one week itinerary for Central Europe?
Here's my guide to spending 1 perfect week in Central Europe, with eight sample itineraries. One week in Central Europe might not seem like much time. But, with some advance planning and ambition, you can definitely have a bucket list adventure.
Central Europe is incredibly appealing because (generally) it's not swamped with hordes of tourists. It's also much cheaper than, say Paris, Barcelona, or the London.
Central Europe offers compelling must see sites and landmarks, as well as unique off the beaten path destinations.
But Central Europe is huge! There's so many thing to do and see in Central Europe and so little time, at least for most of us. How to choose between the myriad options?
Central Europe includes the countries of Germany, Austria, Croatia, Slovenia, Hungary, Switzerland, and the Czech Republic. There are many different routes through this region of Europe.
To help you get started prioritizing and give you some destination inspiration, I've picked my top 8 itineraries for spending one week in Central Europe.
I'm a rather obsessed itinerary planner and I can personally vouch for these particular itineraries. For each itinerary, I also give you options for extending your trip, if you want to expand a 7 day itinerary into a 10 day itinerary.
1 Week Croatia Itinerary
1 Week Slovenia Itinerary
1 Week Germany Itinerary
1 Week Munich to Salzburg to Vienna Itinerary
1 Week Ventian Empire Tour Itinerary
1 Week Prague, Vienna, and Budapest Itinerary
1 Week Bavaria Itinerary
1 Week Austria Itinerary
Some of these itineraries include Central Europe's most popular cities and sites. Others one week Central Europe itineraries give you more off the beaten path options.
You can pick a sample one week itinerary to match your own interests — whether you want a glamorous city, historical and cultural options, outdoor scenery, or beaches.
You can also combine these one week itineraries for a longer stay in Central Europe. Or adjust and tweak them to suit your needs.
8 Sample 1 Week Itineraries for Central Europe
Here are eight ways to spend one week in Central Europe
1. Itinerary #1: One Week in Croatia
Croatia is a stunningly beautiful country. It has something for everyone — waterfall-laced landscapes, gorgeous beaches, historic landmarks, Roman ruins, and charming hamlets. In the sunny Dalmatian Coast, dramatic cliffs rise above islands set in azure water.
In this one week itinerary, you'll spend 3 nights in Dubrovnik and 4 nights in Split. You could base in Zadar instead of Split, if you'd prefer a smaller and less busy town. But it's easier to ferry to the islands from Split.
Dubrovnik is a magnetic fairytale walled city in Croatia. The Venetian-Gothic town is fairytale pretty, the perfect stage set version of what you would imagine a medieval European city looks like.
Dubrovnik has glamorous palazzi, orange terra cotta rooftops, stunning views of the shimmering Adriatic Sea, and fame as a Game of Thrones filming location.
Split's an ancient town that dates back to Roman times. It has an incredible natural setting and isn't just a beach/party town.
There's a whole range of drool worthy historical, cultural, and natural offerings, including one of the world's best preserved Roman palaces. Split is the perfect jumping off point to explore the Dalmatian islands.
Zadar, Sibenik, and Trogir are beautiful medieval towns just made for wandering. All three towns are vision realized in stone.
Kotor Montenegro is a stunning town, perched on the breathtaking Bay of Kotor. It's a long day trip from Dubrovnik, but completely worth the time and effort.
Here's how to spend one week in Croatia:
Day 1: Explore Dubrovnik
Day 2: Explore Dubrovnik
Day 3: Day Trip to Kotor Montenegro
Day 4: Drive from Dubrovnik to Split and explore Split
Day 5: Day Trip to Zadar and Sibenik
Day 6: Day Trip to Trogir or to Mostar in Bosnia & Herzegovina
Day 7: Ferry to Hvar Island or Take an Island Hopping Tour
Want to read more about Croatia? Check out these posts:
More time in Croatia?
Take a day trip to Krka National Parks or spend a night in the amazing UNESCO-listed Plitvice National Park. Plitvice Lakes is a must visit destination for nature lovers.
The gorgeous park is full of vibrant colors. It boasts turquoise water, terraced lakes, stunning viewpoints, and photogenic waterfalls. You'll be stunned at the breathtaking technicolor views at every turn.
READ: Tips for Visiting Plitvice Park
2. Itinerary #2: One Week in Slovenia
Tiny overlooked Slovenia is one of Europe's most charming and delightful off the radar destinations. It's a gravely beautiful land of imposing green mountains, shimmering glacial blue lakes, and medieval towns.
Slovenia is every bit as beautiful as its neighbors like Croatia. But it has an independent spirit and slightly different charm all of its own. Slovenia also lacks the crowds and high prices of other European countries.
In this one week Slovenia itinerary, you'll spend 3 nights in Lujublana, 2 nights in Lake Bled, and 2 nights in Piran.
Ljubljana is a charming small capital dotted with pretty architecture by local hero Jože Plečnik. With a cobbled Old Town clustered around a castle-topped hill, Ljubljana is often likened to Salzburg.
Lake Bled is beautiful. Photos of the iconic lake litter Facebook and Instagram, pop up in travel magazines, and linger in the imagination. Further west on the Istrian coast, you'll find charming towns.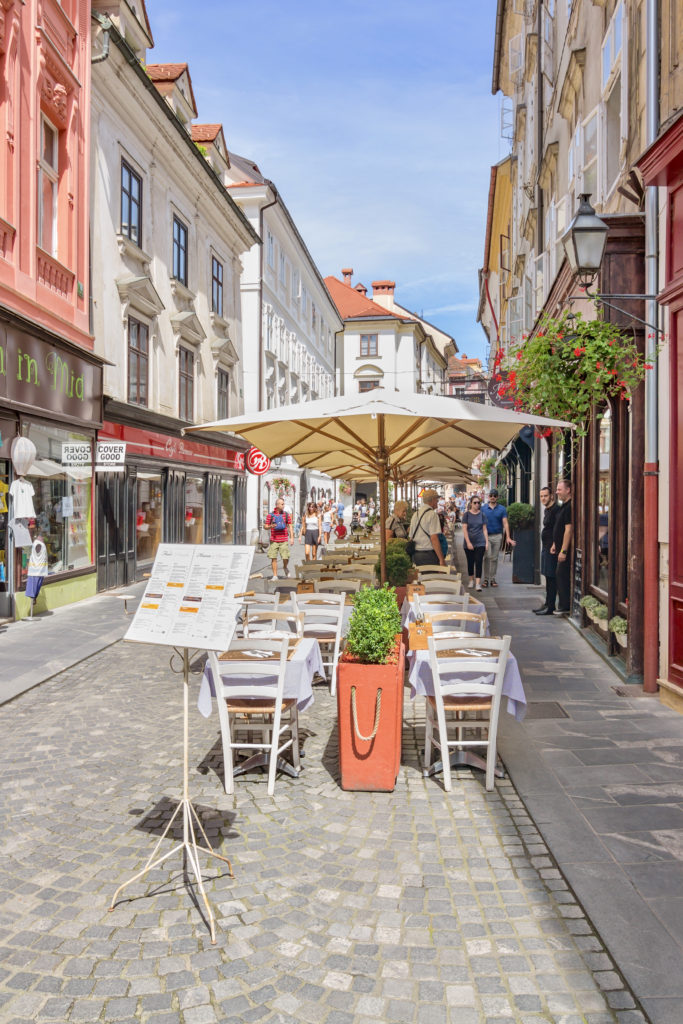 Here's the best way to spend one week in Slovenia:
Day 1: Arrive in and explore Ljublana
Day 2: Explore Ljubljana
Day 3: Day Trip to Predjama Cave Castle and Postojna Caves
Day 4: Drive to Lake Bled, stay 2 nights
Day 5: Visit Vintgar Gorge and Lake Bohinj
Day 6: Travel to Piran and explore
Day 7: Day trip to Portorož or Izola
Want to read more about Slovenia? Check out these guides:
More time in Slovenia?
Had north to the Julian Alps. The rugged stone peaks offer hiking galore. The lofty peak of Mt Triglav, at the center of a national park, may even prompt you to attempt an ascent.
You could also head to Trieste Italy. Trieste sits on the Istrian Peninsula at the confluence of Italy, Slovenia, and Croatia. You can explore the opulent Miramare Castle. Or just enjoy the historic center and Italian piazzas.
Alternatively, it's actually possible to take a day trip to Venice from Ljubljana. It's probably easiest to go via a tour to eliminate pesky logistics.
READ: 2 Day Itinerary for Venice
3. Itinerary #3: Germany
Germany is a really large country and one week barely scrapes the surface. But if you like city breaks, you can base yourself in Munich and Berlin. You can enjoy these two amazing cities and take some great day trips.
Munich is the prosperous capital of Bavaria. It's the perfect mix of a cosmopolitan modern city and a historic city center. There's so much to do in the city of "art and beer."
Munich is endlessly charming, perfectly walkable, and dotted with candy cane colored buildings. The museums are first rate.
Berlin is Germany's historic and reunited capital. Berlin is a city of leafy boulevards, grand Neo-Classical buildings, world class museums, and glitzy shopping arcades.
Art lovers could spend days museum hopping on Berlin's Museum Island. History buffs can immerse themselves in the WWII or Cold War history.
Potsdam is a wonderful day trip from Berlin. Potsdam is strewn with the escapist whimsies of Frederick the Great. During his reign, He built a striking ensemble of grand buildings around Sanssouci Park.
Here's how to spend one week in Germany exploring:
Day 1: Explore Munich
Day 2: Explore Munich
Day 3: Day Trip to Neuschwanstein Castle
Day 4: ICE Train to Berlin (4 hours). If driving, stop in Nuremberg en route
Day 5: Explore Berlin
Day 6: Explore Berlin
Day 7: Day trip to Potsdam
Want to read more about Germany? check out these posts:
4. Itinerary #4: Munich to Salzburg to Vienna
This is another popular one week road trip route in Germany and Austria. You can experience two cities full of culture — Munich and Vienna. You'll be enchanted by enchanting Salzburg. And you can take a nature break in Austria's stunning UNESCO-listed Wachau Valley.
I've discussed Munich, but Vienna is an elegant city well worth your time. Vienna is scattered with Hapsburg palaces — Schönbrunn Palace, Hofburg Palace, and the Belvedere Palace. The museums are out of this world. If you're a fan of the golden art works of Gustav Klimt, you'll be in heaven.
The town of Salzburg is a dream worth dreaming, set on the fast flowing Salzach River. It's studded with elegant domes and spires and crowned with a doughty clifftop fortress. It's fairytale swoonful, and one of my favorite small cities in Europe.
Take in the regal Mirabell Palace, the opulent Residenz, and Salzburg Cathedral. Make the steep (but short) hike up to the well-preserved 900 year fortress, Festung Hohensalzburg. Or take a riverside stroll along Elisabethkai.
With this Germany-Austria itinerary, you'll spend 2 nights in Munich, 2 nights in Salzburg, and 3 nights in Vienna.
Day 1: Explore Munich
Day 2: Explore Munich or Day Trip to Neuschwanstein Castle
Day 3: Travel to Salzburg and stop at Herrenschiemsee Palace en route
Day 4: Explore Salzburg
Day 5: Travel to Vienna and Explore Vienna
Day 6: Explore Vienna
Day 7: Day Trip to Wachau Valley
Want to read more about Germany and Austria? Check out these posts:
More time in Vienna? Day Trip To Bratislava Slovakia
Bratislava is a popular and easy day trip from Vienna, just an hour away. Bratislava is the tiny capital of Slovakia. It's a little over an hour from Vienna.
Vintage-y Bratislava is filled with pastel colored houses, quirky sculptures, and the world's most adorable pastry shop, Konditorei Kormut.
Even better, Bratislava is crowned with a historic castle, which is really the iconic spot in the town. Perched on a small hill and about a 15 minute hike, the castle is the best viewpoint of the old town. Outside, it's an elegant vision, with Gothic and Renaissance elements. Inside, there's a museum of history.
5. Itinerary #5: Ventian Empire Tour: Venice to Rovinj to Piran
Do you like a little water with your one week in Central Europe itinerary? Take a Venetian Empire tour. With this itinerary, you'll visit three countries — Italy, Croatia, and Slovenia — with Venetian themed towns.
Venice is the most unique city in the world. It's an almost physical and mystical experience when you see Venice for the first time. The glimmering watery streets are right is front of you. Venice defies logic; it's a city that almost shouldn't exist.
Venice has a fascinating history. The Republic of Venice became a maritime power. Venice built a little empire on the Adriatic coast in places like Croatia and Slovenia. This produced some "little Venice replicas" like Rovinj and Pirann.
READ: History of Venice in a Nutshell
Here's how you can spend a Venetian-themed one week in Central Europe:
Day 1: Explore Venice
Day 2: Explore Venice
Day 3: Day trip to the islands Murano and Burano
Day 4: Ferry to Rovinj
Day 5: Explore Rovinj
Day 6: Drive to Piran, stop in Koper en route
Day 7: Explore Piran
This itinerary has you spending 3 nights in Venice, 2 nights in Rovinj, and 2 nights in Piran.
From Venice, you take the ferry and zip across to Croatia's Istrian Peninsula, where you can indulge in white and black truffles as you sunbathe.
Spend a couple of nights in the coastal town of Rovinj. Rovinj is charming city that mixes Italian and Croatian influences. Then move on to the towns of Koper and Piran in Slovenia, which are utterly charming Venetian-inspired towns.
Want to read more about this area? Check out these posts:
More Time in Slovenia?
Head to the small charming capitol of Ljubljana for a couple days. Ljubljana is a lovely small capital city.
As I mentioned above, the small city is filled with playful architecture and has a robust cafe culture. There are really no marquis must see sites in Ljubljana. It's more about the laid back European experience.
6. Itinerary #6: One Week in Prague, Vienna, and Budapest
This Central Europe itinerary takes you to some of the region's greatest hits. The cities of Prague, Vienna, and Budapest all boast rich histories, stunning architecture, showstopper medieval town squares, and culinary delights.
Prague is one of the world's most beautiful cities. It's synonymous with over-the-top romance and evocative Old World charm. Having escaped the bombings of the big wars, it's a historic and well-preserved wonder.
Vienna is such a fancy city, a beautiful open air museum really. It's awash in imperial palaces, grand Baroque architecture, and seriously swoonful museums. The UNESCO-listed buildings create the city's distinctive look.
Beautiful Budapest has a romantic and exotic reputation. It's a key stop on the vaunted Danube River, a hot European city break, and dubbed the "Paris of the East" and the "Pearl of the Danube."
Budapest is picturesquely divided in two by the Danube, with Buda on the west and Pest on the east.
It has a sense of expansive grandeur, and opulent interiors from the bygone Austro-Hungarian Empire era. Both sides of the city have different personalities and offer different cultural experiences.
Here's how to spend one week visiting these beautiful cities in Central Europe:
Day 1: Explore Prague
Day 2: Explore Prague
Day 3: Drive (or train) to Vienna, stop at Cesky Krumlov en route
Day 4: Explore Vienna
Day 5: Explore Vienna
Day 6: Drive (or train) to and explore Budapest
Day 7: Explore Budapest
In this itinerary, you'll base in Prague (2 nights), Vienna (3 nights), and Budapest (2 nights).
More time in Budapest?
Explore more of Hungary. There are wonderful day trip options from Budapest, including Eger, Royal Palace of Gödöllő, Esztergom, and Gyor.
Want to know more about these amazing cities? Check out these posts:
7. Itinerary #7: One Week in Bavaria Germany
The idyllic region of Bavaria is located in southern Germany. To me, the word "Bavaria" conjures dreamy visions of half-timbered houses clad in flowers and majestic castles piercing blue skies.
This one week Bavaria itinerary has you spending 3 nights in Munich and 4 nights in Nuremberg (a fantastic base for exploring Bavaria).
I've covered Munich above. Nuremberg is a magical stunner of a city, with munchable gingerbread and tasty bratwurst.
Nuremberg is multi-faceted, with a tumultuous past. As a former imperial city and medieval stronghold, it's got layers of history, some of it a dark and brooding Nazi-infused variety. That duality is part of Nuremberg's allure.
Bavaria is also scattered with adorable small towns. For this itinerary, I recommend visiting Rothenburg ob der Tauber (perhaps Germany's prettiest city), Bamburg, and /or Regensburg. All will deliver a heady dash of quaint fairytale charm with half timbered home and flower boxes.
Here's how to spend one week in Bavaria Germany:
Day 1: Arrive and explore Munich
Day 2: Explore Munich
Day 3: Day Trip to Neuschwanstein Castle and/or Linderhof Palace
Day 4: Drive to Nuremberg, stopping in Augsburg or Dinklesbuhl (or both) en route
Day 5: Explore Nuremberg
Day 6: Day Trip to Rothenberg ob der Tauber
Day 7: Day Trip to Bamberg or Regensburg
Want to read more about Bavaria? Check out these posts:
8. Itinerary #8: One Week in Austria
Tiny landlocked Austria is a beautiful country. It has a lot to offer for lovers of nature, history, and beautiful cities.
Austria boasts alpine scenery, world class museums, cobbled quaintness, and Wiener schnitzel. Unlike Germany, its industrious neighbor to the northwest, Austria is content to bask in its opulent past as the former home of the Hapsburg dynasty.
This one week Austria itinerary has you spending 4 days in Vienna, 1 day in Hallstatt, and 2 days in Salzburg.
Day 1: Explore Vienna
Day 2: Explore Vienna
Day 3: Explore Vienna, half day trip to Schonnbrunn Palace
Day 4: Day Trip to Bratislava or the Wachau Valley
Day 5: Drive to Hallstatt, overnight in Hallstatt
Day 6: Drive to Salzburg, explore and overnight there
Day 7: Another day in Salzburg or day trip to Mondsee and Passau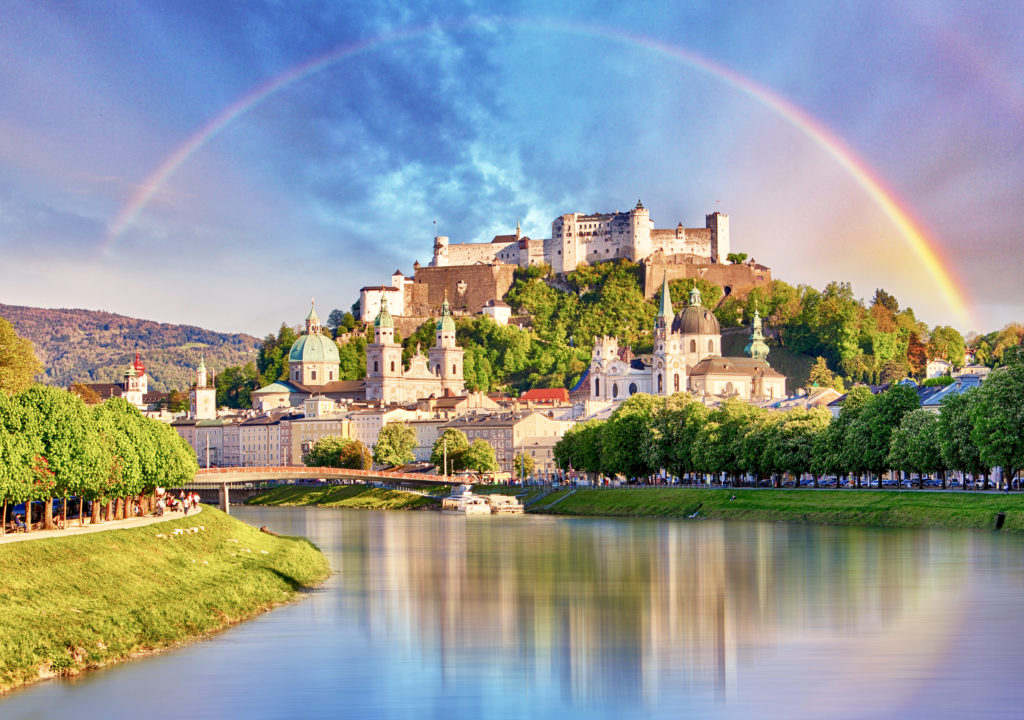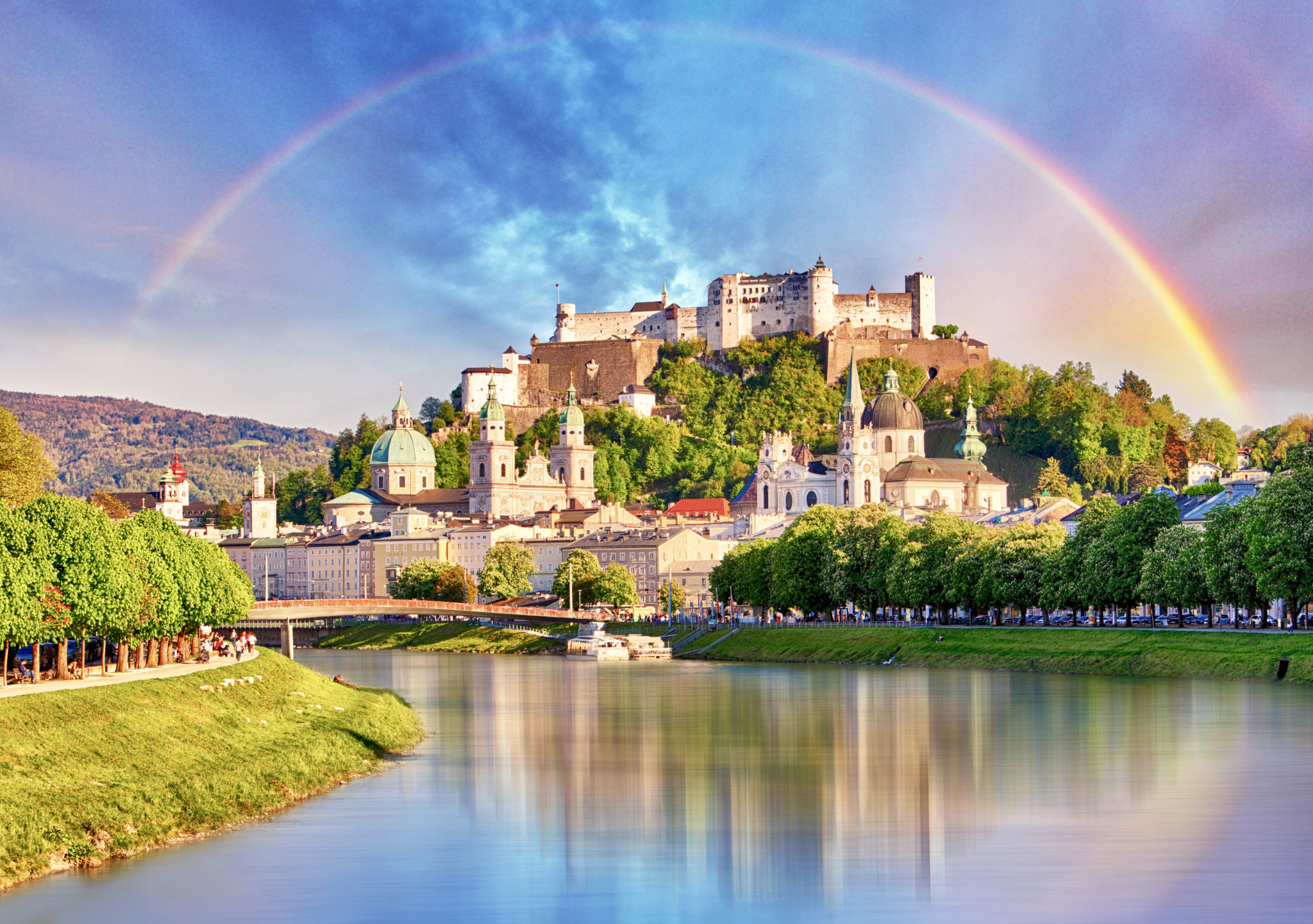 Want to know more about Austria? Check out these posts:
More Time After Salzburg?
The best thing to do in head into Germany and enjoy some of Bavaria. You could move to Munich and base there for a few days.
Or, if you don't want a big city, you could stay in Salzburg and day trip to other cute towns like Passau, Landshut, Berchtesgaden, and Konigsee.
I hope you've enjoyed these one week itineraries for Central Europe. You may enjoy these other Europe itineraries and resources:
If you'd like grab these itineraries for one week in central Europe, pin it for later.