Here's my recommended itinerary for spending 3 perfect days in Budapest Hungary.
Three days in Budapest is a goodly amount of time to thoroughly cover the amazing sites in this wonderful Central European city.
If you have extra time, Budapest also makes a great base for day trips in area. And I give you 5 day trip options from Budapest.
Budapest is the perfect long weekend getaway in Europe.
In this Budapest itinerary, you'll visit all the must see attractions and landmarks, hit a few museums and architectural wonders, and indulge in the hedonistic thermal baths and unique Hungarian cuisine.
Overview Of Budapest
Beautiful Budapest has a romantic and exotic reputation. It's a key stop on the vaunted Danube River, a hot European city break, and dubbed the "Paris of the East" and the "Pearl of the Danube."
Budapest is picturesquely divided in two by the Danube, with Buda on the west and Pest on the east. It has a sense of expansive grandeur, and opulent interiors from the bygone Austro-Hungarian Empire era.
Both sides of the city have different personalities and offer different cultural experiences.
Buda is charming, classy, and quiet. It's filled with museums, castles, and elegant homes on cobbled streets. Pest is wilder and cosmopolitan, and where most of the tourist sites and ruin bars are located.
Both are beautiful at night, illuminated by lights and cradled by the Danube.
Budapest beguiles with a heady mixture of flamboyant late 19th century architecture, a hip restaurant scene, and steamy thermal baths.
To really appreciate Budapest, I think you need adequate time to let its (sometimes hidden) charms percolate and go behind its concrete facades.
With three days in Budapest, however, you can see the main must visit sites and landmarks. And imbibe some delicious wine that you likely can't pronounce.
Overview Of 3 Days In Budapest Itinerary
Here's a snapshot of what you'll see in three days in Budapest:
Day 1: Central Market Hall, Fisherman's Bastion, Matthias Church, Buda Castle, Chain Bridge, St. Stephen's Cathedral, Ruin Bars
Day 2: Parliament, Dohany Street Synagogue, New York Cafe, Gellert Hill, Gellert Baths, High Note Sky Bar
Day 3: Andrassy Boulevard, Opera House, House of Terror, Heroes Square, Vajdahunyad Castle, Danube River Cruise
UNESCO Sites: Buda Castle district, Budapest's Danube banks, and Andrássy Avenue
Day Trip Options: Royal Palace of Gödöllő, Esztergom, Eger, Gyor, and Bratislava.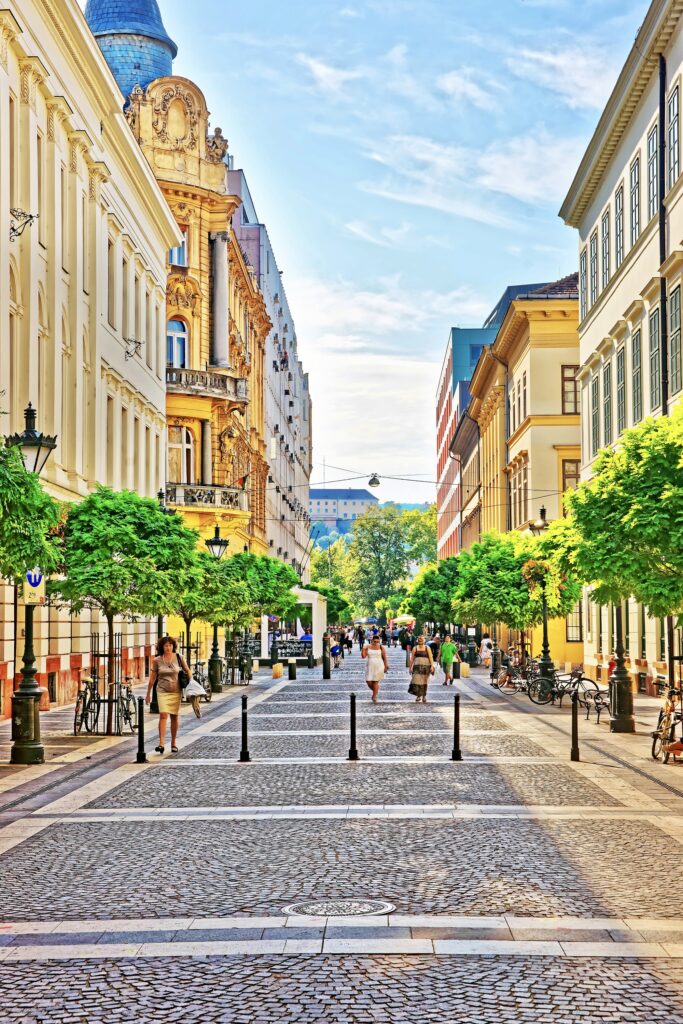 Planning Your Trip At The Last Minute?
Below are some of the top tours, hotels, and more! Donʻt forget to plan ahead when visiting Budapest.
Top Tours & Experiences:
Top Hotels:
A Short History Of Budapest
Budapest was first ruled by Asian-descended Magyar (pronounced mud-jar) tribes. The nomadic people settled in Budapest in 896. They adopted Christianity.
In the mid 15th century, Budapest got its first native Hungarian king, Mattias Corvinus. His son of the same name became a beloved and quintessential Renaissance king. Jr. was a shrewd military tactician as well.
But he died young, and the Ottoman Empire took over Budapest in the 16th century. The Hapsburgs "liberated" Budapest, but essentially kept it for themselves.
Budapest really got going after the 1867 Austro-Hungarian Compromise, which was negotiated in part by Budapest's favorite daughter Empress Sisi. With increased wealth, came an urban boom where Budapest tried to emulate and exceed Vienna.
READ: Guide To the Empress Sisi Museum in Vienna
Austrians and Hungarians are obsessed with the Empress Elizabeth, nicknamed, Sisi. She was the complex wife of Emperor Franz Joseph from the Wittelsbach dynasty of Bavaria.
Sisi was a frequent traveler who fell in love with Hungarian culture. Sisi even learned the exceedingly difficult Hungarian language, with its exceedingly looooong words.
As Queen of Hungary, Sisi was revered. She's also got a Budapest bridge named after her and other sculptures around the city.
1896 was Budapest's big year, marking the 1,000 year anniversary of the Magyars' arrival in the region. Budapest used the date to splash out on building the monuments you see today.
During WWII, Hungary was allied with Nazi Germany. Hungary was an unfortunate buffer between the west and the Soviet Union, with only half hearted support for Hitler.
In 1944, Hitler installed his own Nazi surrogates in Budapest. The persecution of Budapest's Jews began.
During the Siege of Budapest, many of city's buildings and bridges were destroyed. They had to be reconstructed from scratch.
All this war and conflict means that Budapest isn't really architecturally ancient, though it has a rich history and vintage-y look. This isn't a knock on Budapest necessarily, just something you should know if you love all things authentically ancient and medieval.
After WWII, the Soviets claimed the ruins of Budapest. They installed a post-war government dominated by Communists. But it wasn't terribly popular.
In 1956, as part of the world's de-Salinization, Hungary staged a major uprising against the Soviet Union, with a spontaneous and improvised guerilla insurgence. Protesters demanded the withdrawal of Soviet troops. They lost.
The ensuing brutal suppression from Moscow was a sign that Eastern Europeans weren't necessarily choosing Communism.
In 1989, the Communist state in Hungary was dismantled. Budapest began a transition to multi-party democracy.
In 2004, Hungary joined the European Union. Decades on, Hungarians have put the East-West history behind them and view themselves as Central Europeans. But the unique and dramatic history still fascinates tourists.
3 Days In Budapest Itinerary
Here are the best things to do and see in Budapest, to make the most of your 3 days in Budapest.
Day 1 AM: Central Market and Buda Side of Budapest
1. Central Market Hall
Start your day at the south end of Pest at Central Market Hall. Built for the millennial celebration in 1896, it's a cavernous market hall spread out on three levels. Colorful tiles line the roof.
Downstairs, you'll find all manner of foodstuffs, and every type of paprika and palinka (brandy) imaginable. Snack on a turo rudi, a cheese curd covered in chocolate. Or, get some strudels for breakfast.
Upstairs are eateries and souvenir shops. They're pricey because the market has gotten rather touristy, but better than the shops on the main drag of Vaci Utca.
You can visit Central Market as part of a food tasting tour in Budapest.
2. Chain Bridge
When you're done purchasing your souvenirs, walk back toward the town center and cross the pedestrianized Chain Bridge. Széchenyi Chain Bridge is the most iconic of Budapest's many bridges. And has the advantage of being pedestrianized.
Built in the 1840s, Chain Bridge is one of the oldest suspension bridges in the world When built, it was one of the longest bridges as well. A pair of lions guard each of the abutments.
After crossing Chain Bridge, you'll land in Castle Hill on the Buda side of the Danube. The Castle district was once the seat of Hungarian royalty.
The sites are concentrated and, if you're rushed, can be covered in half a day. You can walk-escalator up the hill. Or, ride the castle hill funicular, Budavári Sikló.
This funicular works like a pendulum and is a super short ride. The cars are named Gellert and Margit and are part of Buda's UNESCO designation. But they seem like a rather pricey tourist trap.
3. Fisherman's Bastion
Amidst the warrens of medieval lanes of Castle Hill, you'll find the Neo-Romanesque terrace known as Fisherman's Bastion, built between 1895 and 1902.
It's a fantastical cliff side rampart consisting of seven fairytale lookout towers, representing the seven Maygar tribes that founded Budapest.
Fisherman's Bastion is free of charge, except for a small fee for the upper towers. It's worth it. The terrace is one of the best viewing points in Budapest.
You have panoramic views across the Danube to the Pest side. The view of the Hungarian Parliament is breathtaking.
Address: Szentháromság tér
Entry fee: free, with a fee of 600 forints for top towers
4. Matthias Church
The exotic Matthias Church in Buda won my heart — with its majolica tiled roof, colorful interior, and frilly Neo-Gothic spire. Matthias is one of the most important churches in Hungary.
The church's real name is the Church of Our Lady of Buda. But it's nicknamed for Hungary's favorite Renaissance king who was married there twice.
Matthias Church was originally built in the 11th century, though subsequently demolished and rebuilt several times. The current building was constructed in the 14th century and renovated in the 19th century.
Once inside, you'll be dazzled by the vaulted ceilings and unusually ornate and colorful decorations. The sumptuous church was a mosque for a time, which explains its oriental feel and vibrant colors that aren't the norm in European churches.
The church's prize possession is a statue of Mary and Jesus from the early 16th century in the Loreto Chapel. And there's even has an Empress Sisi statue.
For nice views, you can hoof it up almost 200 steps to the top of the church tower. This is covered by a second ticket. You'll have views over both sides of the Danube.
Address: Fisherman's Bastion
Entry fee: 1,000 forints
5. Buda Castle
Buda Castle is often called the Royal Palace or the Royal Castle. It was formerly the main seat of administration for the Hungarian kings and one of Europe's swishiest palaces.
Construction began in the 14th century. In the 15th century, during Budapest's "Golden Age," King Matthias Corvinus built a Renaissance palace in the east wing, a library, observatory, living quarters, and a throne room.
During the Turkish occupation, the Buds Castle sadly fell into ruins. It was given a Baroque facelift in the 18th century. After damage during WWII, another renovation was required. As a result, the palace is large, but not terribly interesting architecturally.
The castle now houses two important museums, which showcase Hungarian history. They are the Hungarian National Gallery and the Budapest History Museum.
Click here for a guided walking tour of Buda Castle.
Address: Szent György tér 2
Entry price: 1,400 forints
6. Hungarian National Gallery
The Hungarian National Gallery is Budapest's fine art museum. The Budapest History Museum, on the other hand, highlights the history of Hungary over the centuries. The latter was too stodgy for even my usually unlimited museum going taste.
The Hungarian National Gallery holds over 100,000 works of Hungarian art ranging from medieval stone carvings to dramatic (and sometimes dreary) canvases by 19th century Romanticists like Károly Lotz.
When I was there, there was a Surrealism Exhibit, with 100 works by Salvador Dalí, Joan Miró, René Magritte, and Pablo Picasso.
The gallery has three expressionistic works by the "Hungarian Van Gogh," Tivadar Csontvary Kosztka. The artist also has a museum in his nearby hometown of Pecs.
There are tours in English. And you can even climb to the dome from the top floor for an unparalleled view of Pest. You need a special ticket for this because only 15 people are allowed in the dome at any given time.
Address: Múzeum krt. 14-16
Entry fee: Click here
Day 1 PM:
In the afternoon of day 1 in Budapest, have lunch in Buda at Cafe Corvin or Baltazar. After lunch, head back across Chain Bridge to explore some of the sights in the Leopold district of Pest, saving the Parliament for the morning of day 2.
1. Gresham Palace
Facing Chain Bridge on the Pest side is the gorgeous Gresham Palace. It's one of the most beautiful Art Nouveau buildings in Budapest. Or anywhere really.
The palace boasts Budapest's most gorgeous interior with a dazzling mosaic floor, a Dale Chihuly chandelier, and a beautiful glass dome.
It's now owned by the Four Seasons and operates as a hotel. But tourists can wander into the luxe lobby to explore without being shooed away (at least I did). You can also have tea, cocktails, or dine there. Or even stay there.
Address: Széchenyi István tér 5-6
3. St. Stephen's Basilica
St. Stephen's Basilica, also known as St. Istvan, is Budapest's largest church. It's an eclectic mix of styles, reflecting its many architects. It's similar to the basilica in Esztergom.
Head up the grand stairway. The basilica's dimly-lit but showy interior is an homage to Hungary's first king, St. Istvan. His wizened right fist is displayed in a golden bejeweled box. It's in a small chapel to the left of the main altar.
There's a separate viewing terrace reachable by 300+ stairs or by elevator + 40+ stairs. While the church is free (with a suggested donation of 200 florints), the terrace costs 600 forints. You'll see the sprawl of Budapest.
Click here if you want to book a classical music concert at beautiful St. Stephen's.
St. Stephen's Square, in front of the church, has been transformed from a former parking lot of a pretty public space. The two fountains are dedicated to St. Stephen and his wife Gizella.
The streets and lanes jutting out from the plaza are home to some of Budapest's trendiest cafes and bars. You can stop for some gelato at the adorable Gelarto Rosa.
Address: Szent István tér 1
4. Dinner and Drinks
Budapest is renowned for its wine. Most of Hungary's wines are white. To the left as you leave St. Stephen's, you'll find DiVino's Wine Bar. You can also try Doblo Wine & Bar.
Here's a comprehensive article discussing where to sample wine in Budapest and explaining the different varieties.
You have to try the local cuisine when you're in Budapest. Hungarian food is filling, a bit decadent, and (usually) reasonably priced. Think goulash, langos (deep fried flat bread), and thick stews.
If you like street food, check out Karvan. It's right next to Szimpla ruins bar in the Jewish district.
For something upscalse, splash out on Onyx, Budapest's renowned Michelin-starred beauty in the Gerbeaud building. Amid crystal chandeliers, you'll have an old world European dining experience.
Another option is to go on a food tour. This one has 10 tastings. Or learn all about Hungarian wine on this 2 hour evening tasting.
5. Late Evening: Ruins Bars
If you're a night owl, do a pub crawl of Budapest's "ruin bars." Budapest is renowned for its unique pubs in the Jewish Quarter where you can "get ruined."
These are quirky-cool drinking places in abandoned and dilapidated pre-war buildings. They feature weird interiors with mismatched furniture, eclectic art, and fairy lights.
The most popular one is Szimpla Kert. If it's too loud and crowded for you, you don't have to visit just at night.
You can stop by for a drink in the day, when it's less crowded. Or, even better, go to their Sunday farmer's market.
Click here to book a guided pub crawl of Budapest's ruins bars.
Day 2 AM:
1. Parliament
On day 2 of your 3 days in Budapest itinerary, start with Budapest's magnificent Parliament building.
With its majestic location on the east bank of the Danube River, the cream colored Parliament building is easily the most stunning piece of architecture in Budapest.
READ: Must See Attractions on the Danube River
Begun in 1885, it took 19 years to build. Its Neo-Gothic design is a forest of pinnacles and flying buttresses, topped by a Neo-Renaissance egg shaped dome.
Not surprisingly, the glorious pile was inspired by the Houses of Parliament in London. Not only is it the tallest structure in Budapest, it's actually the largest in Hungary.
If you want to tour the interior — and you should — you must book a ticket online well in advance.
The building is open at 8:00 am. Tickets are often sold out.
There are no signs outside. But the tourist center is on the right side of the Parliament building in the basement. The marble clad interior is striking.
There are eye popping staircases, intricate ceilings, and gold (84 pounds of it) everywhere.
On the 45 minute guided tour, you can admire the Main Staircase, the Dome Hall, and the Assembly Hall of the Upper House. Parliament also serves as the repository of the Hungarian crown jewels.
The centerpiece is the Crown of St. Stephen, directly under the dome, protected by two dour looking guards.
The holy crown belonged to King Stephen, the first king of Hungary, who longed to make Hungary a Christian kingdom. When Pope Sylvester II heard the good news, he gifted the holy crown to Stephen. It's considered a sacred symbol in Hungary.
Address: Kossuth Lajos tér 1-3
Entry fee: Click here
Pro tip: The not-well-marked Visitor's Center is at the end of Balassi Bálint Street.
2. Shoes on the Danube: Holocaust Monument
Near Parliament, you'll find 60 pairs of iron shoes from the 1940s. Shoes on the Danube is a memorial to the people killed by Budapest's Arrow Cross militiamen during WWII.
It was created in 2005 by film director Can Togay and sculptor Gyula Pauer. It's haunting in its simplicity and an unmissable cultural spot in Budapest.
In 1944-45, nearly 10,000 Jews were rounded up, ordered to remove their shoes, and shot so that their bodies would fall into Danube and float away.
Their murderers kept their shoes, which were a valuable war time commodity. Now, you see iron shoes in all shapes and sizes.
Address: Antall József rkp
3. Pest Stroll
Then, head to the Pest area, Budapest's gritty heart. Walk through Vorosmarty Ter, an elegant square in the heart of Pest.
It's named after Budapest's great Romantic poet, Mihaly Vorosmarty. His massive statue-memorial dominates the square.
Admire Gerbeaud Cafe. Peak inside or grab a cup of coffee. A few yards away, you'll see the whimsical The Little Princess statue, a photographer's favorite place. head down the pedestrianized Dek Utca, known as the "Fashion Street."
The main tourist drag through Budapest is Vaci Utca. It's very crowded and touristy, but there's some lovely architecture. This is not the place to stop for a bit to eat. It's very overpriced.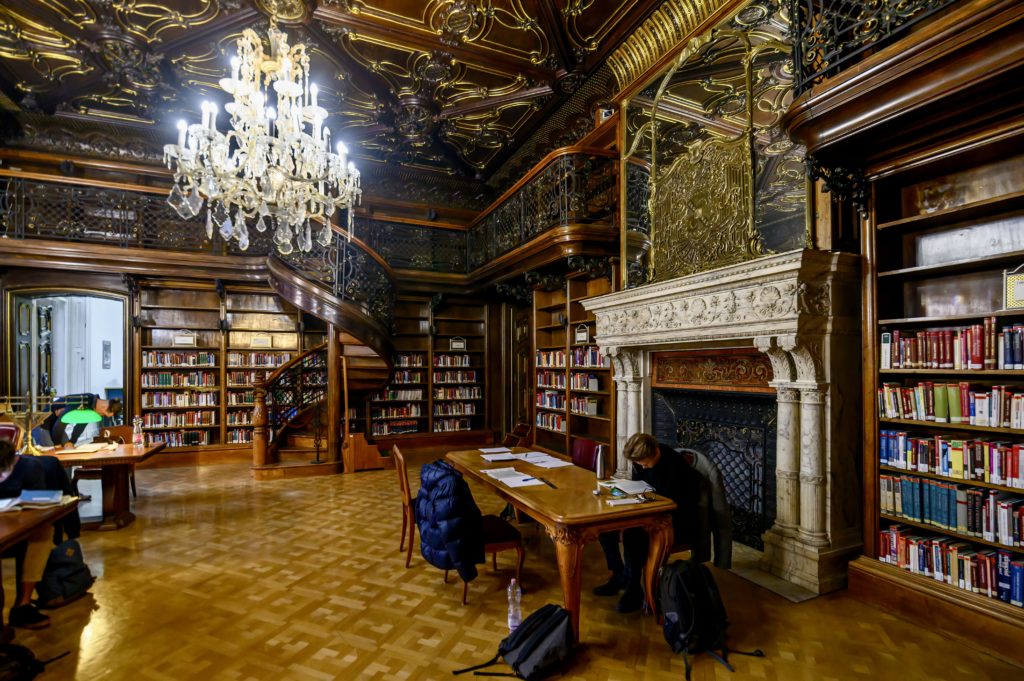 4. Szabo Ervin Library
The Szabo Ervin Library is a hidden gem in Budapest hiding in the busy part of Pest. It's hails from a time when libraries were like mansions. And the library is, in fact, in one.
The library is housed in a Neo-Baroque building commissioned in the 19th century by Frigyes Wenckheim, a Hungarian aristocrat.
In 1931, the city purchased the palace-mansion and converted it into a library with reading rooms lined with walls of leather books.
The former "smoking room" is especially grand. It has a spiral staircase leading to a gallery. The room has chandeliers, big comfy chairs, and is encased in dark wood.
Address: Szabó Ervin tér 1
Entry fee: 1,000 florists
5. Dohany Street Synagogue
The Great Synagogue is a gorgeous building, located in the slowly regentrifying Jewish Quarter of the Erzsébetváros district.
It's built in a Moorish revival style in 1859, like you'd find at Granada's Alhambra. Dohány is the largest synagogue in Europe.
At 140 feet, it's difficult to photograph. And, be forewarned, the synagogue is closed on Saturday. There are three parts to enjoy: the ornate interior, the Hungarian Jewish Museum, and the memorial garden.
The garden has a poignant weeping willow memorial. Its leaves are inscribed with the names of 30,000 Holocaust victims. Upside down, the tree resembles a menorah.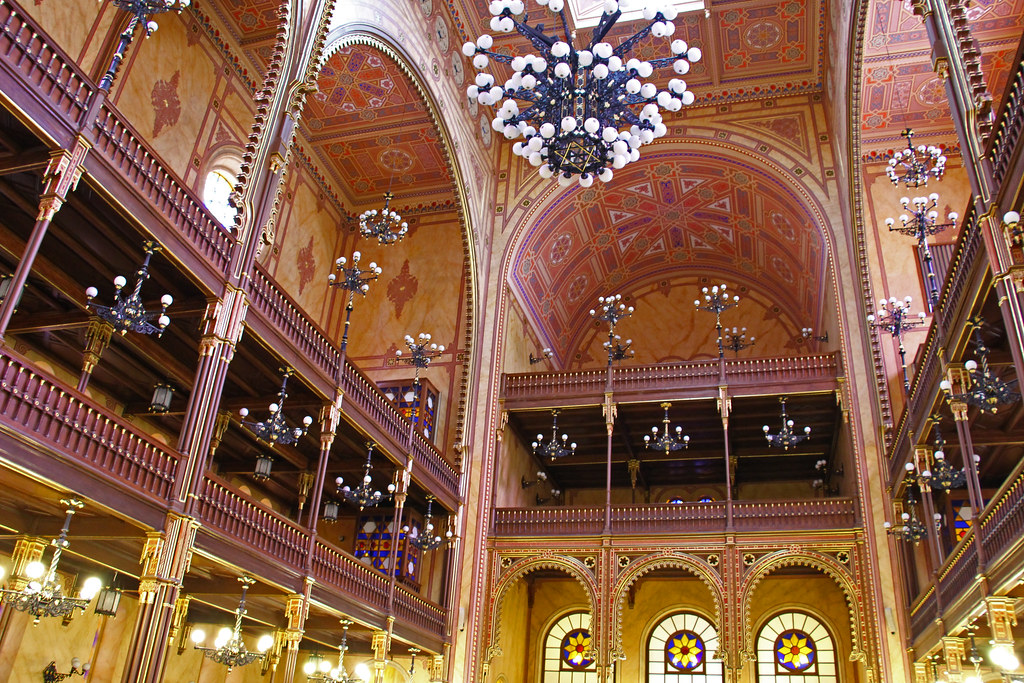 There's a strict dress code for the synagogue. Men will have to don a small skullcap, given to you at the door. Women can't go inside with sleeveless tops, shorts, or a skirt.
Click here to book a skip the line ticket for the synagogue. Click here to book a 3 hour tour of Jewish Budapest with a historian.
Address: Dohány u. 2
Entry fees: Click here.
6. Lunch or Coffee at the New York Cafe
Located on Korut Street, New York Cafe isn't far from the synagogue. The spectacular cafe was built in the late 19th century in a Renaissance style.
As with so many historic cafes in Paris or Vienna, the beautiful New York Cafe was very popular among writers and cultural influencers in the early 20th century.
The lavish cafe escaped the damage of WWII. In 1954, it was renovated and reopened. It's one of Europe's most beautiful cafes — gold trim, sparkling chandeliers, stunning staircases, sculptural details, and fresco on the walls and ceilings. Think Versailles.
You can get coffee, Hungarian classics, chose from 16 cakes, and other multi-national goodies. Be forewarned, it's expensive.
You're paying for the cafe experience, opulent atmosphere. Make a reservation (and head to the left after entering) or be prepared to wait up to 90 minutes.
Address: Erzsébet krt. 9-11
Day 2 PM:
In the afternoon of day 2 of 3 days in Budapest, take in the views and relax in a salty soak in the Gellert district.
1. Gellert Hill
Another amazing viewpoint in Budapest is Gellért Hill. It is named after Saint Gerard. He was a monk from Venice. Unfortunately, he was thrown to death from the hill by anti-Christian rebels and martyred.
Gellert Hill takes more effort to climb than Castle Hill does. But it's worth it. All of Budapest is before you. On the way, you'll see a memorial statue of Bishop Gellert.
Atop the hill is the uplifting Liberty Statue, erected in 1947. The statue is a woman waving a palm branch. Locals have nicknamed it the "great bottle opener."
The work celebrates Budapest's heroes who fought for the city's independence. Hungarians were the prime revolutionaries who wanted to break away from the Socialist umbrella.
Coming down from the hill, you'll find the bronze Empress Sisi statue near Liberty Bridge.
2. Thermal Baths
Hungarians say "if you poke a hole in the ground anywhere in Hungary, you'll find hot water."
The Romans colonized Budapest partly because of the thermal springs. Budapest kept building baths and, by the 1920s, was known as a spa town.
Széchenyi Thermal Baths is the most elaborate, housed in an iconic local building near Heroes' Square. But it's also the most popular and crowded.
And it's crowded with tourists, not just locals. Click here to book a full day at the famous spa.
If you're looking for a somewhat less touristy thermal bath in Budapest, I recommend the more elegant Gellért Thermal Bath. The grand hall is free to visitors, if you want a peak but not a soak.
The baths are located near the Danube at the foot of Gellért Hill. They're only open until 7:00 pm, so be sure to allot sufficient time for a pre-dinner soak.
Located in Hotel Gellért, this genteel spa complex was built in the early 1900s and renovated in 2008. There are several indoor and outdoor pools, plunge pools, and saunas.
The mosaic floors and stained glass windows are quite lovely. Go in the later alfternoon to dodge the crowds.
Address: Kelenhegyi út 4
3. Dinner and Drinks
For drinks, head to the High Note Sky Bar at the Aria Hotel. Amid fairy lights, you'll have epic views over St. Stephen's Basilica and square.
For dinner, you don't even have to move. Just head downstairs to the Liszt Restaurant, just opened in 2019. It serves up historic dishes with a nouvelle twist.
Budapest has other scenic rooftop bars too. You can check out 360 Bar, which has igloos to sit inside and views of Parliament, St Stephens, and Buda Castle.
You can also try Liebling in the jewish district. It's a less touristy roof top bar with a shabby chic vibe.
Day 3: Andrassy Avenue Attractions
On day 3 of your Budapest itinerary, do the march down the UNESCO-listed Andrassy Avenue. The elegant Andrássy Avenue is one of Budapest's major cultural hubs.
It has a range of museums, exhibition halls, and fine Neo-Baroque and Neo-Renaissance architecture. The Hungarians think of the grand boulevard as their personal Champs Elysees.
1.5 miles long, Andrássy Avenue connects the city center with the city park (Városliget). The avenue is named after Count Gyula Andrássy, one of Hungary's prime ministers in the 19th century.
Along the way, you'll pass the Budapest Opera House, the Franz Liszt Museum, the House of Terror, and Heroes' Square.
1. Hungarian State Opera House
The Neo-Renaissance Hungarian State Opera House is undoubtedly one of the most beautiful buildings in Budapest. A $30 million renovation project has been ongoing since 2019 and the opera reopened in March 2022.
The opera house is a 19th century Baroque beauty designed by architect Miklós Ybl. It's interior is slathered in gold, marble, and frescos from Greek mythology.
The venue's decor and accoustics rival the Opera Garnier in Paris and the Staatsopera in Vienna.
The opera house was painstakingly restored in the 1980s. But recent renovations include a roof restoration, auditorium refit, refined acoustics, renovated rehearsal rooms, and a newly installed elevator for those unable to climb the grand staircase.
Normally, you can visit the lobby for free before show time. If you'd like to take in a show, you can expect operas, folk dance performances, and Broadway hits.
Address: Andrássy út 22
2. Liszt Museum
In this yellow brick building, you'll find the small Liszt Museum on the second floor.
This is the former apartment where Liszt spend the last years of his life composing away. After his break with Georges Sand, the Paris novelist, the frail Liszt didn't last long.
The museum is a pilgrimage destination for music fans. It also hosts concerts on Saturday morning.
After your museum visit, back track a tiny bit and stop for lunch in Franz Liszt Square. It's a lovely side street lined with restaurants and cafes. Menza is especially good.
Address: Vörösmarty street 35
Entry price: 2,000 forints
3. House of Terror: Budapest Remembers
The House of Terror is a must see site in Budapest for history buffs.
This poignant (at times bombastic) museum is housed in an infamous gray building with an elegant address. The only identification is the world "TERROR" stenciled in the metallic eaves.
This was the headquarters of the secret police of Hungary's two darkest regimes, a place where they tortured their own subjects. The museum documents, in lurid fashion, the horrors perpetrated by the fascist Nazis and the communist Soviets.
The museum's atrium is occupied by a Soviet T-5 tank. Behind the tank are 3200 portraits of people murdered by the two occupying regimes.
There are four floors of high tech and interactive exhibits. You'll see maps of the USSR gulags, artifacts, locker rooms, cells for political prisoners, video footage, propaganda exhibits, and explanations of how the Hungarian resistance emerged.
The stories and bits about the Soviet gulags (work camps) and mock trials and executions are horrific. The finale is a "wall of victimizers" with photographs of the Nazi and Soviet terrorists who were never brought to justice.
Click here to book a guided tour of this interesting Budapest attraction.
Address: Andrássy út 60
Entry fee: 3,000 forints
4. Heroes' Square: A Who's Who of Hungarian History
Budapest's other vaunted architectural attraction is Heroes' Square.
This is the grand finale of Andrassy Avenue. The square and sculptural complex were built to commemorate the 1000th year of the Hungarian State.
The square drips with history, but the architecture seemed rather soulless to me. The centerpiece is the Millennium Monument.
Seven mustachioed Magyars chieftans are at the base of the monument. The tall central pillar depicts the archangel Gabriel, who offers the crown to St. Istvan. The 14 sculptures on the colonnade corners depict the great Hungarian leaders.
This square has witnessed many political rallies and movements in Hungary. The location of this monument is also unique – it is a mix of a Communist neighborhood and a new edgy city. Take a walk around the square, look at the beautiful sculptures and figures.
Address: Hősök tere
If you have extra time, the square is flanked by two museums: the Museum of Fine Arts and Hall of Art. The fine arts museum features Hapsburg era art. The hall is used for exhibitions of contemporary art.
You can book a 2 hour Segway tour for this part of Budapest.
5. Vajdahunyad Castle
The Dracula-like Vajdahunyad Castle is located on an artificial island in Budapest's (very un-central) City Park.
You can walk through the impressive Gothic gates and stroll the castle grounds for free. There's a small fee to go inside.
Although the fanciful castle looks appealingly medieval, construction only started in 1896. Ignác Alpár was the architect. The castle was meant to be temporary. But it was so beloved that it was rebuilt in stone and brick.
In his design for the complex, Alpár created a collage of the singular architectural styles from Hungarian history. Thus, Vajdahunyad Castle has Romanesque, Gothic, and Baroque elements. The adjacent Church of Jak has a beautiful Romanesque facade.
Address: Vajdahunyad stny
Entry fee: 1,600 forints
Perhaps the most striking section of the castle is the Gothic wing.
It was modeled on Corvin Castle in Romania, which served as the historical home of János Hunyadi. He was the Hungarian noble from whom Vajdahunyad Castle derives its name.
To add to the ambiance, there's a statue of Bela Lugosi (who played Dracula on the big screen) on the grounds. German artist Hartmut Zech snuck the bust into an empty alcove late one night in 2003.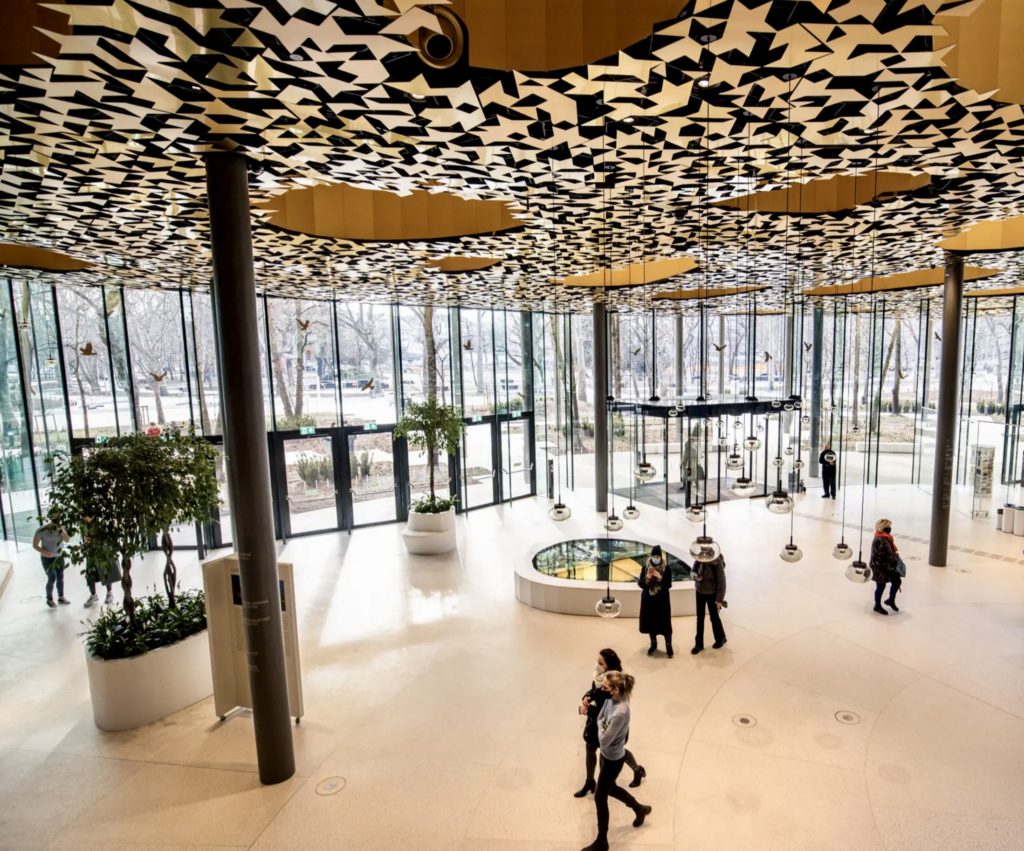 6. House of Music
A new attraction near Vajdahunyad Castle is the House of Music, opened in January 2022. The museum is part of an urban renewal plan to turn the city park area into a museum district.
The museum is housed in an ultra modern building designed by Sou Fujimtoto. It offers exhibitions, education, and concerts.
There's an interactive permanent show that takes viewers through the history of Western music. The museum also celebrates Hungarian composers, like Liszt Bartok, and Kodaly.
Address: Olof Palme stny. 3
Entry fee: 1,000 florists
7. Danube River Cruise
Polish off your 3 days in Budapest visit with a nighttime cruise on the Danube River.
It's an iconic thing to do in Budapest. It will give you a fairytale panorama of Budapest, which is very fetching lit up at night.
You'll see the Hungarian Parliament, Gellert Hill, Elizabeth Bridge, the Danube Bend, and Széchenyi Chain Bridge.
There are lots of options to choose from when selecting a cruise on the Danube.
You can pick a cruise with or without dinner, with drinks, with entertainment (music or a folk show), etc. They generally last 1-3 hours and leave off and one from 7:00 pm to 11:00 pm.
There are myriad cruise options. You can take:
Tips For A 3 Days In Budapest Itinerary
Here are some must know tips for making the most of your 3 days in Budapest.
1. The Attractions Are Spread out
In Budapest, the attractions are spread out, not conveniently clustered. It's a big, busy city and doesn't have an old town feel.
Of course, Budapest can organize itself any way it deems fit. But for the sightseer, that means it takes longer to see the key sites, especially if you're a walker.
When planning your Budapest itinerary, definitely plan to do the Buda and Pest sides on different days.
Heroes' Square is the furthest afield. I wasn't wowed by it. So if you're short of time, it's skippable.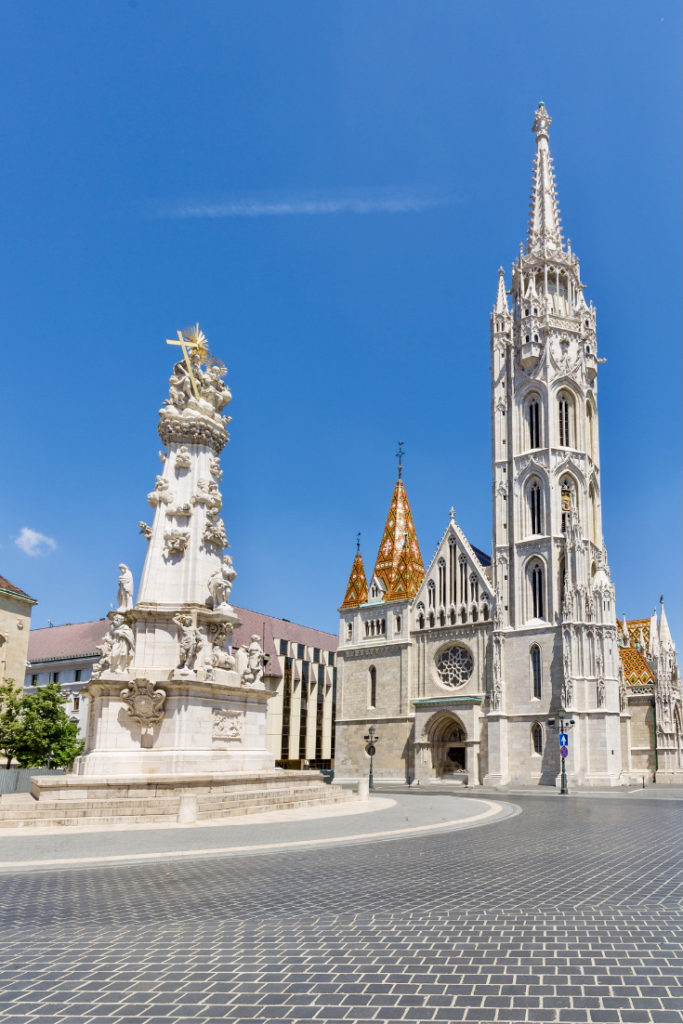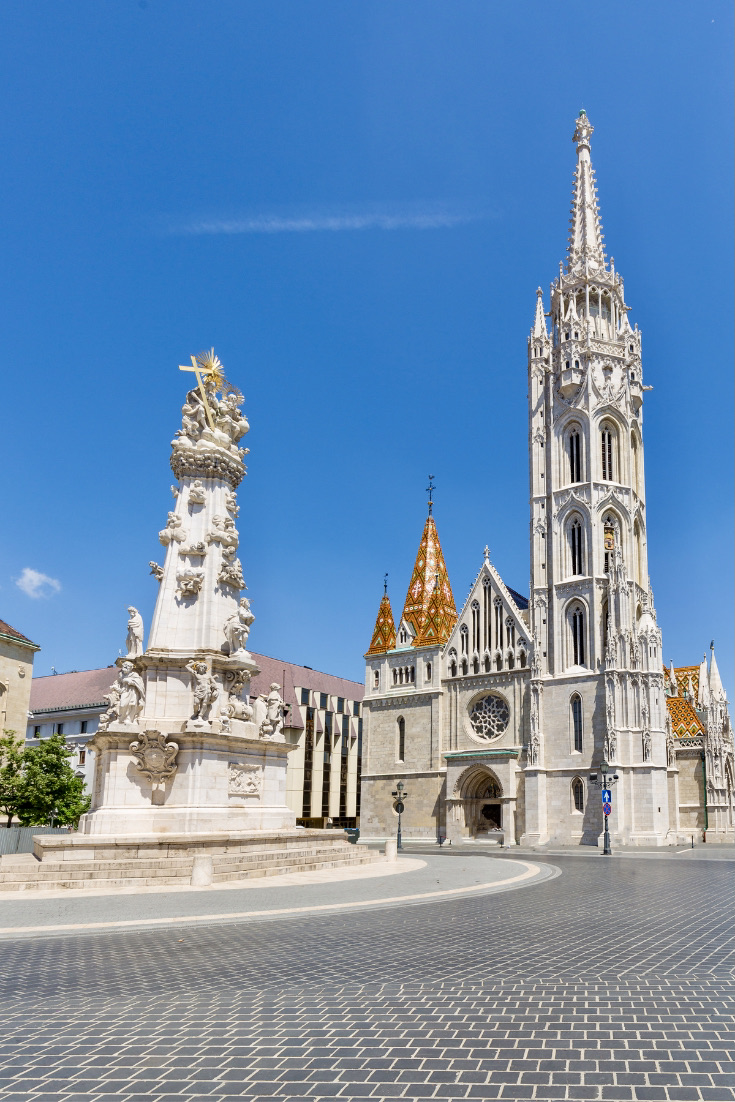 2. How To Get Around Budapest
Even though the Budapest attractions are spread out, walking is still the best way to explore Budapest. You can book a 3 hour walking tour to get oriented.
You can also use Budapest's BuBi bike sharing system. There are buses trolleys, and trams that roam the city.
There are also plenty of fun tours to get you around Budapest. You can book a hop on hop off bus tour, a Segway tour, an e-scooter tour, or a sightseeing van tour to get around.
3. Taking Cabs in Budapest
We were ripped off once by a dishonest cabbie we hailed on the street in Budapest.
I wouldn't do it unless you're desperate and make sure it's an "official" cab, painted yellow and with a yellow license plate.
If you're staying at a hotel, have them call one for you from a reputable company. The traffic is so bad in the Pest area of Budapest, though, you may be better off walking unless you're loaded down with bags.
I like to walk, so hoofed it everywhere in Budapest. But click here for a guide to Budapest's extensive public transportation system.
4. Where To Stay in Budapest
I stayed at the Aria Hotel Budapest in the historic Leopold neighborhood of Pest and loved it. I admit this part of Budapest felt a bit Parisian.
And this adorable music-themed hotel was a highlight of my stay. It even seemed (relatively) affordable for a 5 star hotel. If you're wondering where to stay in Budapest for a luxury experience, this is it!
The Aria boasts killer views of St. Stephen's Basilica from its rooftop bar, the High Note SkyBar, fetchingly decorated with fairy lights. It's a short walking distance from many of Budapest's must see sites.
With a soaring garden courtyard, fabulous rooms, and a swimming pool, it's one of Budapest's top hotels. Or at least my new favorite boutique escape.
Some other good hotel options include:
5. Where To Eat In Budapest
Budapest's gastronomy scene has been gaining considerable attention.
I can personally vouch for these restaurants: Liszt Restaurant (in the Aria Hotel), Onyx (Michelin-starred), Café Kör, Baltazar, and Pierrot Budapest. (and the ice cream at Gelarto Cafe!)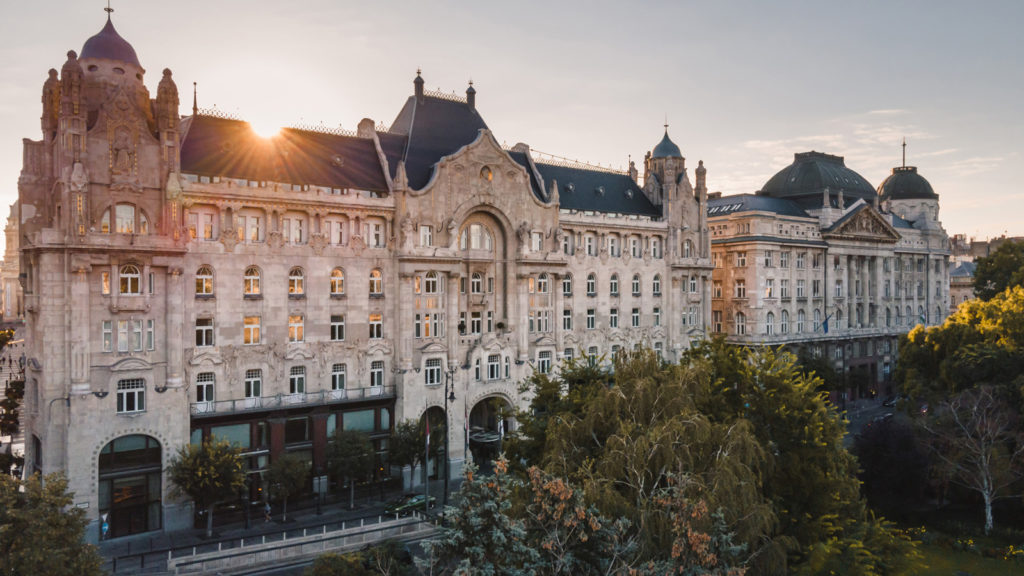 6. Budapest Currency
Despite being in the EU Budapest uses the forint. It's not super easy to convert.
Right now, 1,000 forints = $ 2.75 (USD). You'll need to use the calculator on your phone to determine costs.
7. Best Views In Buadpest
You'll likely have most of these viewpoint destinations on your Budapest itinerary.
But, so you know in advance, the best views in Budapest are from: (1) Gellert Hill; (2) the promenade in front of the Buda Castle; (3) Fisherman's Bastion; (4) Chain Bridge: and (5) the Danube River itself (hence the boat cruise recommendation).
More Than 3 Days In Budapest?
If you have more time in Budapest, here are the five best day trip options from Budapest:
1. Royal Palace of Gödöllő
The Royal Palace of Gödöllő is the second largest Baroque chateau in the world. It was the pink and white summer residence of the Empress Sisi and Emperor Franz Joseph. There's a violet-colored Sisi wing entirely dedicated to the empress.
You can enjoy the royal interiors, a Baroque theater, a lovely park, and impressive paintings. If you're not touring the Hapsburg palaces in Vienna, Gödöllő is a good substitute.
Time from Budapest: 30 minutes by car, taxi, or bus
2. Esztergom Hungary: UNESCO Basilica
Esztergom is a quaint village, to be sure. But the main reason to visit is its massive UNESCO-listed Esztergom Basilica. Consecrated in 1856, the basilica is the largest church and tallest building in Hungary. Its dome stands 235 feet tall.
Esztergom Basilica is the seat of the Catholic Church in Hungary. Its gigantic bell can be heard ringing for miles around.
You can hoof it to the top of the dome for views over the Danube valley. The basilica itself is free, but you'll need a ticket to visit the treasury, dome, and crypt.
The interior isn't as stunning as the exterior. But, consistent with its ethos, you'll find the largest painting in the world on the altarpiece—the Italian painter Grigoletti's version of the Assumption of the Virgin Mary. It measures 44 feet by 22 feet.
Click here to book a walking tour of the town.
Time from Budapest: 50 minute drive, 1 hour train, or 1:20 by bus
3. Baroque Town of Eger
Eger is a strikingly pretty town situated on the foothills of the forested mountains of Bükk. The town claims bragging rights to 187 Baroque churches, a historic castle, a Turkish minaret, and thermal baths. And, yet, Eger is a bit of a hidden gem devoid of tourists.
Visit Dobo Squre, the heart of Eger, ringed with Baroque buildings. The most fabulous building is the bright yellow Minorite Church.
Some call it the most beautiful church in Hungary. Dobo Square is also where you'll find the best restaurants and hotels.
Eger Castle was founded by St. Istvan in the 13th century. It's famous for repelling the Turkish attack in 1552 during the Siege of Eger. Take a stroll on the castle ramparts and enjoy the historical exhibits.
Click here to take a guided tour of Eger from Budapest.
Time from Budapest: 1:25-1:50 by car, bus, or train
4. Gyor, Another Baroque Town
Gyor has a lovely old town with stately squares like Bécsi Kapu Tér and Széchenyi Tér. Its architecture is mostly Baroque and Neoclassical from the 18th and 19th century.
You'll see regal stucco facades in pale yellow and pastel tones. On Káptalan Hill, you'll find Gyor's two most famous Baroque monuments: the episcopal castle and cathedral basilica.
Gyor's stately town hall is a landmark in Hungary. The Neo-Baroque building was designed by architect Hübner Jenő in the 1890s.
Time from Budapest: 1:15 drive or 1:25 by bus
5. Bratislava Slovakia
Further afield is the old-new town of Bratislava Slovakia.
The vintage-y and traffic free old town is filled with pastel colored houses, quirky sculptures, and the world's most adorable pastry shop, Konditorei Kormut. For lunch, you'll find cute places on Michaelska Street.
Bratislava also features a unique, almost over the top, blue church, the Church of St. Elisabeth. It's a 10 minute walk from the city center.
Everything about the Art Nouveau church is blue — the interior (also with punches of yellow), the exterior, and even the tiles on the roof. Pretty isn't usually a word I use to describe churches, but it's apt here.
Even better, Bratislava is crowned with a historic castle, which is really the iconic spot in the town. Perched on a small hill and about a 15 minute hike, the castle is the best viewpoint of the old town.
Outside, it's an elegant vision, with Gothic and Renaissance elements. Inside, there's a museum of history.
Click here to book a walking tour of Bratislava. Click here to book a full day tour of Bratislava from Budapest. You can even book a tour exploring Bratislava's history and communist past.
Time From Budapest: 2 hour drive, 2:25 by bus. Bratislava makes a good midway stopover if you're traveling between Budapest and Vienna.
I hope you've enjoyed my 3 days in Budapest itinerary. You may enjoy these other itineraries to amazing cities in Europe:
​
If you'd like to spend 3 days in Budapest, pin it for later.