Looking for a one day in Budapest itinerary? You've come to the right place!
Budapest is an exotic city on the Danube River. It has an unparalleled combination of charm and ruggedness.
The city has iconic scenery, stunning architecture, and a distinctive culture and gastronomy. You can spend your time relaxing in thermals spas, hitting ruin bars, or visiting one of its many quirky museums or landmarks.
Overview Of One Day In Budapest Itinerary
Here's a snapshot glance of what you can see with one day in Budapest:
Buda | Castle Hill
Fisherman's Bastion
Matthias Church
Buda Castle
Castle Hill Funicular
Parliament
Shoes on the Danube
New York or Central Cafe
St. Stephens Cathedral
Jewish Synagogue
House of Terror or Hungarian Opera House
Danube Cruise | Ruin Bars | Thermal Baths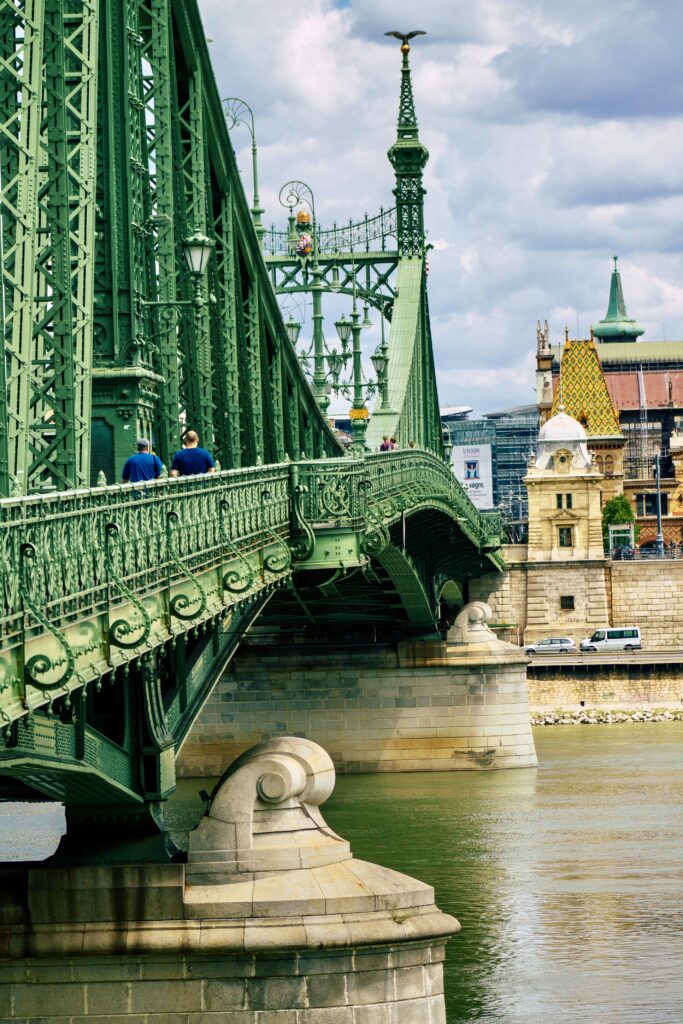 Before You Go: Here's How To Plan Your Visit To Budapest
Below are some of the top tours, hotels, and experiences in Budapest. Donʻt forget to plan ahead, especially in high season.
Top Tours & Experiences:
Top Hotels: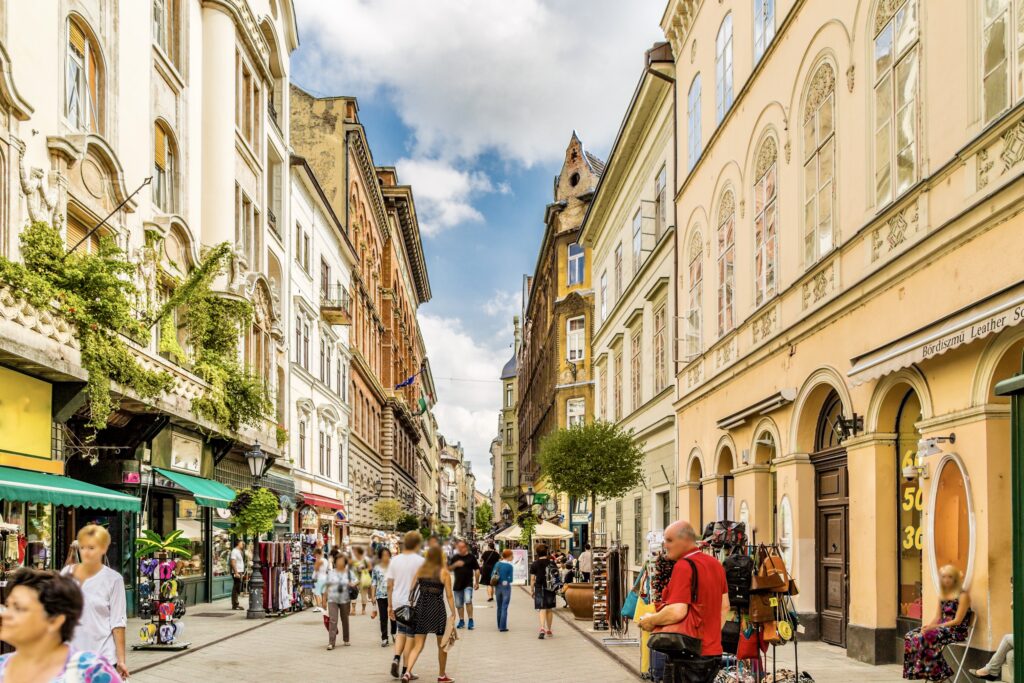 One Day In Budapest Itinerary
One day in Budapest isn't much time. It's a big city and the attractions are spread out.
But one day may be all you have, especially if you are embarking on a Danube River cruise from the city.
Because of that, you should pre-plan your day to see everything you want and buy the necessary tickets in advance.
Here's my recommended one day in Budapest itinerary. You can add or subtract things to suit your own pace of travel. I'm just giving you all the options that you could reasonable cover in 1 day.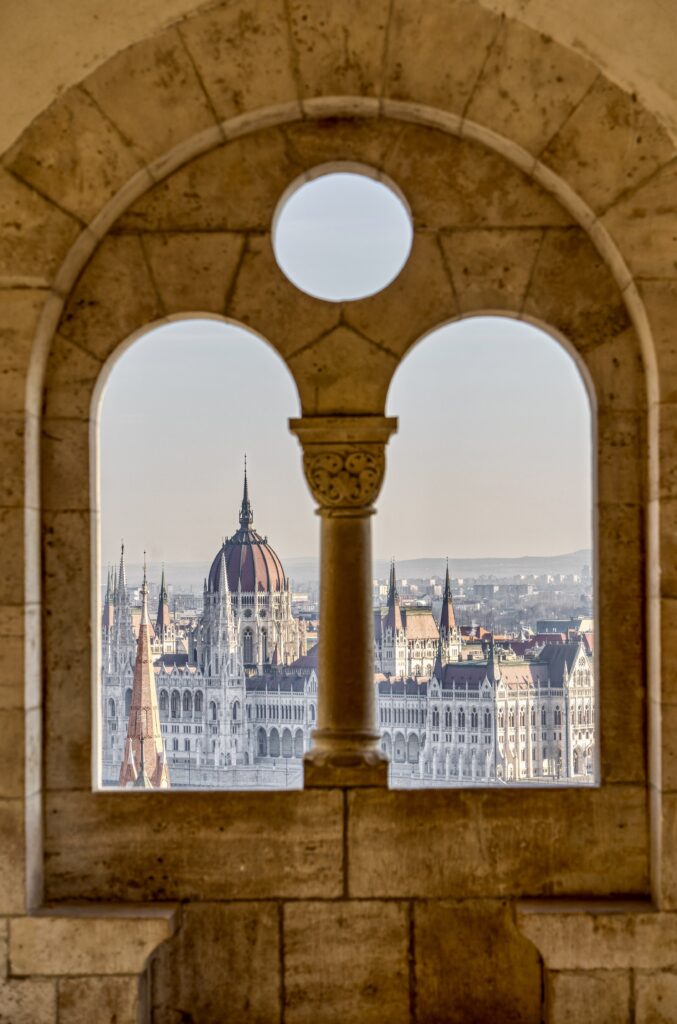 Buda Neighborhood
Budapest is more like two cities cut in half by the Danube River. Buda is in the western part of the city and that's where you'll start.
You can cross Chain Bridge, Budapest's most famous bridge, to get there. Although Buda is mostly residential, it's beautiful and has several attractions.
Once there, you can grab a coffee or espresso at Goosebumps Coffee Lab or coffee and a pastry at Waltzer Cafe. If you want to eat before heading across the river to Buda, try Cirkusz, which is known as one of Budapest's best breakfast spots.
Book a Castle Hill tour with entrance to Matthias Church here.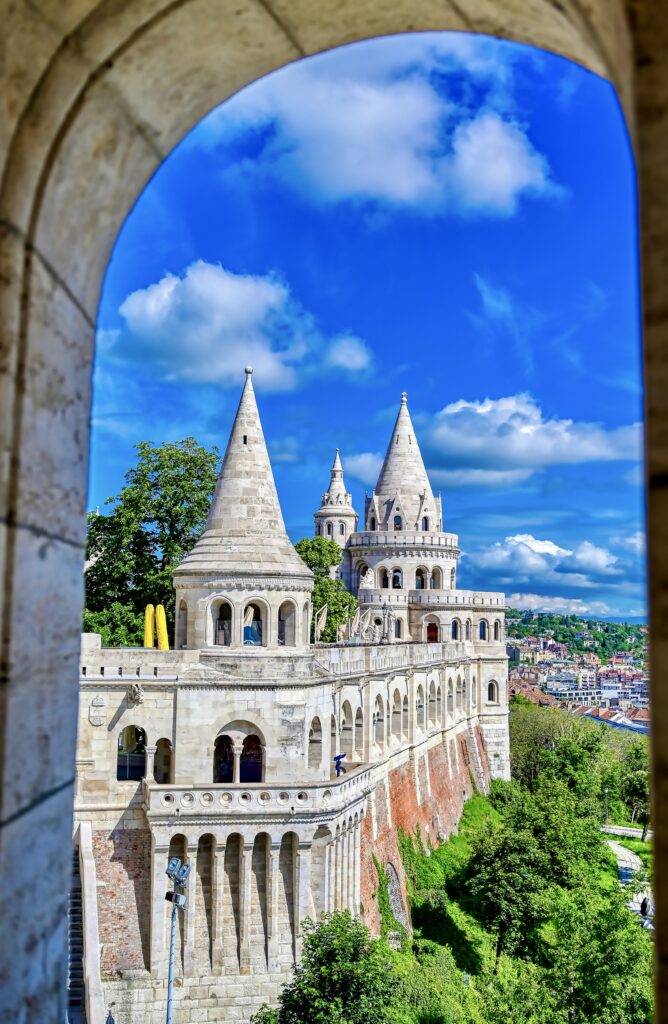 Fisherman's Bastion
Amidst the warrens of medieval lanes of Buda Hill, you'll find the Neo-Romanesque terrace known as Fisherman's Bastion, built between 1895 and 1902.
It's a fantastical cliff side structure consisting of seven fairytale lookout towers, representing the seven Maygar tribes that founded Budapest.
Fisherman's Bastion is free of charge, except for a small fee for the upper towers. It's worth it. The terrace is one of the best viewing points in Budapest.
Matthias Church
The exotic Matthias Church won my heart — with its majolica tiled roof, colorful interior, and frilly Neo-Gothic spire. Matthias is one of the most important churches in Hungary.
Once inside, you'll be dazzled by the vaulted ceilings and unusually ornate and colorful decorations. The sumptuous church was a mosque for a time, which explains its oriental feel and vibrant colors that aren't the norm in European churches.
For nice views, you can hoof it up almost 200 steps to the top of the church tower. This is covered by a second ticket. You'll have views over both sides of the Danube.
It costs approximately $5 to visit the church and $5 to climb the bell tower.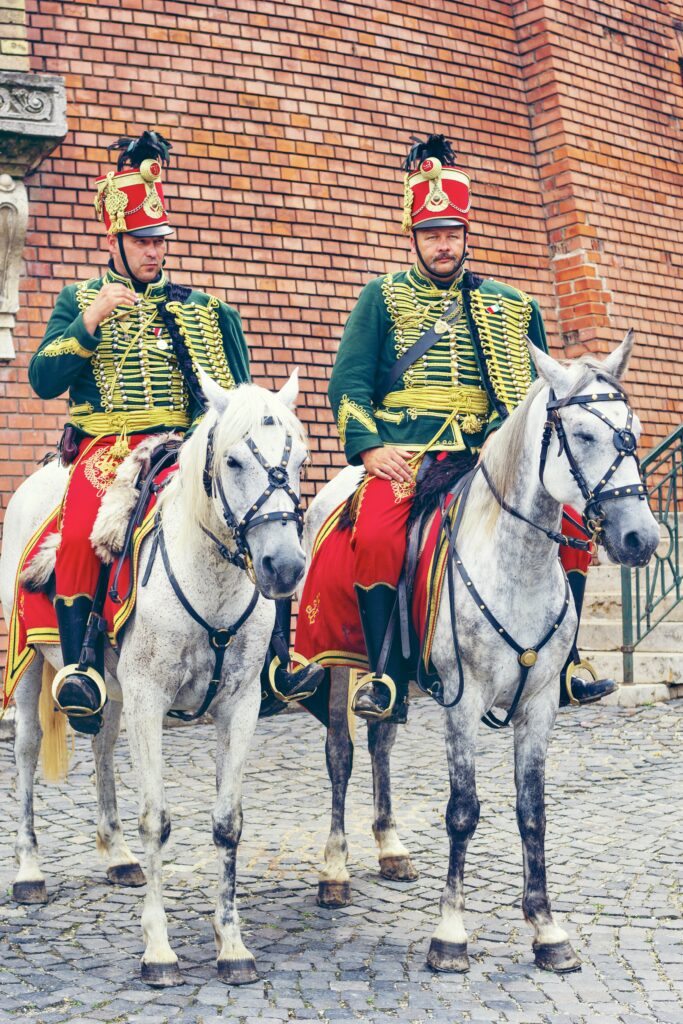 Buda Castle
The Neo-Classical Buda Castle sits on the very top of Castle Hill and is one of the city's most recognizable monuments. Beginning in the 13th century, it was the home of the Hungarian royal family.
The green roofed castle now houses three museums, which showcase Hungarian history and art: the Hungarian National Gallery, the Budapest History Museum, and the Széchényi Library.
With only one day in Budapest, it's a tough call whether to spend time going inside or not. But I would say you can skip the museums unless they fit your preferred art niche.
The palace is especially beautiful at night when it is illuminated Click here to book a guided tour of Buda Castle.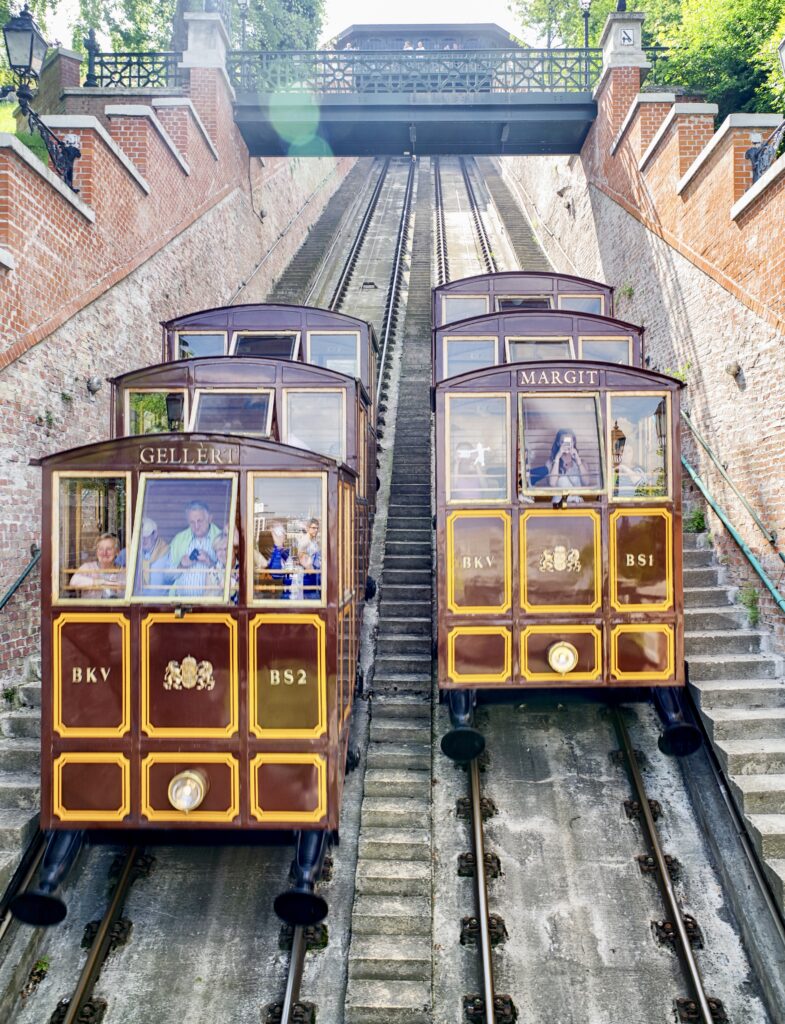 Castle Hill Funicular & Chain Bridge
When you're done, take the Budapest Castle Hill Funicular (Budavári Sikló) down to Chain Bridge on the Danube. Cars run every 5-10 minutes and cost about $8.50. (You could take it up at the beginning of the day too.)
First opened in 1870, it's a lovely old wooden funicular and it's just something fun to do. On a ride, you'll have panoramic views across the Danube.
The ascent is fairly slow, so you have time to really enjoy those views. The best views are from the lower carriages.
Then, take a stroll over Chain Bridge, the most famous bridge on the Danube. It connects Buda and Pest.
As you walk across, you can inspect the bridge up close and admire the lion sculptures. You'll also have gorgeous views.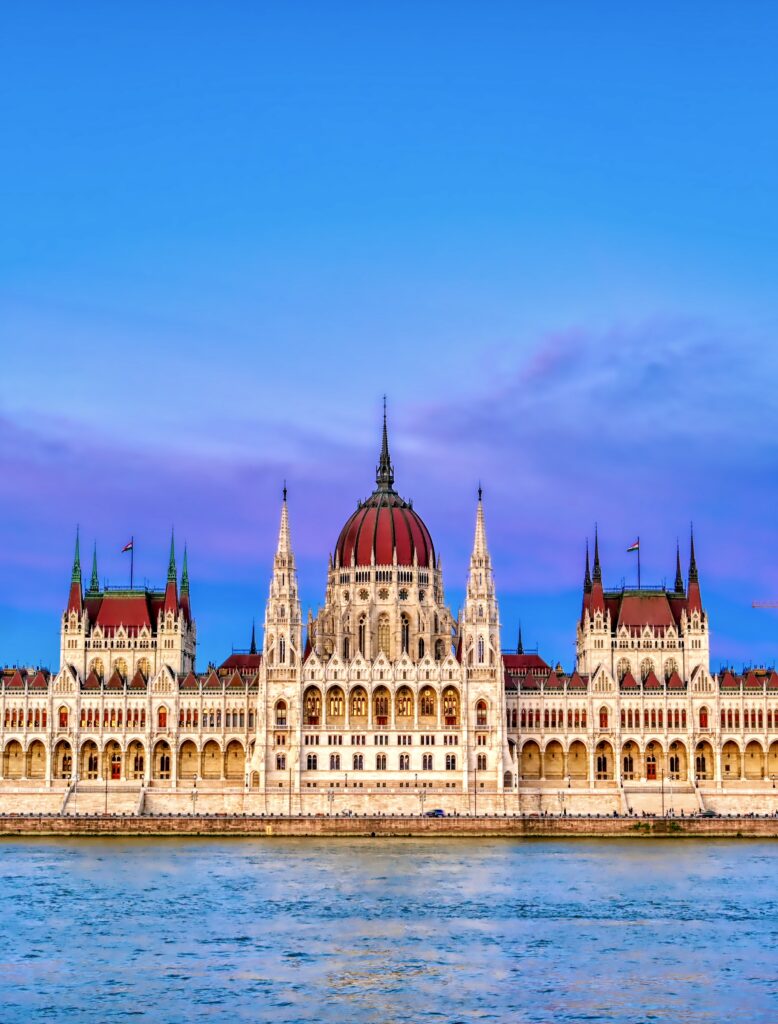 Hungarian Parliament
With its majestic location on the east bank of the Danube River, the cream colored Parliament building is easily the most stunning and most photographed building in Budapest.
Begun in 1885, it took 19 years to construct. Its Neo-Gothic design is a forest of pinnacles and flying buttresses, topped by a Neo-Renaissance egg-shaped dome.
Not surprisingly, the glorious pile was inspired by the Houses of Parliament in London. Not only is it the tallest structure in Budapest, it's actually the largest in Hungary. There are eye popping staircases, intricate ceilings, and gold (84 pounds of it) everywhere.
On the 45 minute guided tour, you can admire the Main Staircase, the Dome Hall, and the Assembly Hall of the Upper House. Parliament also serves as the repository of the Hungarian crown jewels.
The centerpiece is the Crown of St. Stephen, directly under the dome, protected by two dour looking guards.
You can book a city tour that includes a visit to Parliament. Or check the website for ticket availability.
Shoes on the Danube
Near Parliament, you'll find 60 pairs of iron shoes from the 1940s. Shoes on the Danube is a memorial to the people killed by Budapest's Arrow Cross militiamen during WWII.
It was created in 2005 by film director Can Togay and sculptor Gyula Pauer. It's haunting in its simplicity and an unmissable cultural spot in Budapest.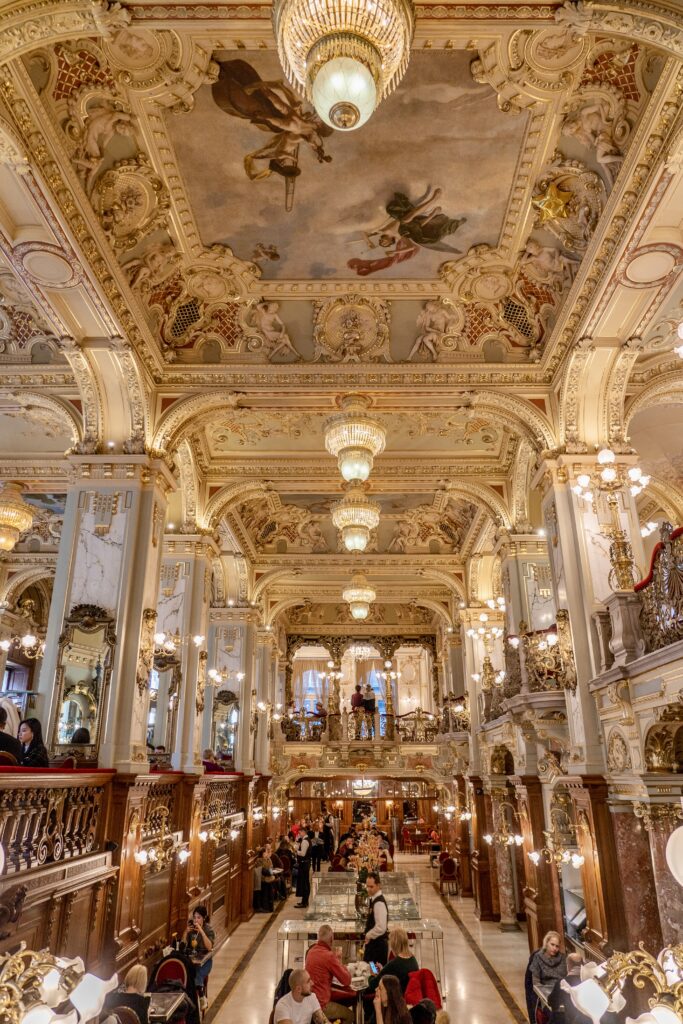 Lunch: New York Cafe Or Central Cafe
For lunch, reserve at New York Cafe. As with so many historic cafes in Paris or Vienna, the beautiful New York Cafe was very popular among writers and cultural influencers in the early 20th century.
It's one of Europe's most beautiful cafes — gold trim, sparkling chandeliers, stunning staircases, sculptural details, and fresco on the walls and ceilings.
You can get Hungarian-style coffee, Hungarian classics, and other multi-national goodies. Be forewarned, it's expensive.
Central Grand Cafe is another beautiful cafe to try and a bit less precious than the New York Cafe. Be sure to top off your lunch with a piece of Esterhazy Cake.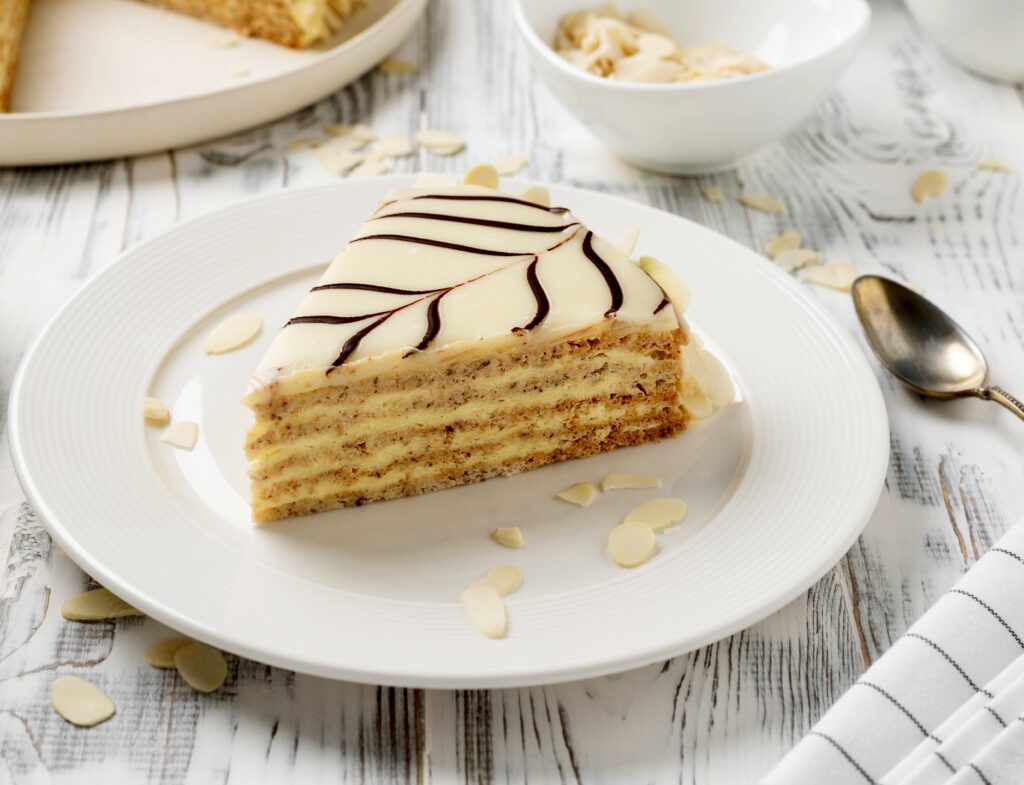 If these opulent cafes are too pricey for you, why not sample some of Budapest's street food in Pest? A great place to try is Karavan on Kazinczy Street in the Jewish Quarter.
It's a food court that's home to numerous food trucks and booths. There's both Hungarian and International cuisine.
In the same area, you will find Bors GasztroBar, which is famous for their long pressed sandwiches and creative soups.
Are you a Harry Potter fan? Then, for lunch, you should head to The Magic. It's a Hogwarts-esque cafe serving drinks in cauldrons and decorated to the nines. But it's more for the experience than the quality of food, I would say.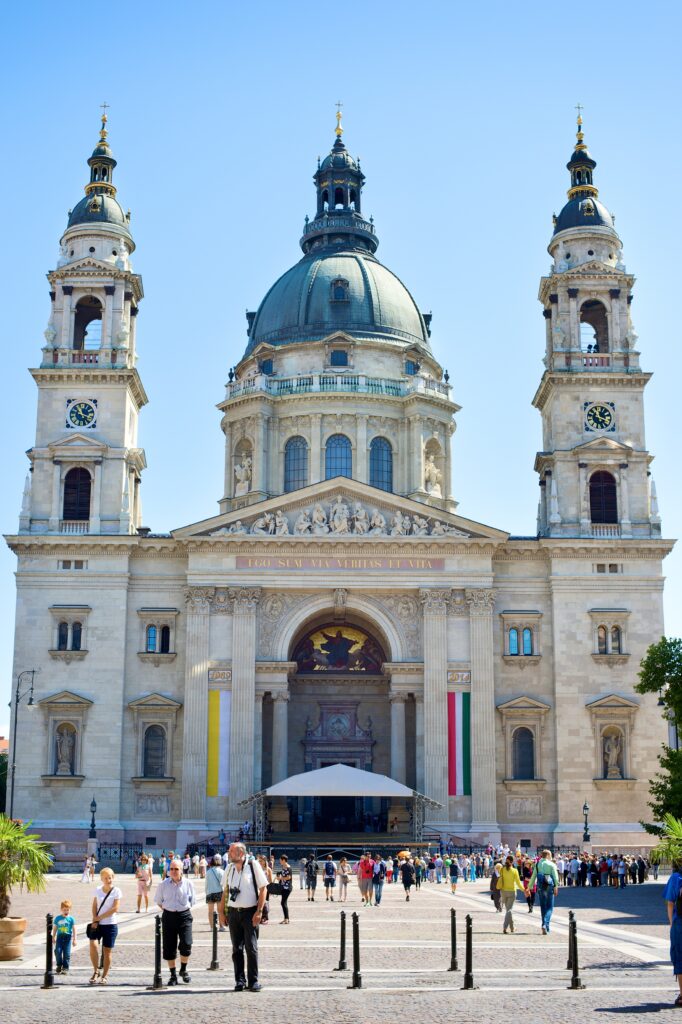 St. Stephens Basilica
After you're fueled up, head to St. Stephen's Basilica. It is Budapest's largest church. It's an eclectic mix of styles, reflecting its many architects.
The basilica has a dimly-lit but showy interior that's dedicated to Hungary's first king, St. Istvan. You'll find frescos and the king's mummified hand.
There's a viewing terrace offering up great vistas. You can climb 300+ steps or take elevator and hoof it a few steps. While the church is free (with a suggested donation of 200 florints), the terrace costs $5.
If you book a guided tour, you can also visit the terrace and treasury. The church also hosts classical musical concerts some evenings.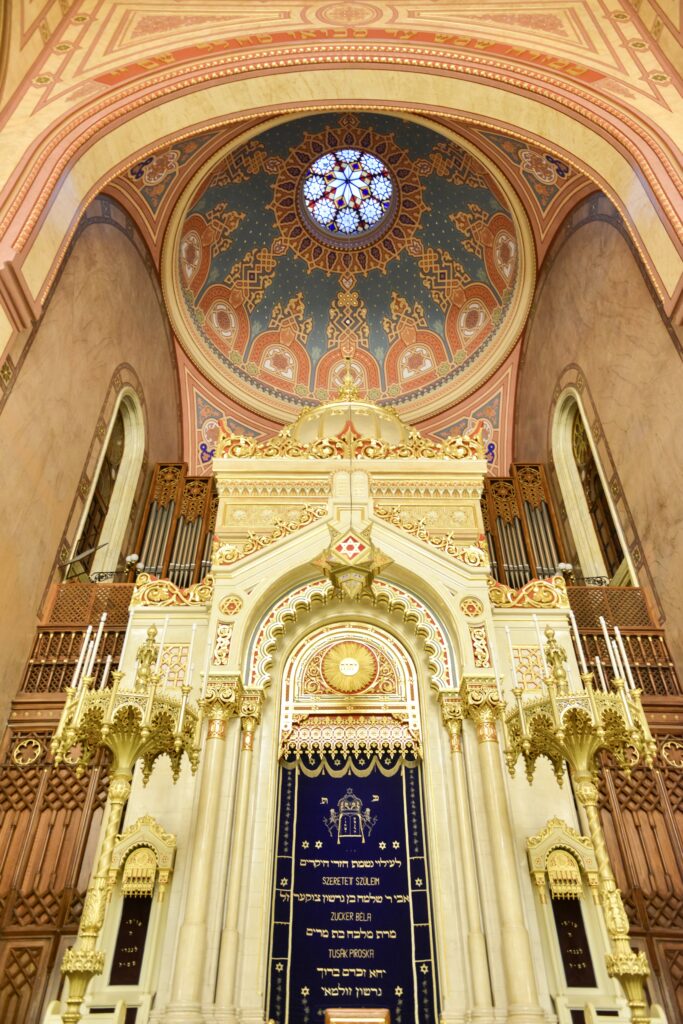 Jewish Quarter & Synagogue
Then, head to the Jewish quarter for a brief stroll. If you are interested in Jewish history or the Holocaust, you can also book a guided walking tour of this area.
The district is now the epicenter of Budapest nightlife and gastronomy. You'll find street art, ruin bars, design shops, and street food.
Be sure to check out the Dohány Street Synagogue. It's a beautiful building, built in a Moorish revival style in 1859, like you'd find at Granada's Alhambra. Dohány is the largest synagogue in Europe and second largest in the world.
Click here to book a skip the line ticket for the synagogue. Click here to book a 3 hour tour of Jewish Budapest with a historian.
House of Terror or Hungarian Opera House
It's probably late afternoon at this point in your one day in Budapest itinerary. So, for your next attraction, make a choice between the House of Terror museum or the recently opened Hungarian Opera House.
The House of Terror
The House of Terror is one of the best museums in Budapest and a must see site for history buffs.
In this building, the Hungarian secret police once tortured their own citizens. The museum documents, in creepy fashion, the horrors perpetrated by the fascist Nazis and the communist Soviets.
There are four floors of high tech and interactive exhibits. You'll see maps of the USSR gulags, artifacts, locker rooms, cells for political prisoners, video footage, propaganda exhibits, and explanations of how the Hungarian resistance emerged.
Click here to book a guided tour of this interesting Budapest attraction.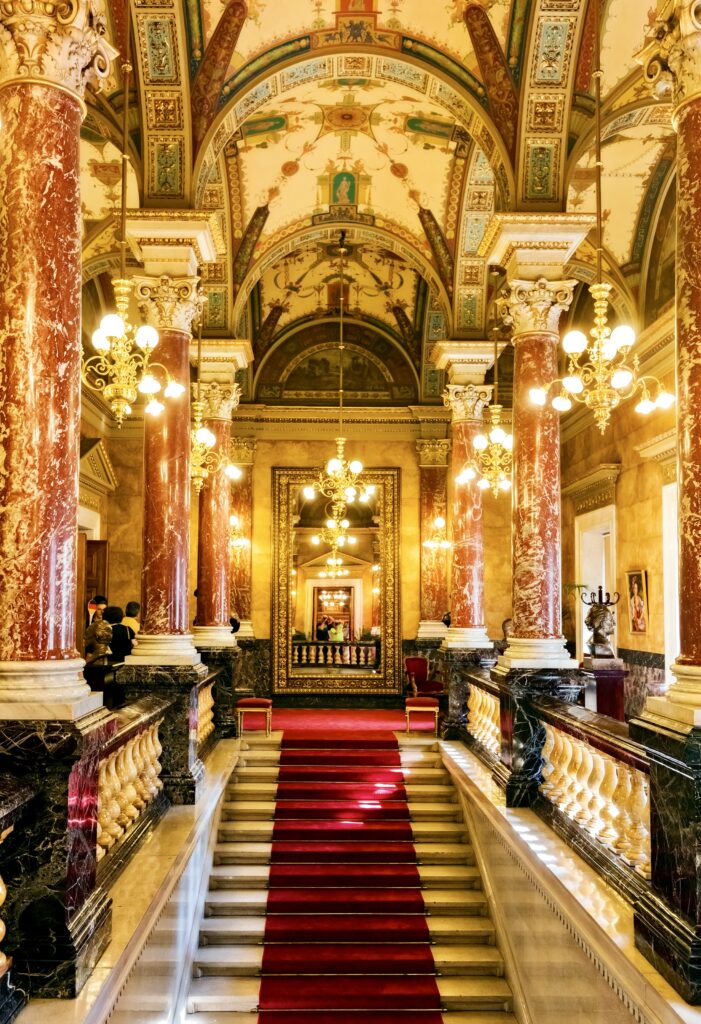 Opera House
The Hungarian Opera House finally reopened to the public in March 2022 after being closed for years for renovations. The Baroque style building is undoubtedly one of the most beautiful buildings in Budapest.
It was designed by architect Miklós Ybl in the 19th century. The interior is slathered in gold, marble, and frescos from Greek mythology. The auditorium is a U-shaped vision of red and velvet.
Normally, you can visit the lobby for free before show time. If you'd like to take in a show, you can expect operas, folk dance performances, and Broadway hits.
Budapest is a great place to have a pre-dinner cocktail at a rooftop bar, particularly at sunset. 360 Bar is famous for its views and igloos.
You can also eat there. It gets crowded, so you should reserve a spot in advance.
They High Note SkyBar at the Aria Hotel is another great option. It's a luxurious spot with sweeping views of all Budapest's landmarks.
A more secret option is to head to Liebling in the Jewish district. It is less expensive and has an artsy vibe.
Another good place for a cocktail is right on the Danube at Esetleg Bistro or PONTOON.
For dinner, there is no end of delicious options. You can go fancy or casual.
For something upscalse, splash out on Onyx, Budapest's renowned Michelin-starred beauty in the Gerbeaud building. Amid crystal chandeliers, you'll have an old world European dining experience.
The Liszt Restaurant serves up historic dishes with a modern twist. Carnivores will love the Michelin-starred Borkonyha.
Rosenstein is a hole-in-the-wall restaurant with nummy classic dishes. Mazel Tov has a plant-filled open air courtyard and serves up falafel and shawarma.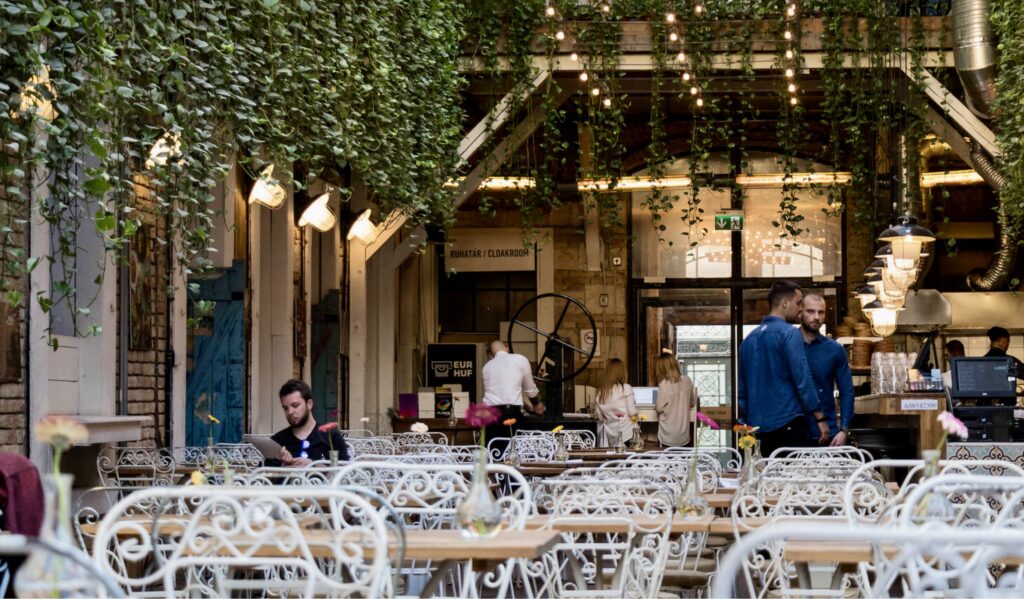 Another option is to go on a guided food tour with 10 tastings. Or, you can learn all about Hungarian wine on this 2 hour evening tasting.
If you want to hang out with the locals, head to Erzsebet Park with a blanket and picnic. It's at the Deak Ferenc ter metro station.
You can stop in and buy a bottle of Hungarian wine or beer. Unlike the US, you can buy a single bottle of beer in Budapest.
The ferris wheel is in the park and the place is magical at sunset.
Here are three options for the evening of your one day in Budapest itinerary.
1. Danube Cruise
You can't visit Budapest and not take Danube River cruise. It's an unmissable iconic thing to do with one day in Budapest and the perfect way to spend you evening.
There are lots of options to choose from when selecting a cruise on the Danube. You can pick a cruise with or without dinner, with drinks, with entertainment (music or a folk show), etc. They generally last 1-3 hours and run anywhere from 7:00 pm to 11:00 pm.
There are myriad cruise options. You can take: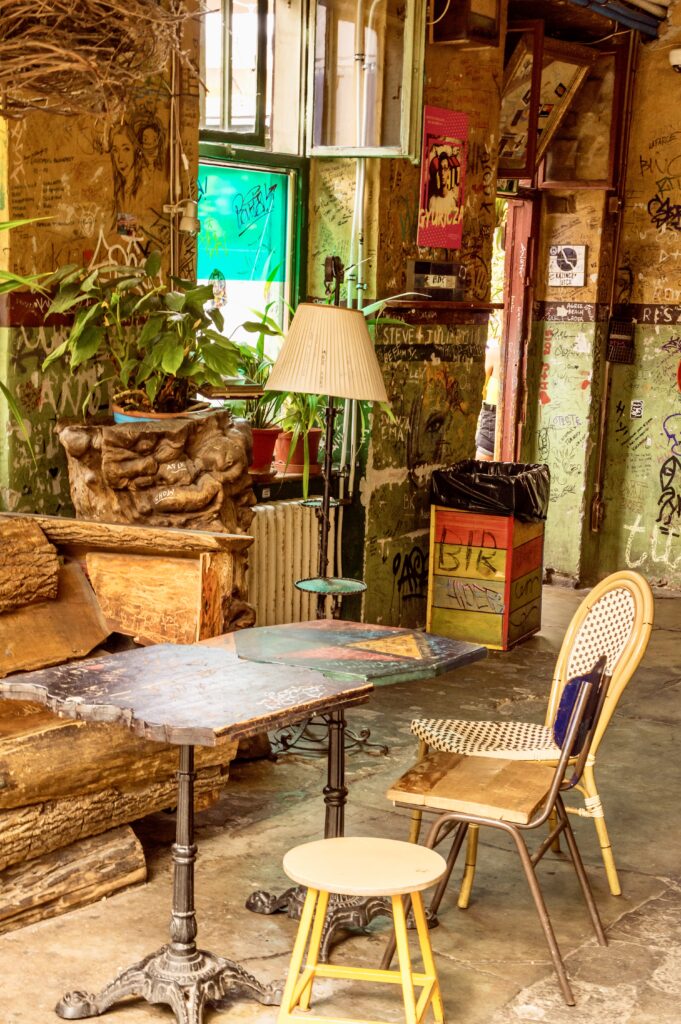 2. Ruin Bars
Another way to spend the evening with one day in Budapest is to hit up some "Ruin bars." They are a uniquely Budapest institution.
The trend began in the early 2000s when locals began building bars in abandoned buildings. Some underwent renovation and other are still grungy.
The most popular ruin bar in Budapest in Szimpla Kert on Kazinczy Street in the Jewish Quarter. It takes up an entire city block.
It's a cool place with an eclectic design wrapped in fairy lights. Art, sculpture, and graffiti decorate the walls. Szimpla also runs a design store and coffee shop across the street.
But Szimpla is almost always filled to the brim and you might not even be able to get in. For this reason, you might consider going during the day after seeing the Synagogue. The potato platter makes a great snack.
Other bars you can hit are Ankert, UdvarRom, Szatyor Bar, and Mazel Tov (more upscale). Click here to book a guided pub crawl of Budapest's ruins bars.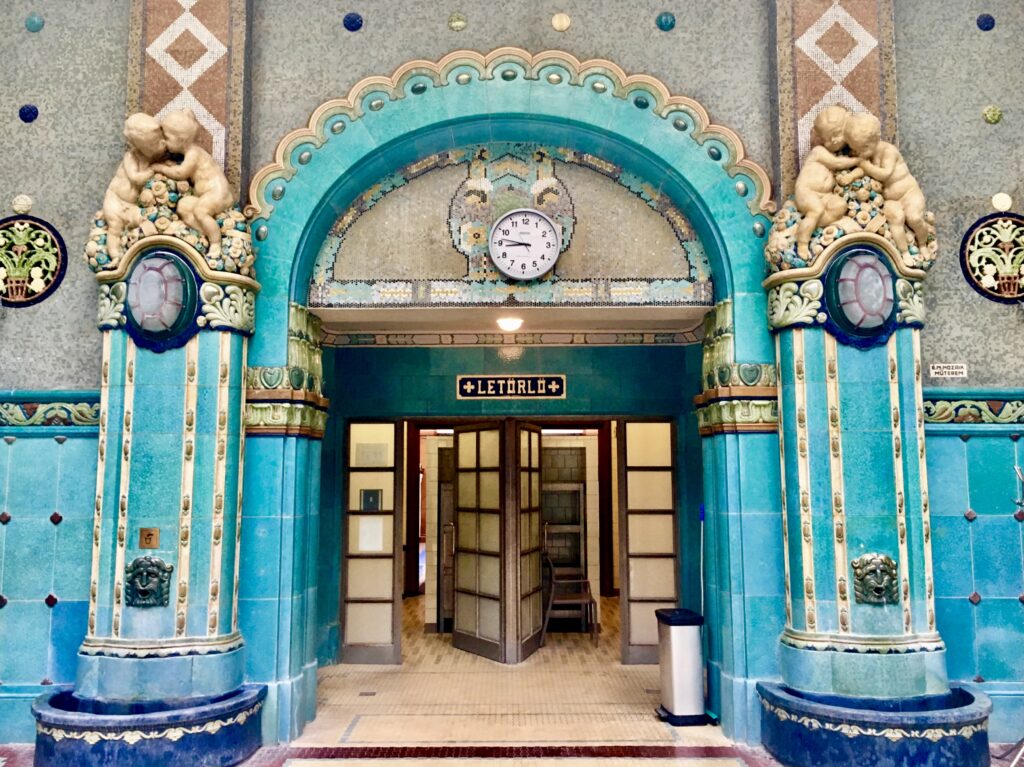 3. Night Baths
If you didn't have time to hit up a thermal bath during the day, some of them are open late on Friday or Saturday night.
Rudas Baths is open for night bathing from 10:00 pm to 4:00 am on Friday and Saturday. If you want to soak in a rooftop hot tub, Rudas is your go to place!
From the top, you can enjoy gorgeous views of Budapest. Click here to purchase a spa and dining experience at Rudas.
Szechenyi is the most famous bath house in Budapest and therefore can be very crowded. It sometimes has parties on Saturday with bathing and cocktails. It's open until 8:00 pm on Saturday and Sunday.
Gellert Spa, where I went, is open until 8:00 pm and is just lovely and peaceful. It's a beautiful Art Nouveau bath house with over 125 thermal spas and many pools.
Click here to purchase for a pass to Geller Spa and here for a ticket to Szechenyi Spa.
Practical Tips For A One Day In Budapest Itinerary
Here are some must know tips for having an efficient 1 day in Budapest.
1. How To Get To Budapest
You'll likely fly into Budapest Ferenc Liszt International Airport. A taxi ride into the city center takes about 20 minutes and will cost around $30. To minimize any hassle, you can also book a private transfer.
There's also an express bus that takes you from the airport to Deak Ferenc ter, the metro stop in the city center. It's a very easy option.
You can also arrive in Budapest by train. The main station is Budapest Keleti in Pest. You can reach the city center in 15 minutes by bus or metro.
2. How To Get Around Budapest
The best way to get around Budapest is to walk. But know that the attractions are spread out.
That's one reason I don't have you going to Heroes' Square on this one day in Budapest itinerary. it's just too far. You can book a 3 hour walking tour to help make the most of your time.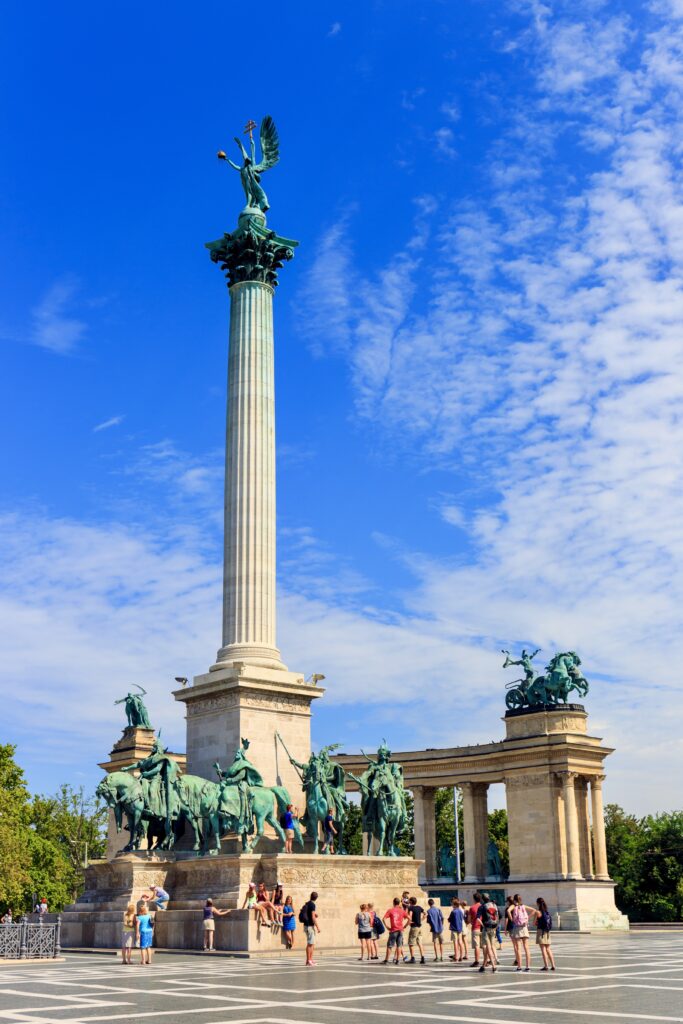 I don't advise taking taxis in Budapest. The taxi drivers are notorious for ripping off tourists.
Many of them don't even have meters. I was scammed on my last visit. If you need a cab, it's best to get one at a reputable hotel. But be prepared to sit in traffic.
You can also get around with Budapest's BuBi bike sharing system. There are buses trolleys, and trams that roam the city. But Uber and Lyft don't operate in Budapest.
The 1 day Budapest Card will also give you free transportation, as well as entry to many attractions.
There are also plenty of fun tours to get you around Budapest fast, which can save time. You can book a hop on hop off bus tour, a tuk tuk tour, Segway tour, an e-scooter tour, or a sightseeing van tour to get around.
3. Where To Stay in Budapest
With only one day in Budapest, you should stay in Pest not Buda. Buda is beautiful of course. But Pest is much more convenient and that's where most of the attractions, restaurants, bars, and hotels are located.
There are some swanky luxury hotels in Budapest, perhaps earning the city its nickname of the "Paris of the East."
Compared to the cost of living in Budapest, the hotel prices are higher than you would expect. If you are on a budget, you may have better luck with Air Bnb.
If you want to splash out, though, Budapest has some lovely choices. The last time I visited, I stayed in the Aria Hotel. It's a beautiful, music themed hotel with incredibly elegant (and colorful) rooms. It's also home o the High Note Skybar.
The top luxury hotel in Budapest may be the Parisi Udvar also known as Paris Court or Burden House in English.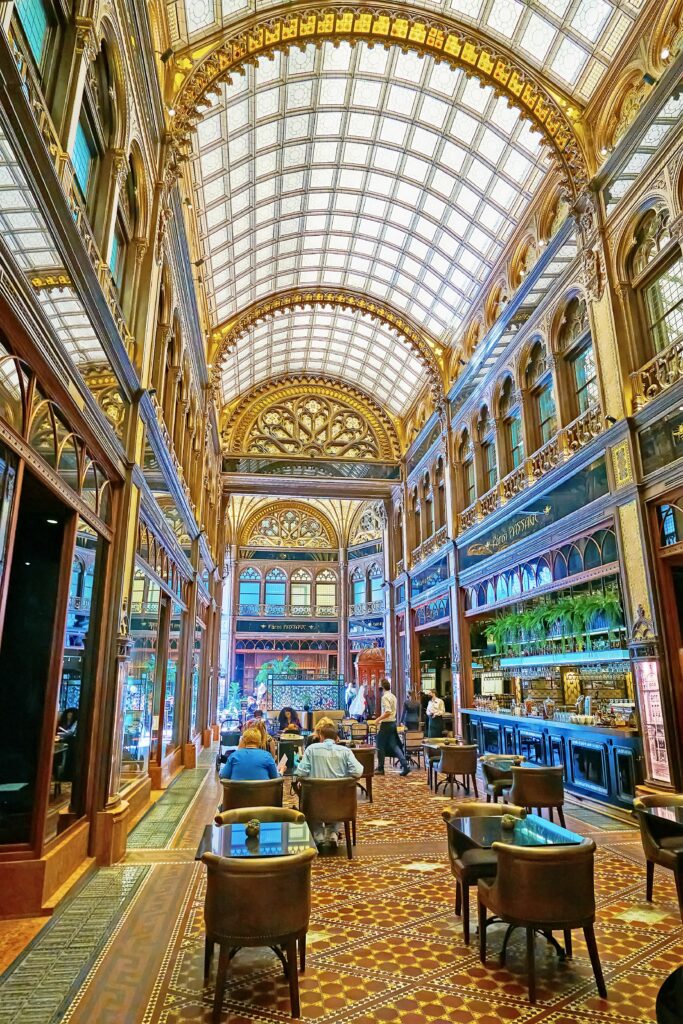 Dating from 1909, it has a Parisian-style shopping arcade on the first floor and Moorish stylings that will wow you. And it's one of the only buildings in Budapest with a formal interior courtyard and highly decorative rooftop.
The hotel's rooms are luxe modern with gray and cream tones. The hotel has been featured in several spy movies.
The Four Seasons Hotel in Gresham Palace is also a knockout, with a location right on the Danube overlooking Chain Bridge. It's just 5 minutes from St. Stephen's Cathedral.
There's a dramatic lobby that you can take a peak into (even if you're not staying there) complete with Dale Chihuly chandeliers. The 5 star retreat is known for its opulent rooms and interiors.
Some other great hotel options include:
4. Currency
Budapest's currency is the forint, not the euro. You'll need some cash for daily expenses. Not all places take credit cards.
If you need to get some money in Budapest, it's best to go into a bank rather than using an ATM. You'll have a better exchange rate.
If you are given the option to use their conversion rate or your bank's rate, choose your bank's.
Some shops accept euros as well as forints.
5. Is One Day in Budapest Enough?
One day in Budapest is not enough to see the city. There's simply too much to do. But it may be all you have, especially if you're in the city to start a Danube River cruise.
Nonetheless, you can get an overview of the city and start making list of what to do when you come back.
Ideally, you would budget 3 days in Budapest, or more if you are taking day trips.
6. When To Visit Budapest
I recommend visiting Budapest from May to early October.
Summer is the most crowded and the heat can be intense. But it has its advantages. You'll get longer days and more festivals.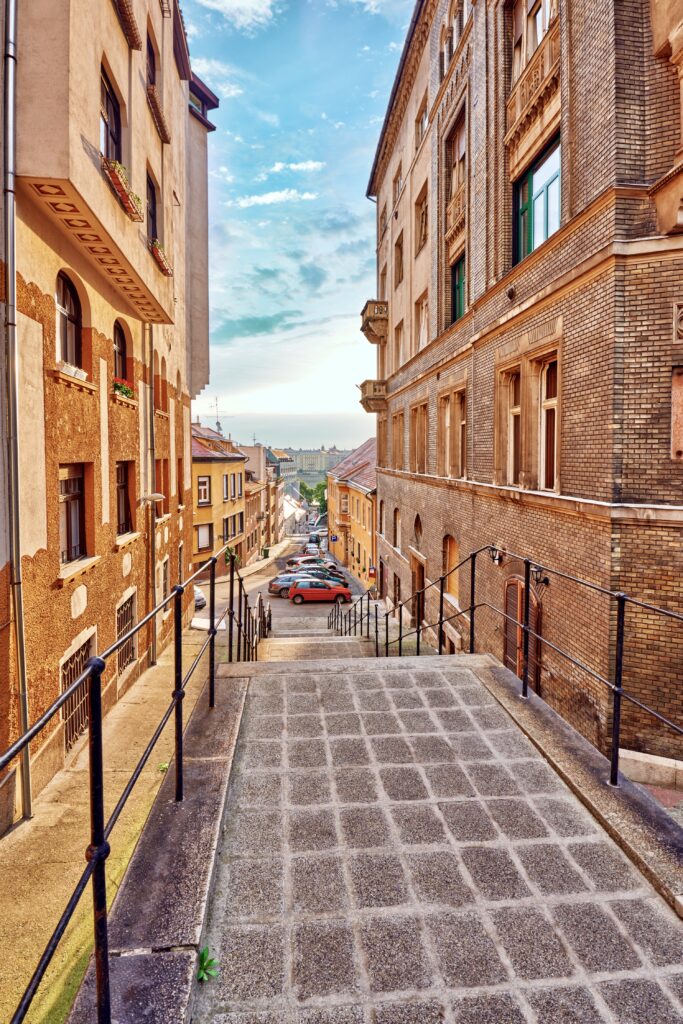 The rest of the year can be quite chilly. Of course, it will also be less expensive and less crowed. During the holiday season, there will be concerts and Christmas markets.
7. More Than One Day In Budapest?
If you have more time in the city, there is plenty more to do.
You can head to Heroes' Square, go shopping on Andrassy Avenue, or hiking in Buda. Andrassy is home to all the international luxury brands as well as local designers. For local pieces, stop by Nubu, Dorko, or Punch.
Another place to go is the Museum of Applied Arts. It's in a gorgeous building built by Hungarian architect Odon Lechner at the end of the 19th century.
The building is a crazy, but eye catching, blend of Art Nouveau, Hindi, and Islamic architecture. The iconic green roof has Hungarian porcelain tiles. Inside you'll find artifacts, porcelain, furnishings, etc.
If you are a music fan, you could check out the Liszt Museum or the brand new House of Music.
You can also head to Heroes' Square and the Dracula-like Vajdahunyad Castle. I'm not the biggest fan of the square. It's a bit bombastic in style and uninspired to my mind.
But the castle is pretty unique. It has Romanesque, Gothic, and Baroque elements. To add to the ambiance, there's a statue of Bela Lugosi.
Want to hit the beach? Lake Balafon is known as the "Hungarian Sea." You can get there by car, public transport, or on a full day guided day trip.
It's a bit of a schlep. And there are closer beaches at Lake Velence (45 minutes away) and Romai Beach (30 minutes away).
There are plenty of other day trips from Budapest that you can take as well. For example, you can book:
I hope you've enjoyed my one day in Budapest itinerary. You may enjoy these other itineraries for cities in Europe:
If you want to spend one day Budapest, pin it for later.