"Life is a combination of magic and pasta." — Frederico Fellini
Need some destination inspiration for planning a trip to Italy? This Italy travel guide takes you to 30 of the most beautiful and breathtaking towns in Italy, for your bucket list.
Italy is one of my favorite countries, a dream destination I could return to time and time again. Italy has Europe's richest and most ancient culture.
After all, Italy is the cradle of European civilization — founded by the Roman Empire and embellished by the Roman Catholic Church.
As you explore Italy, you'll confront some of the world's most iconic monuments — Roman ruins, UNESCO sites, Renaissance masterpieces, elegant medieval towns. But you'll also find jaw dropping landscapes and magical seaside hamlets.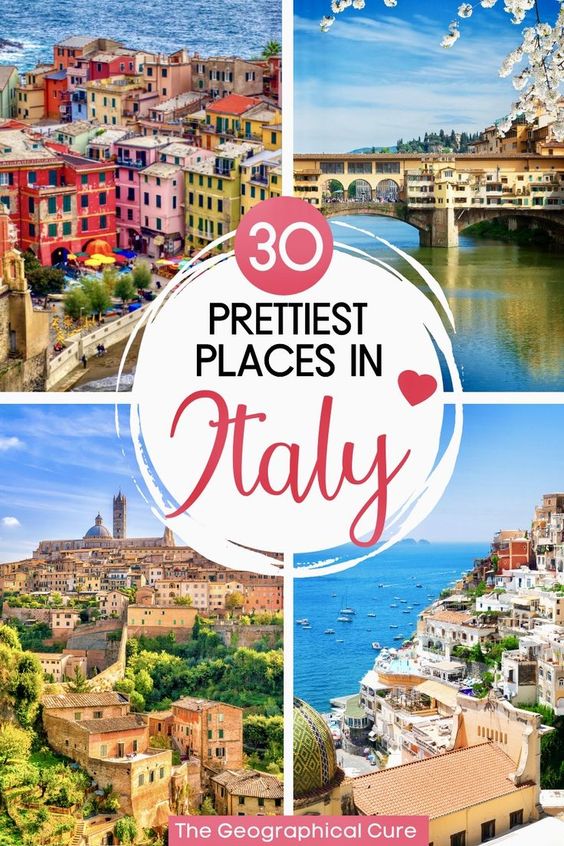 In this guide, I take you on a curated tour of 30 of Italy's most beautiful and charming towns.
I've left out Rome because, as such big city, it deserves special treatment.
I've spilled so much ink over the eternally fascinating Eternal City, it's hard to fathom. So, now, I delight you with Italy's smaller charming gems.
30 Most Beautiful Towns In Italy
So let's get down to business and discover the prettiest and most charming cities, towns, and villages in Italy for your Italy bucket list.
1. Florence: Renaissance Marvel
I'll start with my favorite town in Italy, Florence. Florence is an overwhelmingly beautiful town in Italy.
It's dubbed the "Cradle of the Renaissance." With the best Medieval and Renaissance art in Europe, Florence is a veritable art lovers paradise.
Florence is a city that's alive, sensual, and romantic. You can be seduced by Botticelli and awed by Michelangelo, in a time tunnel experience.
Not surprisingly, Florence's entire city center is a designated UNESCO site. There are scads of top must visit attractions in Florence.
You can visit frescoed churches, the Medici palaces, majestic cathedrals, and elegant piazzas, and world class museums. And tread on the same flagstones as Leonardo, Dante, and Galileo.
Florence Cathedral is the most prominent landmark in Florence. It was built over 172 years, beginning in 1296.
Florence Cathedral is Gothic in style, but not in the light and elegant way you think of Paris' Notre Dame. It's made of brown sandstone and beautifully frosted with pink, green, and white marble.
You have to be organized to visit the Duomo and climb the dome. It's an exceedingly popular activity.
You may want to book a guided tour of the Duomo itself. You can also book a guided tour of the Duomo that includes access to the dome and secret terraces that you wouldn't see on a regular visit.
It's absolutely essential to pre-book a ticket to climb Brunelleschi's dome. You can also book a combination guided tour for the Baptistery, Duomo Museum and a dome climb
Spend some time lingering in the Piazza della Signoria, Florence's free outdoor sculpture gallery. Head inside the Palazzo Vecchio, former home of the Medici dynasty, and admire the frescos by Giorgio Vasari.
Click here for a ticket to the palace, which is a great place to visit in the evening when everything else is closed.
For more information on planning a trip to Florence, you can check out my 1 day in Florence itinerary, 2 days in Florence itinerary, and 3 days in Florence itinerary.
You can't leave Florence without visiting the Uffizi Gallery. It's a bastion of Renaissance art with one of the world's most famous paintings, Botticelli's Birth of Venus.
If you're a real art fan, plan to see Michelangelo's iconic David in the Galleria dell'Accademia and the sculptures of the Bargello Museum. Or, if you like to travel with a theme, you can follow the Michelangelo trail in Florence.
The Uffizi is famous for its lines. Click here to book a timed entry skip the line ticket.
You can also book guided tours to the Uffizi, which may be good if you want to be efficient and see all the masterpieces.
READ: Complete Guide To Visiting the Uffizi Gallery
2. Ravenna: Magical Mosaics
Ravenna was once the epicenter of the Western World, when the Byzantine Empire made Ravenna its capitol. The Byzantine rulers blanketed Ravenna's churches with gorgeous mosaics.
Ravenna boasts the best early Christian mosaics in the world. This artistic legacy rivals Venice or Istanbul, making Ravenna a UNESCO site in 1996.
If, like me, you feel compelled to admire these glittering gems, these are the must visit sites in Ravenna: (1) the Basilica of Sant'Apollinare in Classe; (2) the Basilica of Sant'Apollinare Nuovo; (3) the Basilica of San Vitale; (4) the Neonian Baptistery, (5) the Mausoleum of Galla Placidia, and (6) the Archbishop's Chapel.
>>> Click here to book a walking tour of Ravenna and its UNESCO sites
READ: One Day in Ravenna Itinerary
You can visit these sites with a combination ticket. The best mosaics are in the Basilica of San Vitale, built by the Emperor Justinian in 540. It's a separate national museum with an entry fee of € 10.50.
Ravenna's most famous son is Dante Alighier. Dante is the author of the Divine Comedy and father of the Italian language.
The poet spent the last three years of his life in Ravenna, after being expelled from Florence when he fell out of political favor. You can visit Dante's tomb, a small neoclassical temple right next to the Basilica of San Francesco.
Here's my complete guide to the mosaics of Ravenna. Click here to book a 3 hour guided tour.
3. Mantua: Renaissance Haven
Italy is usually overflowing with tourists. But in the tiny undiscovered village of Mantua the world is still and quiet. Mantua must surely be one of Europe's best kept secrets.
Mantua lies in the north of Italy in the Lombardy region, surrounded by three lakes. It's a fairly easy day trip from Milan or Verona.
Mantua is the perfect place for strolling — with arcaded streets, cobbled lanes squares, and graceful buildings.
What makes Mantua especially dreamy is its Renaissance architecture, courtesy of the aristocratic Gonzaga family who ruled Mantua for four centuries.
Here, you'll find the grand Ducal Palace, the Te Palace, St. Peter Cathedral, the Teatro Bivbiena, and the Rotuno of San Lorenzo. For a tiny place, it's just amazing.
Mantua's most famed site is the Ducal Palace or Palazzo Ducale. It's the second largest residential building in Europe, after the Vatican.
It's a massive fortress-like residence. Inside, there'a maze of 600 ornate gilded, frescoed, and marbled rooms, topped with a Hall of Mirrors.
The must see UNESCO-listed site is Andrea Mantegna's famous Camera degli Sposi in Mantua Italy. The Camera is a magical room frescoed with illusionistic paintings in Mantua's Ducal Palace.
It's a hugely influential masterpiece from the Early Renaissance, considered the first trompe l'oeil in the history of painting.
Te Palace is one of the world's most unique and beautiful buildings. It's a wildly inventive and theatrical feat of both architecture and decoration.
Te Palace was designed and built by Raphael's best pupil, Giulio Romano, between 1525-35. The palace is a must visit destination in Italy for art lovers, filled with sybaritic frescos.
>>> Click here to book a skip the line ticket for Te Palace
You can take a 2 hour guided walking tour of Mantua or a longer private walking tour. You can also book a guided tour of the amazing Ducal Palace.
4. Monteriggioni: Walled Village
Monteriggioni is an idyllic walled town in the Tuscany. Just look how charming it is. It almost doesn't look real. Monteriggioni was built by Sienna in the 13th century as a defense in its ongoing conflict with its arch rival, Florence.
There's an upper and a lower parking lot. It's especially pretty in the early morning or at sunset. 4 euros gets you entry to the walls and the museum onsite. You only need an hour or two. If you want to have lunch or dinner, try Il Pozzo.
If you're a fan of Assassin's Creed, you'll be glad to know that Monteriggioni is real (though much smaller than depicted there).
The town also makes an appearance in Dante's Divine Comedy. Dante compares the spiky turrets of Monteriggioni to giants surrounding the abyss.
5. Tivoli: UNESCO Sites
Historic Tivoli lies just 20 miles east of Rome on the edge of the Sabine Hills. Tivoli is the perfect day trip from Rome, especially for archeology lovers and history buffs.
The town itself is not exceptionally pretty. But Tivoli is home to two magnificent UNESCO World Heritage Sites: the sprawling Hadrian's Villa, and the comely 16th century Villa d'Este, a Renaissance retreat.
If you're fond of ancient history or are ruin luster like me, you'll be fascinated and thrilled by the evocative ruins of Hadrian's Villa.
>>> Click here to book a ticket to Hadrian's Villa
Hadrian's Villa is an important archeological complex. It was the largest and most spectacular palace of ancient Rome, three times the size of Pompeii.
It reflected the power and glory of ancient Rome and the world's most important leader, Emperor Hadrian. And it was designed by Hadrian himself, who fancied himself an amateur architect.
If you have ruin fatigue, the next door late Renaissance estate, Villa d'Este, is a delicious escape.
Villa d'Este is a playground of whimsy, topped with a frescoed villa and a sweet honeysuckle breeze. The gardens are filled with sparkling fountains, moss draped grottos, and ponds filled with water lilies.
Click here to book a guided day tour from Rome, which is how most people visit Tivoli.
6. Stresa: Italian Lake District
The Italian lake district is one of Italy's prettiest regions, situated in the shadow of the Alps. The main lakes are Lake Como, Lake Garda and Lake Maggiore. Most people settle in at the swishiest village, magical Bellagio on Lake Como. But on the western Lake Maggiore you'll find a real treasure — Stresa.
Elegant laid back Stresa is easy to fall in love with. Grandiose villas line the waterfront promenade, which is made for leisurely strolling. The medieval streets are a delightful tangle.
But the best thing to do in Stresa is ferry over to the tiny off shore Borromean Islands — Isola Bella, Isola dei Pescatori, and Isolar Madre. They're open to the public between mid March and mid October. The highlight is the Borromeo Palace on Isola Bella with an 80 foot dome.
The powerful Borromeo family, like the Gazagos, were Lombardian aristocrats. Lake Maggiore was their personal playground. Their grand palace on Isola Bella is a Renaissance masterpiece.
Inside it's exquisite, with an 8th century grotto, decorated floor to ceiling with shell motifs and mosaics. The terraced Italianate gardens are just luscious, with a wafting scent of jasmine floating in the air.
>>> Click here to book a sunset boat tour from Stresa
7. Civita di Bagnoregio: Tiny Hilltop Village
The Etruscans founded Civita di Bagnoregio over 2500 years ago and it's largely unaltered ever since.
The isolated and picturesque Civita teeters on a hilltop in a vast canyon, north of Rome. The topography scares away most tourists.
To access this little hamlet, you'll have to ditch your car, walk across an elevated and steep 300 meter pedestrian bridge, and enter via a massive 12th century stone arch called the Porta Santa Maria. What could be more dreamy and surreal?
Once inside, the charms of Civita are subtle. There's nothing special to do but look around in this rural village. It's just unadulterated old world Italy.
The warm stone walls glow in the sunshine. Have a seat on the steps of San Donato Church, be suspended in time, and admire the flowerpots.
Here's my guide to visiting Civita di Bagnoregio. You can also check out this 1.5 walking guided tour.
8. Bergamo: For Architecture Lovers
Bergamo is a beautiful small town in Italy's Lombardy region, located between Milan and Lake Como. Bergamo outshines Italy's capital in beauty and graceful architecture.
The town makes a great base for touring northern Italy. But aside from its geographic convenience, Bergamo is a fascinating historical city with an excellent foodie tradition that you can experience on a Bergamo food tour.
Bergamo has an upper and lower city. Naturally, the upper city, or Citta Alta, is the older Renaissancey part of town. Start off with a walk around the 16th century Venetian Walls.
The vibrant center of Bergamo is Piazza Vecchia. There, you'll find every manner of shop, cafe, and restaurant.
The other must see square is the Piazza del Duomo. Walk throughs he archways of the Palazzo della Ragione and you'll reach it.
The square boasts the beautiful Basilica of Santa Maria Maggiore. Go inside!
You enter through a portico with Venetian lions into an extravaganza of Baroque gilding and Renaissance tapestries.
To the right of the basilica lies the even more impressive Colleoni Chapel. Sporting a pink and white marble facade, the chapel stands out with a combination of Renaissance, Mannerist, and Baroque architectural elements.
>>> Click here to book a walking tour of Bergamo
9. Orvieto: Celebrated Cathedral Town
The town of Orvieto is the capitol of Umbria. You may want to book a guided walking tour of this beautiful Italian town.
It's set high above a volcanic outcropping and chock full of medieval buildings. Nothing much has changed in this rustic fairytale town in 500 years.
The main drag in Orvieto is the Corso Cavour. In the town center, the Torre del Moro, a 13th century civic landmark, towers above.
An elevator and another 171 steps get you to the top where you'll have panoramic views.
Orvieto's piece de resistance is its magnificent cathedral. Orvieto Cathedral is one of the most beautiful and ancient churches in Italy.
It's a riveting ensemble of spires, spikes, golden mosaics, statuary, stained glass, and black and white striped marble. And that's just the facade.
Inside, the Chapel of San Brizio has one of the Renaissance's greatest fresco cycles by Luca Signorelli.
Michelangelo came to inspect the chapel before beginning his own master work, the Sistine Chapel in the Vatican Museums. The frescos depict the usual religious themes — temptation, damnation, and salvation.
For more information, here's my one day in Orvieto itinerary and guide to Orvieto Cathedral. From Rome, you can book a guided day trip to both Orvieto and Assisi.
10. Siena: a Burnt Orange UNESCO Wonder
Siena is one of the best cities to visit in Tuscany for its rustic medieval beauty, tasty food, and luscious chianti. If you want to bask in medieval times, there's no better place. Spend at least one day in Siena.
I guarantee you'll fall in love. Click here if you'd like to book a 2 hour walking tour to get things started.
You'll want to spend ample time strolling through the pedestrianized historic center. It's a well-preserved burnt orange dream littered with cute cafes and shops.
Siena's most famous site is its Duomo, Siena Cathedral. It's one of Europe's most beautiful churches, especially for lovers of all things Gothic.
Click here to pre-book a ticket. Click here for an amazing private guided tour of the cathedral.
The cathedral is the symbol of Siena. It's clad all over in Siena's trademark white and dark green marble. Consistent with the Gothic ethos that "more is always better," every inch is decorated with marble, mosaics, sculptures, and frescos.
READ: Guide To the Siena Cathedral Complex
To visit the Siena Duomo complex properly, you may to pre-purchase the Opa Si Pass. The Duomo complex isn't just Siena Cathedral.
It also includes the Baptistry, the Crypt, the Piccolomini Library, the Facciatone viewing terrace, and the Museo dell'Opera del Duomo Museum. The Facciatone offers stunning views.
Don't forget to tour Siena's town hall, the Palazzo Pubblico. It was built in 1297-1308 for the Council of Nine, the governing body of Siena. Click here to pre-book a skip the line ticket to the palazzo.
The palazzo is one of the seminal civic structures in Europe It's a harmonious example of early Renaissance architecture, with a curved brick facade and beautiful triforate arched windows.
Inside, you'll find the Allegory of Good and Bad Government, one of the most famous frescos in Italy. Beside the palazzo soars the slender Tower of Mangia, which you can climb for panoramic views.
READ: 24 hours in Siena
11. Capri: Roman Ruins & Grottos
Rugged mountainous Capri is one of the world's most glamorous islands. It was made famous as the vacation hideaway of the Roman emperors.
Capri was also a popular stop for the wealthy on their "grand tour of Europe." Today, it's crowded. But even with the crowds, it's drop dead gorgeous, set on a glittering blue sea.
The center of life in Capri is the Piazzettta. Often overflowing with crowds, it's been called "the world's living room."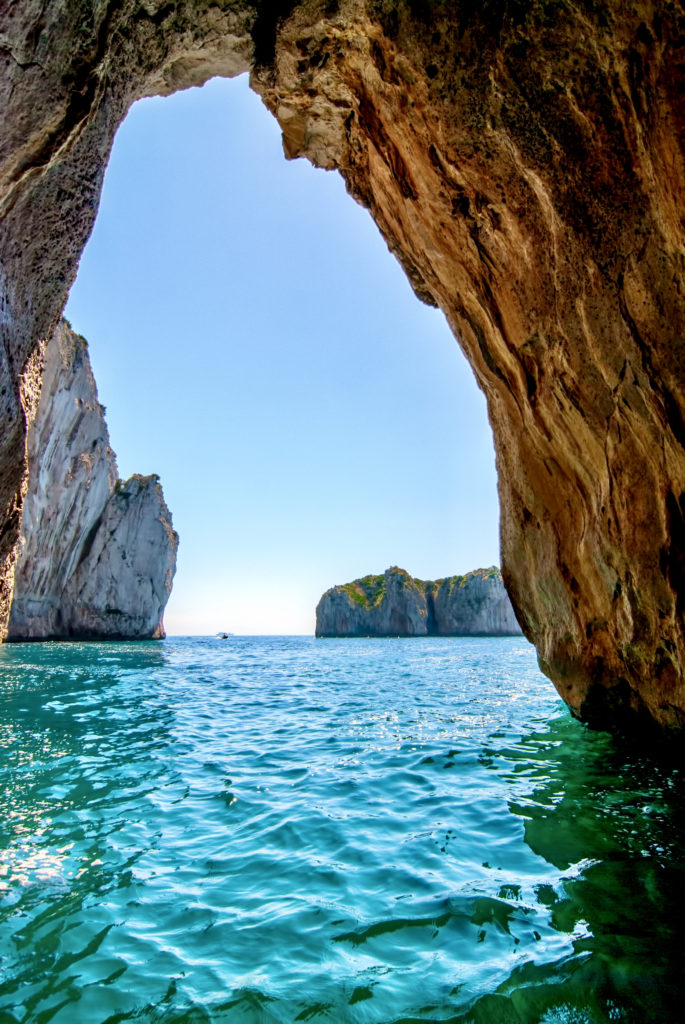 If you love Roman ruins more than exclusive boutiques, head to Villa Jova, a fantastic archaeological site. Emperor Tiberius was the reluctant heir of Rome's first emperor, Augustus.
But he was a military man, not suited for Rome's internecine politics. Eventually, he abandoned Rome for his swishy villa perched precipitously on Capri's rosemary scented cliffs.
Most people indulge in a Blue Grotto boat tour. If the sea waters are calm, you transfer from your motor boat into a row boat and enter the cave. Then, the magical colors of the water and walls envelope you.
You can book a guided tour of Capri and the Blue Grotto from Sorrento or a guided tour from Naples. For more information, check out my 2 days in Capri itinerary.
12. Lecce: the Florence of the South
Located in the radiant Puglia region of southern Italy, beautiful Lecce is known as the Florence of the South.
The historic center is constructed from Lecce stone, a local golden limestone, and decorated with ebullient Baroque architecture.
The city's history dates back to Roman times, though it was largely constructed in the mid 17th century.
Lecce is easy to explore on foot. Begin in the monumental Piazza Sant'Orozio where a 2nd century Roman column looms above.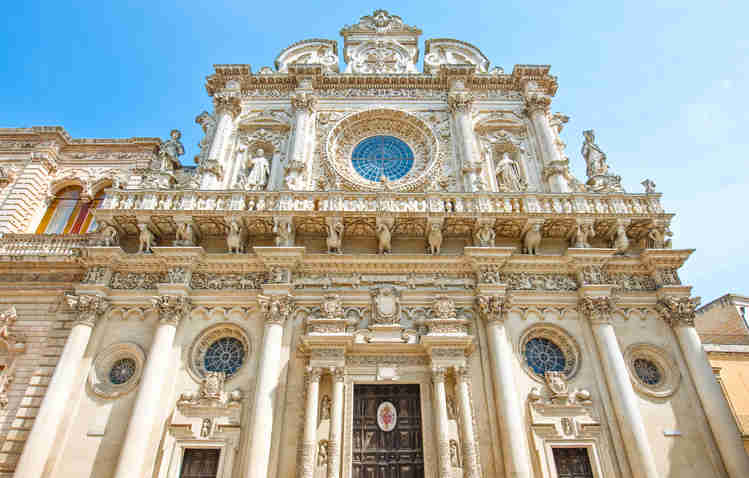 At the southern end of the piazza, there's the ruins of an ancient Roman amphitheater, dating from either the 1st or 2nd century. It originally seated 25,000 screaming patrons enjoying the gory games between gladiators and beasties.
READ: Guide To Roman Ruins in Rome Italy
Lecce also a string of ornate Baroque churches, along Via Vittorio Emanuele and Via Giuseppe Libertini. The most famous church in town is the Basilica of Santa Croce
While it's not as renowned as the Basilica of Santa Croce in Florence, it's of a different vintage, overflowing with Baroque ornamentation. Lecce also has a Duomo, with a 12th century chiseled facade.
Click here to book a guided Lecce walking tour. You can also book a Baroque architecture and underground tour.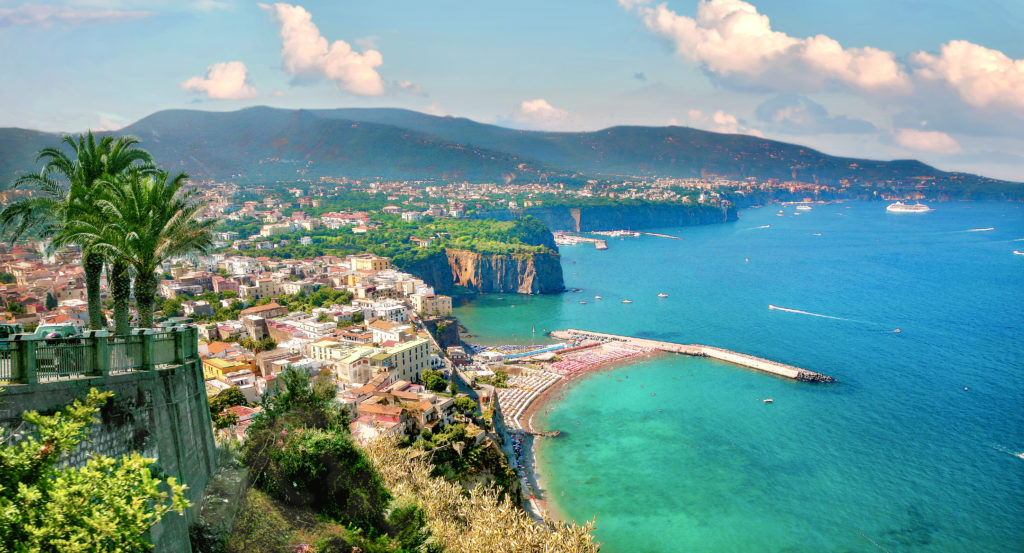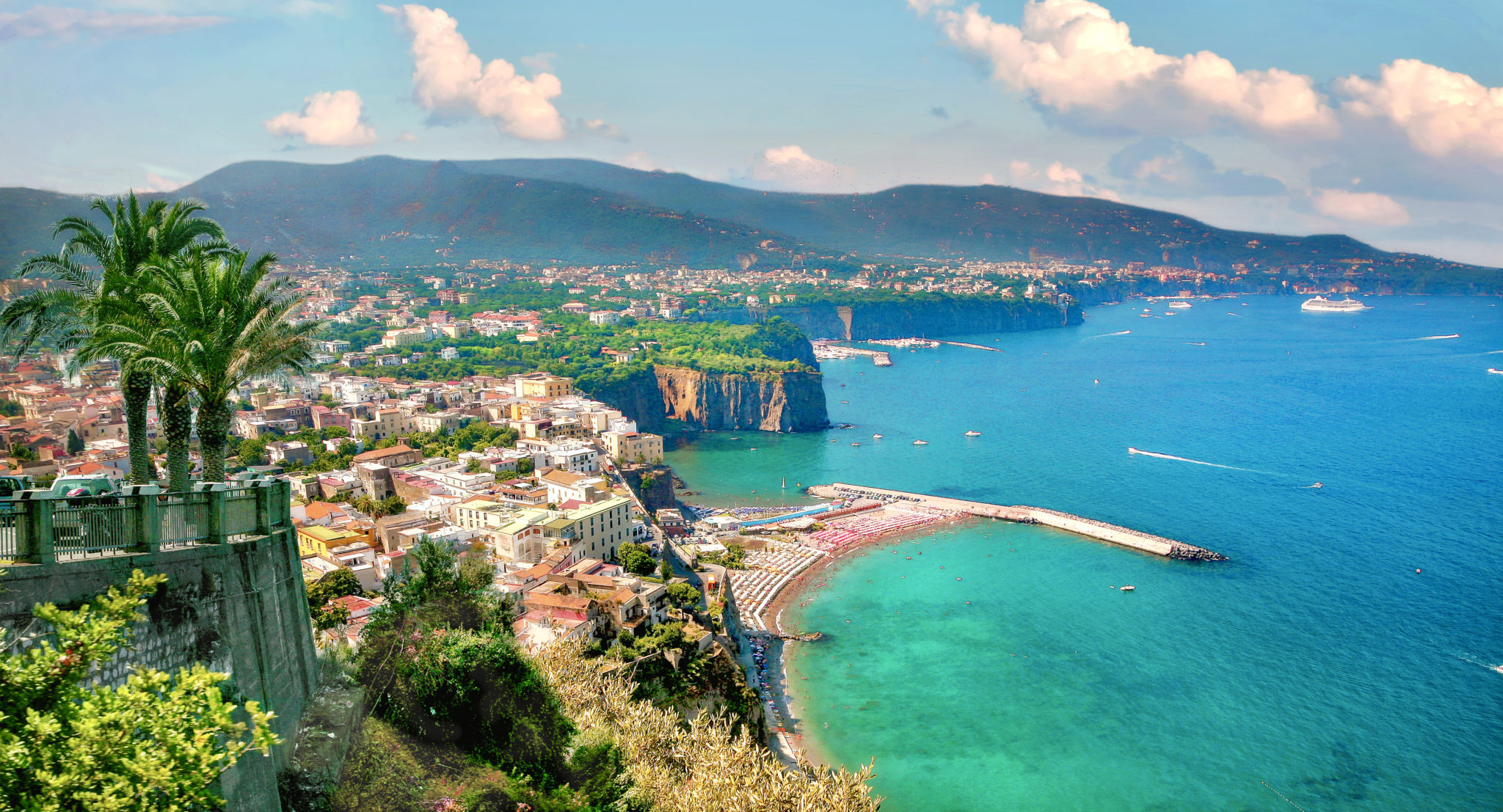 13. Sorrento: Lemon Lively
Wedged on a ledge over the sea, the cliff top town of Sorrento makes a perfect springboard for visiting the Amalfi Coast. You can day trip to Pompeii, Positano, Capri, and even Naples.
Start your tour of Sorrento on Piazza Torquato Tasso. Named after an Italian poet, this is the center of life in Sorrento.
Tasso's statue sits in the Piazza Sant'Antonio. But the hidden back lanes of Sorrento are the most tantalizing, filled with shops selling gelato, limoncello, prosecco, leather goods, and more.
If you're ready to sit down and sip, the Hotel Belair Sorrento offers stunning views overlooking Sorrento and Mount Vesuvius. There's also good views from La Pergola Bar a Champagne.
If you need some beach time, head to Marina Grande Beach. Sorrento is also famous for its lemons and filled with lemon groves.
Sorrento makes a great jumping off point for other attractions in Italy. From Sorrento, you can take a guided tour to Capri. You can book a guided tour to Pompeii. Or take a full day tour to the Amalfi Coast.
14. Santa Margherita: Portofino Alternative
The Italian Riviera is known for its colorful seaside towns. While most people flock to Cinque Terre, Santa Margherita is just as beautiful and less crowded. And much less glitzy than its elegant neighbor Portofino.
Santa Margherita has a pretty palm lined waterfront. Cafes line the town's two seaside squares, Piazza Martini della Liberta and Piazza Vittorio Veneto.
The only landmark of note is the Basilica of Sant Margherita, worth a look for its gilded and chandelier interior.
If you want a picturesque hike or run, a well traveled trail connects Santa Margherita with Portofino.
It can be done as a one way hike with a return via water taxi or bus, or as a return trip on foot as well. Along the way, you can snap photos of the splendid countryside.
15. Positano: Amalfi Coast Superstar
There's a saying that Positano "bites deep," it's so dreamy. Positano is the star of the Amalfi Coast.
This beautiful town in italy comes complete with sherbet colored cliffside homes, stunning beaches, and tiny cobbled lanes. Positano is the perfect base for exploring the Amalfi Coast. And the food is to die for!
Positano is built for walking. Positano's most famous site is the Church of Santa Maria Assunta, which has a dome made of sparkling majolica tiles.
One of the best things to do in Positano is to hike the Path of Gods. It's a well marked path extending from Positano to the town of Amalfi, which takes about 2 hours. You'll be rewarded with breathtaking views from the trail.
>>> Click here to book a Path of the Gods tour
READ: One Week Amalfi Coast Itinerary
16. Verona: Roman Ruins
This beautiful town in Italy is full of red and peach colored medieval buildings and Roman ruins. Verona was made famous by Shakespeare's plays Romeo and Juliet and The Two Men of Verona. And it's a fitting site for a high octane infusion of romance.
Juliet's House, or Casa de Giulietta, is a gorgeous 14th Gothic building in Verona. But, like the fictional love story, Juliet's House is itself a fiction. It wasn't owned by the Capulets.
Juliet's House is really a manufactured site, scorned by hard core skeptics. But the character of Juliet, nonetheless, has a grip on most of our collective psyche. It's a rarified symbol of love in an often cynical world. Juliet's Wall is covered with notes, scribbles, and love letters.
Once you've made the obligatory Juliet pilgrimmage, you'll also want to tour the doughty Roman Arena, the Arena di Verona, in the Piazza Bra. It's the third largest classical arena in Italy, after Rome's Colosseum and Capua's Colosseum.
>>> Click here to book a ticket to the Roman Arena
You should also stroll through Verona's picturesque piazzas, the Piazza dei Signori (with a statue of Dante) and the Piazza dell Erbe (with a statue of another poet, Barbarani).
Visit the Church San Zeno Maggiore, where Romeo and Juliet were fictionally married. And cross the absolutely stunning Ponte Pietra stone bridge.
For more info, you can check out my one day in Verona itinerary. You can book a guided walking tour of historic Verona, take an Italian cooking class, and day trip to Verona from Venice.
17. San Gimignano: Spiky Towers & Black Death Frescos
Surrounded by cypress groves, San Gimignano is the perfect stop between Siena and Florence.
Nicknamed the "Medieval Manhattan," the walled town has a startling cityscape with 13 spiky towers poking the sky. The most famous tower is the Torre Grossa. Climbing to the top is a must do.
San Gimignano dates back to the ancient Etruscans, a civilization that preceded ancient Rome. The town flourished in the middle ages, amassing wealth from saffron.
Sam Gimignano's historic center is a UNESCO site. Park outside the city walls and walk into the town. The central square is the Piazza del Duomo.
In the piazza, you'll find the Collegiate Church of Santa Mary of the Assumption. Consecrated in 1148, it's a beautiful (mostly) Romanesque church, austere on the outside with a feast of frescos on the inside.
In the Chapel of Saint Fina, there are paintings by early Renaissance master Ghirlandaio. There's also a violent fresco cycle of Black Death paintings, possibly by the mysterious artist Barna Da Siena, who allegedly fell to his death from scaffolding while painting the frescos.
After taking in the frescos, stop for a glass of wine or gelato in the Piazza della Cisterna. Be forewarned, Gelateria Dondoli is a very popular spot.
Here's my complete guide to the best things to do in San Gimignano. You can visit the town on a day trip to San Gimignano from Florence.
While there, you can book a wine and food tasting, go horseback riding in the Tuscan countryside, or even go truffle hunting.
READ: Historic Landmarks in Italy
18. Lucca: Subtle Charmer
Beautifully preserved Lucca is still entirely contained within its stout Renaissance walls. Happily, Lucca never tore them down, like many Italian towns did to make way for modernity.
Now, the walls are like a circular park for pedestrians and bikers. Walking the entire wall takes about 1 hour.
Lucca doesn't really have any must see sites, which means its under the radar for most tourists. Lucca's appeal lies in its relaxed old world charm. It's best to stroll along the pretty streets and piazzas. Romanesque churches are around every corner.
The main pedestrian drag is Via Fillungo. Lucca's central square, Piazza Anfiteatro, was build around an ancient Roman arena. There's no remnants of the arena. But the handsome oval curve — ringed with yellow medieval buildings — still sits pretty.
In Piazza San Michele, you'll find the lovely Church of San Michele, with a Romanesque facade. In Piazza San Martino, you'll find the ancient Cathedral of San Martino, which was built to house one of Christendome's most famous relics, the Volto Santo.
It was reputedly carved by Nicodemus, the man who helped depose Christ from the cross. The relic is kept in the freestanding Tempietto.
In its heyday, Lucca had over 100 towers, reminding me of Regensburg Germany. They were the homes of wealthy merchants families.The tallest surviving tower, the Torre delle Ore, is fetchingly capped with a bushy forest.
You can book a 2 hour guided walking tour in historic Lucca, go on a food and wine tour, or visit Lucca and Pisa on a day trip from Florence.
READ: 10 Day Itinerary for Tuscany
19. Padua: Giotto Frescos
Padua is a pretty university town just an hour from Venice. It boasts one of the greatest treasures in Western art, the UNESCO-listed Scrovegni Chapel.
It's also as known as the Arena chapel. Honestly, it's worth a trip to Padua just to see this one attraction.
Wallpapered with exquisite frescos by Giotto, the Scrovegni Chapel is a precious masterpiece of Italian art.
Giotto painted a cycle of 39 frescos depicting the lives of Mary and Jesus in 1303-05. It's as stunning in person as the Sistine Chapel in the Vatican Museums.
Giotto was the greatest painter of the 14th century. His Scrovegni frescos were a watershed moment in art history. With their naturalism, the chapel is considered one of the first examples of "modern art" and profoundly influenced subsequent Renaissance painters.
Visiting the Scrovegni Chapel can be a complicated affair. Here's for my visitor's guide to the Scrovegni Chapel, with tips for visiting and getting tickets.
You may want to book a Padua walking tour with skip the line tickets to the chapel. You can also visit the chapel on a half day tour from Venice.
20. Brescia: Underrated City Destination
Nestled at the foot of the Alps in northern Italy, just a few miles from Lake Como, Brescia is chock full of impressive monuments.
Your first point of call is Piazza Paolo VI, formerly called Piazza del Duomo. The square holds not one but two cathedrals.
The Old Cathedral, locally known as Duomo Vecchio, is truly incredible. Building began in the 11th century, with much subsequent construction.
The New Cathedral, with Baroque and Neo-Classical designs, was built in the 17th and 18th centuries. It boasts one of Italy's biggest domes.
Piazza della Loggia is another beautiful and elegant square. It's surrounded with Venetian style buildings, including the Renaissance Palazzo della Loggia.
Like the Palazzo Pubblico in Siena, it was intended to be an emblem of good government.
Another must see site in Brescia is the Tempio Capitolino, built by Emperor Vespasian in 73 A.D. It was dedicated to the Gods Juno, Jupiter and Minerva. Six of the ancient columns still stand.
READ: 7 Day Itinerary for Northern Italy
21. Burano: Italy's Most Colorful Town
Burano makes a beautiful — and astonishingly colorful — day trip from Venice, by vaporetto or water taxi. There are no real must see sites in Murano. It's mostly a place to wander around.
Every house in rainbow Burano is painted a different color. You have fabulous views of the pastel weathered homes from the bridges. But don't neglect Burano's side streets.
If you want some things to do in Burano, admire the leaning bell tower, visit the Burano Lace Museum, shop for lace, or visit Bepi's house painted in geometric designs.
Burano's culinary speciality is spaghetti al nero with black ink squid. If you'd like a real meal, try Al Gatto Negro.
You can visit Burano with a local guide. Or visit all the Venetian lagoon islands on a full day trip from Venice.
22. Bologna: Pasta & Porticos
Nicknamed La Grassa, or the Big Fat, for its delicious food, Bologna just oozes medieval charm. Bologna is a bit of a hidden gem in Italy. But it shouldn't be.
Bologna is a historic city filled with striking architecture, beautiful piazzas, a swathe of palaces and towers, and gourmet restaurants. You may want to begin your visit with a guided walking tour of the historic center.
Bologna's must see sites are found in the city's main square, Piazza Maggiore. You'll be greeted by a huge statue of Neptune atop a fountain.
It was created by one of the great late Renaissance sculptors, Giambologna, who was second only to Michelangelo in skill.
On one end of the piazza is the massive Basilica of San Petronio, honoring Bologna's patron saint. On the other is the swishy Palazzo dei Rei Enzo.
Bologna's most famous site and most beautiful church is the Santo Stefano Church. It's a complex of seven churches, founded by Petronio atop a Roman temple.
Legend holds that, when Dante was expelled from Florence for his politics, he wiled away time in the Romanesque cloisters.
When you've seen the main sites, head to the Piazza della Mercanzia where Bologna's leaning tower, Asinelli Tower, presides. You can climb 500 steps to the top for panoramic views. Have a gelato or meal in the pretty piazza.
Then head to Bologna's medieval Quadrilatero and meander through the medieval lanes filled with shops. Be sure to walk under the famous 666 Portico, the beautiful terra cotta arcades.
There are lots of fun tours to take in Bologna, many of them food related You can go on a classic food tour, go on a food tour with factory visits and a gourmet lunch, take a history tour and learn food secrets and legends, or take a e-bike tour with cheese and wine.
23. Assisi: A Saintly Stunner With Giotto Frescos
Located in Umbria, Assisi is a beautiful hill town in Italy for art lovers. Because Assisi was the home and final resting place of St. Francis, it's also a pilgrimage destination.
There are so many things to do in Assisi. Its 13th century Basilica of St. Francis of Assisi is one of Italy's most beautiful churches.
This must see Assisi site is two churches in one, both massive and multi-level. You'll want to see the lower church (for pilgrims), the pillar tomb of St. Francis, frescos by many artists, the cloister, and the upper church (for clergy).
The frescos are significant because they mark the transition from the Gothic period of art history to the early Renaissance.
Artistically, Assisi could be considered a mini Rome. Like Rome's Basilica of St. Peter, all the most famous artists of the day came to paint the Basilica of St. Francis.
The highlight of the lower church is Giotto's frescos in the Chapel of Santa Maria Maddalena, showing the life of St. Mary Magdalene. That chapel also has a fresco cycle by Pietro Lorenzetti, with a haunting Depostion.
In 1997, after an earthquake prompted restoration of the basilica, some other early Giotto frescos were discovered in the lower church's Chapel of St. Nicholas.
They were attributed to Giotto after his initials were found on one paintings. But some critics say the restoration was clumsy and ruined portions of the medieval frescos.
When you enter the upper church, you'll encounter paintings by Cimabue. He was the greatest Italian painter of the 13th century International Gothic style.
Giotto was Cimabue's protege. Giotto also painted a 28 panel cycle called The Life of St. Francis, between 1297 and 1300. It's worth noting however that some scholars dispute the attribution.
When you're done exploring the famed basilica, head to the Piazza del Commune. It rivals the Piazza Navona in Rome and the Piazza del Campo in Siena for sheer beauty. If you're hungry, there's an excellent wine and food shop, Botega dei Sapori.
While you're there, step into the Temple of Minerva. Though the Roman temple has now been converted into a church, the facade, including the Corinthian columns, is authentic and over 2000 years old.
Here's my complete guide the Basilica of St. Francis. You can book a small group walking tour or a private walking tour of the basilica and the town of Assisi.
You can also visit both Assisi and Orvieto on a day trip from Rome.
24. Cortona: A Crowd Free Tuscan Charmer
If you want to get off the beaten path in Italy, you can go "Under the Tuscan Sun" in hilly Cortona. A former Etruscan town, Cortona was featured in the famous movie and book. It's a quiet charmer, seated on a commanding hill with great views in every direction.
Cortona's main street is Via Nazionale, the only flat place in town. At one end of the streets is Cortona's most famous piazza, the Piazza dell Repubblica. At the other lies the splendid Piazza Garibaldi.
As you walk the small streets, you'll bump into one small church after another. Most of the buildings are made of pietra serena, a type of limestone that famed Italian architect Brunelescchi liked to build with.
If you continue on Via Berrettini, you'll reach Fortezza Medicea di Girifalco, which offer splendid views over the countryside.
Click here to book a guided tour of Cortona. You can also book a guided day trip tour from Florence that combines Cortona with Assisi, to get more bang for your buck.
25. Parma: UNESCO City of Gastronomy
Though known for its fine cuisine, Parma is beautiful town in Italy that satisfies appetites for art, music, and history. It was home to the High Renaissance artist Correggio, the opera composer Giuseppe Verdi, and the conductor Toscanini.
Parma is a sweet and colorful city. It has a pink Baptistery, precious Correggio frescos, and art-filled palaces. The entire town is dotted with red and yellow walls. Purple flowers cover the Ponte Verdi.
Parma is the place to take a Correggio course. You can find beautiful Correggio frescos in the cupola of Parma's Duomo, in the interior dome of San Giovani Evangelista Church, and in the Camera di San Paolo of the Benedictine monastery.
You enter via the Teatro Farnese, a beautiful wooden theater that will leave you gawking. The High Renaissance art works in the Galleria Nazionale will have the same effect.
You'll find a rare Leonardo da Vinci, Canaletto cityscapes of Venice, and more Correggio.
Have an aperitif at T Time, which overlooks the octagonal medieval baptistery. Grab dinner at Borgo20 or F.I.S.H, Restaurant.
For more ideas, you can check out my guide to the best things to do in Parma in one day. You might consider kicking off your visit with a guided walking tour, to get the full scoop.
26. Alberobello, Puglia: Trulli Beehive Homes
The Trulli district in Alberobello looks like a fairytale stage set. Trulli are whitewashed dry stone huts with conical roofs. They're an icon of the Puglia region. You can get a real feel for old time-y Italy.
They're sprinkled over the towns, farms, and fields in Puglia. In Alberobello, there are over 1600 tiny trulli, earning UNESCO status for their hobbit-like uniqueness.
Most of the the trulli date from the 14th to 19th centuries. They proliferated in this area because they were easy to build, with stones stacked in place without mortar in a prehistoric fashion.
There are two main trulli zones in Alberobello — Rione Monte (well known) and Rione Ria Piccola (less touristy). The most celebrated trulli in town is the Trullo Sovrano in Piazza Sacramento.
Here's my one day in Alberobello itinerary. Click here for a 2 hour guided trulli tour.
27. Ravello: Cliff Top Gem on the Amalfi Coast
Called the "mountain pearl," Ravello vies for the crown in the competition for the most beautiful town on the Amalfi Coast. Suspended between the sky and sea, Ravello is ravishing. It has absolutely mesmerizing coastline views.
Ravello can seem like a world removed from the clamor of the "1000 bends" Amalfi Drive. As a bonus, it's less crowded than the Amalfi towns because it doesn't have as many public transport options.
The heart of Ravello is in the Piazza del Vescovado and the Piazza del Duomo. Ravello's Duomo was founded in the 11th century.
The 12th century embossed doors were made in Constantinople. There are also some beautiful mosaics in the pulpit. From there, you can climb some steep stairs to inspect Ravello's fine medieval palace.
But Ravello is all about the views. Visit the Terrace of Infinity in the gardens of Villa Ciambrone.
It has one of the world's best and most beautiful views. It's a dizzying and memorable vista over the terraced mountains and sea. The terrace is decorated with Roman-style statuary along the fence.
The Villa Rufolo gardens also have magnificent views. The lower terrace garden is known as the Wagner Terrace and holds a Wagner Festival in the summer.
If you need some exercise, Ravello delivers. From Ravello, you can hike to the Monastery of Saint Nicholas, Amalfi, Minori, or Maiori.
You can book a guided tour to Ravello from Sorrento or tour from Naples.
28. Treviso: Authentic Canal City
If you were put off by Venice's crowds, try the oasis next door.
Treviso is an elegant little town, only a 30 minute train ride from Venice. It's one of northern Italy's undiscovered hidden gems.
With its fortified medieval walls, Treviso is criss-crossed with its own set of picturesque canals set amid waterwheels.
Treviso is vastly less crowded than Venice and eminently more authentic.
The main square is Piazza dei Signori. It's highlights are the Palazzo del Podesta and the Palazzo dei Trecento.
You can roam the narrow medieval streets and maze of back alleys and poke into Gothic churches. Many of them were frescoed by Giotto follower Tomaso da Modena.
Stop in at Cantinetta Venegazzu or All'Antico Pallone for an apertivo or late night cocktail. The restaurant that lays claim to inventing tiramisu, Le Beccherie, is just opposite.
If you can stay in Treviso longer, immediately north are Italy's Prosecco hills, now given UNESCO heritage status.
29. Procida: Italy Capital of Culture
Procida is another one of Italy's most beautiful towns. It's a colorful bougainvillea-clad island in southern Italy, off the coast of the Bay of Naples. It's the smallest of the three Poet's Islands (Ischia, Capri, and Procida).
The lovely laid back island village was recently named Italy's capital of culture for 2022, the first island to get this designation.
If you're looking for an off the beaten path hidden gem in Italy, Procida will fit the bill. It's only a 40 minute hydrofoil ride from Naples. Procida is a photogenic tangle of sherbet colored and crumbling houses. They're stacked on top of each other
Procida is known for its impressive sea views and lively architecture. In Casale Vascello, you'll find the characteristic architecture of Procida — outside staircases, arched windows, and ancient balconies.
One of the main attractions in Procida is the walled town of the Terra Murta, perched on a craggy rock with an abbey and a castle.
You can book a guided day trip to Procida from Naples.
30. Venice: the Romantic Floating City
I started with one of Italy's most fascinating towns — Florence — and I end with another showstopper — Venice. Venice is truly unique.
It's one of the world's most beautiful and captivating cities, a natural movie set. No other place looks quite like it. Venice is a city built on water that shouldn't exist in real life.
The most popular sites are concentrated in the San Marco area. Start with the spectacular Italo-Byzantine church of St. Mark's. It's one of Europe's most stunning churches with 90,000 feet of glittering mosaics.
Click here for a guided tour of the magnificent basilica. This 3 hour guided tour gives you combo access to St. Mark's, the terrace, and the Doge's Palace. This 2 hour guided tour gives you a walking tour of Venice + skip the line entry to the basilica.
Visit the Doge's Palace, once the home of Venice's titular leader and now the government center. Click here to book skip the line tickets for the Doge's Palace.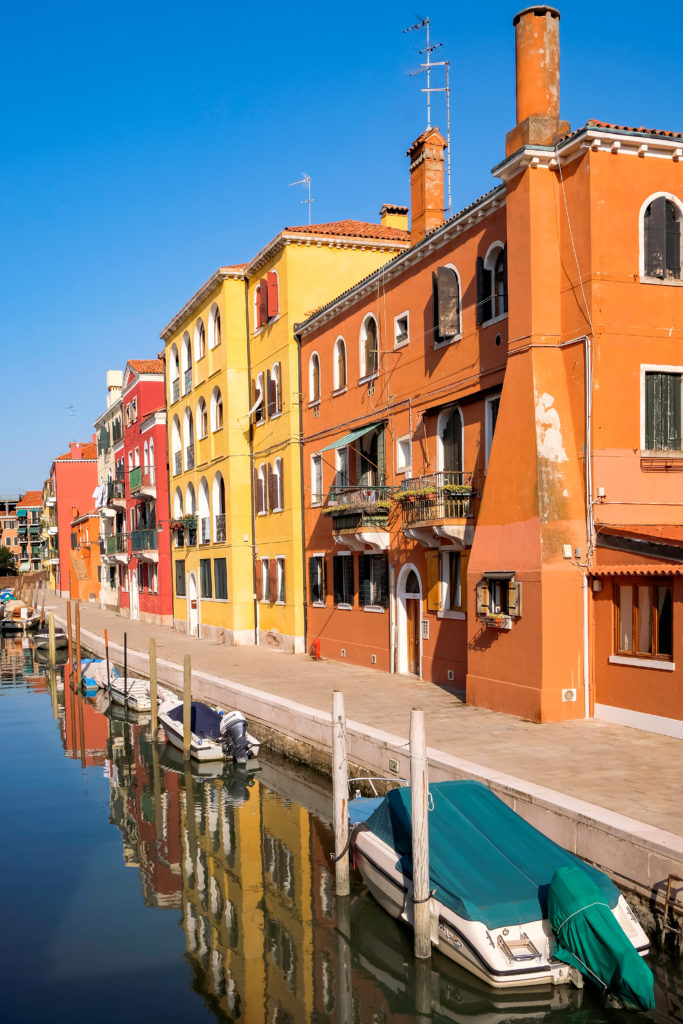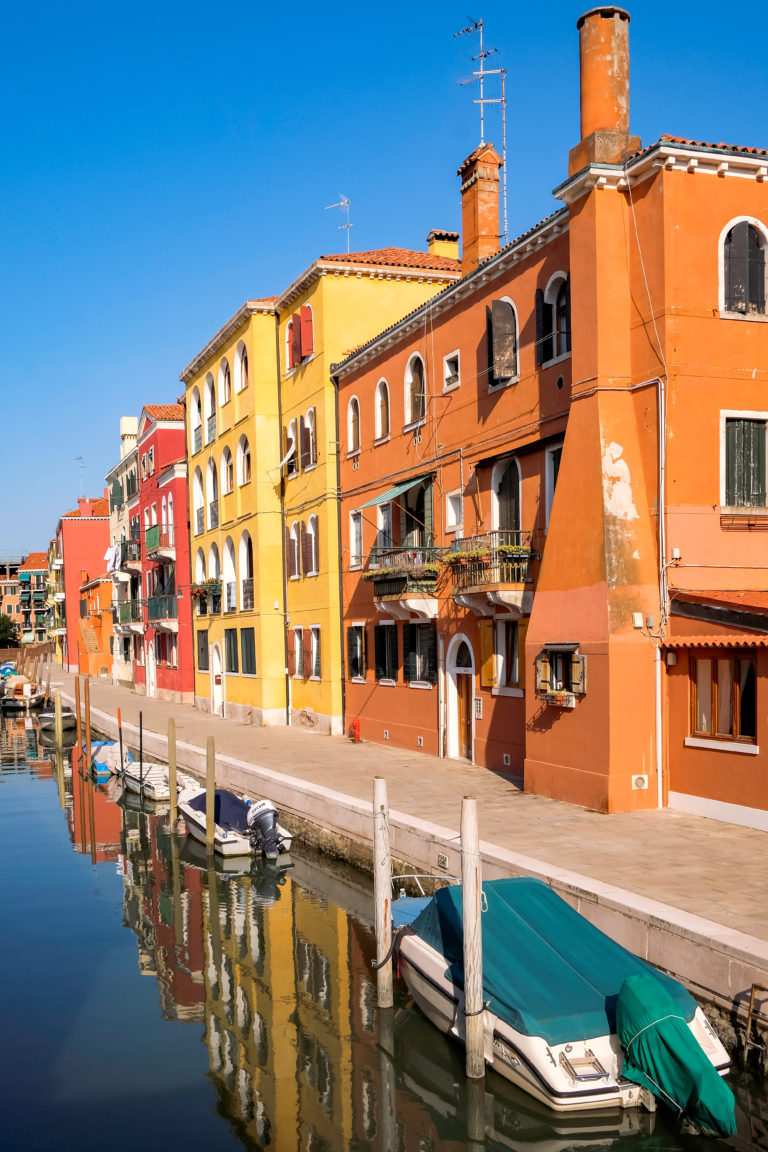 This guided tour of the Doge's Palace, which I took my self, gives you an overview of the Renaissance art, a peak at the prisons, and a walk across the Bridge of Sighs. The Secret Itineraries Tour takes you to even more secret spots in the palace.
But Venice is so much more than San Marco. To escape the crowds head to the rustic Dorsoduro area and visit the world famous Peggy Guggenheim Museum.
It's one of the premiere modern art galleries in Italy. Click here to book a ticket. Expect the museum to be crowded.
Stroll through the Cannareggio district, where you can even learn to row a gondola.
In Cannareggio, you can pop into the Galleria dell'Academia, which houses the world's most famous painting, Leonardo da Vinci's Vitruvian Man. Click here to book a ticket.
READ: 2 Day Itinerary for Venice + Day Trips
I hope you've enjoyed my guide to the most beautiful towns in Italy. You may enjoy these other travel guides and resources for Italy:
If you'd like to explore Italy's most beautiful towns, pin it for later.