Here's my guide to spending two amazing days in Dubrovnik, a magnetic fairytale walled city in Croatia. This itinerary covers all the best things to do and see in Dubrovnik.
I also give you a couple day trip options, if you have more time. If you add the day trips, you'll have a perfect 4 day itinerary with Dubrovnik as your base.
Dubrovnik is dazzling and divine. The Venetian-Gothic town is fairytale pretty, the perfect stage set version of what you would imagine a medieval European city looks like.
Dubrovnik has glamorous palazzi, orange terra cotta rooftops, stunning views of the shimmering Adriatic Sea, and fame as a Game of Thrones filming location.
Dubrovnik also has a perfect setting on the turquoise blue Adriatic sea, an impressive mountain backdrop, and some impressive historic landmarks. Its walls are one of the greatest fortifications of the middle ages. Dubrovnik has been listed as a UNESCO World Heritage site since 1979.
The bad news? The "Pearl of the Adriatic" is one of Europe's worst kept secrets.
Photogenic Dubrovnik's always been popular. But after it starred in HBO's Game of Thrones, tourism really surged. You won't be attacked by dragons. But watch out for tourists.
During the summer months, the town is gridlocked. Cruise ships emit a stream of visitors starting around 10:00 am. If you go in the fall, you'll better capture the magic of this colorful stunner of a town.
Two days isn't much time in Dubrovnik. But it's a small walkable city. You can cover the top attractions and landmarks in 2 days.
READ: 10 Day Itinerary for Croatia and Slovenia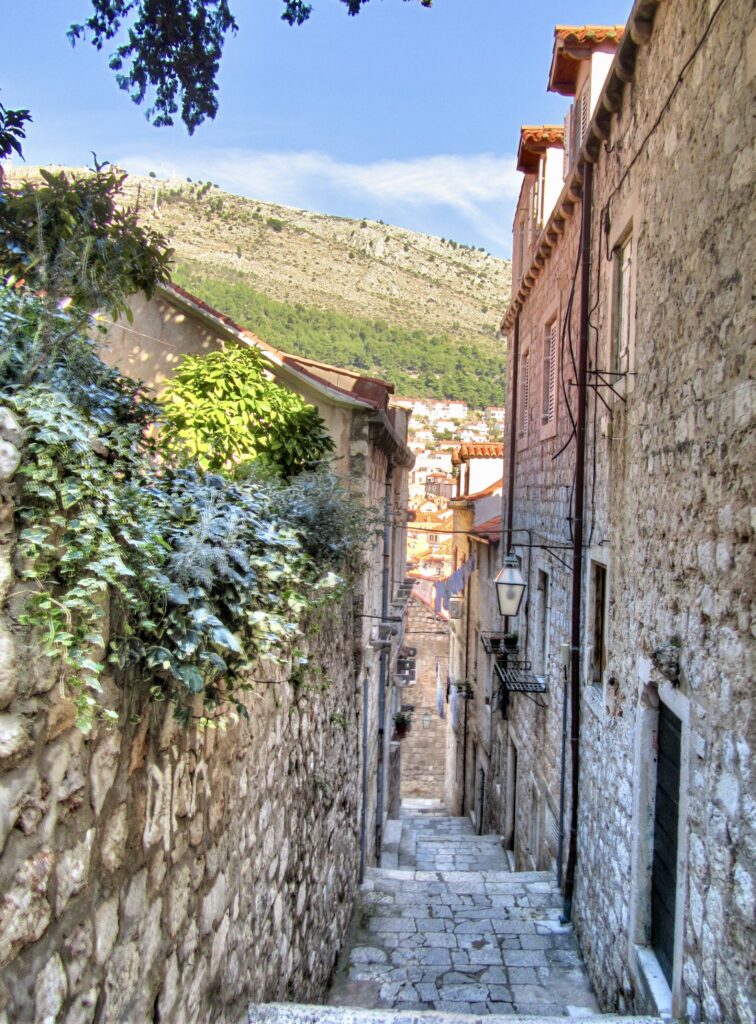 Overview Of 2 Days In Dubrovnik Itinerary
Here's a quick glance at what you'll see and do with 2 days in Dubrovnik:
Walk the city walls
Stroll Stradun Street
Jesuit Staircase
Church of St. Blaise
Dubrovnik Catheral
Rector's Palace
Dominican Monastery
Mt Srd via Cable Car
Lovrijenac Fortress
Gardac park
Lokrum Island
Game of Thrones Tour
Hit the beach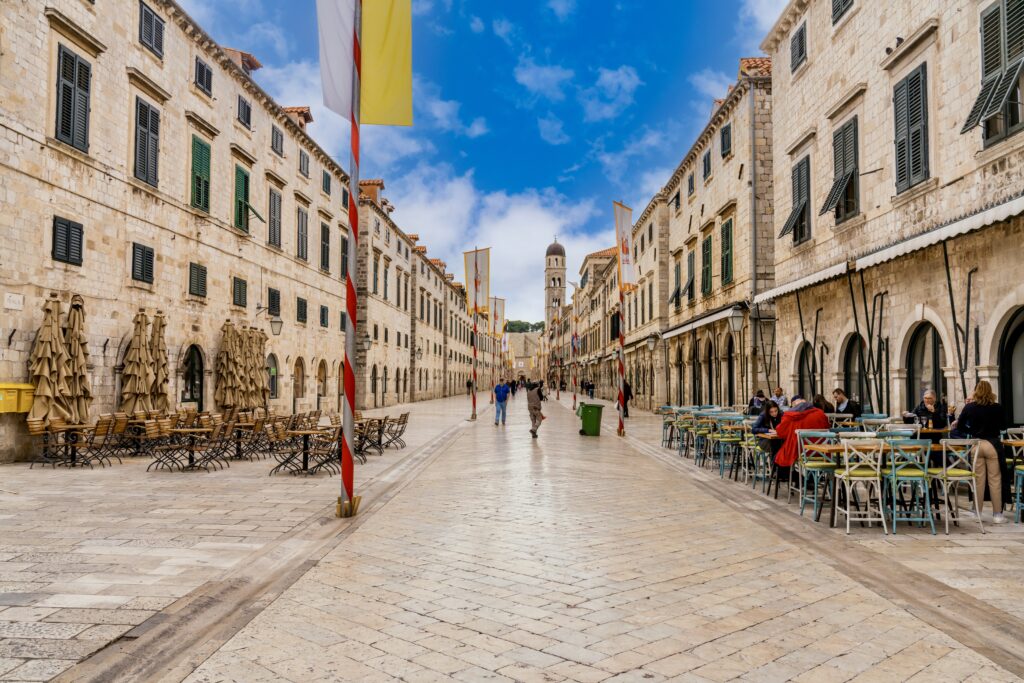 Tickets & Tours For Dubrovnik
Here are some of the best tours and experiences you can have with one day in Dubrovnik. Be sure to book in advance, at least from May through September.
A Short History of Dubrovnik
But first a bit of history. Dubrovnik was founded in the 7th century by Greek immigrants.
Then, the city was known as Ragusa. The city's history has forever been linked to the Adriatic Sea. At its zenith in the middle ages, Dubrovnik was powerful maritime republic.
Ragusa grew for centuries and became prosperous. In 1205, Ragusa fell to the republic of Venice, which left an architectural legacy. But Ragusa threw off the Venetian yolk in 1358.
READ: A Nutshell History of Venice
The 14th to 18th century were the golden years for the sophisticated republic, governing itself during the time of the Ottoman Empire. In 1667, Ragusa was hit by a devastating earthquake. The only buildings to survive were the Rector's Palace and Sponza Palace.
In 1806, Napoleon Bonaparte annexed the republic. In 1918, Ragusa changed its name to Dubrovnik and tourists began to visit. In 1991, Dubrovnik was bombed by Serbian and Montenegrin forces. But the city was beautifully restored.
The Ultimate 2 Days In Dubrovnik Itinerary
Day 1 AM: City Walls
Begin your day 1 in Dubrovnik bright and early with a walk along the city walls. The well-preserved walls were built and rebuilt in the 13th through 15th centuries to fend off Turkish invaders. To avoid the crowds, or at least have a shorter queue, start at the entrance nearest to the Ploče Gate.
The fortified perimeter makes an unforgettable stroll. As you walk, you'll have ever-changing perspectives and can poke in and out of forts, turrets, and crevices.
Be sure to climb Micenta Tower. It's the highest point on the walls. The fortress itself is a stony and cramped experience. But the views are terrific.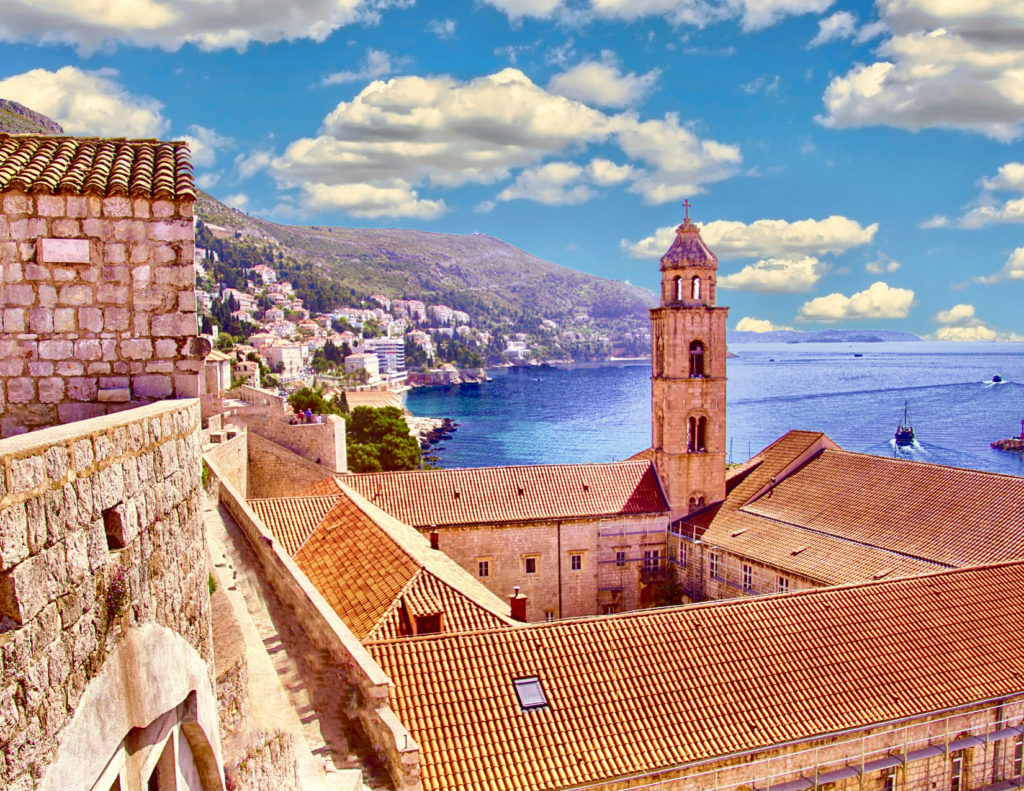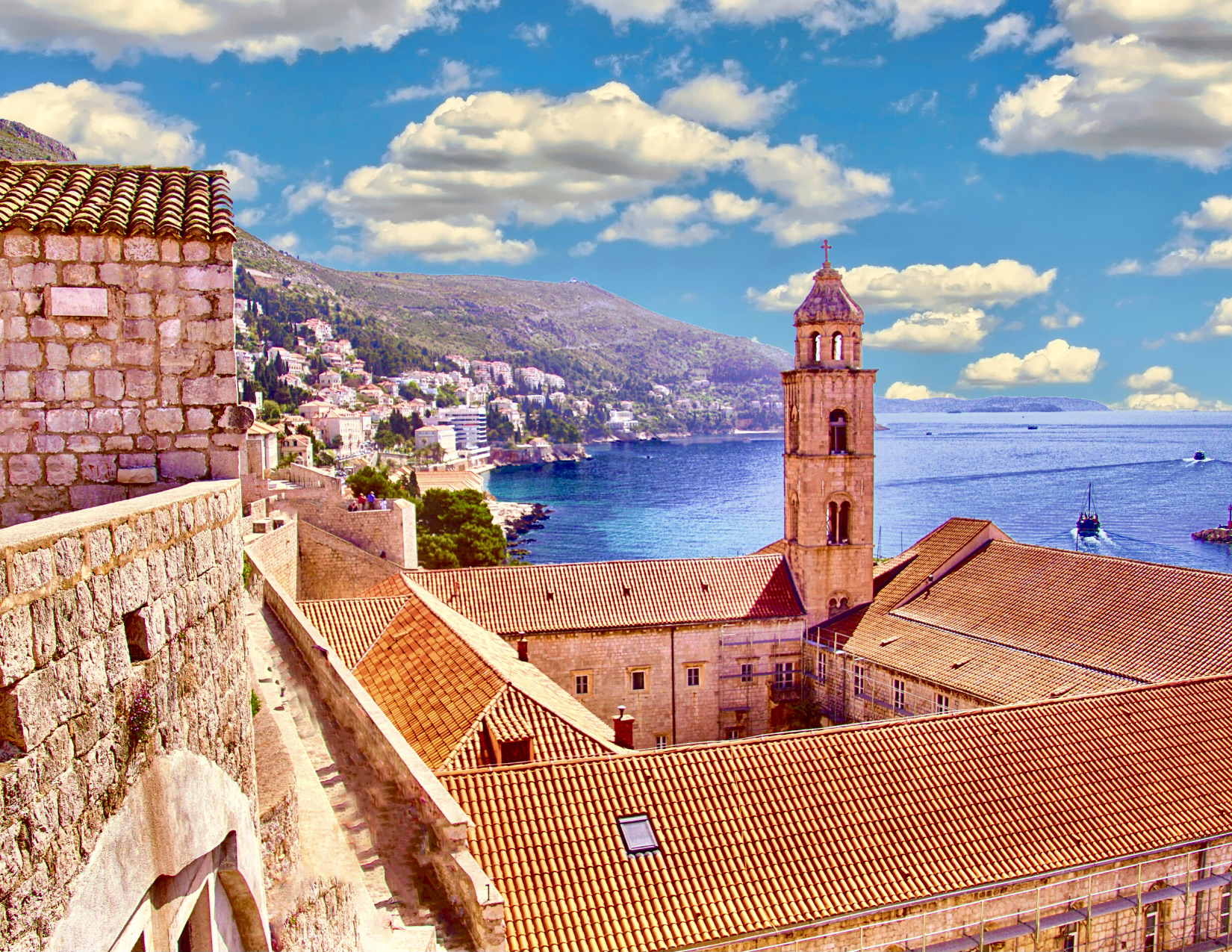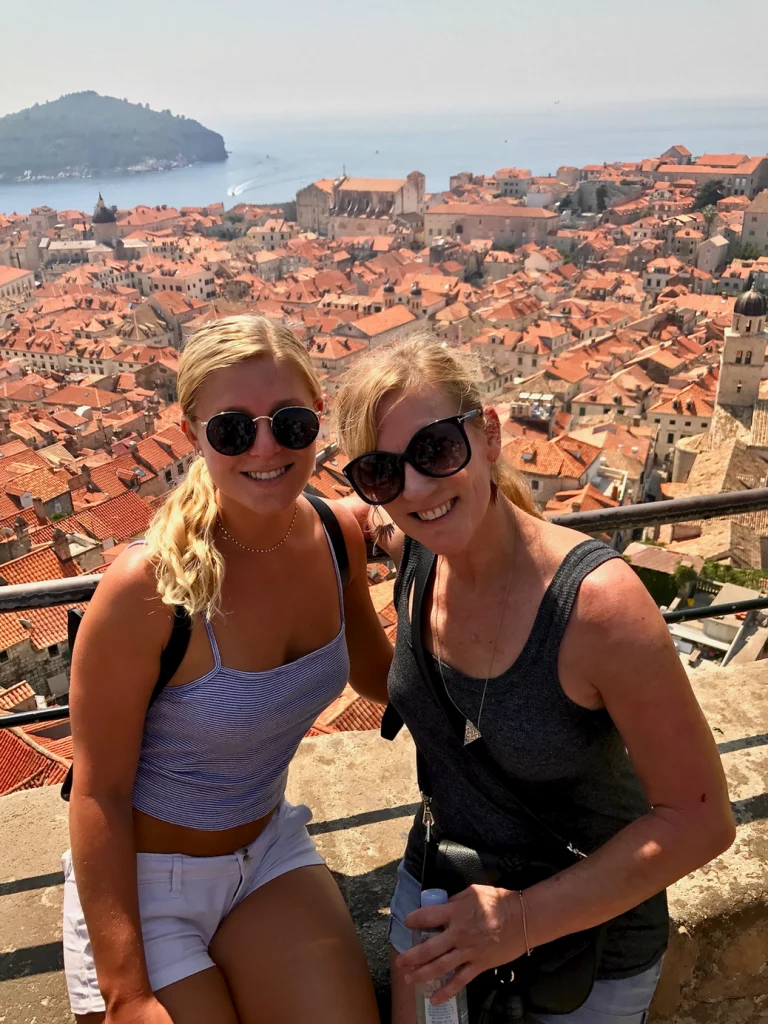 The city walls cost 200 kuna and will take approximately 2 hours, though there is an exit midway. You can buy tickets at the tourist office or online in advance.
You should arrive when the walls open at 8:00 am (in high season) to avoid the hordes of tourists from cruise ships and stave off heat exhaustion from the lack of shade. Alternatively, go around 5:00 pm.
Click here to pre-book an admission ticket for the city walls. Click here to book a a 3 hour walking tour of Dubrovnik that includes the walls.
After your tour of the walls, relax over a luxe lunch at Proto, a romantic seafood restaurant in the old town between Siroka and Vara streets.
Day 1 PM: Attractions in Dubrovnik's Old Town
After lunch, explore the pedestrian-only historic center. All the must see sites and attractions can easily be visited on foot. You might consider booking a guided walking tour to get the full scoop.
1. Stradun Street
Take a proper stroll down Dubrovnik's main drag, the 13th century Stradun Street. The gleaming limestone street runs from Pile Gate in the west to Ploče Gate in the east. If you enter at Pile Gate, fill up your water bottle at Onofrio's Fountain.
Along Stradun, you'll see stunning Venetian style buildings. Explore the hidden pathways, staircases, and pricey shops and cafes. Stradun is akin to an old world shopping mall.
2. Jesuit Staircase
The beautiful Jesuit Staircase is reminiscent of the Spanish Steps in Rome. It's a staircase leading up to St. Ignatius Church and the Jesuit College.
The Baroque staircase is famous as the filming location for Game of Thrones, where it stood in for the Great Sept of Baelor. Cersei Lannister took her "walk of shame" down the staircase.
The walk of shame scene cost $200,000 to film over 4 days. Today, on location, you may even hear tourists ringing "shame bells."
3. Church of St. Blaise
Located in Luža Square, the Church of St. Blaise is opulent both inside and out. The church was designed by Venetian architect Marino Gropelli. It replaced another church destroyed by fire.
The only remnant, a statue of St. Blaise, is now on the main altar. You'll also find a 17th century quintych depicting The Martyrdom of St. Blaise by local superstar Petar Matejevic.
Right in front of the church is Orlando's Column. Built in 1418, the column is dedicated to the knight Orlando. Local legend holds that Orlando helped the people of the ancient Ragusa defeat attackers in the middle ages.
4. Sponza Palace
Sponza Palace is a 16th century palace, a rare building that survived the 1667 earthquake that devastated Dubrovnik. Built between 1516-22, it originally served as a customs house. Later, the palace was used as a mint, treasury, armory, and bank.
Today, the palace is a museum. The first two floors house the State Archives, with manuscripts dating back nearly 1000 years.
The museum also has a collection of black and white photographs of men slain in the horrific 1991 shelling.
5. Dubrovnik Cathedral
Dubrovnik Cathedral is an ornate Baroque 17th century church. It's also known as the Cathedral of the Assumption of the Virgin Mary.
The original 12th century Romanesque-style church was demolished in the 1667 earthquake. The current cathedral was built on the ruins of that church and others by the Roman architects Andrea Buffalini and Paolo Andreotti.
The highlight of the church is a painting by famed Venetian Renaissance artist Titian, The Assumption, on the main altar.
The cathedral's impressive Treasury is also worth a look. The Treasury houses 200 reliquaries, including the gold plated arm, leg, and skull of St. Blaise, Dubrovnik's patron saint.
The Treasury also has a copy of Raphael's famous Virgin of the Chair, the original of which is in the Pitti Palace in Florence.
6. Rector's Palace
The Rector's Palace was originally the seat of the Rector of the Republic of Ragusa between the 14th and 19th centuries. The rector, or city governor, would reside there during his one month stint in office.
The palace is notable for its loggia facade, with exterior columns topped by finely carved capitals. The loggia came courtesy of Florentine architect Michelozzo Michelozzi. Inside, there's a stunning staircase in the atrium, along with a statue of Miho Pracat, who bequeathed his wealth to Dubrovnik.
Today, the Rector's Palace houses the city museum, the Cultural History Museum, and a concert hall. The museum displays portraits of the rectors, as well as period furniture, wigs, coins, costumes, coats of arms, and clocks. You'll feel like a rector yourself amidst the quirky exhibits!
The Rector's Palace was also used as a filming location for Game of Thrones. If you're a superfan, you'll recognize it as the atrium to the Spice King's palace in Qarth.
7. Clock Tower
One of Dubrovnik's prize landmarks is its Clock Tower in Luza Square. The tower dates from 1444. At the top, two bronze statues ring the bell each day at noon.
At the end of Stradun Street, you'll find the port. You'll find restaurants, boats, and yachts — all set amid a lively atmosphere. If you love boat tours, this is the point of disembarkation.
8. Dominican Monastery
Construction of the Dominican Monastery began in the early 14th century. It's austere exterior is part of the city's outer walls.
Located between the Sponza Palace and the Ploče Gate, the monastery has a lovely and serene Gothic cloister, which you can glimpse from the city walls. The bell tower is original.
If you head inside, you can escape the crowds (and sun) and visit a small museum. The museum contains 15th and 16th century paintings by Dubrovnik School artists, illuminated manuscripts, relics, and some papal documents.
Day 1 Evening:
1. Mt. Srd Via Cable Car
In the early evening, take the bright orange Dubrovnik Cable Car up to Mt. Srd for a stunning sunset. Plan to arrive an hour or so before sunset. You've have views over Dubrovnik's old town and the mountains of Herzegovina.
If you've opted for the cable car ride, there's a restaurant at the top of Mt. Srd — Panorama Restaurant. The food is quite good for an obvious tourist restaurant. The epic viewpoint makes it seem even better. Book a table in advance and ask for a table with a view.
You can also hike up to Mt. Srd. The footpath is a well marked zig-zag path. The walk is free to do. You can also taxi to the top.
Click here to book a cable car ride that also offers a walking tour.
2. Dinner And Drinks
No Dubrovnik itinerary is complete without a drink at the super casual cliff side watering hole, Buza Bar. Buza Bar is located at Crijevićeva ulica 9. It can be hard to find.
It's accessed through a tiny doorway (more like a hole) in the city's southern rampart. From your rampart perch, you'll have stunning views.
For something a bit more upscale, round off the evening with a nightcap at the Bar by Azur Order a mojito, deliciously refreshing on a hot summer night.
For dinner, head to Restaurant 360, one of Dubrovnik's Michelin starred restaurants. It's an eclectic take on local Croatian ingredients. Set into the city walls, the restaurant offers a splendid view over the old town.
Another terrific option is Above 5. This Michelin beauty offers a rooftop terrace in the heart of old town. Because it's housed in a UNESCO-protected building, there's no elevator to the top.
You might also consider booking a guided food tour.
Day 2 AM:
Begin day 2 with breakfast at Gradska Kavana Arsenal. It's a lovely place situated in the heart of the old town (near rector's Palace) and overlooks the old port, Arsenal.
Or, grab your morning espresso at Cafe-Bistro Orlando on the Stradun.
1. Lovrijenac Fortress
When you're fueled up, head to the 11th century fortress, Lovrijenac Fortress (also known as the St. Lawrence Fortress).
Above the door leading to the fortress is a famous inscription carved in stone: "Non Bene Pro Toto Libertas Venditur Auro" ("Freedom cannot be sold for all the gold of the world").
Climb up 175 steps, to reach the upper level, where you'll find canons and a tiny chapel. From the fortress aerie, you are assaulted with the best views of Dubrovnik.
Your ticket to the city walls gives you entrance to the fortress, so keep it with you.
2. Gardac Park
If you need retreat from the heat after visiting the fortress, visit Gardac Park. Up a hill and away from the crowds, it offers a nice green space far from the heat and hordes of tourists. There are some nice vantage points along the cliff face.
3. Lokrum Island
In the late morning, take a ferry out to Lokrum Island from the harbor. They leave every hour or so, more frequently in summer. It's just a 15 minute ride.
Lokrum Island has rock slab beaches, gardens, a Benedictine Monastery, and stunning views of Dubrovnik. There are a couple places to grab a bite to eat. But you may want to pack a picnic lunch.
Once there, you can pose on an Iron Throne from Game of Thrones. Lokrum doubled as the city of Qarth in Game of Thrones.
Or, if you're athletic and need a workout, you can take a kayaking tour around Lokrum Island. Be sure to book in advance. Click here for a walking tour of Lokrum Island.
Day 2 PM:
1. Game of Thrones Tour
In the afternoon, if you're a Game of Thrones fan, take a Game of Thrones tour (2-3 hours). Dubrovnik served as King's Landing in the series and there are myriad filming locations.
Some tours take you to Lokrum island, but most don't and stay on the mainland. Here's my guide to taking a Game of Thrones tour in Dubrovnik.
Here are several tour options to choose from:
2. Beach Time
If instead you need some afternoon down time, lounge on a beach. Banje Beach is just outside the town walls, a couple minutes from Ploče Gate. There's a bar serving chilled drinks.
Bring your own beach towel and spread out on the pebbles. Or, you can pay extra (10 euros) for a sun bed and umbrella. There's also a shower and changing room there.
Just a 35 minute drive from Dubrovnik is a splendid beach, Sveti Pasjaca Beach. Closer by, just 8 minutes away, is Sveti Jakov Beach.
3. Dinner and Drinks
In the early evening, head to d'Vino Wine Bar for a cocktail. It's a mellow and cozy spot, with several outdoor tables tucked away on a narrow side street.
Croatia is bursting onto the wine scene and you can sample the classic Dalmatian reds.
You can scope out the best places on a tapas and wine walking tour. Or take a 3 hour food and wine tour.
For dinner, head to Kopun. You can try the city speciality, castrated rooster. Another good option is Azur, a fusion of Mediterranean and Asian food that is vegetarian friendly.
Alternatively, try a classic Croatian Peka meal. This is a particularly good idea for those who don't like seafood. In the Peka style of cooking, lamb or veal is slow cooked under a bed of coals.
If you want vegetarian food, the go to place is Nishta. It's a pretty restaurant on Prijeko Street.
More Time in Dubrovnik?
If you have more than 2 days in Dubrovnik, here are two excellent day trip options.
1. Kotor Montenegro
One of the most exciting day trips from Dubrovnik is to Kotor Montenegro.
It's an approximately 1.5 to 2 hour to Kotor drive from Dubrovnik. You may also experience delays crossing the border when you return to Croatia.
You may want to book a guided day tour from Dubrovnik. Or, once there, you may want to take a guided walking tour to get oriented. You can also book this Rick Steves recommended walking tour with food and wine.
Kotor lies, perfectly at ease with its dramatic setting, at the end of the photogenic Bay of Kotor. Its backdrop is the brooding Lovcen Mountains. Some call Kotor Europe's southernmost fjord. Others refer to it as a "little Dubrovnik."
Not surprisingly, the ancient walled town of Kotor Montenegro is a UNESCO World Heritage Site. It's easily one of the best preserved medieval towns in the Adriatic.
There's delightfully little to do in Kotor. There is no long "must see" list. You can pack away your guide books and maps, and venture forth with only camera and imagination in tow.
There are only four essentials: wander the picturesque Venice-like old town, hike to the Castle of San Giovani for spectacular views, admire the confident and ubiquitous Kotorian cats, and try a hot oily Montenegrin burek.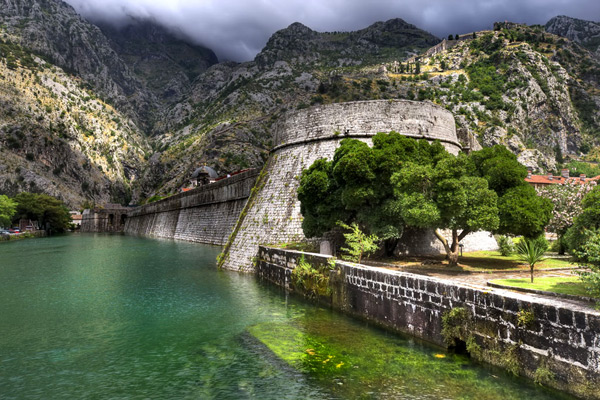 When you enter the main gate, you arrive at Weapons Square, the largest open space in Kotor. There, you will find Kotor's Clock Tower, which dates from the early 17th century. It endearingly leans and lurches slightly, as befitting a historic building.
Kotor is also filled with Romanesque churches and Venetian-influenced palaces. None of them are individually very impressive. All of them add to the atmospherics of the small town.
2. Cavtat
If you want to get off the beaten path and escape the crowds, head to Cavtat. From April to November, there are boat services from the old port of Dubrovnik to Cavtat.
Departures are every hour. You can also get there by catching Bus #10 from the Dubrovnik Bus Terminal.
Cavtat was founded by the ancient Greeks. It's an old pile of stone houses built on a peninsular with two wraparound harbors.
Cavtat's main attraction is the splendid Art Nouveaux Račić Mausoleum by sculptor Ivan Meštrović, located in the town cemetery.
Cavtat also has some pretty galleries, the standard Croatian pebbly beaches, and rows of seaside restaurants. A tree-clad promenade skirts around the peninsula where you can stroll and lounge.
You can also pop into the Bukovac House, a museum dedicated to Cavtat's most famous painter Vlaho Bukovac. Try to attend a concert in the cloister of the Our Lady of the Snow Monastery.
And definitely indulge in some fresh baked goods or sweet treats at Peco, a coffee and pastry shop.
You can also book a guided day trip tour from Dubrovnik to Cavtat.
Tips For Spending 2 Days In Dubrovnik
Here are some must know tips for visiting Dubrovnik.
1. Currency
The currency in Croatia is the kuna, not the euro.
2. When To Go
Peak tourist season runs from May through September, with the most traffic in early August. In July and August, Dubrovnik will be hot and crowded.
I don't recommend going then unless you have a high tolerance for lines, selfie sticks, and crowds.
3. Driving
If you day trip from Dubrovnik, you'll find that driving in Croatia is a breeze, with modern highways. You drive on the right side of the road. An International Drivers License isn't required, but is recognized. You can obtain one at your local AAA in advance.
In Croatia, the highways have tolls, which you can pay with cash or a credit card. If you take the day trip to Kotor, be sure your rental agency knows that you're traveling there.
READ: Tips For Renting a Car and Driving in Europe
Driving in the city, on the other hand, can be challenging. The old town of Dubrovnik is a pedestrian-only zone, known as the "TLZ" or Traffic Limited Zone, where vehicles are not allowed.
Parking spaces outside the center are limited. You should check to see if your hotel or accommodation has parking spaces.
4. Language
In Croatia, the language is Serbo-Croatian. You'll find that English is widely spoken in the tourist areas and attractions.
5. Wear Comfy Shoes
In Dubrovnik's old town, the stone pathways are often smooth and polished. They gleam in the sunlight. Some parts of the city are uneven with gravel or stone floor.
You'll need comfy walking shoes. Dubrovnik also has plenty of steps, so be prepared for some serious leg work at times.
6. Tourist Offices
The main office is at Brsalje 5 (just outside the old town, close to Pile Gate). It's open Mon-Sat from 8:00 am to 7:00 pm and Sun from 9:00 am to3:00 pm.
There's also a small tourist information office at Obala Ivana Pavla II, br. 1, Gruž (close to the ferry port).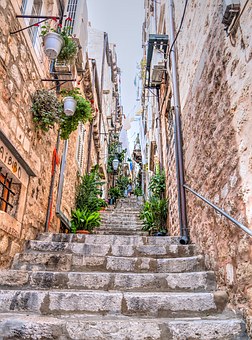 7. Getting To Dubrovnik
There used to be no direct flights to Dubrovnik from the United States. Now there are a few from Philadelphia.
If Philly isn't near you, your best bet is to fly through London on British Airways or through Frankfurt with Croatia Airways. I did the latter.
No visa is required for EU, Canada, or US passport holders. Dubrovnik Airport is a little over 12 miles from the town center. It takes about 20 minutes by taxi or car. You can also book a private transfer to take you to your hotel.
8. Where To Stay In Dubrovnik
Dubrovnik has some beautiful hotels. You're spoiled for choice.
The Scalini Palace is centrally located and housed in a 16th century stone house. The Hotel Excelsior is perched above the old Town with stunning water views.
The Pucic Palace is a beautiful Baroque hotel in the cobbled Old Town. Also in Old Town is the pretty boutique hotel Hotel Stari Grad.
I hope you've enjoyed my 2 days in Dubrovnik itinerary. You may enjoy these other city itineraries for Europe:
If you want to spend two days in Dubrovnik, pin it for later.