"Everyone who has visited the Basque Country longs to return; it is a blessed land." — Victor Hugo, French novelist
Here's my guide to taking a 10day road trip through the captivating Basque region of Spain. You'll discover the hidden gems, must visit towns, and the breathtaking landmarks that make Basque Spain truly enchanting.
From its diverse landscapes to its vibrant art scene and UNESCO-recognized treasures, this region will leave you in awe.
In Spain's Basque region, you have all that with gorgeous green landscapes to boot. The grandeur and beauty of this area of northern Spain will bewitch you. And the food is out of this world.
In the Basque country, you can visit secret Spanish fishing villages, with flower-laden balconies. Or, you can glitz it up at ritzy resort towns like San Sebastian or cultural havens like Bilbao.
If you love seafood, sun, and breathtaking coastal vistas, Basque Spain is your place.
To access the Spanish Basque country, fly into either San Sebastian or Bilbao. As a major city, Bilbao is likely cheaper and has more flight options.
Bilbao connects to all of Europe. Use Bilbao and San Sebastian as your two bases for your 10 day Basque road trip. I give you tips on where to stay in each city.
Split your time evenly with 5 nights in each base, starting in Bilbao. Both cities make fantastic bases for day tripping. There's no reason to move around constantly in the Basque region. Distances are close.
I like staying in small cities because you can usually end your day with delicious restaurant options. But parking an be expensive.
If you'd prefer to stay somewhere quieter and less expensive, you could pick one of the beautiful small towns I discuss below. If you want to avoid the crowds in the uber popular San Sebastian, Getaria makes a good alternative base.
Overview of 10 Day Basque Spain Itinerary
Here's a quick snapshot of my recommended 10 day itinerary for Basque Spain, with all the best spots scoped out for you:
Day 1: Explore Bilbao
Day 2: Explore Bilbao
Day 3: Day Trip to Gaztelugatxe
Day 4: Day Trip to Enchanted Forest of Oma or Pamplona
Day 5: Day Trip to Onati & Arantzazu or to Vitoria-Gasteiz
Day 6: Drive to San Sebastian, stop in Getaria en route
Day 7: Explore San Sebastian and Zarautz
Day 8: Day Trip to Hondaribbia
Day 9: Day Trip to Biarritz France
Day 10: Day Trip to Guernica or Lekeitio
This super detailed 10 day itinerary is perfectly adjustable. You can make it shorter or longer, depending on your available vacation time or personal pace of travel. I've tried to give you a mix of cities, leisurely villages, and nature.
I've given you plenty of day trip options and choices as well, so you can tailor this Basque itinerary to your own interests. You can easily make this 10 day itinerary into a 14 day itinerary.
On days 4, 5, 7, and 10, I've given you options for visiting two different Basque destinations. If you dedicated one day to each of these destinations, you would have a more leisurely two week plan.
The Perfect 10 Days in Basque Spain Itinerary
Here's what to do with ten days in Basque Spain.
Day 1: Explore Bilbao
Begin your 10 days in the Basque capital of Bilbao, pronounced Bilbow. When one thinks of Basque Spain, most people's mind default to San Sebastian.
But Bilbao is an incredibly cool and underrated city in Spain. And much less crowded with tourists.
Bilbao is a small city beautifully situated amid rolling green hills and mountain ranges — an urban landscape in a country setting. Glimmering on the Nervion River, Bilbao is chock full of historic landmarks, Michelin restaurants, and world class museums.
1. Casco Viejo & Bilbi
After you've arrived and settled in, explore Casco Viejo. Bilbao's medieval quarter. You can grab a quick bite for breakfast at Beetle Bar or Cafe del Arenal. Click here for an excellent guiding walking tour of this area.
In Casco Viejo, you'll find the "seven streets" of the historic center, where Bilbao was born. They are teeming with lively and quirky cafes, pintxos (tapas) bars, tony shops, and tiny squares.
Locals mix with tourists and there's definitely Basque energy flowing.
The centerpiece of old town is Santiago Cathedral, a 15th century church with a Gothic facade and decorations. It's free to enter. For 2 euros, you can peak into the cloister from the famous Door of the Angel.
There are plenty of pretty churches in this area — Iglesia de los Santos Juanes, Isglesia de San Anton, and Iglesia de San Nicolas.
Connected to Casco Viejo is nearby La Vieja, nicknamed Bilbi, another ancient part of the city. Bilbi has a hipster vibe and is Bilbao's trendiest district.
Full of funky bars, art galleries, bars and boutiques, it will keep you entertained and busy. Grab lunch here, perhaps at El Perro Chico.
>>> Click here to book a small group walking tour
2. Guggenheim Museum
In the late afternoon, art lovers should visit the world famous Guggenheim Museum in Bilbao's Abando neighborhood. Inaugurated in 1997, Frank Gehry's twisting shimmering museum is the star of Bilbao.
It's been likened to both a palace and a ship. The museum even has its own Michelin-starred restaurant, Nerua Guggenheim Bilbao, focusing on local Basque ingredients.
The museum exterior courtyards are scattered with world renowned sculptures: Jeff Koon's massive flowering Puppy, Louise Bourgeois' 30 foot Maman spider, Anish Kapoor's Tall Tree and the Eye, and the newest piece Fujiko Nakaya's The Fog Sculpture.
On the inside, the architecture continues to amaze. There's a glass-enclosed 50 meter atrium, crowned with a skylight in the shape of a metal flower. Light suffuses the place.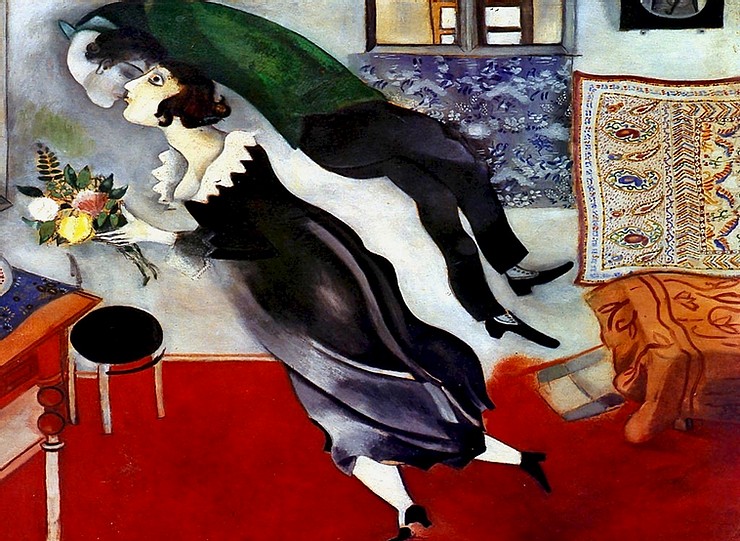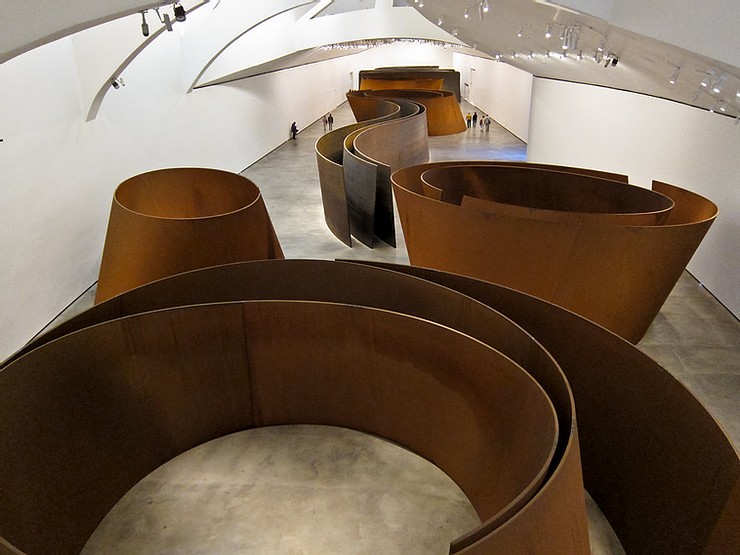 Inside lies a modern art collection on par with Europe's best modern art museums. You'll find works by Robert Motherwell, Cy Twombley, Yves Klein, Marc Chagall, Andy Warhol, Eduardo Chillada, and Anselm Kiefer.
A highlight for me was walking through Richard Serra's outsize and powerful Matter of Time steel sculptures.
Click here to book a skip the line ticket and tour of the stunning Guggenheim Museum. To see it all, you can book a small group guided tour or a private tour of the Guggenheim.
3. Azkuna Zentroa
To the west of Guggenheim lies what may be Bilbao's most beautiful and interesting building, Azkuna Zentroa.
It's a bizarre but brilliant culture and leisure center. The building was reimagined by French designer Philippe Starck.
On the outside, it's a mock medieval castle. On the inside, Azkuna is all Starck, an adventure in experiential contemporary art.
Its vast foyer is supported by 43 squat stylized pillars. It houses a public gym, swimming pool (with a glass bottom), a library, a restaurant, tapas bars, a rooftop terrace, and modern art exhibitions.
4. Plaza Nuevo
For a pre-dinner cocktail, head to 19th century Plaza Nuevo or the "New Plaza." It's a beautiful Neo-Classical arcade square.
Plaza Nuevo is a gourmet heaven, where tourists and locals commingle sipping wine and eating pintxos, the Basque version of tapas.
A popular pintxos spot in Plaza Nuevo is Cafe Bar Bilbao. Each Sunday, there's a flea market in the square.
5. Bilbao's Famous Restaurants
Bilbao has a vibrant foodie scene. You'll be here for five nights, so you will get a real chance to sample the wares. Loosen your belt.
Bilbao has 22 Michelin starred restaurants, including one three starred restaurant, and is considered a foodie haven. Azurmendi, with its three Michelin stars, is the jewel of Bilbao. Restaurant Mina is another culinary trendsetter and deserving Michelin star recipient.
Aside from these heavy hitters, Bilbao also has fabulous local restaurants, many scattered throughout its old town. You can find innovative pintxos and food at Irrintzi, La Vina Del Ensanche, Cafe Iruna, and Ledesma No 5.
Because Bilbao is such a foodie town, it's a great place to take a guided gourmet food tour or a guided pintxos tour.
Day 2: More of Bilbao's Must Visit Attractions
1. El Ensache
On day 2, explore more of Bilbao. In the morning, stroll through Bilbao's El Ensache neighborhood. The main boulevard of this tony neighborhood, known as the Gran Via, is Gran Via Don Diego Lopez de Haro.
It's the most cosmopolitan area of the city. There are lots of first rate shops, restaurants, and bars.
This area contains some of Bilbao's most important renovated and eye catching buildings, including La Equativo, by Manuel Galíndez, the Banco de Bilbao, by Pedro Guimón, and the Naviera de la Sota y Aznar building, by Manuel María Smith Ibarra.
>>> Click here to book a history and architecture walking tour of Bilbao
2. La Ribera Market
For lunch, head to the foodie paradise of the Mercado de la Ribera food market on the Nervion River. La Ribera is Europe's largest indoor food hall, in the southern part of Bilbao.
There's been a market on this site since the 14th century. Today's beautiful Art Deco building was built in 1929. As part of Bilbao's urban renewal, the market was restored and reopened in 2011 to acclaim.
You'll see goat carcasses and pig heads. But you can also check out the beautiful stained glass panels.
>>> Click here to book a market tour
Bilbao's wolfish coat of arms is in the largest panel. Across from the Ribera you can admire the beautiful Neo-Baroque Teatro Arriaga, modeled after the Opera Garnier in Paris.
3. Museum of Fine Arts
After lunch, head to Bilbao's Museum of Fine Arts in the Abando district Although it's overshadowed by the Guggenheim, the Museo de Bellas Artes is one of Spain's best museums.
READ: Goya's Black Paintings at Madrid's Prado Museum
The museum boasts over 10,000 art works, arranged chronologically from the 12th century to the present. It has works by Spanish luminaries such as Picasso, Goya, El Greco, Zurbaran, Murillo and Chillada.
If you're a nature lover, you can stroll in the adjacent Dona Casilda Iturrizar Park after your visit.
4. Funicular de Artxanda
When you're done admiring the art, take a funicular ride from the Bilbao's city center to Mount Artxanda for an aerial view of the city.
It's a must do activity in Bilbao. From the Guggenheim, cross the stark white Zubizuri footbridge and it's a short walk to the funicular.
After enjoying the views, pick another of Bilbao's fine restaurants for dinner. Or go on a pintxos crawl.
Day 3: Day Trip to San Juan de Gaztelugatxe
On day 3 of your 10 days in Basque Spain, take an easy day trip to the absolutely jaw dropping San Juan de Gaztelugatxe. It's a magical spot about 45 minutes from Bilbao.
Gaztelugatxe is really a must see natural wonder in the Basque Region and has become TV famous. On a bright day, the views are unbelievable.
In the wildly popular HBO series Game of Thrones, Gaztelugatxe appears as Dragonstone — the haunting ancestral home of Daenerys Targaryen, the Mother of Dragons.
In real life, Gaztelugatxe is a fantastical ancient stone foot bridge winding up to a 1,000 year old hermitage chapel on Spain's Bay of Biscay. It's a dramatic hike.
Because of its remote location, Gaztelugatxe is most easily accessed by car. From Bilbao, take the B1-631 highway. Follow the signs and park on top of a hill off the main road and walk 1 kilometer down to the site.
You can also visit Gaztelugatxe on a guided day tour from Bilbao. You can also book a half day Game of Thrones tour from Bilbao.
When you're done with your hike, head to nearby Bakio beach to cool off. But if you want a more beautiful beach, drive a little further to beautiful Sopalena Beach.
It's one of the best beaches in Basque Country, where cliffs drop into the ocean.
READ: Complete Guide to Visting San Juan de Gaztelugatxe
Day 4: Two Day Trip Options, Enchanted Forest of Oma or Pamplona
Today, choose between two very different options. Either visit a unique painting inside nature in Oma or take a city break in the medieval town of Pamplona.
Pamplona is a longer day trip at a 1:45 drive. But if you are visiting in July, it's worth it just to experience the "running of the bulls."
1. Option 1: Enchanted Forest of Oma
Commissioned in 1982, the Enchanted Forest of Oma is a magical work of art in the middle of nature. Oma is a 1:15 drive from Bilbao by car. Park at the restaurant of Lezika. You can't drive into the forest.
The Painted Forest of Oma is located in the Udaibai Biosphere Reserve, a UNESCO listed site. It was the brainchild of artist Augustín Ibarrolat, who transformed the forest into a beautiful open air art gallery.
He combined the techniques of rock painting from the Paleolithic period with Land Art, an artistic movement that uses nature as a creative material.
Ibarrola painted the pine trees so that the images change depending on where you are stand. You'll see motifs of eyes, rainbow, geometric shapes, etc.
There are small yellow circles with numbers throughout the Forest. They show you where to stand and in what direction to look to see all of the shapes and figures.
The trail for the Forest or "Bosque Animado de Oma" is just across the road from the Lezika parking lot. You'll walk for an hour walking uphill, on a road between the pine trees, until you reach the Forest.
You can find a map of the Bosque de Oma online with the titles of the different works next to the corresponding numbers. But you may want to just to walk around and let your imagination run riot.
2. Option 2: Pamplona
Pamplona is the leafy and underrated capital of the Navarre region in greater Basque Spain. It's a well-heeled university town, home to one of Spain's most famous and testosterone-fueled festivals, the Running of the Bulls, which takes place one week in July.
The San Fermin Festival, a 24/7 party atmosphere, attracts 1 million visitors annually to watch men outrun bulls (or be gored). You can book a balcony reservation to watch the spectacle.
If it's not festival time, you can walk the path men and bull follow, called the Encierro. They run through narrow streets to the bull ring, the Plaza de Toros de Pamplona.
But there's more to Pamplona than bulls. Even if the bulls aren't thundering down cobblestone streets, picturesque Pamplona will still appeal.
It has a grand Gothic cathedral, well-preserved 16th century fortifications, and medieval streets and squares. Pamplona is also a stop on the Camino de Santiago pilgrimage route.
Pamplona's old town was beloved by Ernest Hemingway. The famed author used to nibble pintxos and fill up on the local liqueur, Pacharan, at the historic Cafe Iruna.
Hemingway set part of The Sun Also Rises in the pretty Plaza del Castillo and helped make the San Fermin festival famous. Pamplona's Museo de Navarra also a collection of Goyas, Roman mosaics, and murals.
You'll also be in foodie heaven in Pamplona. Spain is known for its jamon, queso, and croquettas. But Navarre is know for the intense freshness and quality of its produce.
If you stay for dinner, try La Olla, Bar Gaucho, El Mercao, or Bodegon Sarria. You can also book a guided food and wine tour in Pamplona.
Just outside Pamplona, in the village of Alzuza, there's a museum dedicated to the great Basque sculptor Jordge Oteiza.
Day 5: Day Trip to Onati & Arantzazu or to Vitoria-Gasteiz
On day 5, choose between Onati and the Sanctuary of Arantzazu or the pretty small city of Vitoria-Gasteiz. If you're in the mood for a lovely low key Spanish city, choose Vitoria. If you want a modern monastery and natural beauties, head to Onati.
1. Option 1: Onati
The old university town of Onati is reminiscent of Seville, Andalusia's sultry capital. It has lavishly decorated buildings and a mystical medieval atmosphere. The town's highlight is its ancient university. The town center is buzzing with eateries, a Gothic church, and the Church of San Miguel Arcangel.
Just outside Onati is the futuristic Sanctuary of Arantzazu, founded as an old Franciscan monastery. It's of huge importance in the region and perched at the very top of a winding mountain road. Built in 1950, some historians say it's the first contemporary religious building and the most avant garde church in Europe.
To enter, you glide through oxidized iron doors carved by famed Spanish sculptor Eduardo Chillada. Stained glass windows bathe the altar in blue and green light. In the crypt, you'll find rather bizarre paintings for a sacred space, scenes of nuclear war and the big bang.
Not far from the sanctuary are the Arrikrutz Caves. Opened in 2007, they are home to some slow growing stalagmites and stalactites. Skeletons of several extinct species of animals including cave lions and woolly rhinoceroses, were found in the caves.
You can book a guided day tour to Onati from Bilbao.
2. Option 2: Vitoria-Gasteiz
Vitoria -Gasteiz is a lovely art-filled small city about an hour from Bilbao. It's surprisingly overlooked by tourists and well worth a visit in its own right.
Vitoria has all the charm of Bilbao and San Sebastian, but none of the crowds. The town has received some good press in the last decade.
In 2012, Vitoria-Gastiez was named Spain's Green Capital, for its profusion of pedestrianized squares, gardens, and parks. In 2014, the town was named Spain's Gastronomy Capital for its delicious restaurants and foodie culture.
In 2021, National Geographic named Vitoria among the 25 best travel destinations, calling the city a "timeless place that will define our future itineraries."
At the summit of Vitoria, you can stroll through its impeccably preserved medieval quarter. The streets are named after medieval craftsmen's guilds. You may want to book a guided walking tour of the historic center.
Gape at the magnificent and imposing Cathedral of Santa Maria. The Gothic cathedral dates from the 13th and 14th centuries.
Browse in the beautiful Plaza de la Virgen Blanc. In the plaza, you'll find lots of shops and eateries.
Then, take a stroll in the old quarter and under the arcaded passageways of the Paseo de Los Arquillos. Vitoria-Gasteiz is also known as the "painted town" and there are street art murals scattered throughout the town.
Art lovers can't miss the Atrium Museum, opened in 2002. In subterranean galleries, you'll find a fantastic collection of modern art.
It includes pieces by Chillada, Miro, and Oteiza. Vitoria-Gasteiz also has a fine art museum, where you'll find works by other Spanish artists.
If you stay in town for dinner, head to the Michelin-starred Zaldiaran. Another tasty option is Ikea.
If you want pintxos, head to the award winning Sagartoki. The tourist office also offers a "Pintxo Map," so you can do a proper pintxos crawl of the town.
You can book a Vitoria and Rioja tour from Bilbao. You can also book a guided day tour with wine tasting.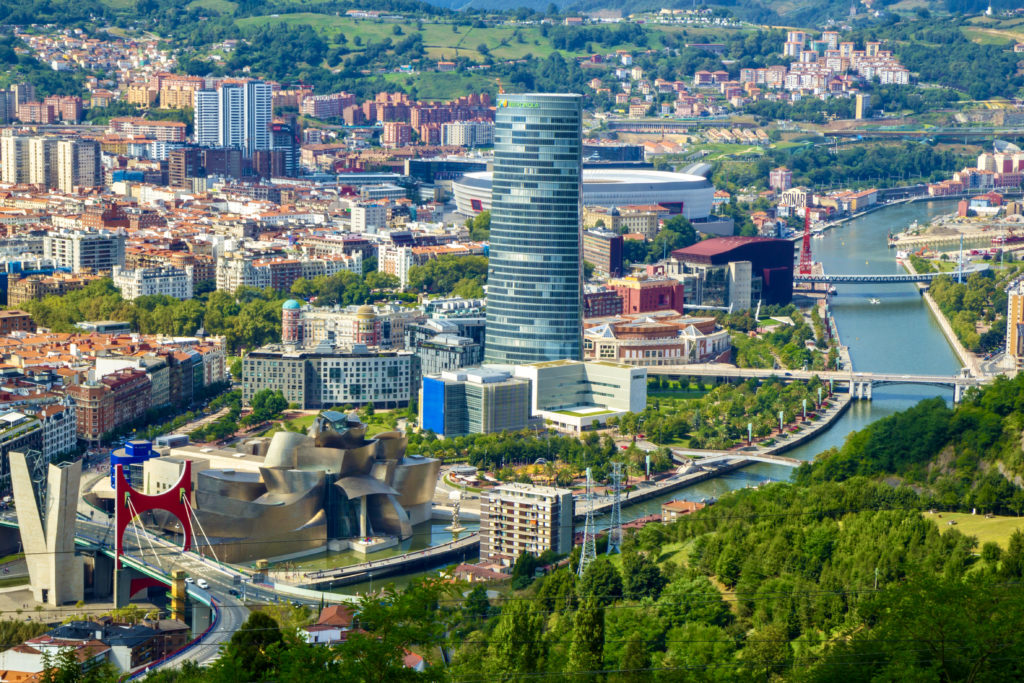 Where To Stay In Bilbao
Bilbao has some beautiful hotels. Check out Vincci Consulado de Bilbao, a Riverside landmark with a nautical theme and views of the Guggenheim. The Occidental Bilbao has smart guest rooms and a massive swimming pool.
For a real splurge, check out the Hotel Carlton, a five star beauty with old world charm.
There are some nice boutique hotels too, like the artsy designer-styled Hotel Miro near the Guggenheim Museum. Gran Hotel Domine has sleek modern decor and views of Jeff Koon's Puppy sculpture.
Day 6: Drive To San Sebastian, Stop in Getaria
On day 6, head to your next base, the popular San Sebastian. Stop in beautiful Getaria en route.
But for the presence of San Sebastian, Getaria could be a hotspot on the Basque coastline. Instead, it's a hidden gem in Spain.
For planning purposes, Getaria is one hour from Bilbao and then it's another 20-30 minutes from Getaria to San Sebastian.
Try to arrive in San Sebastian by mid to late afternoon, so you have time to enjoy the old town.
>>> Click here to book a walking tour of the old town
Getaria
Getaria is one of the most charming towns on the Basque coast, jutting out into the sea with an attractive sandy beach (Gaztepe). It's an pristine medieval fishing village with old world charm, stone houses, and gorgeous landscapes. You'll have picture-perfect coastline views.
Getaria is home to the Basque regions's signature drink, txakoli, a sparkling white wine. You can visit several wineries in and around the town. The town is also known for its seafood, particularly baby squid and turbot.
Getaria also has a pretty Gothic church and is the birthplace of haute couture fashion icon Cristobal Balenciaga.
There's a museum dedicated to his life and work. You get there via an incongruous outdoor escalator at the outer edge of the town.
San Sebastián
San Sebastian is an lovely resort town on the Bay of Biscay. This Basque city is objectively beautiful and tourists flock there in droves, so expect crowds.
San Sebastian is renowned as an otherworldly paradise, foodie resort town, and beachy playground of the glitterati and literati. The city's filigreed balconies and Belle Epoque buildings give the city a classical elegance.
San Sebastian's stunning beach, La Concha, is world famous and considered one of Europe's best beaches. In 2019, La Concha Beach was voted one of the Best Beaches in the World by Tripadvisor. San Sebastian has quite a bit of panache and refinement, thanks to its French influences.
If you're a food traveler, you'll be in seventh heaven. San Sebastian is frequently dubbed the "food capitol" of the world.
It boasts three restaurants with the rarest of accolades, a three star Michelin rating: Akelarre, Arzak, and Martin Berasategui. Reserve way in advance, if these restaurants are on your to do list for San Sebastian.
Spend the late afternoon strolling in San Sebastian's pedestrianized historic center, Parte Vieja. It's sprinkled with an endless variety of upscale stores, vibrant pintxo bars, and tony restaurants. You can book a 2 hour guided walking tour to see it all.
Be sure to check out the beautiful Bell Epoque City Hall, the Basilica of Saint Mary of the Chorus, San Vicente Church, and the Cathedral of the Good Shepard.
San Sebastian's old town also has one of the Basque region's best museums, the San Telmo Museum. Housed in a restored convent and a contemporary wing, you'll find both artifacts and cutting edge modern art.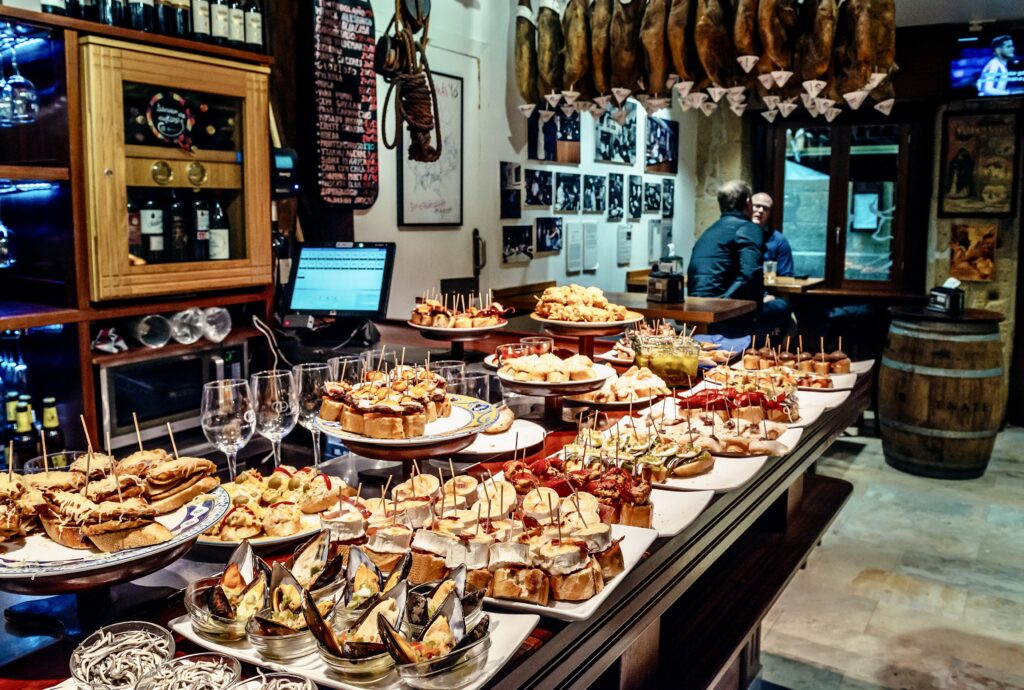 Parte Vieja has an abundance of pintxos (tapas) bars. The cardinal rule of Basque pintxos-bar dining is to never stop moving, sampling different bites on your nocturnal journey.
The best ones are Gambara and Txepeta. Or, just wander between Calle Fermin Calbeton and Calle 31 de Agosto and see what's on offer.
San Sebastian is one of the best places to take a food tour in Spain! Here are some of your options:
Day 7: Relax in San Sebastian and/or Zarautz
On day 7 of your 10 day Basque Spain itinerary, you may be ready for a day on the beach and some time outdoors.
Sometimes a mid vacation chill day is the perfect way to break up a trip. So spread out on San Sebastian's famed "shell" beach La Concha and relax.
If you want some exercise to leaven the sunshine, you can stroll along the dreamy C-shaped beachside trail.
At the far west end, just beyond Ondarreta beach, are metal sculptures — the Comb of the Wind, by renowned Basque artist Eduardo Chillada. It consists of iron installations in the rocks, which seems to "comb" the wind as the water crashes.
Hike up Mount Igueldo for the classic San Sebastian vista. Or, hike up the lesser known Mount Urgull to the local castle, the 12th century Castillo de la Mota. The views are amazing.
If you've satisfied yourself with San Sebastian's beaches or want something less crowded, you can also drive just 15 minutes to another pretty beach town, Zarautz.
Zarautz was once the preferred vacation spot of Spanish royalty. It's more laid back than San Sebastian.
Zarautz's claim to fame is a 1.5 miles long beach, dubbed the "Queen of the Beaches." It's the longest in Basque Spain.
If you want to grab a bite to eat in Zarautz, the speciality is squid with onion. Try dining at Kirkilla-Enea Jatetxea or Otzarreta.
Day 8: Day Trip to Hondarribia
After braving the tourists in San Sebastian, now it's time to get off the beaten path. Tranquil Hondarribia is a pretty resort town located on the Spanish-French border.
The historic city center is surrounded by city walls and a drawbridge. It's filled with cobblestones streets and colorfully painted houses with flowers spilling out of flower boxes. It has both a water level fisherman's district with great restaurants and a hilly medieval quarter.
In the town center, you'll find the Castle of Charles V (now a hotel), the Gothic Church of Santa Maria de la Asuncion, and plazas with al fresco cafes. There's also a nice beach, if you want to relax and swim.
Have cocktails in the main square, Plaza de Armas. If you want to stay for dinner, this tiny village has two Michelin starred restaurants, Restaurante Alameda and Maison Eguiazabal.
Day 9: Day Trip to Biarritz France
Yes, Basque France is close enough that you can easily day trip there. And who can resist an easy journey to another country?
The glamorous jet set town of Biarritz is one of the best day trips from San Sebastian. You can book a guided day trip tour from San Sebastián to Biarritz.
Half ritzy and half hippie, Biarritz is a popular beach resort and former playground to European royalty. The grand villas are lighter than in Basque Spain, white with green and red shutters and slate rooftops.
The charming French resort town of Biarritz feels like another world, both sophisticated and laid back. You can book a guided walking tour to get oriented.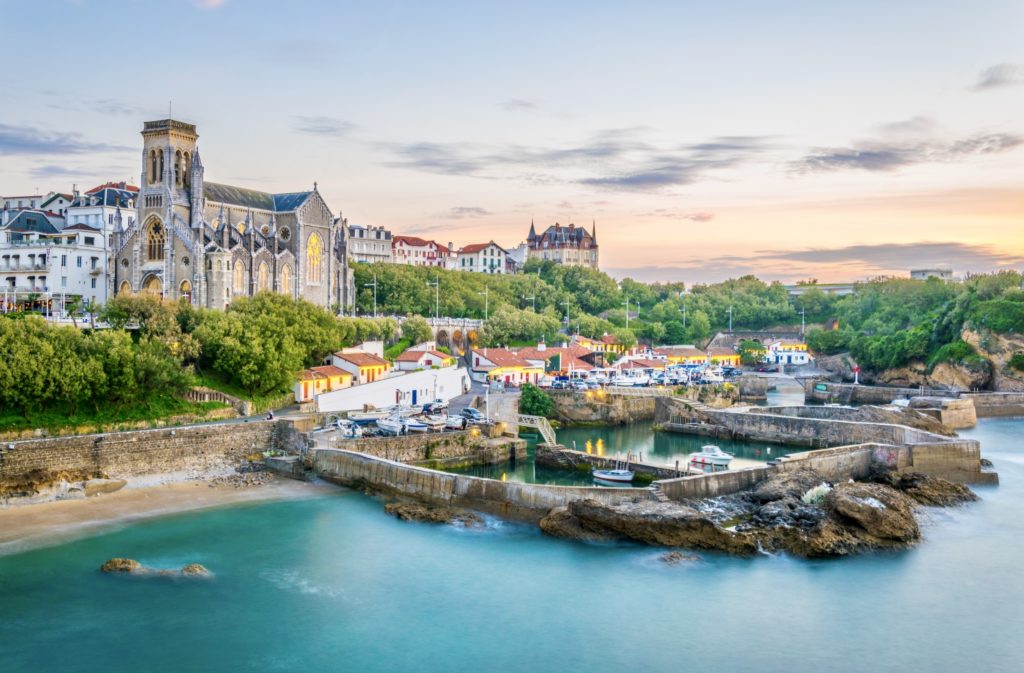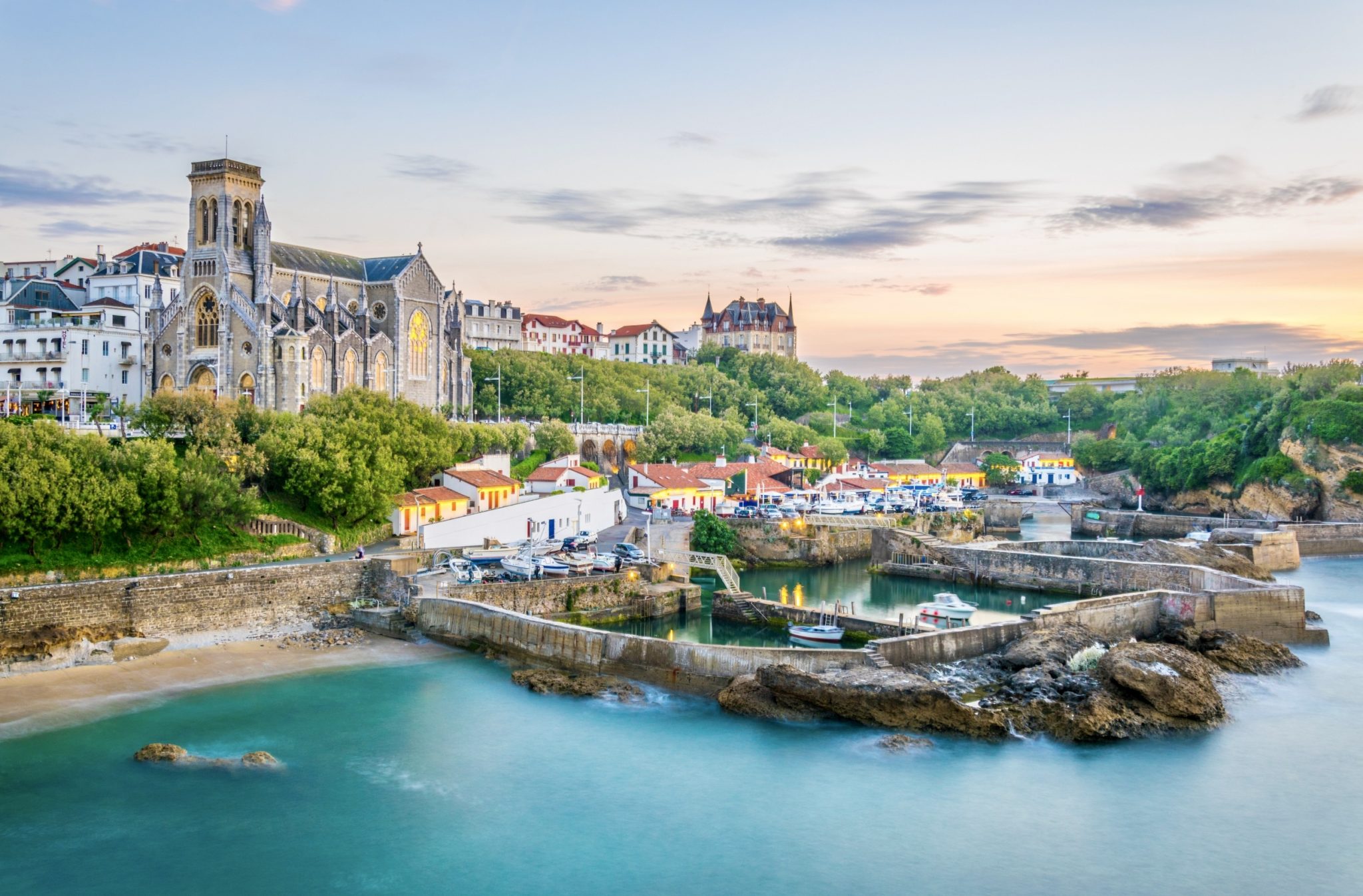 While you stroll, admire the postcard views, take a seaside stroll, and lounge on Miramar or Grande Plage beaches.
There are loads of beautiful churches, designer boutiques, and modern art galleries. And, of course, amazing Basque food.
Halles Market is a good place to explore Biarritz's food culture. For the best seafood, head to the Place Saint-Eugenie.
If you want pintxos, head to the Rue des Halles. Happily, for those who love baked goods, there's a bakery on every corner.
You can book a guided day tour from San Sebastian to Biarritz or a day tour from Bilbao.
Day 10: Day Trip to Gernica or Lekeitio
On your last day, you have two options, depending on your individual taste. History buffs should head to Guernica. Lovers of charming villages should head to Lekeitio.
1. Option 1: Guernika
Gernika (also called Guernika) is a pastoral workaday town steeped in history, which will appeal to history buffs. It's where the Basque Assembly hold its meetings. The entire city center was destroyed by bombs during the Spanish Civil War.
The event was immortalized by Pablo Picasso in his famous anti-war piece Guernica at the Reina Sofia in Madrid. There are several museums in the town exploring this history, including the Peace Museum.
Two important landmarks remain despite the bombing, the Biscay Assembly House and the Guernica Tree. The tree is where the lords of the Bay of Biscay met for centuries to discuss politics, until the Assembly House was built. The house has a spectacular stained glass window.
If you went to Pamplona instead of the Enchanted Forest of Oma on day 4 of this Basque itinerary, you can visit the forest in combination with Guernica. It's only 5 minutes away.
>>> Click here to book a guided tour to Gernika from Bilbao
READ: 2 Day Itinerary for Madrid
2. Option 2: Lekeitio
Laid back Lekeitio is a beautiful and tiny fishing village. Lekeitio is one of Spain's best kept secrets, a real hidden gem.
It has an idyllic harbor, a Gothic church, and a fine golden crescent beach where you can kick back and wile away a day. You'll see goats and sheep cavort in the mountains and hazy cliffs circled by seagulls.
Lekeitio's best attraction is the rocky island, San Nicholas Island (also known as Garraitz), just offshore of its main beach. During low tide, you can walk the trail for a seaside view.
Have dinner at Meson Arropain, Or, spend your evening back in San Sebastian, perhaps going on your last pintxos crawl.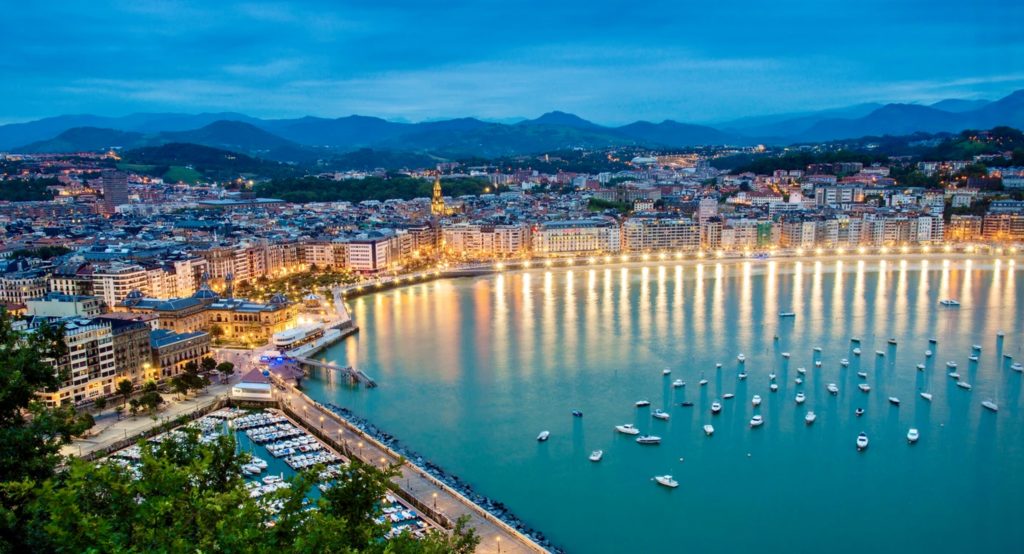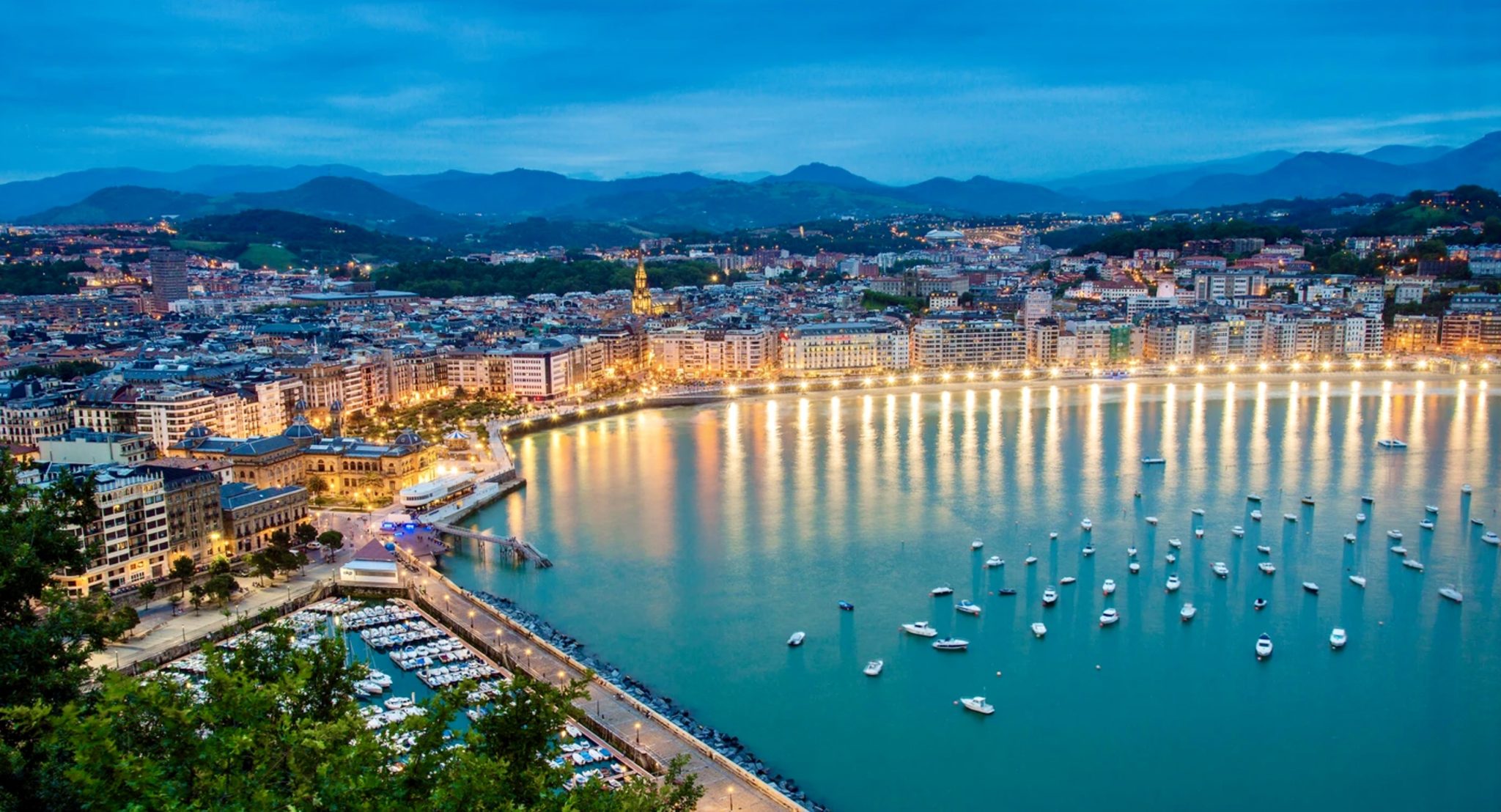 Where To Stay In San Sebastian
San Sebastián has hotels ranging from grand luxury spaces to art-themed boutiques.
Hotel de Londres y de Inglaterra is a luxury hotel that sits right on San Sebastian's grand seafront promenade. Hotel Maria Cristina is a stunning Belle Époque hotel a short walk from La Concha.
Akellare Relais & Chateaux is where you go for a splurge. The refined hotel has seaside views and a renowned 3 star Michelin restaurant.
Hotel La Galeria is an elegant boutique hotel in a Hausmann-esq mansion. Hotel Zenit is a four star boutique hotel with a beautiful rooftop terrace.
Tips For Spending 10 Days In Basque Spain
The Basque region is high in the mountains of northeastern Spain. The Basque are Europe's inscrutable people.
The Basque have a unique culture and language, neither French nor Spanish. And their ancient language, Euskera, isn't related to any European language. So your Spanish likely won't help you in this region.
In Basque Country, you eat pintxos, not tapas. Pintxos are bite size snacks, typically a delicious morsel of meat, fish, cheese, or vegetables (anchovies are super popular) skewered onto a piece of bread with a toothpick.
Pintxos are smaller than tapas and are not served on a sharing plate. They are usually laid out on a bar. You help yourself to what you like, as opposed to ordering from a menu.
In the Basque region, it rains a fair amount. But rain comes mostly the in late autumn and early winter.
But always carry layers. In terms of climate, the summer is the best time to visit, though you'll have crowds, especially in San Sebastian. I'd aim for September.
Driving in Spain is fairly easy. The highways are fantastic and easy to navigate. You'll need an international driver's license.
Book your car early. If you can drive a manual transmission, a rental car is much less expensive. Choose the smallest car possible that will accommodate you, your traveling companions, and luggage.
I would purchase full insurance just in case. There are routine radar speed traps all across Spain. On the spot fines are outrageous. So let the speedy Spaniards drive on by you.
Have some cash handy for paying tolls. Bring your own GPS (phone, iPad) and have an eternal charger handy to keep it charged up.
I hope you've enjoyed my 10 day itinerary for Basque Spain. You may enjoy these other Spain travel guides and resources:
If you'd like to spend 10 days in Basque Spain, pin it for later.