"The streets of Vienna are paved with culture, the streets of other cities with asphalt." — Karl Kraus
Are you an art lover heading to Vienna? Here's my guide to the 19 best art museums in Vienna Austria.
These museums are must visit attractions in Vienna for art, music, and history lovers.
Vienna is such a fancy city, a beautiful open air museum really. It's awash in imperial palaces, perfectly preserved Baroque architecture, and seriously swoonful museums.
With both scale and glamor, Vienna's museums are truly supurb. That's not terribly surprising since Vienna has played a crucial role in the development of so many art movements. For centuries, the greatest minds and artists convened in the artsy capital.
Vienna's artistic heritage is also due to its imperial past, courtesy of the Hapsburg dynasty. The music and art loving royals governed for six centuries and left their imprint on the city.
But Vienna's museums aren't all staid pomp and circumstance. Behind Vienna's chocolate box prettiness, there are some cutting edge contemporary institutions — MuseumQuarter, the Museum of Applied Art, and the Secession Museum.
Over 100 year ago, artists like Gustav Klimt sent shock waves through the Viennese coffee cafes and helped to launch modern art.
Despite being a small European capital city, you're spoiled for choice in Vienna. Vienna is saturated with more than 250 listed museums and collections. This number includes opulent palaces, small museums, composers' memorial rooms, and quirky private collections.
You could spend weeks exploring the marquee sites alone — the Kunsthistorisches, Belvedere Palace, Albertina, and MuseumsQuarter.
But, with limited time, I identify the 18 best museums in Vienna. With this overview, you can pick and choose which of these Vienna museums to put on your itinerary for Vienna.
Top Museums In Vienna
For world class art, and endless fascinating history, here are my picks for the best 19 brilliant museums in Vienna.
1. Kunsthistorisches Museum: Old Masters
Likely the grandest of Austria's museums, in a sea of riches, is the Kunsthistorisches Museum. Open in 1891, the Kunsthistorisches is Vienna's Louvre. The museum is one of the world's most impressive fine art museums.
The Kunsthistorisches is housed in a lavish palace. It consists of works from the venerable Habsburg art collection built by emperors. The ornate facade, dramatic stairways, marble floors, and impeccable gardens won't let you forget it either.
Start by exploring the Egyptian and Near East Collection, with their sarcophagi, mummies, ancient sculptures, and scrolls. Then, peruse the Greek and Roman antiquities section, whose riches include Bronze Age ceramics, an Amazonian Sarcophagus, and delicate antique vases and cameos.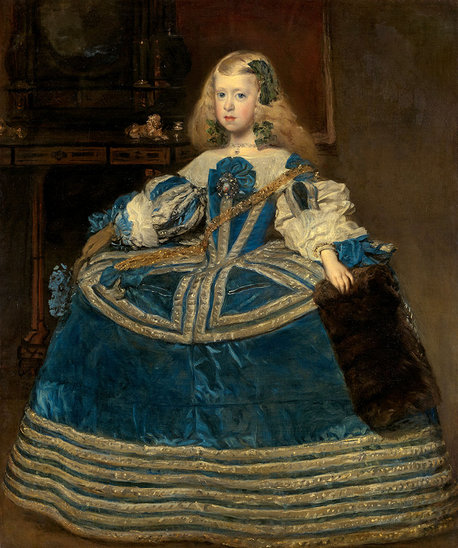 The museum's Picture Gallery is just splendid. It features an extensive collection of paintings from the Italian Renaissance, Northern Renaissance, and Baroque periods.
There's an unparalleled trove of art works by Pieter Bruegel the Elder, the chronicler of daily village life. There are also pieces by Vermeer, Durer, Caravaggio, Velazquez, Rembrandt, Raphael, and Titian.
READ: Caravaggio Trail in Rome
Though known for its antiquities, you can find Gustav Klimt works on the museum's stairwell between arches and columns. The stairwell features 40 spandrel paintings. 13 of them are Klimt's.
The museum has a beautiful Viennese style cafe, which is itself a sight to see. You can sit back for a coffee break and enjoy a piece of Sacher torte in its lavish location in the dome hall.
Click here to pre-book a ticket. Click here to book a guided tour of this magnificent museum.
2. Belvedere Palace: Klimt Showcase
The Belvedere Palace was built in 1712-23 by Johann Lucas von Hildebrandt, a master Baroque architect. It was the swishy summer residence of Prince Eugene of Savoy, a legendary military leader of his time. The Belvedere was listed as a UNESCO World Heritage Site in 2001.
The Belvedere Palace is one of Vienna's most visited tourist spots. The Belvedere is also one of Europe's most important museums. It's definitely one of the best museums in Vienna, perhaps only second in significance after the Kunsthistoriches.
The Belvedere's a haven of Baroque and Austrian art from the 19th and 20th centuries. Its main claim to fame is the world's largest collection of Gustav Klimt paintings.
It also boasts masterworks by Egon Schiele and Oskar Kokoschka (two important Expressionist painters), works of French Impressionism, and works from the Vienna Biedermeier.
The Belvedere's most iconic painting is undoubtedly Klimt's glittering The Kiss, Klimt's Golden Period masterpiece.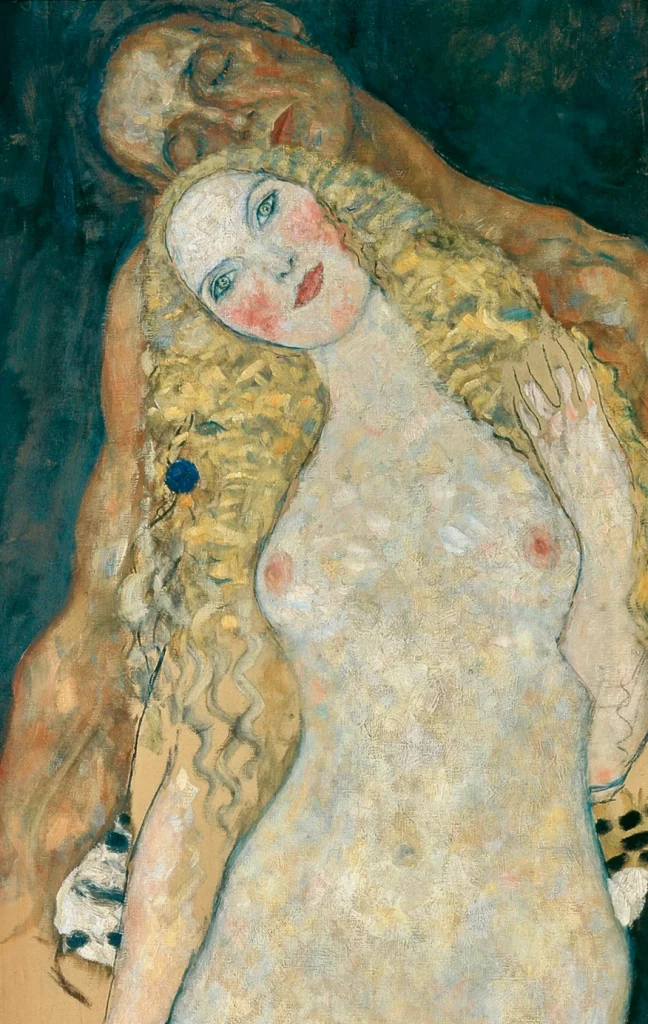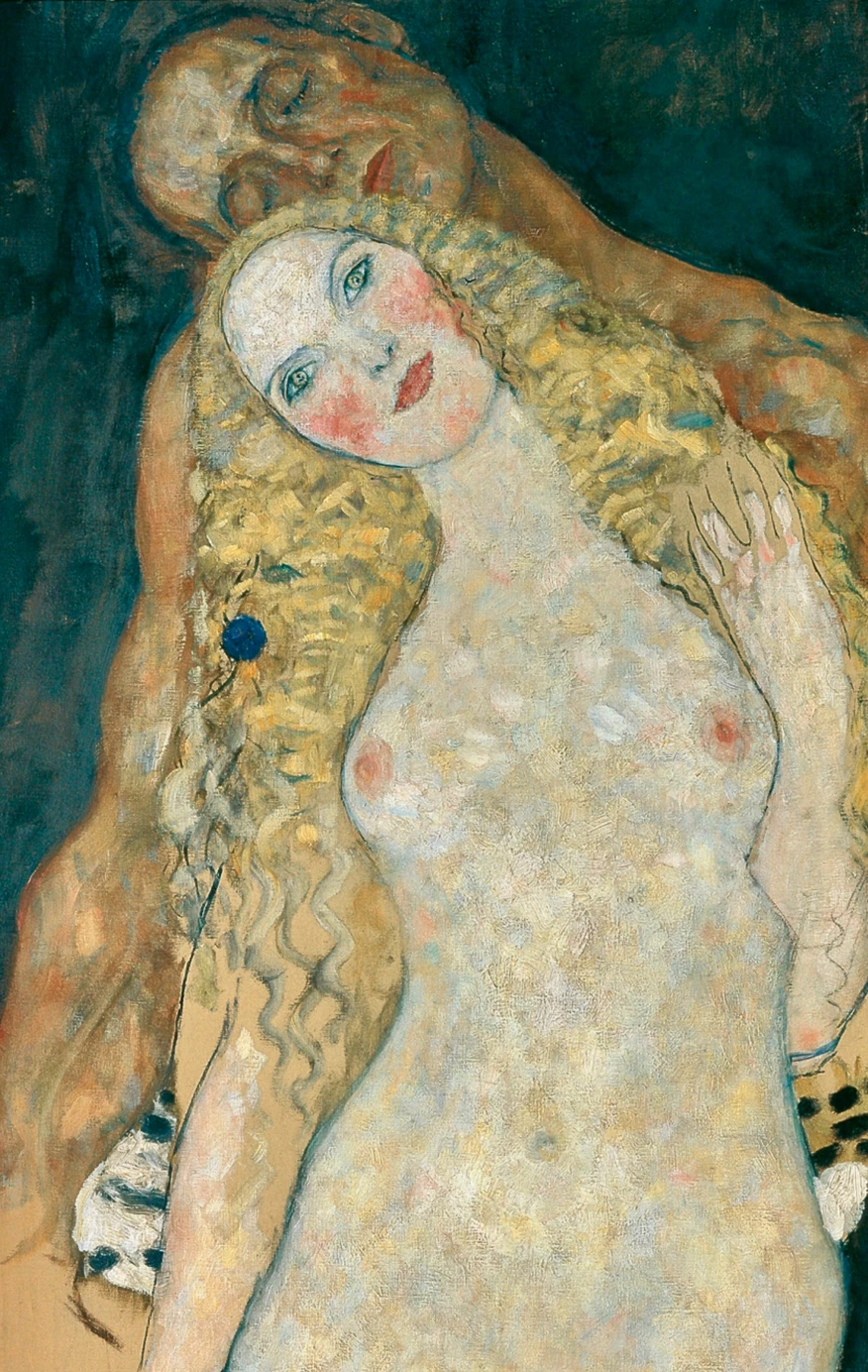 Plastered on fridge magnets and mouse pads, we've grown used to the image. But, still, nothing prepares you for a glimpse in real life. It's just so beautiful.
Set against a black wall, the gorgeous The Kiss is a sumptuous celebration of love set in a speckled golden haze. It portrays two lovers in densely embellished robes, locked in a tight embrace and enveloped by golden light. It may depict Klimt and his lifelong friend Emile Floge.
The Belvedere also other Klimt's masterpieces like the Portrait of Fritza Riedler, Sonja Knips, Judith I, Adam and Eve, and Flowering Poppies.
Temporary exhibits are held in the Lower Belvedere, including the Orangery. You can also dine at one of the onsite cafes.
READ: Complete Guide To the Belvedere Palace
Click here to pre-purchase a skip the line ticket to the Belvedere palace. Click here to book a 2.5 hour guided tour of the Palace. You can also book a guided Klimt tour of Vienna.
3. Leopold Museum: Art Nouveau and Expressionism
The Leopold Museum opened in 2001. It's situated in Vienna's MuseumsQuarter, the city's exciting contemporary art complex.
Within its gleaming Bulgarian limestone facade, the Leopold Museum holds one of the world's most important collection of late 19th and early 20th century Austrian art. It's one of the world's best small museums.
With over 6,000 art works, the museum has a thematic collection of Art Nouveau and Expressionist masterpieces from the first half of the 20th century. They were assembled by Adolf and Elisabeth Leopold, a pair of passionate art collectors.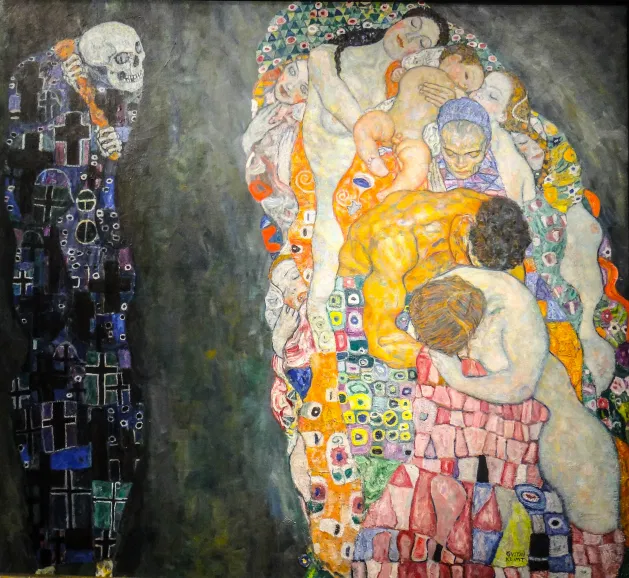 The museum has many works by Egon Schiele, Gustave Klimt, Oscar Kokoshka, and Richard Gerstl. If you're a Schiele fan, the Leopold Museum has the word's largest collection of the grounding breaking Expressionist painter.
The museum is home to one of my favorite Klimt masterpieces, Death and Life. Death and Life is one of Klimt's greatest allegories, painted when he was fully formed as a master.
In the painting, Klimt used a bold composition with contrasting colors to address the cycle of human life. His trademark gold was replaced with black.
Click here to buy a skip the line ticket.
4. Beethoven Museum: Meet Beethoven's Ghost
On the city's outskirts, in hilly Vienna Woods, lies the Beethoven Museum. This tiny museum is superb and packed with Beethoven trivia. It breaths life into Beethoven.
Recently renovated, the Beethoven Museum only re-opened to the public in 2017. There are 14 rooms grouped into 6 themes that illustrate Beethoven's life and work. You can read, see, and listen to his astonishing music. This is where Beethoven composed his 2nd Symphony, piano pieces, and violin sonatas.
You can also see a lock of Beethoven's hair and his death mask. You can don earphones to see how Beethoven himself experienced deteriorating hearing.
The museum is also where, in the summer of 1802, Beethoven realized his deafness would not improve. He wrote his moving letter, called the "Heiligenstädter Testament." But it was never sent.
Beethoven contemplates suicide and solitude. But instead he decided to overcome adversity through his belief in the sanctity and redemptive power of music.
Overcoming adversity is a theme in his 3rd symphony, Eroica, which was penned at this locale.
5. Albertina Museum: Brilliant Drawings
On Albertinaplatz in Vienna, you'll find the stunning Albertina Museum, housed in (naturally) a palace. Most likely no one will be there. They'll be in line to see Gustav Klimt's The Kiss at the Belvedere Palace. You can enjoy museum's well-lit galleries in peace.
The fantastic Albertina is a veritable treasure trove of art, with a fantastic collection of modern works — over a million pieces of drawings, photographs, graphic prints, paintings, and architectural plans.
The most famous of the Albertina's permanent exhibits is the Batliner Collection, which showcases modern works from Monet to Picasso.
You can admire Monet's water lilies, Post-Impressionism works by Degas, Cezanne, Toulouse-Lautrec, and Gauguin, works of German Expressionism, and a good collection of Picassos.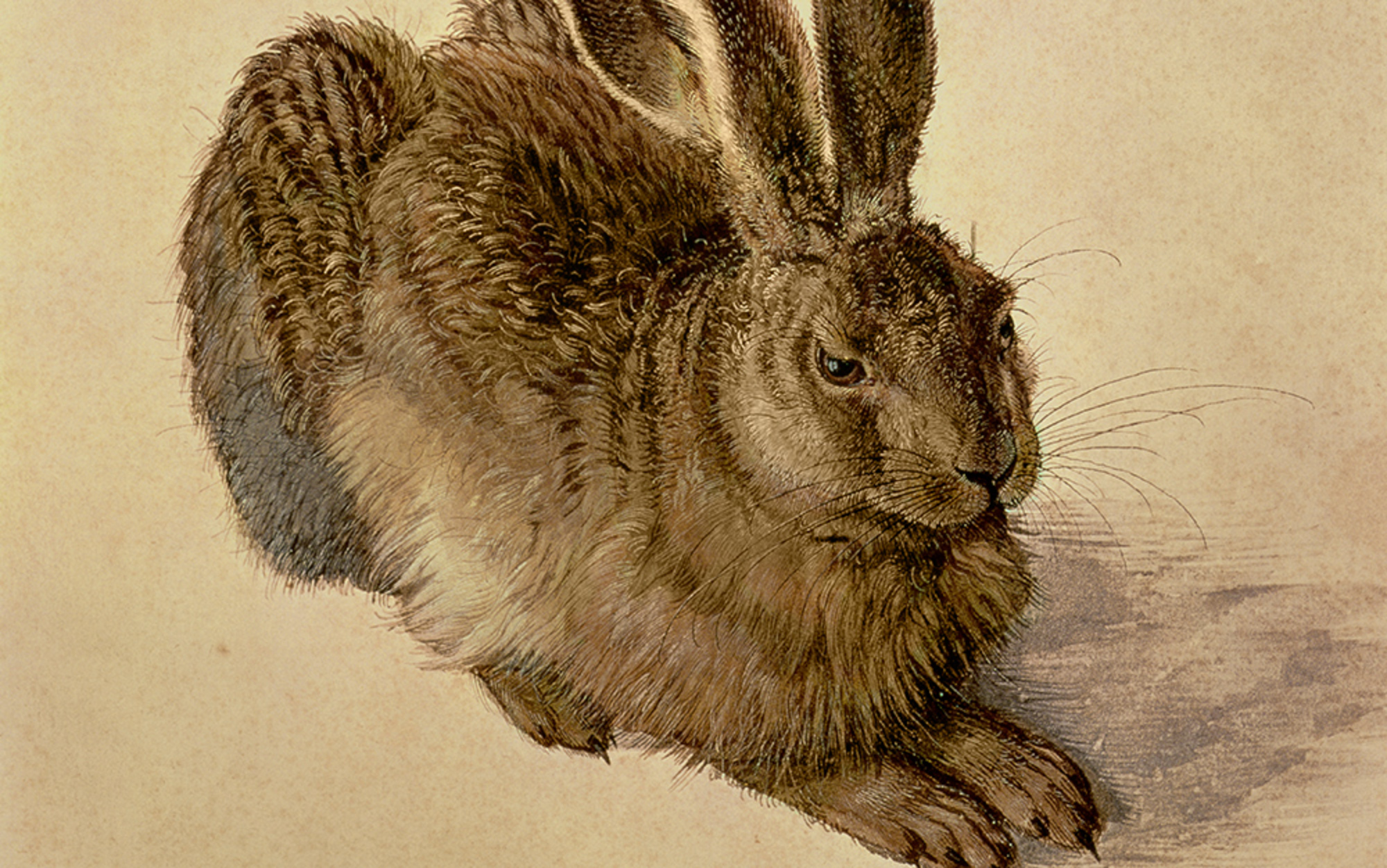 The Albertina has a very fine collection of graphic art, with drawings by Durer, Michelangelo, Rubens, and Leonardo da Vinci.
It also boasts the world's largest collection of Durer drawings, almost 140 works. A highlight is Durer's famous drawing, Field Hare. It's so fragile that it's only on display occasionally.
The Albertina also hosts some of Vienna's most anticipated temporary exhibitions, featuring big art names.
The Albertina partners with prestigious museums from other cities to curate exhibits on topics including Impressionism, Expressionism, contemporary film, and architectural drawings.
Click here to book a ticket to the Albertina.
6. Albertina Modern: Vienna's New Modern Art Museum
A satellite spin off of the august Albertina, the Albertina Modern just opened in 2020. It's housed in the newly renovated 19th century Künstlerhaus.
On the facade, four statues grace the main entrance in tribute to the building's purpose: Leonardo da Vinci, Titian, Bramante, and Velazquez.
READ: Guide To all of Leonardo da Vinci's Paintings
The new modern art museum gives the Albertina a dedicated space to show off its extensive modern art works, including the recently gifted Essl collection.
The new site houses some 60,000 works from 1945 to the present. The collection features works by Austrians such as Arnulf Rainer or Maria Lassnig.
But you'll also find art by international artists, including Anselm Kiefer, Damien Hirst, Andy Warhol, and Cindy Sherman.
7. MAK Museum: Contemporary Art & Klimt's Stoclet Cartoons
The MAK, or Museum of Applied Arts, is to Vienna what the Victoria & Albert is to London. This highly eclectic exhibition space is housed in a beautiful Neo-Renaissance building with stunning interiors. The airy courtyard has a pillared double arcade, grotesque frescos, and skylight.
The museum explores how design practices have evolved throughout the ages. The museum's collection includes Jugendstil furniture, glass, china, silver, and textiles from the Middle Ages to the present. There are a lot of chairs.
But MAK is mostly devoted to temporary exhibitions of innovative modern art. This is the place to come if you're weary of Hapsburg artifacts.
At MAK, you can also see where Klimt went to school and learned to paint. Today, you can see nine gorgeous Klimt sketches or "cartoons." They were created for a mosaic frieze in the dining room of the Stoclet House in Brussels. Klimt worked on them from 1905-09.
The magnificent frieze and cartoons are a rare Klimt work done on a monumental scale. They represent the highlight of Klimt's mature output. The central motif is a sprawling Tree of Life set amidst an abstract flower meadow.
There are swirling and spiraling branches with symbolic motifs from ancient art. The tree is complemented by figures, including a dancer and a couple resembling the couple from The Kiss.
The MAK also has an exhibition titled Klimt's Magic Gardens. It's a virtual reality experience inspired by Klimt's Stoclet frieze.
Click here to book a ticket to the MAK.
8. Sigmund Freud Museum: Psychiatrist House Museum
Vienna was home to Sign Freud. Freud is the godfather of psychoanalysis and the mind behind the infamous Oedipus complex theory. Freud's largely responsible for Vienna's fixation with therapy and neurology.
Born in Freiberg Germany, Freud's family relocated to Vienna when Freud was a young boy. Vienna became the city where Freud carried out his life's work, although Freud famously claimed to hate Vienna. He also loathed traveling, so was nonetheless in the city most of the time.
At Freud's titular museum, visitors can explore the personal and professional life of the psychiatrist who changed views about the human psyche, with some of his belongings.
Unfortunately, many of his personal effects went with him to London when he (very belatedly) fled from the Nazis.
Freud's youngest daughter, Anna, helped to transform his apartment into this museum in 1971.
A mirror she gave to her father hangs in his study window. It's perhaps the most haunting artifact in the collection, along with the recently transformed waiting room area.
Click here to book a ticket to the Freud Museum.
9. Vienna Secession Museum: Klimt's Beethoven Frieze
Built by Joseph Maria Olbrich, the Secession Museum is eye catching. It's topped with a lacy golden cupola constructed from 2,500 gilded iron laurel leaves.
Locals affectionately call the dome the "golden cabbage." Above the entrance are the German words: "Der Zeit ihr Kunst – der Kunst ihr Freiheit" (To the Age its Art; to Art its Freedom).
At the turn of the 19th century, Klimt and other artists left the existing artist's organization and launched the Vienna Secession movement. The artists embraced an unconventional and forward thinking take on art. Dubbed Art Nouveau, the movement marked the formal beginning of modern art in a conservative Austria.
The artists erected the distinctive cube-like building to house the movement's artworks Today, the Secession Museum hosts contemporary art exhibitions.
The permanent emblem of the Secession Museum is a large exquisitely gilded frieze, called the Beethoven Frieze, painted by Klimt. It was created in 1901 for the Vienna Secession's 1902 exhibition celebrating Beethoven.
The massive Beethoven Frieze from the famous exhibition is based on Richard Wagner's interpretation of Beethoven's 9th Symphony. It marks the beginning of Klimt's "Golden Period."
Meant for the exhibition only, the frieze was painted directly on the walls. It's large, standing at 7 feet high with a width of 112 feet, and weighs four tons.
The Secession Museum is a quickie visit. You could even get away with 30 minutes, if you're pressed for time.
10. Wein Museum: Vienna History
In contrast to the art museums above, the Vienna Museum is probably the most underrated in the city. If you're interested in Viennese history, this place is a must visit. Rolling up 500 years of local history Wien Museum specifically excels at showcasing Viennese urban life.
On top of this, the museum exhibits world renowned paintings by the likes of Peter Paul Rubens and Gustav Klimt. The museum has recently built a reputation for hosting fascinating temporary exhibitions as well.
If you're on the Klimt trail, the Wein Museum also has a few major paintings by Klimt on site. The most famous are Emilie Floge, Pallas Athene, Love, and Portrait of an Unknown Woman. The museum also has 411 Klimt drawings, the world's largest collection.
The beautiful-in-blue Emile Floge is one of the first Klimt portraits depicting his subject as a bejeweled icon, presaging his Golden Period a few years later. The painting was radical at the time and not well liked.
Address: Karlsplatz 8 1040 Vienna
Hours: 10:00 am to 6:00 pm, closed Mondays
Entry fee: € 11
Note: Due to remodeling work, the Wien Museum is closed until 2022. During this time, the exhibitions will be held at the MUSA next to Vienna City Hall.
11. Sisi Museum, Hofburg Palace
Housed in the Hofburg Palace, the intimate Sisi Museum is tiny museum dedicated to the fascinating life of Empress Elisabeth, the wife of Emperor Franz Joseph.
Opened in 2004, it's a chic cult-like museum dedicated to the fanatic fans of Empress Elisabeth. The museum shines a light on the "misunderstood" princess, whose tragic life resembles that of modern day Princess Diana.
I'm not usually interested in celebrity cult figures. But, in this case, I find Sisi's story fascinating, a romantic novel almost.
She was an intelligent and high strung woman, a wannabe poet, and inventor of both anorexia and the geographical cure — her response to the soul sapping nature of life at the Hapsburg court.
The Sisi Museum was the brainchild of Rolf Langenfass, a famous set designer. The museum explores the biographical facts of the empress' life and personality. To its credit, the museum also examines the accuracy of the Sisi mythology.
The museum doesn't just present her as a glamour puss who was eternally youthful. Her quirks, even her vanity and ego, are on display. Through the exhibits, you get a sense of Sisi's daily life … and her wardrobe.
Here's my complete guide To the Empress Sisi Museum. Click here to book a skip the line ticket to Homburg Palace and the Sisi Museum. You can also book a guided Sisi walking tour.
12. Austrian National Library: Baroque Grandeur
Ah …. the smell of old books. The Austrian National Library in the Hofburg Palace is the largest Baroque library in Europe.
The interior decoration is stunning. The library was designed by Johan Bernhard Fischer von Erlach, an architect who designed another Viennese gem — Schönbrunn Palace.
The State Hall is massive and the ceiling is crowned by a frescoed dome painted by Daniel Gran. In the center of the room is a larger-than-life marble statue Emperor Charles VI, dating from 1735. Other statues represent the Hapsburgs.
More than 200,000 volumes are on display, including an extensive collection of historic maps and Martin Luther's writings from the Reformation.
Another highlight is a collection of globes, including two exquisite Venetian Baroque globes depicting the earth and sky.
Address: Josefsplatz 1, 1015
Hours: 10:00 am to 6:00 pm, open until 9:00 pm on Thursday
Entry fee: € 8
13. Museum of Natural History: Ancient Artifacts
The Natural History Museum is the mirror image and scientific counterpart of the Kunsthistorisches Museum. The museum houses 30 million objects. You'll find the Venus of Willendorf figurine (dating from 30,000 B.C.), the Steller's sea cow, several dinosaur skeletons, and the world's largest collection of meteorites.
The facade of the building is fascinating in itself. You can spot sculptures of mythological figures, allegorical figures, and scientistic luminaries.
There's also a Planetarium onsite to assuage the curiosity of space enthusiasts
Address: Maria-Theresien-Platz
Hours: 9:00 am to 6:30 pm
Entry fee: € 12
14. Pasqualati House Museum: Beethoven Memorial
Beethoven lived here intermittently between 1804-15. It could be considered his primary abode. The "museum" is more memorial than actual museum.
Here, Beethoven wrote Fidelio (originally named Leonore), Symphonies 4, 5, 7, and 8, and his short orchestral piece, Wellington's Victory. This is one of three Beethoven museums operated by the city of Vienna. You have a good view of the Ringstrasse from the 4th floor.
Beethoven's two rooms (plus another two from a neighboring apartment) have been converted into the airy museum, which has its own modest treasure trove of portraits, articles and personal belongings. One room focuses on Beethoven's 67 changes of residence within Vienna.
Visitors are also regaled with tales of Beethoven's painful, and always unsuccessful, crushes on noble society ladies, including his Immortal Beloved.
Address: Mölker Bastei 8, 1010 Wien
Hours: 10:00 am to 1:00 pm & 2:00 pm to 6:00 pm
Entry fee: € 5
15. House of Music, Haus der Musik
Spread out over 5 floors, the House of Music is Vienna's interactive sound and music museum. You can browse the countless musical artifacts and learn about Beethoven and other famous classical music composers.
The museum is a high tech experience. It's unique for its effective use of interactive touch-screen computers and headphones to explore the physics of sound. There are also audio-visual exhibits.
Before leaving, pick up a virtual baton to conduct the Vienna Philharmonic. Or compose your own waltz.
Address: Seilerstätte 30, 1010 Wien
Hours: Daily 10:00 am to 10:00 pm
Entry fee: € 13, night ticket (8:00 pm to 10:00 pm) € 6.50
16. Hofburg Palace: Imperial Apartments & More
Hofburg Palace is another wonderful museum in Vienna. It's one of the world's largest palace complexes. It was the Hapsburghs' Winter Palace. They summered in Schönbrunn Palace.
The sprawling complex includes palaces, old world stables, and government buildings. Hofburg is essentially a living museum documenting Vienna's Imperial legacy. The powerful Hapsburg family ruled Austria, and dominated Europe for some 700 years.
Visit the Imperial Palace and Imperial Treasury, including the emblematic Silver collection with over 7,000 items. See the apartments of Emperors and Empresses past, including the private quarters of Emperor Franz Joseph and Empress Sisi.
Sisi's living room is the prettiest space in the palace. You'll also find Winterthalter's famous portraits of the empress in Franz Joseph's apartment.
The Imperial Treasury consists of 21 opulent rooms, with all the treasures that once belonged to the powerful Habsburg dynasty. You'll find Imperial regalia, crowns, swords and scepters, and the Austrian crown jewels.
The Hofburg complex also houses the Imperial Chapel, the old fashioned Spanish Riding School, the Museum of Ethnology, and the Austrian National Library (covered above).
The Spanish Riding School in Vienna has more than 450 years of experience in training Lipizzaner stallions. You can attend morning exercises, performances, or guided tours the entire year. Click here for schedules and prices.
Click here to book a skip the line ticket to to the palace. Click here to book a guided tour. You can also book a concert at the palace.
17. Mozart House: Meet Mozart's Ghost
Located right near St. Stephen Cathedral, the Mozart House Museum isn't terribly overwhelming. But real Mozart fans will appreciate the Mozarthaus's narrative.
Mozart lived there for three years from 1784-87. During that time, he wrote the famous opera Marriage of Figaro and three of the six Haydn Quartets.
The 18th century building is fully restored. The most striking architectural element is the courtyard.
The Mozart apartment consists of four large rooms, two small ones, and a kitchen. The apartment was where Beethoven and Mozart first met.
It's also where Haydn informed Mozart's father that Mozart was "the greatest composer I know in person or by name."
The museums is a little bare, missing the original period furniture. Instead, the museum relies on paintings, drawings, and letters to tell Mozart's story. If you're a music fan, you'll likely get the chills walking in his footsteps.
In July and August, the museum hosts concerts featuring Mozart's Marriage of Figaro.
Click here to book a skip the line ticket to the Mozarthaus. You can also book a classical music concert at the venue.
18. Mumok Museum Of Modern Art
In keeping with its modern mission, Vienna's Museum of Modern Art has a stark minimalistic facade. The building is an almost windowless exterior of anthracite colored basalt, or "young lava."
The museum has a collection of 7,000 modern and contemporary art works. There are ever-changing temporary exhibitions of avant garde art. You might see Warhol and Lichtenstein. Or you might see other contemporary works.
This museum is where you'll find works from Vienna Actionism movement. The 1960s movement is Austria's most avant garde contribution.
The artists rejected traditional modes of expression. For example, they might tear up materials, or even their own bodies. They used blood and excrement in their works.
19. Schönbrunn Palace
I end with one of the most visited sites near Vienna, Schönbrunn Palace. It's not my favorite. It's too touristy. The UNESCO-listed site is nonetheless magnificent.
If you want to visit, don't dally. The lines worsen as the day goes by. Purchase your tickets online in advance. Or hop on a guided skip the line tour.
The swishy Renaissance palace was the summer home of the Hapsburg dynasty, the family that ruled the Austro-Hungarian empire for nearly 650 years. You'll want to check out the palace itself and the extensive garden complex. Be prepared to walk.
Of Schönbrunn's 1441 rooms, 40 are open to the public via audio guide or guided tour. The "Imperial Tour" takes you into 22 rooms, including the imperial apartments of Emperor Franz Joseph and famous wife, Empress Sisi.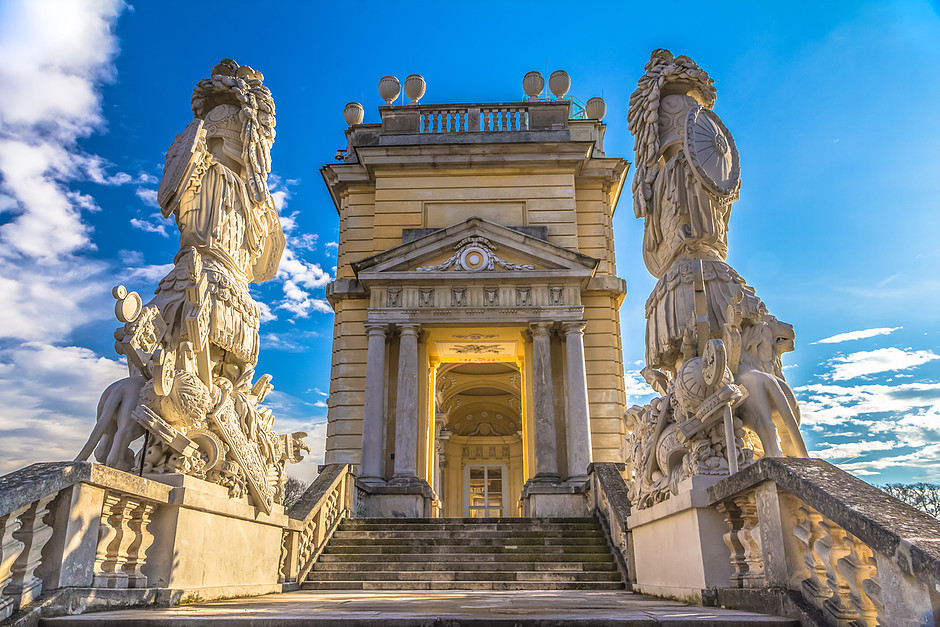 The "Grand Tour" continues to 18 more rooms and includes the 18th century interiors from the time of Maria Theresa, who conceived of and built Schoenbrunn. Don't miss the Mirror Room, where Mozart gave his first concert at age 6.
And the Schönbrunn experience isn't just limited to the palace. Oh no. There's the Apple Strudel Show, the Marionette Show, the Gloriette monument, the Orangery, the Imperial Carriage Museum, and a zoo. You could spend your whole day here, if you were so inclined.
Be sure to purchase your tickets online in advance. You can also hop on a guided skip the line tour, book a guided tour with a historian, or a dinner and concert evening.
Tips For Visiting Museums in Vienna
If you only have time for one museum in Vienna and like old masters, visit the Kunsthistorisches.
If you're a super fan of Gustav Klimt, head to the Belvedere Palace. If you love Expressionism, head to the Leopold Museum. For a small museum with a giant collection and central location, check out the Albertina.
Some museums in Vienna don't allow photos, for example in the Sisi Museum and the musicians' house museums.
You can really rack up museum entry fees in Vienna. If you're on a budget, note that the city museums open their doors for free on the first Sunday of every month. MAK offers free entry every Tuesday from 6:00 to 10:00 pm.
If you plan to visit multiple museums, the Vienna Card might be a worthy investment.
It offers discounts on over 200 attractions including museums, shops, and food. The ticket also includes free public transportation.
The Vienna Pass also gives you free access to over 60 attractions. It can save you both money and time.
The pass is a good option if you have lots of items on your Vienna bucket list and can plan in advance.
I hope you've enjoyed my guide to the best art museums in Vienna.You may enjoy these other Vienna and Austria travel guides and resources:
If you'd like to visit the best museums in Vienna, pin it for later.