"There is a castle on a cloud. I like to go there in my sleep." — Ludwig II, quoting Victor Hugo's Les Miserables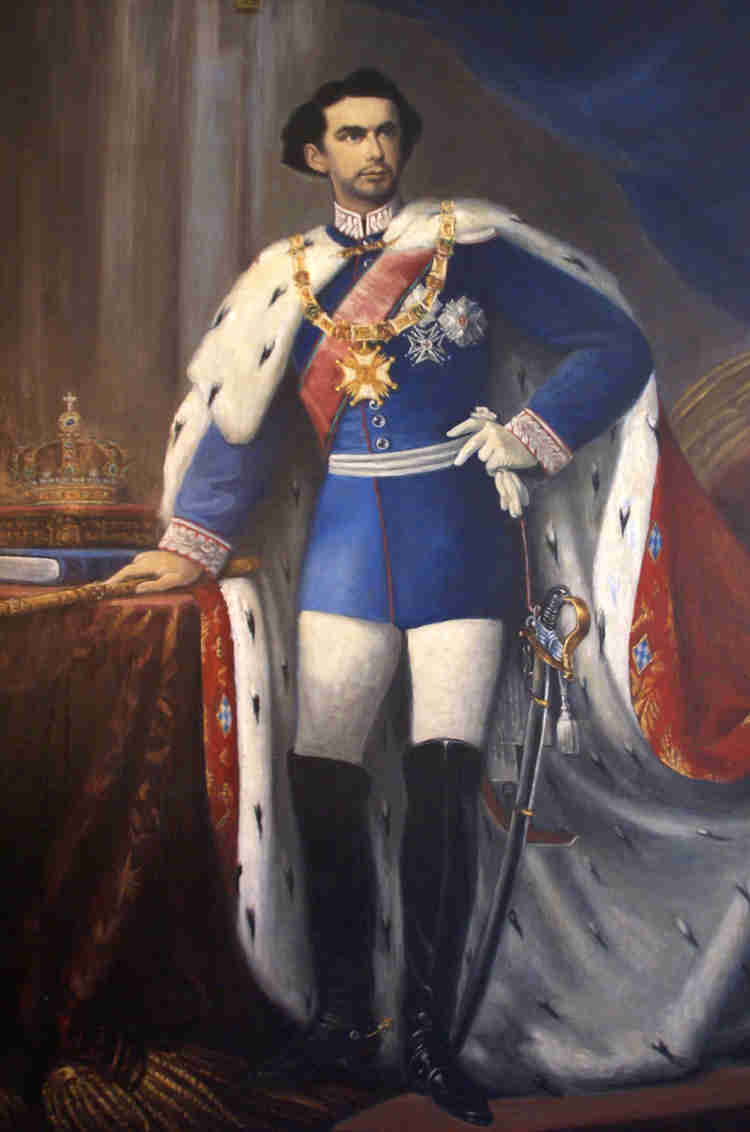 Here's my guide to the top must visit castles in Bavaria, a gorgeous region in southern Germany. These stunning Bavarian castles were designed and built by Mad King Ludwig II of Bavaria. They're touristy, glorious, and romantic. They're some of Germany's best attractions and landmarks.
In the 19th century, Ludwig II was king of Bavaria. He was one of Europe's most famous, flamboyant, and notorious royals. He spent his life designing and building some of Bavaria's most fairytale castles and palaces.
Ludwig was variously known as the Swan King, the Dream King, the Night King, the Moon King, and the Fairytale King. I've written about my fascination with Ludwig and his tragic fate.
Short Biography of Mad King Ludwig
So who was Ludwig?
Ludwig was tall, handsome, wildly eccentric, and a brooding romantic. He was a loner. And just so … impractical. That's part of his charm and enduring appeal.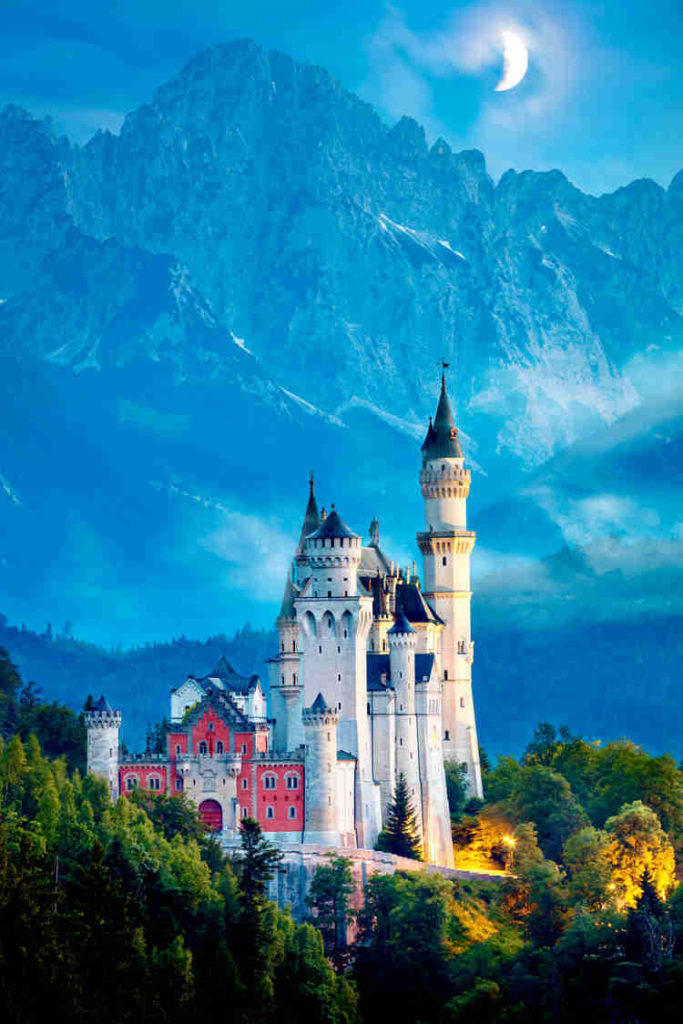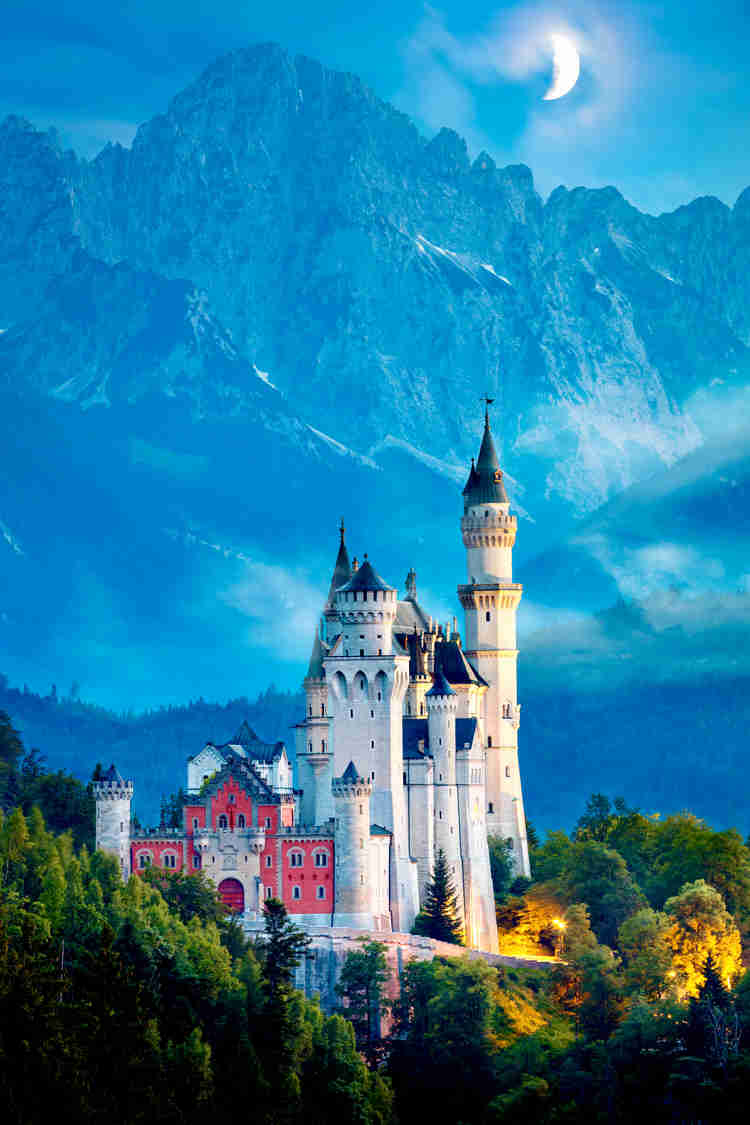 Ludwig spent his life in a frenzy of extravagant castle building in the Alps of Bavaria. He's mostly remembered for the storybook Neuschwanstein Castle. Walt Disney reputedly immortalized it as the Sleeping Beauty Palace, where "fairy tales come true."
But that wasn't the only castle Ludwig built. He had a maniacal spending addiction, much like his muse Marie Antoinette.
In this guide, I take you on a tour of Ludwig's magnificent Bavarian castles, from the palace of his birth to the palace of his imprisonment. Yes, Ludwig was jailed and likely murdered in a coup by his government. But that fate only made him a cult-like figure and his castles even more beloved.
Ludwig's palaces are all easy day trips from Munich. Some of them can be combined in a single day, like Neuschwanstein and Hohenschwangau.
READ: 4 Day Itinerary for Munich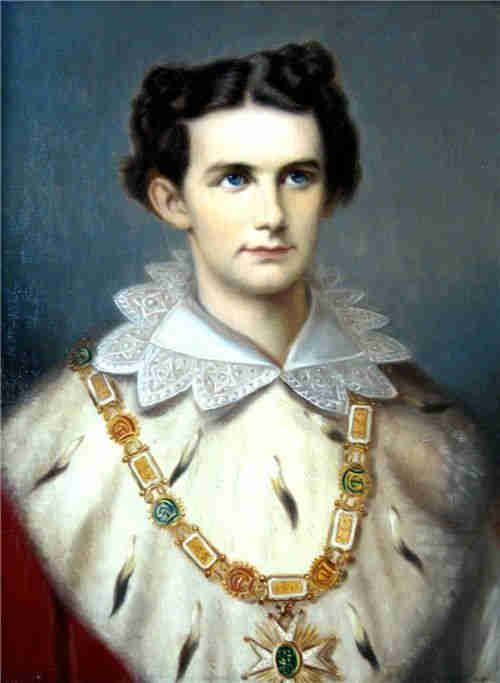 Thanks to Ludwig, these castles in Bavaria have some unifying elements. They're all exquisitely placed in the landscape, very theatrical, and engineered to create a "wow" factor upon first view.
There's lots of gold. But it's the interplay between the environment and the architecture that's most stunning.
The bad news is that there's no photography allowed in any of Ludwig's castles in Bavaria. None at all, well except his birthplace, Nymphenburg Palace. Bans like this are a pet peeve of mine.
But I purchased some stock photos of the castle interiors to give you a sense of them. I just had to pinky swear only to use them for "editorial" purposes. I won't be selling you a schloss or ebook.
Beautiful Must Visit Castles in Bavaria
1. Nymphenburg Palace, Ludwig's Birthplace
On August 25, 1845, Ludwig was born in the Queen's Green Bedroom. Ludwig's birth was witnessed by everyone via the large mirror. Such momentous events required real proof.
The 17th century Schloss Nymphenburg is one of Munich's top sights and one of Europe's largest palaces. The palace consists of a large villa and two long wings.
There are 16 rooms altogether. It has intricate parquet floors, colorfully painted ceilings, paintings galore, and sumptuously decorated period rooms.
The two key highlights of the central villa are the glittering Stone Hall, with its nymph-filled frescos, and the Gallery of Beauties, which displays King Ludwig I's (Ludwig II's grandfather) portraits of beautiful women.
There are a few thematic museums located in the palace's wings that you may want to visit. In one, you can see the Mad King's golden sleighs, in which he took his nocturnal rides through the countryside.
Back outside, you'll find the beautifully landscaped Nymphenburg Palace Park. It's the perfect place for your royal promenade. You'll need a couple hours to explore it properly.
There are quite a few lovely mini-schlosses sprinkled throughout the park. These tiny follies were where the Wittelsbachs escaped when courtly life proved too annoying. The most famous folly is the glittering Amalienburg, the best example of Rococo Architecture in Germany.
Practical Information & Tips For Visiting Nymphenburg Palace
Address: Schloß Nymphenburg 1, 80638 München, Germany
Getting there: The palace is 3 miles from central Miunich. Take Tram #17 from the train station or catch it Karlsplatz. The tram takes just 15 minutes.
Hours: Nov through March 6:00 am to 6:00 pm, May until Sept 6:00 am to 9:30 pm, April and October 6:00 am to 8:00 pm. The small follies in the park are closed from mid Oct to March.
Entry fee: The Palace Park garden is free for strolling. The Palace is 8 €, under 18 free, audio guide is 3.50 €. A combo ticket of 15 euros covers the palace, museums, and park's follies.
Pro tip: Backpacks and large bags must be checked into a locker by the gift shop before entering the self-guided tour.
2. Hohenschwangau Palace, Ludwig's Childhood Home
Hohenschwangau is another must visit castles in Bavaria.
In 1832, Ludwig's father, Maximillian II, purchased the Schloss Hohenschwangau in ruinous condition. It was basically an abandoned fortress, the home of the medieval knights of Schwangau. At the time, Maximillian was crown prince and heir to the Bavarian throne.
Between 1833-37, he built the yellow mock-medieval castle you see today, with the help of architect Domenico Quaglio.
During the summers, Ludwig's family decamped from Munich to Hohenschwangau Palace, near Fussen Germany. His mother, Queen Marie, who Ludwig intensely disliked for her cold indifference to his existence, called it her "favorite place on earth." At least she liked something.
Ludwig grew up surrounded by operatic images, but not by loving parents. At Hohenschwangau, swans were everywhere — on the lake, on the walls, and in knickknack form. Swans proved an enduring obsession for Ludwig, who even named his castles after them. Hohenschwangau itself translates as High Swan Country.
For 5 years, Maximillian renovated Hohenschwangau to the hilt. He added neo-Gothic frescoes depicting Germanic legends — the Holy Grail, Tannhauser, and Lohengrin. Each room had a specific theme, explained in paint above the doorway.
Maximillian's bedroom is a highlight. The walls are painted with nude scenes from a Renaissance poem, Jerusalem Delivered, about a crusading knight named Rinaldo.
Interestingly, Maximillian had these scenes painted over to protect Ludwig's innocence. The original paintings were restored in 1961.
Ludwig II later pierced pinholes in the ceiling for a starry sky effect. And from Hohenschwangau, Ludwig watched by telescope as Neuschwanstein Castle was being built nearby.
Queen Marie's room is a Neo-Moorish affair. Decorated in bright blues, pinks and reds, its ceiling reimagines Maximillian's journey through Turkey and Greece in 1832-33.
Maximillian died in 1864. The official story was a fall from his horse. But the real cause of death was syphilis, contracted during his 1833 trip abroad.
Queen Marie outlived both her husband and son Ludwig, living until 1889. Then, Hohenschangau was inherited by Ludwig's uncle Luitpolt. Luitpolt was rather dastardly and conspired to have Ludwig labeled insane and deposed for his massive debt.
Practical Information & Tips For Visiting Hohenschwangau
Address: Schwangau-Ortsteil Hohenschwangau, 87645 Hohenschwangau, Bavaria, Germany
Hours: here
Entry: 18 €, under 18 free, audio guide included, combo ticket with Neuschwanstein 25 euros for same day visits
Pro Tip: Buy tickets online in advance. You can only pick up your tickets at the Ticket Center in Hohenschwangau. There are four paid parking lots in Hohenschwangau, open from 8:00 am to 8:00 pm.
3. Munich Residenz, Ludwig's City Crash Pad
The Munich Residenz, or Residence, dominates Max-Joseph-Platz in Munich. It reflects the power and wealth of House Wittelsbach. The palace is Munich's #1 attraction. It's the largest city palace in Europe. Here's my complete guide to the Munich Residenz.
The Wittelsbachs lived here from 1385 to 1918. All but 50 meters of the Residenz was destroyed by Allied bombing in WWII. It was painstakingly reconstructed and restored.
The Residenz Museum, which comprises half of the palace, is an essential Bavarian experience. It's full of beautiful historic paintings, tapestries, rugs, furniture, crown jewels, and other treasures.
The paintings have messy scars. In 1944, when bombs were imminent, the Nazis sliced the portraits out of their frames and hid them away.
A highlight of the Munich Residenz, and special to Ludwig, is the Cuvilliés Theater. There, a 15 year old prince Ludwig witnessed his first opera, Richard Wagner's Lohengrin. The Rococo theater also hosted the premiere of Mozart's Idomeneo. It's still used for high brow operatic performances. You can visit the auditorium, for an extra fee.
The Residenz was where Ludwig lived when he was forced to be in Munich for state affairs. He strongly disliked public functions, so it was torture for the introvert to be in Munich.
To make his city visits more palatable, Ludwig had a fantasy Winter Garden built on the Residenz' rooftop. In characteristic fashion, the gardens were adorned with painted scenery, rainbow moonlight effects, a swan lake, and an Arabic tent. Sadly, Ludwig's Winter Garden was dismantled shortly after his death.
The Antiquarium, the Hall of Antiquities, is the largest and finest secular Renaissance hall in northern Europe. Built in the 16th century, the room stretches 220 feet end to end and was a festival banquet hall.
200 people could comfortably dine here. The hall is filled with busts of Roman emperors, a hot collectible centuries ago. And one which was designed to reflect the Wittelsbachs' power and influence.
Another highlight is the Residenz' shell grotto. This strange structure is made from Bavarian freshwater shells. After it was demolished, Bavarians lovingly collected shells for its reconstruction, an inspirational story.
Practical Information & Tips For Visiting the Munich Residenz
Address: Residenzstraße 1, 80333
Hours: Apr to mid-Oct 10:00 am to 6:00 pm, mid Oct to Mar 10:00 to 5:00 pm
Entry fee: 7 euros, Cuvilliés Theater 3.5 euros, Under 18 free
Metro: Marienplatz
Pro tip: An audioguide comes with the ticket and it contains hours of information.
4. Neuschwanstein Castle, Ludwig's Disney Castle
I wish I could play a Wagner opera as you read this.
Rising above Schwansee Lake and perched on a jagged peak is Ludwig's fantastical Neuschwanstein Castle. This is the most famous castle in Bavaria.
The palace is an ode to Richard Wagner.
Wagner was a romantic composer and Ludwig's close friend. The palace pays homage to the swan knight of Lohengrin.
Neuschwanstein Castle is a dreamy blend of Roman, Gothic, and Byzantine style architecture. It's a fantasy medieval fortress, but outfitted with fancy new technology for the time. Neuschwanstein is an unmissable site in Bavaria and one of the best and most popular day trips from Munich.
Ludwig was only a vassal king at this point. Bavaria was under Prussian rule. So he created a palace where he could be an absolute king. Not a city person, Ludwig spent more and more time in the mountains and less time in Munich governing.
Neuschwanstein took 24 years to build. It had every modern convenience — flushing toilets, steel beams, a telephone, central heating, and fancy kitchen equipment.
The exterior is made of brick and clad in limestone. The red Gatehouse was the first part built. Ludwig lived there until the Citadel was completed.
There are endless rooms in the palace. You see 11 of them on your tour. The arresting throne room is a monument to kingship. It drips in gold leaf. It has a vast 4 meter gold chandelier, which dominates the room.
The church-like throne room is a copy of the legendary grail hall in Wagner's opera Parsifal. In true obsessive fashion, Ludwig II reimagined himself as Parsifal, the legendary Grail King esteemed for his purity and faith. Wagner even called Ludwig "Parsifal."
There's no throne in the throne room though. Possibly, there wasn't time to build one before Ludwig's untimely death. Or, Ludwig may wanted the throne room to be a purely symbolic sanctuary, representing the holy grail itself — which will never be found, except perhaps if you're traveling in Valencia Spain.
The dining room was outfitted with a bell system, so Ludwig could summon his servants at will. On the dining room table there's a marble and bronze centerpiece, which shows Siegfried fighting the dragon. Siegfried is, of course, another Wagner opera.
Ludwig's bedroom may be the most ornate room in the place. His bed took 14 woodcarvers over 4 years to finish.
The chapel is an ode to the medieval French King Louis XI. The living room, like so much else, is dedicated to the mythology of Wagner's opera Lohengrin.
There's an interior theme park like grotto, foreshadowing the Venus Grotto of Ludwig's primary home, Linderhof Palace. Like Linderhof, the grotto comes complete with fake rocks and a fake waterfall. It evokes scene from Taunhauser, yet another Wagner opera, as does the adjacent neo-Gothic study.
The upper floor is dominated by the Singer's Hall, which might be the most important room in Neuschwanstein Castle. Not surprisingly, it tells the story of Parsifal and his son Lohengrin. Until 2014, concerts were held in the hall every September.
Neuschwanstein Castle was where Ludwig spent his last night of freedom. Before he was declared insane, arrested, and deposed. Being pure didn't save him from the machinations of others.
When you're done touring the castle, head to the viewpoint on Marienbrucke Bridge. The bridge, dubbed Queen Mary's Bridge, has the classic view of Neuschwanstein that you see online.
Practical Information & Tips For Visiting Neuschwanstein Castle
Address: Neuschwansteinstraße 20, 87645 Schwangau, Germany
Hours: April 1 to Oct 15 9:00 am to 6:00 pm, Oct. 16 to Mar 31 10:00 am to 4:00 pm
Entry: You must have tickets in advance. Otherwise, there are up to 90 minute queues to buy tickets, if you can even get one. Buy a time entry pass here.
Pro Tips:
Neuschwanstein can only be visited with a guided tour that lasts approximately 35 minutes. The castle is at the top of the steep incline.
Your options for getting there are a 30-40 minute hike up, a pricy horse carriage ride, or a shuttle bus. You can combine Neuschwanstein with a visit to Hohenschwangau.
5. Linderhof Palace, Ludwig's Petit Trianon
In 1867, Ludwig traveled to Paris for a peek at Versailles. He was so inspired that he came home and, in 1868, began construction on a private residence inspired by Versailles. It's set in the woods 15 minutes from Oberammergau.
In fact, it terms of sheer glamor and gold, Linderhof Palace may surpass Versailles.
Ludwig code named the petit palace Meicost Ettal, which is an anagram for "L'etat c'est moi," Lousi XIV's famous saying.
The chosen alpine site for Linderhof wasn't suitable for something as massive as Versaille. That came later, when Ludwig built Herrenchiemsee Palace. So Ludwig settled for a homey Petit Trianon type building instead.
Like all Ludwig's castles, Linderhof has a beautiful setting. In front, there's a water parterre with a large gold fountain, called Flora and Putti, that shoots water 22 meters in the air.
Linderhof's a glamorous place. You enter a world of riotous rococo, flashing mirrors, and glittering gold.
To Ludwig, who was growing near sighted, there was no such thing as too much gold. Because the rooms are fairly small, you may feel claustrophobic, as the gold engulfs you.
As you enter, say hello to Louis XIV. He's on horseback in a grand statue in the palace vestibule. You have 10 rooms to explore.
The Hall of Mirrors was inspired by Versailles' twin hall and by a room designed by Cuvilliés in the Munich Residenz. There's a gorgeous ivory chandelier and lapis lazuli accents on the ceiling.
In the resplendent red and gold dining room, servants were rendered invisible. The room sports an ingenious trap door — a disappearing dumb waiter that lowered and raised the dining room table to and from the kitchen below.
This way, the king could eat solo with his imaginary medieval friends, conveniently eliminating the need to talk to an actual living person.
In his heavily ornamented bedroom, the Moon King replicated the Sun King's Versailles boudoir. Ludwig's bed is elevated on steps and surrounded by gilded railings.
It's flanked by two enormous chandeliers that are extremely daunting to stand under. In this room, you'll feel like you're worshipping at an altar, which was likely what Ludwig intended.
The Linderhof gardens are whimsically decorated with Ludwig's follies. The Venus Grotto is the most spectacular. It's Disney-like in conception.
Ludwig created a man made cave to listen to opera or watch performances. Dressed as a knight, Ludwig would ride in a clamshell boat, pretending to be the Swan Knight of Lohengrin. The grotto was high tech. It had a wave machine and electricity, which rendered the cave blue or red at Ludwig's whim.
In the gardens, there's also an 1867 Moorish Kiosk with an ornate peacock throne, a Moroccan House, a royal hunting lodge, and a music pavilion on the grounds. Plenty of places to indulge in fantasy.
Practical Information & Tips For Visiting Linderhof Palace
Address: Linderhof 12, 82488 Ettal, Germany
Hours: check here
Entry fee: Palace & Park 10 euros, park only 5 euros. In winter, you can only visit the palace, not the park. Under 18 free.
Pro tip: When you get a ticket, it's a timed entry pass with a guided tour. You'll need to go to Linderhof by car. The palace is about 60 miles from Munich. You could theoretically combine it with a visit to Neuschwanstein, but you'd need to start early.
6. Herrenchiemsee Palace, A Schloss Too Far for Ludwig
Herrenchiemsee Palace is Ludwig's massive island palace, and a popular day trip from Munich. He literally built it on an island in Lake Chiemsee. Not terribly convenient for builders. Ludwig only cared for a stunning vista, not convenience.
But Ludwig actually saved the island. It was being commercially deforested and the locals were up in arms. In 1873, Ludwig bought the island, left the trees, and began planning a new castle.
In 1878, construction began. Herrenchiemsee isn't an exact replica of Versailles. It has Ludwig's personal stamp. Though it doesn't seem like he ever intended to finish it.
Ludwig built two side wings that were to left as shells and only designated 18 of the 70 rooms to be finished. The side wings were actually demolished in 1907.
The guided tour starts at the Ambassadors Staircase, outfitted with a stroke-of-genius glass roof. After the staircase, the highlights are the State Bedroom, and the Hall of Mirrors. Both are grander and more opulent than Versailles. Sadly, Ludwig only stayed at his Versailles-Herrenchiemsee for 9 nights in September 1885.
Ludwig spent more than 16.5 million marks on Herrenschiemsee Palace. That was double Linderhof's cost and triple Neuschwanstein's. The building basically spiraled out of control. With his apparent motto of "build or die," it may have cost Ludwig his life.
With the likely connivance of his uncle Luitpold, the Bavarian ministers plotted to depose Ludwig. They feared he would bankrupte the Wittelsbach family and possibly the state treasury.
The ministers viewed Ludwig as a terribly unsatisfactory king — eccentric, a spendthrift, uninterested in state affairs, and with no heirs (Ludwig was gay).
As I mentioned above, they had a famous psychiatrist declare Ludwig insane and arrested him at Neuschwanstein Palace. 24 hours later, Ludwig was dead at age 40. The government-endorsed story was that Ludwig committed suicide, drowning in Lake Starnberg.
But that's nonsensical for the reasons I outlined in my article on Ludwig. We won't ever know for sure unless the Wittlebachs permit an examination of Ludwig's remains with modern technology.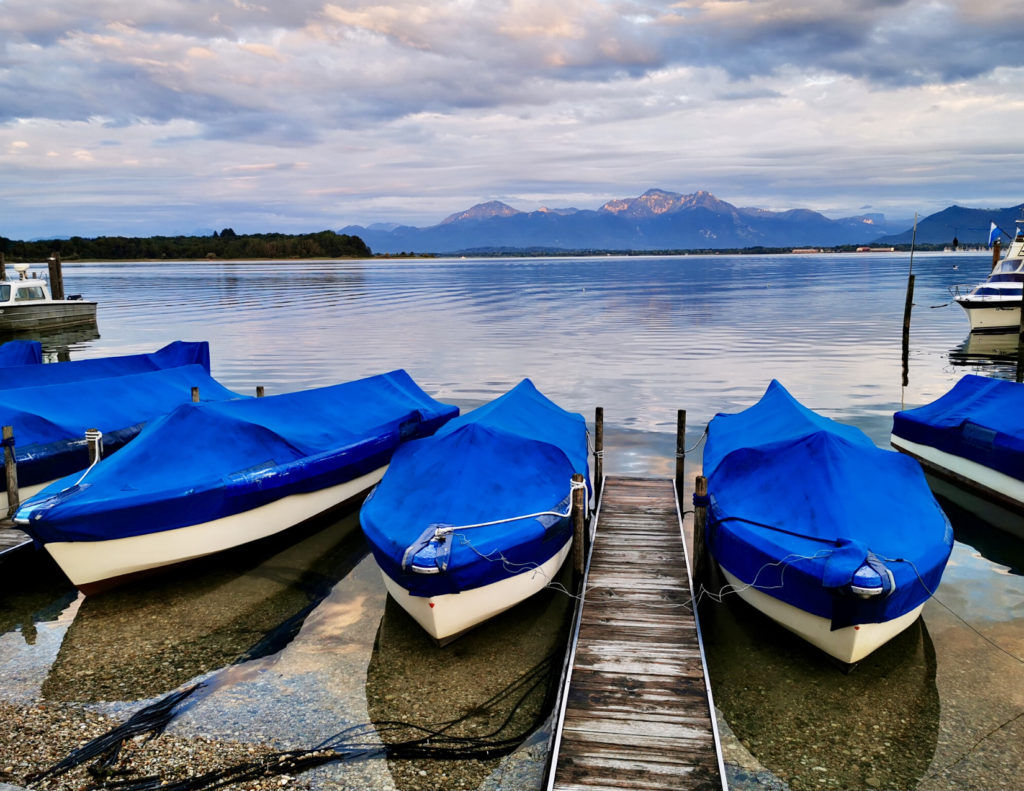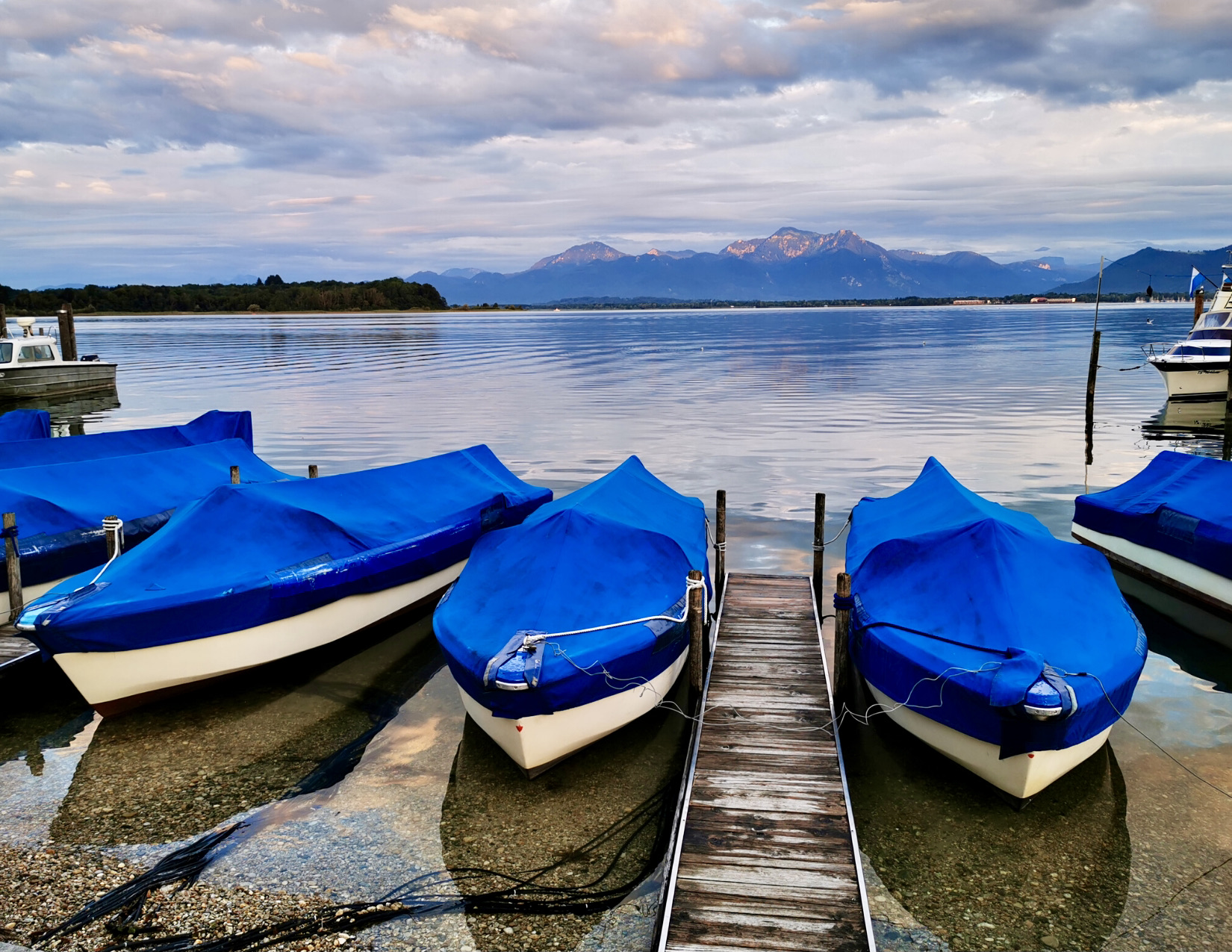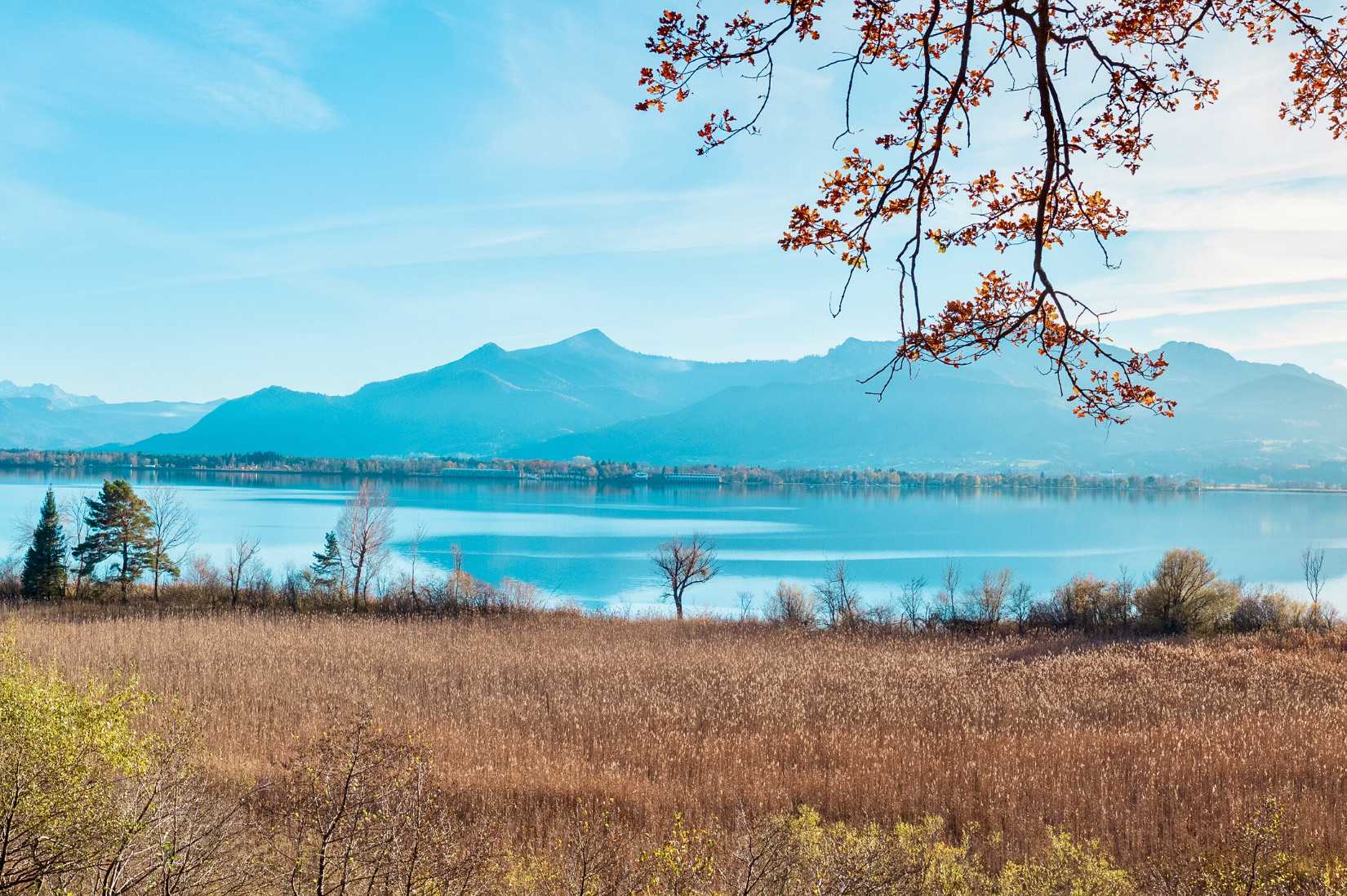 Practical Information & Tips For Visiting Herrenschiemsee Palace
Address: Schlosspark Herrenchiemsee, 83209 Herrenchiemsee, Germany
Hours: Mar 31-Oct 15: 9:00 am to 6:00 pm, Oct 16-27: 9:00 am to 6:00 pm, Oct 28-Mar 30 9:40 am to 4:15 pm, Oct 28-Mar 30: 9:40 am to 4:15 pm
Entry: 9 euros
Pro tip: The only way to get to the palace is by boat from the town of Prien am Chiemsee. It's a 20 minute walk from the pier.
7. Berg Palace, Royal House to Royal Prison
Now we arrive at the last and most modest of the Ludwig-themed castles.
Berg Palace has been in the Wittelsbach family since 1676. The 81 year old Duke Albrecht, Ludwig III's grandson, still owns Berg Castle. It's a manor house situated on the east shore of Lake Starnberg.
The Wittelsbach family renovated Berg Castle in1849-51. King Maximilian II had architect Eduard Riede redesign the castle in a Neo-Gothic style, with crenellations and four towers. The towers were badly damaged in WWII and removed.
Most famously, Berg Palace served as a royal prison and insane asylum. Ludwig was jailed there after being declared insane. 24 hours later, Ludwig was found dead in waist deep water. And the era of castle building came to a sad close.
Address: 82335 Berg, Germany
I hope you've enjoyed my guide to visiting Mad King Ludwig's fantastical castles in Bavaria. You'd be madder than the king if you didn't visit then when you're in touring Bavaria or traveling in Germany.
I hope you've enjoyed my guide to Mad King Ludwig's castles in Bavaria. You may enjoy these other travel guides and resources for Germany:
Must See Sites on the Romantic Road
Guide To Rothenburg ob der Tauber
If you'd like to visit beautiful castles in Bavaria, pin it for later.