"There are and will be a thousand princes; there is only one Beethoven." —Ludwig van Beethoven
Dah-Dah-Dah-Dah … The power and passion of those famous first four notes … If you love Beethoven, here's my guide to visiting the top Beethoven sites and attractions in Vienna Austria.
Ludwig van Beethoven is as Viennese as wiener schnitzel. His dramatic life and work are inextricably bound up with Vienna. Beethoven sites are unmissable destinations in Vienna, if you are musically inclined.
Though born in Bonn Germany, Beethoven spent the bulk of his adult life in the musical capital of Vienna. There, he became the foremost composer in the Western world.
Through sheer force of will and emotion, Beethoven catapulted the music world from Classicism to Romanticism. His tormented life was like a Wagnerian soap opera. The often irascible Beethoven suffered from debilitating deafness, unrequited love, and abject poverty. But he persevered.
Let's take a look at the life of the vaunted composer and explore Beethoven's most famous sites and monuments in Vienna Austria.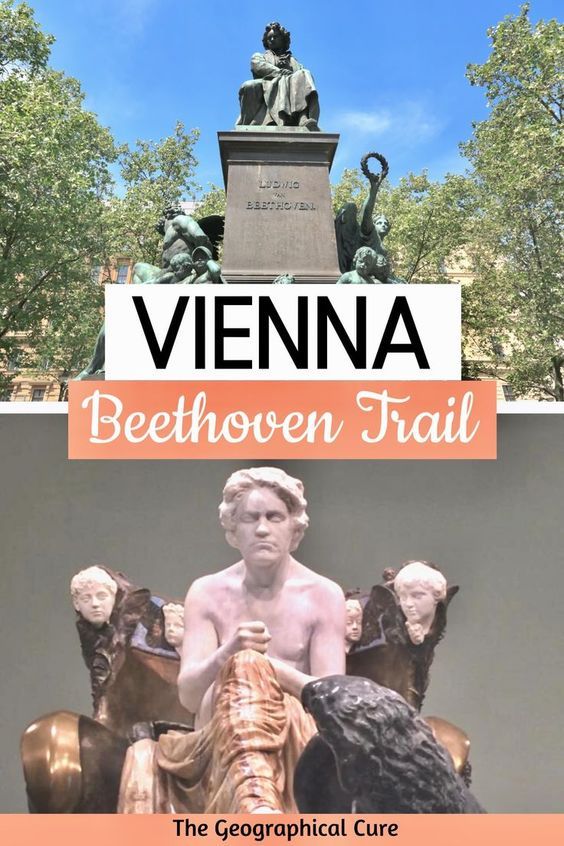 A Short Biography of Beethoven
1. Early Life
Beethoven waas born in Bonn Germany in 1770. He had a musically inclined grandfather and a helicopter father, who was a drunk and yearned for Ludwig to be the next Mozart. Which eventually became a reality.
In Vienna, Beethoven studied with the resident classic music expert and father of the symphony, Joseph Haydn. Fairly quickly, he was recognized as a precocious pianist and burgeoning superstar.
But Beethoven was not a looker. Even his friends described him as ugly. Aside from a shabby and diminutive appearance, he had big brows, bruised eyes, and crazier hair than Einstein.
2. Beethoven's Encroaching Deafness & Mood Swings
In 1801, at age 27, Beethoven began hearing buzzing in his ears. Slowly, he lost his hearing. Beethoven attributed it to an accident. More likely, it was the result of a childhood illness or lead poisoning.
But it caused Beethoven to contemplate suicide and tormented him the rest of his life. His torment was expressed in the "Heiligenstädter Testament," an unsent letter to his brothers, discovered in 1827 after his death.
The moody Beethoven may have been bipolar. He was notoriously absent minded, difficult to get along with, and prone to tantrums.
Beethoven could be maniacally creative, then lapse into composing doldrums. His teacher Hayden describes him as "a man of many heads and hearts" whose compositions are "things of beauty, but rather dark and strange."
Beethoven performed, on piano, for the last time in 1814. By 1818, in the final decade of his life, he was almost completely deaf. He could only communicate via written messages.
Beethoven said:
I must confess that I lead a miserable life. For almost two years, I have ceased to attend any social functions, just because I find it impossible to say to people, 'I am deaf.' If I had any other profession, I might be able to cope with my infirmity; but in my profession, it is a terrible handicap.
Still, he wrote some of his best pieces while deaf, including the 9th symphony. When the 9th symphony premiered, Beethoven co-conducted. But he had to be turned around to see the deafening applause.
3. A Hazardous Love Life: Who Was Beethoven's "Forever Mine?"
Beethoven never married. But he had a restless string of infatuations with aristocratic women, most of which cratered. Some women admired Beethoven's genius and the poetry of his soul.
Others found him repulsive, calling him "ugly and half crazy." None of their family's approved of Beethoven's low social status.
When Beethoven died, a 10 page letter to his "Immortal Beloved" was found, along with the Heiligenstädter Testament. Dating from 1812, it contained the famous phrase "forever yours, forever mine, forever us."
There's quite a list of possible candidates: (1) Antonie Brentano; (2) Josephine Brunsvik; (3) Giulietta Guicciardi; (4) Amalia Sebald; (5) Thereza von Brunswick; and (6) Johanna Reiss, Beethoven's sister-in-law.
In the 1994 dramatic film Immortal Beloved, the director makes the case for Reiss. But most historians think this is flatly inaccurate. In fact, Reiss was in jail during 1812, when Beethoven wrote the letter.
The most likely candidate seems to be Josephine Brunsvik. She had a daughter exactly 9 months after Beethoven's famous letter.
The daughter resembled Beethoven and grew up to be a musical prodigy. In his extant letters to Josephine, Beethoven called her his "only beloved."
4. Beethoven's Death
Beethoven died during a thunder storm, appropriate given the composer's crashing symphonies. Beethoven's last words were: "Plaudite, amici, commedia finita est" — "Friends applaud, the Comedy is over."
The cause of his death is still unknown. As with his "immortal beloveds," there are many possible theories. Beethoven was ill most of his life with digestive complaints. An autopsy revealed several illnesses, including significant liver damage.
But lead poisoning may be the best guess. Beethoven had been drinking strong coffee out of a lead filled pewter tankard his entire life.
It's doubtful that an elderly 50+ drunkard could've written his last quartets. And tests reveal acute exposure to lead in Beethoven's hair samples.
Guide To the Must Visit Beethoven Sites in Vienna
I'm not going to cover every last Beethoven site. The man flitted around Vienna like a gadfly, partly by temperament and partly to avoid paying rent. He lived in 60-80 different places, some squalid apartments.
In 2020, Vienna celebrated the 250th anniversary of Beethoven's birth.
Here are the essential must see sites, monuments, and attractions on the Beethoven Trail in Vienna:
1. Gustave Klimt's Beethoven Frieze at the Vienna Secession Museum
A gorilla, you say? Not any gorilla. This gorilla is not an animal.
It's a mythological giant, Typhoeus. He's a part of a large exquisitely gilded frieze, called the Beethoven Frieze by famed Austrian Symbolist painter Gustave Klimt. It was painted in 1901 for the Vienna Secession's 1902 exhibition celebrating Beethoven.
The Vienna Secession was formed in 1897. The Art Nouveau movement marked the formal beginning of modern art in a conservative Austria.
It was comprised of progressive artists, committed to an unconventional and forward-thinking take on art.
The massive Beethoven Frieze from the famous exhibition is based on Richard Wagner's interpretation of Beethoven's 9th Symphony. It marks the beginning of Klimt's "Golden Period."
Meant for the exhibition only, the frieze was painted directly on the walls. It's large, standing at 7 feet high with a width of 112 feet, and weighs four tons.
The frieze illustrates human yearning for happiness in a cruel and misbegotten world, where evil forces and internal weakness plague mankind. Happily, the frieze ends in a kiss, signifying the redemptive power of art.
The frieze is in the Vienna Succession Museum, which was fully renovated in 2018. Built by Joseph Maria Olbrich, the museum is topped by a cupola constructed from 2,500 gilded iron laurel leaves.
Locals affectionately call the dome the "golden cabbage." Above the entrance are the German words: "Der Zeit ihr Kunst – der Kunst ihr Freiheit" (To the Age its Art; to Art its Freedom).
>>> Click here to book a fantastic 3 hour Art Nouveau tour
Address: 12 Friedrichstrasse, Vienna
Hours: 10:00 am to 6:00 pm Tuesday to Sunday
Entry fee: € 12
Metro: Karlsplatz
2. House of Music, Haus der Musik
Spread out over 5 floors, the House of Music is Vienna's interactive sound and music museum. You can browse the countless musical artifacts and learn about Beethoven and other famous classical music composers.
The museum is a high tech experience. It's unique for its effective use of interactive touch-screen computers and headphones to explore the physics of sound. There are also audio-visual exhibits.
Before leaving, pick up a virtual baton to conduct the Vienna Philharmonic. Or compose your own waltz.
>>> Click here to book a ticket to the House of Music
Address: Seilerstätte 30, 1010 Wien
Hours: Daily 10:00 am to 10:00 pm
Entry fee: € 16, family € 33, night ticket
Metro: Schwarzenbergplatz
3. Beethoven Monument on Beethoven Platz
Let's meet here for a concert … Beethoven Platz is lovely, and close to Vienna's main concert halls, the Musikverein and Konzerthaus.
Sculpted by Caspar von Zumbusch and unveiled in 1880, the Beethoven Monument is massive. Beethoven sits imperiously, with Prometheus and angels shackled at his feet. It not so subtly suggests that Beethoven is equivalent to a Roman emperor.
It's a glimpse into the cult inspired by Beethoven, who came to be treated like a secular god.
Address: Beethovenplatz, 1010 Vienna
4. Beethoven Museum: Meet Beethoven's Ghost
On the city's outskirts, in hilly Vienna Woods, lies the Beethoven Museum. This tiny museum is superb and packed with Beethoven trivia. It breaths life into Beethoven. It's an unmissable Beethoven site on your Vienna itinerary.
Recently renovated, the Beethoven Museum only re-opened to the public in 2017. There are 14 rooms grouped into 6 themes that illustrate Beethoven's life and work. You can read, see, and listen to his astonishing music. This is where Beethoven composed his 2nd Symphony, piano pieces, and violin sonatas.
You can also see a lock of Beethoven's hair and his death mask. You can don earphones to see how Beethoven himself experienced deteriorating hearing.
The museum is also where, in the summer of 1802, Beethoven realized his deafness would not improve. He wrote his moving letter, called the "Heiligenstädter Testament." But it was never sent.
In the unsent letter, in a state of deep despair and anger, Beethoven tells his two brothers that he is suffering from numerous ailments, including encroaching deafness.
The deafness wasn't that bad at that moment. But Beethoven knew it would change his life forever.
Beethoven contemplates suicide and solitude. But instead he decided to overcome adversity through his belief in the sanctity and redemptive power of music. Overcoming adversity is a theme in his 3rd symphony, Eroica, which was penned at this locale.
Address: Probusgasse 6, 1190 Vienna
Hours: 10:00 am to 1:00 pm & 2:00 pm to 6:00 pm, closed Mondays
Entry fee: 8 euros, free with the Vienna Pass
Getting there: Take the U4 to the end of the line at Heiligenstadt and then follow google maps.
5. Pasqualati House Museum
Beethoven lived here intermittently between 1804-15. It could be considered his primary abode. The "museum" is more memorial than actual museum.
Here, Beethoven wrote Fidelio (originally named Leonore), Symphonies 4, 5, 7, and 8, and his short orchestral piece, Wellington's Victory. This is one of three Beethoven museums operated by the city of Vienna. You have a good view of the Ringstrasse from the 4th floor.
Beethoven's two rooms (plus another two from a neighboring apartment) have been converted into the airy museum, which has its own modest treasure trove of portraits, articles and personal belongings. One room focuses on Beethoven's 67 changes of residence within Vienna.
Visitors are also regaled with tales of Beethoven's painful, and always unsuccessful, crushes on noble society ladies, including his Immortal Beloved.
Address: Mölker Bastei 8, 1010 Wien
Hours: 10:00 am to 1:00 pm & 2:00 pm to 6:00 pm
Entry fee: € 5
6. Eroica Hall in the Palais Lobkowitz
The Palais Lovkowitz was the first major Baroque town palace in Vienna, built after the Turkish Wars in 1683. It's now dubbed Vienna's Theater Museum.
In its ornate Eroica Hall, in 1804, Beethoven's Eroica Symphony was first performed for his patron Franz Joseph Maximilian. At the time, the hall housed 30 musicians and an audience of 100. Now, the Eroica Symphony is usually played by up to 70 musicians.
Conductor Martin Haselbock is currently re-creating Beethoven's music with period-specific instrument ensembles in his Resound Project.
He likes to perform Beethoven's works in their original settings. Haselbock believes that listening to Beethoven in compact settings like Eroica Hall means "you feel the music under your skin."
Address: Palais Lobkowitz Lobkowitzplatz 2, 1010 Vienna
Hours: Daily 10:00 am to 6:00 pm, closed Tuesdays
Entry fees: information for tickets, fees, and audioguide is here
7. Beethoven at the Belvedere Palace
The Belvedere Palace is one of Vienna's most visited tourist spots. It's an important UNESCO site for its showy architectural ensemble.
The Belvedere is also one of Europe's most important museums. It's definitely the best museum in Vienna. So, if you'll only make one "art stop," the Belvedere is the place to choose.
There, you'll find a famous marble sculpture of Beethoven by Max Klinger. As in his other work, Klinger depicted Beethoven as a bare-breasted Olympic deity, legs cut off.
Klinger modeled the Belvedere torso after his controversial "bathhouse" sculpture of Beethoven, now in the Leipzig Museum in Germany.
The Belvedere Palace is also a must see site for fans of the Austrian Art Nouveau artist Gustav Klimt, whose iconic The Kiss is on most people's Vienna bucklist. Here's my complete guide to Klimt sites in Vienna.
>>> Click here to book a ticket to the Belvedere Palace
Address: Upper Belvedere: Prinz-Eugen-Strasse 27, 1030 Vienna
8. Beethoven's Grave at Central Cemetery in Vienna
Since 1888, Beethoven's remains lie in grave 29 in Vienna's Zentralfriedhof Cemetery. The cemetery is Vienna's equivalent to Paris' Pere Lachaise Cemetery. Both cemeteries are the final resting place for the city's most brilliant minds.
Within a few feet are the graves of Schubert, Johann Strauss, Jr., and Brahms. You can even find the grave of Antoni Salieri, the court musician and Mozart's reputed rival.
If you're a lover of classical music, this is a must see destination in Vienna to pay your respects.
>>> Click here to book a walking tour of Central Cemetery
Address: Simmeringer Hauptstraße 234, 1110 Vienna
I hope you've enjoyed my guide to the Beethoven Trail in Vienna. You may enjoy these other Vienna and Austria travel guides and resources:
If you'd like to visit Beethoven sites in Vienna Austria, pin it for later.