So you're planning a trip to Sicily? This enchanting Italian island is one of Europe's most dreamed of destinations. To help you plan a visit, I've put together five sample 7 day itineraries for Sicily.
Sicily is rich in history, culture, and food. It's one of Italy's most exotic regions, pure passion set amid wild beauty. You can enjoy diverse landscapes — rocky volcanic coastlines, pristine beaches, and clifftop villages.
Sicily will also dazzle you with ancient ruins, artistic treasures, Baroque architecture, and Italy's most exotic street markets.
One week in Sicily isn't enough time to experience the island fully. Given the distances to be traveled, imperfect roads, and plethora of attractions, you should probably stick to one part of the island.
Given that, here are five ways I suggest spending 7 days in Sicily by geography or theme:
Eastern Sicily Itinerary
Western Sicily Itinerary
Northern Sicily Itinerary
Sampler Sicily Itinerary
Archaeological Sicily Itinerary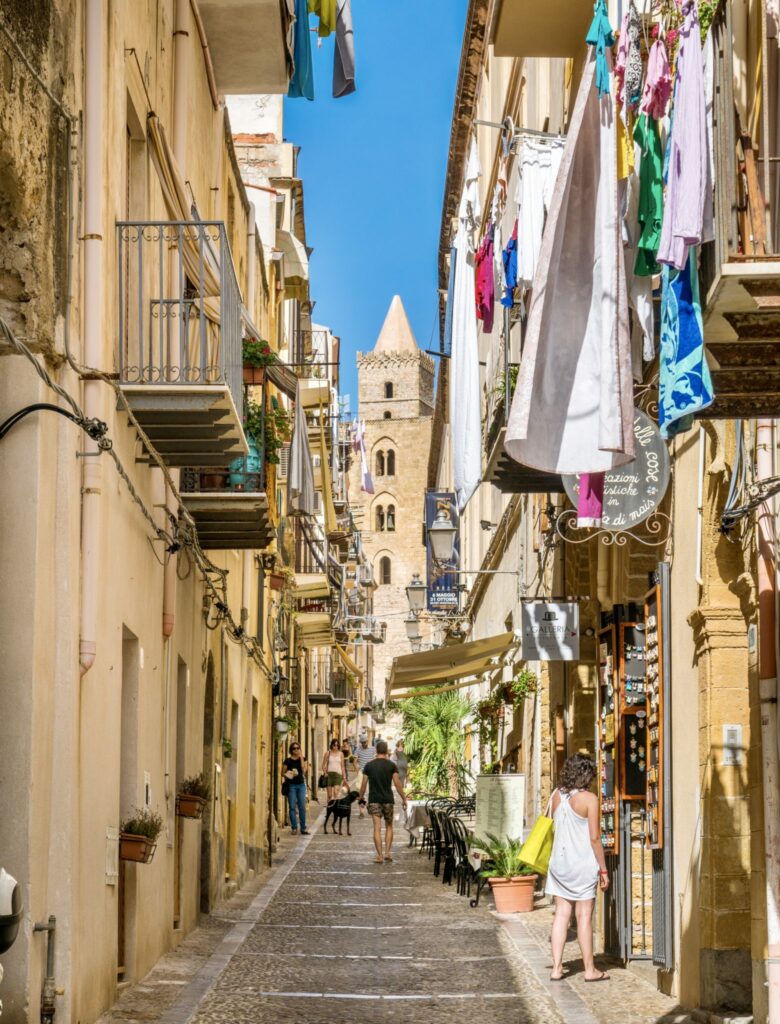 You can pick a one week Sicily itinerary to match your own interests — whether you want a city visit, historical and cultural options, outdoor scenery, or beaches. Or a mix of everything.
Of course, you can always adjust and tweak these itineraries to suit your needs. Or, you can combine them for a longer 2 week stay.
Sicily travel can be rather exhausting. If you have time at the end of your trip, I recommend sitting on a beach in Cefalu to have a "vacation from your vacation."
Whichever Sicily itinerary you choose, your vacation will be unforgettable.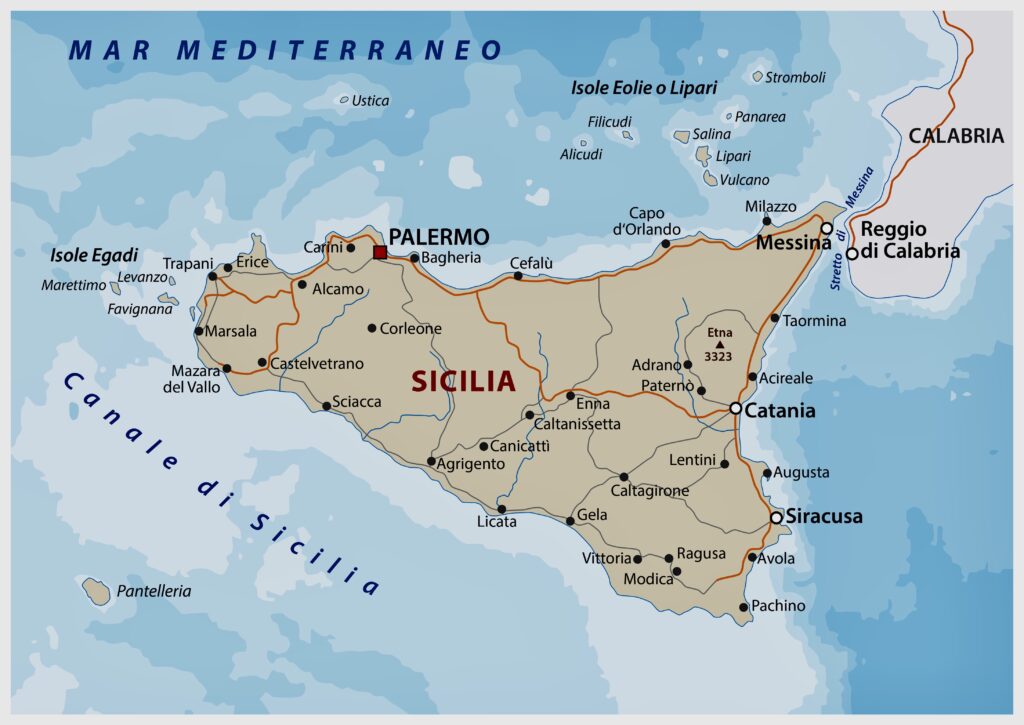 One Week Sicily Itineraries: How To Spend 7 Days In Sicily
Here are my sample on week in in Sicily itineraries. I also give you suggestions for where to stay.
7 Days Eastern Sicily Itinerary
My first sample 7 day Sicily itinerary features sunny eastern Sicily. This is the most popular and most visited area of the island, lorded over by Europe's most active volcano.
For this Sicily itinerary, you'll fly into Catania, Sicily's second largest city.
I would recommend basing yourself in Taormina and Syracuse. You could also stay in Syracuse for 7 days and day trip everywhere from there. If you switch bases, plan a half day for travel and checking into your new hotel or Air Bnb.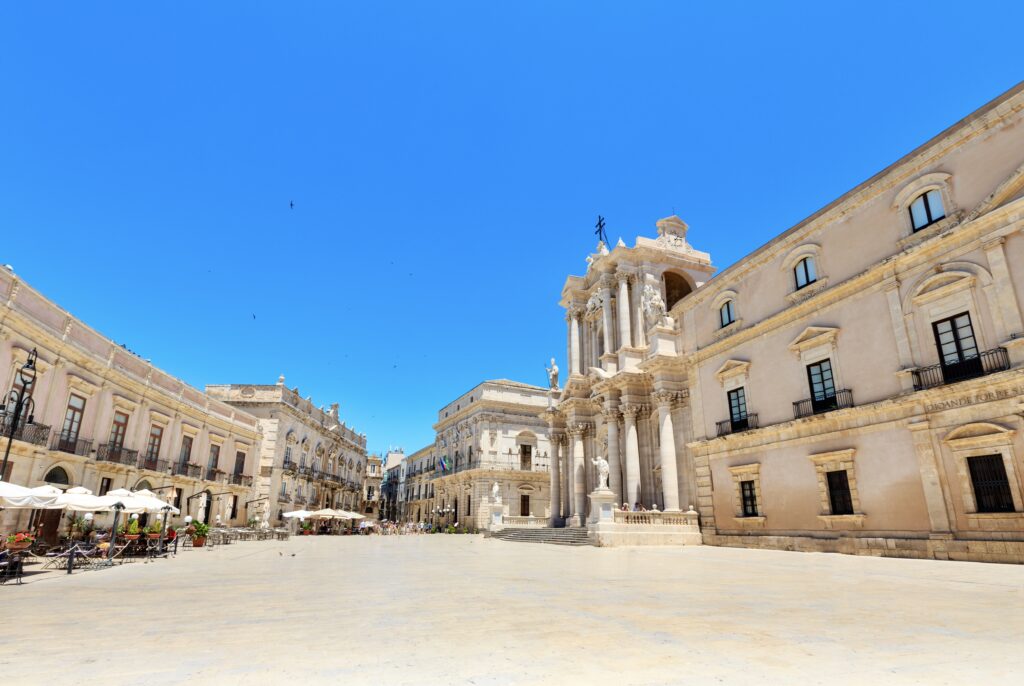 You'll visit:
Day 1: Syracuse
Day 2: Syracuse
Day 3: Syracuse, Day Trip to Ragusa and Noto
Day 4: Taormina
Day 5: Taormina & Castlemola
Day 6: Taormina, Day Trip to Mt. Etna
Day 7: Catania
Fly into Catania, pick up your car, and drive 50 minutes to Syracuse. Syracuse is a beautiful city with breathtaking architecture and archaeological sites that span centuries.
Spend the day exploring Syracuse's old town, the island of Ortigia. Ortigia is full of ornate Baroque churches, winding streets, and hipster wine bars in the cinematic piazzas. The eye catching cathedral perfectly melds a Greek Temple, Norman nave, and Baroque facade.
Have an aperitivo in the Piazza del Duomo, Ortigia's showpiece square, or near the Temple of Apollo. Then, find an inviting Sicilian eatery or take a street food tour.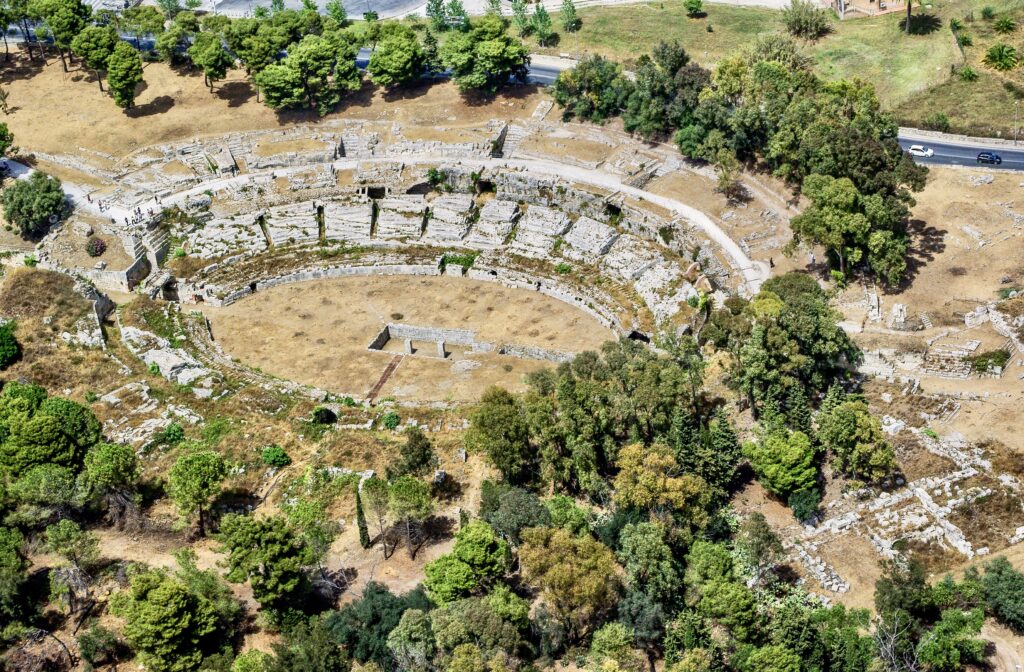 On day 2, head to Syracuse's UNESCO-listed Neapolis Archaological Park. It's a sort of classical entertainment zone featuring one of the world's most impressive Ancient Greek theaters, Italy's third largest Roman amphitheater, and some mysterious grottos.
You can book a skip the line ticket in advance, which may be a good idea in high season to avoid waiting in line. I also recommend booking a guided tour to help make the ruins come to life. There's very little signage.
On day 3 of your 7 days in Sicily, head out to the Val di Nota region in southeast Sicily. I suggest visiting Noto and Ragusa, though they could easily fill 2 days as well.
Noto is a beautiful Baroque city just 45 minutes from Syracuse. It's nicknamed the "Garden in Stone" and considered the capital of the Sicilian Baroque style.
The main drag is the pedestrianized Corso Vittorio Emanuele. You should plan to visit both Noto Cathedral in the massive Cathedral Square and the Church of San Domenico in Piazza XVI Maggio. You might consider booking a 2 hour guided walking tour to get the full historical backdrop.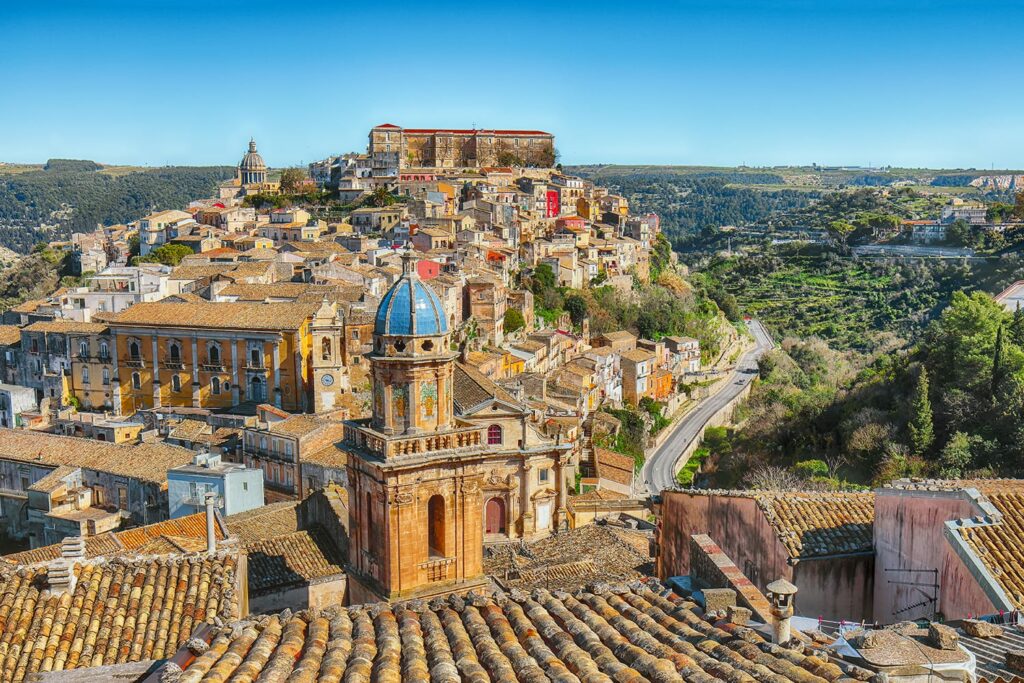 Like Noto, Ragusa is another gorgeous Baroque city. You'll want to explore the old town, Ragusa Ibla, though you'll also have incredible views from the new town, Ragusa Superiore. A staircase connects the two parts of Ragusa.
Check out the magnificent Cathedral of San Giorgio, San Guiseppe Church, and Ragusa Cathedral. Take a stroll through the cobbled lanes and soak in a city that looks like a film set.
You may want to book a guided walking tour. You can also visit Ragusa and Noto on an 8 hour guided tour from Syracuse.
On day 4, head to Taormina. It's a stunning town perched on a cliff that's attracting travelers forever. Taormina is steeped in everything "old town charm" from cobbled lanes, Baroque churches, sweeping sea views, and a buzzing foodie scene.
"Downtown" Taormina centers around a single .5 mile pedestrian street, Corso Umberto, that tumbles past chic shops and tempting restaurants.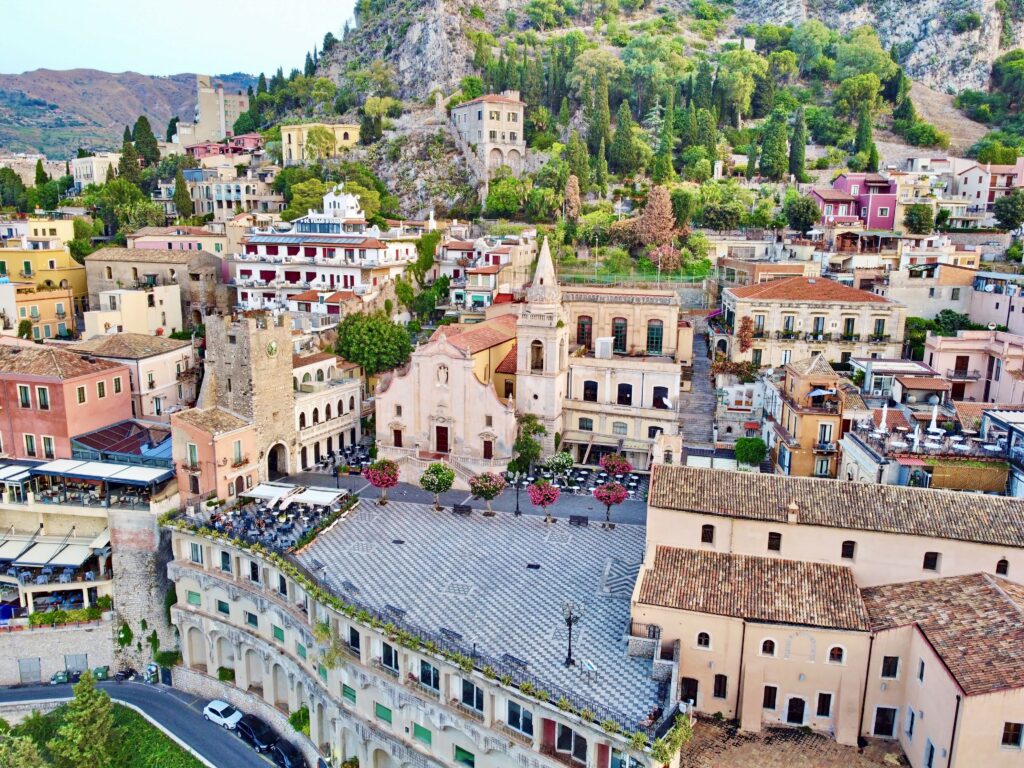 A slow stroll down this scrupulously clean route is a lovely way to acquaint yourself. You might considered starting your sightseeing with a guided walking tour. I had a walking tour with Franco D'Angelo and he was excellent.
Taormina's central piazza is IX Aprile, which is filled with cafes and churches. From its balcony, you'll have views of the Bay of Naxos and Mt. Etna that can only be described as scenic overkill.
The top attraction in Taormina is its Greek Theater. It has a spectacular setting, hanging off a cliff between sea and sky and boasting killer views of Mt. Etna and the Ionian Sea. It's the second largest Greek theater in Italy, after the one in Syracuse.
You second day in Taormina, head to the clifftop town of Castelmola, which is even higher than Taormina. It's a medieval town with cute shops, cobbled lanes, and incredible vistas. You can get there via bus, taxi, or hiking.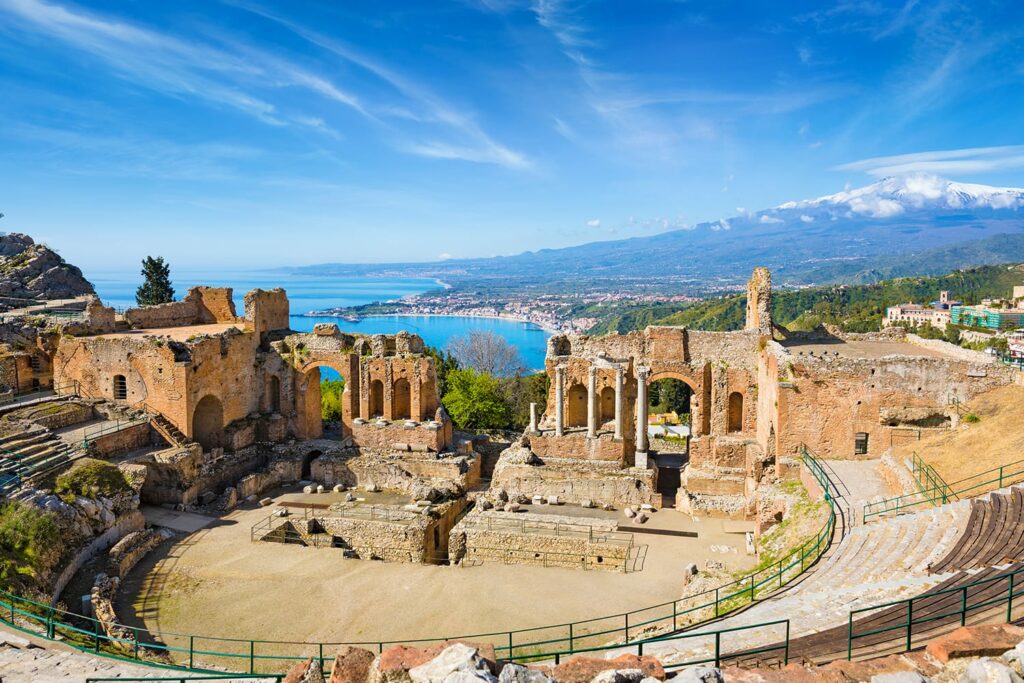 In the afternoon, take the funicular down to Isola Bella and sit on the pebbly beach and relax. You can also book a snorkeling tour around Isola Bella and the famous Blue Grotto or take a boat tour.
On day 6, head to Mt. Etna. Sicily's geological star, "Mamma Etna," is the world's most active volcano. It's been erupting for 500,000 years. To experience the volcanic landscape, you can hike around Silvestri Crater. Or take the funicular, just 10 minutes from the crater, to get up even higher.
Etna is famous for its wines, and boutique wineries are scattered all over its slopes. I had a lovely food and wine pairing at Benanti Winery. You can also book a tour of the Etna wineries.
On day 7, head to your last destination, Catania, from which you'll fly out to home or your next destination. It's about one hour from Taormina to Catania.
Try to allot half a day to wander through Catania. You can eat in the rollicking fish market, admire the cathedral, and check out some Roman ruins. For more information, here's my one day in Catania itinerary.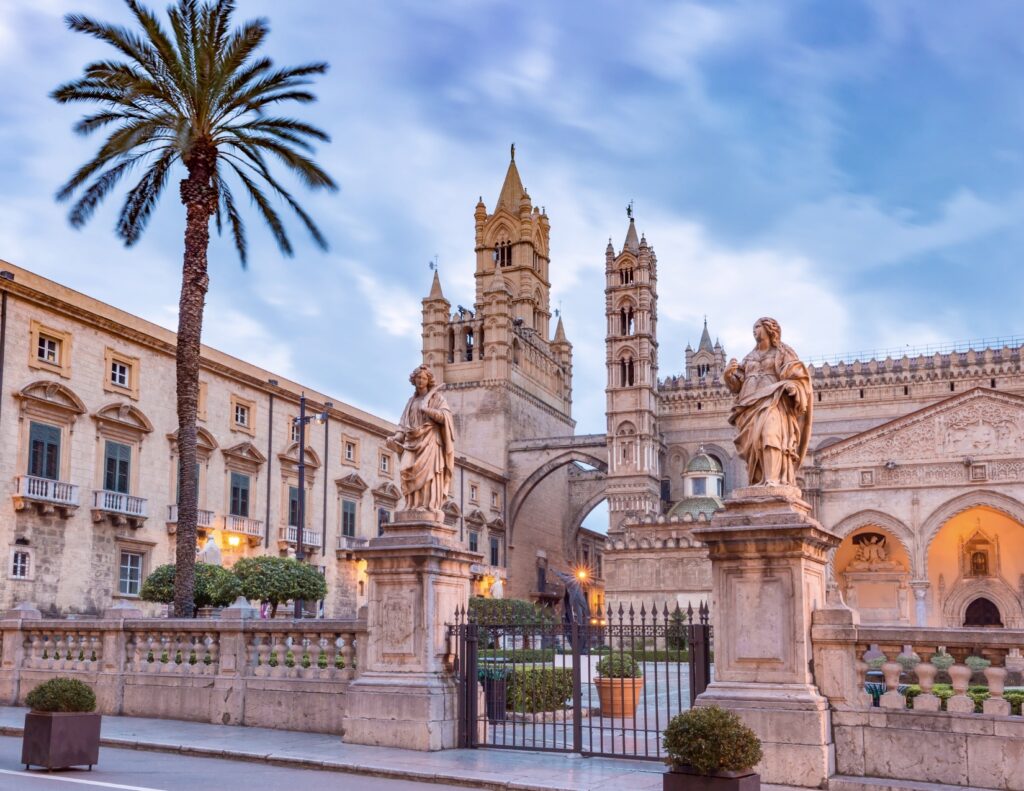 7 Days Western Sicily Itinerary
My second 7 days in Sicily itinerary focuses on the wild West coast, which is less touristy if you want to avoid crowds. You'll fly into Palermo.
If you're a city person, base yourself in Palermo and day trip from there. Alternatively, for something quaint and quieter, base yourself in pretty Cefalu. Or, if you'd prefer two bases, you could use Palermo/Cefalu and Trapani.
This one week in Sicily itinerary takes you to:
Day 1: Palermo
Day 2: Palermo & Monreale
Day 3: Cefalu
Day 4: Segesta & Erice
Day 5: Trapani & the Island of Mozia
Day 6: Selinunte & Agrigento
Day 7: Palermo
You begin in Palermo, Sicily's chaotic and exotic capital. In Palermo, a dizzying succession of conquering kingdoms left behind fascinating ancient remnants and a melting pot culture. Everything is a "lasagna of history," as one of my guides put it.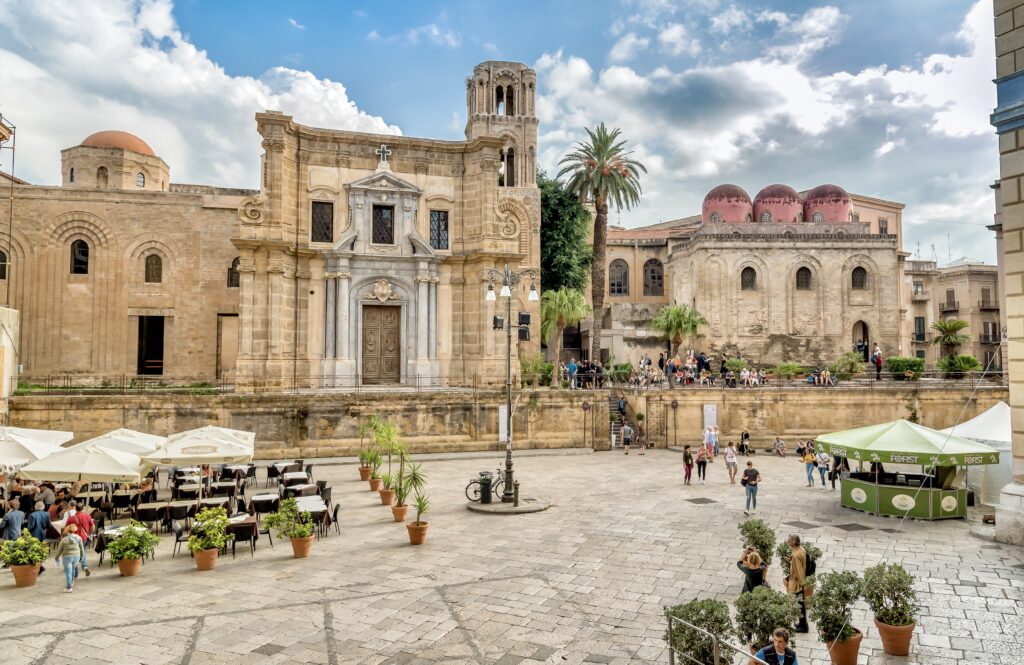 If you're on the UNESCO trail in Europe, there are 8 sites in Palermo to keep you busy.
You'll be mesmerized by some of the world's best-preserved Arab-Norman architecture. To get properly oriented, you may want to book a guided walking tour.
Spend you first day in Palermo visiting the Norman Palace, the Palatine Chapel, Palermo Cathedral, and the stunning trio of churches in Piazza Bellini. Eat at Ballaro or Capo street market.
The Palatine Chapel is Palermo's #1 attraction. I strongly suggest booking a skip the line ticket in advance on the palace website. You may also want to book a guided tour because there's almost no signage and no audio guide.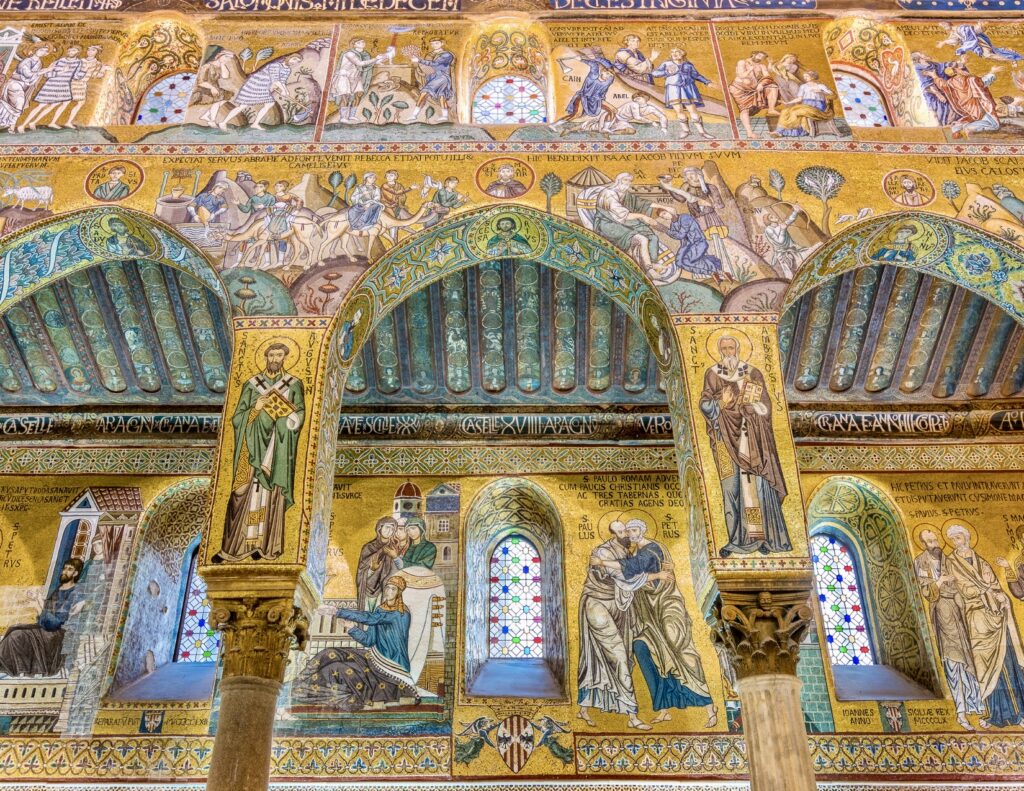 On your second day, continue admiring the city's Baroque architecture in Piazza Pretoria and the Quattro Canti. Go on a guided street food tour. Or take in a show at Teatro Massimo or the Puppet Theater.
In the afternoon, head to Monreale to visit the town's UNESCO-listed cathedral. It's Sicily's most beautiful church — a jaw dropping architectural marvel slathered from floor to ceiling with glittering 12th century Byzantine style mosaics.
To get the full scoop on Monreale Cathedral, you can book a guided tour from an expert in advance. You can book a half day guided tour from Palermo or, even better, a private tour that incudes the famous Capuchin Catacombs in Palermo.
On day 3 of 7 days in Sicily, head to Cefalu, a gorgeous town just 40 minutes east of Palermo. It's home to one of Italy's finest crescent-shaped beaches. Its maze-like old town is immaculate and enchanting. The duomo is magnificent, with 12th century mosaics.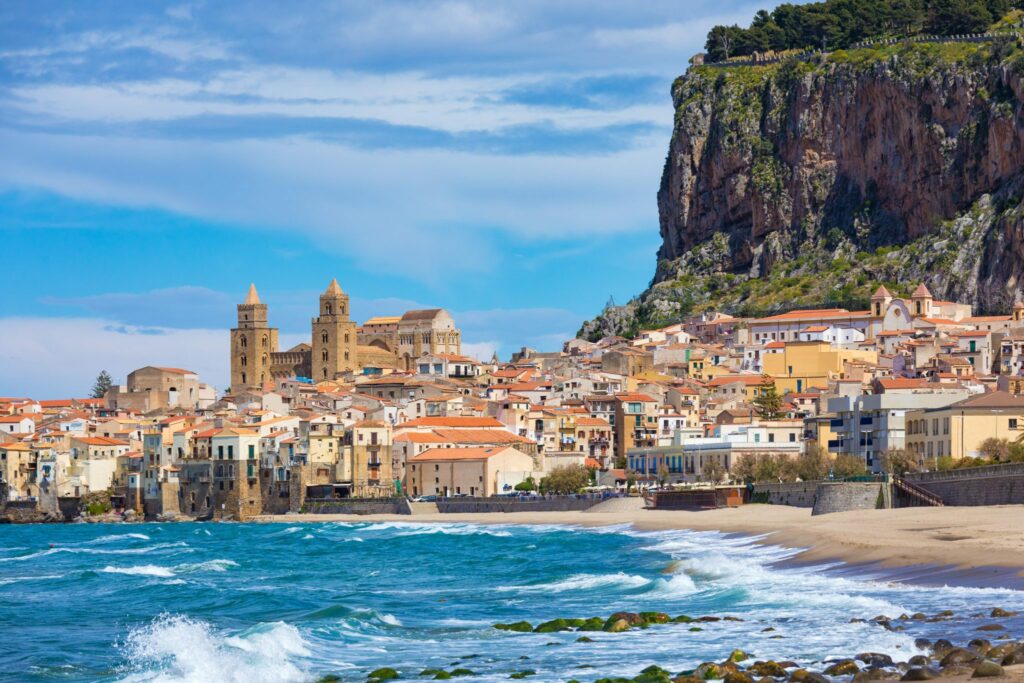 In Cefalu, you can take a street food tour, a cooking class, or take a guided walking tour.
On day 4, you'll hit two beautiful places, the ancient Elymian ruins of Segesta and the nearby town of Erice.
In Segesta, you'll find a well-preserved honey colored temple and theater strategically set amid rolling hills, olive trees, and wildflowers. Sitting in moody isolation, it's one of Sicily's most picturesque rural ruins.
In Erice, you can enjoy wandering the stony lanes of a clifftop medieval village. There's a temple with a view, and a cathedral bell tower to climb. You can also visit the pastry shop of the Queen of Sicilian pastry, Maria Grammatico.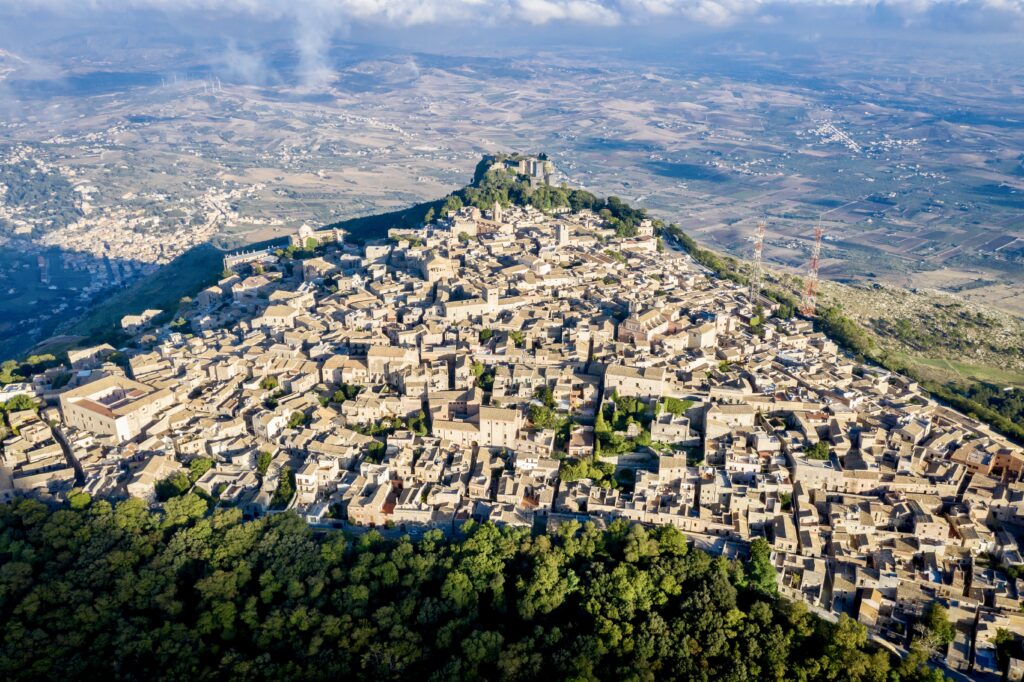 You can drive yourself to these two sites. Or, visit via an 8 hour tour from Palermo that includes Segesta, Erice, and the Trapani salt pans. Or take an 8 hour tour from Palermo that includes Segesta and a wine and olive oil tasting
You next day, head to Trapani and the Island of Mozia. Trapani is a pretty art book of a town with honey colored Baroque architecture. The main drag is full of shop, bars, and eateries. The town's specialty is fish couscous.
If you enjoy ruins, in the afternoon, you can head to the Island of Mozia by boat from the Trapani salt pans. There, you'll find the ancient remains of a once powerful Carthaginian city and a small, but excellent, archaeological museum.
On day 6, head to another of Sicily's most impressive archaeological sites, Selinunte Archaeological Park.
The city was once a rich and powerful Greek colony covering 250 acres. Like the Valley of the Temples further east, it's a collection of colossal ruins. One temple is reconstructed, some partially intact, and some a pile of toppled pillars and chunks of stone.
If you start early, you can do Selinunte in the morning and the Valley of the Temples in Agrigento in the afternoon.
The Valley of the Temples is the world's largest archaeological site and Sicily's star attraction. Lying on the island's southern coast, the complex is chock full of spectacular Greek ruins form the 6th century B.C.
The temples were once shiny and new, showcasing the power of the Greek culture and ancient Agrigento.
Today, some lie in romantic ruins among olive groves while others are in pristine condition. The Temple of Concordia rivals any Greek ruins anywhere.
This is a popular site. In high season, you should pre-book a skip the line ticket to avoid lines. You can also visit on a guided tour from Palermo.
The last day of your one week in Sicily, you'll fly out of Palermo. If you have time before your flight, check out some of Palermo's hidden gems or any sites you missed at the beginning of your week.
Check out my 2 days in Palermo itinerary for more information on what to see.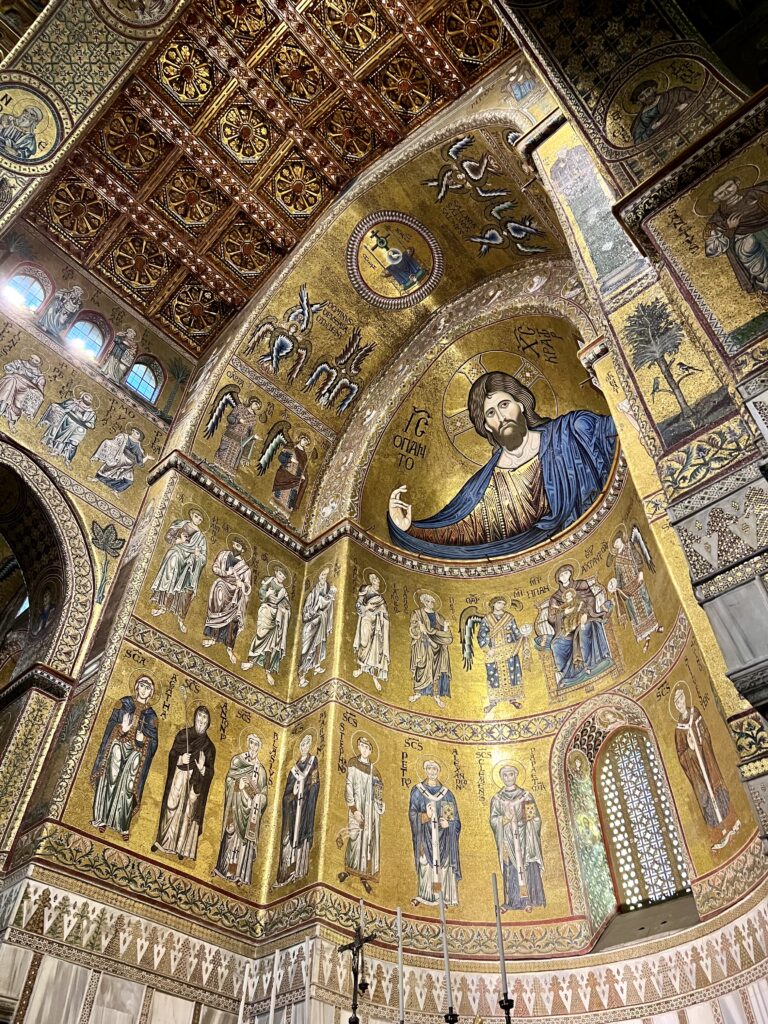 7 Days In Northern Sicily Itinerary
This 7 days in Sicily itinerary focuses on northern Sicily. You'll fly into Palermo.
If you're a city person, base yourself in Palermo and day trip from there. Or, for something quieter, base yourself in Cefalu. You could also split your time between Palermo and Taormina.
This is how you could structure your 7 days in northern Sicily:
Day 1: Palermo
Day 2: Palermo & Monreale
Day 3: Cefalu
Day 4: Erice & Segesta
Day 5: Taormina
Day 6: Mt Etna
Day 7: Palermo
I've described all these destinations above. This is just another itinerary for seeing the sites from the west to east parts of the northern coast, without dipping further south.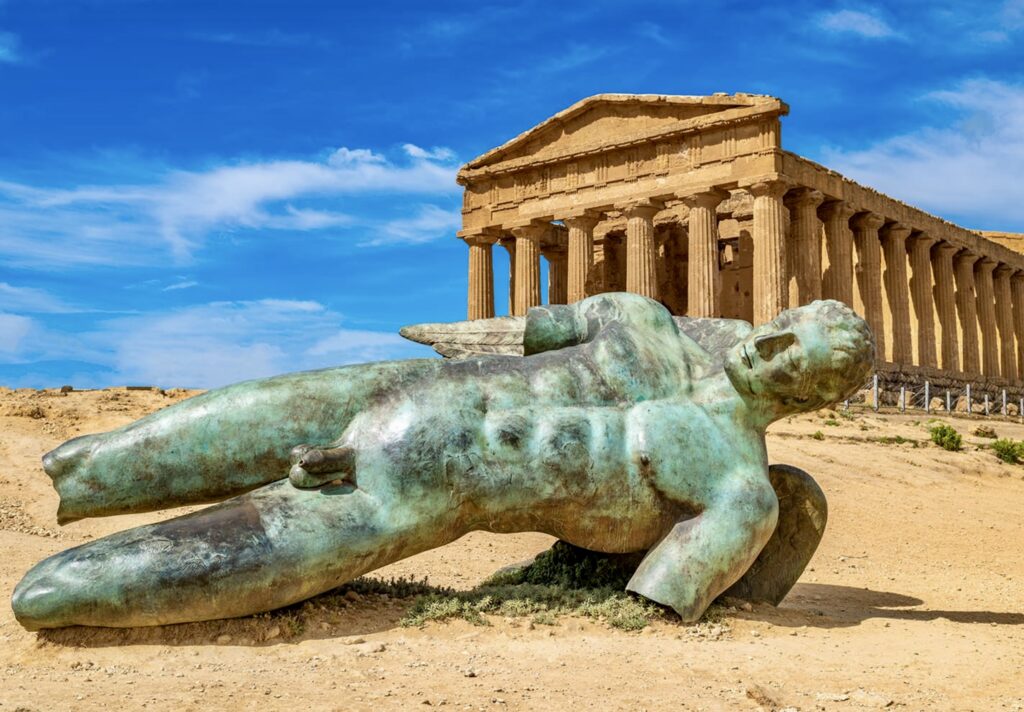 7 Days Sicily Sampler Itinerary
This 7 days in Sicily itinerary gives you a quick, first timers look at Sicily. You'll visit both costs and enjoy a sampling of the top attractions in Sicily. You'll fly into Palermo.
You begin in Palermo and work counter clockwise around the island. You could use Palermo and Syracuse as your bases and day trip from those cities. Or, you could stay overnight in Agrigento midway to break up the travel.
On this one week in Sicily itinerary, you'll visit:
Day 1: Palermo
Day 2: Palermo & Monreale
Day 3: Palermo, Day Trip to Agrigento
Day 4: Taormina
Day 5: Mt Etna
Day 6: Syracuse
Day 7: Catania
Where To Stay in Agrigento: Casa Realia, Colleverde Park Hotel, Doric Boutique Hotel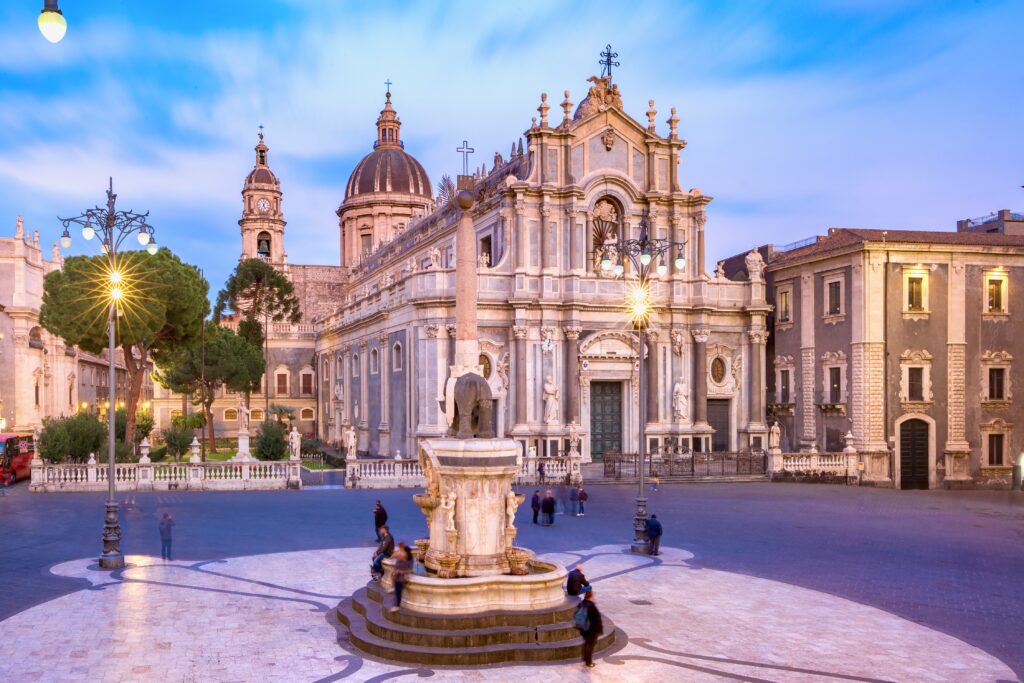 7 Days Sicily Archaeology Itinerary
This 7 days in Sicily itinerary is for ruin lusters and archaeological buffs, a club in which I include myself. It's focused on the archaeological sites scattered throughout Sicily. You'll explore Sicily's connection to ancient Greece and Rome.
With this one week in Sicily itinerary, you'll fly into Catania and begin there. You can use Catania or Syracuse as your first base and Trapani as your second base. Fly out of Palermo.
Day 1: Catania
Day 2: Syracuse
Day 3: Syracuse, Day Trip to Taormina
Day 4: Villa Romano del Casale & Agrigento, overnight in Trapani
Day 5: Selinunte & Segesta
Day 6: Island of Mozia
Day 7: Palermo
I've described many of these archaeological attractions above. But there are a few new sites that I'll briefly mention.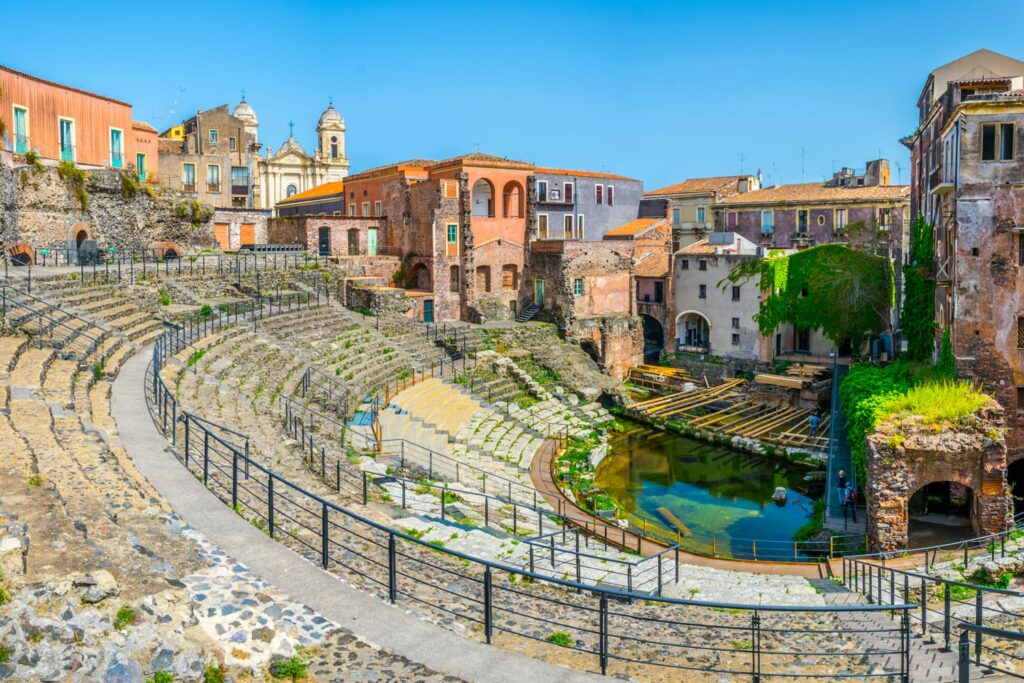 In Catania, there are two ancient ruins of note — a Roman Theater (Teatro Antico) and the Roman Amphitheater.
Teatro Antico dates from the 2nd century A.D. It had a seating capacity of 7,000 spectators with 21 rows of seats. It once had a stage decorated with marble columns.
Excavated in the 18th century, the amphitheater was constructed in the second half of the first century A.D. The elliptical arena was mainly built with lava stone, with red brick used to make the arches.
It was later enlarged in the 2nd century to accommodate 15,000 spectators. At that time, the arena was one of the largest in the Roman world.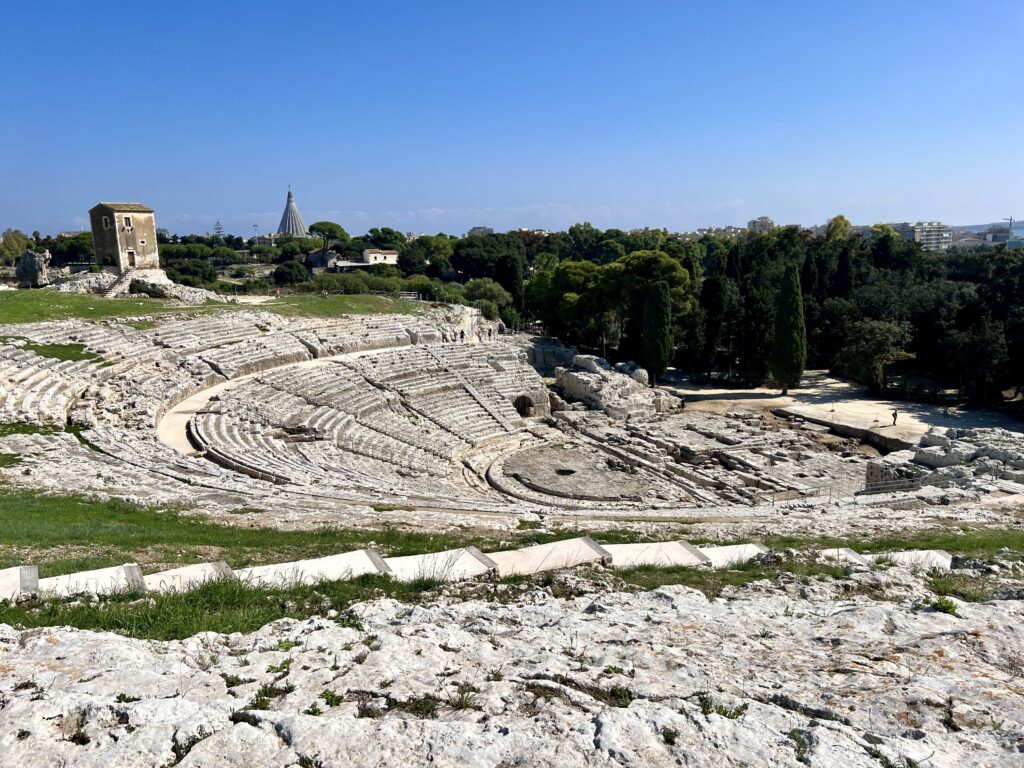 I mentioned Syracuse's Neapolis Archaeologist Park above. But another thing for archaeology buffs to see is the Paolo Orsi Regional Archaeological Museum across the street.
Opened in 1988, it's probably Sicily's best archaeological museum. The collection includes artifacts from Eastern Sicily spanning prehistoric to Roman times.
You'll see coins, sarcophagi, pre-Greek and Greek vases, and statuary. You'll see all the Greco-Roman deities in ceramics or sculpture.
From Syracuse, you'll also want to visit the Necropolis of Pantalica. It's about 45 minutes west of Syracuse.
Dating from the 13th to 8th century B.C., the UNESCO-listed site is one of the most ancient sites in Sicily. It's home to a significant Iron Age and Bronze Age necropolis. There are more than 500 tombs honeycombed along limestone cliffs.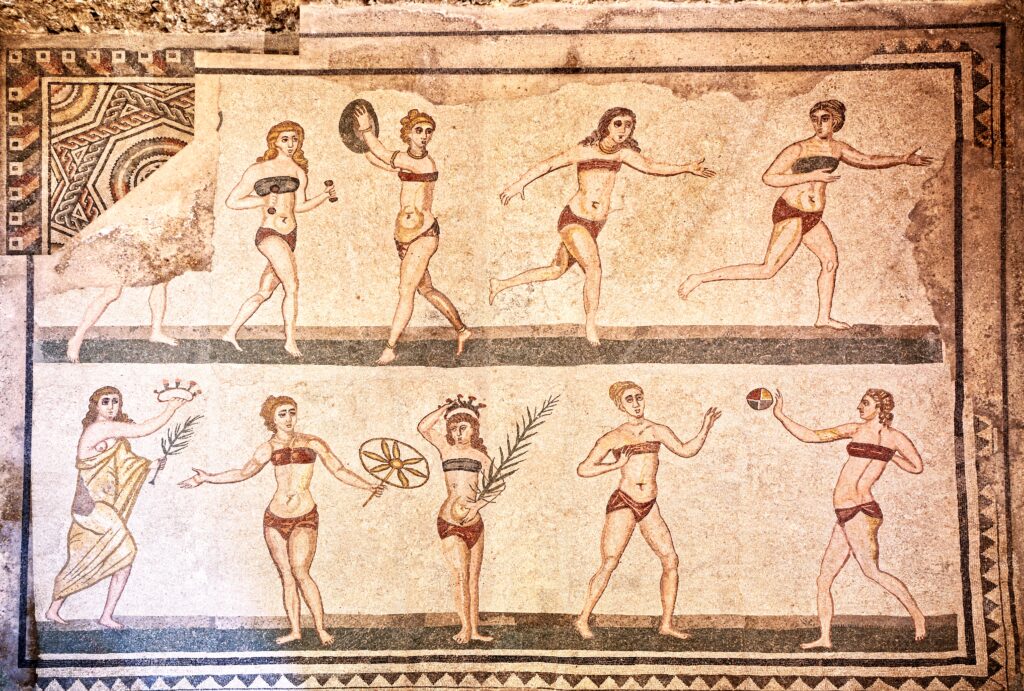 Day 4 has you visiting the UNESCO-listed Villa Romana del Casale.
It's so unique that it's one of my favorite spots in Sicily. The villa is an incredibly mosaicked country mansion built by Roman aristocrats in the 4th century.
Villa Romana del Casale boasts the world's largest collection of in situ Roman mosaics — 3,700 square feet. They're well-preserved and truly incredible, some of the most whimsical and detailed mosaics from the ancient world I've seen.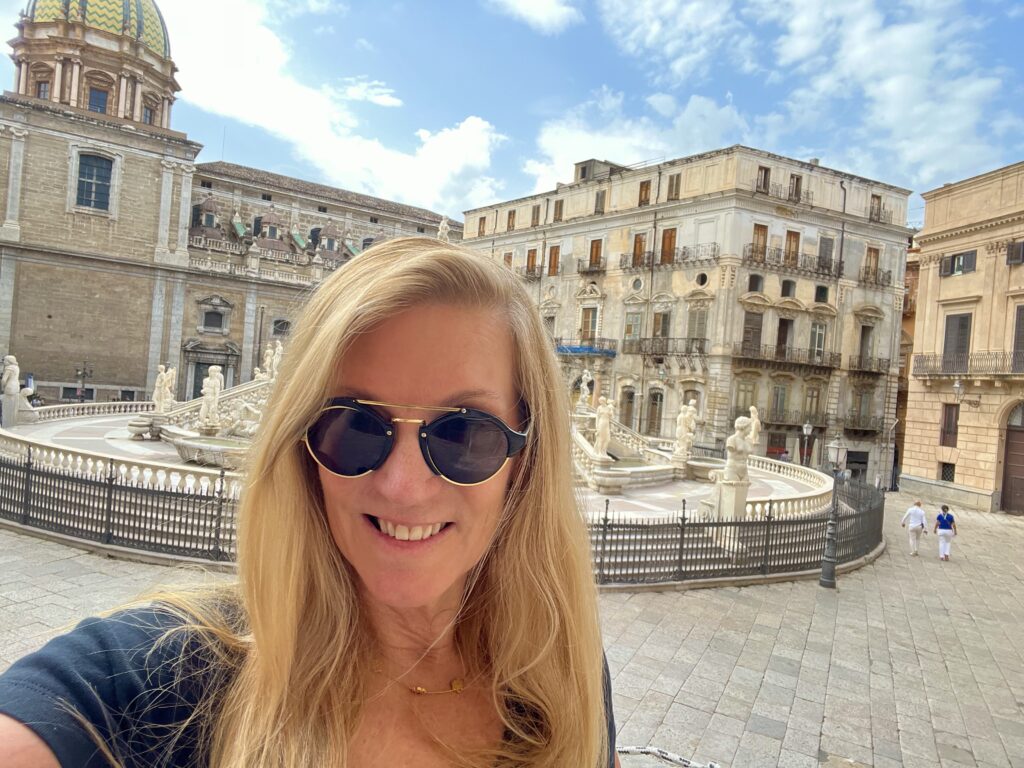 Tips For Spending One Week In Sicily
Here are some must know tips for spending 7 days in Sicily.
1. Driving in Sicily
Driving in Sicily is not for the faint of heart. Sometimes it seems like traffic lights are mere decoration and that the Sicilians have an overly firm belief in the afterlife. This is particularly true in the cities.
Yet, driving in Sicily is far from impossible, particularly if you're not a nervous driver. It's especially helpful to be gifted driving a stick shift or score a very small automatic car.
You definitely won't want to learn to drive a clutch car in Sicily. And know in advance that parking will be challenging.
Wait to pick up your car at Palermo or Catania Airport when you are leaving the city. Driving in cities is hideous and should be avoided.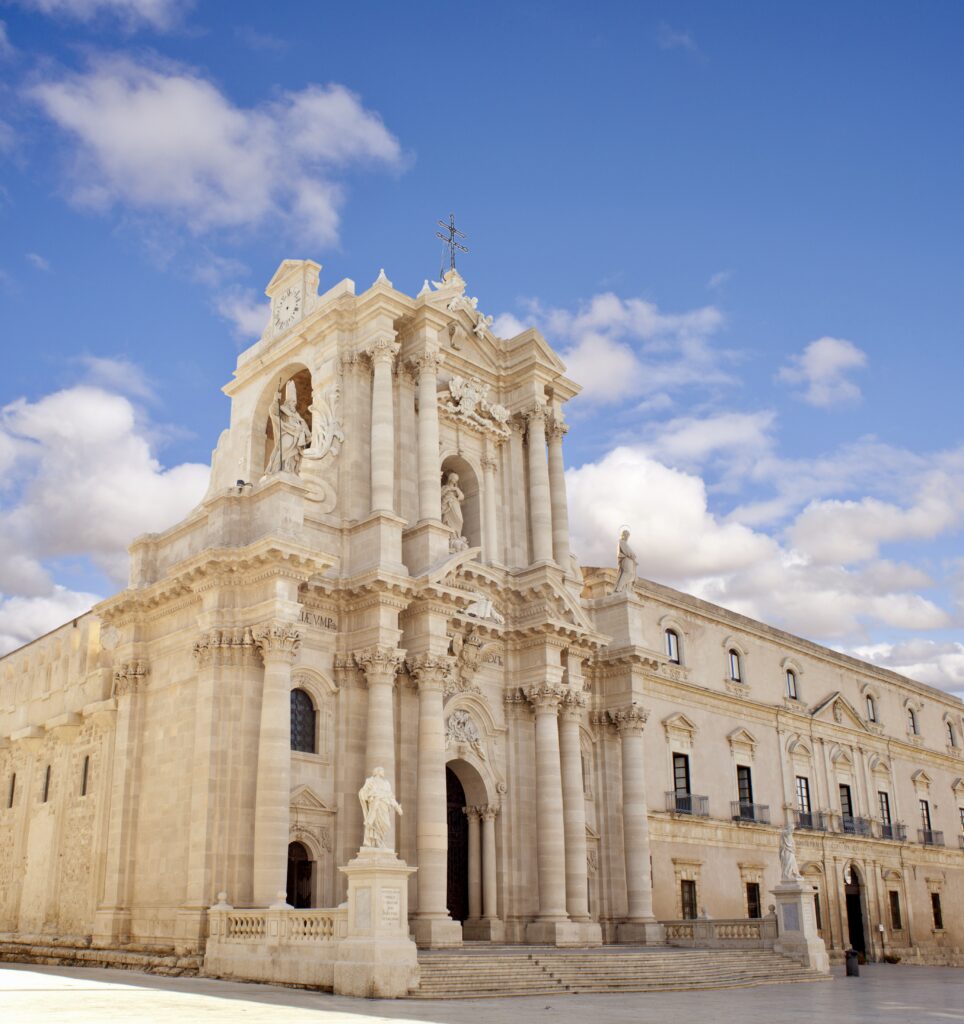 Once outside the cities, though, the highways are perfectly fine. Just be sure to park outside the historic center of any town you visit. Many of these are TZL zones anyway, where only local residents can drive their cars.
A car will also give you more freedom. It's by far the best way to get to small towns or remote archaeological sites.
2. Getting Around By Train
Italy's Trenitalia has decent train service to most places. Major towns are linked by train. Smaller towns may have infrequent service or long wait times.
The most frequent service is along the Palermo-Messina and Messina-Syracuse coastal routes. But you can also get direct trains from Palermo to Agrigento, as the Valley of the Temples is Sicily's premiere site.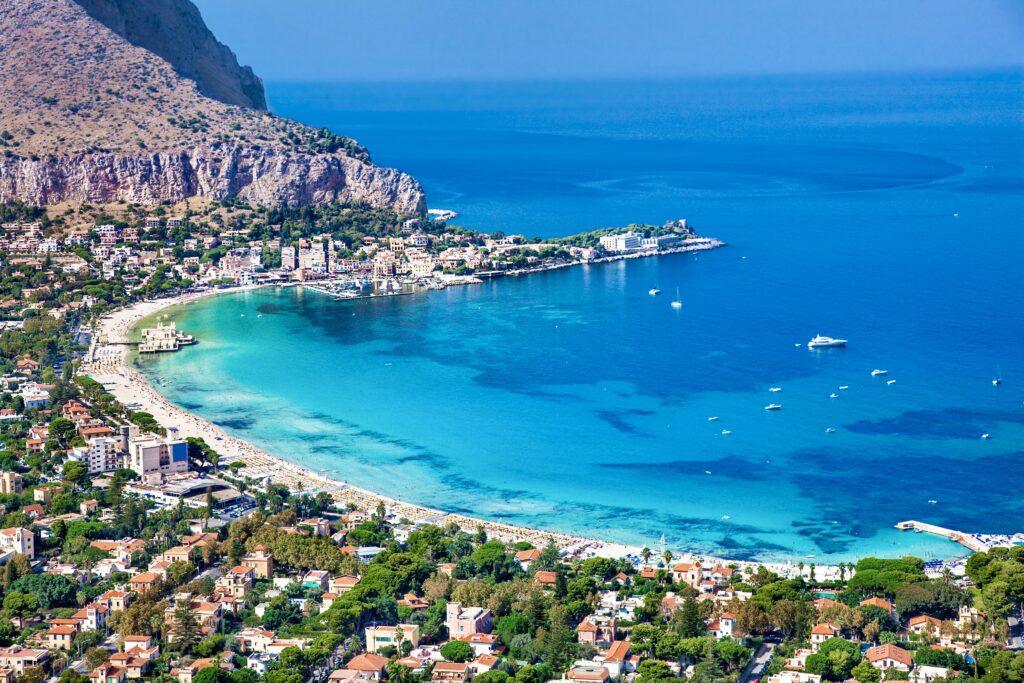 3. When To Visit Sicily
If it's beaches you seek, June to September is the best time. But the summers will be hot and crowded.
I think late spring and autumn are the best times to visit Sicily. Even in the shoulder season, you might experience temperatures near 75-80 degrees. I know I did in October when I was just there.
In winter, prices drop, making Sicily a very affordable destination. You can see the top attractions without crowds and even hang out on the beach some days. If you're not a beach person, winter is the perfect time to visit.
4. What To Eat In Sicily
One of the joys of visiting Sicily is the fresh food. Traveling foodies who enjoy the pleasure of eating will be in seventh heaven. Sicily has its own version of Italian cuisine and you'll want to celebrate each meal.
Many Sicilians start their day with a granita and brioche. Granita is an icy gelato-type confection that's less creamy and more grainy (almost glassy). Sounds odd, I know, but it's delicious.
I encourage you to eat (and shop) at the street food markets whenever you can. Be adventurous.
You'll find squid and octopus (in many iterations) at most places. You can try out local specialties like panelle (chick pea fritters), arancina (deep fried rice balls stuffed with meat or peas), caponata (mix of tomatoes, capers, and eggplant) or timbale di anelletti (pasta rings in a ragu sauce with prosciutto and cheese).
You'll want to try the pasta con le sarde and pasta all norma. You can also nibble on the famous Sicilian pastries like cannoli, marzipan, almond biscotti, and cassata.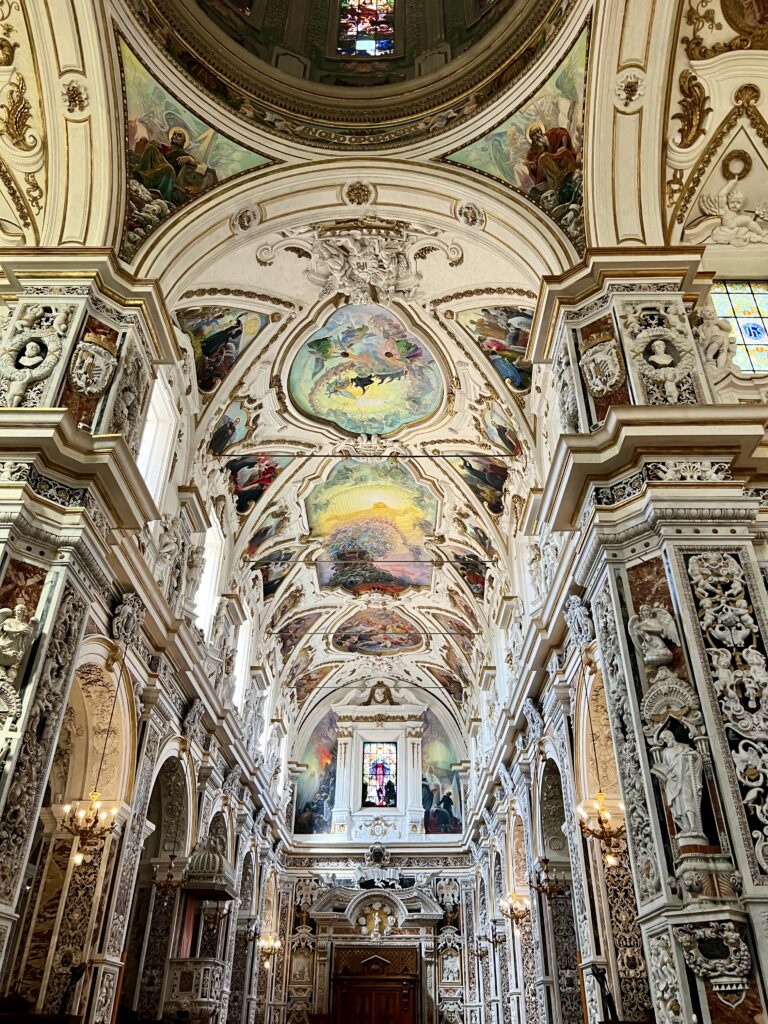 5. Religious Etiquette
At many churches and cathedrals, you'll need to dress modestly. That means covering your shoulders, torsos, and thighs. Don't wear shorts, unless they're knee length. And don't interrupt a church service.
6. Language
Naturally, Sicilians speak Italian. But it's heavily influenced by regional dialects. Even if you speak Italian, you may have trouble understanding the Sicilians. But English is widely spoken in the tourist towns and cities.
7. Opening Hours
Be aware that Sicily takes the siesta hours seriously. Monuments and shops may be closed from 12:30 pm to 4:30 pm or 1:00 pm to 5:00 pm.
Restaurants don't open for dinner until 7:30 pm. So you'll have to get used to eating later.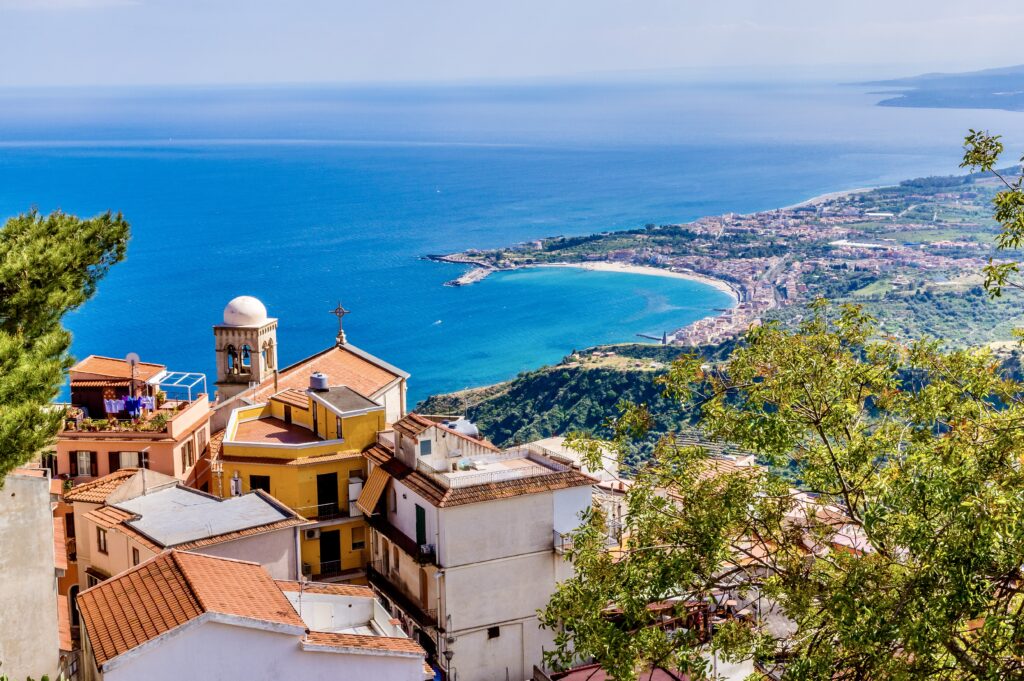 And opening hours on the internet? They're more of a suggestion than anything official.
You may arrive somewhere and it opens an hour later than usual or isn't open at all. It only happened to me once on my last trip and I counted myself lucky.
If you're meeting a tour guide, also give them a 10-15 minute grace period. On one tour, my guide was quite late, but she called me and I ended up having an amazing tour.
8. More Of Italy?
If you'd like to combine a trip to the island Sicily with a trip to mainland Italy, you may want to check out some of my other Italy itineraries: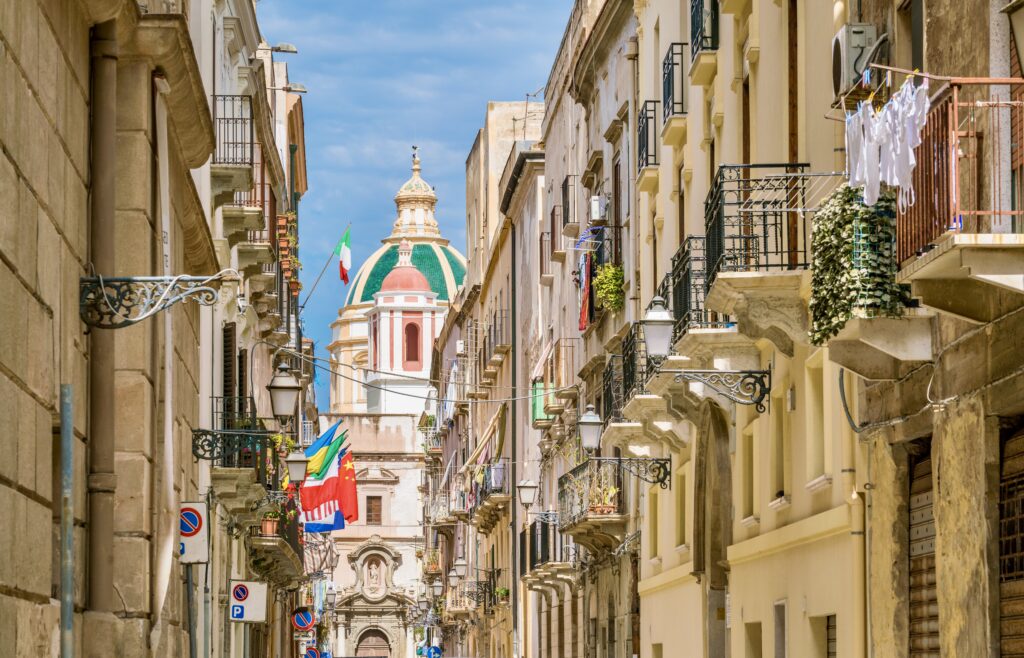 I hope you've enjoyed my 7 days in Sicily itineraries. You may enjoy these other Sicily travel guides and resources, which go into more detail on the destinations discussed above:
If you'd like to spend one week in Sicily, pin it for later.