Planning a road trip or itinerary for Croatia and need some Croatia destination inspiration? You've come to the right place.
This is the ultimate 10 days in Croatia itinerary. This Croatia itinerary takes you from Zagreb Croatia to Dubrovnik Croatia. It also includes useful tips for visiting and planning your trip.
This popular Croatia road trip route is dense with exciting cities, must see medieval villages, UNESCO-listed landmarks, and loads of old world seaside charm.
Croatia is a stunningly beautiful country. It has something for everyone — waterfall-laced landscapes, gorgeous beaches, historic landmarks, Roman ruins, and charming hamlets. In the sunny Dalmatian Coast, dramatic cliffs rise above islands set in azure water.
This 10 day Croatia itinerary begins in Zagreb, Croatia's sophisticated capital. From Zagreb, you'll travel through the beautiful Plitvice Park to Zadar. You'll spend time on the Dalmatian Coast in Zadar and Split before heading south to Dubrovnik, Croatia's stunning walled city.
Overview Of 10 Days In Croatia Itinerary
Here's my recommended 10 days in Croatia itinerary. It's a self drive road trip from Zagreb to Dubrovnik. You don't need to pick up your rental car until day 3 when you head to Plitvice Lakes.
You won't want or need a car in Dubrovnik either, so you can drop it off when you arrive to save on rental fees.
Day 1: Arrive and explore Zagreb
Day 2: Explore Zagreb
Day 3: Stop in Plitvice Lakes National Park en route to Zadar
Day 4: Explore Zadar
Day 5: Day Trip to Sibenik and Krka Park
Day 6: Drive to and explore Split
Day 7: Island Hopping from Split
Day 8: Day Trip to Trogir or Mostar
Day 9: Drive to and explore Dubrovnik
Day 10: Dubrovnik
More Time? Day Trip To Kotor Montenegro
For this 10 days in Croatia itinerary, you'll have three bases: Zagreb (2 nights); Zadar (3 nights); Split (3 nights); and Dubrovnik (2 nights). I give you tips on where to stay for each base.
This super detailed 10 day Croatia road trip itinerary is perfectly adjustable. You can make it shorter or longer, depending on your available vacation time or personal fast/slow travel pace.
I've tried to give you a mix of cities and leisurely villages, with day trip options as well.
You can also reverse the order and start in Dubrovnik and end in Zagreb.
How To Spend 10 Perfect Days in Croatia
Let's tour Croatia in 10 days, taking in all the must visit towns, cities, landmarks, and attractions in this beautiful country.
Day 1: Zagreb
1. Overview of Zagreb
Start your 10 days in Croatia in Zagreb. You can book a private transfer from the airport to your hotel.
Zagreb is the capital and largest city of Croatia. Zagreb is located in the northwest Croatia, along the Sava River.
Visitors to Croatia often skip Zagreb. But the capital is a lovely small city, a quiet beauty, that shouldn't be missed. You may want to book a guided walking tour to get oriented. Or take a fun electric scooter tour.
Underrated Zagreb is a cool place with a a "little Vienna" vibe. It combines cobbled old street charm with edgy and elegant contemporary themes. And it may not even be so underrated anymore.
Zagreb has a fetching Prague-like old world streetscape. It's overflowing with museums and cafes, to satisfy both the culture vulture and the flaneur.
Zagreb is divided in the Upper Town (Gornji Grad) and the Lower Town (Donji Grad). The Upper Town has Zagreb's cluster of historic sites, on the twin hills of Gradec and Kaptol.
Filled with Hapsburg architecture, Ban Jelačić Square in Kaptol is the central square and focal point of social life in Zagreb. The Lower Town is also where you'll find most of Zagreb's museums.
2. Porta di Pietra | Stone Gate
After you've settled in, start your first day in Zagreb by heading to the Upper Town via the Stone Gate, the Porta di Pietra. You can also book a 2.5 hour small group walking tour to get oriented.
Inside the gate is a shrine to the Virgin Mary, created after a painting of Mary miraculously survived a fire.
Dating from the 13th century, the gate is the only remaining relic of Zagreb. If you need to grab a bit to eat, there are plenty of cafes on pretty Tkalčićeva Street.
3. Zagreb Cathedral
Pass through the gate and you'll find one of Zagreb's must see landmarks and its most important church, the Cathedral of the Assumption of the Blessed Virgin Mary. The Neo-Gothic monument was built between the 13th and 16th centuries.
At 105 meters, it's the tallest building in Croatia. Its towering twin spires are each 344 feet high.
In front of the church is the Column of the Virgin Mary and Four Angles, designed by sculpture Anton Dominick Ritter von Fernkorn. Inside, you can admire Baroque altars, sculptures, the ornate pulpit, and the tomb of Cardinal Alojzije Stepinac by famed Croatian artist Ivan Meštrović.
After your visit, have a coffee at Amelie and admire the cathedral's facade.
4. St. Mark's Church
Then, walk to the other side of Upper Town known as Gradec and admire St. Mark's Church.
It's one of Zagreb's most emblematic buildings, a piece of eye candy. St. Mark's has a stunning patterned tile roof depicting the Croatian and Zagreb coat of arms.
Dating from the 14th century, the church's beautiful Gothic portal has 15 sculptures in its niches. The interior contains sculptures by Meštrović. Unfortunately, the church is only open only at Mass times.
During high season, there's a changing of the guard ceremony outside the church on Saturday and Sunday at noon.
5. Lotrščak Tower
You'll also find one of the oldest buildings in Zagreb: Lotrščak Tower. Built in the 13th century, the tower was part of Zagreb's southern gate and town defenses.
At noon every day since 1877, a cannon fires. It's a tradition signifying victory over the Ottomans in the 13th century. You could climb the narrow stairs and enjoy beautiful views of Zagreb from the tower.
In Gradec, stop at Trilogija for dinner. Or, head to a fantastic restaurant near Ban Jelačić Square, Dubravkin Put.
Day 2: Zagreb
1. Dolac Market
On day 2, head to Zagreb's open air market, Dolac, for breakfast. It's only a block from Ban Jelačić Square.
Under bright red umbrellas, you can shop for fresh fruits, bread, or other goodies every day beginning at 7:00 am
Alternatively, you could begin the day with brunch at the Esplanade Zagreb Hotel near the train station.
Built in 1925, the hotel is a haughty mixture of Art Nouveau and Art Deco. The house specialty is strukli, pastry filled with cottage cheese.
2. Ban Jelačić Square
Take a stroll through Zagreb's bustling main square, Ban Jelačić. Admire the manicured facades. Browse the flower market in Petra Preradovic Square. Take a stroll down Marticeva.
3. Museum of Broken Relationships
In the afternoon, head to the Museum of Broken Relationships in Gradec. This idiosyncratic museum was the brainchild of Croatian artists Olinka Vistina and Drazen Grubisic.
Originally, it was a temporary exhibit of ruins and unwanted artifacts from failed and broken relationships (like their own).
But after resounding success on the road, they launched a brick and mortar museum in 2006. The exhibits consist of globally sources donations from anonymous lovelorn sources — stuffed animals, discarded wedding albums, lover letters, broken trinkets, sex toys, etc.
This museum stays open until 9:00 pm, if you're busy during the day.
4. Museum of Naive Art
If you aren't into break up art, instead head to the Museum of Naive Art. This small charming museum features naive art created by non-pro self taught artists in the 20th century.
The museums captures a time in history when primitive art was all the rage. Think Picasso and his fascination with African masks.
5. Zagreb 360
In the late afternoon, head to Zagreb 360.
The Zagreb Eye is an observation deck on the 16th floor of Zagreb Ilica Skyscraper. You'll have terrific views of the city. You can sip cocktails at the Viewpoint Bar.
You ticket is good for the entire day. Click here for online tickets.
6. Tomislav Square
Take a stroll in the Lower Town along King Tomislav Square. Along with a monument to King Tomislav, the Art Pavilion is located in this beautiful and bustling square.
Built in 1897, it's Zagreb's oldest and most beautiful gallery space, used solely for temporary exhibitions. One facade has busts of the great Renaissance artists Michelangelo, Raphael, and Titian.
5 minutes away is the Croatian National Theater, where you can attend ballet or opera performances. Opened in 1895, the beautiful ochre colord building was designed by Viennese architects Ferdinand Fellner and Herman Helmer. Ivan Meštrović' The Well of Life sculpture is right in front of the theater.
If you want to splurge for dinner, head to one of Zagreb's trendy restaurants, 5/4 or Prasac.
A more casual and popular place is La Struk. You can taste Zagreb's famous struki, which is baked dough filled with savory or sweet foods.
Alternatively, you can take a 3.5 hour guided food tour of Zagreb.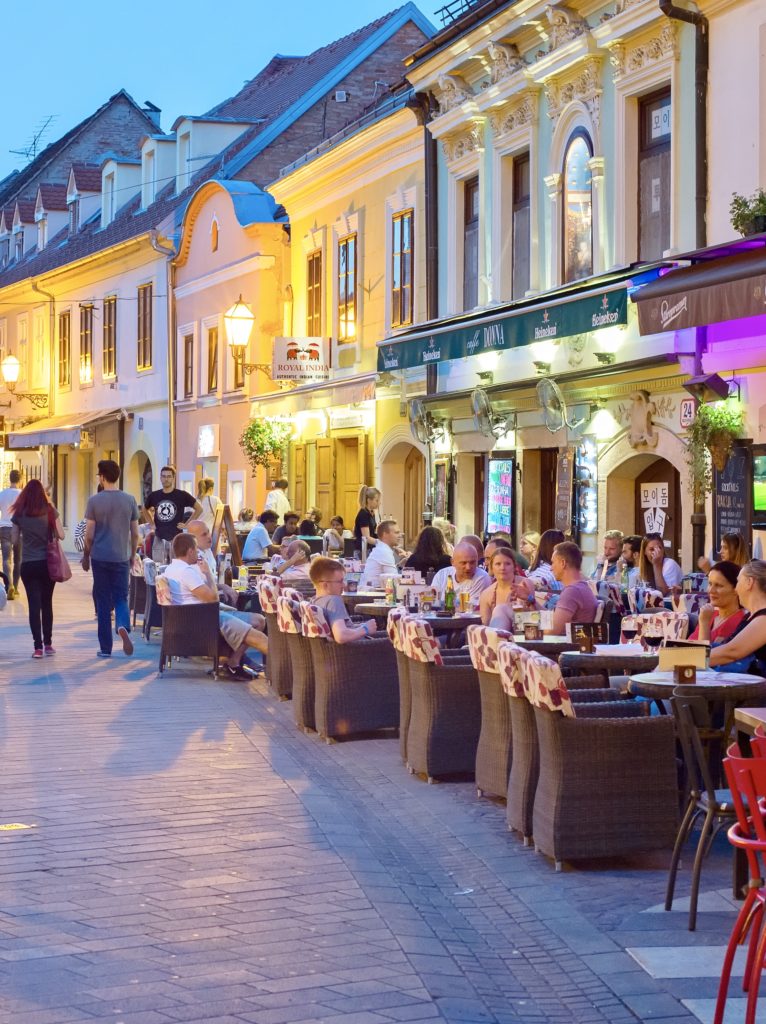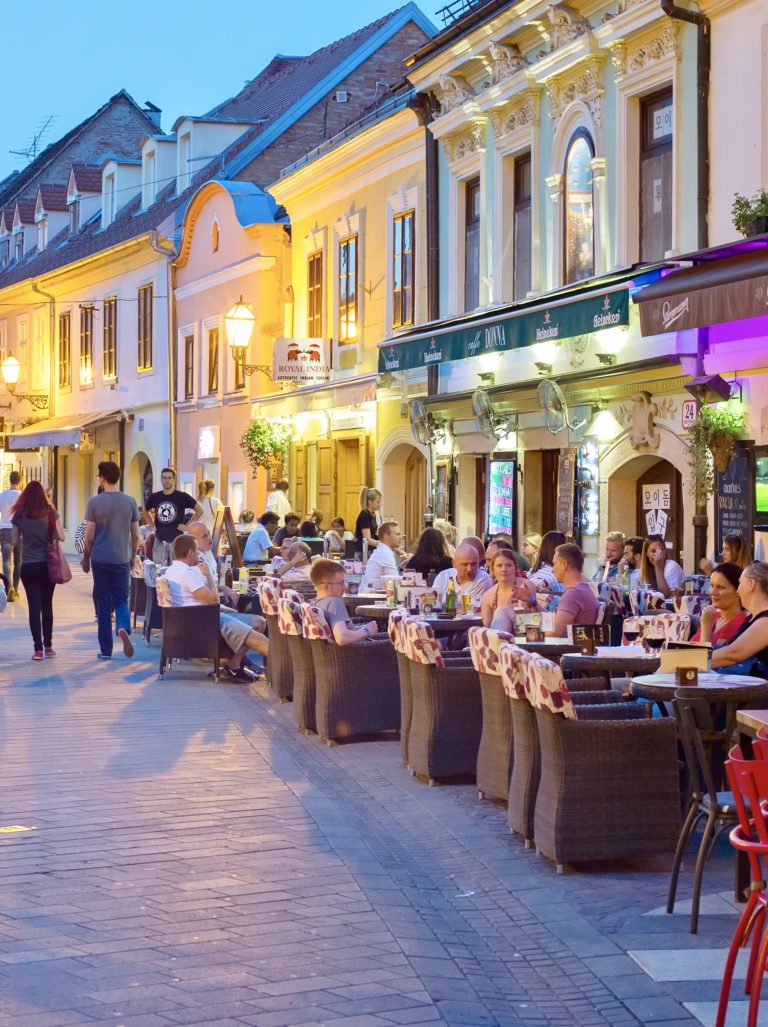 Where To Stay In Zagreb
Zagreb has a nice selection of hotels. For a luxury stay, check out the Esplanade Zagreb. It's opulent and fully restored.
If you like boutique hotels, the Hotel Jagerhorn has an excellent location and peaceful green courtyards. Hotel Capital is a new and beautifully renovated property with Art Deco and Art Nouveau influences.
Canopy by Hilton Zagreb City Centre is near the to attractions and features canopy beds.
Day 3: Plitvice Lakes National Park
On day 3 of your 10 day Croatia itinerary, it's time to head to Zadar. En route, you'll stop at Plitvice Lakes National Park. The park is a must visit destination in Croatia, especially for nature lovers.
Click here to book an admission ticket. Click here to book a guided tour of the park.
The park is approximately 2 hours from Zagreb. From the park, it's another 1.5 hours by car to Zadar.
You'll need to start early to have a solid 3-4 hours to hike around Plitvice. And you'll want to pack a picnic lunch. The food options are poor and overpriced.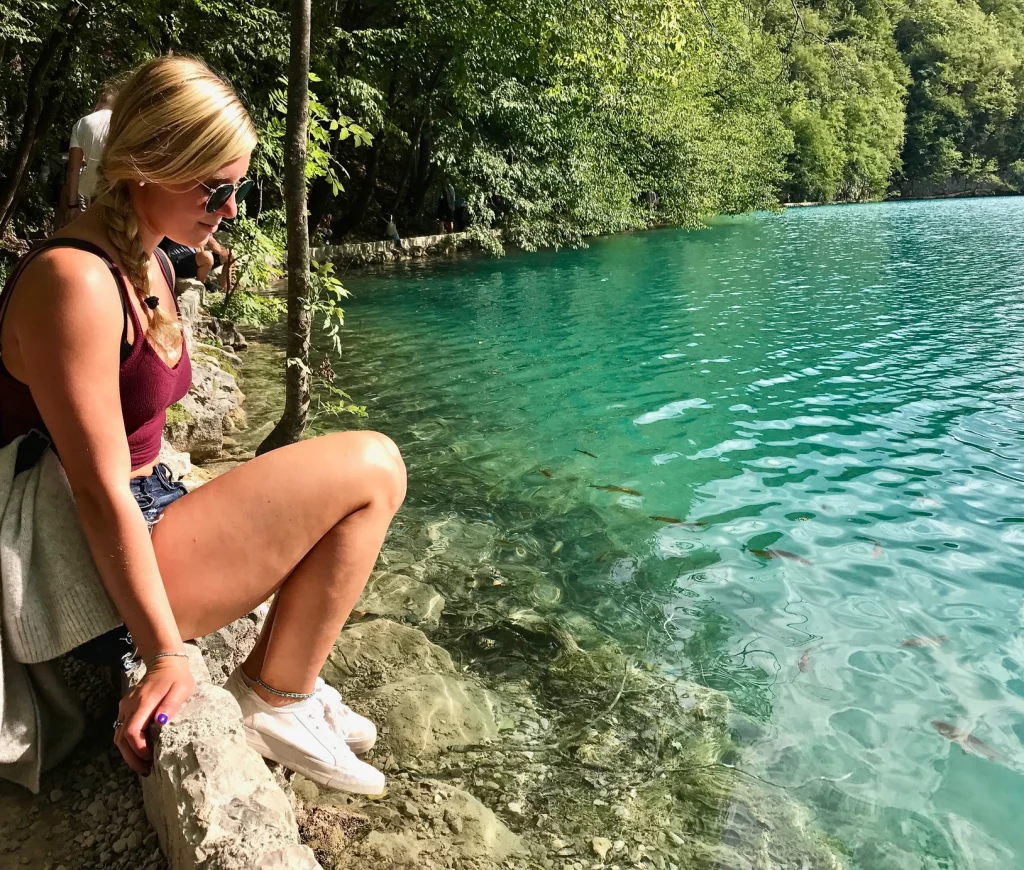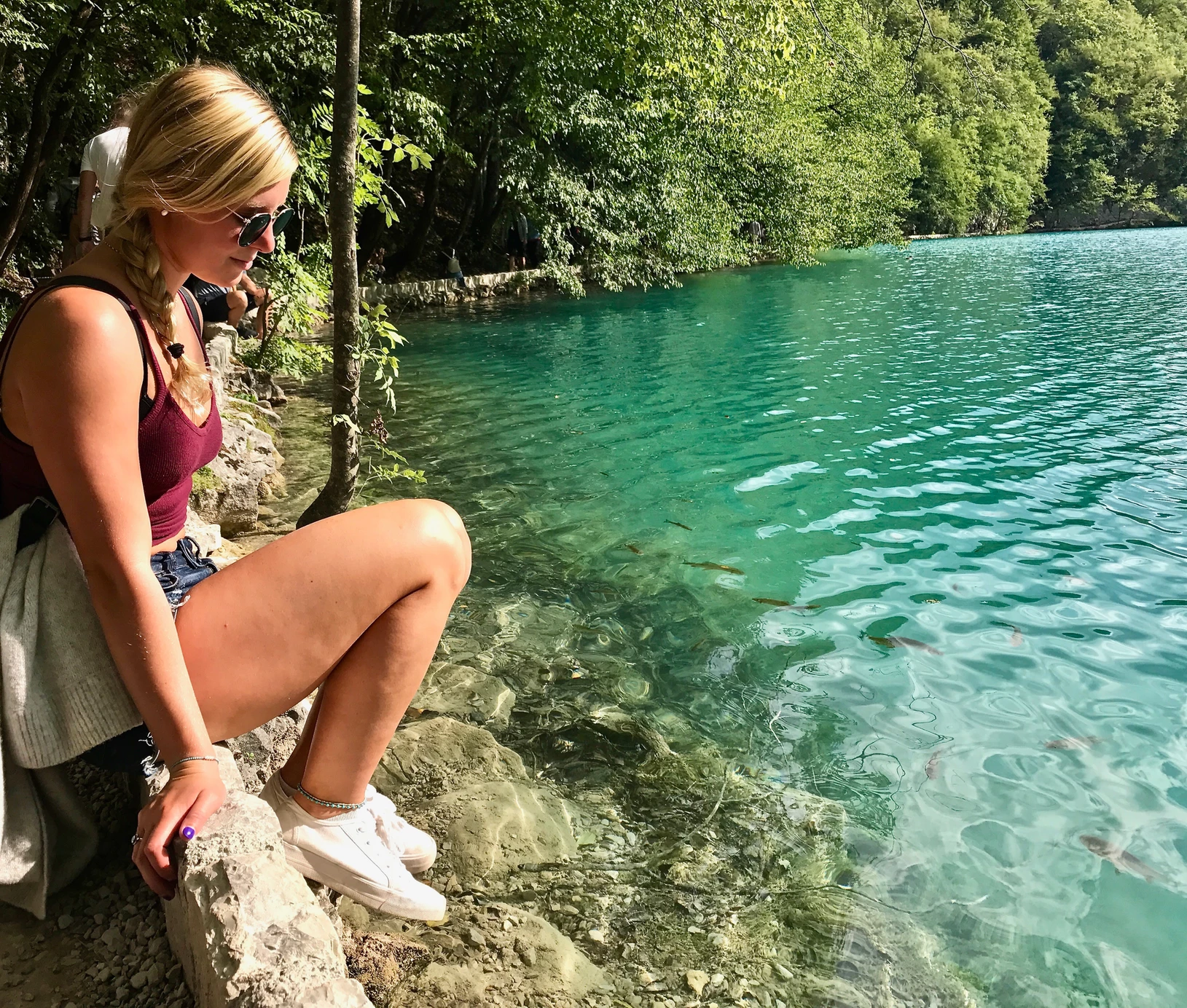 The gorgeous Plitvice Park is full of vibrant colors. It boasts turquoise water, terraced lakes, stunning viewpoints, and photogenic gushing waterfalls. You'll be stunned at the breathtaking technicolor views at every turn.
In 1979, Plitvice Lakes became a UNESCO site. It's one of the most popular destinations in Croatia, with over a million annual visitors.
Plitvice Lakes can be overwhelming to visit. There are different levels of lakes, four different hiking trails, 7 different routes through the park, and 2 different entrances. And there will be crowds.
Pristine Plitvice is divided roughly into three areas — the lower lake section (Donja Jezera), the upper lake section (Gornja Jezera) and a third area around Proscansko Lake.
The lower lakes section is accessed by Entrance 1 and includes the iconic Veliki Slap Waterfall. There are several detours off the main trail, which take you to viewing points.
From the lower lakes, you can take electric boats or the shuttle to the upper lakes section. Beyond that is the Proscansko Lake.
Here's my complete guide to visiting Plitvice Lakes, with must know tips.
Day 4: Zadar
Zadar is an incredibly underrated town in Croatia, though it is finally being discovered by tourists.
It's a compact town that's custom built for wandering and boasts one of the best sunsets around. The colorful town is adorned with buildings in both pastel and bolder hues.
Stroll along the waterfront and listen to the Sea Organ. It's a massive musical instrument entirely powered by waves. There's also the Sun Salutation, a solar powered light display that will wow you in the evening.
For culture lovers, Zadar is full of Roman ruins and pretty churches. If the heat has you down, head inside to the splendid and well-curated Archaeological Museum.
St. Donatus Church is 800 years old and Zadar's main landmark. The church is nearly perfectly preserved. Its round pre-Romanesque facade is the very symbol of Zadar. The church is sometimes a venue for Renaissance music concerts.
St. Mary's Church is also a beauty. In the 11th century, it once belonged to a Benedictine Monastery.
Though damaged in WWII, the church was completely restored. Zadar's Romanesque cathedral is also a must see, dating from the 11th century.
And you can't miss St. Anastasia's Cathedral. If you climb the bell tower, you'll have great views of the old town.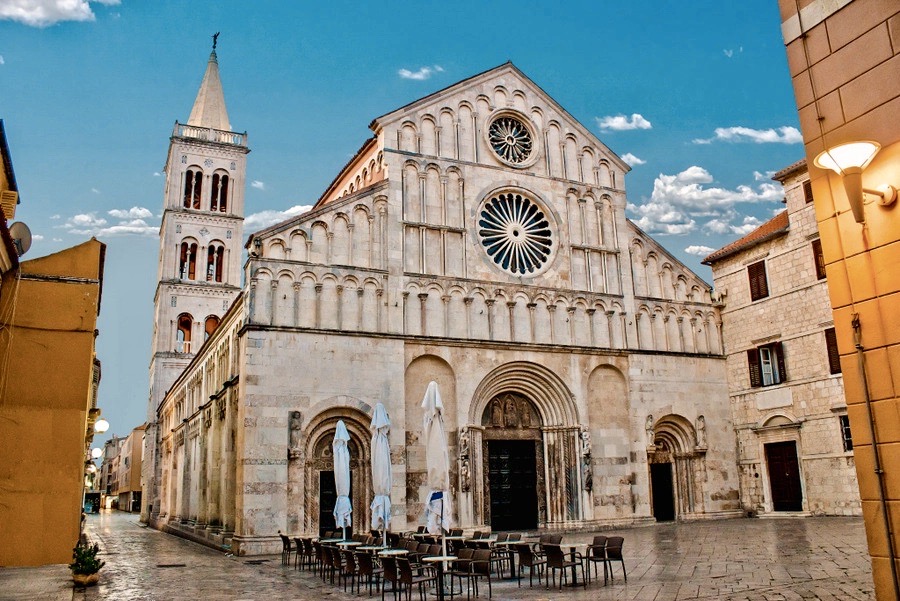 Snap some photos and then have an espresso at one of the numerous cafes.
Zadar also boasts the largest Roman forum on the Adriatic.
Built by Emperor Augustus in the 1st century, the forum was discovered and excavated in 1930. You'll find the ruins of fragmented columns and a pillory, where criminals received public punishments.
End your day in Zadar with a meal at Restaurant Bruschetta. And try a chocolate truffle at Vitlov Chocolate.
Click here if you want to book a guided walking tour of the pretty town.
Where To Stay In Zadar
The Almayer Art & Heritage Hotel and Dependance is a beautiful hotel in the historic old town with a garden and terrace.
The Bastion Heritage Hotel – Relais & Chateaux is in Zadar's historic core and has a famous fine dining restaurant.
The Art Hotel Kalelarga is a beautiful property located on at the main promenade.
For a boutique hotel, check out the Teatro Verdi Boutique Hotel. It's in the old town and has a beautiful terrace.
Day 5: Day Trip to Šibenik and Krka National Park
On day 5 of your 10 days in Croatia, take a day trip from Zadar to Šibenik and Krka National Park.
Šibenik is only an hour drive from Zadar. Krka National Park is only 20 or so minutes from Šibenik. You can visit them both on an 8-9 hour guided tour from Zadar.
1. Šibenik
Situated on a sheltered bay, between Split and Zadar, tranquil Šibenik is a hidden gem in Croatia. Šibenik is one of the oldest towns on the Adriatic, dating from the 9th century. Click here to book a 2 hour walking tour of the town.
Šibenik is a vision realized in stone. The town has stone buildings, stone stairways, rock cliffs, cobbled streets, and stone arches.
The town is built on rocks and constructed with rocks. Šibenik is a city of sun, sea, and stone — a unique combination of characteristics for a European town.
Once, Šibenik claimed four defensive fortresses and fortified walls. The fortresses are well-preserved, built between the 15th and 17th centuries. The Fortress of St. Michael is the best. It houses a concert and theater venue.
As you stroll through the cobbled traffic free town, you'll visit a must see piece of Gothic-Renaissance architecture: the UNESCO-listed St. James Cathedral. The gleaming white building is the beating heart of sleepy Šibenik.
Šibenik Cathedral, or St. James Cathedral, is Šibenik's #1 attraction. The cathedral is the most important piece of Renaissance architecture in Croatia.
It sits in what was Šibenik's most important square in medieval times. The cathedral is also known locally as "St. Jacobs."
To me, the cathedral's most remarkable feature is its frieze on the exterior walls at the rear of the building, just above human height. It consists of 71 extremely lifelike heads.
These portraits include saints, lions, and ordinary citizens. None face each other; they all look off in their own direction. The expressions of the figures vary — calm, frowning, proud, annoyed, and fearful.
2. Krka National Park
Extending along the Krka River, Krka National Park runs from the Adriatic near Šibenik inland to the mountains of the Croatian interior. It's only 15-20 minutes from Šibenik.
Krka is a magical place of gushing waterfalls and gorges. The river runs through a karstic canyon that's 200 meters deep.
The park has five main entrances: Skradin, Lozovac, Roški Slap, Krka Monastery and Burnum — all are accessible by car. Skradin is for boat tours down the river. parking is free at the Lozovac entrance.
The park's highlight is the Skrandinski but waterfall, with 17 cascades. You arrive there after approximately an hour of walking on the wooden pathways.
Right now, you can swim in the natural plunge pool beneath it. But reports suggests that swimming might be banned by 2022.
Click here to book an entrance ticket to the park. Click here to book a day trip with waterfalls from Zadar.
Day 6: Split
From Zadar, head to Split. I's a 1:40 drive. Split is Croatia's second largest city.
While most Dalmatian coastal towns seem made for tourists, Split feels real. But Split is a fairly busy place. If you want something more mellow, you could opt to base yourself in nearby Trogir instead.
1. Split's Old Town
Split is an ancient city that dates back to Roman times. It has an incredible natural setting.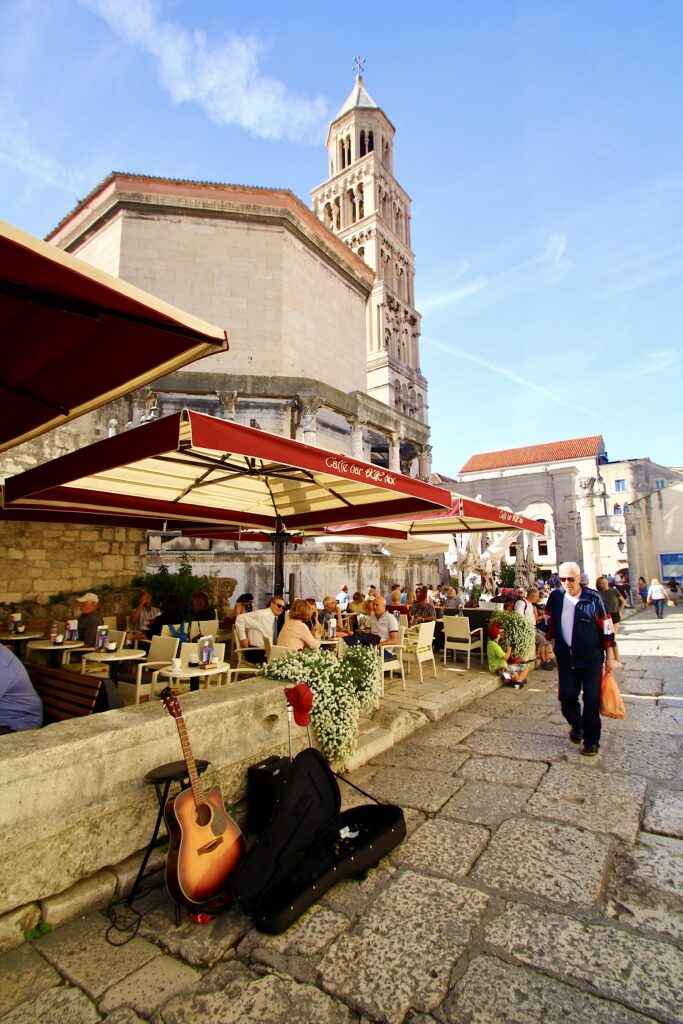 There's a whole range of drool worthy historical, cultural, and natural offerings. Begin by exploring Split's elegant and stony old town, with a maze of twisty alleys.
There are some pretty pedestrianized squares, impressive churches, and markets outside the palace walls that you shouldn't miss. Be sure to take in Narodni Trg (the main plaza), Vocni Trg, and Trg Republike. Check out the National Theater and the fish market (Ribarnica).
Click here to book a 1.5 hour guided walking tour of the Old Town. Or take a 2 hour Segway tour.
2. Diocletian's Palace
The one absolute must see site in Split is the UNESCO-listed Diocletian's Palace. With a fetching location on the dramatic Split harbor, Diocletian's Palace is Split's #1 attraction. And justifiably so.
Diocletian's Palace is one of the most imposing ancient Roman structures in existence today. It's not just a stand alone palace, or a museum, or a UNESCO site. It's the living, breathing, vibrant heart of Split.
The 4th century complex is a sprawling maze of beautifully preserved ancient ruins, shops, restaurants, apartments, and people. It's a delightful confluence of ancient history and modern life, happily commingled as a "living museum.
Tour the peristyle, the vestibule, cathedral, and climb the bell tower. An underground hallway is now a mini shopping mall.
Here's my complete guide to Diocletian's Palace. Click here to book a guided tour of the palace.
3. Riva Promenade
In the evening, stroll along the Riva Promenade. Dubbed "the Riva" by locals, the walkway spans the entire length of the old town.
It's located between the southern wall of Diocletian's Palace and the Split Harbor.
With impressive views of the Adriatic Sea and swoon worthy palm trees, this promenade provides a taste of Split's idyllic coastal lifestyle. You can grab a spot at one of the myriad cafes for a coffee or cocktail.
Day 7: Island Hopping From Split
Your second day in Split book an island hopping tour. It's not easy to visit the islands on your own. And an island hopping tour is one of the best things to do in Split. The coastal town makes a great jumping off point to sail the Adriatic Sea.
You have many tour options/permutations from half day, to full day, to a super extended day. You can:
We opted for the 5 islands tour. It was a lengthy 12 hour affair, when all was said and done. But it was a really beautiful way to spend the day.
Wear your swimsuit. There will be multiple chances to take a cooling dip in the sea.
The most famous island is Hvar, a UNESCO town known as the "sunniest island in the Adriatic Sea." And also as a buzzy boozy party island.
The sunny place attracts tourists galore. But if you go off season, you'll skip this rather dreary side note and be medievalized by the enchanting place.
If you need to detox from tourists or cocktails, hike up to the hilltop fortress, Fortica Španjola, surrounded by pine trees, for excellent views.
The popular Blue Cave is on Bisevo Island. This magical grotto glows with the preternatural blue hues, created by sunlight bouncing off its white limestone floor. You can only visit via boat; you can't swim in the cave itself.
Aside from Hvar and the Blue Cave, the other islands you can visit include Vis, Budikovac, and Hell Islands (with Palmižana beach). We had lunch on Budikovac.
The most scenic beach was the tiny cove-like Stiniva Beach on Vis, voted the "best beach in Europe" in 2016.
Where To Stay in Split
The Judita Palace Heritage Hotel is the luxury choice. It's housed in a palace next to Diocletian's Palace.
Central Square Heritage Hotel is an elegant hotel in the very heart of Split. The Villa Split Heritage Hotel is a romantic place housed with Diocletian's Palace.
For a boutique hotel, check out the Briig Boutique Hotel. It's a gorgeous hotel with minimalist decor located in central Split. it has a rooftop swimming pool.
Day 8: Day Trip to Trogir or Mostar
On day 8 of your 10 days in Croatia itinerary, you should take a day trip. For a short day trip, choose Trogir. For a longer day trip, Choose Mostar.
Option 1: Trogir
I loved storybook Trogir, known as Croatia's "stone beauty." Trogir is secluded on a tiny island and encircled with medieval walls. And, at only 30 minutes away, it's an easy day trip or half day trip from Split.
Trogir feels like it's made entirely of limestone and tangled alleyways, and sprinkled with fairy dust. Everywhere you look, there's stunning architecture and cobbled lanes.
All you really need to do is stroll the medieval streets and find a quaint nook to dine in. This isn't hard!
For a view of the pretty town, climb Kamerlengo Fortress. The fortress was originally built by the Venetians in the mid15th century. You can now visit it for about 3 €.
Stop in at the Cathedral of St. Lawrence. Built in a Romanesque-Gothic style, the church is part of Trogir's UNESCO designation. If heights don't bother you, you can climb to the top of the bell tower.
You can book a 2 hour walking tour of Trogir. Or book a day trip tour from Split.
Option 2: Mostar
Mostar is much further afield than Trogir. From Split, it's a 2+ hour drive and you have a border crossing at Bijaca, so you will spend a good part of your day in transit if you opt for Mostar.
You can also book a guided 11 hour day tour from either Trogir or Split.
Ancient Mostar isn't quite as secret as it used to be. But its still an off the beaten path hidden gem in Europe, nestled in the small Balkan nation of Bosnia and Herzegovina.
Mostar's most famous attraction is its adorable humped back bridge, Stari Most. It was originally built in the 16th century, commissioned by Suleiman the Magnificent.
The bridge was a casualty in the Bosnian War. The bridge was rebuilt in 2004. At both ends of the bridge, you'll find fortified towers.
Mostar's stony old town sprawls out in either direction from the bridge. The town seems entirely made of limestone. Tucked away on a little side street is another fetching bridge, the little Crooked Bridge. It's a miniaturized version of Stari Most.
You should also visit Mostar's bazaar, which has the look and feel of an Ottoman enclave. And see its grandest mosque, the Koski Mehmed Pasha Mosque.
It dates from the 16th century, but was also rebuilt. If you climb the mosque's tower, you'll have a sweet view of Stari Most.
At the end of your day, take the long staircase down to the banks of the Neretva River. You'll have a nice perspective view of the town and may see young men bridge jumping into the clear water.
Day 9: Dubrovnik
On day 9 of your 10 days in Croatia itinerary, you'll arrive in Dubrovnik. The town is dazzling and divine.
The Venetian-Gothic town is fairytale pretty, the perfect stage set version of what you would imagine a medieval European city looks like.
1. Overview of Dubrovnik
Dubrovnik has glamorous palazzi, colorful orange terra cotta rooftops, stunning views of the shimmering Adriatic Sea, and fame as a Game of Thrones filming location.
Dubrovnik also has a perfect setting on the turquoise blue Adriatic sea, an impressive mountain backdrop, and some impressive historic landmarks. Its walls are one of the greatest fortifications of the middle ages.
The bad news? The "Pearl of the Adriatic" is one of Europe's worst kept secrets. Photogenic Dubrovnik's always been popular. But after it starred in HBO's Game of Thrones, tourism really surged. You won't be attacked by dragons. But watch out for tourists.
In two days, you can easily see the top attractions and landmarks. I've written an extensive guide to spending 2 days in Dubrovnik, so I won't repeat it all here.
You may want to book a guided walking tour to get oriented. If you plan to see a lot of the attractions I describe below, you may want to purchase a Dubrovnik Card. You can book a 1, 3, or 7 day pass, which gives you skip the line access.
2. City Walls
But on day 1 in Dubrovnik, you should head out bright and early to walk the city walls. The fortified perimeter makes an unforgettable stroll. As you walk, you'll have ever-changing perspectives and can poke in and out of forts, turrets, and crevices.
Be sure to climb Micenta Tower. It's the highest point on the walls. The fortress itself is a stony and cramped experience. But the views are terrific.
The walls are especially pretty in the early evening when you can take a sunset tour of the city walls.
3. Old Town
Then head to the historic center. There, stroll down the iconic Stradun Street.
Visit Dubrovnik's glamorous buildings — the Rector's Palace, Dubrovnik Cathedral, St. Blaise Church, Sponza Palace, and the Dominican Monastery. Stroll up the Jesuit Staircase, where a shorn Cersei took her "walk of shame" in HBO's Game of Thrones.
4. Cable Car
In the early evening, take the bright orange Dubrovnik Cable Car up to Mt. Srd for a stunning sunset.
Plan to arrive an hour or so before sunset. You've have views over Dubrovnik's old town and the mountains of Herzegovina.
Then, have a cocktail at the Bar by Azur. Order a mojito, deliciously refreshing on a hot summer night. For dinner, treat yourself to a stellar meal at Restaurant 360 or Above 5.
You can also book a guided tour that combines the cable car to Mr. Srd and a walking tour of Dubrovnik.
Day 10: Dubrovnik
Begin the last day of your Croatian vacation with breakfast at Gradska Kavana Arsenal.
It's a lovely place situated in the heart of the old town (near Rector's Palace) and overlooks the old port, Arsenal. Or, grab your morning espresso at Cafe-Bistro Orlando on the Stradun.
1. Lovrijenac Fortress
When you're fueled up, head to the 11th century fortress, Lovrijenac Fortress (also known as the St. Lawrence Fortress). Climb up 175 steps, to reach the upper level, where you'll find canons and a tiny chapel.
From the fortress aerie, you are assaulted with the best views of Dubrovnik. Your ticket to the city walls gives you entrance to the fortress, so keep it with you.
2. Afternoon Options
In the afternoon, you have three options: (1) take a Game of Thrones tour, (2) hit the beach, or (3) tour Lockrum Island. You can read about my Game of Thrones tour here.
You can ferry out to Lokrum Island from the harbor. They leave every hour or so, more frequently in summer. It's just a 15 minute ride.
Lokrum Island has rock slab beaches, gardens, a Benedictine Monastery, and stunning views of Dubrovnik. There are a couple places to grab a bite to eat. But you may want to pack a picnic lunch or book a kayak tour around the island.
If instead you need some afternoon down time, lounge on a beach. Banje Beach is just outside the town walls, a couple minutes from Ploče Gate. There's a bar serving chilled drinks.
Bring your own beach towel and spread out on the pebbles. Or, you can pay extra (10 euros) for a sun bed and umbrella. There's also a shower and changing room there.
Just a 35 minute drive from Dubrovnik is a splendid beach, Sveti Pasjaca Beach. Closer by, just 8 minutes away, is Sveti Jakov Beach.
3. Evening
In the early evening, head to d'Vino Wine Bar for a cocktail. It's a mellow and cozy spot, with several outdoor tables tucked away on a narrow side street.
Croatia is bursting onto the wine scene and you can sample the classic Dalmatian reds.
For dinner, a good option is Kopun. You can try the city specialty, castrated rooster. Another good option is Azur, a fusion of Mediterranean and Asian food that is vegetarian friendly.
Alternatively, you can go on a guided food tour of Dubrovnik. Or book a private evening highlights walking tour, a sunset kayaking tour, or a sunset e-bike tour.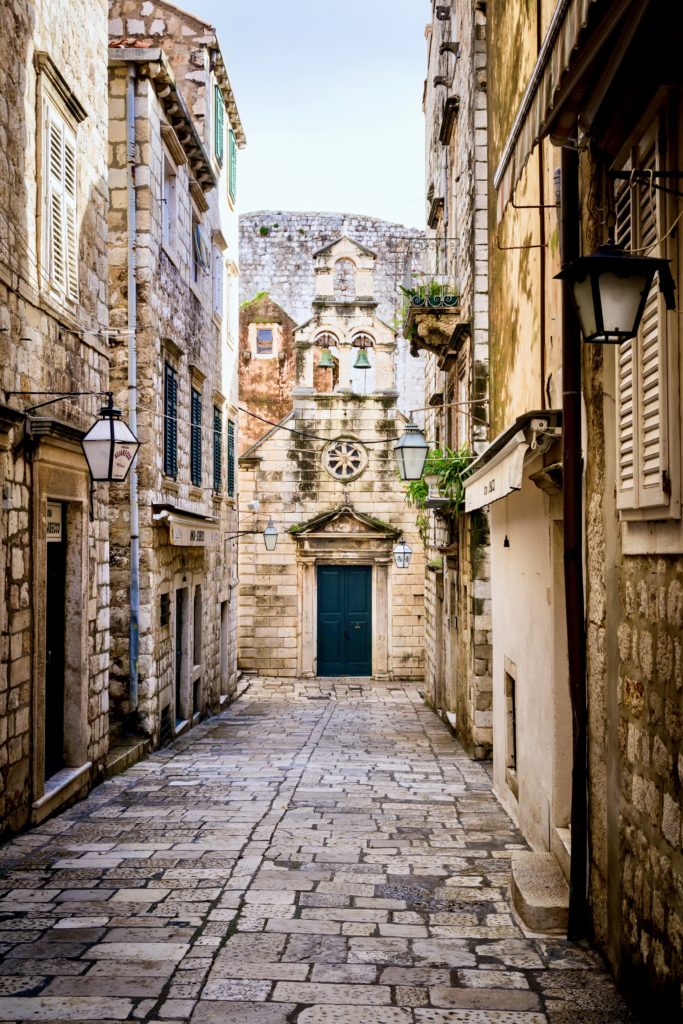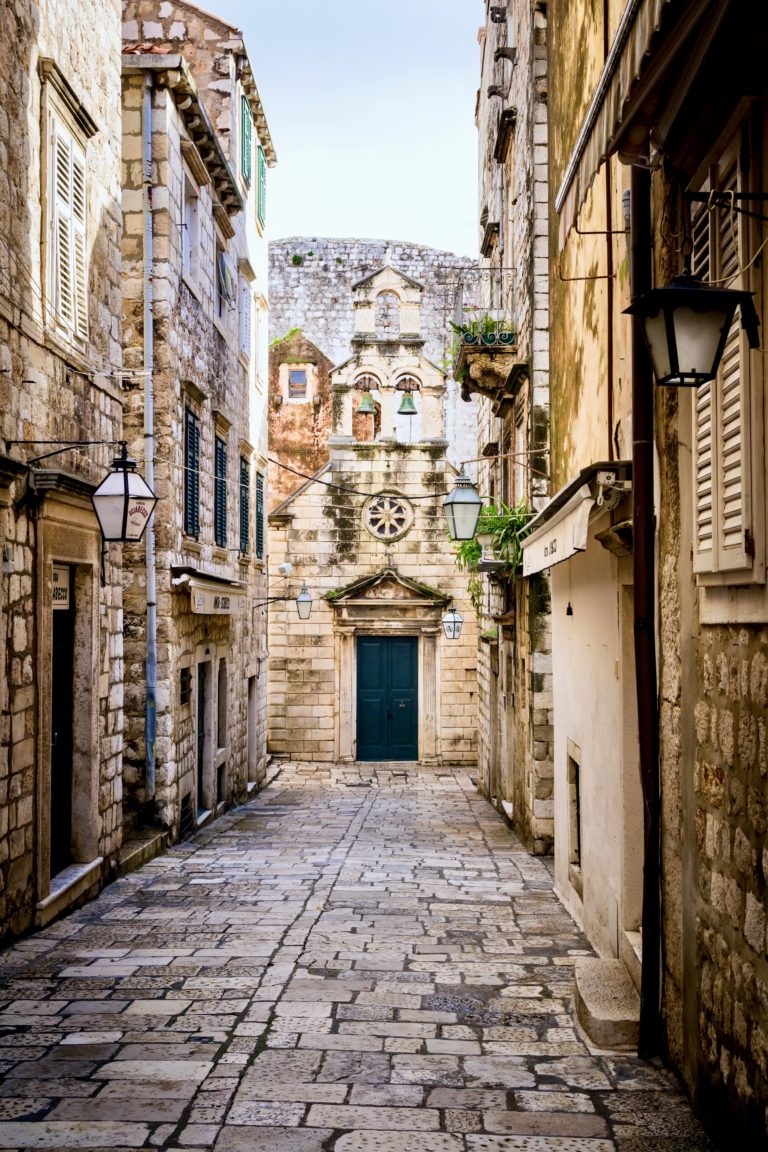 Where To Stay In Dubrovnik
Dubrovnik has some beautiful hotels. You're spoiled for choice.
For a splurge, check out Villa Ursula. It's an ultra chic combination of opulent architecture and trendsetting interior design. It's on a quiet spot on Lokrum Island with views of the old town.
The Scalini Palace is centrally located and housed in a 16th century stone house. The Hotel Excelsior is perched above the old Town with stunning views.
The Pucic Palace is a beautiful Baroque hotel in the cobbled Old Town. Also in old town is the pretty boutique hotel Hotel Stari Grad.
When you're ready to leave, you can book a private transfer from your hotel to the airport.
Alternative to Zagreb: Rovinj
If you are not a city person and would rather be on the water, you can substitute Rovinj for Zagreb on the first 2 days of your 10 days in Croatia itinerary.
Rovinj is a beautiful city located on the Istrian Peninsula. The town has all the charm of Venice, but with a fraction of the tourists.
Rovinj is a medieval city that rises from the Adriatic. It's cobbled crooked streets hum with activity.
The old town is is mostly pedestrianized and studded with centuries old churches and gelatarias. You may want to book a guided walking tour.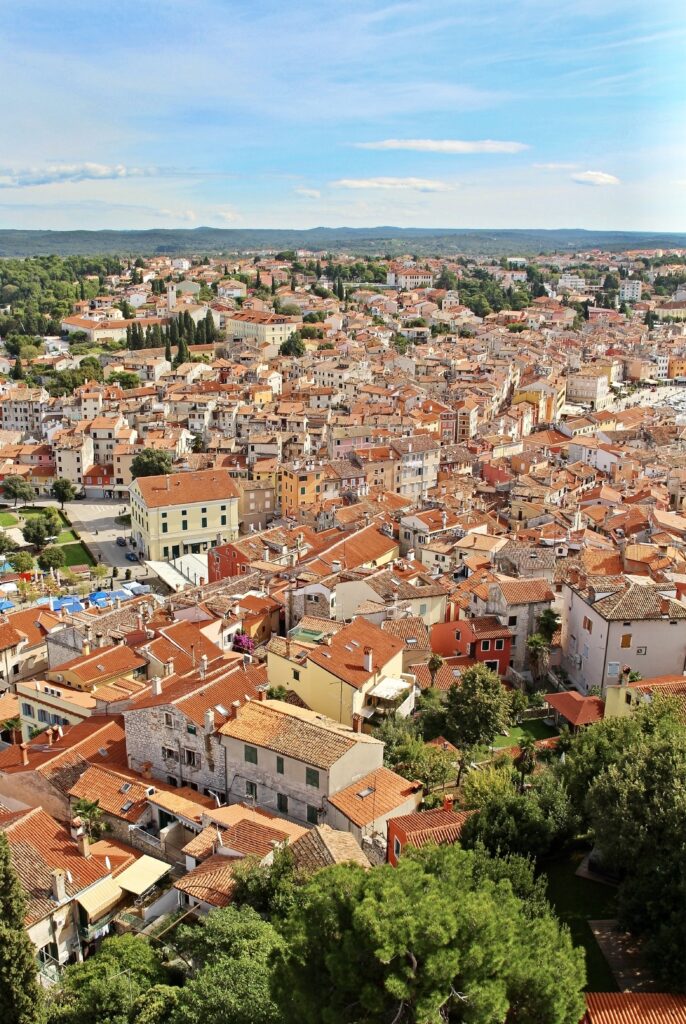 In the center of the town, you'll find the Church of St. Euphemia, which dominates the skyline. You can climb the stairs of its old tower for views. Constructed between 1654 and 1680, it was built in the same style as the St. Mark's Campanile in Venice.
To get out on the water, you can hit the white sand beaches. Or take a boat taxi or sunset kayaking tour.
Rovinj is known for its truffles, olive oil, and wine. You will find them on sale in any streetside store or farmer's market.
If you want to stay in Rovinj, the best hotels are Lone Hotel by Maistra, Grand Park Hotel, or Hotel Monte Mulini.
More Time in and around Croatia?
Do you have more than 10 days in Croatia?
1. Kotor Montenegro
If you have extra time, from Dubrovnik, head to jaw dropping Kotro Montengro. It's a bit of a hike, but it's a fantastic day trip from Dubrovnik.
It's an approximately 1.5 to 2 hour to Kotor drive from Dubrovnik. You also need to go through the border crossing and passport control, and may experience delays there. So budget extra time.
Scenic Kotor lies, perfectly at ease with its dramatic setting, at the end of the photogenic Bay of Kotor. Its backdrop is the brooding Lovcen Mountains. Some call Kotor Europe's southernmost fjord. Others refer to it as a "little Dubrovnik."
Kotor is less a town than a labyrinth of narrow cobbled passageways, filled mostly with cats. Not surprisingly, the ancient walled town of Kotor Montenegro is a UNESCO World Heritage Site.
There are only four must dos in Kotor: wander the picturesque Venetian-style old town, hike to the Castle of San Giovani for spectacular views of the Bay of Kotor, admire the confident and ubiquitous Kotorian cats, and try a hot oily Montenegrin burek.
Kotor can be a hassle to get to. It's easiest to book a guided day trip tour from Dubrovnik. You can also book a guided tour that includes a cruise on the Bay of Kotor.
2. Slovenia
If you reversed the order of this Croatia itinerary and ended in Zagreb, next head to the beautiful Slovenia capital of Ljubljana. The city is just 1:45 from Zagreb.
You may have a slight delay at the border crossing. There are also direct trains between the two cities.
Ljubljana makes a great base for day tripping in Slovnia. If you want to know the best things to do and see in Slovenia, here's my guide to the must visit destinations in Slovenia.
Tips For Spending 10 Days In Croatia
Here are some must know tips to make your 10 days in Croatia itinerary efficient.
1. Currency and Prices
The currency in Croatia is the kuna, not the euro.
Croatia is not really a budget destination anymore. More tourism has brought increased prices. Inland Croatia, and Zagreb, are less expensive than the Dalmatian coast.
2. When To Go
Peak tourist season runs from May through September, with the most traffic in early August. In July and August, Croatia at least will be hot and crowded. Dubrovnik will be a madhouse.
I don't recommend going then unless you have a high tolerance for lines, selfie sticks, and crowds. Shoulder season is the best time to visit. The weather is mild, the sun's still shining, and the crowds have ebbed.
3. Driving and Getting Around
Driving in Croatia is a breeze, with modern highways. You drive on the right side of the road.
Highways have tolls, which you can pay with cash or a credit card. You'll need an International Driver's License, which you can get at your local AAA.
READ: Tips For Renting a Car and Driving in Europe
Taxis should be metered. If they're not, you may be getting scammed. Uber is a better and cheaper option.
Trains aren't a great way to get around Croatia. They connect Zagreb and Split. But trains are very limited in other areas of the country. If you aren't renting a car, buses are a better and more reliable option.
4. Language
In Croatia, the language is Serbo-Croatian. But English is widely spoken in the tourist areas and attractions.
I hope you've enjoyed my guide to spending 10 days in Croatia. You may enjoy these other 7-10 days itineraries for Europe:
If you'd like to spend 10 days in Croatia, pin this Croatia itinerary for later.