Here's my guide to visiting 30+ of France's secret out-of-the-way towns, villages, and hidden gems, for the more discerning traveler.
France is my favorite country in the world. Its small towns are so appealing and romantic — swathed in centuries old cobbled lanes, stone cottages and castles, and tumbling geraniums.
You'll be transported back in time to a quainter and simpler version of life.
From north to south, France is filled with picturesque less touristy hamlets. They often go unnoticed and undiscovered.
Many of the secret villages are listed among France's 157 "les plus beaux villages" (the most beautiful villages) and are UNESCO World Heritage sites.
If you have tourist phobia like me and are looking for more unusual destinations and offbeat things to do in France, you'll want to ferret out these off the beaten path towns in France.
France's Prettiest Secret Towns and Hidden Gems
I've whittled down my love list to 30+ charming must see towns and villages in France. There's many more I could add to your itinerary for France. I'm dreaming about them now. *Swoon!*
But a blog post can only be so long. So let's take the road less travelled and discover some of France's best kept secrets and off the radar hidden gem towns. I promise your memory card will be quickly gobbled.
1. Albi, Occitanie
Underrated Albi is ideal base for touring the Occitanie region of France. It's just an hour away from both Carcassonne and Toulouse. What's more, very few people outside France know just how fantastic Albi is.
Albi was listed as a UNESCO site in 2010 and is a strangely affecting place, despite the weight of its past or perhaps because of it.
Situated on the Tarn River, Albi is a perfect ensemble of militaristic medieval architecture and a vibrate urban center.
It has a stunning UNESCO-listed cathedral, Albi Cathedral. It's one of the world's largest brick structures and is a place of superlatives both inside and outside.
>>> Click here to book a walking tour of Albi
READ: Complete Guide to Albi France
Another imposing citadel, the Berbie Palace, houses the Toulouse-Lautrec Museum. The museum is fantastic, boasting a huge cache of the Post-Impressionist's groundbreaking art.
Both structures ooze power and stand as a symbol of the Catholic triumph over the Cathar rebels, in the 13th century religious wars called the Albigensian Crusade.
The prettiest area of Albi is the Castelnau neighborhood. It's effectively a village within a village, full of medieval half-timbered houses bedecked with colorful shutters and flowers.
There, you'll find Hotel du Bosc, the birthplace of Toulouse-Lautrec. Nearby, you'll also find the lovely Saint Salvi Collegiate church and cloister.
READ: Visitor's Guide to Albi's Toulouse-Lautrec Museum
You can take a guided day trip to Albi from Toulouse.
2. Arras, Picardy
I liked Arras far more than I expected too, actually. It's quiet and charming — full of lovely squares and grand 17th and 18th century Flemish-Baroque architecture.
The town's two main squares are the Grand Place and the Place des Heros. From Arras, you can also visit the Battle of the Somme memorials.
The Belfry of Arras was listed as a UNESCO site in 2005, along with 56 other belfries in France and Belgium. Construction began in 1463 and took almost a century to complete.
The top of the belfry offers amazing views. You can take an elevator most of the way, with a few additional steps to hike up.
3. Auvers-sur-Oise, Oise
Auvers-sur-Oise is a lovely underrated French village, surrounded by wheat fields and set on the banks of the Oise River.
The legendary painter Vincent Van Gogh described Auvers as "gravely beautiful." To him, the quiet village calmed his nerves and inspired his art.
Van Gogh spent the last 70 days of his life creating 70 paintings of Auvers-sur-Oise. He was buried in the village with his brother Theo.
Common wisdom holds that Van Gogh committed suicide, as a notoriously tortured soul. But there's growing evidence that Van Gogh was murdered.
READ: Van Gogh Murder Mystery
In Auvers, you can walk in Van Gogh's footsteps. Some of his greatest masterpieces were painted there, including Crows Over Wheatfield, the Portrait of Dr. Gachet, and Church at Auvers.
The Roman-Gothic Church of Auvers is sober and beautiful. It was built between 1137-1227. It's instantly recognizable as the subject of one of Van Gogh's most famous paintings.
READ: Guide To Paris' Musee d'Orsay
The Chateau d'Auvers is also stately and impressive. It's a 17th century Louis XIII-style building. The chateau features an immersive multimedia Impressionist exhibit and has a beautiful garden.
>>> Click here to book a Van Gogh themed tour
4. Bayeux, Normandy
Normandy hugs the northern shore of France. The town played an outsized role in French history. It's the site of the Norman invasion of France in 1066 and WWII's D-Day landings of 1944.
Most people go to the village of Bayeux to see the thousand year old, and exceedingly long, Bayeux Tapestry. Housed in the Bayeux Tapestry Museum, the tapestry depicts the story of William the Conqueror's 1066 invasion. It's remarkably well preserved given its age.
The Bayeux tapestry (actually an embroidery) was created by William's queen, Matilda, and her court. The Nazis seized the tapestry during WWII and took it to the Louvre.
They had commandeered the museum and were using as a clearinghouse for art theft. After the war, the tapestry was returned to Bayeux, its rightful owner.
But Bayeux isn't just a piece of cloth, however impressive. Full of medieval architecture, the town itself is delightful and fairytale-like. Honey colored stone buildings are topped with black slate roofs. Flowing flower boxes spill into the narrow lanes.
While you're strolling, pop into Bayeux's Notre Dame Cathedral. This rather large church was consecrated in 1077. It's thought to be the original home of the Bayeux Tapestry. Fierce gargoyles on the exterior scowl down at you.
You can book a 2 hour guided walking tour of Bayeux's old town.
For history buff, the D-Day beaches are close to Bayeux. You can book a half day guided tour to the beaches or a full day guided tour.
Before you go, you can immerse yourself in the history of Operation Overlord. For background, visit the America Gold Beach Museum, the Memorial Museum of the Battle of Normandy, and the Bayeux War Cemetery.
READ: The Impressionism Trail in Normandy
5. Collonges-la-Rouge, Dordogne
The label "most beautiful village in France" could've been born in Collonges-la-Rouge. It's so uniquely pretty. In 1942, the entire village was classified as a monument historique.
Collonges is a rust red stone village set amidst a verdant natural setting. The red derives from the sandstone plateau of Limousin. Nicknamed the "City of 25 towers," Collonges is home to many stately castles, mansions, and tiny cottages.
Start your stroll on the Rue de la Barrière, the main street. It could be a movie set. The higgedly-piggedly medieval buildings are covered in conical turrets, grape vines, and wisteria.
You'll see the magnificent town hall and the House of the Mermaid. Now housing a museum, the Mermaid House is typical of the village's signature architecture — with a slate roof, pretty porch, and facade covered with flowers.
St. Peters Church dates from the 11th century. It has two naves where Protestants and Catholics conducted simultaneous services.
Further on, you'll reach a covered passage that takes you to the church square. You'll find a beautiful market hall, which is the site of Collonges' annual bread festival. If you're hungry, try the adorable restaurant Auberge de Benges, which boasts views of the countryside.
6. Conques, Midi Pyrenees
Tucked away in a gorge where two rivers meet, lies the small sweet town of Conques. It's an easy day trip from from Lyon, Montpellier, or Toulouse. The settlement here was founded in the 8th century. Modern developments bypassed the town and it seems charmingly frozen in time.
Conques sports narrow cobblestone lanes and medieval stone and timber beamed homes. The roads are nearly too narrow for even small cars. It's tranquil in this ancient town.
The heart of the historic center is the beautiful Abbey Church of Sainte-Foy. Its massive towers are visible from the entire town. The intricate Last Judgment carvings on the portal demand your attention. The abbey's monastery hold the relics of a young girl martyred in the 4th century, making it a pilgrimage destination.
From this looming edifice, it's a small wander across the square to a number of restaurants and cafes. Try Le Charlemagne for lunch on its grapevine-covered terrace.
READ: Must See Sites in Toulouse
7. Cordes-sur-Ciel, Occitanie
Cordes-sur-Ciel seems to sit in the sky. Hence its name, which translates to "ropes on the sky." Cordes-sur-Ciel is so ancient, so cobbled, so dreamy that it has a time warp feel.
The dawn of modernity seems to have passed it over, exodus style, leaving a sweetbox escape for those who want to fall back in time.
The little village began life in southern France in 1222, founded by Count Raymond VII of Toulouse. During the Albigensian Crusade, Cordes-sur-Ciel was prosperous. Its wealth derived from the leather, textile, and silk industries.
Today, Cordes-sur-Ciel is an artsy village, a treasure trove of local art. Its cobbled streets are filled with quaint galleries, ateliers, and cats.
You can find contemporary painting, pottery, sculpture, handmade jewelry, glassware, woodcarvings, and artisanal leather.
Cordes-sur-Ciel is a great day trip from Toulouse or Albi in France's Occitanie region.
If you want to read more about the idyllic hilltop village and how I almost lost my friend's iPad in my trance-like state of adoration, read my story.
READ: Easy Day Trips From Toulouse
8. Etretat, Normandy
Etretat is another must visit town on the Impressionist Trail in Normandy. Sleepy Etretat is a classic old world French town with absolutely mesmerizing scenery.
Etretat is set on the sea. Waves crash against the shores of a jagged chalky coastline, with a pretty beach promenade. A monumental arch, Porte d'Aval, plunges into the sea. It's France's version of England's White Cliffs of Dover.
The town's beauty inspired artists like Claude Monet, Henri Matisse, Eugene Boudin, and Gustave Courbet. The cliffs, known as the Elephant and the Needle, were one of the artists' favorite spots to paint.
READ: The Monet Guide To Paris
The best way to admire the seascape is to walk along the cliffs. On your walk, you'll come across the Chapel of Notre-Dame-de-la-Garde. The original was destroyed in WWII, but it was rebuilt in the 1950s.
As you walk along the seaside path, you'll find placards depicting the precise spots where Monet painted some of his most famous paintings. You can hike to the top of the arch via a pathway and stairs to see different perspective of the alabaster cliffs.
When you're done admiring the caves and tunnels carved into the cliffs, head down to the sparkling turquoise waters of Etretat Beach. The water is cold, but the pebbles are soft and smooth, not hard on the feet.
Etretat's town center is quaint and shouldn't be ignored. It's bursting with shops, eateries, and art galleries.
Cider is a local specialty and there are plenty of crepes. There's also quite a number of small bed and breakfasts — a testament to Etretat's appeal to (mostly) French tourists.
You can book a guided day tour to Etretat from Paris.
9. Foix, Midi-Pyrenees
Located on the edge of the Pyrenees, Foix is a beautiful red roofed village steeped in history.
Its old town is a labyrinthian web of tiny cobbled streets with half-timbered houses more characteristic of the Alsace region.
On Rue des Marchands, you'll find one of Foix's historic buildings, the Saint-Volusien Abbey. It was originally built in 1104 by Charlemagne. But it was destroyed and rebuilt in the 16th century.
Foix is dominated by its medieval 10th century castle, Foix Castle. The doughty defensive castle was considered unconquerable in the Middle Ages because of its perch.
Even Simon de Montfort failed to capture it during the Albigensian crusade. Foix Castle finally fell to French King Philippe the Bold in 1272.
The historic center of Foix itself is lovely and full of twisty lanes. Be sure to stroll down the lovely Rue de la Faurie.
The most eye catching half-timbered homes are on Place Lafaurie Parmentier. On Rue des Grands Ducs, you'll spot tiny half-timbered passageways built across a lane, linking the homes together.
10. Gerberoy, Normandy
Located in the Oise region, the small town of Gerberoy is a "plus beaux village de France." Time warp Gerberoy is filled with charming cobbled streets and half timbered buildings clad in painted shutters and flowers.
It's known as the "City of Roses." It's a perfect day trip from Paris.
The early 20th century artist Henri Le Sidaner put Gerberoy on the map. The town was recommended to him by sculptor Auguste Rodin. Sidaner captured its 17th and 18th century houses, winding lanes, and profusion of roses.
READ: Guide to the Rodin Museum in Paris
The Gardens of Sidaner are one of Gerberoy's must see sites. It's a three level Italianate garden, filled with roses and wisteria, boasting views over Gerberoy.
You an also visit the Jardin des Ifs. This garden is listed as a Jardin Remarquable, with a stunning topiary yew garden.
Gerberoy also has plenty of adorable squares, eateries, galleries, and museums to keep you busy. Have lunch at Les Remparts. Check out the Collegiate Church of Saint Pierre, begun in the 11th century and completed in the 15th century.
READ: One Week Itinerary for Normandy
11. Grasse, French Riviera
The French Riviera is not my favorite place in France, though I love sophisticated Nice. It's just too crowded and glitzy.
If you want something different than a popular seaside town, the town of Grasse is a secret hidden gem on the Riviera. It's the capital of perfume and the birthplace of famous scents. Get your nose ready!
Grasse is filled with perfumeries. Many of them offer free tours or perfume making workshops. The most famous perfumery is Fragonard, a company that only sells its perfumes in France.
You can visit its perfume museum, the International Museum of Perfume, and learn the history of perfume through the ages.
While you're there, you can book a perfume shop workshop and factory tour to test your nose. Or try your hand at designing your own fragrance.
12. Lacoste, Provence
Little Lacoste is fetchingly perched on a hilltop in the Luberon area of Provence, overlooking the nearby (and much larger) village of Bonnieux. Lacoste isn't an "orange city" like Roussillon. But in the sunset glow, it's a nice rusty coral hue.
Lacoste is paved with stone and is full of cobbled narrow alleyways and picturesque houses. Its oldest building, the Mason Forte, dates from the 9th century. Most other buildings date from the 16th century.
The Chateau du Marquis de Sade, also known as the Chateau de Lacoste, gets its name from the infamous French libertine who stayed there on and off while he was scandalizing 18th century society.
Now, the chateau is privately owned by French designer Pierre Cardin. But it's open to visitors in July and August or by reservation.
All this makes Lacoste a must see village in Provence for history buffs. But Lacoste is also a center of SCAD, the Savannah College of Art and design. Art lovers can visit the impressive gallery and gift shop.
READ: Pretty Villages of the Luberon Valley
13. Lyons-la-Forêt, Normandy
In Haute Normandy, the charming small town of Lyons-la-Foret is set in a large beech forest. The town is one of France's Les Plus Beaux Villages. It's surrounded by the kind of idyllic farmland that people associate with the Norman and Breton countryside.
Lyons-la-Foret is a classic French village with half-timbered houses, mostly dating from the 17th and 18th century. The town has cozy cafes, quaint antique shops, and a
covered marketplace. On Thursdays, in the town's heart, shops are abuzz with trade.
Many artists were attracted to the pretty town, including Claude Monet. The town was also a filming location for two different versions of the film Madame Bovary.
While there, be sure to see Saint-Denis Church, dating from the 15th century, and the Cordeliers and Benedictines Convents. The Place des Trois Moulins has three picturesque water mills and a small garden.
14. Lourmarin, Provence
Loumarin is a secret Luberon village not too far from the more popular and tourist-fly Gordes. Aside from its 15th century castle, there's delightfully not much to see or do in Lourmarin. Just soak up the quaint town center and views. Its narrow lanes spiral up to the belfry.
After your walkabout, indulge at one of Lourmarin's chic eateries or boutique stores. The cafe culture clusters around the Place de l'Ormeau.
Lourmarin also has a 15th century Gothic-Renaissance chateau. The Chateau decayed into ruin and was scheduled for auction and demolition.
But it was rescued in the nick of time by Robert Laurent-Vibert, a rich industrialist and literary scholar, who restored it. The chateau now hosts wine tasting and performances in the evening.
Lourmarin has some literary cache to boot. Existentialist writer and philosopher Albert Camus lived in Lourmarin in the 1950s and is buried there. Author Peter Mayle moved there not so long ago. Both add to the village's cachet.
READ: 10 Day Itinerary for Southern France
You can visit Lourmarin and other Luberon villages on a guided day tour from Aix-en-Provence.
15. Minèrve, Occitanie
Minèrve is another of France's les plus beaux villages. Minèrve boasts charming cobbled streets and stone houses.
It's perched high above deep gorges, accessed by a high bridge. The unique fortress was "born from a tumultuous geological history and from the action of water over limestone over eons, which carved the rock into narrow canyons."
You have a splendid view of the canyons during a rampart walk. Minèrve was also a Cathar stronghold. It was the site of a famous siege in the medieval ages, in which the bloodthirsty Simon de Montfort prevailed, vanquishing the pesky Cathar rebels.
The Dove, a sculpture by Jean-Luc Séverac, commemorates the Cathars who Montfort burned at the stake in 1210. It sits in front of the 12th century Romanesque Church of Saint Etienne.
READ: Most Beautiful Villages in Occitanie
16. Moustiers-Sainte-Marie, Provence
Moustiers-Sainte-Marie is an authentic medieval village near the ever-so-beautiful and underrated Gorges du Verdon in southern France. This tiny village is one of France's "les plus beaux villages."
You can easily see why. Moustiers is encrusted between two cliffs, complete with a cascading stream and waterfall. A golden star, hooked to an iron chain, hangs between the cliffs.
Naturally, the star is the subject of local legend. One tale holds it was hung in the 10th century by a grateful crusader.
Another says that doomed lovers jumped off the cliffs to their death and their families installed the star in their memory. To carry on the romantic tradition, Moustiers replaces the star as needed by helicopter.
Moustiers is not the easiest place to park. Look for paid lots close to the village. Then, wander through the knotty narrow streets and browse in Moustiers' acclaimed pottery shops.
Check out the 13th century Church of Our Lady of the Assumption, the most significant historic landmark in Moustiers. It's at the end of a rather steep vertical path.
In the middle ages, it was a pilgrimage spot. Still born children were brought there and allegedly revivified for a few moments to be properly baptized.
You can tour the town and Verdon Gorge on a guided day tour from Aix-en-Provence.
17. Pau, Midi-Pyrenees
Pau is an adorable Tour de France village in southwest France. The cyclists blaze through, but you don't have to. Pau is perched on a cliff with a fabulous view of the Pyrenees Mountains. Terraced gardens link the upper and lower town.
King Henry IV was born in Pau. He was the only king born in southern France. He was a protestant and gave up his religion for the crown in 1589.
In the 19th century, the English arrived to seek cures in Pau, thanks to its unique climate. As a result, Pau has a rather elegant English feel.
The center of Pau is pedestrianized and a pleasure to stroll through. The Boulevard des Pyrénées is one mile of magic with gorgeous views.
The main tourist site is the elegant Chateau de Pau. Napoleon III used it as a summer residence.
The chateau is now a museum and boasts some pretty Gobelin tapestries (Gobelin is a tapestry factory.)
18. Perouges, Ain
Perouges is a tiny walled village that's an easy day trip from Lyon. It's perched on a small hill overlooking the Ain River. The sleepy town was beautiful restored in the 19th century and retains an authentic medieval feel.
Listed as one of France's les plus beaux villages, Perouges is home to craftsman, artisans, and wine makers.
The village is a 20 minute walk from the train station, if you're coming by train. You enter via the city gate, the 13th century Porte d'en Haut. You're immediately plunged into a time warp atmosphere and a maze of cobbled streets.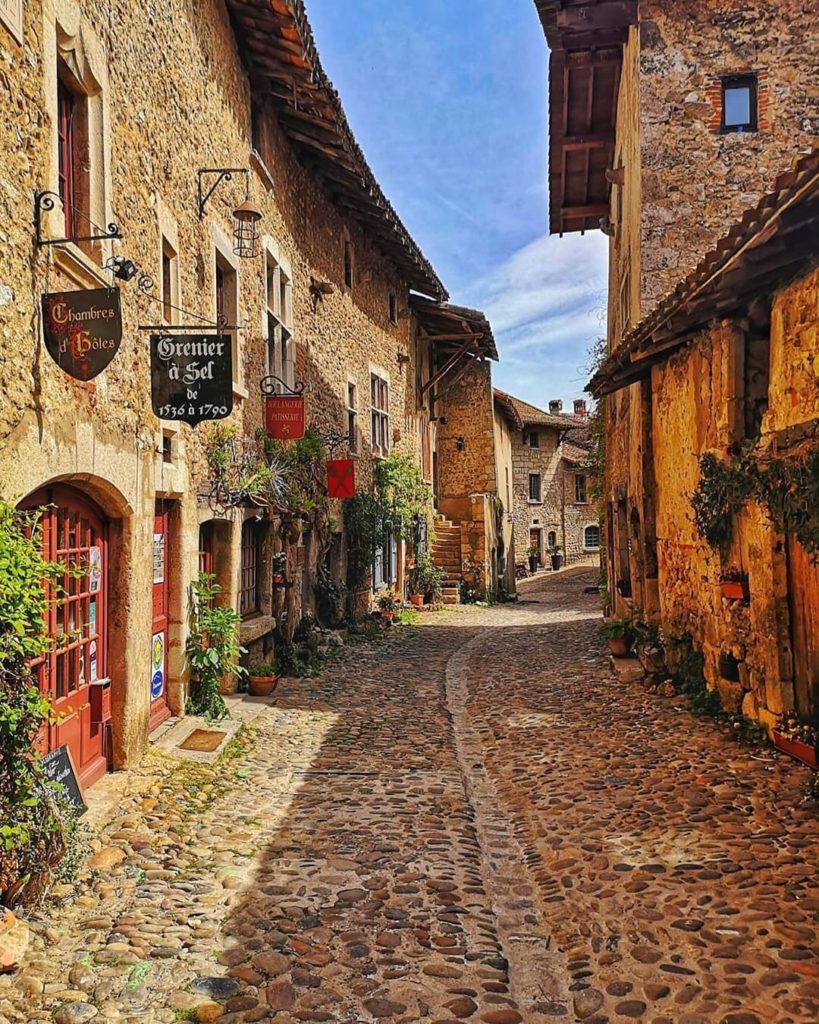 Follow the Rue des Rondes, which is a circular route around the village. The town's main square is the quaint Place du Tilleul.
Perouges is so small that you'll only need a couple hours to visit. Be sure to check out the' 15th century fortress-church, the Eglise Sainte Marie Madeleine.
This is the time to pick up some artisan products and sample the town specialty, Galette Perugienne. It resembles a cheese pizza, but instead is a delicious melange of butter, lemon, and sugar.
19. Perpignan, Occitanie
Perpignan is a quiet, perfect jewel of a place that's a casual, calm, and convivial mix of France and Spain. It's hidden away in the most southeast nook of France where the sun shines most of the year.
Perpignan is a network of cliffs, creeks, and vineyards that most tourists miss. The town exudes old world charm, with beautiful Mediterranean architecture and winding medieval streets. Visit the Castillet, a prison fortress in the historic center.
The 14th century Palace of the Kings of Mallorca and Gothic town hall are highlights of Perpignan.
Salvador Dali once proclaimed that the Perpignan train station, which inspired his painting, was the "center of the universe." It's not really, but the station has a splashy, wildly painted ceiling in tribute to the artist.
READ: Guide to the Salvador Dali Museum in Spain
20. Provins, Ile de France
Provins is an utterly quaint medieval walled city. The town is an easy off the beaten path day trip from Paris. Like many medieval towns, Provins has an older "upper" city and a slightly more modern "lower" city.
You arrive in the lower city, or ville basse. As you start climbing, you'll see the ramparts and Tower de Caesar.
The atmospheric Provins is filled with historic and architectural gems, including no less than 58 listed historic monuments. The town is a designated UNESCO site and was once home to a great medieval fair. If you're on the UNESCO trail in France, this is a must see site.
On your visit, inspect the Tower Cesar, a well preserved medieval tower. Then, walk the ramps and the moat, take in the world's most charming medieval bookstore.
You can also visit the underground tunnels, Les Souterrains. Provins is famous for its roses, so you'll find rose everything in its tiny shops.
READ: One Day In Provins Itinerary, Day Trip From Paris
21. Riquewihr, Alsace
Situated between mountains and vineyards, Riquewihr is a tiny drop dead gorgeous village in the Alsace region of France near the German border.
Most people are too busy visiting romantic Strausburg and Colmar to stray to fairytale tiny hamlet. But Disney-inspired visitors will love this living museum.
Riquewihr was reputedly the inspiration for the movie The Beauty and the Beast (my favorite Disney movie because of its bookish heroine Belle). The words "little town it's a quiet village" may involuntarily spring into your head, while walking through Riquewihr.
The town is quiet, but quietly lovely with its vibrantly hued homes and elaborate signs.
Stroll down Riquewihr's pedestrianized main drag, what there is of it, called Rue du Général-de-Gaulle. As you stroll, your head will be swiveling right and left until your reach the 13th century Dolder Tower and the picturesque Rue des Remparts.
But don't stop there. Meander down the side streets to fuel your imagination.
Riquewihr is known for its Reisling wine. There are winemaking shops in town. And you can spot the vineyards from the edge of the town. The tourist office has maps of the wine trails.
You can visit Riquewihr on a day trip from Strasbourg or on a day trip from Colmar.
22. Rocamadour, Dordogne
Rocamadour is a stunningly romantic 11th century village carved into the limestone cliff face of a canyon.
It's not exactly a hidden gem in France. But it's so unusual and dramatic — you literally step back in time — that I had to include it on my list.
Rocamadour may be France's most dramatic village. Because of its precipitous vertical location, it's entirely pedestrianized. Naturally, there are many hills and stairs to challenge your quads. You'll have to climb up and down to see everything.
Aside from the sheer spectacle of its setting, the town is a dream of pre-medieval architecture and crooked lanes. The main drag is the Rue de la Couronnerie. The buildings seem to grow out of the rock wall.
Rocamadour is also associated with the origins of French Christianity. It's a stop on the UNESCO-listed Routes of Santiago de Compostela. Take the Grand Escalier, or stairway, up to the religious heart of Rocamadour.
Pilgrims still visit Rocamadour to see its religious relics, especially the Black Virgin in the Lady Chapel. Allegedly, miracles occurred after the statue's discovery, so now miracle seekers worship at her feet.
The Lady Chapel flanks the Basilisque St.-Sauveur. The crypt of St. Amadour, the town's patron saint and namesake, lies underneath.
You can visit Rocamadour on a guided day trip from Sarlat.
23. Rocheforte-en-Terre, Brittany
Rochefort-en-Terre is one of France's les plus beaux villages and a must see village in Brittany. It was voted "France's favorite village" in 2016.
It's difficult to imagine a more beautiful and well-manicured French village. Rochefort-en-Terre is fairytale perfect and almost mind blowing, a sensation I had upon glimpsing the beautiful Rothenburg ob der Tauber on Germany's Romantic Road.
Rochefort-en-Terre is an architectural dream, beautifully sited on a hilltop overlooking the Valley of Arz. It's a town where rich merchants built lavishly decorated chateaux. Most date from the 17th century.
The mansions run from the Rue de Porche to the Place du Puits. They're made of granite and half-timbers and adorned with corbeled turrets, sculptures, and wood carvings.
As you stroll, inspect the Notre-Dame-de-la Tronchaye church, which dates from the 16th and 17th centuries. It's famed for a statue of the Virgin Mary, which was discovered by a shepherdess in a tree trunk.
The most swoonful place in Rochefort-en-Terre is the Place du Puits. It's the perfect intimate village setting with stone buildings, hanging iron signs, a fountain, and flower boxes on every facade.
Pop into L'Art Gourmand for delicious chocolatey things. If hunger calls, try Le Café Breton, boasting original medieval decor. There are plenty of crepes and waffles to be had as well.
READ: Most Beautiful Villages in Brittany
24. Roussillon, Provence
Dramatic Roussillon is a hilltop village in the Luberon valley in eastern Provence, nicknamed the "Orange Town." The tiny hamlet is nestled in a striking ochre ridge.
Legend holds that the cliff's orange color resulted from a medieval squabble. The town beauty, Seramonde, fell in love with a troubadour. But the lord of Roussillon loved Seramonde too and dispatched his rival by murdering him. Distraught, Seramonde threw herself off the cliff.
Her blood stained the cliff forevermore. It's a compelling tale. But the cliff was actually stained by the ochre pigment used to build the town.
The adorable town itself gleams with a spectrum of yellow, pink, orange, and red color. While there, you can visit Roussillon's Sentier des Ocres, the Ochre Trail. It's a nice hiking trail where you'll see the rock formations up close. Don't wear white!
READ: Hilltop Towns of the Luberon Valley
You can visit Roussillon and other Luberon villages on a day tour from Aix-en-Provence.
25. Sarlat, Dordogne
Perfectly preserved Sarlat is the crown jewel of the Dordogne region of France. It's an utterly unspoiled 14th century village that just exudes rustic fairytale vibes. Sarlat is one of my favorite towns in France.
The best thing to do is stroll the twisty warren of medieval streets in the lemony limestone town. Sarlat is a bit hilly.
Stop in to see the 11th century Gothic-Romanesque Saint-Sacerdos Cathedral. To see Sarlat's pretty mansions, some dripping with flowers, stroll down the Rue des Consuls.
Near Sarlat, you'll find the Lascaux IV International Center of Parietal Art. It's a cutting edge exhibition space dedicated to Cro-Magnon cave paintings. The museum is world's foremost cave art museum.
While in Sarlat, you can book a gourmet food tour and market visit. You can book a half day tour to the Lascaux cave center or a full day guided tour.
26. Senlis, Oise
Historic Senlis will appeal to medievalists and history-architecture buffs. Senlis is an easy day trip from Paris. You can also combine Senlis with a visit to the Château de Chantilly, just 15 minutes away.
Senlis has a rich history. It's a royal town and was the cradle of the Capet Dynasty. Hugh Capet was the Lord of Senlis before becoming France's first Capetian king in 987. Capet is buried in Paris' historic Saint-Denis Basilica.
Senlis was a royal seat from the time of Clovis in the 5th century to Henri IV in the 16th to 17th centuries. Senlis is bursting with ancient buildings and relics from the 10th to 18th centuries.
A large portion of its ancient Gallo-Roman walls are intact and you can admire the 16 lookout towers. Then, stroll the winding cobblestone streets and admire the stone houses.
READ: 5 Day Itinerary for Paris
You'll pass by a historic abbey, a medieval cellar, and the ruins of a Roman arena that you can visit. Opposite the cathedral are the 12th century remains of a royal castle, now part of an open air garden.
Senlis' cathedral, the Cathédrale de Notre Dame, is an imposing highlight of Senlis. Built between 1150 and 1191, it's an impressive reminder of Senlis' past power.
It has a 78 meter tower and a magnificent carved stone Grand Portal that's thought to have inspired the one in Chartres Cathedral.
27. Tourtour, Provence
Tourtour is one of the most adorable hidden gems in Provence. Like Cordes-sur-Ciel in Occitanie, it's a fairytale village in the sky, actually nicknamed the "village in the sky in Provence." Tourtour is listed as one of France's les plus beaux villages and is known for its wine.
The main thing to do is stroll the cobbled streets of the well-restored authentic village. They're lined with pretty Provencal homes in pastel hues or stone. Admire the many fountains and manicured gardens in the pretty squares.
True to its name, which translates to "tower towers," Tourtour has two large towers, the 11th century Grimaud Tower and the 17th century Clock Tower.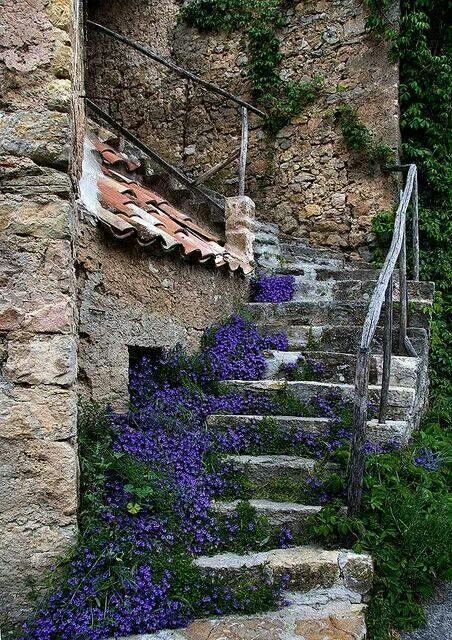 Tourtour also has two turreted castles. In the historic center, the most ancient castle dates from the 12th century. It now houses an art gallery.
The other castle, Chateau de Raphelis, houses the town hall. Outside, it's adorned with bluebonnet colored shutters. Inside, there are bronze sculptures by the artist Bernard Buffet, who spent his final years in the town.
Tourtour is dominated by the Church of St. Denis. Built in the 11th century, it was partially reconstructed in the 14th while maintaining its Romanesque style.
The church has three bells from the 17th century. The panoramic views from the top are a sight to behold. In addition, Tourtour boasts no less than eight chapels.
28. Troyes, Champagne
Visitors to France's Champagne region usually make a beeline for the more famous Reims. But Troyes, further south, is a delightful medieval village in France, just bursting with romance.
I definitely preferred it over Reims. And there are plenty of champagne houses to visit nearby.
Troyes is unpredictably pronounced "twa." But it rolls off the tongue in a languid chic French kind of way. Troyes also has a big heart.
Literally, it has a big heart embedded along the Canal du Trevois. The two ton metal sculpture is the symbol of the romantic town.
The main activity in Troyes is simply strolling around the well-preserved historic center. There's no need to seek out romance. It will assault you from all angles and, unless you are a complete skeptic, you'll be entranced.
Everywhere you look, there are multi-colored half-timbered houses in pastel palettes with vertical, horizontal, and diagonal stripes. The buildings lurch and slouch with an engaging lack of symmetry.
Troyes is known as the village of "ten churches," so there's plenty to see. Be sure to at least take in the Gothic Cathedral of Saint Peter and Saint Paul and the slightly grimier Basilica of Saint Urbain. There's also some cultural heft to go along with all the Gothic splendor.
Tucked behind the cathedral is the Musee d'Art Moderne. It's an unexpectedly good museum housing a private collection in the bishop's palace.
It has an abundance of modern art, especially Fauves, including works by Degas, Rodin, Matisse, Picasso, Modigliani.
READ: Guide to Paris' Picasso Museum
29. Vaison-la-Romaine, Provence
The lovely Vaison-la-Romaine is a hidden gem in northern Provence, away from Provence's main tourist destinations. Vaison-la-Romaine is an ancient town made almost entirely of stone and dotted with cypress trees.
Seated on the Ouvèze River, the town is dual faceted and split in two, with an upper medieval town and a lower Roman town — an efficient double dose of history. Vaison-la-Romaine was one of my favorite stops in Provence.
Based in the lower city, the Roman part of Vaison-la-Romaine was discovered in 1907. It's the most important Gallo-Roman site in France.
The luxuriousness of the restored patrician villas, filled with beautiful mosaics, reveal that Vaison was a prosperous Roman town.
When you're done admiring the mosaics, head to the 1st century Roman theater. No one will be there. Take center stage and sing your own aria.
READ: Best Things To Do In One Day In Vaison-la-Romaine
30. Uzes, Occitanie
Uzes is a honey-hued historic town dating back to Roman times with a charming baguette-in-hand-on-the-way-home-from-the-market vibe.
Uzes' Renaissance architecture is beautiful. Its elegant squares are the perfect place for lunch or espresso. I chose the outdoor patio of Restaurant Ten, with its atmospheric ribbed vaulted ceilings, on the Place aux Herbes for lunch.
You can also visit Le Duché, the duke's residence. The dukes of Uzes have lived in this impressive chateau-castle on and off for a thousand years. But, mostly, just stroll the town's creamy limestone streets and admire the renovated architecture.
Along the way, you'll see the Cathedral of St. Theodorit, the leaning Fenestrelle tower, and the medieval garden. Uzes is truly an otherworldly gem in southern France.
You can visit Uzes and the iconic Pont du Gard on a guided day tour from Avignon.
READ: One Day In Avignon Itinerary
31. Villefranche-sur-Mer, French Riviera
Villefrance-sur-Mer is a lovely less touristy village, just a stone's throw from Nice. Serenely quiet, the village makes a perfect base for the French Riviera. Villefranche-sur-Mer boasts pretty faded pastel houses cascading down to the waterfront.
Though its tiny, there are plenty of things to do in Villfranche-sur-Mer. There are beaches for sun bathers, an old town for explorers, a citadel for history buffs, and artistic gems for culture vultures. The old town is truly quaint and dates from the 13th century.
Villefranche-sur-Mer is tailor made for aimless wandering. Get lost in the maze of streets and amble up and down the stone staircases. Duck into Rue Obscure, a dark passageway under the town hall.
32. Veules-les-Roses, Normandy
The charming coastal hamlet of Veules-les-Roses is one of Normandy's prettiest and oldest spots. So lovely is Veules-les-Roses that's it's been voted one of France's Les Plux Beaux Villages.
The villages is a hidden gem in Normandy, usually overlooked by tourists.
Victor Hugo famously frequented the town, spending his summers at the home of playwright Paul Meurice. There's a memorial to Hugo on the town beach.
READ: Guide to the Victor Hugo Museum in Paris
Perched on the River Veules, the town has been inhabited since the 4th century. Veules-les-Roses has more thatched cottages, stone houses, and picturesque water mills than any photographer could want.
The road that winds through town is dubbed the Champs-Elysées. Be sure to pop into the 13th century Church of Saint Martin.
Thanks to its seaside location, Veules-les-Roses also has a pebbly beach set amid dramatic white cliffs. You can walk the cliff path for amazing vistas.
The town is known for its oysters and fresh seafood. It even has four Michelin starred restaurants, including Les Galets on Rue Victor Hugo.
READ: Most Beautiful Towns in Normandy
I hope you've enjoyed my guide to hidden gems in France. If you're obsessed with discovering Europe's hidden gems like me, check out my other articles:
If you'd like to visit France's secret hidden gem towns, pin it for later.