Looking for a 4 days in Munich itinerary? You've come to the right place!
This Munich itinerary covers all the top must visit attractions and best things to do in Munich in four days. I also give you tips for visiting and optional day trips, if you have extra time.
Munich is the prosperous and historic capital of Bavaria. It's the perfect mix of a cosmopolitan modern city and a historic city center.
There's so much to do in the city of "art and beer." Munich is endlessly charming, perfectly walkable, and dotted with candy cane colored buildings.
Aside from its stereotype for behemoth beer drinking halls, Munich offers plenty of sophisticated pursuits.
You can explore historic landmarks, beautiful churches, and world class museums. Munich has trendy eateries, renowned restaurants, and swishy cocktail bars.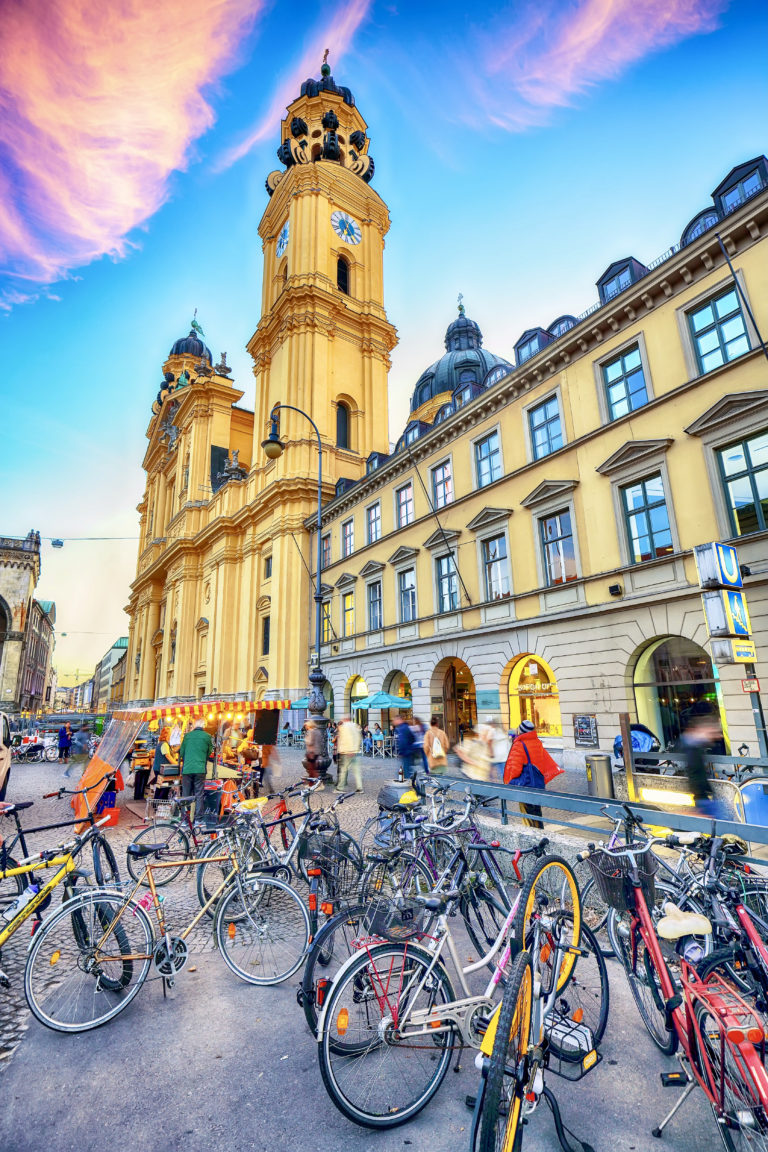 With this 4 days in Munich itinerary and travel guide, you'll visit the following beautiful places and destinations in Munich:
Day 1: Explore Munich's main attractions in the historic center
Day 2: Visit Nymphenburg Palace, Viktualien Market, and Munich's museums
Day 3: Day trip to Nuremberg or Dachau Concentration Camp Memorial
Day 4: Day trip to Mad King Ludwig's castles, including Neuschwanstein
You could easily expand this 4 day itinerary into a 5-6 day itinerary by moving at a slower pace. Then, you wouldn't have to choose between Dachau and Nuremberg. And you could do your Munich city-based sightseeing at a slower pace.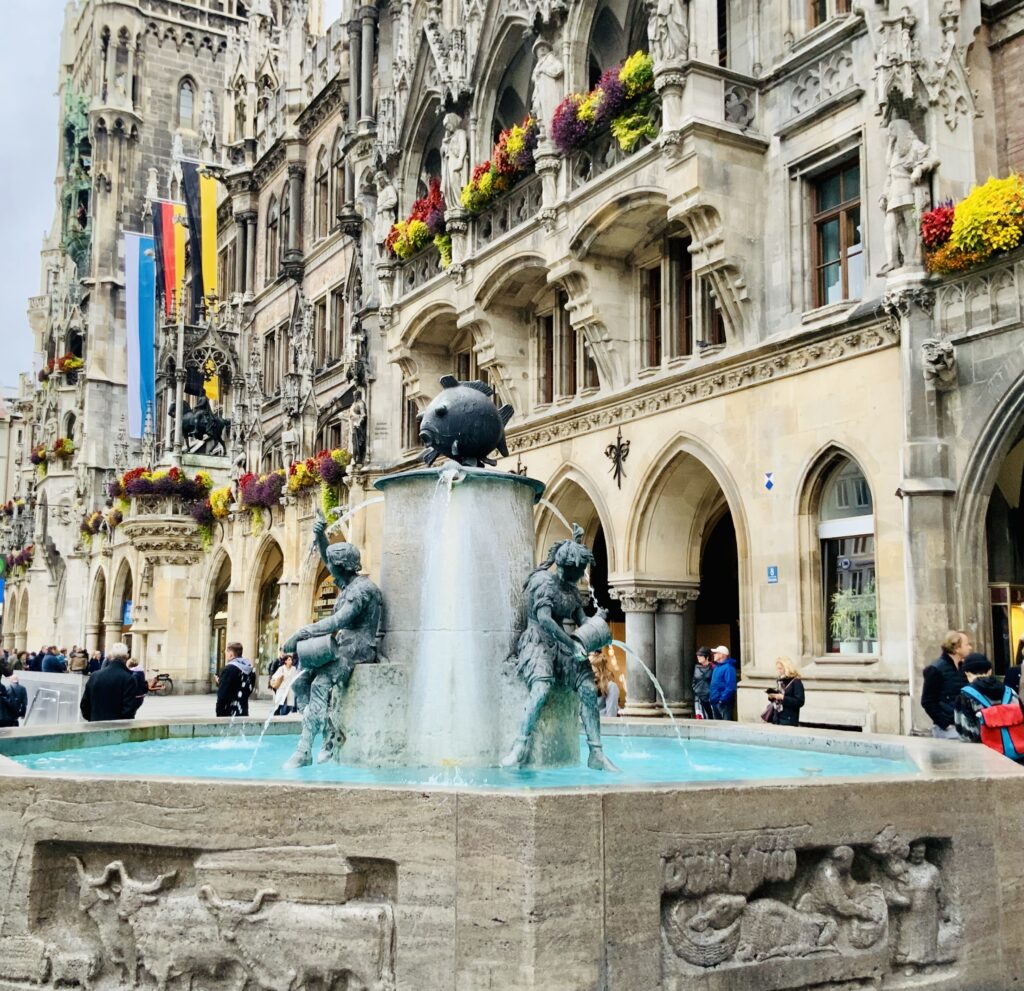 Top Tours In Munich
Here are some of the best tours and experiences you can have with one day in Munich. Be sure to book in advance, at least from May through Octoberfest.
A Short History of Munich
Aside from all the pretzels and beer, Munich has a deep monarchic past and endured a tumultuous 20th century. Let's take a peak at the city's history before we begin our 4 day tour of Munich.
Munich is located in southern Germany, two hours north of the Austrian border. To most people, Munich is synonymous with Oktoberfest and beer gardens. But its medieval German name, München, actually stands for "Home of the Monks."
Drawn by proximity to Catholic Italy, Benedictine monks settled in what is now Munich in the 8th century. For centuries, the monks conducted much of the trade activity in Munich and effectively governed.
But in 1255, Munich passed into the hands of the House of Wittelsbach, who would rule until 1918.
Under the Wittelsbachs, Munich expanded. The Wittelsbachs built magnificent palaces. Mad King Ludwig went on a frenzy of castle building.
His most famous castle is the iconic Neuschwanstein Castle. Munich sported monumental architecture and wide Italianate boulevards.
But Munich suffered during both world wars, and its chocolate box scenery was leavened with darkness. During WWI, the city was practically starved to death.
Afterward, the city saw the rise of Hitler and the Nazi party. During WWII, 80% of Munich was heavily bombed and destroyed.
After WWII, Munich was painstakingly reconstructed. Developers preserved Munich's original street plan and re-created its medieval steeples, Neo-Gothic facades, and Neo-Classical buildings. They created Europe's first pedestrian zone at Kaufingerstrasse and Neuhauser Strasse.
Munich transformed itself into both a cultural and technological powerhouse — a dynamic and cosmopolitan big city with a small town feel.
Today, in Munich, well-heeled power dressers mix with lederhosen clad beer drinkers. Munich's been nicknamed the "City of Art and Beer," "Millionendorf" (village of a million people), and "Toytown."
But back to our tour of the elegant city. Here's my itinerary for how to spend 4 perfect days exploring Munich and the surrounding area in Bavaria.
4 Days In Munich Itinerary
Here's my recommended itinerary for spending four days in Munich.
Day 1: Munich's Main Attractions
Try to arrive early so you have the entire day to see the city. Click here if you want to book a 2 hour walking tour of the historic center to get oriented.
1. Marienplatz and the Neues Rathaus
Begin by heading straight to the famed Marienplatz. The pedestrianized Marienplatz has been a popular meeting place and hub for Munich since the 12th century. The centerpiece of the grand square is the majestic city hall, named the Neues Rathaus.
Its gaudy Gothic facade is festooned with gargoyles, statues, and, most often, bright red flowers. You can take an elevator 85 meters to the top for views.
Just stop in at the Tourist Office in the building and purchase your ticket. The Glockenspiel sounds at 11 am, noon, and 5:00 pm.
If you're hungry and want to watch the performance, settle in at Cafe Glockenspiel. For 12 minutes, motorized figures dance, joust, and twirl around the inside of the tower.
2. St. Peters Church for the Best View
If you want an amazing view of the Rathaus and Marienplatz, you've got to hike up the tower in St. Peters Church. It's the oldest church in town.
The church itself is nothing special. But the 360 views at the top can't be beat.
But, be forewarned, it's a cramped and steep experience. There's no room to move at the top. You'll shuffle inch by inch along the narrow terrace.
3. Munich Residenz
Nothing beats wandering around Munich's Altstadt or historic old town. You can't miss the massive Munich Residenz.
The Reisdenz was the city palace of the Wittlesbach dynasty. It's located on Max-Joseph Platz. While much of it was destroyed during WWII, it's been meticulously restored over the years to its former glory.
The Residenz Museum, which comprises half of the palace, is an essential Bavarian experience. It's full of beautiful historic paintings, tapestries, rugs, furniture, crown jewels, and other treasures.
The paintings have messy scars. In 1944, when bombs were imminent, the Nazis sliced the portraits out of their frames and hid them away.
The Antiquarium, the Hall of Antiquities, is the largest and finest secular Renaissance hall in northern Europe. Built in the 16th century, the room stretches 220 feet end to end and was a festival banquet hall.
Another highlight is the Residenz' shell grotto. This strange structure is made from Bavarian freshwater shells. After it was demolished, Bavarians lovingly collected shells for its reconstruction, an inspirational story.
If you don't want to tour the interior of the Residenz, at least walk around and admire the facades. But it's possible to whiz through in an hour or so, to get a sense for how the royals lived. And the Residenz is one of the only palaces in Germany where you can actually take photos.
Here's my complete guide to visiting the Munich Residenz.
>>> Click here to book a ticket to the Residenz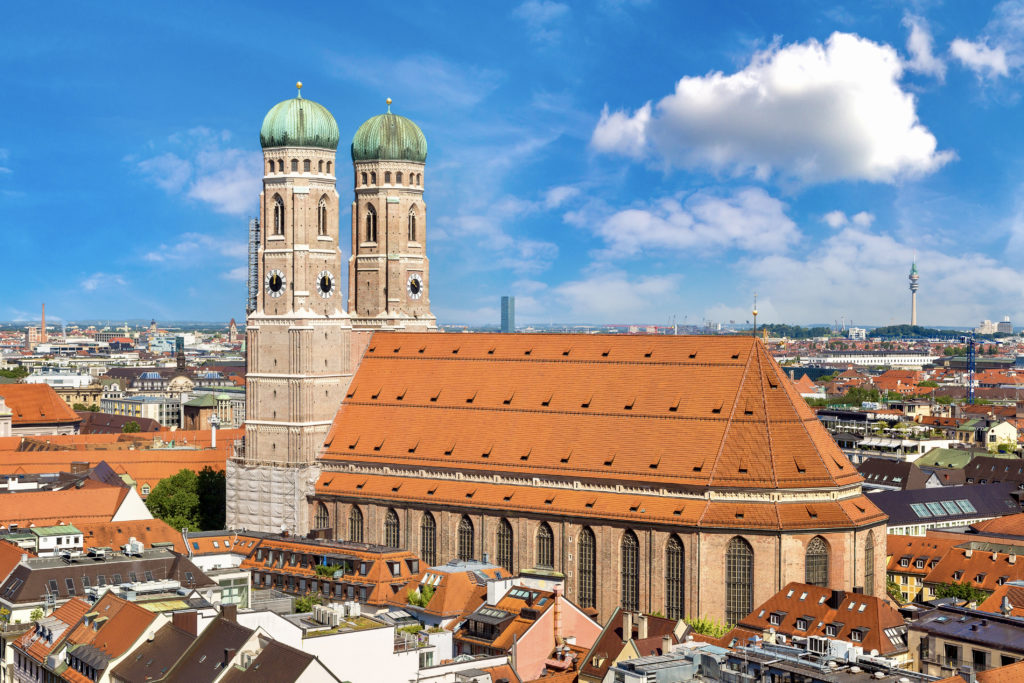 4. Munich's Iconic Churches
As you're strolling through old town, you can take in some of Munich's iconic churches, which are mostly clustered together.
The twin green onion domes of the Frauenkirche are a symbol of Munich and important landmark. The church was heavily damaged in WWII, but lovingly restored over 50 years.
A quirky feature of the Frauenkirche is the "Devil's Footprint" inside. Legend holds that a devil funded the church's construction. He handed over the requisite dollars on the condition that the church be an ode to darkness.
Upon touring the finished church, the devil allegedly spied a window and, in a snit, stamped his foot on a tile. Or so they say …
The mustard yellow church in Munich is the Theatinerkirche, commanding a place of respect on the impressive Odeonsplatz. It's a divisive building apparently, or so I've been told. But I approve of color in buildings, so liked it. It has a pristine white interior with beautiful ceilings.
Another beauty is the Asamkirche, a tiny Baroque masterpiece. Built in 1746, it's a treasure trove inside. Every inch of the interior is covered in gold and marble.
If you're a fan of Mad King Ludwig II and his romantic castles are on your Bavaria bucket list, stop in at 16th century St. Michael's Church to pay your respects.
It's a damp crypt and modest tomb. But it's typically swathed in flowers in appreciation of the poet-architect king. Forty other Wittelsbachs scions are buried there.
READ: Mad King Ludwig, Murder of Suicide?
5. Munich's Squares
End your stroll around Altstadt at the Odeonsplatz. Dating from the 19th century, the square is largely unchanged. The focal point of the square is the Feldherrnhalle.
It's a covered exterior gallery copied from the famous Loggia dei Lanzi in Florence. Nowadays, it's the site of festivals and beer drinking.
Historically, it's also important. The loggia was the site of the famous 1923 Beer Hall Putsch, Hitler's failed coup d'etat. Hitler wound up imprisoned and wrote Mein Kampf in jail.
Later, after Hitler rose to power, the square was the site of Nazi rallies and SS parades. In the loggia, Hitler's SS men swore their blood oaths to him.
In Max-Joseph Platz, you'll find Munich's dashing National Theater. It's a photogenic spot, with its dashing Neo-Classical Facade.
If shopping is on your agenda, head to Maximilianstraße for the swanky brands. At the end of the street is the Maximilianeum, home to Bavaria's state parliament.
If you'd like your shopping more affordable, head to Kaufingerstrasse.
6. Dinner and Drinks
If you want to splash out on dinner, head to the highly rated restaurant inside the Bayerischer Hof.
Another good spot is Ella, attached to the gold-toned Lenbachhaus museum. It's a laid back Italian bistro, with a luminous stone bar.
After dinner, head to Alte Utting. Set with twinkling lights, the venue is a cool decommissioned land bound boat that's been transformed into a a hybrid bar, food court, and event venue.
Another popular place is The High, a themed bar in the trendy Glockenbach neighborhood, serving up experimental cocktails.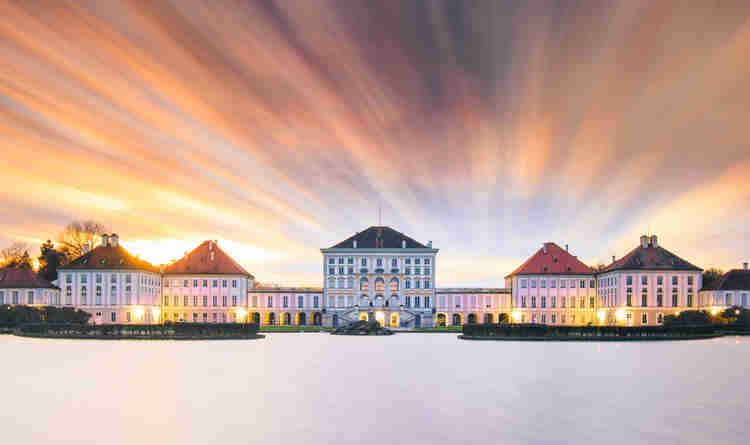 Day 2: Nymphenburg Palace and Museum Tour
1. Nymphenburg Palace
If your heart pines for more Wittelsbach architecture, in the morning, take a 20 minute tram ride from the city center to Nymphenburg Palace. The 17th century Schloss Nymphenburg is one of Munich's top attractions.
It's also one of larges and most beautiful palaces in Europe. The palace was the swishy summer home of the Wittelsbach dynasty.
Nypmhenberg was built to celebrate the birth of an heir for Bavaria. On August 25, 1845, Prince Ludwig (later Mad King Ludwig II) was born in the Queen's Green Bedroom.
Ludwig's birth was witnessed by everyone via the large mirror. Such momentous events required real proof.
The palace consists of a large villa and two long wings. There are 16 rooms altogether. It has intricate parquet floors, colorfully painted ceilings, paintings galore, and sumptuously decorated period rooms.
The two key highlights of the central villa are the glittering Stone Hall, with its nymph-filled frescos, and the Gallery of Beauties, which displays King Ludwig I's portraits of beautiful women.
There are a few thematic museums located in the palace's wings that you may want to visit. In one, you can see the Mad King Ludwig's golden sleighs, in which he took his nocturnal rides through the countryside.
Back outside, you'll find the beautifully landscaped Nymphenburg Palace Park. It's the perfect place for your royal promenade.
There are quite a few lovely mini-schlosses sprinkled throughout the park. These tiny follies were where the Wittelsbachs escaped when courtly life proved too annoying. The most famous folly is the glittering Amalienburg, the best example of Rococo Architecture in Germany.
>>> Click here to book a skip the line guided tour of the palace
2. Viktualienmarkt: the Perfect Spot For An Alfresco Lunch
After the palace tour, it's lunchtime. So wander over to Viktualienmarkt for some gourmet sustenance.
It's Munich's outdoor food market, crammed to the gills with produce, prepared food to go, and a bustling beer garden. It's one of Europe's most delightful outdoor markets.
Victualienmarkt also makes an ideal place to buy German souvenirs. Pro tip: If you buy something to eat, you can actually bring it right into the beer garden.
Click here for a 2 hour food tour including Viktualienmarkt.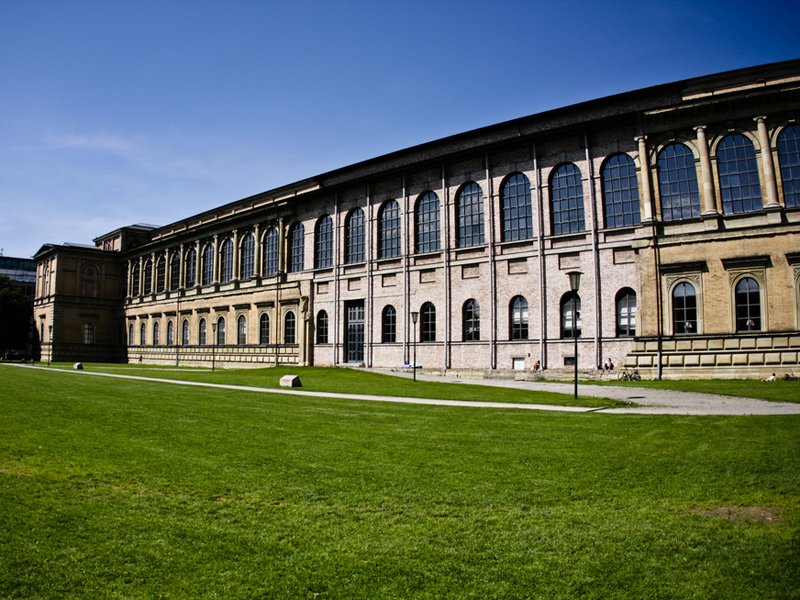 3. Munich's Vaunted Museums
In the afternoon, visit a couple of Munich's absolutely world class museums. Most of museums are clustered together in the Kunstareal or museum district. When you arrive there, pop into Man vs Machine, an uber modern coffee shop, to caffeinate.
Here are your choices among Munich's best museums:
✔ The Pinakothek Trio
Munich's most touted museum is the Alte Pinakothek. It's Bavaria's best museum, with a collection of European masters from the 14th to 19th century.
Click here to book a 2 hour tour of the pinakothek.
There, you'll Albrecht Durer's mysterious Self Portrait. There's a slew of works from Italian Renaissance masters — Leonard da Vinci, Botticelli, Raphael, Titian, and Fra Angelico. And you'll also find classics from Flemish and Dutch artists like Rembrandt.
The Pinakothek der Moderne has cutting edge modern and contemporary art from the 20th and 21st centuries. The building itself is worth a visit, with a towering glass rotunda designed by the German architect Stephan Brauenfels.
You'll find some works by Franz Marc, Ernst Kirchner, Paul Klee, Joan Miro, and Salvador Dali.
The Neue Pinakothek starts where the Alte Pinakothek leaves off. It showcases wondrous modern art from the late 18th to the early 20th century.
You'll find works by the French Impressionists, Dali, Picasso, Miro, and Magritte. A highlight is Gustav Klimt's Portrait of Margaret Stonborough-Wittgenstein.
Pro Tip: The Neue Pinakothek is currently closed until 2027 for structural renovations. But an exhibit of its best pieces is on display in the Alte Pinakothek.
✔ Glypothek Museum
If you're a fan of Greco-Roman sculpture, head to the Glyptothek Museum. The Glyptothek owes its existence, like so many other lovely things in Bavaria, to Mad King Ludwig II.
He envisioned Munich as a "German Athens." The museum is housed in an impressive Neo-Classical building.
READ: Mad King Ludwig's Death Suicide or Murder?
Each gallery houses works from different time periods, illustrating the evolution of sculpture over the centuries. The best known sculpture is the Barberini Fawn.
Just steps from the Glypothek is the "Fuehrer building," now the state university for music and theater. In 1936, the building sported swastika flag-festooned balconies.
>>> Click here to book a ticket to the Glyptothek
✔ Lenbachhaus Museum
Munich also has a hip new museum, the Lenbachhaus, that you should really make time for. The stunning gold museum has a soaring atrium which glitters with a whirl of colored glass and steel.
The new three story wing, designed by Norman Foster, houses an incredible collection of Expressionist works, including pieces by Wassily Kandinsky, Franz Marc, and Paul Klee.
Expressionism thrived in Munich. This is literally the best collection of that period anywhere in the world.
✔ Brandhorst Museum
You can't but notice the Brandhorst Museum, housed a glittering modern building.
Opened in 2009, it's an impressive piece of architecture, designed by the Sauerbruch Hutton Architects from Berlin. The colors change and shimmer, the effect changing depending on how you move.
Inside, there are wide open galleries. The collection of the museum includes works from the second half of the 20 century to the present. You can find pieces by Andy Warhol, Cy Twombly, Joseph Beuys, and Damien Hirst.
You'll see more Warhol here than anywhere else in Europe. Twombley's graffiti paintings have a dedicated floor.
4. Hofgarten and the Englischer Garden
After museum-ing, take a stroll in Munich's green spaces. Located behind the Munich Residenz is an opulent Italian Renaissance garden you'd expect from royals, the Hofgarten.
It's a public garden and is free to access. The Diana Temple in the center is a 12 sided gazebo, and was a filming location for The Three Musketeers movie in 2011.
From the Hofgarten cross the street to the Haus der Kunst, an art gallery and building that was an early example of Nazi architecture.
Right nearby, you'll find river wetsuit-clad surfers in the manicured Englischer Garden. They surf on a standing wave, the Eisbach Wave, no matter what the weather conditions are. It was in the 50s when I witnessed their stunts.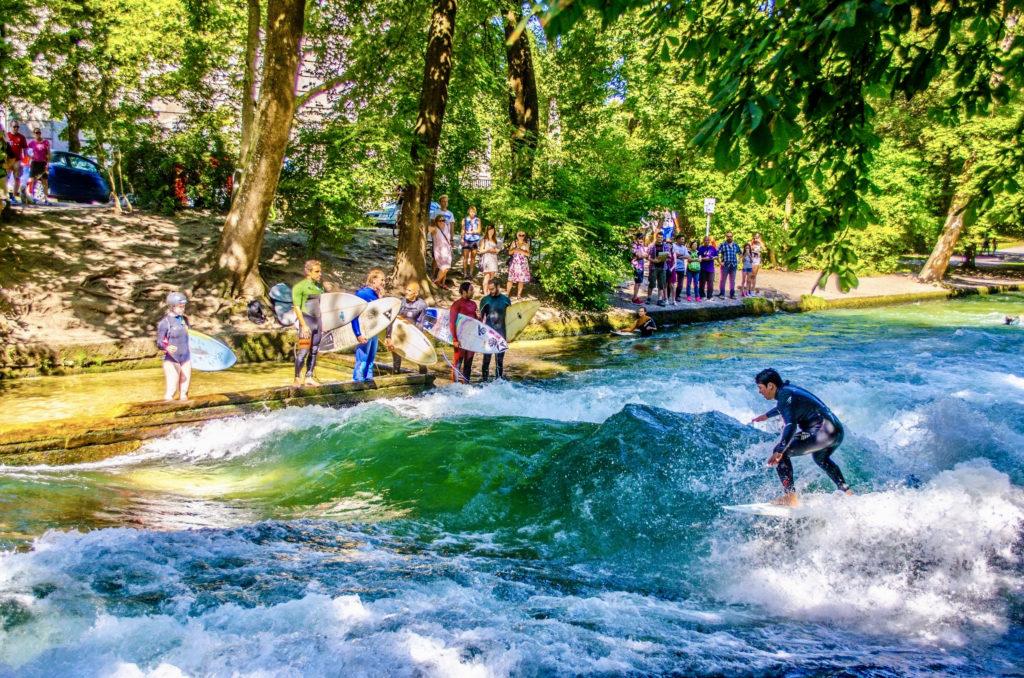 The English Garden is a truly massive park, bigger even than Central Park in New York City. There are 50-60 species of birds in the park.
If you're there in the summer, aside from the surfers, you'll likely see nude sun bathers. The Chinese Tower Beer Garden is a popular hangout in the garden. If you'd like a more local vibe, head to the nearby Seehaus beer garden.
If you want to end your park visit with a sunset, climb Olyberg, a large hill that overlooks the park. It has a nice vantage point over the city. Alternatively, the Olympic Tower also has an epic view.
5. Evening
Head back to the old town. You've got oodles of dining options.
If you want some traditional bavarian food, try Augustiner Klosterwirt, near the Frauenkirche, or Bratwurstherzl. If you must try Munich's pork knuckle, stop in at Haxnbauer.
Munich is also known for its Italian food scene, a scene of which I wholly approve. On my last visit, on a Friday night, I had dinner at Limoni, on a quiet street in a trendy neighborhood.
And it was quite divine. Another good Italian option is Guido al Duomo. You'll need reservations at both.
For post dinner drinks, head to Zephyr Bar. it serves up aromatic cocktails, with a focus on gin.
6. Beer Gardens: the Classic Munich Experience
After your highbrow day of art and culture ends, you should — like most good Germans — retreat to a beer hall. Munich's most iconic beer garden is, of course, the Hofbrahaus. Serving beer since the early 1800s, it's now mostly serving beer to tourists.
But it's an iconic place, and was frequented by the likes of Mozart. It was also where Hitler gave his first speech to the Nazi party.
There's even an 1890 baby photo of Hitler at the Hafbrauhaus. Waiters dressed in Lederhosen serve massive beer steins to hordes of people, while a band plays drinking songs.
For a more sophisticated take on the traditional Bavarian beer garden, head to Wirtshaus in der Au.
If you'd like to book a food and beer tour in Munich, click here.
Day 3: Day Trip to Nuremberg or Dachau
On day 3 of your 4 days in Munich itinerary, choose your day trip.
Either take a day trip to the beautiful historic town of Nuremberg or to the Dachau Concentration Camp Memorial, depending on your interest and how long you want to spend traveling.
1. Option 1: Nuremberg
By high speed train, Nuremberg is an hour from Munich. Or, it's a 2 hour drive. Click here if you'd like to book a guided day trip tour. Click here if you'd like to take a guided walking tour of the historic center once you arrive.
Nuremberg is the second largest city in Bavaria after Munich, but feels quite small in comparison.
Nuremberg Germany is a magical stunner of a city, with munchable gingerbread and tasty bratwurst. The 950 year old city is cosmopolitan, but with a heady dash of quaint fairytale charm.
Nuremburg is crowned by an ancient castle, scattered with candy cane houses, and has a few must see museums. Nuremberg isn't just a pretty face either. It's multi-faceted, with a tumultuous past.
As a former imperial city and medieval stronghold, it's got layers of history, some of it a dark and brooding Nazi-infused variety. That duality is part of Nuremberg's allure.
Start your day trip by visiting the imposing Kaiserberg Castle, perched atop a sandstone hill. The medieval castle not only dominates the cityscape, it's also the #1 tourist attraction.
Construction (probably) started around 1,000 AD. But most of what you see today dates back to the 15th century or later. Kaiserberg Castle was the most important fortified imperial palace of the Holy Roman Empire.
After a castle visit, stroll down photogenic Weibgerbergasse Street where you'll get a fairytale level dose. It's full of medieval half timbered houses, built in the booming days of Nuremberg's leather trade.
The lively Hauptmarkt is the perfect place to grab lunch from a food truck and gaze around in adoration at Nuremberg's grand buildings. You'll also find plenty of beautiful churches in Nuremberg.
Guarding Albrecht-Dürer-Platz, St. Sebaldus Church reminds me of a two-pronged lethal weapon, so tall, pointy, and imposing are its twin towers.
St. Lorenz is an unmissable Gothic edifice considered Bavaria's most beautiful church.
Dominating Hauptmarkt Square, the14th century Frauenkirche has rather unique brick Gothic style. Everyday at noon, the glockenspiel, or mechanical clock, sounds to celebrate the defunct Roman Empire.
Located in picturesque Tiergartnerplatz, I definitely recommend a visit to the Albrecht Durer House. Albrecht Durer is Nuremberg's native son, born and buried there. He's perhaps the greatest German painter in history.
You won't see any authentic Durer paintings in the house-museum. But it's a unique snapshot of his life and studio.
One room has replicas of Durer's most famous paintings and the audio guide explains the significance of each one in detail.
Another room replicates his workshop where he mixed paints and made engravings.
If you're a WWII nerd or history buff in general, you should definitely book a half day tour to see Nuremberg's Third Reich sites, constructed by Hitler's favorite architect Albert Speer.
The rally ground is 12 football fields in length, with a "Zeppelin" grandstand, where the demagogue Hitler gave racist stump speeches. Congress Hall was where the Nazis held choreographed party rallies.
Opened in 2001, the Documentation Center in Congress Hall is a modern museum. It shines a harrowing light on the insane megalomania of the Nazi party.
With unflinching eye-opening detail, the permanent exhibit "Fascination and Terror" describes the rise of the Nazi party and its atrocities.
Here's my complete guide to the WWII and Nazi sites in Nuremberg.
2. Option 2: Dachau Concentration Camp Memorial
This notorious Nazi camp is on the outskirts of Munich. It's about 25 minutes by train from Central Station.
Be sure to pick up an audio guide to orient yourself. It's a vast space. Alternatively, for more info and insight, you can book a guided day tour from Munich. For real history buffs, you can also book a tour combining a walking tour of Third Reich sites and Dachau.
Dachau played a significant role in having Hilter's history in Germany. It was one of the first camps set up to hold political prisoners, subversives, Jews, and other "undesirables" during WWII.
There are chilling and disturbing memorials — prisoners cells, death chambers with chemical induction pipes, barbed wire fencing, and a crematorium.
You can see bullet marks on the walls. The onsite museums details atrocities the prisoners suffered in this satanic world.
Dachau was liberated in 1945 by the US Army. After liberation, the camp was used by the US Army as an internment camp. It was also the site of the Dachau Trials for German war criminals, a site chosen for its symbolism.
Day 4: Day Trip to Neuschwanstein Castle
The last day of your 4 days in Munich itinerary is devoted to Mad King Ludwig's castles. You can easily visit both Neuschwanstein and Hohenschwangau in a single day because they're in the same town.
Click here to book a day tour of Neuschwanstein from Munich.
If you are very ambitious, add in Linderhof Palace either on your own or on a guided tour with Neuschwanstein. It's 50 minutes from Neuschwanstein.
All of Mad King Ludwig's castles are exquisitely placed in the landscape, very theatrical, and engineered to create a "wow" factor upon first view.
There's lots of gold. But it's the interplay between the environment and the architecture that's most stunning.
1. Neuschwanstein
Rising above Schwansee Lake and perched on a jagged peak, Ludwig's fantastical Neuschwanstein Castle is an ode to Richard Wagner.
Wagner was a romantic composer and Ludwig's close friend. The palace pays homage to the swan knight of Lohengrin.
You can only visit the interior via a 45 minute guided tour. It's essential to book online in advance. No photographs are allowed.
Neuschwanstein Castle is a dreamy blend of Roman, Gothic, and Byzantine style architecture. It's a fantasy medieval fortress, but was outfitted with fancy new technology for the time.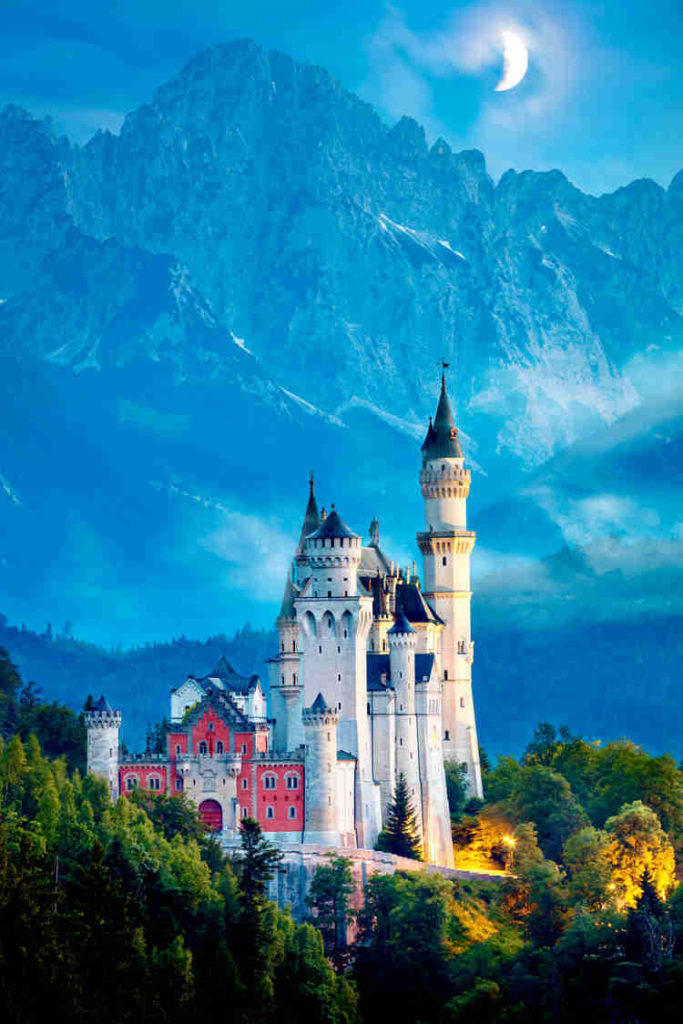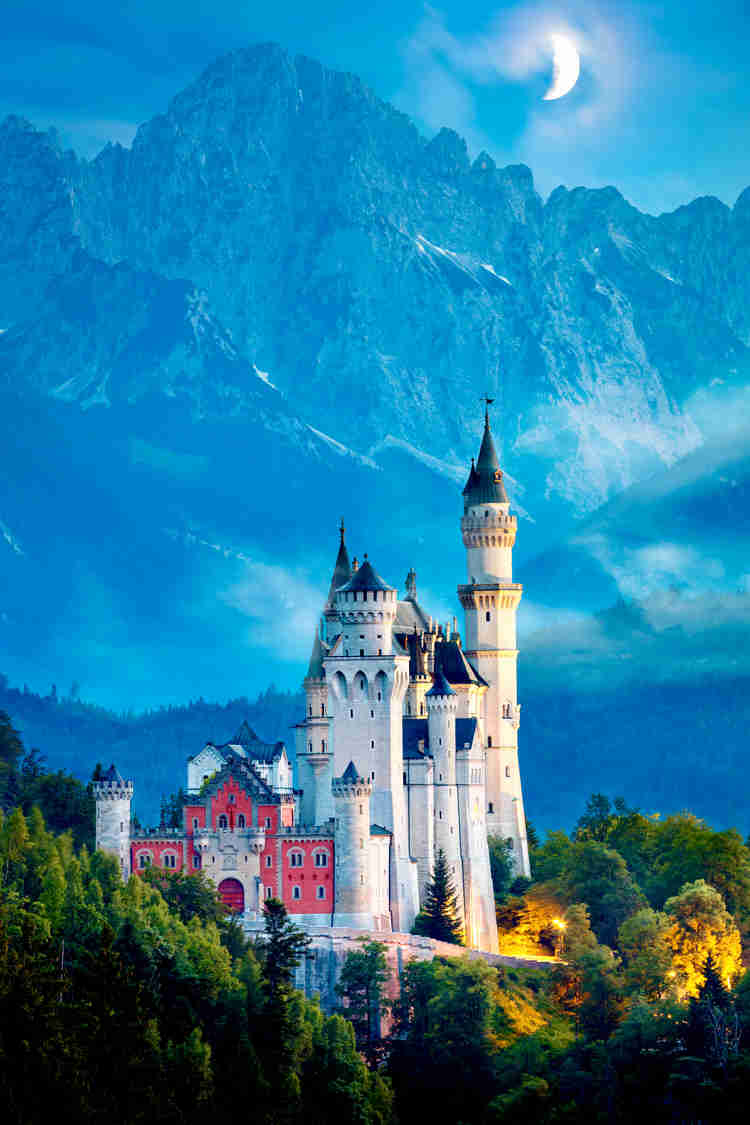 The castle exterior is made of brick and clad in limestone. There are endless rooms in the palace. You see 11 of them on your tour.
The arresting throne room is a monument to kingship. It drips in gold leaf. It has a vast 4 meter gold chandelier, which dominates the room.
Ludwig's bedroom may be the most ornate room in the place. His bed took 14 woodcarvers over 4 years to finish.
The chapel is an ode to the medieval French King Louis XI. The living room, like so much else, is dedicated to the mythology of Wagner's opera Lohengrin.
The upper floor is dominated by the Singer's Hall, which might be the most important room in Neuschwanstein Castle. Not surprisingly, it tells the story of Parsifal and his son Lohengrin.
Until 2014, concerts were held in the hall every September.
When you're done touring the castle, head to the viewpoint on Marienbrucke Bridge. The bridge, dubbed Queen Mary's Bridge, has the classic view of Neuschwanstein that you see online.
Here's my complete guide to Neuschwanstein Castle. Click here to book a guided day trip from Munich.
2. Hohenschwangau
If you arrive early, you'll also have time to visit Hohenschwangau Castle. You can purchase a combination ticket with Neuschwanstein.
In 1832, Ludwig's father, Maximillian II, purchased the Schloss Hohenschwangau in ruinous condition. It was basically an abandoned fortress, the home of the medieval knights of Schwangau. At the time, Maximillian was crown prince and heir to the Bavarian throne.
Between 1833-37, he built the yellow mock-medieval castle you see today, with the help of architect Domenico Quaglio.
He added neo-Gothic frescoes depicting Germanic legends — the Holy Grail, Tannhauser, and Lohengrin. Each room had a specific theme, explained in paint above the doorway.
Ludwig grew up surrounded by these operatic images, but not by loving parents. At Hohenschwangau, swans were everywhere — on the lake, on the walls, and in knickknack form.
Swans proved an enduring obsession for Ludwig, who even named his castles after them. Hohenschwangau itself translates as High Swan Country.
Maximillian's bedroom is a highlight. The walls are painted with nude scenes from a Renaissance poem, Jerusalem Delivered, about a crusading knight named Rinaldo.
Interestingly, Maximillian had these scenes painted over to protect Ludwig's innocence. The original paintings were restored in 1961.
READ: Complete Guide to Hohenschwangau
3. Linderhof Palace
If you're really ambitious, you can try to squeeze in Linderhof Palace.
But to pull that off, you may need to book a combo tour for both palaces and it will be a long day. Inside, Linderhof is much more spectacular than Neuschwanstein.
In 1867, Ludwig traveled to Paris for a peek at Versailles. He was so inspired that he came home and, in 1868, began construction of a private residence inspired by Versailles. In fact, it terms of sheer glamor and gold, Linderhof Palace may surpass Versailles.
Like all Ludwig's castles, Linderhof has a beautiful setting. In front, there's a water parterre with a large gold fountain, called Flora and Putti, that shoots water 22 meters in the air.
Inside, you enter a world of riotous rococo, flashing mirrors, and glittering gold. As you enter, say hello to Louis XIV. He's on horseback in a grand statue in the palace vestibule. You have 10 rooms to explore.
The Hall of Mirrors was inspired by Versailles' twin hall and by a room designed by Cuvilliés in the Munich Residenz. There's a gorgeous ivory chandelier and lapis lazuli accents on the ceiling.
In the resplendent red and gold dining room, servants were rendered invisible. The room sports an ingenious trap door — a disappearing dumb waiter that lowered and raised the dining room table to and from the kitchen below.
This way, the king could eat solo with his imaginary medieval friends, conveniently eliminating the need to talk to an actual living person.
In his heavily ornamented bedroom, the Moon King replicated the Sun King's Versailles boudoir. Ludwig's bed is elevated on steps and surrounded by gilded railings. It's flanked by two enormous chandeliers that are extremely daunting to stand under.
The Linderhof gardens are whimsically decorated with Ludwig's follies. The Venus Grotto is the most spectacular. It's Disney-like in conception.
Ludwig created a man made cave to listen to opera or watch performances. Dressed as a knight, Ludwig would ride in a clamshell boat, pretending to be the Swan Knight of Lohengrin.
READ: Complete Guide To Linderhof Palace
Tips For A 4 Days In Munich Itinerary
Here are some must know tips for spending four day in Munich.
1. How To Get To Munich
Munich has an international airport, Munich Airport (MUC). It's well-connected to various destinations worldwide.
The S-Bahn connects the airport to the city center. Trains leave every 10 minutes. The ride lasts about 40 minutes.
You can also grab a cab from the airport. Or, you can also book a private transfer to your hotel.
If you're already in Europe, you can reach Munich by train. Munich is a major transportation hub, and the city has excellent rail connections with other European cities. You can take a train to Munich Hauptbahnhof
2. How To Get Around Munich
If you're staying in the city center, you can walk to the main sites in Munich. If you'd like to book a 3 hour tour of Munich's historic sites with a local expert, click here.
You can also get around using the S-Bahn and the U-Bahn. Buy tickets at the station and validate them before you get on.
As I found out because I was staying off center, taxis are expensive.
There are some other fun ways to get around Munich. You can take a Segway tour, the hop on hop off bus, or a bike tour.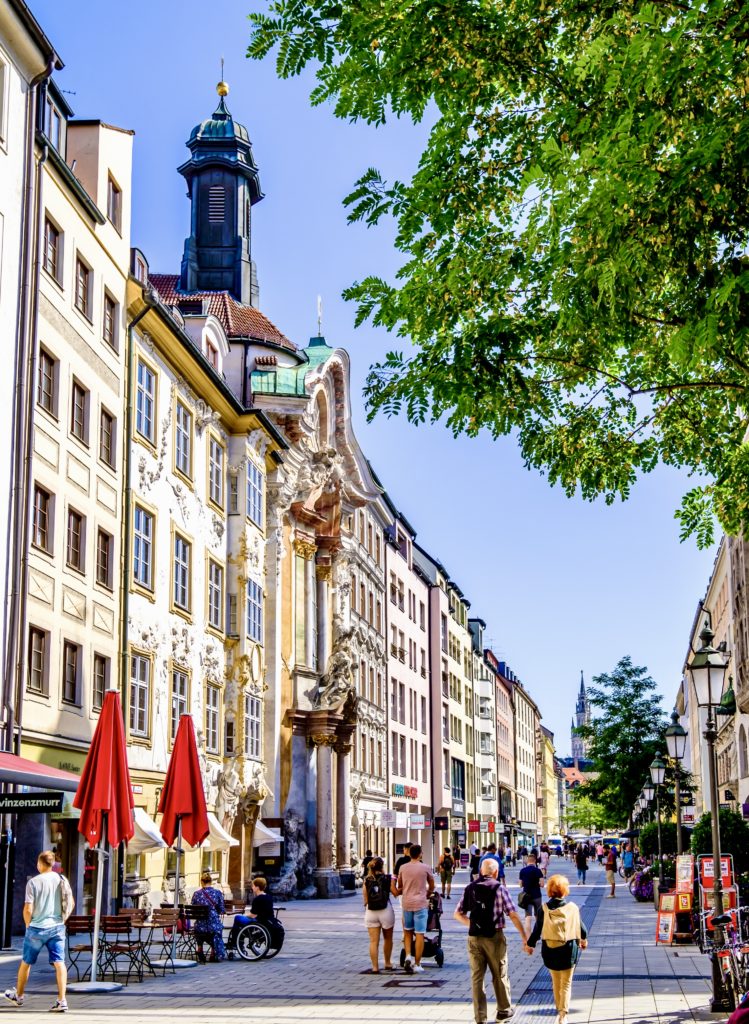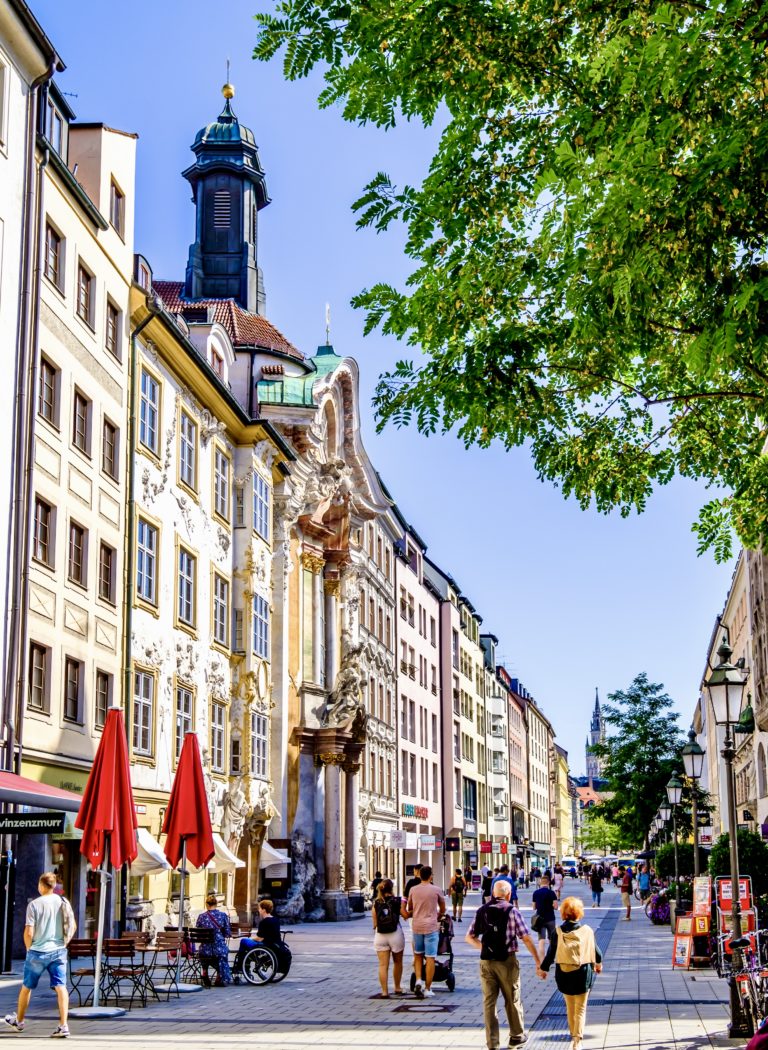 3. Where To Stay In Munich
Munich has some greet places to stay. With only one day in Munich, it makes sense to stay in the old town.
The Mandarin Oriental is a boutique property with an Eastern-influenced aesthetic. It's in old town right next to the famous Hofbrauhaus beer hall.
The Louis Hotel is a design hotel in the historic old town. It has a nice rooftop terrace that overlooks the Victualienmarkt.
The Hotel Bayerisches Hof is in the Neo-Classical Montgelas Palace. The luxury hotel oozes sophistication and has a Michelin star restaurant for foodies.
Roomers Munich is a sleek boutique hotel with an Asian kitchen and secret watering hole called the Hidden Room. Another popular boutique hotel is BEYOND by Geisel. It has an amazing location on the Marienplatz.
4. When To Visit Munich
The best time to visit Munich is spring or fall. The temperatures are mild and there are fewer tourists.
Octoberfest is a hugely popular beer festival that lasts from mid-September to early October. If you are visiting then, make your plans well in advance.
I find that late fall and winter are either chilly or extremely cold. And you should prepare for rain if you visit then.
I hope you've enjoyed my 4 days in Munich itinerary. You may enjoy these other Germany travel guides and resources:
If you want to spend 4 days in Munich, pin it for later.