Are you an art lover who can't get enough of Gustav Klimt's gold-toned Art Nouveau paintings? If so, this is the ultimate guide to Klimt's most famous paintings in Vienna.
As Austria's most famous painter, Klimt is renowned for his intoxicating and sensual portraits of women. His connection to Vienna runs deep, as he was born, worked, and died in the city.
In this article, you'll get a short biography of Vienna's most famous artist and description of his most famous paintings. They're stashed in some of Vienna's most glamorous buildings and world class museums.
There's more to Klimt than the iconic and revolutionary painting The Kiss. Read on for the full scoop!
A Short Biography of Gustav Klimt
Klimt was born in 1862 in Braumgarten, outside Vienna, to an artistically inclined family. At age 14, he went to Vienna's University of Applied Arts. Success came quickly.
Early Career
Klimt's mastery at drawing was immediately evident. He started out making art as traditional as a Viennese waltz.
At first, Klimt's commissions involving painting murals in public buildings. In 1886, Klimt's first significant commission was at the Burgtheater, Vienna's German language theater.
Klimt and his artist brother decorated the ceiling and staircase. Klimt was awarded the Gold Order of Merit for his work.
Im 1892, tragedy struck. Both Klimt's father and younger brother died. Suddenly, Klimt was left struggling to care for his mother and his brother's family. It affected his art, turning it more inward and was more liberated.
In 1894, Klimt began work on "faculty paintings" for the Great Hall of Vienna University. He created 3 large panels depicting themes of philosophy, medicine, and jurisprudence. But Klimt's style had changed; he didn't stick to the accepted old masters style.
Klimt's work was roundly critiqued at the time, causing a scandal in Vienna. Later, the panels were destroyed by the Nazis. After that, Klimt refused any further public commissions. He was dedicated to the concept of individual and artistic freedom.
Vienna Secession
Klimt and a group of progressive artists rebelled and founded the Vienna Secession movement in 1897. A Roman phrase, Secession means "revolt again ruling powers."
Klimt became the group's first president and guiding spirit. No specific style was mandated, though Art Nouveau was a guiding theme.
The Secession marked the formal beginning of modern art in a conservative Austria. The members rejected the classicism of the old order. They championed more expressive and avant garde styles. Klimt's work became even more lush, ornamental, and laden with symbols.
Klimt's Splendid Glistening Golden Period
Though Klimt wasn't much of a traveler, two particular jaunts to Italy tremendously influenced his painting.
In a journey to Venice, he saw the golden glowing Byzantine mosaics in St. Mark's Basilica. In Ravenna, he admired the bejeweled mosaics of the Emperor Justinian and his wife Theodora in the Basilica of San Vitale.
READ: Guide To the Mosaics of Ravenna
The profusion of Byzantine gold he witnessed in northern Italy shook Klimt. Klimt's art entered what is termed the Golden Period, which would last the rest of his life. His work took on a singular originality and intensity.
It became highly exuberant — infused with gold leaf, repeated mosaic-like patterns, and elaborate symbolism. The sheer gorgeousness of the colors is breathtaking.
Klimt's use of gold meant that his portraits had an other-worldly quality, as if in a dream.
Typically, he rendered the woman's head and features in a relatively realistic manner. But the rest of the body was theatrical, blurring into the thickly painted glittering gold and mosaic background.
Post-Victorian era critics didn't like Klimt's gold paintings when they debuted in 1907. They thought them crude and sacrilegious, a "direct challenge to the autonomy of art." The critics decried them for a lack of individuality and personality, which was allegedly disguised by all the gold.
But Klimt's style was revered by the wealthy women of Vienna. They hired him in droves.
Klimt became wealthy by painting languid portraits of pale beauties in extravagant dresses. Eccentrically bohemian, he painted them while wearing a baggy blue caftan.
For Klimt, all art was erotic, featuring the beauty and danger of women and the themes of life and death. His portraits are often idealized visions of romantic love. Klimt often depicted women as submissive. But he also painted "femme fatales," as in the risqué case of Judith or Danae.
Klimt's Relationship Status
Klimt's relationships with women were nothing if not complex. He never married. But Klimt maintained a 27 year intimacy with Emilie Louise Flöge, the younger sister of his brother Ernst's wife. Floge is reputedly the model for The Kiss and other paintings.
But it's unclear their relationship was romantic. The pair may have just had an emotional or intellectual connection. At a minimum, they were inseparable friends. Floge was the one woman always by his side, both in companionship and design.
Floge was also a successful business designer, who ran an haute couture fashion salon. She created some of the flowing mosaic-like dresses that appear in Klimt's paintings.
Klimt was a notorious womanizer. Not exactly shocking given the subject matter of his paintings, which reveal an obsession with women. Klimt's models were often the objects of his affection. Klimt was a lifelong bachelor and reputedly fathered 14 children.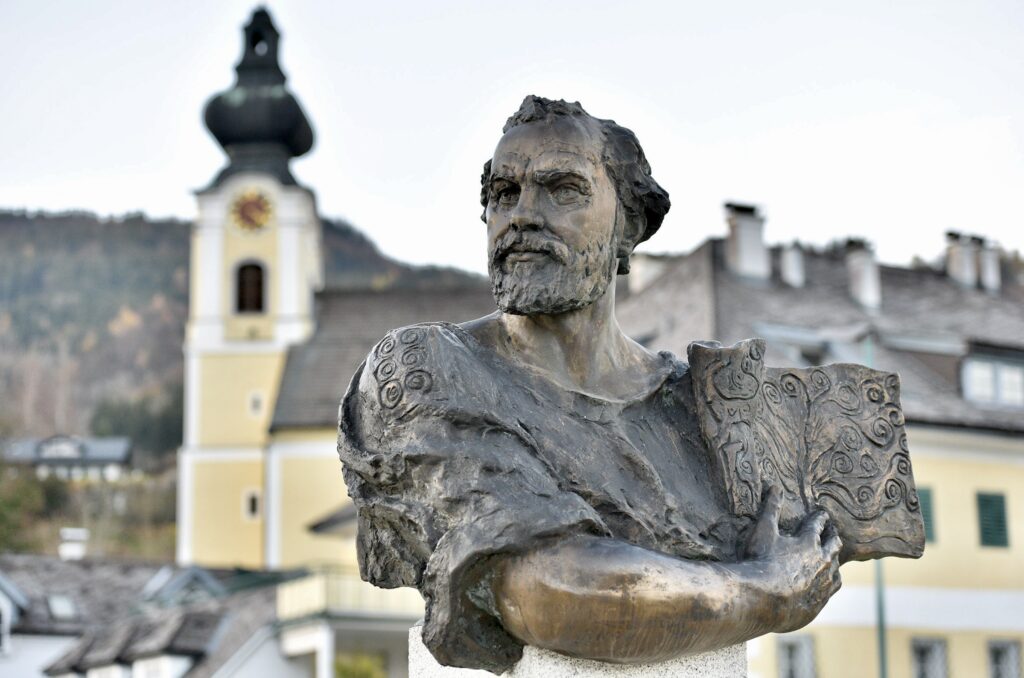 Despite his somewhat scandalous reputation, he was the artistic darling of Viennese society. Anybody who was anybody had a Klimt hanging proudly in their home.
In spite of his romantic adventures and flowing caftans, the quirky Klimt thought he was dull. He once said, "I am convinced that I am not particularly interesting as a person.
There is nothing special about me. I am a painter who paints day after day from morning until night." Along with his gorgeous portraits, Klimt painted many landscapes, especially during his summer sojourns.
In 1918, Klimt had a stroke. Then, he caught pneumonia and died prematurely, ending his career at 55. Upon his death, several unfinished works of a more striking sexual nature were found in his studio, revealing the erotic undercurrent of his portraits.
Two of Klimt's paintings are among the top ten most expensive paintings sold at auction. In 2006, Adele Bloch-Bauer I sold for $135 million, at the time an art auction record. In 2017, Oprah Winfrey sold Adele Bloch Bauer II for $150 million. Both paintings were Nazi-looted works featured in the 2015 film Woman in Gold.
The Gustav Klimt Tail: Famous Klimt Paintings In Vienna
Vienna is home to most of Klimt's oeuvre. Here are 10 places where you can find dozens of Klimt's paintings in Vienna. For the full Klimt experience, you can book a guided Klimt tour with museum entries.
1. Klimt's Beethoven Frieze at the Vienna Seccesion Museum
The Secession Building is a must-visit attraction for art lovers in Vienna. This impressive exhibition hall was built in 1879 for the Vienna Secession artists, who used it as a platform to showcase their works. The building was designed to be an architectural manifesto, emphasizing the group's creative break from traditional art.
As you approach the entrance, you'll see the group's motto etched on the wall – "To every age its art, to every art its freedom." Locals affectionately call the building's golden dome the "golden cabbage."
Once inside, you'll be greeted by one of Klimt's most magnificent works – the Beethoven Frieze. This large and exquisitely gilded painting was created as part of Klimt's narrative panels for the Vienna Secession's 1902 exhibition. The Beethoven Frieze is an homage to and visual interpretation of Beethoven's 9th symphony.
The centerpiece of the painting is a bloodthirsty gorilla with mother of pearl eyes, which is actually a depiction of the mythological giant Typhoeus, along with his daughters, the Gorgons. This impressive work is a testament to Klimt's skill as a painter, and the use of gold leaf makes it all the more breathtaking.
The massive Beethoven Frieze marks the official beginning of Klimt's "Golden Period." The frieze is characterized by mystical motifs and the elaborate and opulent use of gold. It's one of the first paintings in the world to use abstract, decorative elements derived from geometry.
The frieze depicts the struggles of human life, the human desire for happiness in a cruel world filled with suffering, human weakness, and tempestuous forces. The cycle ends on a high note with a joyous The Kiss of the World, a theme depicted in other Klimt works.
Meant for the exhibition only, the Beethoven Frieze was originally painted directly on the walls of a side hall. It's large, standing at 7 feet high and 112 feet wide.
The frieze weighs four tons. Looted by the Nazis and subsequently purchased by the Austrian government, the frieze is now stored and exhibited in a specially built climate-controlled room in the basement.
Address: 12 Friedrichstrasse, Vienna
Hours: 10:00 am to 6:00 pm Tuesday to Sunday
Entry fee: € 9.50
Metro: Karlsplatz
2. Klimt Paintings In The Belvedere Palace
The best place to ogle Klimt's work in Vienna is undoubtedly the Belvedere Palace. It boasts the world's largest collection of Klimt paintings, with 24 of them. You can expect one or two to be away on tour.
The Belvedere's most iconic painting is undoubtedly Klimt's glittering The Kiss, Klimt's Golden Period masterpiece.
Plastered on fridge magnets and mouse pads, we've grown used to the image. But, still, nothing prepares you for a glimpse in real life. It's just so beautiful.
READ: Complete Guide To the Belvedere Palace
Set against a black wall, the gorgeous The Kiss is a sumptuous celebration of love set in a speckled golden haze. It portrays two lovers in densely embellished robes, locked in a tight embrace and enveloped by golden light.
The woman is completely encircled by her lover's arms, almost in a golden cage. The male is a self portrait of Klimt himself.
He cradles her face and leans in to kiss her. The absence of eyes means the viewer can't quite glimpse their intimacy.
Art historian have various theories about the identities of the couple. They may be Klimt and Floge. Others think The Kiss represents Orpheus and Eurydice, the tragic mythological couple separated on the cusp of the underworld.
The Belvedere also other Klimt's other masterpieces like the Portrait of Fritza Riedler, Sonja Knips, Judith I, Adam and Eve, and Flowering Poppies.
I also loved Klimt's take on the biblical story of Judith and Holofernes, made famous by Caravaggio and Artemisia Gentileschi. It's one of Klimt's earliest Golden Period works.
In the legend, Judith, a pious widow, takes down an Assyrian general threatening her people. In the Renaissance takes on this subject, Judith is often shown as beautiful, but not seductive.
READ: Guide to the Paintings of Artemisia Gentilesch
In Klimt's gold-leafed hands, the theme gets an unconventional treatment. The general's head is virtually out of the frame.
Judith is portrayed nude, as a seductive and predatory femme fatale. Set against a gold background, Judith appears pleased and languid, with the heavy lidded look typical of many Klimt portraits. The model was Adele Bloch-Bauer, Klimt's friend and (perhaps) lover.
Bloch-Bauer appears blissed-out in the Judith painting. And Klimt was a notorious ladies' man. But an affair was never confirmed. And there's no mention of it in Klimt's letters.
Address: Upper Belvedere: Prinz-Eugen-Strasse 27, 1030 Vienna
Hours: 10:00 am to 6:00 pm
Ticket: Click here to book a skip the line ticket. You can also book a Klimt-themed guided tour of the museum.
3. Klimt Paintings At The Burgtheater
The Burgtheater, affectionally known as the "Burg" to the Viennese, was inaugurated in 1741.
It's considered one of the most important German speaking theaters in the world. In fact, three Mozart operas premiered here. The Burg was destroyed in air raid in 1945, but rebuilt in 1953-55.
The Burg's claim to Klimt fame is four ceiling frescos created between 1886-88 for the grand staircase.
They're next to works by Klimt's brother, Ernst Klimt, and artist Franz Matsch. Although earlier and more traditional Klimt paintings, they still presage his Secessionist phase.
Sketches for Klimt's frescos were discovered in the late 1990s in Burg's attic. They include the artist's only self-portrait. By his own admission, Klimt was "less interested in myself as a subject for painting than I am in other people, above all women."
The sketches are on display in a dedicated Klimt room. You don't have to watch a performance to enter the Burg.
Visitors can learn more about the collection on a guided tour. There are daily tours at 3:00 pm that last 60-90 minutes. The English tour is only on the weekend.
Address: Dr. Karl-Lueger-Ring 2, 1010 Vienna
4. Klimt Paintings At The Kunsthistorisches Museum
Likely the grandest of Vienna's museums, in a sea of riches, is the Kunsthistorisches Museum. It's one of Europe's greatest museums.
The Kunsthistorisches is housed in a lavish palace, which consists primarily of works from the Habsburg art collection.
Though known for its antiquities, you can find Klimt works on the sumptuous museum's stairwell between arches and columns. The stairwell features 40 spandrel paintings, 13 of them Klimt's.
This was an early and important commission for Klimt. The paintings reveal Klimt's artistic prowess. They depart from strict historicism in that the figures have human rather than god-like characteristics.
In 2012, the museum installed a temporary "Klimt Bridge" to mark Klimt's 150th birthday. A raised platform extended nearly 40 feet above the grand staircase, offering up close views of the Klimt paintings on the upper walls.
Via the Swarovski Optics telescope, visitors could zoom in on the dazzling masterpieces. Sadly, the bridge was removed in 2018, so you're now viewing the paintings from 12 meters below.
5. Klimt Paintings At The Leopold Museum
Located in Vienna's Museum Quarter, the Leopold Museum opened its doors in 2001. It offers the largest collection of modern Austrian art with over 5,000 exhibitions. The collection is especially focused on the transition from Art Nouveau to Expressionism. You'll find a fantastic collection of Egon Schiele.
The museum is home to a variety of Klimt's masterpieces, such as Death and Life, Attersee, and Still Pond, alongside a collection of approximately 100 Klimt drawings.
Death and Life is one of Klimt's greatest allegories, painted when he was fully formed as a master. In the painting, Klimt used a bold composition with contrasting colors to address the cycle of human life.
The painting is in three parts — the lonely hunchbacked figure of death on the left, a group of cocoon-ed humans symbolizing life on the right, and a dark space separating death and life.
Address: Museumsplatz 1, 1070 Vienna
Hours: Daily from 10:00 am to 6:00 pm, Thursday open until 9:00 pm, closed Tuesdays
Ticket: Click here to book a fast track ticket.
Metro: Museumsquartier on the U2 line
6. Klimt Paintings At The Wein Museum
The Wein Museum, also known as the Vienna Museum, is home to several significant paintings by Gustav Klimt, including Emilie Floge, Pallas Athene, Love, and Portrait of an Unknown Woman. Additionally, the museum boasts the largest collection of Klimt drawings in the world, totaling 411.
Emilie Floge is depicted in a stunning blue gown adorned with mosaic-like pieces of gold, green, purple, and black. It was one of Klimt's first portraits to feature a subject as an adorned icon, foreshadowing his Golden Period that came a few years later. Though radical for its time, the painting was not well received.
Pallas Athene, completed in 1898, is considered to mark the start of Klimt's Golden Period. The painting features the Greek goddess Athena in armor and a defiant pose, giving it a classical feel. However, Klimt's use of gold patterning hints at what's to come in his future works.
Address: Karlsplatz 8 1040 Vienna
Hours: 10:00 am to 6:00 pm, closed Mondays
Ticket: 12 euros
7. Klimt Painting At The MAK Museum
At MAK, you can see where Klimt went to school and learned to paint. Today, you can see nine gorgeous Klimt sketches or "cartoons." They were created for a mosaic frieze in the dining room of the Stoclet House in Brussels. Klimt worked on them from 1905-09.
The magnificent frieze and cartoons are a rare Klimt work done on a monumental scale. They represent the highlight of Klimt's mature output. The central motif is a sprawling Tree of Life set amidst an abstract flower meadow.
There are swirling and spiraling branches with symbolic motifs from ancient art. The tree is complemented by figures, including a dancer and a couple resembling the couple from The Kiss.
The MAK also has an exhibition titled Klimt's Magic Gardens. It's a virtual reality experience inspired by Klimt's Stoclet frieze.
Address: Stubenring 5
Hours: 10:00 am to 10:00 pm daily (until 6:00 pm on Sunday), closed Mondays
Ticket: Click here to pre-book a ticket.
8. Galerie Würthle
Galerie Wurthle is a private art gallery in Vienna. There, you'll find one of Klimt's most erotic Golden Period paintings.
Completed in 1907, Danäe is based on a popular theme from Greek mythology. Klimt takes his eroticism to another level.
According to mythology, Danäe's father locked her in a bronze tower to protect her from men, fearing any future son would wind up up killing him. But to no avail. While Danäe sleeps, she is visited by Zeus, who impregnates her with golden coins.
Address: Weihburggasse 9, 1010 Vienna
9. The Klimt Villa, The Artist's Atelier
lf you're willing to leave the city, you can take the U4 bound for Hutteldorf and visit Klimt's final lair, where he painted from 1911-18. Klimt's former studio-villa has been completely renovated and re-opened to the public.
The studio and reception rooms have been reconstructed based on contemporaneous descriptions and photographs.
Address: Feldmuhlgasse 11
Hours: Thursday through Sunday 10:00 to 6:00 pm, public guided tour at 2:00 pm on Saturday
Entry fee: € 10
10. The Albertina Museum
The fantastic Albertina Museum is a veritable treasure trove of art, with over a million pieces, including paintings by Monet, Degas and Picasso. The Albertina also hosts temporary exhibitions featuring big art names.
The Albertina's Klimt collection covers a vast number of drawings, but you may only be able to see one or two in its permanent exhibition. Anything more depends on their current exhibitions. You have to get lucky.
The Albertina owns a few Klimt paintings and drawings, including the Waternymsph (Silverfish), Lady with Plumed Hat, Portrait of a Woman in a Cape.
Address: Albertinaplatz 1, 1010 Vienna
Hours: Daily 10:00 am to 6:00 pm, Wed & Fri 10:00 am to 9:00 pm
Ticket: Click here to book a ticket.
I hope you've enjoyed my guide to the Gustav Klimt famous paintings in Vienna. If you'd like to explore other themed art trails, here are some of my other guides:
If you'd like to follow the Gustav Klimt Trail in Vienna, pin it for later.