Planning a classic Croatian-Slovenia road trip? This is the ultimate 10 day itinerary for visiting Croatia and Slovenia.
This ten day itinerary takes you on a journey from Dubrovnik Croatia to Ljubljana Slovenia.
It's a popular road trip route that's dense with exciting cities, must see medieval villages, UNESCO-listed landmarks, and loads of old world seaside charm.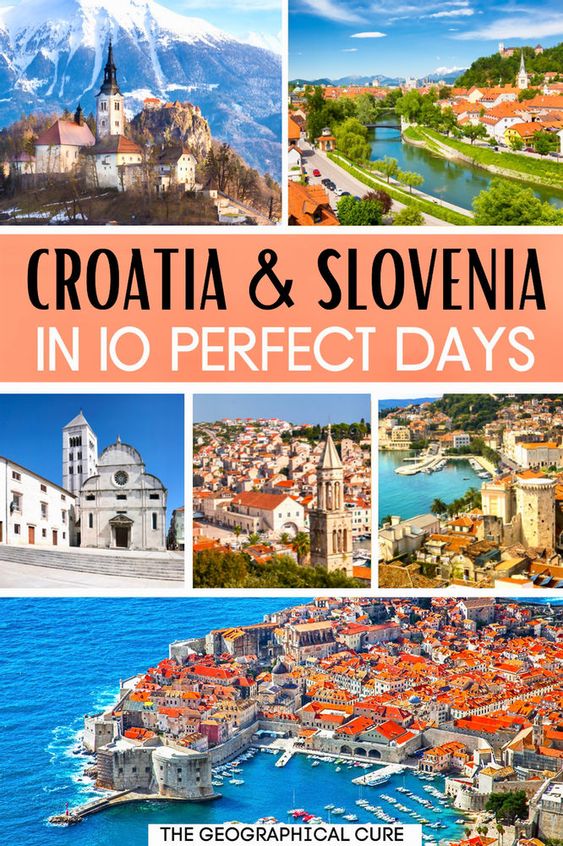 Croatia is a stunningly beautiful country. It has something for everyone — stunning waterfall-laced landscapes, gorgeous beaches, historic landmarks, Roman ruins, and charming hamlets.
In the Dalmatian Coast, dramatic cliffs rise above islands set in azure water.
Tiny overlooked Slovenia is one of Europe's most charming and delightful off the radar destinations. It's a gravely beautiful land of imposing green mountains, shimmering glacial blue lakes, and medieval towns.
Slovenia is every bit as beautiful as Croatia. But it has an independent spirit and slightly different charm all of its own. Slovenia also lacks the crowds and high prices of other European countries.
This 10 day Croatia-Slovenia itinerary begins in Dubrovnik, Croatia's fairytale walled city. From Dubrovnik, you'll travel through the beautiful Dalmatian Coast of Croatia.
You'll cut inland to Plitvice Lakes National Park and then enter Slovenia, basing yourself in the lovely capital of Ljubljana for the rest of the trip.
10 Days In Croatia And Slovenia Itinerary Overview:
Length of Trip: 10 days or more
Start and End Point: Dubrovnik Croatia and Ljubljana Slovenia
UNESCO World Heritage Sites: Dubrovnik, Kotor, Diocletian's Palace, Trogir, Plitvice Lakes National Park
Here's my recommended 10 day itinerary for a self drive road trip in Croatia and Slovenia. You don't need to pick up your rental car until day 3 when you day trip to Kotor Montenegro. You won't want or need a car in Dubrovnik the first two days.
For this 10 day Croatia-Slovenia road trip, you'll have three bases: Dubrovnik (3 nights), Split (3 nights), and Ljubljana (4 nights). I give you tips on where to stay for each base.
Split is a busy city. If you'd rather stay somewhere quieter, you can easily base in Zadar or Trogir instead.
There are plenty of great destinations to explore in Croatia and Slovenia. This super detailed 10 day road trip itinerary is perfectly adjustable.
You can make it shorter or longer, depending on your available vacation time or personal fast/slow travel pace. I've tried to give you a mix of cities and leisurely villages, with day trip options as well.
You can also reverse the order and start in Ljubljana and end in Dubrovnik.
The Ultimate 10 Day Itinerary for Croatia and Slovenia
Here's how to spend 10 days in Croatia and Slovenia:
Day 1: Dubrovnik
Dubrovnik is dazzling and divine. It's fairytale pretty, the perfect version of what you would imagine a medieval European city looks like.
Dubrovnik has colorful orange terra cotta rooftops, stunning views of the Adriatic Sea, and fame as a Game of Thrones filming location.
Dubrovnik has a perfect setting on the turquoise blue Adriatic sea, an impressive mountain backdrop, and some impressive historic landmarks.
Its walls are one of the greatest fortifications of the middle ages.
1. City Walls
Begin your day bright and early with a walk along the city walls. Be sure to climb Micenta Tower. It's the highest point on the walls. The fortress itself is a stony and cramped experience, but the views are terrific.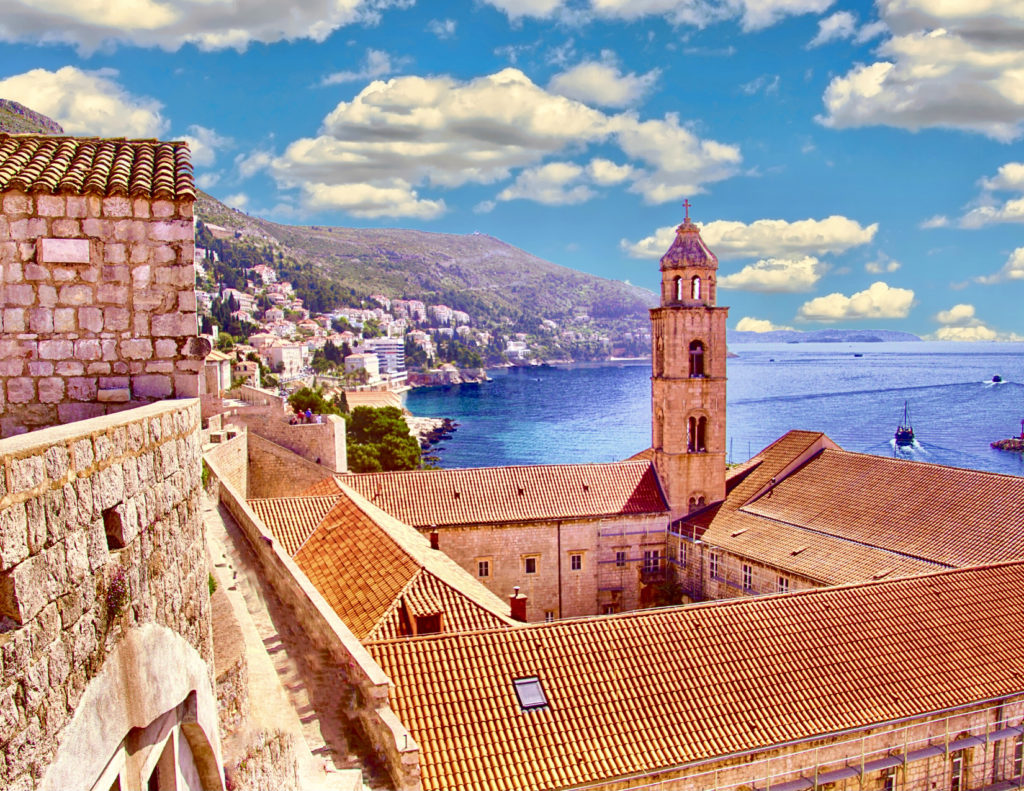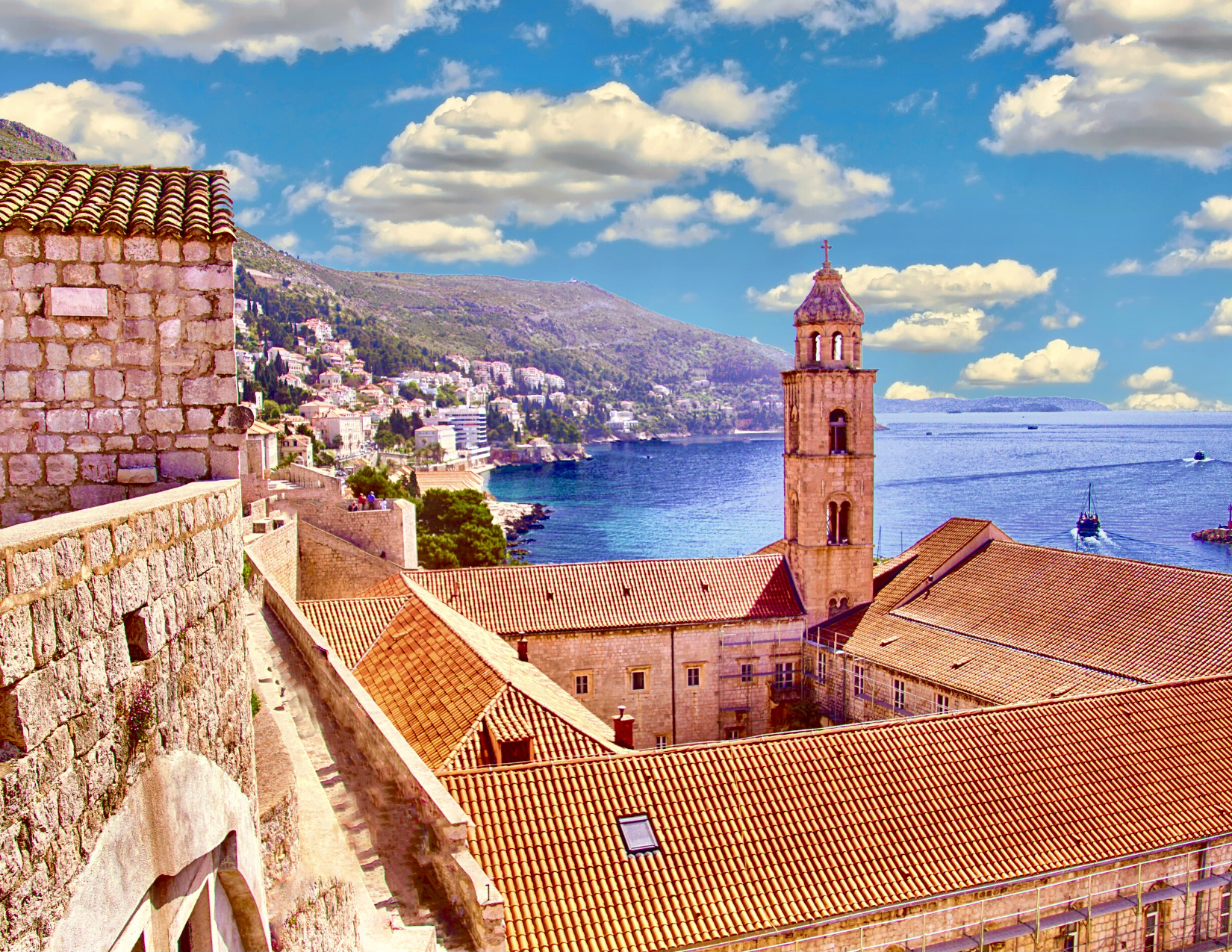 The city walls cost 200 kuna and will take approximately 2-3 hours, though there is an exit midway. Click here to pre-book an admission ticket for the city walls. You can also book a 2 hour guided tour of the walls to make sure you see all the sites.
You should arrive when the walls open at 8:00 am (in high season) to avoid the hordes of tourists from cruise ships and stave off heat exhaustion from the lack of shade. Alternatively, go around 5:00 pm.
After your tour of the walls, relax over a luxe lunch at Proto, a seafood restaurant in the old town between Siroka and Vara streets.
2. Old Town
In the afternoon, explore the pedestrian-only old city. All the attractions can easily be visited by foot. You can also book a 2 hour guided walking tour of the old town to get oriented.
Take a proper stroll down Dubrovnik's main drag, the 13th century Stradun Street. If you enter via the Ploce Gate or Pile Gate, you are right at the street. Fill up your water bottle at Onofrio's Fountain.
Along Stradun, you'll see stunning Venetian style buildings. Explore the hidden pathways and staircases.
Inspect the beautiful Jesuit Staircase, reminiscent of the Spanish Steps in Rome.
Step inside the Church of St. Blaise and admire its opulent interior. The Rector's Palace, Sponza Palace, and Dubrovnik Cathedral are likewise impressive. The Rector's Palace houses the city museum and a concert hall.
One of Dubrovnik's prize landmarks is its Clock Tower in Luza Square. The tower dates from 1444. At the top, two bronze statues ring the bell each day at noon.
At the end of Stradun Street, you'll find the port. You'll find restaurants, boats, and yachts — all set amid a lively atmosphere. If you love boat tours, this is the point of disembarkation.
3. Mt. Srd Via Cable Car
In the early evening, take the Dubrovnik Cable Car up to Mt. Srd for a stunning sunset. Plan to arrive an hour or so before sunset.
Alternatively, have a cocktail at Buza Bar. It's a super casual cliffside bar built into the city walls. There, you'll have gorgeous views over the Adriatic.
If you've opted for the cable car ride, there's an amazing restaurant at the top of Mt. Srd — Panorama Restaurant. The food is quite good and the epic viewpoint makes it seem even better. Book a table in advance and ask for a table with a view.
The evening is also a good time to take a guided food tour or take an evening walking tour where you don't have to jostle crowds.
Day 2: Dubrovnik
Begin day 2 with breakfast at Gradska Kavana Arsenal. It's a casual place situated in the heart of the old town and overlooks the old port, Arsenal.
1. Lovrijenac Fortress
On day 2, head to the 11th century fortress, Lovrijenac Fortress (also known as the St. Lawrence Fortress). Above the door leading to the fortress is a famous inscription carved in stone: "Non Bene Pro Toto Libertas Venditur Auro" ("Freedom cannot be sold for all the gold of the world").
From the fortress aerie, you are assaulted with the best views of Dubrovnik. Your ticket to the city walls gives you entrance to the fortress, so keep it with you.
2. Lokrum Island
In the late morning, take a ferry out to Lokrum Island from the harbor. They leave every hour or so, more frequently in summer. It's just a 15 minute ride.
Lokrum Island has rock slab beaches, gardens, a Benedictine Monastery, and stunning views of Dubrovnik. There are a couple places to grab a bite to eat. But you may want to bring a picnic lunch.
Once there, you can pose on an Iron Throne from Game of Thrones. (Lokrum doubled as the City of Qarth in GOT).
Or, if you're athletic and need a workout, you can take a kayaking tour around Lokrum Island. Be sure to book in advance. You can also kayak in the Dubrovnik Harbor.
3. Game of Thrones Tour
In the late afternoon, if you're a Game of Thrones fan, take a Game of Thrones tour (2-3 hours). Dubrovnik served as King's Landing in the series and there are myriad filming locations.
Some tours take you to Lokrum island, but most don't and stay on the mainland. Here's my guide to taking a Game of Thrones tour in Dubrovnik.
Here are your tour options:
4. Beach Time
If instead you need some afternoon down time, lounge on a beach. Just a 35 minute drive from Dubrovnik is a splendid beach, Sveti Pasjaca Beach. Closer by is Sveti Jakov Beach.
5. Dinner and Drinks
In the early evening, head to d'Vino Wine Bar for a cocktail. For dinner, head to Kopun. You can try the city speciality, castrated rooster. Another good option is Azur, a fusion of Mediterranean and Asian food.
Alternatively, try a classic Croatian Peka meal. This is a particularly good idea for those who don't like seafood. In the Peka style of cooking, lamb or veal is slow cooked under a bed of coals.
Where To Stay In Dubrovnik
Dubrovnik has some beautiful hotels. You're spoiled for choice.
The Scalini Palace is centrally located and housed in a 16th century stone house. The Hotel Excelsior is perched above the old Town with stunning views.
The Pucic Palace is a beautiful Baroque hotel in the cobbled Old Town. Also in Old Town is the pretty boutique hotel Hotel Stari Grad.
Day 3: Day Trip to Kotor
One day 3, it's time for your first day trip. And this one is in another country, Kotor Montenegro.
It's an approximately 1.5 to 2 hour to Kotor drive from Dubrovnik. You may also experience delays crossing the border when you return Croatia. But Kotor is worth the hassle.
You may want to book a guided day tour from Dubrovnik. Or, once there, you may want to take a guided walking tour to get oriented. You can also book this Rick Steves recommended walking tour with food and wine.
Kotor lies, perfectly at ease with its dramatic setting, at the end of the photogenic Bay of Kotor. Its backdrop is the brooding Lovcen Mountains. Some call Kotor Europe's southernmost fjord. Others refer to it as a "little Dubrovnik."
Set in the fjord-like bay, jaw dropping Kotor is less a town than a labyrinth of narrow cobbled passageways, filled mostly with cats, who sprawl across the doors of lovely Romanesque churches and snuggle in tourists' laps. Kotor is surely one of Europe's most picturesque villages.
Not surprisingly, the ancient walled town of Kotor Montenegro is a UNESCO World Heritage Site. It's easily one of the best preserved medieval towns in the Adriatic.
There's delightfully little to do in Kotor. There is no long "must see" list. You can pack away your guide books and maps, and venture forth with only camera and imagination in tow.
There are only four essentials: wander the picturesque Venice-like old town, hike to the Castle of San Giovani for spectacular views, admire the confident and ubiquitous Kotorian cats, and try a hot oily Montenegrin burek.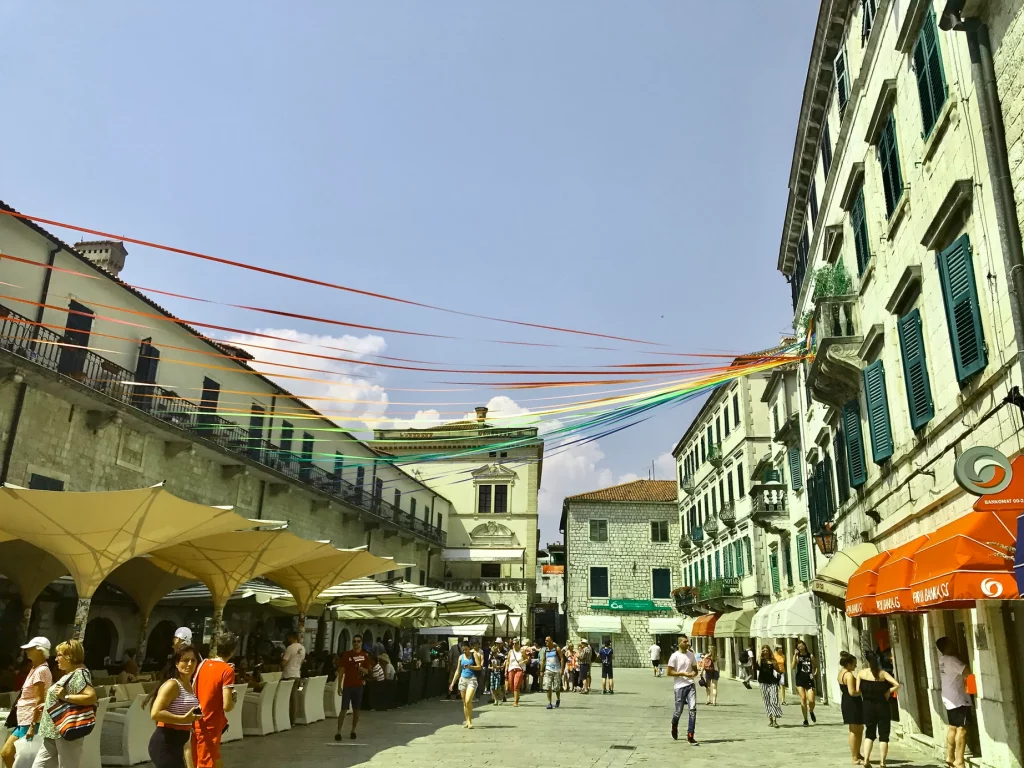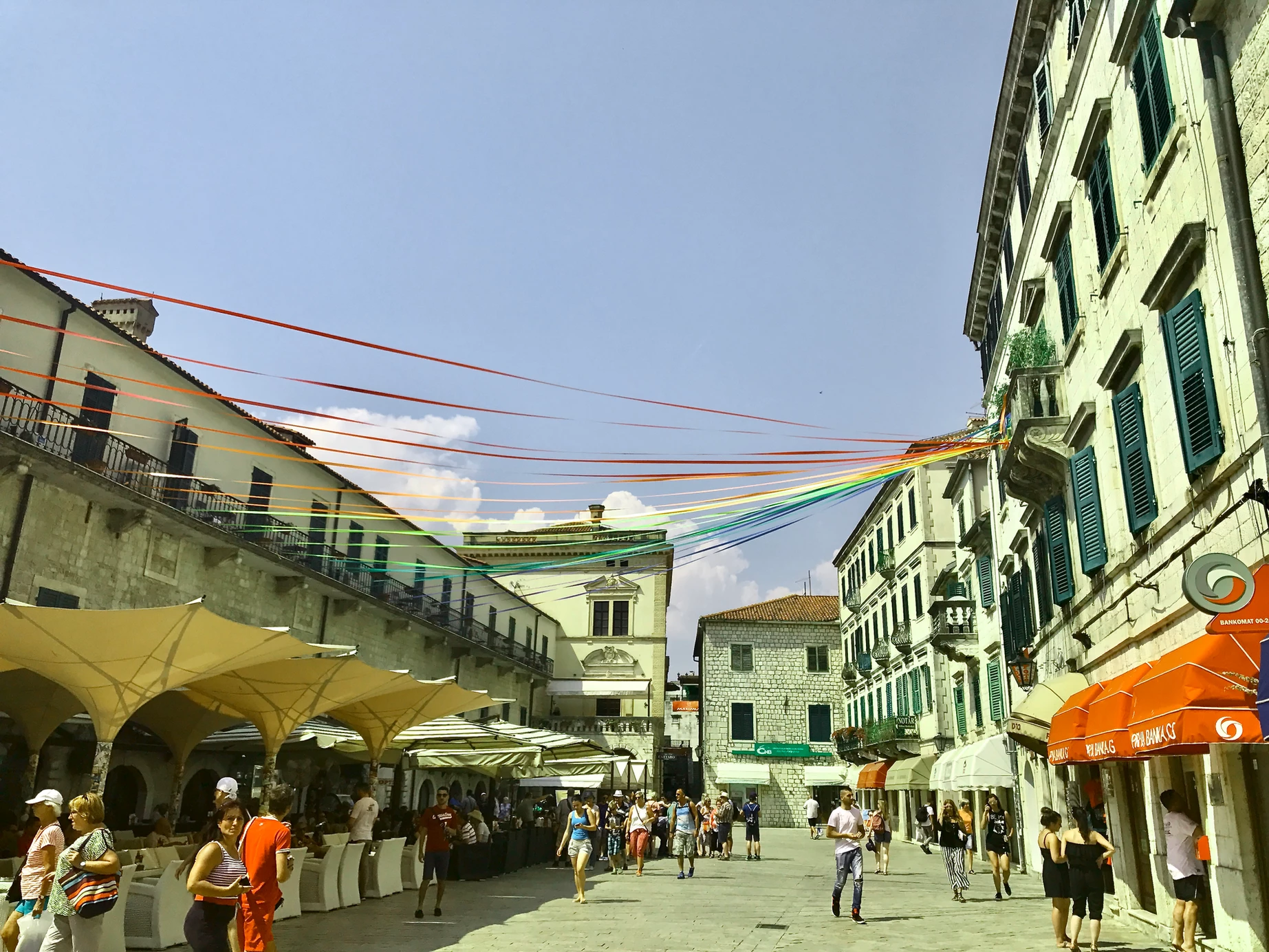 When you enter the main gate, you arrive at Weapons Square, the largest open space in Kotor.
There, you will find Kotor's Clock Tower, which dates from the early 17th century. It endearingly leans and lurches slightly, as befitting a historic building.
Kotor is also filled with Romanesque churches and Venetian-influenced palaces. None of them are individually very impressive All of them add to the atmospherics of the small town.
Day 4: Drive To Split
On day 4 of your 10 days in Croatia and Slovenia, drive to Split.
There's nothing much worth seeing between Dubrovnik and Split besides the lovely coastline. But if you take the modern highway, you'll have the fastest route. The drive from Dubrovnik to Split is approximately 3.5 hours.
Split is a fairly busy place. If you want something more mellow after Dubrovnik, you could opt to stay in Trogir or Zadar instead. Both make excellent bases for seeing the sites and towns in Croatia.
1. Split's Old Town
After you've settled in in Split, explore the elegant and stony old town. Split's an ancient city that dates back to Roman times. It has an incredible natural setting. There's a whole range of drool worthy historical, cultural, and natural offerings.
Click here to book a 1.5 hour guided walking tour of the Old Town. Or take a 2 hour Segway tour.
2. Dioceltian's Palace
The one must see site in Split is the UNESCO-listed Diocletian's Palace. With a fetching location on the dramatic Split harbor, Diocletian's Palace is Split's #1 attraction. And justifiably so.
Diocletian's Palace is one of the most imposing ancient Roman structures in existence today. It's not just a stand alone palace, or a museum, or a UNESCO site. It's the living, breathing, vibrant heart of Split.
READ: Guide To Ruins and Archaeological Sites in Rome
The 4th century complex is a sprawling maze of beautifully preserved ancient ruins, shops, restaurants, apartments, and people. It's a delightful confluence of ancient history and modern life, happily commingled as a "living museum."
The key highlights are the Peristyle, the Cathedral of Saint Dominus, the Bell Tower, the Temple of Jupiter, and the four palace gates.
The bell tower is where you'll get a stunning bird's eye view of the palace grounds and Split's incredible setting. Avoid it if you're scared of heights though.
Here's my complete guide to Diocletian's Palace. Click here to book a guided tour of the palace. If you want to visit the crypt, click here for a ticket.
3. Old Town
While Diocletian's Palace dominates the old town, there are still some pretty pedestrianized squares, impressive churches, and markets outside the palace walls that you shouldn't miss.
Be sure to take in Narodni Trg (the main plaza), Vocni Trg, and Trg Republike. Check out the National Theater and the fish market (Ribarnica).
4. Riva Promenade
In the evening, stroll along the Riva Promenade. Dubbed "the Riva" by locals, the walkway spans the entire length of the old town. With impressive views of the Adriatic Sea and swoon worthy palm trees, this promenade provides a taste of Split's idyllic coastal lifestyle.
But the Riva is busy. It's home to restaurants, cafes, and luxury hotels. Sit down and have a coffee or cocktail. This is probably not the best place to dine though. The restaurants are rather touristy, and hence overpriced with mediocre food. Strolling is the best activity.
Day 5: Split: Island Hopping
Your second day in Split book an island hopping tour. It's not easy to visit the islands on your own. But an island hopping tour is one of the best things to do in Split. The coastal town makes a great jumping off point to sail the Adriatic Sea.
Island Tour
You have many tour options/permutations from half day, to full day, to a super extended day. You options are:
You have many tour options/permutations from half day, to full day, to a super extended day. You can:
We opted for the later and it was a lengthy 12 hour affair, when all was said and done. But it was a beautiful way to spend the day. Wear your swimsuit. There will be multiple chances to take a cooling dip in the sea.
Hvar
The UNESCO town of Hvar is known as the "sunniest island in the Adriatic Sea." And also as a buzzy boozy party island.
The sunny place attracts tourists galore. But if you go off season, you'll skip this rather dreary side note and be medievalized by the enchanting place.
If you need to detox from tourists or cocktails, hike up to the hilltop fortress, Fortica Španjola, surrounded by pine trees, for excellent views.
The popular Blue Cave is on Bisevo Island. This magical grotto glows with the preternatural blue hues, created by sunlight bouncing off its white limestone floor. You can only visit via boat; you can't swim in the cave itself.
Aside from Hvar and the Blue Cave, the other islands you can visit include Vis, Budikovac, and Hell Islands (with Palmižana beach). We had lunch on Budikovac.
The most scenic beach was the tiny cove-like Stiniva Beach on Vis, voted the "best beach in Europe" in 2016.
Where To Stay in Split
The Judita Palace Heritage Hotel is the luxury choice. It's housed in a palace next to Diocletian's Palace.
Central Square Heritage Hotel is an elegant hotel in the very heart of Split. The Villa Split Heritage Hotel is a romantic place housed with Diocletian's Palace.
For a boutique hotel, check out the Briig Boutique Hotel. It's a gorgeous hotel with minimalist decor located in central Split. it has a rooftop swimming pool.
Day 6: Day Trip to Either Zadar or Trogir
1. Option 1: Zadar
Zadar is an incredibly underrated town in Croatia. Compact Zadar is built for wandering. The colorful town is adorned with building in both pastel and bolder hues. You can book a guided day trip tour from Split to Zadar.
Stroll along the waterfront and listen to the Sea Organ. It's a massive musical instrument entirely powered by waves. There's also the Sun Salutation, a solar powered light display that will wow you in the evening.
For culture lovers, Zadar is full of Roman ruins and pretty churches. If the heat has you down, head inside to the splendid and well-curated Archaeological Museum.
St. Donatus Church is 800 years old and Zadar's main landmark. The church is nearly perfectly preserved. Its round pre-Romanesque facade is the very symbol of Zadar. The church is sometimes a venue for Renaissance music concerts.
St. Mary's Church is also a beauty. In the 11th century, it once belonged to a Benedictine Monastery. Though damaged in WWII, the church was completely restored. Zadar's Romanesque cathedral is also a must see, dating from the 11th century.
Zadar also boasts the largest Roman forum on the Adriatic. Built by Emperor Augustus in the 1st century, the forum was discovered and excavated in 1930. You'll find the ruins of fragmented columns and a pillory, where criminals received public punishments.
Before heading back to Split, end your day in Zadar with a meal at Restaurant Bruschetta. And try a chocolate truffle at Vitlov Chocolate.
2. Option 2: Trogir
I loved storybook Trogir, known as Croatia's "stone beauty." Trogir is secluded on a tiny island and encircled with medieval walls.
And, only 30 minutes away, it's an easy day trip or half day trip from Split if you go by car. You can also book a guided day tour from Split.
Trogir feels like its made entirely of limestone and tangled alleyways, and sprinkled with fairy dust. Everywhere you look, there's stunning architecture and cobbled lanes.
All you really need to do is stroll the medieval streets and find a quaint nook to dine in. This isn't hard!
For a view of the pretty town, climb Kamerlengo Fortress. The fortress was originally built by the Venetians in the mid15th century. You can now visit it for about 3 €.
Stop in at the Cathedral of St. Lawrence. Built in a Romanesque-Gothic style, the church is part of Trogir's UNESCO designation.
If heights don't bother you, you can climb to the top of the bell tower.
Day 7: Stop in Plitvice Park En Route To Ljubljana
On day 7 of your 10 days in Croatia and Slovenia, it's time to head to Ljubljana Slovenia.
En route, you'll stop at Plitvice Lakes National Park. Click here to book a skip the line admission ticket. You really should because the lines to buy same day tickets are epically long. Click here to book a guided tour of the park.
The park is a must visit destination in Croatia, especially for nature lovers. It's the perfect midway point between Split and Ljubljana Slovenia.
The park is approximately 2.5 hours from Split. From the park, it's another 3 hours to Ljubljana. You'll need to start early to have a solid 3-4 hours to hike around Plitvice. And you'll want to pack a picnic lunch.
The gorgeous Plitvice Park is full of vibrant colors. It boasts turquoise water, terraced lakes, stunning viewpoints, and photogenic gushing waterfalls. You'll be stunned at the breathtaking technicolor views at every turn.
In 1979, Plitvice Lakes became a UNESCO site. It's one of the most popular destinations in Croatia, with over a million annual visitors.
Plitvice Lakes can be overwhelming to visit. There are different levels of lakes, four different hiking trails, 7 different routes through the park, and 2 different entrances. And there will be crowds.
Pristine Plitvice is divided roughly into three areas — the lower lake section (Donja Jezera), the upper lake section (Gornja Jezera) and a third area around Proscansko Lake.
The lower lakes section is accessed by Entrance 1 and includes the iconic Veliki Slap Waterfall. There are several detours off the main trail, which take you to viewing points.
From the lower lakes, you can take electric boats or the shuttle to the upper lakes section. Beyond that is the Proscansko Lake.
Here's my complete guide to visiting Plitvice Lakes, with must know tips for visiting.
Day 8: Explore Ljubljana
On day 8 of your 10 days in Croatia and Slovenia it's time to explore the utterly charming town of Ljubljana.
Lovely Ljubljana is a small, laidback, and walkable town. You can cover Ljubljana's main attractions in one day. But if you have extra time, it's worth another day.
You may want to book a 2 hour walking tour with a local to get oriented. You can also book a walking tour that includes Ljubljana Castle.
1. Preseren Square and the Bridges
Spend plenty of time wandering the cobbled old town. Start at the city's heart, Preseren Square. It's lined with historic landmarks and dedicated to Slovenia's greatest poet.
Cross the Venetian-looking Triple Bridge and wander along the emerald green river — taking in the whimsical bridges and Jože Plečnik architecture.
Be sure to admire the "pink church," the Franciscan Church of the Annunciation. It's an iconic landmark in Ljubljana.
2. Ljubljana Castle
For lunch, check out the Central Market or eat at one of the cafes along the lively river embankment. Then explore Ljubljana Castle on Castle Hill. You can click here to book a skip the line ticket.
From Dragon Bridge, it's a steep hike up or easy funicular ride to the castle. But you'll have lovely views over Ljubljana from the top.
3. Architecture Tour
In the afternoon, consider taking a guided architecture tour. You'll learn all about Plečnik and seeing Ljubljana's beautiful Art Nouveau architecture, including the striking Vurnik House.
Plečnik shaped Ljubljana, just like Gaudi shaped Barcelona and Bernini shaped Rome. You can also book a guided tour of Plečnik's works, which includes a river cruise.
If you prefer street art, head over to the Metelkova Mesto district, just a short stroll from the medieval old town. It has an edgy bohemian feel.
Aside from the cutting edge street art, there are pop up flea markets and temporary exhibitions. You can also take a guided street art tour, which I always think are fun.
4. Ljubljana's Main Drag
If you like shopping, you'll love Ljubljana. Its main street, which changes names from Mestni trg to Start trg, is lined with quaint shops. You can pick up all sorts of souvenirs and/or clothing.
There are also plenty of restaurants here serving up delicious seafood and Ljubljana's specialty, fried frog legs.
5. River Cruise & Dinner
With so many bridges and fetching sites along the River, it makes sense to take a 30 minute river cruise. The late afternoon is the perfect time.
For dinner, check out this extensive guide to the best restaurants in Ljubljana.
Where To Stay In Ljubljana
There are a lot of cute boutique hotels in Ljubljana: Hotel Angel, Zlata Ladjica Boutique Hotel, and the Antiq Palace Hotel and Spa.
You can also swank it up with a luxury stay at the Vander Urbani Resort on the river embankment or the Grand Hotel Union.
Day 9: Day Trip to Lake Bled & Vintgar Gorge
One day 9 of you're 10 day itinerary, it's time to head to Slovenia's most iconic place, lake Bled.
Lake Bled is the most popular day trip from Ljubljana and Slovneia's top alpine resort. Lake Bled is just 45 minutes from Ljubljana by car. Park behind the Hotel Krim in Bled and pay for parking by SMS.
You can also book a small group day trip from Ljubljana to Lake Bled. Or a private guided day tour to Lake Bled. Or a tour that includes Bled Castle.
Lake Bled sits placidly in the shadow of the Julian Alps in Slovenia, thronged by forests and mountains. It's a frankly outrageous combination of blue and green.
Lake Bled boasts a cliffhanging medieval castle carved into a mountain. It's a "fairytale" destination and the #1 tourist attraction in Slovenia.
Take the 3 mile walk around the lake, stopping to take in the contrasting green wooded and azure views and admire the swans. If you'd rather, you can rent a bike and or take an electric bike tour.
You can also take a plenta boat tour out to the only natural island in Slovenia, tiny Bled Island. There, you'll find the 17th century pilgrimage Church of the Assumption. You can ring the church bell three times for good luck.
Hike up to the 11th century Bled Castle, which is often hailed as the oldest castle in Slovenia. It's perched 130 meters above the lake's walking path, its red turrets and roofs making a splash on the blue skyscape.
The small castle has ramparts, moats, romanesque walls, and Renaissance buildings — everything you might expect from a medieval fortress.
If you have extra time, you should head to the photogenic Vintgar Gorge, a short 15 minute drive north of Lake Bled. If your don't want to drive, you can book a guided day tour from Ljubljana that includes both Bled and Vinegar Gorge.
I found it almost as scenically satisfying as Bled, and it was ever so slightly less touristy. It's open 8:00 am-7:00 pm in the summer, entry is € 5.
Vintgar Gorge is a 1.6 kilometer wooden walkway that zig zags over the Radovna River. It reaches 100 meters in some places and clings to the side of cliffs, sometimes leaving room for only a single file shuffle.
It's a relatively flat and easy to walk in and out trail. At the end of the trail is the impressive 16 meter Šum Waterfall flowing beneath the Bohinj railway bridge.
3. Rodovljica
On the way back from the Lake Bled area, you can stop in Rodovljica. Or you can book a guided tour from Ljubljana that includes lunch in Rodovljica.
It's a tiny quaint town that exudes old world charm. Its traffic free center is jammed with historic buildings in the charming Linhartov trg square.
This is a great place to pick up a souvenir or nurse a coffee. Rodovljica also has a rather eccentric beekeeping museum.
Day 10: Day Trip To Postojna Cave And Predjama Castle
On the last day of your 10 days in Croatia and Slovenia, take a day trip to Postojna Cave and Predjama Castle. You can book a 5 hour guided tour from Ljubljana that covers both attractions.
1. Postojna Cave
Postojna Cave is the largest cave system in Slovenia, spanning 12 miles. You board an open air train, which slings you into a gaping hole in the mountain. One of the caverns is lit with chandeliers.
Once there, you'll follow a guide down well lit paths. As you hike up the "Big Mountain," you're surrounded by a sea of stalagmites and stalactites. Hiking back down, you'll pass "Spaghetti Hall" (with long skinny stalactites and curtains of rocks) to the "Concert Hall."
2. Predjama Castle
Predjama Castle is Slovenia's fairytale cave castle, just 15 minutes from Postojna Cave. Tucked into the mouth of a towering cliff, the cave castle is one of Slovenia's most famous attractions — a cave fortress filled with secret tunnels and hidden caves.
Your first glimpse is breathtaking. Predjama Castle's whitewashed walls are set off by the landscape and natural rock.
No fairytale castle is complete without an accompanying romantic folk legend. And Predjama Castle has one. It's a romantic legend featuring a rebellious knight and robber baron who fancied himself a Slovenian Robin Hood, named Erazem Lueger.
Erazem stole from the rich to give to the poor. He outlasted a siege by the Hapsburgs using a secret tunnel.
After you're done, head back to Ljubljana for you final night. If you want to treat yourself to a delicious meal, try the Michelin starred Strelec Restaurant or Maxim.
More Time in Slovenia?
If you have more than 10 days in Croatia and Slovenia, head to either the Istrian Coast (for beach lovers) or the Julian Alps (for nature and hiking lovers).
1. Piran
On a slender finger of a peninsula, encircled by the sparkling Adriatic sea, sits the picturesque and charming town of Piran. You'll feel like you've been power beamed to Tuscany. It's a little slice of Italy. You can drive or book a day trip tour from Ljubljana.
Semi-crumbling pastel facades that Michelangelo might have sculpted rise above ancient maze-like streets. Venetian architecture is adorned with tracery windows.
The compact historic core is one of the best preserved medieval sites in the Mediterranean. Piran's reminiscent of Venice, but without the canals or hordes of tourists.
Click here to book a guided walking tour of the romantic old town. You can also book a guided wine and food tour, because the seafood is amazing.
Tartini Square is the heart of Piran's old town. It's a marble-paved, sherbet-toned, red roofed oval. Tartini Square is full of chic bars, alfresco cafes, and colorful houses. It's a splendid place to snack and people watch.
As you stroll through the town, stop by Venetian House, the old marina and lighthouse, and hike up the bell tower of St. George Cathedral.
The latter is a miniaturized version of the Campanile of San Marco in Venice. The bells ring every 15 minutes. From the top, you can see four countries all at once — Italy, Croatia, Austria and Slovenia.
Here's my complete guide to Piran.
2. Portoroz
The lovely seaside town of Portorož lies east of Piran. It's a 30 minute walk on a scenic shore path that runs between the two towns.
Portoroz is a swishy beach town, specializing in spa treatments thanks to the area's unique mud and salt water.
It's the only sandy beach on the tiny Slovenian coast. Bars and cafes line the seaside, making this town a lovely holiday spot. You can swim, sail, sunbath, and relax.
3. Julian Alps
To top off your Slovenia experience, head to the hills. If you love adventure sports, the Julian Alps are a great destination.
Start at the beautiful blue-green Lake Jasna. From Lake Jasna, head to the breathtaking Vrsic Pass — one of Europe's most iconic roads.
With 50 white knuckle hairpin turns, it's not for the faint of heart. You head back down via the Soca River Valley.
When hunger calls, stop in the little mountain town of Bovec in Soca Valley. This is where you can book a white water rafting, ziplining, or kayaking tour. Bovec makes a good base, if you want a longer stay in this area.
Tips for Spending 10 Days In Croatia and Slovenia
1. Currency
The currency in Croatia is the kuna. The currency in Slovenia is euro.
2. When To Go
Peak tourist season runs from May through September, with the most traffic in early August. In July and August, Croatia at least will be hot and crowded. I don't recommend going then unless you have a high tolerance for lines, selfie sticks, and crowds.
Slovenia will be somewhat cooler and less crowded.
3. Driving
Driving in Croatia and Slovenia is a breeze, with modern highways. In both countries, you drive on the right side of the road.
In Croatia, the highways have tolls, which you can pay with cash or a credit card. In Slovenia, you will need a vignette sticker that allows you to use the roads. Pick this up at the first gas station you find when entering Slovenia.
If you take the day trip to Kotor, be sure your rental agency knows that you're traveling there.
READ: Tips For Renting a Car and Driving in Europe
4. Language
In Croatia, the language is Serbo-Croatian. In Slovenia, the language is Slovene. In both countries, you'll find that English is widely spoken in the tourist areas and attractions.
I hope you've enjoyed my 10 days itinerary for Croatia and Slovenia. You may enjoy these other road trip itineraries in Europe:
If you want to spend 10 days in Croatia and Slovenia, pin it for later.