Here's my guide to the top attractions in Split Croatia. This guide covers all the top must visit sites and historic landmarks in Split.
I adored Split. It's a beautiful city with a bustling waterfront and ancient ruins.
I used Split as my base in central Croatia, after visiting Dubrovnik, before moving on to the more serious country of Slovenia.
Most people day trip to Split. That's a mistake, I think. Split is better than just a stopover spot or transportation hub to the Dalmatian islands.
Split's an ancient town that dates back to Roman times. It's home to one of the world's foremost archaeological sites. has an incredible natural setting and isn't just a beach/party town.
There's a whole range of drool worthy historical, cultural, and natural offerings. There's literally something for everyone.
Must Visit Attractions In Split Croatia
Here's what you can't miss in Split:
1. Visit Diocletian's Palace, A Living Museum
With a fetching location on the dramatic Split harbor, Diocletian's Palace is Split's #1 attraction and the best thing to do in Split.
And justifiably so.
It's a former emperor's quarters and one of the most imposing ancient Roman structures in existence today. It's not just a standalone palace, or a museum, or a UNESCO site. It's the living, breathing, vibrant heart of Split.
The grounds of the palace are bisected by two main streets. They divide the palace area into four distinct quarters, each one ending in a large gate. The Golden Gate is by far the most famous and where you'll enter.
The 4th century complex is a sprawling maze, effectively a mini-city. You'll find beautifully preserved ancient ruins, shops, restaurants, apartments, and people.
It's a delightful confluence of ancient history and modern life, happily commingled as a "living museum." And like a reclining Roman Emperor, it beckons you inside.
The key highlights of Diocletian's Palace are the Peristyle (the central piazza), the Cathedral of Saint Dominus, the Bell Tower, the Temple of Jupiter, and the four palace gates.
The bell tower is where you'll get a stunning bird's eye view of the palace grounds and Split's incredible setting. Avoid it if you're scared of heights though.
If you want to visit a Game of Thrones filming location, try to visit the palace cellars, where Daenerys stashed her dragons in Season 5. You have to book a separate ticket for this area.
It's a little disheveled and haunting. If you look closely, you'll see an old olive press used by Diocletian's staff.
Here's my complete guide to Diocletian's Palace. Click here to book a guided tour of the palace.
2. Stroll Through the Old Town
Diocletian's Palace dominates the old town. But there's also a cobbled maze of pretty streets to stroll.
You can book a small group guided walking tour to get oriented. You can also book a private walking tour that includes a palace entry. Or even take a 2 hour Segway tour.
You'll find pretty pedestrianized squares, impressive churches, and markets outside the palace walls that you shouldn't miss.
Be sure to take in Narodni Trg (the main plaza), Vocni Trg, and Trg Republike. Check out the National Theater and the fish market (Ribarnica).
3. Stroll on the Riva Promenade
The Riva Promenade, dubbed "the Riva" by locals, runs along the coastline and is a top attraction in Split. It spans the entire length of the old town and is a prime spot for people watching.
With impressive views of the Adriatic Sea and swoon worthy palm trees, this promenade provides a taste of Split's idyllic coastal lifestyle.
But the Riva is busy. It's home to restaurants, cafes, and luxury hotels. Sit down and have a coffee or cocktail.
This is probably not the best place to dine though. The restaurants are rather touristy, and hence overpriced with mediocre food. Strolling is the best activity.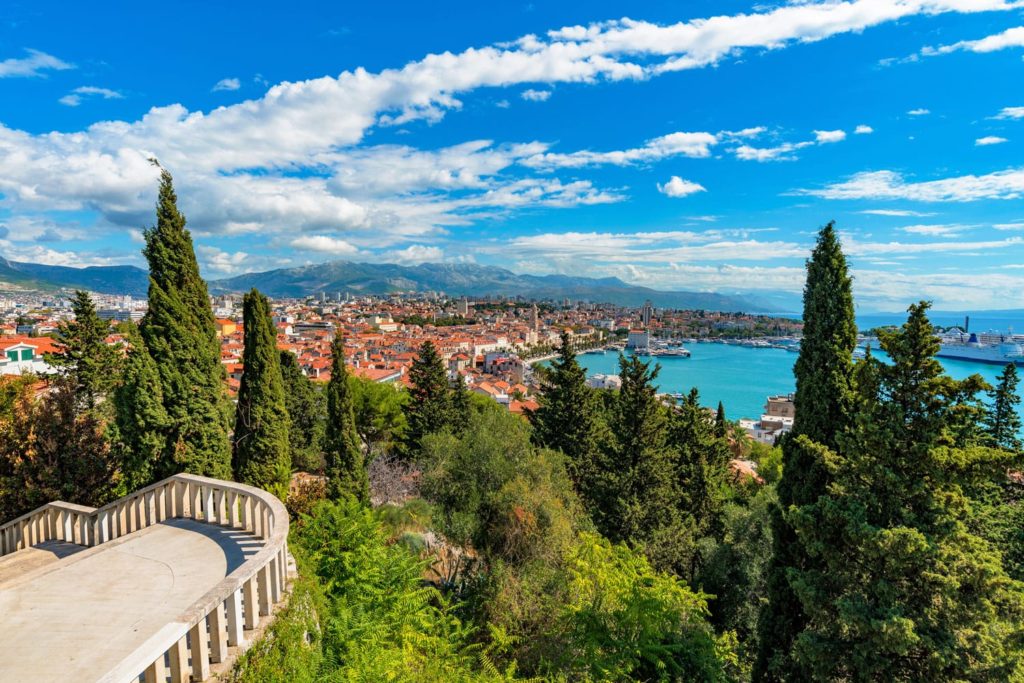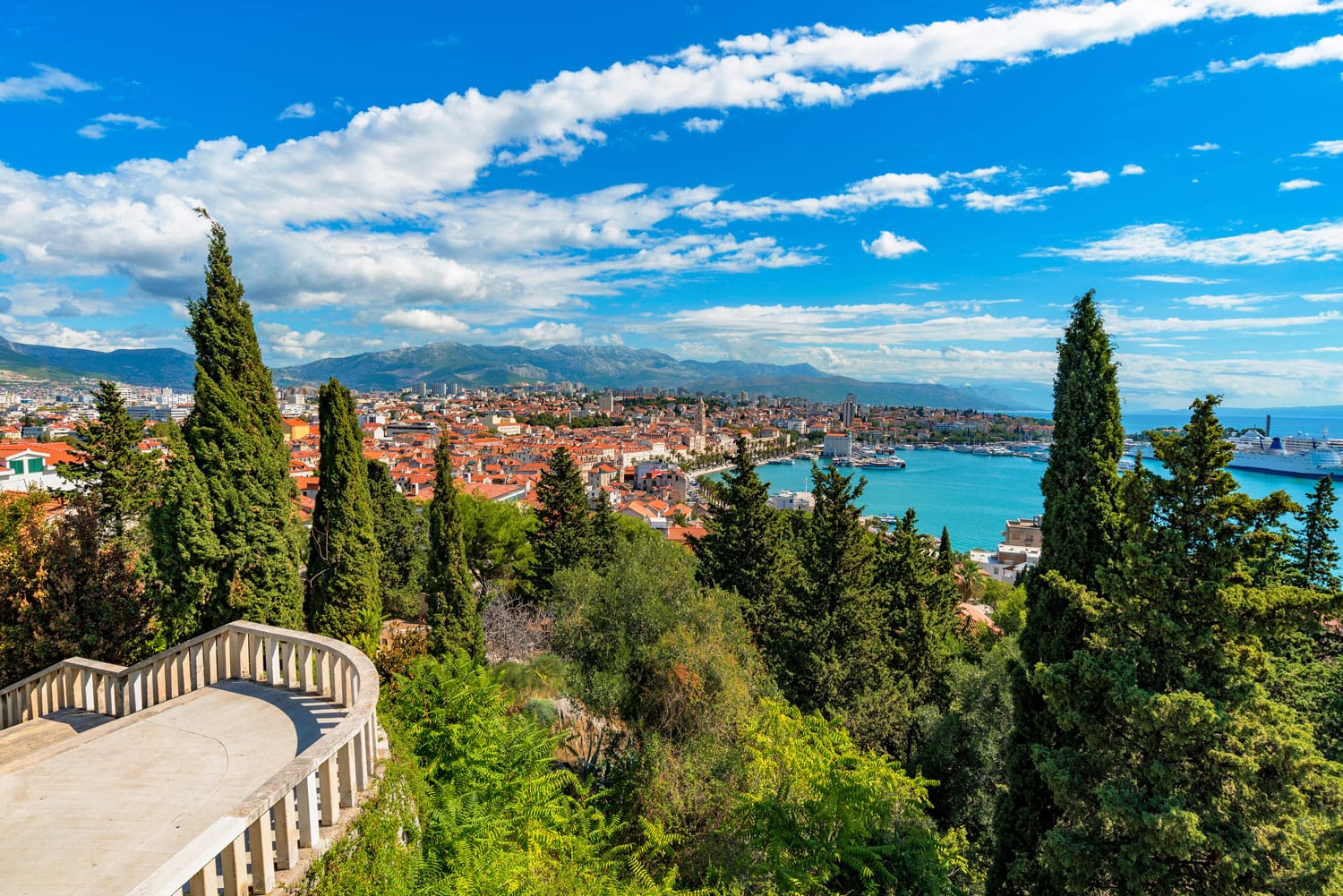 4. Hike Up Marjan Hill
Just 10 minutes from the Riva lies Marjan Hill. This is where you'll find the best view over Split.
To get there, walk up Sperun Ulica at the end of the Riva. Then take the stairs to the Prva Vidilica Na Marjanu viewpoint.
At the very end of the adjacent park is Bene Beach, one of Split's more secluded spots. (You can also take a bus there from the Riva.)
You book a guided 3 hour hiking tour to the hill.
5. Visit Klis Fortress
Just 30 minutes from Split lies Klis Fortress. Built on a rocky ridge, with an impenetrable wall of mountains surrounding it, the rugged Klis Fortress dominates the skyline.
Klis Fortress is very secluded. It's a rare chance to step back in time, admire ancient ruins, and scamper across old stones.
If you want to have a special place in Croatia all to yourself and bask unhindered in the rawness of a historic site, Klis beckons.
Aside from the killer view, the imposing Klis Fortress is also a filming location for the medieval fantasy show, Game of Thrones. Sprinkle some dragons and, voila, you're done. No extra expensive set building required at Klis.
Game of Thrones superfans and Khaleesis in training will recognize Klis as the setting for Meereen in Seasons 4-6, the exotic city on Slaver's Bay in Essos. It's here that Daenerys murders the slave masters, presaging her future "madness."
To get to Klis, you have several options. You can sign up for a Game of tour, make the half hour drive via rental car, or take Bus 22 from Split's National Theater.
To get to Klis, you have several options. You can sign up for a Game of Thrones tour, make the half hour drive via rental car, or take Bus 22 from Split's National Theater.
6. Take A Game of Thrones Tour
Since Split was a major filming location for Game of Thrones, taking a GOT tour is one of the best things to do in Split. You can take a 6 hour guided tour of the filming locations. If that seems too long, there's a shorter 2 hour guided tour.
Hard core fans can go all in and book this GOT guided tour that covers both Split and Dubrovnik.
7. Visit the UNESCO Town of Trogir
One of the best things to do in Split is to day trip to the nearby town of Trogir. I loved storybook Trogir, known as Croatia's "stone beauty."
Trogir is secluded on a tiny island and encircled with medieval walls. It felt like the entire town was made of limestone and tangled alleyways, and sprinkled with fairy dust. And, at only 30 minutes away, it's an easy day trip or half day trip from Split.
All you need to do is stroll the medieval streets and find a quaint nook to dine in. This isn't hard!
For a view of the pretty town, climb either Kamerlengo Fortress or the tower of the St. Lawrence Cathedral. Or both.
You can book a half day guided tour from Split.
8. Take a Dalmatian Island Hopping Tour
One of the best things to do in Split is go island hopping. The coastal town makes a great jumping off point to sail the Adriatic Sea.
You will probably need to book an island tour. You have many tour options/permutations from half day, to full day, to a super extended day. You can:
We opted for the 5 islands tour. It was a lengthy 12 hour affair, when all was said and done. But it was a really beautiful way to spend the day.
Wear your swimsuit. There will be multiple chances to take a cooling dip in the sea.
The UNESCO town of Hvar is known as the "sunniest island in the Adriatic Sea." And also as a boozy party island. The sunny place attracts tourists galore.
But if you go off season, you'll skip this rather dreary side note and be medievalized by the enchanting place.
If you need to detox from tourists or cocktails, hike up to the hilltop fortress, Fortica Španjola, surrounded by pine trees, for excellent views.
Or visit Hvar's archaeological site, the Stari Grad Plain, which became a UNESCO site in 2008. Remnants of prehistoric buildings make it "the best-preserved Greek cadastre in the Mediterranean," according to onsite archaeologists.
The popular Blue Cave is on Bisevo Island. This magical grotto glows with the preternatural blue hues, created by sunlight bouncing off its white limestone floor. You can only visit via boat; you can't swim in the cave itself.
Aside from Hvar and the Blue Cave, the other islands you can visit include Vis, Budikovac, and Hell Islands (with Palmižana beach).
We had lunch on Budikovac. The most scenic beach was the tiny cove-like Stiniva Beach on Vis, voted the "best beach in Europe" in 2016.
9. Day Trip to Šibenik
Situated on a sheltered bay, an hour from Split, tranquil Šibenik (pronounced Shi-beh-nick) is a hidden gem in Croatia. As with Trogir, the best thing to do stroll the town's labyrinth of stoney alleyways.
Šibenik also boasts a UNESCO site, St. James Cathedral. The gleaming white building is the beating heart of sleepy Šibenik. It's a gleaming piece of Gothic-Renaissance architecture.
Šibenik is one of the oldest towns on the Adriatic, dating from the 9th century. In 1160, it was conquered by the Venetians.
They left their architectural and cultural imprint on both the town and its elegant cathedral. For lunch, try cozy Tinel, where I had a delicious risotto.
10. Ivan Meštrović Gallery
If you need a dose of culture, head to the Ivan Meštrović Gallery is the perfect cultural outing in Split. The museum is just a 20 minute walk from the Riva.
It's filled with sculptures by Meštrović, who is Croatia's most famous sculptor and world famous. His most celebrated statue is Gregory of Nin, right outside the Golden Gate of Diocletian's Palace.
The Galerija Meštrović is housed in a lovely Neo-classical building, which was the artist's former home. It hold the sculptor's masterpieces, carved mostly in marble and bronze.
There's a short film on the artist's life. Across the road, you can visit the Kastilac Chapel, which boasts large wood bas-relief carvings that Meštrović created to line the chapel. It's included in the ticket price.
11. Gregory of Nin Sculpture
Gregory of Nin is a massive statue of a figure. On first glance, it appears to be a wizard. On second glance, getting a little closer, you can tell that it's a religious figure.
On third glance, you can see that the man has a shiny well worn bronze toe.
Need some good luck? It's widely considered good luck to rub it.
12. Chasing Waterfalls at Krka National Park
Krka National Park is just an hour from Split. Overshadowed by its further afield neighbor, the gorgeous Plitvice Park, Krka is by far the more manageable day trip from Split.
A trip to Plitvice is a minimum 12+ hour day. Krka is more relaxed, less crowded, and can also be combined with Šibenik on a day trip.
And Krka is lovely, with soaring birds and splashy white waterfalls pooling into emerald green ponds. The highlight is Skradanski Buk. Below, you'll spy people swimming at the base of the waterfall. Remember to pack your swimsuit if you'd like to take a dip yourself. Swimming is permitted at Krka (though not at Plitvice).
You've got to stay on the boardwalks designated for tourists and can't do independent hiking. There's an upper and lower path. If it's hot, wear flip flops. You don't need comfortable shoes or hiking boots.
Click here to book an entrance ticket to the park. You can also book a half day guided tour from Split.
13. Day Trip To Plitvice Lakes National Park
Another great day trip from Split is to Plitvice Lakes National Park. The park is a must visit destination in Croatia, especially for nature lovers.
Click here to book an admission ticket. Click here to book a guided tour of the park.
The park is approximately 2 hours from Zagreb. From the park, it's another 1.5 hours by car to Zadar. You'll need to start early to have a solid 3-4 hours to hike around Plitvice. And you'll want to pack a picnic lunch.
The gorgeous Plitvice Park is full of vibrant colors. It boasts turquoise water, terraced lakes, stunning viewpoints, and photogenic gushing waterfalls. You'll be stunned at the breathtaking technicolor views at every turn.
In 1979, Plitvice Lakes became a UNESCO site. It's one of the most popular destinations in Croatia, with over a million annual visitors.
Plitvice Lakes can be overwhelming to visit. There are different levels of lakes, four different hiking trails, 7 different routes through the park, and 2 different entrances. And there will be crowds.
You may want to book a full day guided day trip tour from Split.
14. Other Split Tours
There are plenty of other fun things to do in Split. For example, you can:
Tips For Visiting Split
1. Where To Stay in Split
There are some very nice places to stay in Split.
The Judita Palace Heritage Hotel is the luxury choice. It's housed in a palace next to Diocletian's Palace.
Central Square Heritage Hotel is an elegant hotel in the very heart of Split. The Villa Split Heritage Hotel is a romantic place housed with Diocletian's Palace.
For a boutique hotel, check out the Briig Boutique Hotel. It's a gorgeous hotel with minimalist decor located in central Split. it has a rooftop swimming pool.
2. How Many Days In Split?
How much time do you need in Split? I was based there for 4 days.
But 1 day is even to cover the highlights of the city. 2 days is better if you want to properly visit the islands.
3. How To Get Around Split
Split is easy to get around. The majority of the city's attractions are located squarely in the historic center, which means you can comfortably walk to everything.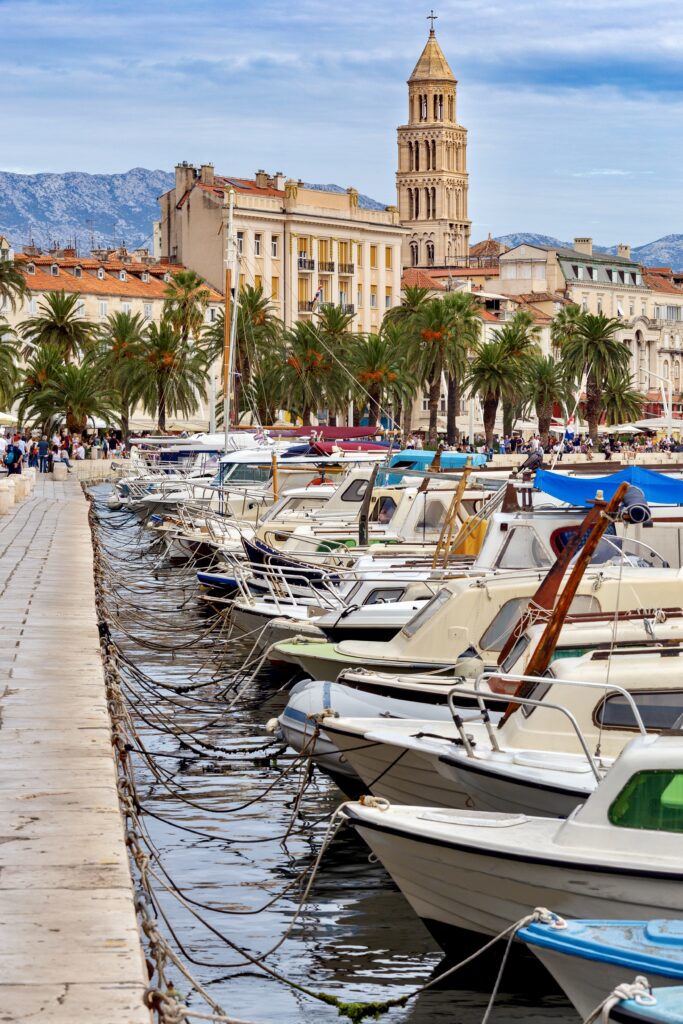 3. Other Tips
I have to confess that, unexpectedly, restaurants in Split weren't all that dazzling to me.
I thought pizza was the best option, and you'll find locals at the pizzerias. And definitely don't eat on the touristy Riva.
I did enjoy some tasty mexican food in the Jupiter Temple at To Je Take and had a good meal at Bokeria Wine Bar. If you want to sample Croatian wine, try Zinfandel Wine Bar, a spot with a nice ambience.
Try to visit Split in the spring or fall. In the summer, it can be hot and crowded. Even the spacious Diocletian's Palace can seem claustrophobic.
I hope you've enjoyed my guide to the best things to do and see in Split Croatia. You may enjoy these other Croatia travel guides:
If you'd like to visit Split, pin it for later.