Wondering what to do with one day in Ljubljana?
Here's my step by step itinerary for spending one perfect day in enchanting Ljubljana. I give you a short history of Ljubljana and tell you what to do and see.
Ljubljana is the lovely small capital city of Slovenia. It's pronounced lube-li-ana.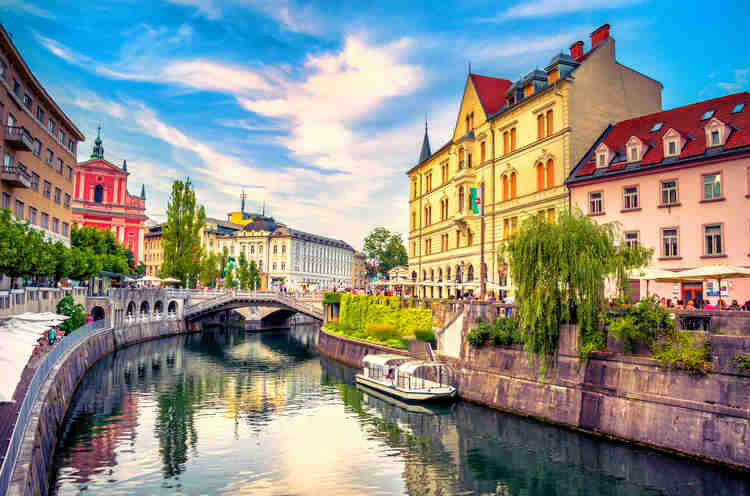 Ljubljana might be my favorite small city in Europe. It has everything a visitor could want — good looks, good food, and a certain serenity. The city is a nature lover's dream.
Ljubljana has a cozy pedestrianized center clustered around a castle-topped hill. The city is filled with playful architecture, dragons, and specialty cafes and boutiques.
With this unique ambience, Ljubljana is easy to fall for. The city has fairytale vibe that's sometimes compared to Salzburg.
Yet, Ljubljana is still an underrated hidden gem in Europe. The news is getting out about how cool the city is though. So plan a trip soon, before it's "discovered."
There are really no must visit attractions or museums in Ljubljana. It's more about the laid back European experience and sitting at fresco cafes along the leafy river promenade.
Because of this, Ljubljana can easily be covered in one day. This itinerary tells you the best things to see and do in Ljubljana.
I also give you plenty of options for nearby day trips, if you have more than than one day in Ljubljana. I used Ljubljana as a base for road tripping in Slovenia and it proved excellent.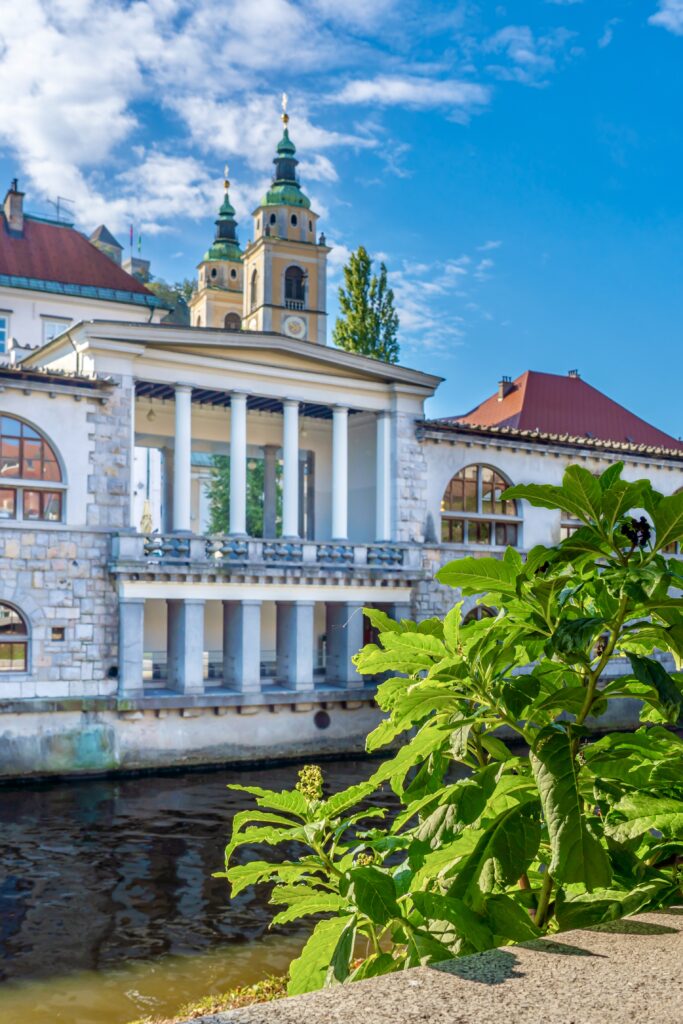 Overview of One Day In Ljubljana Itinerary
Here's a quick snapshot of what you can do with one day in Ljubljana.
Preseren Square
Triple Bridge
Franciscan Church
Hauptmann House
Ljubljana Cathedral
Central Market
Town Hall
Robba Fontain
Ljubljana Castle
Architecture Tour
Congress Square
Metelkova District
River Cruise
Before You Go: Here's How To Plan Your Visit To Ljubljana
Below are some of the top tours, hotels, and experiences in Ljubljana. Donʻt forget to plan ahead, especially in high season.
Top Tours & Experiences:
Best Hotels:
A Short History of Ljubljana
But first, let's take a look at the history of Ljubljana, to give you some background for your one day in Ljubljana.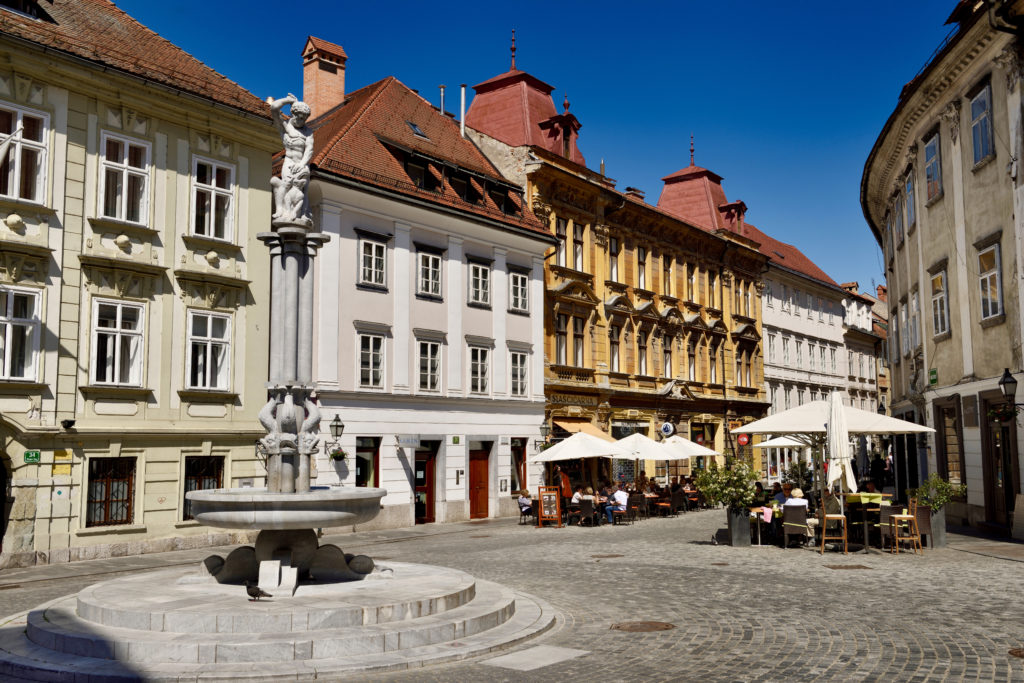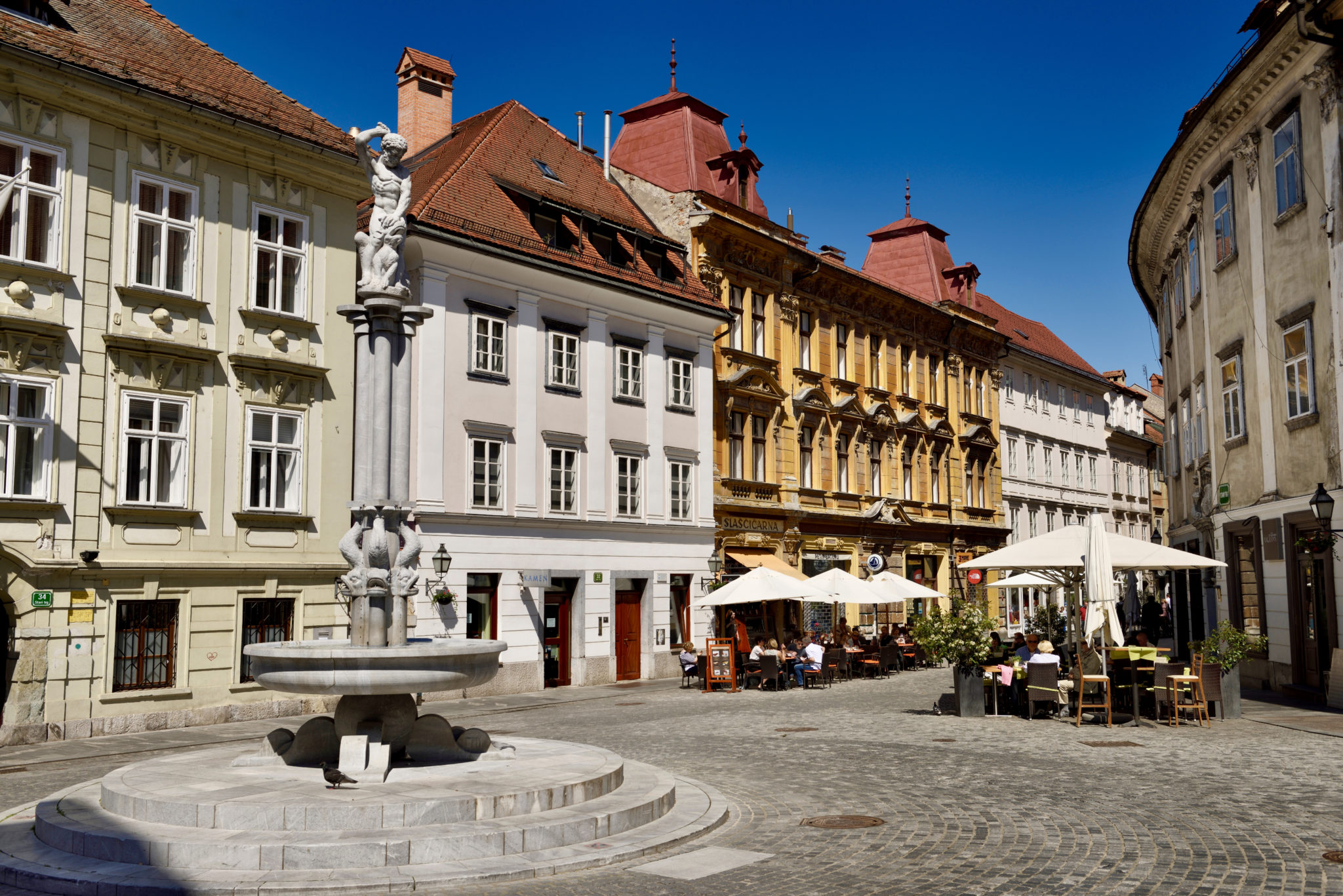 In ancient times, Ljubljana was on the trade route connecting the Mediterranean and the Black Sea. Legend holds that the Greek hero Jason and his Argonauts founded Ljubljana when they stayed in the city after stealing the Golden Fleece.
Some stories say that, while in Ljubljana, Jason slew a dragon. Others say it was St. George, the more famous dragon slayer. In either event, the dragon became the symbol of Ljubljana.
The earliest Ljubljana citizens lived in huts during the Neolithic and Bronze Ages. Later, Illyrians and Celts populated Ljubljana. They were overrun by the Huns, who were in turn run over by the Slavs. The Slavs are the ancestors of today's Slovenians.
In 1335, Ljubljana became part of the Hapsburg Empire of Austria. For 6 centuries, Ljubljana absorbed Austrian culture, a vibe that persists today.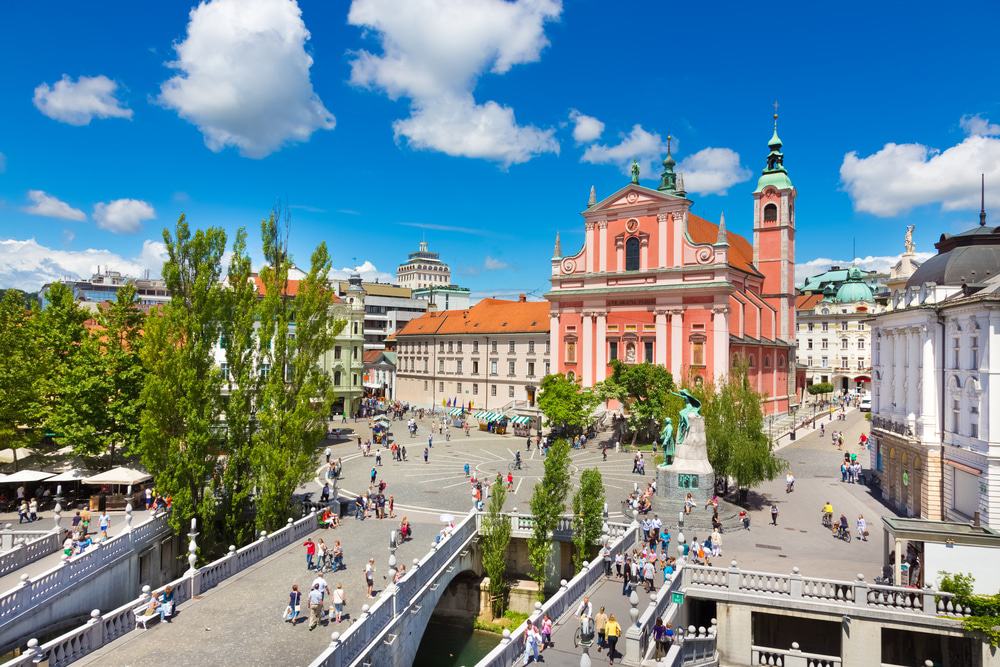 In 1809, Napoleon designated Ljubljana the capital of his "Illyrian provinces." Ljubljana prospered and the Slovenian language came into use.
In 1895, Ljubljana was leveled by an earthquake. With donations from the Hapsburg Emperor, the city was rebuilt in the Art Nouveau and Art Deco styles that were so popular in Vienna. A generation later, architect Joze Plečnik added his distinctive classical-meets-modern designs.
In WWII, Ljubljana was occupied by the Italians and Nazis. There was a strong resistance movement and the city survived.
Post WWII, Slovenia was absorbed into the Communist empire. It was part of Yugoslavia until 1991. After the dissolution of the Yugoslavia federation, Ljubljana became the capital of one of Europe's smallest countries, Slovenia.
Because it's a university town, Ljubljana seems young and friendly. It's a hodgepodge of different cultural influences. And Ljubljana is a "green" city that's on the cutting edge of art, architecture, fashion, and micro pubs.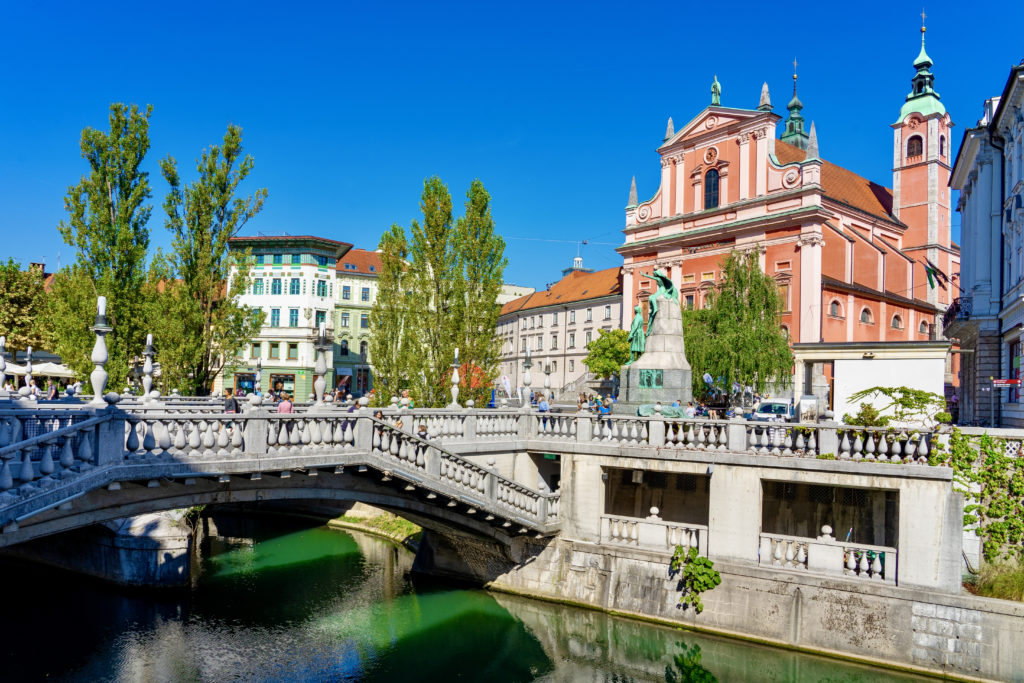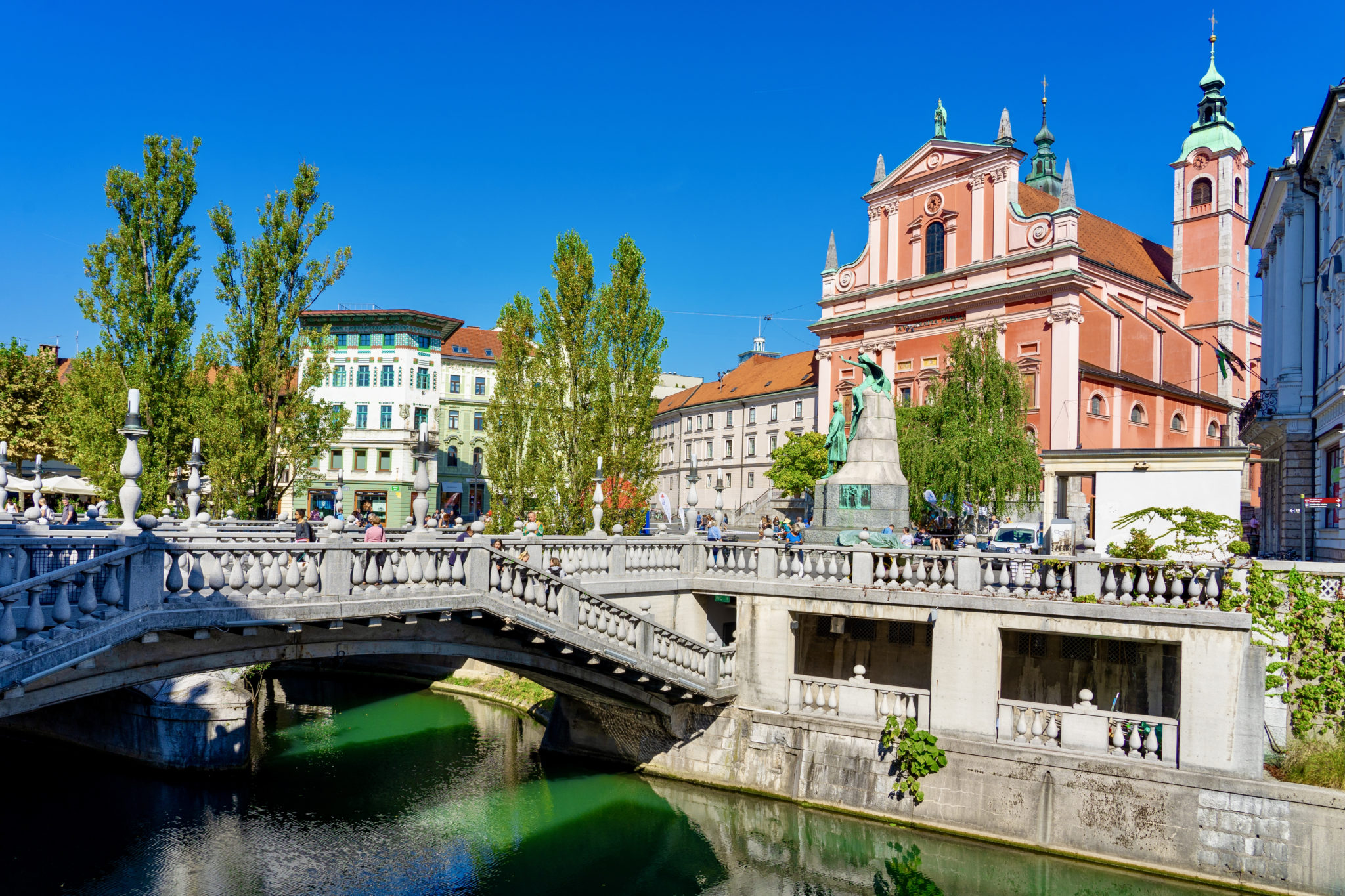 What To Do In Ljubljana In One Day
With one day in the Ljubljana, you'll want to spend plenty of time wandering the irresistible cobbled old town.
There, you'll find all the best places to visit in Ljubljana. You'll get to see Ljubljana's pretty riverfront and admire historic one-of-a-kind Art Nouveau and Baroque architecture.
Here's a quick breakdown of what you'll see with this 1 day in Ljubljana itinerary:
Preseren Square
Ljubljana's bridges
Ljubljana's churches
Lunch at Central Market
Town Hall Square
Congress Square
Ljubljana Castle
Architecture or street art tour
River cruise or Skyscraper views
Cocktails and dinner
You may want to book a 2 hour walking tour with a local to get oriented. You can also book a walking tour that includes Ljubljana Castle.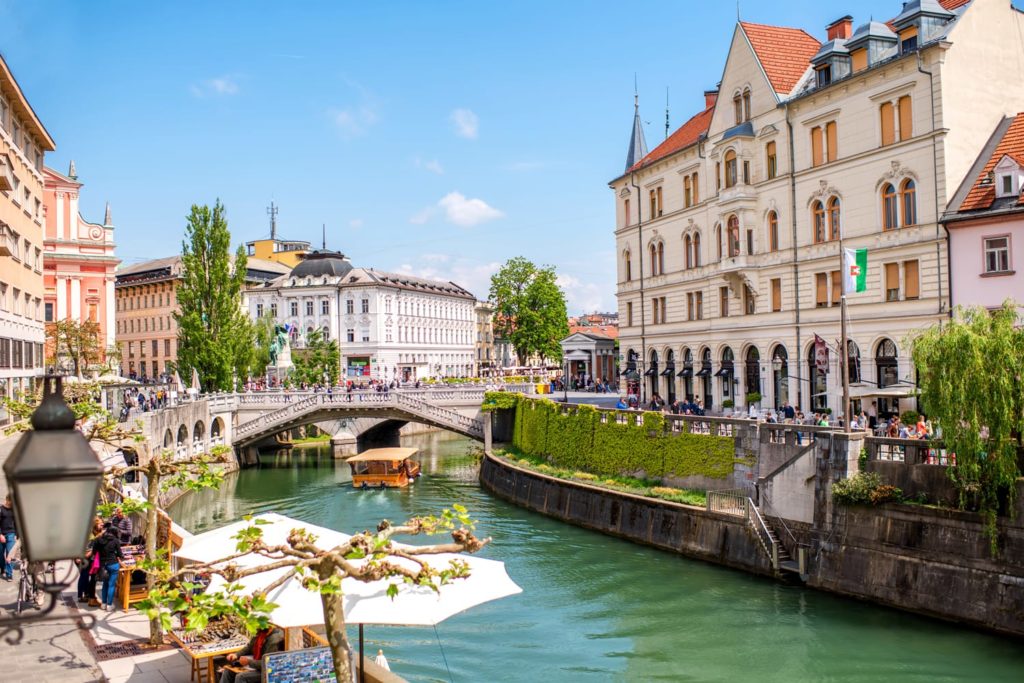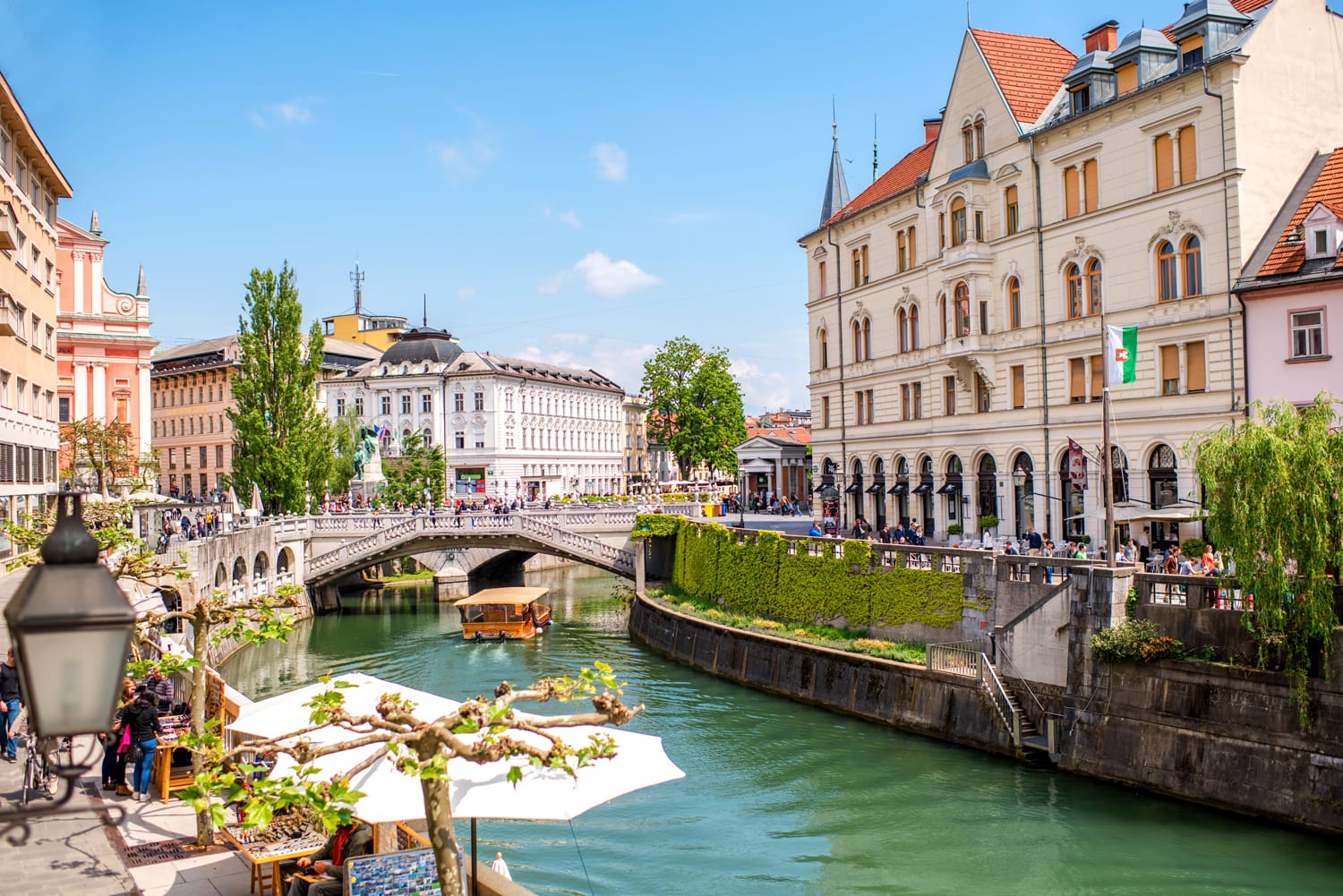 One Day In Ljubljana AM
1. Prešeren Square
Start your one day in Ljubljana at the city's heart, Prešeren Square. With a rough triangular outline, the square is at the convergence of several major arteries.
The square is lined with historic structures, landmarks, and opulent buildings. It's dominated by the statue of the poet France Prešeren and the salmon pink church, the Franciscan Church of the Annunciation.
The statue shows Prešeren being inspired by a nude muse. She's depicted with a laurel branch and cloak.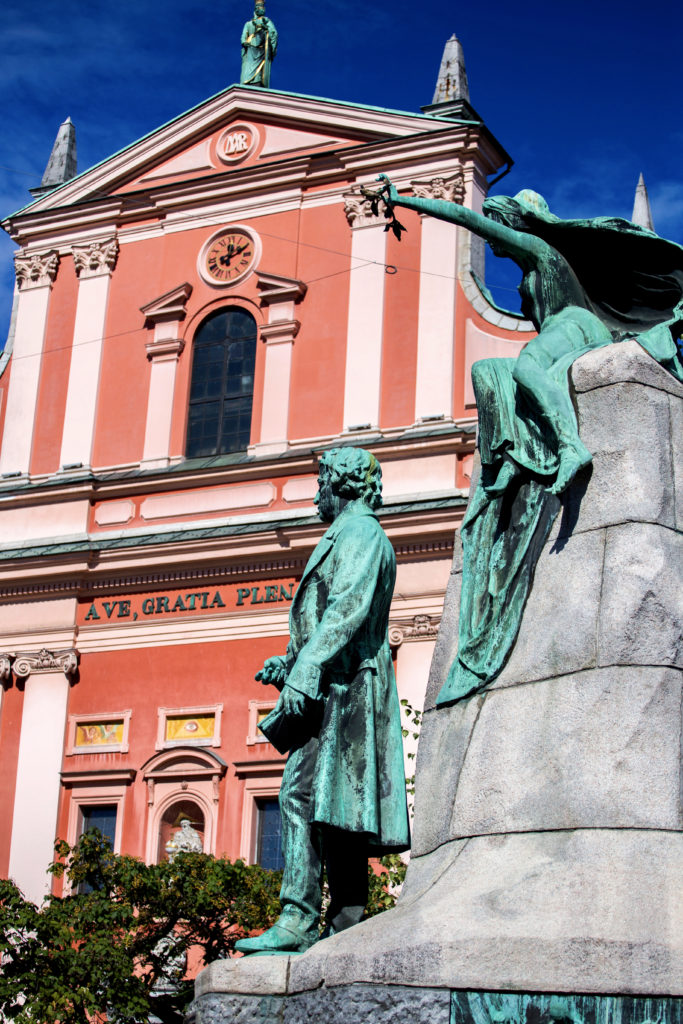 Although these are identifying symbols of a muse, the statue was viewed as shocking when it was erected. For a few years, the citizens covered the statue with a tarp at night.
2. Triple Bridge
The Triple Bridge is one of Ljubljana's most recognizable sites, designed by Plečnik. The structure consists of three bridges, which connect the modern city of Ljubljana to the Old Town.
The middle part of the stone bridge already existed. Plečnik added two more sides to improve pedestrian traffic flow. In an innovative design, two staircases lead down from the pedestrian bridges to the river bank.
The Triple Bridge was inspired by the architecture of Venice. It features massive stone balustrades and lamps. From the bridge, you have nice views of Ljubljana Castle and the Ljubljanica River.
3. Franciscan Church of the Annunciation
You can't miss the beautiful bright pink Church of the Annunciation on your Prešeren Square spin. The church was originally red, which is the color of the order of St. Francis. But, over time, it charmingly faded to pink.
The church was built in the mid 17th century, though the facade wasn't finished until 1706. The facade features pinnacles, pilasters with Ionic capitals, niches, and a statue of the Virgin and Child on the pediment.
It's worth stepping inside to see the ornate main alter and detailed wall frescoes.
There's no charge to enter the church. But, like other churches in Ljubljana, it's often closed in the mid afternoon.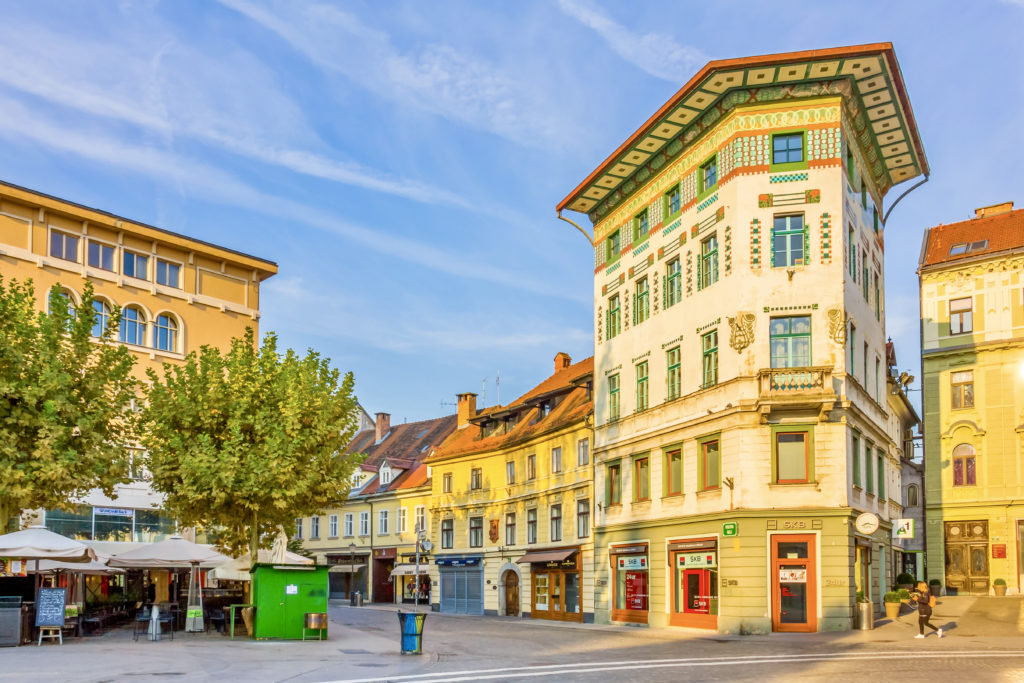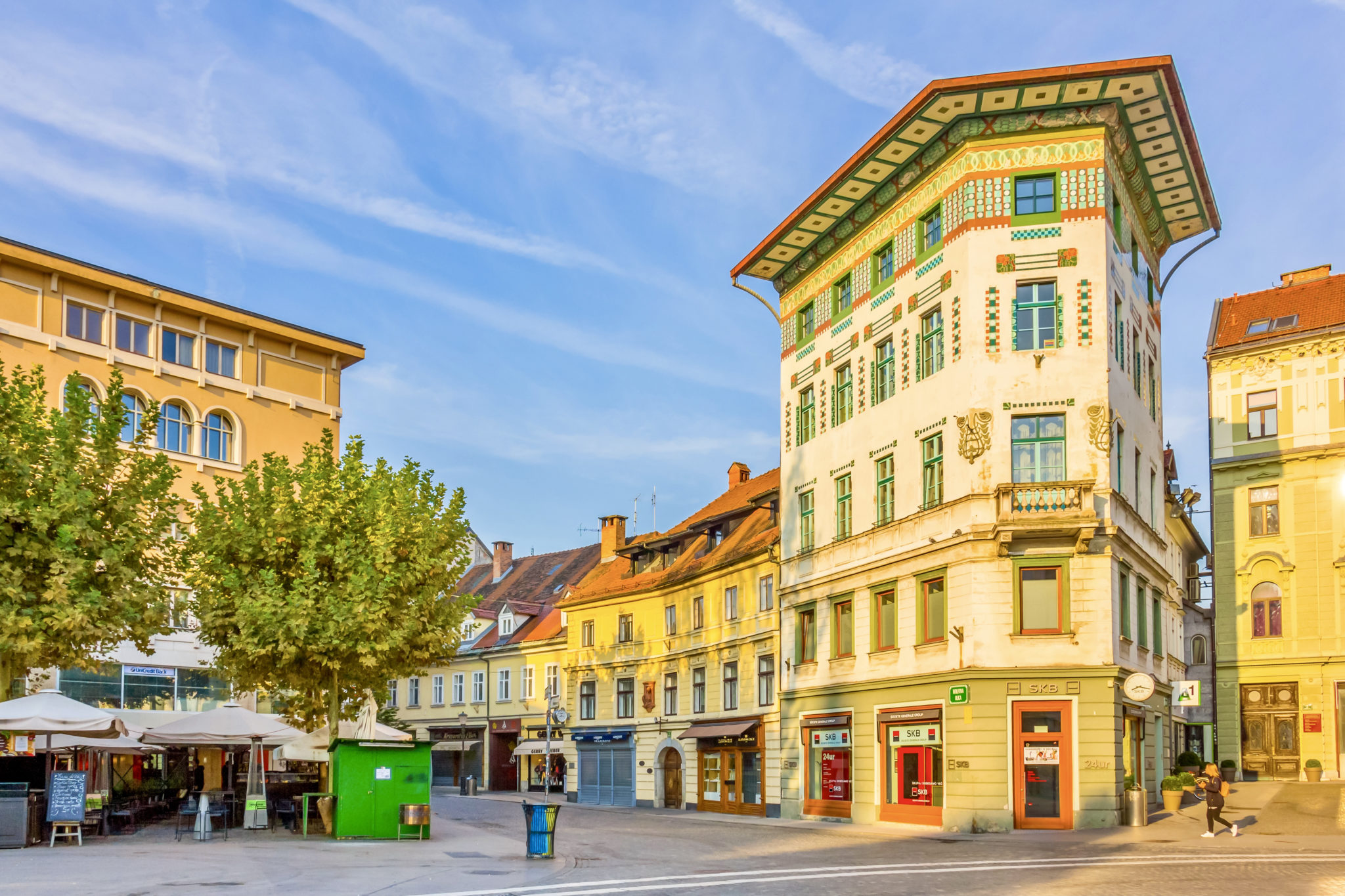 4. Hauptmann House
Don't miss the Hauptmann House on Prešeren Square. This famous Ljubljana house escaped the 1895 Ljubljana earthquake.
Its owner, the merchant Adolf Hauptmann, renovated it in the then-trendy Viennese Art Nouveau style. He used bright colors and stenciling.
Next to the Hauptmann House is a bust of Julija. She was the unrequited love of the poet Prešeren.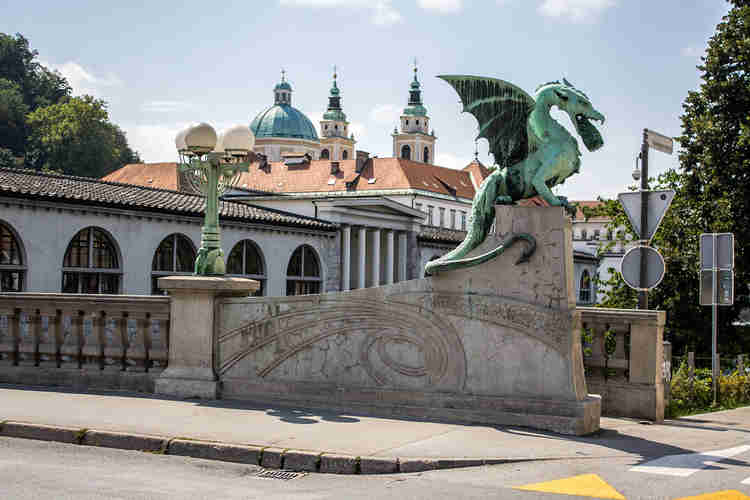 5. Bridges
Ljubljana is filled with architecturally interesting bridges.
The Dragon Bridge is the most iconic, sporting a dragon fantasy theme. Dragons are the very symbol of Ljubljana. As I mentioned above, they elude to the city's mythical origin story.
Dragon Bridge was the design of Jurij Zaninovic. It was completed in 1901 and inaugurated to celebrate the 40th anniversary of the reign of Emperor Franz Joseph I.
The whimsical bridge was Ljubljana's first reinforced concrete structure. It's considered a masterpiece of Art Nouveau architecture.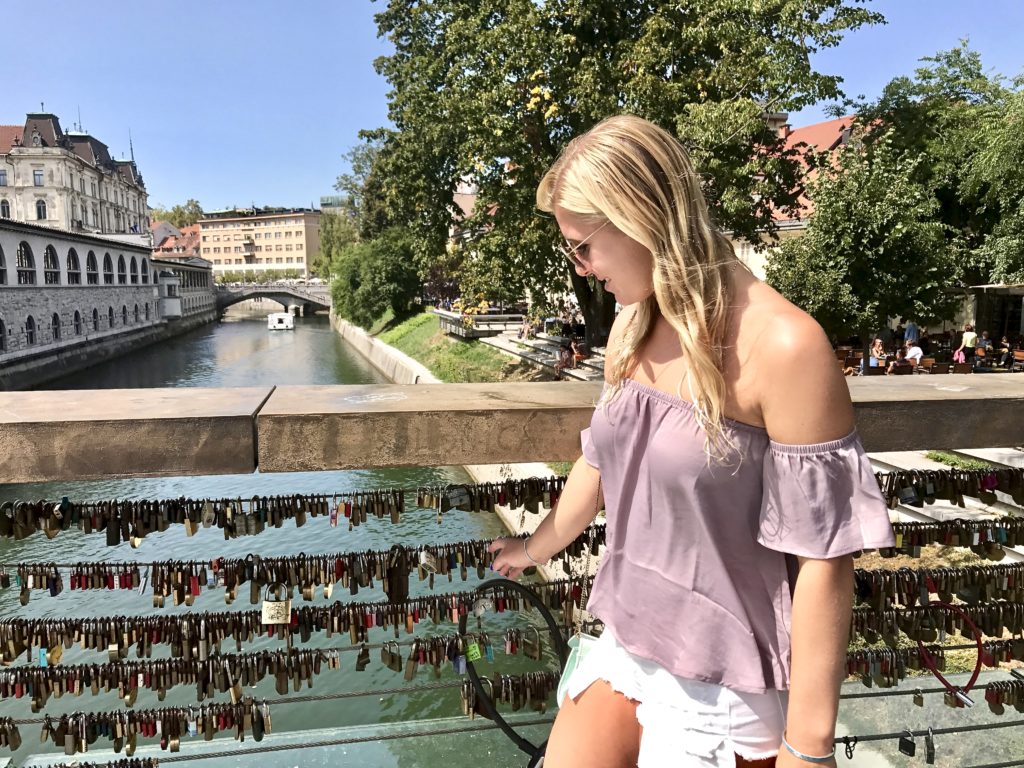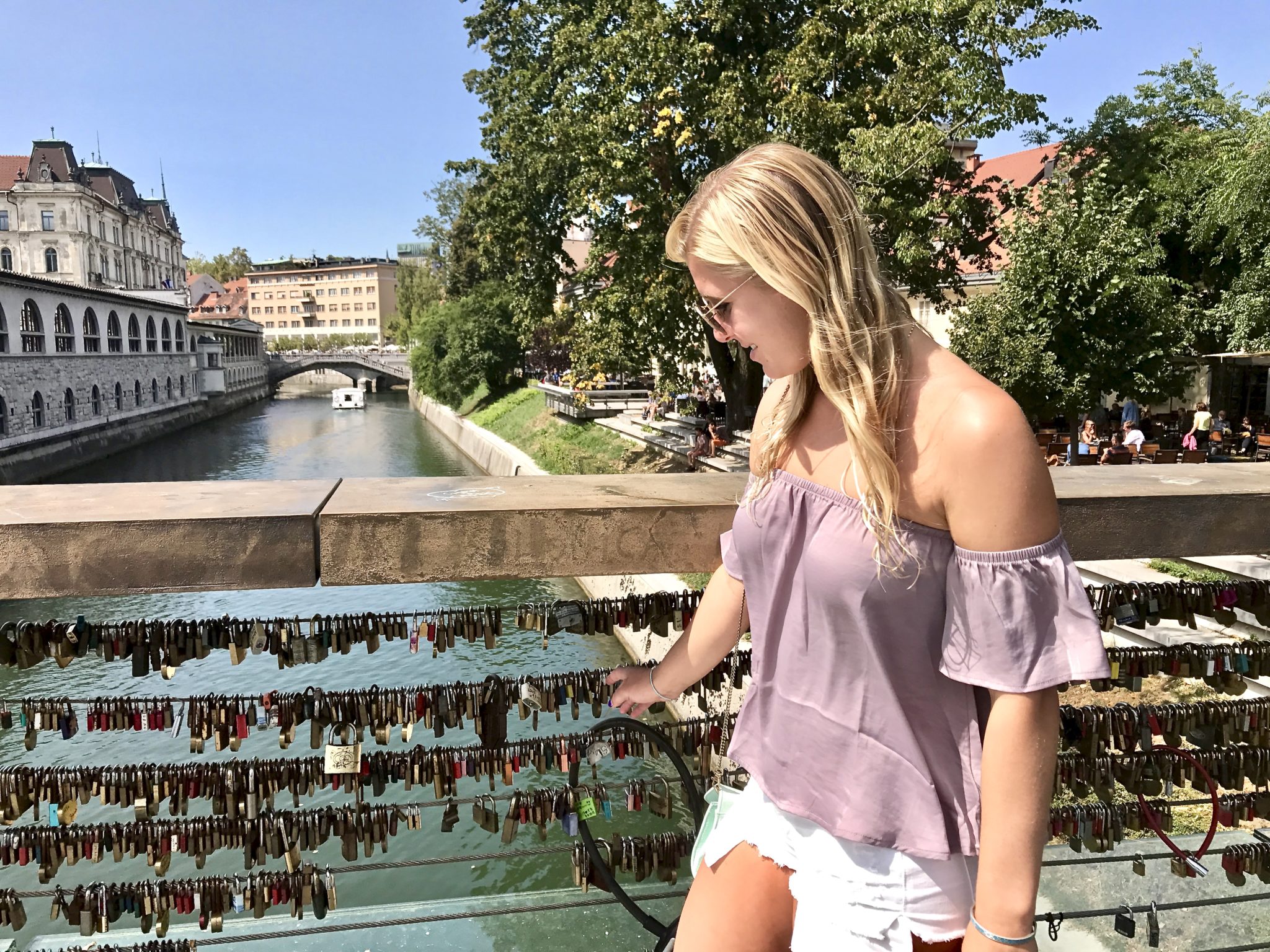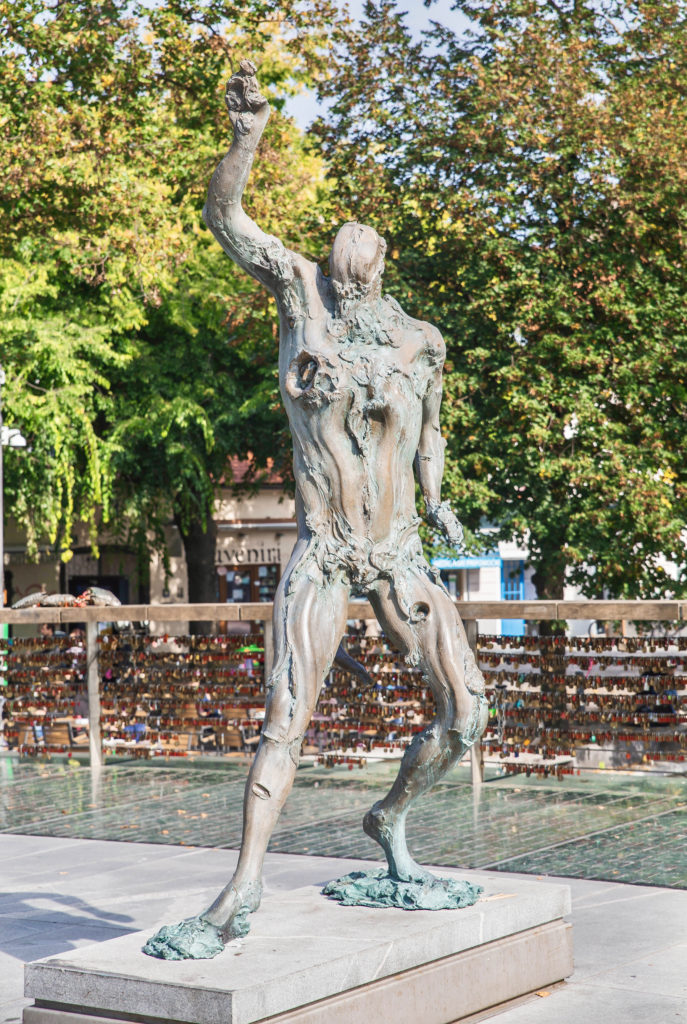 Each corner of the bridge is festooned with a dragon sculpture made of sheet copper. Their talons grip the stone blocks as they roar. Along the parapets are 16 small griffin sculptures.
Other bridges to check out in Ljubljana include the pillared Cobblers' Bridge (also known as the Shoemaker's Bridge) and the love lock Butcher's Bridge (shown above). Both bridges were designed by Plečnik.
The Cobblers' Bridge exemplifies Plečnik's style more than any other structure in Ljubljana. It's a long balustraded platform. The bridge has clean lines adorned with classical columns topped with stone balls.
The Butcher's Bridge is known for both its love locks and its whimsical sculptures. It has a glass walking belt on both sides.
There's a wild-looking Prometheus sculpture, a mournful Adam and Eve being evicted from paradise, and mischievous lizards breaking out of eggs.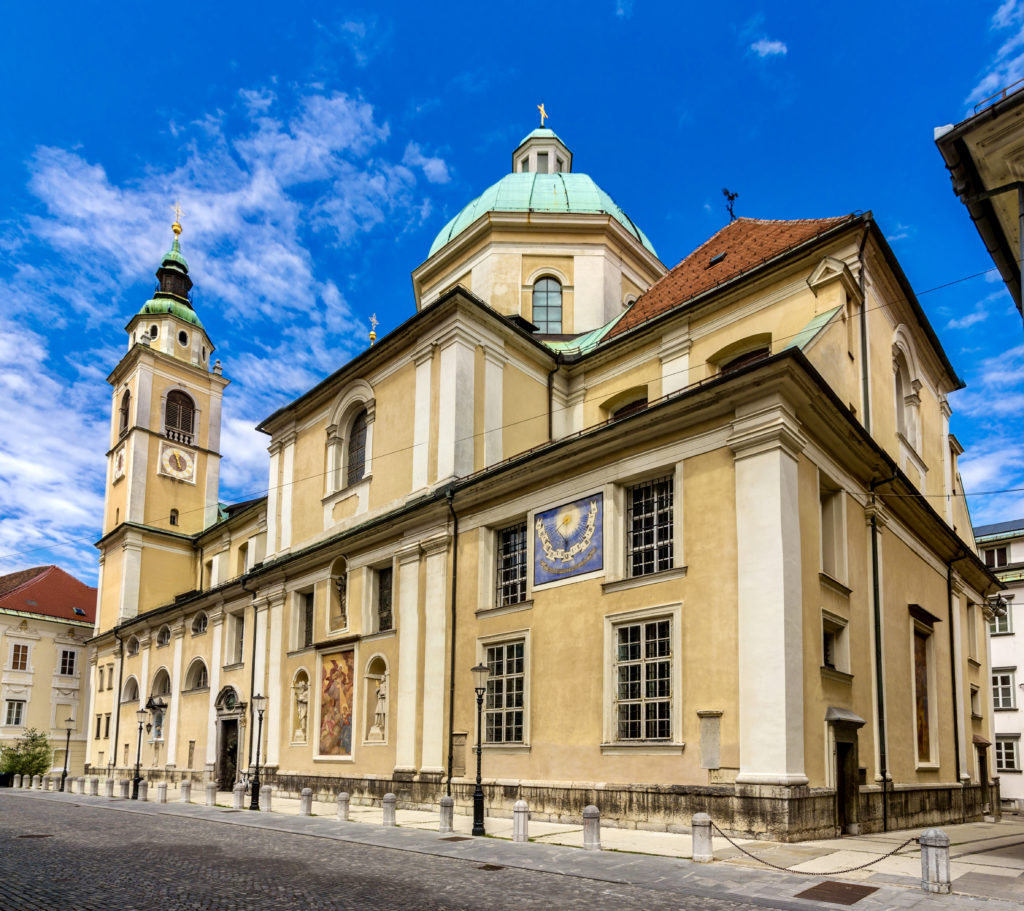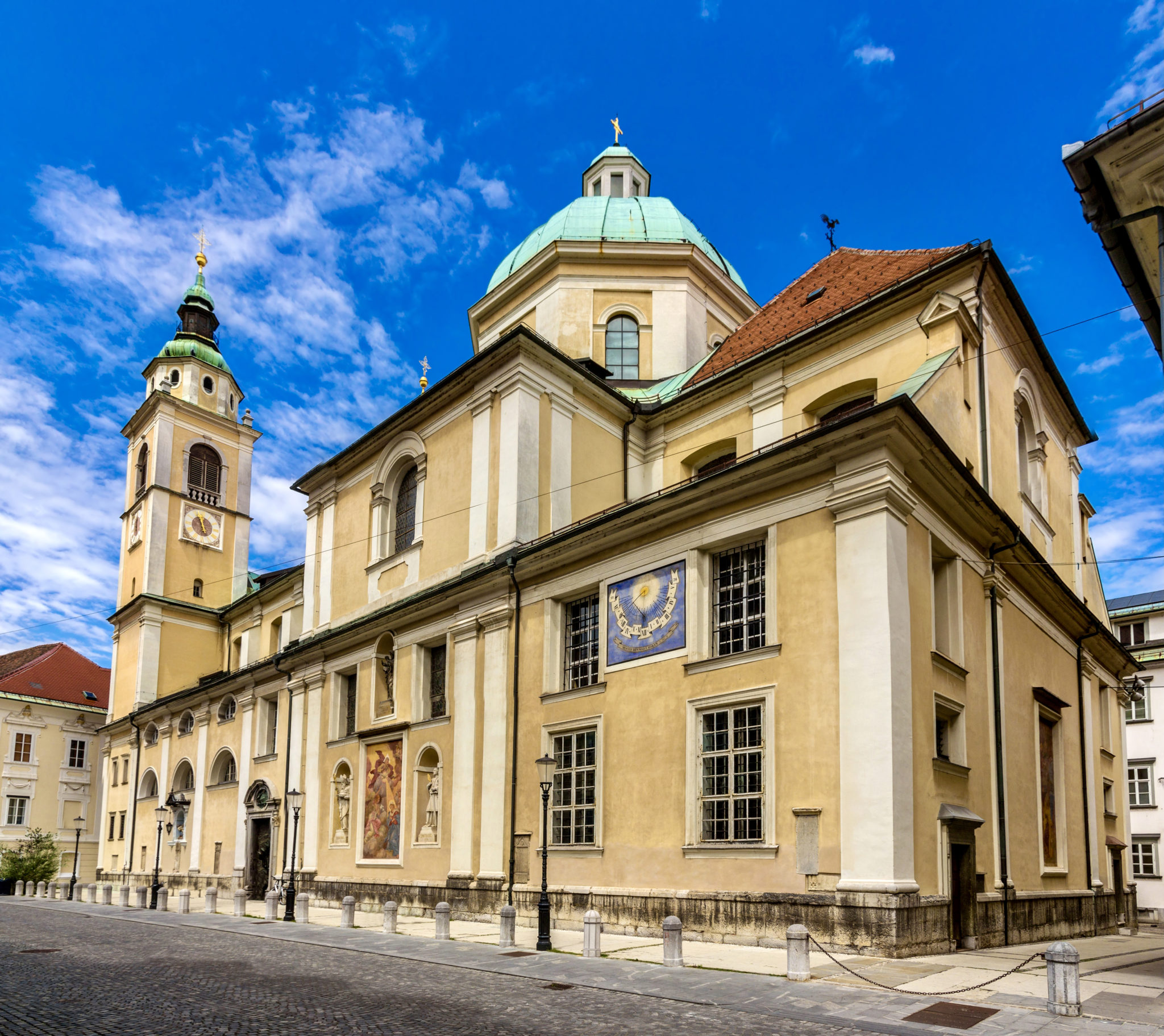 6. Ljubljana Cathedral | Church of St. Nicolas
Next, pop into Ljubljana Cathedral. The church is dedicated to St. Nicholas, the patron saint of fisherman and boatmen.
The intricate main door was created for the visit of Pope John II. It illustrates the history of Slovenia.
The cathedral's interior has a stunning Italian Baroque style. Look up to admire the frescoed dome. It was painted by the Slovenian Matevž Langus in 1844 and was recently restored.
Behind the Cathedral of St. Nicholas is a food hall featuring meat and fish sections. The umbrella-covered stalls bear crates of seasonal and local fruits and vegetables.
7. Riverside Market | Lunch
For lunch, check out the Central Market in Vodnikov square. Following the curve of the river Ljubljanica, the market was built in 1940-44.
It has almost a Venetian feel. The halls overlooking the water have large semi-circular windows. The ones facing the street have a classical columned colonnade
Inside, you'll find plenty of cheese, fresh fruit, vegetables, and meat. The market is busiest on Saturday morning.
If you head down the spiral staircase, you can eat lunch at Ribca. Or, eat at one of the cafes along the lively river embankment, where you can do some quality people watching.
In lieu of a restaurant, you can book a food and wine walking tour.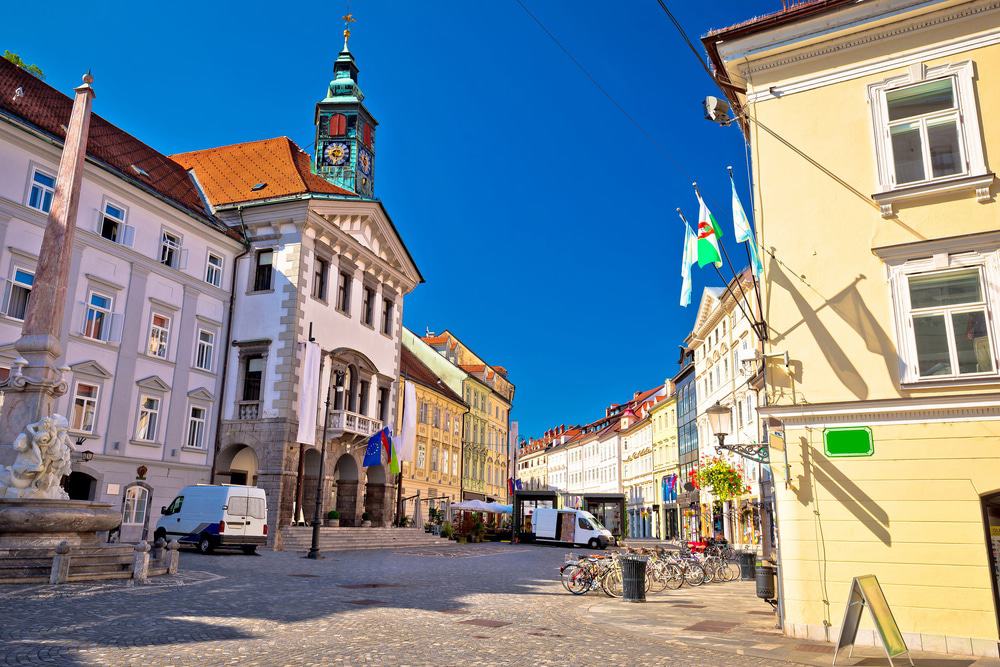 One Day in Ljubljana PM
In the afternoon of your 1 day in Ljubljana, you have many options. You can stroll through beautiful piazzas, visit Ljubljana Castle, take an architecture tour, admire street art, or cruise down the Ljubljanica River.
8. Town Hall
From Central Market, head southwest to Ljubljana's Town Hall. This pretty building has been Ljubljana's municipal seat since the 15th century. It often hosts free exhibitions of local artists.
In the early 18th century, the Gothic structure was redesigned in the Venetian Baroque style by the Italian architect Carlo Martinuzzi.
In the vestibule is a sculpture of Hercules and the Nemean Lion. A highlight in the main courtyard is a fountain depicting Narcissus by Francesco Robba.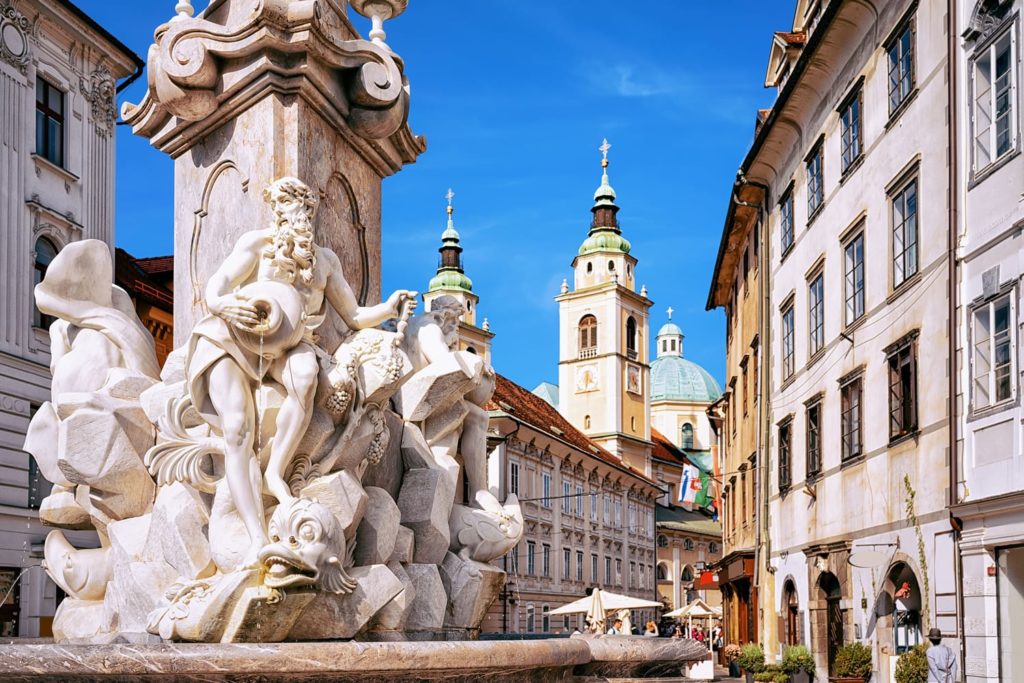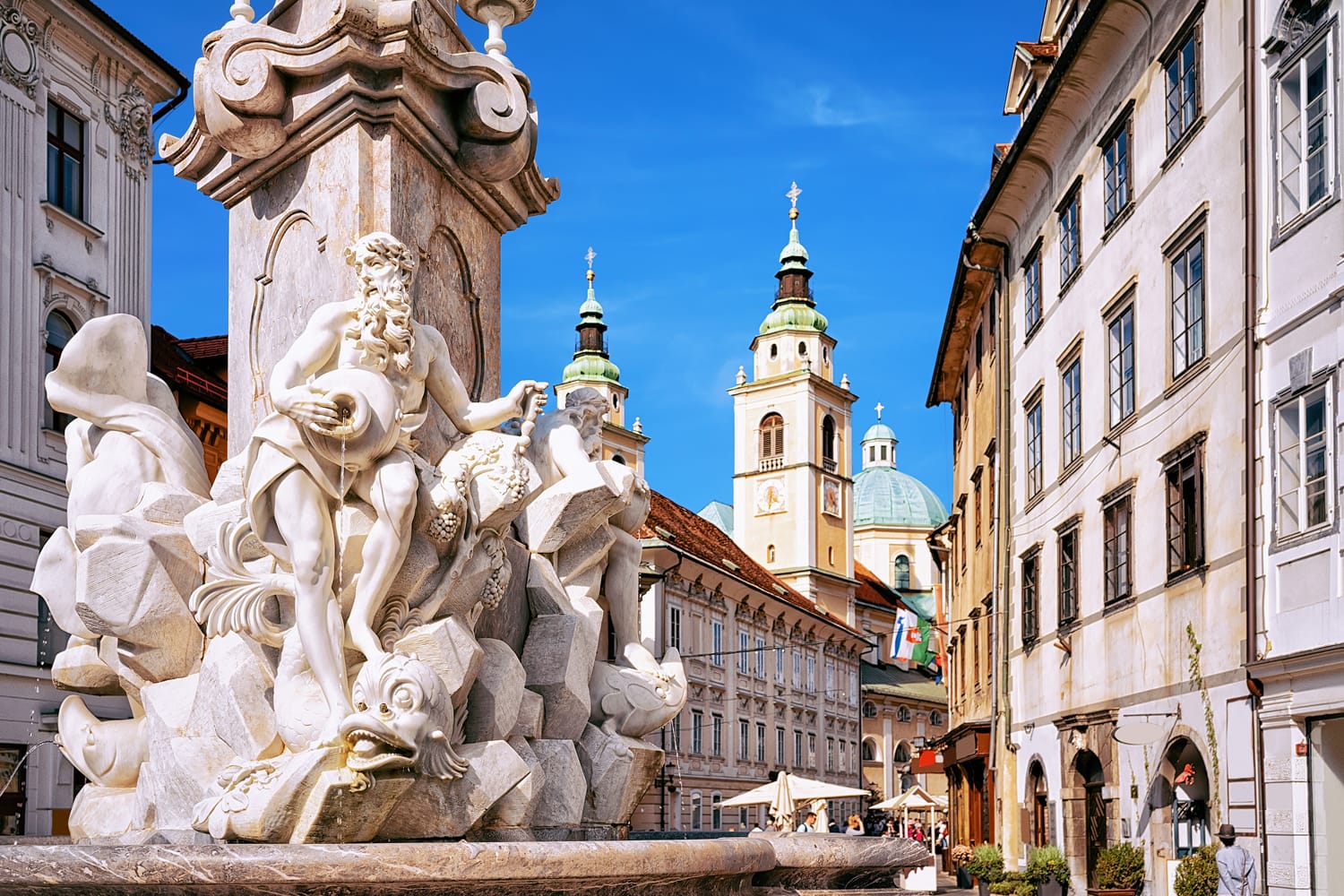 9. Robba Fountain
The Robba Fountain, or Fountain Of Three Rivers, stand in front of City Hall. It's one of Ljubljana's best known Baroque monuments.
Created by Robba, the Carrera marble fountain reminded me of the Bernini fountains in Pizza Navona in Rome.
Three river gods hold urns gushing water into a shell-shaped pool. They represent the three rivers of historic Slovenian: the Sava, Krka and Ljubljanica. In the center is an obelisk.
The sculptures you see today on the square are modern copies. The original fountain, worn down by time and eaten away by urban pollution, was placed in the National Gallery in 2006.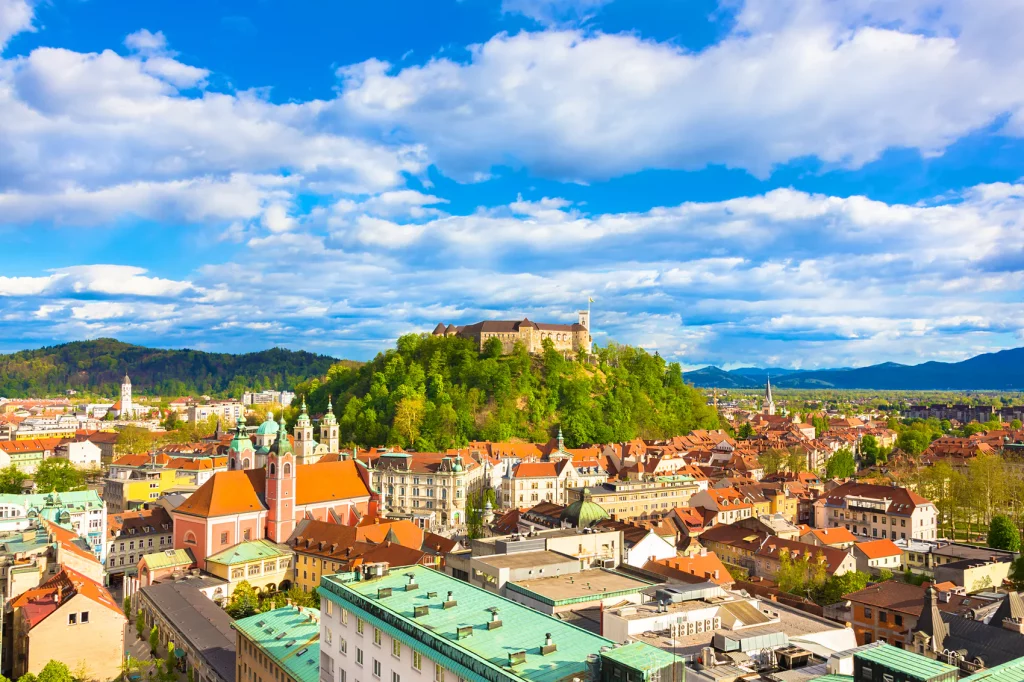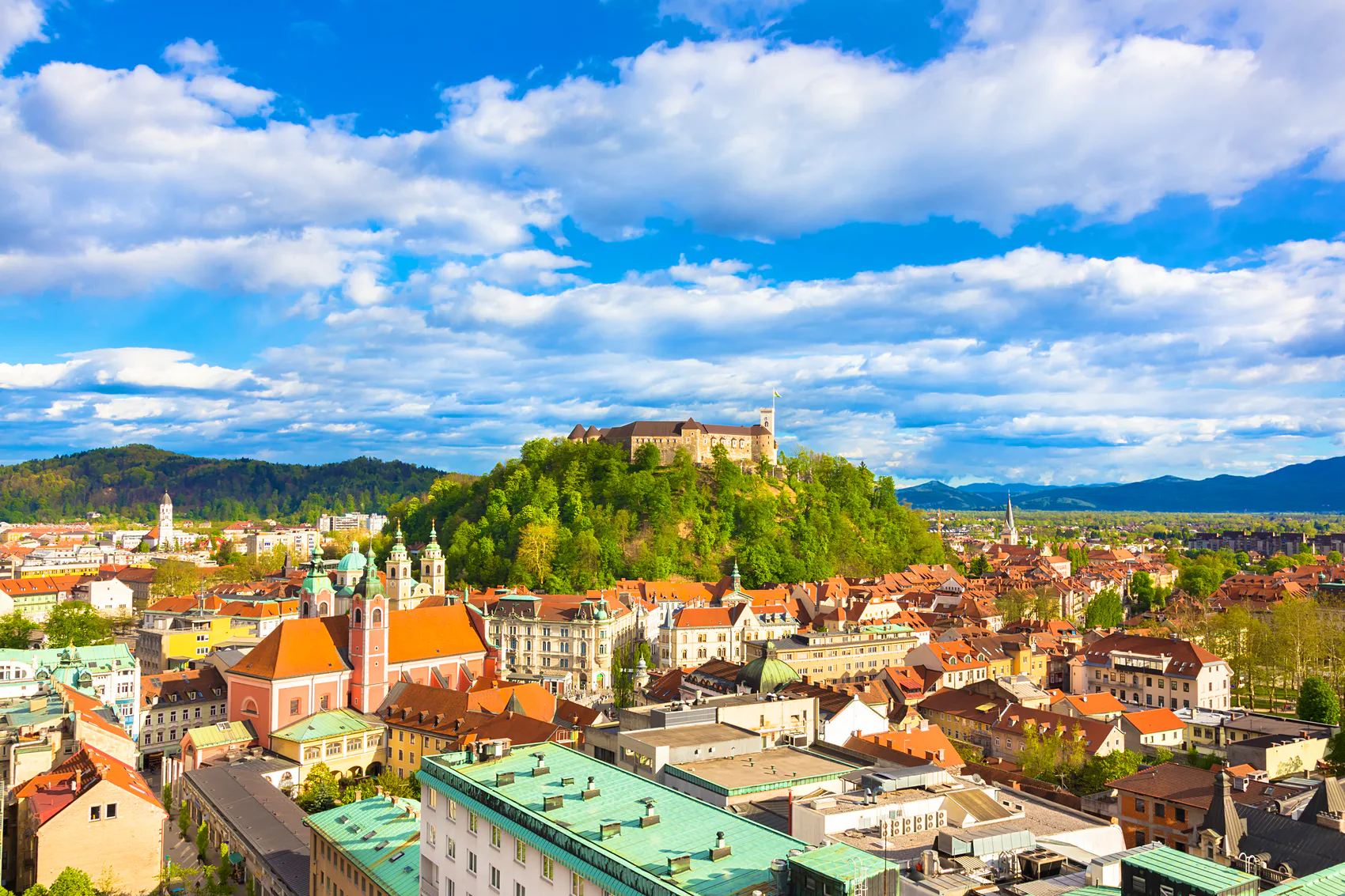 10. Ljubljana Castle
In the afternoon of your one day in Ljubljana, explore Ljubljana Castle. It's a short jog southeast from the City Hall.
From Dragon Bridge, you can take a steep hike up or an easy funicular ride to the castle. The funicular is open year round. It's a great way to see the city from above.
At 13 euros, Ljubljana Castle isn't exactly cheap to visit. But the ticket price includes a return trip on the funicular, entrance to three castle museums, and access to the viewing tower.
The 16th century citadel was built as a defense against Ottoman invasions. Later, it used as a war hospital, a prison, and a quarantine station.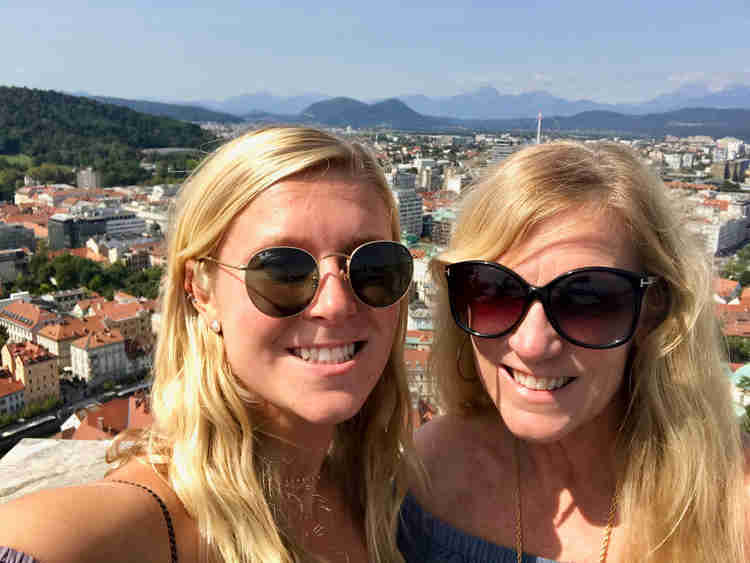 The 16th century fortress is long gone. It fell into disrepair in the 17th century. But it was rebuilt in the 1940s and later renovated.
As a result, the castle isn't really very historic. It's a faux replica.
But there are now some worthwhile attractions, restaurants, and a gift shop. There's also a "Virtual Castle" time machine tour/film in which a dragon narrates the layers of Ljubljana's history.
The castle houses the Museum of Puppetry, a Slovenian History Exhibition, and photography exhibitions. You can climb 92 spiral steps up to the tower for panoramic views of the Old Town and the Julian Alps.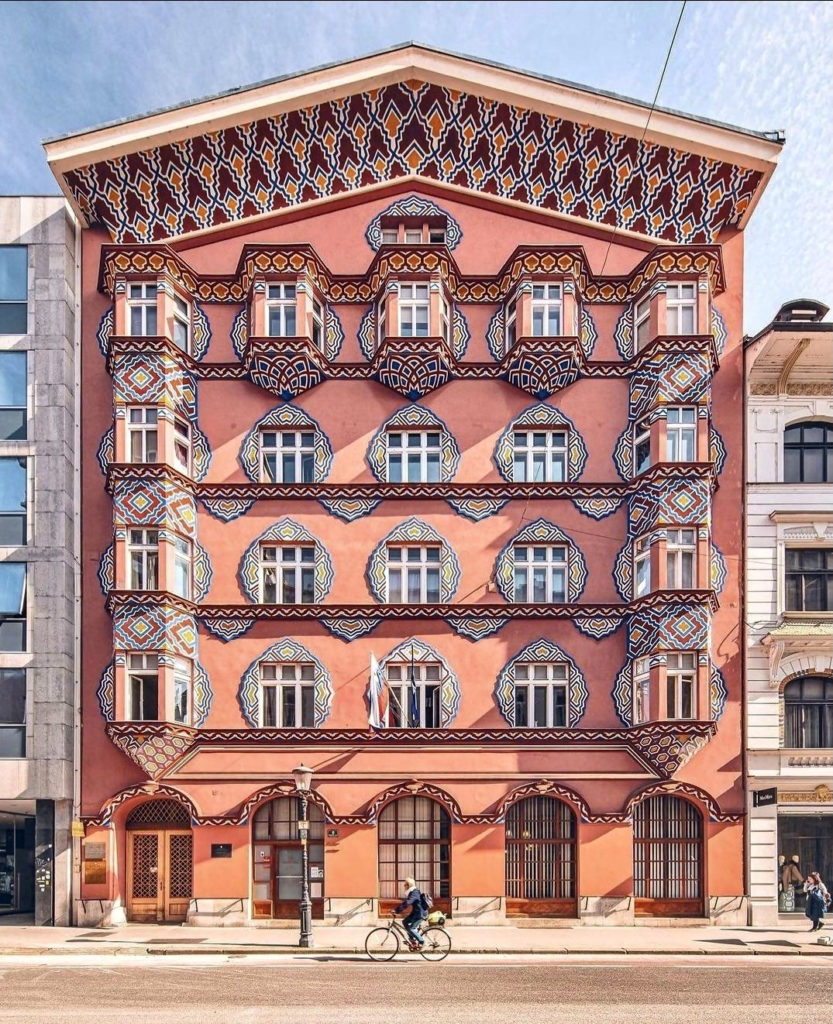 11. Architecture Tour
If you're an architecture fan, Ljubljana will suit. You may want to consider taking a guided architecture tour. You'll learn all about Plečnik and seeing Ljubljana's beautiful Art Nouveau architecture, including the striking Vurnik House.
The architect Plečnik singularly defined the city's aesthetic. Plečnik shaped Ljubljana, just like Gaudi shaped Barcelona and Bernini shaped Rome. You can also book a guided tour of Plečnik's works, which includes a river cruise.
Plečnik wanted to make Ljubljana the "Athens on the North." He was influenced by the architecture of Vienna and Venice. Ljubljana is filled the inventive Art Nouveau architecture of Plečnik and others.
One must see building is the striking 100 year old Vurnik House. It's Ljubljana's most colorful house and a masterpiece of Slovenian Art Nouveau architecture. The structure was designed by Slovenian architect Ivan Vurnik and his Viennese-born wife Helena.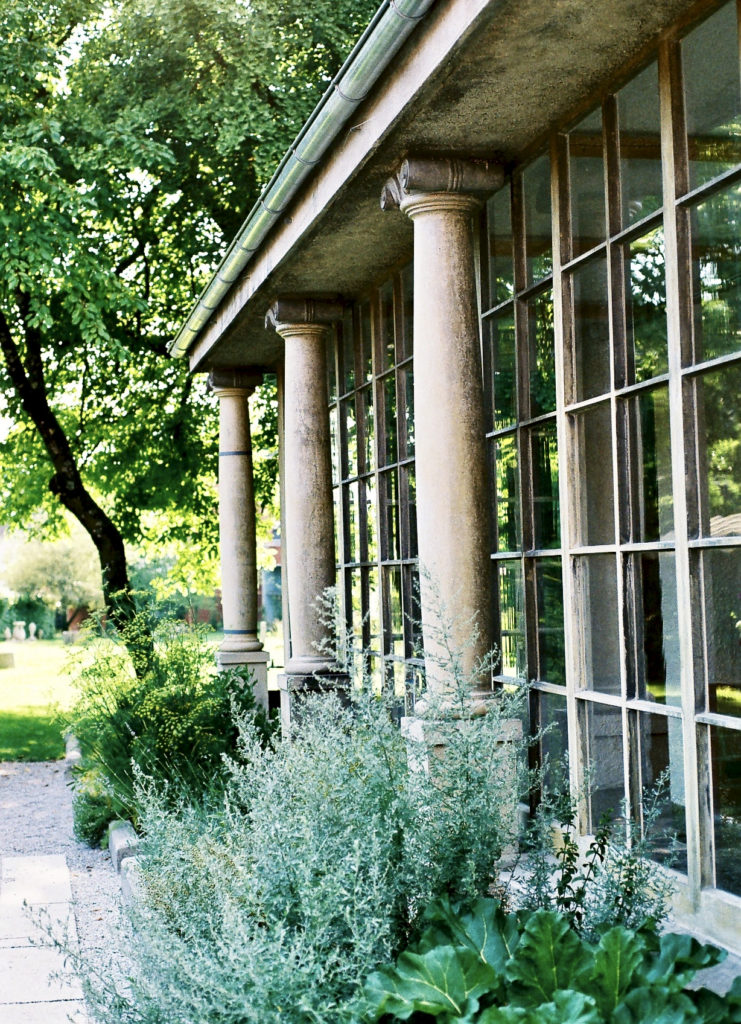 You can't go inside, but it's enough just to cast your eyes on the colorful facade.
Another piece of architecture worth seeing is Plečnik's own home. He lived from 1921-57. It's a 15 minute walk from the historic center. The house has the original Plecnik-designed furniture and decorations.
There's a permanent exhibition featuring Plecnik's drawings, models, plans, and photographs. You can visit via a guided tour.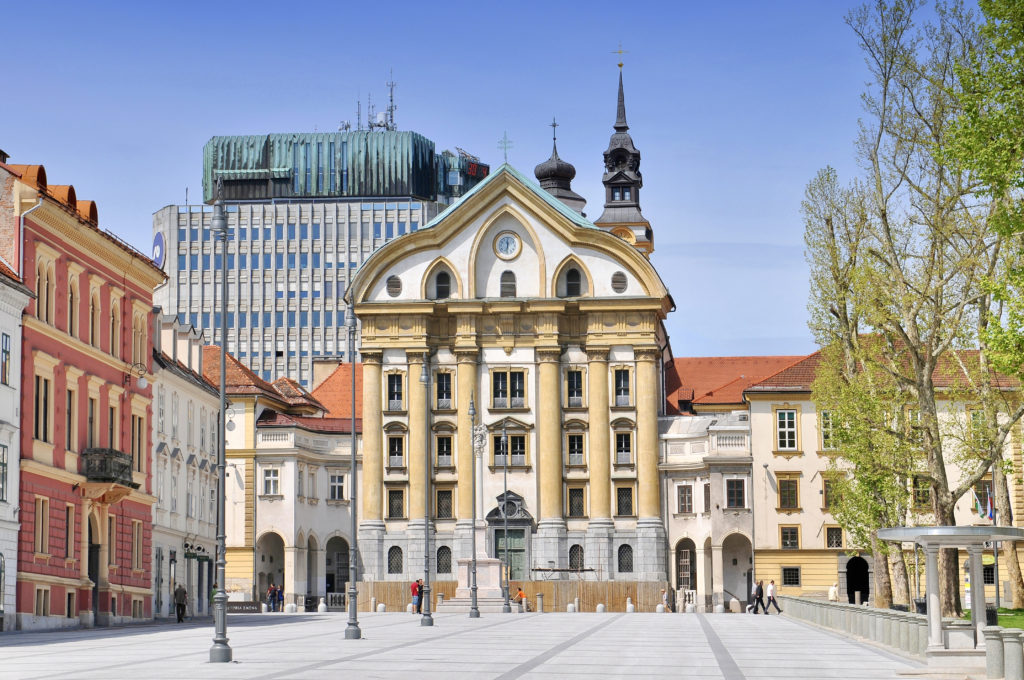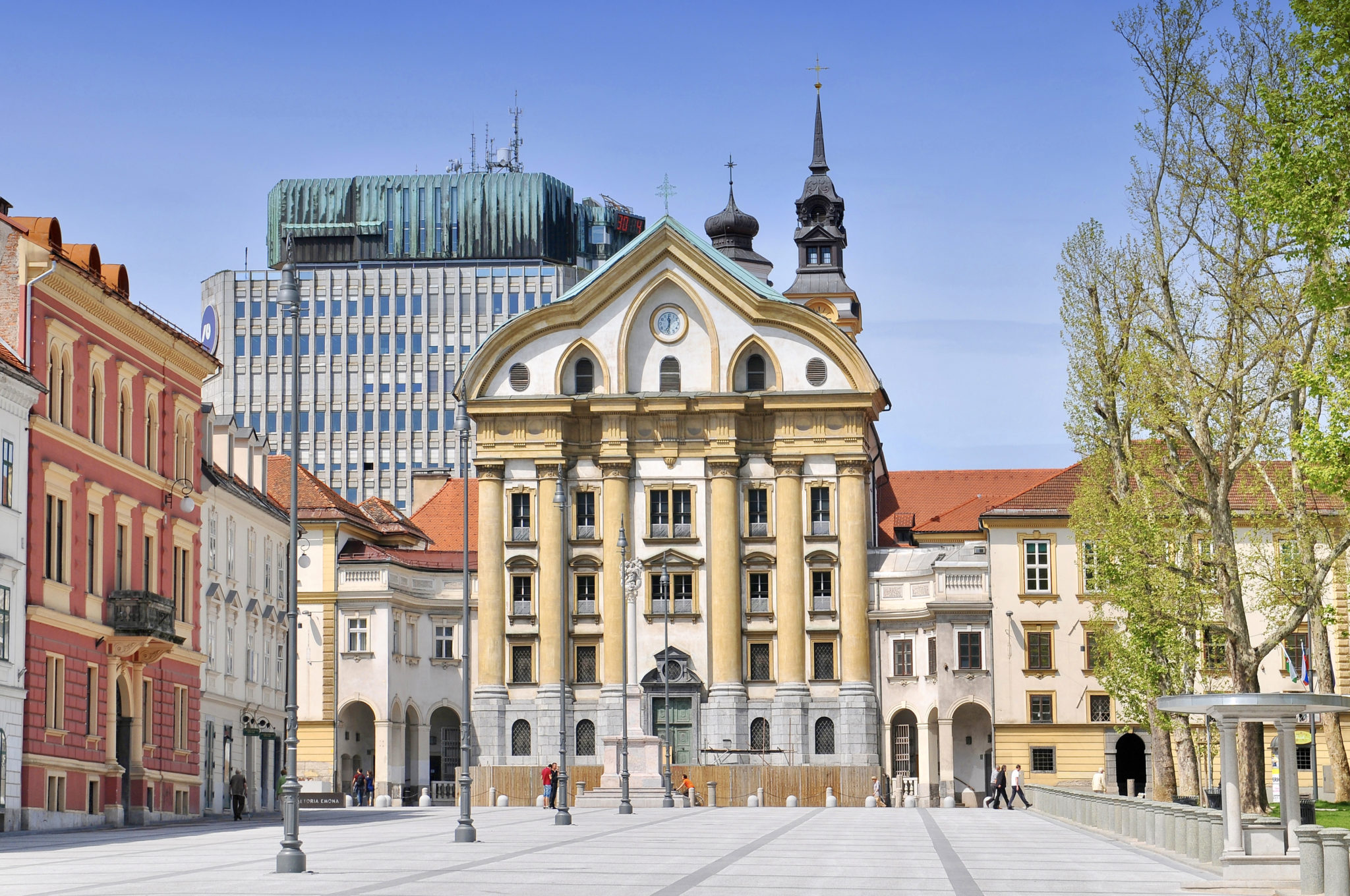 12. Congress Square
In the newer part of Ljubljana lies another of the main squares in Ljubljana, Congress Square or Kongresni trg. The square is surrounded by important buildings, including Ljubljana University, the Holy Trinity Parish Church, and Philharmonic Hall.
With its columned facade, the Trinity Church looks like a Roman temple, not a church. It was built between 1718 -26 in the Baroque style.
In contrast to the showy exterior, the interior is minimalist with plain white walls, which set off the sculptures. The main altar is made of African marble and designed by Italian Baroque sculptor Francesco Robba.
In a townhouse on Congress Square, you'll also find the Museum of Illusions. It's an offbeat museum that draws you into the world of illusions. This is a good attractions for kids.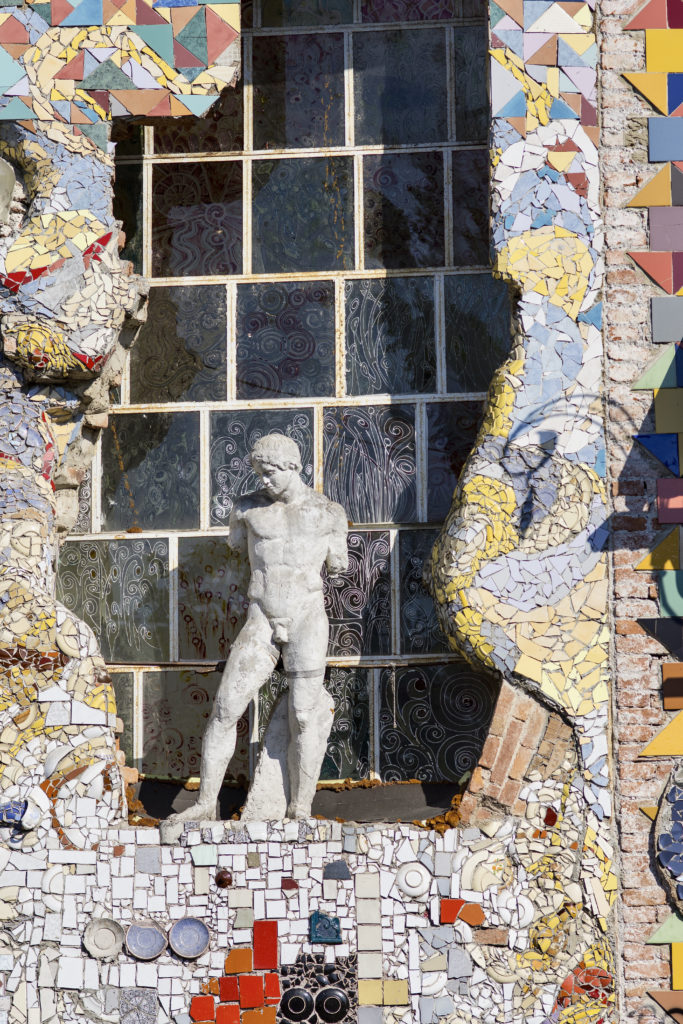 13. Metelkova: Street Art & Museums
If you prefer street art, head over to the Metelkova Mesto district. It's just a short 10 minute stroll from the northern edge of the Old Town. But you'll feel like you're in a fantastical playground.
The area is an old military barracks that, rather than being torn down, became a designed place for creativity. It's an alternative culture zone filled with graffiti art that has an edgy bohemian feel.
The area has also found new life as Ljubljana's Museum Quarter. You can visit the Slovenian Ethnographic Museum, the National Museum of Slovenia and the Museum of Contemporary Art Metelkova.
Aside from the cutting edge street art, there are pop up flea markets and temporary exhibitions. You can also take a guided street art tour, which I always think are fun.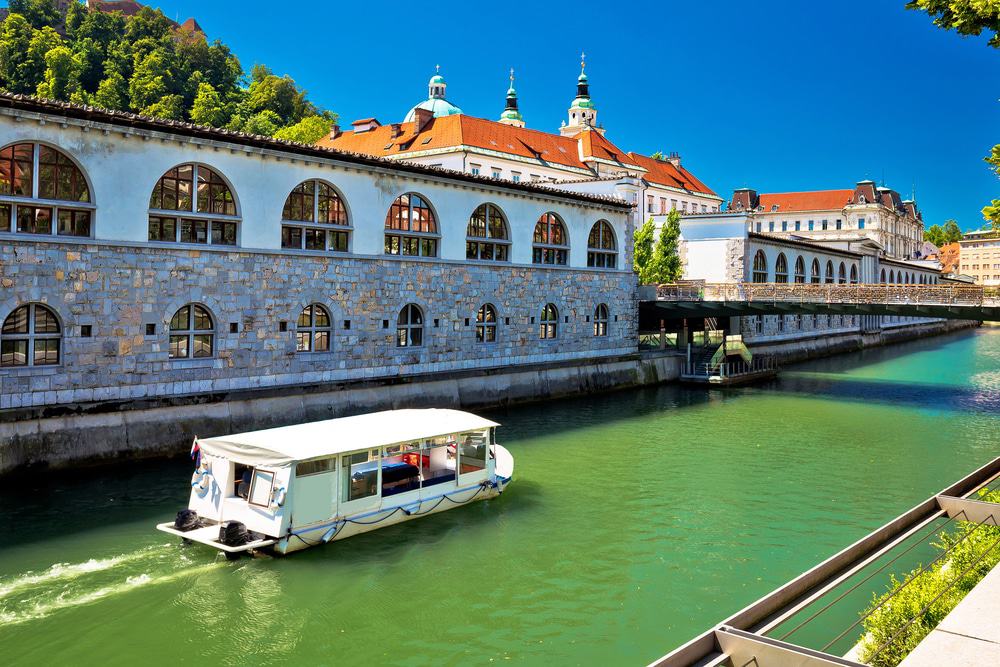 One Day In Ljubljana: Late Afternoon
14. River Cruise
Ljubljana is cut in the middle by the emerald green Ljubljanica River. You can simply stroll down the riverside.
Or, in the late afternoon, hop a boat cruise and glide down the river. The 45 minute ride will give you a unique perspective on the city. Cruises depart near the Triple Bridge.
Alternatively, you can take a 2 hour stand up paddle boating tour on the river.
15. Shopping
If you like shopping, you'll love Ljubljana. Its main street, which changes names from Mestni trg to Start trg, is lined with countless quaint shops and boutiques. You can pick up all sorts of souvenirs and/or clothing.
Some of the boutiques I liked were Zoofa, Fox, and Zebra Goa Na Luno.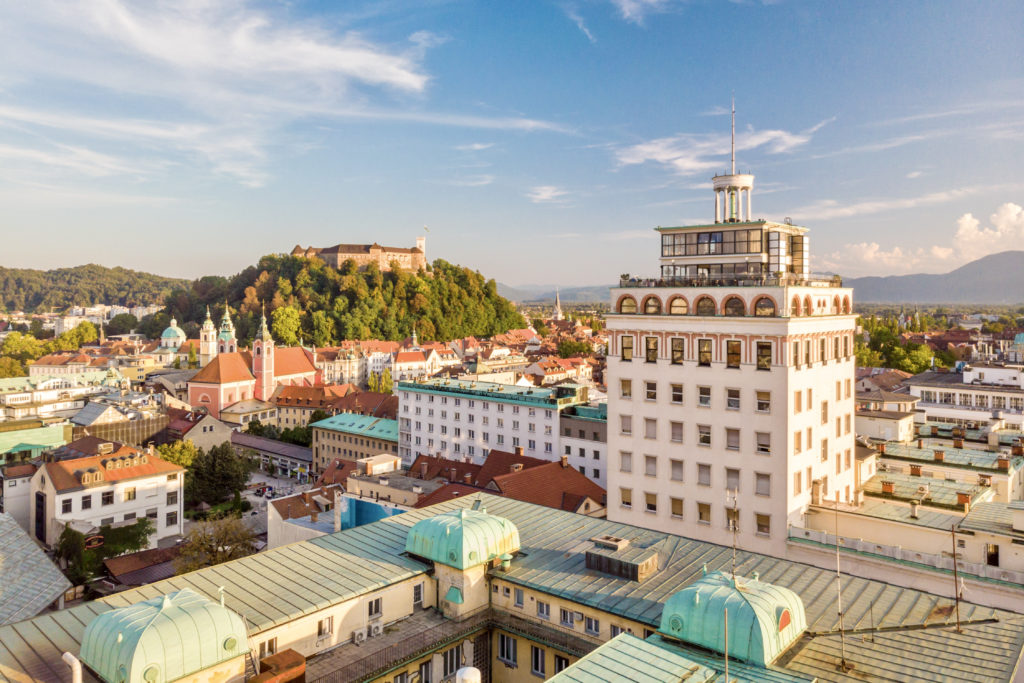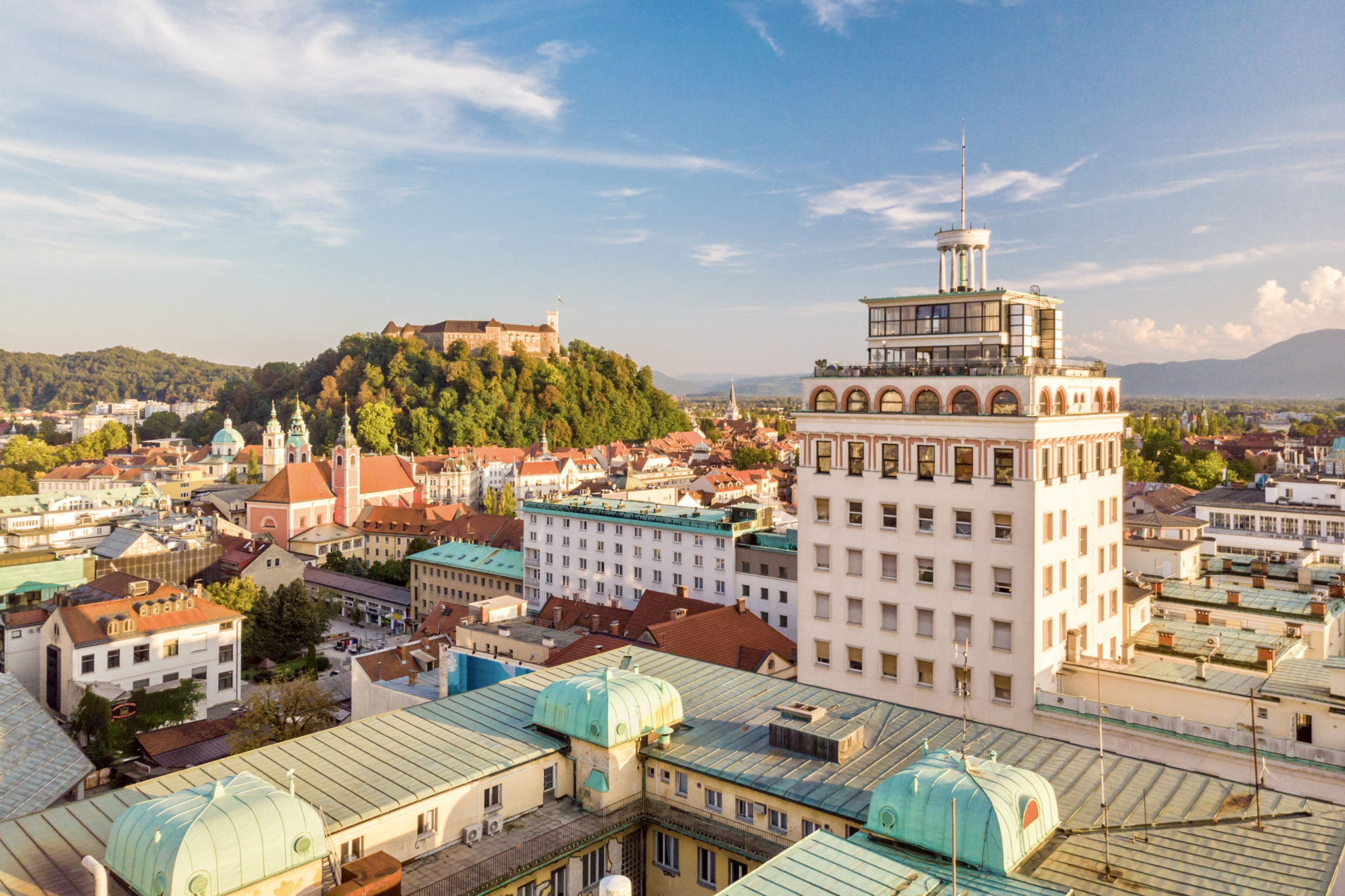 16. The Skyscraper
If you don't want to cruise or shop, head to the Ljubljana's skyscraper, Nebotičnik. Built in 1933, it was the first skyscraper in Slovenia. It's a magnificent building, with Art Deco designs inside and out.
For the best views in Ljubljana, take the free elevator up to the top floor. There's an observation deck, along with some pricey restaurants. On the 12th floor, you can step outside.
One Day In Ljubljana: Evening
17. Restaurants For Dinner
End your 1 day in Ljubljana with a cocktail and great meal. Stop in at Wine Bar Suklje. Try one of Ljubljana's trendy craft breweries or hop on a guided beer tasting tour.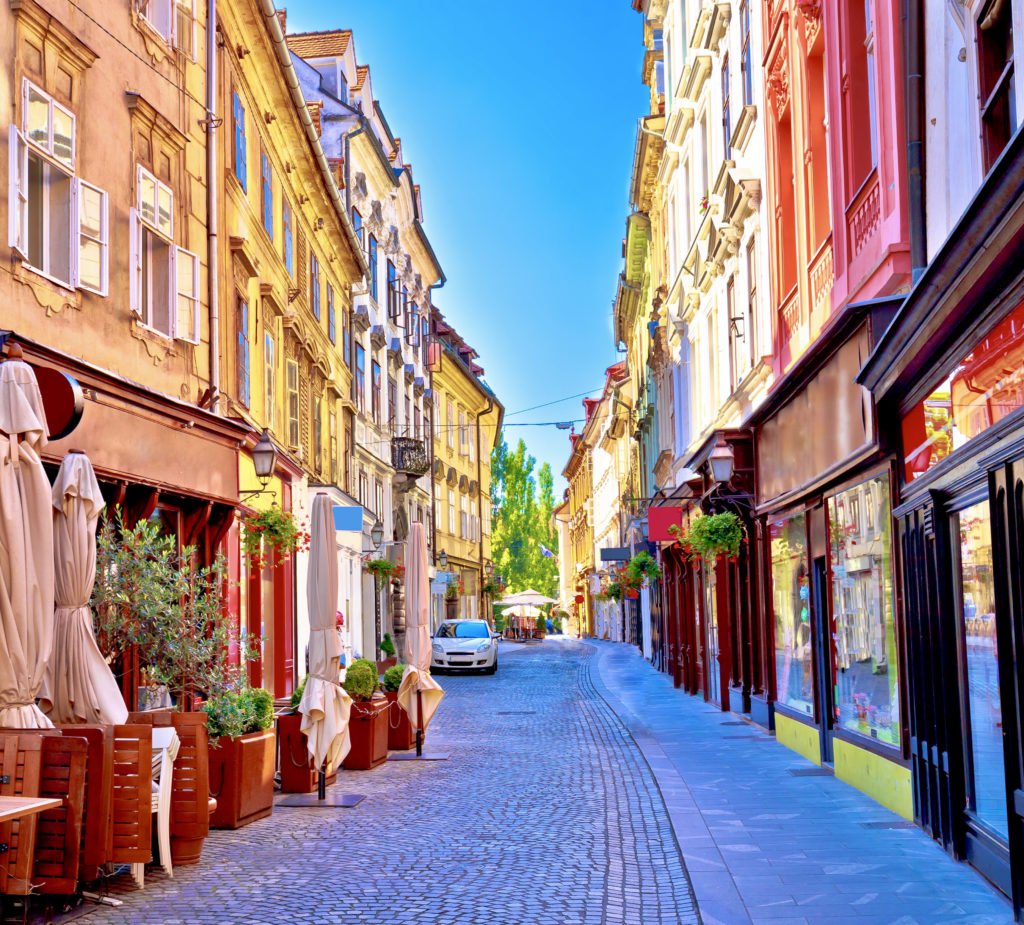 There are plenty of eateries on Gornji Trg offering up delicious seafood and Ljubljana's specialty, fried frog legs. We tried Julija, Monstera Bistro, and Druga Violina. For more options, check out this extensive guide to the best restaurants in Ljubljana.
In Ljubljana, you can also take advantage of the Burek confectioneries, which are traditional in the Balkans. A burek is a filo pastry pasty that comes in all shapes — tubes, wedges, or spirals. It's stuffed with all different ingredients — cheese, spinach, meat, and potatoes.
If you visit Ljubljana on a Friday (from late March through October), you can feast at Open Kitchen. This event takes place in Pogacarjev Square.
Chefs from local restaurants set up in booths offering up Slovenian, Thai, Mexican, and Argentinian fare.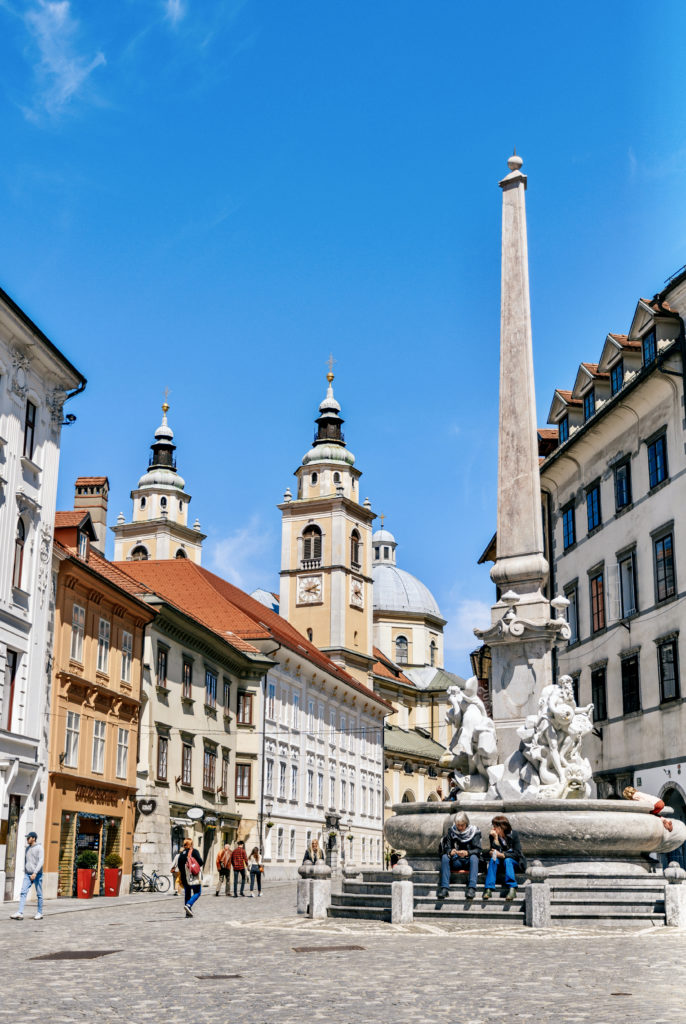 More Time in Ljubljana?
If you have more than one day in Ljubljana, one option is to turn this one day in Ljubljana itinerary into a 2 day itinerary. You can visit at a slower pace and enjoy Ljubljana's cafe culture without rushing.
With 2 days in Ljubljana, you can also add in Tivoli Park tour. It's a huge park west of the city center with ponds, gardens, and a zoo.
The verdant green park is crossed by three tree-lined walks and landscaped with ornamental flower beds, interesting trees, and numerous statues and fountains.
With its central location in Slovenia, Ljubljana also makes an excellent base for day trips. Here are 5 beautiful beautiful destinations in Slovenia that are near Ljubljana:
1. Piran
The beautiful seaside town of Piran in Slovenia sits on a slender finger of a peninsula. It's completely encircled by the sparkling Adriatic sea.
You'll feel like you've been power beamed to Tuscany. It's a little slice of Italy. You can drive or book a day trip tour from Ljubljana.
Semi-crumbling pastel facades that Michelangelo might have sculpted rise above ancient maze-like streets. Venetian architecture is adorned with tracery windows.
The compact historic core is one of the best preserved medieval sites in the Mediterranean. Piran's reminiscent of Venice, but without the canals or hordes of tourists.
Tartini Square is the heart of Piran's old town. It's a marble-paved, sherbet-toned, red roofed oval.
Tartini Square is full of chic bars, alfresco cafes, and colorful houses. It's a splendid place to snack and people watch.
Here's my complete guide to Piran. Click here to book a guided day tour to Piran from Ljubljana.
2. Lake Bled
Lake Bled is Slovenia's top alpine resort. Lake Bled sits placidly in the shadow of the Julian Alps in Slovenia, thronged by forests and mountains. It's a frankly outrageous combination of blue and green.
You can also book a small group day trip from Ljubljana to Lake Bled. Or a private guided day tour to Lake Bled. Or a tour that includes Bled Castle.
Once there, take the 3 mile walk around the lake. Stop to take in the contrasting green wooded and azure views and admire the swans.
If you're in a rush, you can rent a bike and cycle the lake. If you want a real hike, take the one hour hike up to the best viewing point, Malo Osojnica on the western side of Lake Bled.
You can also visit the 11th century Bled Castle, which is often hailed as Slovenia's most ancient castle. It's perched 130 meters above the lake's walking path. The castle's red turrets and roofs make a showy splash against the blue sky.
In the center of the lake is a small island and the Church of the Assumption. Flat bottomed boats ferry people back and forth. Local legend holds that if you ring the church's bell three times, your wish will come true.
Here's my complete guide to visiting Lake Bled.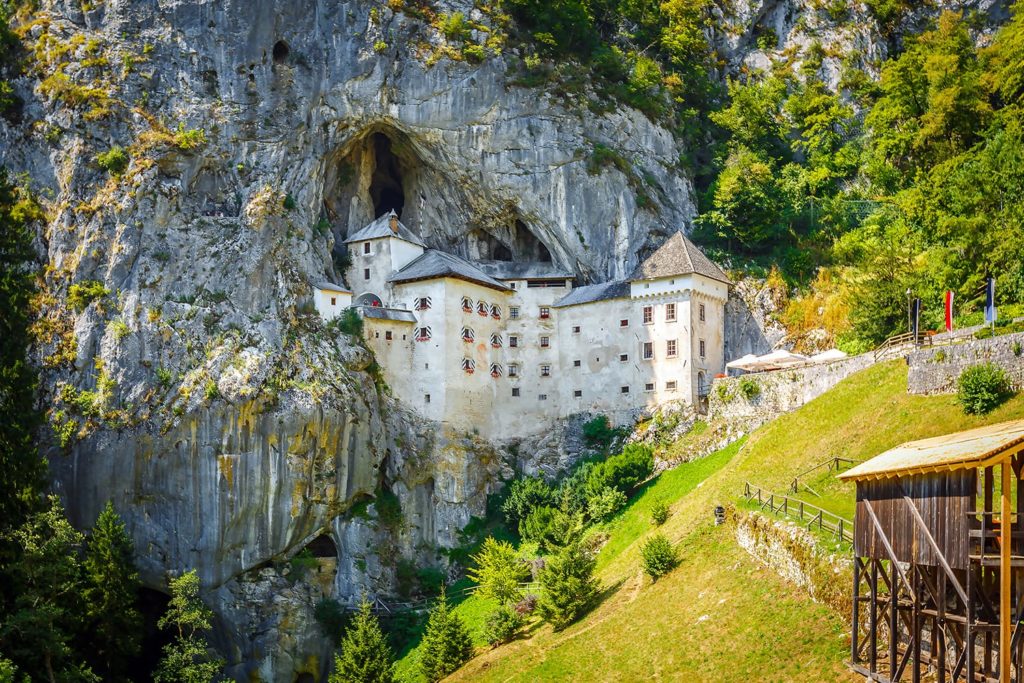 3. Predjama Cave Castle
If a medieval fairytale type castle is one your agenda, look no further. Less than an hour from Ljubljana lies one of Europe's most photogenic castles, Predjama Castle. The castle is a must visit beautiful place in Slovenia.
Predjama Castle is one of the country's most popular attractions. Tucked into the mouth of a towering cliff, it's a cave fortress filled with secret tunnels and hidden caves.
Predjama Castle's whitewashed walls are set off by the landscape and natural rock. It's foreboding and exudes mystery.
What makes this place special and visually appealing is that the castle is partly built into the cave. Underneath the castle, there's a massive cave. You don't really need to go inside. But it's a scenic spot to stop for a drink or coffee.
4. Postojna Caves
You can combine a visit to Predjama Castle with the Postojna Caves. This is the largest cave system in Slovenia, spanning 12 miles.
You board an open air train, which slings you into a gaping hole in the mountain. One of the caverns is lit with chandeliers.
Once there, you'll follow a guide down well lit paths. As you hike up the "Big mountain," you're surrounded by a sea of stalagmites and stalactites.
Hiking back down, you'll pass "Spaghetti Hall" (with long skinny stalactites and curtains of rocks) to the "Concert Hall."
You can book a guided day tour that takes you to both Predjama Cave Castle and the Postojna Caves from Ljubljana.
5. Skocjan Caves
The dramatic Škocjan Caves have been a UNESCO site since 1986. These subterranean caves are gargantuan, spooky, and an absolute must visit if you're traveling through Slovenia.
You'll see stalagmites, stalactites, and interesting rock formations. You visit on a 1.5 hour guided tour through the lighted passageways. In the Grand Cavern, the mighty Reka River crashes through.
If you only have time for one sets of caves, I would chose Škocjan over Postojna. Click here to book a guided day trip tour of the caves from Ljubljana.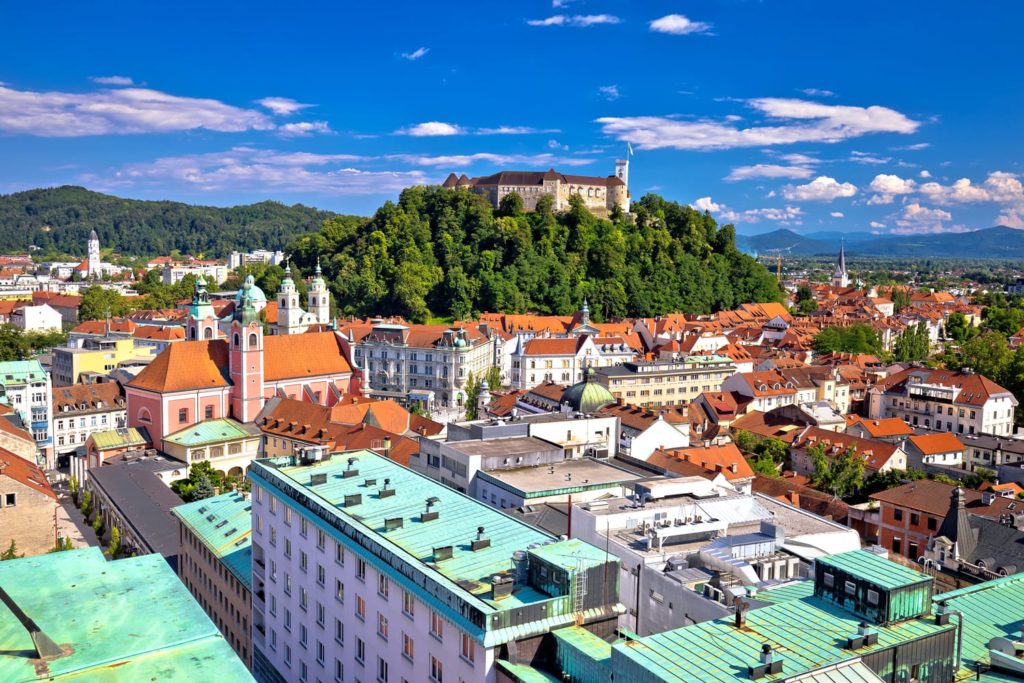 Tips For Visiting Ljubljana
1. How To Get To Ljubljana
Ljubljana is well connected. You can fly into the Joze Pucnik Airport. To get to the city center, you can take a taxi or book a private transfer.
There's also a train and bus station, right next to each other.
I drove to Ljubljana from Croatia. You can park your car in one forth park and ride lots. Parking spaces in the city are limited.
2. How To Get Around Ljubljana
Ljubljana is entirely walkable. You won't need to take public transportation.
You might also consider biking, which is popular with the Ljubljana residents. The bike lanes are well marked and you can pick one up at the Slovenian Tourist Information Center. Or just grab one at one of the many bike stations.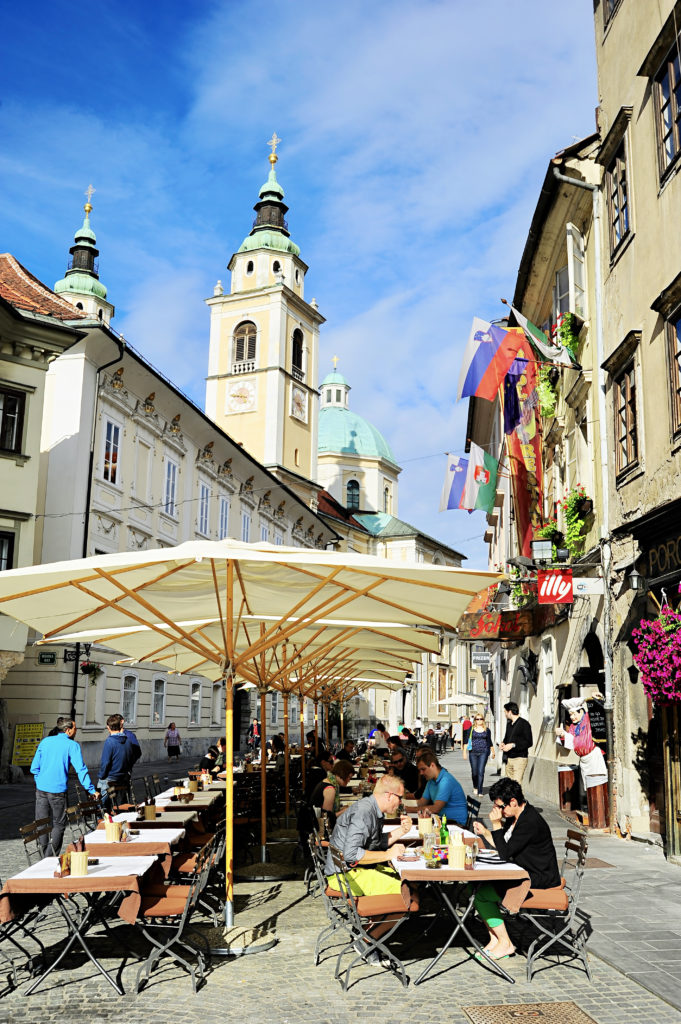 If you want to take a taxi, call and book a ride in advance. Or you could be ripped off. There are no set taxi rates in Ljubljana.
You won't need a car in Ljubljana. And it's not a car friendly city.
But it might be handy to have a car to day trip from Ljubljana or road trip around Slovenia. You just need to ensure that you have a place to park your car at your accommodation. And when driving in Slovenia, you need a vignette to use the roads and highways.
READ: Tips For Renting A Car And Driving in Europe
3. Where To Stay In Ljubljana
I stayed at an Air Bnb when I last visited Ljubljana. But there are a lot of cute boutique hotels in Ljubljana: Hotel Angel, Zlata Iadjica Boutique Hotel, and the Antiq Palace Hotel and Spa.
You can also swank it up at the Vander Urbani Resort on the river embankment or the Grand Hotel Union.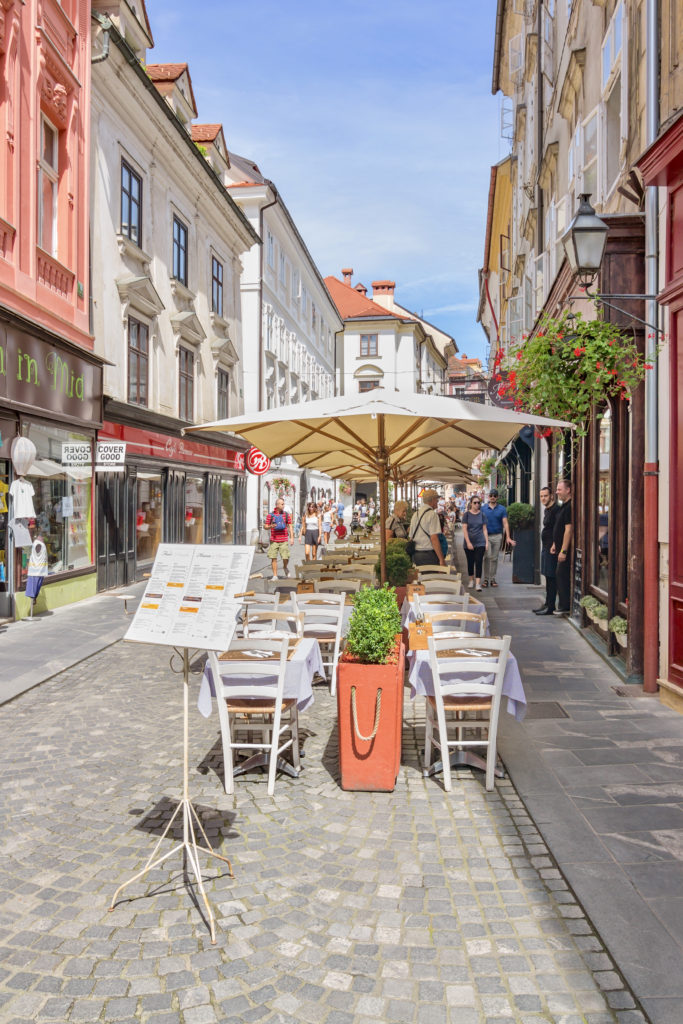 4. Currency
Slovenia uses the euro for currency. The language is Slovenian. But many Slovenians speak flawless English. I had no problem communicating.
5. Tours of Ljubljana
The Tourist Office offers a free hour walking tour that leaves at 11:00 am. You don't even need to make a reservation. Just show up at the meeting place on the stairs of the pink church in Prešeren Square.
There are so many ways to explore Ljubljana. Depending on your own interests, you can also book: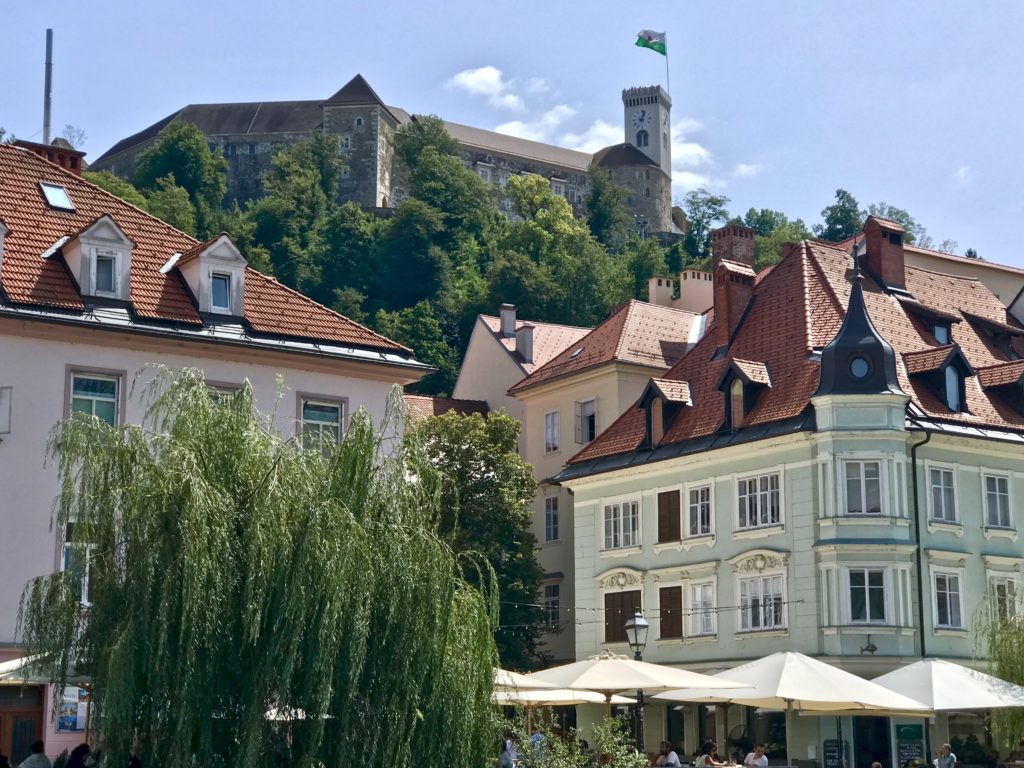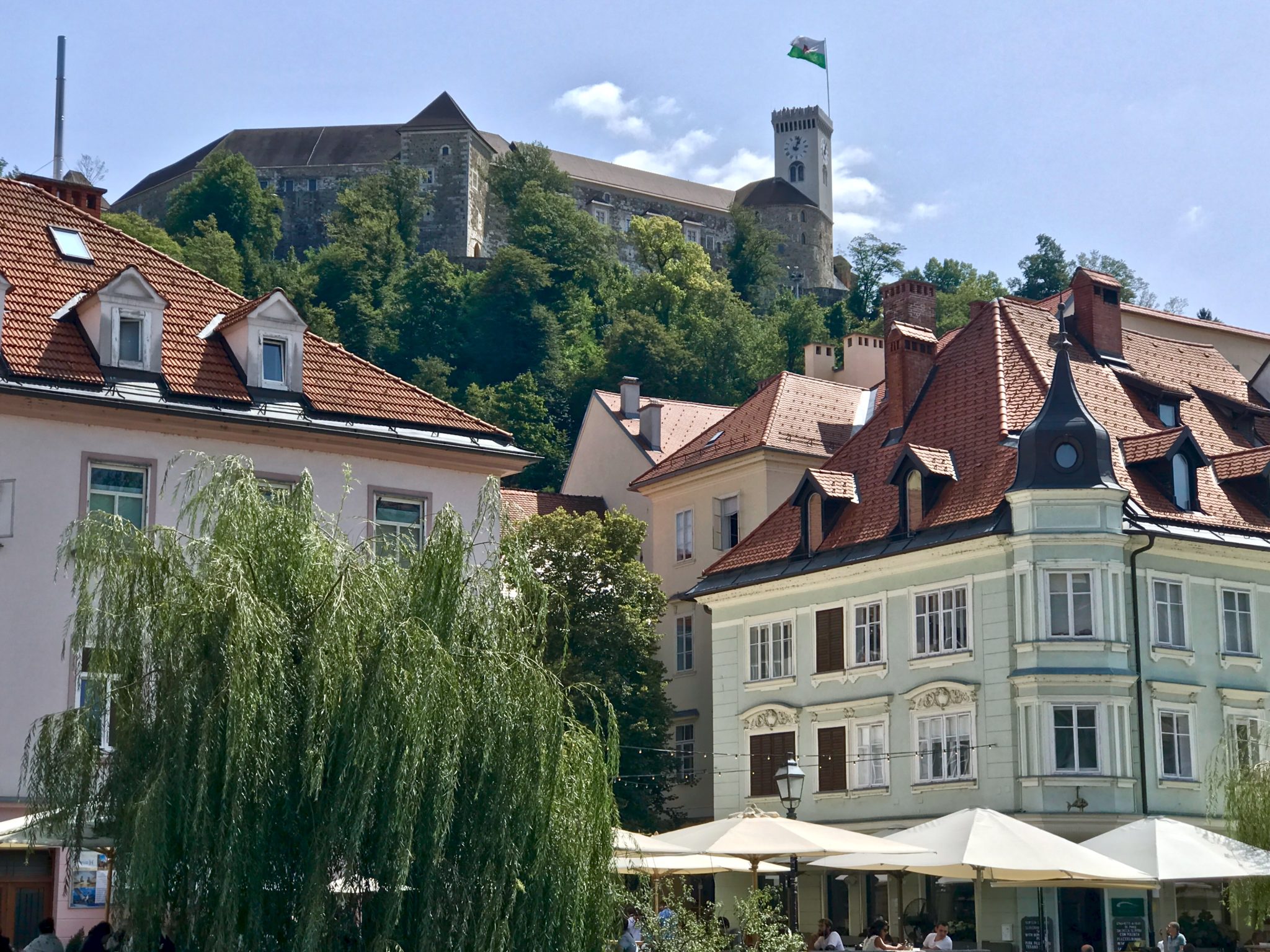 6. When To Visit Ljubljana
You can visit Ljubljana in any season. I last visited in summer, and it wasn't oppressively hot. But I think the city would also be magical in winter with twinkling lights and the snow capped alps.
I hope you've enjoyed my one day in Ljubljana itinerary. You may enjoy these other Europe travel guides:
If you'd like to spend one day in Ljubljana, pin it for later.