Here's my guide to visiting the breathing Lake Bled in Bled Slovenia, with tips for visiting and the best things to do and see. Lake Bled is the most popular day trip from Ljubljana. I also give you the lowdown on other attractions near Lake Bled.
Lake Bled is having a moment. Photos of the iconic lake litter Facebook and Instagram, pop up in travel magazines, and linger in the imagination. And there's a reason. Type in the latitude and longitude for "beautiful lake," and you'll arrive at Lake Bled.
Here's why.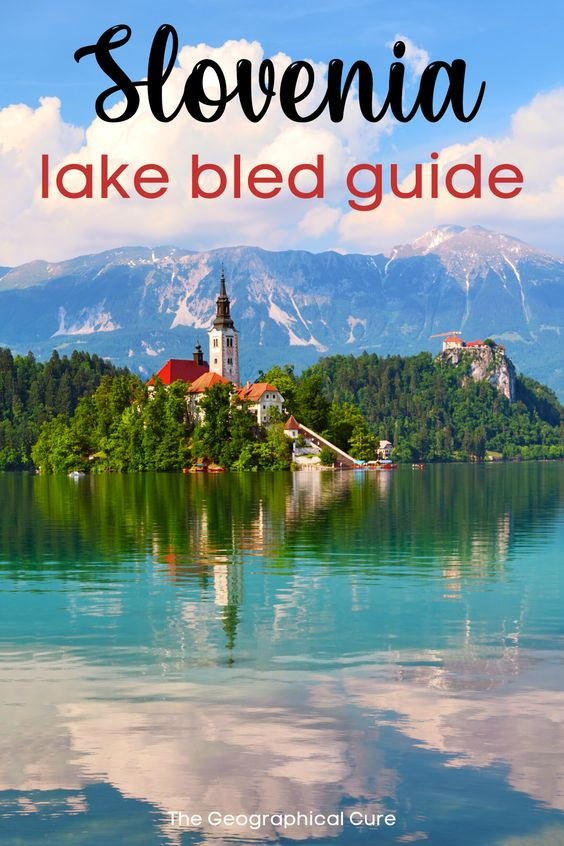 Lake Bled sits placidly in the shadow of the Julian Alps in Slovenia, thronged by forests and mountains. It's a frankly outrageous combination of blue and green.
Lake Bled boasts a cliffhanging medieval castle carved into a mountain. Bloggers and travel writers routinely use the (now hackneyed) term "fairytale" to describe the #1 tourist attraction in Slovenia.
I wanted to go. Just not with a horde of tourists interfering with my geographical cure. Did that many people know about Lake Bled, I wondered? In the end, it didn't matter. There it was, adorned with history and traveler hype, and there I was in Slovenia.
Lake Bled as a Day Trip From Ljubljana
I had enjoyed a few leisurely days in nearby Ljubljana, a lovely small capital city filled with bridges, Jože Plečnik architecture, and a cafe-lined emerald green river. Having sampled its subtle and hedonistic pleasures, my travel partner and daughter announced it was time for "some nature." I didn't need too much convincing.
And so we set off in our rental car for Lake Bled. 45 minutes later, we parked behind the Hotel Krim in Bled and paid for parking by SMS. We didn't bother with the town. We headed straight for the iconic lake.
A Short History of Lake Bled
Lake Bled has been inhabited since the Stone Age, or so the story goes. Graves have been discovered there dating from the Iron Age. There were waves of Slavic settlements in the middle ages.
After the fall of the Slavic state, Bled passed through many hands — Frankish, German, Austrian, Napoleonic, and Austrian again. During WWII, Bled was used to house German armaments and it officially became a town in 1960.
What To See and Do at Lake Bled
In late August, as expected, there were quite a few tourists. Not a horde per se, but a goodly number. You could grudgingly see why they're all there.
Lake Bled is not overrated. Its beauty and tranquility shine through, despite meeting other humans at nearly every turn. It is a place to be reconnected with nature and be humbled by it.
1. Lake Walk
We took the 2 kilometer walk around the lake, stopping to take in the contrasting green wooded and azure views and admire the swans. If you're in a rush, you can rent a bike and cycle the lake.
There are more strenuous hikes, to Ojstrica and Osojnica. But in our languorous Ljubljana state of mind, we had forgotten proper hiking shoes. Obviously, we were not natural outdoorsmen. Nonetheless, we strode on in good humor, seeing only the beauty of the place and not the beauty missed.
2. The "Grant a Wish" Island
With crossed arms and cynical attitudes, we had resolved in advance to skip the plenta boat tour out to the only natural island in Slovenia, tiny Bled Island, and the accompanying 17th century pilgrimage Church of the Assumption.
To us, the baroque church seemed kitschy, overrated, and a rather time consuming tourist trap. Ringing a bell and making a wish, fairytale style, held no appeal. Plus, we saved almost 20 euros and avoided a long wait at the most clogged tourist spot at Lake Bled.
The plenta boats, hand built wooden traditional gondolas used to transport tourists to the church, looked appealing though. And the fact that no motorized boats are permitted on the lake served to preserve the serenity of the area.
3. Noon Feeding
Having completed the hike and frivolously wasted our chance at wish fulfillment, we turned our minds and bellies toward lunch. Lunch with a view was on the menu. We settled on Grajska Plaza near the base of Bled Castle. Naturally, so did others, but we eventually secured a table.
While the restaurant didn't scream gastro, it had a versatile menu. We started with the deer salami platter and shared pesto pasta and octopus stew as entrees. The dishes were tasty, well-presented, and cooked to perfection — a tall order in a tourist town.
4. Bled Castle Cliffhanger
Next up was a visit to the 11th century Bled Castle, which is often hailed as the oldest castle in Slovenia.
It's perched 130 meters above the lake's walking path, its red turrets and roofs making a splash on the blue skyscape. The small castle has ramparts, moats, romanesque walls, and Renaissance buildings — everything you might expect from a medieval fortress.
You can reach the castle on foot from three trails labeled "Grad." Despite wearing my usual summer attire of flip flops, we gradually made our way up the steep rocky path, clocking in under 15 minutes.
If you're visiting just for the views, head to the left by the bar/gelateria and ascend a staircase. No delayed gratification: the castle provides stunning panoramic views of Lake Bled, Bled Island, and the Julian Alps.
I found the views more fascinating than the castle itself. Still, there's quite a bit up on the perch, including a 16th century chapel, a small museum dedicated to the lake's history, two courtyards, shops, and a wine cellar. It's a tiny village of its own.
5. Legend of the Sunken Bell
You'll notice that bells are a staple at the castle gift shops. This is due to the "legend of the sunken bell." The myth holds that there's a mythical bell lodged at the bottom of the lake.
Once upon a time, there was a widow who lived in Bled Castle. Her husband was brutally murdered by robbers and his dead body tossed in the lake. The widow gathered all her gold and silver and cast a bell in his honor for the Bled Island church.
When the bell was being rowed to the island for installation, there was a terrible storm, which sank the boat and the bell with it. The lake was sucking up bodies right and left …
Distraught, the widow moved to Rome and embraced God. Moved by her story and her good works as a nun, the Pope cast a new bell upon the widow's death and decreed that it could grant wishes.
Today, the bell hangs in the church tower. Indeed, it's the very bell that we had just spurned in our purist pique.
Though we didn't make a wish, Slovenians are more romantic. They still celebrate the legend today. On Christmas day, divers participate in a ceremony to resurrect the sunken bell from the depths of the lake.
6. A Dash of Sugar: the Bled Cream Cake
As a Slovenian instructed, you can't visit Lake Bled without having its famous cream cake or kremšnita. So while you're at Bled Castle, stop in at its restaurant and sample this delectable concoction of puff pasty, egg custard, vanilla cream, and powdered sugar.
According to National Geographic, Bled cream cake:
"is a dish that can be dated back to the height of the Austro-Hungarian Empire in the 18th and 19th centuries. Almost all the countries under the Hapsburg's former reign still have a version of the cake: Bosnians enjoy krempita, Polish love kremówka, and Slovakians dine happily on their krémeš. The Slovenian version of cream cake is kremna rezina and, thanks to a recent granting of protected designation of origin status, it only comes from the patisseries at Lake Bled."
— National Geographic, Oct. 2, 2015
We loved it, more please.
7. A Gorgeous Detour: Vintgar Gorge
If you are energized by the cream cake and have a spare couple hours, head to the extremely photogenic Vintgar Gorge, a short 15 minute drive north of Lake Bled. I found it almost as scenically satisfying as Bled, and it was ever so slightly less touristy. It's open 8:00 am-7:00 pm in the summer, entry is €5.
Vintgar Gorge is a 1.6 kilometer wooden walkway that zig zags over the Radovna River. It reaches 100 meters in some places and clings to the side of cliffs, sometimes leaving room for only a single file shuffle. It's a relatively flat and easy to walk in and out trail. At the end of the trail is the impressive 16 meter Šum Waterfall flowing beneath the Bohinj railway bridge.
You have to leave time to appreciate the stunning views.
In some places, the wooden platforms cross the river and you can walk over steaming rapids. In other areas, you can scramble down to the river bank.
In all areas, the color and quality water is incredible, occasionally appearing sprinkled, even to a cynic, with fairy dust.
8. Another Detour: Predjama Cave Castle
If you're staying in Lake Bled, another fun detour is Predjama Castle. It's Slovenia's fairytale cave castle.
Tucked into the mouth of a towering cliff, the cave castle is one of Slovenia's most famous attractions — a cave fortress filled with secret tunnels and hidden caves.
Your first glimpse is breathtaking. Predjama Castle's whitewashed walls are set off by the landscape and natural rock.
No fairytale castle is complete without an accompanying romantic folk legend. And Predjama Castle has one. It's a romantic legend featuring a rebellious knight and robber baron who fancied himself a Slovenian Robin Hood, named Erazem Lueger.
Erazem stole from the rich to give to the poor. He outlasted a siege by the Hapsburgs using a secret tunnel.
Aside from the tourists, there is nothing not to love at Lake Bled. If you're in a fastidious state of mind, come slightly off season to have the hiking trails to yourself.
Even if you don't, Lake Bled still exceeds by good measure your mental image of an idyllic mountainside village. It's worth the day trip for the majestic scenery, cliffhanging castle, and cream cake. You don't have to wish for beauty. It's there, just waiting to astound you.
Practical Information for Visiting Lake Bled and the surrounding area:
Bled Castle:
Address: Grajska cesta, 4260 Bled, Slovenia
Hours:
Jan-Mar & Nov-Dec, 8:00 am to 6:00 pm
April-June & Sept-Oct, 8:00 am to 8:0pm
July-Aug, 8:00 am to 9:00 pm
Entry Fee: Adult 11 €, Students 7 €, 5 €
Vintgar Gorge:
Address: Turistično društvo Gorje, Podhom 80, 4247 Zgornje Gorje, Slovenia Price: Adults 5 €; Children 6-15 years 2.5 €, parking is free Location: 5 km northwest of Bled (10 minutes by car) Hours: 8 am to 7 pm during the summer months; visit the official website for updated hours the remainder of the year
Predjama Castle:
Address: 6230 Predjama, lovenia
Hours: Daily 9:00 am to 7:00 pm May through September and at least 10:00 am to 4:00 pm in the winter months
Entry fee: 13.80 euro, audio guide included
Pro tips: There's ample free parking around the castle.
You may enjoy these other Central Europe travel guides and resources:
15 Beautiful Places in Slovenia
Guide To the Attractions on the Danube River
If you'd like to day trip to Lake Bled in Slovenia it, pin it for later.