Looking to get off the beaten path in Spain? Here's my guide to visiting Spain's secret out-of-the-way towns, villages, and hidden gems.
This guide will appeal to savvy travelers who adore hidden gems. Or those who are simply weary of urban tourist clogs.
Spain's hotspots — Barcelona, Madrid, the Basque Country — are beautiful, but suffer from tourism saturation.
The good news is that there are some truly exquisite quieter alternatives, if you know where to look. This guide takes you on a de-touring of Spain, to Spain's off the radar hidden gem towns.
From north to south, Spain is filled with picturesque less touristy hamlets that often go unnoticed and undiscovered. Many of these villages are among Spain's most beautiful towns and are designated UNESCO World Heritage sites.
Spain's undiscovered small towns are appealing and romantic — swathed in centuries old cobbled lanes, whitewashed cottages, alcazabas, and doughty cathedrals. You'll be transported back in time to a quainter and simpler version of life.
If you have tourist phobia like me and are looking for more unusual things to do in Spain, you'll want to ferret out these lovely small Spanish towns.
They may not hog the headlines. But these hidden gems are just as beautiful as Barcelona or Seville. Some are even easy day trips from Spain's major cities.
Hidden Gems In Spain
These adorable less visited Spanish towns are just too perfect to be kept secret. Bookmark them now for planning an itinerary or future road trip in Spain.
1. Albarracin
Perched on a cliff above the Guadalaviar River in Aragon, Albarracin is a gorgeous medieval hilltop town. It's been listed as a national monument since 1961. In 2018, Spaniards voted Albarracin Spain's prettiest town.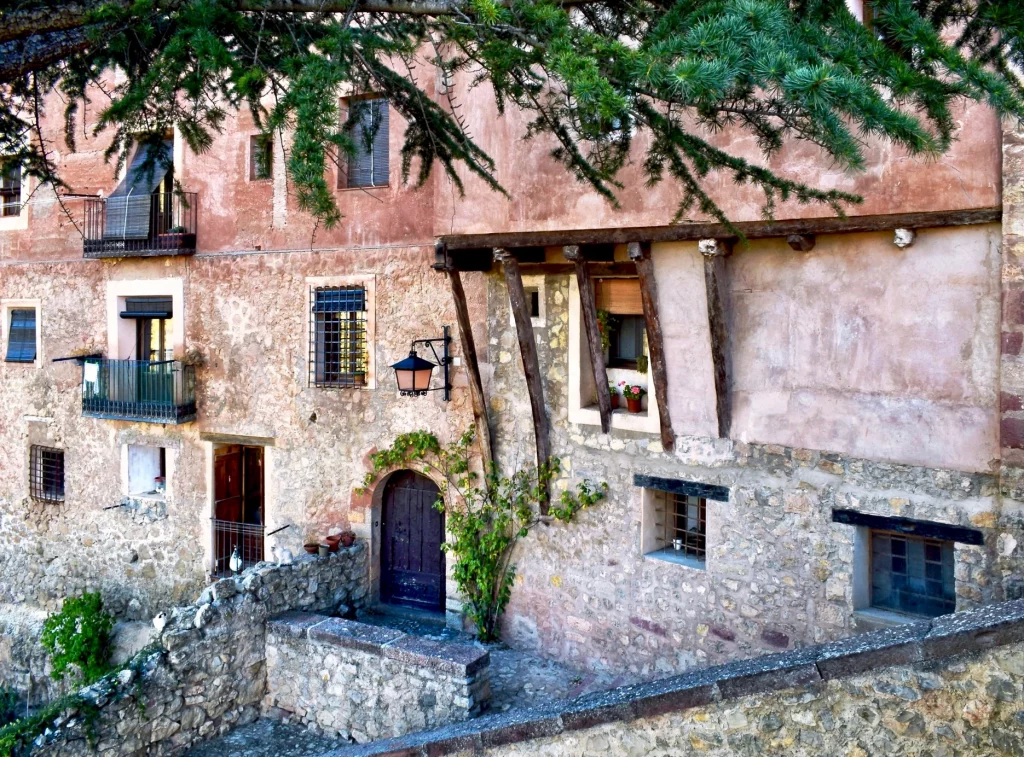 The town's light pink and orange hued buildings rise organically from a sun-scorched mountain. Albarracin harmonizes Gothic and Moorish architecture and nature beautifully.
At the top of the winding village, pop into Albarracin Cathedral. It's on the site of a historic Roman Temple. The late 16th century cathedral combines Renaissance and Gothic architectural elements and dominates the cityscape.
Ramble over the town's medieval curtain walls too. They once protected the city from all manner of unfavorable people, but mostly Christians. You have a breathtaking view from the Torre del Andador.
2. Antequera
The Spanish-Baroque town of Antequera is fittingly dubbed the "Florence of Andalusia." Antequera is a hidden gem in Andalusia. You'll have the place mostly to yourself, which is a singular joy in southern Spain.
If you're day tripping, there's a lot to do. Park your car on the outskirts of town and walk up Calle Don Infante.
Antequera boasts an impressive Moorish Alcazaba, almost like a mini Alhambra. It also has a lovely Renaissance church and a stunning medieval and baroque historical core. You'll have an eyeful of swoonful scenery.
READ: Complete Guide to Granada's Alhambra
Antequera's ancient megaliths/dolmens are outside the old town. You'll see signs. The dolmens date from the Bronze Age and are among the oldest things on the planet. They are essentially Spain's Stonehenge.
The dolmens are ancient burial grounds that were declared a UNESCO site in 2016. They're one of the most remarkable engineering and architectural works of European prehistory and an important example of European Megalthism.
For more details and information, check out my two guides to visiting the town of Antequera and to Antequera's UNESCO dolmens. To see it all, you may want to book a guided walking tour.
3. Besalu
Located in the foothills of the Pyrenees, Besalu may be the most interesting Spanish village you've never visited. Once the capital of Charlemagne's 8th and 9th century feudal Spain, Besalu is the prototype of a well-preserved medieval town.
Besalu's photogenic bumpy cobblestone streets and ancient stone buildings are charming. The center is Placa de la Lliberat, chock full of cafes and artisan shops.
The ancient town's most emblematic sight is its 12th century fortified bridge, complete with crenellated battlements. But there are plenty of architectural treats in Besalu.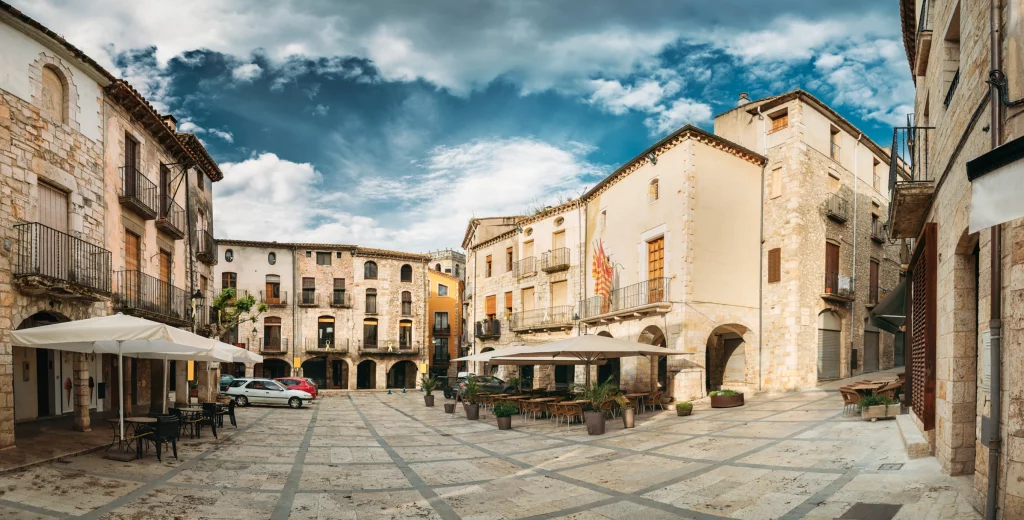 Sant Vicente is Besalu's best Romanesque church, dating from the 10th century. It has a particularly beautiful rose window.
The Church of Sant Pere, or Saint Peter, is all that remains of the 10th century Benedictine monastery torn down in 1835. The ruins of the convent of Santa Maria on the hill above town offer a panoramic vantage point over Besalu.
You can also visit rare Jewish baths, discovered in the 1960s. A tourist train leaves from the medieval bridge every 45 minutes and visits the baths and the two churches.
You can visit Besalu on a guided day trip from Barcelona.
4. Cadaques
Cadaques has a reputation as one of the most painted villages in the world. This once isolated sleepy fishing village in Costa Brava attracted artists and writers such as Pablo Picasso, Joan Miro and Marcel Duchamp. They came for its whitewashed buildings, vivid colors, and rugged beauty.
While in Cadaques, explore the cobbled streets of the Old Town, the large Church of Santa Maria (beautiful altar and great views from the terrace), and the Cala Nans Lighthouse.
You can also walk from Cadaques to the Dali House in Portlligat (you need reservations). This is where Dali created his finest works. Top off your day with dinner at Casa Anita.
35 minutes away Figueres is an unremarkable workaday town. But if you're a fan of Salvator Dali's art, it's a must visit town in Spain. Figueres is home to the stunning Dali Theater-Museum and the nearby fantasy castle Castle de Pol. The museum is the essential Dali site in Spain.
Here's my guide to the Dali Theatre-Museum. You can visit Cadaques on a guided day trip from Barcelona.
5. Carmona
Romantic Carmona is a gem of an Andalusian town, only a half hour from Seville. It's an ancient Roman fortified city loaded with ancient Roman ruins and three Moorish fortresses.
You enter via the 9th century splendid Puerta de Sevilla, or Seville Gate. You are immediately surrounded by noble palaces and majestic churches.
Carmona's must see sites are the 15th century Church of Santa María la Mayor, the Alcázar de la Puerta de Sevilla, the Church of San Pedro, and the Plaza San Fernando in Carmona's historic center. Climb the Torre del Oro at the Alcazar for stunning views.
When you're done wandering through the incredibly picturesque old town, head to the Roman burial ground, Necropolis Romana, which is a must see site in Carmona.
Many of the tombs were built right into the rock and you can even enter some. It's only open until 3:00 pm, so keep that in mind on your explorations.
READ: Best Day Trips From Seville
6. Cartagena
One of the prettiest and least touristed towns in Spain is Cartagena, in the province of Murcia. Although the harbor of Cartagena is a cuise ship gateway, there are very few tourists who actually plan their trips to Cartagena.
Hard to understand, because the city is absolutely gorgeous. Cartagena is an ancient town, founded by Hannibal, the Carthaginian general who defeated the Romans. In fact, this town's first name was New Carthage. As you stroll through the town, you see plenty of Roman ruins.
The Roman Theatre is a must see attraction. There are also plenty of Neo-Baroque buildings around town that are considered some of the most beautiful ones in Spain. Just outside Cartagena is a hidden gem of a rocky beach, with impossibly blue- green water.
For a meal in Cartagena, try Restaurants La Catedral, with a view of the Roman ruins. You can simply live among the ruins, rather the taking a tour.
7. Castro Urdiales
The small, picturesque town of Castro Urdiales is located along the northern coast of Spain, in the region of Cantabria. It can be reached by car in 30 minutes from the Basque city of Bilbao.
In the center of Castro Urdiales stands the Town Hall Square, fronted by the castle-like Town Hall and surrounded by elegant porticoed arches. It's the perfect place to stop for a coffee or lunch at one of the many cafes.
You can marvel at the Church of Santa Maria de la Asuncion. Built in the 13th century, this huge Gothic church is three floors high, constructed from pink stone, and outfitted with flying buttresses and towers.
READ: Best Day Trips From Bilbao
The town's Medieval Bridge was built to provide better access to the Hermitage of Santa Ana. It's a single ogival arch on top of a rocky outcrop, with the sea rushing in below.
It's referred to as the "Roman Bridge," but the bridge is Gothic and dates from medieval times. Refurbished over the last few years, visitors can still walk across it today.
Cross it and climb up to the Hermitage of Santa Ana. The hermitage stands on a rocky outcrop overlookings the sea. The current building dates from 1941.
However, it was constructed on the site of many previous buildings, which date as far back as the Upper Paleolithic period.
8. Comillas
The town of Comillas is known for its superb architecture. You'd never expect to find such treasures in an unassuming, almost unknown, small town in Cantabria Spain.
Comillas has two main sites, both architecturally interesting — Gaudi's El Capricho and Sobrellano Palace. El Capricho is a rare Gaudi building outside his more well known Modernist architecture in Barcelona.
I like to think of El Capricho as Gaudi's sunflower villa. El Capricho was a youthful project for Gaudi. In 1883, Maximo Diaz de Quijano commissioned Gaudi to build him a summer villa. Quijano, an amateur musician and botanist, chose the lilting name El Capricho, which means whim or folly in Spanish.
READ: Guide to Gaudi's El Capricho
A short walk up the hill, you'll find Sobrellano Palace. The over the top Neo-Gothic palace was commissioned by Antonio Lopez, the first Marques of Comillas, and designed by Juan Martorell.
The palace was a vanity project. It was the fashion for aristocrats to have fancy country estates. Interestingly, Sobrellano Palace was the first building in Spain to have electricity.
You can only visit the palace on a guided tour. There's hourly tours (in Spanish) that last 40 minutes.
But you can cast your eyes on Gaudi-designed furniture, magnificent fireplaces, paintings, and stained glass. Outside the palace is a beautiful chapel-pantheon, also Gothic in design.
9. Cudillero
The ridiculously eye catching fishing village of Cudillero might be Spain's prettiest seaside village. Cudillero is a hidden gem in Spain just 40 minutes from Oviedo in the Asturias region of Spain.
It's well worth the detour to visit this hidden gem in Spain. A remote place of hills, you'll have to park outside the teeny tiny town and walk in.
In Cudillero, white and pastel houses are piled in a mishmash on top of each other. There's a pleasingly startling contrast between the terra cotta roofs and the blue sea. It's said that each house in the village matches the color of the owner's fishing boat.
You can dine on freshly caught seafood. I liked El Faro. Another good eatery is Opera. I filled up on octopus and mussels while there.
Cudillero has some secret beaches. And in its tight alleyways, there are some beautiful viewpoints where you can admire the colored houses and terra cotta roofs.
10. Cuenca
Undiscovered Cuenca is a dramatic UNESCO-listed medieval town in the region of Castilla la Mancha, the land of Don Quixote.
It's an easy day trip from Madrid, the perfect spot to escape the hurly burly of the city.
READ: 2 Day Itinerary for Madrid
Cuenca is home to the gravity defying "hanging houses." They cling precipitously to the top of vertical cliffs, jutting into thin air between two river canyons. The best photo op is from the jaw dropping Puente de San Pablo, the bridge spanning a 130 foot gorge.
The main drag of Cuenca is Alfonso VIII Street, which is lined with colorful red, blue, and yellow houses. Plaza Mayor boasts an elegant ensemble of buildings, including the Anglo-Norman-Gothic styled Cuenca Cathedral.
There are plenty of walking routes just outside the city to keep your legs and lungs pumping.
Don't miss the Museum of Spanish Abstract Art. It's housed in a 15th century complex, with loads of gallery space. The permanent collection houses the works of Spanish modernists who lived in the area. You can also find some El Greco pieces in the Bishop's Palace.
If you want to dine with views over the Huecar River gorge, try Figon del Huecar or Posada de San Jose's Restaurant. Cuenca's speciality is lamb.
You may want to book a guided walking tour of the medieval town for when you arrive. Or you can book a guided day trip from Madrid.
11. Frias
Frias is a tiny medieval town perched on a hill above the Erbo River.
Nestled within the province of Burgos, Frias is a village of fewer than 300 people that's extraordinarily beautiful. The town is built on a rock called "the Molar," giving it a dramatic silhouette.
Frias' most important site is the 800 year old Frias Castle. This Gothic edifice, with some Romanesque traces, dates back to the 10th century.
The castle keep is the symbol of the hamlet. It's a steep climb, and rather daunting in the heat.
From the castle, you can see Frias' famous hanging houses. They're wooden houses hanging over the gorge on the Molar. Don't miss the Church of San Vicente and the Church of San Vitores.
The Gothic Bridge, with nine impressive arches, crosses the Ebro River and serves as the town's entrance. Completing the tableaux are the town walls where two of three old gates are preserved.
12. Frigiliana
Nothing prepares you for the stunning beauty of Frigiliana, a pretty hidden gem in Spain. In Frigiliana, everything is beautiful in a way that it almost never is.
Frigiliana is a spotless, secluded, perfectly coifed cliff town dressed in blue and white. The houses are decorated with flowing orange and purple vines and potted blood red geraniums.
The Spanish tourist board voted Frigiliana the prettiest village in Andalusia, and and you can immediately see why. There are no must see sites or grand monuments in Frigiliana.
Frigiliana's main attraction is its cobbled pedestrianized streets with whitewashed houses with colorful doors. There is a pathway through the middle of the village called the Calle Real. But you must stray off the path and investigate all the nooks and cranies.
For even better views, hike up to the ruins of the 16th century Castle of Izar. From the old town, you climb up long flights of steps, narrow paths, and gravel tracks to the site of the old castle overlooking the white village and the Mediterranean sea. You'll also find signs warning you to be careful of rogue donkeys who might bite.
Here's my guide to Frigiliana. You can visit the beautiful town on a guided day trip from Malaga.
13. Getaria
Getaria is one of the most charming towns on the Basque coast, jutting out into the sea with an attractive sandy beach (Gaztepe). It's a pristine medieval fishing village with old world charm, stone houses, and gorgeous landscapes. You'll have picture-perfect coastline views.
Getaria is home to the Basque regions's signature drink, txakoli, a sparkling white wine. You can visit several wineries in and around the town. Getaria is also known for its seafood, particularly baby squid and turbot.
Getaria has a pretty Gothic church and is the birthplace of haute couture fashion icon Cristobal Balenciaga. There's a museum dedicated to his life and work. You get there via an incongruous outdoor escalator at the outer edge of the town.
14. Grazalema
Grazalema is a pretty mountain village of Roma origin. It's located at the foot of the Penon Grande in the valley of Sierra de Grazalema Natural Park. It's completely different than Osuna or Ronda, more wild. It's known as the wettest part of Spain.
The beautifully situated hidden gem village is splashed with whitewashed homes and surrounded by olive trees. I was there in February, so there was even a sprinkling of snow. I paused in the main square, the Plaza de España, which is lined with bars and restaurants, for a late lunch.
You can also visit Zahara de la Sierra, right next door to Grazalema. Like Grazalema, it's streets are white, immaculate, and fairly deserted. Y
ou can climb up to the Arabic Tower of Tribute, though the pathway isn't for the timid. The tower itself is nothing special, but the views are epic.
READ: 10 Day Itinerary for Andalusia
15. Guacin
The tiny town of Guacin is in the south of Spain, just a 30 minute drive from the Costa del Sol. But the pretty place usually goes unnoticed. In Guacin, you can visit an off the beaten path medieval era village without the crowds.
Because of its romantic hilltop aerie, Guacin is nicknamed the "Balcony of Europe." It's also been dubbed the "Notting Hill" of Andalusia because it attracts so many Brits.
Park your car and explore sparkling Guacin by foot. The town is a tangle of steep hilly lanes and shady cobbled paths. On your stroll, you'll find several lookout points.
Visit the Moorish Castle of the Eagle. Now mostly in ruins, the atmospheric pile dates back to Roman times. When you're done exploring, there are quite a few quality cafes and restaurants. Try the popular Bar Pio Pepe or Platero & Co.
16. Guadix
If you want to experience a typical Spanish cave district, head to the hidden gem of Guadix. You won't encounter any other tourists.
The unique cathedral town of Guadix is a very off the beaten path destination in Andalusia. It's only 45 minutes from Granada.
I went mostly to see the house caves or "cuevas." Guadix's inhabitants live in caves, with whitewashed chimneys set against the mountains. Close to the cave district, Barrio de Las Cuevas, you'll have a viewpoint of the city and surrounding mountains.
Guadix also has a beautiful and imposing cathedral to explore, dating from the 16th to 18th centuries. And its alcazaba is the town's best example of Moorish architecture.
17. Hondarribia
Tranquil Hondarribia is a pretty resort town located on the Spanish-French border in Basque country. The historic city center is surrounded by city walls and a drawbridge.
It's filled with cobblestones streets and colorfully painted houses with flowers spilling out of flower boxes.
In the town center, you'll find the Castle of Charles V (now a hotel), the Gothic Church of Santa Maria de la Asuncion, and plazas with al fresco cafes.
There's also a nice beach, if you want to relax and swim. When hunger calls, this tiny village has two Michelin starred restaurants, Restaurante Alameda and Maison Eguiazabal.
READ: 10 Day Itinerary for Northern Spain
18. Huesca
Huesca is a beautiful hidden gem town located in the Aragon region of northeast Spain. Huesca is perched atop a plateau at the foot of the Sierra da Guara Mountains.
The city has a distinctive profile. Its stone houses seem to tumble down the mountainside. Behind them, finger-lick rock formations create a picturesque backdrop.
Huesca's cobbled streets are made for wandering. Huesca is also known for its historic churches and monasteries. The Monastery of San Pedro el Viejo is one of the oldest Romanesque churches in the region.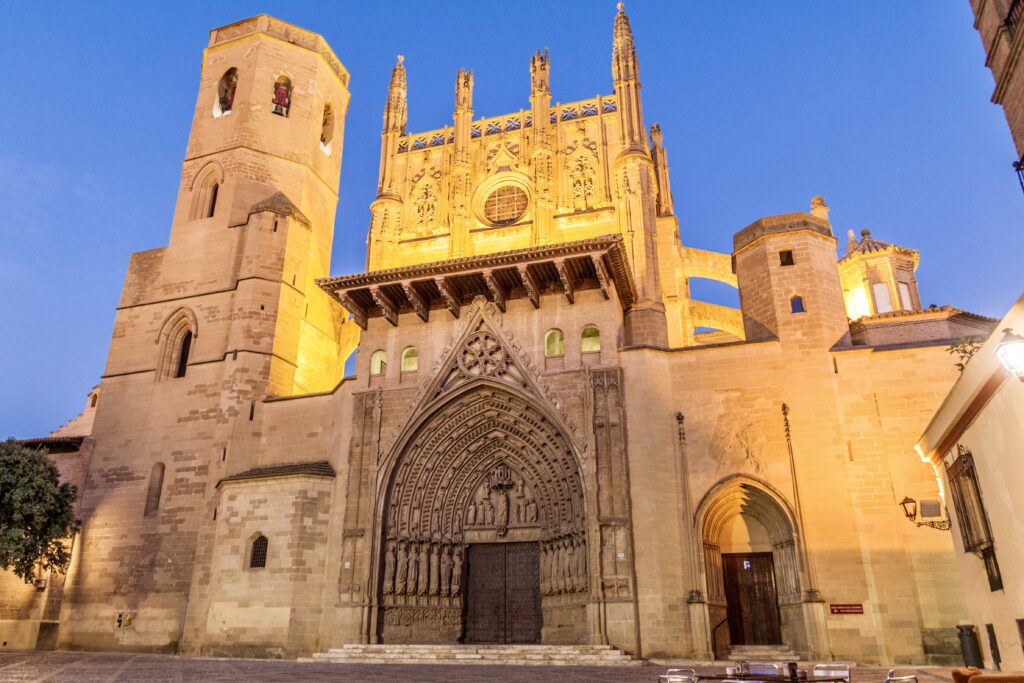 Huesca Cathedral is a mighty edifice, with a richly carved portal dating from 1300. Inside, there's a 16th century alabaster altar. You can ascend the bell tower for 360 views of the countryside.
Despite being a small town, Huesca has three Michelin starred restaurants — Lila Pastia, Las Torres, and Tatau Bistro.
For tapas, head to Calle Padre, Huesca's ebullient tapas bar strip. Restaurante Comomelocomo is a good choice there. For fancy tapas, head to Galatea de las Esteras, a Dali-themed establishment.
19. Italica
Less than a half hour from Seville lie the Roman ruins of Italica. The Romans founded Italica in 206 B.C. It's reputedly the birthplace of three Roman Emperors — Hadrian, Trajan, and Theodosius.
The amphitheater once held 25,000 people, and was the third largest in the Roman Empire. Italica is now the modern day Santiponce. To safeguard the ruins, Santipoce has applied for UNESCO World Heritage status.
In the hit HBO show Game of Thrones, Italica serves as the dragon pit of Kings Landing, which was basically a stable for the Targaryen dragons. You can book a Game of Thrones tour from Seville.
READ: Best Day Trips from Seville
20. Laguardia
Pretty Laguardia is located in the Basque side of Rioja wine region, Rioja Alavesa. It's a beautiful and atmospheric medieval town with loads of charm and quaint streets. The town was originally built as a fortification against Castilian aggression in the 12th century.
Despite its diminutive size, there's still a good selection of places to stay and restaurants and wineries. The best restaurant is Restaurante Amelibia, where you can dine on traditional cuisine like oxtail and wild mushrooms.
Laguardia has a pretty church, the 14th century Santa Maria de los Reyes. For a view of the town itself and surrounding vineyards, climb the Torre Abacial. Dating from the 12th century, it was once part of a monastery.
A mile or so north of Laguardia is Bodegas Ysios, opened in 2001. It's a boutique winery designed, in futuristic fashion, by famed (but controversial) architect Santiago Calatrava. It features a wavy aluminum roof and cedar siding.
21. Lekeitio
Laid back Lekeitio is a beautiful and tiny fishing village. Lekeitio is one of Spain's best kept secrets, a real hidden gem.
It has an idyllic harbor, a Gothic church, and a fine golden crescent beach where you can kick back and wile away a day. You'll see goats and sheep cavort in the mountains and hazy cliffs circled by seagulls.
Lekeitio's best attraction is the rocky island, San Nicholas Island (also known as Garraitz). It's just offshore of the main beach. During low tide, you can walk the trail for a seaside view.
Have dinner at Meson Arropain, which, as you might expect, serves up fantastic seafood. Or try a local's favorite, Taberna Bar Lumentza for pintxos (the Basque version of tapas).
22. Montefrio
Montefrio is a charming village in the province of Granada. Its name translates to "the cold hill." This small town cuts a striking silhouette against the surrounding landscape. National Geographic named it one of the world's best views.
Perched atop a craggy outcrop of rock is the town's 14th century church, Iglesia de la Villa. It was built on the remains of a Nasrid castle. Those who brave the steep climb to the top of the rock will be rewarded with panoramic views of the region.
Visit the town's pretty churches. The round church, Iglesia de la Encarnacion, was inspired by the Pantheon in Rome.
Just outside the tiny town, you'll find the Montefrio Dolmens, megalithic structures dotted among the lush green landscape.
23. Morella
Situated within Castellon region of Spain, Morella is a grand old town that's still a hidden gem in Spain. It sits on a rocky cleft with a towering castle and crumbling medieval walls.
Make sure to head inside Morella Castle, built by the Moors. Though a bit of a ruin, it's worth the long wiggly ascent just for the breathtaking views of the countryside.
You can also visit the Basilica de Santa Maria la Mayor. It's an imposing Gothic basilica. it features elaborately sculpted doors and a carved polychrome stone staircase that leads to an ornate altar. An onsite museum houses the church's treasures.
When you're done wandering, indulge in Morella's culinary treats. Morella is known for its artisan baked goods and fortified wine. For a proper meal, try Casa Roque or Daluan.
24. Onati
Onati is reminiscent of Seville, Andalusia's sultry capital. It lies in a valley in the Basque region surrounded by mountains.
Onati has lavishly decorated Gothic and Baroque buildings and a mystical medieval atmosphere. The town's highlight is its ancient university. The town center is buzzing with eateries, a Gothic church, and the Church of San Miguel Arcangel.
Just outside Onati is the Sanctuary of Arantzazu, an old Franciscan monastery. It's of huge importance in the region and perched at the very top of a winding mountain road. Near the sanctuary, you'll find one of the most acclaimed restaurants in the area, Zelai Zabal.
Not far from the sanctuary are the Arrikrutz Caves. They are home to several extinct species including cave lions.
25. Osuna
The hidden gem town of Osuna surprised me. I visited the pristine town for its dashing bullring, which is one of Andalusia's Game of Thrones filming locations.
But Osuna itself was beyond adorable, a charming white pueblo village with a rich architectural and cultural heritage. Osuna was declared a Historic-Artistic site in 1967.
There's row upon row of white stucco homes and streets dotted with orange trees. Once a ducal seat, Osuna's a veritable art gallery, with a plethora of Renaissance and Baroque churches.
UNESCO lists Osuna's main drag, the Calle San Pedro, as the second most beautiful street in Europe. Here, with an eye toward social climbing, Osuna's wealthy dukes vied to create the most exquisite palaces. The street would be more appealing, however, if it was pedestrianized.
For the full scoop on the town, here's my complete guide to visiting Osuna.
26. Santillana del Mar
Santillana del Mar is the jewel of Cantabria and one of the prettiest villages in Spain. It's a "living museum" — a delightful warren of dreamy cobbled streets, caramel colored architecture, and romantic wrought iron balconies.
At the end of its main pedestrianized drag is the Collegiate Church, the most important religious Romanesque monument in Cantabria. The big draw is the cloister, a repository of Romanesque architectural elements. You can also visit a rather grisly Torture Museum.
The Altamira Caves aren't far afield. They boast some of the best examples of prehistoric art anywhere in the world, made by Cro-Magnon cave people.
No one except researchers can visit the actual caves, for preservation reasons. But the astonishing replica caves accept weekly visitors by lottery.
READ: Complete Guide to Santillana del Mar
27. Setenil de las Bodegas
Setenil de las Bodegas is one of Andalusia's true hidden gems. Located in the Cadiz province, Setenil de las Bodegas is a unique white village. The town was built inside a canyon, rather than on top of a hill.
Many of the houses in the village are in fact caves, with facades that resemble regular buildings. Some of the streets in Setenil are covered with large boulders. It's intriguing and perhaps a tad scary to walk underneath them.
There are plenty of things to do in Setenil de las Bodegas, from exploring the village to visiting the last remaining tower of a once mighty castle. You can have lunch is cave restaurant. Or, scope out the best viewpoints overlooking the village.
While Setenil can get popular around lunchtime, it's usually very quiet otherwise. Setenil de las Bodegas can be visited as a day trip from Malaga, Cadiz, and Seville. The driving time is around 1.5 hours from each of those cities.
28. San Vicente de la Barquera
The beautiful village of San Vicente de la Barquera had my heart at first sight. The drive toward the town is breathtaking. The ancient Puente de la Maza, with its 28 arches over the river, welcomes you. A walk across the bridge is a good way to see the town.
The pretty village dates from Roman times. For centuries, San Vicente de la Barquera was a stop on the pilgrimage to Santiago de Compostela.
Step back in history at the Castillo del Rey, San Vicente's 13th century medieval castle. From atop the hill, you have beautiful views of the town and, on a clear day, the Picos de Europe mountain range.
San Vicente also has some interesting churches, beautiful beaches, and a beautiful estuary of brightly colored boats. While there, you'll love the seafood. The town's speciality are a stew prepared with tuna and potatoes and another with bonito, pepper, onion, and potatoes.
29. Valladolid
Valladolid is the charming capital of the Castille-Leon region, about 2 hours from Madrid. It's surrounded by vineyards and known as the "Sonoma of Spain," making it a great spot for oenophiles.
Valladolid has some impressive architecture to boot. The Cathedral of Valladolid dates from the 16th century. It's stately facade was added in the 18th century, by the same architect behind the royal estate of El Escorial.
Plaza San Pablo also has some stunning buildings, including San Pablo Church, Pimentel Palace, and Casa Museo Jose Zorrilla.
If you're a literary buff, a must do in Valladolid is a visit to the House of Cervantes. The author lived in this 16th century abode from 1604-06. There, he wrote his most famous book, Don Quixote de La Mancha. The period rooms are perfectly preserved.
Valladolid also boasts some of Spain's best tapas bars. Go on a tapas crawl or settle in at Villa Parmesa.
30. Vejer de la Frontera
Situated on a commanding bluff overlooking the Barbate River, Vejer de la Frontera is incredibly picturesque — bright, colorful, and cheerful. It's impossible to resist driving the side road snaking up to Vejer.
Within the town, the narrow steep streets run through banks of stark white houses whose Arabic origins are evident everywhere. Vejer is a Moorish town with graceful concessions to 21st century Spain.
It 1805, Lord Nelson defeated the Spanish and French fleets off Cape Trafalgar. This Atlantic proximity gives Vejer both a distinctive white town atmosphere and strong westerly winds sweeping over its walls and monuments.
At the center of the town, a walled enclosure with four Arabic horseshoe gates contains the 16th century church of San Salvador, built over a mosque. Nearby is a Moorish castle and the Palace of the Marques de Tamaron.
Close to the ramparts, near the Paseo de las Corbijadas, is the well-conserved Jewish Quarter. The area within the ramparts includes many small shops, cafes, and is best seen on foot. The town has magnificent vistas in all directions from its walls.
If you want to splurge, Vejer has a reasonably priced Michelin restaurant, El Jardin del Califa. It's housed in a 16th century building that feels like a castle dungeon. It also has a pretty patio garden worthy of a caliphate.
31. Villajoyosa
If you like color, Villajoyosa is the place for you. Villajoyosa is an extremely colorful city along Spain's Costa Blanca in the Alicante region.
Like other colorful towns in Europe, buildings on the promenade were painted bright colors so fishermen trying to find their way home could see them.
These days, the bright colors make great photo opportunities. The town's location on the coast also means there's a gorgeous beach with silky smooth sand, Central Beach. Another beach, Paradise Beach, is just off the center with a quieter vibe.
Villajoyosa was the birthplace of Spain's famous Valor Chocolate. In 1998, the company opened a chocolate museum in the town.
In terms of food, Villajoyosa has one Michelin restaurant, Emperador. You can also try Casa Elordi or T-Class.
32. Zarautz
If you've satisfied yourself with San Sebastian's chic beaches or want something less crowded, drive just 15 minutes to another pretty beach town, Zarautz.
Zarautz was once the preferred vacation spot of Spanish royalty in the Basque region. It's much more laid back than San Sebastian.
The town's claim to fame is its 1.5 miles long wide beach, dubbed the "Queen of the Beaches." It's the longest beach in Basque Spain.
Zarautz also has a nice old quarter. You can inspect some of its interesting architecture, including the parish church of Santa Maria de La Real, the Narros Palace, and Torre Iuzea.
If you want to grab a bite to eat in Zarautz, the speciality is squid with onion. Try dining at Kirkilla-Enea Jatetxea, Otzarreta, or Okamika.
I hope you've enjoyed my guide to the secret hidden gem towns of Spain. You may enjoy these other Spain travel guides and resources:
If you'd like to discover off the beaten path towns in Spain, pin it for later.