Here's my comprehensive guide to spending 10 days in beautiful Tuscany.
This Tuscany itinerary takes you to the most beautiful towns, top attractions, and historic landmarks in Tuscany. If you have more than ten days in Tuscany, I also give you options for extending your trip.
There's nowhere more romantic than the stunning region of Tuscany. Tuscany is like a landscape painting.
It's covered with cypress-lined roads, golden wheat fields, and medieval hilltop towns. Tuscany offers the quintessential Italian village experience, complete with fine wine and delectable food.
Tuscany boasts some of the world's best cathedrals, palaces, museums, and landscapes. The region is celebrated for its Gothic and Renaissance art. Tuscany is even considered the birthplace of one of mankind's greatest adventures, the Italian Renaissance.
Overview Of 10 Days In Tuscany Itinerary
Here's my recommended 10 day road trip itinerary for visiting Tuscany. This ten day itinerary is easily adjustable. You can make it shorter or longer, depending on your available vacation time.
You can also make the itinerary more leisurely by eliminating a destination or spending less time in Florence at the outset, if you'd rather see the smaller Tuscan hamlets. I also give you some options for extending your Tuscany trip at the end, if you have extra time in Italy.
Day 1: Arrive in Florence
Day 2: Explore Florence
Day 3: Explore Florence
Day 4: Day Trip to Arrezo or Cortona
Day 5: Pick up your car, drive to and explore Siena
Day 6: Drive to Montepulicano, stop in Pienza
Day 7: Drive to San Gimignano, overnight in Volterra
Day 8: Explore Volterra and Drive to Lucca
Day 9: Explore Lucca
Day 10: Day Trip To Pisa
This Tuscany itinerary assumes you pick up a car when leaving Florence. (You don't want to have one in Florence.) You can get around some of the Tuscan towns with public transport.
But not every hill town has rail service. Tuscany and its breathtaking landscapes are best seen by car.
I like to use AutoEurope for the cheapest rates. If you can drive a manual, it's vastly cheaper.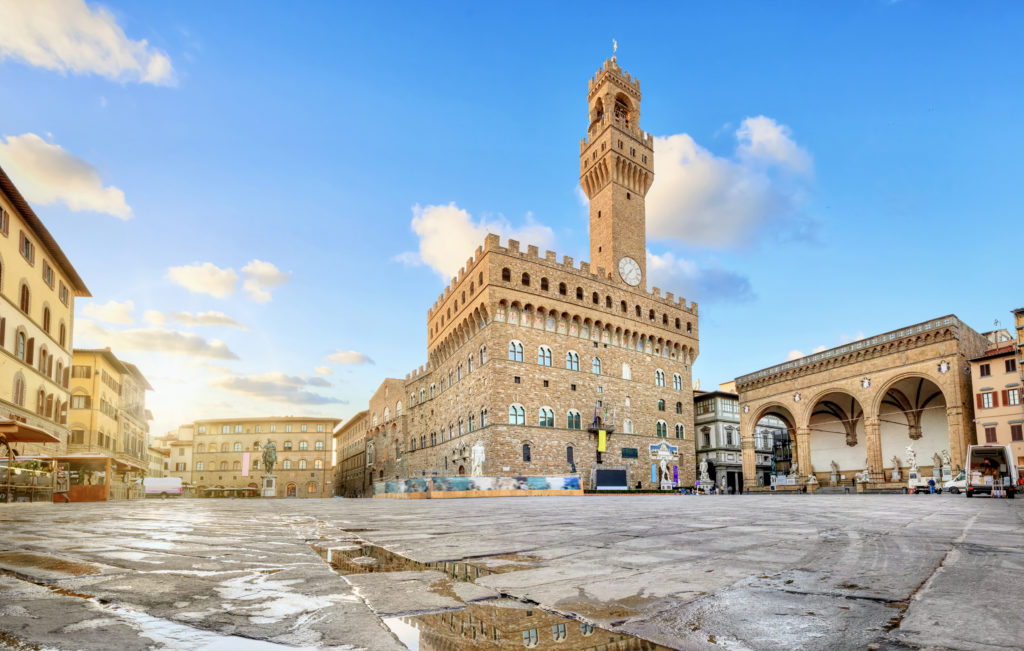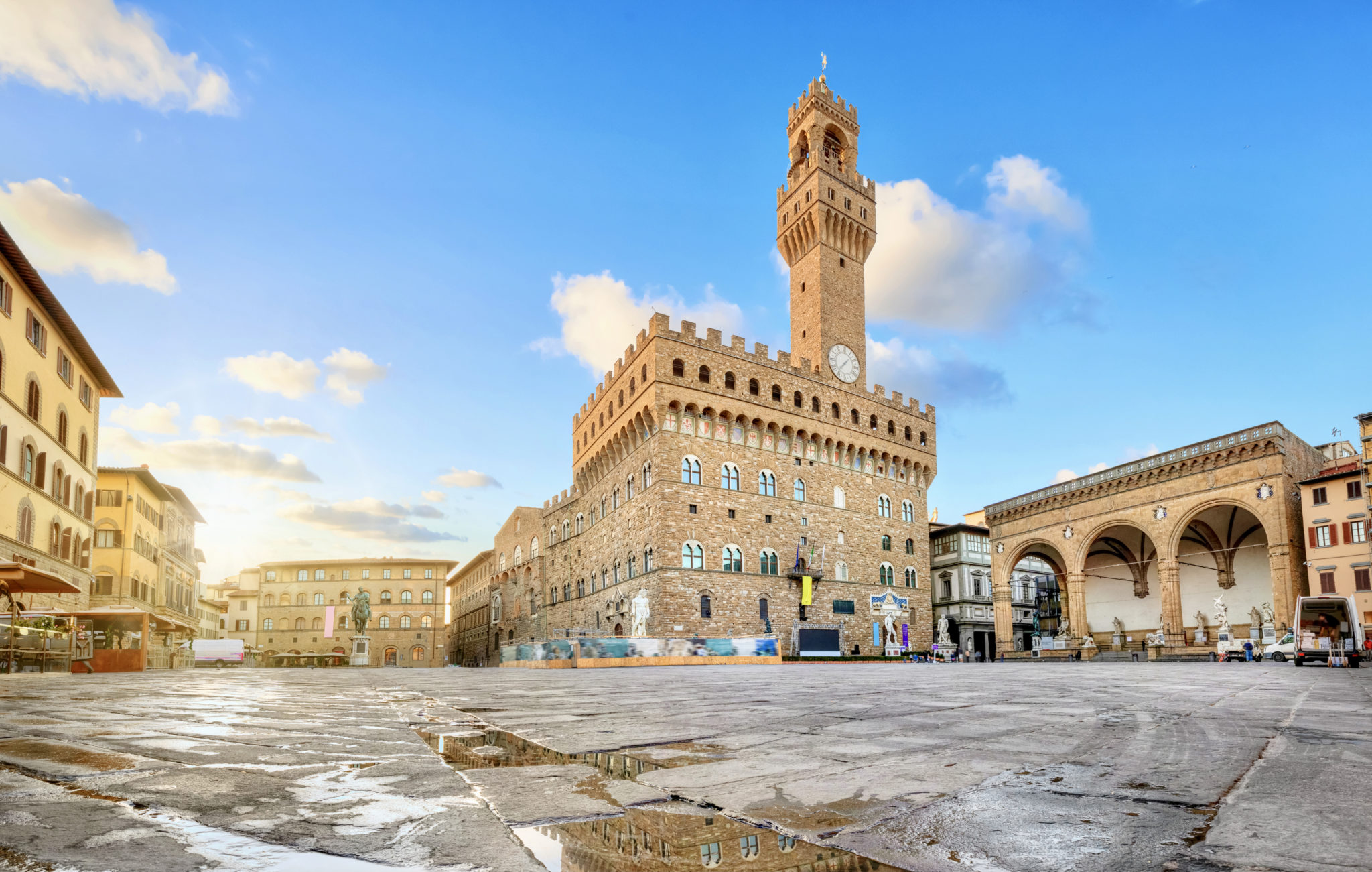 Your overnight bases will be Florence (4 nights), Siena (1 night), Montepulciano (1 night), Volterra (1 night), and Lucca (2 nights). I also give you options for places to stay in each town.
If this is too much moving around for you, you can skip the longer drive to Montepulciano and enjoy more time in Siena. Siena makes a great base for day tripping in Tuscany.
Here are my must know tips for traveling in Italy and tips for renting a car in Europe.
Best 10 Days In Tuscany Itinerary
Let's get started. Here's how to spend 10 days in Tuscany.
Day 1: Florence
Fly into Florence to begin your Tuscan road trip. Florence is the capital of the Tuscan region.
It's an overwhelmingly beautiful city, the "Cradle of the Renaissance." With the best Medieval and Renaissance art in Europe, Florence is a veritable art lovers paradise.
Florence's entire historic center is a designated UNESCO World Heritage site. Florence is incredibly popular, so you'll definitely need to buy your tickets for major attractions and must see sites well in advance.
1. Duomo Complex
On day 1, head to the historic complex of Florence Cathedral, Santa Maria del Fiore, nicknamed the Duomo.
The complex consists of Duomo, the Baptistery, the Giotto Bell Tower, and the Duomo Museum. They're all eminently worth seeing.
Click here to buy a skip-the-line ticket to climb the dome. Alternatively, you can take in views from Giotto's Bell Tower. Click here to book a guided tour of the Duomo and the dome. Click here for a combined ticket for the Duomo, the Baptistery, and the Duomo Museum.
You should start with the stunning Duomo Museum to get the historical backdrop for all these structures. The museum is housed in the Piazza del Duomo at the back of Giotto's Bell Tower, behind the Duomo apse.
The museum space is a fabulous treasure box of sculpture. Its rooftop terrace also offers a mesmerizing vie of Brunelleschi's dome.
Then, head to Florence Cathedral — the most prominent, and popular, landmark in Florence. It was built over 172 years, beginning in 1296.
Florence Cathedral is made of brown sandstone and beautifully faced or "frosted" with pink, green, and white marble.
Filippo Brunelleschi's magnificent terra cotta colored dome, built from 1420-36, is the highlight. The burnt orange cupola is the very symbol of Florence.
It's decorated with frescos by Giorgio Vasari, a Florentine artist and the world's first art historian. For panoramic views, climb up the cupola. Click here to buy a skip-the-line ticket to climb the dome.
Next, stroll to the Baptistery, in front of the main facade of the Duomo. Dating from 1059, it's over a thousand years old. The Baptistery sports three magnificent sets of bronze doors.
They were designed by Lorenzo Ghiberti and Nicola Pisano. Inside, is a stunning golden Byzantine style ceiling mosaic telling the story of the Last Judgement.
Break for lunch and a wander, enjoying the joys of a traffic free Florence. Try Casa del Vino, where you can get sandwiches, crostini, or charcuterie plates with a delicious glass of wine.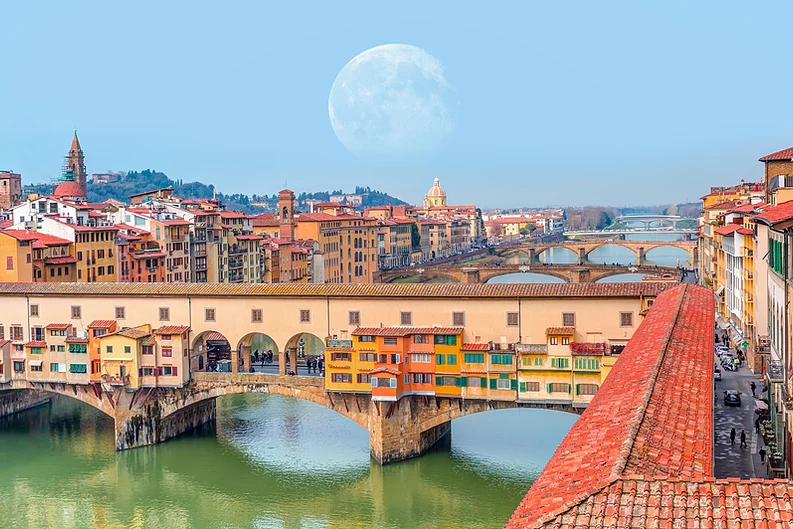 All'Antico Vinaio is also a must-try, just minutes away from Piazza della Signoria. Its sandwiches are made with a local bread called schiacciata.
2. Ponte Vecchio
Then, take the classic stroll across Florence's storybook bridge, the Ponte Vecchio. It looks like cobbled together houses suspended over the Arno River.
The bridge has three arches topped with a jumble of charming shops. Nowadays, you can buy expensive jewelry on the Ponte Vecchio.
3. Uffizi Gallery
In the afternoon, head to the magnificent Uffizi Gallery, Florence's #1 sight. It houses the world's best and most abundant collection of Italian medieval and Renaissance art.
The museum is a crowd pleaser, the third most visited site in Italy. The Uffizi deserves its accolades.
The Uffizi boasts seminal works from the 13th to 18th centuries. Here's where you'll find one of the world's most iconic paintings, Sandro Botticelli's Birth of Venus.
READ: Florence Art Bucket List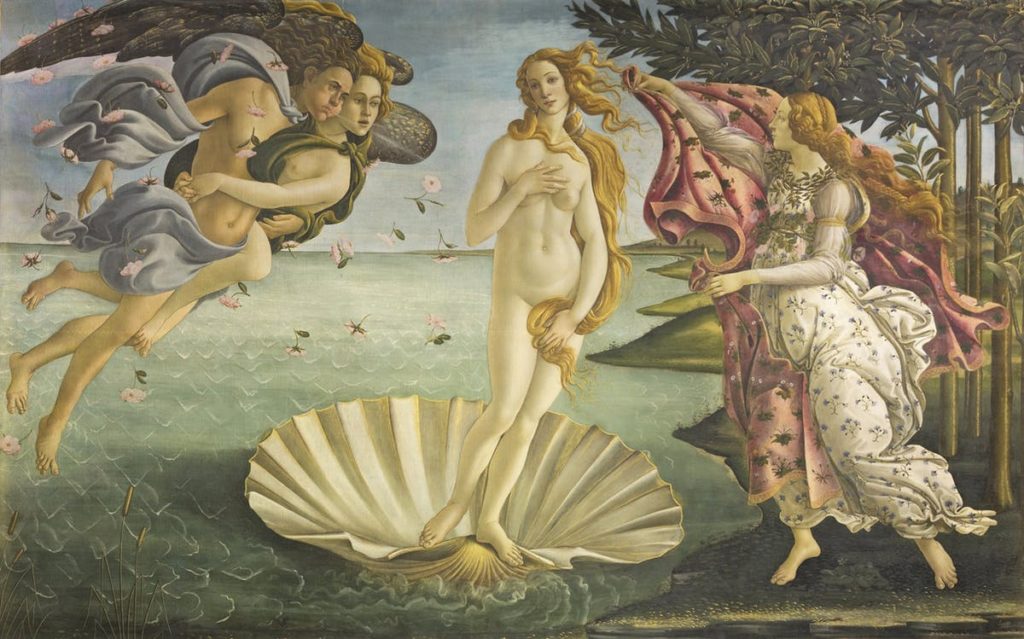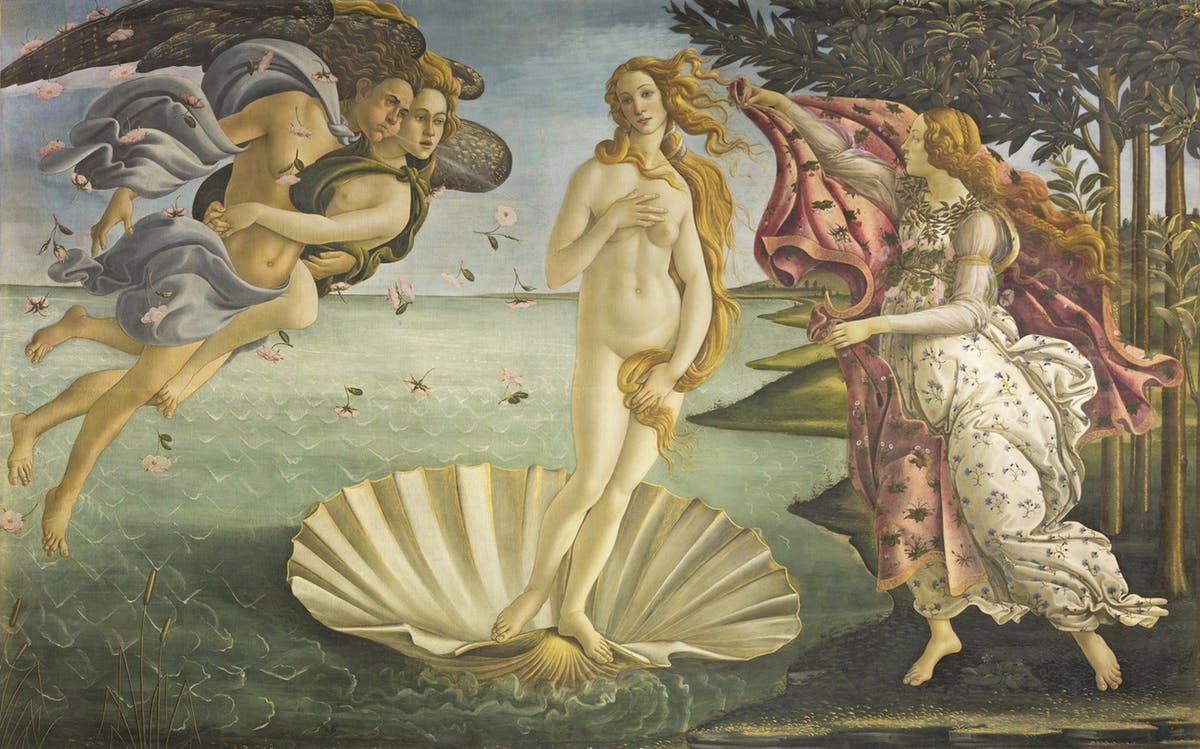 If your time is limited, you should focus your efforts. The must see halls include the Hall 2 (Giotto), Hall 8 (Lippi), Halls 10-14 (Botticelli), Hall 15 (Leonardo), Hall 41 (Raphael and Michelangelo), Hall 83 (Titian), and Hall 90 (Caravaggio).
Click here to pre-book a timed entry ticket to avoid long lines. Click here to book a small group guide tour of the Uffizi. Click here for a 2 hour tour with an expert.
For dinner, dine at Trattoria da Tito, not far from the Accademia, or Bobo's Trattoria. Or take a guided food tour for the total Florence food experience.
If you need more art, the Palazzo Strozzi is often open at night with beautiful temporary exhibitions. Otherwise, you can just take a moonlit stroll through the beautiful historic center.
Day 2: Florence
1. Accademia Gallery
Opn day 2 of your 10 days in Tuscany itinerary, start you morning bright and early at the Accademia Gallery. After the Uffizi, the Accademia is Florence's most visited museum. People flock in to see what is probably the world's most famous sculpture, Michelangelo's commanding statue of David.
The 17 foot sculpture is considered the embodiment of male beauty, a Calvin Klein-like model of physical perfection. David was commissioned for a niche of the Duomo. But it was considered too beautiful for that location.
It's essential to have a reservation for the Accademia. Here's my guide to David and how to skip the line to see it.
Click here to pre-purchase a timed entry skip the line ticket. Be sure to get into the correct line when you arrive. You also book a guided tour that covers both the Uffizi and the Accademia.
2. San Marco Monastery
When you're done at the Accademia, head a few blocks to another amazing Florence art spot, the Museum of San Marco Monastery.
San Marco is an extraordinary decorative complex, one of the most unusual things to do in Florence. You can admire art in its original in situ location and understand how contemporary audiences experienced it.
At this Renaissance convent-museum, you travel back in time to a nearly perfectly preserved 600 year old Dominican monastery.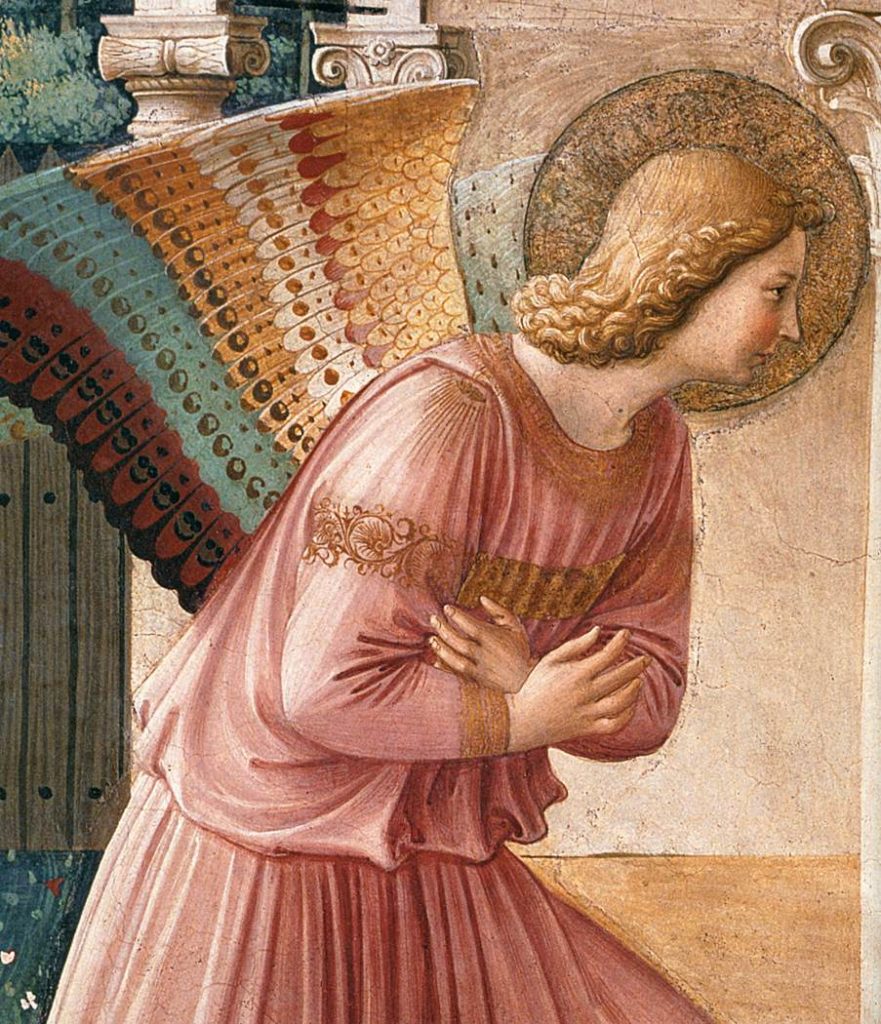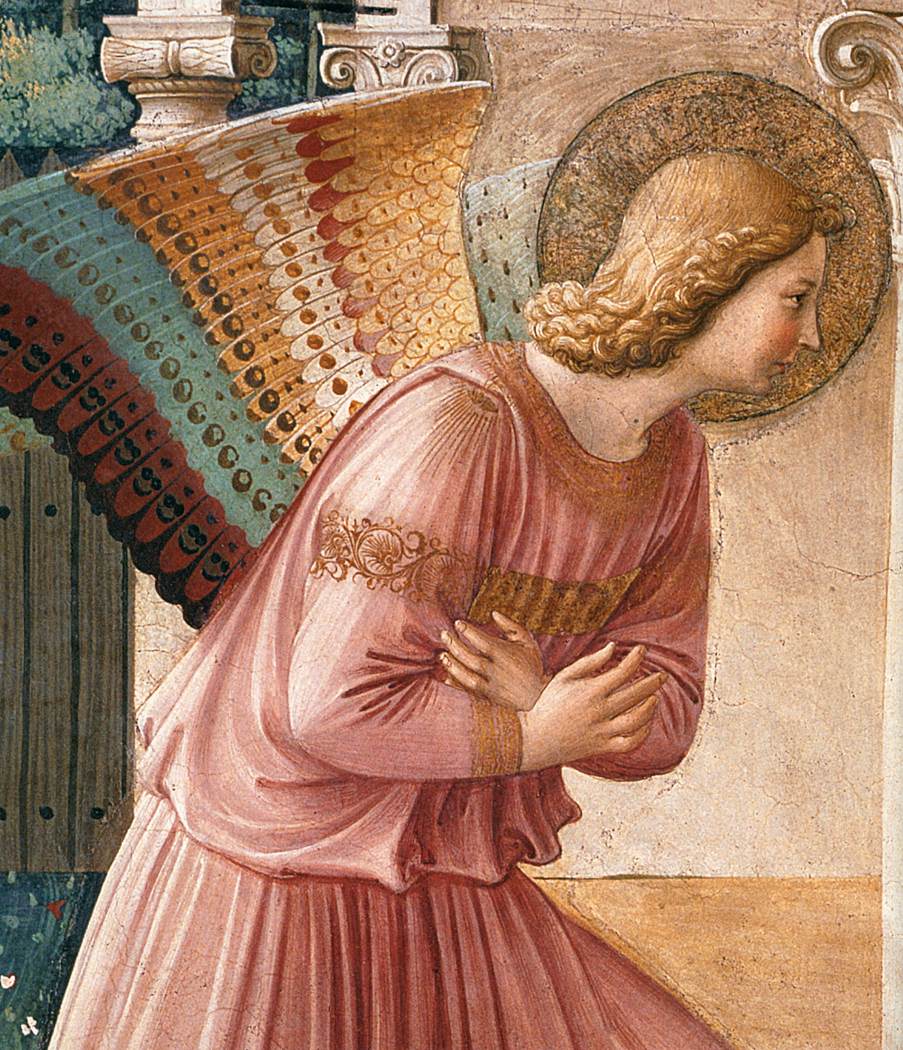 It was paid for by Medici family money, designed by the stellar architect Michelozzo, and decorated with delicate frescos by one of the most sublime painters of the Renaissance — Fra Angelico. The fiery preacher Girolamo Savonarola even lived there, in the monks dormitory cells.
READ: Visitor's Guide to San Marco Monastery
Click here to book a skip the line ticket. You may want to book a 2 hour guided tour of the museum.
You're likely ready for lunch. This is a good time to explore the San Lorenzo markets.
There are two of them, an outside street market and an indoor food court known as the Central Market. I can recommend a rustic gem, Trattoria la Burrasca, on the market's north corner.
3. Santa Maria Novella
After lunch, tour the beautiful Basilica of Santa Maria Novella and the Piazza della Repubblica.
Santa Maria Novella Santa Maria Novella was founded in 1279 by a Dominican order. The basilica has a similar design to the Duomo, with polychrome and white marble create a striking front facade.
The interior is a true marvel. It holds one of the most famous paintings in Italy, the Holy Trinity by Masaccio. You'll want to inspect three important highlights — the Strozzi Chapel, the Filippo Chapel, and the Spanish Chapter House.
Click here to pre-purchase an entry ticket.
4. Basilica of San Lorenzo and the Medici Chapel
Next, head to the monumental complex of the Basilica of San Lorenzo. The complex is a veritable haven of Renaissance art and architecture, a must see for history buffs.
The complex is vast, including: the basilica itself, Brunelleschi's Old Sacristy, Michelangelo's New Sacristy, the Medici Chapels, the Medici Crypt, and the Laurentian Library.
Most importantly? It has the largest number of Michelangelo sculptures in Florence, quite a selling point.
And a Michelangelo-designed library. If you're on the Michelangelo trail, the the Medici Chapels and the Laurentian Library are must see sites in Florence.
The Medici Chapels require pre-booking. Click here to purchase a ticket. Click here to book a 1 hour guided tour.
For more information, here's my complete guide to the San Lorenzo Complex, my guide to the Medici Chapels, and my guide to the Laurentian Library.
5. Palazzo Vecchio
In the evening, head to the magnificent Palazzo Vecchio, one of the few must see sites in Florence that's open at night.
The Palazzo Vecchio was the seat of government and one of the three palace-residences of the Medici dynasty.
It sits in the Piazza della Signoria, which is essentially a free open air sculpture gallery. Here's my guide to the highlights of the Piazza della Signoria.
READ: History of the Medici Dynasty
It's definitely worth going inside the Palazzo Vecchio, though so many tourists don't. The Palazzo Vecchio is a doughty medieval fortress on the outside and a resplendant Renaissance palace on the inside.
Inside, you can admire the stunning Michelozzo-designed courtyard, explore the grand Hall of the Five Hundred, admire Michelangelo and Donatello sculptures, and gaze admiringly at beautiful Giorgio Vasari frescos at every turn.
The Tower of Arnolfo can be climbed, and provides fantastic views over Florence and the Duomo. And the lines aren't nearly as long as for Brunelleschi's dome.
Click here to pre-book a ticket for the palace. Click here to book a guided tour of the museum and entry to the tower.
READ: Visitor's Guide to the Palazzo Vecchio
Day 3: Florence
1. Bargello Museum
Start your day at the Bargello Museum, Florence's underrated sculpture museum. If you need a hearty breakfast before you visit, head to The Dinner for all manner of eggs and pancakes. It's right by the Bargello.
The Bargello houses an amazing collection of Renaissance sculptures. The most important works are in the Michelangelo and Donatello rooms.
Those include Michelangelo's first major sculpture, Bacchus, and his Pitti Tondo, Donatello's acclaimed Bronze David and St. George, and Gian Lorenzo Bernini's Bust of Costanza.
Click here to pre-book an entry ticket for the Bargello. If you are a fan of Renaissance sculpture, you may want to invest in a guided tour of the Bargello.
READ: Visitor's Guide To the Bargello Museum
2. Basilica of Santa Croce Complex
After the Bargello, visit the amazing Basilica of Santa Croce. In a city studded with magnificent churches, Santa Croce really stands out.
Santa Croce has one of the greatest assemblages of paintings, sculptures, and funereal tombs in existence.
Santa Croce is a place of superlatives, which gives you an overview of Italian art and culture.
It's the world's largest Franciscan church, a fine example of Italian Gothic style, and home to many celebrity tombs (including Michelangelo's), magnificent frescos, and Donatello sculptures.
In particular, the frescoed chapels are impressive. The best ones are the Bardi Chapel, the Peruzzi Chapel, the Pazzi Chapel, the Baroncelli Chapel, and the Maggiore Chapel.
You'll find frescos by Giotto, the greatest artist of the 14th century, and other Renaissance luminaries.
If you want to lunch in the Santa Croce area, try the tiny but mighty Le Vespe Cafe. There will be lines, but it's well worth the wait. Click here if you want to pre-purchase a skip the line ticket to Santa Croce.
4. Florence Viewpoints
For your last evening in Florence, head to one of Florence's iconic viewpoints. Piazzale Michelangelo is the classic lookout point.
But if you hike 10 minutes further uphill, you'll come to the Basilica of San Miniato al Monte, Florence's crowning glory. The ancient church is a unique and harmonious blend of medieval architectural styles, pre-dating Florence's Renaissance treasures.
In the afternoon, cross the Arno and head to Florence's Oltrano neighborhood, This may be Florence's most trendy neighborhood.
I've written a one day walking tour for the Oltrarno. But there are essentially three must visit attractions in the Oltrarno neighborhood: the Pitti Palace, the Church of Santo Spirito, and the Brancacci Chapel in Church of Santa Maria del Carmine.
If you didn't break for lunch in the Santa Croce area, there are plenty of places near the Pitti Palace in the Piazza della Passera. Other good restaurants near the Ponte Vecchio include Il Magazzino, 5 e Cinque, and Trattori 4 Leoni. Once fueled up, head to the Pitti Palace.
5. Pitti Palace
The Pitti Palace is one of Florence's must see sites, a truly wonderful experience. The palace is an incredibly unique combination of splendor, in situ art collections, and beautiful gardens.
The magnificent Palazzo Pitti was the regal home of the Medici family. The palace is the largest palace in Florence and one of Florence's most stunning architecture gems.
The palace houses 4 museums. The one you can't miss is the Palatine Museum.
It boasts an impressive collection of over 500 in situ paintings, chock a block on top of each other amid lavish stucco and silk furnishings. In the five Planet Rooms, there are beautiful ceiling frescos by Pietro da Cortona.
After gazing at these master works, head to the backyard playground of the Pitti Palace, the lovely Boboli Gardens.
The gardens are the largest green space in Florence, sprawling over 11 acres. The gardens are effectively an open air museum, with hundreds of nooks to explore.
Click here to pre-book a ticket to the Pitti Palace. Click here to book a guided tour of the magnificent museum. Click here to book a skip the line ticket for the Boboli Gardens.
READ: Guide To the Pitti Palace
Where To Stay In Florence
If you want something central, book at the Hotel Brunelleschi or Portrait Firenze. Portrait Firenze is one of the most sought after hotels in Italy and is just steps away from the Ponte Vecchio. Of course the Four Seasons is always beautiful and in a quiet location.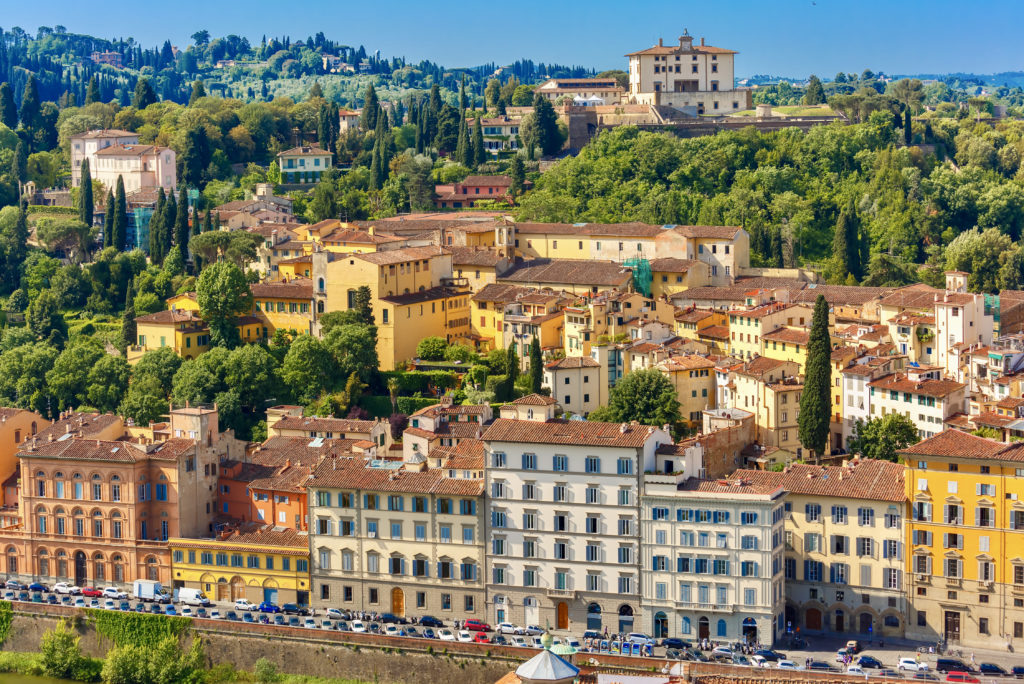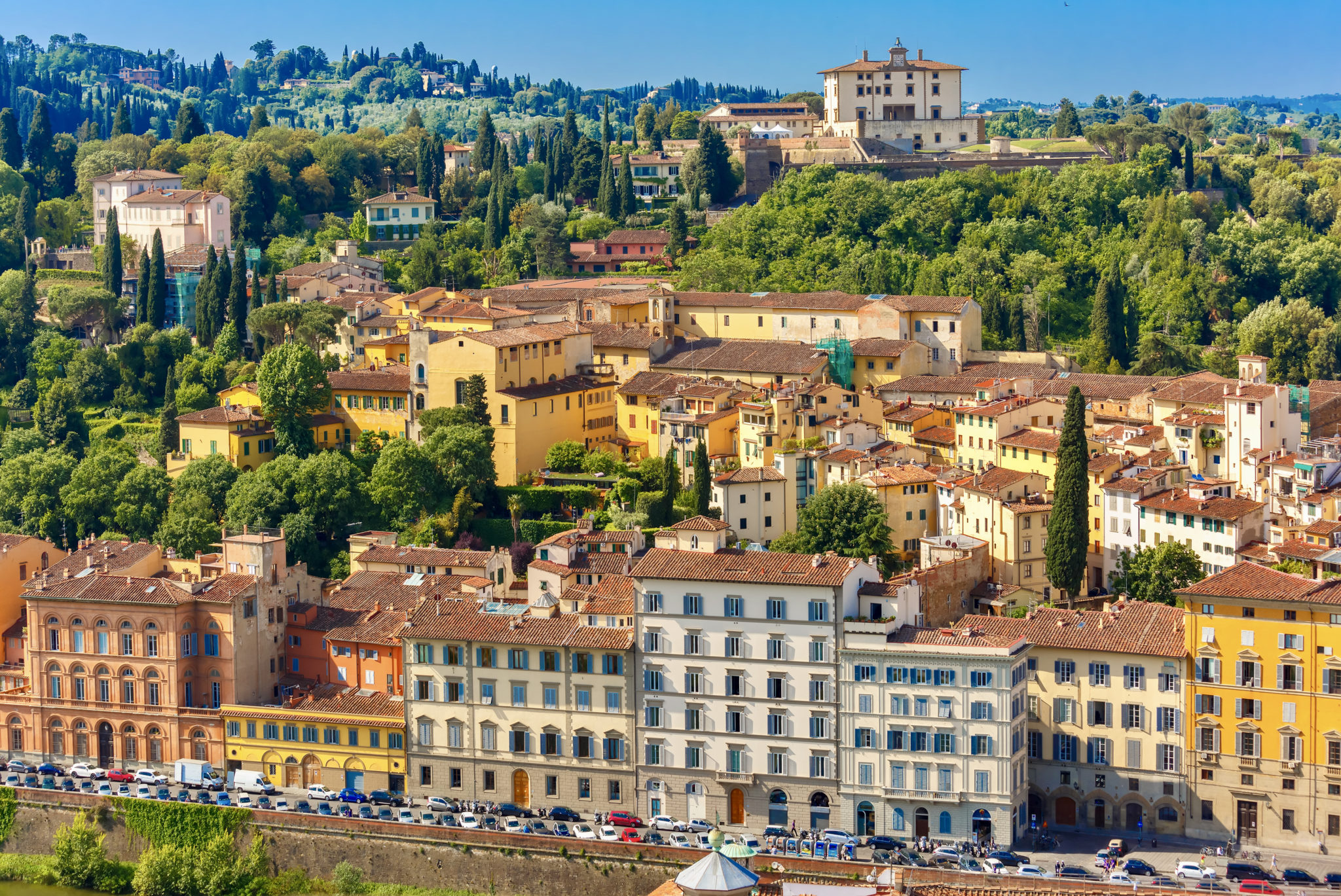 The Palazzo Vecchietti is housed in a beautiful 16th century townhouse. The St. Regis is a beauty too, right near Santa Maria Novella. Il Salviatino has a patrician feel and offers Duomo views.
In the Oltrarno, I really like Villa Cora with its stunning views and Renaissance style suites.
Day 4: Day Trip to Arezzo or Cortona
You have two options for day 4 of your 10 days in Tuscany itinerary. Take a day trip to either Arezzo (for culture) or Cortona (authentic Italian charm), according to your own preferences.
1. Arezzo Day Trip Option
If you love Renaissance art, head to the cultural hotspot of Arezzo, just 30 minutes away on the high speed train. Arezzo is a compact and colorful city. It's quiet and less crowded than other Tuscan towns, but stuffed with delicious things to see and do.
In particular, you need to visit the high chapel in the town's Basilica of San Francesco. There, Piero della Francesca, painted his greatest masterpiece, still in situ.
The complex fresco cycle tells the story of The Legend of the True Cross. It's considered one of the greatest and most influential frescos of the early 15th century.
The rest of Arezzo offers plenty of things to do, with many churches and museums. Arezzo Cathedral is a late 13th century Gothic church, with a rather austere exterior.
But inside, you'll find a luminous Mary Magdalene portrait by Piero della Francesca and some beautiful terra cotta ceramics by della Robbia. There's also a stunning viewpoint.
Art lovers should visit the House of Giorgio Vasari, the famed Florentine architect and artist. He became the world's first true art historian, after publishing his treatise Lives of the Most Excellent Painters, Sculptors, and Architects.
For more information, you can check out my one day in Arezzo itinerary and my guide to Casa Vasari.
2. Cortona Day Trip Option
If you want to get off the beaten path in Italy, you can go "Under the Tuscan Sun" in hilly Cortona in eastern Tuscany.
A former Etruscan town, Cortona was featured in the famous movie and book by Frances Mayes. It's a quiet charmer, seated on a commanding hill with great views in every direction.
Cortona's main street is Via Nazionale, the only flat place in town. There, you'll find a great wine bar called Enoteria.
At one end of the street is Cortona's most famous piazza, the Piazza dell Repubblica, perfect for people watching. At the other lies the splendid Piazza Garibaldi.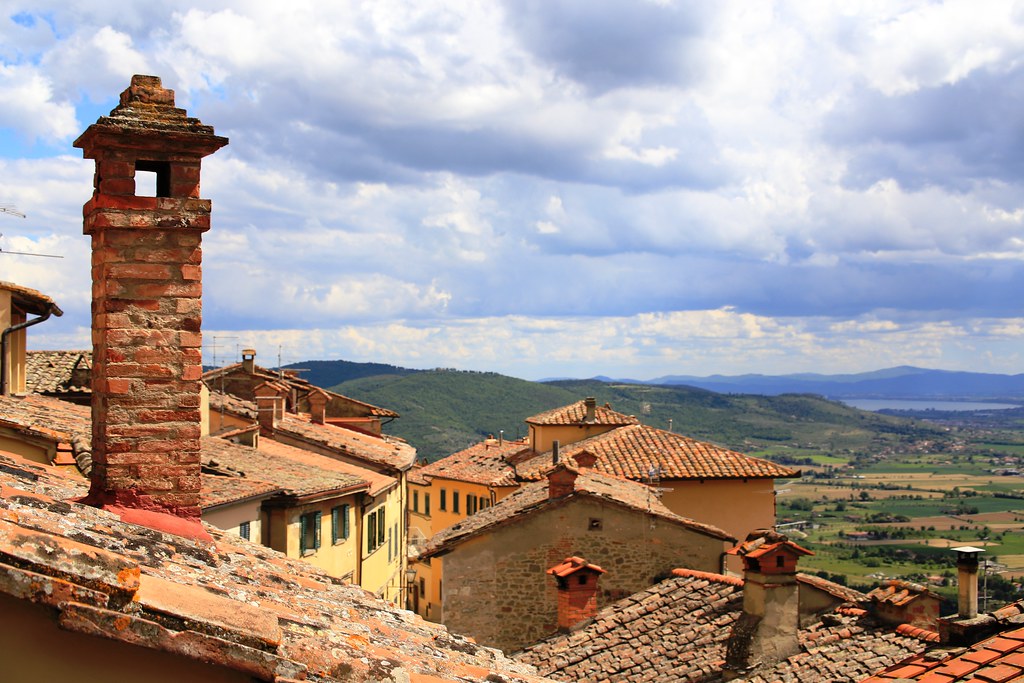 As you walk the small streets, you'll bump into one small church after another. Most of the buildings are made of pietra serena. This is a type of limestone that famed Italian architect Brunelleschi liked to build with.
If you continue on Via Berrettini, you'll reach Fortezza Medicea di Girifalco, which offers splendid views over the countryside.
Cortona has a wonderful little museum, the Museo Diocesano, located in Chiesa del Buon Gesù in the Piazza del Duomo. The museum has some absolutely superb paintings — works by such Renaissance luminaries as Far Angelico and Luca Signorelli. It also houses the famed Cortona Altarpiece.
Cortona has a vibrant dining scene. For lunch or dinner, here's a list of good options.
Click here for a guided tour of Cortona. You can also book a guided day trip tour from Florence that combines Cortona with Assisi, to get more bang for your buck.
Day 5: Explore Siena
On day 5 of your 10 days in Tuscany, get up bright and early, pick up your rental car, and drive to Siena. You'll stay overnight in Siena.
Bella Siena is one of the best cities to visit in Tuscany for its rustic medieval beauty, tasty food, and luscious chianti. If you want to bask in medieval times, there's no better place.
You'll want to spend ample time strolling through the pedestrianized historic center. It's a well-preserved burnt orange dream littered with cute cafes and shops. Click here if you'd like to book a 2 hour walking tour of the historic center.
1. Sienna Cathedral
Siena's most famous site is its Duomo, Siena Cathedral. It's one of Europe's most beautiful churches, especially for lovers of all things Gothic.
The cathedral is the symbol of Siena, clad all over in Siena's trademark white and dark green marble. Consistent with the Gothic ethos that "more is always better," every inch is decorated with marble, mosaics, sculptures, and frescos.
To visit the Siena Duomo complex properly, you need to pre-purchase the Opa Si Pass. Click here to pre-book a ticket.
The Duomo complex isn't just Siena Cathedral. It also includes the Baptistry, the Crypt, the Piccolomini Library, the Facciatone viewing terrace, and the Museo dell'Opera del Duomo Museum. The Facciatone offers stunning views of Siena.
2. Palazzo Pubblico
Don't forget to tour Siena's town hall, the Palazzo Pubblico. It was built in 1297-1308 for the Council of Nine, the governing body of Siena.
The palazzo is one of the seminal civic structures in Europe It's a harmonious example of early Renaissance architecture, with a curved brick facade and beautiful triforate arched windows.
Inside, you'll find the Allegory of Good and Bad Government, one of the most famous fresco cycles in Italy. Beside the palazzo soars the slender Tower of Mangia, which you can climb for more panoramic views.
Click here to pre-book an entry ticket to the palazzo.
Siena is a great town to indulge in an excellent Italian meal. If you're ready to splurge, your best option is either the Michelin starred La Taverna San Giuseppe or Antica Osteria da Divo. (Make reservations!)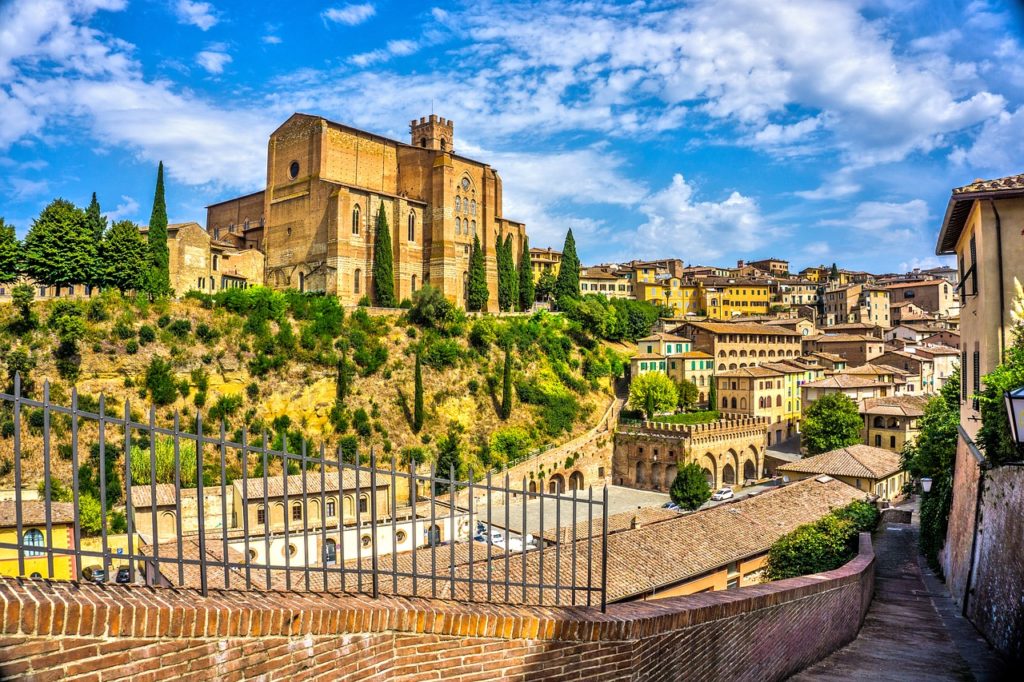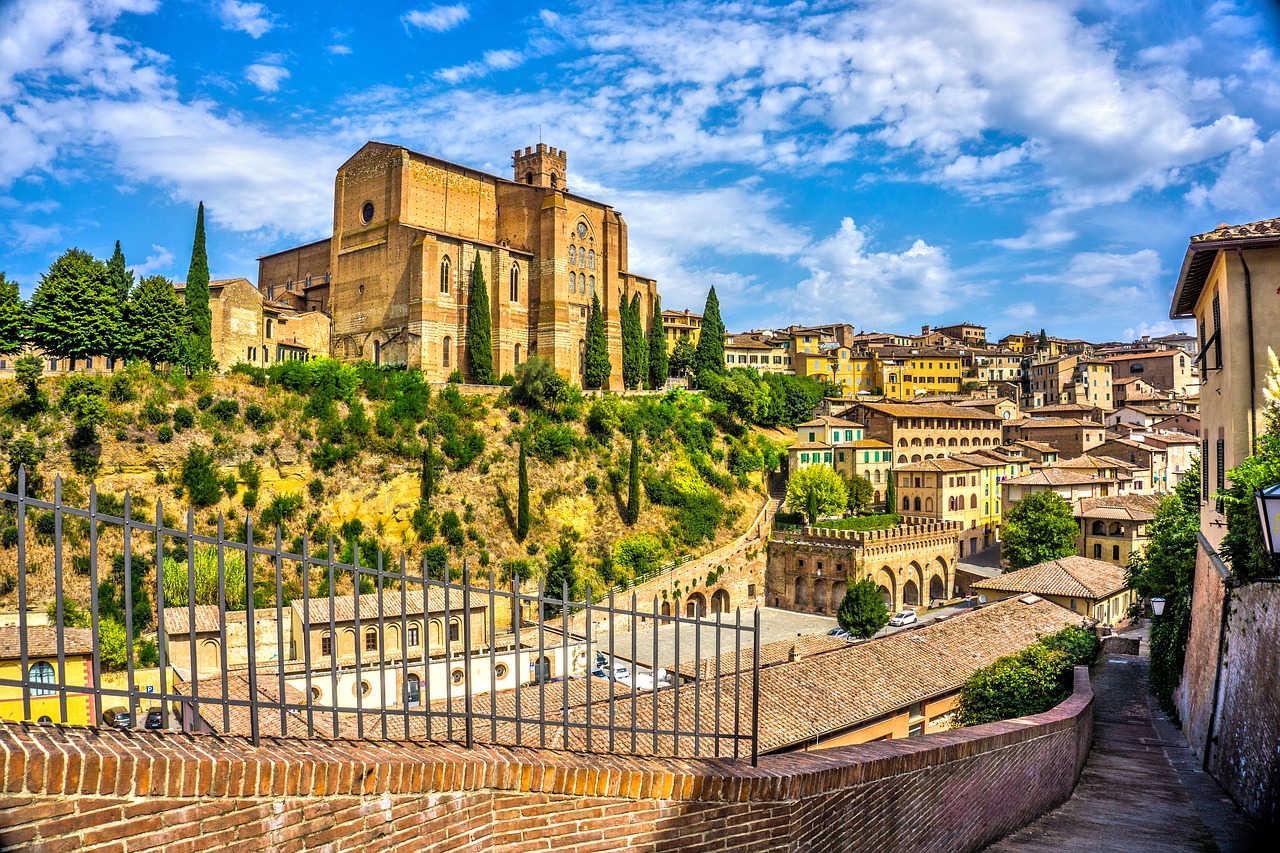 Antica is very atmospheric. It's partially housed in ancient Etruscan tombs. If you're on a budget, try Gino Cacino di Angelo instead.
Here's my detailed itinerary for spending one day in Siena
Where To Stay In Siena
Siena has some excellent accommodations. You can stay in luxe hotels, castles, or palazzos.
You should consider the Grand Hotel Intercontinental (vintage grandeur in a former palazzo), Hotel Certosa di Maggiano (converted 14th century monastery), or the Regio Relais (central location).
You can take a romantic mini-break in the beautiful Palazzo Ravizza. Or enjoy a boutique guest house in an unbeatable location, the Il Battistero Siena. The Relais degli Angeli is the epitome of Tuscan elegance.
Day 6: Drive to Montepulciano With a Stop in Pienza
On day 6, get up early and drive the classic Crete Senesi (Sienese Clay Hills) route to Montepulciano. This is a beautiful terrain of pointy cypresses, golden rolling hills, wheat fields, and sunflowers.
1. Pienza
En route, stop in pretty Pienza. Pienza is a UNESCO-listed town in central Tuscany that will just take a couple hours to explore. Park in one of the lots outside the town walls.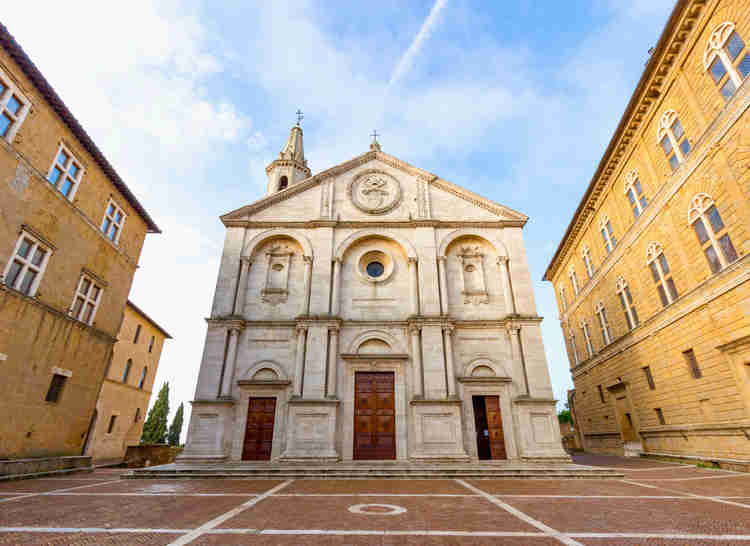 Pienza's main square is the splendid Piazza Pio II. it was designed by Renaissance architect Bernardo Rossellini.
The square was intended as the crowing glory of Pienza, the "ideal Renaissance city." It's wrapped with impressive buildings, including Pienza Cathedral and the Palazzo Piccolomini (the pope's residence).
Pienza is known for its pecorino cheese. Plenty of shops hawking this delicacy are tucked away in the narrow streets. Have lunch at Trattoria Latte di Luna on the Corso Rossellini, one of Pienza's main streets.
Here's my complete guide to Pienza.
2. Montepulciano
The quaint medieval town of Montepulciano is just 20 minutes from Pienza. It's famous for its Vino Nobile, a delicious violet-scented ruby red wine.
The town is perched on a hilltop and encircled within ancient city walls. There are parking lots at the top of the town near the fortress and at the bottom of the town near Porta al Prato.
Hilly Montepulciano is a delight. From the Porta al Prato, it's a steep climb to the town.
Along the way, you'll see a string of impressive Renaissance palaces. At the highest point is the Piazza Grande, with a never-finished and rather homely Duomo. The best views are from Piazza San Francesco.
Montepulciano is home to the Pinacoteca Crociani. The museum's showpiece is a painting attributed to Caravaggio, the greatest painter of the Baroque period.
After making your own judgment about the provenance of the painting, head to one of Montepulciano's wine cellars and then dine at Acquacheta or Osteria del Conte.
Montepulciano is the prefect place to take a wine tour in Tuscany. Or have a tasting and lunch at a vineyard.
READ: Best Things To Do in Montepulciano
Where To Stay in Montepulciano
There are some great places to stay in Montepulciano. Villa Cicolina is a charming hotel with antique furniture and views of the countryside.
The Lupaia is a one-of-a-kind former farmhouse complex dating back to 1622. You can also stay in an authentic agriturismo, Agritursimo San Martino.
Day 7: Explore San Gimignano On The Way To Volterra
Surrounded by cypress groves, tiny San Gimignano is nicknamed the "Medieval Manhattan."
San Gimignano is a walled town with a startling cityscape with 13 spiky towers poking the sky. To see the town, you can book a small group walking tour or a private walking tour.
The most famous tower is the Torre Grossa. Climbing to the top is a must do for panoramic views.
Sam Gimignano's historic center is a UNESCO site. Park outside the city walls and walk into the town. The central square is the Piazza del Duomo.
In the piazza, you'll find the Collegiate Church of Santa Mary of the Assumption. Consecrated in 1148, it's a beautiful (mostly) Romanesque church, austere on the outside with a feast of frescos on the inside.
In the Chapel of Saint Fina, there are paintings by early Renaissance master Ghirlandaio. There's also a violent fresco cycle of Black Death paintings, possibly by the mysterious artist Barna Da Siena, who allegedly fell to his death from scaffolding while painting the frescos.
After admiring the art, stop for a glass of wine or gelato in the Piazza della Cisterna, San Gimignano's other main square. There are plenty of shops stocked with delicious specialty products like saffron and truffles. Be forewarned, Gelateria Dondoli is a very popular spot.
Here's my complete guide to the top attractions in San Gimignano. When you're done with your tour, you'll drive to Volterra where you'll stay overnight.
Day 8: Volterra
Spend your next day leisurely exploring the ancient town of Volterra. It's one of Europe's oldest towns.
Known for its 4th century B.C. Etruscan origins, this charming little town is located on a towering coastal bluff between Florence, Pisa, Siena and the coast. You'll see the town in a vista long before you arrive.
Start your day in Volterra at the Porta all'Arco, the city's ancient gateway. It's Volterra's main landmark, built by Etruscans in the 3rd century B.C.
The road leads you upward, zigzagging to the heart of Volterra, the medieval Piazza dei Priori. There you'll find the Palazzo di Priori, said to be the model for Florence's own magnificent Palazzo Vecchio.
You'll also want to visit the Church of San Francesco, with frescos by Cenni di Francesco telling the Legend of the True Cross.
You should also visit Volterra's Roman ruins, which include an impressive Roman Theater from the 1st century B.C. If museums are on your agenda, try the Pinacoteca (for Renaissance art), the Etruscan Museum (Etruscan artifacts), or the Torture Museum (ancient torture instruments).
Volterra has excellent restaurants around every corner. For dinner, head to Osteria La Pace Volterra, Ristornate-Enoteca Del Duca, or La Vecchia Lira.
Click here to book a walking tour of Volterra.
Where To Stay In Volterra
The Ostello Chico delle Monache is a beautiful hotel is a restored 13th century monastery. Or stay nearby on a private estate at the stunning Borgo Pignano.
Day 9: Lucca
On day 9, drive to beautifuly preserved Lucca, where you'll stay for two nights. Lucca is like a mini-Florence. It's still entirely contained within its stout Renaissance walls.
The walls are like a circular park for pedestrians and bikers, with beautiful views over the region. Walking the entire wall takes about 1 hour.
Lucca doesn't really have any must see sites, which means its under the radar for most tourists. Lucca's appeal lies in its relaxed old world Medieval charm. It's perfect for aimless strolling along the pretty streets and piazzas.
Romanesque churches are around every corner. The main pedestrian drag and shopping street is Via Fillungo.
It's a long twisting road loaded with fashionable shops, cafes, and bars. Lucca is know for its glass making and jewelry, which make great souvenirs.
Lucca's central square, Piazza Anfiteatro, is an enclosed piazza built around an ancient Roman arena. There's no remnants of the arena.
But the handsome oval curve — ringed with yellow medieval buildings — still sits pretty and is full of cafes to grab a bite to eat. For dinner, try Ristorante Giglio or In Pasta-Cibo e Convivo.
Where To Stay In Lucca
The top pick in Lucca is the Palazzo Dipinto, right in the historic center. Hotel Palazzo Alexander is another pretty place in the town center. Hotel Villa Casanova is set within an 18th century farm house amid the hills.
Day 10: Day Trip To Pisa
No Tuscany road trip is complete without a stop in historic Pisa, 30 minutes from Lucca. Most travelers in Tuscany descend in droves on tiny Pisa. They come for Pisa's famously Leaning Tower on the spectacular UNESCO-listed Field of Miracles.
I think the tower is incredibly overrated. It leans because it's a product of poor engineering and soft soil, nothing else. But you can take the requisite cheesy selfie with it.
If you want, climb the spiral staircase for magnificent views. But you have to book a timed entry ticket in advance to ensure a spot. You can also take a 2 hour all inclusive tour to explore the monuments on the Field of Miracles.
The real gem of the Field of Miracles is Pisa's exuberant Duomo. It's the most ancient cathedral in Italy, older than the cathedral complexes in Siena and Florence.
This Romanesque edifice was founded in 1118. The exterior is decorated with alternating black and white stripes.
Inside, there's a central nave and two flanking aisles on each side, with intricate Corinthian columns and arches. In the apse, you'll find mosaics attributed (perhaps erroneously) to the greatest 13th century Italian artist, Cimabue.
There's also an elaborate pulpit carved by Giovani Pisano in the early 14th century and works by Ghirlandaio and Giambologna.
READ: Must See Sites in Pisa
The other great monument in Pisa is the circular monument in front of the Duomo, the Baptistery. Begun in 1153, there's still a full immersion baptismal font inside.
From the Women's Gallery above, you have views of the font. There's also a beautifully carved pulpit, created by Giovani's father Nicolo Pisano. It's considered one of the first works of Renaissance art.
The dome covering the Baptistery is actually two domes, which produces an odd acoustical effect. For a tip, the guards will sing and you can hear the melodic reverberations. Like the Leaning Tower, the Baptistery is on unstable soil and leans slightly toward the Duomo.
When you're done on the stunning Field of Miracles, visit the historic town itself, strolling along the Arno River. There are museums, palazzos, and piazzas to check out.
READ: Must Know Tips for Visiting Pisa
More Than 10 Days In Tuscany?
Do you have extra time in Tuscany? If so, here are some beguiling options for extending your stay and experiencing other beautiful Tuscan and Italian destinations.
More Florence Day Trip Options
1. Greve & Montefioralle
The medieval town of Greve is a perfect day trip from Florence (a 45 minute drive). Greve is the gateway to the Chianti area, one of Italy's most famous wine regions.
Take a bike tour, visit the castles in the Chianti region and, of course, indulge in some wine tasting. Check out Greve's peculiar triangular square.
Just east of Greve is the tiny medieval wonder of Montefioralle. It's filled with cobbled streets and ancient stone buildings. Its hilltop castle, Castello di Montefioralle, has commanding views over the Chianti countryside.
2. Fiesole
Fiesole is the quickest and easiest day trip from Florence, essentially a suburb. You can actually walk there in an hour. If you don't want to hoof it, there's a bus that leaves from town as well. You could easily wile away a half day in Fiesole.
If you're a ruin luster or history buff, Fiesole is perfect. Fiesole pre-dates Florence, with Etruscan roots from the 8th to 9th century B.C.
Be sure to visit the Etruscan-Roman Archaeological site, which includes a Roman aphitheater, Roman baths, and remains of Etruscan walls.
Further afield from Florence, but still doable as a day trip, are the amazing cities of Verona and Bologna.
3. Verona
Verona is a pretty Italian town full of red and peach colored medieval buildings and Roman ruins. It was made famous by Shakespeare's play Romeo and Juliet.
Once you've made the obligatory pilgrimmage to Juliet's Balcony, you'll also want to tour the doughty Roman Arena in the Piazza Bra.
Click here to book a walking tour of Verona. Click here to pre-book a ticket to the Roman Arena.
4. Bologna
Nicknamed La Grassa, or the Big Fat, for its delicious food, Bologna just oozes medieval charm.
Bologna is filled with striking architecture, arcaded porticos, beautiful piazzas, a swathe of palaces and towers, and gourmet restaurants. Most of Bologna's must see sites are found in the city's main square, Piazza Maggiore.
Click here to book a walking tour of the historic city center.
Siena Day Trip Options
1. Asciano
From Siena, you can visit the lovely town of Asciano, just 25 minutes down the road. You can enjoy the cypress-lined scenery, hike in the Tuscan hills, and stroll in the quiet medieval hamlet.
The approach to the town is one of the most photographed spots in Tuscany (photo at top of page). Just pull over to snap your photos.
2. Monteriggioni
A half hour from Siena is Monteriggioni, an idyllic walled town. You can even hike to the town from Siena.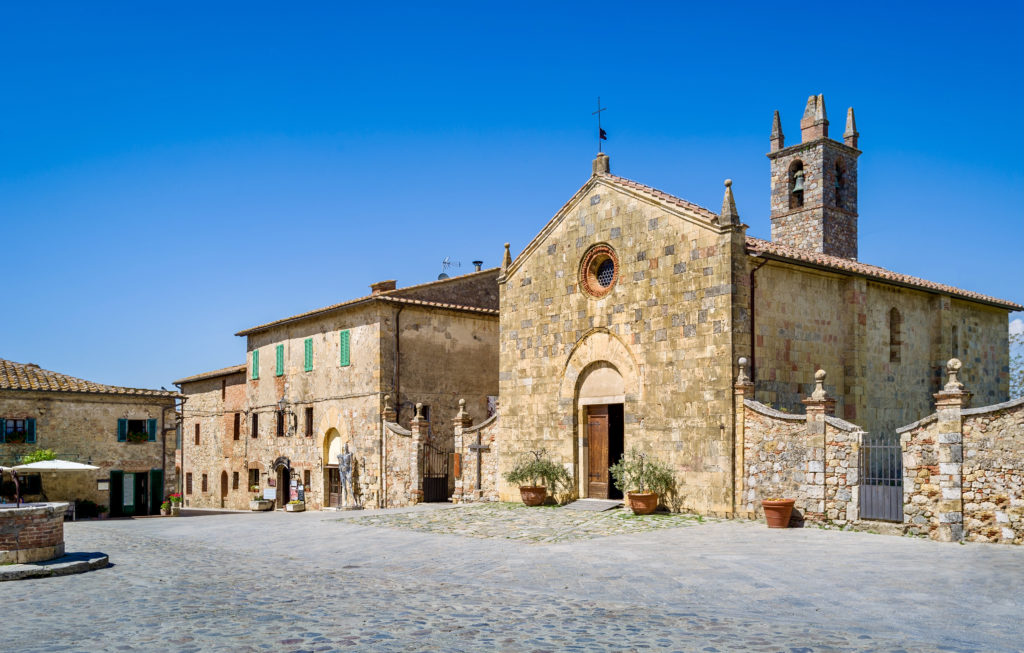 Like a postcard, it almost doesn't look real. Monteriggioni was built by Sienna in the 13th century as a defense in its ongoing conflict with its arch rival, Florence. You can explore the watchtowers and walls at your leisure.
3. Colle Di Val d'Elsa
Just a short drive from Monteriggioni (and 30 minutes from Siena ) is the town of Colle Di Val d'Elsa, a hidden gem in Tuscany.
It's on the Via Francigena, a medieval pilgrimage route. Colle is the hometown of the key architect of Florence, Arnolfo di Cambio.
The town is split in two. The higher part is the medieval core. You get there via a lift in a stone tunnel that deposits you at a spectacular viewing terrace. There are museums, churches, and restaurants to keep you busy.
4. Montalcino
Montalcino is another medieval hill town, just 45 minutes from Siena. You can walk the cobbled streets and admire the old world architecture.
Montalcino is also renowned for its Brunello wine, and you can sample it in Montalcino's many wine bars. One of the trendiest is Drogheria Franci.
5. Assisi
About 1.5 hours from Siena in Umbria is the stunning hill town of Assisi, the perfect destination for art lovers. Because Assisi was the home and final resting place of St. Francis, it's also a pilgrimage destination.
In fact, the 13th century Basilica of St. Francis is one of Italy's best known churches, with frescos by Giotto, Lorenzetti, and Cimabue.
When you're done exploring the famed basilica, head to the Piazza del Commune. It rivals the Piazza Navona in Rome and the Piazza del Campo in Siena for sheer beauty. If you're hungry, there's an excellent wine and food shop, Botega dei Sapori.
Click here to book a walking tour of Assisi, with an entrance ticket to the basilica. You can also visit both Assisi and the charming Umbrian town of Spello on a day tour.
READ: One Week in Umbria Itinerary
I hope you've enjoyed my 10 days in Tuscany itinerary. You may enjoy these other Italy travel guides and resources:
If you'd like to spend ten days in Tuscany, pin it for later.