Ready to explore the enchanting floating city of Venice? Look no further than this 2 day itinerary that covers all of Venice's must visit attractions and landmarks.
You'll discover all the best things to see, do, and eat in one of the world's most beautiful and captivating cities. Venice is truly a natural movie set. No other place looks quite like it.
As Truman Capote once famously quipped, "Venice is like eating an entire box of chocolate liqueurs in one go."
This elegantly decaying medieval city built on water seems like it shouldn't exist in real life. It's a mind-boggling maze of canals, lacy palaces, and artistic treasures that will leave you spellbound.
With so much to see and do, the options for sightseeing in Venice are endless.
You can explore world-class museums brimming with precious treasures of Medieval and Renaissance art, visit historic landmarks, take a romantic gondola ride, hop on a vaporetto ride for an alternative view of the city, enjoy canal-side dining, sample delicious cicchetti (tasty tapas-like snacks), hit the beach, and so much more.
Overview Of 2 Days In Venice Itinerary
Here's a snapshot of my recommended 2 days in Venice itinerary. You can check off most of Venice's major attractions in two days.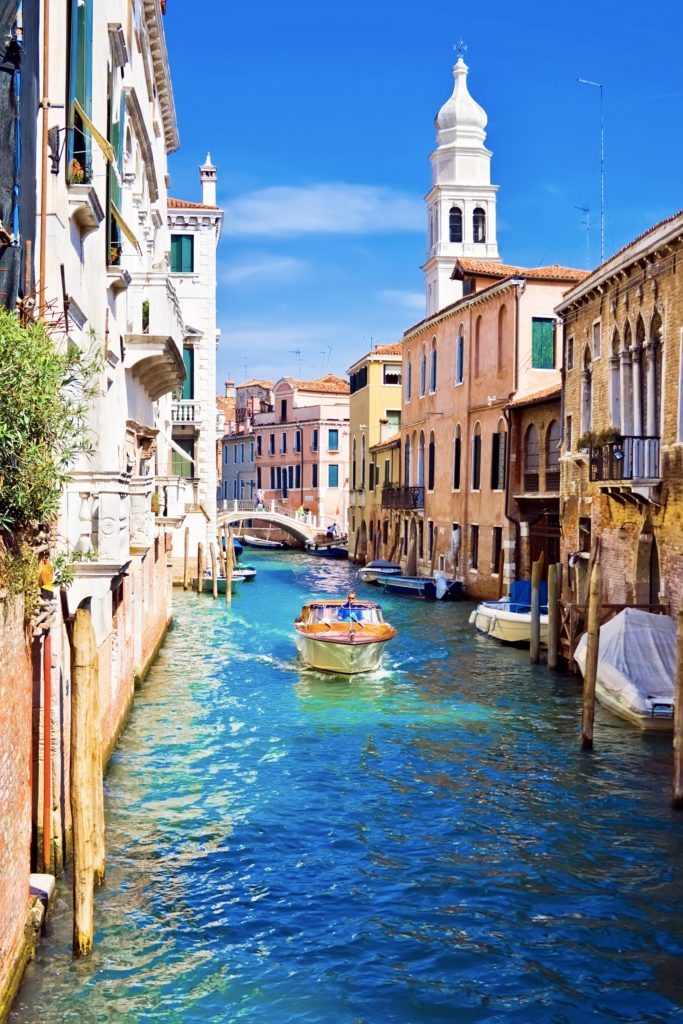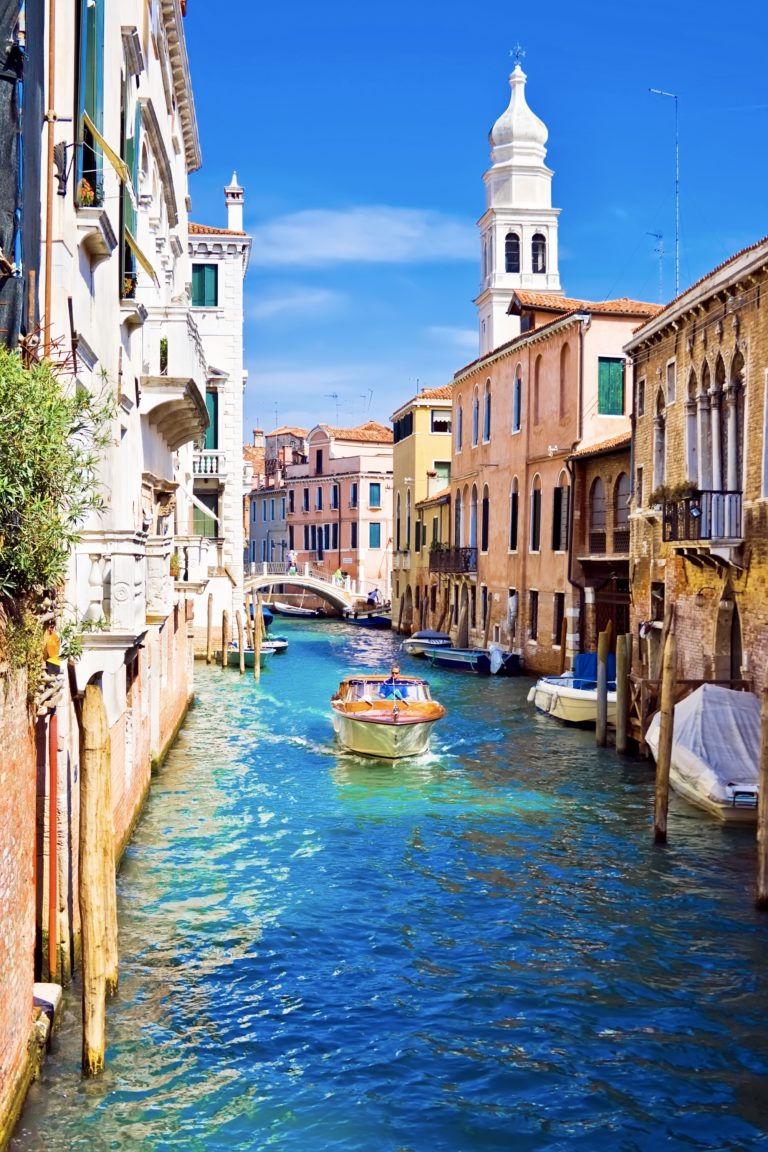 Of course, it would be better to have 3-4 days in Venice. Last time I visited, I was there for a week, never got bored, and the visit was infinitely more pleasant.
Doge's Palace
St. Mark's Square
St. Mark's Basilica
Palazzo Contarini
Grand Canal
Santa Maria della Salute
Venetian palazzi
Danieli Hotel
Museum visit (3 options)
Cannaregio area
Rialto area
Gondola ride
If you have extra time in Venice, you can easily turn this 2 day itinerary into a 3-4 day itinerary by moving at a slower pace.
I also give you options for some easy and excellent day trips from Venice.
Before You Go: Here's How To Plan Your Visit To Venice
Below are some of the top tours, hotels, and experiences in Venice. Donʻt forget to plan ahead, especially in high season!
Top Tours & Experiences:
Best Hotels:
A Short History of Venice
No trip to Venice would be complete without knowing a bit about the city's history.
Venice's traditional founding date is pegged at March 25, 421. The year isn't arbitrary. It's 11 years after the Visigoths sacked Rome. 421 is also 55 years after the last Roman Emperor was deposed.
Venice chose this particular year as its foundation year because Venice viewed itself as the new Rome. Not as the successor or heir of Rome, but as a new Christian empire.
In 526 A.D., the Byzantine Emperor Justinian invaded Italy, trying to recapture his lost territories. He landed in Ravenna.
Venice fell to the Byzantine empire. It would have a massive influence on Venice's culture.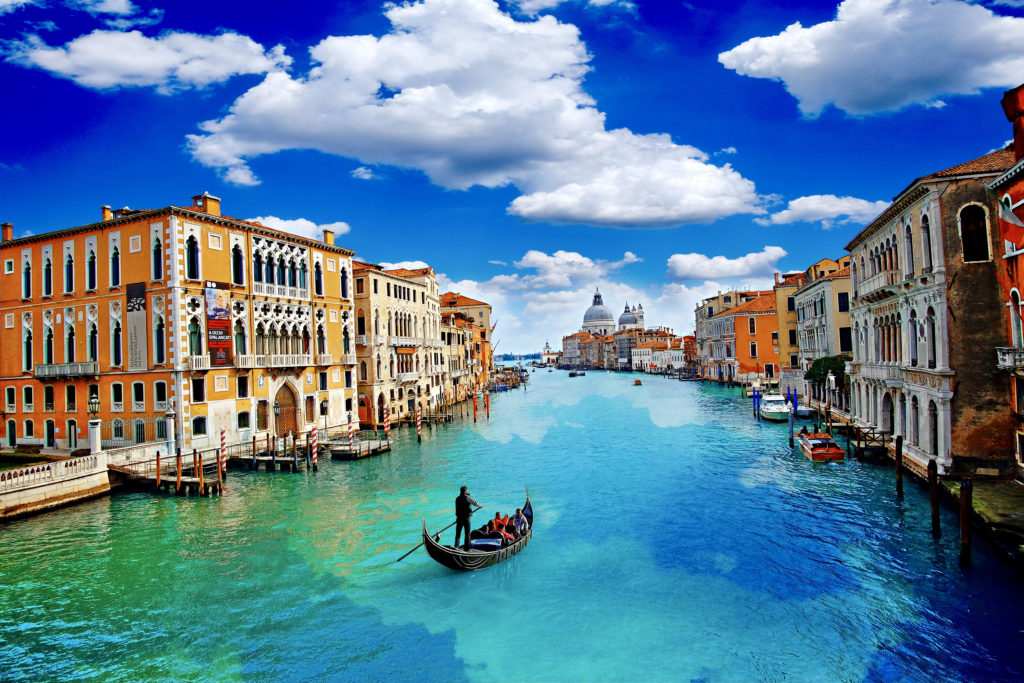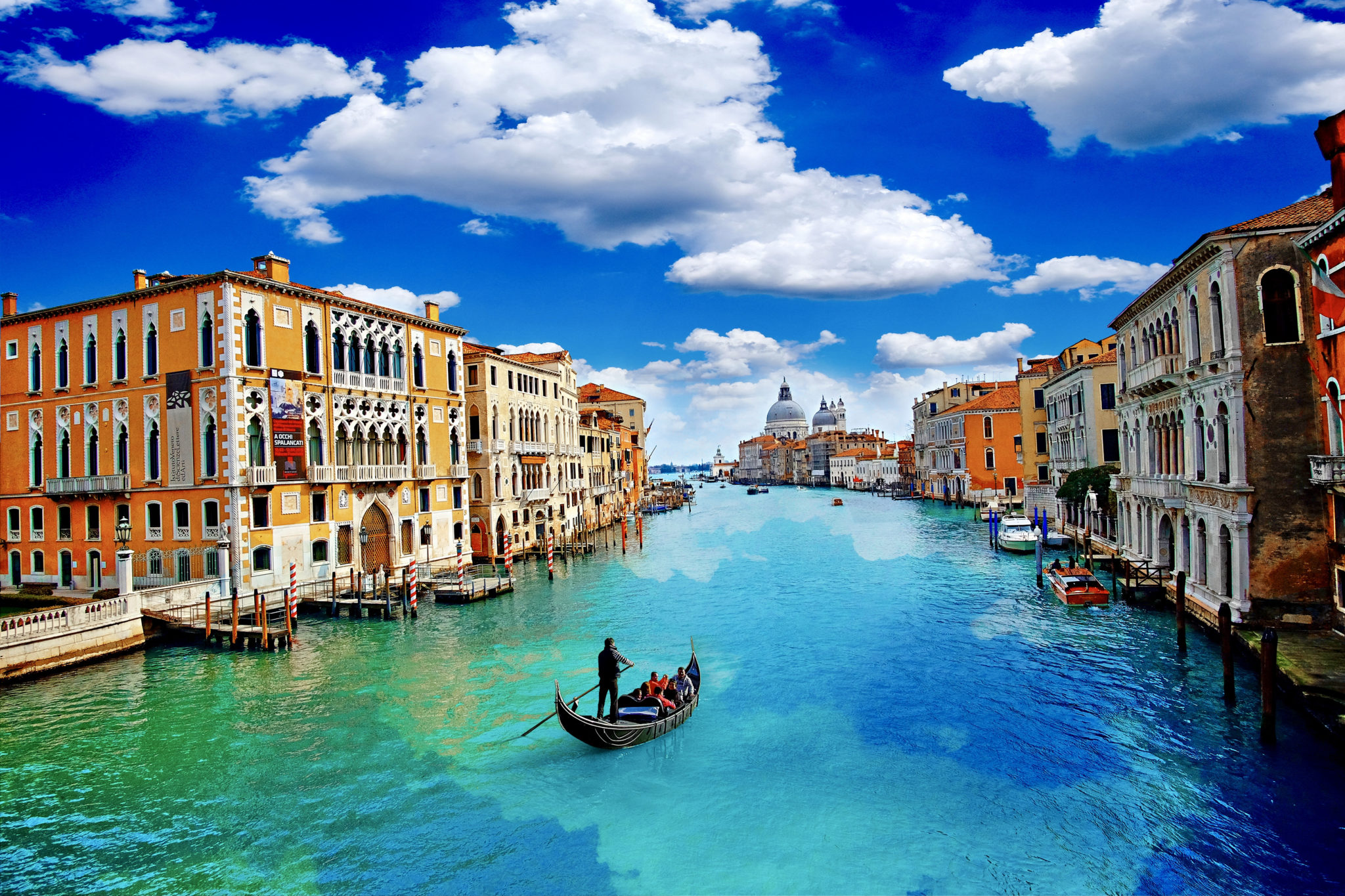 As Venice slowly began to develop socially and politically. The city came to understand its potential importance in the era's global politics.
But Venice needed one last bit of legitimacy to ensure the city's hegemony. They needed a relic.
All major Christian capitols had an important relic. Venice had a piece of St. Zachariah. But that wasn't sufficiently important.
To rectify this deficiency, a popular legend began to spread. During a violent storm, a ship bearing St. Mark the Evangelist docked near the Rialto Bridge. An angel appeared and said "peace to you Mark, this will be your final resting place."
The Venetians embraced this legend with zeal. In 829, in a gondola kidnapping, two Venetians stole St. Mark's corpse from Alexandria Egypt and smuggled it back to Venice.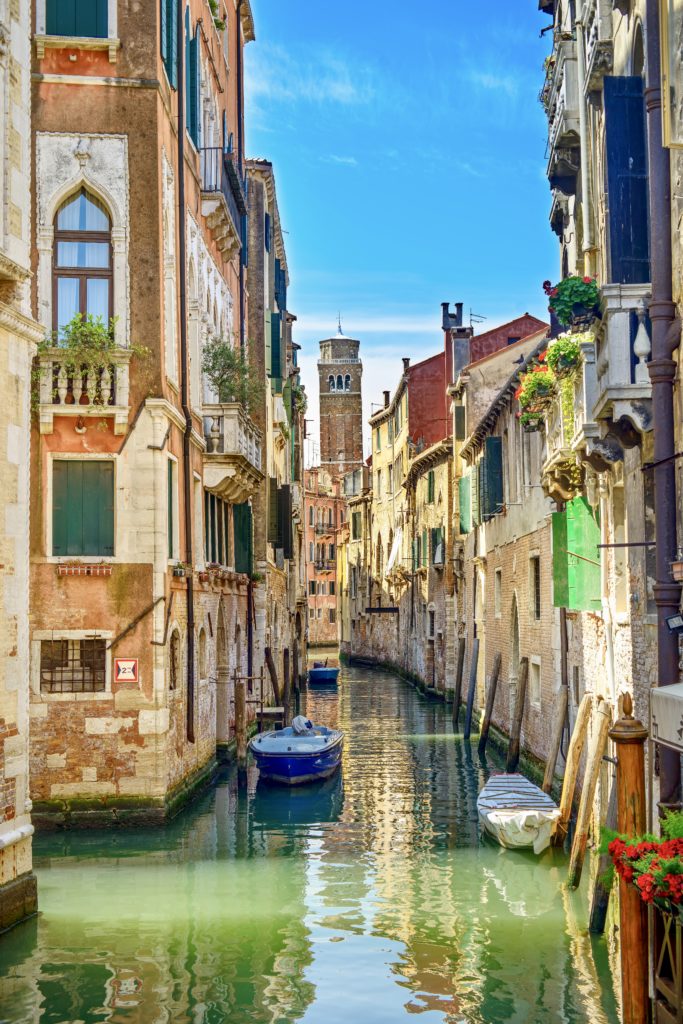 In 828, construction of St. Mark's Basilica began. The story of the miracle is pictured on the 13th century mosaic above the left door as you enter the basilica.
St. Mark's symbol was the winged lion, which is a ubiquitous image in Venice. With St. Mark as their guardian, Venice evolved into a sea power.
Venice put together a refined system of government, adopting a constitution and instituting the Great Council. The Great Council helped select the doge, or titular head of the Republic of Venice.
In the 14th century, Venice got into major scrapes with burgeoning Genoa and Padua. Venice was on the defensive, and its maritime power diminished
During the 15th and 16th centuries, Venice thrived culturally. Venice had its own version of the Renaissance, distinct from Renaissance hotspots like Rome or Florence.
Venetian artists produced images that were less religious, more libertine, and more creative. Venice was also the birthplace of influential historic figures: Marco Polo, Casanova, Vivaldi, Bellini, and Tintoretto.
Venice remained a powerful city state until the 16th century. Then, its slow decline began.
The volume of trade moving through Venice dropped. But Venice still remained a proud center of European culture, opening Europe's first opera house, La Fenice (where I saw my first opera!).
Get Oriented: The Sestieres Of Venice
Here's a quick overview of Venice's neighborhoods you can visit with 2 days in Venice.
San Marco: the central touristy hotspot concentrated with Venice's major attractions, upscale shops, and restaurants
Dorsoduro: artsy student district with wonderful museums and the Campo Santa Margherita
Castello: beautiful off the beaten path district with gardens and a medieval shipyard
San Polo: busy Rialto markets, with a combination of great restaurants and tourist traps
Cannaregio: Venice's historic Jewish Quarter, a lovely residential area with great cicchetti bars, lovely churches, and narrow canals
Santa Croce: lots of palazzos and bacaris (Venetian wine bars with cicchetti)
2 Days In Venice Itinerary
Two days is a short amount of time to explore a romantic city like Venice, which is so bewitching and filled with must see sites.
But Venice is compact and most of the must top attractions are on the Grand Canal.
One thing you must do to make the most of 2 days in Venice is to buy skip the line tickets in advance. Otherwise, you'll lose valuable time and get frustrated in long queues.
Now, let's kick off this Venice itinerary!
Day 1 Of 2 Days In Venice
Depending on where you're staying, you may want to have breakfast at All'Arco. It's hole in the wall spot near the Rialto Bridge where you can get authentic snacks.
1. Doge's Palace
Once you're fueled up, begin your first day in Venice with a visit to the Doge's Palace.
The Doge's Palace, or Palazzo Ducale, is one of Venice's most iconic landmarks. Set in St. Mark's Square, the palace is the very symbol of Venice.
This pink and white marble Gothic-Renaissance building was the official residence of the doges, the rulers of Venice for more than 1,000 years. You enter via a grand courtyard.
Venture inside on the Golden Staircase, Scala d'Oro, one of the world's most richly decorated staircases. This extraordinary staircase offers two views: one of the majestic courtyard of the Doge's Palace and another of the Bridge of Sighs.
Inside the palace's grand interior are museum exhibits, reception rooms, and the Doge's Apartments. There are some fabulous pieces of 16th century Venetian art.
In the Great Council Hall, you'll find Tintoretto's Il Paradiso, the world's largest canvas painting. But the real highlights are two works by Veronese — Rape of Europe and the frescoed ceiling of the Council Chamber.
If you want to see more than just the gilded rooms, buy tickets for the Secret Itineraries Tour.
With that pass, you can peak into the judges' chambers, interrogation rooms, torture chambers, and prisons — places where the real business of Venice was conducted.
You'll see the cell of the infamous ladies' man Casanova, and hear a yarn about how he made a miraculous escape. The creepiest bit is the gargoyle-like mailbox where people left anonymous charges.
And you'll walk across the picturesque Bridge of Sighs. Legend holds that prisoners took their last glances of Venice through the tiny barred windows.
They "sighed" before heading to the interrogation chamber for their sentences to be meted out. A more romantic tale holds that when two lovers go under the bridge at sunset via gondola, their love will last forever.
Click here to book a must have skip the line tickets for the Doge's Palace. This guided tour of the Doge's Palace, which I took my self, gives you an overview of the Renaissance art, a peak at the prisons, and a walk across the Bridge of Sighs.
If you haven't purchased tickets in advance, you can also buy same day tickets at the palace.
But the lines are much shorter if you purchase a ticket at the Correr Museum (opposite the basilica on St. Mark's Square).
2. St. Mark's Square
After the Doge's Palace, spend some time wandering around the San Marco area by foot.
The monumental square itself is magic, but so are the back streets. Try to pop into the quirky Acqua Alta bookstore, where gondolas hold books and books are part of the shop's actual structure.
Deep in the backstreets of San Marco is a great underrated attraction, the Palazzo Contarini del Bovolo. It's a 15th century palace boasting a stunning "scala" or spiral staircase, made of brick and marble, that runs up the side of the palace.
From the top most terrace you're treated to a nice view over Venice's rooftops. You can see the domes of St. Marks' and La Salute. Click here book a ticket online.
St. Mark's Square is also where you'll also find the basilica's Campanile or bell tower, towering 300 feet. It was in this bell tower that Galileo conducted his astronomical studies and premiered his telescope.
The bell tower has a rare elevator (instead of stairs), which you can ride up for views. But the lines are very long.
So be sure to book a skip the line ticket. Or just a stop grab a snap of the lofty bell tower. There are other free viewpoints in Venice.
Around the piazza, you'll also find the Musee Correr, dedicated to Venice's civic history. The museum is named after Venetian aristocrat Teodoro Correr, who bequeathed his collection of classical antiquities to the city.
The absolute highlight are the fine marble sculptures by Antonio Canova. You'll also see rooms used by Austria's Empress Sisi.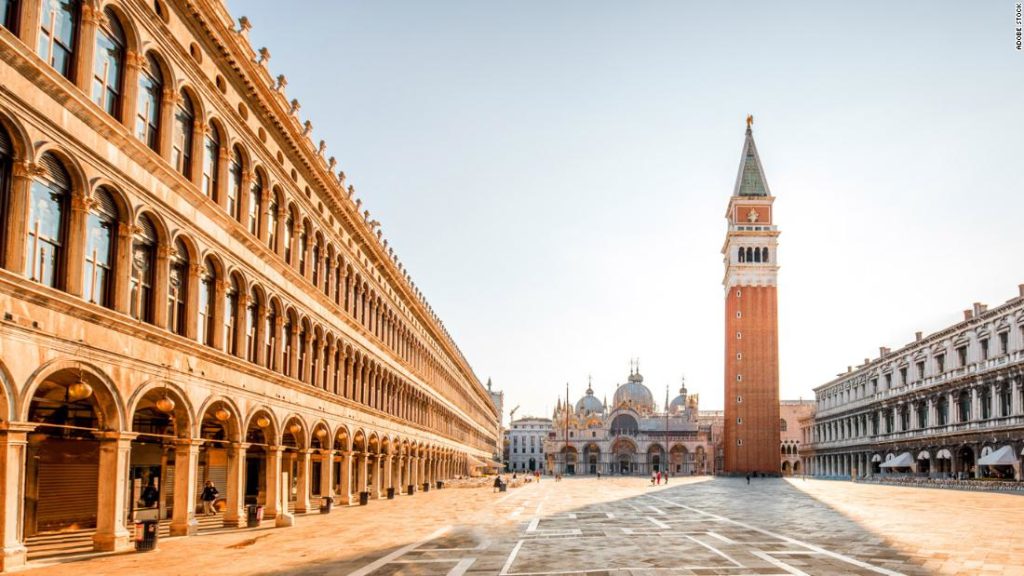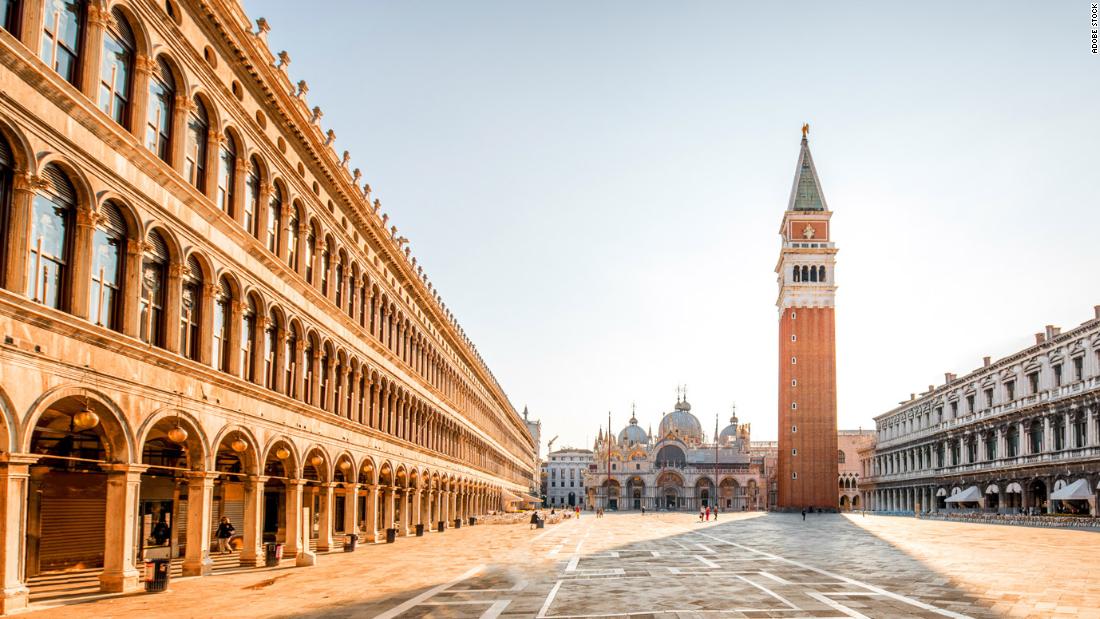 In April 2022, one of the most famous buildings on the piazza, Procuratie Vecchie, opened to the public for the first time in history.
The building stretches the entire length of the north side of the piazza. The building's Neo-Classical facade is one of the most photographed spots in Venice.
The ground floor porticos house cafes and bars. But now, for the first time, visitor can visit the newly restored fourth and fifth floors.
The restoration created exhibition and events spaces and public reading rooms. Stone clad archways lace the rooms together. There's also a cafe with two rooftop terraces offering up fantastic views of St. Mark's Basilica.
Click here to book a ticket.
3. St. Mark's Basilica
Then venture into the bulbous St. Mark's Basilica, with its cluster of domes, with a must have skip the queue ticket. You can also purchase an after hours ticket to get access to some places you can't see during the day.
St. Mark's Basilica is Venice's most important landmark and one of the world's most famous churches. It's an astonishing tour de force of Italo-Byzantine architecture, a precious treasure chest.
Established in 1093, St. Mark's originally served as a chapel for the doge, but its significance extends far beyond those origins. Since 1807, it has proudly held the status of Venice's cathedral.
What sets St. Mark's apart is its captivating blend of styles and materials. The city drew inspiration from the Byzantine realm, infusing the art and architectural essence into the church's very fabric.
Just as Venice stands as a unique entity among European cities, St. Mark's is as an unparalleled ecclesiastical marvel on the continent.
Inside, St. Mark's has a Greek cross church design. Each of the four arms is surmounted with a dome and a large central dome is at the intersection of the cross.
The floor is made of crushed marble fragments that seem like an oriental rug.
The floor is uneven because of Venice's acqua alta or high water flooding problem. The baldachin (high altar) marks the spot where St. Mark is buried below in the crypt.
Inside, the basilica is a golden extravaganza of mosaics, 90,000 square feet in total. They're symbolically concentrated high above in the celestial world.
In the middle ages, Venice was the leading school of mosaic, even ahead of Ravenna. The oldest mosaics in St. Mark's date back to 1070, telling Old Testament stories.
It's worth it to cough up the cash for the Pala d'Oro, an elaborate Gothic altar panel on a pivot.
It's made of gold and decorated with 2,000 precious gems, enamels, and ivories. The panel is universally considered the most refined expression of Byzantine art.
Also head upstairs to the Loggia dei Cavalli, or Balcony of the Horses. This is where you'll find the Triumphal Quadriga — the four beautiful bronze horses of St. Mark.
Copies are on an observation balcony, which gives you stunning views over Venice.
Dating from the 4th century B.C., the precious originals (once plated in gold) are in the Marciano Museum. You'll have to pay extra for the museum and the views. But I think it's worthwhile.
There's so much to see that you may also want to book a tour. Click here for a guided tour of the magnificent basilica.
This 3 hour guided tour gives you combo access to St. Mark's, the terrace, and the Doge's Palace. This 2 hour guided tour gives you a walking tour of Venice + skip the line entry to the basilica.
It's time for lunch.
If you want to grab a quick (not uber overpriced) lunch, get some fresh pasta takeaway from Tuttinpiedi. If you want to sit down, try Osteria la Staffa, on a side street just 5 minutes away from Piazza San Marco.
1. Grand Canal
In the mid afternoon, take a boat tour down the Grand Canal. It's a classic, unmissable thing to do in Venice. As you sail, you can admire Venice's must see sites and dreamy palazzos.
Here's my guide to the must see sites on the Grand Canal and tips for riding the Vaporetto, which is Venice's water bus.
The most important buildings on the Grand Canal were residences of Venice's powerful patrician families. Because of these sumptuous palaces, the Grand Canal has been described "as the most beautiful street in the world."
You'll want to hop on and off the vaporetto (or walk along the canal) to visit some of these magnificent gems. I'll offer you options below. You can pick the ones that appeal the most.
The ride along the Grand Canal isn't cheap. But it's included in any of the day or longer transit passes. Whether you buy a pass or single ticket, be sure to validate it at the machine before boarding.
If you want someone else to do the hard part, you can book a 1 hour guided boat tour. You can also book a 3 hour guided tour of the St. Mark's area that comes with a boat cruise.
2. Basilica of Santa Maria della Salute
The 17th century Basilica of Santa Maria della Salute dominates the Venice skyline. It's an homage to the Virgin Mary saving Venice from the plague.
Free to enter, La Salute is a Venetian jewel of Baroque architecture. Built on top of over 1 million timber piles, it was designed by local star architect Baldassare Longhena, who also built Ca' Rezzonico.
La Salute's most eye catching feature is its enormous crown-like dome, with a statue of the Virgin Mary on top. Inside, there are 12 (!) Titian paintings. A chapel also holds a famous Tintoretto painting, The Wedding at Cana.
3. Ca' Rezzonico | Museum of 18th Century Venice
The Palazzo Rezzonico was also built by Longhena. He was Venice's greatest Baroque architect. He worked mostly for the aristocratic Bon family.
Inside, the palace is a lavish Rococo affair. You'll find beautiful furnishings, a Throne Room, and a Grand Ballroom.
Casanova once lived there before being imprisoned in the Doge's Palace. English artist John Singer Sargent had a studio there. And the palace was the last home of the poet Robert Browning.
The Palazzo Rezonnico museum is a shrine to 18th century Venetian artists. This period in history is known as the "Age of Decadence."
The palace is a beautiful and rare in situ museum, where the art on display was created specifically for the palazzo.
You'll find paintings and mythological ceiling frescos by Tiepolo, Giandomenico Tiepolo (his son), Longhi, Canaletto, Guardi, Molinari, and Lazzarini. Some of my favorite works are the whimsical paintings in the Pulchinello Room and the "conversation pieces" by Longhi.
Click here to book tickets online in advance.
4. Ca' Foscari
Ca' Foscari is one of Venice's most important palazzi. It was built by Doge Francesco Foscari.
It's a 15th century late Gothic building with — an astonishing feature at the time — four floors. When Venice lost a crucial battle to the Turks, the Foscaris fell on hard times and were expelled from Venice.
In 1574, Henry II of France used the palace as his residence. Today, it's the administrative seat of Ca' Foscari University.
You can take a guided tour. From the second floor of the palazzo, you have a sweeping view from the Rialto Bridge to the Accademia Bridge.
5. Ca' d'Oro
Palazzo Santa Sofia is commonly called Ca' d'Oro or the Golden House. It's a 15th century palace located just across the Rialto Market, overlooking the Grand Canal.
It was built for the Contarini family, who once ruled the Republic of Venice. Ca' d'Oro may be Venice's most beautiful palace.
Once upon a time, the harmonious facade was, in fact, covered in gold leaf. Today, the gold is long. But the Venetian-style Gothic building still impresses with the delicacy of its decorations, though the left facade was never completed. The middle loggia with the five Gothic quatrefoil cut outs is especially striking.
Inside, the museum houses an art collection gifted by Baron Franchetti. The most famous piece is the San Sebastiano by Andrea Mantegna. But there are also works by Titian, Gordon, Guardi, and Van Eyck.
One reason to purchase a museum ticket is for the outstanding views of Venice. One view is from the museum courtyard-loggia on the first floor. The other is a top floor view through the quatrefoils.
Click here to book a ticket. You should because they will likely sell out.
In the late afternoon, head up the T Fondaco dei Tedeschi for 360 panoramic views of Venice. Built in the 13th century, the former palace is now a luxury department store. It's free to visit the rooftop.
You just need to book your 15 minute time slot time in advance.
Palazzo Gritti
For a pre-dinner drink, take in canal views at the iconic Gritti Terrace in the Palazzo Gritti. Or, head inside to the Gritti's chic Venetian-decorated Bar Longhi, once frequented by Ernest Hemingway.
Built in 1525, the Palazzo Gritti is a Venetian Gothic wonderland. Originally, the palace was the home of a doge.
Now, it's a perfectly renovated and expensive luxury hotel. The hotel is chock full of Venetian antiques, oriental rugs, and spectacular Murano glass light fixtures.
If you want to find a more off the beaten path spot for cocktails, head to the Campo Santa Margherita in the Dorsoduro area. Chet Bar is a trendy little bar just off the north side of the square.
For dinner, if you're a fan of fresh seafood, you can't do better than the tiny restaurant of Ai Artisti in Dorsoduro (make reservations!) The menu changes daily according to what's on offer at the nearby Rialto fish market.
Day 2 Of 2 Days In Venice
On day two of your 2 days in Venice itinerary, take a deeper dive into the many layers of Venice.
1. Danieli Hotel
If you want a glamorous breakfast or brunch, book at table at Hotel Danieli.
Perched on the hotel's roof top, the Restaurant Terrazza Danieli is a magical location, overlooking the Grand Canal, the Doge's Palace, and the Lido. This was one of the nicest things that I did my last time in Venice.
The Terrazza is very pricey. So, if you understandably want something more casual, there are loads of coffee and pastry shops around Venice.
Once you're fueled up, choose one of Venice's premiere museums to visit, depending on your own interests:
(1) the Peggy Guggenheim Museum (modern art)
(2) the Scuola Grande di San Rocco (Tintoretto frescos only for serious art lovers)
(3) the Galleria dell'Accademia (fine art and Venetian masterpieces).
Personally, I was happy with all three, though I was especially partial to the Guggenheim Museum.
2. Peggy Guggenheim Museum
The Guggenheim Museum is housed in the Palazzo Venier dei Leoni in Dorsoduro. It holds one of the finest modern art collections in the world. Truly! If you love 20th century art, the golden age of modern art, this museum is a must visit in Venice.
Virtually every piece is a seminal work of art. Guggenheim's collection includes works from the major movements of Cubism, Surrealism, Futurism, and Abstract Expressionism.
There's an entire room dedicated to her beloved Jackson Pollack, an artist Guggenheim "discovered." You can see works by Picasso, de Chirico, Vassily Kandinsky, Joan Miro, Paul Klee, Max Ernst, Magritte, Willem de Kooning, Salvador Dali, and Alexander Calder.
Click here to purchase an entrance ticket. Click here to book a private guided tour of this extraordinary collection of art.
READ: Complete Guide to Visiting Venice's Guggenheim Museum
3. Scuola Grande di San Rocco
If you prefer classical art, head to the absolutely breathtaking Scuola Grande di San Rocco. It's an off the beaten path gem in the San Polo neighborhood.
The school was the seat of the scuola of the Brotherhood of San Rocco, a social club of wealthy Venetians dedicated to charitable works.
Adorning the school's interior from floor to ceiling is the masterful work of Venetian Renaissance painter Tintoretto. His unique style seamlessly fuses Michelangelo's meticulous craftsmanship with Titian's masterful color palette.
Tintoretto's fresco cycle is dubbed the "Sistine Chapel of Venice." For the final twenty years of his life, Tintoretto dedicated himself tirelessly to this ambitious undertaking.
Portable handheld mirrors allow you to see the ceiling paintings without neck strain.
The show stopping upper floor hall has beautifully carved dark wood chairs and large red lanterns. The masterpiece there is the magnificent (and massive) Crucifixion.
If you're a diehard Tintoretto fan, you can find more of his works at the 14th century Church of Madonna dell'Orto. It's one of Venice's hidden gems, located in a quiet square in Cannaregio.
The church holds two of Tintoretto's finest works. And the church once held a Bellini masterpiece, which is now marked by an empty space.
4. Galleria dell'Accademia
Close by the Accademia Bridge, you'll find the Accademia Gallery. The Accademia is the most important museum in Venice and one of the best small museums in Europe.
Nested within the historic confines of the former Santa Maria della Carità church and convent complex, the museum owes some of its architectural elegance to the renowned Italian Renaissance architect Andrea Palladio.
Oddly, the Accademia often remains remarkably uncrowded, even during the bustling high season, with the majority of Venice's throngs gravitating toward San Marco.
The Accademia houses the world's most important collection of Venetian painting, comparable to the Uffizi Gallery's collection of Florentine works. The paintings are displayed in chronological order.
You start your visit in the 14th century and end with Titian. The gallery has pieces by Veronese, Titian, Tintoretto, Tiepolo, Bellini, Canaletto, Mantagna, and Giorgione.
It also possesses the world's most famous drawing, Leonardo da Vinci's Vitruvian Man (which isn't often on display). Don't miss one of the world's most famous Last Supper paintings, Veronese's The Feast in the House of Levi.
You can book tickets for the Accademia online here. You can also book a 2 hour guided tour of the museum.
1. Cannaregio
In the afternoon, cross the Ponte Guglie and head to the Cannaregio neighborhood for a slice of authentic Venice. Cannaregio is a mostly residential sestiere in the northwest of Venice.
The neighborhood is largely bereft of crowds. And it's stuffed with delicious restaurants, quaint cicchetti bars, and gelaterias.
Cicchetti is basically the equivalent of tapas, little bite size morsels of goodness that sustain you until the real meal at 9:00 pm.
Grab some coffee (and a pastry) at the Torrefazione Marchi, just across from the Rio Della Miscordia.
In Cannaregio's main square, there's a Jewish Museum you can pop into for history lesson. Or simply wander the maze of narrow walkways, canals, and bridges.
For lunch, try Trattoria Al Ponte del Megio, Il Paradiso Pertduto, or the seafood-centric Osteria Anice Stellato.
Click here for a walking tour of Cannaregio and San Polo. Cannaregio is an excellent neighborhood to sign up for a food and wine tour. You can also book an evening food tour and gondola ride.
2. Rialto
Finish up your afternoon in the Rialto neighborhood, which boasts Venice's most famous and ornate bridge. The Rialto Bridge is the oldest of the 4 bridges spanning the Grand Canal.
You went under the graceful arch on your Grand Canal boat tour. But now you can inspect it more closely.
The Rialto area is full of upscale shops and very busy. The bridge also leads the way to the famous Rialto Market.
There, vendors sell fresh-picked produce, freshly caught fish, spices, and more.
Most fresh catches are delivered each day by fishing boats that ply the lagoon and the adjacent Adriatic Sea.
You can take a lunchtime tour of the Rialto Market and other foodie hot spots. A good spot to eat near the bridge is Osteria Bancogiro.
If you didn't see it when you were exploring San Marco, Teatro La Fenice is just a few minutes from the Rialto Bridge. La Fenice is one of Italy's most famous opera houses. Its opulent main theater has a royal box and ornate side rooms.
Top off your 2 days in Venice itinerary with a ride in a sleek black gondola at dusk. Gondolas are beautifully handcrafted works of art, all unique.
A gondola ride is extremely pricey starting at 80 euros (more details below in the tips section). But you get to experience Venice from the water, with a completely different perspective. More tips on the below.
Better yet, if you're up for it, you can learn to row a gondola yourself with Row Venice. My group did this last time in Venice and it included a cicchetti bar crawl in Canareggio. Divine!
You could also consider booking a 2 hour evening walking tour with hidden gems. Venice looks different at night.
For dinner on your last day in Italy, pick a restaurant according to your preferred location. Try Bistro de Venice (San Marco), Al Covo (Castello), Locanda Monti (Dorsoduro), L'Orto dei Mori (Cannaregio), or All'Anforna (Sant Croce) Make reservations!
In lieu of a restaurant, you could book a 3 hour evening food and wine tour. Or you could book this 2.5 hour food tour in Cannargio, which includes ciccetti (tapas), wine, and a gondola ride. I've done this tour and it was great.
If you're a classical music fan, consider attending a concert at the Renaissance Church of Santa Maria dei Miracoli in Cannaregio. Covered in polychrome marble, it's also dubbed the "marble church." The acoustics are perfect.
More Than 2 Days In Venice?
If you have some extra time in and around Venice (yay!), here are four great day trip options nearby. They make the perfect easy day trips from Venice.
1. Venice's Islands: Murano, Torcello, Burano & the Lido
Venice shares its lagoon with four other islands. You can get there via vaporetto.
If you have a third day in Venice, this is where you should head first to get the full Venetian experience. You really can't squeeze these islands into a 2 days in Venice itinerary.
Murano is famous for its glass blowing factories. Burano is a photographer's paradise, with pastel weathered homes providing a rainbow color with shops selling beautiful lacework.
Tiny Torcello is charming and has Venice's oldest monument, the Basilica di Santa Maria dell'Assunta with 12th to 13th century Byzantine mosaics.
>>> Click here to book a tour of the islands
Another highlight is Atilla's Throne in the main square, believed to be used by the King of the Huns.
Torcello is only a 5 minute vaporetto ride from Burano, so you could do them both in one day.
If you want to take a break from sightseeing and hit the beach, head to the Lido. It's just a 15 minute vaporetto ride from Piazza San Marco. You can rent private cabanas with beach chairs, parasols, massage tables, etc.
How Do You Get To Venice's Lagoon Islands?
To get to Burano: Vaporetto 12 from Fondamente Nove in Cannaregio (45 minutes)
To get to Murano: Vaporetto 4.1, 4.2, or 12 from Fondamente Nove or Vaporetto 4.1 or 4.2 from St. Mark's Square (San Zaccaria stop)
To get to Torcello: Vaporetto NLN from Fondamente Nove (50 minutes)
To get to the Lido: Vaporetto 1 from St. Mark's Square (1 hour)
The easiest things to do is book a full day tour to see the islands. Or you can opt for a half day tour of just Murano and Burano.
If you want to see the first 3 lagoon islands in one day, you could follow this itinerary:
10:00 am: Catch boat at Fondamente Nove to San Michele (old cemetery), then continue to Murano
11:00 am: Tour Murano and (on weekdays) see glassworks
1:00 pm: Boat to Burano for lunch and colorful browsing
3:00 pm: Boat to Torcello, tour ancient church, and back to Burano
6:00 pm: Zip back to Fondamente Nove in 45 minutes
One caveat is that this itinerary is a cumbersome process and makes for a long day. You'll spend a lot of time on the vaporetti. If you have the budget, you might consider splurging for water taxis to get to and fro more quickly.
2. Padua: Giotto Frescos
Another great day trip from Venice is to Padua. There, you'll find one of Italy's wonders — the Scrovegni Chapel.
Wallpapered with exquisite frescos by Giotto, the chapel is one of the world's greatest art works. If you're an art lover, Padua should be your #1 day trip from Venice.
Giotto painted a cycle of 39 frescos depicting the lives of Mary and Jesus in 1303-05. It's a precious masterpiece of Italian art, as stunning in person as the Sistine Chapel in the Vatican Museums.
To get from Venice to Padua, the high speed train takes just 13 minutes. Click here to book a guided tour of Padua and the Scrovegni Chapel.
READ: One Day in Padua Itinerary
3. Verona: Medieval Romance
Fair Verona is for romantics and medievalists. It's a pretty Italian town full of red and peach colored medieval buildings and Roman ruins.
Verona was made famous by Shakespeare's play Romeo and Juliet. Once you've made the obligatory pilgrimmage to Juliet's Balcony, you'll also want to tour the doughty Roman Arena in the Piazza Bra.
You should also stroll through Verona's picturesque piazzas, visit the Church San Zeno Maggiore, and cross the absolutely stunning Ponte Pietra stone bridge.
Click here to book a 2.5 hour guided walking tour of Verona. You can also book a full day tour from Venice and you don't have to worry about transportation. You can also take the hop on hop off bus tour.
READ: One Day In Verona Itinerary
4. Treviso
If you were put off by Venice's crowds, try the oasis next door. Treviso is an elegant little town, only a 30 minute train ride from Venice. It's one of northern Italy's undiscovered hidden gems.
Within its fortified medieval walls, Treviso is criss-crossed with its own set of picturesque canals set amid waterwheels. Treviso is vastly less crowded than Venice and eminently more authentic.
The main square is Piazza dei Signori. It's highlights are the Palazzo del Podesta and the Palazzo dei Trecento.
You can roam the narrow medieval streets and maze of back alleys and poke into Gothic churches. Many of them were frescoed by Giotto follower Tomaso da Modena.
Practical Tips For Spending 2 Day In Venice
1. How To Get To Venice
If you're flying into venice, you'll arrive at Venice Marco Polo Airport (VCE). From there, you can take a water taxi, water bus, or book a private transfer to get into town.
Venice is also well-connected to Italy's extensive rail network. The Venezia Santa Lucia train station is located in the heart of the city and provides convenient access for travelers arriving by train from other Italian cities and European destinations. You can book a private water taxi transfer from there to your hotel.
While Venice is famously car-free, if you're driving to the city, you can park your car in one of the parking garages on the outskirts of Venice. The Tronchetto Parking Garage is the closest.
Many small cruise ships include Venice as a port of call. If you're arriving in the city that way, you can book a private transfer from the terminal.
1. City Passes
There are several city passes you may be interested in.
The Vaporetto Pass will help you zip around on Venice's water taxis.
The Venice Museum Pass gives you a single entry to 11 civic museums in Venice. The pass is valid for 6 months.
The Venice City Pass is an all inclusive pass that gives you access to both transportation, transfers, and attractions.
3. Gondola Rides
Taking a gondola ride in Venice ranks among one of the most dreamed-about experiences for travelers.
But the image of a singing gondolier is more Hollywood than reality. So it's a bit of a controversy as to whether a gondola ride is really "worth it."
While undeniably romantic, gondolas are very expensive and some say overrated. There are official set prices. So don't bother negotiating.
Gondolas can hold six people. You can always recruit fellow travelers to share the cost.
Here are some of the sample gondola rides you can go on:
For an alternative, take a traghetto. Traghettos were created for the locals to cross the Grand Canal. In a traghetto, you stand with up to 12 other people.
You can find the traghetto stations on Google Maps. It only costs 2 € to go one way. It can be an efficient way to see sites on the Grand Canal easily.
Click here for information on stations, times, and fares.
4. Special Venice Rules
✔ Don't feed the pigeons on St. Mark's Square.
✔ High heels are a terrible footwear option because of Venice's uneven cobbled streets. Wear comfortable shoes.
✔ There are no roads or cars in Venice. You either have to hoof it or take a vaporetto, though Venice is very walkable. The main vaporetti is #1, which stops 13 times between Piaza San Marco and Piazzale Roma.
✔ If you arrive at one of Venice's two airports, and your budget can handle it, splurge on a private water taxi transfer to take you to your hotel. Then, you won't be dragging bags around Venice's busy cobbled streets.
✔ You're forbidden from entering Venice's churches in "inappropriate attire." That means shorts, sleeveless tops, cropped tops, and skirts above the knee are banned
5. Where To Stay In Venice
I've stayed in many different places in Venice — in the Rialto, Dorsoduro and Castello — in both hotels and Air Bnbs.
There are some amazing hotels. Be aware that, because Venice is such a dense city, the hotel rooms will be smaller than usual.
If you want a real luxury hotel, opt for Gritti Palace (elegance and views of the Grand Canal) or the Hotel Danieli (opulent Venetian rooms with a rooftop terrace). If you don't stay there, I highly recommend you visit for a cocktail or brunch.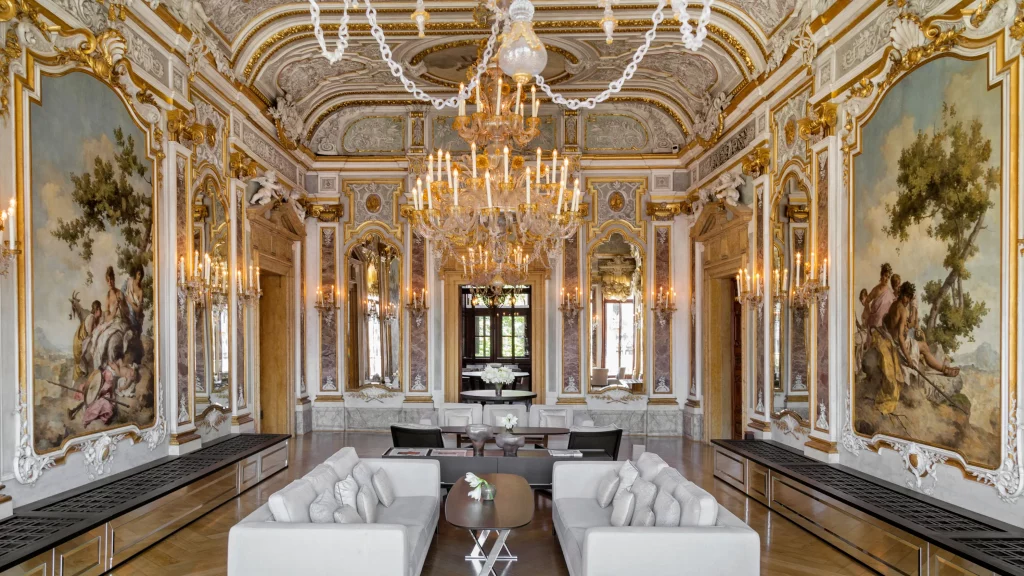 If you want a luxe hotel in the center of things, try St. Regis (unrivaled terrace suites above the Grand Canal), Aman Venice (my fave, you'll feel like an aristocrat), or Bauer Palazzo (elegant Venetian design).
For a cute boutique hotel, try the Novecento, the Palazzo Venart, or the Hotel Bucintoro.
If you'd like to stay off center for some peace and quiet, try the Belmond Cipriani on the island of Guidecca. This is where the Bellini cocktail was invented.
You can also try San Clemente Palace Kempinski on San Clemente island and Al Pone Antico in Cannaregio.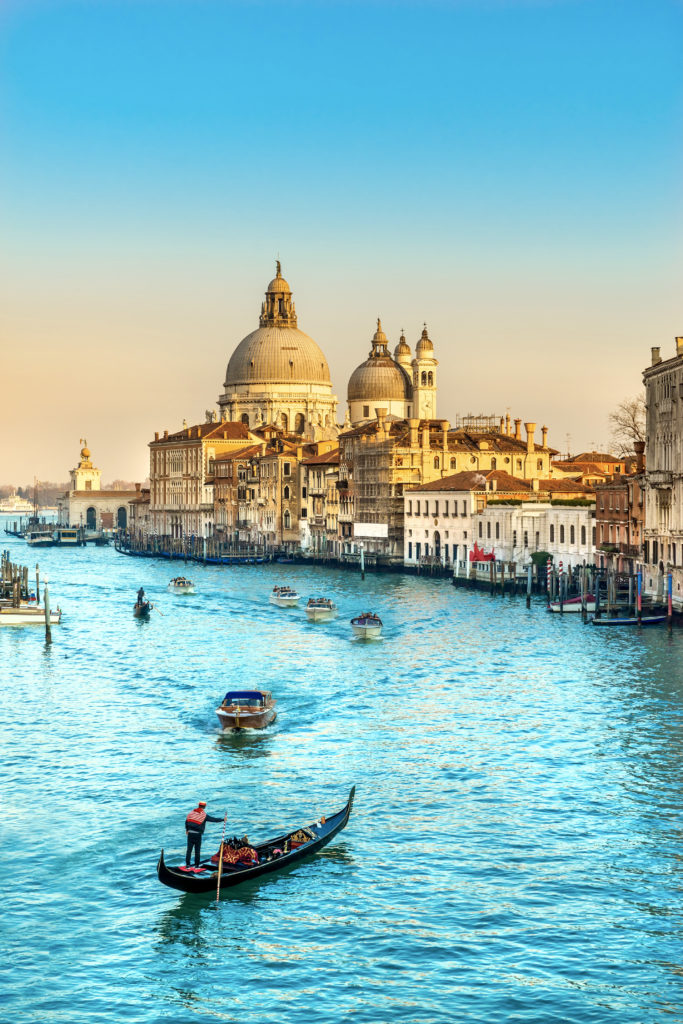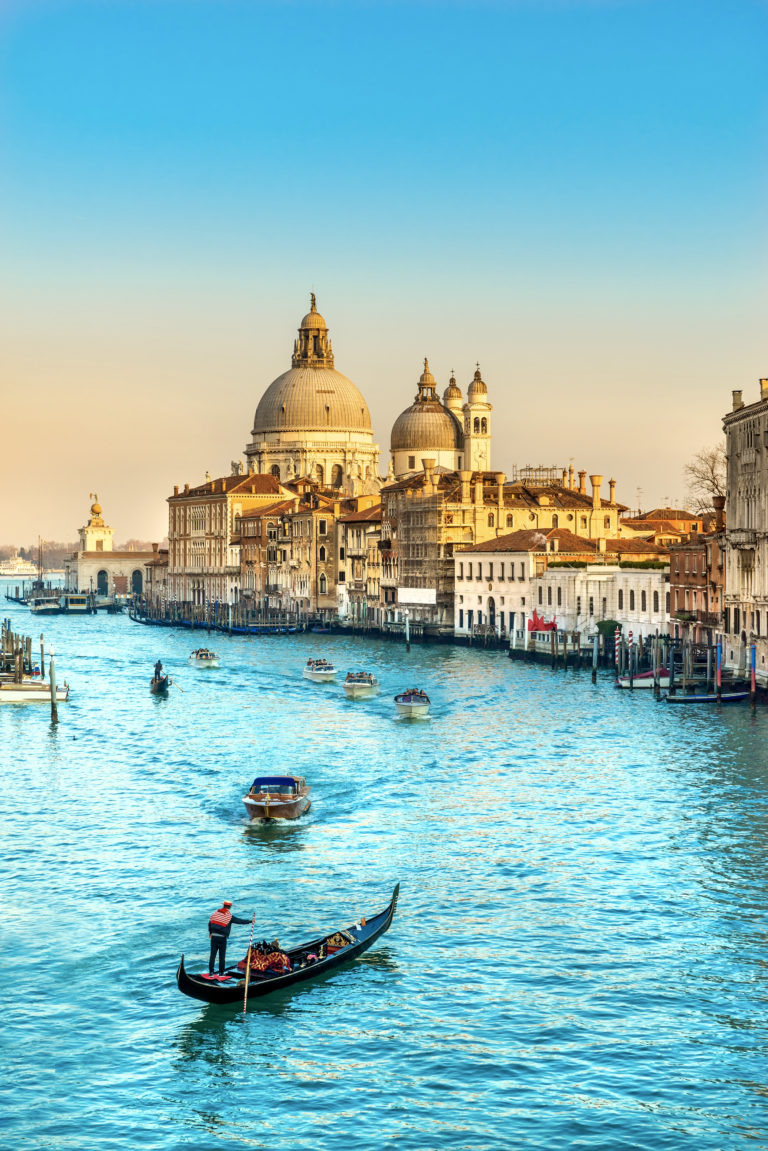 6. When To Spend 2 Days In Venice?
Not in the summer! Venice has become the capital of over-tourism. Venice is half fairytale and half tourist trap.
In the summer months, it's uber hot and the crowds are beastly. It can become a bit theme park-ish. Try to visit in spring or fall. Winter can be wet and cold in Venice.
If you're interesting attending the Venice Carnival, the festival takes place annually in February. Three million people dress up in black capes, costumes, and gilded masks and dance until dawn.
You may also want to attend the famed Venice Biennial. Millions of visitors flood into Venice in the summer to attend this annual festival of art and culture. It's a vast display of art curated by a new artistic director each year.
I hope you've enjoyed my 2 days in Venice itinerary. You may enjoy these other Italy travel guides and resources:
If you'd like to spend 2 days in Venice, pin it for later.