"The streets of Vienna are paved with culture, the streets of other cities with asphalt." — Karl Kraus
Here's my guide to spending three amazing days in Vienna Austria. This 3 day Vienna itinerary covers all the top must visit attractions, historic landmarks and monuments, and amazing museums in Vienna. You'll discover all the best things to do and see in Vienna.
Vienna is such a fancy city, a beautiful open air museum really. Vienna is awash in imperial palaces, grand Baroque architecture, and seriously swoonful museums. The UNESCO-listed buildings create the city's distinctive look.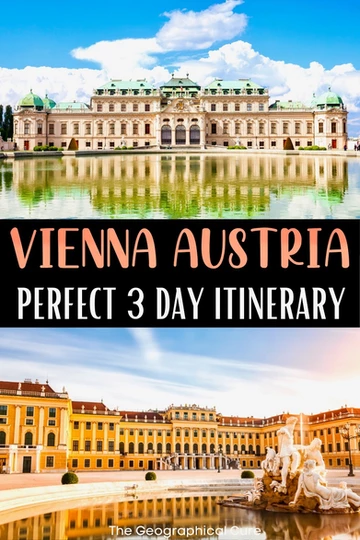 Vienna is the capital of Austria, the birthplace of classical music, and home to the Habsburg dynasty and its rich heritage. The city center is pedestrian-friendly, sprinkled with green parks, and crammed with quaint coffee shops.
And Vienna doesn't just bask, unblinkingly, in its quaint fin-de-siècle glory. It's not a time capsule. Vienna is much more hip since the last time I visited. It has new and renovated museums, trendy boutique hotels and restaurants, and edgy neighborhoods. It's cooler than you'd guess.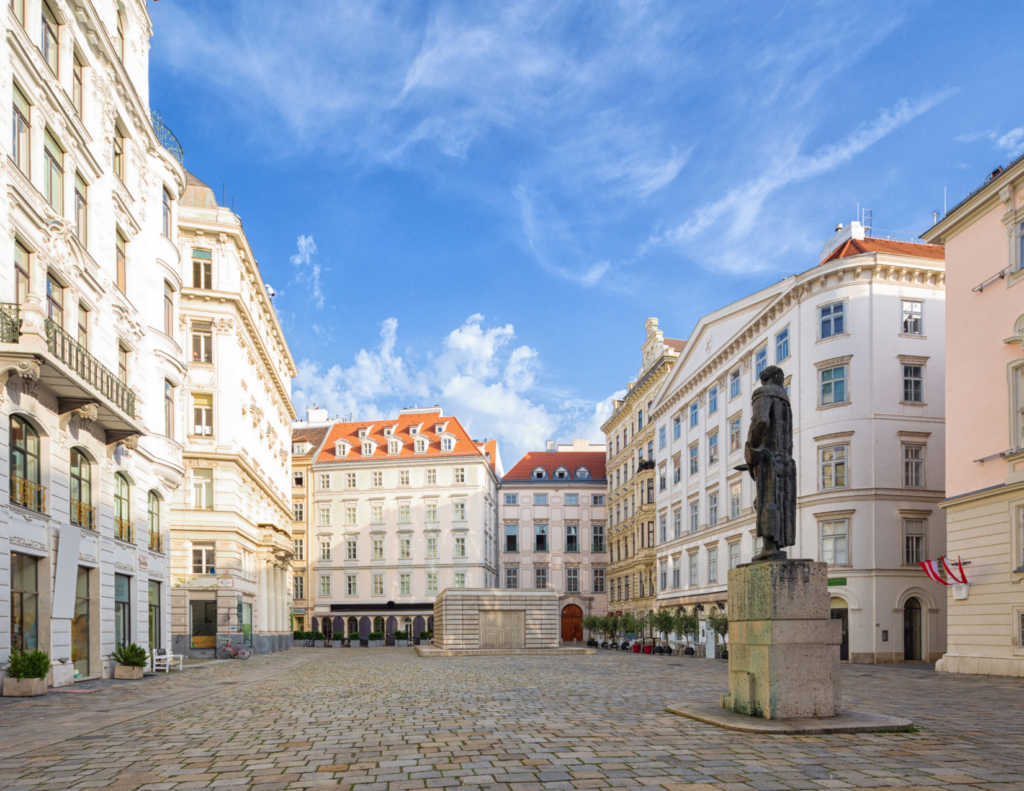 You could easily spend a month in Vienna, lost in its coffee culture and addicted to Wiener Melange and Sacher Tortes.
But since most of us don't have unlimited time, I've written up my ideal 3 day itinerary for Vienna. As with Paris, it's best to have a plan of attack for this popular city in Europe.
There's a lot of ground to cover and, with only three days, you need to be efficient to visit all of Vienna's best must see attractions.
How To Spend 3 Days in Vienna Austria
Day 1: Explore the Old Town
AM: Visit Vienna's Monumental Buildings
1. Mozart House
To kick off your 3 day Vienna itinerary, start with the Mozart House, on Domgasse Street. Vienna is obsessed with Mozart, its adopted son and a prolific composer.
Mozarthaus is the only Mozart apartment in Vienna that survives today. He lived there for 3 years. You'll learn about 18th century Vienna and Mozart's life and work.
2. St. Stephen's Cathedral
Just a short walk from the Mozart House and you're at the towering St. Stephen's Cathedral, Vienna's defining landmark. You can't miss it. Its most distinctive feature is its multicolor tiled roof, which looks glorious in the sunshine.
Both towers of the cathedral are open to the public and can be climbed for a fee. The south tower is high and affords the best views of the city (and the exquisite roof). That's the one I chose.
The interior of St. Stephens isn't as eye catching as the exterior to my mind. It's rather gloomy. But its three nave design is nonetheless impressive to behold.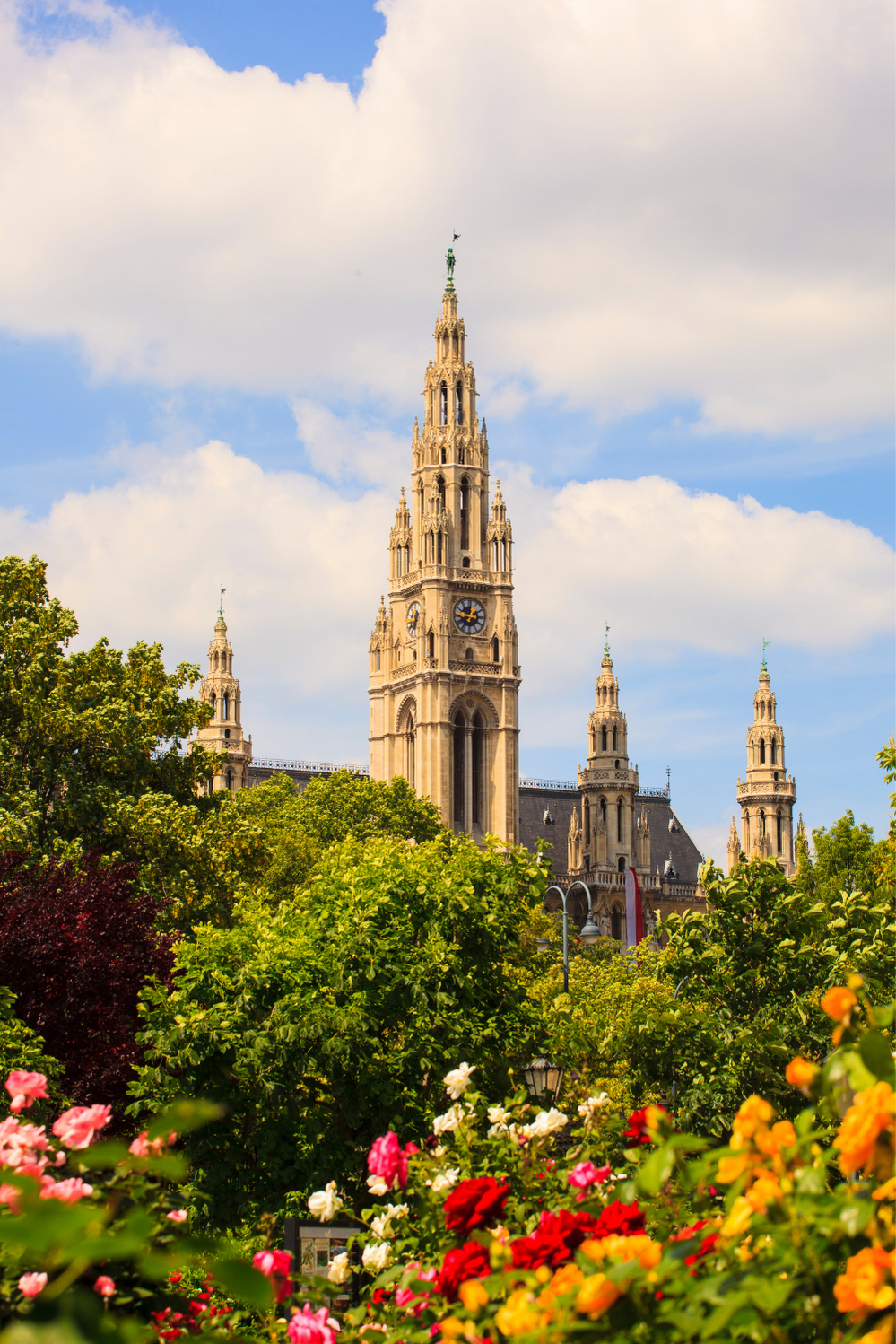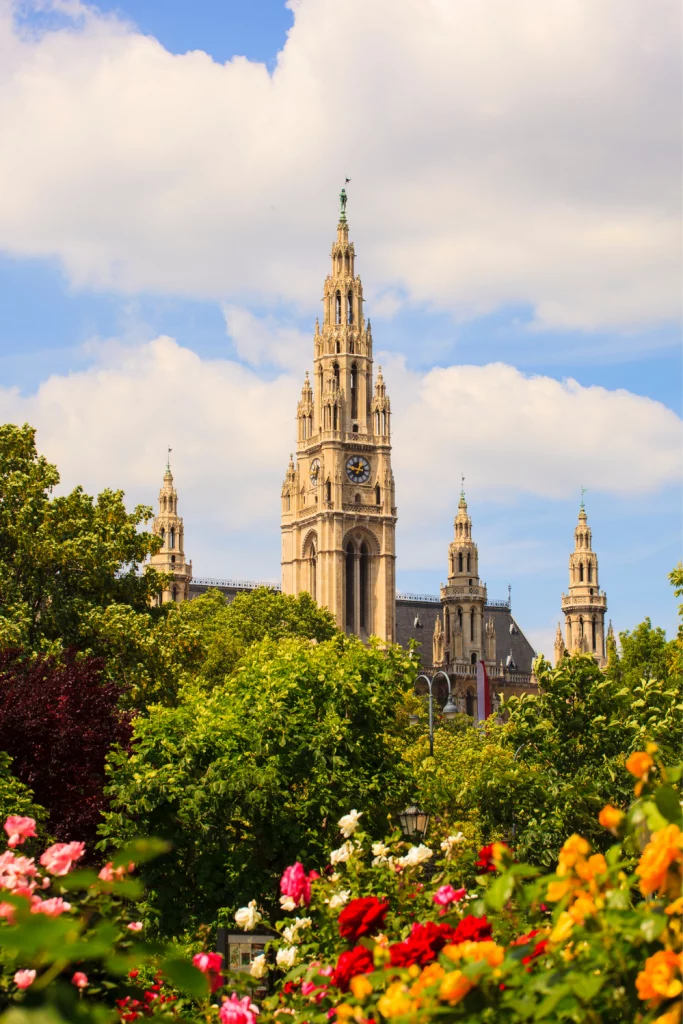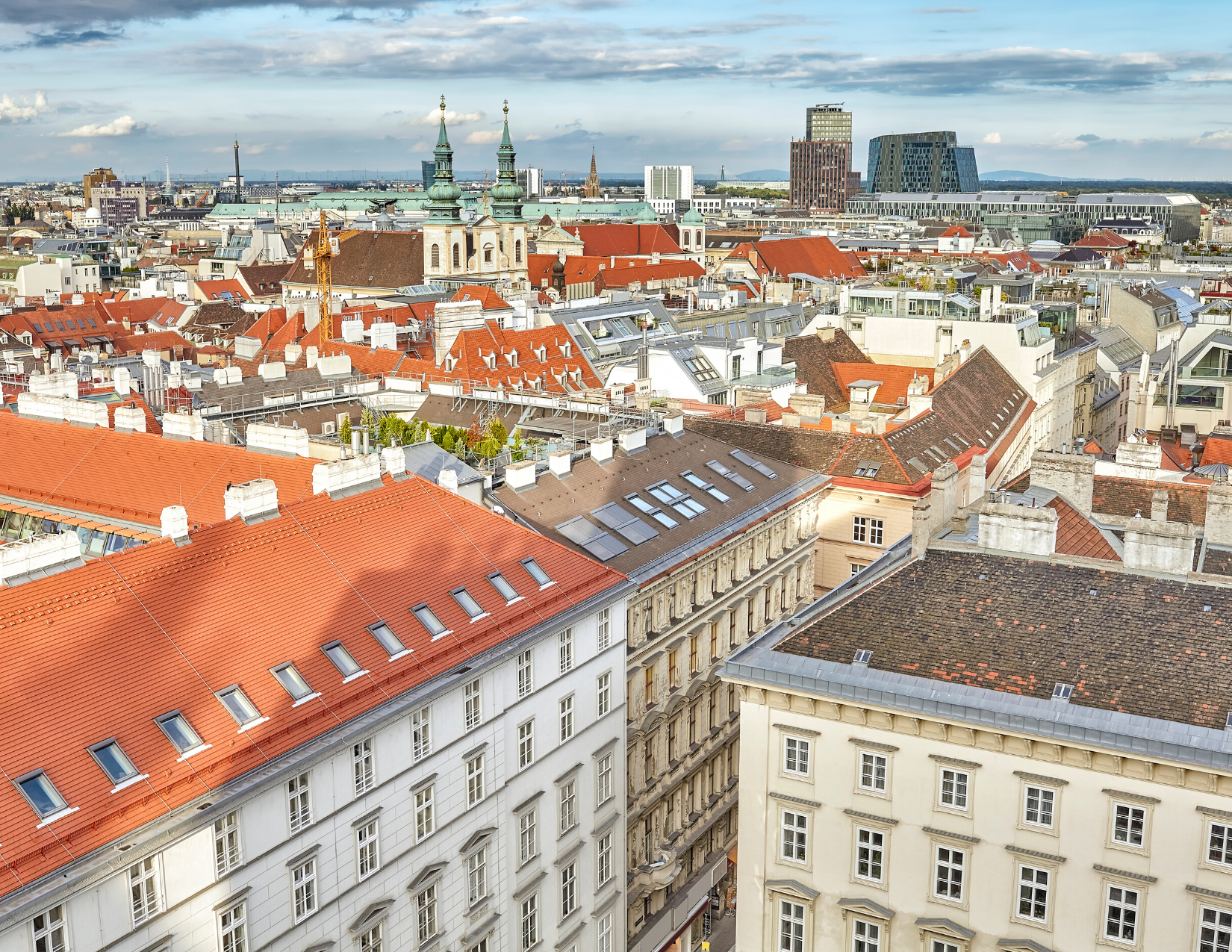 3. Vienna Opera House
Then, sashay down to the Vienna State Opera (a 10 minute walk), which dates from 1869. The Staatsoper is a magnificent and storied building. It's played host to some of the world's best singers and conductors.
Go inside the sumptuous place. You can take a 40 minute guided tour several times a day. Be sure to check the website for times.
When we were there, there was a live performance of La Boheme playing on a big LED screen TV outside the opera house in the evening. It was brilliant, truly a highlight of our trip. If you want to see opera live in person, you'll pay or an exorbitantly priced ticket.
When strolling in Vienna, be sure to try Austria's classic coffee shops and its most popular desert, the Sacher Torte. Join the queue outside the Café Sacher on Philharmonikerstrasse for a classic Viennese atmosphere. Or try Hawelka, Sperl, or Rüdigerhof cafes — all great options.
PM: Museum Afternoon
1. Albertinaplatz
From the opera house, you're right next to Albertinaplatz. You can check out the Albertina Museum, housed in (naturally) a palace. This fantastic museum is a veritable treasure trove of art, with over a million pieces, including paintings by Monet, Degas and Picasso.
The Albertina also hosts temporary exhibitions featuring big art names. When I was there, they featured Albrecht Durer, Germany's most famous artist.
2. Museum Quarter
Or you can head to the Museumsquartier in Vienna. Opened in 2001, the Museum Quarter is dubbed Vienna's "urban living room."
It's a cluster of old master and contemporary art collections in a "culture plaza" teeming with shops and cafes. It's on the site of the old Hapsburg Stables. The Museumsquarter galleries are surrounded by the edgy Street Art Passage for fans of graffiti.
There's a lot to see here, if you're a culture vulture. But you'll have to choose, unless you want to camp out there for the entire 3 days of your visit. I'm rather partial to the Leopold Museum, with its collection of Art Nouveau and Expressionist masterpieces from Egon Schiele and Gustave Klimt.
3. Sigmund Freud Museum
Another Vienna museum that I fancy is the Sigmund Freud Museum. Vienna was home to the godfather of psychoanalysis.
Housed in his former residence, the museum explores Freud's life and work. Right now, the museum is closed for renovation until May 2020. But you should keep it on your radar, as a quirky and fascinating hidden gem in Vienna.
4. Beethoven Museum
If you're a Beethoven fan (and who isn't), Vienna is full of Beethoven sites. If you want to see and feel Beethoven's ghost, head to the Beethoven Museum on the city outskirts. This tiny museum is superb and packed with Beethoven trivia.
The space only re-opened to the public in 2017, after renovation. There are 14 rooms grouped into 6 themes that illustrate Beethoven's life and work. You can read, see, and listen to his astonishing music.
You can also see a lock of Beethoven's hair and his death mask. You can even don earphones to see how Beethoven himself experienced deteriorating hearing.
Day 1: Dinner & Drinks
Whew, after that exhausting first day, you'll be hungry for dinner. I recommend Salonplafond, a trendy restaurant in the MAK museum on Stubenring.
The restaurant is in a large airy room with imaginative decor, food, music. And it wasn't too loud. Here's a good list of other restaurants in the city center for your other nights.
A great place for late night cocktails is the rather glamorous Krypt, right near the Sigmund Freud Museum. Krypt is a hipster bar where architecture and art provide the setting. You'll be swathed in exposed brick in an underground 18th century building.
Day 2: Palace Day
AM: Tour Schönbrunn Palace
In the morning on day 2 of your 3 day Vienna itinerary, get started early. Start by visiting Schönbrunn Palace, Vienna's #1 attraction, a UNESCO-listed site since 1996, and the height of elegance.
Don't dally. The lines worsen as the day goes by. Purchase your tickets online in advance. Or hop on a guided skip the line tour.
The swishy Renaissance palace was the summer home of the Hapsburg dynasty, the family that ruled the Austro-Hungarian empire for nearly 650 years. You'll want to check out the palace itself and the extensive garden complex. Be prepared to walk.
Of Schönbrunn's 1441 rooms, 40 are open to the public via audio guide or guided tour. The "Imperial Tour" takes you into 22 rooms, including the imperial apartments of Emperor Franz Joseph and famous wife, Empress Sisi.
The "Grand Tour" continues to 18 more rooms and includes the 18th century interiors from the time of Maria Theresa, who conceived of and built Schoenbrunn.
Don't miss the Mirror Room, where Mozart gave his first concert at age 6.
And the Schönbrunn experience isn't just limited to the palace. Oh no. There's the Apple Strudel Show, the Marionette Show, the Gloriette monument, the Orangery, the Imperial Carriage Museum, and a zoo. You could spend your whole day here, if you were so inclined.
PM: Belvedere Palace
But, since you have only 3 days in Vienna, I say it's time to move on to the next grand palace, the Belvedere Palace. The Belvedere Palace is one of Vienna's most visited tourist spots and another important UNESCO site, for its showy architectural ensemble.
The Belvedere Palace was built in 1712-23 by Johann Lucas von Hildebrandt, a master Baroque architect. It was the swishy summer residence of Prince Eugene of Savoy, a legendary military leader of his time. The palace has immpecably sculptured grounds and over-the-top interiors.
The Belvedere is also one of Europe's most important museums. It's a haven of Baroque and Austrian art from the 19th and 20th centuries.
The vast majority of the museum's important art is stashed in the sumptuous Upper Belvedere, which sees the most visitors. The lower Belvedere boasts a Hall of Grotesques, the Marble Gallery, and the Golden Room.
The Upper Belvedere's main claim to fame is the world's largest collection of the gold-toned Art Nouveau paintings of Gustav Klimt, including the world famous The Kiss. It also boasts masterworks by Egon Schiele and Oskar Kokoschka, two important Expressionist painters.
Like Schoenbrunn, the Belvedere has some lovely gardens to meander in, if you're suffering from art fatigue or the line to see The Kiss is too long. And the gardens are free.
Tonight, stroll Vienna by night. The sites look different then, more surreal. If you're inclined, take a 2 hour nighttime walking tour and hear stories about Vienna. Or, try The Third Man walking tour, and visit the filming locations of the international cult film.
Day 3: Delve Deeper into Vienna
AM: Hofburg Palace
Another palace you say? Why yes. Hofburg Palace is one of the world's biggest palace complexes. The Hapsburgs lived there until 1918. Honestly, I enjoyed it more than Schönbrunn. Far less tourists and just as much historical intrigue and swirly Rococo glitter.
The palace is a lively combination of Rococo and Renaissance architecture. There are three parts you can visit: the Sisi Museum, the Imperial Apartments, and the Silver Collection. If you want to see everything, it will take the entire morning.
My favorite part of visiting the Hofburg Palace was the Sisi Museum. Opened in 2004, it's a chic cult-like museum dedicated to the fanatic fans of Empress Elizabeth, the wife of Emperor Franz Joseph. The museum shines a light on the "misunderstood" princess, whose life resembles that of Princess Diana, or so you're told.
Sisi was more than just a glamor puss, to be sure. But she was also a wretchedly miserable princess. Here, you can find 300 of her personal items, including clothing, her (shocking at the time) exercise room, and her death mask.
Unless you're an avid jeweler or niche interior decorator, the Silver Collection is a bit of a yawn and skippable.
Heroes' Square, Heldenplatz, sits in front of Hofburg. There, you'll find the stunning 17th century Austrian National Library. Don't just stroll by. You'll regret not going in, especially if you're a book lover.
It has a dreamy time warp feel, almost like a movie set. Here's the website with info on how to visit.
Built by Emperor Charles VI, it boasts a soaring frescoed ceiling, 200,000 books dating from 1500, and antique globes. If you've seen enough imperial apartments, this is good alternative venue to the apartments in the Hofburg Palace.
PM: Round Up of the Rest of Vienna's Key Sites
1. St. Charles Church
After the palace and library, grab some lunch in the city center at a cozy cafe.
Then you're off to admire St. Michael's Church in the Michaelsplatz. Then make the short walk to St. Charles Church, or Karlskirche, on Karlsplatz.
The striking Baroque church, with swirling freestanding columns, dates from 1737. There's a panoramic view from its rooftop. The church has concerts on a regular basis. So if you're in the mood for Mozart and Vivaldi, check the schedule.
Close to the church is the Naschmarkt, Vienna's vibrant and mile long market. You'll find both traditional Viennese food and exotic food stuffs. The market is lined with dozens of sit down eateries as well.
2. Vienna City Hall
Then head to the 19th century City Hall (Rathaus). Designed by Friedrich von Schmidt, the neo-Gothic City Hall is both monumental and stunning.
Right now, the exterior facade is under renovation, so your photos will not be scaffolding free. You can only visit via a guided tour on Monday, Wednesday, and Friday at 1:00 pm.
3. Burghtheater
Also nearby is the Burgtheater, fondly nicknamed the "Burg," which means castle. There are daily tours at this German language theater at 3:00 pm.
For Klimt fans, this may be an unmissable site. Waltz up the grand staircase, and admire Klimt's ceiling paintings from his early career.
There are four ceiling frescos created between 1886-88 for the grand staircase. They're next to works by Klimt's brother, Ernst Klimt, and artist Franz Matsch. Although earlier and more traditional Klimt paintings, they still presage his Secessionist phase.
READ: Klimt Guide To Vienna
Day 3 Evening: Concert at Schonbrunn's Orangery
On your final evening, consider going to a concert at the Orangery at Schönbrunn. I went. Although it was a little touristy, the music and singing was quite sublime.
Or, book a concert at St. Charles Church. Or take in a performance at the Staatsoper (which needs to be booked months in advance!)
Check out this site for all the places to hear classical music in Vienna. Don't skip this. Relaxing over wine and music is the Viennese way.
Day 3 PM Alternative: Half Day Trip to Bratislava
But perhaps you've had your fill of princesses, plates, and Klimt. If so, as an alternative to these last few sites, you could opt for a half day trip to Bratislava, the tiny capital of Slovakia.
Bratislava is a little over an hour from Vienna. Vintage-y Bratislava is filled with pastel colored houses, quirky sculptures, and the world's most adorable pastry shop, Konditorei Kormut.
Bratislava also features a unique, almost over the top, blue church, the Church of St. Elisabeth, 10 minutes from the city center.
Everything about the Art Nouveau church is blue — the interior (also with punches of yellow), the exterior, and even the tiles on the roof. Pretty isn't usually a word I use to describe churches, but it's apt here.
Even better, Bratislava is crowned with a historic castle, which is really the iconic spot in the town. Perched on a small hill and about a 15 minute hike, the castle is the best viewpoint of the old town. Outside, it's an elegant vision, with Gothic and Renaissance elements. Inside, there's a museum of history.
Tips For Visiting Vienna
Most of the tourist sites are within walking distance. But not all of them. Fortunately, Vienna has a great public transportation system.
Cabs are fairly plentiful. You can't hail one on the street very easily. But they congregate around popular sites like the Staatsoper, Hofburg Palace, or the museums.
Vienna isn't an inexpensive destination. And the main cost won't be just food and lodging. It's the attractions that add up quickly. You may want to invest in either the Vienna Pass or the Vienna Card.
The Vienna Pass is more expensive than the Vienna Card. For three days, it's €125.
However, it gives you complete access to Vienna's top attractions (except the opera) and you can generally skip the queue. The Vienna Pass also gets you on the hop on hop off bus tours. You can use the HOHO bus in lieu of paying for public transportation.
Like Germany, you need cash in Vienna. Some restaurants and cafes don't take credit cards. And you have to pay to pee. Perversely, I thought ATMs were rather hard to find.
There are some sites in Vienna that you've no doubt heard of, but are skippable tourist traps.
Unless you have way more than 3 days, you should forget about: (1) Prater (an amusement park with loud brutish crowds); (2) the Figlmüller (you can get schnitzel anywhere); (3) the tourist tram on the Ringstrasse (just walk); (4) the horse carriages that tote lazy tourists around (horribly overpriced); and (5) the Spanish Riding School (expensive and really not worth the time and effort).
I hope you've enjoyed my 3 days in Vienna itinerary. You may enjoy these other Austria travel guides:
Guide To the Best Museums in Vienna
Things To Do in Vienna in Winter
If you'd like to visit Vienna, pin it for later.