Are you planning a 7 day road trip from Venice to Milan in northern Italy and looking for the perfect one week itinerary? You're in luck!
This popular tourist route is only a 3 hour drive. But it's packed with some of Italy's top landmarks, including medieval UNESCO towns, ornate palazzos, Roman ruins, and secret hidden gems of the Renaissance. There's no shortage of amazing attractions to explore along the way.
Starting in Venice, this northern Italy road trip assumes you've already taken in the heady attractions of the world's most romantic floating city and are ready to explore more of Italy.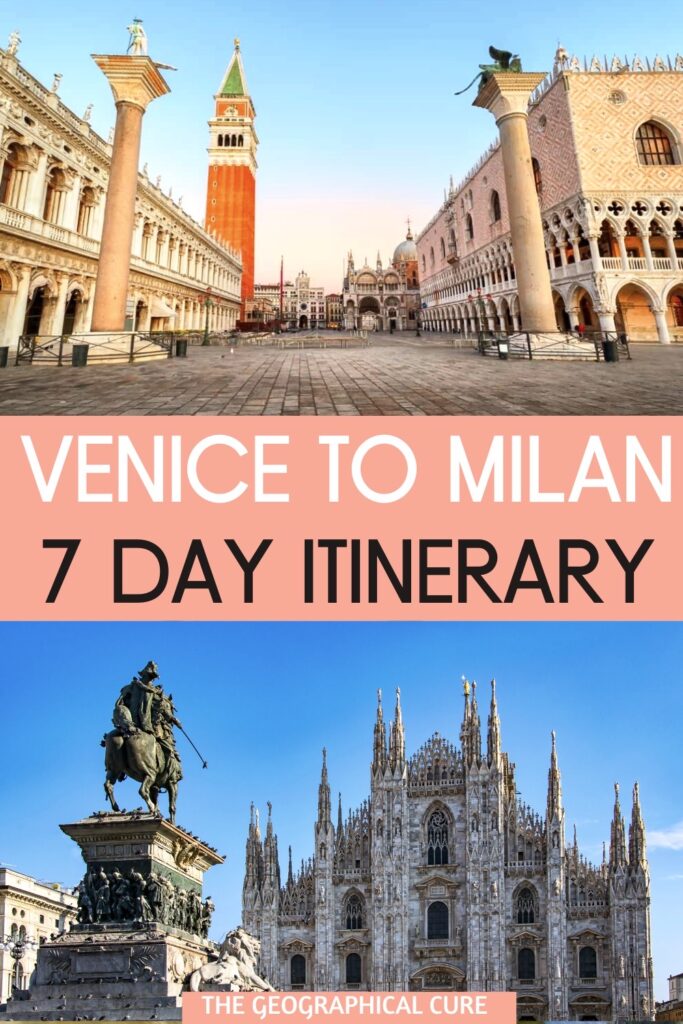 If you haven't yet visited Venice, no problem! Check out my detailed 2 days in Venice itinerary to add to your northern Italy road trip. Adding this itinerary will extend your trip from 7 days to 9 days.
If you were put off by the crowds in Venice, consider stopping in Treviso before departing. This authentic canal city boasts picturesque canals, lovely frescoed buildings, and ancient churches. Treviso is a charming destination that's well worth a visit.
Overview of Seven Days In Northern Italy
Here's a quick snapshot of what you'll see on this week road trip itinerary from Venice to Milan:
Day 1: Leave Venice, stop in Padua and Vicenza, overnight in Verona
Day 2: Explore Verona, overnight in Verona
Day 3: From Verona, day trip to Mantua
Day 4: Drive to Brescia, stopping in Sirmione on the way, overnight in Brescia
Day 5: Explore Brescia, overnight in Brescia
Day 6: Drive to Bergamo, explore Bergamo, overnight in Milan
Day 7: Explore Milan, overnight in Milan
In this Venice to Milan travel itinerary, you'll have three bases: Verona (3 nights), Brescia (2 nights), and Milan (2 nights).
One Week Itinerary From Venice To Milan
Here is my recommended route for a one week road trip in northern Italy.
Day 1: Visit Padua and Vicenza en route to Verona
Get up bright and early. Head to Venice's Piazzale Roma to rent a car. AutoEurope usually has the best deals. It's much cheaper if you drive a clutch transmission.
Get the smallest car you can for Italy's narrow medieval roads. Today, you'll stop at Padua and/or Vicenza en route from Venice to Verona.
READ: Tips For Driving in Europe
If you don't want to make two stops, simply pick the town that appeals to you the most. If you love Renaissance art, choose Padua. If you love architecture, choose Vicenza. To help you decide, you can check out my one day in Padua itinerary and my guide to the best things to do in Vicenza.
Approximate Driving Times:
Venice to Padua: 45 minutes
Padua to Vicenza: 40 minutes
Vicenza to Verona: 45 minutes
1. Padua: Giotto Frescos
Padua is a pretty university town outside Venice. Padua boasts one of the greatest treasures in Western art, the Scrovegni Chapel.
It's also known as the Arena Chapel. Honestly, it's worth a trip to Padua just to see this one attraction.
Wallpapered with exquisite frescos by Giotto, the Scrovegni Chapel is a precious masterpiece of Italian art.
Giotto painted a cycle of 39 frescos depicting the lives of Mary and Jesus in 1303-05. It's as stunning in person as the Sistine Chapel in the Vatican Museums.
Giotto was the greatest painter of the 14th century. His Scrovegni frescos were a watershed moment in art history. Because of its naturalism, the chapel is considered one of the first examples of "modern art" and profoundly influenced subsequent Renaissance painters.
Visiting the Scrovegni Chapel can be a complicated affair. It's a strictly controlled site with admission limitations and a "decontamination" process.
Here's my complete visitor's guide to the Scrovegni Chapel, with must know tips for visiting and getting tickets. Click here to book a guided 2 hour tour of Padua and the chapel.
While in Padua, you also need to visit the Basilica of Saint Anthony, nicknamed Il Santo. The exterior is strongly influenced by the bulbous clustered domes of St. Mark's Basilica in Venice. The interior is pure Gothic, austere and rather bleak. Its highlight is sculptures by Donatello.
If you're a fan of the famed Early Renaissance artist Andrea Mantegna, pop into the hidden gem of the Church of the Eremitani.
This was where Mantegna shot to fame with frescos he painted in the church. Many were bombed during WWII. But some survive.
2. Vicenza: Palladian Architecture
If you're an architecture fan, Vicenza will appeal. Vicenza is variously known as the "Pearl of the Renaissance," the "Gold City," and the "City of Palladio." It's one of Italy's most beautiful towns.
Vicenza was home to celebrated Venetian architect Andrea Palladio. The town is like an open air architecture museum. Vicenza has loads of historic buildings, including its own Duomo.
Be sure to stroll down the Corso Andrea Palladio, a homage to the famous architect. See Palladio's beautiful Basilica Palladiana in the center of the Piazza dei Signori. The basilica also houses a museum with a fantastic collection of relics and artifacts.
Equally stunning is Palladio's Olympic Theater with intact original stage sets. The Olympic Theater is one of only three remaining Renaissance theaters in Italy. It may be Palladio's masterpiece.
A cruise down the Brenta Canal passes Palladio's famous Villa La Malcontenta, aka Villa Foscari. It's a UNESCO-listed site and beautiful well-preserved jewel. House & Garden Magazine called it "the most beautiful house in the world."
It's only open 2 days per week, so check the website for times, entry fees, and how to get there.
According to legend, the mansion was called the "unhappy" villa because it was a "prison" for a noblewoman accused of infidelity by her jealous husband. More likely, it just suffered from the flooding of the River Brenta.
Here's my complete guide to the best things and see in Vicenza. You might want to book a 2.5 hour walking tour of Palladio's masterpieces or a 1.5 hour walking tour with a local.
Day 2: Explore Verona: Medieval Romance
This pretty Italian town is full of red and peach colored medieval buildings and Roman ruins. Verona was made famous by Shakespeare's play Romeo and Juliet and The Two Men of Verona. And it's a fitting site for a high octane infusion of romance.
You may want to book a 2 hour guided walking tour to get oriented. Or a longer walking tour that includes food and wine.
Juliet's House, or Casa de Giulietta, is a gorgeous 14th Gothic building in Verona. But, like the fictional love story, Juliet's House is itself a fiction. It wasn't owned by the Capulets.
Juliet's House is really a manufactured site, scorned by hard core skeptics. Nonetheless, the character of Juliet is a rarified symbol of love in an often cynical world. Juliet's Wall is covered with notes, scribbles, and love letters.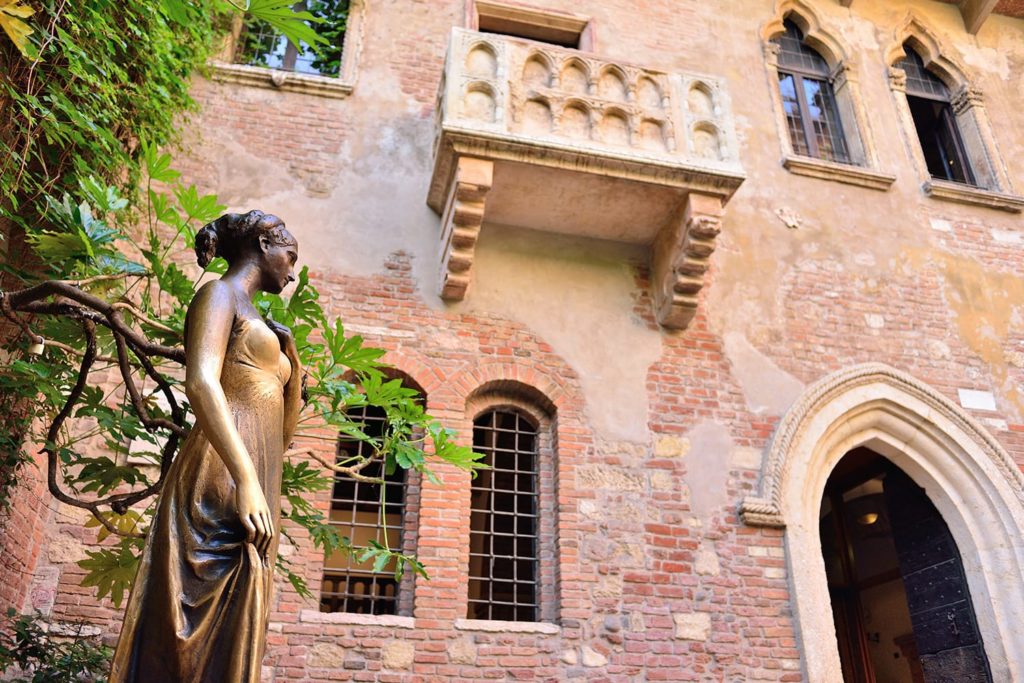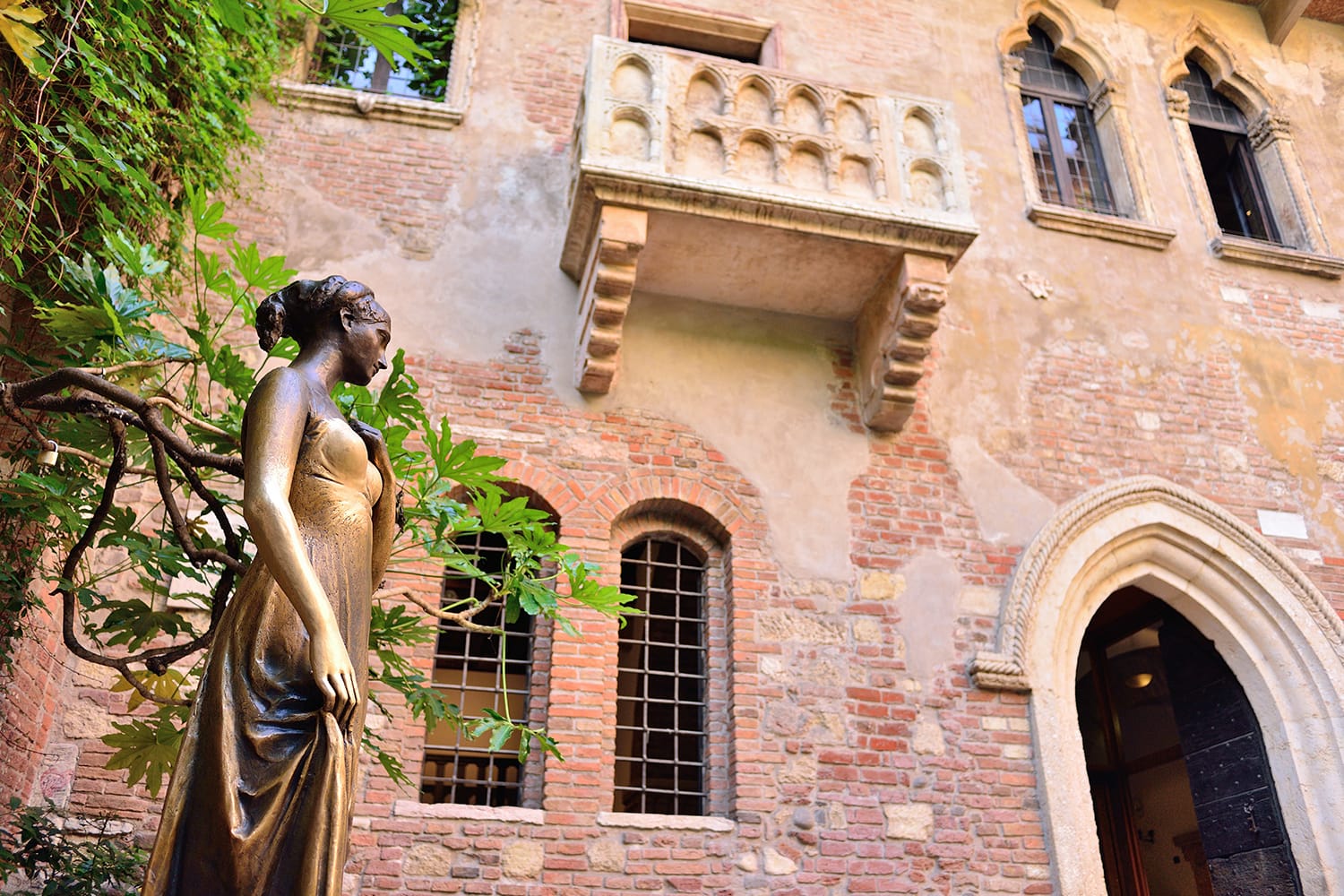 Once you've made the obligatory Juliet pilgrimmage, you'll want to tour the doughty Roman Arena, the Arena di Verona, in the Piazza Bra.
It's the third largest classical arena in Italy, after Rome's Colosseum and Capua's Colosseum.
You should also stroll through Verona's picturesque piazzas — the Piazza dei Signori (with a statue of Dante) and the Piazza delle Erbe (with a statue of another poet, Barbarani).
Visit the Church of San Zeno Maggiore, where Romeo and Juliet were fictionally married. And cross the absolutely stunning Ponte Pietra stone bridge.
At sunset, make the calorie-burning climb of 100,000 steps to the viewing platform at Piazzale Castel San Pietro. There's also a funicular to get you there.
You'll have breathtaking panoramic views over Verona's skyline. On the way down, you could stop for dinner at Trattoria Dal Rapeton.
For Verona, I recommend staying at the Hotel Aurora. You'll have sweeping city views from the hotel terrace, which looks out on San Zeno.
Another great option is Due Torri Hotel, a modern luxury hotel with a vintage feel. The Grand Hotel Des Arts is a beautiful understated hotel near the Plaza Bra.
For dinner, try Restaurant Il Desco or Casa Perbellini (Michelin-starred), Vecio Macello (seafood), or Trattoria Dal Gal (homemade pastas).
Day 3: Day Trip to Mantua: Renaissance Realm of the Gonzaga Dynasty
On day 3 of your Venice to Milan itinerary, visit the captivating Renaissance town of Mantua. It's only a 30 minute drive from Verona. I would plan on a full day there and you can check out my one day in Mantua itinerary.
Italy is usually overflowing with tourists. But in the tiny undiscovered village of Mantua the world is still and quiet. Mantua must surely be one of Europe's best kept secrets.
Mantua is surrounded by three lakes and filled with artistic masterpieces. Its historic center is a designated UNESCO site. Mantua is the perfect place for strolling — with arcaded streets, cobbled lanes, pretty piazzas, and graceful buildings.
What makes Mantua especially dreamy is its incredible Renaissance art and architecture, courtesy of the aristocratic Gonzaga family who ruled Mantua for four centuries.
Here, you'll find the sprawling Ducal Palace, the magnificent over-the-top Te Palace, the Basilica of Sant'Andrea, the Teatro Bivbiena, and the Rotunda of San Lorenzo.
For a tiny place, it's just amazing. You may want to book a 2 hour guided walking tour for an overview.
The Basilica of Sant'Andrea is a milestone church of the Renaissance. Ludovico Gonzaga hired famed architect Leon Battista Alberti to design a classically inspired church.
The church had to be grand enough to house one of Christianity's most precious relics, the blood of Christ. The famous "blood of Mantua" is contained in a set of sacred vessels in the crypt below the central nave of the basilica.
One of Mantua's most renowned attractions is the Ducal Palace, also known as Palazzo Ducale. It's the second largest residential building in Europe, only after the Vatican.
This massive fortress-like residence boasts 600 ornate rooms, complete with gilded, frescoed, and marbled finishes, and is crowned by the stunning Hall of Mirrors.
But the real highlight of the palace is the Camera degli Sposi, created by the great artist Andrea Mantegna. To visit this illusionary frescoed room, you'll need to book a timed entry ticket separately.
The Camera is famous for being the first trompe l'oeil design in Western art, and it has had a profound influence on the decoration of ceilings ever since. A visit to the Palazzo Ducale and the Camera degli Sposi is a must-see for any art lover.
You may want to book a guided tour of the Ducal Palace. You can book this 2 hour tour of the palace or a 3 hour walking tour that incudes the palace.
You've also got to cast your eyes on the swishy Te Palace. It's one of the world's most beautiful and unique buildings. To get there, take the Via Principe Amedeo from the town center and walk for 20 minutes.
This historic building was the summer residence of the Gonzaga family. Te Palace was built for the pleasure loving son of Isabella d'Este, Frederico II Gonzaga. He fancied himself a Dionysis type, and blinged up the palace with sybaritic frescos.
The palace was designed and decorated by Raphael pupil, Giulio Romano. The must see rooms are the Hall of the Horses (portraits of the Gonzaga's prize winning horses), the Hall of Amor and Psyche (erotic paintings), and the staggering Hall of the Giants (colossal scale frescos with a virtual reality vibe).
Click here to book a 1.5 hour guided tour of the magnificent Te Palace.
Mantua has some unique local delicacies you should sample. Mantua's signature dish is a sweet pumpkin filled tortelli de zucca, laced with amoretto. Another specialty is mostarda, a candied fruit spiced with mustard essence and pepper.
For dessert, you'll find Sbrisolona cake in almost every shop. It's made with flour, sugar, almonds and butter — a delicious caloric bomb. Wash it all down with sparkling Lambrusco.
Day 4: Drive to Brescia, Stopping in Sirmione
The drive from Verona to Brescia on day 4 is about one hour. That leaves you plenty of time to stop and explore the pretty town of Sirmione on the way.
Sirmione sits at the end of a narrow peninsula jutting into Lake Garda, the largest lake in northern Italy.
Sirmione is known as "the pearl of the islands and peninsulas." Oleander, cypress, and palm trees mix into the foliage. You can come here to loaf or to inspect ruins.
When you're approaching Sirmione, look for signs for the "centro historic." There are plenty of paid car parks outside the town's historic core. But get as close as you can. Be forewarned, in high season Sirmione will be thronged with tourists.
If you want to relax and enjoy the beauty of Sirmione, you could wile away your day at the thermal baths, hike on the lakeside trails, or take a boat tour.
For history buffs, a visit to Sirmione's Roman ruins is a must. These ruins contain the best-preserved Roman public buildings in northern Italy.
Additionally, the Grottoes of Catullus is an archaeological site that features the ruins of a villa that is said to have belonged to the famous Roman poet Catullus.
Sirmione's most iconic attraction, however, is Rocca Scaligero. This unforgettable fortress dominates the town's medieval skyline and was built in the 13th century by the Scaligero family of Verona.
Completely surrounded by a navigable moat, the square-cut castle boasts impressive walls and turrets made of pale rustic stone. Its crenellated battlements are topped with red accents, and it's said that even the famous poet Dante stayed in the castle.
From the sweeping cobbled courtyard, steel staircases lead to the first turret, where visitors can take in stunning panoramic views of the town. For an even more spectacular view, visitors can climb the 146 steps to the tallest tower. If you're looking for an unforgettable sightseeing experience in Sirmione, Rocca Scaligero is not to be missed.
Day 5: Explore Brescia: a Double Cathedral Town
Nestled at the foot of the Alps just a few miles from Lake Como, Brescia is a beautiful secret gem in Europe. It's chock full of impressive monuments and UNESCO sites.
Your first point of call is Piazza Paolo VI, formerly called Piazza del Duomo. The square holds not one but two cathedrals.
The Old Cathedral, locally known as Duomo Vecchio or La Rotunda, is truly incredible. Building began in the 11th century, with much subsequent construction. It's a rare example of a circular-plan Romanesque basilica.
The New Cathedral, with Baroque and Neo-Classical designs, was built in the 17th and 18th centuries. It boasts one of Italy's biggest domes, reminiscent of St. Peter's Basilica in Rome.
Piazza della Loggia is another beautiful and elegant square. It's surrounded with Venetian style buildings, including the Renaissance Palazzo della Loggia and an astrological clock. Like the Palazzo Pubblico in Siena, it was intended to be an emblem of good government.
Another must see site in Brescia is the Capitoline Temple, built by Emperor Vespasian in 73 A.D. It was dedicated to the gods Juno, Jupiter, and Minerva. The temple was mostly destroyed in the 4th century and only rediscovered in 1823. Six of the ancient columns still stand. A Roman Theater is just a few yards away.
If you want to stay in the center of Brescia, consider the Hotel Sirmione. If you want to relax in the countryside, consider staying at the L'Albereta near Lake Iseo. Charming with service par excellence, it's a private enclave in Ebrusco with a state of the art spa that attracts fashionistas from Milan.
If you're a foodie, Brescia boasts nine Michelin-starred restaurants, including Lanzani Bottega & Bitrot, Il Labirinto, Carne & Spirito, and Castello Malvezzi. If you want to dine in a 17th century palazzo, try La Sosta. Brescia is also known for its yummy bubbly sparkling wines.
Day 6: Drive to Bergamo, explore and overnight in Milan
On day 6 of your Venice to Milan itinerary, head to the medieval town of Bergamo. It's massive defensive walls are a UNESCO-listed site.
Bergamo is just 30 minutes away from Brescia, located between Milan and Lake Como. Bergamo outshines Italy's capital in beauty and graceful architecture. It's a fascinating historical city, with a handsome walled old town.
Bergamo has an upper and lower city. Naturally, the upper city, or Citta Alta, is the older Renaissance-y part of town. Start off with a walk around the 16th century Venetian Walls. The vibrant center of Bergamo is Piazza Vecchia. There, you'll find every manner of shop, cafe, and restaurant.
The other must see square is the Piazza del Duomo. Walk through the archways of the Palazzo della Ragione and you'll reach it.
The square boasts the beautiful Basilica of Santa Maria Maggiore. Go inside! You enter through a portico with Venetian lions into an extravaganza of Baroque gilding and Renaissance tapestries.
To the right of the basilica lies the even more impressive Colleoni Chapel. The church sports a pink and white marble facade
Inside there's a remarkable 15th century chapel.It's a combination of Renaissance, Mannerist, and Baroque architectural elements. The chapel is one of the finest Renaissance buildings in the Lombardy region.
Besides its beautiful architecture, Bergamo is famous for polenta. Every restaurant serves up some incarnation of polenta. Bergamo even does it for dessert — Polenta e Osei, a cake made to look like polenta.
In Bergamo, you can book a guided walking tour or a guided food tour.
Day 7: Explore Milan
Milan is an amazing destination in northern Italy. It's a vibrant and exciting modern city, the thriving finance and fashion capital of Italy. Milan has a serious arts scene, breathtaking sites, and gastronomical delights.
Milan is not "an industrial city," as the uninitiated claim. Milan has personality, combining old world charm and modern "bright lights, big city" flair in compelling fashion.
You can't help but be dazzled by Milan's architecture, historic sites, iconic art, and foodie scene.
Milan is most well known for its massive Gothic Duomo, Sforza Castle, and as the home of Leonardo da Vinci's The Last Supper.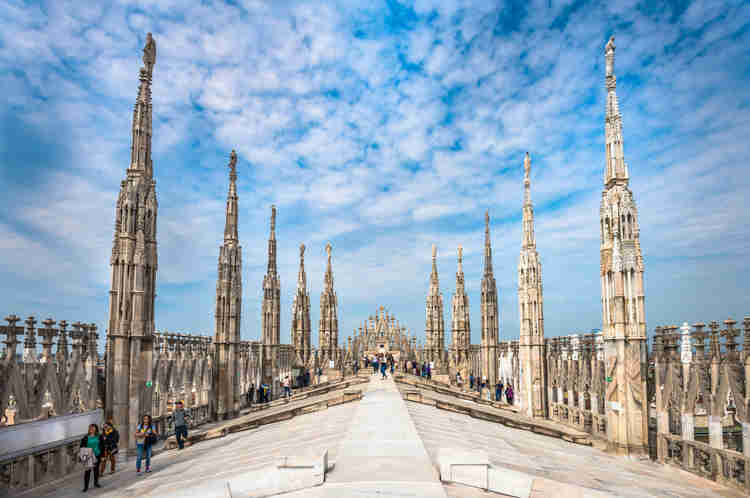 The flamboyant Gothic Duomo is the third largest in Europe after St. Peter's Basilica and Seville Cathedral. The most memorable part of a Duomo visit is wandering among the forest of spires and statues on the rooftop.
Click here to pre-book a must have skip the line ticket for both the Duomo and the rooftop terrace. When you arrive at the Duomo, make sure to get in the fast track line. Click here to book a ticket + guided tour of the duomo.
In any event, I won't repeat myself. Here's my one day in Milan itinerary to make the most out of your time there. It also includes must know tips on what to see/eat/do in Milan and where to stay in Milan.
And here's my complete guide to Leonardo's The Last Supper and how to see this Renaissance masterpiece. This is another attraction you have to book well in advance.
READ: Guide To All of Leonardo da Vinci's Paintings
Tips for Driving in Italy
If you're driving be sure to keep cash on you. You'll have to pay every time you use a motorway based on the distance driven.
You'll collect a ticket each time you enter a motorway and then pay each time you exit based on the information on your ticket. No credit cards are accepted, so be prepared.
If you prefer to travel by train, I've written about train travel tips in Italy in this guide to day trips by train from Florence.
READ: General Tips for Visiting Italy
More Time in Northern Italy?
Do you have extra time after finishing your Venice to Milan itinerary?
From Milan, head to the Italian Lake District for a few days. The Italian lake district is one of Italy's prettiest regions, situated in the shadow of the Alps. The main lakes are Lake Como, Lake Garda, and Lake Maggiore.
Visiting the Lake District is easier by car. Otherwise, you'll spend a lot of time on buses, trains, and ferries getting there and around.
Though, once you're there, driving in the narrow winding roads (for example, in Bellagio) is a challenge.
You can also book a guided tour. This day tour from Milan takes you to Lake Como. This half day tour takes you to Lake Maggiore. You can even book a 4 day tour from Milan that covers all the lakes and Verona.
Most people settle in at the swishiest villages, magical Bellagio or understatedly elegant Varenna on Lake Como. Lake Como is famous for its beauty, its palazzi, its mansions, the picture perfect medieval towns, and mountainous backdrop.
But northern Italy's other lakes — Garda, Maggiore, Orta, Iseo — are just as scenic and less crowded. Lake Garda is a place of faded elegance.
Lake Maggiore is home to the pretty town of Stresa. Lake Iseo is a hidden oasis and a nature lover's paradise. Here's a good guide to the Italian lake district.
I hope you've enjoyed my one week itinerary for road tripping from Venice to Milan. You may enjoy these other Italy travel guides and resources:
If you'd need a Venice to Milan itinerary, pin it for later.