It was love at first sight for Nuremberg and me. As a result of all that big love, here's my guide to the best things to do, see, and eat in Nuremberg Germany.
Encircled by might defensive walls, Nuremberg is the archetypal medieval German city. It's a magical stunner with both good looks and tasty food like gingerbread and bratwurst.
Nuremberg is crowned by an ancient castle, scattered with candy cane houses, and has a few must see museums. It is home to Germany's oldest Christmas market.
The city just seemed like a place I could live happily ever after in. Cosmopolitan enough, but with a heady dash of quaint fairytale charm.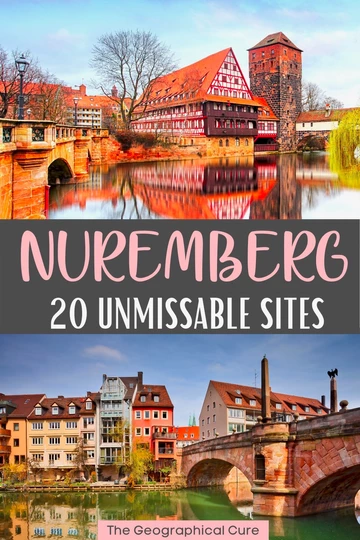 I was based in Nuremberg for a week on a recent geographical cure in Germany. And it was the perfect base for northern Bavaria.
Nuremberg isn't just a pretty face either. It's multi-faceted, with a tumultuous past.
As a former imperial city and medieval stronghold, it's got layers of history, some of it a dark and brooding Nazi-infused variety. That duality is part of Nuremberg's allure.
A Short History of Nuremberg
Nuremberg began life circa 1040. Heinrich III built a fortress on the rocky outcrop on the edge of the current city. The settlement below took its name from the fortress, Nuoin-berg (rocky outcrop) and became known as Nuremberg.
The first districts of the town were St. Sebaldus and St. Lorenz, now each boasting a towering church. The Jewish Quarter was then around Hauptplatz. The city walls were built in the 14th century.
In 1356, Emperor Charles IV decreed Nuremberg a free imperial city. Nuremberg thrived as a trade route until the 17th century.
But when it entered the Bavarian empire in 1806, the city was destitute and bankrupt. It was saved by industrialization. Henceforth, Nuremberg became "the most German of German cities."
In the 20th century, Nuremberg's dark past began. Starting in 1933, during the Third Reich, Nuremberg became the site of Nazi party rallies and parades.
Herman Goring promulgated the Nuremberg Laws, which declared that Jews were second class citizens. Only 72 of Nuremberg's jewish citizens escaped deportation.
During their years in power, the Nazi party worked hard to prettify and renovate Nuremberg. It became a popular tourist attraction.
READ: Guide To WWI and Nazi Sites in Nuremberg
On January 2, 1945, an Allied bombing attack destroyed most of Nuremberg's old town. After the war, the city was lovingly rebuilt in its pre-war architectural style. Even though you know the charming buildings aren't all old, they charm nonetheless.
Nuremberg quickly came to grips with its ugly Nazi past. It was in Nuremberg that the trials of Nazi war criminals were held in Courtroom 600.
Nuremberg didn't officially become part of Bavaria until 1802. It's actually a Franconian city and has a different vibe and dialect than southern Bavaria.
Franconians consider themselves more sophisticated than their southern counterparts in Munich, the lederhosen-clad "Barbarians of Bavaria."
Top Attractions and Best Things To Do In Nuremberg
Here's my list of the must visit sites and attractions in Nuremberg. There's a lot to do and see in Nuremberg, so hopefully you're not just day tripping.
If you just stroll down the main drag, Königstraße, you'll find many of the main sights in Nuremberg. Prepared to be happily medievalized. And well fed.
You can stroll on your own, as I am wont to do. But Nuremberg offers a great 2.5 hour free walking tour of the old town.
The tour starts at the Beautiful Fountain in the Hauptmarkt at 11:30 am daily. If you're only in the city briefly, this is a great way to get the historical lowdown.
You can also opt for a private customizable walking tour of 2-4 hours.
1. Nuremberg Castle
There's no escaping the imposing Nuremberg Castle on your promenade, perched atop a sandstone hill. The medieval castle dominates the cityscape.
It's also the #1 tourist attraction in Nuremberg. Construction (probably) started around 1,000 AD, though most of what you see today dates back to the 15th century or later.
Archaeological investigations date the castle to approximately 1050. For 500 years (from 1050 to 1571), Nuremburg Castle hosted the emperors of the Holy Roman Empire. Back then, there were no capital cities and the emperors just castle hopped.
The first structures in the castle were built around 1000. The Double Chapel, the most striking internal feature, dates from the 11th century. The imperial staterooms and spaces you'll tour date from the 16th and 17th centuries.
The castle also houses the Imperial Castle Museum. Military buffs will be regaled with medieval armor and a thousand swords.
Nuremberg Castle was heavily damaged during World War II. Only the imperial chapel survived the bombings, quite a miracle.
The rest was faithfully restored after the war. If you're looking for historical place to stay in Nuremberg, the former Imperial Stables have been transformed into a youth hostel.
Address: Auf der Burg 13, D-90403 Nürnberg
2. St. Sebaldus Church
Guarding Albrecht-Dürer-Platz, St. Sebaldus Church reminds me of a two-pronged lethal weapon. It's twin tower are so tall, pointy, and imposing. They were added in the 15th century. In many respects, St. Sebaldus was modeled after nearby Bamberg Cathedral.
The church takes its name from Saint Sebaldus, an 11th century hermit and patron saint of Nuremberg. Construction began in the 13th century.
The church was heavily damaged during WWI and, like much of Nuremberg, rebuilt. But its stained glass windows, designed by Albrecht Durer, and St. Sebaldus' tomb survived.
On the exterior, St. Sebaldus is architecturally intricate, sporting some beautiful oriels. Oriels are a type of decor added to glamorize an exterior facade. The original oriels of St. Sebaldus are in the German National Museum.
A little known fact is that you can tour the South Tower, which is not open to the public. But at 5:00 pm, twice a week (Wednesdays and Saturdays), you can buy a ticket for a guided tour of the church.
The tour lasts 1.5 hours and is a rare chance to get both a history lesson and a killer view from the pinnacle. Arrive early to get your ticket.
Address: Winklerstraße 26, 90403 Nürnberg
3. St. Lorenz Church
St. Lorenz is an unmissable Gothic edifice in Nuremberg. With twin towers dominating the scene, it's considered Bavaria's most beautiful church. (There's a similar one in Regensburg.)
The central rose window is 10 meters in diameter. The interior is a treasure trove of art, with outstanding paintings and sculptures. It's a mini art gallery, almost.
Most notable is the central "Angelic Salutation" by the medieval artist Veit Stoss. The wood carving hangs in the middle of the choir, right behind the altar. You can't miss it.
Address: Lorenzer Pl. 1, 90402 Nürnberg
4. Frauenkirche, Church of Our Lady
Dominating Hauptmarkt Square, the Frauenkirche is another top attraction in Nuremberg. The church was built for Emperor Charles IV in the mid 14th century. It's in a rather unique brick Gothic style.
Everyday at noon, the 16th century glockenspiel, or mechanical clock, sounds to celebrate the defunct Roman Empire.
A door opens and the Holy Roman Emperor Charles IV arrives for all to see. Charles IV liked Nuremberg, visiting 45 times.
Address: Hauptmarkt, 90403 Nürnberg
5. Albrecht Durer House Museum
Located in picturesque Tiergartnerplatz, I loved the half timbered Albrecht Durer House.
Albrecht Durer is Nuremberg's native son, born and buried there. He's perhaps the greatest German painter in history, so his house is of historical significance.
A multi-talented genius, he was also a masterful drawer, pioneering printmaker, and wannabe philosopher. Durer's self-portraits were ground breaking at the time. He could even be considered the inventor of the selfie.
His five story house is one of the few remaining medieval half timbers that survived WWII. Durer lived there from 1508 until his death in 1528.
You won't see any authentic Durer paintings here. Most of them are in Munich. But the house-museum gives you a unique snapshot of his life and studio.
One room has replicas of Durer's most famous paintings and the audio guide explains the significance of each one in detail. Another room replicates his workshop where he mixed paints and made engravings.
Address: Albrecht-Dürer-Straße 39, 90403 Nürnberg
6. German National Museum
The German National Museum was founded in 1852 by Hans Freiherr von und zu Aufseß. Setting lofty goals, he sought to assemble a "well-ordered general repertory of the entire source material for German history, literature and art." It's basically a treasury of German culture and artifacts.
The museum is huge and consists of several buildings. You could be defeated by its sheer size. The core structure is a fetching 14th century cloister.
Greeting you outside the main entrance is the "Way of Human Rights" installation by sculptor Dani Karavan. It consists of a street long sequence of 30 stone pillars, emblazoned with a different article from the Universal Declaration of Human Rights.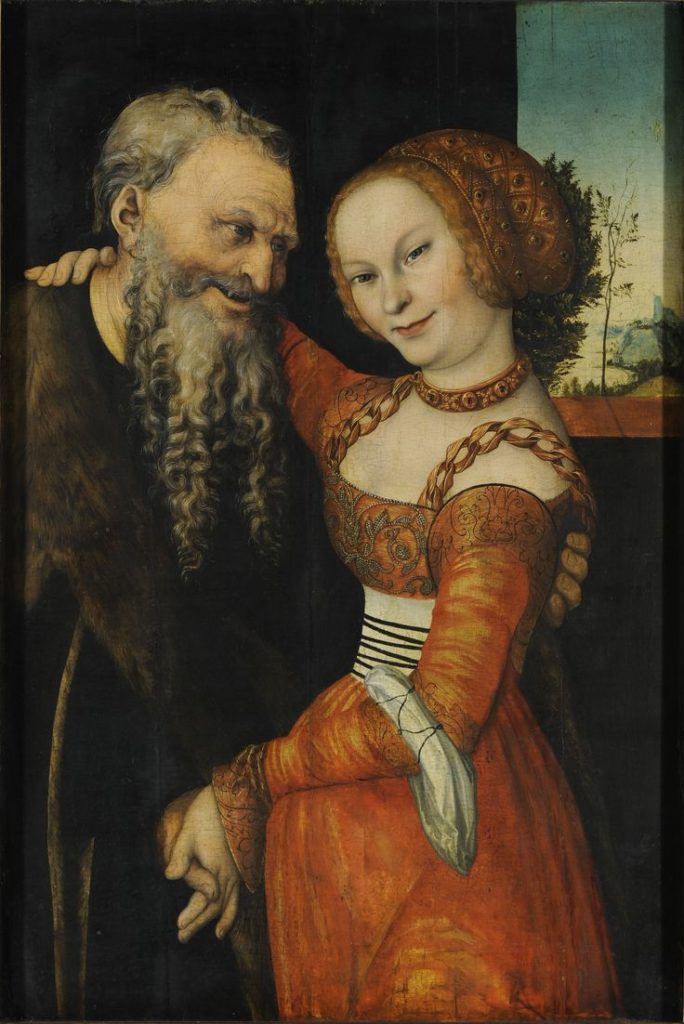 Unveiled in 1993, the installation is the city's response to its Nazi past and designed to promote awareness of human rights.
Inside, you'll find the first globe ever made, called the Erdapfel, which broadly translates to either earth apple or potato. Historians love the 15th century terrestrial globe because it encapsulates all knowledge of the earth at that time.
The museum also houses an intriguing collection of medieval art, a few paintings by Albrecht Durer (if they're not on tour), and other diverse works and artifacts.
Address: Kartäusergasse 1, D-90402 Nürnberg
7. Neues Museum: Nuremberg's Modern Art Museum
If the gloom and doom of Nuremburg's dark history has you down, head to the airy and light Neues Museum. The stylish building was designed by the architect Volker Staab.
It has a dazzling 100 meter long glass facade. Opened in 2000, it's a 3 story exhibition space with an impressive collection of modern and contemporary art.
To me, the highlights of the museum are the luminescent Katarina Grosse pieces and 28 works by world famous German artist Gerhard Richter. Richter is considered one of the greatest living artists. The museum also features temporary exhibitions throughout the year.
Address: Luitpoldstraße 5, 90402 Nürnberg
8. Hauptmarkt and the Beautiful Fountain
The lively Hauptmarkt is one of Nurembeg's top attractions. It's the perfect place to snack from a food truck and gaze around in adoration at Nuremberg's grand buildings.
For centuries, Hauptmarkt has hosted a farmer's market Monday through Saturday. You can get lunch on the run.
In December, it's where you'll find Nuremberg's famous Christmas market. This is still on my to do list. But I've read it's spectacular, with booth after booth selling chestnuts, piping hot gingerbread, glass blown ornaments, and hot mulled wine.
In one corner of Hauptmarkt is the Beautiful Fountain, a fancy gilded fountain originally built in the 14th century and often renovated. As you can tell from the photo, it was designed like a Gothic church spire.
It has 40 polychrome figures on four levels, an ode to Nuremberg's time as an imperial city. At the very top sits Moses and the 7 prophets. The Beautiful Fountain survived WWII by being wrapped in concrete.
Tourists are told that the fountain has a magical wish granting ring. And there's always a line to turn the brass ring. But the locals turn the dark ring on the other side as their lucky charm.
9. Weibgerbergasse Street aka Tanner's Lane
Nuremberg's Alstadt is incredibly charming. But cobbled Weibgerbergasse Street is where you'll get a fairytale level dose.
The photogenic street is full of 22 colorful half timbered houses, built in the booming days of Nuremberg's leather trade. These artisans were rather well off, as you can tell from their not so humble abodes.
10. Hangman's Bridge
Hangman's Bridge houses a little criminal history museum inside its tower. But the main reason to visit this Nuremberg attraction is to admire the picturesque setting.
Right next to the tower you'll find the Weinstadel – a medieval half timbered house of epic proportions (in fact the largest in Germany).
The bridge spanning the River Regnitz dates from 1457. It's said that the Nuremberg hangman — a job not popular with the townspeople — was banished to the outskirts of town. He chose to live in the tower of the bridge.
Address: 90403 Nuremberg
11. Handwerkerhof: a Quaint Village Within a Village
For bonus fairytale points, head to The Craftsmen's Courtyard, Handwerkerhof. It's at the very end of Konigstrasse and is a must visit attraction in Nuremberg.
Handwerkerhof is a tiny village within a village, and feels like a living museum. Handsome Handwerkerhof seems ancient, but it isn't. It was built in 1971 to pay homage to the golden age of Nuremberg craftsmanship.
When you enter the courtyard, you'll find yourself in small alleyways with half-timbered houses, artisan shops, and traditional restaurants. It's a little bit touristy, but I saw plenty of Germans milling about and lifting a stein. It's a good place to pick up souvenirs.
Address: Königstraße 82, 90402 Nürnberg
12. Nazi Rally Grounds, Congress Hall & Nazi Documentation Center
If you're a WWII nerd or history buff in general, spend a half day seeing Nuremberg's Third Reich sites, constructed by Hitler's favorite architect Albert Speer. Or take tram line 6 or 8 out to the sites. Like it or not, these sobering sites are a huge part of Nuremberg's history.
The rally ground is 12 football fields in length, with a "Zeppelin" grandstand, where the demagogue Hitler gave racist stump speeches.
Congress Hall was where the Nazis held choreographed party rallies. It seats 50,000. It's a disturbingly overbearing and quite banal building, larger than the Roman Coliseum.
Opened in 2001, the Documentation Center is in the north wing of Congress Hall. It's a modern museum that shines a harrowing light on the insane megalomania of the Nazi party.
With unflinching eye-opening detail, the permanent exhibit "Fascination and Terror" describes the rise of the Nazi party and its atrocities. The audioguide duplicates the signage, so you don't really need it.
At the end of your visit, there's a viewing point, suspended in mid air. You can step out and, chillingly, stand where the Führer addressed the rabid masses, a little insight into the collective madness of that era.
Like the Third Reich, Congress Hall was supposed to "last a thousand years." But it's crumbling. Nuremberg debated what to do with the historic stone pile.
Let it disintegrate or renovate it as a cautionary tale of the Nazi regime? Nuremburg chose the latter course of action and is working on preserving the site from now until 2025. Though it won't recreate things that were demolished after WWII.
You can visit the Nazi rally grounds on a half day small group guided tour.
Address: Bayernstraße 110, 90478 Nuremberg
13. Courtroom 600 in the Nuremberg Palace of Justice
Nuremberg wasn't just the site of evil. It also helped bring justice to the evil doers during the Nuremberg Trials. Courtroom 600 was where the Allies put Nazi goons on trial for war crimes and crimes against humanity.
It was a symbolic end to Nuremberg's Nazi ties. The courtroom is housed in the Nuremberg Palace of Justice, which survived WWII carpet bombing.
On November 24, 1945, 21 members of the Nazi leadership filed into the Palace of Justice to be tried for war crimes over four years.
The most alpha defendant, Hermann Goring, claimed utter ignorance of the charges. Hitler (along with Goebbels and Himmler) committed suicide before they could be brought to trial. Goring, the head of the Luftwaffe, took a cyanide pill the night before his scheduled execution.
You have to purchase tickets to the Memorium Nuremberg Trials to see the infamous courtroom. But it's worth it. There's a lot of film footage. You can only see the courtroom when court is not in session, generally 4 days from Friday to Monday. So plan your visit accordingly.
Address: Fürther Str. 110, 90429 Nürnberg
14. What To Eat In Nuremberg: "Drei im Weggla"
Naturally, eating is one of the best things to do in Nuremberg. Nurembeg's most famous and beloved food is its Nurenberger Bratwurstchen. Nuremberg's bratwurst is a local obsession and has an internationally protected status.
It's a small pork sausage about the size of your finger, heavily seasoned with marjoram. The recipe dates back to the 14th century. It's typically grilled on a wood stove, preferably over beechwood.
The classic Nuremberg snack is 3 sausages smooshed into a bun, constituting a "drei im weggla." You can add sauerkraut, which is not the somewhat repugnant and tasteless stuff you get in the US. I liked it with a touch of horseradish and spicy mustard.
If you want to sit down to sample this hearty delicacy, try the Bratwursthausle, adjacent to St. Sebaldus Church. For convenience, and if you like to eat as you stroll, pick up your bratwurst at one of the many stands on Hauptmarkt square.
You may also want to book a guided food tour to sample everything.
15. Baked Goods: Gingerbread or Pretty Sandybel
For your post-bratwurst dessert, try Nuremberg's other specialty — gingerbread. It's a popular commodity at the Christmas markets, but available anytime.
Like the Nuremberg bratwurst, it's protected under European trademark law and can only be produced within the city limits. If not, it's fake.
Some say the gingergbread, or Lebkuchen, was invented by 13th century Franconian monks. But legend holds that it was named after Elisabeth, the daughter of a Nuremberg baker. The girl grew very ill.
To try to heal her, the desperate baker created a new kind of Lebkuchen with only the finest ingredients and no flour. Miraculously, on a gingerbread diet, the girl recovered and the legend was born.
The recipe is a tightly guarded secret. But it's not like gingerbread from the US. It's soft, moist, nutty, and spicy. Nuremberg was on a trade route, so it had ample access to spices like cinnamon, nutmeg, and cloves.
If you don't want gingerbread but loved baked goods (who doesn't?) stop at Sandybel. The lovely bakery has beautiful decorated pastries and sweets, including cake pops, tarts, and cupcakes in every conceivable variety
Sandybel Address: Augustinerstraße 11, 90403 Nürnberg
16. The City Walls
In all its history, Nuremberg was only vanquished once, by the Allies in 1945. The fortified Nuremberg City Walls, which date from the 11th century, run for about 5 kilometers.
They're quite picturesque. And who can resist a walled city? There's so few of them in existence.
They're not as impressive as Carcassonne in southern France, but still very captivating. The best stretch of walls is on the west side of the town, between the massive Spittlertor and the former Maxtor.
17. The Anti-Marraige Fountain
If you need a dose of Schadenfreude, this oversized fountain by Jurgen Weber fits the bill and will give you a chuckle. The "Marriage Merry Go Round" is a lurid and pessimistic take on marriage, a look that may prompt you to escape and take a geographical cure.
Since its unveiling in 1981, the fountain has been controversial. The artistic wizardry is undisputed. It's the subject matter that's somewhat chilling.
The elaborate creation consists of a rough circle of visceral male and female figures (some nude) that depicts the stages in a couple's life (some monstrous), ending with skeletons.
Address: Am Weißen Turm, 90402 Nürnberg
18. Nuremberg Town Hall and Its Medieval Dungeons
The Nuremberg Town Hall isn't all that imposing. But its vaulted cellar houses the spooky Medieval Dungeons of Nuremberg, which is a must visit attraction in Nuremberg for history buffs.
The dungeons were used to house prisoners awaiting trial and, possibly, the hangman's noose. They can only be visited via a 20 minute guided tour in German. (English tours can be pre-arranged.) You'll see 12 rooms and a macabre torture chamber.
Address: Rathauspl. 2, 90403 Nürnberg
19. St. John's Cemetery: Pay Homage to Albrecht Durer
If you want to pay your respects to Albrecht Durer, you'll have to venture to St. John's Cemetery on the outskirts of town. The graves are adorned with flowers, making the vibe more flower garden than tombstone.
It was named Germany's most beautiful cemetery in 2013. It's nothing compared to Paris' Pere Lachaise Cemetery, but still quite nice.
20. The Nuremberg Toy Museum
Nuremberg is world famous for its toys. Its toy makers have been acclaimed since medieval times.
If you want to channel your inner child, head to the Nuremberg Toy Museum. It's considered the world's best toy museum.
As you'd expect from the medieval toys on display, they're not the fancy gizmos you see today. They toys were made from wood, scrap of metal, and clay. The upper floor is dedicated to more modern toys. There's even a play area for children.
Address: Karlstrasse 13-15, D-90403 Nuremberg
21. Nuremberg Christmas Market
If you're visiting Nuremberg in the winter, you can visit the Nuremberg Christmas Market. It's far and away one of the best Christmas markets in Europe. It's a top attraction in Nuremberg, welcoming 2 million annual visitors.
The market is opened by a Christmas angel from the gallery of the Frauenkirche. There are over 200 stalls selling handmade toys, spicy gingerbread, and Christmas ornaments.
The tantalizing smell of bratwurst and mulled wine hand in the air. If you're there in season, you can take a Christmas culinary tour.
Tips For Visiting Nuremberg
Here are some must know tips for visiting Nuremberg and seeing all its top attractions.
1. How To Get To Nuremberg
Nuremberg is Bavaria's second largest city, and not far off the Romantic Road. It's only an hour from Munich on the ICE bullet train or a 1:45 drive.
If you're driving and want a break en route, stop in Augsburg, one of Germany's prettiest cities. Park outside the old town of Nuremberg. It's not easy to navigate the center with pedestrianized and one way streets.
If you're arriving by train, Nuremberg Central Station is a hub, with plenty of connections if you're using Nuremberg as a base. It's not far from the old town. You can walk there in 15 minutes. If you have luggage, you may want to take the taxi or the metro.
Nuremberg also has an international airport. You can get to the city center by metro, shuttle bus, or taxi. Or you can book a private transfer.
You an also get to Nuremberg via a guided day tour from Munich, which is a very popular option.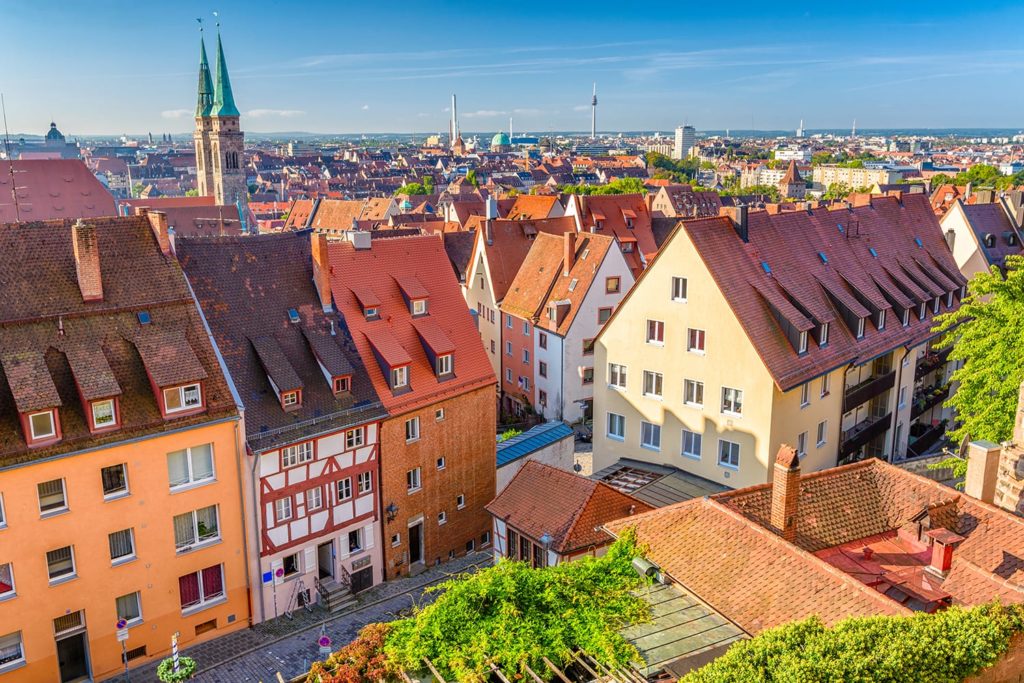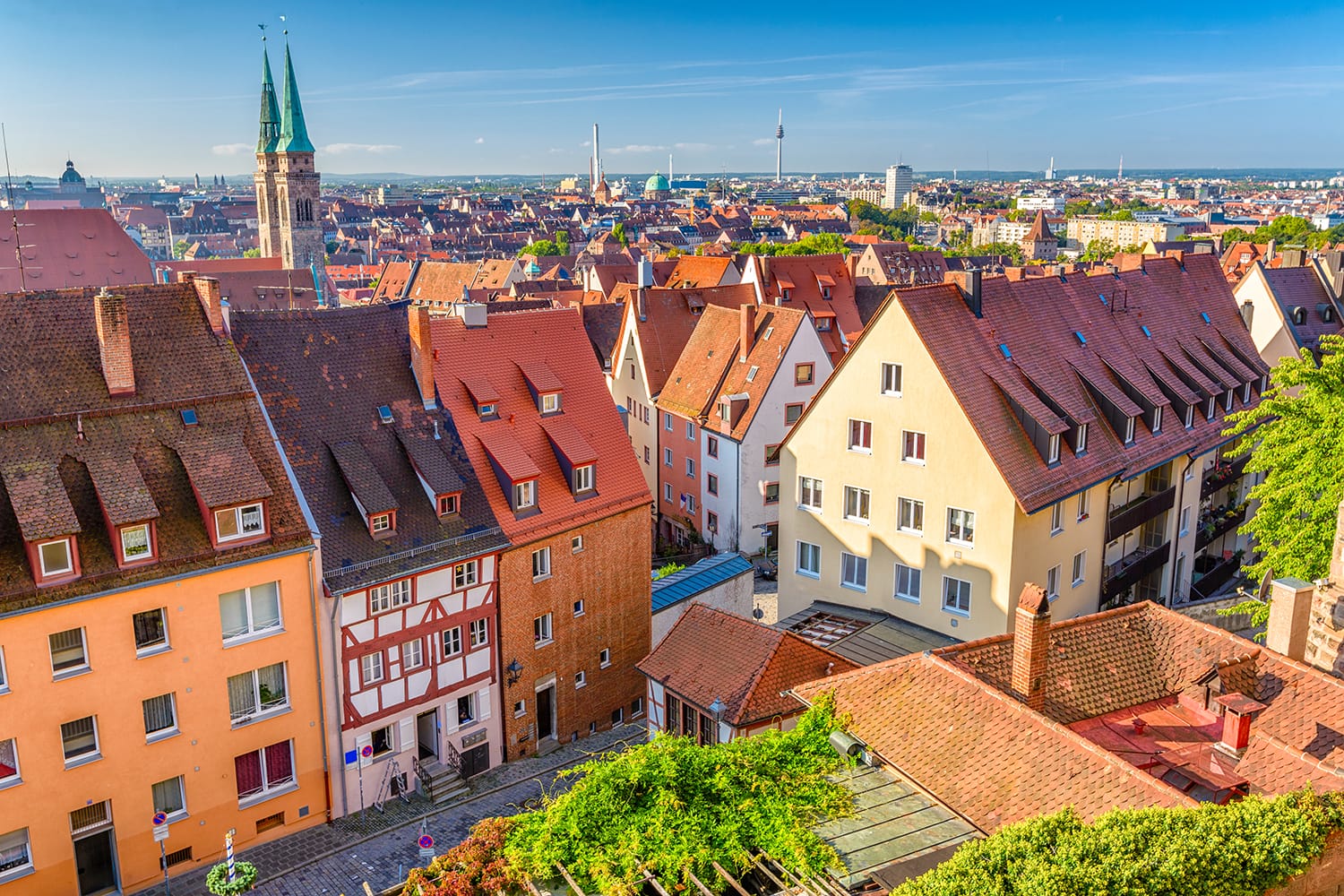 2. How To Get Around Nuremberg
Nuremberg is a very walkable and compact city. With the exception of the Third Reich sites, the top attractions in Nuremberg are all within easy walking distance.
However, buses and a metro are also available for traveling around inside the Old Town. Beyond the city walls, you also have trams and the S-Bahn urban trains. Tickets can be bought from ticket machines at stations and or on the VGN app.
You can also get around on the hop on hop off bus or the sightseeing train.
3. Nuremberg Pass
If you're going to be in Nuremberg for more than a day — and you must! — you should probably buy a Nuremberg Card, valid for 2 days. The card gets you into all the top attractions in Nuremberg and gives you access to public transportation.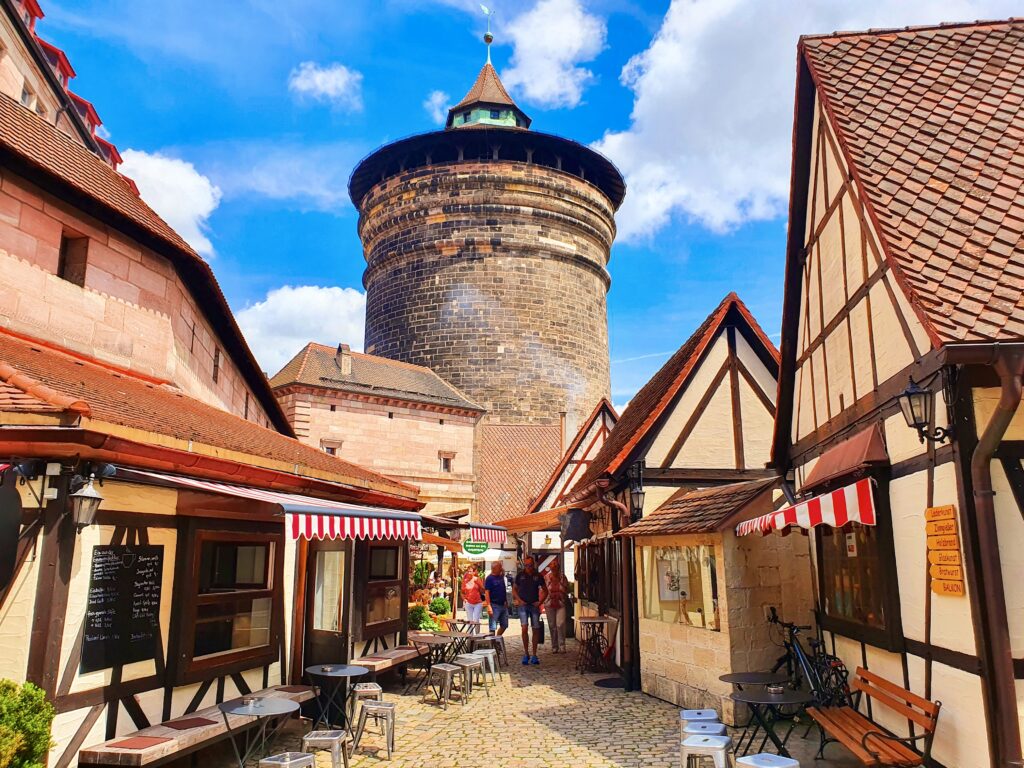 4. Where To Stay In Nuremberg
Nuremberg has plenty of wonderful hotel options, if you're not visiting on a day trip. In the heart of the old town, Karl August is one of the best boutique hotels with minimalist modern rooms. It's just a quick jaunt from the Hauptmarkt.
Another excellent boutique hotel, especially for history buffs, is the historic Hotel Deutscher Kaiser. It's a heritage listed property. The hotel still has architectural elements from the 14th and 15th centuries.
Hotel Drei Raben is a themed boutique hotel. The hotel is a nod to the mythological ravens who sit atop the building. Each room is inspired by a German folklore legend.
The Sheraton Carlton Nuremberg is a luxe 5 stay hotel. it has modern rooms, a spa, a gym, and a rooftop terrace.
If you want to stay in the most adorable Air Bnb loft, with a fantastic view of Nuremberg Castle, check out this listing. I loved it.
5. Restaurants in Nuremberg
Since I was there for a week, I had the chance to sample quite a few Nuremberg eateries. I ate quite a bit of bratwurst, on the fly and sitting down.
I mentioned the Bratwursthausle at St. Sebaldus above, for Nuremberg bratwurst or traditional German fare. You can also try Bratwurst Röslein, Hutt'n, or Frankenstube.
German food is very meat based. If you're in the mood for something lighter, try Padelle d'Italia. It's best to have a reservation. If you want a Michelin star restaurant, try Essigbraetlein. It's perfect for a romantic dinner with Nuremberg's regional white wines.
For lunch, I popped into the Green Lion, RainbowL, and Mondo. They had plenty of healthy and vegan options on offer.
I hope you've enjoyed my guide to the top attractions and best things to do in Nuremberg. You may enjoy these other travel guides and resources for Germany:
If you want to see the top attractions in Nuremberg Germany, pin it for later.