Here's my guide to 15 most beautiful towns and places in Slovenia. These Slovenia destinations are among the most beautiful off the radar sites in Europe. they should definitely be on Central Europe itinerary.
Tiny overlooked Slovenia is one of Europe's most charming and delightful off the beaten path destinations. It's a gravely beautiful land of imposing green mountains, shimmering glacial blue lakes, and authentic medieval towns.
Slovenia is every bit as beautiful as its neighbors like Croatia. But it has an independent spirit and slightly different charm all of its own. Slovenia also lacks the crowds and high prices of other European countries.
Budget more time than you think you should for the varied landscapes of Slovenia. You'll surely wish you had more when you leave.
Best Tours & Tickets For Slovenia
Here are some can't miss tours and experiences in Slovenia. In high season, you may want to book ahead.
Beautiful Places in Slovenia You Shouldn't Miss
Here are some of the best and most beautiful destinations in Slovenia.
1. Ljubljana
The tongue twisting capital of Ljubljana is a lovely small capital city. It's filled with playful architecture and has a robust cafe culture.
There are really no marquis must see sites in Ljubljana. It's more about the laid back European experience.
Spend plenty of time wandering the cobbled old town. Start at the city's heart, Preseren Square. Cross the Venetian-looking Triple Bridge and wander along the emerald green river — taking in the whimsical bridges and Jože Plečnik architecture.
Then explore Ljubljana Castle. From Dragon Bridge, it's a steep hike up or easy funicular ride to the castle.
Check out the Central Market for lunch or eat at one of the cafes along the lively river embankment. In the late afternoon or early evening, take a 30 minute cruise down the Ljubljanica River.
I'm a museum hound. But I didn't find any in Ljubljana that were sufficiently interesting to lure me off the pretty streets.
But I did take an immensely interesting architecture tour, learning all about Plečnik and seeing Ljubljana's beautiful Art Nouveau architecture, including the striking Vurnik House. Plečnik shaped Ljubljana, just like Gaudi shaped Barcelona and Bernini shaped Rome.
If you like shopping, you'll love Ljubljana. It's main street, which changes names from Mestni trg to Start trg, is lined with quaint shops.
You can pick up all sorts of souvenirs and/or clothing. There are also plenty of restaurants here as well serving up delicious seafood and Ljubljana's specialty, fried frog legs.
If you enjoy street art, head over to the Metelkova Mesto district, just a short stroll from the medieval old town. It has an edgy bohemian feel. Aside from the cutting edge street art, there are pop up flea markets and temporary exhibitions.
For more information, you can check out my one day in Ljubljana itinerary.
Where To Stay In Ljubljana: Hotel Angel, Zlata Iadjica Boutique Hotel, Antiq Palace Hotel and Spa, Vander Urbani Resort, Grand Hotel Union.
2. Lake Bled
Lake Bled is Slovenia's top alpine resort. Lake Bled sits placidly in the shadow of the Julian Alps in Slovenia, thronged by forests and mountains. It's a frankly outrageous combination of blue and green.
Lake Bled boasts a cliffhanging medieval castle carved into a mountain. Bloggers and travel writers routinely use the (quasi hackneyed) term "fairytale" to describe the #1 tourist attraction in Slovenia.
There are hordes of tourists in high season. But you could grudgingly see why they're all there. Lake Bled is not overrated.
Its beauty and tranquility shine through, despite meeting other humans at nearly every turn. It's a place to reconnect with nature and be humbled by it.
Take the 3 mile walk around the lake, stopping to take in the contrasting green wooded and azure views and admire the swans. If you're in a rush, you can rent a bike and cycle the lake. If you want a real hike, take the one hour hike up to the best viewing point, Malo Osojnica on the western side of Lake Bled.
You can also visit the 11th century Bled Castle, which is often hailed as Slovenia's most ancient castle. It's perched 130 meters above the lake's walking path, its red turrets and roofs making a splash on the blue skyscape.
The small castle has ramparts, moats, romanesque walls, and renaissance buildings — everything you might expect from a medieval fortress. While you're there, you can sample the famous Bled cream cake at the castle cafe.
In the center of the lake is a small island with the Church of the Assumption. Flat bottomed boats ferry people back and forth. Local legend holds that if you ring the church's bell three times, your wish will come true.
Here's my complete guide to visiting Lake Bled.
3. Vintgar Gorge
The extremely photogenic Vintgar Gorge is just a short 15 minute drive north of Lake Bled.
I found it almost as scenically satisfying as Bled, and it was ever so slightly less touristy. It's open 8:00 am-7:00 pm in the summer, entry is € 5.
Vintgar Gorge is a 1.6 kilometer wooden walkway that zig zags over the Radovna River. It reaches 100 meters in some places and clings to the side of cliffs, sometimes leaving room for only a single file shuffle.
It's a relatively flat and easy to walk in and out trail. At the end of the trail is the impressive 16 meter Šum Waterfall flowing beneath the Bohinj railway bridge.
4. Lake Bohinj
Lake Bohinj lies in the heart of Triglav National Park, one of Slovenia's most scenic spots. It's the perfect spot for a weekend getaway.
Many people prefer Lake Bohinj to Lake Bled because it's quieter and much less crowded than Bled. It's more pristine, not a well-oiled tourist machine.
You can swim, but it's very cold even in summer. Better to hike or boat around the lake, hike up to Savica Falls, or take the table car up to Mount Vogel. From Mount Vogel, you'll have magnificent views of Triglav Park and the Julian Alps.
The tiny village of Ribcez Laz sits at the southeast corner of the lake. The town's main landmark is a lake front church, St. John the Baptist.
5. Piran
The beautiful town of Piran in Slovenia sits on a slender finger of a peninsula. It's completely encircled by the sparkling Adriatic sea. You'll feel like you've been power beamed to Tuscany. It's a little slice of Italy.
Semi-crumbling pastel facades that Michelangelo might have sculpted rise above ancient maze-like streets. Venetian architecture is adorned with tracery windows.
The compact historic core is one of the best preserved medieval sites in the Mediterranean. Piran's reminiscent of Venice, but without the canals or hordes of tourists.
Tartini Square is the heart of Piran's old town. It's a marble-paved, sherbet-toned, red roofed oval. Tartini Square is full of chic bars, alfresco cafes, and colorful houses. It's a splendid place to snack and people watch.
As you stroll through the town, stop by Venetian House, the old marina and lighthouse, and hike up the bell tower of St. George Cathedral.
The latter is a miniaturized version of the Campanile of San Marco in Venice. The bells rings every 15 minutes. From the top, you can see four countries all at once — Italy, Croatia, Austria and Slovenia.
Here's my complete guide to Piran.
6. Portoroz
The town of Portorož lies east of Piran. It's a 30 minute walk on a scenic shore path that runs between the two towns.
Portoroz is a swishy beach town, specializing in spa treatments thanks to the area's unique mud and salt.
It's the only sandy beach on the tiny Slovenian coast. Bars and cafes line the seaside, making this town a lovely holiday spot.
7. Izola
Izola is another quaint town on Slovenia's Istria coast. It's a 25 minute bus ride from Piran.
Izola is smaller and quieter than Piran. But it still has a lovely waterfront promenade, swimming areas, and a picturesque old town. If you're on the hunt for an off the beaten path town on the Adriatic, explore beautiful Izola.
8. Socerb
Only a half hour from Piran lies the tiny town of Socerb, very close to the Italian border. There you'll find the ruins of Socerb Castle.
The ruins are on the coastline at the very edge of the Karst Plateau. They've been dominating the cliff since the Illyrian times.
The castle is now a restaurant. From it, you'll have a fantastic view of Trieste Italy.
10. Predjama Cave Castle
If a medieval fairytale type castle is one your agenda, look no further. Less than an hour from lovely Ljubljana Slovenia lies one of Europe's most photogenic castles, Predjama Castle. The castle is a must visit beautiful place in Slovenia.
Predjama Castle is one of the country's most popular attractions. Tucked into the mouth of a towering cliff, it's a cave fortress filled with secret tunnels and hidden caves.
Your first glimpse is breathtaking. Predjama Castle's whitewashed walls are set off by the landscape and natural rock. It's foreboding and exudes mystery.
What makes this place special and visually appealing is that the castle is partly built into the cave. Underneath the castle, there's a massive cave. You don't really need to go inside. But it's a scenic spot to stop for a drink or coffee.
11. Postojna Caves
You can combine a visit to Predjama Castle with the Postojna Caves. This is the largest cave system in Slovenia, spanning 12 miles.
You board an open air train, which slings you into a gaping hole in the mountain. One of the caverns is lit with chandeliers.
Once there, you'll follow a guide down well lit paths. As you hike up the "Big mountain," you're surrounded by a sea of stalagmites and stalactites.
Hiking back down, you'll pass "Spaghetti Hall" (with long skinny stalactites and curtains of rocks) to the "Concert Hall."
12. Skocjan Caves
The dramatic Škocjan Caves have been a Slovenian UNESCO site since 1986. These subterranean caves are gargantuan, spooky, and an absolute must visit if you're traveling through Slovenia.
You'll see stalagmites, stalactites, and interesting rock formations. You visit on a 1.5 hour guided tour through the lighted passageways. In the Grand Cavern, the mighty Reka River crashes through.
If you only have time for one sets of caves, I would chose Škocjan over Postojna. You can visit on a guided day tour from Ljubljana.
13. Brda Region
The Buda region is so pretty that it's known as the Tuscany of Slovenia. Visiting Brda is a good way to get off the beaten path and relax.
It's in the west of Slovenia. The main town is Dobrovo, about 2 hours from Ljubljana.
Start with the Dobrovo Castle. It's a 17th century Renaissance castle. Pick up a map at the tourist office there and you can follow the Brda wine trail. There's also a Vinoteka at the castle, one of the largest cellars in Slovenia where you can purchase top some goodies.
While you're in the region, stop in at the fortified village of Smartno. The fortification were built in the 16th century. You can stroll the winding cobbled streets and admire the views.
14. Rodovljica
This quaint town exudes old world charm. If you are day tripping to Lake Bled from Ljubljana, you can stop at this beautiful Slovenia destination on the way back.
Its traffic free center is jammed with historic buildings in the charming Linhartov trg square.
This is a great place to pick up a souvenir or nurse a coffee. Rodovljica also has a rather eccentric beekeeping museum.
15. Julian Alps
To top off your Slovenia experience, head to the hills. If you love adventure sports, the Julian Alps are a great destination. You need a car to get around. If you don't have one, book a tour.
Start at the beautiful blue-green Lake Jasna. From Lake Jasna, head to the breathtaking Vrsic Pass — one of Europe's most iconic roads.
With 50 white knuckle hairpin turns, it's not for the faint of heart. You head back down via the Soca River Valley.
When hunger calls, stop in the little mountain town of Bovec in Soca Valley. This is where you can book a white water rafting, ziplining, or kayaking tour. Bovec makes a good base, if you want a longer stay in this area.
16. Celje
Celje is a historic city nestled in the heart of Slovenia, gracefully straddling the banks of the Savinja River. As the country's third-largest city, Celje has roots dating back to the time of the Celts and Romans.
At the heart of Celje stands the majestic Celje Castle, a medieval fortress that overlooks the city from its perch atop a hill.
This impressive structure once served as the residence of the influential Counts of Celje and is now a popular historical site. The views from the castle provide a breathtaking panorama of the city and its surroundings.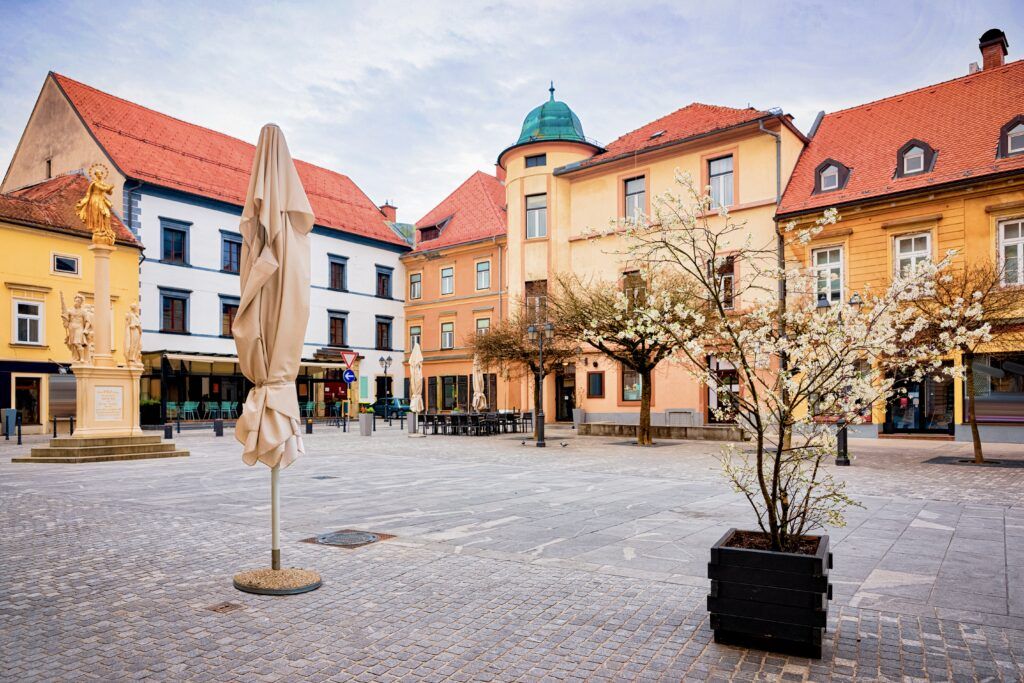 The Old Town of Celje is very charming, with cobblestone streets and colorful buildings. The charming architecture is a testament to the city's storied past, showcasing various architectural styles that have shaped its identity over the centuries.
The Prince's Mansion, a splendid Renaissance building, stands as a reminder of the city's connection to noble families and their cultural contributions.
Celje has a vibrant cultural scene with many theaters, galleries, and museums. The Celje Regional Museum delves into the city's history, displaying archaeological finds, art collections, and artifacts that illustrate its evolution through time.
In addition to its historical and cultural significance, Celje is surrounded by natural beauty. The nearby Savinja River and picturesque landscapes offer ample opportunities for outdoor activities such as hiking, cycling, and fishing. The city's proximity to the Pohorje Mountains adds to its allure, providing a gateway to year-round outdoor adventures.
I hope you've enjoyed my guide to the most beautiful places in Slovenia. You may enjoy these other Europe itineraries:
If you'd like to visit Slovenia, pin it for later.