Looking for the best spots and top attractions on the Romantic Road in Bavaria, Germany? Look no further!
This comprehensive guide covers all the storybook attractions that you won't want to miss. From medieval towns and historic landmarks to opulent palaces and towering cathedrals, the Romantic Road has it all. It's no wonder that this picturesque route is considered the perfect road trip destination in Germany.
Despite its romantic name, the road itself is just a two-lane country road that stretches 220 miles from Wurzburg in Franconia to Fussen in southern Bavaria.
While it may not be, *gasp, the most romantic road in the world, the destinations along the way more than make up for it. However, it's worth noting that in the summer, you might encounter some rather unromantic traffic that could slow you down.
What makes the Romantic Road romantic is the dreamy and dramatic sites you'll find on it.
This is where you come to escape the big cities and ferret out Germany's utterly quaint spots and hidden gems. It's a pastoral world far from the bustle of the city and the Autobahn, with flowers spilling from balconies.
The Romantic Road is a quiet, a tranquil blend of history and nature. From fabulous palaces to idyllic villages to craggy castles, the Romantic Road sports some of Germany's most beguiling and off the beaten path attractions.
What Is The Romantic Road?
In the middle ages, the Romantic Road was an old Roman trade route. After WWII, when Germany was suffering economically, a group of promotionally-minded folk re-branded it as a thematic route with 29 stops in Bavaria.
The term "Romantic Road" was actually coined by American travel agents using the road in the 1950s.
Brown signs along the way shout "Romantische Strasse" in German to remind you you're supposed to swoon. But the Romantic Road definitely lives up to its sobriquet.
Along the way, you'll drive through blockbuster attractions until you reach the foothills of the majestic Bavarian Alps.
What To Do And See On The Romantic Road
Here's my guide to the 15 top attractions on the Romantic Road.
You can take a blissful road trip in Bavaria, ferreting out all of its must see sites. I've tried to make the route as wildly romantic as possible.
You start in medieval Wurzburg, the northernmost part of the road and the traditional starting point.
Then you'll end with a bang at Mad King Ludwig II's fairytale castle, Neuschwanstein. You could also reverse the order and start in Fussen, which is only 2 hours from Munich, the cosmopolitan capital of Bavaria.
>>> Click here to book a Romantic Road tour from Munich
Put your car in gear, and we're off to explore beautiful destinations on the Romantic Road. (And a couple unmissable teeny tiny detours).
Top Attractions On The Romantic Road
Here are my picks for the top attractions and must visit destinations on the Romantic Road in Bavaria.
1. Wurzburg & the Wurzburg Residence
Your first stop on the Romantic Road is the town Wurzburg. Wurzburg is a delightful UNESCO town in northern Bavaria.
Aside from its adorable medieval streets, it's main claim to fame is the famous 350 room Wurzburg Residence. This ornate palace was home to the Wurzburg bishop-kings, who aimed to build an eye popping spectacle akin to Versailles.
The palace is so glamorous that it's been dubbed the "German Versailles." It's the former home of the Wurzburg bishop-princes, the elected rulers of the Holy Roman Empire. These princes had both secular and religious authority.
In 1720, prince-bishop Johann Philipp Franz von Schönborn commissioned the residence. The palace took 60 years to build.
The highlights are the intricate stucco work, the magnificent frescos by Giovanni Battista Tiepolo (a famed Italian Rococo artist), and the magnificent White Hall.
But there's more to do in Wurzburg than the palace. Hike up to Marienburg Fortress, the former home of the Wurzburg bishop-princes, for stunning views over the city.
Visit Marienkapelle in the buzzing main square, a church with striking white and red colors dating from the 14th century. And stroll down the the "Alte Mainbrucke," the old bridge with wine to go from a cute bar.
To see it all, you can book a guided walking tour of Wurzburg. You can also book a Romantic Road trip from Wurzburg.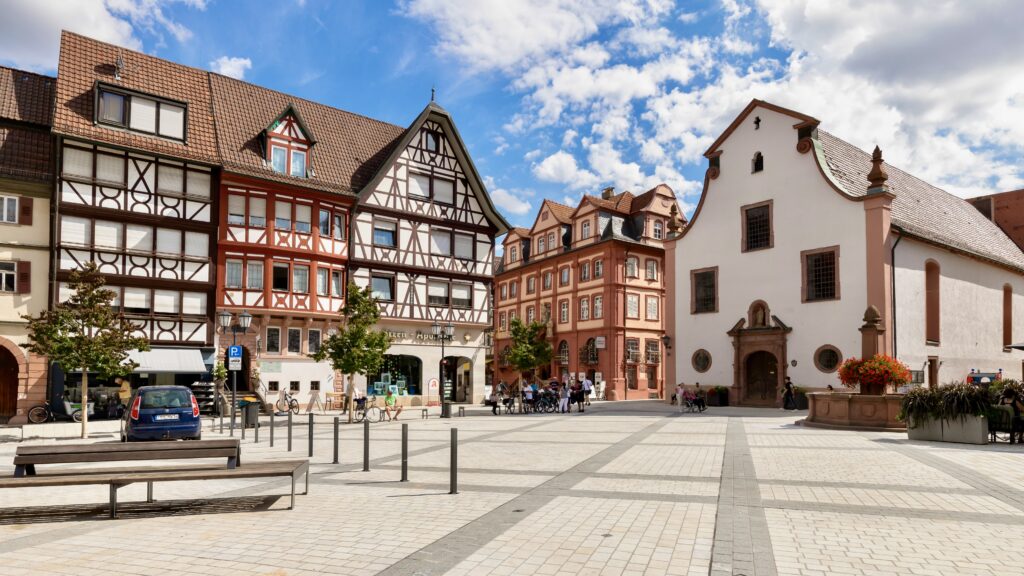 2. Tauberbischofsheim, Wine Town
Tauberbischofsheim is a lovely medieval village located in the valley of the Tauber River. It's renowned for its wine.
You can check out the 13th-century castle, Schloss Tauberbischofsheim. The castle houses a museum and hosts the town's annual Christmas market.
You'll also find a pretty main square, colorful half-timbered. buildings, and a Gothic town hall.
3. Bad Mergentheim, Spa Town
Them, head a bit further down the toad to Bad Mergentheim, which is one of Germany's loveliest spa towns. In 1826, sodium sulfate mineral water was discovered and the first spa opened in 1829.
The town is also famous for its castle, the town hall dominating the Marktplatz, and the famous Stuppacher Madonna painting by Matthias Grünewald hidden in the rather plain Parish Church.
In fact, art lovers and historians may stop in Bad Mergentheim for the sole purpose of seeing the Madonna. The painting is a classic example of the German Renaissance style, painted in 1514-19.
It's in brilliant colors, which make it seem alive, and has a double rainbow, which is a halo around Mary's head.
The Castle of the Teutonic Order is Bad Mergentheim's main site.
From 1527 to 1809, the castle was the residence of the the German Master of the Teutonic Order. You can tour the state rooms and the chapter hall.
But the best bit is the castle church, where important artists Balthasar Neumann (from Wurzburg Residence fame) and Francois de Cuvillies (from Munich Residence fame) slaved away.
4. Rothenburg ob der Tauber, the Most Romantic Stop On The Romantic Road
Picture perfect Rothenburg ob der Tauber is the prettiest and most popular town on the Romantic Road. It's the best preserved medieval city in Germany and possibly all of Europe.
Some claim Rothenburg is too Disney-esque and exists only for tourists. This isn't the place to buy your beer steins and souvenirs; they're pricey.
Though it may be a tourist-fly film set, the dreamy UNESCO town still enchants. I've never really seen anything quite like Rothenburg.
You may want to book a small group guided walking tour to make sure you see all the attractions. Or a private walking tour.
It's pure magic — the ultimate walled city adorned with pastel gabled cottages, flowers spilling from window boxes, and wrought iron hanging signs.
If you're driving like me, park right outside the town limits at the Stadtwerke. Then get lost in the medieval streets.
Hike up the Rathaus Tower (pay at the top) for panoramic views. Or stroll the City Walls where you'll get a bird's eye view of the famous Blacksmith Shop.
Take in the intriguing Medieval Crime Museum. It exhibits creative torture devices and shame masks from the Middle Ages.
It sounds grisly, I know, but it's a must see museum in Rothenburg for history buffs. I found it fascinating.
If you want some lunch, I highly recommend the Cafe Einzigartig, away from the madding crowd on a quaint side street.
You should also try Rothenburg's specialty the Schneeball, a sugar-covered fried pastry concoction. You'll see it in all the bakeries. I can't say I really recommend it, but tasted it in the name of local culture.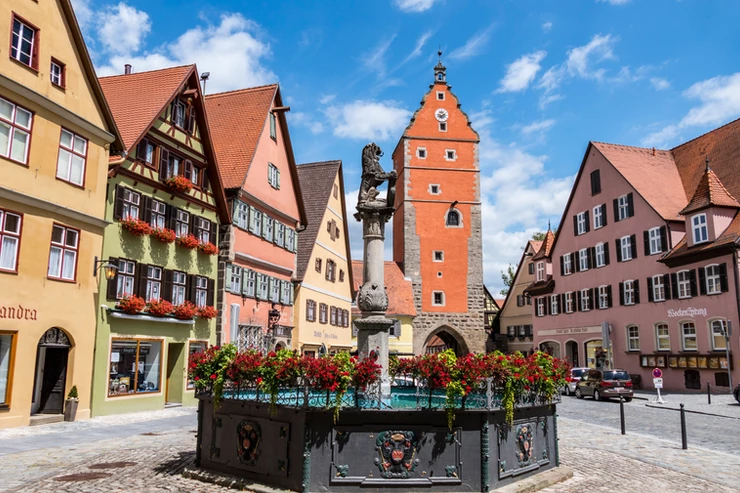 5. Dinkelsbuhl, Another Authentic Medieval Town
Your next must visit stop on the Romantic Road is the pretty town of Dinkelsbuhl. It's the midpoint of the Romantic Road. Dineklsbuhl is almost as otherworldly cute as Rothenburg.
Like Rothenburg, it boasts nearly perfectly perserved medieval architecture, with regulations in place to ensure their historic appearance.
Dinklesbuhl's 4 ancient gatehouses and 18 towers are extremely photogenic. I mean, just look at it. The Wornitz Gate is the oldest and finest.
The main promenade of the town is the Weinmarkt. It's lined with gorgeous gabled buildings and numerous restaurants and shops.
The square hosts festivals and celebrations, including the famous Kinderzeche in July, when the town celebrates its escape from the 30 Year War.
The elongated building called Schranne, once the Grain Exchange, is now a Town Hall. Inside, you can learn about Dinkelsbuhl's 800 year history in the House of History.
One of the most beautiful buildings on the square is the 15th century Deutsche Haus. It has a late Renaissance facade and statue of Bacchus, the god of wine and frivolity.
There's a restaurant inside, if you're hungry, featuring the Dinkelsbuhl specialty: fried carp.
The town's late Gothic St. George Cathedral is considered one of the most beautiful churches in southern Germany.
It boasts a richly decorated altar and a Franconian "pretzel window," which was once donated by the bakers guild. The tower is open on weekends for climbing.
>>> Click here to book a guided walking tour of Dinkelsbuhl
6. Nordlingen, A Gem Tucked In A Crater
Nordlingen is another little Bavarian hidden gem, where you can step back in time. The town was first mentioned in recorded history in 898.
With Rothenburg and Dinkelsbuhl, it's one of three medieval walled towns on the Romantic Road. To me, there's nothing more romantic than an orange-roofed wall city. There are so few in existence.
Aside from medieval cuteness, Nordlingen's claim to fame is that it was built — unintentionally — inside a massive meteoric crater, called the Ries Crater. 16 miles in diameter, the crater was created 14 million years ago when a meteorite struck the ground.
I can't say I've ever visited a crater town before. Even more interesting is that, until 1960, the natives had no idea their town was "cratered."
Two visiting American scientists discovered that the local buildings were constructed from "shocked quartz," which is only present in meteorite impact zones.
Nordlingen is dominated by its Gothic church, also called St. George. It was built mostly with of blocks of suevite, rock that was melted by the meteorite impact.
Climb the tower steps for a great view of the town. But be forewarned, the tower is extremely narrow. As at Rothenburg's Town Hall tower, you don't pay until you're at the top.
7. Harburg Castle, An Ancient Beauty
Just south of Nordlingen lies Harburg, home to the 11th century Harburg Castle. Harburg Castle is my kind of castle.
It's one of the most impressive medieval castles in Germany and a mandatory stop on the Romantic Road.
A visit to the complex, which looms over the Wornitz River, will transport you back to the Middle Ages. I mean just look at those pointy towers and criss cross shutters. *swoons*
Harburg Castle was built by Hohenstaufen emperors of Germany. Tours of the castle include the church, dungeon, granary, and state rooms.
You can explore on your own, but it's best to take the guided tour where you'll see more rooms and hear about the castle's ghosts. Be sure to peak through the arrow slits.
If you fancy a castle stay, you can also book a room for the night. And take time to stroll through the pretty Altstadt.
You'll have great views from the 1702 Stone Bridge spanning the river.
8. Augsburg, Germany's Oldest Town
Augsburg is one of Germany's oldest and most underrated cities. It's largest city on the Romantic Road
Augsburg is a bit more bustling than other Romantic Road destinations. But it's stuffed with gorgeous Baroque architecture.
Stroll down Maximillianstrasse, a historic German street. Check out Augsburg Cathedral, the swanky town hall with its "golden hall," and the ivy covered neighborhood of Fuggerei. Augsburg Cathedral has Romanesque and Gothic elements and boasts paintings by Hans Holbein.
If you have time, take in Augsburg's Schaezlerpalais. The palace's art collections includes Albrecht Dürer's famous portrait of Jakob Fugger. The real stunner is the ballroom, a masterpiece of Rococo architecture.
>>> Click here to book a guided walking tour of Augsburg
9. Landsberg am Lech: Hitler Backdrop
Landsberg am Lech is famous as the German city where Hitler was imprisoned after his arrest for the failed Putsch in Munich in November 1923.
In prison, Hitler tooled away on Mein Kampf. Right outside the town is the Holocaust Memorial, built toward the end of WWII.
But the city isn't all gloom and doom. It's quaint and charming. Landsberg is split in two by the imposing 15th century Stadpfarrkirche Maria Himmelfahrt Basilica (say that ten times fast).
Like the other dreamy villages you've seen, it has cobbled streets and pastel houses. You could move right in.
Lamsberg also boasts the turreted and crenellated Bayertor Gate, the finest remaining city gate in Bavaria.
It's dates from 1425 and is a 10 minute walk from the Rathaus (town hall). With its bright colors and coats of arms, it's a beauty.
Landsberg has some bakeries to die for. At least pop in for coffee and cake at the very cute Lechcafe.
10. Wieskirche: Grand UNESCO Pilgrimmage Church
Wieskirche is an UNESCO-listed Rococo pilgrimage church in the village of Wies.
Outside, it seems like a simple church picturesquely set in an unassuming verdant meadow. Inside. it's a light-filled Bavarian Rococo extravaganza.
The Wieskirche dates from 1738. Back then, a farmer witnessed a supposed miracle — tears trickling down from a wooden Christ statue. People came in droves to see the weepy work, more than 1 million each year nowadays.
In 1745, the brothers Johann Baptist and Dominikus Zimmermann were commissioned to build a massive pilgrimage church on the site. The cost almost led to the bankruptcy of the Steingaden Abbey.
Once you step inside, you'll see why Wieskirche is a UNESCO site. Eight snow white pillars support an impressive cupola.
A pastel oval fresco is framed by stucco decorations and gilded sculptures. The altar has a statue of the Scourged Savior, the very statue that began the pilgrimage.
11. Ulm Minster, the World's Tallest Church
Who can resist a superlative?
Ulm Minster is the largest Protestant church in Germany and boasts the tallest church tower in the world (not counting the unfinished Sagrada Familia in beautiful Barcelona).
The church attracts devotees from all over Germany. It's just a short jog off the Romantic Road. You can book a guided walking tour of Ulm that includes a visit to the minster.
Construction began in 1377 and didn't finish until 1890 — insane dimensions aren't conducive to quick church building.
But it was worth the wait for its beautiful Gothic architecture and interior artwork.
If you're extremely ambitious, hike up the 768 steps (gulp!) of the Ulm tower for uninterrupted views over the town. It might take you a day to recover. You'll at least need bratwurst and beer.
A fun fact is that Einstein was born in Ulm. The house he was born in was destroyed in WWII. But there's a street named after him and a memorial.
>>> Click here to book an Ulm walking tour with Minster visit
12. Linderhof Palace, King Ludwig's Mini Versailles
Just a jog off the Romantic Road near Neuschwanstein Castle is Mad King Ludwig II's primary residence, Linderhof Palace. Linderhof is a must see site in Bavaria and a popular day trip from Munich.
The beautiful palace was build as an homage to Ludwig's trifecta of obsessions — Louis XIV, Marie Antoinette, and Richard Wagner.
At first glance, you immediately think of Marie Antoinette's Petit Trianon in Paris, where the besieged French queen retreated from the viper pit of the French royal court. Linderhof was the man cave version.
Linderhof's glamorous interior reflects Ludwig's imaginary, dreamlike world.
You enter a space of riotous rococo, flashing mirrors, and glittering gold. There was apparently no such thing as too much gold leaf.
Because the rooms are fairly small (by palace standards), you might feel a little claustrophobic from the gold pressing in on you. The highlight is the Hall of Mirrors.
But the palace gardens are perhaps the most luscious part. Ludwig built huge ornamental gardens in five geometric sections, dotted with architectural follies. Be sure to check out the Moorish Kiosk, the Greek Temple, and the Venus Grotto.
The Venus Grotto is a man-made cave, complete with a lake, waterfall, and faux stalactites. Dressed as a knight, Ludwig rowed langorously across the lake in a golden clam-shaped boat listening to opera performances. Perhaps the ultimate escapism.
Here's my complete guide to Linderhof Palace. Click here to book a guided day tour of Linderhof from Munich.
13. Fussen, Gateway To Mad King Ludwig's Castles
700 year old Fussen is one of Germany's prettiest towns and a must visit attraction on the Romantic Road.
It's an enchanting medieval town nestled in the foothills of the Bavarian Alps. It couldn't be more picturesque with its pretty houses and frescoed buildings.
Fussen is the perfect base for exploring Mad King Ludwig's castles in Bavaria and the surrounding area. You'll fall in love.
Fussen's quaint center is truly a delight to stroll through. You'll stumble upon baroque churches, gothic houses, a medieval town hall, and even a castle.
The building facades are dressed in wonderful pastel shades, making it a dream to photograph.
While in Fussen, take a stroll to Lake Alatsee, the nearby glimmering mirror-like mountain lake. You can drive or walk there. And it's about a 30 minute stroll around the picturesque lake.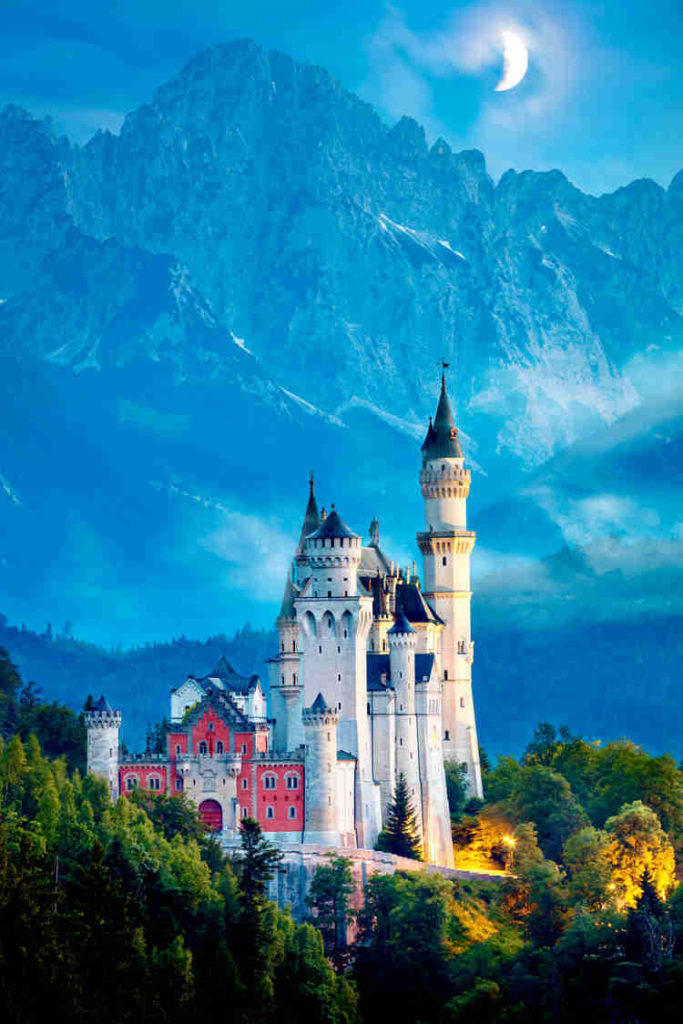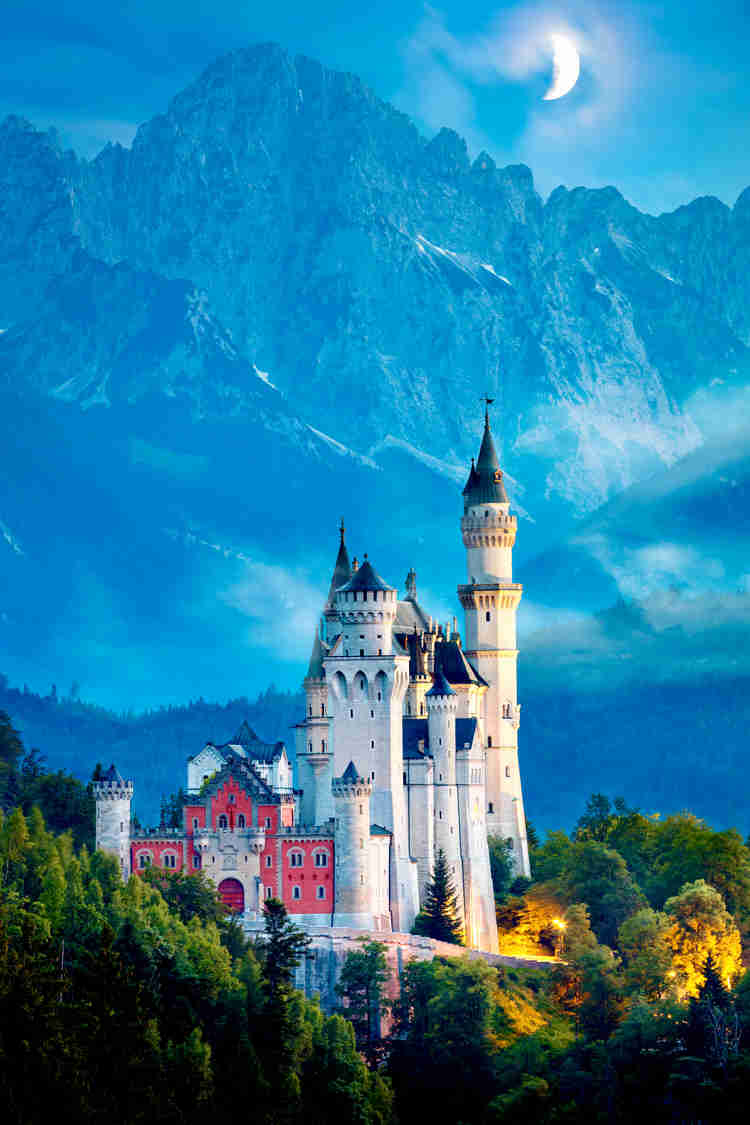 14. Neuschwanstein Castle, The Ultimate Fairytale Castle
And now it's time for the grand finale, perhaps the singular showstopper and #1 attraction on the Romantic Road — the romantic Neuschwanstein Castle.
Clad in glistening limestone and strategically perched in the Alps, Neuschwanstein Castle is the most visited castle in Germany and one of Europe's most popular sites.
The Neo-Gothic castle isn't a hidden gem or secret place, despite being a hassle to get to — it's almost 2 hours from Munich in the middle of nowhere at the very end of the Romantic Road. In fact, the crowds are decidedly horrible.
And yet, despite my own aversion to crowds and hassles, Neuschwanstein appeals. It's just so romantic with its majestic turrets, decadent interior, and dramatic historical backstory.
Neuschwanstein is essentially the embodiment of a fairy tale, a fairy tale spun by a daydreaming king, Mad King Ludwig, whom I spoke of above.
Ludwig was a reclusive king, loner, and possibly a misanthrope. Ludwig didn't care much for affairs of state either. Instead, his life work was his pathological obsession with castle building, something you might expect from a "mad" king.
Neuschwanstein took 24 years to build. It's a prime example of 19th century Romantic style architecture, sprinkled with numerous tower, gables, turrets, and balconies.
Inside, it's full of vibrant color and depicts scenes from Richard Wagner's operas. The highlights are the Throne Room, Singer's Hall, and Ludwig's fancy bedroom.
You'll have to reserve a spot ahead to ensure admission. Click here for my guide to Neuschwanstein Castle with tips for visiting. Be forewarned, the tour is a bit slap dash, disappointing, and short on information. You'll want to linger longer inside the castle, but can't.
When you're done visiting the castle, make the short 10-15 minute hike to Marienbrucke, a bridge where you can clap eyes on the iconic postcard view of the castle.
Legend holds that Ludwig enjoyed coming here after dark, on his nocturnal sleigh rides, to watch the candlelight radiating from the Singer's Hall.
Click here to book a day tour of Neuschwanstein from Munich. You can also add in Linderhof Palace on a guided tour with Neuschwanstein.
If you are very ambitious, you can combine Neuschwanstein Castle, Ettal Abbey and the forest-ringed village of Oberammergau in one long day trip tour from Munich.
15. Hohenschwangau Castle
Right next door to Neuschwanstein is Hohenschwangau Castle. Not everyone sees Hohenschwangau Castle.
But I thought it completely worthwhile to see both castles and bought a combo ticket. I think Hohenschwangau is a bit of an underrated hidden gem in the castle world of Bavaria.
After all, to be purist about it, Hohenschwangau was where Mad King Ludwig grew up and became a poet-architect-opera lover.
It's not as glamorous as Neuschwanstein, but still utterly charming and of great historical interest. As an added bonus, it's vastly less crowded.
You can visit Hohenschwangau on a guided day trip from Munich.
Tips For Visiting The Top Attractions On The Romantic Road
Here are some must know tips for visiting all the best spots on the Romantic Road.
1. What's the Easiest Way To Visit the Romantic Road?
By far the easiest and best way to visit the Romantic Road is by car. Germany is an easy and ideal country for a road trip.
With a car, you can set your own Romantic Road itinerary. You have complete freedom to stop at any Romantic Road attraction on a whim.
You'll need a GPS. There's not much signage. My rental car actually came with a navigation system and apple play — German technology at its best.
READ: Tips for Renting a Car and Driving in Europe
f you'd like some exercise with your romance, you can also bike the Romantic Road. There's a recognized long distance trail that covers the entire route in 10 stages. It's mostly flat.
There's also a somewhat less romantic, but very efficient, bus option. Europabus coaches, referred to as the Romantic Road Coaches, run daily May to October between Frankfurt and Munich.
Via bus, you can start and end anywhere along the Romantic Road route. You can hop on and off for an overnight visit, hopping back on the next day.
Or, do the entire road in one day and make half-hour stops for photo-ops (not really recommended).
2. Where To Stay On The Romantic Road
If you're driving, I recommend you have 3 bases for your trip down the Romantic Road: Wurzburg, either Dinkelsbuhl or Nordlingen, and then Fussen. That way, you're stopping at the beginning, middle, and end of the Romantic Road.
Here are some hotels you can check out.
3. When To Visit The Romantic Road
The Romantic Road is a year round destination. Naturally, summer sees the most visitors.
But the weather is pleasant in the spring and fall. And in the winter, the Christmas lights will enchant.
4. Detours Off the Romantic Road
Do you have extra vacation time after driving the Romantic Road? There are plenty of other lovely destinations in Bavaria to visit that are just a short jog away.
1. Bamberg
Just a 1 hour drive from Wurzberg is the UNESCO-listed town of Bamberg. It's a beautiful town overflowing with artistic treasures.
With crooked half timber houses, picturesque canals, and an extravagant palace, Bamberg is an absolutely underrated town in northern Bavaria.
Dubbed the "city of seven hills," Bamberg's highlight is its adorable frescoed Town Hall floating on the Regnitz River.
>>> Click here to book a guided walking tour of Bamberg
2. Nuremberg
One of my favorite small cities in the world, Nuremberg, is less than 1:30 off the Romantic Road. I was happily ensconced there for a week.
You'll be charmed and medievalized by the former imperial city with its bridges, candy cane houses and famous castle.
You can discover Germany's greatest painter, Albrecht Durer, and take a deep dive into Germany's Nazi past.
You can take a guided walking tour of the historic center. If you're a WWII buff, book a half day tour to see WWI and Nazi Third Reich sites in Nuremberg.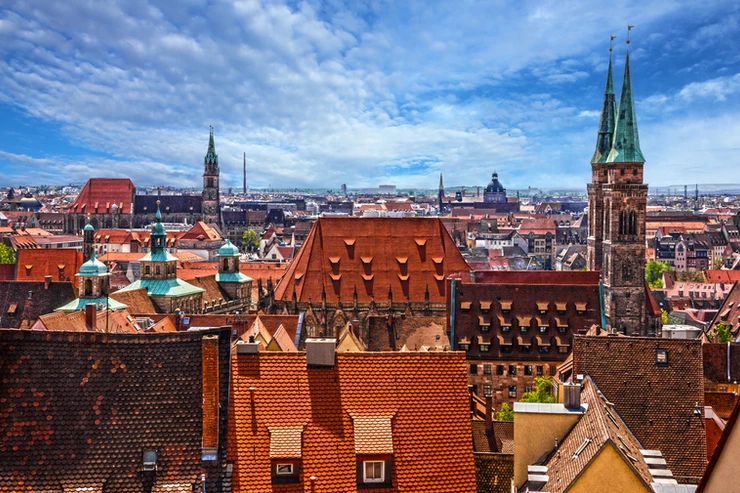 3. Regensburg
Another authentic Bavarian town just bursting with charm and 1:45 off the Romantic Road is Regensburg.
Regensburg's UNESCO-listed Alstadt (old town) survived WWII. It's filled with myriad towers, cobblestone streets, beer gardens, and pure unadulterated charm.
Towering over it all is the Gothic Regensburg Cathedral. Here's my comprehensive guide to the lively town.
>>> Click here to book a guided walking tour of Regensburg
4. Munich
When you're done gasping at Neuschwanstein Castle, perhaps it's time to head back to the city, either for more sightseeing or to catch your plane.
Dubbed the "city of art and beer," Munich is just 2 hours from Schwangau and a vibrant cosmopolitan city.
Here's my one day in Munich itinerary and my 4 days in Munich itinerary.
I hope you've enjoyed my guide to the top attractions on the Romantic Road in Germany. You may enjoy these other Bavaria travel guides and resources:
If you'd like to visit the top storybook attractions on Germany's Romantic Road, pin it for later.