Planning a trip to Denver? Here's my guide to visiting the Denver Museum of Art ("DAM").
For art lovers, it's one of the top attractions in city. The museum was founded in 1893 and is an encyclopedic American museum.
Thanks to a recent $175 million renovation, the museum is one that current day curators dream of. The design galleries are airy and bright.
With the extra space, the museum has reimagined its role, beefed up its contemporary works in each collection, and focused on including all types of media. It's an almost new museum compared to the last time I visited.
READ: Best Museums in the United States
Overview & Layout Of Denver Art Museum
The museum's collections are divided into two interconnected buildings, the Hamilton Building and the Martin Building. Both were recently overhauled during the renovation.
The galleries within them are organized thematically, with exhibitions highlighting specific artists, art movements, and themes.
Hamilton Building
The Hamilton building contains the 19th century European and American paintings, a gallery for temporary exhibitions, Modern and Contemporary arts, and African art. There's also a well-stocked museum store on the first floor.
When I was just there, the temporary exhibit was on colonialism in art. The third and fourth floor were closed and will reopen on May 14.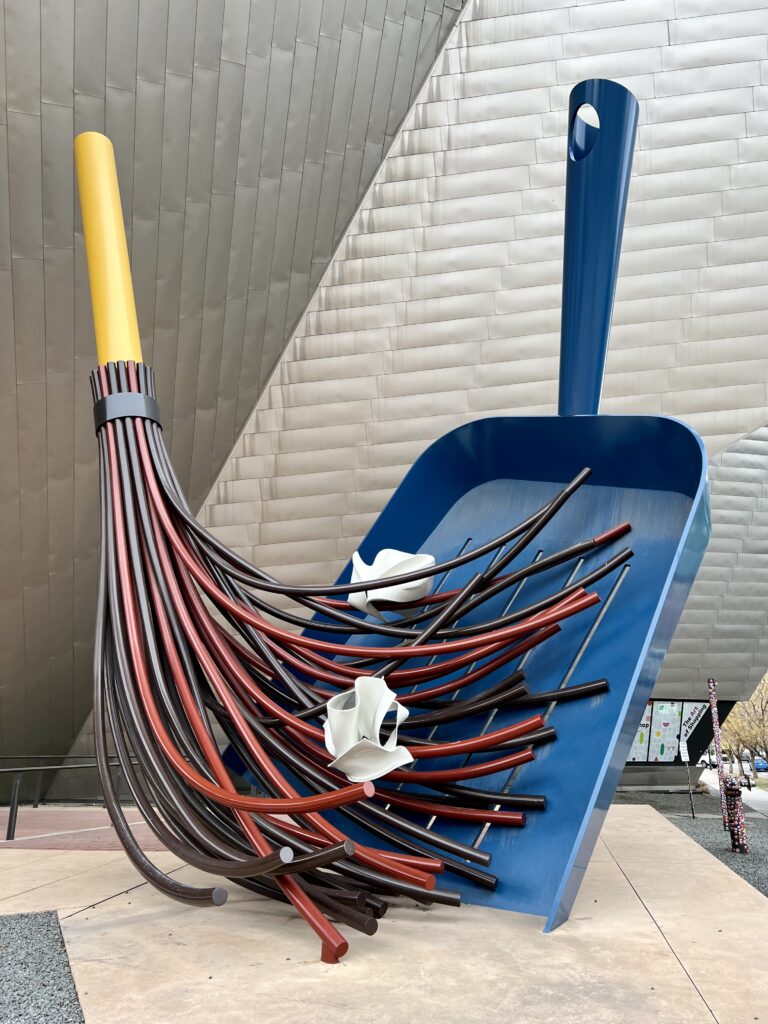 Martin Building
Formerly known as the North Building, the Martin building underwent a full renovation and is now a rather towering Neo-Gothic space with slit windows.
The new building was designed by Italian architect Gio Ponti. It's an 8 story 21,000 square feet space.
The Martin building is connected to the Hamilton Building by a bridge on the second floor. It can be confusing to find. Just ask one of the docents to point you in the right direction.
The Martin building houses Indigenous art, Latin American art, Asian art, pre- 1800 European art, textiles, and Western American art.
The top floor has a rooftop terrace. You can walk on the roof and take in spectacular views of the nearby Rocky Mountains.
There are quite a few informational placards installed. I didn't feel like I needed an audio guide. Plus, you can listen to short video clips recorded by the artists explaining what the works are trying to convey.
You can also sit down at one of the many art stations and create your own art. It's the museum's invitation for visitors to get their hands on things.
Overall, I thought the DAM's real strengths were in Indigenous and Asian art. The museum also has a cache of art from the American West.
You'll also find the requisite swathe of French Impressionism. None of the works are terribly notable, with the possible exception of Claude Monet's Waterloo Bridge.
Guide To The Denver Art Museum
Here's what you can see at the Denver Art Museum.
I entered via the Hamilton Building entrance. The first thing you see is the magnificent gift store. There is a massive selection of glass art, ceramics, pottery, along with gift ideas.
You'll be tempted to browse straight away. But to avoid carrying around bags, you should come back at the end. I did and came away with a vessel from Nicaragua and glasses from Paris.
19th Century European Art
One of the most crowd pleasing displays is the collection of 19th century European art, which includes the ever popular Impressionists.
You'll find paintings by all the stars — Edouard Manet, Claude Monet, Pierre Auguste Renoir, Edgar Degas, and Camille Pissarro.
There are a goodly number of paintings by Monet, the founding father of Impressionism. And even one painting by the uber popular Post-Impressionist Vincent Van Gogh.
The 19th century also includes the Realism movement, so you'll also see landscapes by Gustave Courbet and Jean-François Millet.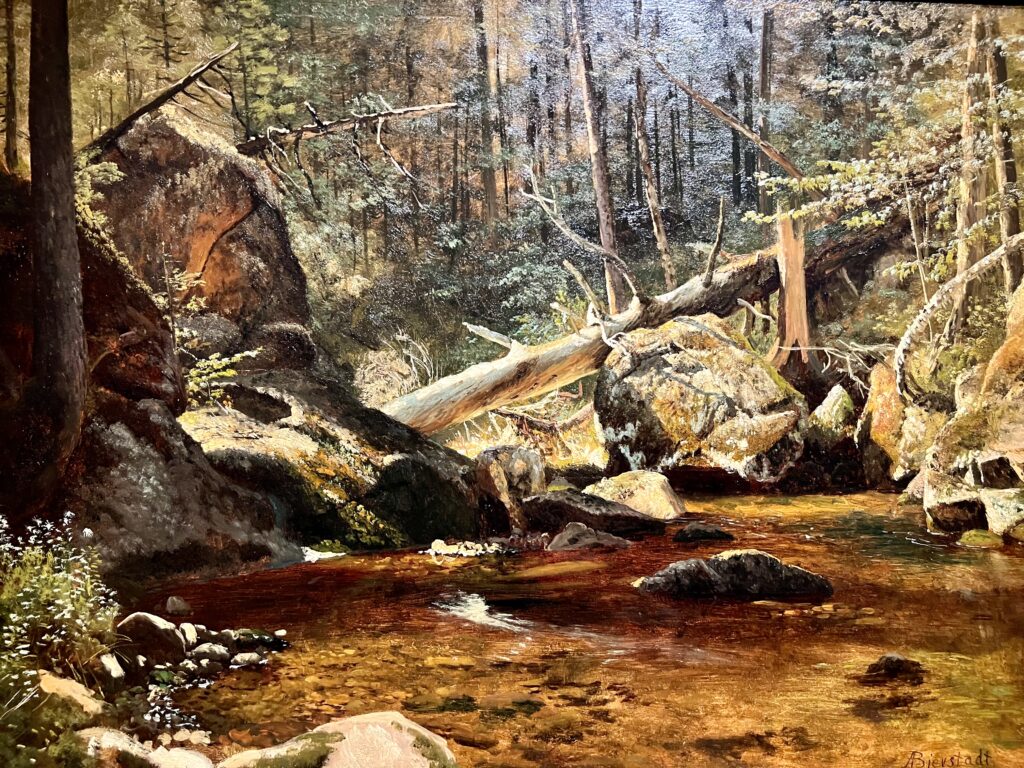 19th Century American Art
The 19th century was a time of great transformation in American art. The Denver Art Museum's collection reflects the diversity and complexity of artistic traditions during this period.
There are some beautiful paintings by members of the Hudson River School, such as Thomas Cole, Frederic Edwin Church, and Albert Bierstadt. These artists were known for their landscapes, often depicting the the American West.
There are also works by John Singer Sargent and Winslow Homer. Sargent is know for his gorgeous high society portraits. While they were realistic, they also had a psychological acuity. Sargent played with light to give paintings depth.
Homer was a landscape artist and Realist, who was one of the greatest artists of the 19th century.
Memory Mirror
Memory Mirror is a large immersive installation in the Precourt Family Discovery Hall. It's an amalgam of paintings, photographs, graphic designs, shadowboxes, furniture, and audio recordings.
The installation is designed to evoke the dreamlike nostalgia of a family living room. The museum calls it a "surrealistic domestic den."
As part of the installation, visitors are invited to contribute images so that the installation is constantly evolving.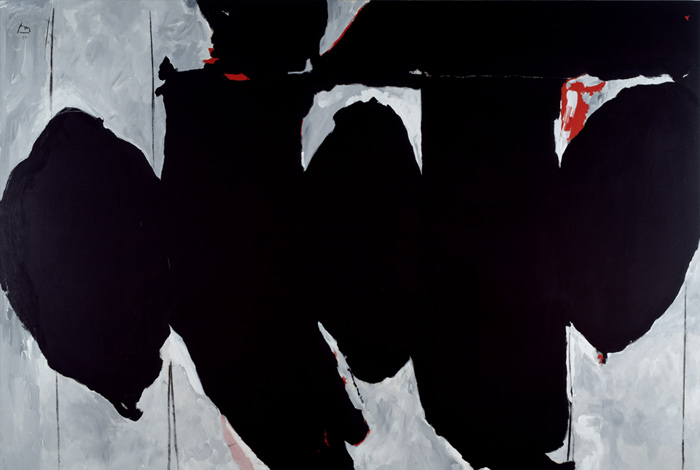 Modern and Contemporary Art
The museum's modern and contemporary art galleries are a vibrant and dynamic space that showcase some of the most exciting and innovative art of the 20th and 21st centuries.
The galleries feature a wide range of media, including painting, sculpture, photography, video, and installation art.
Highlights include works by major artists such as Clyfford Still, Frank Stella, Jackson Pollock, Agnes Martin, Henri Matisse, and Andy Warhol. Contemporary artists include Tara Donovan, Julie Mehretu, So LeWitt, Nam June Paik, and Nick Cave.
In 1994, patrons purchased and bequeathed 24 works by Robert Motherwell. The museum also recently acquired Bullfight by Elaine de Kooning and Dune by Joan Mitchell.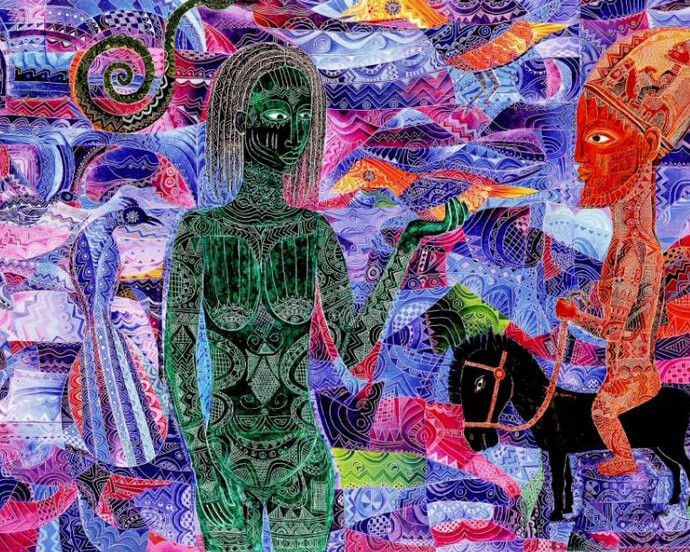 African Art
This collection has about 1,000 works of art and artifacts from the 19th and 20th century. It includes pieces from the entire African continent.
But, for the first time, because of the DMA's expansion, items from the sub-Sahara, Egypt, and North Africa are on display.
The pieces include paintings, masks, sculptures, costumes, helmets, and textiles. But there are also some contemporary pieces by Phumelele Tshabalala, Moyo Ogundipe, and El Anatusi.
Indigenous Art of North America
The museum boasts an extensive collection of American Indian art.
It's considered to be one of the most significant collections of its kind in the world. It's divided by region (plains, California, southwest) and contains both historic and contemporary objects.
The collection includes over 20,000 objects from tribes across North America, including pottery, baskets, textiles, clothing, sculptures, rugs, and other objects.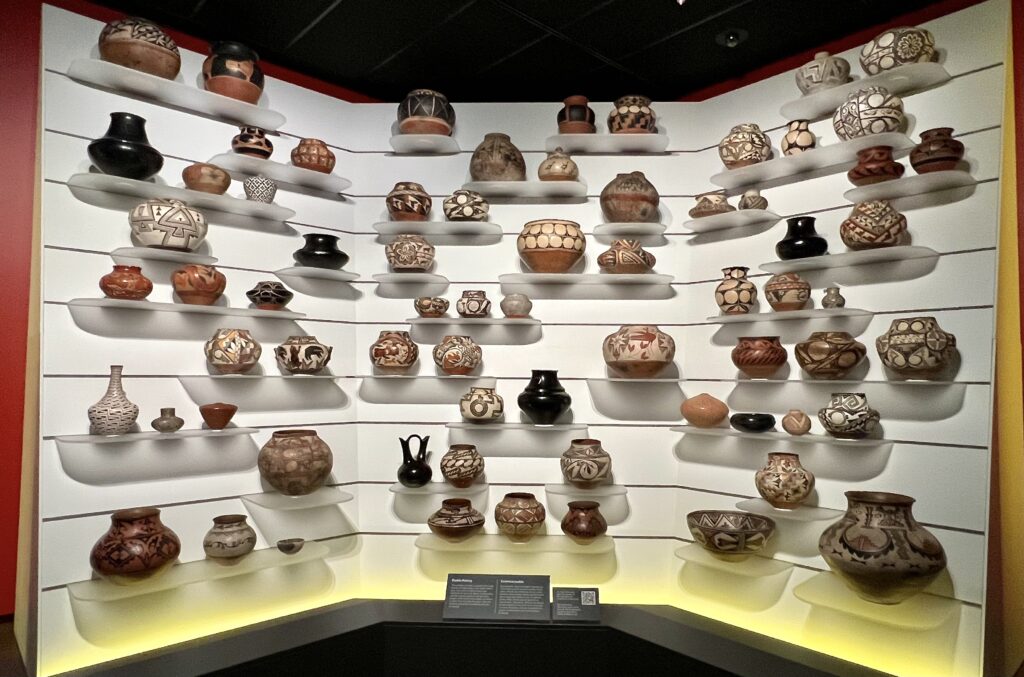 It was all rather staggering.
I especially liked the pueblo pottery. It ranged from practical items for cooking and serving food to highly decorative and culturally significant designs.
One large piece made of clay and plant fiber that you can't possibly miss is Mud Woman Rolls On. The museum specially commissioned it.
The artist intended to show that we are all from the earth, from the perspective of Earth and Mother. The idea is then when we nurture life, we take care of the Earth and each other.
Latin American Art
The Denver Art Museum has a significant collection of Latin American art that includes a wide range of objects from Mexico, Peru, Brazil, Argentina, Chile, and more. The collection includes approximately 3,500 objects.
You'll find paintings, folk art, sculpture, etc. Some of the highlights of the collection include works by José Clemente Orozco, Wifredo Lam, Fernando Botero, Joaquín Torres-García, Rufino Tamayo, Alejandro Otero, and Antonio Berni
The reinstalled Frederick & Jan Mayer Galleries showcases more than 1,000 rare works. The new John and Sandy Fox Modern and Contemporary Latin American Art gallery is dedicated to the museum's acquisitions of modern and contemporary Latin American art.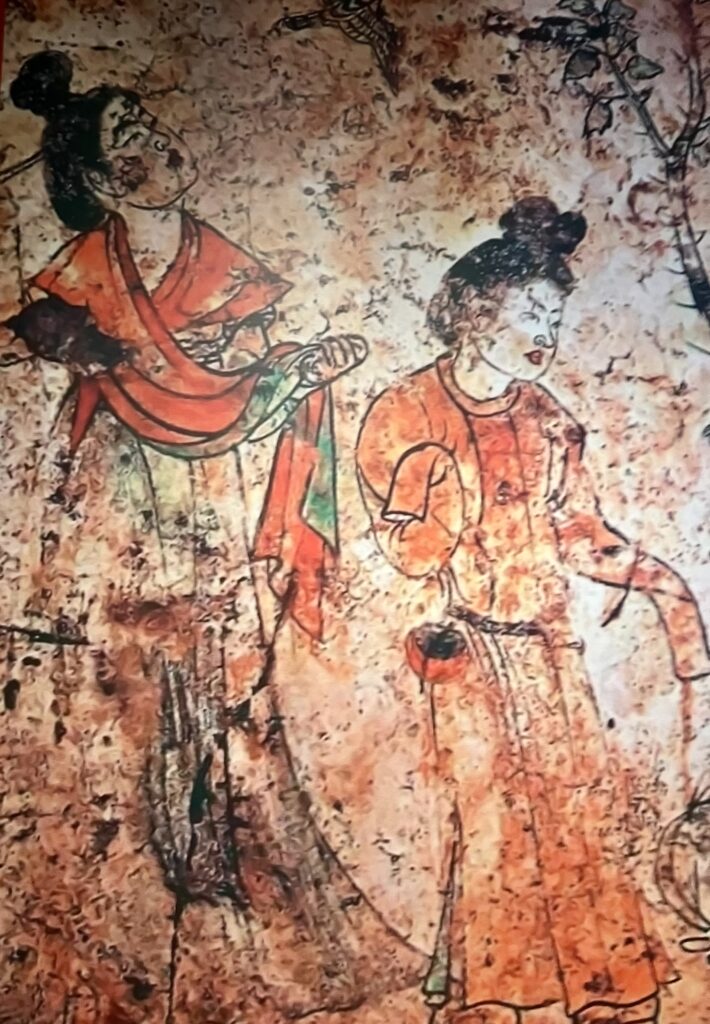 Asian Art
The museum's Asian art collection shows objects spanning a 5,000 year period from 25 different countries.
The Asian art collection at the Denver Art Museum features a wide range of artworks from countries such as China, Japan, Korea, India, and Southeast Asia.
The collection includes ancient to contemporary art in various mediums, including ceramics, screens, textiles, sculptures, paintings, and more.
Once you enter, if you head left, you will find the galleries of art from western, central, and southern Asia.
Much of the art related to Buddhism, Hinduism, and Islam. Highlights include rare jades, a bronze dancing Shiva, and a bronze vessel from China.
If you bear right, the galleries focus on East Asia art and bamboo art, including some beautiful folding screens and works on paper. The six-fold screen with phoenixes and flowers is a masterpiece of Japanese lacquerware from the Edo period.
Pre-1800 European Art
Pre-European art is, of course, a broad category. You will find it in the Davis W. Moore Galleries on the 6h floor.
In this part of the museum, you'll see works from the early Renaissance, Renaissance, and Baroque periods.
Most of the art created then was religious. You'll see a gilded altarpiece from the early Renaissance and of course a host of subjects involving saints, crucifixions, kings, mythology, and history.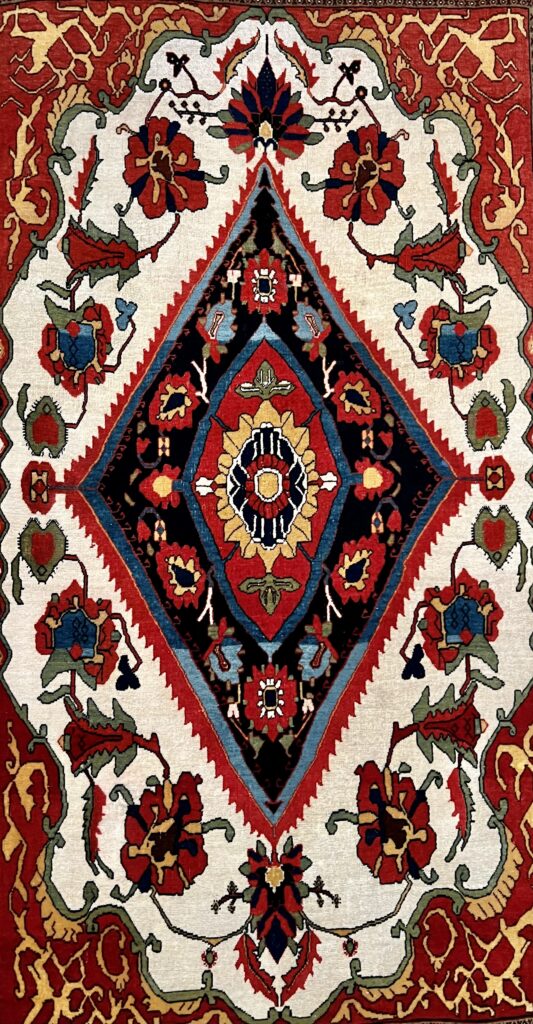 Textile Art
If you love Oriental rugs, you will love this exhibit on the 6th floor! There were some simply stunning ancient rugs from Western Asia.
The other celebrated articles from the textile department are a collection of more than 400 American quilts and coverlets and 600 court robes and costumes from the Qing Dynasty.
There's also a fashion section, though I confess I didn't make time for it.
In the Nancy Lake Benson Thread Studio, visitors can practice their own sewing and knitting.
Western American Art
As befitting a museum in the Western US, DMA has a fairly extensive American Western Art collection. It features works of art that celebrate and document the history, culture, and landscapes of the American West.
The collection is particularly strong in the Taos Society of Artists, Early Modernism, and 19th century bronze sculpture.
There are works by Frederic Remington, Charles Marion Russell, Albert Bierstadt, Thomas Moran, and Thomas Hill. Remington's Cheyenne is one of the single most important Remington bronzes in existence.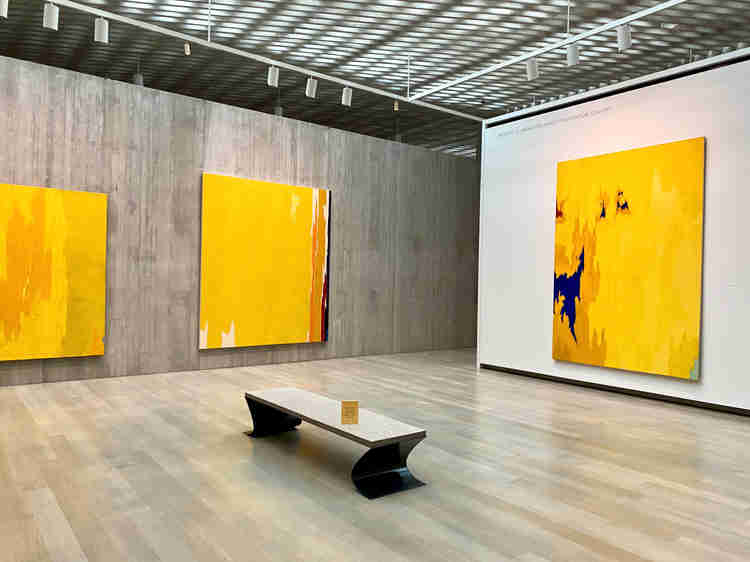 Clyfford Still Museum
The Clyfford Still Museum is associated with the DMA. The museum is located adjacent to the Hamilton Building. It's dedicated to the life and work of the artist Clyfford Still.
On a visit, you'll see the entire oeuvre of the famous Abstract Expressionist painter. There are massive galleries for displaying the artist's immense canvases, which practically absorb the viewer. A unique waffle-like ceiling provides ample natural light.
To view the nine galleries chronologically, start in the first gallery and walk counter clockwise. With over 3,000 of Still's works, the exhibits on display change regularly.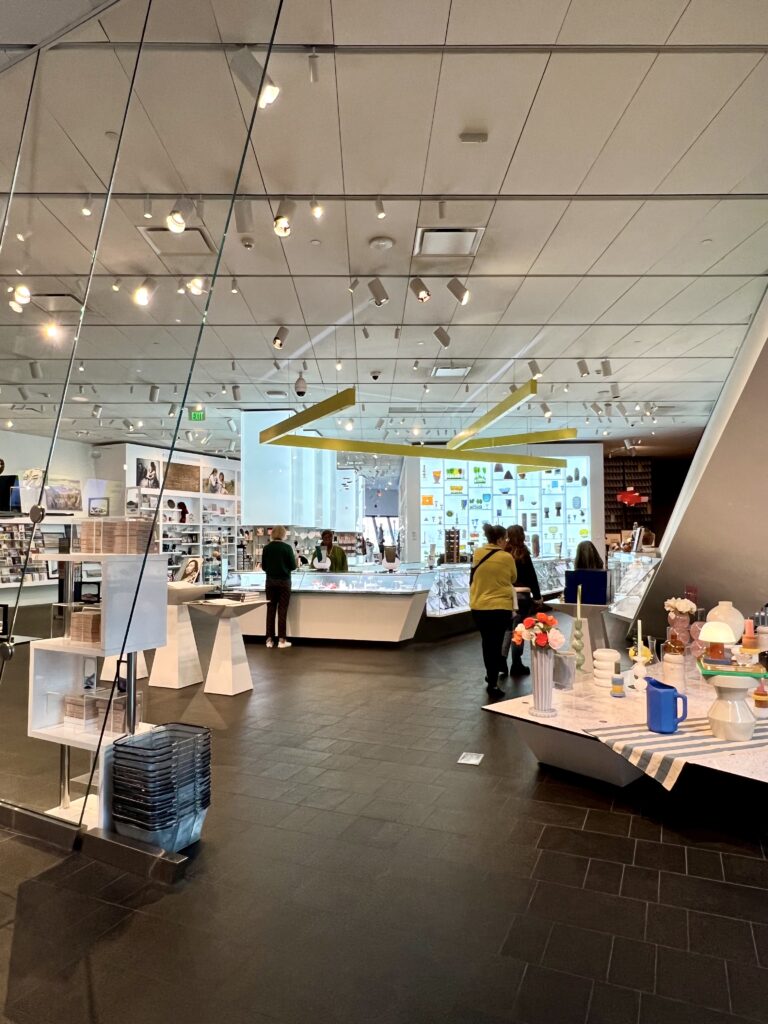 Practical Guide To The Denver Art Museum
Here are some must know tips for visiting the Denver Art Museum.
Address: 100 W. 14th Avenue Parkway Denver CO
Hours: Open daily from 10:00 am to 5:00 pm. Open until 9:00 pm on Thursday nights.
Tickets: $18. Colorado residents $15. Under 18 free.
Once you purchase a ticket, you will get a sticker. Put that on, you can walk freely between the buildings. You can purchase tickets at the entrance to either building.
Parking: There is metered parking on the street for up to 2 hours. You can pay with coins or credit card. You can also park in the cultural complex parking lot across from the Hamilton Building.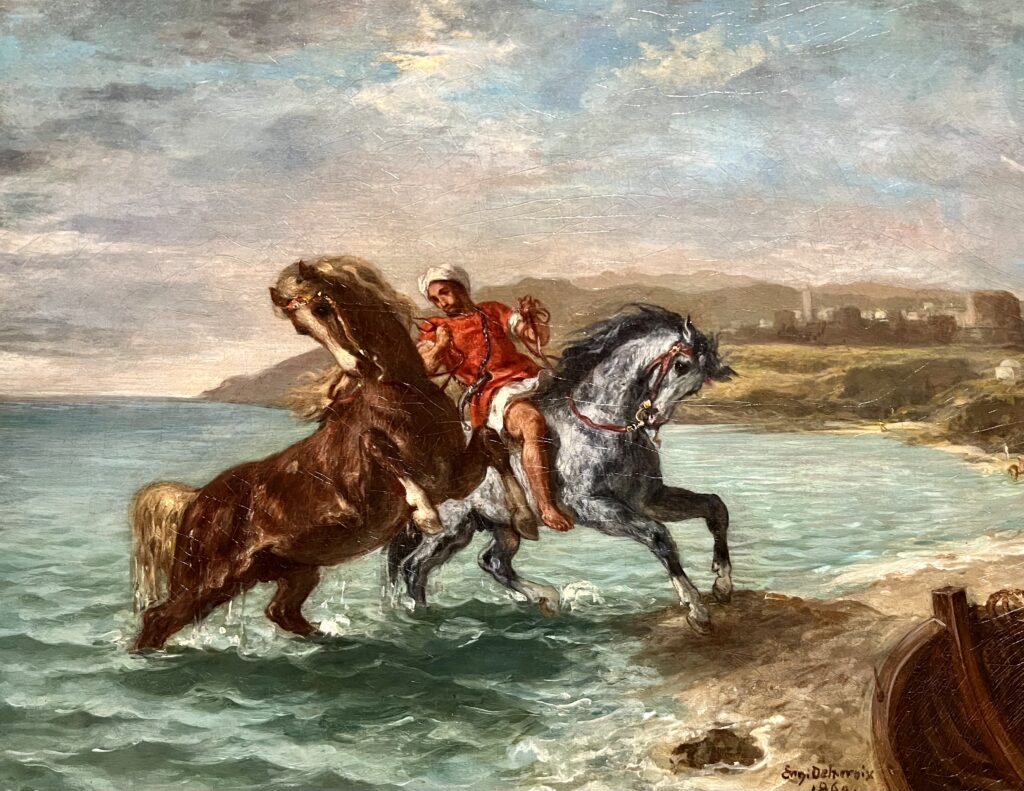 Special Exhibitions:
The museum also puts on special exhibitions that are included in your entry price. When I was there, they had one titled Near East to Far West: Fictions of French and American Colonialism.
Lockers:
The museum has free coat racks and lockers on the lower level for visitors. No large bags or back packs may be brought into the museum galleries.
Pro Tips:
The Denver Museum of Art is pretty darn big. If you have plenty of time, it's not a bad idea to see one building, break for lunch, and then come back for a couple hours and see the other building.
If you're short on time and want to experience the Colorado vibe, hit the 3rd floor of Indigenous Art and the 7th floor of Western American Art. Both are in the Martin Building.
Cafes:
The museum has two cafes, both located in the Martin Building.
Cafe Gio is a quick service cafe, where you can get salads and protein bowls. The Ponti is a sit down bistro with a locally-sourced seasonal menu.
I hope you've enjoyed my guide to the Denver Museum of Art. You may enjoy these other Colorado travel guides and resources:
If you need a guide to the Denver Museum of Art, pin it for later.