Here's my guide to the best things to see and do in the beautiful UNESCO-listed town of Bamberg Germany. This Bamberg guide covers all of Bamberg's must visit sites, attractions, and landmarks.
With crooked half timber houses, picturesque canals, and an elegant palace, Bamberg is an underrated gem in northern Bavaria that should be on your bucket list for Germany.
Dubbed the "city of seven hills," Bamberg brims with authentic charm, medieval architecture, and fairytale vibes. In 1993, its Alstadt, or old town, was declared a UNESCO site. I was immediately enchanted, on my day trip from Nuremberg.
Bamberg is home to some appealing curiosities — smoke beer, stuffed onions, the mysterious Bamberg Horseman, and it's own "Little Venice."
If you're touring Bavaria or on the Romantic Road in Germany, Bamberg is a fantastic stop or detour, especially if you're a history lover or beer nerd.
You could easily spend more than a day in Bamberg, soaking up its beauty, culture, and beer. To see it all, I recommend booking a guided walking tour.
A Short History of Bamberg
A thousand years ago, Henry II, the valiant and ambitious Duke of Bavaria, decided to raise Bamberg's profile and make it a grand city. Given Bamberg's setting on seven hills, he thought a "second Rome" was in order.
Henry commissioned the construction of a grand church, Bamberg Cathedral, and an abbey, Michaelsburg Abbey. Not exactly Rome-level, but a start.
In the 13th century, the Bamberg prince-bishops rose to power. They were wealthy men who served as both religious and civic rulers. Not to be outdone, the bishop-princes got busy and further transformed Bamberg's skyline. They built Altenburg Castle and swishy palaces like the Neue Residenz and Schloss Seehof.
But Bamberg wasn't all palaces and glamor. Like Nuremberg, it has a dark past. Like nearby Wurzburg, Bamberg was a center for witch hunts in Germany. And far worse than Wurzburg, the Bamberg witch trials resulted in over 300 executions.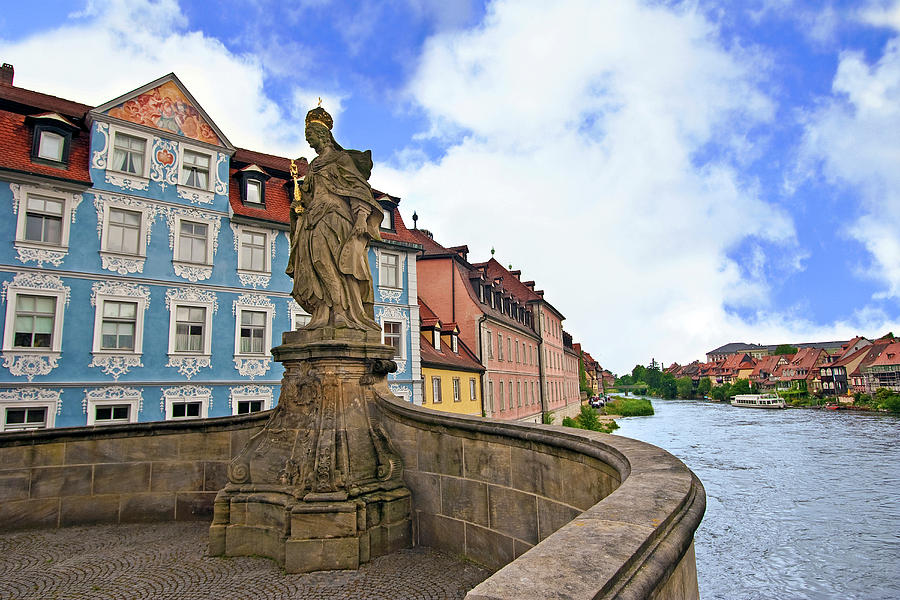 You see, in the early 17th century, Bamberg was ruled by an ill-tempered tyrant, prince-bishop Gottfried Johann Georg II Fuchs von Dornheim. Bamberg was rife with problems — frozen crops, droughts, epidemics of fatal illness, squabbles with its neighbors.
From 1626-31, Dornheim decided to blame "witches," i.e., women, for the town's travails. Accusations, torture, property confiscation, and death resulted, until the Holy Roman Emperor stepped in and stopped the superstitious nonsense.
Bamberg also survived the plague, the 30 Year War, and both world wars. Unlike other German cities such as Nuremberg, Bamberg escaped WWII mostly unscathed. Only 2.3% of the town was damaged.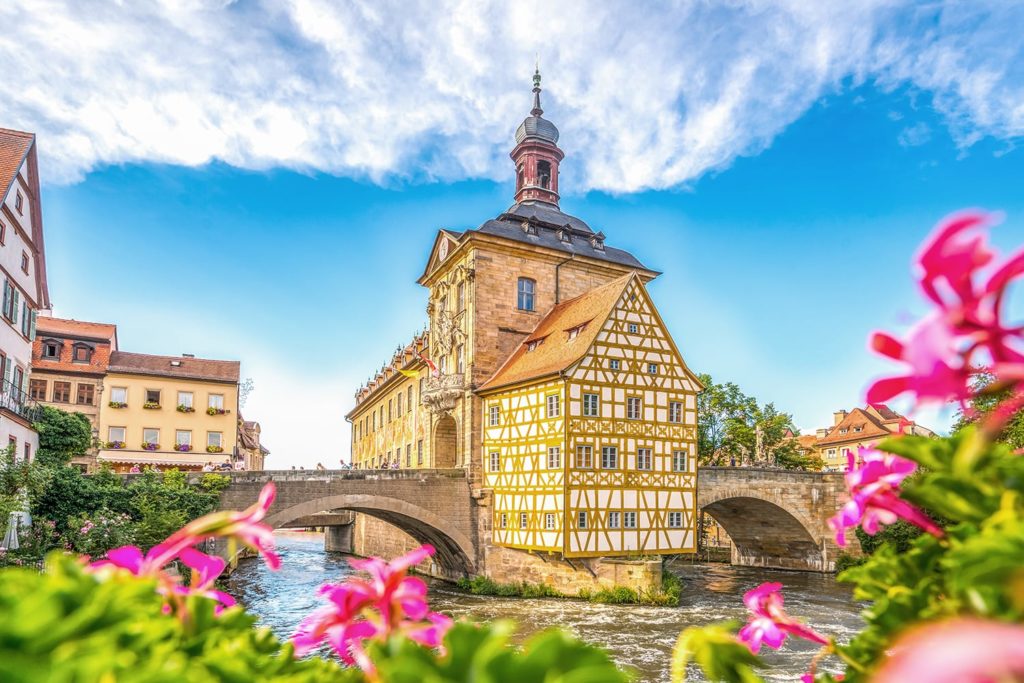 Bamberg didn't officially become part of Bavaria until 1802. It's actually a Franconian city and has a different vibe and dialect than southern Bavaria.
Franconians consider themselves more sophisticated than their southern counterparts, the lederhosen-clad "Barbarians of Bavaria."
Orientation to Bamberg
Bamberg is divided into three parts: the mountain town, the island town, and the gardening town. The city center in Bamberg is on the island, while the old town is in the mountain area.
The Regnitz River flows through the city, from south to north. In the south, the river divides into two arms. The river thus divides the town into three sections.
Best Things To Do In Bamberg Germany
Wondering what the top attractions are in Bamberg?
There are a surprising number of things to do and see in for a fairly small town of 75,000+. There are artistic treasures galore in Bamberg.
You could easily spend the whole day there. In fact, given its beer culture, you may want to stay overnight to indulge and hit the romantically-lit streets after the day trippers leave.
1. Stroll The Lovely Old Town
Bamberg's old town is seriously swoon-worthy. It's one of the best preserved medieval towns in Europe. Everywhere you look, there's vintage-y beauty with no modern eyesores.
You'll be wide eyed as you wander around the blissy cobbled streets. Some of the prettiest ones are Karolinenestrasse and Dominikanerstrassse in the western part of Bamberg.
2. Bamberg's Little Venice, Klein Venedig
Bisected by rivers and canals, Bamberg has an Italian feel. Not surprisingly, it's grandiosely nicknamed the "Franconian Rome," as old Henry envisioned.
In Klein Venedig, you'll find rows of diminutive, half-timbered cottages once inhabited by fishermen and their families. The houses are all packed together with a mixture of architectural styles that's very appealing.
Start your walk near the Old Town Hall, walk until the next bridge, and then come back on the other side.
3. The Bamberg Town Hall
The most iconic Bamberg attraction and best thing to do in Bamberg is to visit the 1462 Old Town Hall. It's gorgeously sited on an island in the middle of the Regnitz River. It seems to almost hover above the water.
The Town Hall is connected to the town by two stone bridges. You've probably seen iconic shots of it before, especially from the Geyerworthsteg Bridge.
The building itself is adorable. It has arresting yellow timbers and trompe d'oeil frescos. A cute cherub's leg sticks out of the wall for a 3D effect. Not surprisingly, the town hall made an appearance in the 2011 movie The Three Musketeers.
How was the location of the Town Hall chosen? By some irate citizens.
Legend holds that the reigning bishop-prince refused to grant land for a new town hall to the emerging bourgeoise.
Infuriated, the citizens hulked out and began throwing sticks and stakes into the river. Eventually, they created an artificial island and built their own floating town hall — a symbol of rebellion.
4. Bamberg Cathedral
Bamberg Cathedral is also dubbed the Kaiserdom or the Imperial Cathedral. It's one of the best things to do and see in Bamberg.
Founded by Heinrich II in 1004, but burned down twice, the cathedral's current appearance dates to the early 13th century. It has both Romanesque and Gothic elements, thanks to dueling church architects. And four towering spires.
Inside the rather stark interior, lie some artistic treasures. You'll find the marble tomb of Pope Clement II. He's the only pope in history to be buried in Bavaria.
He was pope 1000 years ago and only lasted one year in his vaulted position. Allegedly, he was poisoned by a rival pope wannabe, Benedict IX.
You'll also find the ornately carved tombs of Henry II and his wife Kunigune. And one of the city's most famous sculptures — the slender equestrian statue of Bamberger Reiter or the Bamberg Rider.
His true identity remains unknown, although some suspect he represents St. Stephen of Hungary, a much admired medieval king.
And no one knows exactly how this secular, and life size, horse and rider arrived at the cathedral. Legend holds that the Nazis admired the fierce-looking rider and used him as their inspiration for the perfect Aryan man.
5. Schloss Seehof
Located on the outskirts of Bamberg near Memmelsdorf, the illustrious Schloss Seehof was the summer home and hunting lodge for prince-bishop Marquard Sebastian von Schenk von Stauffenberg. (Quite a long and agonizing name.)
After extensive renovation, it's now open to the public. It's a little jewel box of opulence.
If you have a car, the schloss is just a few minutes away. If you don't, you can hop on Bus #907, which departs Bamberg's central bus terminal every 10 minutes.
6. The Neue Residenz: It's All About The Ceilings
Bamberg's Neue Residence is an opulent palace right next to Bamberg Cathedral. It's not nearly as opulent as the nearby Wurzburg Residence. But you get a taste of the lavish lifestyle of Bamberg's royals, who lived here from 1703-1802.
There are 40 rooms decked out with intricately stuccoed ceilings, paintings, and tapestries. The most significant room is the Imperial Hall, now under renovation. Despite having low ceilings, the room appears quite lofty due to the illusionistic tromp d'oeil paintings.
The interior can only be seen on guided 45 minute tours in German. However, you can book an English tour by special appointment. I was on the German tour, but there are English guide sheets available to read along.
Although I did hear the word "scandalous" pop out of the mouth of the guide, and knew I missed something interesting.
There's also a lovely rose garden for strolling. There are over 100 different varieties of roses to assault your senses.
Toss in some beautiful fountains and sculptures, and you have the perfect retreat. You even have a nice view of the old town from the rose garden.
7. Alte Hofhaltung, the Old Courtyard
A 16th century gateway leads you to a lovely medieval half-timbered building in the Alte Hofhaltung or Old Courtyard.
This building was formerly the residence of the Bamberg bishop-princes, before they moved into their posher crib. Now, it houses the Museum of History and St. Katherine's Chapel.
The quaint Old Courtyard was also a filming location for the movie, The Three Musketeers, staring Orlando Bloom. You can check out the famous fight scene in the video below.
8. Enjoy the Regional Cuisine
A little cafe time is a must in Bamberg, which boasts many lovely options. The regional cuisine packs a punch.
I mean really packs a punch. You could be down for the count after dining here, the food's so dense and heavy.
If you're willing to embrace a food coma, try the local specialty, the Bamberger Zwiebel. It's a baked onion concoction stuffed with mined meat, bacon, and beer gravy served with mashed potatoes.
I was also especially taken by a quaint coffee shop where I stopped for a caffeine injection, Spitz Rein.
9. Try Some Smoked Beer
Bamberg has a serious and vibrant craft beer culture. Bamberg's pride and joy is its famous smokey beer called Rauchbier.
It's made with malt that's been dried over an open fire to create the smokey smell and taste. I can't say I liked it much, but I'm more of an oenophile.
There are 10 breweries serving over 50 local beers to the small populace of Bamberg. They consider the breweries their "living rooms."
If you're a beer gourmand, you might consider a guided beer tour.
Bamberg's oldest, and possibly cutest brewery, is Klosterbräu. Or, you can try the popular and Gothic-themed Schlenkerla brewery.
Schlenkern is the German word for swaying or dangling. Legend holds that one former brewer had a tendency to walk in a strange manner, possibly from an accident.
He was dubbed schlenkerla, or little dangler. The term stuck and is now the brewery name.
If you're a real beer nerd, you can also check out the Bamberg Brewery Museum. Dating from the 12th century, it's a hilltop brewery converted into a museum. It has over 1300 artifacts relating to Bamberg's distinctive suds and traces the history of beer from antiquity to the present.
10. Michelsberg Abbey
The Michaelsberg Abbey was founded in 1015. It was promptly destroyed by an earthquake in 1117. It was rebuilt in a medieval style, but then was burned down in 1610. Undeterred, the town rebuilt the abbey once more, this time in a Neo-Gothic style.
Right now, the abbey is closed for renovation until 2025 and covered in scaffolding. But you can visit the manicured garden terraces, which are open to the public and offer sweeping views over Bamberg.
11. Altenburg Castle: A Trek for Views
Perched on the tallest hill in Bamberg, Altenburg Castle is about a 20-30 minute, fairly steep walk from the town center. If you need to work off that stuffed onion and smoke beer.
Signs tell the history in both German and English. It costs 1 euro to climb the tower, but you have great views.
You can also drive up and park outside the gate. Or you can stop for 15 minutes on the one hour bus tour that leaves from Bamberg Cathedral.
12. Church of Our lady
Bamberg is teeming with churches. But, aside from the cathedral, there's just one you must visit, the Church of Our Lady, called Obese Pfarre. It's a splendid example of medieval architecture and is considered one of the city's most notable landmarks.
Construction began in the 11th century. And it underwent several renovations and additions over the centuries.
The architectural style of the church is predominantly Romanesque, with some Gothic elements. Its striking exterior features intricate stone carvings, decorative arches, and a distinctively shaped four story tower.
The interior of the church is equally impressive. There's a spacious nave, beautiful stained glass windows, and ornate vaulted ceilings. The 17th century high altar is a masterpiece of Baroque craftsmanship.
The church features a huge painting by Jacobo Tintoretto, the Italian Renaissance genius.
Tips For Getting To Bamberg
Bamberg is only 45 minutes from Nuremberg, so it's a popular and easy day trip. If you drive, be sure to park outside the old town and walk in.
If you do, use the automatic parking kiosks. You put in coins and the machine spits out a ticket that you display in your car window.
Bamberg is also well connected by train. High speed ICE trains will take you from Nuremberg to Bamberg in 30-40 minutes.
You can also buy a day pass, the Bayern Ticket, which gives you unlimited free transportation in Bavaria for one day. But it can't be used on ICE trains.
You can also go to Bamberg on a day trip from Munich. But it will be a long haul. Even if you took an ICE train, it's 2 hours of travel each way. There are 2-3 departures per hour.
Have I persuaded you to visit Bamberg? If you need a break from big cities, Bamberg is the ideal spot.
It's perfectly preserved, boasts a scenic waterfront, and delicious food and drink. And I've just scraped the surface of all the cultural things on offer. There's other museums and a sculptural trail.
But, in the final analysis, all you really need to do is wander. That's enough for Bamberg to steal your heart. If you'd like to wander through other picturesque UNESCO towns, check out my 10 day itinerary for Bavaria and my guide to Germany's Romantic Road.
I hope you've enjoyed my guide to the best things to do and see in Bamberg. You may enjoy these other Germany travel guides and resources:
If you need a guide to the UNESCO-listed town of Bamberg in Bavaria, pin it for later.