Planning a trip to southern Spain? This is the ultimate 10 day road trip itinerary for Andalusia.
This southern Spain itinerary takes you to the best and most beautiful cities and towns in Andalusia. You'll discover the top must visit attractions, historic landmarks, and magnificent UNESCO sites.
I loved every stop on my last solo trip to sunny Andalusia. Full disclosure, it was February, so beach lounging was out of the question.
Nonetheless, I had an amazing trip, without the usual crowds. And I'm ready to hand over what I thought was a smashing 10 day itinerary for southern Spain.
This Andalusia itinerary is a well-balanced blend of must see hotspots, hidden gems, tiny whitewashed villages, and natural wonders.
When you think of Andalusia, fiestas, siestas, flamenco, bullfighting, and tapas come to mind. And, though they're stereotypes, there's some truth to them.
Tips For Driving in Andalusia
I flew into beautiful Seville and worked my way east, flying out of Granada. But you could just as easily reverse the direction and start in Granada. Starting in Seville meant that I didn't need a car the first few days.
By far the best way to see Andalusia is by car. That way, you're not limited by bus or train schedules and you can stop wherever you want. A car is the gift of freedom.
READ: Tips for Renting a Car and Driving in Europe
To be safe, you should have an International Driving Permit, just in case you're pulled over. And rent the smallest car possible.
Medieval streets, parking garages, and on street parking can sometimes be a challenge. Or even a real headache.
The highways in Andalusia are extremely good. Just be sure to park on the outskirts of any small towns you're visiting, so you're not stuck in a labyrinthian maze of narrow medieval streets.
Google maps worked well for me. I'm directionally challenged and only got lost a tiny bit in Granada.
Overview of Andalusia Road Trip
I had three bases: Seville (4 nights), Ronda (2 nights), and Granada (4 nights). I really dislike moving every day.
From those bases, I blitzed around seeing adorable white pueblos, dazzling palaces, Game of Thrones sites, and the natural wonders of Andalusia.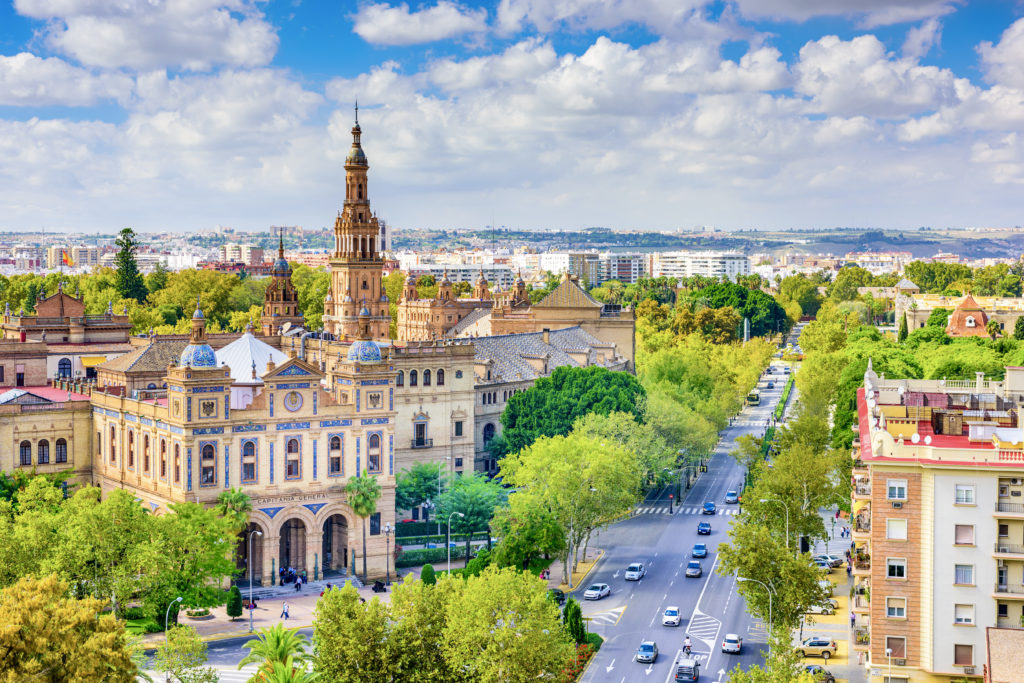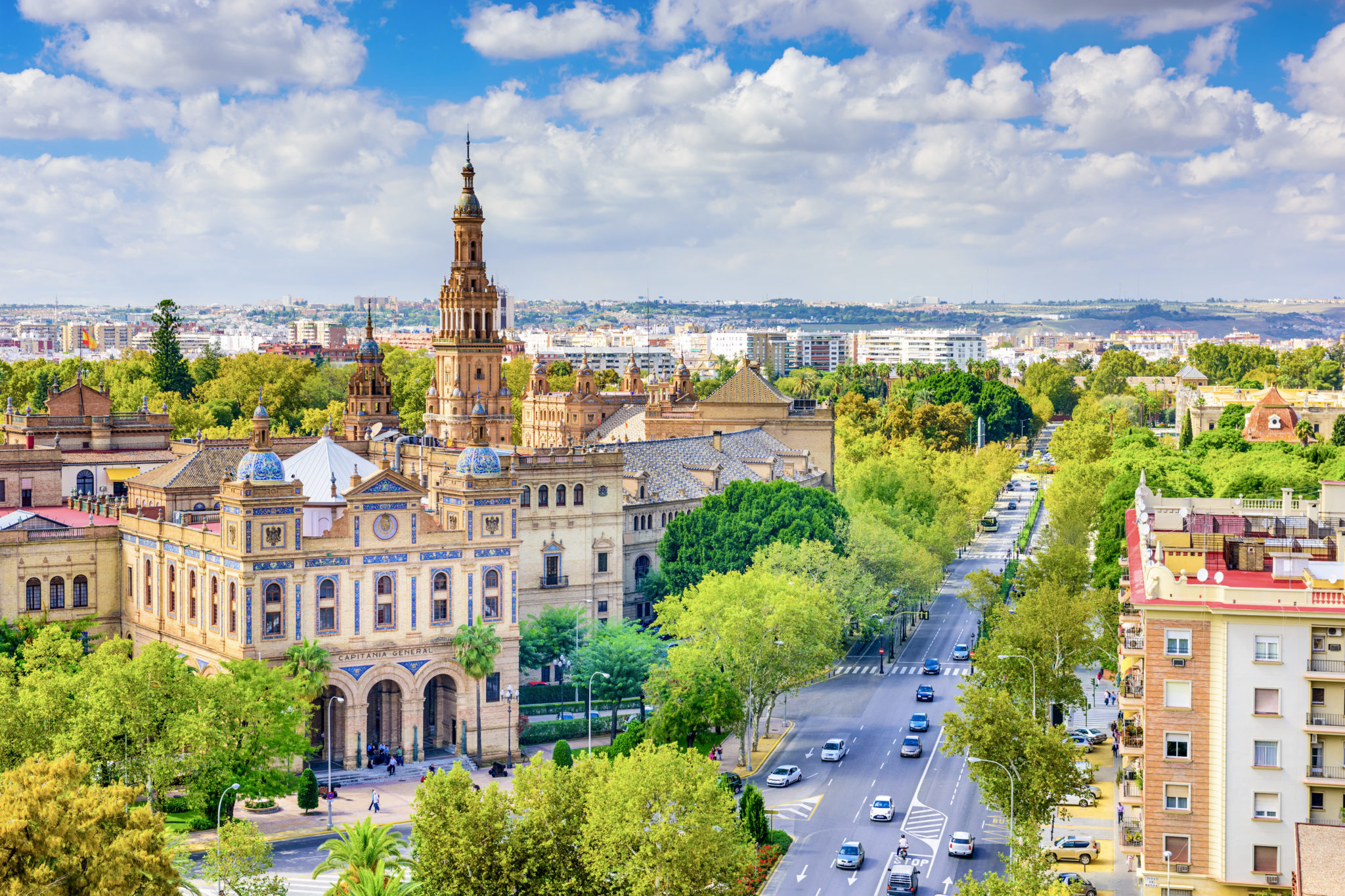 Here's my recommended 10 day itinerary for a self drive road trip from Seville to Granada. You don't need to pick up your rental car until day 5 when you head to Ronda.
Day 1: Seville
Day 2: Seville
Day 3: Seville
Day 4: Train to Cordoba
Day 5: Drive To Ronda with Stops at Osuna and Grazalema
Day 6: Ronda
Day 7: Drive To Granada, stopping in Antequera
Day 8: Granada
Day 9: Granada
Day 10: Day trip to Guadix
More Time in Spain? Head north to Madrid
I skipped Malaga. It's hard to do everything with only 10 days in Andalusia.
And it was far less appealing to me — big city, lots of expats, and a cruise ship stop. Though I would have liked to see the Picasso Museum there.
I stayed or stopped in 10 towns: Seville, Cordoba, Osuna, Grazalema, Ronda, Antequera, Granada, Nerja, Frigiliana, and Guadix. I spent the most time in sunny Sevilla, which was sunny even in February.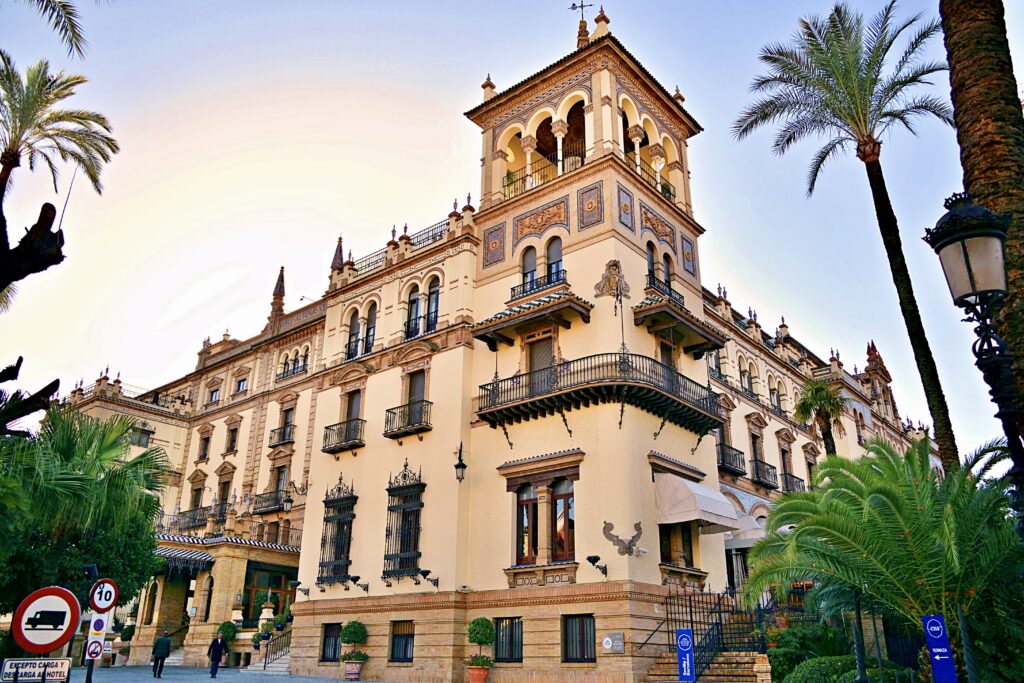 Where To Stay in Andalusia
You can either stay in Air BnBs or hotels in southern Spain. I've done both.
Here are hotel recommendations for the bases on this 10 day itinerary. I put a * by my #1 recommendation.
Seville: *Hotel Alfonso XIII, Hotel Colon Gran Melia, Suites Machado, Hotel Casa del Poeta, Hotel Casa 1800 Seville, EME Catedral Hotel
Ronda: Parador de Ronda, Catalonia Ronda, Hotel Molino del Arco, *Hotel Montelirio
Granada: Eurostars Catedral, Catalonia Granada, *Hospes Palacio de los Patos, Hotel Alhambra Palace
10 Days in Andalusia Itinerary
Let's dive right in to how to spend 10 days in Andalusia.
Day 1: Seville's Main Attractions
Use the beautiful city of Sevilla as you base for the first 4 nights.
Seville is amazing. It's a seductive mix of Mudéjar palaces, ornate baroque churches, colorful tiles, and winding cobblestone lanes. There's a romance to it. I fell in love immediately.
To be fair, I think there are ways that Seville can be a PITA. I list them here. But on the whole, it was glorious.
On day one, head to the city's historic center to take in Seville Cathedral, the incredible Royal Alcazar, and the Plaza de España.
You can walk most places in Seville fairly easily. But the hop on hop off bus tour is also a good option.
1. Seville Cathedral
Seville Cathedral is a massive Gothic affair. It's the third largest cathedral in the world and a UNESCO site to boot.
The sheer scale of the building is impressive. There are 15 doors on the cathedral's four facades and each one features a unique relief or carving. The nave is the longest in the world.
The high altar is elaborately detailed and finished in gold leaf. Along the sides, there are 80 chapels to explore. The cathedral houses the tomb of Christopher Columbus.
Be sure to climb up the Giralda bell tower for spectacular views. The entrance is in a corner of the cathedral. Click here for skip the line tickets and a guided tour of the cathedral and bell tower.
2. Royal Alcazar
Next, head to the Royal Alcazar, one of the top attractions in Seville. It's a breathtaking 10th century palace that King Pedro gave a 14th century Mudéjar facelift.
The Alcázar is really one of the world's greatest cultural treasures — a centuries old complex of palaces and fortifications, lovely courtyards, and extensive gardens bursting with orange, purple, and green colors.
The Alcázar is a UNESCO World Heritage site, a residence of the Spanish Royal family. It's even a filming location for the HBO series Game of Thrones. It has exquisite tile work and over the top intricate Islamic architecture.
Inside, the highlights are the Hall of the Ambassadors, the Courtyard of the Maidens, the Courtyard of the Dolls, and the Hall of Tapestries in the Gothic Palace.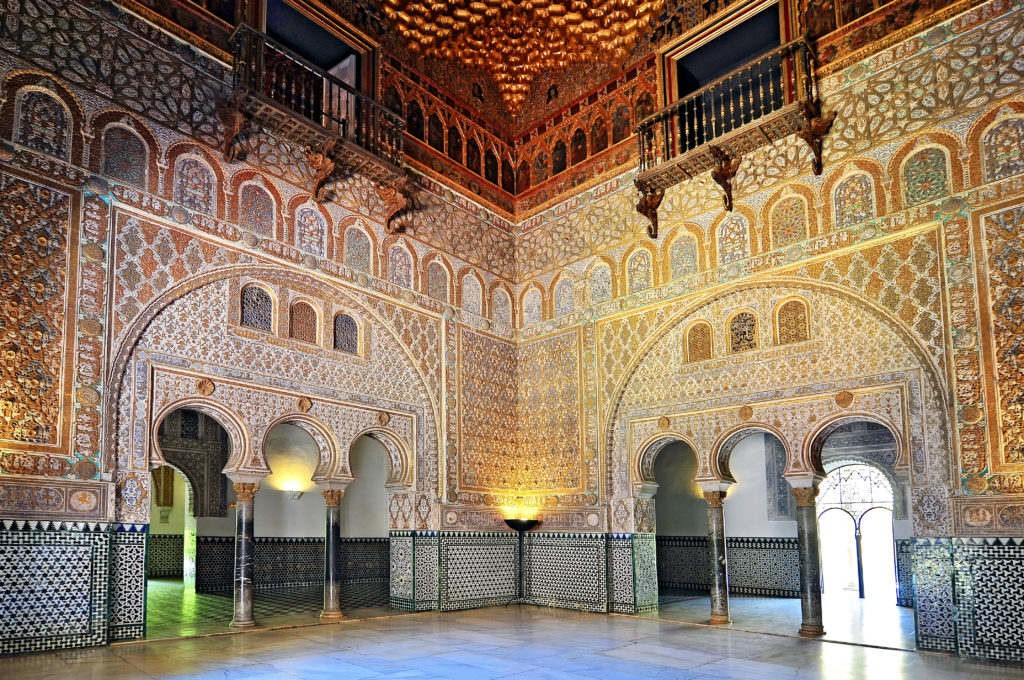 The Ambassador's Hall, or Throne Room, is the big showstopper in the palace. It's mind blowing.
The room is nicknamed the "Half Orange" Room. It sports a fantastical gilded cedar domed ceiling. Encrusted with gold and mirrors, the dome represents the heavens.
Outside, there's a series of verdant lush gardens. Don't miss the Baths of Maria De Padilla, King Pedro's mistress. The baths are one of the Alcazar's Game of Thrones filming locations, a place where the Sand Snakes plot.
I advise purchasing tickets online well in advance. Even in February, I had a half hour wait in line. If you'd also like a guided tour, which you may for this fantastic place, click here for a 1.5 hour guided tour.
The Alcazar was my very favorite place in all of Andalusia. Here's my complete guide to the magnificent Royal Alcazar.
3. Plaza de España
Later, spend the early evening checking out the Plaza de España.
The plaza is one of the famous architectural landmarks in Seville. It stands out in a city already overflowing with beautiful architecture.
It was built for the Ibero-American World Fair of 1929, where Spanish speaking countries enjoyed a year long mutual admiration festival.
The park's highlight is the Spanish Pavilion, the sweeping half circle structure with rose gold brick buildings.
Day 2: More of Seville's Top Attractions
1. Triana
Cross the Puente de Isabel II bridge over the Guadalquivir River, and you'll land in the colorful Triana neighborhood.
It's a small soulful village and the old gypsy quarter of Seville.
Triana was once considered the "wrong side" of the river. Now, its the fun and funky part of Seville.
And it is THE place to buy ceramics. And, I was told, the best place to se flamenco.
2. Metropol Parasol
Next, visit Metropol Parasol.
The ultramodern Metropol Parasol was built between 2005-11 by German architect Jürgen Mayer to revitalize the run down Encarnacion Square.
It's called "the Mushrooms" due to its quirky waffle-like shape, inspired by the vaults of the Seville Cathedral.
Click here to book a skip the line ticket and guided tour.
3. Barrio Santa Cruz
Spend the late afternoon amidst the orange trees and tapas bars in Barrio Santa Cruz. Barrio Santa Cruz was once Seville's old Jewish quarter.
It's a popular district within the city — a mass of tangled cobbled streets with tiny palazzos and tile covered patios. There's a mouth watering array of tapas bars and restaurants.
Some streets are so impossibly narrow, they're called "kissing lanes." I especially liked Plaza Dona Elvira.
4. Tapas Tour
In the evening, I recommend going on a Devour Seville "Tapas, Taverns & History" tour that evening. The tour was fun and has 5 star reviews.
You'll get nummy tapas and nuggets of history.
The Sevillanos adore very sweet drinks, including something called "orange wine."
Day 3: Round Up of Seville Attractions
1. Museum of Fine Arts
On your last day in Seville, your first port of call is the Museo de Bellas Artes, or Museum of Fine Arts. It opens at 9:00 am.
It's one of Spain's best art museums. The museum is quite lovely and crowd free to boot.
The museum is known, after the Madrid's Prado Museum, as the "second art gallery in Spain." It's housed in a lovely salmon colored former convent.
The museum has art from the middle ages to the 20th century. But it's mostly known for its collection of 17th century art from Spain's Golden Age.
The museum has work by Spain's top painters, including Zurbarán, Murillo, El Greco, and Diego Velazquez. You'll see a lot of monks, balding saints, cherubs, and depictions of Christ.
The museum also has a goodly collection by the Baroque star Murillo. (You can also Murillo's works at Seville Cathedral.)
Murillo achieved fame and recognition from his religious portraits. But he also left behind some fascinating work of everyday people and street life.
2. Casas de Pilatos
Then, pay a visit to Casa de Pilatos. The casa is a glorious, sumptuous 16th century mansion in Seville's historic district.
It's about a 15 minute walk from the Cathedral. The palace was declared a national monument in 1931.
Casa de Pilatos is a beautiful Neo-Mudejar mansion. The palace is overflowing with mosaics, beautiful tile, and sculptures.
A highlight is the courtyard. it's surrounded by a gallery formed by white marble columns with Mudejar arches.
Inside, there are 24 busts of Spanish kings, Roman emperors, and other characters gracing niches in the walls, which were collected from the ruins of Italica. Click here for tickets.
3. Basilica of the Macarena
In evening, wander north to see the Basilica de la Macarena and the "weeping virgin" in the north end of Seville. The Macarena is a bit off center.
It's on the north end of Seville's city center. But it's definitely worth a detour.
The basilica is also known as the Church of the Virgin of Hope of Lady Macarena. It's a showy bright yellow Neo-Baroque Church. It houses Seville's favorite "weeping virgin," La Macarena.
After visiting the church, stroll along the river to the Torre del Oro. It's a pretty tower, but you don't need to go inside.
Day 4: Day Trip to Cordoba
On day 4 of my 10 days in Andalusia, take the train to Cordoba for the day. You can also book a day trip tour from Seville, to make things easier.
I loved Cordoba. It's a natural film set, it's just so beautiful. Here's my one day itinerary for Cordoba for reference.
Cordoba has an authentic Spanish vibe with fewer tourists than Seville. The town definitely deserves more than one day. Still, I saw quite a bit in the 9 hours I was there.
Start with Cordoba's #1 site, the Mezquita, the Mosque-Cathedral of Cordoba. Dating from the 10th century, it's a UNESCO site and one of the world's most well- preserved Islamic buildings.
In the 16th century, King Ferdinand and Queen Isabella converted it into a cathedral, calling it the Cathedral of Our Lady of Assumption.
I expected the combination to be discordant and perplexing. But I found the place fascinating, a snapshot of the sophisticated dual culture that once existed.
You walk in from a courtyard of orange trees through the Porta de las Palmas. You're immediately in a forest of candy cane horseshoe arches. A highlight is the Mihrab, or high altar in a mosque.
The Renaissance cathedral is built right in the center, sharing marble and space with the Islamic arches. The vaulted ceilings are stunning. Be sure to go up the bell tower for spectacular views of the city.
Click here to book a ticket and guided tour of the Mezquita.
But there's much more to Cordoba than the Mezquita. Just downhill from the Mezquita is the Guadalquivir River. Cross the stunning Roman Bridge, which is both a UNESCO site and Game of Thrones filming location.
Stroll around the narrow streets of the charming old Jewish Quarter. Skip the Instagram popular Calleja de las Flores, or just stroll by.
It's overrated and crammed with tourists. There are beautiful flowers and patios everywhere in Cordoba.
Go into the Jewish synagogue, say hello to the statue of Maimonides. Visit the beautiful Alcazar de los Reyes Cristianos. This Alcazar can't hold a candle to Seville's Royal Alcazar, but I thought it was still worth a visit.
I had a late lunch in the courtyard of an adorable cafe in the Jewish Quarter, El Rincon de Carmen, which I would definitely recommend.
If you don't want to walk around Cordoba, you can also take the hop on hop off bus tour.
Day 5: Drive To Ronda with Stops at Osuna and Grazalema
On day 5, pick up your rental car on the way out of Seville and head to the tourist-fly popular town Ronda for "bridge porn."
On the way, I stop in the charming white pueblo towns of Osuna and Grazalema.
1. Osuna
Osuna surprised me. I visited the town for its dashing bullring, which is one of Andalusia's Game of Thrones filming locations.
But Osuna itself was beyond adorable. It's a charming white pueblo village with a rich architectural and cultural heritage.
There's row upon row of white stucco homes and streets dotted with orange trees. Osuna's a vertitable art gallery, with all its Renaissance and Baroque churches.
UNESCO lists Osuna's main drag, the Call San Pedro, as the second most beautiful street in Europe. Osuna was declared a Historic-Artistic site in 1967.
2. Grazelema
Next up is Grazalema. It's a pretty mountain village of Roma origin. It's completely different than Osuna, more wild.
It lays in the valley of Sierra de Grazalema, splashed with whitewashed homes and surrounded by olive trees.
I was there in February, so there was even a sprinkling of snow. I paused in the main square, the Plaza de España, which is lined with bars and restaurants, for a late lunch.
3. Zahara de la Sierra
Depending on time, you can also visit Zahara de la Sierra, right next door to Grazalema.
Like Grazalema, it's streets are white, immaculate, and fairly deserted. You can climb to the Tower of Tribute for views.
Day 6: Ronda: Hemingway's "Romantic Background"
Only 40 minutes from Grazalema, Ronda is vastly more popular. It's the third most visited town in Andalusia.
And there's a a reason — it's dramatic. Ronda is Andalusia's great cliff hanger. It's perched on a mountainous gash carved by the Río Guadalevín.
Ronda is synonymous with its dramatic 18th century bridge, the Puente Nuevo.
The bridge connects the two parts of the town over the 328 feet El Tajo gorge. You can hike to the bottom of the gorge for great views.
Aside from the bridge, Ronda is pretty adorable. There are plenty of cozy town squares, cobblestone alleys, terraces everywhere, and lovely architecture.
You can visit the Mondragón Palace, the Arabic Baths, and the Bullring (Spain's oldest one) if you're feeling ambitious.
I made this a lazy, laid back day, after a fairly hectic schedule. I like to have a more relaxed day halfway through a road trip. Ronda fit the bill perfectly.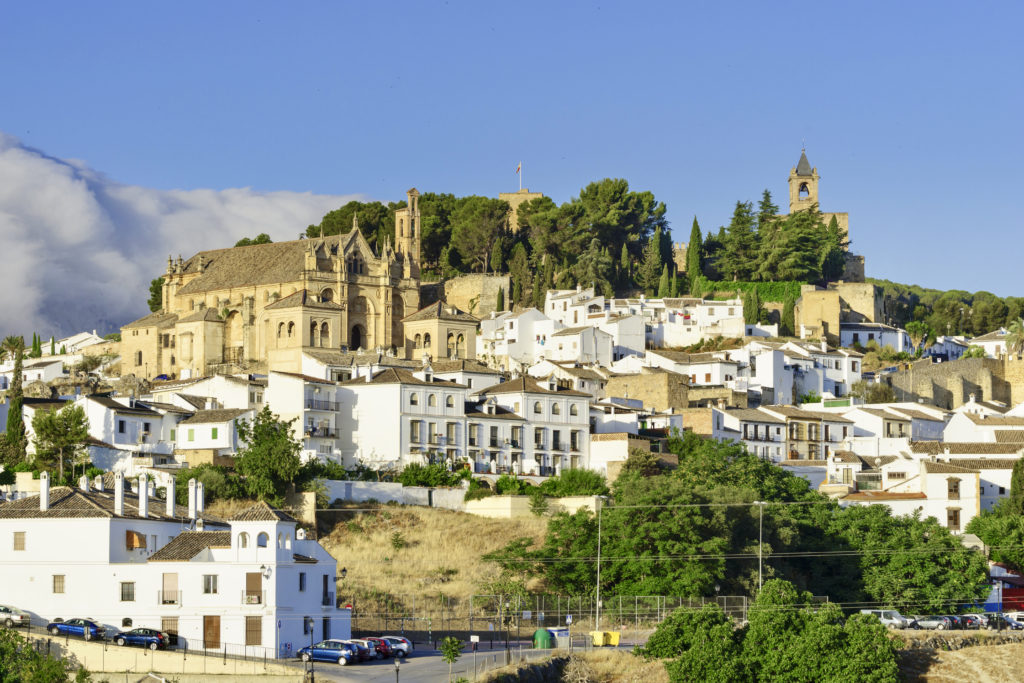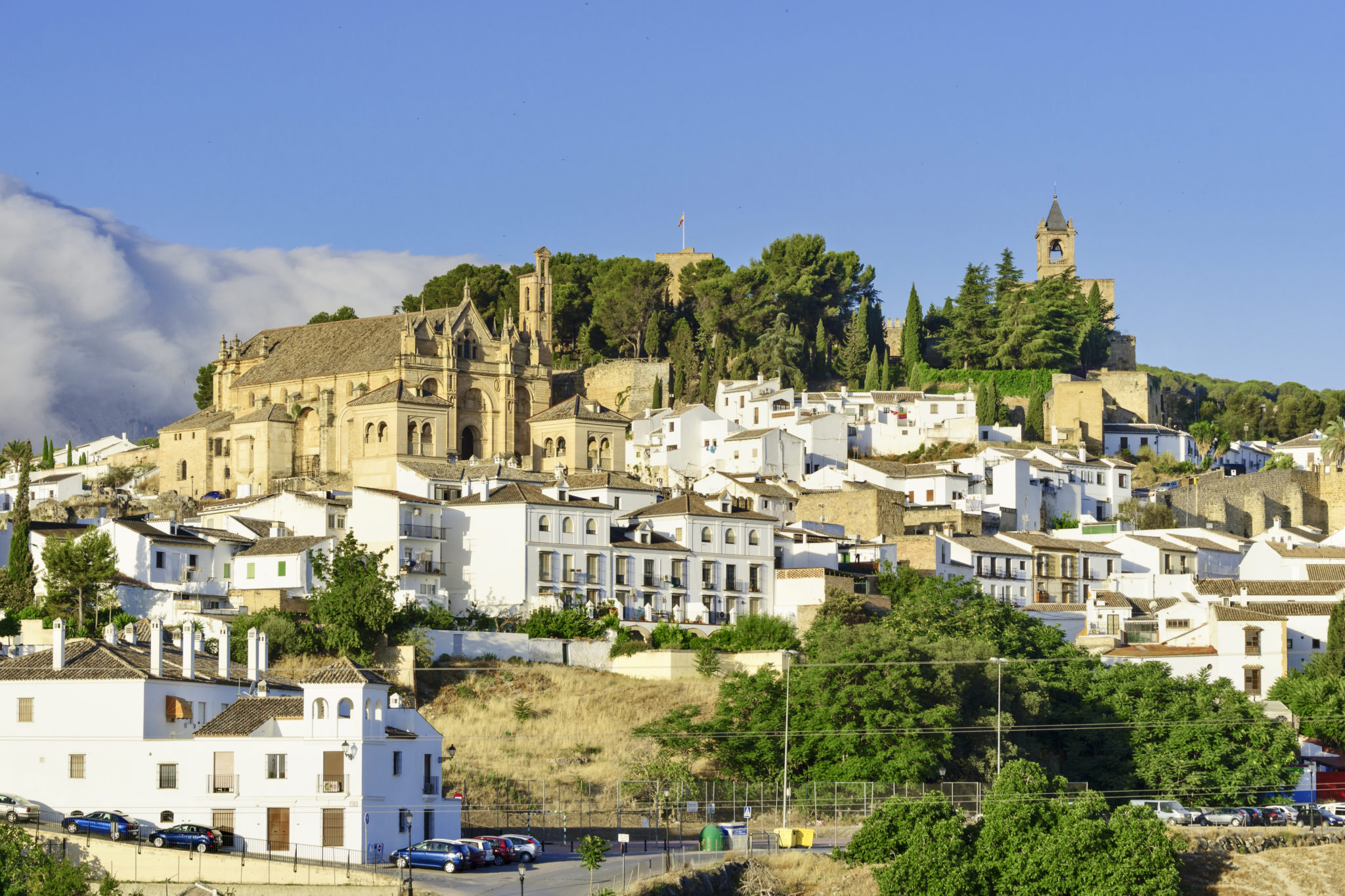 Day 7: Drive from Ronda to Granada, Stopping in Antequera
On day 7, make your way to Granada. En route, take a break and stop in the white pueblo town of Antequera. Like Osuna, Antequera surprised me.
I came to inspect the UNESCO dolmens. They are a fairly new site just listed in 2016.
But I absolutely fell in love with the town itself. Antequera is known as the "Florence of Andalusia." And, unlike Ronda, I had the place mostly to myself. Antequera is really a must visit destination in Andalucia.
Antequera boasts ancient UNESCO megaliths, an impressive Moorish fortress, a lovely Renaissance church, and a stunning medieval and baroque historical core. You'll have an eyeful of swoonful scenery.
Antequera's ancient megaliths were declared a UNESCO World Heritage Site in 2016. The megaliths, or dolmens, are definitely an under appreciated UNESCO site, perhaps because it's so new.
The Bronze Age dolmens are among the oldest things on the planet. They're essentially Spain's Stonehenge. The dolmens were discovered between 1903-05 by the brothers Antonio and José Viera of Antequera.
If you're a ruin luster, you should definitely see them. They are just outside the town. Signs will direct you there.
You can book a guided walking tour of Antequera or a tour of the dolmens.
Day 8: Granada: The Alhambra and Barrio Sacramonte
On day 8 of your 10 day southern Spain itienrary, you land in the beautiful city of Granada.
1. Alhambra
Start your day in Granada at one of the most famous landmarks in Spain, the mighty Alhambra. The Alhambra is the world's last and greatest Moorish fortress.
To visit, you need to pre-purchase tickets well in advance. You may want to pre-book a ticket and guided tour to enrich your visit.
The Alhambra sits on a stunning piece of real estate. It's in a high, mountainous location on Sabika Hill. it boasts sweeping views over Granada and the surrounding countryside.
In the Moorish tradition, the Alhambra is decorated with water: "standing still, cascading, masking secret conversations, and drip-dropping playfully."
Alhambra became a UNESCO site in 1984. It's a deeply affecting place. It's so beautiful and enchanting, it's difficult to process. Or to unglue your camera from your face.
The most beautiful spot is the Nasrid Palace. When you buy your Alhambra ticket, you'll be given a specific time to visit this particular palace.
Make sure you get in line at the right time. Or they won't let you in.
There are no words to describe the breathtaking Moorish architecture of the Nasrid Palaces.
At every turn there is exquisite craftsmanship and/or a stunning view. The Court of the Lions and the Court of the Myrtles are highlight.
For more information, here's my comprehensive guide to visiting the Alhambra.
2. Granada's Historic Old Town
Once you've drooled over the Nasrid Palace and relived history in the Alcazaba, it's time to explore Granada itself.
I didn't know I would love Granada before I arrived — a common theme of my Andalusia trip apparently. But Granada unexpectedly swept me away with its authentic Spanish vibe and dazzling attractions.
Lorded over by the Sierra Nevada Mountains, it's an absolutely beautiful ancient city. There is scad of historic architecture, including a massive Gothic cathedral.
Granada also boasts many atmospheric neighborhoods, each with an earthy distinct character.
3. Granada Cathedral & Royal Chapel
Granada Cathedral is a massive affair. It's the second largest cathedral in Spain after Seville Cathedral and the fourth largest cathedral in the world.
It was built by Queen Isabella after the conquest of Granada. Construction began in 1518. It took over 180 years to complete.
The cathedral's a mix of Renaissance and Baroque architectural styles. The chief architect was Alonso Cano, who took over in 1652. Inside, there's a towering interior, a grand altar, and side chapels.
You'll also want to visit the Royal Chapel. It's connected to the cathedral, but has a separate entrance and admission fee. You can book a combined skip the line ticket and tour for both sites.
This is where you'll find the ornate marble tombs of King Ferdinand and Queen Isabella. The Sacristy Museum also holds treasures, relics, and paintings.
4. Granada's Sacromonte Neighborhood
That night, I recommend taking a walking tour at sunset to the otherworldly Sacromonte neighborhood.
Sacromonte feels disconnected from the city. Yet, it sports one of the most mesmerizing views of the Alhambra.
For centuries, Sacromonte was the home of gypsies, bohemians, artists, and foreign refuges. And they still live in the rustic caves.
Day 9: Nerja and Frigiliana
Craving some ocean air? Drive south toward the Costa del Sol to visit Nerja and Frigiliana. You can visit both towns on a guided day trip from Granada.
1. Nerja
Nerja is a lovely town on the Costa del Sol, the beauty playground of southern Spain. The heart of Nerja is its beautiful Balcony of Europe.
The balcony is a palm-lined promontory. It was built not he foundation of an old fort.

The balcony juts out like a natural pier and offers panoramic views of the cobalt blue sea and honey colored coast.
There are plenty of other amazing things to do in Nerja, including hitting Burriana Beach.
2. Nerja Caves
After visiting the town, head to Nerja Caves for a real adventure. The caves are situated on the slopes of the Sierra Almijara, just outside of Nerja.
The caves are about five kilometers long. They were once inhabited by the Stone Age hunters. The caves weren't discovered until 1959.
On a tour, you'll see rock formations, stalagmites, stalactites and subtle shifting colors. A guided visit lasts around 45 minutes.
3. Frigiliana
Just 15 minutes from Nerja by car is Frigiliana. Of all the beautiful towns in Andalusia, it might be the most beautiful of all.
In Frigiliana, everything is beautiful in a way that it almost never is. Frigiliana is a spotless, secluded, perfectly coifed cliff town dressed in blue and white with flowing orange and purple vines and potted blood red geraniums. Just dreamy.
And after visiting numerous moorish fortresses, cathedrals and other "must see" Andalusian sights, I was incredibly relieved that there was no major sites in Frigiliana. I wandered the pretty cobbled streets guilt free, enjoying the views.
I was ready to just sink in the Moorish beauty and Spanish countryside. Oh, and meander into ceramic shops, purchasing some lovely items to bring home.
Day 10: Day Trip to Guadix & Granada's Albaicín Neighborhood
The next day I took a short half day trip to the unique cathedral town of Guadix.
Guadix
The town is very off the beaten path destination in Andalucia. It's only 45 minutes from Granada, so it's an easy day trip,
I went mostly to see the house caves or "cuevas." Guadix's inhabitants live in caves, with whitewashed chimneys set against the mountains.
Guadix also has a charming old town and a 16th century cathedral worth visiting. It's also famous for its earthenware pottery.
Albayzin
Back in Granada later, spend the late afternoon and evening wandering in the old Arab neighborhood of the Albaicín, or Albayzín.
Built on a steep hill, its an ancient area with tight tangled winding streets and a bohemian feel. It's probably my favorite area in Granada.
The Albaicín was declared a UNESCO site in 1984. Amidst a jasmine scented breeze, you'll find restaurants, cafes, tapas bars, and even street performers.
You can book a guided walking tour of the neighborhood or take a DIY stroll.
More Time in Spain?
If you have more than 10 days in Spain, head north to see a completely different side of Spain. To the north are Spain's other great cities, Madrid and Barcelona. You'll also find secret medieval towns, the Costa Brava, and Green Spain.
If you need some destination inspiration, here's my guide to six one week itineraries in Spain.
I hope you've enjoyed my 10 days in Andalusia itinerary. Here are some of my Spain travel guides and resources:
If you'd like to road trip in southern Spain, pin it for later.