Looking for some bucket list ideas for the United States?
The United States is an enormous and engaging country, with a diverse range of breathtaking travel options. From sea to shining sea, the country offers exciting cites, incredible eye popping landscapes, and historic landmarks.
There are too many must see places to list in a single blog post. But if you're looking for a starting point and some destination inspiration, I've complied an epic list of the best places to visit in the US — my 45 favorite cities, national parks, and destinations.
You can use this USA bucket list to fashion your own US bucket list or road trip itinerary to match your preferences — choosing the wildest terrain, hiking adventures, quaint ivy clad towns, perfect beach towns, glamorous cities, or foodie and cultural hotspots.
I've grouped these iconic US destinations by region, putting the must see national parks in their own category.
New England USA Bucket List Destinations
1. Boston, Massachusetts
No USA bucket list would be complete with Boston. The country's oldest city, Boston is steeped in American history and beautifully situated on the Charles River and Boston Harbor. The city has some of the best landmarks in the US.
Boston played a pivotal role in the Revolutionary War. It's sometimes called the "Athens of America" or the "cradle of liberty" because it was the source of key ideas that shaped America.
Boston is really a dream destination, especially for history buffs and culture vultures. It has a great foodie scene, wide open green spaces, quaint brick-clad neighborhoods, and first rate museums. Visiting Boston offers all the benefits of a big metropolis without the intensity and frenetic pace of New York City.
One of the best things to do in Boston is to walk the Freedom Trail, a 2.5 mile path taking you to Boston's historic landmarks. Along the way, you'll see 16 sites and monuments relating to Boston's founding and the Revolutionary War.
Before you start, stroll through the verdant Boston Public Garden and Boston Commons, the oldest park in the U.S.
Sports lovers can take in a Red Sox game at Fenway Park. Culture vultures can hit up Boston's amazing museums. My two favorites are the Museum of Fine Arts and the Isabella Stewart Gardner Museum.
Architecture fans should visit the Renaissance Revival Boston Public Library at Copley Square or the Boston Athenaeum in Beacon Hill.
READ: 3 Day Itinerary For Boston
2. Cambridge, Massachusetts
Historic Cambridge is a lively university enclave near Boston, with the Charles River as its playground and backyard. But the town has its own unique identity.
Cambridge is home to the renowned Harvard University (where you'll be wrapped in red brick) and the Massachusetts Institute of Technology (where you can admire eclectic modern architecture by some of the US' best architects). Both campuses are full of significant architecture, landmarks, and outdoor art.
And it's not just the universities that dazzle. In Cambridge, visitors can enjoy outstanding museums, a vibrant performing arts scene, and delicious haute cuisine restaurants.
The Harvard Art Museums are the best art spot, with a range of works from antiquity to the present, including a prized van Gogh.
READ: 1 Day Itinerary for Cambridge
3. Salem, Massachusetts
Salem is a beautiful seaside town and an easy day trip from Boston. If you want to bask in the festive fall spirit in New England, there's no better place than witchy Salem. You can learn about Salem's creepy past as the "witch capital" of the United States.
Salem embraces rather than shies away from its notorious past, when the infamous 17th century Witch Trials defined the town.
Salem is replete with whimsical magic shops, all things haunted horror, and ghostly tour options. Many of Salem's must see destinations are devoted to its witchy history.
But Salem also boasts beautiful 17th century Colonial and Georgian architecture and delicious seafood. Salem is an eminently walkable town. You'll be plunged back in time and history to bewitching effect.
READ: Guide To The Top Attractions in Salem
4. Portland, Maine
Located on a peninsula jutting into Casco Bay, Portland is a rare metropolis in a state filled with small hamlets. Portland has myriad cultural offerings and is a bastion of historical preservation.
The restored Old Port is a warren of cobbled streets, filled with vibrant Victorian buildings, buzzing farm to table eateries, and specialty boutiques. Downtown, there's a thriving art school, infusing the city streets with creative types.
Opened in 1983, Portland's crown jewel and premiere art destination is the Portland Museum of Art, an architectural masterpiece designed by I.M. Pei of Louvre fame.
Portland also has plenty of outdoor hiking trails. An hour from Portland is the Burnt Meadow Mountain Trail, which is a 3.6 mile trail strewn with wildflowers.
To land on a beach, hike the meandering 3.8 trail from Morse Mountain to Seawall Beach. Just 30 minutes from Portland is Bradbury Mountain State Park.
READ: 10 Day Itinerary for Maine
5. Burlington, Vermont
In Vermont, there's a saying that "you can't throw a stone without hitting a poet/painter/potter." To some, Burlington is akin to a mini Seattle — a politically and socially progressive enclave of college students, regional power brokers, and creative minds.
The heart of Burlington's downtown is Church Street Marketplace. It's a buzzing pedestrianized outdoor mall.
You'll find hip sidewalk cafes, art galleries, bars, and street performers. Burlington also has a thriving art scene. The jewel is the Fleming Museum on the University of Vermont campus.
If you're a foodie, Burlington will suit. It outshines much of the US with a bounty of locally grown food. Farm to table eating isn't just trendy; it's a well established tradition. There's a Saturday farmer's market and even excellent street food at Farmers and Foragers Food Truck.
READ: 7-10 Day itinerary for Vermont
6. White Mountains, New Hampshire
New Hampshire is a fantastic place to live free, get off the beaten path, and escape the big city crowds. New Hampshire has mountain peaks, clear air, and sparkling lakes.
New Hampshire's premiere attraction is the White Mountains. The White Mountains are incredibly beautiful, with plenty of natural wonders.
They've long attracted vacationers, photographers, and adventurous hikers and skiers. Mount Washington is the Northeast US' peak of superlatives.
For unspoiled scenic views in the White Mountains, you can drive down the sinuous Kancamagus Highway. Crawford Notch State Park and Franconia Notch Park offer beautiful fall colors, hiking trails, and breathtaking mountain and lake views. At the Mt Washington Cog Railway, you can ride a historic train to the summit of Mt. Washington.
READ: 10 Day Itinerary for New Hampshire
7. The Berkshires, Massachusetts
The Berkshires are nestled in bucolic western Massachusetts. The region is dusted with magic, evoking an earlier America, with houses and architecture straight from a Norman Rockwell painting. You an even visit the Norman Rockwell Museum.
The Berkshires is a laid back region, quietly unbuttoned without the glitz or cocktail party circuit. The area was made famous by literary figures escaping the city to their turn of the century castle-cottages set under solitary starry nights.
The Berkshires are full of winding roads with undulating meadows, deep green ellipses of hills, organic farms, and trees ablaze in autumn.
Not just for leaf peepers, the Berkshire villages offer a unique confluence of nature, historic landmarks, and vaunted museums. Whether you want nature, culture, or farm to table cuisine, the Berkshires will suit.
READ: Guide to a Berkshires Road Trip
8. Providence, Rhode Island
The town of Providence was established so that "no man should be molested for his conscience sake." Providence is nicknamed "The Renaissance City" and the "Creative Capital." It deftly combines big city sophistication with small town charm, vibrant culture with hot restaurants.
For an architectural history overview, head to Benefit Street's "Mile of History." You'll find over 100 Colonial, Federal, and Revival buildings.
Among them is the must visit Providence Athenaeum, a revered spot for literary lovers once inhabited by Edgar Allen Poe. For leaf peeping and views, the tree lined vista from Prospect Terrace is stunning.
One of Providence's must see sites is Brown University. Brown prides itself on being the ultra liberal ivy league. There are 255 buildings on campus, divided into the College Green and Lincoln Field. The oldest is University Hall. Beautiful Gothic and Beaux-Arts building are arranged around the green.
READ: 1 Day In Providence Itinerary
9. Newport, Rhode Island
Just two hours south of Boston lies the tony coastal town of Newport. Founded in 1639, Newport is a treasure trove of historic European-style mansions set against ocean views.
Think the Gilded Age's Astors, Vanderbilts, and Kennedys — families who built the first palatial mansions in the US.
Most of the mansions are on Bellevue Avenue and a few are on the waterfront. Built by Cornelius Vanderbilt, Breakers Mansion is Rhode Island's #1 attraction. It's located on the scenic Newport Cliff Walk. After a hike, hit up an oyster shack or one of Newport's acclaimed seafood eateries.
For culture vultures, the Newport Art Museum is the core of the creative community. There's a dozen commercial galleries in town as well.
On the performance arts side, Newport offers up everything from Shakespeare plays in Queen Ann Square to musical festivals dedicated to jazz, classical, and folk music in July and August.
READ: 25 Prettiest Towns in New England
East Coast USA Bucket List Destinations
10. New York City, New York
No US bucket list is complete without New York City. There's nothing else in the US quite like "The Big Apple." In the "city that never sleeps," there are scads of amazing things to see and do. The city is filled with thousands of restaurants, hundreds of museums, and a plethora of landmarks and quirky attractions.
Visit the Statue of Liberty and Ellis Island, the two islands that saw new immigrants come to America. Times Square is best known for its New Year's Eve ball drop, and is always hustling and bustling. It's located in the Theater District, and this is where you can take in a Broadway show.
Stroll through Central Park. Visit Trinity Church, the Art Deco Empire State Building, or the 9/11 Memorial. The 9/11 Freedom Tower gives you a panoramic view of the city.
During the holidays, Rockefeller Center is home to the world's largest Christmas tree and a ice skating rink. The "Top of the Rock" offers another bird's eye view.
And, of course, NYC has some of the world's best museums. If you're pressed for time, choose between the Metropolitan Museum of Art, the Frick Collection, the Guggenheim Museum, or the Museum of Modern Art.
11. Philadelphia, Pennsylvania
For history buffs, there's no better city to visit than Philadelphia. The city wears history like an embroidered cloak, perfectly combining the excitement of a modern city with the brick and cobblestone hallmarks of the Colonial era.
Philadelphia is especially rich in Revolutionary War history, telling the vivid story of America's fight for freedom from British rule. In the historic district, you'll find out of Philadelphia's top attractions — the beautifully preserved Constitution Hall, the Liberty Bell, and Independence Hall. The Declaration of Independence and the U.S. Constitution were signed in Independence Hall.
Philly also has two world class museums — the Museum of Fine Art and the Barnes Foundation. The latter houses the greatest cache of Impressionism in the United States. Along the way in Philly, you can eat some absolutely delicious food, ranging from old time-y cheesesteak to exquisite haute cuisine.
READ: 2 Day Itinerary For Philadelphia
12. Gettsyburg, Pennsylvania
If you're a history buff, patriotic Gettysburg is a must visit US destination. This southern Pennsylvania city in the rolling countryside is easy on the eyes and serves up a wholloping dose of history.
Gettysburg is the site of the Battle of Gettysburg (an important 3 day battle of the Civil War) and President Lincoln's Gettysburg Address.
You can relive the mournful history by touring the Gettysburg National Battlefield. Start with the Gettysburg Museum for an overview of the town's history served up by a Morgan Freedom narrated film.
There are 1400 statues and monument scattered on the battlefield. When you're done there, stop in at Dwight Eisenhower's former home, which is now a museum.
Downtown Gettysburg has a charming Main Street, lined with shops and cafes. Many of the shops stock Civil War memorabilia, folk art, and Americana. On Lincoln Square, you'll find the David Willis House, where Lincoln stayed preparing his historic speech.
READ: Less Touristy Towns on the East Coast
13. Pittsburgh, Pennsylvania
Are you wondering why Pittsburgh is on my list? I've lived in Pittsburgh for 8 years now and I can tell you that it's decidedly just not the "Steel City."
Beautifully situated on three rivers amid ochre-colored bridges, Pittsburgh is a serious foodie town with a farm to table vibe. It's chock full of historic landmarks, top notch museums, universities, quaint brick-clad neighborhoods, and beautiful churches.
If you're a culture vulture, Pittsburgh delivers. It's downtown Theater District is filled with performing arts venues, with the beautifully decorated Benedum Center as a highlight. I've watching many traveling Broadways shows there.
Pittsburgh also has some amazing museums for a small city. My favorites are the Andy Warhol Museum, the Carnegie Museum of Art, and the Frick Museum. The Warhol Museum, featuring Pittsburgh's favorite native son, is an absolutely unique single artist museum. It showcases multi-media exhibits and paintings spanning Warhol's lifetime.
Pittsburgh boasts plenty of amazing green spaces. My favorites are Frick Park and the Phipps Conservatory. Not far from Pittsburgh is a UNESCO World Heritage Site, Fallingwater. It's America's most famous house, designed by famed architect Frank Lloyd Wright.
READ: Guide To The Top Attractions in Pittsburgh
14. Washington, D.C.
As a practicing lawyer, I lived in the Washington DC area for most of my adult life. It's a noble capitol city of symbolic magnitude, glowing with marble monuments and cherry blossoms. You'll want to check this city off your USA bucket list.
DC has a buzzing hub of interconnected neighborhoods, with no looming skyscrapers. DC offers public parks, a dizzying collection of fabulous museums, and year round cultural events.
Head first to the renowned National Mall. The nation's playground is a 2 mile long esplanade. It's anchored by the US. Capitol at one end and the Lincoln Memorial at the other.
This is where you'll find the celebrated Smithsonian Museums and a string of national monuments dedicated to George Washington, Abraham Lincoln, Thomas Jefferson, Franklin Roosevelt, Vietnam War and Korean War veterans, etc.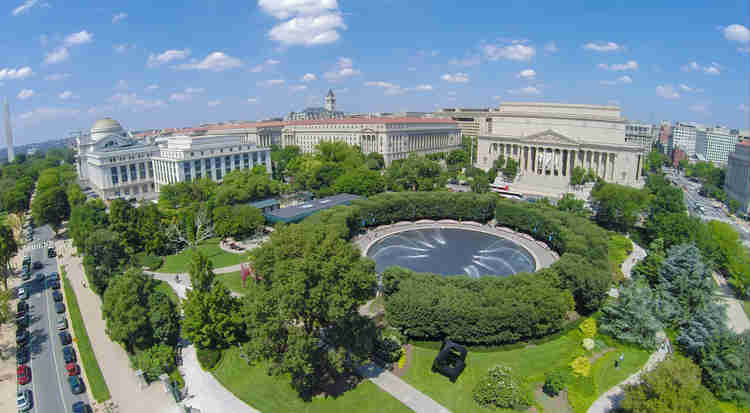 For culture, my favorite stops are the world famous National Gallery of Art and the National Portrait Gallery.
The National Gallery of Art one of the world's finest repositories of Western Art. The West Building showcases masterpieces from the 13th to 19th centuries. The East Building, designed by IM. Pei of Louvre fame, displays modern and contemporary art masterpieces.
Apart from its historic heart, DC also has many beautiful neighborhoods with exploring. My favorites are Georgetown, Dupont and Pacific Circles (home to the truly fabulous Phillips Collection), Foggy Bottom, Woodley Park, and Old Town Alexandria (just outside DC).
READ: Best Places for Fall Foliage Near Washington DC
Southern USA Bucket List Destinations
15. Williamsburg, Virginia
Williamsburg is another town for history buffs, where you'll transported to 1770s Colonial America. You can walk in the same steps as the Founding Fathers.
Williamsburg was home to the best known figures in Colonial history — Patrick Henry, George Washington, Thomas Jefferson, Jon Smith, and Pocahontas.
The star attractions is Colonial Williamsburg. It's a restored-to-perfection living history museum — a time capsule with expert interpreters in costume, reenactments, and Colonial era items for sale. Clip clopping horses draw carriages.
The must see landmarks in Williamsburg include the College of William & Mary, the Governor's Mansion, the Capitol building, the Courthouse, and Raleigh Tavern. If you have time, head to Williamburg's sister towns, Yorktown and Jamestown, which comprise the "Historic Triangle."
16. Asheville, North Carolina
Asheville has a chill laid back vibe. It's part history set piece, part college town, and part urban renaissance showcase. The charming town is known for its art scene, brewery scene, farm to table food, and eclectic atmosphere. The main activity is just strolling around.
Asheville's two must see sites are the Basilica of Saint Lawrence and the Biltmore Estate. The basilica is designed in a Spanish Renaissance style. The Xanadu-like Biltmore Estate is George Vanderbilt's 250 room French renaissance castle, America's largest home.
Downtown Asheville is delightful. The sidewalks are filled with al fresco cafes, coffee bars, and markets. In the summer, the Biltmore Estate hosts outdoor concerts on the south terrace and gourmet dining festivals. Asheville's crown jewel for visual arts is the Asheville Art Museum. Asheville also has an energetic live theater community.
READ: Guide to Best Art Towns on the East Coast
17. Savannah, Georgia
Savannah is truly one of the prettiest and most elegant towns in the US. Savannah is a living museum of Southern architecture and charm. Genteel Savannah is downright jaw dropping, made for gawking and walking.
The city's historical center is a wonderful arrangement of fetching green squares and beautifully restored gingerbread homes.
Start at Sentient Coffee Bean to fuel up for your promenade. Then head to Forsythe Park, which is draped in gushing fountains and mossy oaks.
Continue on to the Mercer-Williams House, one of the most stories homes in Savannah. Don't miss the Owens-Thomas House & Slave Quarters, for an accurate reinterpretation of the slave era south.
There are lots of fun tours of Savannah — historic home tours, food tours, and even a haunted Savannah ghost tour. Savannah reputedly is one of the US' most haunted cites with a somber history of murder, bloody battles, and savage slavery. There are both spooky and historically accurate ghost tours, including ones that go to Bonaventura Cemetery.
18. Miami, Florida
Miami is a must-visit destination for any USA bucket list traveler. It's home to beautiful beaches, iconic Art Deco architecture, tropical weather, lively nightlife, and one of the largest Latin American populations and food scenes in the U.S.
The biggest tourist hotspot is glamorous South Beach, which is home to trendy nightclubs and restaurants, the Versace Mansion, and sandy beaches covered with colorful watchtowers. Miami has other eclectic neighborhoods as well — Little Havana (come hungry for Cuban food), Wynwood (artsy hipster), Coral Gables (beautiful upscale neighborhood with killer eateries), and Brickell (buzzing downtown)
Culture vultures should head to the Perez Art Museum or the Institute of Contemporary Art. If you have enough time in Miami for a day trip, head to the Everglades, for a unique national park experience, or to the Florida Keys for fun in the sun.
19. Honolulu, Hawaii
Honolulu is one of the best places to visit in the US for its natural beauty. Hanauma Bay, in particular, is stunning and special. Formed from two sunken volcanic craters, it's protected from the currents.
Honolulu boasts plenty of beautiful beaches. Waikiki Beach and Kahanamoku Beach are the closest. Honolulu also has fantastic hikes with splendid views.
The popular Diamond Head Trail offers 360 views of Honolulu and Waikiki Beach. The Koko Head Crater Trail offers panoramic views of Diamond Head and Hanauma Bay.
What surprised me most about Honolulu when I was there a year ago for a wedding was the splendid food. You can get anything from delicious brunches, colorful açaí bowls, and exquisite Asian and Asian fusion cuisine. After sampling the must do trendy hotspots, my favorite dinner spot was MW Restaurant.
20. Austin, Texas
Austin is a hip Texas city with a thriving arts scene. Not only does it host big music festivals throughout the year, but it's "Keep Austin Weird " vibe makes it a must visit location.
Austin is home to the largest bat colony in the US. They make their debut every night at dusk from underneath the downtown Congress Bridge.
Aside from music and bats, Austin has so much to offer. You can hike at Mt. Bonnel, rock climb in the Greenbelt, swim at Barton Springs, boat along with Lake Travis, or watch improv at Hideout Theater.
Austin also has a well-established microbrew culture, with bars serving mostly local beer. Nearby wineries give visitors an additional liquid option. And whether you're eating at a food truck or 5 star restaurant, Austin is a foodie's version of heaven.
21. New Orleans, Louisiana
Sultry New Orleans is heralded as "The Big Easy." It's a city of soul, an eclectic melting pot of African, French, and American culture.
And it's one of the most beautiful cities in the USA. New Orleans has an incredibly vibrant cultural scene and nightlife. The heart of the city is the colorful French Quarter and Bourbon Street.
This is where you'll find New Orleans's exquisite 18th century French homes and iconic wrought iron balconies. Aside from Bourbon Street, you need to stroll through Royal Street (antiques), Jackson Square (for the magnificent St. Louis Cathedral), and the Garden District (iconic mansions).
New Orleans is also famous for its creepy past. It's considered one of the most spooky haunted cities in the United States. You can take a ghost tour or, even better, a tour of American Horror Story Coven's filming locations. And, of course, New Orleans is famed for its annual over-the-top Mardi Gras Carnival, when it's transformed into an almost different city.
National Parks USA Bucket List
22. Acadia National Park, Maine
Maine's 35,000 acre Acadia National Park is dubbed the "Crown Jewel of the North Atlantic Coast." The splendid park definitely lives up to its moniker, with a vast pine-studded landscape.
The average park visit is 3-4 days. But you can absolutely enjoy the park on a well-planned day trip from the beautiful town of Bar Harbor.
Acadia is located just southwest of Bar Harbor on Mount Desert Island. Fuel up at Jeannie's Great Maine Breakfast in Bar Harbor before venturing out. As soon as you arrive, you'll understand why the likes of John D. Rockefeller Jr. and Brooke Astor vacationed here in the 20th century.
If you're pressed for time, make sure you see one thing at Acadia National Park — Cadillac Mountain. You can access it by foot, car (a winding 3.5 miles), or bike via Summit Road. This incredible mountain is actually the highest point along the Atlantic Seaboard of the US.
READ: 10 Days in Maine Itinerary
23. Yellowstone National Park, Wyoming
Yellowstone is truly a must visit national park, home to some wildlife and breathtaking natural landscapes. It's arguably America's first, and most diverse, national park covering over 3400 miles.
The most famous attractions are the Old Faithful Geyser and the Grand Prismatic Spring. Old Faithful Geyser is one of 500 geysers at Yellowstone and the most popular. It's a cone geyser that dramatically erupts roughly every 90 minutes.
The Grand Prismatic Spring is Yellowstone's most photogenic pool. It's the largest hot spring in the US and the third largest in the world.
Different organisms live in different places inside the spring. As a result, they emit a rainbow of stunning colors. It's truly a miraculous sight. For an elevated view of the spring, head to Fairy Falls trailhead.
24. Arches National Park, Utah
Arches National Park is one of the most popular parks in the US and, hence, often crowded. It's a magical wonderland of desert vistas — hoodoos, mesas, sandstone, rock formations. It has over 2,000 natural arches created by erosion, the world's largest collection.
You can see a lot from the car. Arches Scenic Drive is a 19 mile drive, taking you through the park. At La Sal Viewpoint, you'll have a beautiful panorama over the rocky landscape.
But there are plenty of great hiking trails too — Delicate Arch Hike (world's most famous arch), Landscape Arch Hike, the Windows and Turret Arch Hike, Double Arch Hike, and Sand Dune Arch Hike.
READ: Flexible Road Trip Itinerary for the American Southwest
25. Bryce Canyon National Park, Utah
Southwest Utah is red rock country, in sculpted splendor from canyon floors to cliff top perches. There are dramatic and surreal landscapes that no traveler should miss. Utah's Bryce Canyon National Park is one of the most visited parks in the USA.
The park is known for its unique rock formations and "hoodoos." Hoodoos are fantastical sandcastle-like spires that look like something out of a Dr. Seuss book. Bryce Canyon is actually an amphitheater of rock that eroded from the cliffs.
Rim Road Scenic Drive follows the canyon rim, eventually ending at Rainbow Point. If you want to hike, take Queens Garden Hike, Navajo Loop Hike, or Peek-a-Boo Loop Hike. The latter has the best hoodoos. Head to Bryce Point for an overview of the park and fantastic sunset views.
26. Zion National Park, Utah
Zion is another of Utah's uber popular parks with unmatched landscapes. It boasts 3,000 foot vertical walls, narrow slot canyons, and white sandstone formations.
The main canyon, Zion Canyon, is a spectacular place to explore. Just to the north is another less visited beauty, Kolob Canyon. The latter has the world's second largest natural arch.
First timers head to Zion Canyon. The first thing to do is take the 6 mile Scenic Drive, which takes you through the heart of the park. From April to October, you can't drive and must take the shuttle. At the end of the road is a paved 2.2 milk trail, Riverside Walk. It takes you to the Zion Narrows and a hike around the Virgin River.
If you want a strenuous hike, try the 5 mile round trip Angels Landing Trail, Zion's most famous trail. With its high elevation, it can be both exhilarating and vertigo inducing. You'll have great canyon views there. Perhaps even better views can be had at Observation Point, an 8 mile round trip hike.
27. Grand Canyon, Arizona
America's geological marvel, the Grand Canyon is an eye catching spectacle of colorful rock strata and cliffs. It's hard to describe how beautiful it is. Unless you're a look-and-go tourist, you should budget 2 full days to explore the Grand Canyon. It's massive.
Plan on hiking down to the river and staying somewhere in the canyon overnight. Alternatively, hike down only a portion of the trail and then head back up to the rim. There are plenty of stop off vistas with water sources and bathrooms. These make for excellent turnaround points.
If you only have time for one Grand Canyon hike, take the Kaibab Trail to Cedar Ridge (3 miles). For a more ambitious hike, try the strenuous Bright Angel Trails, which ends at a great outlook over the Colorado River. For some solitude below the rim, take the Grandview Trail.
28. Joshua Tree National Park, California
Three hours from San Diego and sandwiched between the Mojave Desert and the Colorado Desert, Joshua Tree National Park is for nature lovers.
It offers some of the most unique landscapes in the country. It's an otherworldly place, a Martian landscape perfect for hiking and camping.
In Joshua Tree, swaths of cacti and towering boulders dot an arid panorama. The scene is peppered with the distinct twisty branches of the famous Joshua trees. There are countless trails to enjoy, ranging from short-easy to multi-day challenges.
The visitor center has information and trail maps. You can also buy a 7 day vehicle pass, which includes multiple entries if you stay outside the park itself.
READ: 10 Day Road Trip Itinerary for Southern Califorinia
Southwest USA Bucket List Destinations
29. Phoenix, Arizona
Phoenix is loaded with cultural/artistic/historic venues and landmarks and a hip downtown. In terms of its foodie scene, Phoenix has dozens of ethnic restaurants and James Beard award-winning eateries, from hole in the wall to luxe.
One of the best things to do in Phoenix is to head to Roosevelt Row, Phoenix's art district. It's full of indie shops, restaurants, and art galleries.
The Heard Museum is world renowned. Or hit the Hive in the fabulous Coronado neighborhood. It's a hipster haven, home to coffee shops, eateries, art galleries, and artists studios.
If nature is more your thing, hike in Papago Park or visit the desert Botanical Garden. If you're an architecture buff, head to the incredibly unique Taliesen West. It was the winter home and architectural school of America's most famous architect, Frank Lloyd Wright.
30. Tucson, Arizona
With bright blue skies, Tucson boasts sunshine 350 days a year. It's a designated UNESCO World City of Gastronomy, with unbelievable Mexican food.
The town is a mini mecca for the arts — with regional museums, art venues, and its own ballet, symphony, opera, and theater companies. It's bohemian neighborhood, the Fourth Avenue District, is packed with artisan shops, funky eateries, and independent bookshops.
Tucson also has loads of outdoor options. You can hike Mt Lemmon, wander in Saguaro National Park, and visit the Arizona-Sonora Desert Museum. You'll be dazzled by towering saguaros, barrel cut cacti, yuca, cholla, prickly pear, and wildflowers. If you want to beat the heat, head to Colossal Cave Mountain Park.
Posing akin to a European artifact, San Xavier is known as the "White Dove of the Desert." It's a historic Franciscan mission church on a peaceful Indian reservation in the desert. Built in the 1700s, this recently restored Baroque church is a lovely example of Spanish colonial architecture. Inside, it boasts colorful frescos, sculptures, and paintings.
31. Sedona, Arizona
If you want to unplug and disconnect, Sedona is an adorable New Age town and healing paradise. This UA bucket list destination is smack in the middle of the Arizona desert. It may be the hottest weekend destination in Arizona. And it's regularly described as one of America's most beautiful places.
Looking like another planet, Sedona is renowned for its red rock buttes and canyon walls. Some of the town's most famous hiking trails — Cathedral Rock, Devil's Bridge, and Bell Rock — travel through Sedona's famed geological vortexes.
You can also wander its funky downtown, with stores selling mystical trinkets, gorgeous crystals, and spa treatments.
Only 50 minutes from Sedona lies Flagstaff, a town jam packed with beauty and history. An unusual alpine beauty 7000 feet high in the San Francisco Peaks' foothills, this historic town is worth a day trip, if you have time in your Southwest itinerary. It may be one of Arizona's best kept secrets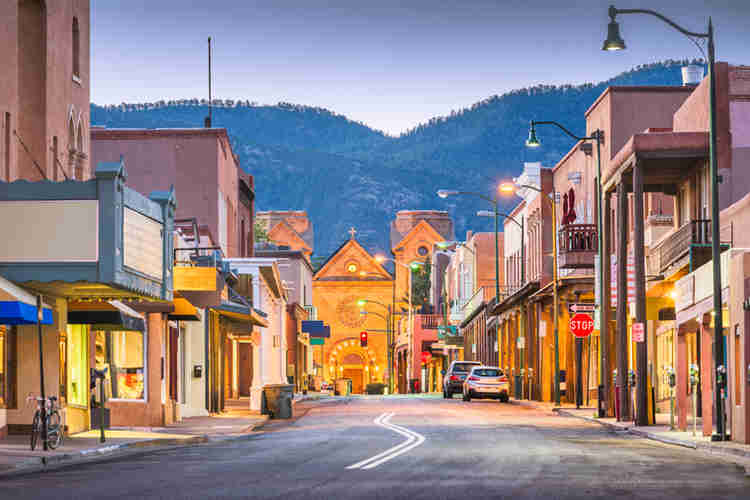 32. Santa Fe & Taos, New Mexico
At the foothill of the majestic Sangre de Cristo Mountains is the US's oldest capital, Santa Fe. You could spend hours wandering and shopping in the town's tiny streets and shops. Santa Fe's must see historic sites include the Cathedral of Santa Francis (Santa Fe's
most iconic landmark), San Miguel Chapel (oldest US church), Santa Fe Plaza (heart of downtown), and Loretto Chapel (Gothic revival building).
Santa Fe is also an art lover's dream, with several local galleries and museums. The best two are the Museum of International Folk Art and the amazing Georgia O'Keefe Museum.
After you've taken in the delights of Santa Fe, jog down the road to Taos New Mexico. It's a haven known for its artsy vibe and ski scene. In Taos, you have fantastic shopping, endless art galleries, and excellent eateries. The shops on Bent Street are incredibly eclectic and creative.
The UNESCO-listed Taos Pueblo is a must do in Taos. It's both a designated UNESCO site and a National Historic Landmark. Taos Pueblo is an active Native American community in multi-storied adobe buildings. The pueblo has been continuously inhabited for 1000 years.
33. Salt Lake City, Utah
Underrated Salt Lake City has so much to offer. Depending when you visit, you can ski in nearby Park City or dip your toes in the cool waters of the Great Salt Lake.
There are hiking trails, nature activities, and a trendy foodie scene. There's scooter sharing all over Salt Lake City, which is a fun way to breeze through the different neighborhoods.
Temple Square is the holy place of the Mormons. You'll find four spectacular Mormon buildings — The Mormon Temple, the Mormon Tabernacle, the Temple Annex, and the Assembly Hall. Two information centers at the entrance to the square hand out info on the Morman religion.
Spread out over 80 acres, Liberty Park is the city's largest public park. If you need some green space, this is a lovely place to picnic. Salt Lake City citizens are also obsessed with art.
The Utah Museum of Fine Art displays works broadly covering art history. The Urban Arts Gallery and Utah Museum of Contemporary Art focus on modern works and are both free.
West Coast USA Bucket List Destinations
34. Denver, Colorado
Denver is known as the "Mile High City." It's a winsome combination of walking paths, world class art museums, hip brewpubs, chic eateries, and a vibrant urban scene.
Start in one of Denver's hottest neighborhood, Lower Highlands nicknamed "LoHi." You'll have a bird's eye view of the city. The nearby 16th Street Bridge takes you to a pile of public art by John McEnroe. Another place with great views is Commons Park, with the spectacular curving stairway known as Common Ground.
Downtown, Union Station is a beautifully restored 19th century structure. It's a swanky gathering place, with boutiques and eateries.
The 16th Street pedestrian mall is also a bustling retail stretch. One thing not to miss is the Denver Art Museum, with the nation's largest collection of American Indian art.
Here's my 1 day itinerary for Denver.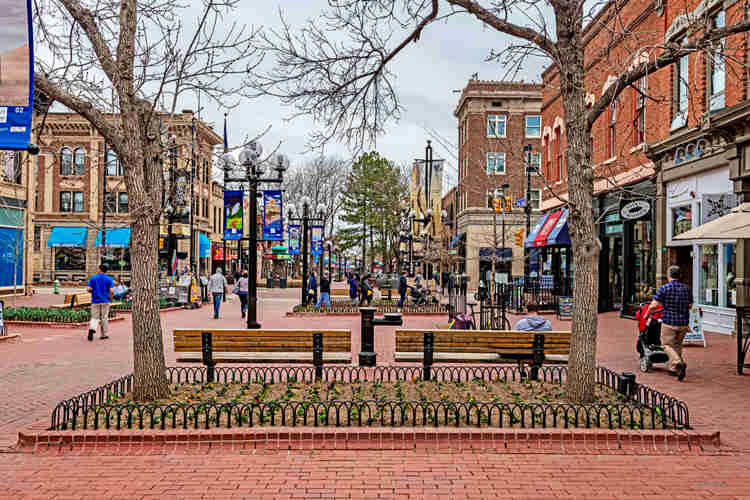 35. Boulder, Colorado
Boulder is a gorgeous high altitude town at the base of the Rocky Mountains. Boulder is the perfect spot for a bucket list getaway in the United States.
Boulder is a city of almost 110,000+, known for its eco-green quality of life and outdoor living. Boulder is located only 30 miles northwest of Denver, so the town is a relatively easy place to get to.
Boulder has a quaint downtown centered on pedestrian friendly Pearl Street. It has university students, wide open green spaces, and perpetually blue sunshine-y skies.
Boulder's residents are seriously dedicated to outdoor living, including hiking, biking, and climbing. But you don't have to be an endurance athlete to enjoy the beauty of Boulder.
Boulder is a sophisticated place that, refreshingly, isn't a big city. It's a world class town, without the frenzy or traffic of a city. Each year, the outdoor vibe is increasingly leavened with artistic options and a serious farm to table foodie culture. Cute coffee shops and healthy food are the norm.
Here's my guide to the best things to do in Boulder.
36. Los Angeles, California
Los Angeles is a dream destination, with endless sunshine. It has a diverse food and drink scene, beautiful hikes, and impressive museums.
If you want to hobnob with celebrities or visit filming locations, you can walk down Hollywood Boulevard, hike to the Hollywood sign, shop on Rodeo drive, visit Universal Hollywood or the Wizarding World of Harry Potter.
If you crave white sand, beautiful beaches abound. Some of them are there best beaches in the US, including Venice Beach, Carbon Beach, Santa Monica State Beach, Huntington City Beach, and El Matador. I'm partial to Santa Monica, which is only 20 minutes from Beverly Hills.
By far the best place to experience culture in LA is the fabulous Getty Center. (You could combine it with a side trip to Santa Monica.) Opened in 1997, the Getty has a wide ranging collection of paintings, drawings (some by Michelangelo), and other art from the 8th century to present day. If you're a fan of Impressionism, you'll swoon at the Getty's Van Goghs.
37. San Diego & La Jolla, California
San Diego is a popular city for sure, but not as crowded as others in California. Personally, I love it. San Diego earns its accolades as "America's Finest City." San Diego is easy to navigate, has glorious weather, awesome beaches, hiking trails, and a great foodie scene.
In San Diego, you can hike, swim, surf, or go whale watching. In downtown San Diego, walk around the Gaslamp Quarter, a historic neighborhood, and have a great Italian meal in Little Italy. Visit Balboa Park, one of the oldest recreational parks in the US. There, you'll find a zoo, dozens of museums, gardens, walking paths, sports fields, theaters, and more.
Just 13 miles north of San Diego lies the stunning town of La Jolla. La Jolla is known as the "Jewel of the Sea" and you can immediately see why.
This must visit California town is a beautiful fusion of nature, beaches, and great food. A hike along the dreamy La Jolla Coast Trail Walk is an unmissable thing to do.
In downtown La Jolla, the main drag is Prospect Street. It's full of tony shops, galleries, and restaurants to explore. If it seems too pricey, there's no harm window shopping. When hunger calls, stop in at Duke's for some Hawaiian-themed food (delicious fish and Poke tacos) and ocean views.
38. Santa Barbara, California
Santa Barbara is about an hour north of LA. It's a charming and upscale beach town. The city is a visual feast, nicknamed the "American Riviera" — with lush gardens, California poppies (in spring), signature red tile roofs, and white washed houses and landmarks.
The main boulevard is State Street, which leads you from Sterns Wharf up to the mansions of Mission Canyon. Santa Barbara's architecture is infused with a Spanish flair.
To see it up close and personal, tour the Old Mission and El Prisidio Fort. Founded in 1786 by Spanish Franciscans, the Old Mission is still an active parish church known as the "Queen of the Missions."
Santa Barbara has a sun-drenched and pristine sandy coastline. The most popular beaches are East Beach, West Beach, and the more remote Butterfly Beach. In terms of the food and drink scene, you'll be dazzled. Santa Barbara is full of innovative restaurants and wineries, where you can indulge in inexpensive tastings.
39. San Francisco, California
It was love at first sight for San Francisco and me. Undeniably beautiful, San Francisco is routinely voted one of America's Best Cities and Best Food Cities. It's a beautiful combination of culture, nature, weather, and hills set picturesquely against the bay. There are so many amazing things to do in San Francisco.
Wander in Golden State Park and Fisherman's Wharf, spying sea lions. Saunter through Chinatown and the Italian cafes at North Beach. Visit the mural splashed buildings and art galleries in the hipster Mission District.
Take a tour of San Francisco's photogenic Victorian "painted ladies" in Alamo Square. Take in the world class Museum of Modern Art, with fantastic pieces by Frank Stella, David Hockney, and Andy Warhol.
The island of Alcatraz is one of the most popular tourist attractions in the US. Throughout the years, the prison's had many infamous inmates, including the notorious Al Capone. Be sure to book cruise tickets well in advance, if you want to go. But, be forewarned, it's honestly a bit grim.
There are many sister towns near San Francisco that are worth visiting like Mountain View, Sausalito, Sebastopol, Carmel, Sanford, etc. The city also serves as a good base for embarking on day trips to vineyards and the incomparable Pacific Coast highway.
40. Portland, Oregon
Everything you've heard about the "cool city" of Portland is true. It has a beautiful forest and mountainous setting, brewpubs galore, art galleries, and mural covered buildings. Its residents embrace its weirdness and keep busy with hiking, biking, skate boarding, e-scooters, and other fast action activities.
Portland's downtown is eminently walkable. Portlands's "living room" is Pioneer Courthouse Square, a large public space that hosts concerts, festivals, and farmers markets.
Tom McCall Waterfront Park has Victorian era architecture and a hopping Saturday market. Powells' City of Books is the world's largest independent bookstore.
Portland has a sparkling foodie scene, with an influx of creative chefs and focus on organic foods. It's also famed for its food trucks. You can sample Lebanese, Thai, Italian, and Japanese cuisine. Portland also takes its coffee seriously and more than 80 breweries operate in the city.
41. Seattle, Washington
With Mount Ranier as a backdrop, Seattle is a bustling metropolis with a laid back vibe, a great foodie scene, and quirky bars. The soul of the city is Pike Place Market, Seattle's most visited landmark.
The open air market is one of the oldest in the US, offering fresh seafood, flowers, and an array of freshly baked goods. Opposite Pike Place, you'll find the original Starbucks (with long lines).
Seattle's oldest neighborhood is the elegant Pioneer Square. The handsome buildings were built in the Ricardian Romanesque style. Aside from the incredible architecture, you'll find art galleries, cafes, bookstores, and museums. For culture, head to Chihuly Garden and Glass, the Museum of Pop Culture, or the Seattle Art Museum.
For amazing panoramic views of Seattle, head to Kerry Park where you can absorb Seattle's skyline in all its glory. Or, head up to the observation deck of the Space Needle, which dominates Seattle's skyline.
42. Lake Tahoe, California & Nevada
Straddled between the state lines of California and Nevada, Lake Tahoe is one of the premier ski destinations in the US. In summer, the snow caps melt and the winter wonderland is transformed into a lakeside beauty.
Lake Tahoe is North America's largest alpine lake, with some of the clearest, crystal blue water on the planet. The south side is both an adventure enthusiast's playground and a relaxation lover's paradise. You'll find pristine beaches, breathtaking hikes, and endless opportunities to commune with nature.
One thing you must do, spring or winter, is ride up the Heavenly Gondola. For those seeking some exercise, you can kayak and swim on the glassy lake with visibility in the water up to 65 feet deep. Or, take a hike through Van Sickle State Park, which crosses the border of Nevada and California.
Midwest Bucket USA List Destinations
43. Minneapolis, Minnesota
I'm an East Coast girl at heart, but I grew up in Minnesota. Though bitterly cold in winter, Minneapolis is a fabulous and underrated city. Sure, there are no palm trees or beaches.
But other aspects of the city counterbalance this nicely — historic architecture, Broadway worthy theater, wonderful museums, the historic Stone Arch Bridge, and uptown lakes.
The best museum is the Minneapolis Institute of Art. It houses a wide ranging collection, with a special emphasis on European and Asian art. Walker Art Center is one of the top 5 contemporary art museums the US. It also has an amazing urban sculpture park, whose showcase piece, Spoonbridge, is a symbol of the city.
If theater is your thing, head to the Guthrie Theater, in a Jean Novel-designed building. If castles are your jam, head to the American Swedish Institute. It's a beautiful turn of the century castle, especially twinkly in the holiday season when it's gussied up with Northern European decorations.
44. Madison, Wisconsin
Wisconsin's capitol city, Madison, is one of the midwest's liveliest cities. It's situated on an isthmus between two huge lakes.
Milwaukee has a bevy of hyper local craft breweries, and a world class university. Madison is a city that likes to eat and drink. There are loads of festivals, farmers markets, and a flourishing cultural scene.
The heart of Madison is State Street, which runs from Capitol Square to the University of Wisconsin. It's filled with an eclectic mix of bohemian shops, boutiques, food carts, and restaurants. At the end of State Street, you'll come to Bascom Hill, the heart of the university.
Madison also has a vibrant performing arts scene and a bevy of museums. It boasts a number of James Beard award winning restaurants. The most unmissable one is L'Etoile. Aside from fancy fare, Madison has loads of international cuisine along gritty Park Street and hippie Willy Street.
45. St. Louis, Missouri
St Louis is the gateway between the eastern and western United States, with its gleaming Gateway Arch as the symbol. It's a city that combines a bit of Midwestern Americana with cosmopolitan flair. Baseball, breweries, and music are popular here. But you'll also find history and culture.
The city is full of stunning old world churches and brick-clad brownstones. The star attraction is the Cathedral Basilica of St. Louis.
You can also play in Forest Park, a crown jewel of green spaces chock full of museums, shops, cafes, and a zoo. It also has a paved loop for hiking and biking.
The most eclectic place in St. Louis is The Loop in the university area. It's akin to Harvard Square in Cambridge. There are plenty of galleries, shops, restaurants, etc. Finally, it's a must do to ride to the top of the 630 foot Gateway Arch for panoramic city views.
46. Chicago, Illinois
Best known as the "Windy City," Chicago is one of my favorite cities in the entire US. As a former resident, I can tell you that it's especially appealing in the summer when the weather is just perfect. Winter is incredibly harsh, with a whipping wind chill.
One of Chicago's biggest draw is its green spaces. The most famous are Grant Park and Millennium Park (home to the famous Chicago Bean). Chicago's architectural diversity is unparalleled, so taking an architecture tour is a great way to explore the city. Chicago is also home to fantastic art museums, world class cuisine, and nightlife options.
There's plenty to do for people of any budget or travel style. Take a cruise on Lake Michigan. Shop on the Magnificent Mile. Go to a Cubs or White Six baseball game. If you're a culture vulture, head to Frank Lloyd Wright's Robie House (a designated UNESCO site), Driehaus Mansion, and the Art Institute of Chicago.
The Institute is one of the US' best museums. It houses an impressive collection of Impressionism, ancient artifacts, and over 3500 European works dating from the 12th to the mid-20th century. You'll find works by Pablo Picasso, Vincent Van Gogh, Grant Wood, and Edgar Hopper.
I hope you've enjoyed my guide to the best destination in the United States. Hopefully, you can create your own USA bucket list. You may enjoy some of my other US travel guides and resources:
If you'd like to check some of these iconic US destinations off your USA bucket list, pin it for later.