If you're yearning for a peaceful escape in New England, look no further than Vermont. This one-week Vermont itinerary offers the perfect road trip through the picturesque and tranquil state.
Vermont's unspoiled landscapes and breathtaking scenery make it an ideal destination for those seeking solitude and natural beauty. And if you find yourself with extra time, I'll also provide options to extend your trip and explore more of what Vermont has to offer.
Vermont rolls out an endless supply of quaint Colonial towns filled with white steepled churches, red barns, red covered bridges, and charming inns.
Vermont is heavily forested, with a green canopy that's set ablaze with fall foliage. If you're looking to get away from the crowds and fall back into nature and history, Vermont is the perfect place. And, while you're there, you can enjoy the excellent farm to table cuisine for which Vermont's renowned.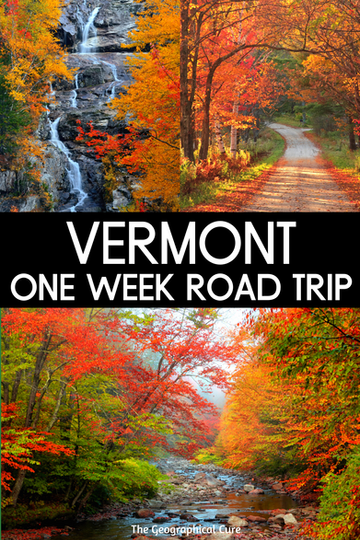 Here's my guide spending 7 days in bucolic Vermont. This 200 mile Vermont road trip itinerary takes you from southern Vermont to northern Vermont. You'll drive through the Green Mountains and weave through charming hamlets.
I point out all the must visit attractions and towns in Vermont. I give you tips for visiting Vermont, including where to hike, where to stay, and where to eat.
I also add some bonus destinations at the end of the one week Vermont itinerary, in case you want to extend your Vermont road trip from 7 days to 10 days or more.
One Week In Vermont Itinerary
This one week in Vermont road trip itinerary takes you from Brattleboro in southern Vermont to Stowe in northern Vermont. Distances between destinations are relatively short, so you won't feel rushed.
To begin your trip to Vermont, fly into Bradley International Airport in Hartford. Brattleboro is a 1:15 drive from the airport. Or, simply drive to Brattleboro to begin.
Day 1: Brattleboro
Start your 7 day Vermont road trip in the gorgeous town of Brattleboro in southern Vermont. It's New England's most supportive art centric enclave. Artists settled in Brattleboro to escape the high rents of New England's major cities, while still remaining close.
Brattleboro's downtown has been revitalized. It's now full of art galleries, upper story artist studios, and a broad array of art venues.
The Brattleboro Museum & Art Center is housed in a restored railroad depot. It presents 8 exhibitions annually.
Brattleboro also has a performing arts scene focused on classical music. The marquis venue is the Marlboro Music School. Brattleboro hosts the New England Bach Festival, a winter Chamber Music Series, and the Vermont Renaissance Festival (in nearby Vernon). Or you can catch a movie at the Art Deco Latchis Theatre.
If nature calls, Brattleboro offers four seasons of sports. You can ski, snowshoe, and skate in the winter. And swim, bike, hike, and golf in the summer. Be sure to check out the Creamery Covered Bridge, a rare surviving example of a 19th century wooden bridge.
Where to stay in Brattleboro: The Inn on Putney Road, Chesterfield Inn, Treehouse Village Inn
Where to eat in Brattleboro: Mocha Joe's Cafe, Amy's Bakery Arts Cafe, Peter Havens, Duo, T.J. Buckley's
Pro tip: If it's pottery you're after, head to Putney just 9 miles upriver.
Day 2: Chester, Woodstock & Quechee Gorge
As you leave Brattleboro, head west on Route 9 and link up with Route 100. You'll be traveling north along the eastern edge of the Green Mountains.
There are plenty of panoramic overlooks to stop and take photographs. And plenty of cute towns to visit along the way — Grafton, Chester, Weston, Woodstock, and Plymouth.
If you have time for just one, I'd pick Chester or Woodstock. Both are enchanting New England villages.
Either makes a good place to overnight, with farm to table eateries and charming inns. Alternatively, you could just visit and continue on to Killington, depending on your agenda.
Chester is best known for its Stone Village and Chester Village Historic Districts. The Stone Village derives its name from the plethora of granite houses in the area.
Chester Village gives off a classic Federal and Colonial aesthetic. Chester is also home to cute boutiques, art galleries, and some fabulous restaurants.
Woodstock is ridiculously charming, the quintessential New England town. Well preserved thanks to the Rockefeller family, strolling the adorable downtown is an activity in and of itself.
There are plenty of boutiques, craft shops, antique stores, and bookstores. FH Gillingham & Sons is a classic Vermont general store. Don't miss the cute covered bridge.
For some exercise, you can stop for a hike in Quechee Gorge en route to Killington. It's a fairly easy (but steep) hike down to the base of the gorge.
If the clear water sparkling in the sunshine entices you, there's a place to enter the river for a swim. The best views are from the bridge. If you didn't get cheese earlier, now is the time to stock up at the Quechee Gorge Village
Where to stay in Chester: Inn Victoria, Fullerton Inn, Stone Hearth Inn
Where to eat in Chester: Free Range, Heritage Deli & Bakery, Pizza Stone VT
Where to stay in Woodstock: Fan House Bed & Breakfast, Kedron Valley Inn, Twin Farms, The Woodstock Inn and Reort
Where to eat in Woodstock: Barnard Inn Restaurant, Cloudland Farm, Keeper's Cafe, The Red Rooster
Day 3-4: Killington
One days 3 and 4 of your Vermont itinerary, you arrive in Killington. The town is Vermont's largest ski resort. It's a must visit town on your one week in Vermont itinerary.
Killington is really a year round outdoor playground, no matter the season. The downtown is a bit strip mall-ish and overdeveloped. But the views from Killington Peak are sublime.
When the weather is warm, hit the Adventure Center where you can zip line and take scenic lift rides. The ski trails are also open for hiking. Deer Leap Trail is a 3 mile loop and leads to a pretty view overlooking Pico Peak.
In winter, you can ski, snowboard, fat bike, cross country ski, snow tube, and take sleigh rides. Because of its snowmaking capacity, the slopes usually open in early November and the lifts run to early May. The Grand Spa is a nice way to end your day.
Where to stay in Killington: Mountain Top Inn, Birch Ridge Inn, Killington Grand Resort Hotel
Where to eat in Killington: The Garlic, The Peak Lodge, Choices
Day 4-5: Burlington
You may want to spend another day in Killington, if you're sporty. But, if not, the next stop is Burlington, land of the poet Robert Frost and known as one of the most livable small cities in the US.
In Vermont, there's a saying that "you can't throw a stone without hitting a poet/painter/potter." As the largest town in a state of small hamlets, Burlington has developed a self contained art scene that's the envy of many.
To some, Burlington is akin to a mini Seattle — a politically and socially progressive enclave of college students, regional power brokers, and creative minds.
The jewel of Burlington's art scene is the Fleming Museum on the University of Vermont campus. The museum has a wide range of artworks and artists. In June, you can attend the Arts Alive Festival. The Firehouse Center for the Arts also hosts year round exhibitions and art programs.
If you want to see a show, head to the Flynn Performing Arts Center. It's a fully restored Art Deco masterpiece. The Flynn hosts concerts, plays, and traveling Broadway shows.
If you want to disappear into nature, take the Robert Frost Interpretive Trail. It's a short 1.2 mile woodland walk. You'll find signs with commemorative quotes from his poems, including The Road Not Taken.
If you're a foodie, Burlington will suit. It outshines much of the US with a bounty of locally grown food. Farm to table eating is a well established tradition. There's even excellent street food at Farmers and Foragers Food Truck.
>>> Click here to book a craft brewery tour
And Burlington has a wonderful farmer's market on Saturdays in the summer and fall. There's everything from organic meats and cheeses to flowers and maple syrup.
Local artisans also sell their wares. The market is a must see if you're visiting in season.
Where to stay in Burlington: Willard Street Inn, Hotel Vermont, The Essex, Made INN Vermont
Where to eat in Burlington: Bleu Northeast Seafood, Hen of the Wood, Juniper, The Great Northern, Honey Road
Day 6: Day Trip To Shelburne and Lake Champlain From Burlington
On day 6 of your 7 day Vermont itinerary, stay in Burlington another night. Then day trip to your next Vermont destination. Drive south to the Magic Hat Brewing Company.
This establishment sparked the growth of Vermont's microbrewery scene. You can take a free half hour tour and fill up your own growler with an experimental brew.
Just down Route 7 is Shelburne, an affluent suburb of Burlington. Shelburne's main attraction is the 19th century Shelburne Farms.
There, you can learn how cheese is made from start to finish. Or wander around the beautiful 1400 acre estate. The farm overlooks Lake Champlain. It's the perfect place for a picnic, if you're brought your own provisions or purchased some at the farm.
Lake Champlain is one of the most iconic places to visit in Vermont. It's the 6th largest freshwater lake in the US. First head to Oakland Park.
Admire the beach and, if it's warm, go paddle boarding. Then hike up the Island Line Trail to the Burlington Earth Clock. The clock is a beautiful large stone circle created by locals called Circles of Peace.
If you want to hit up another microbrewery, the Switchback Brewery is your go to place in Lake Champlain. Then, hike the 2.7 mile long Red Rocks Park Loop Trail, where you'll have beautiful views of the mountains and lake.
Day 7: Stowe
Just a 30 minute drive from Burlington brings you to lively Stowe Vermont. New England is awash in winter resort towns.
But Vermont's picturesque Stowe is an incredible year round destination you can't help but fall in love with. It's especially known for its breathtaking fall foliage.
En route to Stowe, make the requisite stop at Ben & Jerry's Ice Cream Factory. You can tour the facilities and get the low down on how their ice cream is made. Afterward, you can taste some limited-release creations.
Then, on to beautiful Stowe. In the winter, Stowe is a popular ski destination, with Vermont's tallest peak Mt. Mansfield. If there's snow when you arrive, hit the slopes or take a sleigh ride.
Come summer, Stowe swaps skiing for hiking, golf, mountain biking, kayaking, swimming, and scenic drives up the winding Auto Toll Road. For a magical experience, you can go hot air ballooning over the Green Mountains.
Where mountainous Stowe really shines is its hiking trails, with a range of options to suit every level of experience. Some take you to towering peaks, others end in waterfalls.
The Stowe Pinnacle Trail is a 2.8 mile hike to a breathtaking summit with mountain views. When you're done hiking, snack on some apple cider donuts or indulge in a Vermont Maple Sugar Body Scrub at the Snowflake Spa.
Stowe also boasts a romantic and picture perfect downtown. Its white steepled church is the focal point. The tiny Main Street is filled with boutiques, art galleries, crafts stores, and antique shops.
Sample some of the finest cheddar cheese and maple syrup in Vermont. There are also libraries, museums, theaters, and cultural organizations to keep your entertained.
>>> Click here to book a craft brewery tour
Where to stay in Stowe: Stowe Mountain Resort, Trapp Family Lodge. Topnotch Resort
Where to eat in Stowe: Plate, Cliff House, Bistro at Ten Acres
Extra Time On Your Vermont Road Trip?
If you have more than 7 days to spend in Vermont, there are plenty of other places to add to your Vermont itinerary.
1. Montpelier
Add a day in pretty Montpelier, just 38 miles south of Burlington in northern Vermont. Montpelier is the country's smallest capital, though it feels like a village. Its quirky spirit has earned it the nickname of "Montpeculier."
Montpelier has a historic little downtown center and vibrant cultural scene, with shops, cinemas, art galleries, etc. But its main claim to fame is as a base for outdoor activities. Hubbard Park offers miles and miles of hiking trails. On its highest peak, a romantic stone tower offers 360 mountain views.
You can also tour the Vermont State House, visit the Vermont History Museum, browse in Kellogg Library, and sample a maple "creemee" at the Morse Farm Maple Sugarworks.
Where to stay in Montpelier: Inn at Montpelier, High Hill Inn
Where to eat in Montpelier: NECI on Main, Sarducci's, Kismet
2. Manchester
Or, if you'd prefer to hang out in southern Vermont, you can add Manchester to the beginning of your Vermont road trip itinerary. It's only 1:30 from Brattleboro. Seated at the base of Mt. Equinox, Manchester has been a popular summer resort since the 19th century.
Manchester boasts stately homes and marble sidewalks. Its Main Street could hardly be more picturesque. The town is also a bastion of outlet shopping, with famed upscale factory outlets doing business in cute Colonial buildings.
One must see site in Manchester is Hildene, the summer home of Abraham Lincoln's son. Hildene is a beautiful Georgian Revival style mansion, which holds some of the Lincoln's family's most precious possessions. The property also features beautiful gardens.
For hiking in Manchester, hit the Mt. Equinox Trail. It's a 6.8 mile loop that's both steep and challenging. The views from the summit are worth the arduous climb. But you can also access the summit by car at the entrance to Skyline Drive.
Where to stay in Manchester: Equinox, Taconic Hotel, Wilburton Inn
Where to eat in Manchester: Bistro Henry, Mistral's at Toll Gate, Mystic Cafe & Wine Bar, Ponce Bistro, The Silver Fork
I hope you've enjoyed my one week itinerary for Vermont. You may enjoy these other United States travel guides and itineraries:
If you'd like to spend one week in Vermont, pin it for later.