Book and literary nerds of the world unite! Here's my guide to visiting the Boston Athenaeum. The Athenaeum is a top attraction in Boston's lovely Beacon Hill neighborhood.
When you pass through the red leather doors at 10½ Beacon Street, you'll discover one of Boston's hidden gems — the enduring and beloved Boston Athenaeum. An athenaeum is a studious sanctuary, named after the Greek goddess Athena, devoted to research and learning.
A designated National Historic Landmark, the Boston Athenaeum is one of the oldest and most esteemed private membership libraries in the United States. And it's the most beautiful library-haven you've never heard of, with Colonial decor and Louis Comfort Tiffany painted ceilings.
Opened in 1849, the Boston Athenaeum is right in the heart of the city, at the foot of Beacon Hill and adjacent to Boston Common. Past library members include luminaries and patriots such as John Quincy Adams, Ralph Waldo Emerson, Amy Lowell, Henry Wadsworth Longfellow, and Daniel Webster.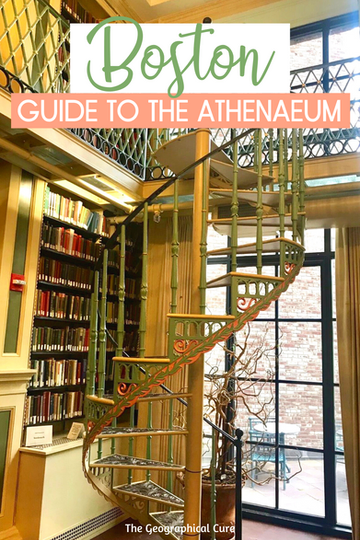 Today, the collection boasts over a half million volumes, beautiful paintings, sculptures, rare books, and manuscripts. There's a special emphasis on the history of Boston and New England, English and American literature, and fine and decorative arts. If you're a culture vulture, the Athenaeum is a must see site in Boston.
How To Visit the Boston Athenaeum
For such an impressive place, you'd think the Boston Athenaeum would be on Boston's well traveled tourist circuit. But it's not. This is due to the fact that access is restricted and admission is quite pricey.
The first floor and exhibition galleries are open to the public ($10 per ticket). But all other floors are accessible only to Athenaeum members. To see the world famous fifth floor reading room — the absolute highlight — you have to cough up a hefty $40 for a day pass.
But there's one way around the system. Several times a week, the Athenaeum has a one hour art and architecture tour for an extra $2 (for $12 total).
This is when you'll get a behind-the-scenes look at the building with a knowledgeable docent. Call Patron Services at 617-720-7612 to register well in advance. More tips for visiting the Boston Athenaeum are at the end of the article.
History of the Boston Athenaeum
The Athenaeum began life in 1807, founded by 14 members of Boston's Anthology Society. This was a literary club led by the father of novelist Ralph Waldo Emerson.
The society wanted a reading room and a non-circulating library in a landmark building, where they could expand the society's collection of rare books and art work.
The Boston Athenaeum moved into its present Beacon Street building in 1849. Edward Clarke Cabot won the competition to design the Neo-Palladian building.
He based his work on a Vicenzan palazzo designed by Andrea Palladio. For nearly 50 years, the Athenaeum was the center of intellectual life in Boston. By 1851, it was one of the five largest libraries in the United States.
During this time, the Athenaeum began commissioning and collecting art. It purchased Jean-Antoine Houdon's busts of Benjamin Franklin, the Marquis de Lafayette, and George Washington. (These works were originally at Monticello, Thomas Jefferson's home in Virginia.)
The Boston Athenaeum became Boston's premiere art venue. When the Boston Museum of Fine Arts opened in the 1870s, the Athenaeum bequeathed some of its paintings and sculptures to the MFA to help establish its collection.
The Athenaeum's current mission is to serve its members, the broader community, and scholars. To achieve this goal, the library preserves and augments its collections of books and art, provides library services, and provides cultural programs. The Athenaeum hosts lectures, concerts, and art exhibitions.
What To See Inside the Boston Athenaeum
The Athenaeum is simply overflowing with ancient tombs, magnificent paintings, and sculptures of every size. On your visit, you'll begin on the first floor.
The first floor contains a lovely silent reading room. The memoirs of James Allen, an infamous highwayman, are on display.
The Athenaeum also owns Allen's "skin book," a book made from his own flesh via a macabre process called "Anthropodermic Bibliopegy." Unfortunately, the skin book isn't on public display. It's only brought out for special occasions.
The Athenaeum's art collection is stunning. Amongst the books and in the Norma Jean Calderwood Gallery, you'll see Gilbert Stuart's famous portraits of John Adams and George Washington, a rare set of Goya's Los Caprichos, a John Singer Sargent portrait of George McCulloch, pastels by Bradley Phillips, a portrait bust in marble by Daniel Chester French (of Lincoln Memorial fame), and other sculptures.
Click here for a virtual tour of some of the Boston Athenaeum's most famous painting and sculptures. You can also check out its Facebook feed here.
The second floor has another reading room, where busts of Roman citizens flank a long table filled with periodicals. The second floor houses the Athenaeum's main reference collection.
It consists of circulating fiction and current monthly and quarterly journals. There's also a graceful spiral staircase in green wrought iron.
The third floor contains more books and houses the Athenaeum's catalog and acquisition functions. The highlight is hidden inside a dark blue-green wooden case with glass sides — the King's Chapel Collection. The collection consists of 17th century theological works, including John Calvin's works in Latin.
The fourth floor is home to library administration and the World History collection. There's an oval room where the Athenaeum's trustees meet, with peach walls and a light green ceiling.
One bookcase holds George Washington's personal library, which includes an autographed copy of Thomas Paine's Common Sense and the Congressional Register containing the first proceedings of the U.S. Congress.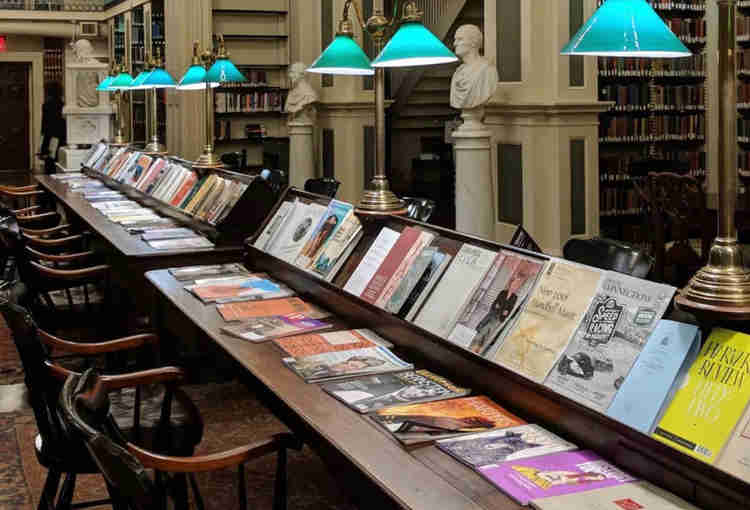 Ah, the fifth floor, a quiet place for reading and research amidst Colonial decor. The fifth floor houses the main reading room, with a barrel vaulted ceiling.
It's a silent reading room with wrought iron chandeliers and tables located in alcoves on either side and down the center of the room.
After exploring the reading room, you can step outside onto a small terrace and take in the view. You'll see Park Street Church, the historic site where the hymn "America" (also known as "My Country 'Tis of Thee"), was sung for the first time on July 4, 1831.
Your last stop is the "Drum," the nine floors of glass floored stacks. They were constructed to create more space for books.
Practical Information and Tips for Visiting the Boston Athenaeum
Address: 10 1/2 Beacon Street
Non-Member Hours: 12:00 pm to 8:00 pm on Tuesdays and 10:00 am to 4:00 pm on Wednesday through Saturday.
Entry Fee: $10 adults, $8 students. This gives you admission to the first floor. If you want the full tour and to see the beautiful 5th floor reading room, you need to pre-book a $40 day pass.
Tours: Extra $2 (for a total of $12) Tuesdays at 5:30 p.m., Thursdays at 3:00 p.m., and Saturdays at 11:00 a.m. Click here for more details.
Metro: Park Street (red and green line) or State Street (blue and orange line)
Pro tip: Right now, the Boston Atheneum is limiting non-member visitors to 5 per day. If you're walking the Freedom Trail, the Boston Athenaeum is right near the Massachusetts State House. You'll have to store your bags inside a (free) self serve locker inside the main entrance. You can take photos, but must turn off your flash. No selfie sticks or tripods are permitted.
I hope you've enjoyed my guide to the Boston Athenaeum. If you love New England, you might also enjoy these travel guides:
Must See Sites in Historic Salem
7-10 Day Itinerary for Vermont
10 Day Itinerary for New Hampshire
25 Most Beautiful Towns in New England
10 Day Itinerary for Coastal Maine
Fall Foliage Road Trip in New England
Walking the Freedom Trail in Boston
If you'd like to visit the Boston Athenaeum paradise, pin it for later.