The National Portrait Gallery is in the "noblest of Washington buildings." — Walt Whitman
Planning a trip to Washington D.C.? Here's my guide to visiting the wonderful National Portrait Gallery ("NPG"), which should definitely be on your D.C. itinerary. Through the museum's portraiture, you can meet famous Americans, movers and shakers, and influencers.
This NPG guide gives you an overview of the museum, with must know tips for visiting. I also identify 15 must see masterpieces that you can't miss at this historic museum.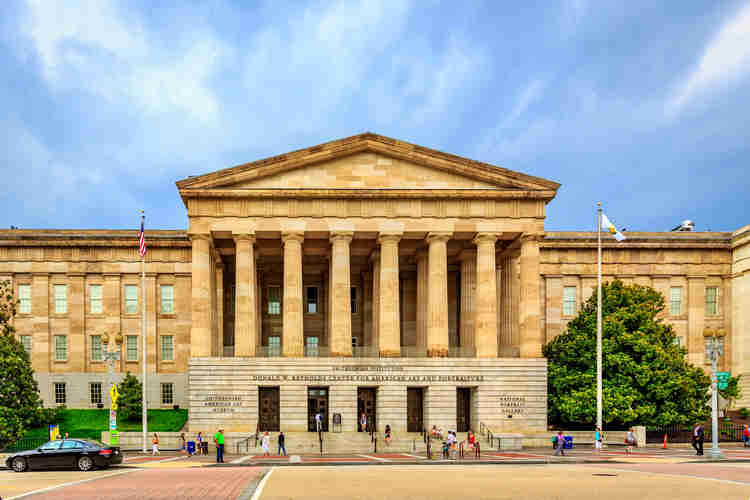 the National Portrait Gallery in Washington DC
Somehow, despite many years of living in the D.C. area, I neglected to visit this august Smithsonian museum. What a mistake!
The NPG must be the most underrated museum in Washington D.C. It's now my favorite D.C. museum after the National Gallery of Art and the Hirshhorn Museum and Sculpture Garden.
It's not on the mall, so that may account for it being rather a hidden gem. The gallery is near Chinatown wand the Penn Quarter neighborhoods.
The NPG is a beguiling combination of history, biography, and art all in one go. It's brilliant, a must visit destination in D.C. for history buffs, art lovers, and pop culture aficionados.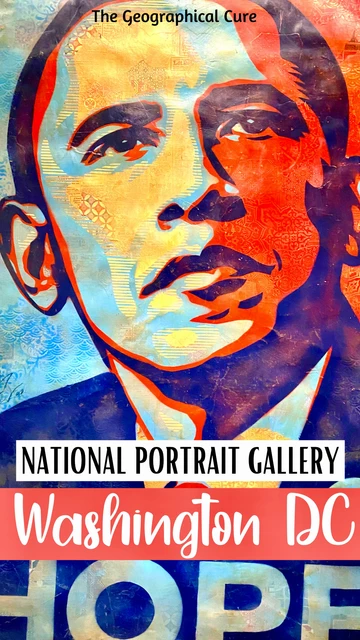 Overview of the National Portrait Gallery
Before you visit with this National Portrait Gallery guide, it's important to know a bit about the history of the NPGP.
That idea of portraiture for national benefit began in England and crossed the Atlantic in the 20th century. In 1937, American industrialist Andrew Mellon gifted his collection of fine portraits to the U.S. to form the basis of a portrait gallery in Washington D.C.
The NPG opened in 1968, nested within the Smithsonian museums. The museum is housed inside a registered National Historic Landmark.
The building is a Greek Revival monument modeled after the Parthenon in Athens. Congress endowed the National Portrait Gallery with the "serious national purpose" of answering the question, "What is an American?"
Through its fascinating works, the National Portrait Gallery tells the story of America, from pre-Revolutionary War to the present. The museum has the world's only complete collection of presidential portraits outside the White House. And over 25,000 images of famous Americans — politicians, business tycoons, celebrities, influencers, and sports figures.
The museum is spread out on three levels and houses 25,000 images. It shares space with the Museum of American Art.
sculpture against the museum facade
Click here for a map of the National Portrait Gallery. On the first floor, there are portraits of the founding fathers and other early national movers and shakers. You'll also find the museum cafe, museum
shop, lobby, and recent acquisitions.
There's also the beautiful modern Robert and Arlene Kogod courtyard. It's 28,00 square feet and topped with a canopy by Norman Foster.
The elegant ceiling is an undulating form of double glazed glass filters. With light pouring through, it almost makes you feel as if you're outside.
On the second floor, you'll find the museums's hallmark, the highly esteemed gallery of America's Presidents. You'll also find a gallery dedicated to the Struggle for Justice and a large space for special exhibitions.
Rembrandt Peal, George Washington, 1853
On the third floor, you'll find portraits of famous 20th century Americans. They include portraits of Katherine Hepburn, Helen Keller, Albert Einstein, Lucille Ball, Georgia O'Keefe, Rosa Parks, Martin Luther King Jr., Marilyn Monroe, etc. There's also a Champion Gallery, featuring all of America's sports greats.
The addition of the portraits of Barack Obama (second floor) and Michelle Obama (third floor) in 2018 sparked a pilgrimage effect. They were the first portraits of a president and First Lady that were painted by African American artists.
The portraits caused museum attendance to skyrocket. (Be forewarned, those two portraits are sometimes in traveling exhibits.
The south wing of the third floor is known as the Great Hall. It was redecorated in the 1880s in a Victorian renaissance style by architect Adolf Cluss. The Great Hall was the site for Lincoln's second inaugural ball and was once the longest room in America.
Guide To The National Portrait Gallery: 15 Masterpieces
There are so many amazing things to see at the National Portrait Gallery, that's it hard to winnow it down. But here are 15 masterpieces you shouldn't miss on your visit.
Gilbert Stuart, George Washington, 1796
1. Stuart's George Washington
This well-known portrait is a national treasure, known as the "Lansdowne Portrait." Naturally, it's the first thing you see when you enter the America's Presidents gallery.
Gilbert portrays Washington grandly. He's a leader, but not a king.
This portrait captures Washington during his second term as the first President of the United States. In a full length portrait, he's shown not as a military commander but as a civilian commander in chief.
Given his European training, Stuart was well suited to execute a grand manner style portrait of America's first president. In it, Washington is surrounded by allegorical symbols of his leadership.
Washington raises his right arm in a classically inspired oratorical pose. In his left hand, he grasps a ceremonial sword.
There are a remarkable 100+ other portraits of Washington in the National Portrait Gallery, along with a famous bust by the French artist Jean-Antoine Houdon and a sculpture by Ferdinand Pettrich.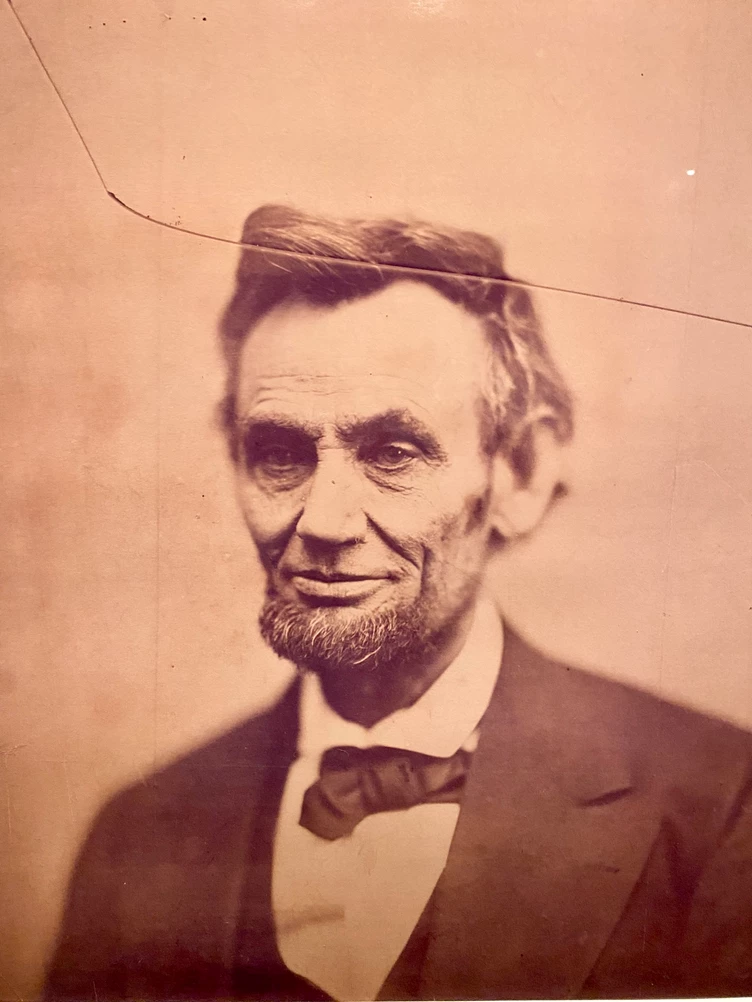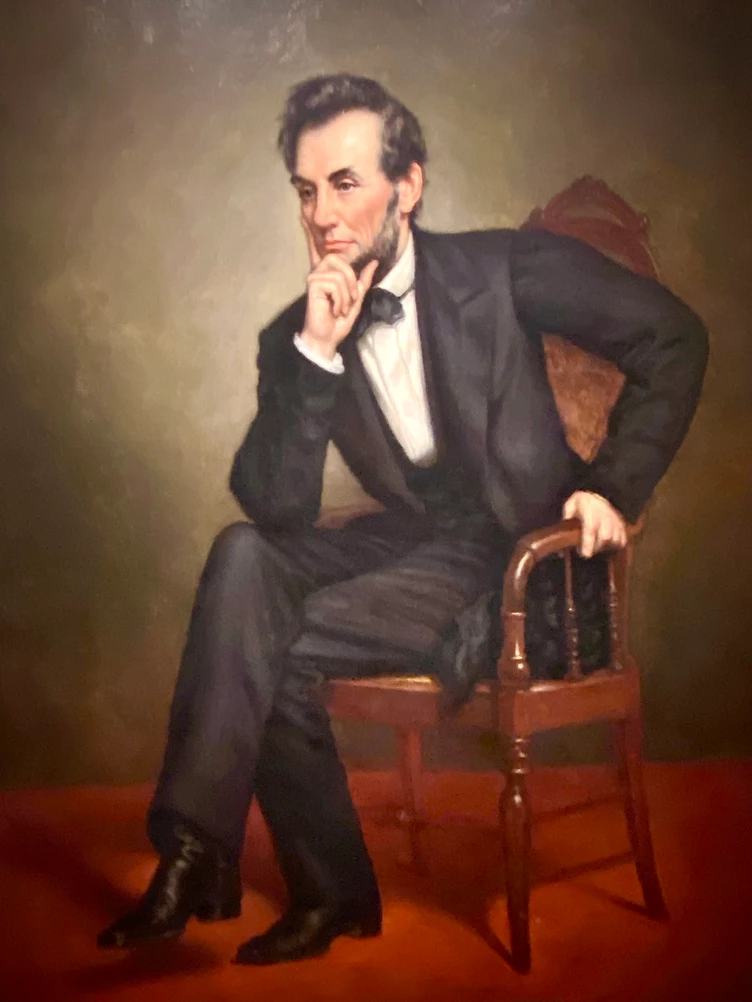 2. Lincoln Portrait and Photograph
There are two must see depictions of Abraham Lincoln, the 16th president of the United States. The first is the famous Cracked Plate photograph of Lincoln, taken by Alexander Gardner and shown on the left above.
The photograph is a haunting portrayal of Lincoln. It was taken in 1865, near the end of the Civil War. Lincoln looks, unsurprisingly, a bit haunted and worse for wear.
After the photo was taken, a crack inadvertently appeared in the glass plate. The photographer threw out the plate, so this is the only existing image. The crack seems to symbolize the division of the America, and hints at the bullet that would ultimately kill Lincoln.
The other portrait of Lincoln is also a classic, one of four portraits created by George Peter Alexander Healy. Lincoln is shown as an educated and thoughtful frontier lawyer, with much on his mind.
Kehinde Wiley, Portrait of Barack Obama, 2018
3. Portrait of Barack Obama
In this iconic and unusual presidential portrait, Obama looks both serious and vaguely amused. He wears a suit (but no tie) and looks directly at the viewer.
Like Lincoln, Obama was the first president to savvily use photography of himself to connect with the American people. Obama's presidency was marked by an understanding of the power of portraiture.
In this Kehinde Wiley painting, Obama sits in an ornate wooden chair, which floats in a sea of brightly colored leaves and flowers (jasmine, lilies, chrysanthemums). The vegetation is similar to a tapestry or wallpaper. But it looks more alive.
The feet of the chair disappear into an unseen bed of soil. But Obama's feet just float unanchored. The spatial ambiguity of the picture suggests a quandary. Are you looking at exuberant reality or a fever dream?
Amy Sherald, Portrait of Michelle Obama, 2018
4. Portrait of Michelle Obama
A Harvard educated lawyer, Michelle Obama became a popular first lady and mother of two daughters. Obama was inspired to focus on women's rights and reach young people through various health and education initiatives.
Baltimore artist Amy Sherald's portrait of Obama was unveiled at the National Portrait Gallery in 2018.
Some visitor's loved it, while others were shocked by Sherald's unique approach, which uses an almost dark gray color for her skin. This approach was intended to look beyond the superficial differences of race.
The geometric black and white Milly dress dominates the composition. Obama sits upright against a pastel robin's egg blue background. Her portrait is one of black power exploding through a gallery of (mostly) white history.
The portrait was so popular that the museum was forced to relocate it to a more spacious room on the third floor.
Portrait of Pocahontas, unidentified artist, 1616
5. Portrait of Pocahontas
This rare portrait of Pocahontas was gifted to the museum by Andrew Mellon. It's known as the "Booton Hall" portrait.
The portrait is likely based on a Dutch engraving. It's not exactly a faithful depiction, since Pocahontas is not portrayed with Native American hair and skin.
Pocahontas is an early American heroine, the daughter of Indian chief Powhatan. She's an Indian princess who allegedly saved the life of English colonist John Smith.
While that tale is likely an apocryphal legend, Pocahontas did contribute to the developing relationship between the Native Americans and the colonists.
Pocahontas eventually converted to Christianity, married Englishman John Rolf, and moved to England (where this portrait was painted and originally hung).
Joseph Siffred Duplessis, Benjamin Franklin, 1785
6. Portrait of Benjamin Franklin
This portrait probably looks familiar to you. It quickly became the most iconic image of the great statesman, aged about 70. It was the portrait used to create the engraving for Benjamin Franklin's image on the $100 bill.
In his day, Franklin was the most famous American in the world. He was an inventor (bifocal eyeglasses among other things), printer, author, philosopher, diplomat, and natural scientist.
Franklin spent years representing the Colonial interests in England and France. He signed the Declaration of Independence.
Franklin was also known for his simple tastes and dress. He refused to wear a wig. And was revered for his wit.
This portrait was created by Duplessis, who at the time was the official court portraitist for the French king. The artist portrays Franklin with pursed lips, high eye sockets, his hair down, and in a plain gray colorless coat.
READ: Guide to the Benjamin Franklin House in London
Elaine de Kooning, John F. Kennedy, 1963
7. Portrait of John F. Kennedy
The artist Elaine de Kooning was commissioned to paint JFK in 1962. She finished painting this magnificent portrait after Kennedy's assassination, when she (and the nation) were grief stricken.
De Kooning was a member of the Abstract Expressionists. But (unlike some) she combined elements of abstraction and realism. De Kooning painted an "extremely restless" JFK obsessively trying to capture a likeness.
Eventually, she was satisfied with this explosion of green, gold, and black. Although de Kooning claimed it was only "a glimpse" of the "incandescent" president. It's one of the most unusual portraits in the Presidents Gallery.
With her scissoring gestural brushstrokes, de Kooning gives JFK both a smile and a frown, with laugh lines around his eyes. There are no trappings of power. Just a vivacious and unaffected portrait of man living in the age of what the first lady referred to as Camelot.
John White Alexander, Walt Whitman, 1889
8. Walt Whitman
There are a couple rooms on the first floor of the museum devoted entirely to the great novelists and poets of America — Martin Amis, J.N. Barrie, Charlotte Bronte, Edmund Burke, Ralph Waldo Emerson, John Keats, etc.
I liked best this portrait of Walt Whitman, with its frothy beard, sagging eyes, and heavy eyebrows.
But sadly, Whitman didn't like it himself. He claimed that both the "worst as well as the best" had to be faced and celebrated in life. Whitman thought this portrait showed too much of the best and was "Bostonized." Bah!
Jo Davidson, Bust of Albert Einstein, 1934
9. Bust of Albert Einstein
Albert Einstein was the most brilliant scientist of the 20th century. He was awarded the Nobel Prize in Physics in 1921. Einstein fled to America from Berlin Germany, to escape the Nazis in 1933.
Less well known is the fact that Einstein was an influential civil rights activist. He warned the US government of the danger of nuclear war.
The Davidson sculpture is of beautiful quality. It shows the intellectual's famous shock of hair.
Einstein's face has the careworn wrinkles of someone who has seen and experienced much of life. But it's not ineffably sad, with a touch of a smile to soften the brainpower.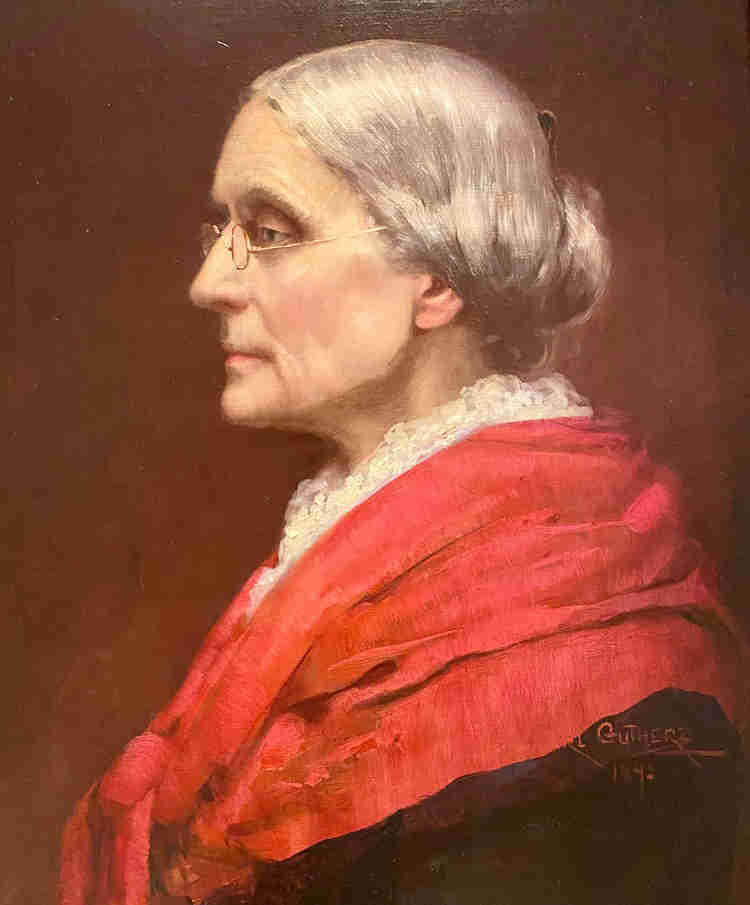 Carl Gutherz, Susan B. Anthony, 1895
10. Susan B. Anthony
Susan B. Anthony is a feminist icon, known as a staunch advocate for women's suffrage.
She became a devoted activist in 1852, when she was denied the chance to speak at a rally due to being female. Anthony was also arrested in 1872 for trying to vote in a presidential election.
Anthony participated in many social reform movements. She even published her own newspaper, the Revolution.
This portrait was a gift from the Corcoran Gallery of Art, when in closed in 2014. Gutherz painted it from a photograph.
It depicts Anthony at a time when she was president of the National American Women Suffrage Association, an organization devoted to women's voting rights.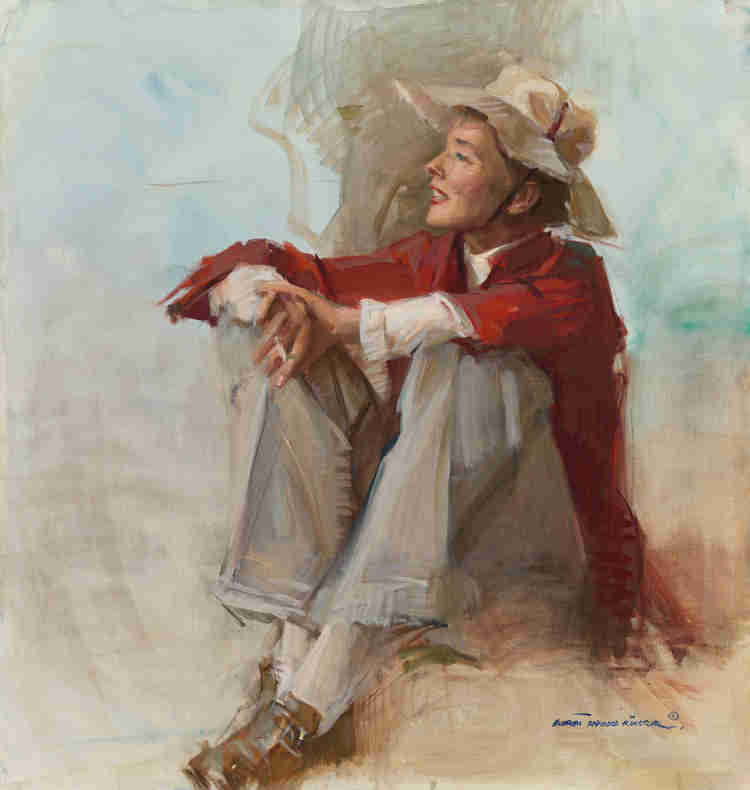 Everett Raymond Kinstler, Katharine Hepburn, 1982
11. Katherine Hepburn
Katherine Hepburn burst into Hollywood as an ironic misfit. She had a highly stylized personality and headstrong independence. She boldly announced a new kind of female presence on the silver screen.
Hepburn was an instant screen success. She won four Oscars for best actress, exceeded only by Meryl Streep.
The esteemed artist Kinstler was a portraitist to both presidents and celebrities. He painted Hepburn more than 40 times in the 1980s and 1990s. The portrait shown above, painted in an impressionistic style, was reputedly Hepburn's favorite rendition.
The National Portrait Gallery recently acquired Hepburn's four Oscar statuettes as a gift from her estate. They're displayed on the third floor next to the portrait shown above.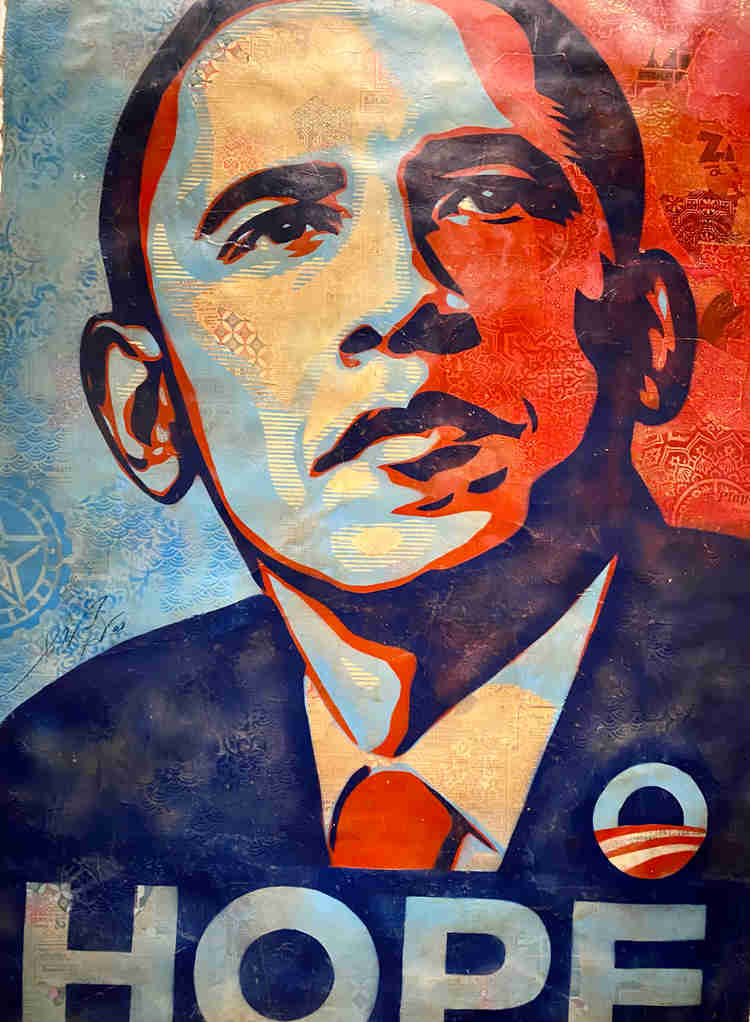 Shepard Fairey, Portrait of Barack Obama, 2008
12. Portrait of Obama
This striking piece was donated to the museum by Heather and Tony Podesta. It's a large scale mixed media collage created by street artist and graphic designer Shepard Fairy.
The portrait was created as a form of grass roots activism. It's a ubiquitous viral image.
The beautiful portrait appears on magnets and coffee mugs, reprinted millions of time. It symbolized and become the official image of the historic campaign of Barack Obama.
Fairey used a non-traditional portrayal. It's the only collage portrait of a president. It's a dramatic piece with an amazing tactile quality.
The artist used a patriotic color scheme and a dynamic heroic pose, joined with the world HOPE. One art critic called it the "most efficacious [modern] American political illustration."
Nelson Shanks, The Four Justices, 2012
13. The Four Justices
Oh, as a lawyer, I loved this one. This colossal painting sits atop the Grand Staircase leading to the museum's second floor.
The Four Justices portrait commemorates women who have served on the U.S. Supreme Court. The portrait shows Sandra Day O'Connor, Ruth Bader Ginsburg, Sonia Sotomayor, and Elena Kagan. O'Conner was the first female justice, appointed in 1981.
The artist Nelson Shanks was commissioned to paint this multi-portrait by art collectors Ian and Annette Cumming. Completed in 2012, Shanks was inspired by 17th century Old Master Dutch paintings. (Shanks also has a portrait of Bill Clinton in the museum).
The justices are in their robes and look out solemnly at the sitter. Click here for interviews with these groundbreaking justices.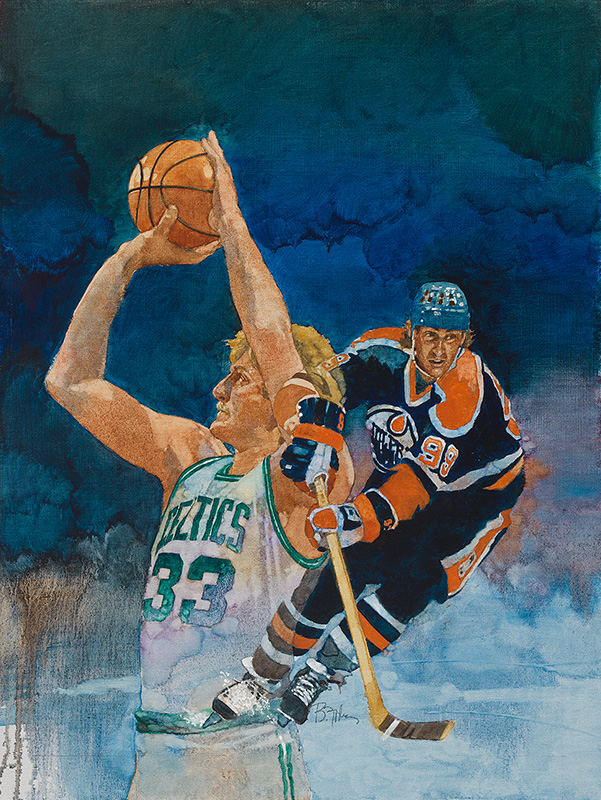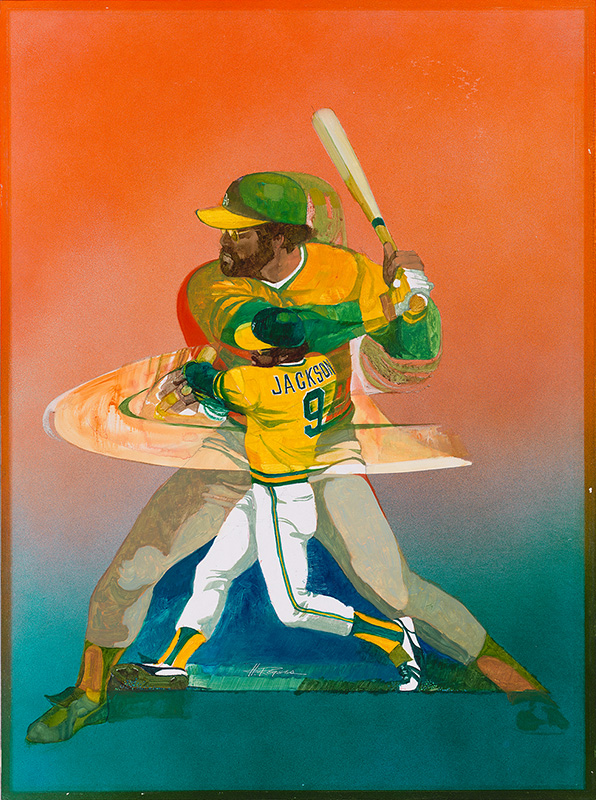 14. Champion Hall
Champion Hall will delight the sports enthusiast. You'll find portraits of athletes from so many sports — baseball, boxing, hockey, golf, tennis, and horse racing.
I really liked Simply the Best, which is a double portrait of Larry Bird and Wayne Gretzky. The portrait appeared on the cover of Time Magazine in 1985.
I also loved the portrait of a swinging for the stands Reggie Jackson. That portrait also appeared on the cover of time in 1974.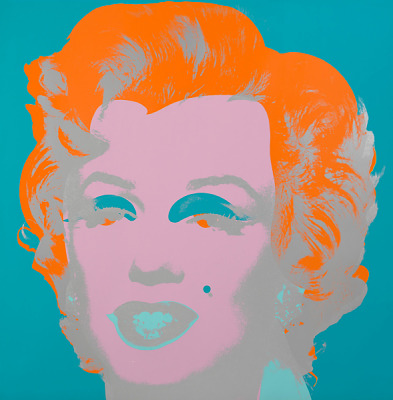 15. Andy Warhol Portraits
On the third floor, the museum has several portraits, photographs, and drawings of American pop artist Andy Warhol. Along with some of Warhol's own trademark colorful portraits, including images of various presidents, Muhammed Ali, and Marilyn Monroe.
Warhol was a true iconoclast and performance artist. As the Prince of Pop, he was a hugely significant artist of the second half of the 20th century.
Warhol challenged traditional norms of what constituted art. He was unashamedly obsessed with beauty and fame. Warhol cannily merged superficial commerce and fine art. He popularized robotic, mass produced images.
His Marilyn silkscreen was based on a publicity still for the film Niagra. It conveys both the actress' glamor and fragility. The jarrring unnatural colors are alienating, hinting at her death from a drug overdose.
READ: Guide To the Andy Warhol Museum in Pittsburgh
Sante Graziani, George Washington derived from Gilbert Stuart, 1965
Tips For Visiting the National Portrait Gallery
There's a massive amount of art work to see at the museum. Truly.
You could spend many hours here, even a full day. If you want to avoid museum fatigue, I would create a plan of attack to prioritize what you want to see most.
If you have limited time, you should head first to the President's Gallery on the second floor. If you have more time, decide if you want to see the early American portraits on the first floor or the 20th century Americans on the third floor.
You can take photos, even with a flash, in the museum. But the only place you can use a tripod inside is in Kogod Courtyard. No lights are allowed.
Lady Liberty
Practical Guide for the National Portrait Gallery
Address: 8th Street N.W. & G Street N.W., Washington D.C. 20001
Hours: 11:30 am to 7:00 pm daily. You do not need a timed entry pass to visit.
Entry fee: free
Metro: Take the Metro Red Line and exit at the Gallery Place/Chinatown stop.
Parking: Click here for my tips on getting to the museum and parking.
Pro tip: No food or drink can be brought into the museum galleries. The Kogod Courtyard also has a cafe and free wifi. There is some metered street parking, which you'll find easily if you're visiting off season.
Online Tour: Click here to take a virtual tour of the online collections of the National Portrait Gallery
John Trumbull, Alexander Hamilton, 1806
I hope you've enjoyed my guide to the National Portrait Gallery in Washington D.C. You may enjoy these other United States travel guides and resources.
If you need a guide to the National Portrait Gallery in Washington DC, pin it for later.