Here's my guide to visiting Taliesen West, a historic Frank Lloyd Wright UNESCO site in Scottsdale Arizona. This guide covers the history of Taliesen West, everything to see at Taliesen West, and gives you must know tips for visiting.
Taliesen West is one of only 24 UNESCO World Heritage Sites in the United States. Designed by Wright, Taliesen West been described as a campus, a desert laboratory, and a historic landmark.
It's a a complex of low-slung buildings made of rock and glass in the Sonoran Desert. The beautiful building served as Wright's winter home and the home of his utopian architectural school.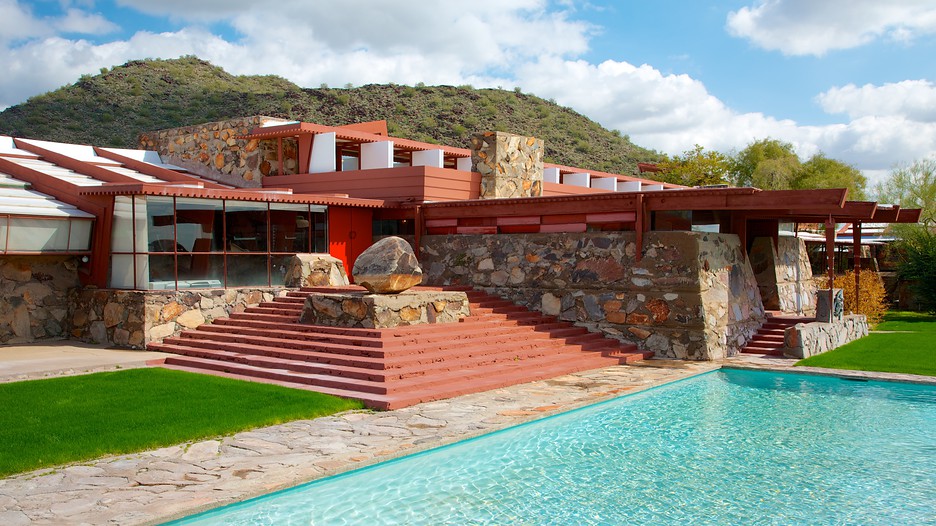 History Of Frank Lloyd Wright And Taliesen West
Frank Lloyd Wright was one of America's greatest architects. Over a 71 year career, he designed 1114 buildings, of which 532 were built. He completed most of his work in his 70s and 80s, when he was incredibly prolific.
Wright produced iconic buildings like Fallingwater, Taliesin East and West, and the Guggenheim Museum in NYC. In 2019, eight of his buildings became UNESCO sites.
A self-proclaimed genius, Wright claimed to "work true." He was known as the inventor of "organic architecture" and the "prairie house," distinctively American concepts at the time.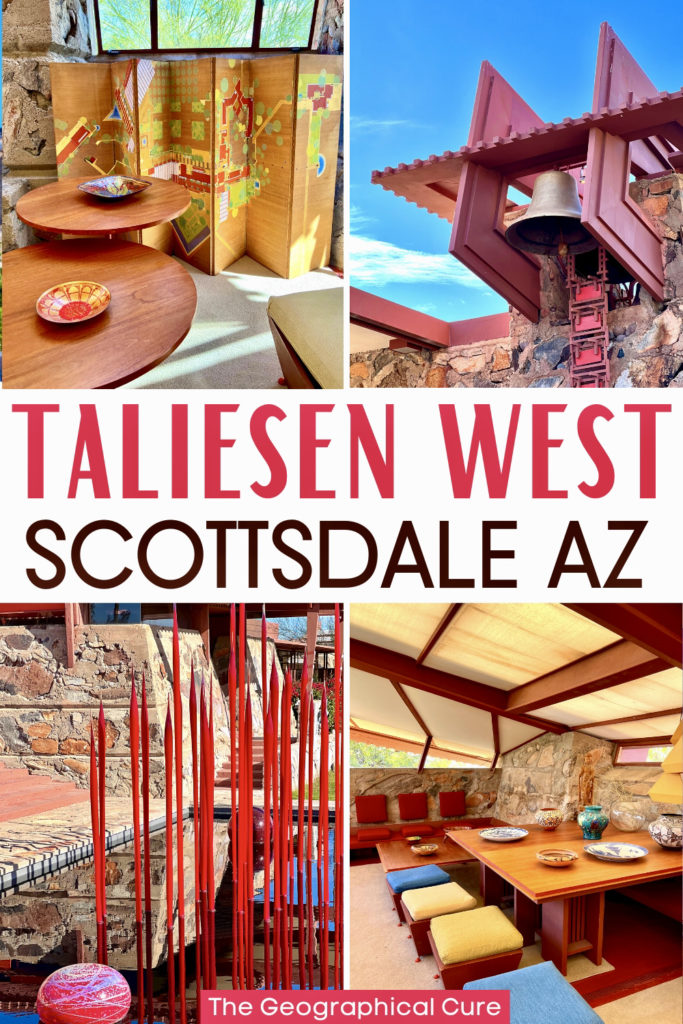 The philosophy of "organic architecture" meant that a building should be sustainable and evolve from its natural setting.
Wright was an imperious figure, clad in a cape and cane. He was difficult to work with, a narcissist, and led a scandalous personal life that was tabloid fodder. If you want to read more about that, click here.
In 1911, Wright began building Taliesen East, his home in Wisconsin. In 1932, he founded an "architectural school" called the Taliesin Fellowship.
Taliesen means "shining brow" in Welsh. It's also the name of the chief poet or troubadour for King Arthur.
The school was the brain child of Wright's third wife, Olgivanna. A spendthrift Wright was bankrupt after the Great Depression. Olgivanna suggested an immersive architectural school as a way to bring in income.
So the Taliesen Fellowship was launched. Taliesen succeeded, albeit in an unconventional way. Wright lured in architectural students with his reputation for genius and free thinking.
In return, his students paid tuition and "learned by doing." They were no classes per se; Wright was anti-school.
The apprentices were tasked with construction, farming the land, and preparing meals. At the time, Taliesin was essentially a quasi-cult, or proto-hippie community.
In 1935, Wright was advised that the winter climate in Wisconsin was compromising his health.
He decided to move his architectural school to Scottsdale Arizona for the winter months, calling it his "desert laboratory."
Wright and his students traveled by caravan to Scottsdale. He purchased 800 acres in the middle of nowhere. Wright said, "Oh, we have to build here, this is pure abstraction wherever you look."
He and his 30 students set about designing and building the compound known as Taliesen West in a style they called "desert masonry."
They harvested stones right from the desert. Wright coined the terms "one-man rock," "three-man rock," etc. for measuring rock size. Over 20 years, the apprentices hand-crafted Taliesen West.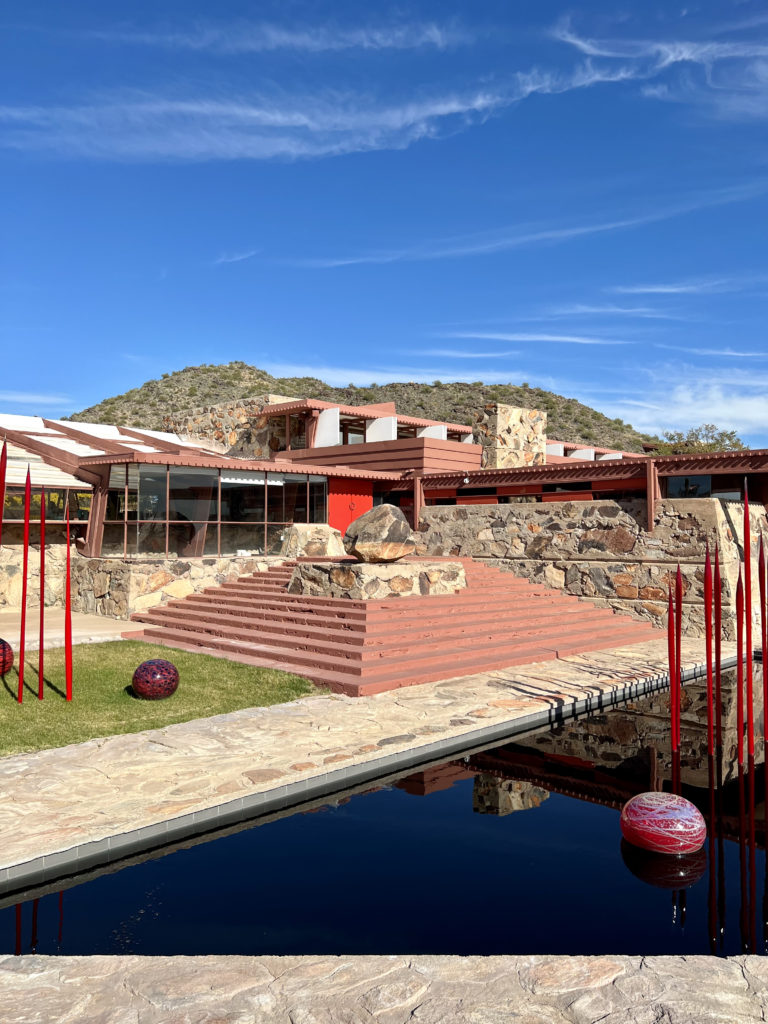 Taliesen West was a primitive place at first, while they were building. The architecture students lived in tents or small structures in the deserts. There was no water or plumbing. The tents remain today.
Taliesen West was designed in the prairie style, which I discuss below. The building is in perfect harmony with its environment. Wright himself designed all the furniture.
He loved music and installed 13 grand pianos. Wright was also fascinated with Asian art and you'll see that in the decorations.
During the Taliesen West years, Wright's architectural practice took off. In 1938, he appeared on the cover of Time Magazine. He designed the most famous house in the United States, Fallingwater.
After Wright's death in 1959, his wife took over the helm of Taliesen West and the Fellowship. (And she installed air conditioning, something Wright hated.)
The Fellowship lasted 88 years. The school was closed in 2020, due to financial problems and internal strife between the Fellowship and the Frank Lloyd Wright Foundation.
Nowadays, Taliesen has a full calendar of lectures, symposiums, exhibitions, and film screenings.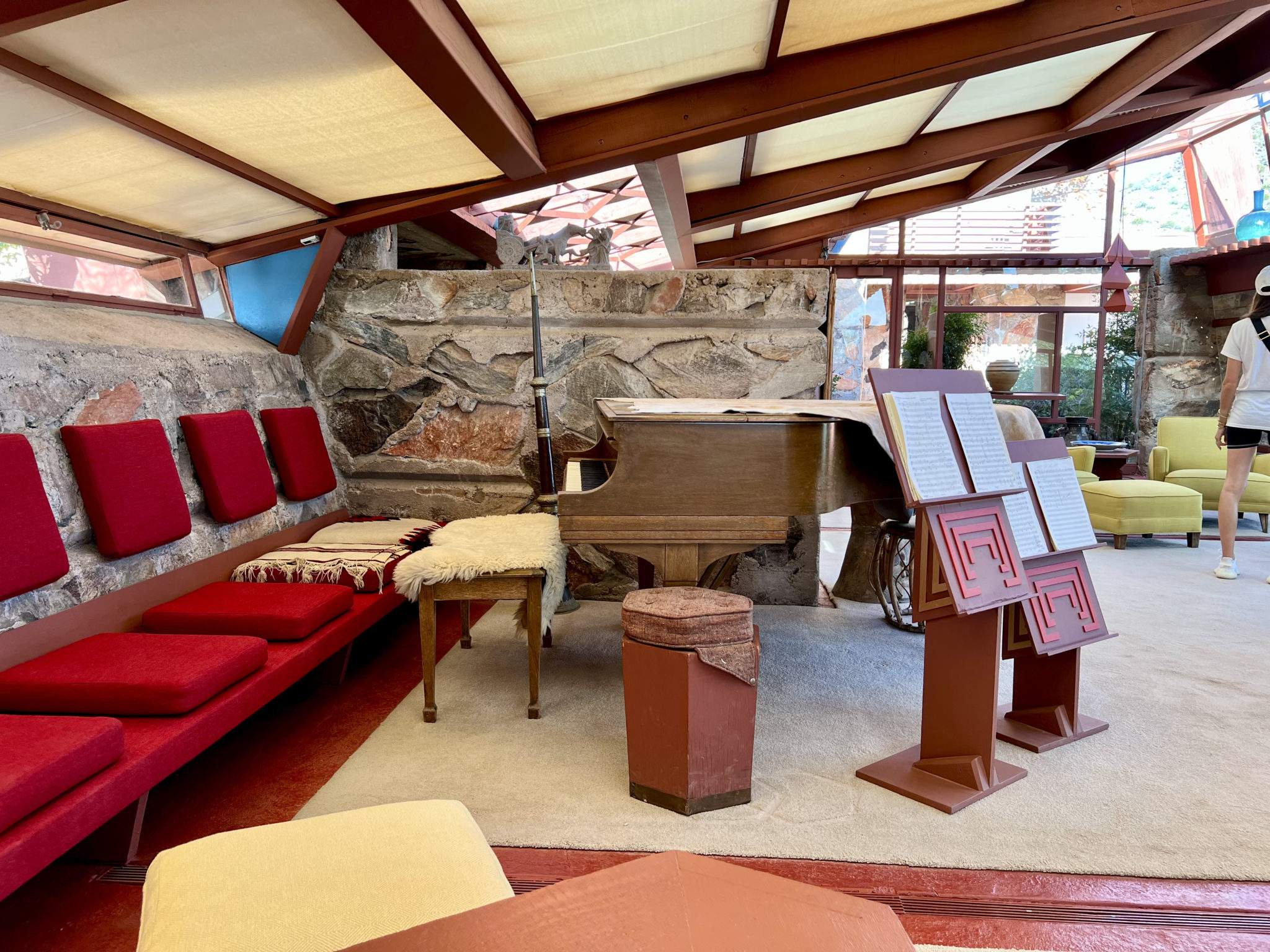 What Is Prairie Style Architecture?
The Prairie style emerged in Chicago around 1900. A group of young architects, including Wright, wanted to steer away from fussy Victorian or European architecture.
They were inspired by the ideals of Arts & Crafts movement, with its emphasis on nature, craftsmanship, and simplicity. As Wright said, "Study nature, love nature, stay close to nature; it will never fail you."
Wright embraced the architectural theories of Louis Sullivan, who was his mentor. Sullivan famously coined the phrase "form follows function." He called for architecture that was non-derivative, rooted in nature, and with a sense of place.
But the prairie style also incorporated modern elements, like flat planes and stylized ornamentation.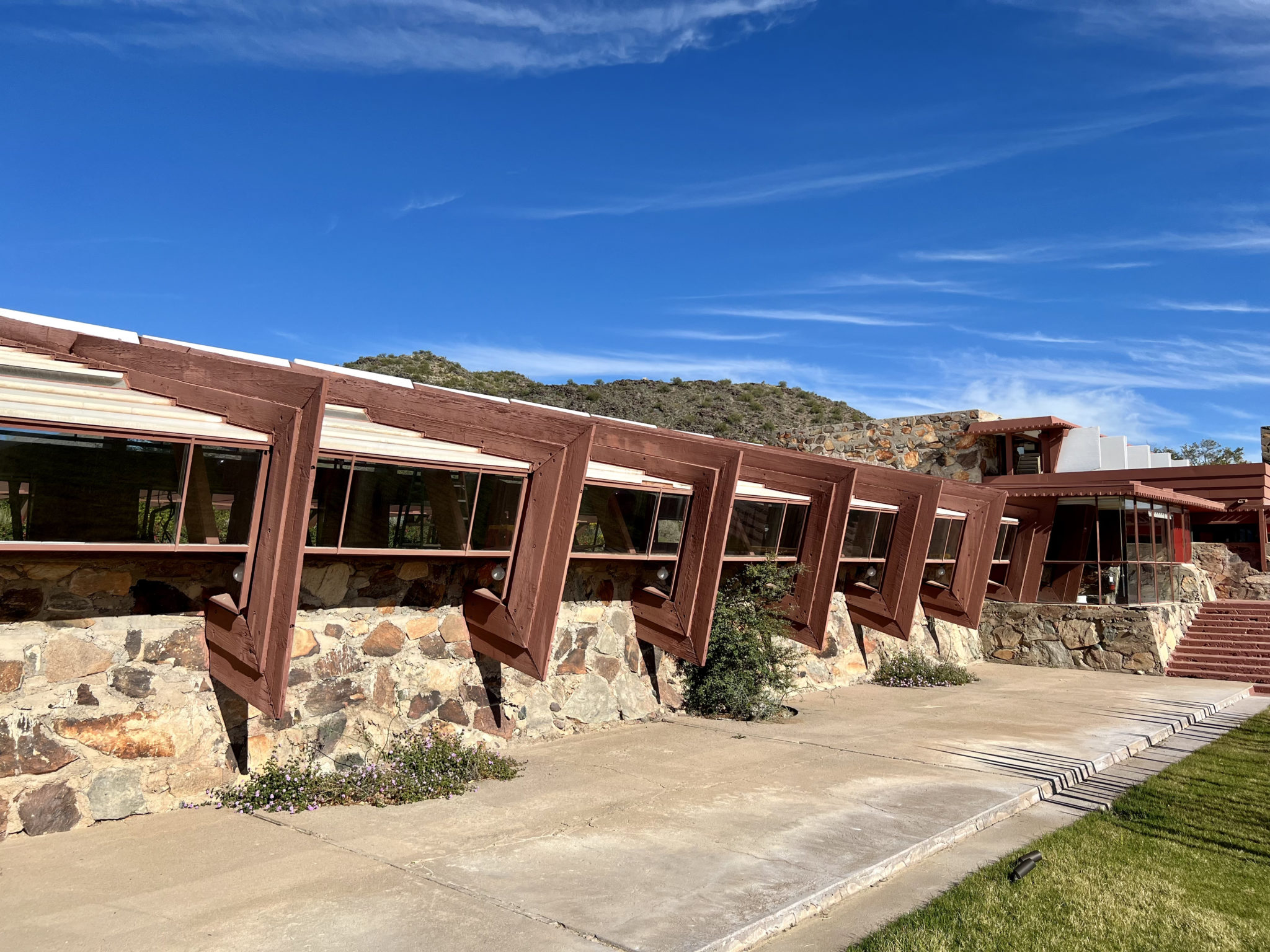 As Wright put it, prairie buildings are "married to the ground." They celebrate long, low landscapes. Their most defining characteristic is their emphasis on the horizontal rather than the vertical.
As Taliesen West embodies, prairie homes spread out over their lots. They feature flat roof lines, rows of windows, overhanging eaves, and bands of stone or brick across the surface.
Most prairie homes are intended to be functional and flowing, so that you can "glide" through them. They have open floor plans, with low ceilings, and hand crafted details.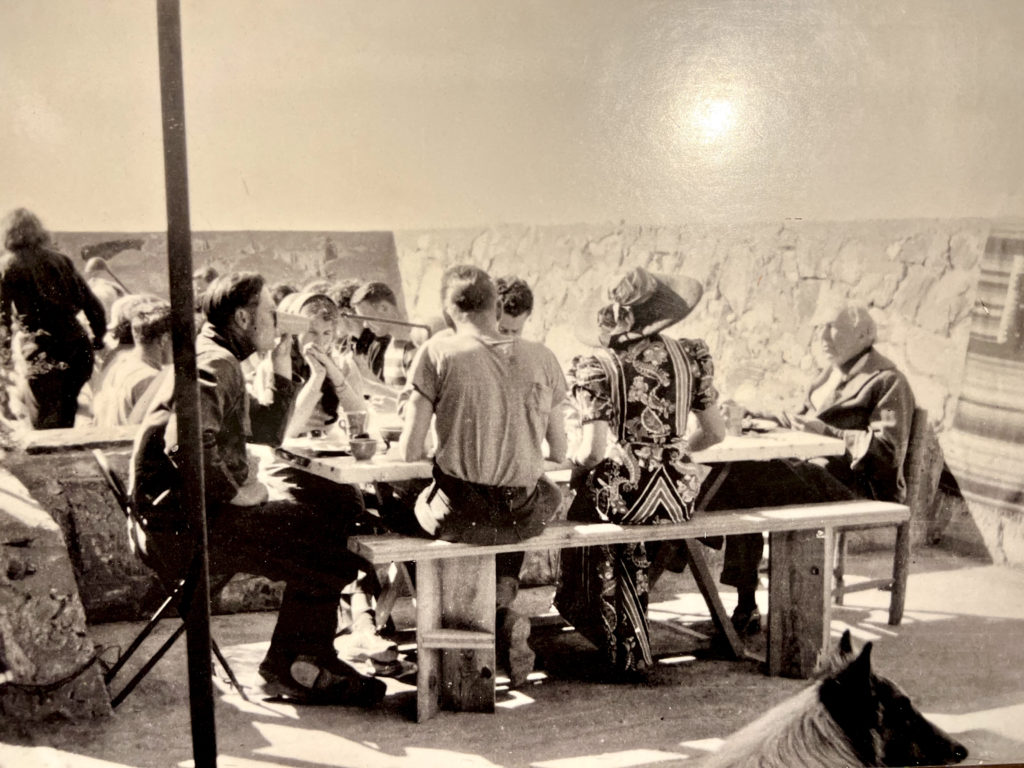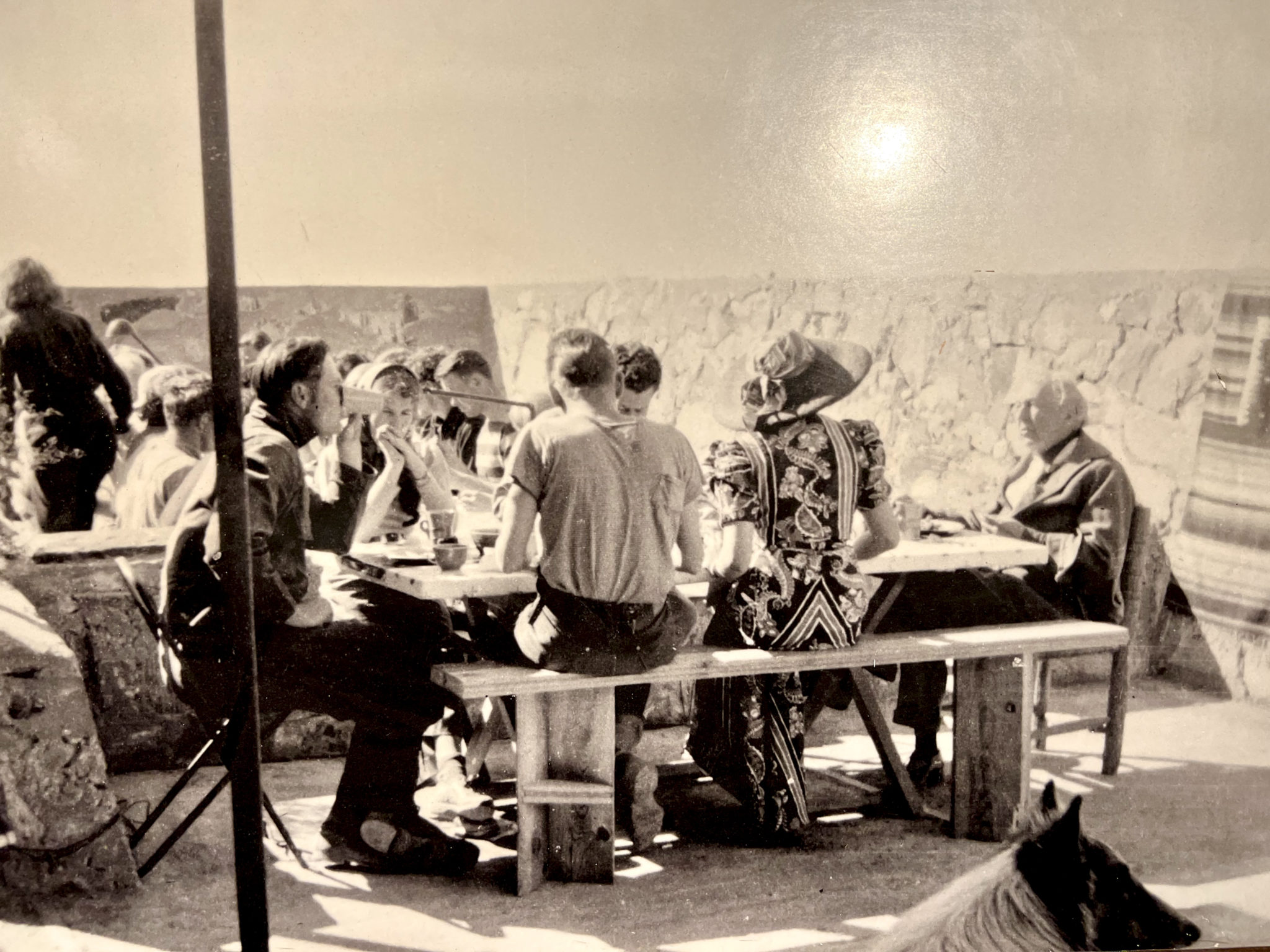 Wright said that anyone over 6 feet was a "waste of material" and designed his houses for people his own height (5'6″ with lifts).
What To See At Taliesen West
The exterior of Taliesen West is a juxtaposition of massive stone masonry and a breezy canvas-covered redwood framework. There are open interior spaces, linked by scenic terraces that look out on gardens.
Here are the highlights of Taliesen West in the order you'll most likely encounter them on a guided tour.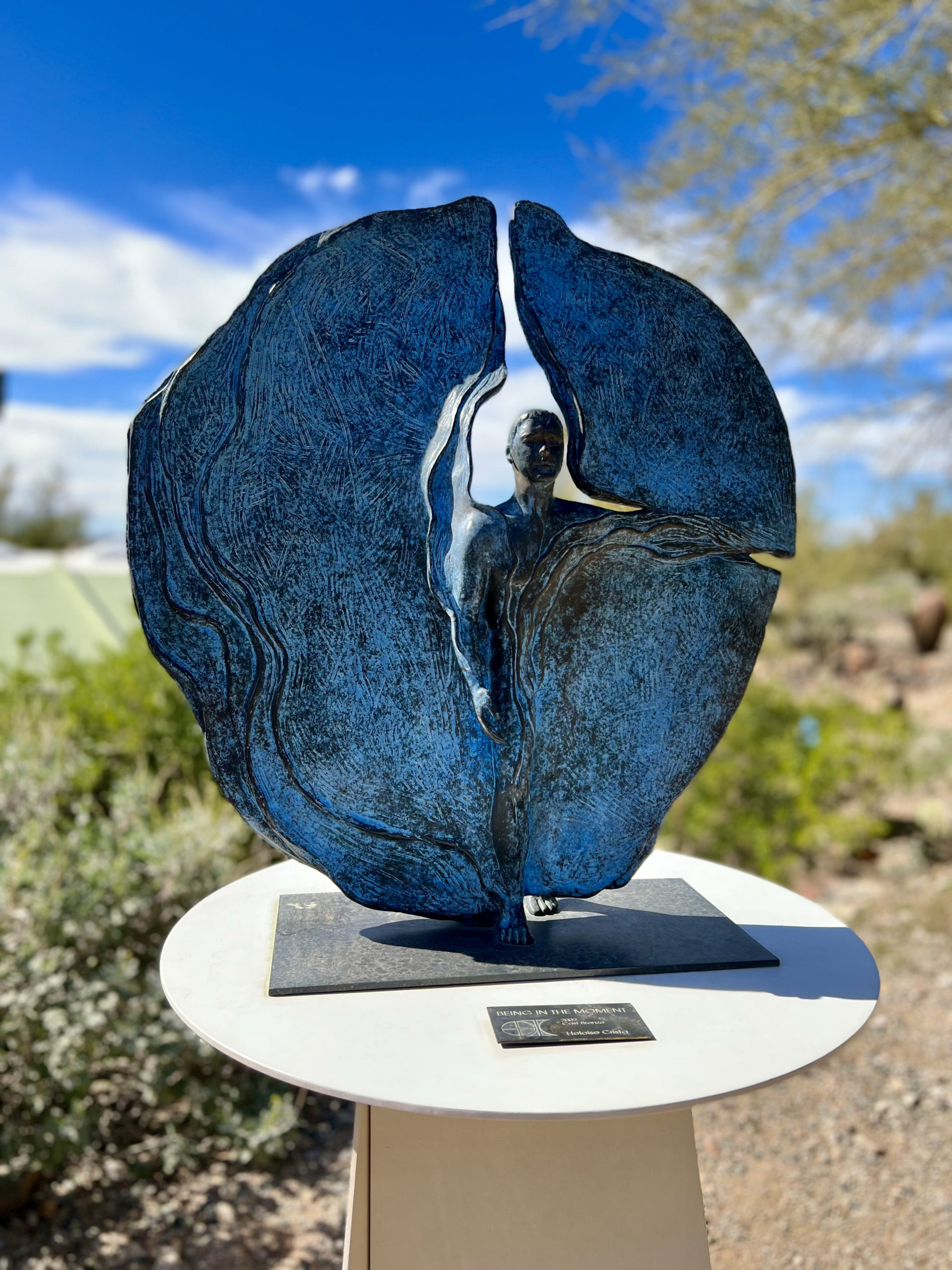 1. Entry Court
The entry court is full of stunning sculptures by Heloise Crista. You can admire them while you're waiting to start your tour. Crista was an apprentice of Wright, who was encouraged to pursue sculpture.
You'll also find indigenous petroglyphs. These giant quartzite boulders held profound significance for Wright.
When Wright was first canvasing the property, he found stones marked by native peoples—the O'odham, Piipaash, Hopi, Yavapai, and Apache—with figures and designs.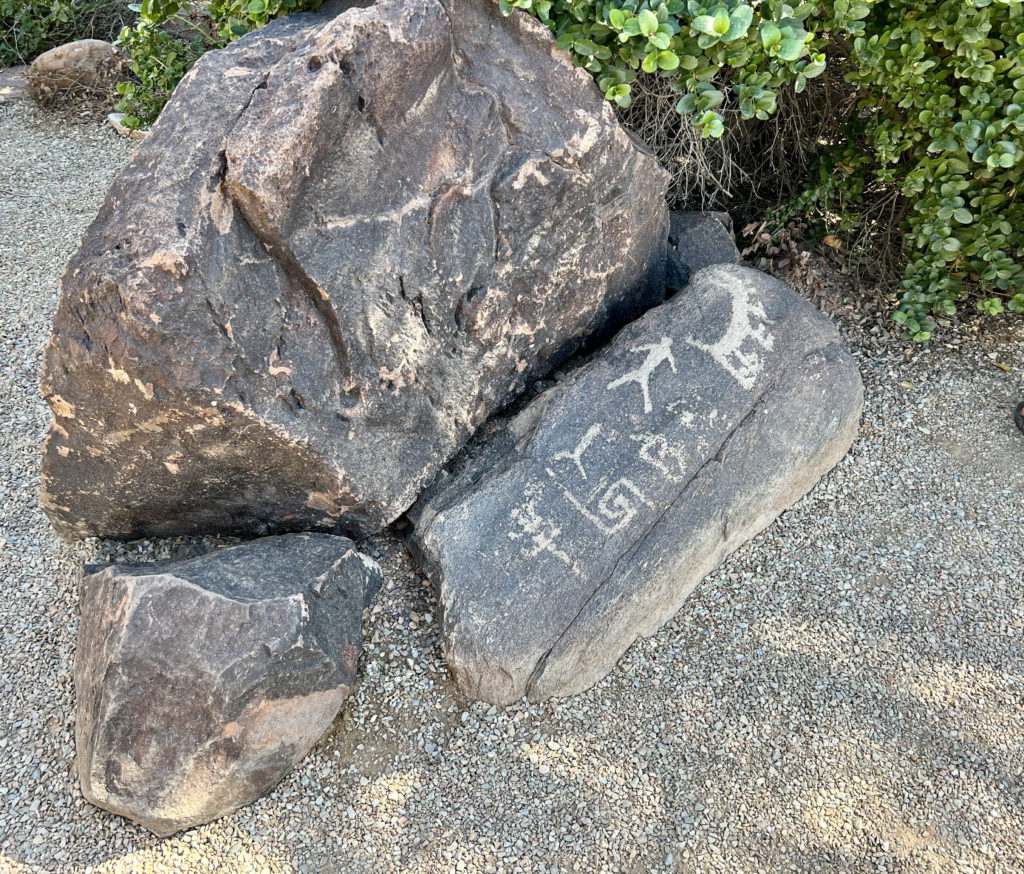 He couldn't translate the petroglyphs. But Wright believed the placement of the boulders was part of their message.
He adopted one petroglyph as the logo of Taliesen West. He thought it represented entwined or clasped hands.
Nearby and scattered around the estate outside, you'll see Chinese ceramic theater freizes. Some parts have melted away from the intense sun. But that didn't bother Wright, who saw beauty in imperfection.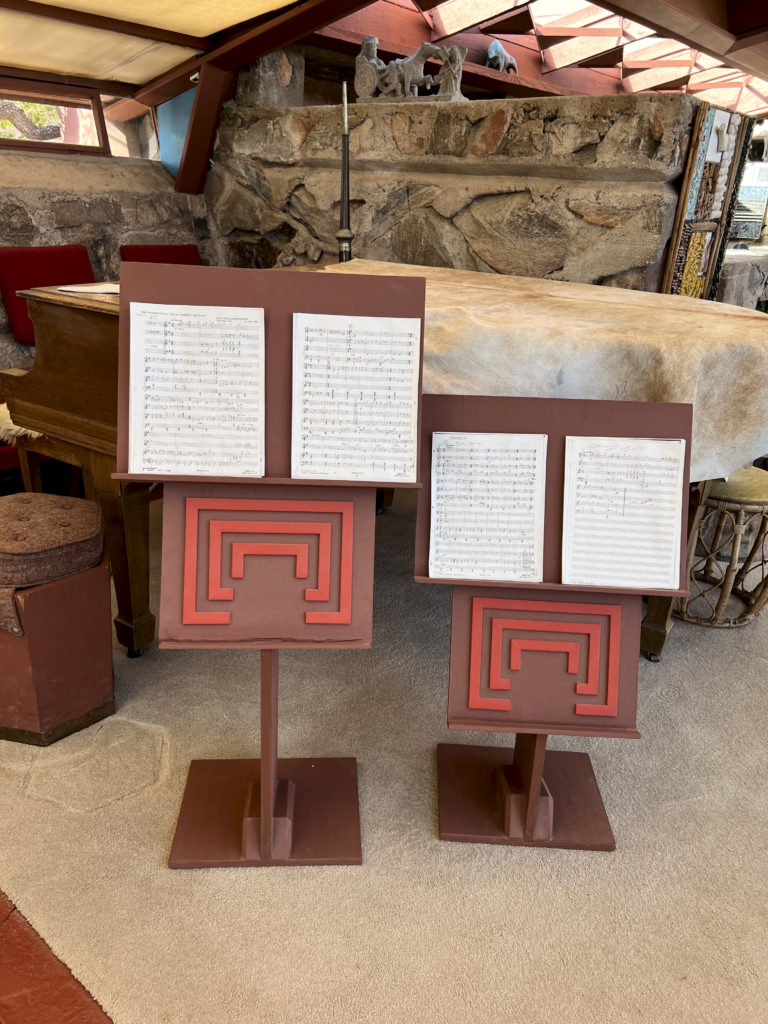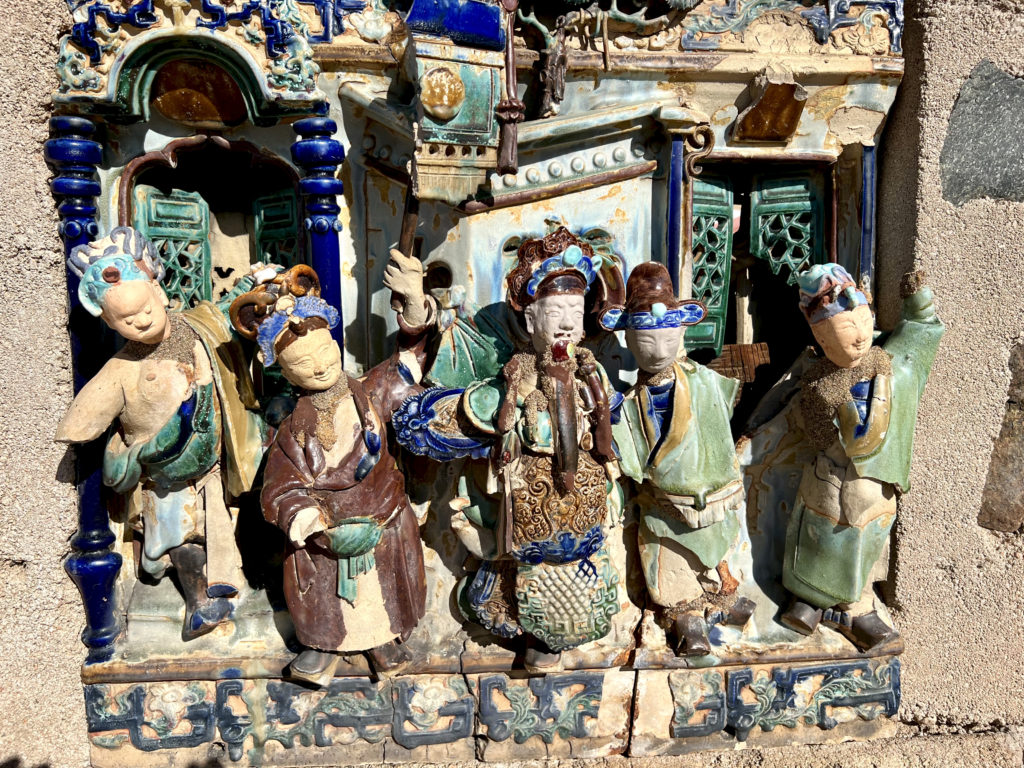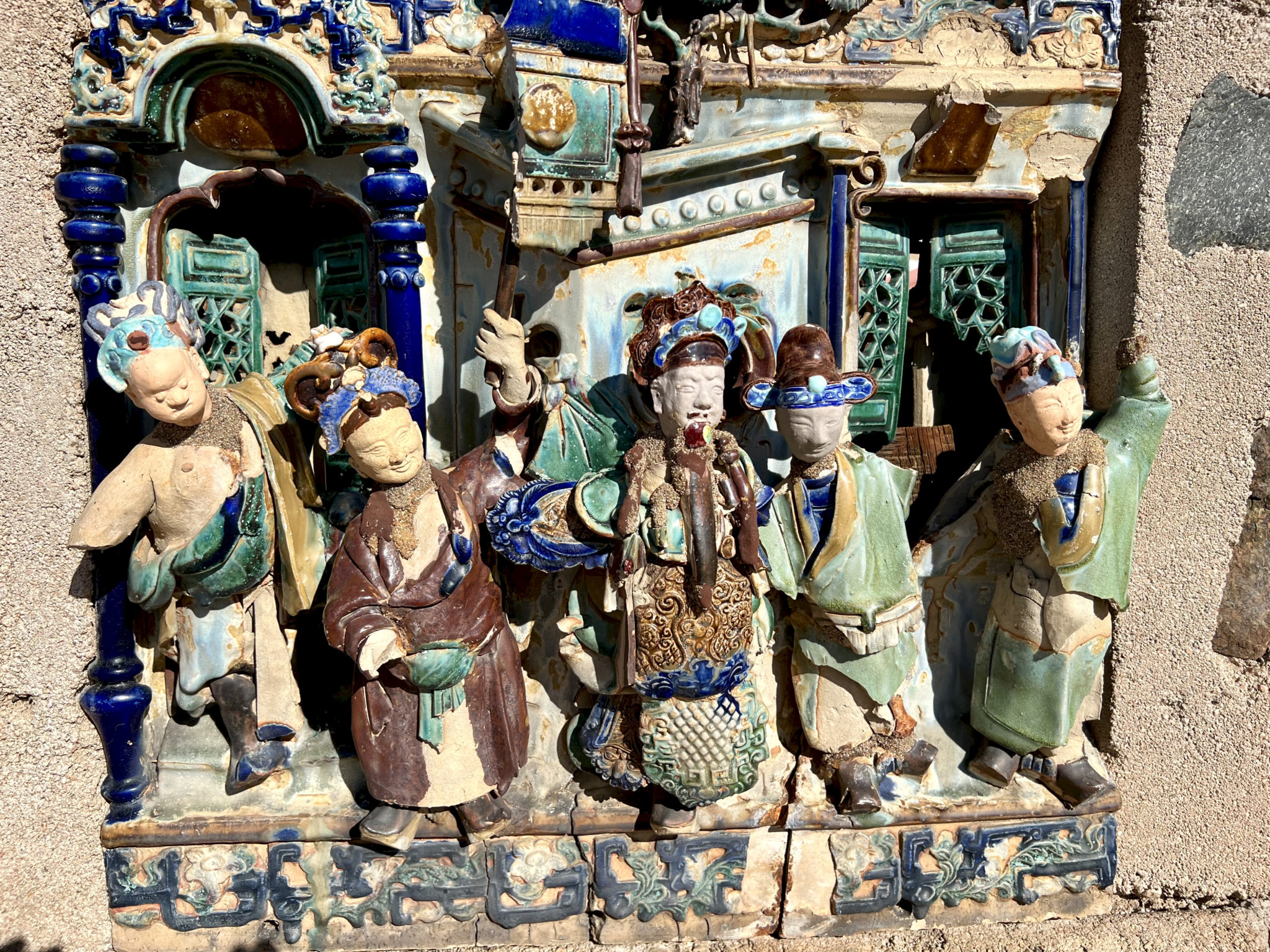 You can also see Whitman Square. It was created under Wright's direction in the early 1950s.
The square has an engraving, in gold lettering, on a flat red stone. It's Wright's manifesto, adapted from the poem Song of the Universal in Walt Whitman's Leaves of Grass.
The inscription expresses Wright's concept of American democracy, borrowing Whitman's words.
2. Wright's Office
Wright's office was one of the first things built at Taliesen West, between 1938-39. The office was where Wright conducted business and greeted guests.
The office roofline angles toward the mountains. Strategically placed windows focus views on the desert.
At first, the windows were just covered with canvas flaps. But later, when practicality prevailed (i.e., keeping out critters and the intense desert heat), glass was installed.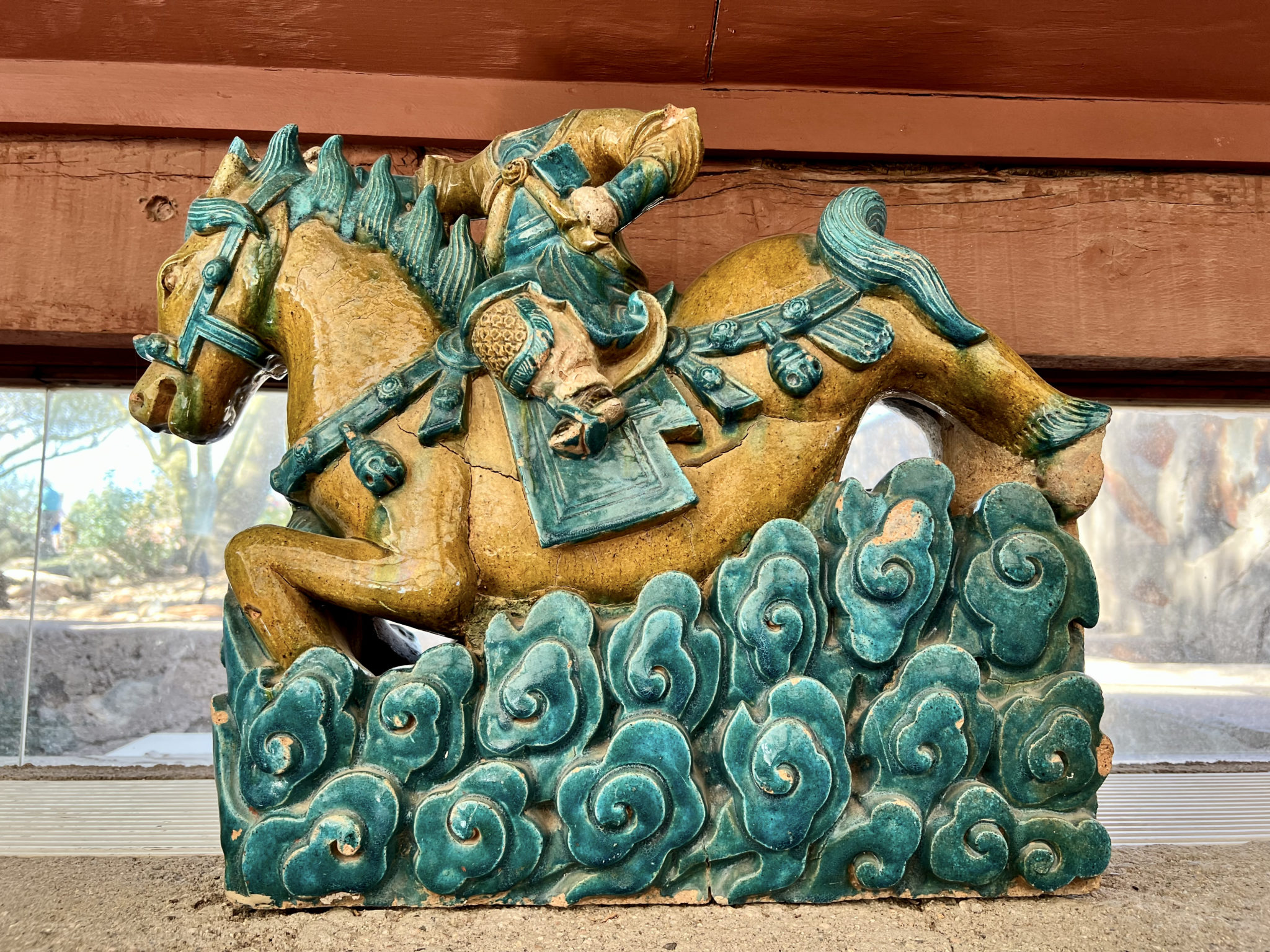 Wright didn't even want a ceiling in his office, all the better to commune with nature.
Eventually, a wood framed canvas ceiling was added to cut the glare of the desert sun. It provided a filtered natural light.
The floors are poured concrete and the walls are made of rocks and concrete. You can see his two reds in the room — Maricopa (bright) red and Taliesen (dark red). There's also a large fireplace.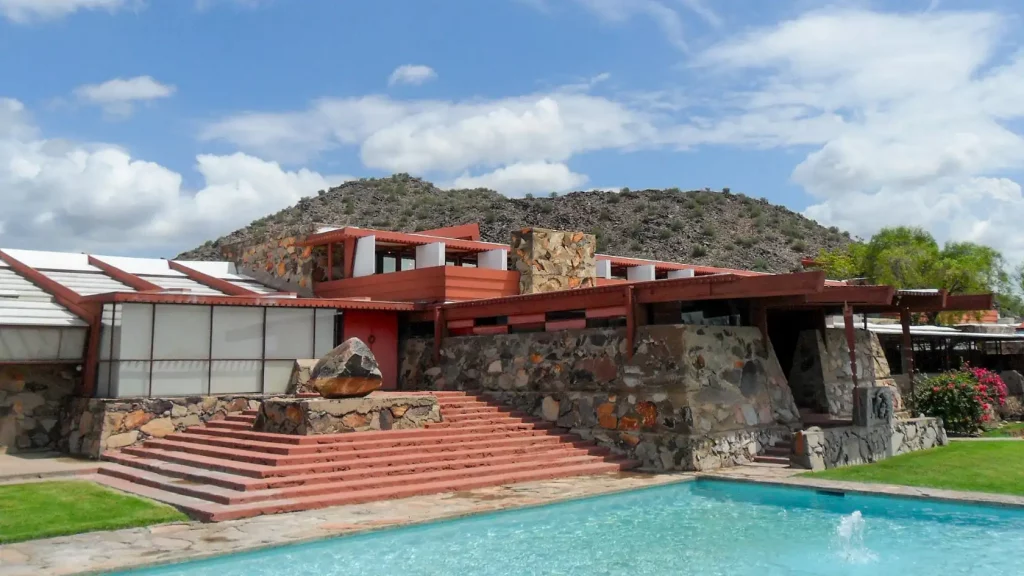 3. The Prow
Just past the office is the Prow. It's the most photographed spot at Taliesen West.
The Prow is an outdoor garden space with a triangular reflecting pool. In this spot, Wright thought he was "standing on the rim of the world."
The Prow contains the vault (fireproof storage space), the drafting studio, and the original kitchen. The upper level contained the student quarters.
The building's angles reflect the mountains beyond. The pool gives it an oasis feel. Back in Wright's time, the pool was also functional, providing water to put out fires.
In total, there are seven pools of water at Taliesin West. Water may seem out of place in the Sonoran Desert. But it comes from an onsite well that Wright had dug 486 feet into the ground.
The Prow is used for afternoon tea, receptions, and other celebrations.
3. Living Room or Garden Room
The living room, official known as the Garden Room, reflects Wright's architectural concept of "pressure and release."
Built between 1939-49, it was given that name because the room looks out onto an enclosed garden space.
You enter a room via a tiny narrow passageway. But then the room itself is enormous.
Wright's living room is a "great room." He was contemptuous of boxy living spaces and essentially invented the idea. His theory was that the living room was a place for commune and comraderie, so should be large.
There's a grand piano in the Garden Room. Both Wright and his wife Olga loved music.
Olga herself was a talented musician. The Wrights even expected their apprentices to be skilled musicians.
Wright designed all the furniture in the Garden Room. The room has long built in bench seating across from the windows. Wright's famous origami chairs, which are made out of a single sheet of plywood, and are surprisingly comfy.
Wright believed that furniture should follow the lines of the room. He often told his clients to get rid of all their furniture and use his custom made pieces instead.
There are no paintings in the garden Room. For all his love of Asian art, Wright despised paintings. But there is a beautiful Asian screen and plenty of ceramics for decoration.
The space was renovated in 2003-04. It appears exactly as it did in 1959.
4. Living Quarters
The Wrights' living quarters were completed in 1940. They overlook a landscaped courtyard.
One room is called the Swan Cove, named for the bird-themed Japanese screen mounted on the walls. it served as Oglivanna's sitting room.
There's a sparely furnished low ceilinged bedroom, with a desk where Wright would often work late into the night. It's filled with Scandinavian furniture
Metal pots hang on the bedroom's fireplace. They're not just decorative. Wright used them to make his late night soup snacks.
The bathroom still looks very modern. Wright wrapped the walls in sheet aluminum, a new building material at the time.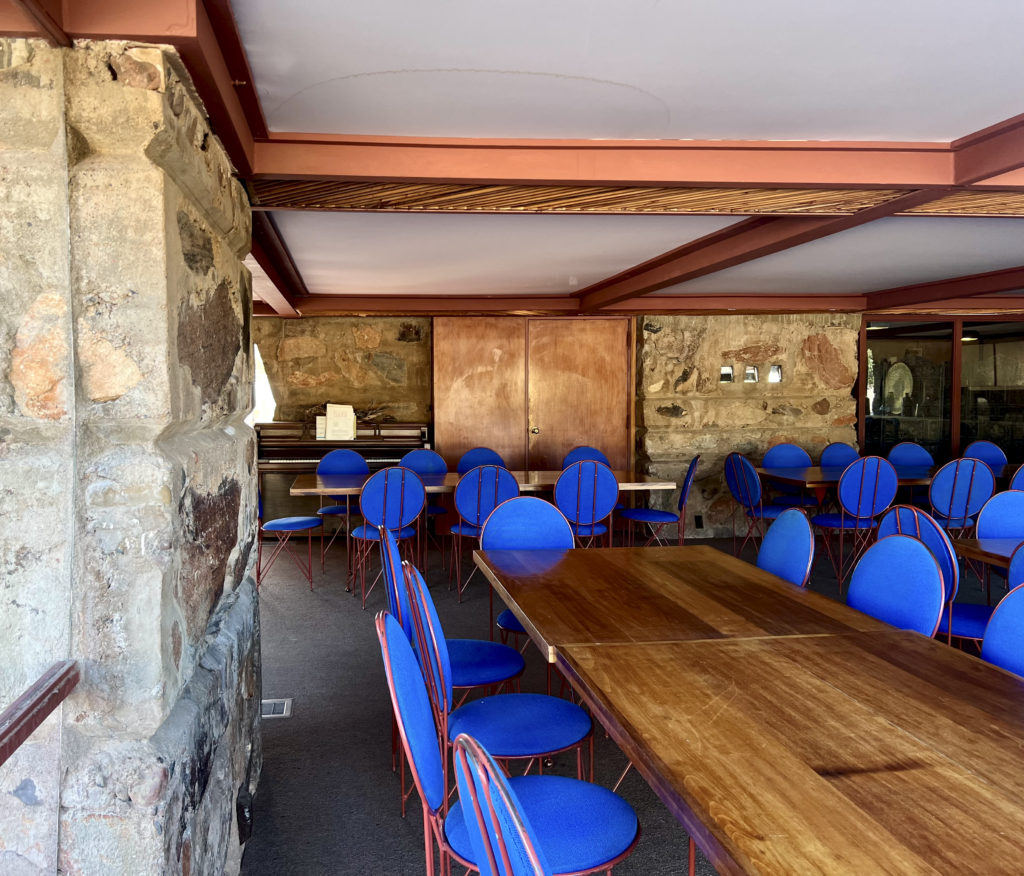 5. Dining Room
You can only peek at the dining room through glass walls. This was Wright's second dining room.
His first was in a different place. But when the phone company put up telephone lines wrecking his view, he moved the dining room to the other side of the house.
There's a massive fireplace just outside the dining room. When the doors are open, it's an amazing indoor-outdoor space.
Nowadays, the dining room is rented out for special occasions and events.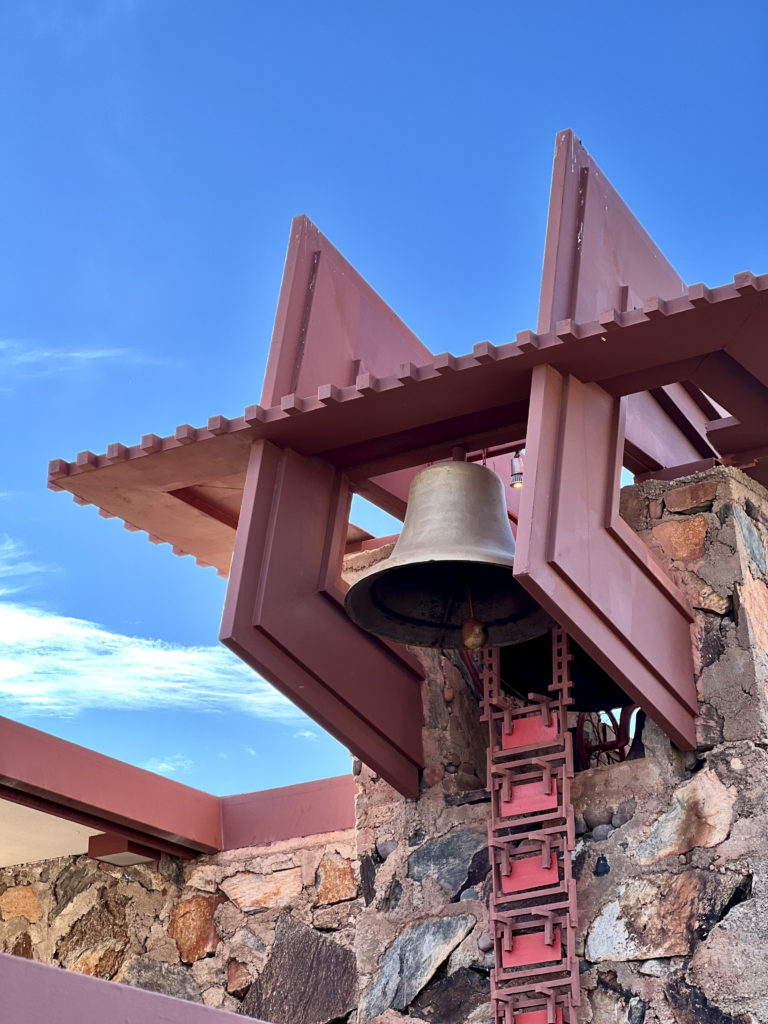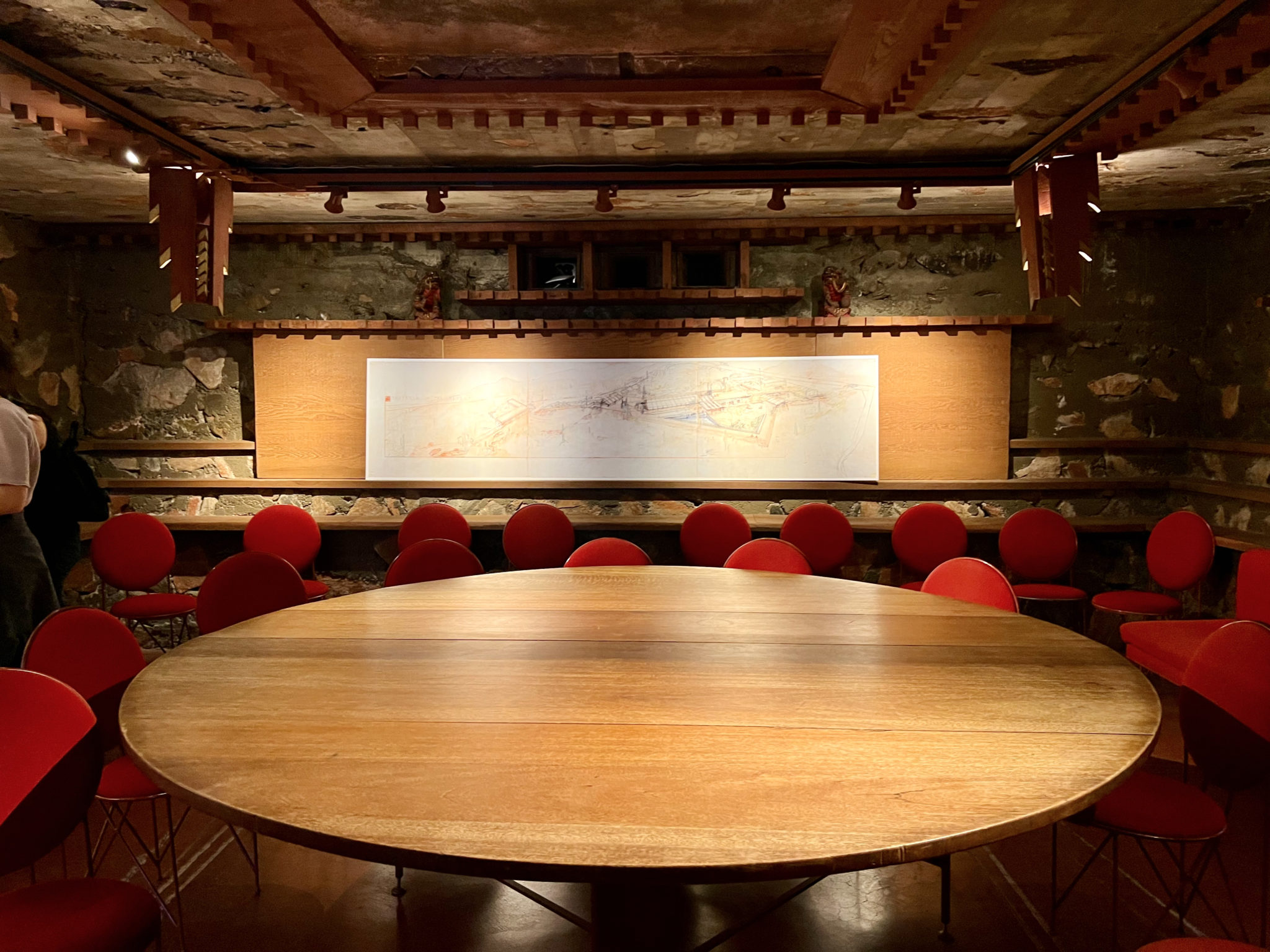 5. Kiva
The "kiva" resembles a pueblo, dark and windowless. It was inspired by Native American ceremonial spaces.
The kiva was originally used just for storage. But it was later turned into a movie room. Wright, not surprisingly, liked John Wayne. And his granddaughter was the actress Ann Baxter.
Red benches line three sides of the room, which has rough textured rock walls.
In this room, you can see Wright's innovative square floor lights. He invented floor lighting because he hated light bulbs. There's also one of Wright's first drawings for the design of Taliesen West on the wall.
6. Drafting Studio
Wright viewed architectural drafting as a spiritual act. He once said: "I have never had any greater pleasure than to take a handful of colored pencils in one hand … and try to feel the design of the thing I want to do. It's a great moment."
The Taliesen West drafting studio was one of the first buildings constructed on the property beginning in 1938. Like the rest of Taliesen, it was built using materials found on site, allowing the architecture to connect with the environment and feel as if it belongs there.
This is where Wright presided over his students. There's a large black and white photograph of him at one end of the room. According to lore, Wright was so prolific that "shook designs out of his sleeve."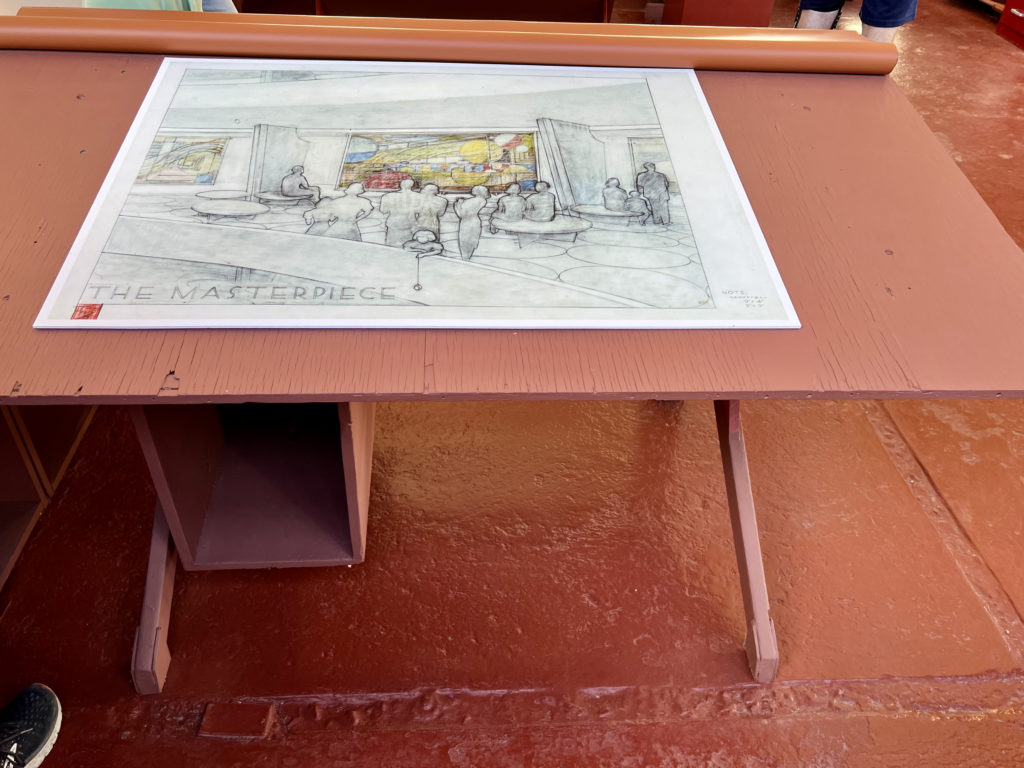 The studio's roof angles toward the mountains. The roof was originally canvas. and open to the adjoining Pergola. But windows were added to enclose the space.
The exterior of the studio is a celebration of the desert. It's a stone, concrete and glass sculpture. A pitched roof angles upward, drawing the eye toward the McDowell Mountains in the distance.
The room is open with a slew of drafting tables. They're set close together. Wright thought would imbue the room with a sense of togetherness.
7. Pergola
The pergola is a long promenade topped with buttress-like red wooden beams adjacent to the drafting studio. It's lined with bright pink bougainvillea. The red doors open into the drafting studio.
Near the Pergola, you'll find Wright's famous fire breaking dragon. It greets guests during special evening events.
The dragon was originally a water feature. But Oglivanna installed a gas line and propped it atop a stone stele, so that dragon flames lit up the night sky.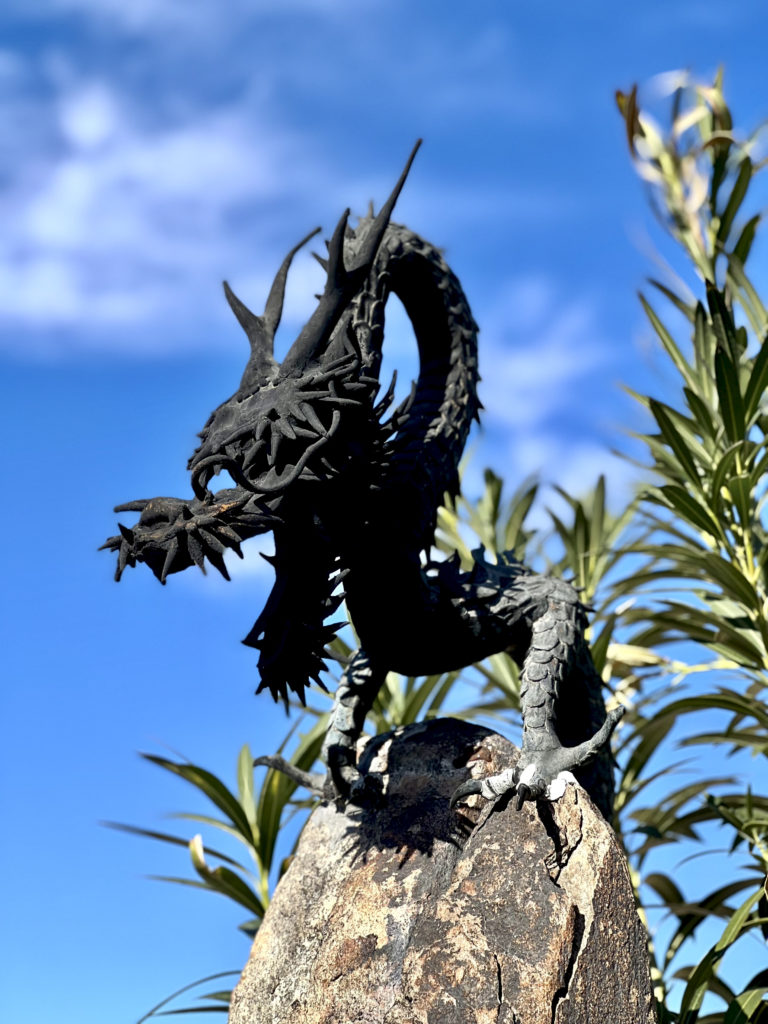 8. Music Pavilion
I didn't see the Music Pavilion on my tour. But this was the last structure that Wright himself oversaw at Taliesen West.
The pavilion is a theater that seats 108 people. The space was used for musical, dance, and theatrical performances.
The space was destroyed by fire in 1963, but was rebuilt.
The space has a series of curtained backdrops to accommodate different stage sets. There's also an orchestra pit and a large abstract mural of the Chicago skyline.
9. Cabaret Theater
The Cabaret Theater was built in 1949-50 to replace the Kiva. It served as Wright's custom made entertainment space for formal evenings. A gong sounded to summon you to the performance.
You enter through Mandarin red doors. Beyond the doors is a long passageway with views down into the cabaret, creating a dramatic entrance.
The angled floor and angled built in seating meant the guests had unimpeded views of the stage. Beneath the stage is another of Wright's grand pianos. Today, strings of lights sparkle on the ceiling.
Wright was determined to make the space acoustically perfect. And he succeeded. The space is 95% flawless.
The cabaret stays cool because it's partly underground. Dinner was served on tables that folded down when the performance started
10. Chihuly Exhibit
I was incredibly happy to visit at a time when Taliesen West was mounting a Dale Chihuly exhibit. Chihuly is the United States's most famous glass artist.
The exhibit pairs the artistry of two icons with like minds. Both Weight and Chihuly were inspired by light, color, and nature. You can see their work side-by-side at Taliesin West, to stunning effect.
Six large Chihuly glass installations are nestled on the property. You can see them until June 19, 2022.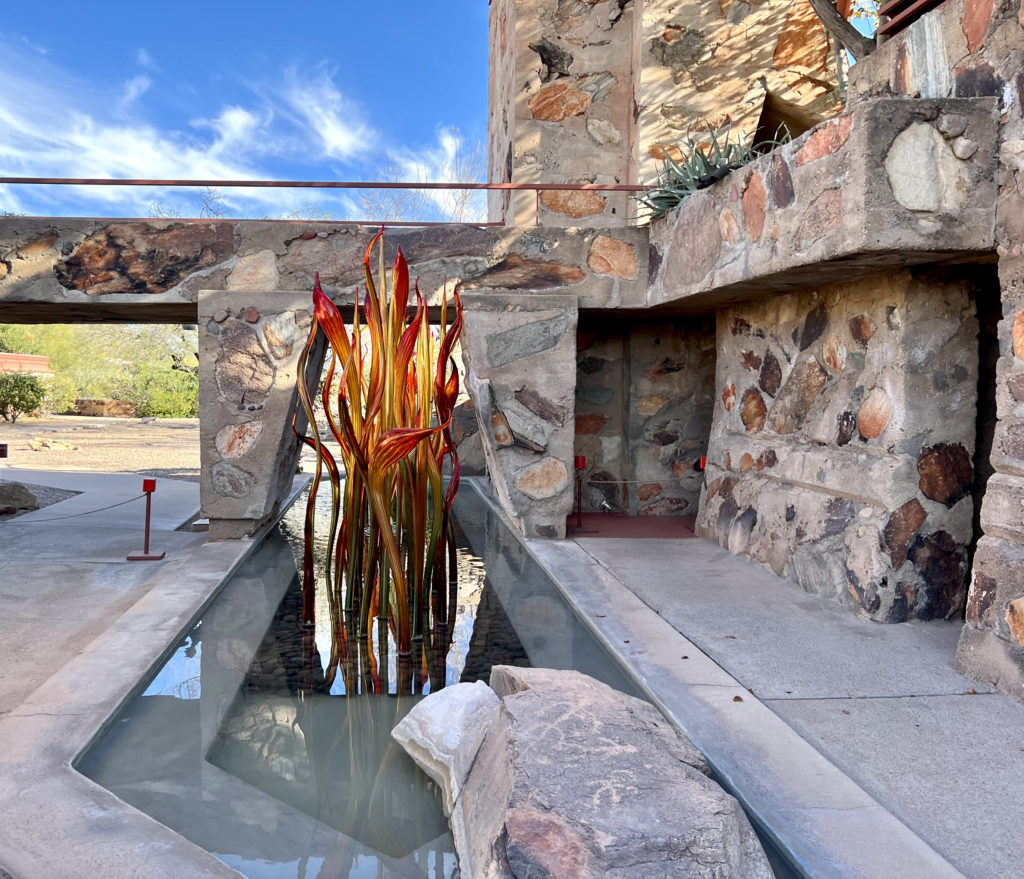 They include Alabaster and Amber Spire Towers at the Entry Plaza; Red Reeds and Niijima Floats at the Front Pond; Black Saguaros and Scarlet Icicles on the Studio Lawn; Golden Celedon Baskets in The Garden Room; Fire Amber Herons at the Tower Pool and Marine Blue and Citron Tower at the Garden Squares.
The sculptures reflect the desert landscape. You'll see glass pieces that look like barrel cactuses, black saguaros, yucca, agave, and desert reeds. In the large Garden Room, there are a beautiful series of golden baskets.
The Chihuly exhibit is two part and continues at the Desert Botanical Garden. The garden showcases Chihuly's large-scale installations nestled among the garden's world class collection of over 21,000 desert plants.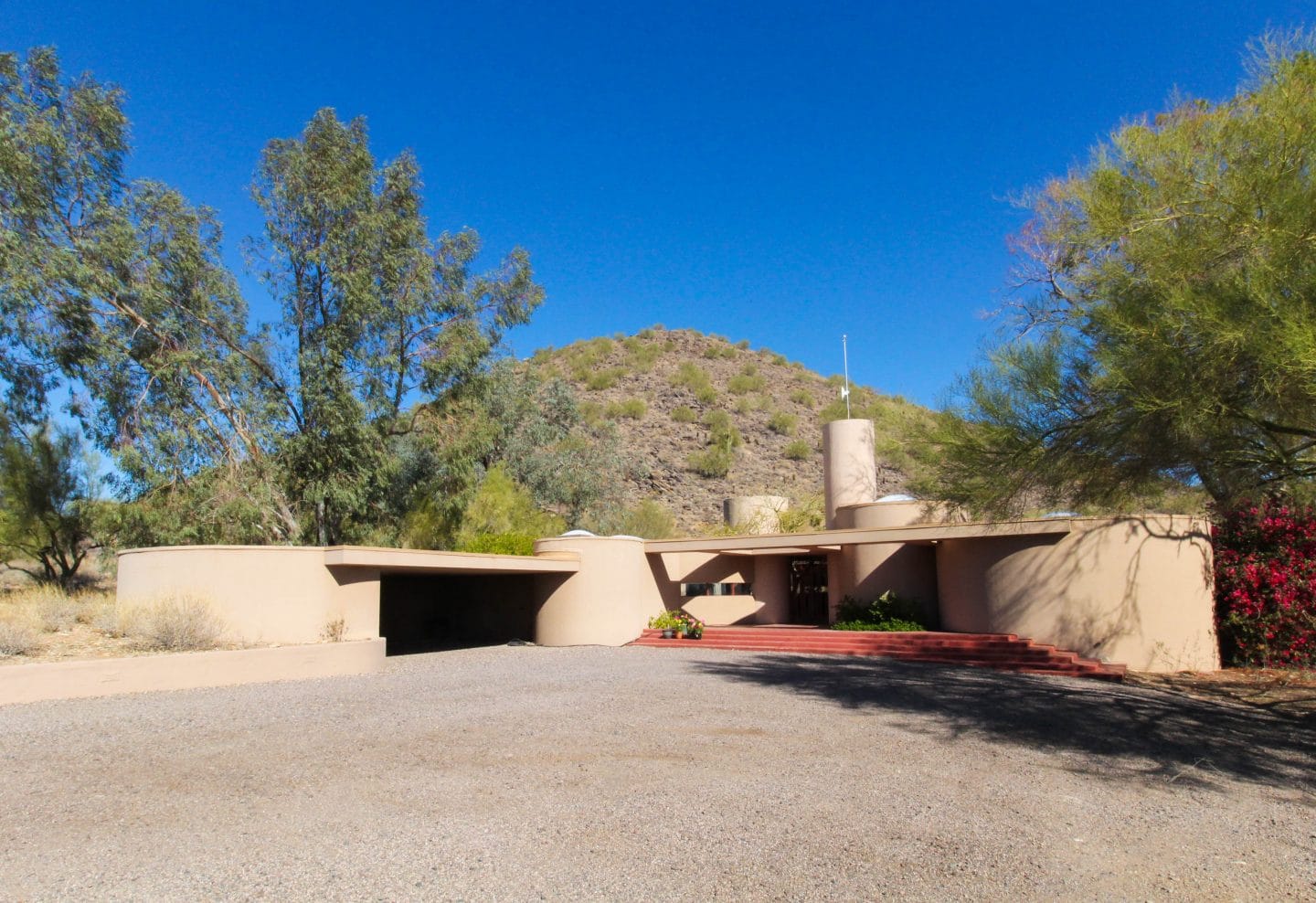 11. Pfeiffer-Jester House
After Frank Lloyd Wright's death, several new structures were added to the Taliesin West compound. They included desert dwellings designed and built by Taliesin Fellowship apprentices and the building known today as the Jester-Pfeiffer House.
Just a short walk from the main compound, this is the circular home of Frank Lloyd Wright apprentice and Frank Lloyd Wright Foundation archivist Bruce Brooks Pfeiffer.
The home was designed by Wright in 1938. It was originally meant to be built in California for Hollywood costume designer Ralph Jester.
But Jester cancelled the job when construction costs were too high. In 1971, Pfeiffer used the design to built a house at Taliesin West for his father. It's a house featuring a series of round rooms.
Today, the Pfieffer House houses the Foundation's Licensing Department. It's sometimes included on tours.
Is Taliesen West Worth Visiting?
If you're a fan of Frank Lloyd Wright or take your UNESCO sites seriously, Taliesen West is a must visit destination in Arizona. I have an Arts & Crafts style house, so it was an exciting visit for me.
But even if you don't know much about architecture, the place is still fascinating. It's a beautiful building with interesting and unique design features, reflecting a revolutionary period in the history of architecture.
To have the chance to visit one of Wright's most personal creations, and one that he lived in, is an amazing opportunity.
Practical Information For Visiting Taliesen West
Address: 12621 N Frank Lloyd Wright Blvd, Scottsdale, AZ 85259
Parking: There is free parking onsite.
Hours:
Tour Hours: Open Daily, 10:00 am – 4:20 pm
Store Hours: Friday – Wednesday, 10:00am to 6:00 pm and Thursday, 10:00 am to 8:00 pm. The store sells books, home decor, apparel, and art that celebrates Frank Lloyd Wright.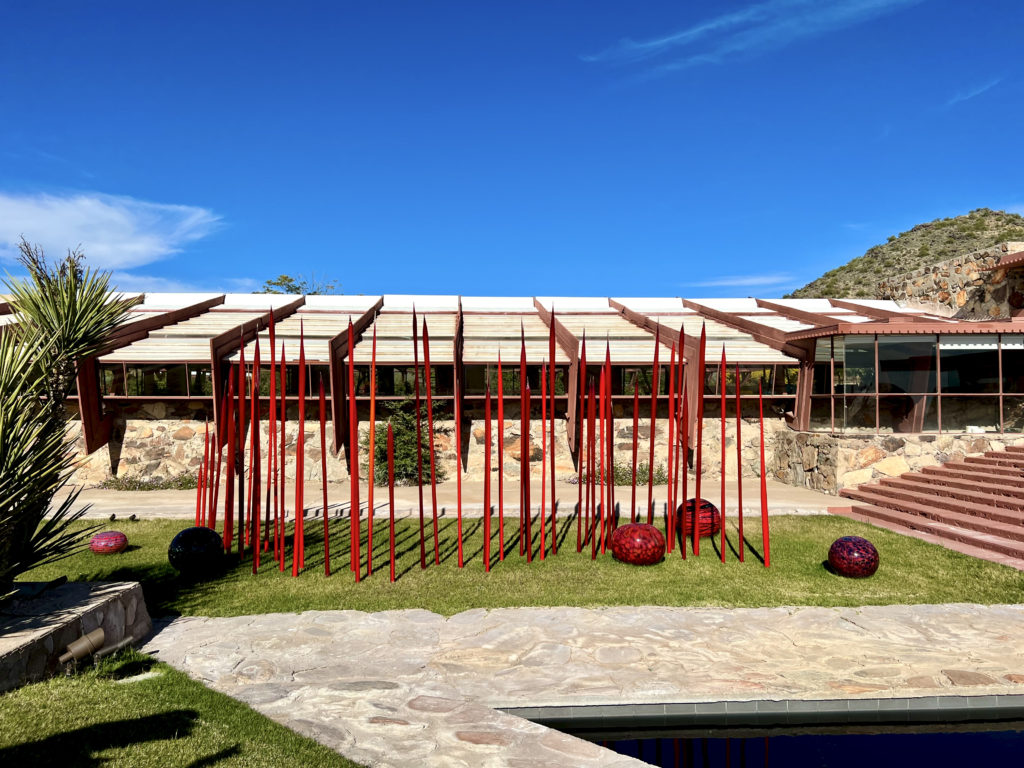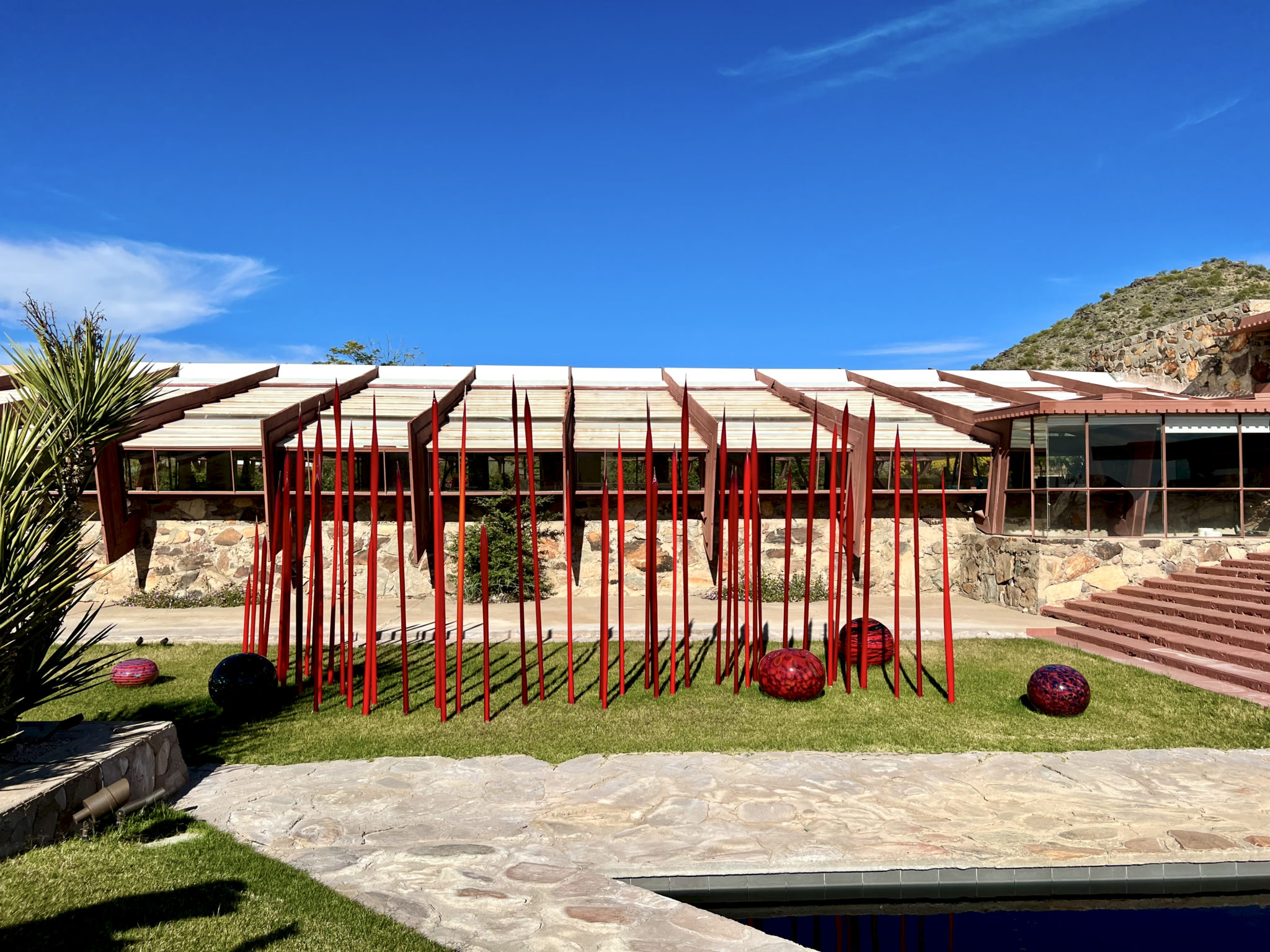 Entry fee: You can only visit Taliesen West on a 90 minute guided tour, which you need to reserve at least a week in advance. The cost is $49.99. You'll get a good introduction to Wright, his life, designs, and his school.
Self Guided Tour: You can also take a 60 minute self guided tour of the grounds at night for $35. The tour is entirely outdoors though.
Pro tips:
In all but one room, there are places for everyone on the tour to sit down and rest. The tours vary depending on what has been renovated. You may see different spaces than I did.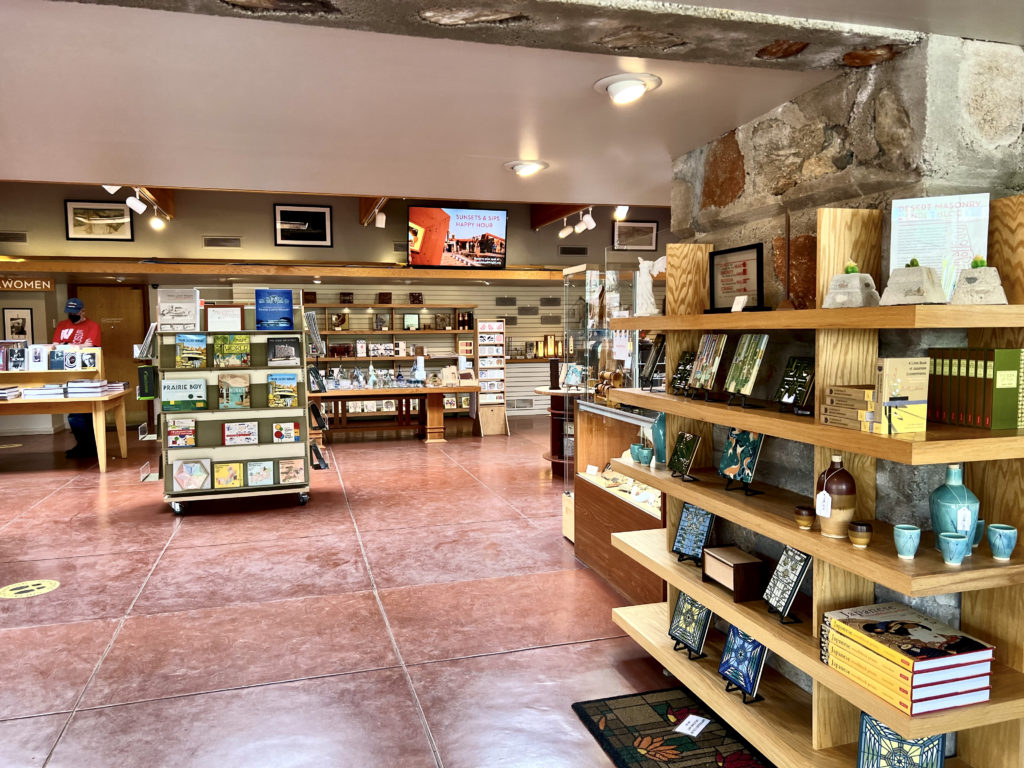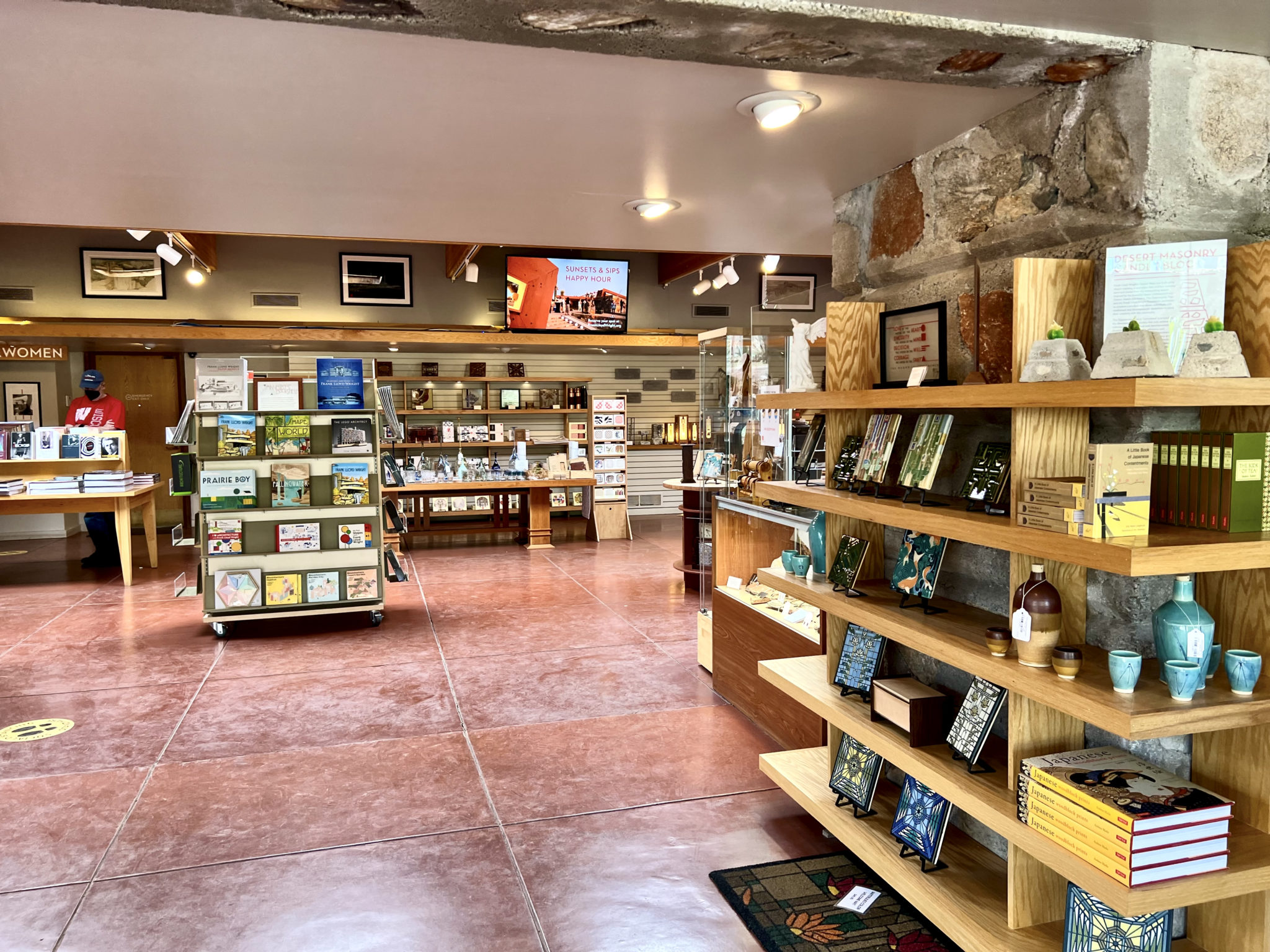 Bring water and wear sunscreen and a hat. Be aware that there's nowhere to eat at Taliesen West.
You can find rest rooms near the Kiva and in the Music Pavilion.
If you want to fuel up before or after your visit, Teaspressa (coffee, pastries), the Reserve (outdoor fine dining), or Cafe Monarch (contemporary American cuisine) are all nearby.
If you need a guide to Taliesen West, pin it for later.