"All history is a lie!" — Robert Walpole, British Prime Minister
Ooooh! Art and a historical murder mystery, two of my very favorite things in all the world.
Everyone believes the famous Dutch painter Vincent Van Gogh committed suicide in a wheat field in Auvers-sur-Oise France on July 27, 1890.
He was the stereotypical tortured artist, a brilliant but doomed soul in fragile mental health. He previously sliced off his ear in a fit of rage, after all.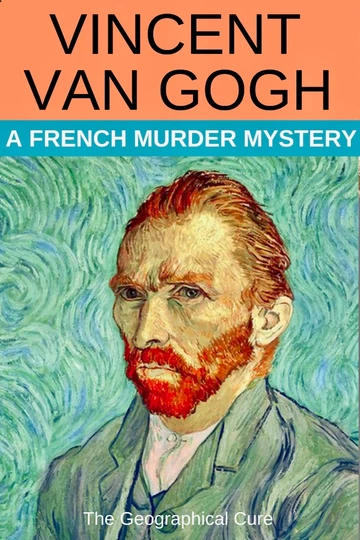 The Allure of Van Gogh
Since that fateful day, Van Gogh has cast almost a religious spell on art history and his avid fans. We're spellbound by the crazy artist who locked himself in a Provencal asylum.
And we adore his Post-Impressionist work, notable for its swirling line, emotional honesty, and bold vivid color. His radical landscapes were like nothing anyone had painted before. Van Gogh had a profound impact on 20th century art. Who else do you think inspired The Scream?
We gleefully trek to the Musee d'Orsay, the Van Gogh Museum, and MOMA to see his masterpieces.
READ: Masterpieces of the Musee d'Orsay
Van Gogh's life story is the irresistible stuff of legends, a tale of the self martyrdom of the world's most beloved artist.
In 1934, the popular pseudo-biographer Irving Stone wrote Lust for Life. He portrayed the talent and tempestuous artist as a madman. The novel was captured on film in 1956, with the charismatic Kirk Douglas in the principal role.
There's only one problem. It may be all bunk.
Stone's suicide yarn was based on bad history, bad psychology, and bad forensics. But a new book, movie, and modern forensics present a different theory. A theory of murder.
Van Gogh in Auvers-Sur-Oise France, Outside Paris
But first let's set the scene.
Van Gogh's ear was long healed. In fact, the missing lobe might not have been Van Gogh's handiwork.
A book by two German historians begs to differ. They think what really happened in 1888 is that Van Gogh's artist friend Paul Gauguin lopped off his friend's lobe while they were fencing in southern France.
The self-mutilation story was concocted between the two to avoid Gauguin's embarrassment and arrest.
In any event, Van Gogh left Arles for Auvers-sur-Oise in May 1890. After a year long stay in a psychiatric hospital in Saint-Rémy, Van Gogh wanted a fresh start, a place to heal his battered psyche. And to be closer to his beloved brother Theo, who was an art dealer in Paris.
READ: Secret Day Trips from Paris
Van Gogh took a room at the budget local inn, Auberge Ravoux. He also began seeing Dr. Paul Gachet, who had previously treated other artists and was an amateur painter. Van Gogh seemed in relatively good spirits.
The bucolic Auvers-sur-Oise agreed with him. Auvers is a lovely and underrated French village, surrounded by wheat fields and set on the banks of the Oise River. Van Gogh described Auvers as "gravely beautiful."
He liked its "many old thatched roofs." To him, the quiet village calmed his nerves and inspired his art, just as Provence had one done.
Van Gogh's creative output in Auvers was astounding. One cannot visit Auvers without seeing Van Gogh everywhere.
In the last 70 days of his life, he created a rhapsodic outpouring of 70 paintings of Auvers. Van Gogh painted the local church (Notre-Dame-d'Auvers), the rolling landscapes, and people he saw on a daily basis.
The paintings were wildly intense and arresting. Some might say unstable looking. with their rapid shifting notation of speckles and splashes. But they were some of Van Gogh's greatest masterpieces — Crows Over Wheatfield, the Portrait of Dr. Gachet, and Church at Auvers.
In fact, Van Gogh had just received a good review from a Paris magazine. His influence as a transformative modernist was widely known and admired in Impressionist circles in Paris.
But still, Van Gogh died from an infection at age 37, after the bullet couldn't be dislodged from his belly. After his death, Van Gogh was buried in Auvers with his brother Theo.
Room 3 in the Ravoux Inn, a tiny attic room, is now a national monument. It's preserved exactly as it was when Van Gogh lived there, peppered with holes in the walls from his hanging paintings.
Auvers is a perfect day trip from Paris, only 20 miles north. Trains depart from Gare Saint-Lazare or Gare du Nord in Paris every 20 minutes and the journey lasts an hour.
In Auvers, you can walk in Van Gogh's footsteps, relive his art, stroll in the wheat field, and explore the sites of the murder mystery to assess whodunit. Dotted around the town's lanes are "panels" that reproduce the works Van Gogh painted in Auvers.
The 2011 Naifeh-Smith Book
In 2011, Pulitzer Prize-winning biographers Steven Naifeh and Gregory White Smith published their mammoth book, Van Gogh: The Life. In it, they dispute everything we know about the last hours of the great artist's death.
The authors spent 10 years researching Van Gogh's life. They had access to archival material from Amsterdam's Van Gogh Museum. They benefited from a new six volume edition of Van Gogh's letters.
The authors claim it was manslaughter, that Van Gogh was murdered by accident. They argue that Rene Secrétan fired the fatal shot in Auvers, which killed the artist two days later.
They have some really convincing arguments.
The Evidence Against Van Gogh's Suicide
First, there was no telltale sign that Van Gogh was suicidal.
Van Gogh was a rather effusive person, prone to scribbling everything down. He produced nearly 800 letters in his lifetime, mostly to his brother Theo.
His last letters didn't demonstrate any extreme anxiety. To the contrary, Vincent seemed happy and productive in picturesque Auvers, if a bit lonely. He was always lonely though.
There was no suicide note either. In fact, the note to Théo in Van Gogh's pocket at his death was optimistic. A man who memorialized everything had said not a word about offing himself.
In fact, Van Gogh had just placed a large order for more paint the day prior. The paintings he left from his last few months were classic, inspired, and vibrant.
The notion that Van Gogh's paintings were "mad," like him, is completely bogus. Van Gogh was a methodical draftsman and his illness prevented him from working.
The second thing: the gun was never found. Vincent didn't own a gun and didn't have it with him when he returned to the Ravoux Inn.
No one found it in the wheat field. No one found his artist materials, his easels and paint brushes, at the scene of the alleged suicide either.
People shooting themselves don't usually bury their stuff first.
Third, Van Gogh's belly wound wasn't consistent with suicide. It was a weird wound, to say the least.
Suicide victims usually shoot themselves in the temple or the mouth. Shooting oneself in the stomach guarantees a long and painful death, as was the case with Van Gogh.
After shooting himself, he staggered a mile back home to the Ravoux Inn, rather than firing another shot to end it quickly. Hmm …
Fourth — great balls of fire! — there were no witnesses.
Critiquing the Existing Evidence
So what is the evidence that Van Gogh killed himself? Why do we think this happened?
It mostly comes down to the testimony of a 13 year old girl, Adeline Ravoux. She was the daughter of the owner of the Ravoux Inn. She first spoke for the record in 1953, 70+ years later, claiming Van Gogh confessed to suicide on his death bed.
Incredibly lame shit. What an unreliable narrator.
There are no other accounts to support Van Gogh so-called dying confession. Other early contemporaneous accounts instead state that van Gogh had merely "wounded himself."
The other chief purveyor of the suicide legend was Van Gogh's fellow artist Émile Bernard, who wasn't there at the time.
Was he a loyal friend or a jealous gossip? He spread gossip about Vincent's sliced ear two years earlier.
He seemed to enjoy pitching the "Van Gogh's crazy" narrative and basking in the "look at me" limelight. Some thought Bernard parlayed the gossip to curry favor with an art critic.
With Vincent's recent good reviews in Paris just before his supposed suicide (which might make one less inclined to shoot a gun), the suicide legend took fire.
It was too good a story. Lust for Life fanned the flames and won prizes. The Vincent Van Gogh suicide became history, a received nostrum, passed down for generations.
The Possible Suspect in Van Gogh's Shooting
If Vincent didn't shoot himself, who did?
In Auvers, there was a notorious 16 year old bully named René Secrétan, the son of a powerful Aubers businessman. He wore cowboy gear, sported a revolver, and hung out with a pack of troublemaker miscreants.
A friendless Van Gogh was an easy target for them. Van Gogh was an eccentric introvert.
His obsessive, quarrelsome nature often rubbed people the wrong way. Van Gogh's letters reveal that he alternatively viewed himself as a messianic figure or utter failure. He drank, smelled bad, had a mangled ear, and painted outside.
René pretended to befriend Van Gogh in private, but mocked him in public.
The relentless bully played pranks on Van Gogh. He "put hot pepper on his paintbrushes (which he often sucked when deep in thought), salted his tea, and put a snake into his paint box."
In 1957, Secrétan admitted to mercilessly tormenting Van Gogh. René claimed he had given Van Gogh the dodgy gun.
Other facts implicate Rene as the culprit and dispute the suicide theory.
A long-neglected account by a woman from a distinguished Auvers family said that Van Gogh was far from the wheat field at the time the fatal shot was fired. In fact, she says, he was heading to the Secrétan family villa.
The scholar John Rewald traveled to Auvers in the 1930s and interviewed locals when the painter's death was still in living memory. He reported a rumor that young boys had shot Van Gogh accidentally.
A Forensic Expert Weighs In
After publishing their book in 2011, Naifeh and Smith found a renowned forensics expert, Dr. Vincent Di Maio, to assess whether Van Gogh's wound could've been self-inflicted (he charged no fee). His conclusion?
Nope.
Without going into excruciating detail, real contortions would've been required to inflict Van Gogh's left side belly wound. It would be difficult to shoot with the left hand.
With the right hand, you'd have to wrap your arm across the chest and fire with the thumb. The bullet also went in at a "crazy angle."
Moreover, there were no reports of black gun powder on Van Gogh's hands, according to those who saw Van Gogh after the shooting. Gun powder would've definitely been present in a close range wound.
The description of the wound itself also doesn't "prove" suicide. The reported bullet wound's "purple halo" on Van Gogh's stomach wasn't evidence of proximity, just proof of subcutaneous bleeding. The reported "brownish mark" wasn't gun powder, just a standard abrasion wound.
Di Maio concluded: "It is my opinion that, in all medical probability, the wound incurred by Van Gogh was not self-inflicted. In other words, he did not shoot himself."
The 2018 Schnabel Movie About Van Gogh
In 2018, Julian Schnabel produced a new movie about Van Gogh, called At Eternity's Gate. It adopted the theory of Naifeh and Smith's 2011 book.
Legendary French screenwriter Jean-Claude Carriere, who co-wrote the script with Schnabel, said: "there's absolutely no proof Van Gogh killed himself. Do I believe that Van Gogh killed himself? Absolutely not!"
Schnabel himself is more diffident, remarking that "history is a lie." In making the movie, he meant to set forth "another set of possibilities" for consideration.
And so the gospel of Van Gogh as legendary madman reads differently after events and investigations of this last decade.
But can the notion of a dark, romanticized suicide ever be dislodged from the public hive mind?
Mythology is potent and long lasting. It persists, like epoxy glue. I found that to be the case with King Richard III of England, another famous person maligned and mythologized into a different historical reality altogether.
The Van Gogh Museum in Amsterdam regards the murder theory as "interesting" and "spectacular." But it has not yet dismissed the long held suicide theory for lack of "sufficient evidence."
But at least eye brows are now raised. Suicide is no longer the unquestioned final chapter. And the cold case will continue being investigated. To see if Van Gogh's history, as we've always known it, is a lie.
I hope you've enjoyed my article about Van Gogh's mysterious death. You may enjoy these other travel guides for France:
• Secret hidden towns in France
• 30+ beautiful towns in northern France
• Beautiful villages of Brittany
• Beautiful villages in Normandy
• 10 day itinerary for southern France
• Charming hidden gems in Provence
If you liked it, pin it for later.