Exploring Philadelphia? Don't miss the amazing Barnes Foundation. With my guide, you can discover the history and must see masterpieces of this impressive collection.
The Barnes Foundation is one of the best art museums in the United States. It houses an unparalleled one-of-a-kind collection of rare Impressionist, Post-Impressionist, and Modernist art.
You'll find masterpieces by Picasso, Matisse, Seurat, Van Gogh, and Cezanne. There's an astonishing 181 Renoirs alone.
Art collector Albert C. Barnes founded the museum in 1922. He loved art and was impassioned to share his appreciation.
By the standards of the day, Barnes was a bit of a nutter. He was a cranky, opinionated, and uber controlling genius. He collected and protected the last great, earth shattering really, private collection of art in the US.
I adore people like that who unabashedly break the mold. I'm endlessly fascinated. Here's his tale, and the story of his great cache of art at the Barnes Foundation.
Who Is Albert Barnes?
The Man & His Collection
Barnes grew up in a working class family in Philly, earned a medical degree, and amassed a fortune selling compounds and antiseptics.
Once he struck it rich, he turned his attention to building "the greatest modern art collection" of his time.
Barnes began collecting in 1912. That year, he sent is friend Walter Glackens to Paris to buy up avant garde works.
Impressed, Barnes then began making trips to Paris himself. He was introduced to art collectors Gertrude and Leo Stein. He met and befriended artists like Matisse.
He established himself as a "bold and ambitious" collector. And he did at a time when he wasn't competing with any museums.
Barnes spent a fortune buying up paintings from then up and coming artists like Henri Matisse, Auguste Renoir, Paul Cezanne, and Pablo Picasso.
He essentially discovered Chaime Soutine. He amassed the world's largest private collection of this sort, now conservatively valued at around $30 billion.
Barnes had grand ideas about art. Some were laudatory. He wanted to educate the impoverished and the uncultured about art to help improve their lives.
In his book The Art of Painting, he declared that "to see as the artist sees is an accomplishment to which there is no short cut, which cannot be acquired by any magic formula or trick."
Some of his ideas were more outlandish. When he established his art appreciation foundation in 1925, it was formed as a school, with restricted access, not as a museum.
He insisted that his works be kept forever on display in his old, damp house in Merion, a suburb of Philadelphia. It was his version of an intimate Parisian salon, but for "plain people."
He hung his paintings helter skelter on the walls, in a dense clutter amidst medieval and African artwork, relics, and furniture. Somewhat perversely, he left the paintings uncurated and unlabeled. They were stacked, hung above doors, and stuck in niches.
Barnes grouped his pieces idiosyncratically. He displayed them in a way that he felt illuminated aesthetic connections and stylistic compatibility, not by artist, medium, or period themes.
Barnes was a pugnacious, difficult man. It was his way or the highway. His vision or nothing.
The Saturday Evening Post dubbed him "The Terrible-Tempered Dr. Barnes." Barnes came to loath established public art institutions, thinking they were only for dilettantes.
His oddness and curious behavior are the stuff of legend among art aficionados. But his own overly stringent conditions created problems for his noble institution and formidable collection down the road.
Great art should shift your worldview, cause you to reflect and be in wonderment. The Barnes Foundation does just that. But it's no longer in the quirky musty Merion dungeon that Barnes originally created.
The Barnes Foundation Controversy
Barnes died in a tragic car crash in 1951. By that time, his collection included "181 Renoirs, 69 Cezannes, 59 Matisses, 46 Picassos, 16 Modiglianis and 7 Van Goghs."
He left his art to an obscure local college, Lincoln University. He mandated that the art be used "for art education, not commercial display."
It was not a straightforward act of philanthropy. It was a bit of a middle finger to the Philadelphia Museum of Art.
They coveted his artworks and he was not a fan. Barnes was all about education, not exhibition. He had became an anti-snobbery snob.
Only a select few could sneak a peek at his famous collection. Steel workers or janitors had the best chance. Others were excluded.
Barnes was famous for turning away the rich and famous, including people like T.S. Eliott. Requests from art critics were categorically denied, usually signed by Barnes's dog Fidèle with an inked pawprint.
To impose his vision, Barnes left stringent conditions and an ironclad trust in his will. The collection was effectively frozen in time.
The artworks could not be lent, sold, moved from their configurations, or reproduced. The museum could only open two days a week to the public.
The Foundation could only invest in public bonds. (In fairness, Barnes was not the only eccentric art collector to make these preconditions. Isabella Stewart Gardner did the same thing in Boston.)
As a result, Barnes' endowment was somewhat hidebound. There was no real way to raise money for the endowment.
There were no management experts. And a socially climbing man who was the complete opposite of Barnes, Richard Glanton, eventually landed at the helm.
Glanton almost immediately sought to break the trust. He argued that the Foundation was cash poor and that the Merion building needed serious repairs. Without the repairs, the paintings could be damaged.
To raise cash, Glanton wanted to loan the artwork. The court's ruling? The Foundation was allowed to send the paintings on a world tour that raised $16 million. But it was still in trouble.
Glanton spent a good deal of time and money litigating with his neighbors. They disliked his plans to build a parking lot and hated the "noise" of tourists.
They enforced zoning, parking, police, fire code, and regulations. The zoning laws hampered attendance and fund raising. These issues made it difficult to maintain a thriving collection in a suburban setting.
In 2002, Barnes' will was challenged again. In exchange for a large charitable infusion, the Foundation sought to move the paintings to a newer building, right next door to the Philadelphia Art Museum. Barnes must have rolled over in his grave.
The ensuing litigation lasted a decade. Diehard Barnes fans and art purists battled to prevent the move.
They wanted to retain the collection as a historic and unique refuge from the frenzy of the money-driven art world, not see it desecrated.
Some critics saw it as a non-profit takeover, a product of political and legal skullduggery. "Saving" the paintings was not the only motive. Another motive was to provide a tourist hotspot for Philadelphia, to make art an asset, a civic profit opportunity — which Barnes would have loathed.
Practicalities carried the day. The Foundation won the lawsuit, commissioned an architect, and a new museum in downtown Philadelphia opened in 2012.
Barnes' only remaining legacy was the straightjacketed portrayal of the art itself. The new galleries replicate the scale, proportion, and dense configuration of the Merion galleries.
Naturally, there was a lot of controversy about the decision. Barnes fundamentalists dubbed the new museum "McBarnes."
There was even a documentary made — the Art of the Steal — criticizing the move. After all, a curmudgeonly man's final wishes, no matter how crazy, are his final wishes.
Despite all the hand wringing and agony, the move seems to be mostly a success. The paintings are safe in a spanking new building with state of the art features and security.
They are better lit, which I personally appreciate. More people have access to them than just a band of art students or "plain people."
Still, one wonders about the question of donor intent and the appropriation of Barnes' cultural legacy. Why can't a private collector impose his vision of his own personal art collection? He paid for the art, after all.
Can it just be manhandled by people who "know better"? And isn't historic preservation important?
On the other hand, what was Barnes thinking?! Shouldn't such beautiful art be seen by the public at large, not quarantined?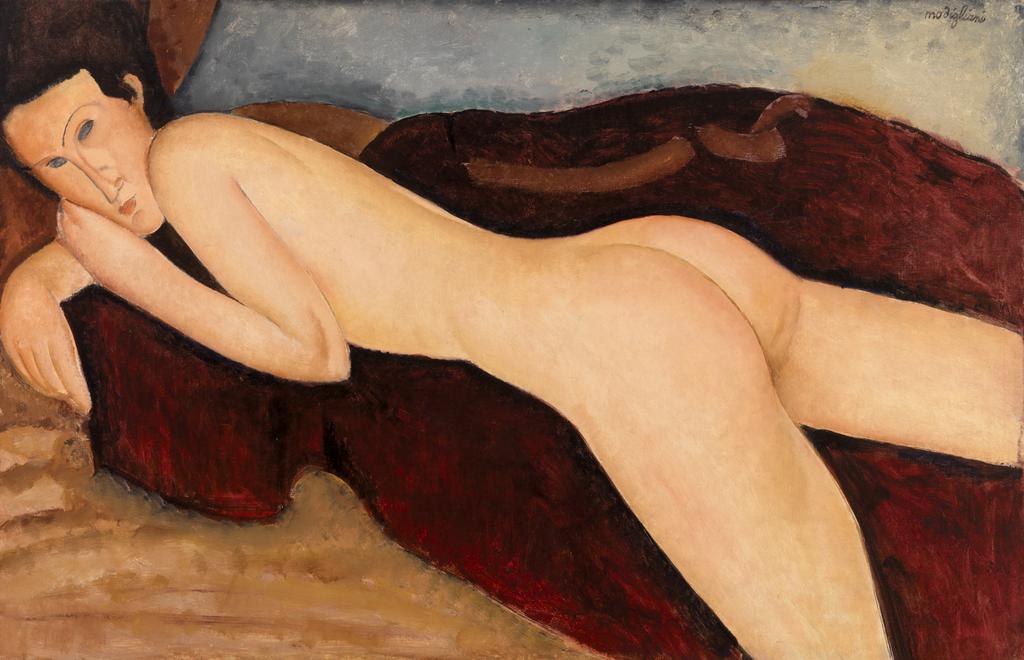 Was he just a spiteful man who built an anachronistic monument to his own spitefulness? Perhaps the artwork is better off in the contemporary museum world, with its scholarships and exhibitions.
In the end, it was Barnes himself may have helped undo his own legacy with his inflexibility and lack of sufficient endowment. A museum needs to be seen to survive these days.
Barnes outsmarted the world in creating his great art collection. But in creating his mismanaged and inexpert foundation, he outsmarted himself.
For better or worse, many critics of the move have come around, perhaps conceding they made too much of bricks and mortar. Barnes' vision has been sensitively and diligently reproduced.
New Yorker/Vanity Fair architecture critic Paul Goldberg loved the way Barnes' paintings looked in the new building:
Suddenly now, the paintings, in all of their magnificent color, are visible in a whole new way. I would not be at all surprised if some people accused the Barnes curators of having cleaned the canvases as they brought them from Merion to Philadelphia. They look that different. …There is no question that the paintings are more visible in their new home; they look better in every way."
Guide To The Barnes Foundation: What To See
In addition to the paintings shown above, here are some of the highlights of the quirky groundbreaking collection. There are some outright masterpieces.
I admit I'm not a real fan of Barnes' obsession with sybaritic Renoir nudes. They are a bit smudgy and frothy.
But some of his other works are just jaw dropping. I think the Matisses are the best works in the collection.
You'll even see some old master paintings. I was surprised to see works by Giorgione and Tintoretto.
1. Henri Matisse, The Dance
The Dance II is a 45 foot wide mural created by one of the towering figures in the modern movement. It was commissioned and designed for a particular spot in the arched vaulted windows in Barnes' Merion building.
Another version of The Dance, which Matisse created for Barnes is on display at Paris' Modern Art Museum.
The Dance was a turning point in Matisse's career, an early experiment with cut paper forms. Using colorful cut out paper (gray, pink, blue, black), he created a pared down but flowing dynamic image of tumblers.
This work, like his other cuts outs, is joyful, optimistic, and has a modern feel. It prefigures the giddy decorative freedom of the 1940s.
2. Henri Matisse, The Joy of Life
The centerpiece of the Barnes' collection is Matisse's transcendent masterpiece The Joy of Life. It's given a prominent position in a small gallery on the second floor.
Previously, it was in a humiliating and dimly lit position on the stairway landing, which Barnes thought enhanced its feeling of motion.
The Joy of Life is Matisse's most famous Fauvist painting, full of pure expressive bright color. It's a landscape filled with brilliantly colored forest, meadow, sea, and sky, and populated with resting and moving nude figures.
They seem wildly sensuous and joyful. The shifting perspective and scale, quite radical at the time, draws you into the painting.
The painting was originally purchased by Gertrude Stein, who then sold it to Barnes. As Stein would later say, "Matisse had painted Le Bonheur de vivre and had created a new formula for color that would leave its mark on every painter of the period."
3. George Seurat, Models
Seurat's large scale painting was an artistic breakthrough. It came at a time when critics questioned whether his Neo-Impressionist pointillist technique was too cold and unsuitable for the noblest art form — the nude.
Seurat responded with a triple portrait, from various points of view, that has the feel of a Salon painting.
A cool detail is that Seurat painted his famous A Sunday on La Grande Jatte in the background. The models may be the same in both paintings.
Unfortunately, the painting is a bit hard to see. It's stacked on top of Cezanne's Card Players.
4. Pablo Picasso, Acrobat and Young Harlequin
Circus performers were a common theme for Picasso in his Rose Period, 1904-06. During the rose period, Picasso started using a lighter palette with oranges and pinks, making his canvases more cheery.
The performers gaze out at the audience as if the show is over. The landscape is like a curtain screen.
The painting depicts the theme of the artists' value in society, where they were often mocked and labelled social outcasts.
READ: Guide To the Picasso Museums in Europe
5. Paul Cezanne, Grand Bathers
Cezanne was a key source of inspiration for modern artists, even though he was derided as crass and crude by his contemporaries. For drawing practice, he frequented the Louvre and recreated old masters paintings. But the Salon consistently rejected his work.
This painting refects Cezanne's preoccupation with classicism and its long depiction of the bathing party, or nude women in landscapes. Cezanne's paintings and their use of geometric motifs had a profound influence on avant garde painters such as Picasso.
In the painting, you can see a repetition of triangles, circles, cones and cylinders.
I must confess that Cezanne's bathers are not my favorite of his oeuvre. They seems a bit hackish and are missing many hands and feet (notoriously difficult to draw). I prefer his landscapes, still lives, and portraits like the Card Players below.
6. Paul Cezanne, The Card Players
Card games have typically been depicted as tawdry affairs, moralizing about the pitfalls of drinking and gambling. A prime example is Georges de la Tour's The Cheat With the Ace of Diamonds at the Louvre.
But Cezanne broke that mold, with a simple quiet scene. Barnes liked "traditional subjects made unconventional by the painter" and this is certainly such a painting.
Both Matisse and Picasso have remarked that Cézanne "is the father of us all." And this painting could be Cezanne's masterpiece. Here's a 5 minute video exploring it.
There are five versions of the card players, In the Barnes' version, Cezanne combines old master illusions (the gold drape, the royal blue robes) with modern devices (experimental composition, geometry, tension).
7. Henri Rousseau, Scout Attacked By Tiger
Rousseau became a full time artist at the age 49, after retiring from the Paris customs office. The job prompted his famous nickname, "Le Douanier Rousseau," "the toll collector."
Rousseau was a self-taught naive artist. His best known works, like this paintings, are lush jungle scenes.
Though some derided him as untalented, others like Picasso and Kandinsky, hailed him as a genius for exposing the "new possibilities of simplicity." Rousseau's works have an oddly appealing exoticism and uniqueness.
Some critics say his bright colors and dream- like themes inspired the Surrealist Movement.
8. Auguste Renoir, Leaving the Conservatory
This is by far my favorite Barnes' Renoir, located in Room 23. It's a welcome relief after seeing a large swathe of second rate Renoir bathers.
It's a beautifully composed and imposing full-length street scene of several Parisians dressed in shades of gray.
Renoir was a prolific French artist and founder of Impressionism. His work has the movement's characteristic pastel colors and loose brushwork.
He's most known for his depictions of women, Parisian society and domestic scenes, nudes, and dance paintings.
9. Chaime Soutine, The Pastry Chef
Barnes first visited Soutine's studio in 1922. Then, he was unknown except to the expat School of Paris painters living in Paris.
When Barnes saw another version of this painting, now in Paris' Orangerie Museum, he cried "It's a peach!" That prompted Barnes to buy over 50 works by the expressionist painter in just a few weeks. There are still 21 works in the Barnes Collection.
Overnight, Soutine became the toast of Montparnasse. Soutine painted in a frenzy, laying his bright colors on thickly, hardly pausing to think.
His models were humble people, not celebrities. Often, he showed the suffering they endured. This pastry chef has a saddened almost absent gaze with a slight sneer of the lips.
10. Pablo Picasso, Head of a Woman
This Picasso portrait reflects his preoccupation with primitivism and African masks in the early 20th century.
A friend of Picasso's, Honoré Géry Pieret, had stolen several Iberian statues from the Louvre. Several ended up Picasso's possession.
He purchased them for a song, and may even have commissioned the crimes. The statues became the models for faces in works like Head of a Woman and Picasso's famous masterpiece, Desmoiselles D'Avignon.
In Head of a Woman, Picasso reduces the model's face to a series of geometric forms. The perspective is odd.
There is nowhere for the eye to move beyond the riveting facial features. The simple forms, angular planes, and bold forms are all a precursor to Cubism, Picasso's most significant legacy.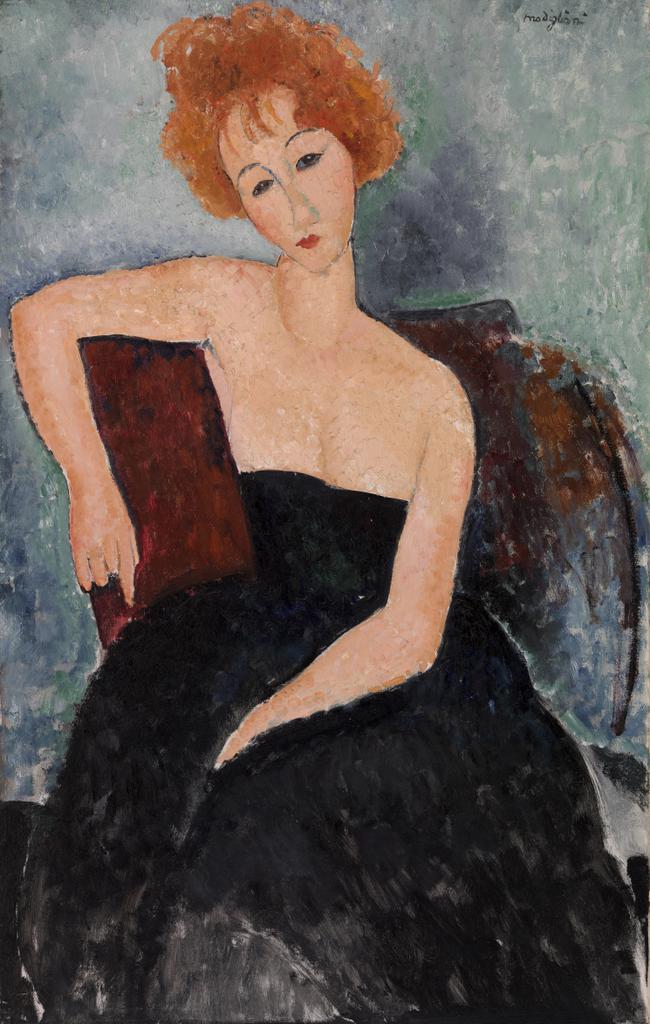 11. Amedeo Modigliani, Portrait of the Red-Headed Woman
Modigliani was an Italian painter and sculptor known for his unique style. He lived and worked in Paris' Montmartre neighborhood, which was a seedy haven for artists back then. His artworks were characterized by elongated forms, graceful lines, and a sense of melancholic elegance.
He primarily focused on portraits and nudes, often featuring stretched out faces and figures. They were influenced by African sculpture and perhaps by the modern art of sculptor Constantin Brancusi.
This painting exemplifies Modigliani's mature style. It's a centerpiece in one of the galleries.
It shows a woman with vivid red hair in a strapless black evening dress with a daring neckline. With her short hair, she's the very image of a modern woman.
With elongated features and graceful lines, the portrait is infused with simplicity and expressiveness. The painting is created with areas of mottled colors almost stabbed no the canvas, outlined in delicate black lines.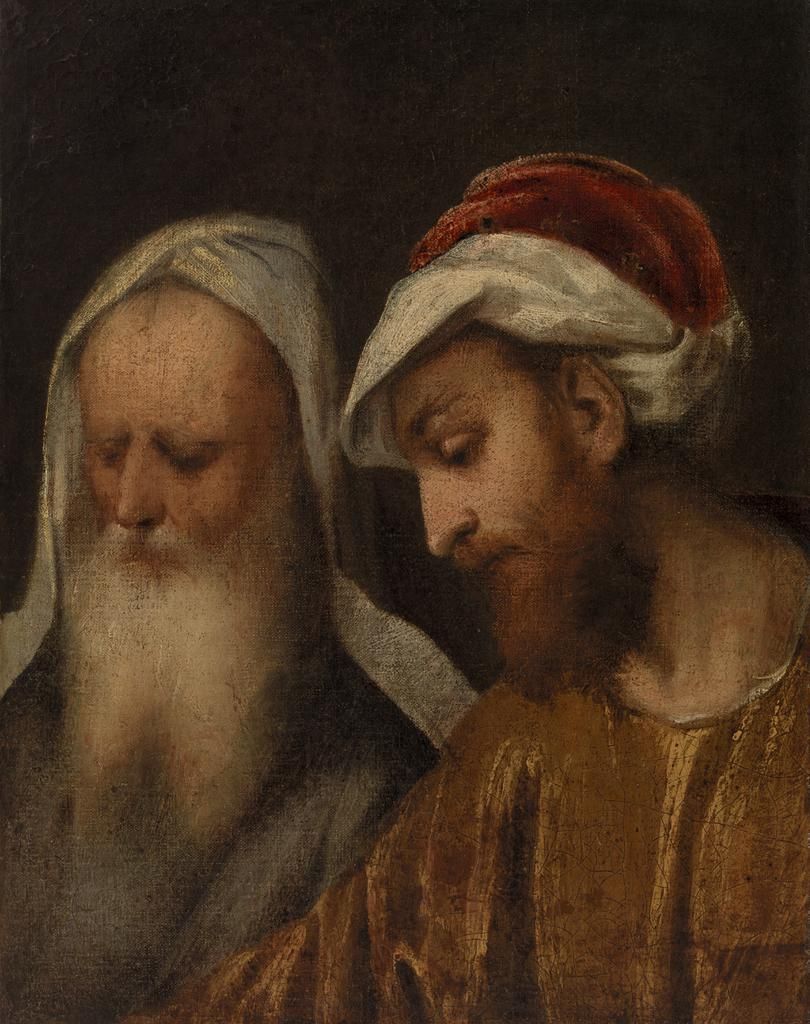 12. Giorgione, Two Prophets
Giorgione was a Venetian Renaissance painter. He had a short 15 year career, dying prematurely at just 37. So extant paintings by him are rare.
Giorgione is known for his innovative approach to painting. His style is characterized by his use of color, atmosphere, and a focus on mood and emotion.
This painting depicts two prophets or philosophers. They stand close together against an ambiguous dark background.
They appear to be looking down at something. You don't really know what they are thinking or doing, typical of the enigmatic painter.
13. Van Gogh, The Postman
Van Gogh is one of the world's most beloved artists. His Post-Impressionist art stands out for its expressive, swirling lines, emotional depth, and vibrant colors. Van Gogh achieved this by using thick layers of paint and pastels, a technique known as impasto.
The Postman was one of Barnes' earliest acquisitions and is an icon of the collection. It's a striking portrayal of Joseph Roulin, a postman when Van Gogh lived in Arles France.
The painting showcases Roulin's robust figure and distinctive facial features. It has a dignity and humanity to it. Roulin is set against a bold background of pink and green wallpaper.
Roulin was a friend of Van Gogh and took him to the hospital after he cut off his ears. Van Gogh might have painted this portrait as a thank you.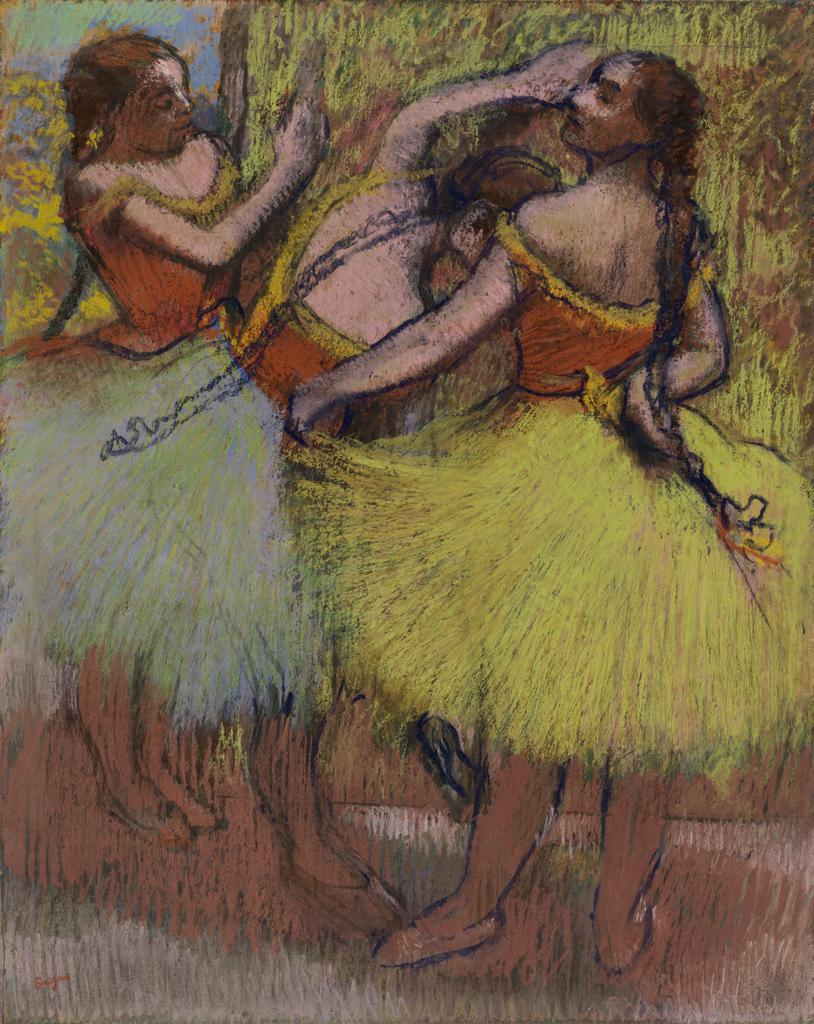 Practical Guide &Tips for Visiting the Barnes Foundation
Address: 2025 Benjamin Franklin Pkwy, Philadelphia, PA 19130. There is an onsite parking garage.
Hours: Thursday through Monday from 11:00 am to 5:00 pm, closed Tuesday
Entry fee: $30 for adults, $25 for seniors, and $5 for college students & under 18
Pro Tips:
There are no label in the museum, which may frustrate some. The paintings are arranged to emphasize visual relationships. But there are information pamphlets, cheat sheets if you will, in each room identifying all the paintings.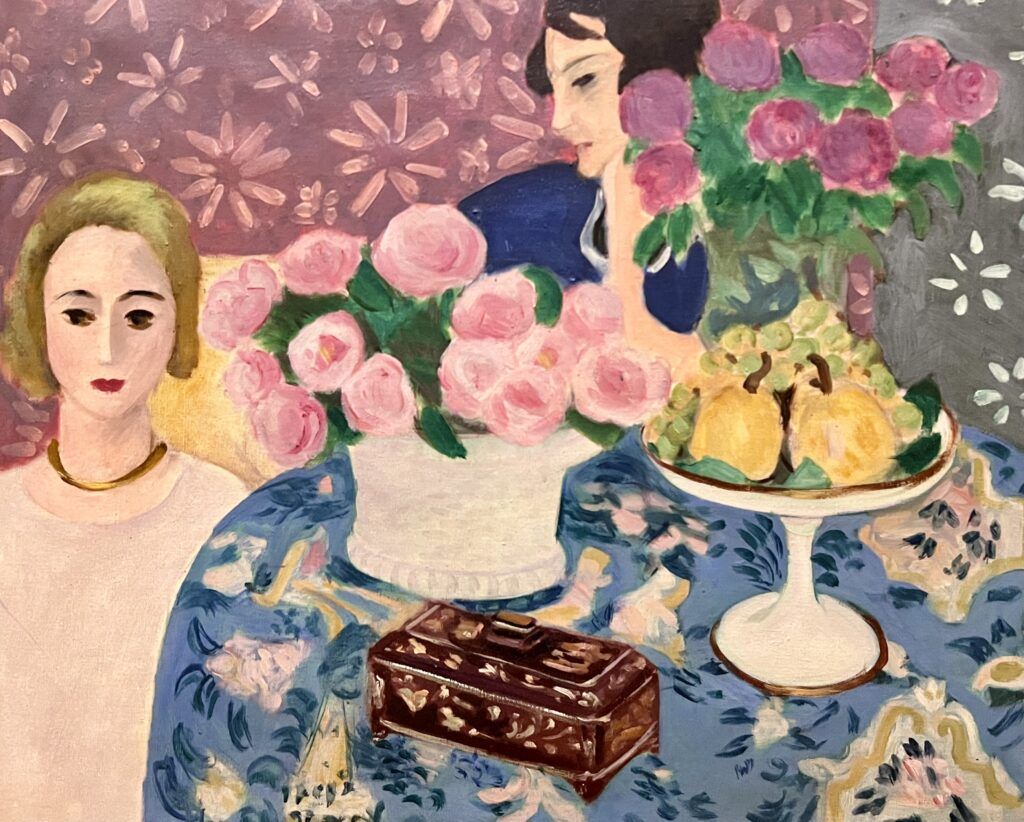 Right next door to the Barnes Collection, you'll find the Rodin Museum. It houses a collection of 150 pieces by the sculptor, the second largest collection in the United States
Is The Barnes Foundation Worth Visiting?
100%! I think The Barnes Foundation is one of Philadelphia's best attractions.
It's a unique museum where you can immerse yourself in Barnes' curatorial ethos. There's almost nothing like it in the United States. It's the best place to see the art of the Impressionists and Post-Impressionists.
I hope you've enjoyed my guide to the Barnes Foundation in Philadephia. You may enjoy the other Philadelphia travel guides and resources:
If you'd like to visit the Barnes Foundation in Philadelphia, pin it for later.