Planning a trip to the beautiful Boston area? If so, you should carve out some time for a visit to its next door neighbor Cambridge. Here's my guide to all the best things to do and see in Cambridge in one perfect day.
Founded in 1630, Cambridge has long been a lively intellectual center in the US. But Cambridge isn't just all cloistered academia and beautiful university campus.
You'll find world class museums, stunning architecture, indie bookshops, and dozens of al fresco patios for eating and drinking.
Of course, Cambridge is home to the renowned Harvard University (where you'll be wrapped in red brick) and the Massachusetts Institute of Technology ("MIT") (where you can admire eclectic modern architecture).
And it's not just the universities that dazzle. In Cambridge, visitors can enjoy a outstanding museums, a vibrant performing arts scene, and fabulous restaurants.
I recently spent a day in Cambridge, and have been many times before.
Best Things To Do in Cambridge In One Day
You can start your one day in Cambridge at either Harvard or MIT. As I was coming from Beacon Hill, I walked over Longfellow Bridge and headed to MIT first.
But it's very convenient to take the subway (Red Line) to Harvard Square. That's what I'd recommend doing first to start your day in Cambridge. You can get around Cambridge on a guided walking tour or a guided bike tour.
Here are all the best things to do and see with one day in Cambridge:
1. Harvard Square
Start your 1 day in Cambridge with breakfast at Tatte Bakery, Cafe Luna, Curio Coffee, or Clover. I can say from ample experience that the almond croissants at Tatte are divine.
Harvard Square is the iconic center of Cambridge. It's a triangular plaza located at the intersection of Battle Street, John F. Kennedy Street, and Massachusetts Avenue.
You'll find all manner of humanity — students, tourists, political activists, buskers, chess players, and other street creatures.
Wander around and experience the mix of life and small businesses. Stroll into used book stores, coffee shops, and chocolate shops. Watch artists, vagabonds, locals, and college students mingle. There are some cool little shops in the mini-mall called the The Garage.
There are plenty of eclectic boutiques in Harvard Square too. If you want to grab some Ivy league merchandise, head into the Harvard Coop. If you're interested in unique clothing, try Boutique Fabulous, Susanna, or Mint Julep.
Harvard Square becomes very lively at night. Students gather to watch street performers. You can catch an independent movie at Brattle Theatre, take in a show at the American Repertory Theater, or enjoy a stand up show at Comedy Studio.
Address: Brattle Street Cambridge
2. Harvard Yard
No one day in Cambridge is complete without a stroll through Harvard's campus. It's one of the best things to do in Cambridge.
As Harvard Square is the center of Cambridge, Harvard Yard is the center of Harvard College. Founded in 1636, Harvard is the oldest university in America.
Click here for a virtual tour of Harvard. Click here to book a guided tour of Harvard.
You first step into the revered and shady Harvard Yard, the nucleus of the campus. It's hard not to be awed. I've read the some people are underwhelmed. But I had the opposite reaction and just loved it.
Start at the Johnston Gate on Massachusetts Avenue. You'll be greeted by a statue of John Harvard, Harvard's founder, carved by Daniel Chester French (of Lincoln Memorial fame) in 1884.
The statue doesn't resemble the great man himself, as all likenesses of him were destroyed in a fire. The left foot is shiny, having been rubbed for good luck many a time.
In 1638, after Harvard's death, he bequeathed half his estate and all of his library to Harvard. In return, the institution was renamed after him. That started a long-lasting trend of buildings being renamed after donors.
Ranged around the John Harvard statue are tree lined footpaths, trim lawns, scholarly libraries, and elegant Georgian and Federal architecture. Ahhhh …
Massachusetts Hall is a Georgian gem, and the oldest surviving building at Harvard. But the building pales in comparison to the massive Gothic style Matthews Hall.
Built in 1872, Matthews Hall is situated in the heart of Harvard Yard. It serves as a freshman dorm.
Behind the John Harvard statue is the graceful University Hall, dating from 1815. This granite building was designed by Charles Bulfinch, Boston's first professional architect. It was the first building to veer away from Harvard's trademark red bricks.
The New Yard is dominated by the colonnaded facade of Harvard's flagship Widener Library. The library is an imposing building, whose entrance is graced with 12 Roman pillars and stands atop a 27 step granite staircase.
One of 73 campus libraries, it's named after Harvard graduate and Titanic victim Harry Elkins Widener.
It houses 3.5 million books along 60 miles of shelves. There's a replica of Widener's home study in the center of the library, which contains a rare Gutenberg Bible.
Address: 2 Kirkland Street
3. Memorial Hall | Sanders Theater
Immediately north of Harvard Yard is another gorgeous brick building in the High Victorian Gothic style — Memorial Hall. Completed in 1878, it's a National Historic Landmark.
The hall honors sacrifices made by Harvard men during the American Civil War. It stands as a symbol of Boston's commitment to the abolitionist movement.
Inside, you'll find the Sanders Theater. Completed in 1875, the theater was inspired by Christopher Wren's Sheldonian Theater in Oxford England.
It seats well over 1,000 spectators. The venue was originally used for Harvard commencements. Now, it's used for concerts, music shows, and serves as Harvard's largest live lecture hall. You'll find busts of famous past speakers, statues, and gorgeous stained glass, including a statue of colonial patriot James Otis.
Memorial Hall also houses Annenberg Hall, the first-year dining hall that can seat more than 1,000 students at a time. Tourists can't go inside. But it's said to bear a striking resemblance to the Great Hall in Hogwarts Castle.
Address: 45 Quincy Street
4. Harvard Art Museums
The Harvard Art Museums are a must visit attraction in Cambridge, even if you have only one day. They are a magnificent conglomerate of three separate museums — the Fogg Museum, the Biusch-Reisinger Museum, and the Arthur M. Sackler Museum.
After renovations by Renzo Piano from 2008-14, the museums were recently combined under a single glorious glass roof and renamed the Harvard Art Museums.
The Harvard Museums contain a range of collections from antiquity to the present day. The 250,000 exhibits are spread out over 7 levels. There's also a theater and cafe.
The Fogg Museum houses a very good collection of Western art and Italian Renaissance paintings, including works by Botticelli and Ghirlandaio.
My favorite pieces are tucked away in Room 2520 — 15 bozetto (terracotta models) by Gian Lorenzo Bernini, the greatest sculptor of the Baroque period. Bernini made thousands of the preparatory bozetto for his works.
But it was the practice of artists to throw them out when they finished a project. Hence, bozetto are quite rare.
You'll also find paintings by a roster of French Impressionist luminaries in the Maurice Wertheim Collection — Van Gogh, Picasso, Gauguin, Toulouse-Lautrec, and Manet.
Founded in 1901, the Busch-Reisinger Museum is dedicated to the art of the German speaking countries of Central and Northern Europe. The works cover the periods of the Austrian Secession, German Expressionism, and the Bauhaus design school.
The Bauhaus works resulted from a partnership with Bauhaus founder Walter Gropius, a former chair of Harvard's Department of Architecture. On level 1, check out the vintage Club Chair.
The Arthur M. Sackler Museum is the newest of the trio, opening in 1985. It's dedicated to Asian, Indian, Islamic, and Byzantine art. Highlights include beautiful Greek vases, carved jade from India, and a limestone Buddha.
READ: Guide To the Best Museums in New England
Address: 32 Quincy Street
5. Harvard Museum of Natural History
The Harvard Museum of Natural History is every bit as thrilling as its counterparts in London and New York City. It's a popular attraction in Cambridge too, welcoming over a quarter million visitors annually. Though it's surrounded by historic buildings, the museum only opened in 1998.
The museum highlights three far older Harvard research collections: the Museum of Comparative Zoology, the Herbaria and Botanical Museum, and the Mineralogical and Geological Museum. You can find dinosaur skeletons, a massive whale skeleton, and the world's largest turtle shell.
But the most fascinating part of the natural history museum are drawn from the Botanical Museum. The world famous Ware Collection of Blaschka Glass Models of Plants is simply beautiful.
It consists of highly realistic glass flowers, created between 1887-1936. The Blaschkas also created some glass sea creatures.
Just behind the Museum of Natural History is a bit of a hidden gem in Cambridge, the Harvard Divinity School. HDS has an absolutely pristine campus that rivals Harvard Yard. Have a wander around the beautiful historic buildings and pop into the Andover Chapel.
Address: 26 Oxford Street
6. Longfellow House
Longfellow House is located on Brattle Street, the historic road connecting old Cambridge and Watertown. It's famous as the one time home of Henry Wadsworth Longfellow. He was the poet wrote stirring tales that thrilled 19th century America, including the Midnight Ride of Paul Revere.
In the Revolutionary War period, Brattle Street was nicknamed "Tory Row." It was here that wealthy Loyalists built their residential mansions. The famous Longfellow House is open to the public in the summer months and its lovely garden is open year round.
Built in 1759, the Longfellow mansion was originally commsioned by John Vassall. He abandoned the mansion and fled to England when anti-Tory sentiment rose after the outbreak of the Revolutionary War.
The mansion was then requisitioned by General George Washington. He used it as his headquarters during the Siege of Boston in 1775-76.
After the war, the mansion was bought by Andrew Craigie. It was later purchased for Henry Wadsworth Longfellow as a wedding gift.
Longfellow lived there for 35 years, hosting literary salon for the "Fireside Poets." The mansion is preserved for posterity in the style of the Fireside Poets and is now a National Historic Landmark.
Address: 105 Brattle Street
7. Cambridge Common
Cambridge Common is an inviting triangle of greenery just west of Harvard Yard. Originally known as "Cow Commons," it's been a local refuge since 1630. Harvard University commencement ceremonies were once held there.
Today, people come to relax and inspect some of the monuments. There's a steeple-like memorial built in 1870 to commemorate Cambridge troops lost in the civil war. A statue of Abraham Lincoln was added in 1870.
There's a sculpture of three emaciated figures recalling the Irish Potato Famine and a statue of John Bridge. He was a puritan who settled in Cambridge 1632 and founded the first church school.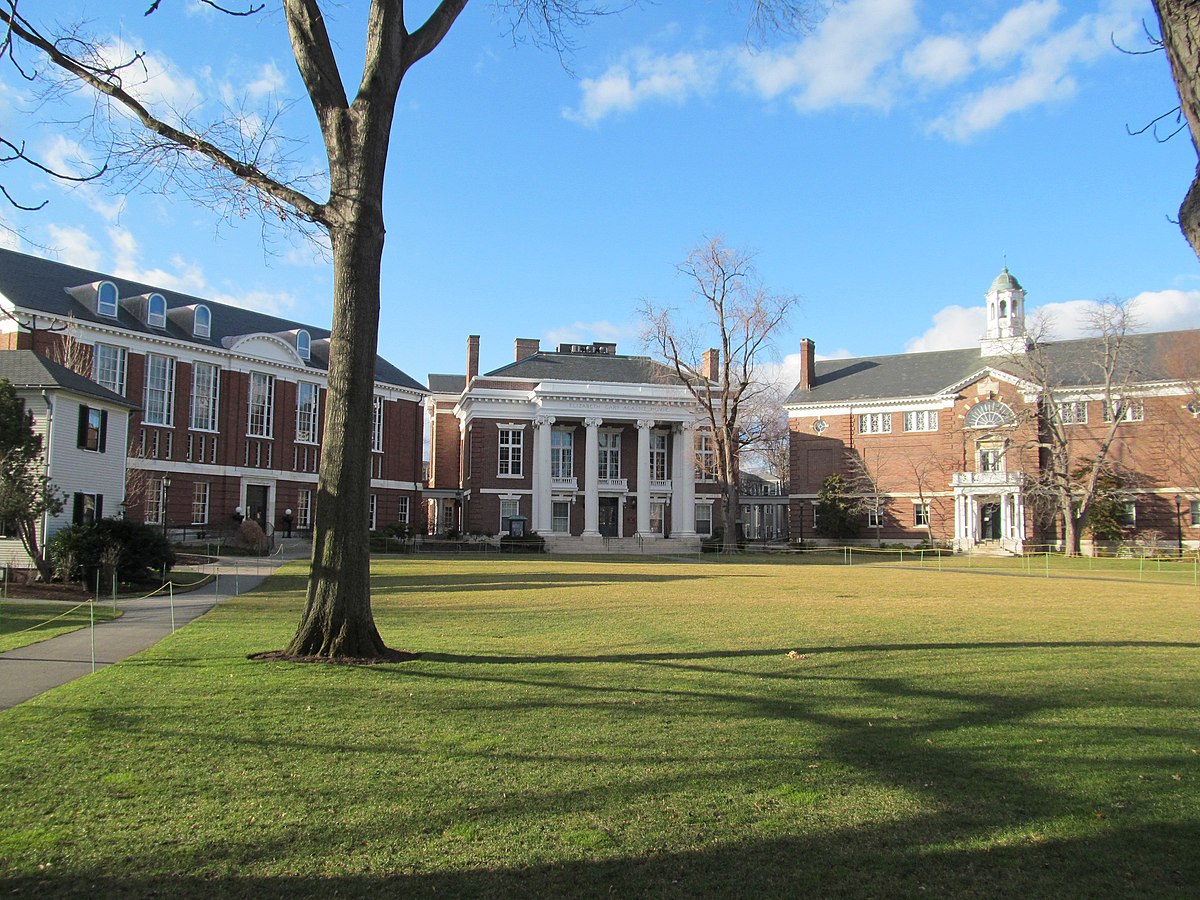 Don't forget to inspect the Washington Elm. It's a beloved tree surrounded by railings. According to legend, it was under this tree that General George Washington first took command of the American Army on July 3, 1775.
This tale is apocryphal, though, because the tree is too young to have been growing then. Historians also now claim that Washington was commissioned in Harvard Yard.
Across Garden Street is a gate leading into Radcliffe Yard. It's a lovely garden area that was at the heart of Radcliffe College when it was founded in 1879. Now, of course, it's been merged with Harvard.
Address: Waterhouse Street & Massachusetts Avenue
8. Peabody Museum of Archaeology and Ethnology
The Peabody Museum has one of the world's most outstanding anthropological collections. Its a subset of Harvard's Museum of Natural History.
Spread out over four floors, the museum's collection includes artifacts from Native American, Central American, and South American culture. The highlight is the Hall of the North American Indian. On display are textiles, art, and models of dwellings.
Address: 11 Divinity Avenue
9. Central Square
Central Square is "downtown" Cambridge. It's the historic seat of government and the midway point between Harvard and MIT.
Central Square is an artsy ethnic melting pot of people and restaurants. This is a good place to stop for a late lunch or a break while walking between Harvard and MIT.
If you fancy an ice cream, Toscanini's is a hotspot that the New York Times once called "the best ice cream in the world." There are hundreds of flavors that rotate throughout the year, but their signature flavors are always available. My favorite is salty carmel.
Address: Massachusetts Avenue
10. MIT Campus & Modern Architecture
10 minutes down the road from Central Square, you arrive at MIT. Though Harvard grabs all the attention and accolades, I enjoyed touring the MIT campus in East Cambridge. Click here to book a guided tour.
MIT was founded in 1861 in response to increasing industrialization in the United States. It's a groundbreaking center for theoretical and practical research in physical sciences and engineering. Once dissed as "the factory," MIT is one of the finest universities in the world.
In contrast to the comparatively straight laced red brick architecture of Harvard, MIT is a fantasyland of quirky modern architecture and public sculpture. Start at the Neo-Classical Rogers Building at 77 Massachusetts Avenue. This is the entrance to the "Infinite Corridor."
The corridor is the "spine" of MIT, a seemingly endless pedestrian hallway traversing the entire campus from east to west. It connects to each of the major buildings of MIT.
Then, cross to the other side of Massachusetts Avenue for a peak at the circular MIT Chapel.
Designed by Finnish architect Eero Saarinen, it consists of a moated red brick cylinder, topped with a sculptured belfry. The interior is windowless, illuminated by a roof oculus and floor level slits reflecting light upwards.
Don't forget to check out the high rise Green Center on McDermott Court. This is one of several MIT buildings designed by I.M. Pei of Louvre fame.
Breaking from MIT's mainly horizontal aesthetic, Pei designed a 21 story tower. The sculpture Big Sail guards the front.
Inside, you'll find one of Boston's best works of art, hidden deep in MIT. It's a 5500 square foot mosaic floor mural, Bars of Color Within Squares (shown above).
Designed by Sol LeWitt in 2006, the work provides an electrifying pop of interior color. The squares line up to cover the floor of a corridor that runs around three sides of the ground level.
The architect Frank Gehry also left a definitive foot print at MIT. Gehry was a pioneer of the controversial post-modern style known as Deconstructivism, which first appeared in the 1980s.
The style is characterized by an intentional lack of symmetry or harmony, wherein a building seems in the process of fragmentation. Gehry buildings are loved and loathed in equal measure.
The Stata Center on Vassar Street is classic Gehry. The legendary building consists of orange brick blocks set between silver elements. The silver elements explode outward, colliding with each other.
Even the windows appear to bulge. Fittingly, the Stata Center is home to daring research conducted by MIT's Computer, Information, and Intelligence Sciences departments.
Address: 77 Massachusetts Avenue
11. MIT Museum
If you have a love of science and technology, you should visit the MIT Museum. It's just a few blocks from the center of campus on Massachusetts Avenue.
Founded in 1971, the MIT Museum exhibits collections relating to the history of MIT, maritime history, holography, photography, robotics, and much more.
The 5,000-square foot Mark Epstein Innovation Gallery is located on the ground floor of the museum. It showcases the most recent research and developments in technology at MIT. It even has exhibits relating to MIT's infamous student pranks.
In addition to its permanent collection, the museum often presents temporary exhibits of art and technology displays. The museum has many outreach programs for children and for adults, and it sponsors the annual Cambridge Science Festival. The MIT Museums is moving to Kendall Square in 2022.
Address: 265 Massachusetts Avenue
12. Restaurants & Cocktails
Now that you've done all these amazing cultural things in Cambridge, where should you end your day with a spectacular dinner?
In Cambridge, you're spoiled for choice, from fresh and arty to elegant. The best options include Puritan, Harvest, Alden & Harlow, Oleana, and Giulia. If you want something more casual try, Michaelhouse or The Rainbow Cafe.
If you want a pre or post dinner drink, head to Noir. It's attached to the Charles Hotel, which is also the best place to stay in Cambridge.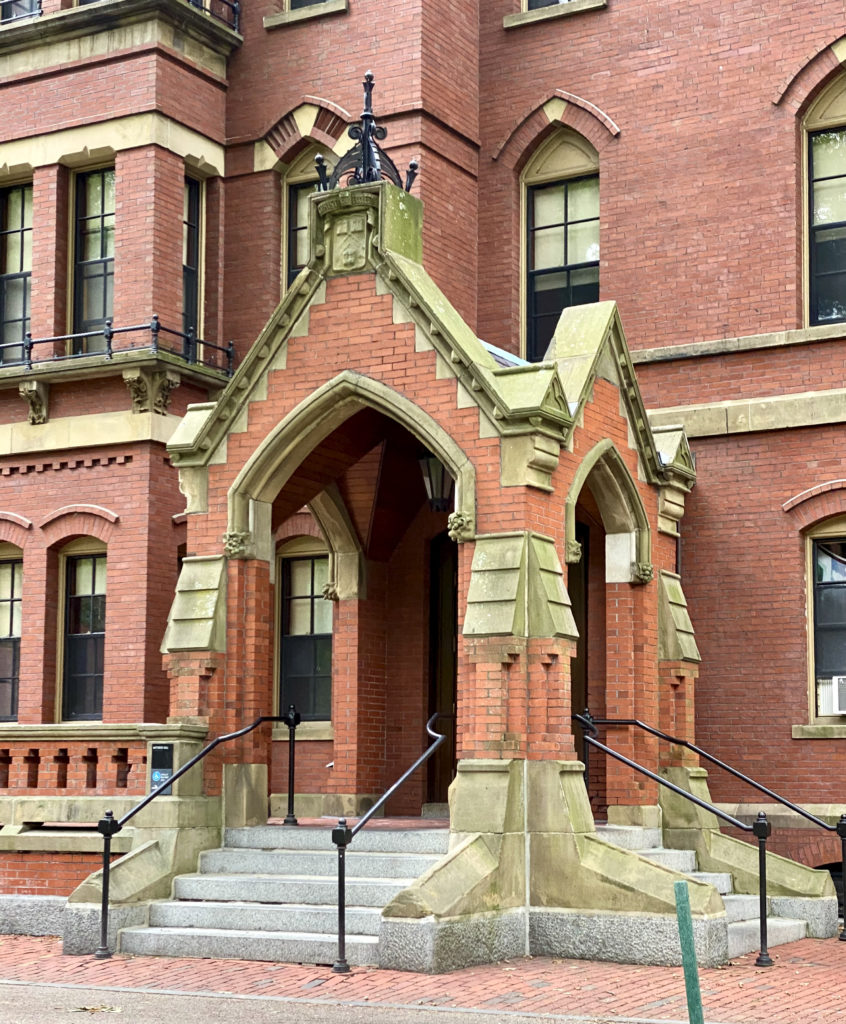 Tips For Spending One Day In Cambridge
Here are some tips for spending a day in Cambridge.
1. How To Get Around Cambridge
Cambridge is fast and compact and thus very walkable. The best things to do in Cambridge are all clustered in the town center.
You can always hop in a taxi or use Uber. I don't recommend using a car to get around Cambridge. The traffic is usually quite heavy and the roads can seem confusing.
You can also take public transportation. The red line of the "T" (Boston's metro) has 5 stops in Cambridge.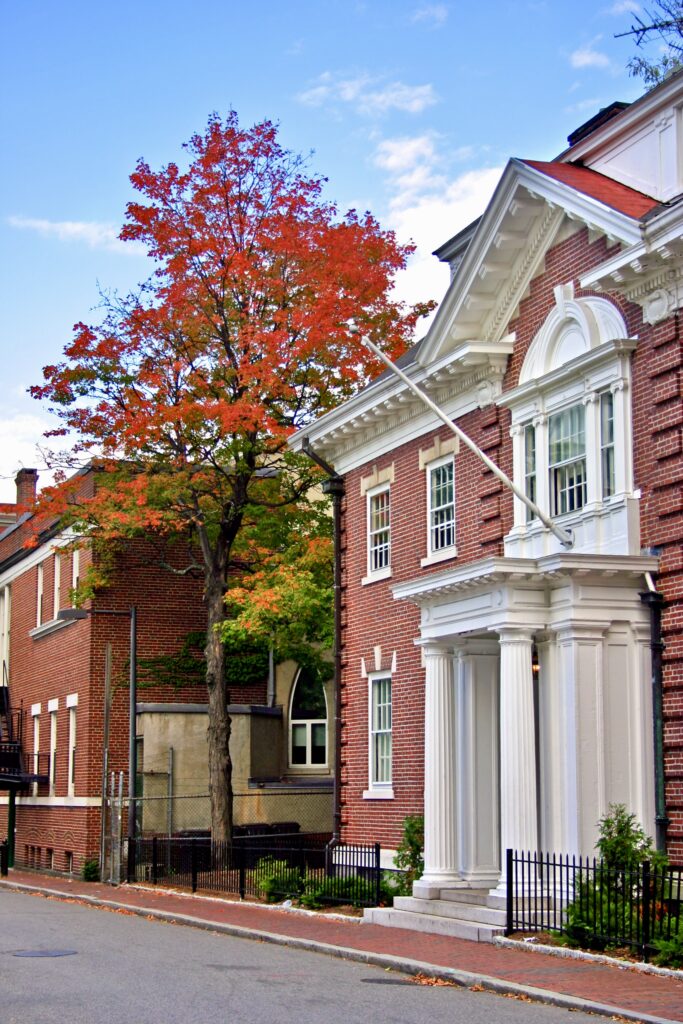 2. Where To Stay In Cambridge
The classic place to stay in Cambridge is Charles Hotel. It's set in the heart of Harvard Square, but has a bit of a a sticker shock price tag. In return for handing over the cash, You'll have luxurious rooms and views of the Charles River.
I'm a fan of the Kimpton chain and the Kimpton Marlow Hotel doesn't disappoint. It's a good hotel for families and the rooms are playfully decorated.
Le Meridien is good for business travelers and tourists alike. The rooms are modern and fully updated.
3. When To Visit Cambridge
Not in winter! Egads. It's brutally cold and windy in Boston in winter. At the opposite extreme, it's hot and humid in the winter.
So, I recommend visiting in shoulder season, spring or fall. Either season, there will be blooms aplenty and some sunshine. If you love cherry blossoms, plan April.
But the weather is still a tad unpredictable. If it happens to rain, you can duck inside a museum or indoor attraction.
I hope you've enjoyed my to the top attractions to see in Cambridge in one day. If you love New England or are planning an East Coast road trip, you may enjoy these other articles:
If you'd like to spend one day in Cambridge Massachusetts, pin it for later.