Are you looking for the perfect cultural getaway on the East Coat USA? If so, here's my guide to 21 beautiful small(er) towns on the East Coast where you can escape the crowds and discover great art work across many mediums.
Many folks plan vacations around foodie destinations, landmarks, or natural wonders. I'm all for that.
But sometimes I like to plan cultural vacations where I'm immersed in a town's art scene. I'm a museum addict and art lover of the highest order. I could easily wile away many days on cultural endeavors.
If like me, you're the kind of traveler that builds your perception of a place through its art scene, this guide's for you. I take you on a tour of the best art towns on the East Coast. These arty towns have amazing museums, art galleries, performing art venues, poetry slams, and festivals on the East Coast.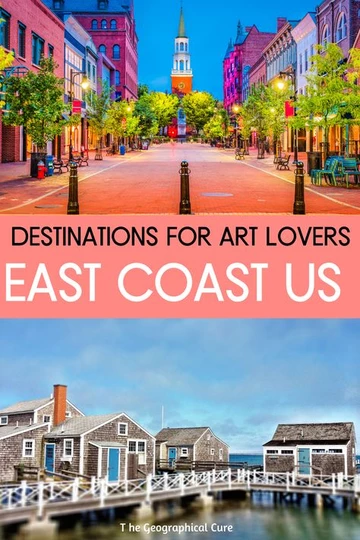 These off the beaten path destinations will astound you with their cultural offerings and natural beauty. You can string them together in one long road trip, pick several towns to fashion a week long regional itinerary, or pick one special spot for a weekend getaway.
Let's take a virtual road trip down the east coast of the United States, visiting the best art towns from north to south. I also give you handpicked tips on where to stay and what to eat. Many of these artsy towns are also amazing foodie destinations, with innovative farm to table restaurants.
The Best East Coast Towns For Art and Culture
Here are my picks for the best places on the East Coast for art lovers.
1. Portland Maine
Located on a peninsula jutting into Casco Bay, Portland is a rare metropolis in a state filled with small towns. There are so many cultural offerings.
Art-rich Portland is bastion of historical preservation. The Old Port is a warren of cobbled streets, filled with vibrant Victorian buildings and buzzing farm to table eateries.
Downtown, there's a thriving art school, infusing the city streets with creative types. There are 24 commercial art galleries. Restaurants and coffee bars are filled with visual art. In June, the revived downtown hosts the Old Port estival, described as "part freak show, part art festival, part fashion parade."
Opened in 19843, Portland's crown jewel and premiere destination is the Portland Museum of Art, an architectural masterpiece designed by I.M. Pei of Louvre fame. Its innovative architecture allowed curators to redefine the art viewing experience.
The museum has an impressive collection of late 19th and early 20th century art, including works by Andrew Wyeth, John Singer Sargent, Winslow Homer, and Marsden Hartley. It also hosts traveling international exhibits.
Merrill Auditorium is the site of Portland's performing arts scene. It's an elegant restored concert hall, which houses the world famous Kotzschmar Memorial Organ.
The venue hosts concerts by the Portland Symphony Orchestra, touring national theater companies, dance companies, and music acts. The Portland Opera Repertory also uses Merrill for full scale productions.
Here's my 1 day itinerary for Portland.
Where to stay: Inn by the Sea, Black Point Inn, Chebeague Island Inn, Inn on Carlton, Pomegranate Inn
Where to eat: The Honey Paw, Union at the Press Hotel, Solo Italiano, Woodford Food and Beverage
2. Glover Vermont
Just a couple hours from Montreal lies the art town of Glover in Vermont. This offbeat rural farm town is a truly unique venue.
Glover Residents have elevated ordinary objects from everyday life to artistic artifacts. You can see them on display in the Museum of Everyday Life, a cabinet of curiosities housed in a renovated barn.
This "common as dirt" museum celebrates the glory of normalcy. It's a bit of a tongue in cheek statement about the sometimes huffy nature of museum culture.
You can also take in a performance of large scale puppets at The Bread and Puppet Theater. This theater embraces "cheap art" and attempts to bring folk motifs and politics back into the arts. There are shows very Friday in the summer. When the puppets need to be retired, they go to the Puppet Museum, an innovative transformed barn.
Where to stay: Highland Lodge (in nearby Greensboro)
Where to eat: The Parker Pie Company
3. Burlington Vermont
In Vermont, there's a saying that "you can't throw a stone without hitting a poet/painter/potter." As the largest town in a state of small hamlets, Burlington has developed a self contained East Coast art scene that's the envy of many.
To some, Burlington is akin to a mini Seattle. It's a politically and socially progressive enclave of college students, regional power brokers, and creative minds.
The jewel of Burlington's art scene is the Fleming Museum on the University of Vermont campus. The museums has a wide range of artworks and artists. In June, you can attend the Arts Alive Festival. The Firehouse Center for the Arts also hosts year round exhibitions and art programs.
If you want to see a show, head to the Flynn Performing Arts Center. It's a fully restored art deco masterpiece. The Fynn hosts concerts, plays, and traveling Broadway shows.
If you want something offbeat to do, head to the edge of town. You'll find one of the world's tallest filing cabinets created by local artist Bren Alvarez.
Within a mile or so, you can also visit Ted Bundy's birthplace, the Burlington Earth Clock, and the Lake Champlain Monster Monument.
If you're a foodie, Burlington will suit. It outshines much of the US with a bounty of locally grown food. Farm to table eating is a well established tradition. There's even excellent street food at Farmers and Foragers Food Truck.
Where to stay: Willard Street Inn
Where to eat: Bleu Northeast Seafood, Hen of the Wood, Juniper
4. Brattleboro VT
Brattleboro is a gorgeous and artsy town on the East Coast. It's New England's most supportive art centric enclave. Artists settled in Brattleboro to escape the high rents of New England's major cities, while still remaining close.
Brattleboro's downtown has been revitalized. It's now full of art galleries, upper story artist studios, and a broad array of art events. The Brattleboro Art Museum in housed in a restored railroad depot. It presents 8 exhibitions annually.
Brattleboro also has a performing arts scene focused on classical music. The marquis venue is the Marlboro Music School. Brattleboro hosts the New England Bach Festival, a winter Chamber Music Series, and the Vermont Renaissance Festival (in nearby Vernon).
Where to stay: Putney Inn
Where to eat: Mocha Joe's Cafe, Amy's Bakery Arts Cafe, Peter Havens
5. Manchester NH
New Hampshire is such a beautiful state. You might think it's all mountains and lakes. But it has a rich cultural history. Manchester in particular has some fine art offerings. It's home to the state's only fine art college, the New Hampshire Institute of Art.
Brattleboro is home to an internationally acclaimed museum, the Currier Museum of Art. The museum's permanent collection includes works by Picasso, Monet, Rothko, Wyeth, and O'Keefe. It hosts touring exhibitions.
The museum also manages Zimmerman House, designed by architected Frank Lloyd Wright. It's the only Wright house open to the public in New England.
Manchester also has a premiere contemporary arts gallery, the Gallery of the New Hampshire Art Institute. It's multi-functional, serving as an art center, lecture hall, and performance theater. On display you'll find a diverse mix of traditional and modern art forms, from photography to installation art.
Where to stay: The Edwardian Manchester
Where to eat: Cafe Momo, Mint Bistro, Cotton
6. Hanover NH
My son and I both attended Dartmouth College. So naturally, I'm partial to Hanover (and all things New England, truth be told). For a tiny town, Hanover packs a surprising art punch. It's accessible too, easily reached from Boston or Concord.
The best place to get your art fix is the wonderful Hood Museum of Art. It's one of the oldest teaching museums in the country. It has a large collection of artifacts and art dating back to Assyrian culture in 900 BC.
But it's not all ancient. The museum has a surprisingly good collection of contemporary art, with works by Rothko and Ed Ruscha. It also showcases contemporary African and Native American art.
Hanover is also home to the Hopkins Center for Performing Arts (the "HOP"). There, you'll find a wide variety of performing arts — plays, shows, concerts, special events, movies, etc.
Here's my one day in Hanover itinerary.
Where to stay: Hanover Inn, Sixth South Street Hotel
Where to eat: The Pine at the Hanover Inn, Lou's Restaurant & Bakery
7. Nantucket Massachusetts
Just 30 miles off the new England coast lies the idyllic small town of Nantucket. Nantucket is a place where you can simultaneously hit the beach and be visually stimulated.
In summer months, artsy Nantucket can be a pricey version of paradise. Of course, the beaches are stunning. But the historic center is also adorable with cobbled streets, historic residences, quaint shops, and innovative eateries.
More than a dozen art galleries are sprinkled around the downtown. On Union Street, an international roster of artists have contemporary works on display at the Art Cabinet. Perhaps the top notch gallery is the Artists' Association of Nantucket (AAN). It features rotating art exhibitions by local, regional, and national artists.
If you'd like to attend a poetry reading or lecture, hit up the Nantucket Atheneum. You can listen to authors, historians, and university professors. In June, there's the Nantucket Film Festival, where 30 independent films are screened at different venues.
Where to stay: Brant Point Inn, Roberts House Inn
Where to eat: The Proprietors Bar & Table, Oran Mor, Greyson House, Dune
8. Stockbridge Massachusetts
Stockbridge is blessed with a very good line up of East Coast cultural attractions. Four of the greatest American artists and authors called Stockbridge their home — Edna St. Vincent Millay, Edith Wharton, Herman Melville, and Norman Rockwell. What a heritage! Even better, their homes are now museums.
One of America's greatest treasures is the Norman Rockwell Museum. Rockwell was one of the greatest artists and illustrators in American history. Stockbridge was Rockwell's long time residence and what he called his "best studio yet."
His titular museum is home to a year round series of rotating exhibitions of Rockwell's art and Saturday Evening Post magazine covers. There are 570 Rockwell illustrations, including the famous Triple Self Portrait and Going and Coming. A permanent exhibit is the quartet called the Four Freedoms, which will seem comfortingly familiar. The most famous of these gems is Freedom From Wont, depicting a family gathering at Thanksgiving.
Apart from visual arts, the Berkshire Theater Group provides performing arts entertainment. The IS 183 Gallery has a stash of regional and national art works. Every summer, Stockbridge hosts the Tanglewood Music Festival, a series of concerts across all musical disciplines (online in 2020).
Here's my guide to the top attractions in the Berkshires.
Where to stay: Brook Farm Inn, The Red Lion Inn, The Inn at Stockbridge
Where to eat: Once Upon a table
9. Northampton Massachusetts
Just 2 hours from Boston, the rural town of Northampton is a cultural nerve center in New England. It's a pretty town, ringed by 5 colleges and college museums. Grand mansions line tree-shaded streets. The Main Street is filled with with shops, art galleries, bookshops, etc.
In downtown Northampton, there are more than a dozen visual arts venues. The Northampton Center for the Arts offers poetry readings, film screenings, and concerts. The Calvin Theater is the premiere concert venue, hosing major touring music and comedy acts.
Four of the five colleges near Northampton offer theater and visual arts. Smack in the middle of Northampton is Smith College. Its beautiful Smith College Museum of Art just received a $35 million makeover. The museum offers a year round series of art lectures, contemporary art exhibitions, and films.
Just down the road is Mount Holyoke College Art Museum. It offers contemporary and traditional exhibitions year round. You can also admire contemporary work at Amherst's Mead Art Museum or check out national and international exhibits at Amherst's University Gallery.
Where to stay: Allen House Victorian Inn
Where to eat: Bela, Mulino's Trattoria, Paul and Elizabeth's, Spoleto
10. North Adams Massachusetts
North Adams is a former manufacturing hub reinvented as a cutting edge art town. North Adams is known as "The Town of Steeples and Peaks," for the spires of its many churches. Come for the art, and stay for the scenery.
North Adams' downtown is filled with art galleries, artists studios, and cute shops. Its pride and joy is Porches Inn, an eye catching row of distinctive multi-colored Victorians.
After meandering the downtown, head straight to the utterly fabulous Massachusetts Museum of Contemporary Art ("MASS MoCA"). Opened in 1999, MoCA is one of the region's foremost cultural institutions, with an emphasis on international contemporary art. The airy industrial campus was expanded in 2017 with new modern buildings by Tadao Ando.
Works are spread out over 250,000 feet in 19 galleries in a renovated 19th century factory, making it the largest contemporary art museum in the US. MoCA is home to exciting works by Louise Bourgeois and Robert Rauschenberg. Entire walls are decorated by Sol LeWitt. The museum also has a permanent collection with works by the likes of Manet, Constable, Bonnard, Delacroix, Ingres, and Sargent.
In the adjacent town of Adams is the Susan B. Anthony Birthplace Museum. This museum is dedicated to a woman who played a pivotal role in the suffragette movement. There's a beautiful collection of postcards commemorating the suffrage, abolition, and temperance movements.
Where to stay in North Adams: Porches Inn, Topia Inn, Tourists
Where to eat in North Adams: Gramercy Bistro, Grazie, Public Eat and Drink
11. Provincetown Massachusetts
Tucked away on the far end of Cape Cod, arty Provincetown has been attracting artists and creative types for more than a century. Eugene O'Neill wrote his first play here. Modern art luminaries like Helen Frankenthaler, Marsden Hartley, and Hans Hofmann had studios here.
Nowadays, there are 60 art galleries scattered down Provincetown's picturesque streets. It's the perfect place for art lovers on the East Coast.
The town's premiere art venue is the Provincetown Art Association and Museum on Commercial Street. The museums highlights local and New England artists with single artist and themed shows.
The Schoolhouse Center for Art & Design is home to several galleries as well. The Silas-Kenyon Gallery focuses on contemporary art. If you like vintage photography, head to the Driskel Gallery.
The big ticket art festivals you should have on your radar are the Spring Arts Showcase Weekend in May and the Fall Arts Festival in September and October. There's also an International Film Festival in June.
Where to stay: The Red Inn
Where to eat: The Lobster Pot, Ciro & Sal's, Esthers
12. Newport Rhode Island
Just two hours south of Boston lies the tony coastal town of Newport. Founded in 1639, Newport is a treasure trove of historic European-style mansions set against ocean views.
Think the Gilded Age's Astors, Vanderbilts, and Kennedys — families who built the first palatial mansions in the US. Most of the mansions are on Bellevue Avenue and a few on the waterfront. Built by Cornelius Vanderbilt, Breakers Mansion is Rhode Island's #1 attraction. It's located on the scenic Newport Cliff Walk.
The Newport Art Museum is the core of the creative community. The Artists' Open Space serves up local and regional shows year round. There's a dozen commercial galleries in town as well. Island Art is the best, noted for its contemporary pieces.
On the performance-arts side, Newport really excels. It offers up everything from Shakespeare plays in Queen Ann Square to musical festivals dedicated to jazz, classical, and folk music in July and August. There's also the Newport Fine Arts Festival in September.
Where to stay: Hotel Viking, The Vanderbilt, The Chandler at Cliff Walk
Where to eat: Market-Newport Gourmet, Twenty-Two Bowen's, Sardella's Italian Restaurant
13. Providence Rhode Island
No East Coast road trip would be complete without a stop in Providence. Providence combines big city sophistication with small town charm, vibrant culture with hot restaurants. Plus, it's a super easy day trip from Boston.
Providence was founded by Roger Williams – a rebel creative thinker who dared to defy the rules and define his destiny. 400 years later, Providence maintains this ethos with a thriving arts community. It's a town of innovative writers, painters, musicians, sculptors, dancers, architects, and fashion designers.
The Rhode Island School of Design (RISD) is a mandatory stop in Providence. Its acclaimed museum houses everything from ancient artifacts to contemporary works by notable masters of the art world. The art work of local and national artists is shown in galleries throughout city, including Gallery Z on historic Federal Hill.
Federal Hill is dubbed "One of the Five Best Little Italys in the U.S." More than 100 restaurants, boutiques, and galleries show off the city's Italian influence with an inventive spirit.
Head to the East Side to encounter Providence's Colonial past. You'll be greeted by 18th and 19th century homes, cobblestone streets, and flickering street lamps.
On any given night in Providence, you are likely to find a well known Broadway show, a play, or concert at the city's culture homes — Providence Performing Arts Center, The VETS, Trinity Repertory Company, or the Columbus Theatre.
Where to stay: Christopher Dodge House, Providence Biltmore
Where to eat: Gracie's, Al Forno, Bacaro, Birch, Chez Pascal
14. Woodstock New York
Tucked into a bucolic setting in the Catskills Mountains, Woodstock is known as America's Colony of the Arts. It's an outpost of the American Arts & Crafts Movement, one of my favorite design styles. And a Shangri-la for New York weekenders escaping the bustle of the big city.
There's so much to do! Woodstock Guild operates Byrdcliffe Arts Colony (in conjunction with Cornell), the Kleinert/James Art Center, the Fleur de Lis Gallery, the Byrdcliffe Barn, and the Byrdcliffe Theater. The art center houses traveling exhibitions, while the gallery focuses on fine crafts.
Founded in 1920, the Woodstock Artists Association is the town's primary visual arts venue. In addition to three exhibition galleries, the Association also hosts artists lectures and art workshops.
Its permanent collection has both traditional and very modern work. Many of the artists exhibiting also have representation in New York City.
Where to stay: Wild Rose Inn
Where to eat: New World Home Cooking, Silvia, Garden Cafe
15. Corning NY
Corning is the base of Corning, Inc., a corporation that's one of the leading developers of glass technology. Long before glass artist Dale Chihuly rose to prominence in the Pacific Northwest, the Corning region was known for its glass artist.
Corning's iconic art spot is the Corning Museum of Glass. It's a hodgepodge of collecting, exhibition, and education. The museum boasts the nation's largest collection of glass art.
It has fine examples of both historic and contemporary glass art. And a stunning cotton candy pink Dale Chihuly glass piece in the atrium, one of Chihuly's first forays into creating chandeliers.
Another treasure is the Rockwell Museum of Western Art. It showcases realistic art from the American West and Native American art. 171 Cedar Arts Center sponsors exhibitions and performances.
Corning's Gaffer District is the place to be for shopping, nightlife, and amazing restaurants. There are over 45 eateries, most located on historic Market Street. Visit the "Buildings Alive" locations (each marked with a metal sign) for highlights of turn-of-the-last-century architecture along Market Street East and West.
Where to stay: Rosewood Inn
Where to eat: Nine Elephants, Hand + Foot, The Cellar
16. Mill Run Pennsylvania | Laurel Highlands
Mill Run is where you'll find perhaps the most famous home in the United States, Frank Lloyd Wright's remarkable Fallingwater. Fallingwater is nestled in a bucolic setting, atop a cascading waterfall. It's the apotheosis of Wright's long lasting obsession with nature and a must see architectural site in the US.
Fallingwater is likely the most significant building of the 20th century. Fallingwater is eye-grabbing and visually stunning. It's a marriage of modern architecture and a wild landscape that blurs the line between the indoor and outdoor.
Wright brilliantly sited Fallingwater on top of the waterfall and anchored it to a boulder, so it would emerge "like a plant from the earth." From any room in the house, you can hear the falling water.
On July 7, 2019, the UNESCO World Heritage Committee officially inscribed The 20th Century Architecture of Frank Lloyd Wright, to its UNESCO World Heritage List. The designation includes Fallingwater and seven other Frank Lloyd Wright sites.
If you want to know more, here's my comprehensive guide to Frank Lloyd Wright and Fallingwater.
Where to stay: Duncan House in Polymath Park, also designed by Wright
Where to eat: Chef Dato's Table, Bittersweet Cafe
17. Annapolis MD
Located on Chesapeake Bay, pretty Annapolis is a quaint waterfront town. Walking its cobbled streets, you'll be transported to an early era of American history.
Annapolis boasts scenic views and colonial architecture, dating from the 17th century. Way back in colonial times, Annapolis was nicknamed the "Athens of America." It's still a great East Coast town for art lovers.
Today, there are two dozen galleries in Annapolis. The best among them is Whitehall Gallery, showcasing a wide range of art works.
In terms of architecture, Annapolis is brimming with historic buildings. Its historic core is a designated National Historic Landmark District. The Maryland State House in Annapolis has been in business since 1772. This is where George Washington resigned his position as the commander in chief of the Continental Army.
Stop in at the Banneker-Douglas Museum. It's small, but loaded with history. The museum provides a well curated overview of African American history in Maryland. Then head to the Hammond-Harwood House, a true gem and museum of 18th century architecture.
Where to stay: Inn at Horn Point, O'Callaghan Hotel
Where to eat: Les Folies Brasserie, Reynolds Tavern, Osteria 177
18. Berkeley Springs West Virgina
A new age-y paradise, Berkeley Springs is a popular weekend retreat for frazzled urbanites (just two hours from Washington DC, my former haunt for 20+ years). Artists started pouring into the town in the 1980s.
Berekely's number one art venue is the Ice House Arts Center. Once an eyesore, it's now lovingly renovated. It houses art from local and regional artists and is an important stop on the once a month evening Art Walks in Annapolis. You can also stop in at Wild Woman Fine Art, to experience local art in a popular hangout.
Aside from visual arts, the town hosts an annual Bluegrass Festival in August. The vintage Star Theater shows independent film and hosts art shows during the annual Apple Butter Festival and Ice House Art Auction.
Where to stay: The Country Inn, Inspirations B&B, Coolfront Resort
Where to eat: Lot 12 Public House, Ravenwood Pub, Tari's Cafe
19. Asheville North Carolina
Nestled in the bucolic setting of the Appalachian Mountains, Asheville is a multi-faceted town. It's part history set piece, part college town, and part urban renaissance showcase.
Downtown Asheville is delightful. The sidewalks are filled with al fresco cafes, coffee bars, and markets. Asheville's architectural treasure is the Xanadu-like castle called the Biltmore Estate. It hosts summer outdoor concerts on the south terrace, gourmet dining festivals, and has relaxing riding and hiking trails.
Asheville's crown jewel for visual arts is the Asheville Art Museum. It serves up exhibitions, lectures, films, and art workshops. Asheville also has an energetic live theater community — North Carolina Stage Company, Asheville Community Theater, and Highly Repertory Theater.
In September, Asheville celebrates Heritage Weekend, a three day junket of traditional crafts, music, and storytelling. In February, it hosts one of the foremost arts and crafts festivals in the nation.
Where to stay: The Inn on Biltmore Estate, Grand Bohemian Hotel
Where to eat: Curate, Bouchon, Rhubarb, Cucina, Nightbell
20. Charlottesville Virginia
Home to the University of Virginia, Charlottesville is where our founding fathers set down roots and built sprawling estates. Among Charlottesville's top tourist draws are the house-museums of Thomas Jefferson, James Madison, and James Monroe.
Aside from these historic spots, Charlottesville has two excellent museums. The Kluge-Ruhe Aboriginal Art collection is one of the world's top spots for Australian Aboriginal art. The University of Virginia Art Museum focuses on year round contemporary exhibitions and lectures.
The McGuffrey Art Center is an incredible artist studio complex. More than three dozen artists work in converted classrooms. It also has a first floor performing arts space.
Where to stay: The Clifton, Boar's Head Resort, Oakhurst Inn
Where to eat: Fleurie, Ivy Inn Restaurant, Zocala, Orzo
21. Key West Florida
This wacky and wonderful art town is at the southernmost tip of the US. Apart from Key West's legendary sunsets, there's great charm in Conch City, especially if you stick to the side streets. And there's delicious eateries beyond key lime pie and pina coladas.
Key West is the land of big time art and cultural festivals. Here's a breakdown:
January: Art in the Park
February: Old Islands Festival
June: African American Festival
July: Hemingway Days festival
October: Goombay Festival
October: Fantasy Festival
November: Cuban festival
Apart from these celebrations, over 60 art galleries compete for buyers. The Key West Art Center shows local artists. The Key West Museum of Art and History has first rate exhibitions of local, regional, and national artists. There are also three performances venues, the best one being the Tennessee Williams Theatre that's home to the symphony orchestra.
Where to stay: Artist House, Gardens Hotel, Heron House
Where to eat: Latitudes, Eaton Street Food Market, Date & Thyme, Blue Haven
22. Naples Florida
Naples and the neighboring Marco Island boast an amazing range of natural splendor for sun starved northerners. But this fast growing community in southwest Florida is fast becoming an art powerhouse on the East Coast.
Naples is blanketed with sophisticated and serious art galleries, representing the full spectrum of art from traditional to ultra contemporary. Artist studios with regular visiting hours also scatter the walkable downtown streets, especially 5th Avenue South and Broad Street.
The von Liebig Art Center hosts year round exhibitions, workshops, and art lectures — with a special emphasis on local contemporary artists. Its surrounding Cambier Park is home to the Naples National Art Festival, one of the nation's best and most popular outdoor fairs where serious buyers rub elbows with admiring tourists and locals.
The Baker Museum is a sophisticated state-of-the-art museum. It's a 30,000 feet exhibition space with a glassed-in lobby dominated by a Dale Chihuly chandelier. Many of the museum's blockbuster exhibitions are national traveling shows with world renowned artists.
If you need some music while there, the Philharmonic Center for the Arts is home to the Naples Philharmonic Orchestra. It gives more than 120 concerts annually from pop to classical music. Three other stage companies put on dramas, musicals, and comedies.
Where to stay: The Escalante, The Inn on Fifth, Bellasera resort
Where to eat: Campiello, Truluck's, Mediterranean, Sea Salt
I hope you've enjoyed my guide to the best towns on the East Coast for art lovers. You may enjoy these other United States travel guides and resources:
• 45 amazing destinations in the United States
• Fall foliage around Washington D.C.
• 10 day itinerary for New Hampshire
• 10 day itinerary for coastal Maine
• 7-10 day itinerary for Vermont
• Fall foliage road trip in New England
• 2 week itinerary for the American Southwest
• 10 day itinerary for southern California
• 25 most beautiful towns in New England
• 2 day itinerary for Philadelphia
If you'd like to visit towns on the East Coast USA with a great art scene, pin it for later.