Embarking on a journey to Philadelphia and seeking destination inspiration? Look no further! Check out my curated guide to the 20 must visit attractions, historic landmarks, and museums in the city.
These are essential stops to include in your itinerary, ensuring you experience the very best of Philadelphia. Discover a wealth of activities and sights that encapsulate the essence of this vibrant city.
Philly is an eminently walkable city with gritty sincerity and pretty cobbled corners. It's one of my favorite cities on the East Coast. It's hard not to love it once you've visited.
The City of Brotherly Love was founded in 1682 by William Penn. It's positively ancient by U.S. standards. And charmingly modern by European ones.
Philly was an important hub during the "see ya Britain" American Revolution. Philadelphia served as the nation's capitol while Washington, D.C. was being built.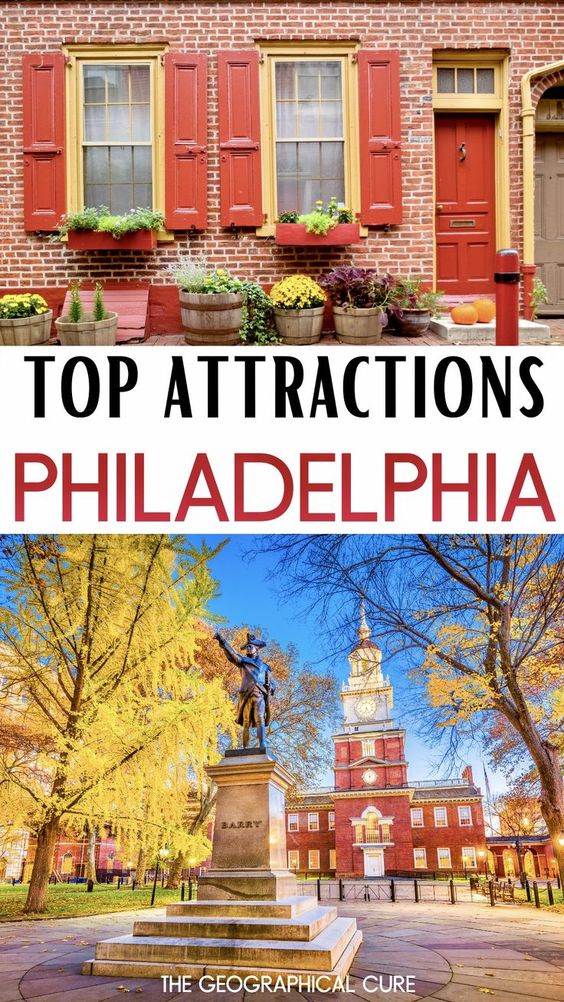 Philadelphia is rich in Revolutionary War history. Here, the captivating tale of the fight for freedom from British rule comes to life, echoing through its rich historic sites.
It's on these very streets that the Declaration of Independence and U.S. Constitution were signed, marking pivotal moments in American history.
Philadelphia boasts an array of historic attractions that proudly lay claim to being "the first" or "the oldest" in the nation. A testament to its historical significance, in 2015, Philadelphia secured a unique distinction as the inaugural and sole UNESCO Heritage City in the United States.
Yet, Philadelphia's allure extends beyond history alone. Beneath its historic veneer lies a dynamic art and culinary scene, enticing visitors to explore its thriving cultural facets and indulge in its gastronomic delights."
You can explore some of the country's most unique museums – from the luminous Impressionist paintings at the Barnes Foundation to the creepy jaw-dropping Mutter Museum to the ubiquitous street murals.
Philadelphia is a city that's best explored over the course of a long weekend. But if you're efficient and speedy, you can still see quite a lot in one day.
Top Attractions In Philadelphia
As a Pennsylvania resident, here are my recommendations for the best things to do and see in The City of Brotherly Love. These attractions will appeal most to history buffs and culture vultures.
Let's take a deep dive! Here are the attractions you can't miss in Philly.
1. Barnes Foundation
Let's start with one of my favorite attractions in Philadelphia, the Barnes Foundation. It's one of the world's best small museums. It was created and staged by Albert Barnes.
This singular museum might be considered an exercise in one man's enormous ego. But it's nonetheless one of the greatest private collections in the entire world.
Especially if you like Impressionism. The Barnes Foundation boasts the largest collection in the United States. It's perhaps second in scope only to Paris' Musee d'Orsay. You may feel like you've been power beamed to Paris.
An eccentric Barnes sought to establish himself as a "bold and ambitious" collector. He spent a fortune buying up Impressionist and Post-Impressionist paintings from then up and coming artists like Henri Matisse, Auguste Renoir, Paul Cezanne, and Pablo Picasso.
Barnes essentially discovered Chaime Soutine. He amassed the world's largest private collection of this sort, now valued at a cool $25 billion.
The must see masterpieces of the collection include: Seurat's Models (with A Sunday Afternoon on the Island of Grande Jatte in the background), Van Gogh's The Smoker and The Postman, Modigliani's Jeanne Hébuterne, Matisse's The Joy of Life, and probably the best version of Cezanne's The Card Players.
There are literally hundreds of rosy cheeked Renoirs. They aren't my personal favorite, but were truly beloved by their collector. And quite a few Picassos, including a beautiful Head of a Woman from his Cubist period and The Ascetic from his Blue Period.
Here's my comprehensive guide to the history and world class art of the Barnes Foundation, including the controversy surrounding the death and will of its founder Albert Barnes.
Or, check out the 2013 documentary The Art of the Steal for the Barnes Foundation's fascinating backstory.
Address: 2025 Benjamin Franklin Pkwy
2. National Constitution Center
The Constitution Center is a hands on museum dedicated to telling the story of the U.S. Constitution. It's full of interactive exhibits that walk you through the creation of one of the most important documents in our country's history. Plus, you can get a glimpse of loads of historical artifacts.
This must visit attraction in Philadelphia houses one of the few copies of the first public printing of the Constitution, which appeared in a local Philadelphia newspaper.
There are fewer than 20 such copies in the world. Be forewarned. It's often not on display due to its age and fragility.
The permanent exhibits are excellent. Freedom Rising will inspire pride in your ability to vote. It's a multimedia presentation in a star-shaped theater with a 3D screen.
The Story of We The People is an interactive exhibit featuring artifacts from the nation's history. Among them: a candle holder used by doctors examining Lincoln's fatal wound, shackles worn by actual slaves, and Sandra Day O'Connor's judicial robe.
Address: 525 Arch Street
3. Eastern State Penitentiary
Once the world's most expensive prison, Eastern State Penitentiary ("ESP") is now a fascinating historic museum. It covers nearly 150 years of criminal history.
Creepy and foreboding, this old prison is intentionally kept in a state of "sustained ruin." On the outside, this Philadelphia attraction looks like a medieval castle with turrets and crenellated walls.
Built in the early 19th century, ESP was intended as a revolutionary and curative response to the the inadequate prison system. Before ESP, jails were essentially massive rooms where all manner of criminals were stuffed in together.
Inside, it pure chaos. Since there were no mental institutions at this time, the insane were tossed in prison to boot.
In the late 1700s, a group of prominent Philadelphians, including Benjamin Franklin, decided to reform the state jail system.
The reformers envisioned a new type of prison, which would foster penitence and thereby rehabilitate the incarcerated. To achieve this, they promoted a monastery-like environment of isolation and physical labor.
Each inmate had his own cell, with a skylight, toilet, and heating. The back of the cell opened up to a small, private courtyard where they could exercise and breathe fresh air for one hour per day.
The rest of the time, inmates were locked inside their small rooms. On a tour, you can see the cells of death row inmates. In the 1920s, Al Capone was briefly incarcerated at the prison.
There were critics of the plan, including Charles Dickens, who opined that tampering with the "mysteries of the brain" was worse than corporeal punishment. By the late 19th century, ESP's model of isolation and redemption was pronounced a failure.
Not terribly surprisingly, isolating prisoners didn't create future functioning members of society. In the early 1970s, ESP was closed.
You can take the self guided audio tour (narrated by Steve Buscemi) of the National Historic Landmark. Or, go on the official one hour guided tour. It's an entirely worthwhile, insightful, and scary look at the evolution of our nation's prisons.
Click here to book a skip the line museum ticket.
Address: 2027 Fairmount Ave
Pro tip: In the fall, ESP has a haunted house tour
4. Benjamin Franklin's Grave
America's most famous patriot, Benjamin Franklin, is interred at Christ Church Burial Ground in downtown Philly. The cemetery sits on the northwest corner of the lot, bordering the sidewalk. (Technically, you don't even have to pay admission to see it).
Franklin's grave isn't far from Philadelphia's other historical sites. You can easily tie a stop at Franklin's grave in with a visit to the Liberty Bell or the Constitution Center.
Be sure to bring some pennies with you to toss on the grave for luck. One of Franklin's most famous adages was "a penny saved is a penny earned." The money received from penny tosses is used for the cemetery's upkeep.
Franklin isn't the only historical luminary interred at the cemetery. Christ Church is the final resting place of four other signers of the Declaration of Independence – George Ross, Francis Hopkinson, Joseph Hughes, and Dr. Benjamin Rush.
Address: 22-26 N 2nd St.
5. Independence Hall: We The People …
Independence Hall is the top attraction in Philadelphia. It was the site of a key flashpoint in U.S. history, where the dream of a free country began.
If you're planning on touring the historic sites, you may to book a founding father walking tour to get the full scoop. Or possibly a history and revolution tour for the historic backdrop.
In the Assembly Room, George Washington was nominated as commander-in–chief of the Continental Army. Benjamin Franklin was appointed the first Postmaster General.
On July 4, 1776, the Second Continental Congress gathered there to sign the Declaration of Independence. In the same room, 11 years later, the U.S. Constitution was signed.
Independence Hall once housed all three branches of Pennsylvania's Colonia Era government. In 1979, it became a designated UNESCO Heritage site.
Entrance is free, but by a 30 minute guided tour only. Tours leave every 10-15 minutes. You just have to reserve a time online in advance here. The tour takes you into the very room where the founding fathers met.
You'll see the exact desk in the Assembly Room where the declaration was signed. And you'll see George Washington's "rising sun" chair, given this nickname by Benjamin Franklin.
If you book online, you'll still need to pick up your tickets in advance at the Independence Hall Visitor Center prior to entering the building. Print out and bring your tour confirmation with you.
Address: 520 Chestnut Street, between 5th and 6th Streets
>>> Click here to book a founding fathers and Revolutionary war tour
6. Liberty Bell Visitor Center
Just across the street from Independence Hall is the Liberty Bell Center. In 1751, the Philadelphia Assembly commissioned the Liberty Bell to mark the 50th anniversary of the state's constitution. It was cast in the White Chapel Bell Foundry in London. It arrived from London the following year.
Originally, the Liberty Bell was the official bell of the Pennsylvania State House (now Independence Hall). It was rung during important announcements.
But, unfortunately, the brittle bell cracked soon after it arrived. In 1753, a new bell was cast, paradoxically using the same metal as the first bell.
Not surprisingly, the second bell cracked as well. Most likely, the bell cracked in February 1846, when it was run to celebrate George Washginton's birthday. The bell hasn't been rung since that fateful day. The cause of the crack remains somewhat of a mystery. But it could be due to an unstable mix of metals.
After independence, the Liberty Bell fell into obscurity. In 1837, it graced the cover of Liberty, an abolitionist publication. From that moment, the bell became a symbol of the anti-slavery movement. It claimed the name Liberty Bell (before then it was simply known as The State House bell).
Because it's a top attraction in Philadelphia, there can be long lines at the Liberty Bell Center. If you don't have the patience to wait, you can get a peek at it from an exterior alcove. But the infamous fissure won't be visible to you.
Address: 526 Market Street
7. Museum of the American Revolution
The Museum of the American Revolution ties together all the sites in Philadelphia's Independence National Historical Park. Its collections tell the story of the lead up to the American Revolution and what life was like during and after the war.
The museum features artifacts, life size tableaux, videos, and other interactive installations. They're spread out over four floors in an engrossing chronological journey.
In The Road To Liberty, you can see where dissidents first gathered to plot revolt against Britain. In The Darkest Hour, you can step inside a theater where the sounds of battle shake the floor.
A highlight of the historical collection is George Washington's wartime tent. It served as the general's office and sleeping quarters during the war.
Click here to pre-book an entry ticket.
Address: 101 3rd Street
8. Betsy Ross House
The Betsy Ross House is a must visit attraction in Philadelphia for history buffs. Why is it so important? It was the place where Betsy Ross created the first design of the U.S. flag.
In the spring of 1776, Washington approached Ross with an intended sketch. When asked if she could sew it, she modestly replied "I don't know but I will try."
About that flag … apparently Ross made design suggestions to Washington. She preferred five point stars to six point stars. This was most likely to save some time. Ross went on to produce flags for the government for half a century. In the home's upholstery shop, costumed reactors now tell stories of Ross' life.
There's some dispute about whether Ross really lived in this particular house. Some historians claim she actually lived in another one on the same block.
But the house is restored to how it would have looked in the later 1770s. A beautiful courtyard (shown above) has the (equally disputed) grave of Betsy Ross.
It's worth it to pay the extra $2 for the audio tour at this site. As you walk through the birthplace of the modern American flag, "Betsy" herself narrates, offering intriguing insights into her personal life.
Address: Arch Street
9. City Hall
Built in 1901, the beautiful Philadelphia City Hall is one of Philadelphia's most iconic attractions and urban landmarks. The ornate Second Empire building is the largest municipal building in the United States.
When construction began in 1871, it was slated to be the world's tallest building. But construction dragged on, and it was surpassed by the Eiffel Tower and Washington Monument.
On the exterior, you'll see over 200 sculptures and motifs. Most were created over two decades by Alexander Milne Calder. In particular, the building is topped by a massive 37 foot bronze statue of William Penn.
Once inside, you can take a timed entry guided tour of the building. It's a two hour tour offered just once a day. There's also a tower and open air observation deck (right below the Penn statue), if you want a panoramic view of Philadelphia. You can take the Tower Tour only or visit the tower as part of the City Hall Interior Tour.
If you're in Philadelphia in Christmas season, there's a Christmas village and market near City Hall. Plus, very winter, the Rothman Ice Rink opens at Dilworth Park, a pleasant green space right in front of City Hall.
Address: 450 JFK Boulevard
10. Mutter Museum
Best visited on an empty stomach, the Mutter Museum is part of the Philadelphia College of Physicians. Fair warning, it's a tad creepy and very graphic.
Many of the specimens were used as teaching tools during Victorian times – conjoined twins in jars, mummified limbs, a menagerie of preserved organs, and skeletons.
You enter through the gift shop, and the first exhibit focuses on an analysis of the assassinations of Presidents Lincoln and Garfield. It's all rather clinical and fascinating. There are a few drawings and diagrams, as well as a couple of medical samples on display, such as a piece of skin from President Garfield.
The Hyrtl Skull Collection is one of the museum's most popular features. It consists of 139 skulls collected by Josef Hyrtl, a professor of anatomy and renowned phrenologist. He collected the skulls throughout Europe.
To some, the Mutter Museum may seem to border on the exploitative. But if you focus on the importance these objects had in history, you'll see the museum a little differently (and feel far less disturbed).
Adress: 19 S. 2nd Street
11. Philadelphia Museum of Art
Overlooking the Schuylkill River, the Philadelphia Museum of Art (PMA) is the crown jewel on the Benjamin Franklin Parkway. It's one of the best things to see and do in Philadelphia.
Opened in 1929, the museum is housed in a beautiful building, resembling a Greek temple and boasting world class art. It's one of the premiere museums in the United States, with over 200 galleries.
The beloved 8 foot bronze Rocky statue, Philadelphia's favorite fictionalized boxer, is at the bottom of the museum steps. You can run up the steps a la Rocky to enter the museum. You can even take a Rocky-themed guided tour.
There are some amazing pieces in the PMA's permanent collection. The art works span all ages—from medieval relics to seminal Impressionist works to riveting and colorful modernist pieces.
The museum has works by artistic luminaries such as Picasso, Van Gogh, Manet, Renoir, Cassatt, Brancusi, Kahlo, Duchamp, and more.
Among my favorites are: Renoir's The Large Bathers, Thomas Eakin's Between Rounds and The Gross Clinic, Manet's Battle of the Kearsarge and the Alabama, Van Gogh's Sunflowers, Brancusi's Princess X, and Duchamp's Nude Descending a Staircase. There's also an impressive collection of Edgar Degas pieces.
Your PMA ticket grants you two day access to PMA, the Rodin Museum, Cedar Grove, and the next door Perelman Building.
The latter holds the art museum's acclaimed fashion and textile collection and features displays of prints, drawings, photographs, and modern design.
Address: 2600 Benjamin Franklin Parkway
12. Rodin Museum
The Rodin Museum is a small and intimate museum, exactly as I like them. It's architecturally beautiful and incredibly engrossing. If you're an art lover, you should put this Philadelphia attraction on your itinerary.
The museum houses the largest collection of sculptor Auguste Rodin's works outside Paris. (If you're interested in the Paris museum, which is truly stunning, here's my comprehensive guide to Paris' Rodin Museum.)
Rodin is considered the father of modern sculpture. He was absurdly talented, his works a torrent of expressive power.
Like Michelangelo, Rodin wanted to convey the raw emotion and physicality of a subject, not just an idealized or sanitized view. He wanted to explore the natural world and capture the ugly inner truths of the human psyche.
Philadelphia's Rodin Museum houses some timeless Rodin classics. As you ascend the steps, you're immediately faced with a bronze cast of The Gates of Hell, a commentary on social despair inspired by Dante's Inferno.
You'll also see versions of The Kiss, Balzac, The Burghers of Calais, Walking Man, many busts, and many models of hands. Like the Rodin Museum in Paris, there's also a lovely garden with 8 sculptures, including the famous The Thinker.
Admission to the Rodin Museum is included in your PMA ticket. If you go to the Rodin Museum first, simply save your ticket stub and they'll deduct the price when you arrive at the PMA. You can easily walk from one museum to the other. Or, take the free tram that runs between them.
Address: 2151 Benjamin Franklin Parkway
Pro tip: The museum has a pay "what you wish" policy, recommending $15. It has free guided tours offered daily at noon. It's closed Tuesday through Thursday.
13. Franklin Institute
Benjamin Franklin was the United States' first Renaissance man. He made significant contributions in politics, infrastructure, and science.
With massive Corinthian columns decorating the facade, the Franklin Institute was founded 1824 in honor of the great man. It's part science museum and part education center.
In fact, it's one of the oldest science education centers in the country, aiming at inspiring a passion for learning about science and technology. The Institute is fun for adults. But its touchable attractions make it ideal for children.
The institute houses a planetarium (running 4 different shows), escape rooms, IMAX theater, and virtual reality exhibits. You can walk through a Giant Heart.
The heart is supposedly the perfect size for the Statue of Liberty. And you can glimpse the inner workings of the human brain in the Your Brain exhibit.
Address: 222 N 20th Street (parking garage behind the building)
14. Philadelphia Academy of Fine Arts
One block north of City Hall, you'll find the Pennsylvania Academy of Fine Arts (PAFA), housed in a stunning Victorian-Gothic building on Broad Street.
You'll know you've arrived when you spot the 51 foot inverted paintbrush by Claes Oldenburg and a crashed fighter jet by Jordan Griska.
The PAFA is often overlooked with so many historic sites in Philly. But it shouldn't be. Opened in 1805, the PAFA takes the visitor on a chronological tour of American art from the 1760s to present.
It houses art works and dreamy pastoral landscapes by notable 18th and 19th century masters, such as Benjamin West, Thomas Eakins, Edward Hopper, John Singer Sargent, Winslow Homer, and Mary Cassatt.
It also has modern works by Alice Neel, Jennifer Bartlett, Robert Motherwell, Andy Warhol, and Frank Stella.
Of special note are three portraits of George Washington by Gilbert Stuart, Charles Wilson Peale, and Rembrandt Peale.
Aside from the 16,000 works in its permanent collection, the PAFA also has an itinerary of well curated special exhibitions happening throughout the year.
Address: 118-128 N Broad Street
Pro tip: There are docent led tours at 1:00 pm & 2:00 pm Thursday through Saturday.
15. Institute of Contemporary Art
The Institute of Contemporary Art (ICA) is where you go to see ultra contemporary and experimental art works and installations.
The compact museum has been mounting exhibitions of works by major contemporary artists since its opening in 1963. The museum views its mission as shaking up the city by showing all that's "new and happening on the art scene."
Pittsburgh native son and Pop artist Andy Warhol had his first ever solo museum show here (in 1965), as did Agnes Martin and Robert Indiana. Since then, the ICA has added artists like Robert Mapplethorpe, Laurie Anderson, Glenn Ligon, Agnes Martin, Damian Ortega, Pepon Osorio and Lisa Yuskavage to its impressive roster.
Another huge benefit: the ICA is absolutely free. So stop in and get your contemporary culture fix completely gratis.
Address: 118 S 36th Street
16. Rittenhouse Row and Square
In the heart of downtown lies the lovely Rittenhouse Square, the toniest address in Philadelphia. It's definitely one of the top attractions in Philadelphia. Built in 1683, the sepia toned square was one of the five original public green spaces William Penn planned for central Philadelphia.
The square contains landscaped beds, a reflecting pool, and ornamental lamp posts. You'll find some of Philadelphia's most beloved and whimsical sculptures there, including the dramatic Lion Crushing a Serpent.
There are plenty of boutiques and some stellar restaurants to chose from. The fairly new Shakespeare and Co, an offshoot of the NYC book store.
Grab a sandwich at any nearby cafe, relax on a wooden bench, and watch the fashionable show go by.
Besides the daily parade of Philadelphians, there's also periodic summer concerts, holiday celebrations, art fairs, and farmers' markets in and around the square.
Address: 210 W Rittenhouse Square
17. Rosenbach Museum and Library
Just past Rittenhouse Square, you'll find the Rosenbach Museum and Library. It's the 1865 Federal style townhouse of two bachelor brothers — rare book dealer Abraham Rosenbach and his antique dealer brother, Philip.
The museum is the perfect spot for history buffs and bibliophiles. It's truly a hidden gem in Philadelphia.
Philip specialized in decorative arts. He furnished the home with a eclectic array of tasteful items that either he couldn't sell or couldn't part with.
After the brothers died, the house and its contents became a museum library. Every wall is lined with bookcases.
In the dining room, there's a malachite calling card holder, a clock made from a marble urn decorated with figures of serpents fashioned by Marie Antoinette's clockmaker, and a view of the Venetian quay painted by the Canaletto school.
The parlor is decorated with a needlepoint card table, a Chinoiserie mirror, export porcelain, and a circa 1750 mahogany highboy with flame finials and shell cutouts. Lining the walls are several portraits of the Gratz family by noted American painter Thomas Sully.
The upstairs library is the highlight. It's kitted out with extremely rare bibliographic treasures. Pride of place belongs to the original manuscripts of James Joyce's Ulysses. It sits casually on a shelf behind glass doors.
But you'll also find Bram Stoker's original notes for Dracula, Lewis Carroll's Alice's Adventures in Wonderland, the only surviving copy of Benjamin Franklin's Poor Richard Almanac, a copy of Pilgrim's Progress, the first American edition of Pride and Prejudice, and a lock of Charles Dickens' hair.
You can only visit via a guided docent tour, but it's excellent. You'll be able to touch some things, after a hand washing and with gloves. For real up close and personal time, you'll need to make an appointment.
Address: 2008-10 Delancey Place
18. Elfreth's Alley
In Philadelphia's historic old town, just a few blocks from Independence Hall, lies pedestrianized Elfreth's Alley. The lane is the oldest continuously occupied residential street in the United States.
It dates back to 1702. It's the equivalent of Acorn Street in Boston's Beacon Hill neighborhood. In 1966, Elfreth's Alley became a designated National Historic Landmark.
The pretty street squeezes 32 Federal and Georgian style homes, built between 1728 and 1836, into one very cobblestoned city block. The street was named after a silversmith, Jeremiah Elfreth in 1706. Back then, it was common for tradesmen to work out of the first floor of their home.
Midway down the lane, you'll find the Museum House at #124-26. The museum has been meticulously restored to its original Colonial appearance. You'll get a sense of how tiny and claustrophobic actual Colonial homes were.
19. Magic Gardens
If you're looking for something unique to do in Philly, head to The Magic Gardens. It's a gallery space on funky and colorful South Street.
Opened to the public in 2008, the Magic Gardens is one artist's amazing vision — an imaginative mixed art immersive experience created by folk artist Isaiah Zagar.
He sought to revitalize a derelict area with ugly vacant lots using found and recycled objects. Zagar is featured in a 2008 documentary called In a Dream.
The installation's facade—and even some surrounding buildings—are plastered with bits of colored glass and shards, broken ceramics, and even bicycle spokes and wheels. There's a long outdoor labyrinth and tunnels. The experience continues inside, as you wind your way through 3D mosaicked hallways and step into glistening courtyards.
It's best to purchase a timed entry ticket. You can also sign up for a South Philadelphia walking tour that includes a visit to the Magic Gardens. South Philly is also a great place to go on an Italian market food tour.
Address: 1020 South Street
20. Philly Mural Mile Tour
Philadelphia is well known for its inspiring street art murals. They're free and accessible to anyone.
You can download and do a self guided tour. There are two walking routes, north and south of Market Street.
Or, even better, join an art and mural tour to experience this to Philadelphia attraction.
Mural Arts Philadelphia is the public art program responsible for much of the outdoor artwork decorating the city. It helps create 60 to 100 new public art projects annually, while simultaneously maintaining the pieces already on view.
One thing that will strike you is the sheer size of the murals. Some are difficult to photograph. As you would expect with street art, most were bold, colorful, and address political themes.
21. University of Pennsylvania
Founded in 1740, the University of Pennsylvania is the textbook definition of an Ivy League university. It has elaborate Gothic buildings and lush courtyards that make you want to dive headlong into the nearest library.
The Locust Walk is the heart of the campus, a central pedestrianized artery lined with trees. It offers visitors and students a respite from the bustle of the city doubles as a picnic site.
For culture vultures, the Penn grounds are home to a plethora of fabulous public art, both modern and traditional.
You'll find Alexander Calder's Jerusalem Stabile, another Robert Indiana LOVE sculpture, three statues of Ben Franklin, and Robert Engman's Quadrature #1.
Click here for a tour of the the entire collection of Penn's outdoor art.
Tips For Visiting Philadelphia's Top Attractions
Passes for Philadelphia Attractions
If you plan on visiting several pricey attractions, you should consider investing in either the Go City All Inclusive Pass. The pass includes a day on the Hop On Hop Off Bus. It's valid for 9 days.
Another option is the City Explorer Pass that lets you select 3-7 attractions.
How To Get Around Philadelphia
The historic sites in Philly are in a compact area and within easy walking distance. Just 25 blocks separate the two rivers defining Philadelphia.
You can also use Uver, Lyft, taxis, or the public SEPTA system.
You can also use the Hop On Hop Off Sightseeing Bus to get to Philly's main attractions. Or, go on a fun Segway tour or trolley tour of the city.
Where To Stay In Philadelphia
There are some absolutely wonderful boutique hotels in Philly. You can check out: 1715 At Rittenhouse, AKA Rittenhouse Square, The Rittenhouse, or Alexander Inn.
Then, there are the wonderful luxury classics like the Ritz-Carlton and the Four Seasons. And the reliable standbys like the Sofitel at Rittenhouse Square, Hilton Garden, Marriott, or the Doubletree.
I hope you've enjoyed my guide to the top must visit attractions in Philadelphia. You may enjoy these other travel guides and resources for the East Coast of the United States:
If you'd like to visit Philadelphia's top attractions, pin it for later.