Planning a trip to Boston? Welcome to one of my favorite cities in the United States. To help you have the best visit, I'm handing over the perfect 3 days in Boston itinerary.
This Boston itinerary takes you to all of the city's must visit attractions, historic landmarks, charming neighborhoods, and world class museums. I also give you tips on where to eat, play, and stay.
I'm very familiar with Boston. I attended college at nearby Dartmouth, lived and worked in Boston, my daughter lived there, and my husband's run in 4 Boston Marathons. I've likely walked every cobbled street.
I'm a hard core New England girl. And I love Boston, especially in the spring and fall.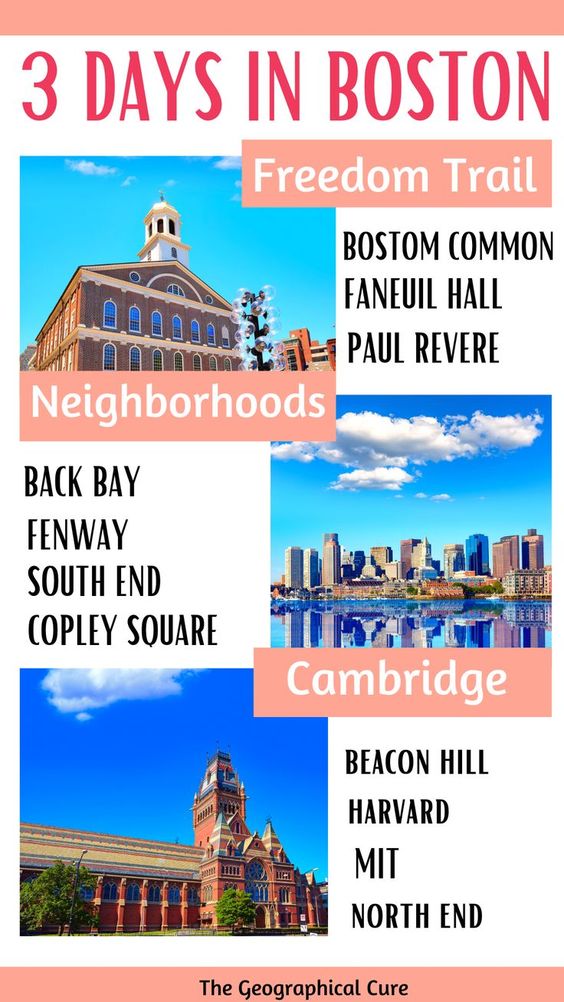 The country's oldest city, Boston is steeped in American history. Boston played a pivotal role in the Revolutionary War. Boston's sometimes called the "hub of the world" or the "cradle of liberty" because it was the source and inspiration for key ideas that shaped America.
Boston is really a dream destination, especially for history buffs and culture vultures. It has a great foodie scene, wide open green spaces, quaint neighborhoods, and first rate museums.
Visiting Boston offers all the benefits of a big metropolis without the intensity and frenetic pace of New York.
Boston is easy to get around and compact, making it perfect for travelers. The subway will take you wherever you need to go. And Boston's very walkable.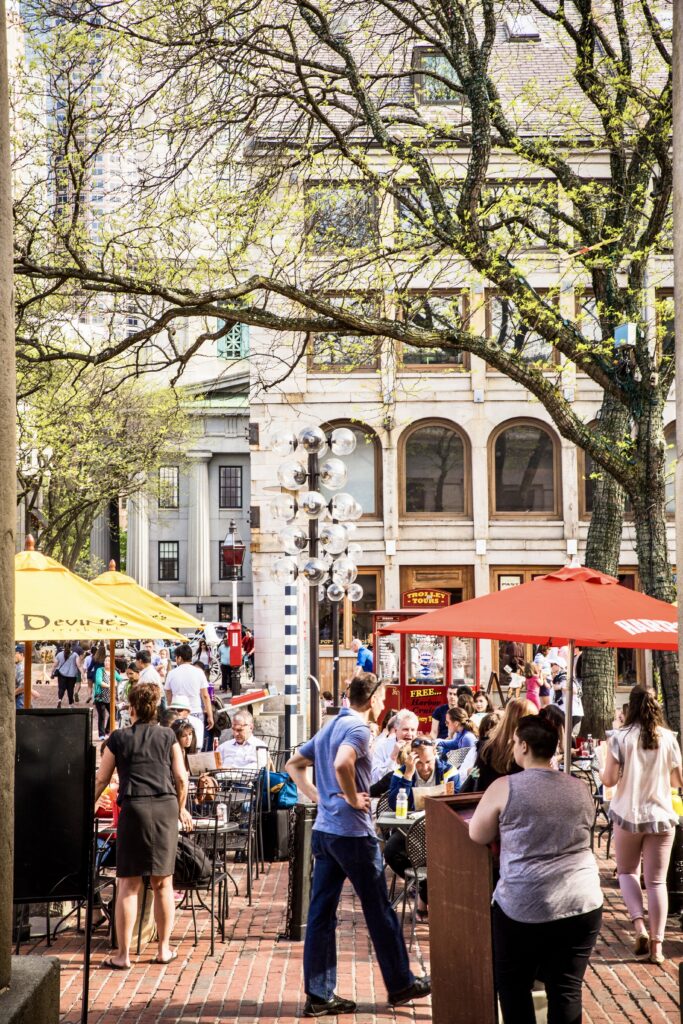 Before You Go: Here's How To Plan Your Visit To Boston
Below are some of the top tours, hotels, and experiences in Boston. Donʻt forget to plan ahead!
3 Days In Boston Itinerary
Let's tour Boston in 3 days, taking in all its must see sites and some hidden gems. There's so many things to do in Boston that you could be busy for a month.
But here are the attractions you simply can't miss on your 3 day Boston visit. I recommend getting a Go City Boston all inclusive pass. It gives you skip the line access to over 40 attractions
Day 1: Hike the Freedom Trail
Start day 1 of your 3 day Boston itinerary at tiny Paramount near Boston Common. The diner is tucked into a street on Beacon Hill.
It's a popular spot and there may be lines. After breakfast, you can embark on an activity that will take the entire day — hiking the Freedom Trail.
The Freedom Trail is a beloved 2.5 mile walk through historic Boston. It leads you through the major sites and monuments relating to the city's founding and the Revolutionary War.
You follow a red brick road, with signs and historical markers along the way.
The trail begins in the Boston Common, the nation's oldest park, and ends at Bunker Hill.
You can pick up a map and free guide at Faneuil Hall or the Boston Common Visitor Center at the beginning of the trail at 139 Tremont Street. Some stops are free and some charge admission.
Along the way, you'll visit 16 historic Boston landmarks:
1. Boston Common — where the first white settler established a farm and the oldest city park in the US, dating back to 1634
2. Massachusetts State House — Federal style building with an iconic gold dome that celebrated independence, designed by America's first professional architect Charles Bulfinch.
3. Park Street Church — where William Lloyd Garrison called for the abolition of slavery
4. Granary Burying Ground — the resting place of famous Patriots, including Paul Revere
5. King's Chapel Burying Ground — burial grounds used by the Loyalists
6. Benjamin Franklin statue and a mosaic commemorating Boston's first public school at Old City Hall
7. Old Corner Bookstore — once the epicenter of Boston's literary life
8. Old South Meeting House — where Patriots triggered the Boston Tea Party
9. Old State House — seat of the British era colonial government
10. Site of the Boston Massacre — when British troops fired on tax protestors
11. Faneuil Hall — former political hotbed where Patriots gathered to protest British taxation, now Boston's favorite marketplace
12. Paul Revere House — surviving house of the esteemed patriot
13. Old North Church — the launching pad for Revere's famous Midnight Ride and where he arranged to have lanterns perched on the steeple warning that the Redcoats were coming
14. Copp's Hill Burying Ground — resting place of the man who hung the lantern
15. USS Constitution — the ship known as Old Ironsides that survived British attacks, now a free museum
16. Bunker Hill Monument — granite obelisk marking the spot where the Patriots fought the British in the first pitched battle of the American Revolution
If you want to take a guided history and architecture tour of the Freedom Trail, click here to book one. You can also check out this 2.5 hour walking tour of the trail.
Stop for lunch at Faneuil Hall. Built in 1742, Faneuil Hall is the most visited destination in New England.
It has an open ground floor serving as a market, a covered assembly room above, and a grasshopper weathervane atop the roof. In the Revolutionary era, town meetings and ceremonies were once held in the assembly room.
You have tons of choices for lunch. You can get just about anything here. Since you're in Boston, try clam chowder or a lobster roll, the local New England specialties.
If you're not too tired from your long day of walking, consider taking in a concert at the Bottom Symphony Hall. The Boston Symphony Orchestra is one of the nation's best, playing in a venue with world class acoustics.
Or head to a show at the Wang Theater, which showcases everything from dance to Broadway acts. Its lobby is opulent, built to resemble Versailles.
If you're in the theater district, Yvonne's is THE hipster restaurant in Boston. Have a classic cocktail turned out by the Library Bar and order some eats from the eclectic American menu with Asian and Mediterranean influences.
Day 2: Boston's Neighborhoods: Fenway | Back Bay | South End
1. Fenway
Start day 2 of your 3 day in Boston in the Fenway neighborhood. Fenway of course is known for its iconic ballpark. And the Red Sox have broken my heart more than once. But Fenway isn't just a one trick pony. Fenway is home to some of the city's best museums, music venues, and eateries.
Have breakfast at Tatte Bakery on Boylston Street. It's a cozy rustic spot serving up delicious pastries, soups, and sandwiches. Alternatively, you can go to a Fenway landmark, Boston's culinary delight Time Out Market. Try an haute couture donut at Union Square Donut.
Once you're fueled up, visit one of the two most splendid museums in the Fenway area — the Museum of Fine Arts and the Isabella Stewart Gardner Museum. I love both, but am especially partial to the incredibly unique Gardner Museum. It's one of the world's best small museums.
Housed in a Venetian style palace, the exquisite Gardner Museum holds the in situ private collection of an eccentric heiress.
The museum has a real wow factor, with a skylit interior courtyard filled with sculptures and mosaics. Inside, the museum boasts an especially good Renaissance collection. There are art works by Rembrandt, Raphael, John Singer Sargent, Titian, and Veronese.
Here's my complete guide to the Isabella Stewart Gardner Museum
The Boston Museum of Fine Arts is a world class museum that can be daunting to visit because it's massive. Founded in 1876 and housed in a Beaux Art building, the museum was expanded by architect I.M. Pei.
The collection has everything from Egyptian mummies to minimalist Mondrians. If viewing fatigue sets in, head to the peaceful Shapiro Rotunda on Level 2 with classical murals by John Singer Sargent.
When you're done museum-ing, cross the verdant Back Bay Fens Park and head to the Back Bay neighborhood. When strolling though the fens, you can stop and smell the roses at Victoria Garden and/or Kelleher Rose Garden.
2. Back Bay
Boston's Back Bay is New England's version of New York's SoHo and West Village. And Newbury Street is the equivalent of Madison Avenue.
On Newbury, you'll find lots of expensive shopping and high end eateries. You'll want to stroll down Beacon, Marlborough, Commonwealth, Newbury, and Boylston streets.
It's a beautiful space to meander, with pretty (can I move in?) brownstones and tree-lined streets. There are plenty of old Victorian mansions and churches in this neighborhood that date back to the 19th century. If you want to tour a brownstone, pop into Gibson House Museum at 137 Beacon Street.
Back Bay's churches are adorned with heavenly stained glass, perhaps the neighborhood's greatest architectural asset. The most notable glass is in Arlington Street Church. It boasts 16 stunning stained glass windows created by Louis Comfort Tiffany.
More Tiffany stained glass decorates the Church of the Covenant on Newbury Street. This church also houses the Gallery NAGA, featuring New England artists.
Another jewel in Back Bay is the Ayer Mansion at 395 Commonwealth Avenue. A registered historic landmark, the mansion is a rare surviving home created and decorated entirely by Tiffany.
His trademark stained glass windows shine above the front door, Inside, you'll find beautiful glass mosaics, intricate woodwork, and a jaw dropping chandelier.
The piece de resistance, though, is the mosaic staircase in the entrance hall.
If you need a Back Bay art fix, visit the Galerie d'Orsay on Newbury Street. Even if you aren't planning on purchasing a Picasso or Dali, pop in to see what's on display.
The gallery has a range of old master, Impressionist, and modern art. It has special exhibitions throughout the year as well.
If you want, you can book a 2 hour guided walking tour of the Back Bay and other architectural landmarks in Boston. Or go on this 2 hour guided tour of Back bay and the Freedom Trail.
3. Copley Square
Next, head to Copley Square, a pretty public square in the Back Bay formerly known as the Art Square. There's a little park where you can buy discount theater tickets, listen to musicians, and gaze up at the towering Hancock Tower. Every Tuesday and Friday afternoon, there's a farmers market.
You should also peak into Boston's Trinity Church in Copley Square. It's Boston's oldest and most beautiful church. It was built in the 1870s after the original building burned down in the Great Fire of 1872.
The style is known as Richardsonian Romanesque, which embraces the use of clay roofing and rough hewn stonework. Upon its completion, the church's distinctive style influenced architects across the country because it was so beautiful.
You'll also find the Boston Public Library here, the third largest library in the country. Opened in 1852, it's one of the largest municipal libraries in the country — home to 24 million items and receiving almost 4 million visitors annually.
It's designed in a palatial Renaissance Revival style. The library is famous for its murals. The most beautiful one is upstairs in the dimly lit Sargent Hall. You can take a free art and architecture tour of the library from its Dartmouth Street entrance.
Next head to the Prudential Tower, colloquially known as "The Pru." There are 52 floors in the building, which was built in the 1960s.
If you're hungry for lunch, stop in at Eataly in a nook of the Pru. It's an Italian inspired oasis with shops, wine bars, dessert stands, and restaurants. You can pick up truffles, fine cheeses, pasta, and extra virgin olive oil.
4. South End
South End is a hipper version of Back Bay, and gets high marks for all things trendy. It stretches southwest along Tremont and Washington Streets to Roxbury.
South End's glorious concentration of undulating Victorian row housing is unmatched anywhere in the US. In 1983, the entire area was listed on the National Register of Historic Places.
The area resembles Beacon Hill, probably because the street plan was laid out by the same architect, the very busy Charles Bulfinch. There are many beautiful squares.
The prettiest and grandest one is Chester Square. Much of the Victorian cast iron is botanical in form.
If you want to pop into the South End's tony art galleries, stroll down Harrison Street.
While in the South End, don't miss the Cathedral of the Holy Cross at 1400 Washington Street. Completed in 1875, it's a vast Gothic Revival building. Its construction heralded the emergence of Catholicism in a previously predominate Protestant state.
A fantastic place for dinner in the South End is the hip and trendy Barcelona Wine Bar on Tremont Street. It serves up Spanish-centric tapas and small plates in an intimate setting.
The Beehive and SRV are also excellent choices.
Day 3: Cambridge | Beacon Hill | North End
1. Harvard University
On day 3 of your Boston itinerary, head to Cambridge and explore the historic Harvard University and soak in the feel of cloistered academia.
Founded in 1636, Harvard is the oldest university in America. Head to its home in Cambridge (Harvard Square train stop on the Red Line).
If you want breakfast or brunch in Cambridge, head to Cafe Luna, Curio Coffee, or Clover.
You can join a free Crimson walking tour or book your own 1.5 hour guided tour. You'll learn about the revered university's history, architecture, learning programs, and mythology.
Wander around and experience the mix of life in Harvard Square. There's always street musicians. Stroll into used book stores and coffee shops.
Watch artists, vagabonds, locals, and college students mingle. There are some cool little shops in the mini-mall called the The Garage.
Step into Harvard Yard, the nucleus of the campus. Start at the Johnston Gate on Massachusetts Avenue. You'll be greeted by a statue of John Harvard, which doesn't resemble the man himself.
Ranged around the statue are tree lined footpaths, trim lawns, scholarly libraries, and elegant Georgian and Federal architecture.
Massachusetts Hall is the oldest surviving building. But it pales in comparison to Gothic Matthews Hall.
University Hall was designed by Bulfinch, and was the first building to veer away from Harvard's trademark red bricks. The New Yard is dominated by the colonnaded facade of Widener Library.
Harvard has many art museums – the Fogg Museum, the Busch-Reisinger Museum, Arthur M. Sackler Museum, the Peabody Museum of Archaeology, and the Harvard Museum of Natural History.
The first three used to be separate but were recently combined under a single roof and renamed the Harvard Art Museums, after renovations from 2008-14.
If you only have time for one, I'd go to the Harvard Art Museums. The museum has a very good collection of Italian art, including pieces by Botticelli, Ghirlandaio, and Bernini.
You'll also find paintings by a whole roster of Western art luminaries — Van Gogh, Picasso, Gauguin, Toulouse-Lautrec, Manet, and Rembrandt.
2. Beacon Hill
Then take the subway/taxi/Uber to colonial chic Beacon Hill. It's an extremely pretty and exclusive neighborhood of gaslit streets and brick sidewalks.
The homes, many designed by the ubiquitous Bulfinch, were built for Boston's Protestant merchant elite, known as the Boston Brahmins.
Start your tour of Beacon Hill at Louisberg Square. The smart bow front homes date from the 1830s.
Drop down nearby Willow Street and take in the cobblestoned Acorn Street, America's most photographed street. For the grandest homes, head back up Mount Vernon Street. Bulfinch's home is on Chestnut Street.
End your walk on Beacon Street. The bow front William Hickling Prescott home (#55) is a Bulfinch masterpiece open to the public.
You can also tour the Boston Athenaeum, one of the oldest independent libraries in the US, which was once the center of intellectual life in Boston.
Beacon Hill is also home to some beautiful hidden gardens. Founded in 1928, the Beacon Hill Garden Club opens their doors once a year on the third Thursday in May.
If you want to grab lunch in Beacon Hill before hitting your next destination, there are some amazing choices.
Beacon Hill has everything from upscale Italian to romantic restaurants to casual eateries. Try Moo (a modern steakhouse ), Figs (pizza), Toscano (Italian), or The Hungary I (French).
READ: Complete Guide To Beacon Hill
3. North End
After exploring Beacon Hill, head to Boston's historic North End. This neighborhood is the heart of Boston's Italian community.
The first Italians to arrive were Genoese in the 1860s. You'll hear just as much Italian as you will Boston accents. It has a distinctly Mediterranean vibe.
The North End is the place to indulge. You'll find the best gelato outside of Italy.
The best pastries can be found on Hanover Street (the main drag) at Mike's Pastry or Bova, which vie for Boston's best cannoli. And the best Italian food is at Giacomo's Ristorante or Carmelina's.
The lines are epically long at all these spots. But the wait is worth it.
Because of all these great spots, the North End is a fantastic place to take a food tour. You can book a pizza, food, and history tour or take this 3 hour tour by Secret Food.
When you're done eating, be sure to visit Old North Church on Salem Street. It's Boston's oldest surviving church. It's famous in Boston history.
Thanks to legendary messenger and patriot Paul Revere, two lanterns were hung from its steeple, alerting citizens that British troops were coming by sea. Around the corner is the Paul Revere House, which is well worth a visit to see how wealthy colonials lived.
The North End is also home to one of Boston's quirky landmarks, the Skinny House on Hull Street. It's only 10 feet wide. Legend holds that it was built out of spite, to block sunlight from the house behind it.
Tips For Spending 3 Days in Boston
Here are some must know tips for planning your 3 day Boston itinerary.
1. When Is The Best Time to Visit Boston?
I like Boston best during the shoulder season, spring and fall, when tulips and fall foliage delight the senses. Late August to early September is peak sunflower field season.
In late September to late October, you can pick apples at a plethora of farms around Boston and indulge in hot cider and sugary cider donuts.
But the summer can be beautiful too and isn't always notoriously hot. Winter in Boston is fun, especially if you're lucky and get a bout of fairly mild weather. You can enjoy Christmas lights, beautiful snowfalls, ice skating, and popup bars.
2. How To Get To Boston
To get to Boston, you can fly into Logan International Airport. The Massport shuttle bus will take you to the Blue Line terminal at Airport Station and you can ride that into town.
You can also take a taxi, Uber, or book a private transfer.
3. How To Get Around Boston
The best way to get around Boston is walking. Boston is a self-proclaimed walking city and is set out to encourage pedestrians.
If an attraction you want to see is too far afield, you can take the subway system nicknamed the "T." Check out the subway map to plot your route.
There aren't scads of taxis in Boston. But Uber works well and is what I use if I need to get somewhere fast.
There are other fun ways to explore Boston too. You can:
4. Mark Your Calendar: Major Events in Boston
Want to visit Boston for a special event? These are the special festivals you should keep on your radar:
5. Where To Stay in Boston
If it's your first time visiting, I would opt to stay in the downtown or Back Bay Area. Those areas are central to everything.
If you opt for downtown, I like the small XV Beacon or the Kimpton Nine Zero Hotel. You could also splurge at the Ritz Carlton or the Four Seasons.
The Inn at St. Botolph, the Lenox Hotel, and the Hilton in Back Bay are also nice options and central too.
If you can't resist historic Beacon Hill, check out The Boxer, Liberty, or the elegant Whitney Hotel. If you want to stay in historic Cambridge, check out the luxurious Charles Hotel.
I hope you've enjoyed my 3 days in Boston itinerary. You may enjoy these other US city guides:
If you'd like to spend 3 days in Boston, pin it for later.