Here's my guide to visiting the fabulous Carnegie Museum of Art in Pittsburgh Pennsylvania.
You may not think the "Steel City" of Pittsburgh is an art mecca.
But for a small city, the beloved Carnegie Museum of ART ("CMOA") packs a surprisingly art punch, with international flair.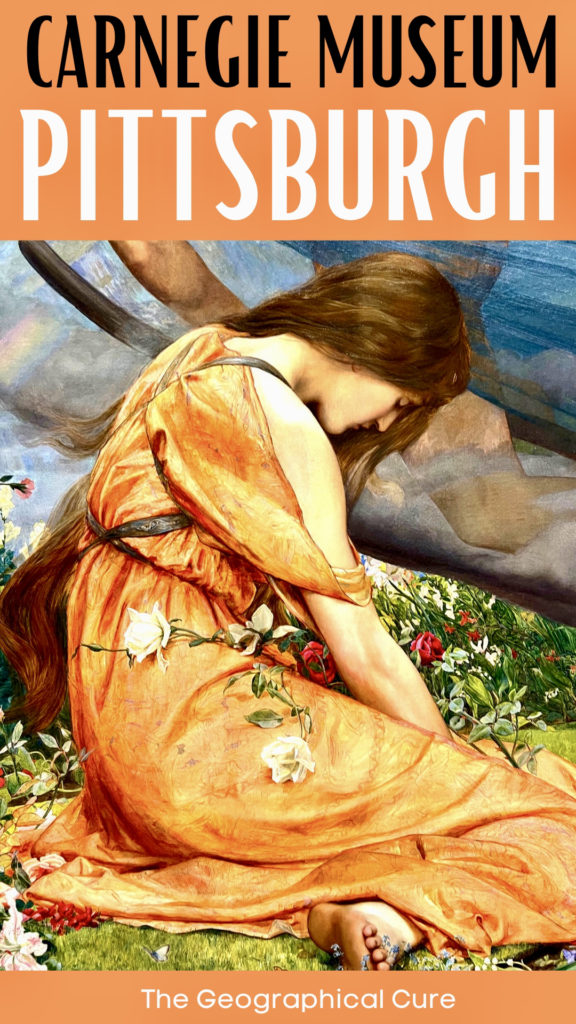 Founded by industrialist and philanthropist Andrew Carnegie, this gorgeous museum is in Pittsburgh's lively Oakland neighborhood near the University of Pittsburgh and Carnegie Mellon University.
In this Carnegie Museum guide, I give you an overview of the museum's history and identify its must see masterpieces. There's something to appeal to every art enthusiast, especially lovers of Impressionism.
READ: Best Things To Do in Pittsburgh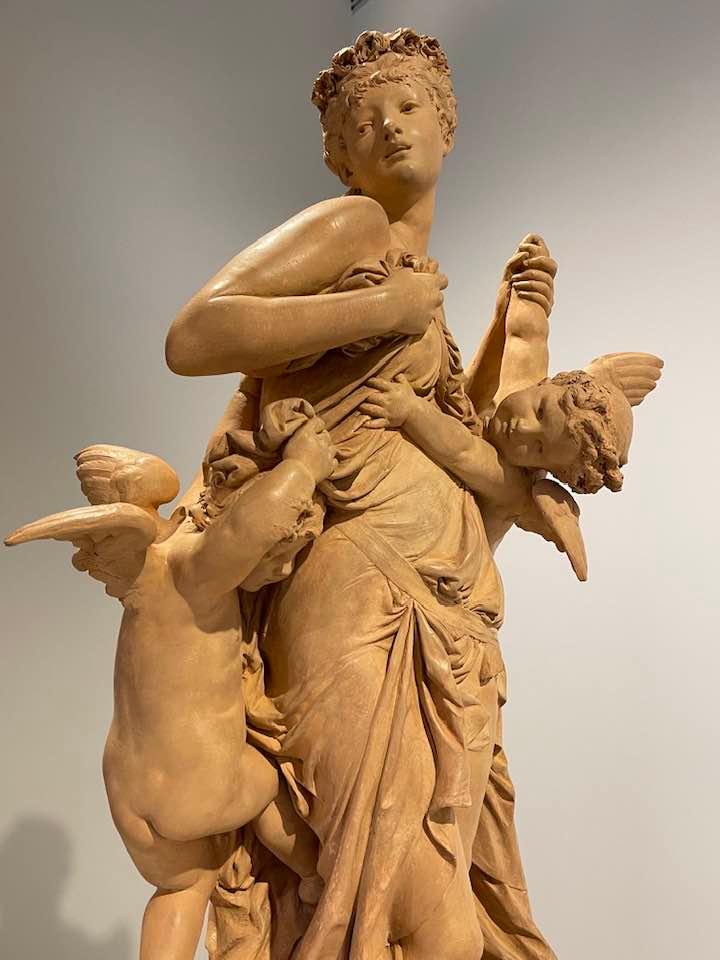 Overview of the Carnegie Museum of Art
There's a lot of fascinating things to see at the Carnegie. I'll give you a quick overview so you know what to expect on a visit.
The museum is much larger than you might suspect, with a rich array of visual treats. There are many wings and dozens of galleries. The wide-ranging galleries are devoted to art from ancient times to cutting edge contemporary works.
Since its inception in 1895, Carnegie wanted the museum to reflect "tomorrow's old masters," not just ancient works. As a result, CMOA is considered the first museum of modern art in the United States.
Some of Carnegie's first acquisitions were contemporary works by emerging American artists Winslow Homer, James McNeill Whistler, and Edward Hopper.
On the first floor of the Carnegie Museum of Art, you'll find the Carnegie's Hall of Sculptures, the Hall of Architecture, and the Forum Gallery.
The Heinz Gallery is one the second floor. This gallery houses temporary exhibitions, with room after room of high ceilings.
Launched in 1974, the Scaife Galleries occupy most of the second floor. This collection is CMOA's crown jewel.
Sarah Mellon Scaife was a sister of Pittsburgh tycoon Richard Mellon. She gifted the massive Beaux Art galleries and a slew of important works to CMOA. Her bequest alone nearly doubled the museum's space.
The Scaife galleries feature European and American art from the Renaissance to the present. There's a strong collection of Impressionism. The collection is presented in reverse chronological order.
On this floor, you'll also find the Alisa Mellon Bruce Gallery of Decorative Arts & Design.
The Carnegie Museums also houses several other specialized museums and halls dedicated to natural history, ancient Egypt, and Native Americans. But in this article, I focus solely the museum's fine art collections.
Guide To The Carnegie Museum: What To See
Let's take a tour of the best art works and masterpieces at the Carnegie Museum of Art.
1. Hall of Sculpture
The design of the Hall of Sculpture is modeled after the columned inner sanctuary of the Parthenon in Athens. It's constructed of brilliant white marble, from the same quarries used to build the 5th century B.C. Parthenon.
The original purpose of the room was to house the museum's collection of reproductions of Greek, Roman, and Eastern sculptures. Most of those have been moved into the Hall of Architecture.
But there are still statues decorating the second floor balcony. The statues are replicas of statues from the Louvre, the Vatican Museums, and the British Museum.
Directly below the skylight is a carved frieze, replicating the decorative band that once decorated the Parthenon.
Today, the Hall of Sculpture is used for site specific performances, installations, and exhibitions.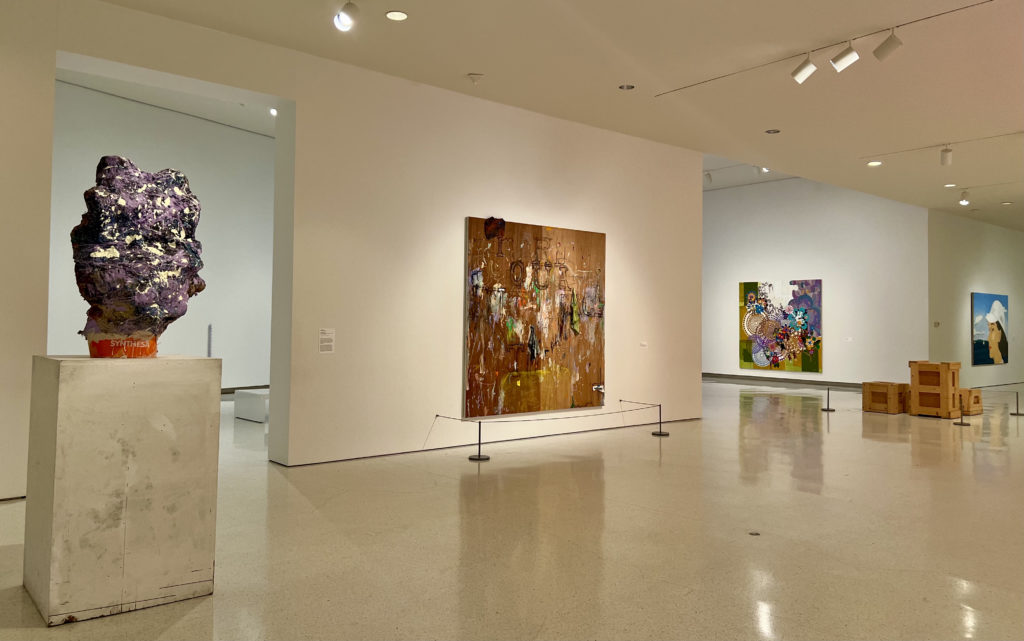 2. Scaife Contemporary Collection
You'll start your Scaife visit in the contemporary art section, accessed from the second floor atrium. This collection covers works from 1945 to the present.
CMOA has assembled and displayed 130 of its diverse holdings of modern and contemporary art pieces.
The works on display reinvent traditional mediums and reflect pressing social and political issues. They include works from the genres of Pop Art, Conceptual Art, Abstract Art, Minimalism, and cinema.
You'll find recognizable works by Andy Warhol and Keith Haring. There are also more cutting edge works Anton Rooskens, Ellsworth Kelly, Sol Le Witt, and Rafael Ferrer.
There are also conceptual and performative videos and collage films.
One of my favorite piece in this section of the museum was an eerie installation by French artist Louise Bourgeois, Cell II, from 1991. It's part of a series focusing on the dark recesses of the psyche.
The early to mid 20th century art works are some of my favorites in the museum collection. That period saw the birth of modernism.
A new era of visual artists challenged existing art styles. Beauty and aesthetics gave way to abstraction, expression and symbolism.
There are classics by world renowned artists on display — Willem de Kooning's Woman VI, Alberto Giacommeti's Walking Man I, Jackson Pollock's No. 4, Mark Rothko's Yellow and Blue, and Piet Mondrian's Trees.
3. Scaife Galleries, 19th Century Art
The 19th century galleries are the most popular area of the museum. The galleries house works from 1850 to the present in 12 rooms. This includes the ever-popular Impressionist, Post-Impressionist, and late 19th century art.
Scaife began collecting Impressionism in 1962, with the help of a CMOA director. Her taste was mostly classic. But she made some adventurous choices too.
Over the years, she and her family purchased and donated 28 major paintings and pastels by Paris artists. The Impressionist works on display include pieces by top shelf names like Monet, Manet, Pissarro, Renoir, Degas, and Matisse.
Pride of place belongs to Claude Monet's Water Lilies. It's one of six large panels that Monet painted between 1915 and 1926. It's nearly 20 feet long and 6 feet wide.
It's not quite as luminous as Monet's water lilies on display in Paris' Musee Marmottan Monet or the Musee de l'Orangerie. But still a relative rarity to see one in the United States.
READ: Guide To Monet's Art in Paris
There are also three pieces by the ever popular Vincent Van Gogh. There's a beautiful drawing, a painting of wheat fields created just days before his death, and a painting of Le Moulin de la Galette in Paris.
You'll also find several Renoirs, some first rate Degas paintings and sculptures, and some beautiful John Singer Sargent paintings.
There are also quite a few sculptures by the indomitable French artist Auguste Rodin, the greatest sculptor of the 20th century.
My favorite pieces in the collection were Wheat Fields After the Rain by Vincent Van Gogh, Girl Under Apple Tree by Edvard Munch, a bust of Dorothy Heseltine by Aime-James Dalou, Venetian Interior by John Singer Sargent, The Bath by Degas, and Hand of God by Auguste Rodin.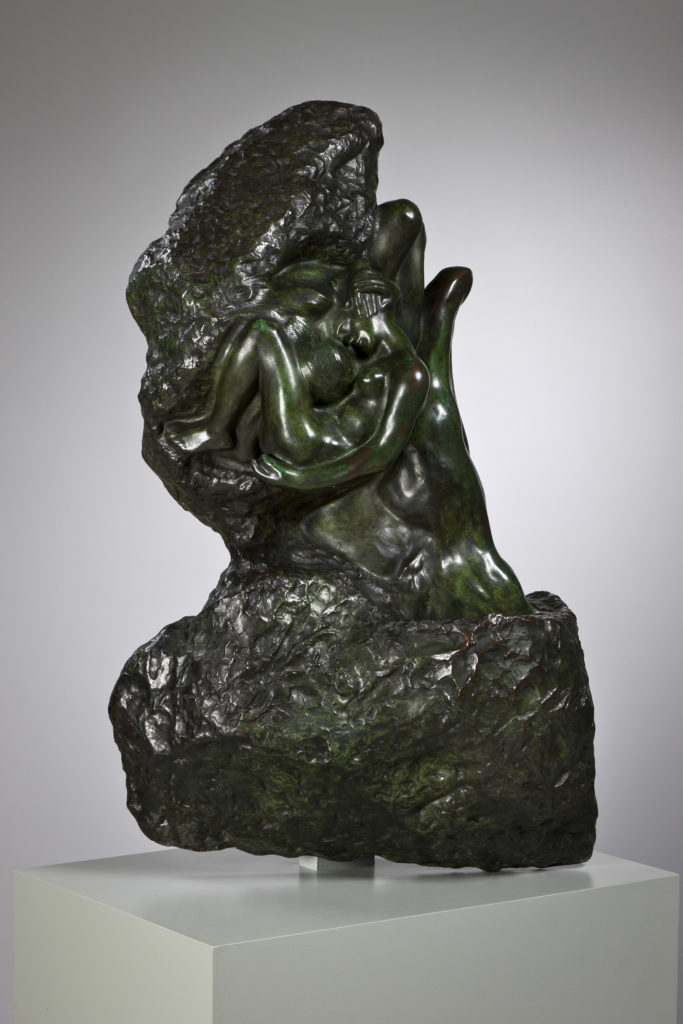 The first two I mentioned are shown above.
After these galleries, you'll encounter the 19th century Realism and Rococo paintings. These include works by Bougeureau, Gustav Courbet, Fantin-Latour, James Whistler, Thomas Eakins, and John Singer Sargent.
There are couple galleries dedicated to sculpture.
You'll find works by all the greats — Auguste Rodin, Daniel Chester French, Carpeaux, Maillol, Charpentier, and Canova. There's even a bust by the great Italian Baroque artist Gian Lorenzo Bernini.
4. Decorative Arts & Design | Ailsa Mellon Bruce Galleries
This area of CMOA houses over 34,000 decorative objects. They're arranged chronologically and feature a broad spectrum of visual art.
You'll find glass works, porcelain, ceramics, wood carvings, china, etc. The collection celebrates the extraordinary in every day objects.
My favorite pieces were Gerrit Thomas Rietved's Zig-Zag Chair, Louis Comfort Tiffany's stained glass windows and lamps, and some stunning Arts and Crafts era pottery and furniture. You'll recognize the designs of Gustav Stickley, the Roycrofters, and Charles Rene Mackintosh.
A seminal piece is the Tennyson Vase, a four foot high hammered silver vase. It was created as an ode to Alfred Lord Tennyson's poems about Arthurian legends. It was a symbol of British strength in the 9th century.
The Bruce Galleries also highlight contemporary design and crafts in glass, wood, ceramic, and metal. A beautiful vignette is a display of 20th century glass art set in front of large windows facing Forbes Avenue.
5. Heinz Architectural Center
Established in 1990, the Heinz Architectural Center is a permanent gallery that houses changing exhibits of world architecture.
It's dedicated to the collection, study, and exhibition of architectural drawings and models. But boasts nearly 6,000 objects, including photographs, artifacts, casts, drawings, etc.
An onsite library houses 7,000 books And there is 4,000 square feet of exhibition space.
6. Hall of Architecture
The Hall of Architecture is part of the Heinz Architectural Center. I think this hall is a real highlight of the museum. It's filled with plaster casts of outstanding classical, ancient, and medieval works.
It's incredibly unique. I've never seen anything quite like it in thousands of museum outings.
As part of his effort to "bring the world to Pittsburgh," Carnegie commissioned plaster copies of some of the world's most iconic buildings and sculptures.
They were created by master craftsmen. If the citizens of Pittsburgh couldn't get to Europe, they could at least see what they were missing.
Architectural cast collections were incredibly popular in the late Victoria era. Their popularity subsequent waned.
Hence, there are now very few collections in the world. CMOA's only rivals are the Victoria and Albert Museum in London and the Musee National des Monuments Francais in Paris.
You can see copies of Venus de Milo and Winged Victory of Samothrace from the Louvre. You can admire Lorenzo Ghiberti's bronze doors, which were created for the Florence Baptistery. Michelangelo dubbed them the "Gates of Paradise."
You can also see Nicola Pisano's pulpit from Siena Cathedral. It's considered one of the first works of Renaissance art.
As for the Parthenon, there's lots of goodies. There's a miniature model of the Parthenon.
And life-size sculptures from the Parthenon's frieze. The actual sculptures are the subject of an ownership dispute. They're housed in both the British Museum in London and in the Acropolis Museum in Athens.
The largest recreation is the entire west facade of the Gothic Abbey Church of Saint-Giles in France. It's a one of kind marble, and may be the largest architectural cast ever made.
In the winter, the hall is filled with themed Christmas trees.
READ: Guide To The Top Holiday Attractions in Pittsburgh
7. Crowning of Labor Mural and Grand Staircase
The museum's three story Grand Staircase is the centerpiece of CMOA's 1907 addition. The marble staircase is lovely.
But what really catches your eye is the mural covering almost 5,000 square feet of wall space. It's called The Crowning of Labor. The theme is the turn of the century ideas of uplift and progress achieved through hard work.
The mural cycle consists of long vertical panels along the perimeter of the staircase. They show workers toiling away. One the second floor, there's an allegorical knight (a stand in for Carnegie) who's crowned by a winged female.
The mural cycle was created by Pittsburgh native John White Alexander between 1906-08. Alexander had full artistic license.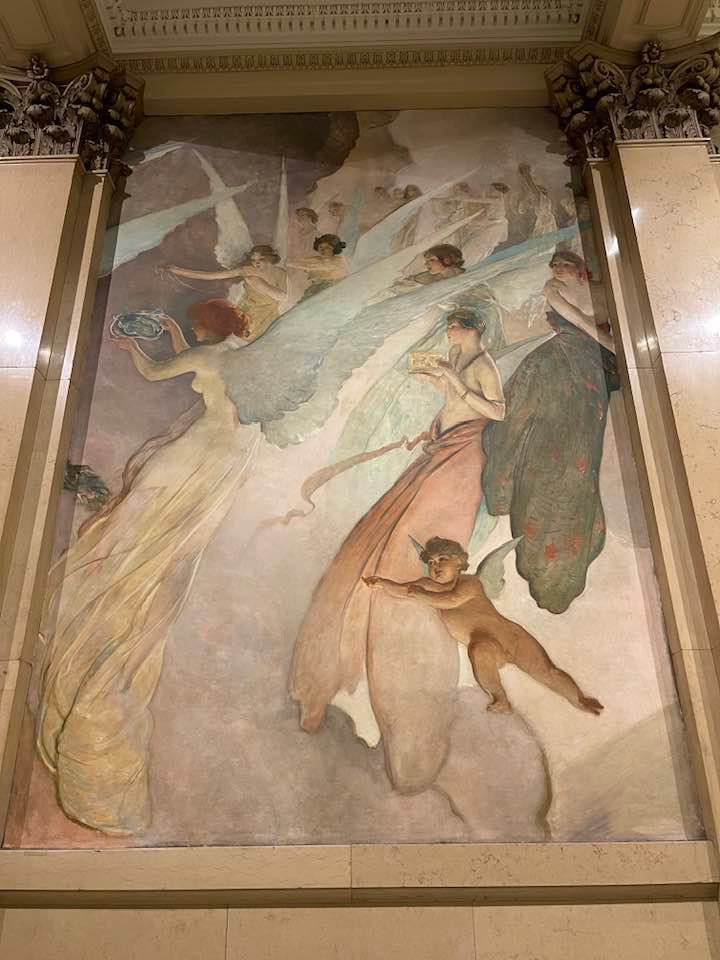 The mural has a dark to light plan that's bathed in light from the center skylight. The mural was renovated in 1995 and its colors sparkle.
The mural cycle was created by Pittsburgh native John White Alexander between 1906-08. Alexander had full artistic license. He produced a depiction of the turn of the century ideas of uplift and progress achieved through hard work.
The mural has a dark to light plan that's bathed in light from the center skylight. The mural was renovated in 1995 and its colors sparkle.
The murals were actually created in New York City and shipped to Pittsburgh.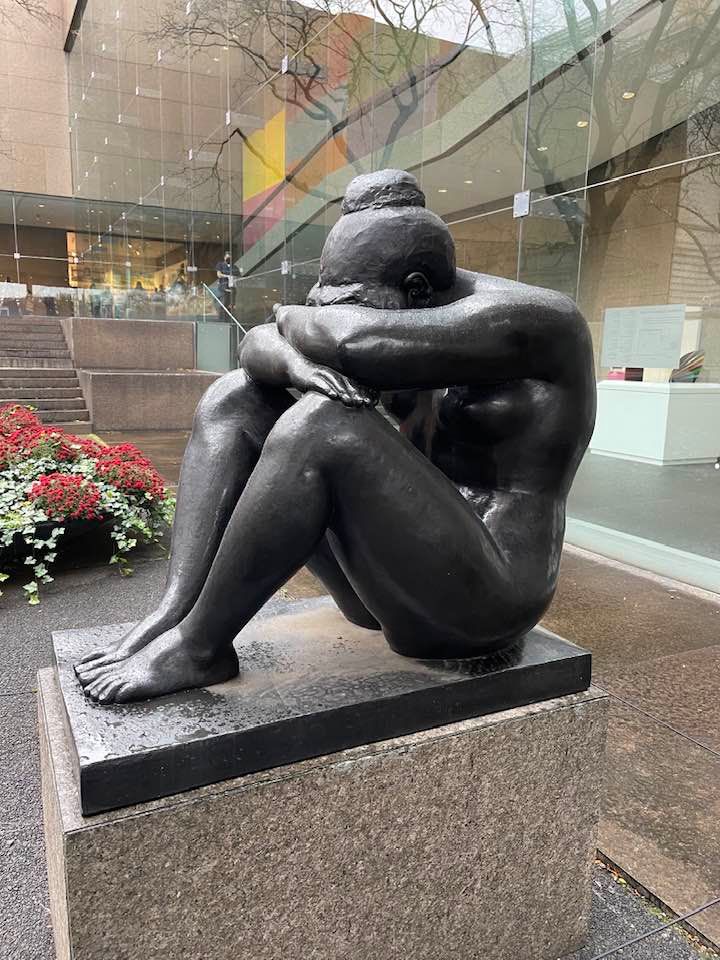 8. Outdoor Sculpture Court
The sculpture court was also a Scaife donation. In 1974, when CMOA expanded to create more gallery space, it also created an outdoor sculpture court.
You can simultaneously enjoy art, architecture, and landscape. It's the perfect place for a cup of coffee or picnic lunch.
The courtyard is a triangulated angular space with multiple terraced levels and faced with glass and granite walls. Within the court are 16 sculptures varying from intuitive design to gridded modernism.
David Smith's Cubist-inspired Cubi XXIV was one of the the first modern sculptures to be installed in the courtyard. It also serves as a frame for Andy Warhol's large silk screen prints of Andrew Carnegie in CMOA's cafe area.
I particularly liked Aristide Maillol's poignant Night.
You can also see 11 neon sculptures from Tavares Strachan's Encyclopedia of Invisibility. The sculptures ribbon the building's exterior.
Practical Guide & Tips for Visiting the Carnegie Museum of Art
Address: 4400 Forbes Avenue Pittsburgh PA
Hours: Closed Tuesdays. Open Mon & Wed-Sun from 9:00 am to 5:00 pm. On Thursday night, the museum is open late until 8:00 pm. The best time to go? Thursday after 3:00 pm with a discount.
Entry fee: Adults $19.95, children 3-18 $11.95, under 2 free. If you buy online, use AFTER3 to get a 50% discount if you visit on weekdays after 3:00 pm.
Admission also gives you access to CMOA's sister museum, the Carnegie Museum of Natural History. But doing both museums in one day could definitely result in museum fatigue. There's a lot to see and digest.
How Long should you spend at the Carnegie? I'd budget 2-3 hours minimum.
Online tickets: Click here to buy tickets and reserve a time slot online
Carnegie Cafe: This lovely upscale cafe offers casual dining, with an espresso and wine bar. You can get small plates, salads, and sandwiches. You can dine in, get food to go, or head to the outdoor sculpture gallery.
Parking: There's a dedicated parking lot for the museum on Craig Steet. The current cost is $7.
Virtual Tour: You can take a virtual tour of CMOA by visiting their collections here.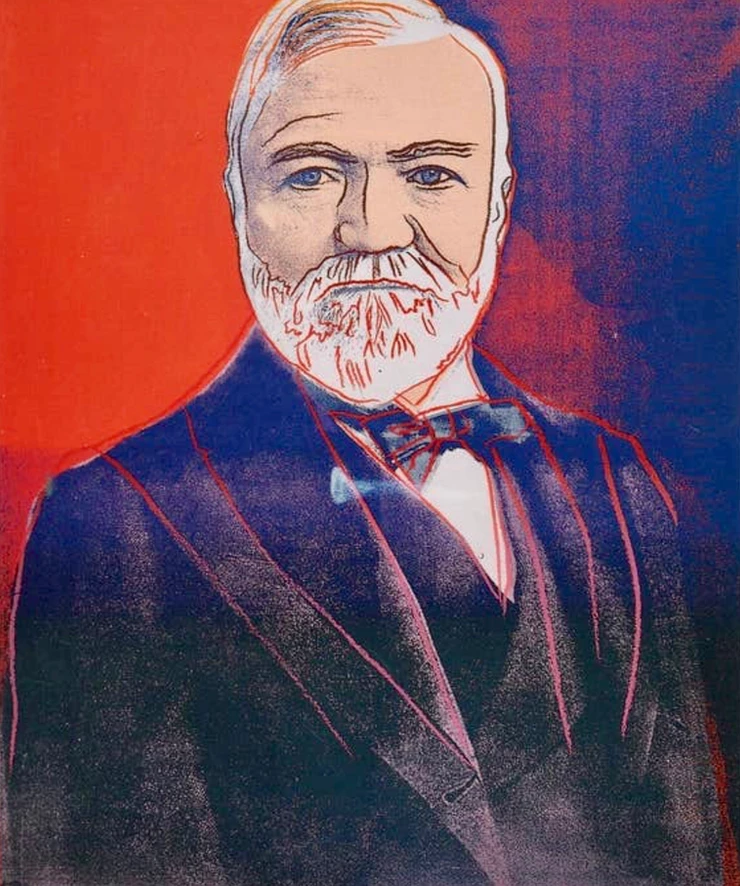 I hope you've enjoyed my guide to Pittsburgh's Carnegie Museum. Interested in other United States destinations? You may enjoy these guides:
If you'd like to visit Pittsburgh's Carnegie Museum of Art, pin it for later.