Thinking of unplugging on a rusticator vacation in Maine? Or need a dose of vintage seaside charm?
If so, I have the perfect 10 day road trip itinerary for coastal Maine, often dubbed the "Lighthouse State."
The coast of Maine is abundantly beautiful, with secluded destinations, spectacular unspoiled scenery, and crisp bluebird days.
As the border sign into Maine reads, "Maine: the way life should be."
In Maine, ocean waves crash against a craggy shores. You'll be dazzled by pristine beaches, boat filled harbors, classic New England townscapes, and rocky shorelines dotted with lighthouses. Lobster shacks and wild blueberries abound.
Maine is heavily forested, with a green canopy that's set ablaze with fall foliage. If you're looking to escape the crowds and fall back into nature and history, coastal Maine is the perfect destination.
Maine is really best enjoyed by car. A 10 day road trip is the perfect way to visit, experience, and fall in love with Maine.
On a scenic drive, you can pick your own favorite ocean vista. Coastal Maine is one of the United States' most classic road trips and should definitely be on your US bucket list.
Here's my 10 day itinerary for exploring Maine. This Maine road trip itinerary takes you down winding coastal roads from southern to northern Maine.
I point out all the must see attractions and must visit towns on the coast of Maine. I also give you tips for visiting Maine — what to do and see, where to hike, where to stay, and where to eat.
In truth, you could spend weeks exploring Maine. You could easily turn this 10 day Maine itinerary into a 2-3 week itinerary, simply by staying longer at each destination and exploring at a slower pace.
I've also added some bonus destinations at the end, in case you want to extend your coastal Maine road trip even further and explore other places in Maine.
10 Day Road Trip Itinerary For Coastal Maine
This 10 days in Maine road trip itinerary takes you from Portland in southern Maine to Bangor in northern Maine. To begin your trip to Maine, fly into in Portland International Jetport (only one hour from NYC). Downtown Portland is just a 20 minute drive from the airport.
You can also fly into Boston's Logan International Airport, which is a major hub. Portland is only two hours from Boston, an easy drive up Interstate 95. Or simply drive to Portland from your own home to begin your Maine road trip.
Here are the best places to leaf peep, shop, sightsee, eat, and stay between Portland and Bangor. The lobsters and blueberry muffins will be worth the entire trip, I promise.
Day 1-2: Portland
Portland is the perfect place to start your 10 days in Maine road trip. Located on a peninsula jutting into Casco Bay, Portland is a rare metropolis in a state filled with small hamlets.
Portland has myriad cultural offerings and is a bastion of historical preservation. The restored Old Port is a warren of cobbled streets, filled with vibrant Victorian buildings, buzzing farm to table eateries, and cute boutiques. You may want to book a guided walking tour of this historic area.
Do some shopping on Exchange Street, were you can nab anything from fudge to fine crafts.
Downtown, there's a thriving art school, infusing the city streets with creative types. There are 24 commercial art galleries.
Restaurants and coffee bars are filled with visual art. In June, the revived downtown hosts the Old Port Festival, described as "part freak show, part art festival, part fashion parade."
Opened in 1983, Portland's crown jewel and premiere art destination is the Portland Museum of Art, an architectural masterpiece designed by I.M. Pei of Louvre fame. Its innovative architecture allowed curators to redefine the art viewing experience.
The museum has an impressive collection of late 19th and early 20th century art, including works by Andrew Wyeth, John Singer Sargent, Winslow Homer, and Marsden Hartley. It also hosts traveling international exhibits.
Merrill Auditorium is the site of Portland's performing arts scene. It's an elegant restored concert hall, which houses the world famous Kotzschmar Memorial Organ.
The venue hosts concerts by the Portland Symphony Orchestra, touring national theater companies, dance companies, and music acts. The Portland Opera Repertory also uses Merrill for full scale productions.
Portland also has plenty of outdoor hiking trails. An hour from Portland is the Burnt Meadow Mountain Trail, which is a 3.6 mile trail strewn with wildflowers.
To land on a beach, hike the meandering 3.8 trail from Morse Mountain to Seawall Beach. Just 30 minutes from Portland is Bradbury Mountain State Park, with an easy 1.9 mile trek on the Tote Road Loop.
Where To Stay In Portland
Portland is filled with fantastic hotels. Here are the top four choices, to my mind.
The Blind Tiger is a cool boutique hotel in a 19th century mansion in the Old Port. It's a luxurious place with bright colors and a private rooftop deck.
The Press Hotel is a cool hotel where the rooms look like writers' desks. There are typewriters in the lobby and old new copy blown up on the wall.
The Best Bower is a tiny boutique hotel in the city's restaurant-friendly East End. It's housed in a beautifully restored craftsman building.
The Francis is Portland's newest boutique hotel. It's housed in a restored 19th century building. There's custom furniture and art in the rooms.
Where To Eat in Portland
Portland is loaded with great restaurants including the Honey Paw, Union at the Press Hotel, Solo Italiano, Woodford Food and Beverage, Eventide Oyster Co.
As an alternative to a specific place for lunch, you may want to take a 2-3 hour food tour in the old Port or a 2.5 hour seafood tour.
Day 3: Freeport | Brunswick | Boothbay Harbor
On day 3 of your 10 days in Maine itinerary, start your day with breakfast at Standard Baking Company in Portland. It has delicious artisanal baked goods.
20 minutes from Portland, take a slight detour to see the historic lighthouse on Cape Elizabeth. Commissioned by George Washington and set amid flowering fields, this classic landmark is Maine's oldest lighthouse.
Then, amble on to Brunswick on US 1. On your way, check out the retail outlets of Freeport Maine, the home of LL Bean's flagship store. Almost 3 million people visit this famous store every year.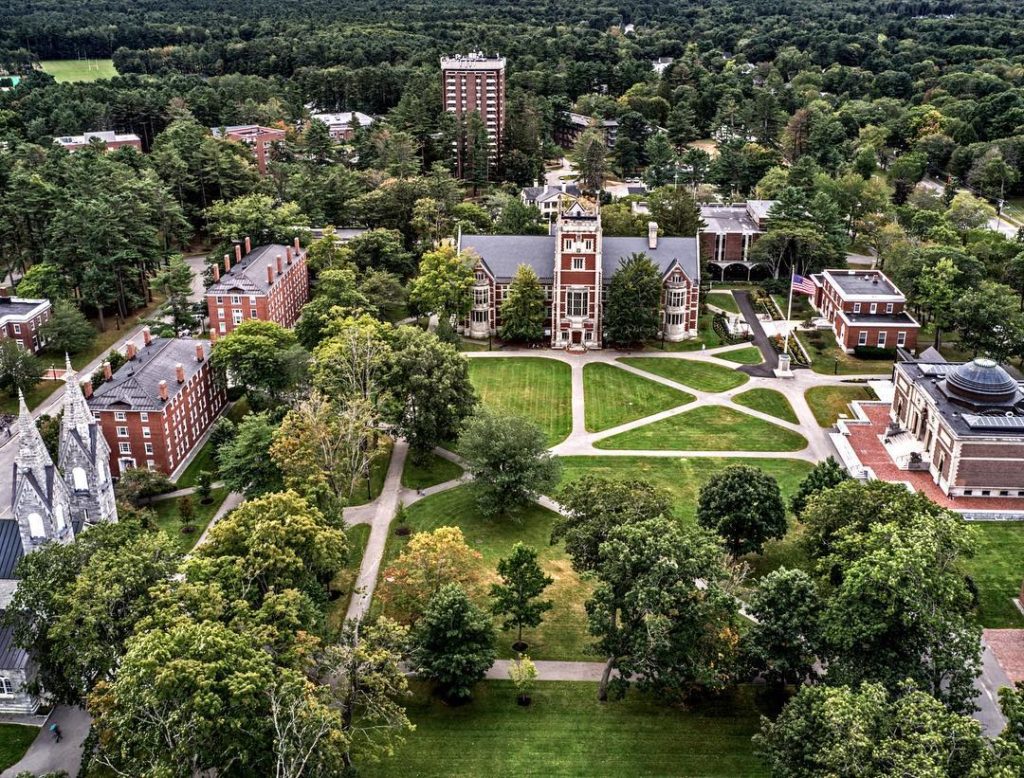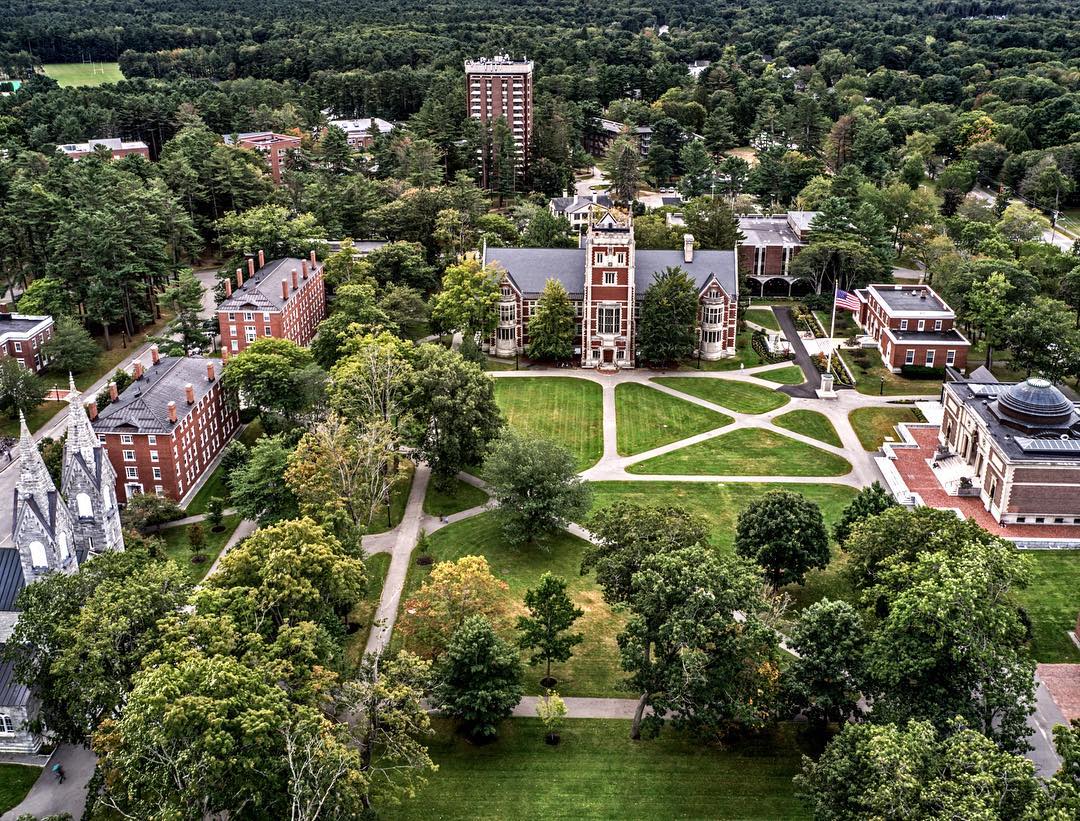 10 miles north of Freeport is Brunswick. Brunswick is home to Bowdoin University and the fabulous Bowdoin College Museum of Art. In the museum, you'll find works by famed 19th century artist Winslow Homer.
Bowdoin College also owns the Harriet Beecher Stowe House, a National Historic Landmark and the former home of the antislavery novelist.
To get outdoors in Brunswick, you can hike the 6 mile Town Commons Trail, which starts near Bowdoin. Or just walk around the beautiful college campus and admire the historic architecture.
Beach lovers can head to Thomas Point Beach, which has nice picnic areas.
Another 45 minutes down the road is the mid-coast seaside gem of Boothbay Harbor. Boothbay Harbor is one of New England's most adorable small towns, known as the "boating capital" of Maine.
Ferry over to Brunt Island, where you can hike and admire the lighthouse. Or reconnect with nature at the Coastal Maine Botanical Gardens.
Boothbay Harbor's quaint downtown is filled with shops and cafes, including Maine's oldest bookstore, Sherman's Maine Coast Book Shop. If it's time for a lobster roll, pop into the Lobster Dock or Shannon's Unshelled.
Overnight in either Brunswick or Boothbay Harbor. Brunswick is closer to your next destination, Bath, just 10 minutes away.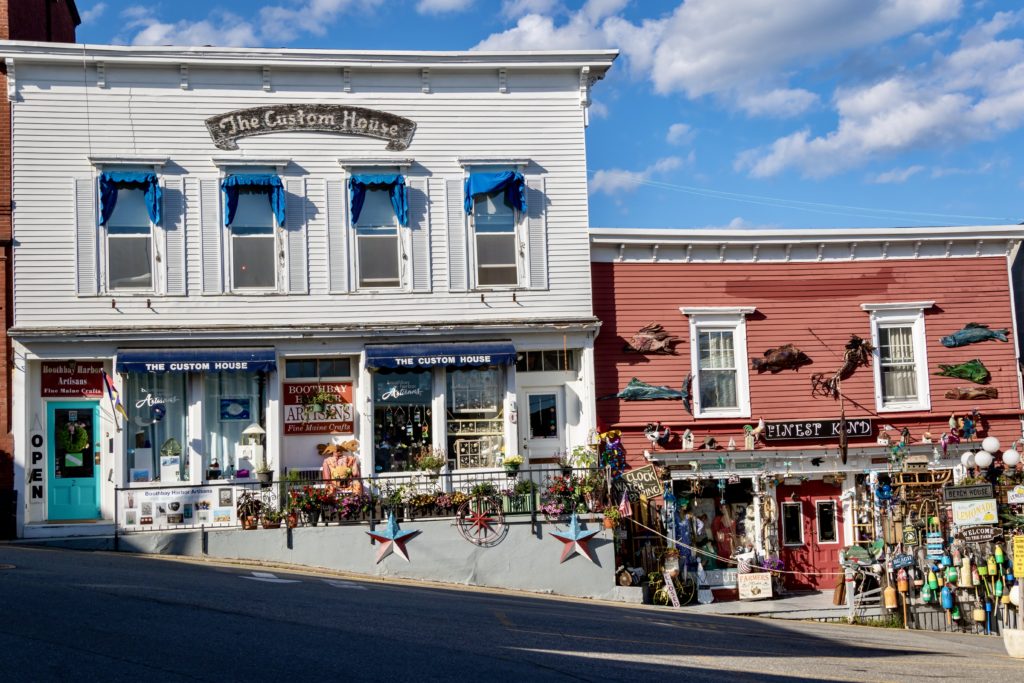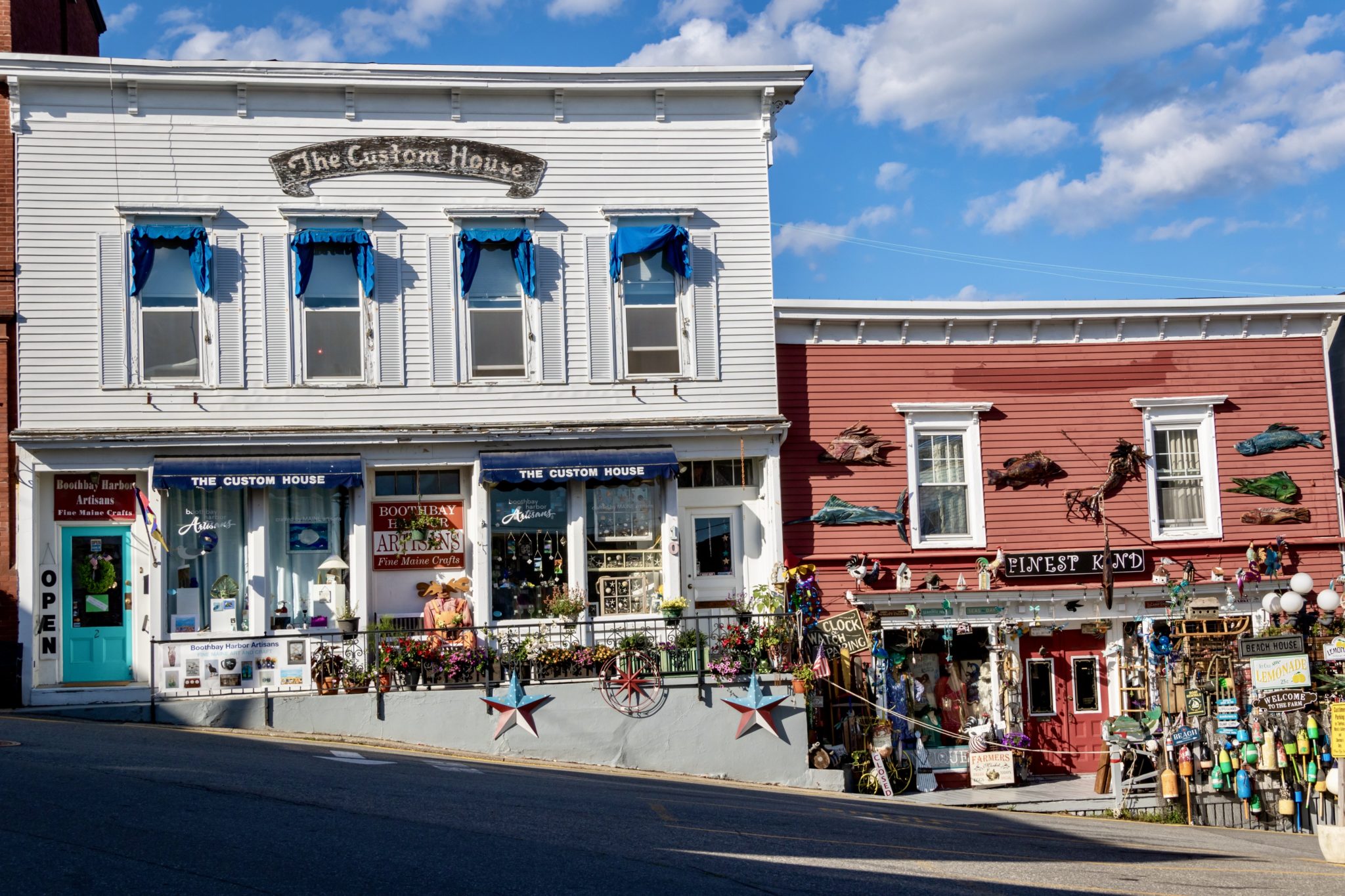 Where to Stay And Eat In Brunswick And Boothbay
Where to stay in Brunswick: OneSixtyFive, The Federal, or The Brunswick Hotel
Where to eat in Brunswick: Enoteca Athena, El Camino Cantina, Tao Yuan, The Great Impasta, Frontier
Where to stay in Boothbay Harbor: Linekin Bay Resort, Spruce Point Inn and Spa, or The Thistle Inn
Where to eat in Boothbay Harbor: Ports of Italy, Boathouse Bistro, The Thistle Inn
Day 4: Bath
Bath is Maine's shipbuilding capital, boasting a beautiful waterfront. Bath is full of grand 19th century homes — a mix of Federal, Greek Revival, Victorian, and Italianate styles.
Bath's historic district boasts one of America's great streets, Front Street. It's chock full of tony boutiques and antique shops. One Sunday a month is the Bath Antique Show.
No trip to Bath is complete without visiting the Maine Maritime Museum. It's a cluster of buildings that were once a historic shipyard.
Inside, you'll learn about the world of shipbuilding through exhibits, models, paintings, and artifacts. In the summer, museum boat tours cruise the Kennebec River.
Just 15 minutes away from downtown Bath is Reid State Park. This is where you'll find Maine's best sandy beaches (a rarity in Maine) lining Sheepscot Bay — Mile Beach and Half Mile Beach.
It's a great stretch of sandy beach with a pounding surf. If some beach time is on your Maine agenda, this is where you should indulge.
For a truly spectacular vista, make your way to Griffith Head, a rocky headland overlooking the park. Or boat out to Seguin Island to see Maine's tallest lighthouse.
Where to stay in Bath: Kennebec Inn, Pryor House B&B, or Benjamin F. Packard House Bed and Breakfast
Where to eat in Bath: Mae's Cafe & Bakery, Osprey Restaurant, Starlight Cafe, J.R. Maxwell and Co.
Day 5: Wiscasset | Damariscotta | Rockland
Continue your 10 day Maine road trip by driving north to get back one Route 1. You'll meander through the pretty towns of Wiscasset and Damariscotta. This is where you can soak up Maine's quaint village vibe.
Wiscasset styles itself Maine's prettiest village. The town boasts some of Maine's most important architectural landmarks and an utterly charming main street. And it's home to Red's Eats, one of Maine's famous lobster shacks. (There will be lines in summer.)
Damariscotta is also lovely, surrounded by salt marshes, tide pools, oyster beds, and the Damariscotta River. The tiny hamlet overlooks the snug harbor and is filled with historic brick architecture.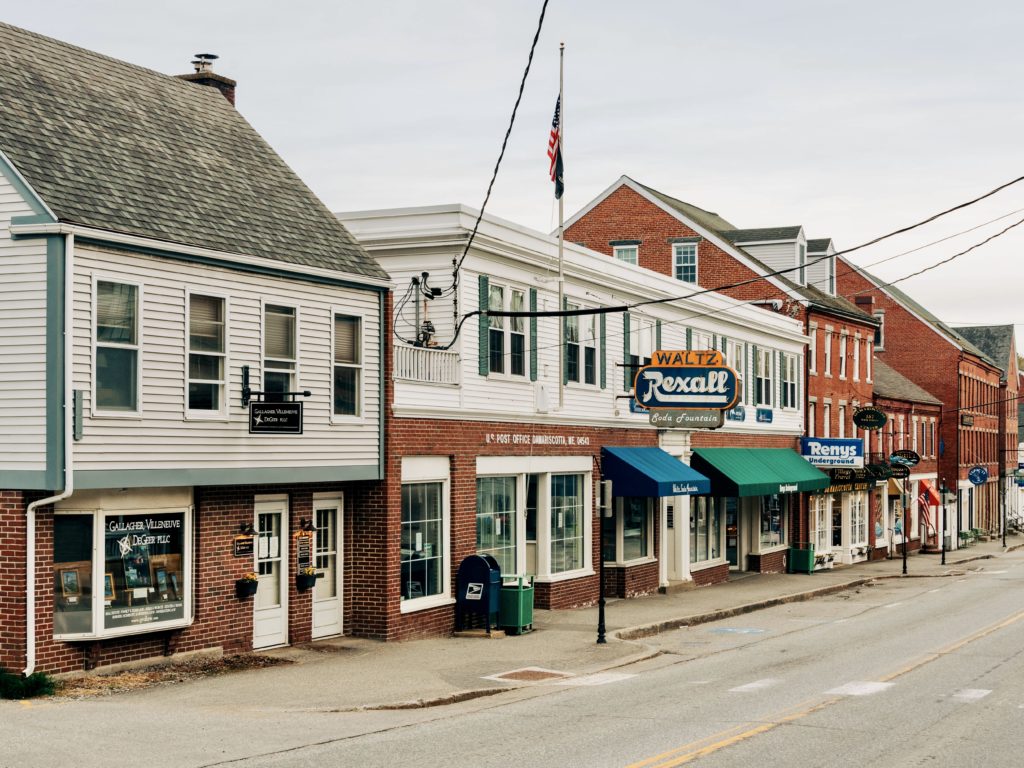 For a real Maine country feel, stop in for lunch at S. Fernald's Country Store for an "eggs in a frame" sandwhich. Or fill up on oysters and mussels in the local restaurants.
One hour further down the road is the arty town of Rockland, where you'll spend your fifth night on your Maine road trip.
Where to stay in Rockland: 250 Main Hotel, Rockland Harbor Hotel, or Strawberry Hill Seaside Inn
Where to eat in Rockland: Archer's on the Pier, Cafe Miranda, Primo Restaurant, Rustica
Day 6: Rockland
Fuel up in the morning with breakfast at Home Kitchen Cafe in Rockland. You've got a busy day ahead.
Rockland is a historic waterfront town on the shores of Penobscot Bay. The entire bay area is loaded with artists, galleries, and community theaters. The Rockland Breakwater Lighthouse is a highlight of the town. In the first week of August, Rockland hosts the popular Maine Lobster Festival.
If you're an art lover, budget time for Rockland's must see cultural gems: Farnsworth Art Museum, the Wyeth Center, the Center for Maine Contemporary Art, and the Lincoln Street Center. There's even a 400 seat Rockland Opera House with year round performing arts programs.
The main building of the Farnsworth Art Museum houses art works by Andrew Wyeth, George Bellows, Milton Avery, and Robert Indiana. An entire room of canvases depicts ships at sea and coastal imagery, paying homage to the region.
Bunk overnight in Rockland again.
Day 7: Camden
On day 7, drive 15-20 minutes north to Camden. Camden is a seaside jewel on the coast of Maine. The town is a mecca for sailing. And Camden offers a beguiling nexus of art, dining, and outdoor play. It fulfills Maine's slogan of "the way life should be."
Camden has a charming historic district. It's set on a rising hill and lined with historic 19th century architecture.
You'll find shops, boutiques and cafes housed in wooden historic buildings. Stop by the Smiling Cow, the Cashmere Goat, the Owl & Turtle Bookshop, and the Leather Bench for some unique gift ideas.
At the end of the strip is the pretty brick Camden Public Library, which has a lawn with benches set above the harbor. You can admire a fantastic collection of photogenic schooners, sailboats, and yachts.
No visit to Camden is complete without taking in the view from Mount Battie. Take the 1.4 mile trail and road. At the top, you have a hawk's eye view of Camden and the islands of Penobscot Bay.
If you want to hit the beach, try Barret's Cove, a fresh water beach on Megunticook Lake. It's even quiet in the summer months.
Where to stay in Camden: Relais Chateaux Camden Harbour Inn, Hartstone Inn & Hideaway, or 16 Bay View
Where to eat in Camden: Fresh and Go, Oliver's Bistro, Long Grain, Primo
Day 8: Bar Harbor
On day 8 of your 10 days in Maine itinerary, drive 1:45 from Camden to the beautiful resort town of Bar Harbor, where cool breezes blow away the summer heat. Perched on Frenchman Bay, Bar Harbor is a charming seaside town in New England.
Bar Harbor is adjacent to magnificent Acadia National Park, and makes a good base. The town's name derives from the twice daily tide drop, when a gravelly sand bar appears creating a natural harbor.
Take a stroll down West Street, a designated historic district. You'll see some fine old shingle-style mansions that survived the fire of 1947. The Village Green hosts concerts and art shows. The Abbe Museum is devoted to Maine's Native American heritage.
Bar Harbor is the perfect place to go kayaking or take a 2 hour boat cruise. You can hike Great Meadow Loop, which starts at the Village Green.
Or stroll the shore path along Frenchman's Bay, which includes a self-guided tour marked with signs telling the history of Bar Harbor. And don't forget to have some lobster or go whale watching.
End your day in Bar Harbor with a sunset cruise of Frenchman's Bay. Hop on the Downeast Windjammer, which leaves from the pier.
Where to stay in Bar Harbor: Sand Bar Cottage Inn, Bar Harbor Inn and Spa, Bluenose Inn, or the Holiday Inn Bar Harbor Regency Hotel
Where to eat in Bar Harbor: Burning Tree, Havana, , Mache Bistro, Side Street Cafe, Thurston's Lobster Pound, Beale's, Mount Desert Island Ice Cream
Day 9: Day Trip To Acadia National Park
It's just a quick job from Bar Harbor to Acadia. Maine's 35,000 acre Acadia National Park is dubbed the "Crown Jewel of the North Atlantic Coast." The splendid park definitely lives up to its moniker.
You can do a self drive tour, take a guided tour from Bar Harbor, or book a private tour to see it all.
The park is a vast pine-studded landscape. The average park visit is 3-4 days. But you can absolutely enjoy the park on a well-planned day trip from Bar Harbor.
Acadia is located just southwest of Bar Harbor on Mount Desert Island. Fuel up at Jeannie's Great Maine Breakfast in Bar Harbor before venturing out.
As soon as you arrive, you'll understand why the likes of John D. Rockefeller Jr. and Brooke Astor vacationed here in the 20th century.
If you're pressed for time, make sure you see one thing at Acadia National Park — Cadillac Mountain. You can access it by foot, car (a winding 3.5 miles), or bike via Summit Road.
This incredible mountain is actually the highest point along the Atlantic Seaboard of the United States.
Another can't miss spot on your Acadia National Park itinerary is Thunder Hole. If you experience it during high tide, you can see crashing waves funneling up through the center of the rocks.
The three best hikes in Acadia are Jordan Pond Shore Trail (3.3 miles), Ocean Path (2 miles), and Bubble Rock (1.5 miles). Cap off your Acadia trip by visiting Sand Beach. The water is always frigid cold. But you can walk the beach and enjoy the views.
Head back to Bar Harbor to bunk down for the night. If you want to whet your whistle before leaving Acadia, make your way to the northern point of the island. Stop in at Atlantic Brewing Company. Set on a ten acre farm, this excellent craft brewery focuses exclusively on ales.
Where to eat in Acadia National Park: Jordan Pond House, Helen's, The Blue Bird Ranch Restaurant
Pro Tip: There aren't many dining options in the park. It's really better to head back to Bar Harbor for dinner.
Day 10: Bangor
End your trip in Bangor, the second largest city in Maine and unofficial capital of the north. Underrated Bangor has seen a resurgence in tourism as of late, especially with its thriving restaurant scene.
Because Bangor has an international airport, it's also a good place to fly out of if you're heading back home after your 10 day Maine road trip.
Bangor has a revitalized waterfront. From July to October, you can take in a concert at the outdoor amphitheater, Darling's Waterfront Pavilion.
Bangor's American Folk Festival draws crowds in late August. And you can check out the massive Paul Bunyan statue, reminding you that lumber was once the state's main export.
For an eerie experience, wander by Stephen King's eccentric house. The famed horror novelist has lived in Bangor for many years.
The red and white house is front and center, with a macabre wrought iron fence featuring spiders, bars, and a three headed reptile. You can take a private tour of Bangor's Stephen King sites with SK Tours of Maine.
If you need a dose of culture, Bangor delivers. You can visit the Maine Discovery Museum, with many interactive exhibits. Or head to the Zillman Art Museum (formerly the University of Maine Museum of Art), which features modern and contemporary art and is free to the public.
Where to stay in Bangor: Hilton Garden Inn or The Charles Inn
Where to eat in Bangor: Thistles Restaurant, Novio's, The Lobstah Buoy, The Fiddlehead Restaurant, Massino's Cucina Italiana
Extra Time On Your Maine Road Trip?
If you have extra time beyond 10 days in Maine, I have some bonus destinations in Maine that are completely worth a visit.
First, if you have more vacation days, spend another day or two in Acadia National Park. There's so many things to do there, you could keep busy for days.
Alternatively, from Bangor, head to either the town of Eastport (for culture) or to Quoddy Head State Park in Lubec (for the great outdoors).
The scenic village of Eastport is surely one of New England's most picturesque towns, like a Norman Rockwell painting come to life. Situated on a peninsula on pristine Moose Island, Eastport is a world apart. Eastport has historic architecture, a vibrant local art scene, and lobster galore.
While there, you can visit Shackford Head State Park, with miles of hiking trails. Or you can go on a whale watching tour in Passamaquoddy Bay. In the summer, the sea breezes bring flocks of sea birds, so bird watching is a good option too.
In the easternmost tip of Maine, you'll find the West Quoddy Head Light, one of 60 lighthouses dotting Maine's coastline.
The Quoddy park has a cliff walk, a bog walk, rare plants, and spectacular views. If you're lucky, you may spot a whale. Quoddy is remote and utterly quiet, perfect for frazzled urbanites.
If skiing is on your Maine to do list, head to Sugarloaf Mountain. Open from 8 am until sunset, this natural landmark features striking landscape views. After taking lifts to the top of Sugarloaf and exploring the park, you can check out the nearby small towns.
When Is The Best Time To Visit Maine?
The fall foliage in New England is spectacular. When the leaves change, Maine is aglow with fiery orange, yellow and red hues from its maples, oaks, elms and birch trees. This makes September and October an ideal time to visit. But fall always arrives at different times. Click here for a New England fall foliage tracker.
Myself, I also love the languid late summer for a visit to Maine, and had many as a child. Summer starts later in Maine, really kicking off on July 4th. Be forewarned, traffic on Route 1 can get congested in the summer-fall seasons.
I hope you've enjoyed my 10 days in Maine itinerary. You may enjoy these other New England travel guides and resources:
If you'd like to take a 10 day road trip in coastal Maine, pin it for later.