Planning a vacation in California? Here's my guide to a the perfect 10 day itinerary for a road trip in Southern California.
I love road tripping. It's by far my favorite way to explore a country, either in the US or Europe. And southern California is tailor made for road tripping.
In California, you'll find high mountains, giant trees, deserts, valleys, stunning beaches, and vibrant cities. There's plenty of museums and the like for culture addicts as well. And what could be better than driving along the California coast on a brilliant sunny day with the wind in your hair?
I've been to California many times because I have family there, my daughter went to college there, and my former law firm was based there.
So I've done plenty of exploring in this beloved and idyllic region of the US. This itinerary covers some of my favorite spots and the top must visit attractions in southern California. You'll visit some of the most beautiful towns and cities in the US.
The Perfect 10 Day Itinerary for Southern California
This itinerary is perfectly adjustable. You can flip flop it, shorten it, our tailor it to your own particular interests.
Days 1–2: Los Angeles
You'll spend the first 2 days of your 10 day California itinerary in Los Angeles. The city's not really a city designed for tourists.
Everything is spread out. You'll need a car. The traffic can be a pain. Channel your Type B and build in extra time to get places.
It's worth it. Los Angeles has a diverse food and drink scene, beautiful hikes, and impressive museums. Here are some of my personal favorite things to do in Los Angeles:
1. Stroll down Hollywood Boulevard
Don't miss the Walk of Fame (where celebrities have their names engraved in the sidewalk) and Grauman's Chinese Theater (featuring celebrity handprints and footprints).
2. Visit LACMA
With over 150,000 works, the Los Angeles County Museum of Art is the largest art museum in the western USA. They have an excellent collection spanning most of art history, with a special emphasis on Asian and Latin American art. Here's where you'll find works by Diego Rivera, Frida Kahlo, and Joe Clemente Orozco.
3. Hike to the Hollywood Sign
You can snap pictures of the sign from any place in the city. But it's also possible to hike up to the sign itself to take in the panoramic views. There are three trails. From easiest to hardest: the Mt. Hollywood Trail, the Brush Canyon Trail, and the Cahuenga Peak Trail.
4. Browse The Last Bookstore
If you're a bibliophile, check out The Last Bookstore. This chic bookstore is housed in the grand atrium of an abandoned bank. It sells books (in fabulous disarray), records, displays art, and has a stash of reasonably priced books upstairs. Browse the shelves, grab a coffee, and buy a book.
5. Relax on the Beach
There are many beautiful beaches in and around Los Angeles. Some of the best are: Venice Beach, Carbon Beach, Santa Monica State Beach, Huntington City Beach, and El Matador.
I'm partial to Santa Monica, which is only 20 minutes from Beverly Hills. Aside from the soft white sand, there are tony restaurants, luxury shopping boutiques, and a fabulous farmers market.
6. Visit the Fabulous Getty Museum
The Getty is a fabulous museum in northwest LA. You could combine it with a side trip to Santa Monica.
Opened in 1997, it has a wide ranging collection of paintings, drawings (including some by Michelangelo), and other art from the 8th century to present day. The must see masterpieces include Van Gogh's Irises, Rembrandt Laughing, and Renoir's La Promenade.
If you don't have scads of time, head to the West Pavilion to find the Impressionists and Rembrandts. The Getty also has inviting outdoor spaces and a garden with 28 sculptures. Best of all, admission is completely free. But get there early to avoid crowds.
7. Take a Hike
LA has numerous hiking trails, so it's easy to get some exercise and connect with nature. Some worth checking out are the Charlie Turner Trail (90 minutes), Baldwin Hills (30 minutes), Runyon Canyon (45 minutes), Portuguese Bend Reserve (3 hours), and Echo Mountain (3–3.5 hours).
8. Visit the Le Brea Tar Pits
These natural asphalt pits are located in Hancock Park. They're nearly 50,000 years old. Preserved for centuries, more than 3.5 million fossils have been excavated from the pits.
The onsite LA County Museum of Art provides history and information about the tar pits and how they were formed.
Day 3: Day Trip to Santa Barbara from LA
On day 3 of your California itinerary, head to Santa Barbara. The town is about an hour north of LA. It's a charming and upscale beach town.
The city is a visual feast, nicknamed the "American Riviera" — with lush gardens, California poppies (in spring), signature red tile roofs, and white washed houses and landmarks.
The main boulevard is State Street, which leads you from Sterns Wharf up to the mansions of Mission Canyon. It's lined with tony boutiques and eateries. A trolly shuttles you around.
Santa Barbara's architecture is infused with a Spanish flair. With their red roofed tiles, some buildings could've been power beamed from Madrid.
To see it up close and personal, tour the Old Mission and El Prisidio fort. Founded in 1786 by Spanish Franciscans, the Old Mission is still an active parish church known as the "Queen of the Missions."
Or go on an architectural walking tour. Don't miss the Santa Barbara County Courthouse. From the clock tower, you have a beautiful panoramic view of the city Plus, it's likely the prettiest courthouse you'll ever see.
Santa Barbara has a sun-drenched and pristine sandy coastline. The most popular beaches are East Beach, West Beach, and the more remote Butterfly Beach.
If you opt for the more sophisticated Butterfly Beach, you can stop in for a drink at the elegant Four Seasons Biltmore before you hit the beach.
In terms of the food and drink scene, you'll be dazzled. Santa Barbara is full of wineries, where you can indulge in inexpensive tastings.
The restaurants, both casual and refined, are myriad. For casual joints, try Natural Cafe, the Hamburger Habit, or Bettina. For innovative food, try The Lark, Bibi Ji, or Bouchon Sant Barbara.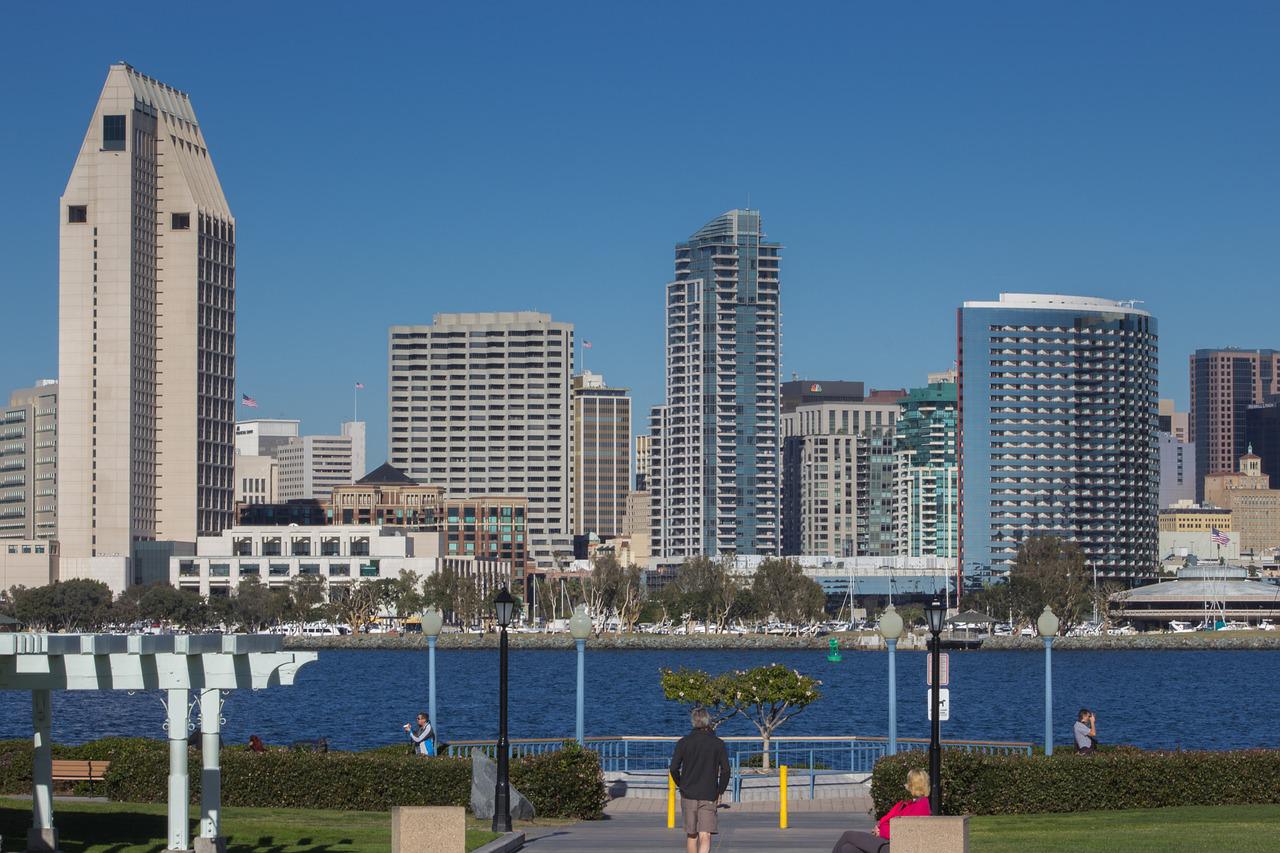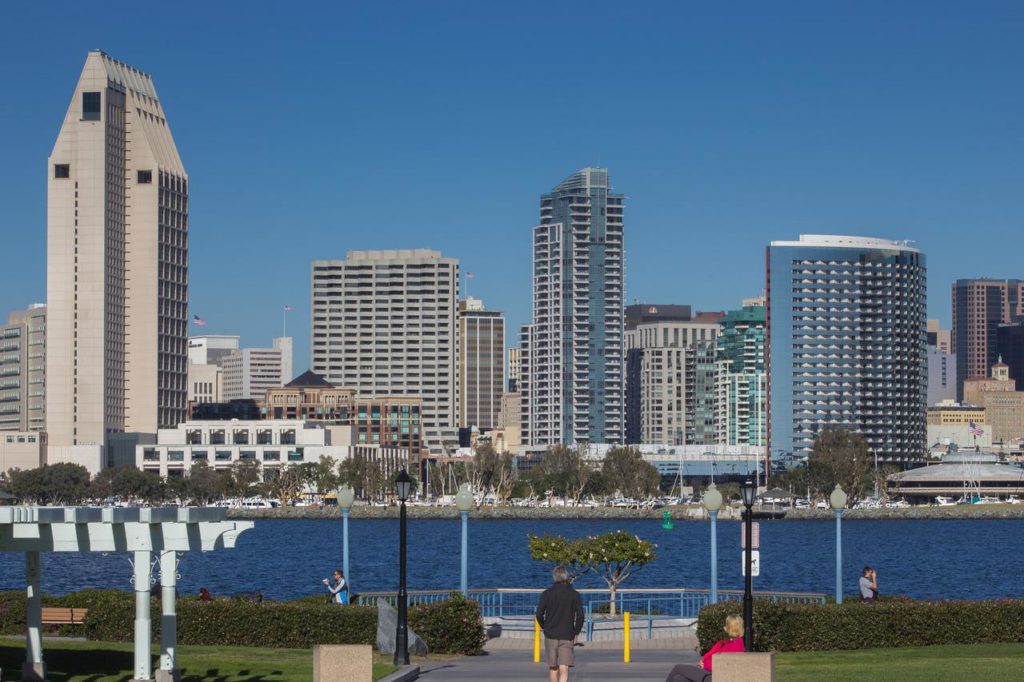 Days 4-5: San Diego
Two hours down the coast is San Diego. It's a popular city for sure, but not as crowded as others. Personally, I love it. It's my second favorite city in the state after San Francisco. It's easy to navigate, has glorious weather, awesome beaches, hiking trails, and a great foodie scene.
Spend two nights here. San Diego is worth it. Here are some fabulous things to do during your visit:
1. Visit the USS Midway Museum
This doughty aircraft carrier was the largest ship in the world until 1955. It saw action many times before being decommissioned. In 1992, it was turned into a museum.
You can explore the flight deck and rooms below, including the engine room, the ship's jail, and the flight control room. There are more than 30 restored aircraft and helicopters on display.
3. Go Surfing
Whether you're a veteran or a newbie, grab a board and hit the waves. There's some awesome surfing in San Diego. You can usually rent a board for around $30 a day or even take a lesson.
If you're an experienced surfer, head south to La Jolla Windandsea Beach. If you don't have much surfing experience, try Oceanside Beach.
3. Visit the San Diego Zoo
Located in Balboa Park, the San Diego Zoo has over 3,500 animals and 700,000 plant species. It's truly massive, an 1,800 acre park where you could easily spend the entire day.
It's one of the best zoos in the country. It's a perfect choice if you're traveling with kids.
4. Explore Balboa Park
This is one of the oldest recreational parks in the US, with loads to see and do. In addition to the zoo, there are dozens of museums, gardens, walking paths, sports fields, theaters, and more.
It's a massive cultural center, complete with enticing green spaces. Balboa Park has an impressive Natural History Museum, with 4 floors of exhibition space. The Museum of Man is an anthropology museum housed in the original buildings from the 1915 Panama-California Exposition.
5. Enjoy Pacific Beach
If you want to soak up the sun or swim, head to Pacific Beach. Wide and flat, the locals just call it "PB." The popular area is known for its nightlife (hordes of young adults) and offers lots of bars, clubs, and restaurants.
6. Go Whale Watching
Between December and April, California gray whales migrate from Alaska to Mexico. They can grow up to 49 feet long and are incredible to see up close. You can book a tour for around $35 USD.
7. Hike Point Loma
Point Loma peninsula is where Europeans first arrived in California. You can walk out to the tip and enjoy the sweeping views of the ocean. Visit the 19th century lighthouse and watch locals climb the Osprey Point Cliffs. For more rigorous hiking, try Annie's Canyon Trail or Cedar Creek Falls.
Day 6: Day Trip to La Jolla
Just 13 miles north of San Diego lies stunning La Jolla. La Jolla is known as the "Jewel of the Sea" and you can see why.
Last November when I visited San Diego, I stayed at a cozy Air Bnb cottage in La Jolla and just loved it. The town is a beautiful fusion of nature, beaches, and great food.
In downtown La Jolla, the main drag is Prospect Street. It's full of tony shops, galleries, and restaurants to explore. If it seems too pricey, there's no harm window shopping.
When hunger calls, stop in at Duke's for some Hawaiian-themed food (delicious fish and Poke tacos) and ocean views. Or grab an açaí bowl at Be Fresh.
After lunch, hike along the coastal path. Watch the sea lions relax in La Jolla Cove. Then hike along the dreamy La Jolla Coast Walk Trail. I spent hours in this endeavor. I especially loved the Windandsea Beach. Scripps beach is also fun with a great pier and wide sandy area.
If you're feeling adventurous, you can go paragliding at Torrey Pines Gliderport. Or hike to the top of Mt. Soledad, marked by a cross. You can also go kayaking, snorkeling, or diving in La Jolla.
And there's no shortage of amazing eateries. My casual favorite was Puesto, a scrumptious Mexican place featuring filet mignon and lobster tacos. You can also dine at two La Jolla staples, NINE-TEN Restaurant and Bar or George's at the Cove.
Days 7-8: Joshua Tree National Park
Three hours from San Diego and sandwiched between the Mojave Desert and the Colorado Desert, Joshua Tree National Park is for nature lovers.
It offers some of the most unique landscapes in the country. It's an otherworldly place, a Martian landscape perfect for hiking and camping.
In Joshua Tree, swaths of cacti and towering boulders dot an arid panorama. The scene is peppered with the distinct twisty branches of the famous Joshua trees.
There are countless trails to enjoy, ranging from short-easy to multi-day challenges.
Here are some hiking options:
Ryan Mountain – a steep 3 mile hike offering some incredible views
Wall Street Mill – an easy 2.8 mile hike that leads to an old mill
Split Rock Loop – a quiet 2 mile hike with lots of neat rock formations
Barker Dam Trail – a 1.1 mile loop offering a chance to see rabbits, bighorn sheep, and birds
The visitor center has more information and trail maps. You can also buy a 7 day vehicle pass, which includes multiple entries if you stay outside the park itself.
Days 8-9: Sequoia National Park & Kings Canyon National Park
Start your day early and head to Sequoia National Park. It's a long drive from Joshua Tree (4-6 hours). The park features towering redwood and Sequoia trees, some of the world's largest. Some are so tall you can't see their crown.
Head first to the Giant Forest Museum to learn about the geography, history, and importance of the park. Then walk the Big Trees Trail, a short loop where you immerse yourself in the trees. This trail also boasts the world's largest single stem tree, "General Sherman."
For a sweeping view of the forest, hike up Moro Rock. It's a massive granite dome that juts out of the surrounding hills. You can safely climb up the stairs to a viewing point for a magnificent vista.
While you're in the area, you should also visit Kings Canyon National Park. It's a mountainous park with beautiful lakes and valleys and ample hiking.
You'll spy "General Grant," the world's third largest tree. For a scenic drive, cruise the Kings Canyon Scenic Byway, a narrow road offering dramatic views of the rugged landscape.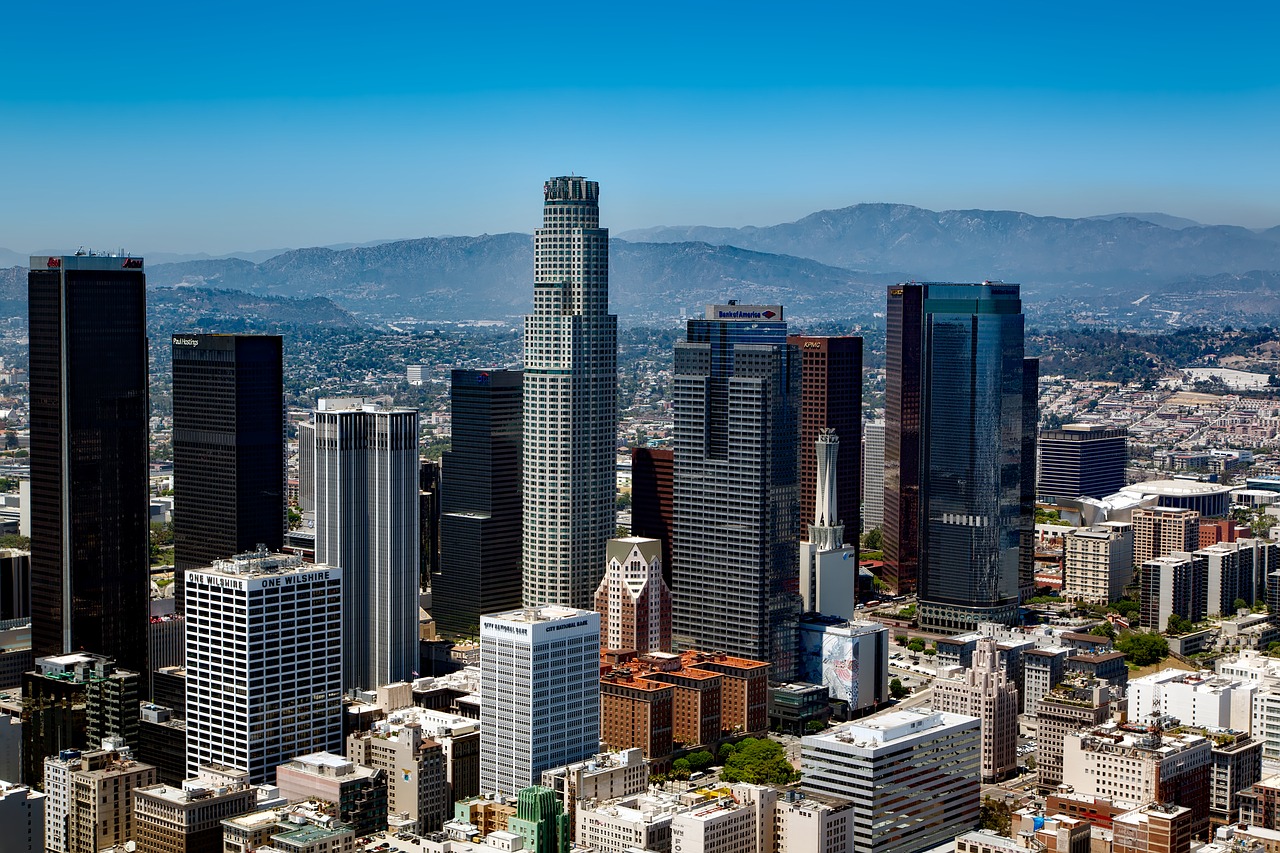 Day 10: Head Back To Los Angeles
On the final day of your 10 days in Southern California itinerary, head back to LA. It's only a 3.5-hour drive, so if you're not in a hurry, enjoy the desert views. There's nothing particularly special to see along this route.
But if you need to take a break, pull over in Bakersfield. It has one of California's best kept secrets, Kern River Canyon.
I hop you've enjoyed my 10 days in California itinerary. You may enjoy these other United States travel guides and resources:
​ If you'd like to road trip for 10 days in southern California, pin it for later.