If you're planning a trip to Pittsburgh, don't miss the opportunity to include the exquisite Phipps Conservatory in your bucket list or itinerary. Nestled within the picturesque Schenley Park in the Oakland neighborhood, Phipps Conservatory is a serene oasis of botanical beauty.
Renowned as one of Pittsburgh's premier attractions, Phipps boasts an astonishing array of lush floral collections, intricate glass artistry, and captivating themed exhibits. Wander through its peaceful landscapes, where each step reveals a vibrant tapestry of plants from around the world.
The conservatory's harmonious blend of nature and artistry creates an enchanting ambiance that's perfect for relaxation and exploration.
From the moment you enter, you'll be greeted by a symphony of colors, scents, and textures. Phipps Conservatory is more than just a garden. It's a captivating journey through the wonders of the natural world.
Whether you're a botany enthusiast, an art lover, or simply seeking a tranquil escape, Phipps Conservatory offers a unique experience that will leave you inspired and refreshed.
Opened in 1893, Phipps Conservatory was created by philanthropist and Carnegie Steel co-founder Henry W. Phipps.
He sought to create a source of learning and enjoyment for the citizens of Pittsburgh. Phipps was a botany enthusiastic who gifted his creation to the city.
Phipps Conservatory is one of the few remaining public gardens that still produces full scale season flower shows year round.
The glass, stone, and steel building is dubbed the "crystal palace." Glass panes cover nearly 100% of the facade.
Overview Of Phipps Conservatory
If you're on a budget, the outdoor gardens are completely free.
On one side (toward the University of Pittsburgh campus), you'll find an enchanted garden with all manner of perennials, trees, ferns, and a pond.
On the other side, opposite the main entrance, you'll find the aquatic garden. It's filled with water lilies and guarded by a Neptune statue.
Inside, the Victorian greenhouse has a wide ranging collection of 14 indoor gardens. The well manicured exhibits range from miniature orchids to massive palm trees, with astonishing attention to detail in each room.
In addition to the permanent displays, Phipps has temporary themed exhibits and exhibits celebrating each season. This makes Phipps a great place for repeat visits. As a local, I go about twice a year.
I recently visited for Fall Flower Show, which was titled The Poetry of Nature. It featured an extravagant showing of mums (13 types), asters, coleus, hydrangea, willows, and other glowing plants.
Having been dazzled by that, I returned for the Winter Flower Show at Christmas. I've even attended at wedding at Phipps.
Guide To Phipps Conservatory: What To See
On a visit to Phipps Conservatory, you enter through a beautiful lobby in the crystal palace. You're greeted by a gorgeous pendant glass chandelier, Goldenrod, Teal and Citron, in the lobby. It was crafted by renowned Seattle glass artist Dale Chihuly.
In fact, there quite a few of his pieces in the museum, beautifully tucked among the plants. They almost seem alive with their sinuous lines. The forms and colors of the glass imitate, and blissfully coexist, with the plant growth.
When you enter the building, there's a map showing all the main rooms. There's also signage in each room explaining what's there.
You can follow the designated path throughout the exhibit rooms, constantly moving to the right, or do your own thing.
Each room has a theme dedicated to a region or specific type of plant. All the rooms are incredible, but these were my favorites.
You start your visit in the famed Palm Court, which serves as the grand entrance to the rest of the indoor displays. This historic glass house features many different species of palm trees.
The sun casting a beautiful light on the plants. It also boasts two beautiful Chihuly sculptures, Paintbrushes and Maccia Bowls.
One of my favorite rooms was the Frank Sarris Orchid Room, containing a magnificent array of beautiful orchids in different shades.
You'll also find the renowned Barbara Tisherman Slipper Orchid Collection. The rare lady slipper orchid is known for its unique bottom petal that resembles miniature footwear.
The Sunken Garden Room is truly peaceful. You almost wish you could sit down and read a book there. For the Fall Flower Show, there were velvety purple Mexican sage bushes everywhere
In the Serpentine Room, you'll find a delightful collection of bonsai plants, some 40-60 years old. Bonsai means "tray planting" in Japanese.
I especially liked the slanted bonsai that resembled wind swept trees. You'll also find silverberries, weeping figs, natal plums, and chinese elm.
In the Desert Room, the collection focuses on hot desert plants of the world. If you go gaga for agave or are a sucker for succulents, this room's for you.
There's a beautiful Joshua Tree native to the Mojave Desert, saguaros, palo verde, fire barrels, aloe, and agave.
The largest was an absolutely massive century plant. The room is crowned with a spectacular yellow Chihuly chandelier, called Desert Gold Star.
The Native Plants Room had scorchingly beautiful purple asters on display. I also saw purple hyssop, purple skullcaps, bearberry, and bayberry.
The Broderie Room is also quite beautiful as well, featuring formal French Louis XIV style gardens. It's known as the Parterre de Broderie, which translates to "embroidery of the earth."
This romantic room is a popular setting for weddings in Pittsburgh.
This year, the room was filled with gorgeous shades of pink and purple mums and asters. At the back of the Broderie Room are four bronze statues, created by Edmond Amateis and gifted to Phipps by the Mellon Estate.
One of the most stunning gardens is the Tropical Forest Conservatory. It's quite grand (60 feet tall).
The room is topped with a crystal dome and set out in winding pathways. There are also hanging lights, waterfalls, a treehouse, a gazebo, and a fish pond.
This room features a different region of the world every three years. On this visit, the focus was on Cuba.
Cuba's ecosystems are thriving right now, likely from a lack of tourism. Many scientists want to do research in Cuba because of its biodiversity and unspoiled wild places.
The Fruits and Spices Room showcases exotic varieties. Among other things, you'll find bright red miracle fruit, prickly lychees, prickly apple, and dragon fruit. This room also has a lovely Chihuly piece called Celadon and Gilded Royal Purple Fiori.
The Outdoor and Discovery Gardens are a peaceful haven. There are towering English oaks and beech trees.
The borders were lined with huge hydrangeas. Bush clover nestled in the rocks. And tall willows wafted in the breeze.
The Phipps campus also houses some of the most energy efficient environments in the world. Its Center for Sustainable Landscapes (CSL) is the first and only building to achieve four of the highest green building certifications.
Phipps' newest addition, the green Exhibit Staging Center (ESC), generates its own energy. It repurposes a former public works facility to be net-positive energy and net-zero water.
This is where Phipps creates its props and staging displays. You can see future flower shows in the making.
Phipps also has a lovely gift shop with books, plant related items, home decor pieces, and a children's section.
The Phipps Cafe is touted as one of the best museum cafes in the United States, serving up local organic foods. And, indeed, I had a delicious mediterranean chicken wrap to conclude my visit.
Practical Guide & Tips for Visiting Phipps Conservatory
Address: 1 Schenley Park, Pittsburgh PA 15213
Hours: Open daily 9:30 am to 8:00 pm
Entry fee: $19.95 adults, seniors $17.95, $11.95 children 2-18, under 2 free
Pro tip:
You'll probably need about 90 minutes to see everything in a relaxed way. Try to visit on a Monday or Tuesday, as those are the least crowded days. No backpacks are allowed.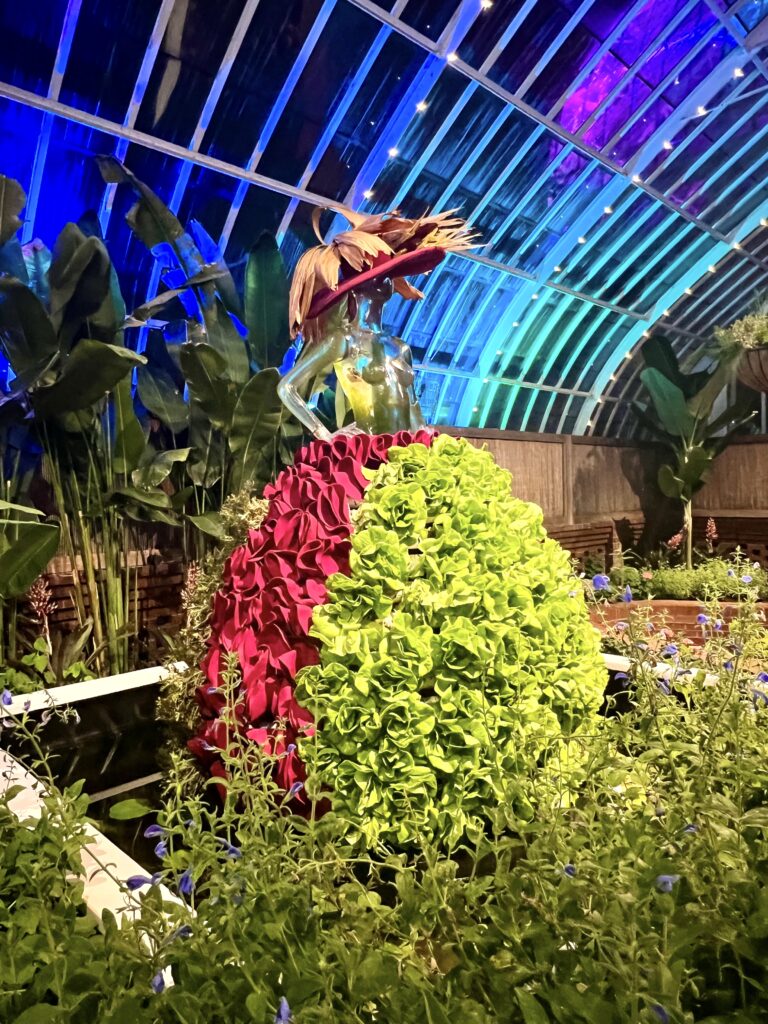 Parking:
There is free parking for Phipps at the center island on Schenley Drive. If this is full, which it well might be, there is plenty of metered parking nearby. If you are there for an event, there will be valet parking.
Virtual Tour:
If you can't make it to Phipps or want a preview, click here for Phipps' virtual tour. Click here for the Phipps' pretty and informational Facebook feed, with announcements, photos, plant tips, and recipes.
I hope you've enjoyed my travel guide to the Phipps Conservatory in Pittsburgh. If you'd like to visit Phipps Conservatory, pin it for later.