Wondering what to do in Santa Barbara California? Here's my 2 day itinerary for exploring Santa Barbara, a beautiful small city that you can't help but fall hard for.
This itinerary covers the city's must visit attractions and landmarks. It tells you the best things to do, see, and eat in Santa Barbara. I also give you tips for visiting.
With a backdrop of the towering Santa Ynez Mountains and miles of golden sandy beaches, Santa Barbara is one of the United States' most beautiful cities.
It's a small city that punches well above its weight. Santa Barbara is a natural movie set. It combines old world charm with hip neighborhoods and showy tropical foliage.
Santa Barbara could be a commercial for the good life. The skies are bluer and the plants greener. Everything is pristine and dripping with bougainvillea. Even the gas stations are pretty.
Santa Barbara also boasts a hot culinary scene that traveling foodies will love. The city allegedly has more restaurants per capita than anywhere in the county.
Overview Of 2 Days In Santa Barbara Itinerary
Here's a snapshot of my recommended 2 days in Santa Barbara itinerary. With some advance planning, you can fairly easily check off the top attractions in two days.
Botanic Gardens
Santa Barbara Mission
State Street
Paseo Nuevo & La Arcada
Stearns Wharf
Wine Tasting in the Funk Zone
Dinner in the Funk Zone
Santa Barbara Courthouse
Santa Barbara Museum of Art
Montecito
Butterfly Beach or Arroyo Burro Beach
Wine Tour
Dinner at Sama Sama
If you have extra time in Santa Barbara, you can easily turn this 2 day itinerary into a 3-4 day itinerary by moving at a slower pace. You could spend more time on the beach or sipping wine.
I also give you options for some easy day trips from Santa Barbara.
A Short History Of Santa Barbara
No trip to Santa Barbara would be complete without knowing a bit about the city's history.
The Chumash Indians settled Santa Barbara nearly 9,000 years ago. They were a maritime culture, known as hunters and gatherers. Their canoes, called tomol, enabled abundant fishing and trade.
In 1542, Spanish explorer Juan Rodriguez Cabrillo sailed into the channel and claimed the land. He quickly met his doom. The Chumash were left in peace until the late 18th century, when the Spanish permanently returned.
Catholic priests established missions up and down the coast, to convert the Chumash to Christianity. In 1821, the Mexican ranchers arrived.
In 1849, the Gold Rush kicked off and drew more citizens from the east coast. By the late 1890s, Santa Barbara was a well known vacation spot for the wealthy.
Santa Barbara's stunning architecture reflects its history. You'll find a blend of Mediterranean, Spanish, Mexican, Moorish, and English country style buildings. They have pretty red roofs, arched entryways, and garden courtyards.
With this backdrop, Santa Barbara has been site of thousands of Western movies. Ronald Regan had a ranch here for decades, which you can visit.
The Rockefellers, Vanderbilts, and Carnegies used to visit the city. Many celebrities have homes here or in nearby Montecito.
2 Days In Santa Barbara Itinerary
Day 1 of 2 Days in Santa Barbara
1. Breakfast
Bree'osh is the perfect way to start your day and close to your first destination. It's an artisan bakery with indoor seating and a lovely outdoor patio.
2. Botanic Garden
If you love gardens, begin your day with a soul satisfying jaunt around the Santa Barbara Botanic Garden, established in 1926. Spread out over 40 acres, you can meander trails and admire California's native flora and fauna.
3. Old Mission Santa Barbara
After your garden walkabout, head to Old Mission Santa Barbara, known as the "Queen of the California Missions." There's a large parking lot for your car.
With its grand twin bell towers, lush gardens, and the majestic San Ynez mountains as a backdrop, the Mission is one of the Santa Barbara's most picturesque landmarks.
The Chumash built the first mission on the site for the Franciscans friars. It was damaged in the earthquake of 1786. The current stone church was built between 1812-33.
The mission is now a Catholic parish church. It's open to the public and you can take a self-guided tour of the church for $15.
You can explore the grounds, church, and a museum. The latter displays 17th century art, time capsule artifacts, and re-creations of monks cells.
>>> Click here for a history, wine, and chocolate walking tour
4. Lunch
Head to the State Street area for a casual lunch.
State & Fig in the La Arcada Plaza is a great choice, with delicious burgers, sandwiches, and salads. Opal has globally influenced Californian fare. Satellite serves up distinctly California dishes (like Yoga Pants Salad) in a mod space.
For Italian, head to Pasucci. The restaurant name is a combination of pasta and cappuccino.
Alternatively, if your 2 days in Santa Barbara fall over a weekend, you can hit up the Saturday Santa Barbara Farmer's Market, which is open until 1:00 pm.
You can also book a guided food tour that leaves from State Street.
5. State Street Ramble
State Street is Santa Barbara's main palm-lined promenade. You'll find elegant boutiques and upscale ethnic restaurants mixed in with more practical shops.
The center of State Street, at the intersection with Anapamu, has excellent parking both east and west. 7 blocks are closed to traffic, making it the perfect promenade.
Definitely stop to admire the beautiful Arlington Theater. It's a magnificent Spanish Revival motion picture palace. It's also home to the Santa Barbara Symphony.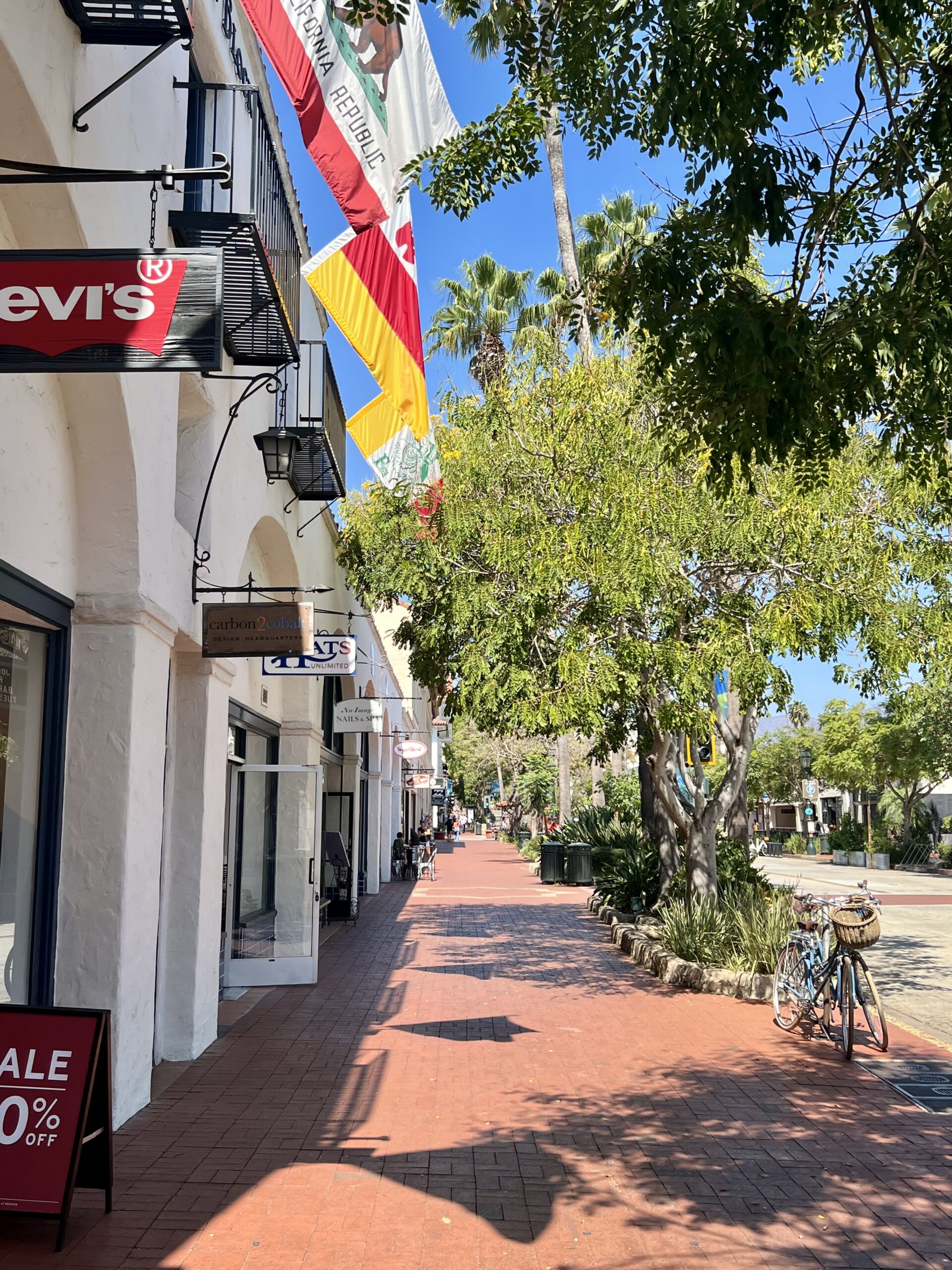 If you're an art lover, the best art galleries in Santa Barbara are Santa Barbara Fine Art and Sullivan Goss. I really liked Sullivan Goss. The gallery has a huge inventory of American paintings and sculpture from 1850 to the present, with 20 exhibitions per year.
From State Street, you can also visit De la Guerra Plaza (a popular filming location) and Casa de la Guerra.
Casa de la Guerra is an adobe residence built between 1818-28 for José de la Guerra, the fifth comandante of the Presidio. The Spanish Revival home was once the social center of Santa Barbara.
It's a bit of a hidden gem in Santa Barbara. History buffs can take a 90 minute docent led tour to learn about the history of the house and the city.
6. Paseo Nuevo & La Arcada
On your State Street stroll, you'll come across two lovely open air shopping plazas.
Paseo Nuevo is famous for its colorful tiled steps and Spanish flair. There are over 50 restaurants and shops.
It's a breath of fresh air compared to the indoor malls you may be used to (and which I avoid). This is where you'll find familiar name brands — Sephora, Victoria Secret, Gap, Lucky Brand, etc.
There are public restrooms here and a parking garage The plaza is also a great place to grab lunch or have a drink in the plant-filled courtyards. You can even play chess on a giant chess board.
La Arcada is another beautifully restored retail therapy complex right in the middle of State Street. If you need a snack, head into Anderson's Danish Bakery for a pastry or eclair.
The plaza is filled with whimsical sculptures, fountains, and cute specialty shops. There are plenty of outdoor spaces to sit and relax.
Be sure to pop into Lewis & Clark Antiques & Fine Things if you love whimsical home decor products and gifts.
Stearns Wharf
Stearns Wharf is at the end of State Street in the harbor of Santa Barbara. Dating back to 1872, it's California's oldest working wharf. Stearns is home to restaurants, ice cream shops, apparel shops, and more.
You can just walk out on the pier. Or, you can park on the pier or on Cabrillo Boulevard.
If you want to make your own dinner at your Air Bnb or rental, you can purchase the morning catch at the wharf — fish, lobster, or crab. You can also rent a fishing pole and plop down and enjoy the view.
Honestly, the best reason to walk down the pier is the view back of the city, with palm trees swaying against the mountains. For another view of Santa Barbara from the water, you might consider taking a sunset cruise.
Wine Tasting in the Funk Zone
It's cocktail time and there's no better place to sip the regional wine than the Funk Zone. Sant Barbara is one of the country's best wine regions. So oenophiles will be in seventh heaven.
Since you're already at Stearn's Wharf, it's just a quick jog to the Funk Zone to find some top flight wine tasting.
The Funk Zone is the hub of the city's most trendy eateries, breweries, art galleries, and wine tasting spots. Just steps from the ocean, it's a 10 block area between State Street and Garden Street and Montecito Street to Cabrillo Boulevard. You'll find converted warehouses decked out in street art murals.
You may want to book a 3 hour guided tour of the Funk Zone to get the lowdown on the area's best food, wine tasting rooms, art galleries, and street art.
For cocktail hour purposes, the Funk Zone is home to 20+ tasting rooms within just a few blocks. With so many choices, you can go in with a plan or just wander around and stop in where you want.
Some good choices are Municipal Winemakers, Cork & Crowns, Riverbench, and Santa Barbara Winery (the oldest in the county). The Valley Project is a modern tasting room that showcases small batch wines.
If you prefer craft beer, check out the Santa Barbara Biergarten. It's a sprawling playground with draft beers from around the world created by Aaron Running. It features 60-70% Euro beers.
Dinner in the Funk Zone
The Funk Zone is home to some of Santa Barbara's best restaurants. I can personally recommend several.
Flor de Maiz is an upscale and authentic Mexican cookery. The margaritas were great and we swooned over the roasted corn with queso and aioli, lobster tacos, and grilled octopus.
We also loved The Lark, which boasts one Michelin star, a superb wine list, and outstanding service. We loved the brown butter cornbread, crispy brussel sprouts, halibut, and hangar steak.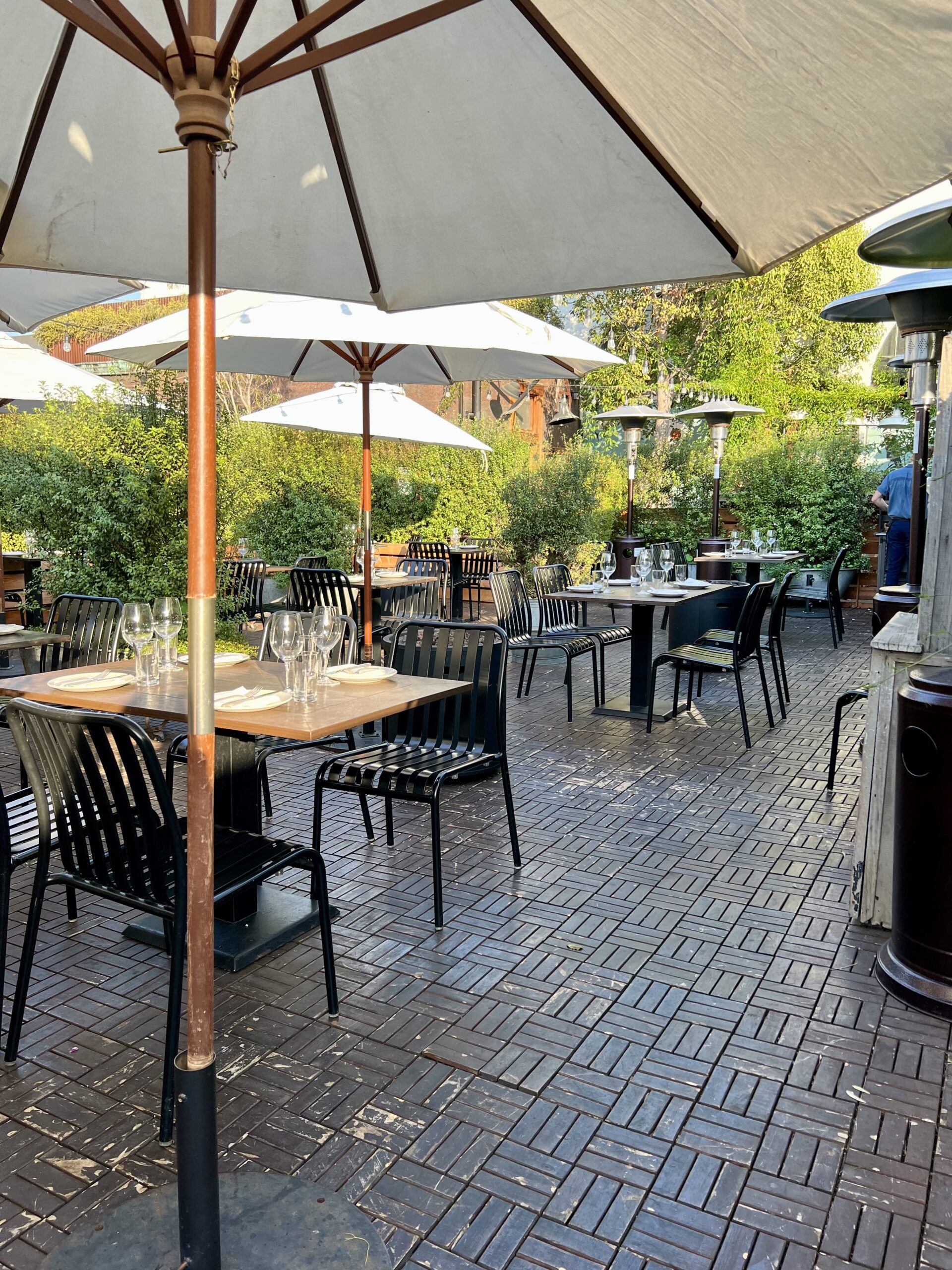 Loquita was also fabulous. It's a Spanish tapas restaurant with starters, charcuterie boards, and paellas. It also has excellent cocktail and wine list, with an emphasis on Spanish wines, sherries, and gin.
You can sit outside under strung fairy lights on the bougainvillea-lined patio, while you enjoy quintessential Spanish dishes like pan con tomato and pulpo (octopus with black garlic aioli).
If you want seafood, head to the Santa Barbara FisHouse on Cabrillo Blvd. You'll need a reservation.
Santa Barbara Shellfish Company on Stern Wharf was also recommended to us. But it doesn't take reservations and seemed a bit touristy, so we gave it a pass.
Day 2 of 2 Days in Santa Barbara
Morning
Breakfast
On day 2 of your 2 days in Santa Barbara, start with breakfast at the Goat Tree in the Funk Zone. It's a gourmet cafe with al fresco seating offering fresh local fare.
You'll find pastries and baked goods, cold-pressed juices, and a full breakfast menu, all with a hint of Mediterranean culinary influence.
The lemon ricotta pancakes and avocado frittata we had were delicious!
Santa Barbara Courthouse
The Courthouse is one of Santa Barbara's most beautiful buildings. With its Spanish-Moorish Revival style, it's considered one of the prettiest courthouses in the US.
It was personally my favorite landmark in Santa Barbara. It's a confection of arches, towers, curving staircases, balconies, murals, lacy iron work, and beautiful tiles from Tunisia and Spain. It's hard to believe actual trials are held there.
A highlight is the Mural Room, which has recently restored wall frescos depicting Spanish Colonial history. They were painted by a Hollywood set designer. In today's dollars, the murals are valued at $22 million.
Be sure to hoof it up to El Mirador, the 85 foot clock tower. The staircase is a bit dark but perfectly manageable.
Along the way, you can inspect the Clock Gallery. It houses the last remaining fully operational Seth Thomas Tower Clock in the US. Murals decorate three sides of the room, depicting the history of time keeping.
From the tower top, you'll have eye popping views of Santa Barbara, the ocean, and mountains.
I explored the courthouse on my own. But there is a free docent-led tour. It's at 10:30 am and 2:00 pm and lasts one hour. On weekends, it's only at 2:00 pm.
The courthouse opens at 8:00 am on weekdays and 10:00 am on weekends for visitors.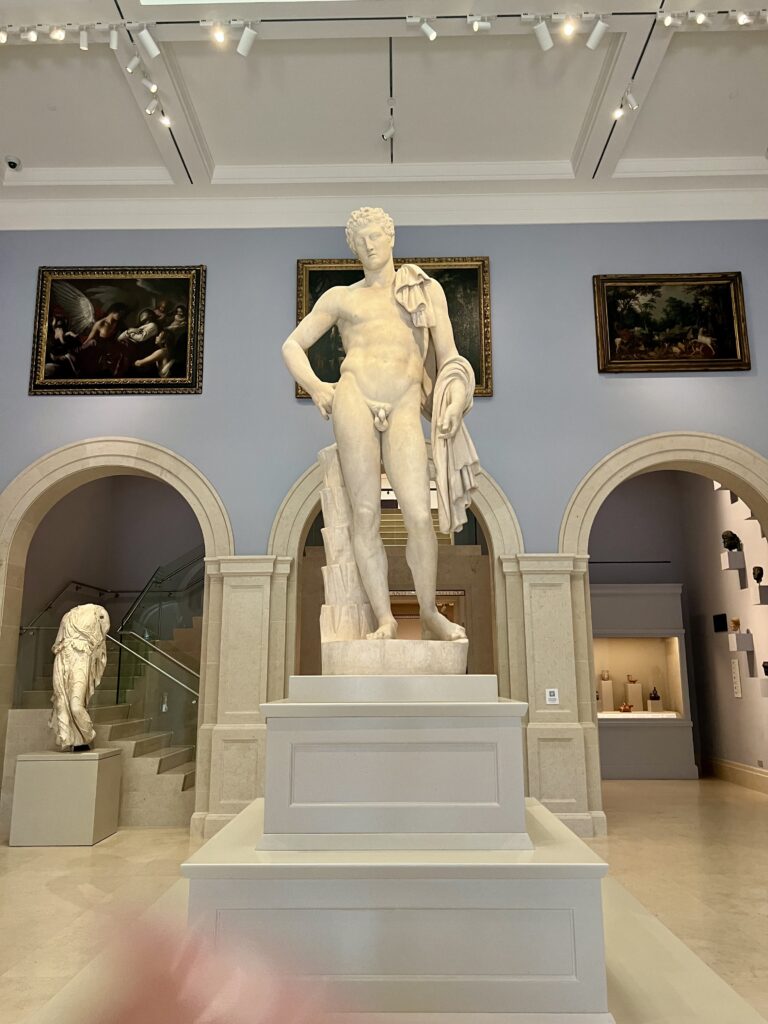 Santa Barbara Museum of Art
The Santa Barbara Museum of Art was an unexpected treat for an art lover like me. It's a fantastic small museum for a town the size of Santa Barbara and well worth an hour or two of your time.
The museum has 19th to 22nd century works by English and French artists, displayed in chronological order. There are works by Manet, Monet, Degas, Bonnard, Maillol, Braque, Vlaminck, and William Merit Chase. There's even a rare Van Gogh painting!
The museum also boasts an exceptionally fine collection of antiquities, second only to the Getty Villa on the west coast. The stars are the Landsdown Hermes and the Sumerian Head of Gudea.
Admission is $10 (free on Thursday evenings). There are plenty of information placards. You can also scan a QR code to get info on art works of interest.
There are free docent led tours on Tuesday at 1:00 pm and Friday through Sunday at 11:30 am and 1:00 pm. They're totally worth doing if you're an art lover!
Afternoon
You have several options for the afternoon of day 2. You could: (1) visit Montecito and Butterfly Beach; (2) do more of Santa Barbara; or (3) go on a wine tour.
1. Montecito
If option 1 appeals, head to Montecito for lunch and some fun. Montecito is a beautiful tony enclave between the Santa Ynez Mountains and the Pacific Ocean, just a short nudge east from Santa Barbara.
We drove to Montecito. But you can also walk or bike down the 4.5 mile path that leads from Shoreline Park to Butterfly Beach. If you opt for this route, be sure to keep an eye out for the rainbow hued Chromatic Gate made famous on Instagram.
At a height of 21 feet and weighing 12.5 tons, the "rainbow arch" was erected in 1991. It was designed by renown Austrian-born artist Herbert Bayer.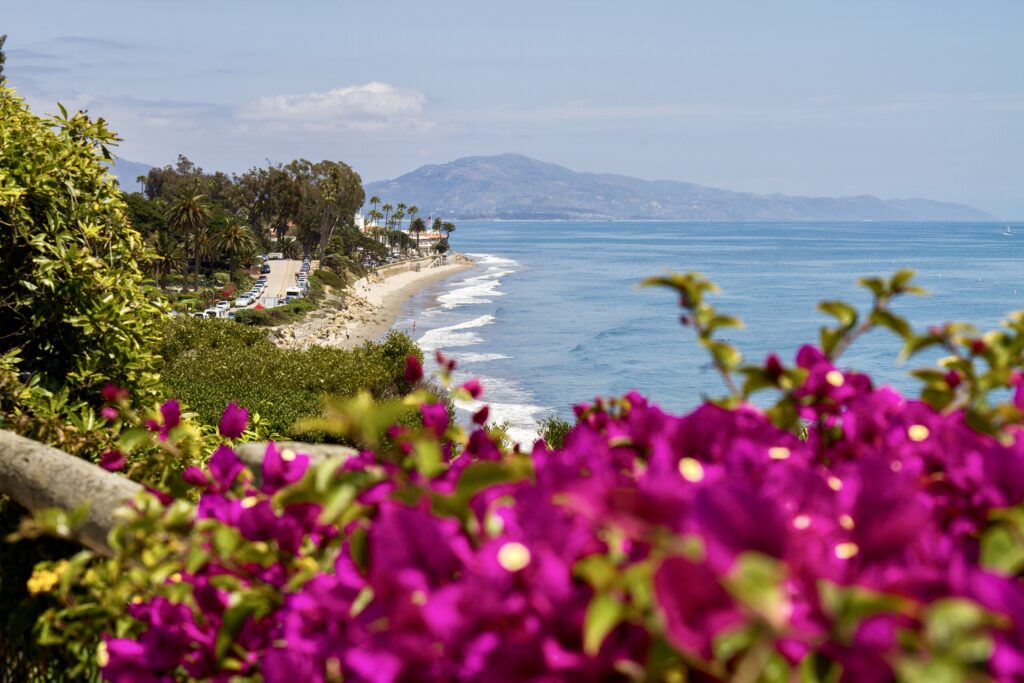 We kicked off our visit with lunch at Jeannine's. It's a historic and beloved cafe decked out in pink umbrellas and bougainvillea, where you can people watch to your heart's content. It has a full menu of sandwiches and salads. I loved the fig & fresh strawberry salad.
I was also tempted by Tre Lune, an Italian eatery, with a mouth watering menu.
Then, hit the beautiful Butterfly Beach for some sun bathing, swimming, or stand up paddle boarding. It's also an ideal spot to catch the sunset. You can park on Channel Drive.
If you're not a beach person, Montecito is a great place for upscale shopping or wine tasting to while away your afternoon.
In terms of shops, I really liked Angel Montecito (where I came away with two Xirena blouses), Wendy Foster, Jenny Kayne, and Whiskey & Leather. For home goods, be sure to check out Maison K and Upstairs at Pierre Lafond.
Garden lovers can also visit Lotusland, one of the most beautiful botanic gardens in California. Naturally, you can admire its signature lotuses. There are also themed gardens and water features.
2. More of Santa Barbara
If you opt to stay in Santa Barbara, make the pilgrimage to La Super-Rica Taqueria for lunch. It's a cult favorite beloved by celebrities from Julia Childs to Katy Perry. Expect a line. But it will be worth the wait.
After lunch, if you have little ones, you may want to take a stroll through Santa Barbara Zoo. It's halfway between Santa Barbara and Montecito. You can admire Asian elephants, meerkats, and endangered condors.
Kids may also enjoy the MOXI. It's an interactive science museum. Its rooftop terrace offers great views of the city and a nerve wracking glass walkway.
You could also hit the beach in Santa Barbara itself. We spent one afternoon at Arroyo Burro Beach. It's a crescent beach secluded by towering cliffs, which has facilities, lifeguards, and a cafe. The surf is mild and there's a large parking lot.
To get there, take Marine Drive, a beautiful palm-lined road. Turn on Cliff Drive and you'll find the beach.
3. Wine Tour
A incredibly popular thing to do in Santa Barbara is to take a wine tour.
Due to its many micro-climates, the Santa Ynez Valley is one of the world's most diverse wine regions. To sample the full glory of the region, head out of town to the surrounding countryside and its sprawling vineyards. Grapes are growing everywhere.
The vineyards are vast and varied. You can tackle them on your own. But I think it's better to leave the driving to someone else and book a wine tour to elevate your sniff and swirl.
This 7 hour guided tour takes you to four vineyards. If you'd rather go by e-bike (very fun!), check out this 7 hour tour with vineyards and an Italy-inspired picnic lunch. You can also book a private 5 hour tour.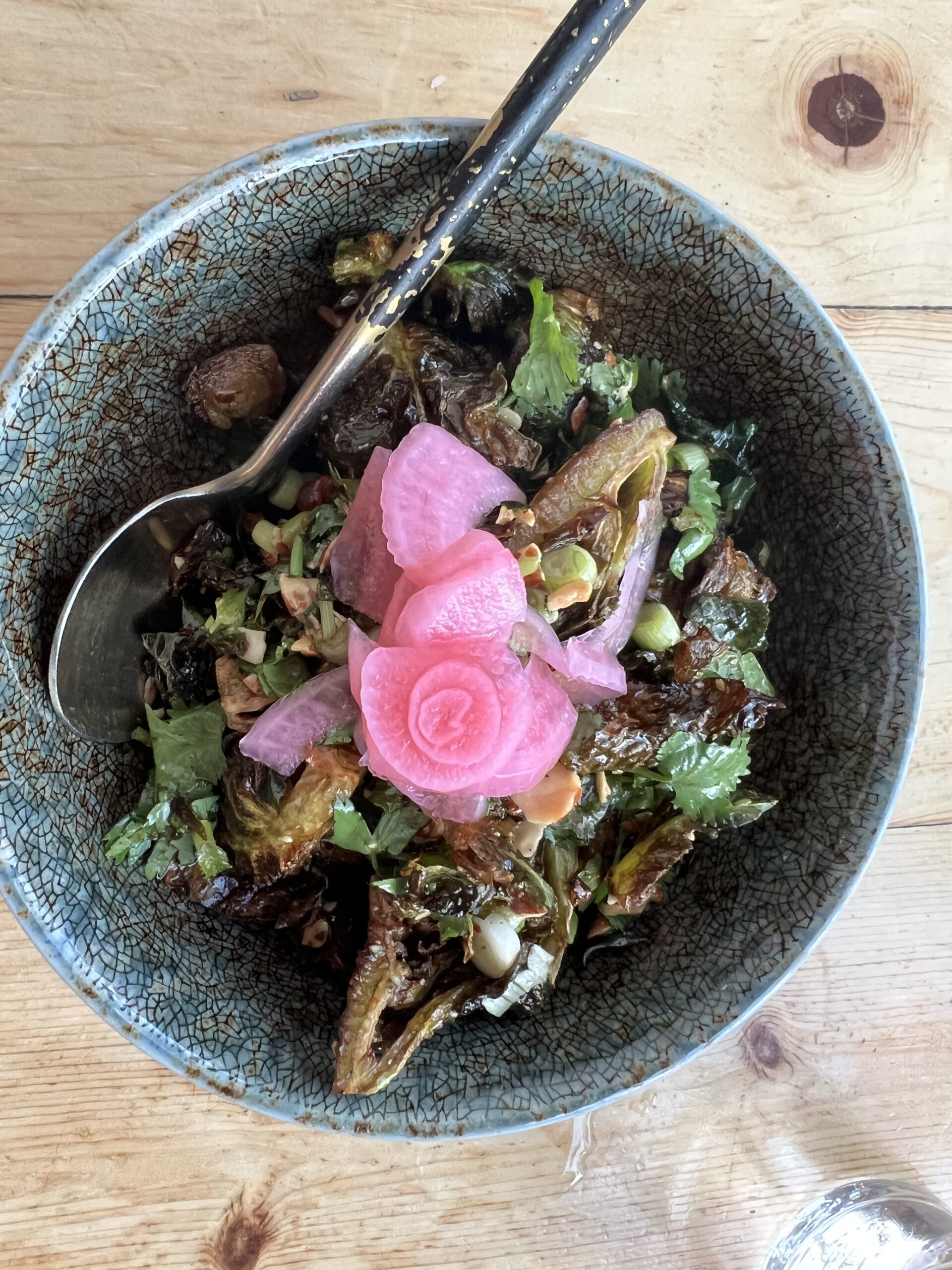 Dinner
Santa Barbara is home to so many great restaurants.
One of my very favorites was Sama Sama. It's a one star Michelin restaurant with amazing Southeast Asian Fusion food at reasonable prices. Be sure to reserve a spot in advance online! We feasted on crispy brussel sprouts, signature wings, mussels, and halibut.
Another great option is Jane. It features inventive shared plates and starters. We also loved the salads bowls.
If you like Japanese, check out the Michelin-starred Yoichi. It's a mom and pop establishment where fine dining meets the freshest seafood. Prepare to spend several hours nibbling away over sake.
Tips For Spending 2 Days In Santa Barbara
Here are some must know tips for visiting Santa Barbara.
1. How To Get To Santa Barbara
Santa Barbara is just 1.5 hours from Los Angeles and LAX. You can pick up your car there or catch a lift with the Santa Barbara Airbus, which travels between LAX and Santa Barbara 16 times per day.
You can also fly into Santa Barbara Airport (SBA). The airport is located just 10 miles from downtown.
The Santa Barbara Amtrak is located just two blocks from the beach in downtown Santa Barbara. It's served by two Amtrak lines, the Coast Starlight and the Pacific Surfliner. The Coast Starlight runs once daily in each direction between Los Angeles and Seattle, Washington.
2. How To Get Around Santa Barbara
Santa Barbara is very walkable city. It's just 2.5 miles from Sterns Wharf to the Mission at the other end of town. If you're a walker or biker, you can definitely visit without a car.
You can also book a 90 minute tour with the Santa Barbara Old Town Trolley.
The trolley gives you a good overview of the city. It takes you to the top attractions in Santa Barbara, stops at the beach for 10 minutes, and then cruises down Coastal Village Road where you can gawk at the fancy mansions of Hollywood stars.
The best place to hop on the trolley is the Santa Barbara Mission because there is ample parking to leave you car. The trolley stops at the Mission at 11:00 am, 12:30 pm, and 2:00 pm.
You can also get around by bike or e-bike rentals. Some hotels have bikes for free on a first come first serve basis.
Check out Wheel Fun Rentals for bike and e-bike rentals. You can also book a guided e-bike tour of the city.
3. Where To Stay In Santa Barbara
In Santa Barbara, it's easy to be treated like a celebrity at one of the city's many beautiful hotels.
The Hotel Californian has a prime beachfront location near the Funk Zone, with Moroccan-inspired decor. The hotel has a rave worthy rooftop pool and a splurge worthy spa.
The Belmondo El Encanto is a chic hilltop hideaway. The perfectly renovated hotel features luxury cottages, an infinity pool, and state of the art spa. You'll have stunning views of the "American Riviera."
The Ritz Carlton Bacara Resort is another luxe option 15 minutes from Santa Barbara in the suburb of Goleta. It boasts Mediterranean-style villas overlooking two golden sand beaches and its own wine tasting room.
The Rosewood Miramar Beach is the ultimate beachfront hotel in Montecito. It has a breezy California style, lush gardens, and 600 art works on display.
For a more local experience, check out the Kimpton Canary Hotel. It's a Spanish style boutique hotel perfectly located in downtown Santa Barbara. You'll have 360 views from its rooftop pool and cafe.
4. When To Visit Santa Barbara
Santa Barbara attracts tourists all year long. Its semi-Mediterranean climate means that temperatures are usually fairly mild.
Wildflowers bloom in the spring, beaches beckon in the summer, and October bring harvest wine festivals. The summer can be blazing hot though, so keep that in mind.
In general, it's best to visit in late spring or late fall, for the best weather and to avoid crowds. No matter when you visit, pack layers as it can cool down in the evening.
5. How Long To Stay In Santa Barbara
I was recently in Santa Barbara for 5 nights, but also took a couple day trips. I think 2 days in Santa Barbara is the perfect amount of time, especially for a weekend visitor.
If pressed for time, you can also do the city as a day trip from Los Angeles.
6. Tours in Santa Barbara
I mentioned wine tours above, but there are plenty of other amazing tours to take in Santa Barbara.
If you want some exercise, you should consider a kayaking tour or a biking tour. Or, hit the sands with this guided fat bike tour. You can even take a surfing lesson.
If you're an architecture fiend, you may want to book this 3 hour guided tour of Santa Barbara's beautiful Spanish Revival architecture.
The city also offers Red Tile Tours. With these tours, you can walk or wheel your way through 12 blocks of the downtown and see the city's important monuments.
Santa Barbara also has a designated scenic drive. It's a one hour driving route that takes you to 16 spots. It's a great way to get oriented to the city and the tour starts at the Courthouse.
Prefer to go whale watching? It's a unique thing to do in Santa Barbara. The city offers up some of the world's finest whale watching.
The best tour outfit is Condor Express. You'll ride on a jet catamaran that's quiet and specially designed to allow ocean mammals to come up close.
7. More Than 2 Days in Santa Barbara?
If you have some extra time in and around Santa Barbara, here are three great places to visit nearby. They make the perfect easy day trips from Santa Barbara.
Los Olivos
Los Olivos is smack in the middle of Santa Barbara wine country. A scenic winding drive gets you there in about 30 minutes.
The impossibly cute town is a fetching combination of elegant sophistication and cowboy funk. Multiple movies (Sideways) and westerns have been filmed there and celebrities moved in accordingly.
Everything to see is on or around Grand Avenue, which is only four blocks long. Los Olivos is chock full of good restaurants and wineries. A cult favorite is Story of Soil tasting room.
You can enjoy farm to fork cuisine at the iconic Los Olivos Cafe and then get dessert at Enjoy Cupcakes. If you like the cafe's food, you can buy their sauces and tapenades online, as well as their wine.
Ojai
Ojai is just 45-50 minutes from Santa Barbara. Its an idyllic mountain town, connected to nature and serenely nestled in a valley full of orange groves and horse ranches.
It's chock full of wellness centers, spas, one-of-a kind boutiques, and (naturally) wine tasting establishments. It's also the home of the "pink moment," a fleeting time when the setting sun casts a rosy glow over the valley and mountains.
For more information on what to do in Ojai, check out my one day in Ojai itinerary.
Solvang
Solvang is a beautiful small town known for its traditional 18th century Danish style architecture. It's just 40-45 minutes from Santa Barbara.
It's a village that was intentionally designed to recreate a Danish village — compete with gingerbread homes, windmills, and horse drawn carriages.
Some cranky critics have called Solvang a kitschy "Denmark Disneyland." But you have to visit yourself to see if it appeals.
You can indulge in Danish-style pastries and smorgasbords. Or shop till you drop along Mission Street. Naturally, there are also plenty of wine tasting rooms.
While you're there, you can visit the ever-so-cute tiny village of Ballard. It has well preserved historic buildings and an authentic Little Red Schoolhouse.
I hope you've enjoyed my 2 days in Santa Barbara itinerary. You may enjoy these other US travel guides and resources:
If you'd like to spend 2 days in Santa Barbara, pin it for later.