Planning a trip to Colorado? Here's my itinerary for one action packed day in Denver, the vibrant capital city of Colorado. Denver may be a mile high, but it's a laid back city that's obsessed with the outdoors.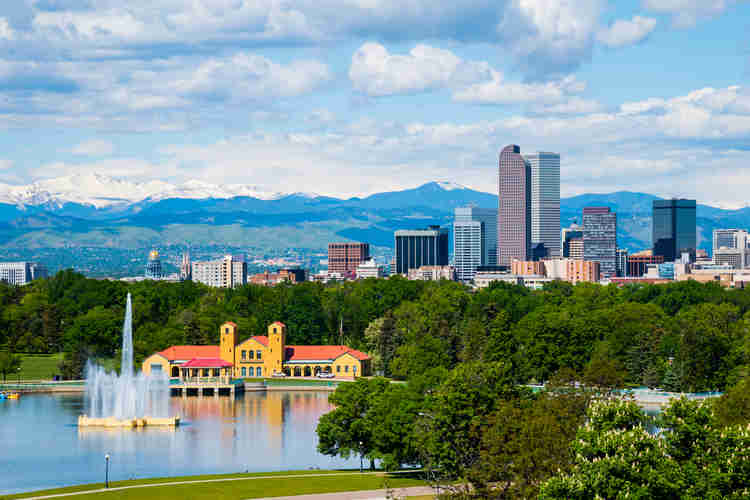 This 1 day in Denver itinerary covers all the must visit sites, attractions, landmarks, neighborhoods, and museums in Denver. Stylish Denver is a unique combination of a serious arts scene, great cuisine and food halls, and natural beauty.
To my mind, Denver deserves more than a 1 day itinerary, especially if you have ample time on your Colorado itinerary. But I know many visitors are anxious to see the many other beautiful towns, resorts, and national parks in and around Denver.
I've condensed the top attractions in Denver into a detailed one day DIY itinerary to help plan one efficient day in Denver. You'll need to start early. But you can actually see plenty of things, even with just one day in Denver.
If you have more than 24 hours in Denver, you can proceed more slowly and easily spread this itinerary out over two days in Denver. I also give you plenty of options for other must visit destinations in and around Denver.
One Day In Denver Itinerary
Here's how to see the top attractions in Denver in one day. I've tried to take you on the most efficient route through Denver, with the best things to see, do, and eat in Denver.
You'll visit some of Denver's charming neighborhoods, stroll the 16th Street Mall, admire art in a museum of your choice, and visit the Civic Center monuments.
1. Breakfast
Begin your one day in Denver itinerary with breakfast at Root Down or Snooze. Root Down is in Denver's trendy Lower Highland ("LoHi") neighborhood on 33rd Avenue. It's not as central as Snooze, but still only a 5 minute drive away from your next stop, the River North ("RiNo") district.
Root Down is a cult haven for vegetarians, vegans, and gluten free eaters. Their farm to table menu focuses on sustainability. It has only the freshest ingredients, mostly grown at their urban garden. Start out with the pasty of the day (I had a lavender-lemon scone). Then move on to a delectable omelette or breakfast burrito.
Snooze is another great option. This classic dinner has several locations in Denver. But you'll want to go to the one near Union Station for this itinerary. Get there early because there will likely be a wait, possibly a long one.
You'll find all manner of egg dishes, pancakes, gourmet avocado toast, and more. You can indulge your breakfast sweet tooth or go healthy.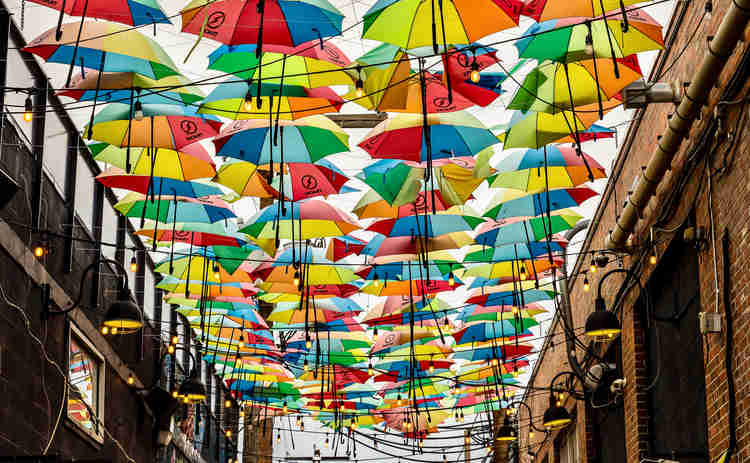 2. RiNo Neighborhood
The River North or RiNo neighborhood is in north Denver. It's the perfect spot to start your one day in Denver itinerary. And visiting in the day means you can fully enjoy the colorful street art.
RiNo is a spread out creative hub. Once an industrial zone, it's now a gentrified and buzzy art center with artist studios and galleries.
In this hipster neighborhood, you'll also find a burgeoning number of funky restaurants, craft breweries, and speakeasies. The Central Food Market has take home produce, gourmet pizzas, and ice cream. The Source is a brick building with eclectic dining options.
RiNo is best known for its street art murals. You can even take a graffiti art tour. For the best things to do in RiNo, check out the RiNo website here. In September, Denver hosts a festival called Crush Walls, where the existing murals are "crushed" or repainted.
If you skipped breakfast but want some coffee, head into Crema Coffee House.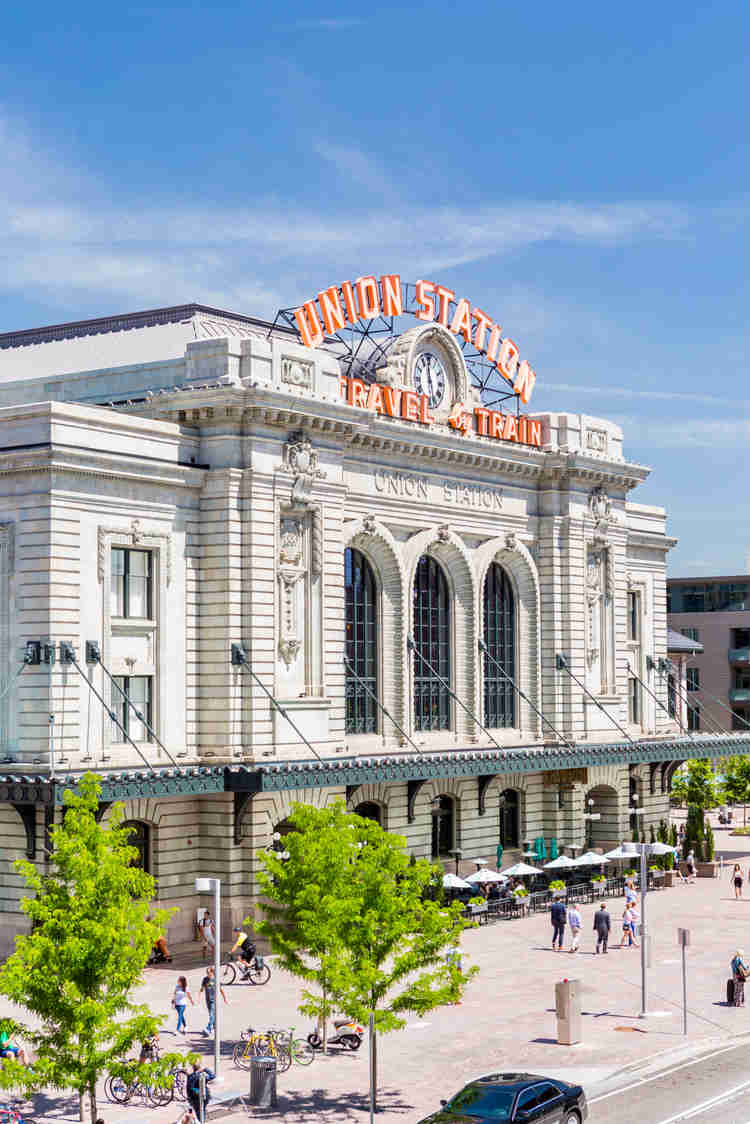 3. Explore Union Station
You wouldn't think a transportation hub was worth a stop, but the beautifully renovated Union Station is. It's considered Denver's "living room," in center of Denver's Lower Downtown ("LoDo") neighborhood. It's not as glitzy as the Union Station in Washington D.C. of course.
But the Beaux Art landmark is still a hot gathering spot. The lobby is full of comfy sofas, long library tables, and soaring ceilings. You'll find loads of shopping in a restored vintage setting.
My favorite spots were Bloom (adorable gifts and home products), Tattered Cover Bookstore (a mini version of the Denver institution beloved by book worms), Pigrain Coffee Company, and Mailbox Ice Creamery.
If you're visiting on a Saturday, which I was, you'll find the Denver Farmer's Market in front of the station. It runs from from 8:00 am to 1:00 pm.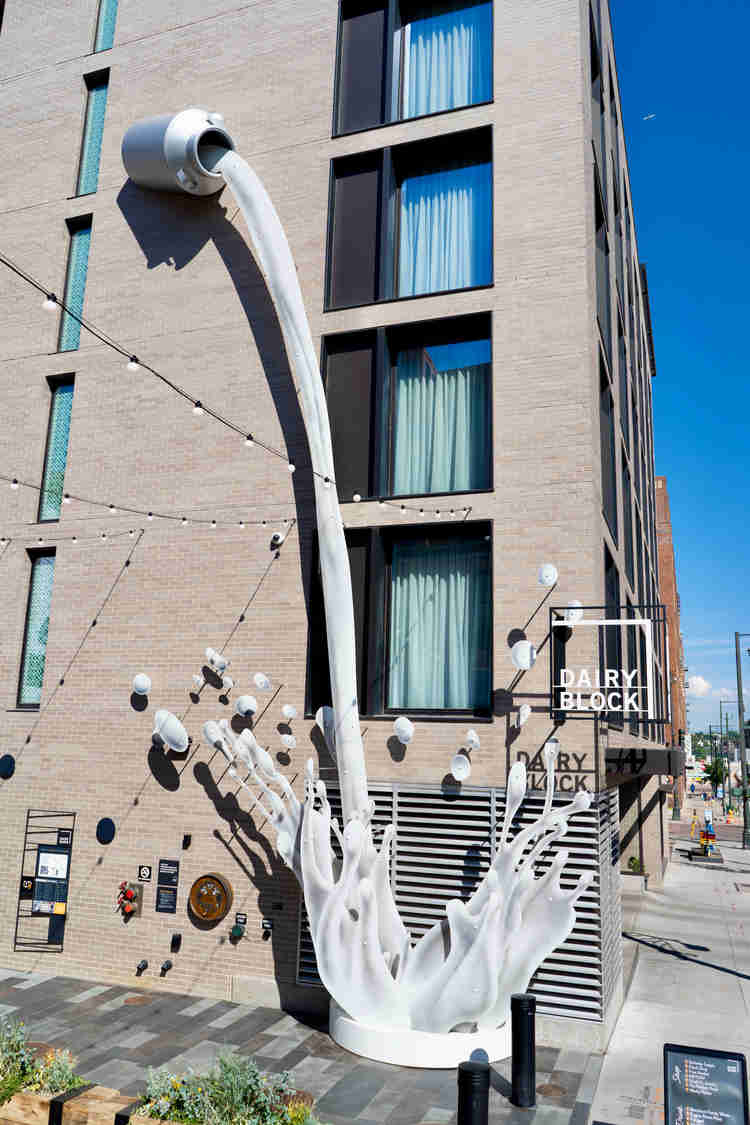 4. Dairy Block
The Dairy Block is also located in the LoDo district of Denver, just a few blocks from Union Station. It's essential a micro outdoor dining and pedestrianized area.
It consists of one charming alley strung with white fairy lights. In the winter, glowing snowflakes are added. You'll find all manner of shops, art galleries, restaurants, cocktail bars, wine bars, and a lively upscale food court (Milk Market).
Street art decorates the alleyway. At the far end is a large and whimsical milk splash sculpture. This sculpture is a great spot for photos.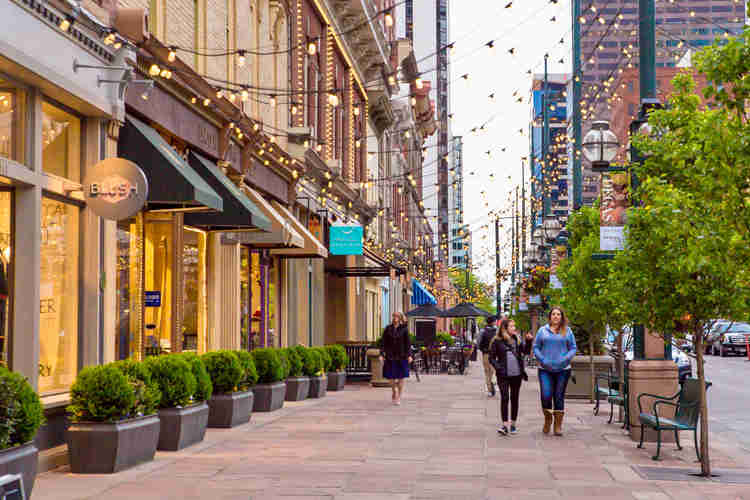 5. Larimer Square
Larimer Square is another picturesque block in LoDo, listed on the National Register of Historic Places.
This is one of Denver's best social spaces. Fully restored historic red brick buildings line the block. A signature canopy of fairy lights adds charm. There are plenty of cute independent shops, eateries, and nightlife options.
Some of my favorite shops were Buckley House of Flowers, Element Home, Garage Sale Vintage, Milly Rose, and Scarpaletto.
If you plan to have cocktails and dinner in Larmier Square later, you can skip over it in the daytime and head to the next attraction on your one day in Denver itinerary.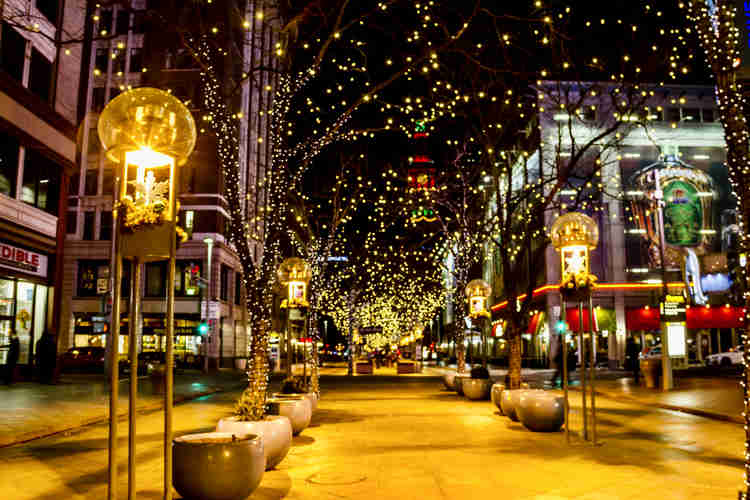 6. 16th Street Mall
The 16th Street Mall is a 1.2 mile long (12 blocks) pedestrian friendly mall in the heart of downtown Denver. The mall runs from Union Station to Civic Center Park. The mall is somewhat reminiscent of the sprawling Las Ramblas in Barcelona.
It's lined with cafes, shops, restaurants, and street performers. There are plenty of whimsical sculptures of cows and other animals, along with some street art murals. In winter, you'll find the Mile High Christmas tree.
Be sure to step into Tattered Cover Bookstore. This bookstore is about the real reading experience. You can browse books from cozy arm chairs, rockers and chaise loungers.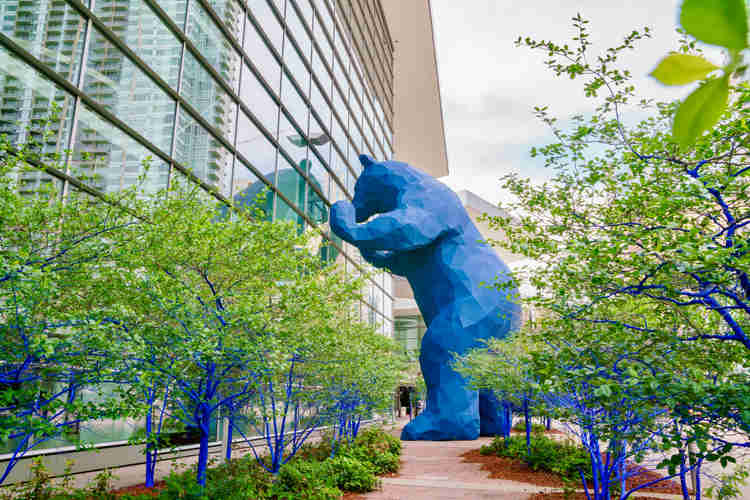 It's also worth a slight detour to pop over to 14th Street and see the Denver Convention Center. Outside, is the iconic 40 foot blue bear sculpture created by Lawrence Argent.
7. Lunch
Since you're at the mall, try one of the many lunches spots. Try Burger Bar, Bleu Agave Grill, Maggiano's Little Italy, or Deep Roots Winery & Bistro.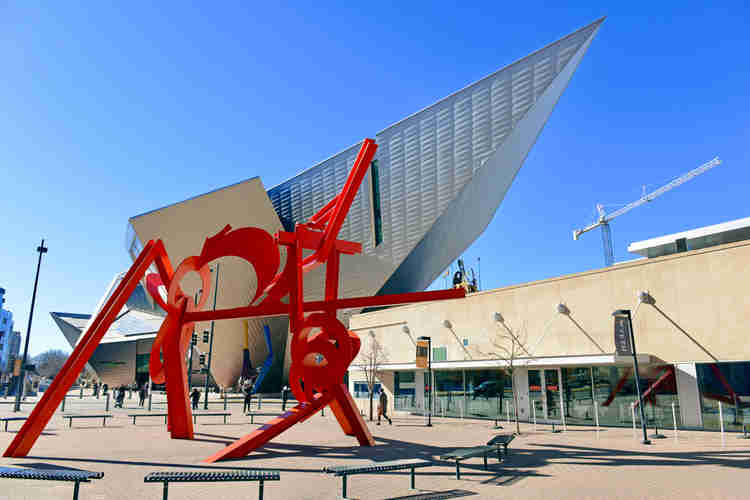 8. Pick a Museum
Next, continue down the 16th Street Mall to the Civic Center Cultural District, known as the Golden Triangle. There are plenty of museums to choose from. With just one day in Denver, you'll probably only have time for one.
Here are your museum-going options: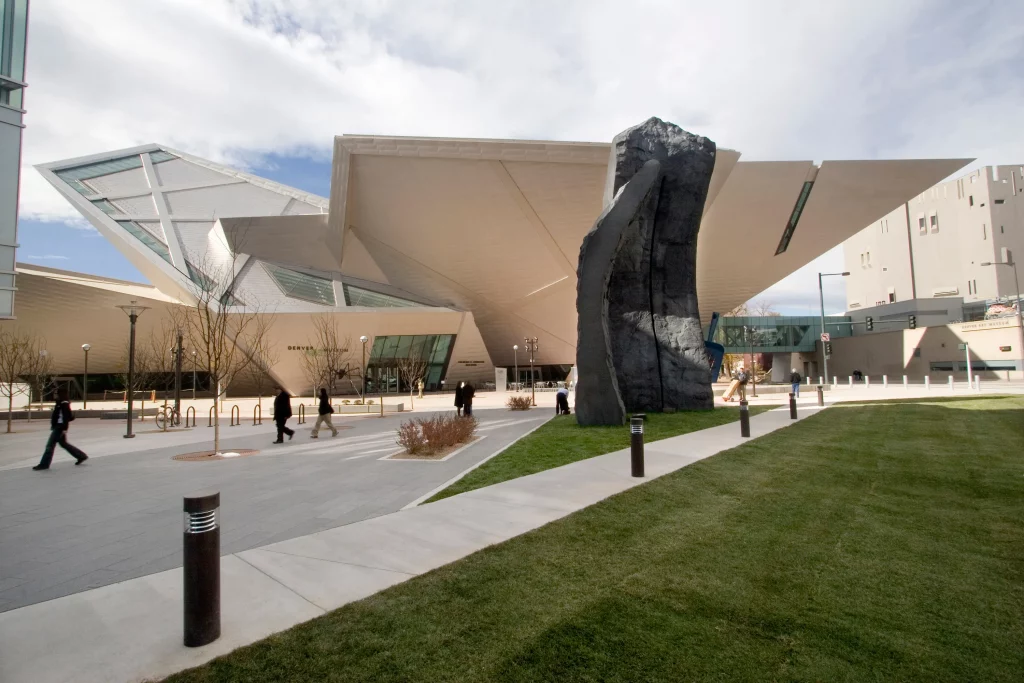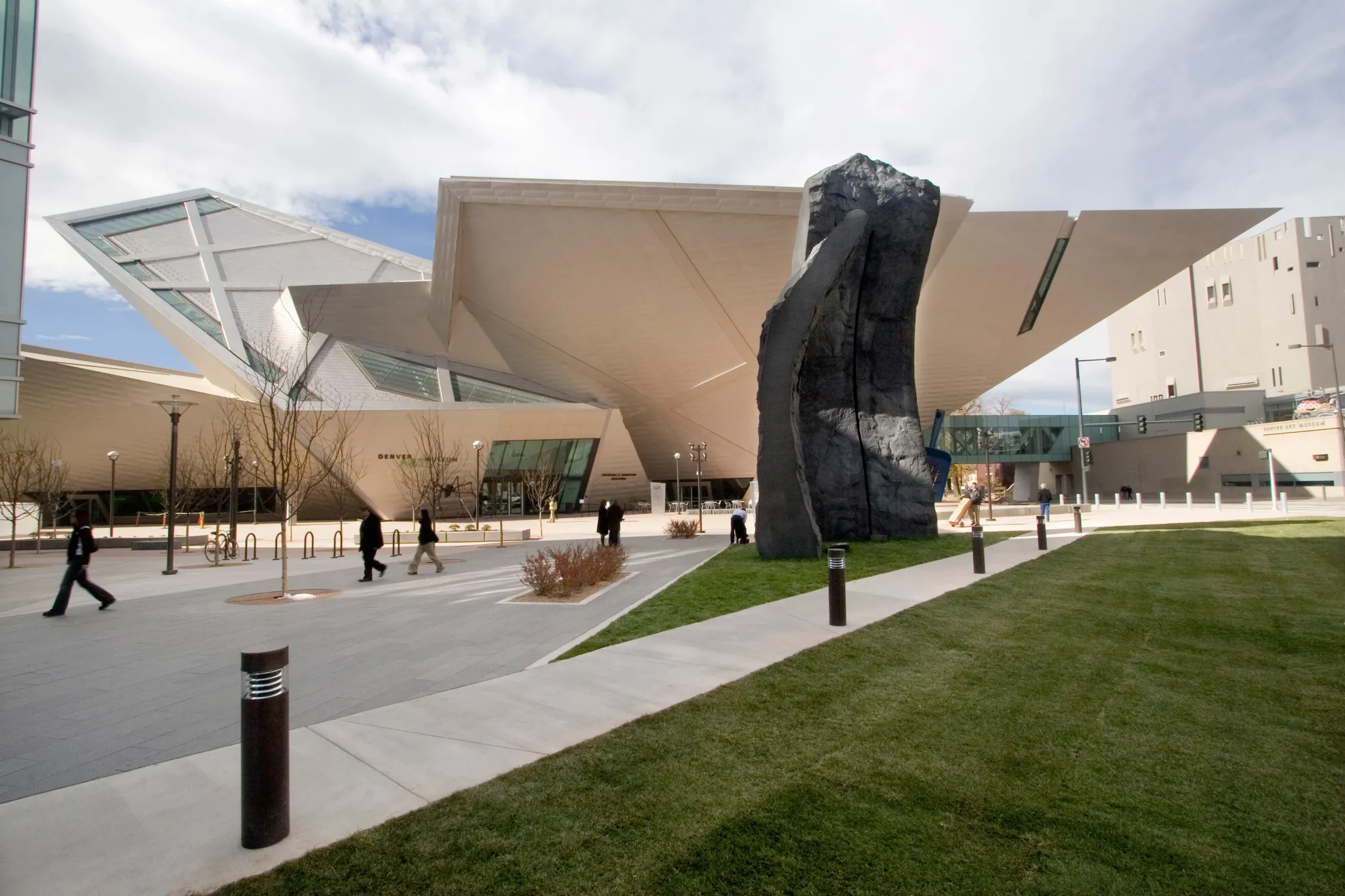 Denver Museum of Art
The Denver Art Museum is the highlight of Denver's museum district. After a years long renovation, the entire museum reopened in October 2021. The building is unique, a modernist interpretation of the jagged peaks of the Rocky Mountains.
It's an encyclopedic museum, most noted for its collections of Indigenous art, Asian art, Contemporary art, and French Impressionism.
You'll find works by Monet, Van Gogh, and John Singer Sargent.
The museum shop is one of the largest I've seen. There's an enormous selection of art inspired gifts, souvenirs, ceramics, jewelry, and art supplies.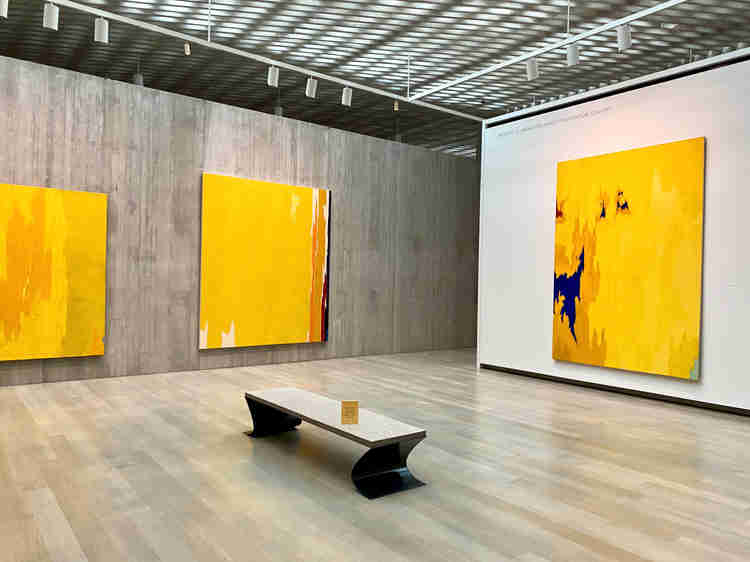 Clyfford Still Museum
I'm a huge fan of single artist museums. They're so revelatory. This museum is the world's most comprehensive public collection of any major artist.
At the Clyfford Still Museum, you'll see the entire oeuvre of the famous Abstract Expressionist painter. There are massive galleries for displaying the artist's immense canvases, which practically absorb the viewer. A unique waffle-like ceiling provides ample natural light.
To view the nine galleries chronologically, start in the first gallery and walk counter clockwise. With over 3,000 of Still's works, the exhibits on display change regularly.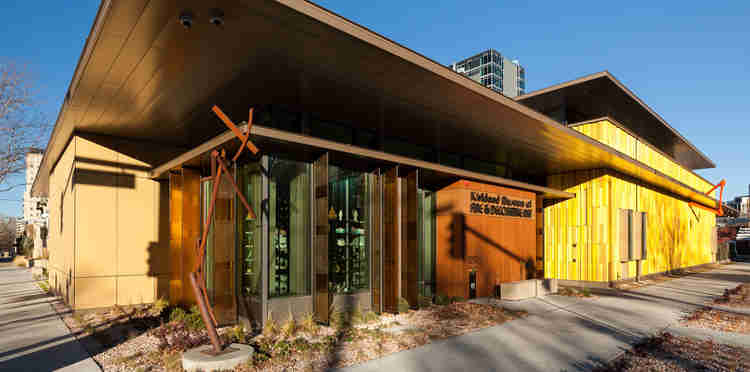 Kirkland Museum of Fine & Decorative Art
The Kirkland is just a stone's throw from the first two museums. Unlike most museums, the Kirkland is organized salon-style, with fine art set amid decorative art settings, much like Boston's Isabella Stewart Gardner Museum.
The museum houses everything from Andy Warhol paintings to chairs designed by Frank Lloyd Wright. It features the work of Colorado's most distinguished painter: Vance Kirkland.
Kirkland's original three room studio was actually moved into the museum. Visitors can tour the studio space where the artist created his famous abstract and dot paintings.
Byers-Evans House
This Italianate Byers-Evans House Museum gives you a walk through history through the stories of two Colorado families. You'll see how the well-to-do lived in the 19th century.
Built in 1883, the house has all the original period furnishings. The property is operated by History Colorado as the Center for Colorado Women's History.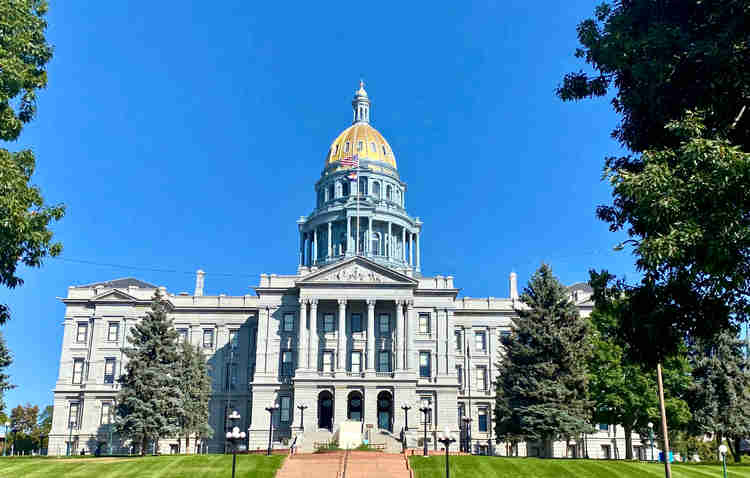 9. Colorado State Capitol
If you have time during your one day in Denver, tour the Colorado State Capitol for a history lesson. The white granite building was completed in the late 19th century and intended to resemble the capitol in Washington D.C. The original gold leaf dome was donated by Colorado miners.
You can visit on your own (reserve a spot). The capitol has also begun giving free guided tours. You can get a preview by checking out the map.
When you enter, peer up at the rotunda ceiling. You'll see the stained glass Hall of Fame, showcasing 16 famous Coloradans. Ascend the Grand Staircase and admire the Water Murals.
10. Denver Public Library
Who doesn't love a good library? Opened in 1995, Denver's popular library houses 47 miles of book. It also has a art and photography collection.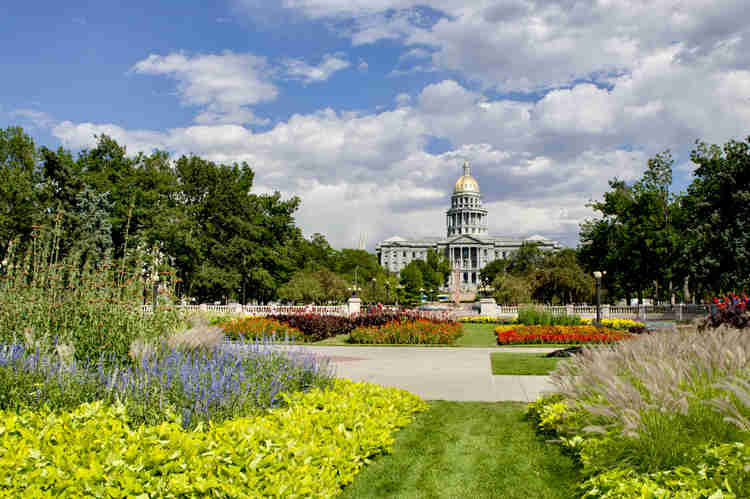 11. Denver Civic Park
Denver's Civic Center Park is on the National Register of Historic Places. The park is filled with gardens and flanked by government buildings. The Greek Theater is the most distinctive monument in the park.
Unfortunately, the park is fenced off at the moment. So you have to admire it from afar.
12. Dinner
You have so many dinner options in Denver, with plenty of outside al fresco seating.
Spend the evening having dinner in Larimer Square. It's especially pretty at night with twinkling fairy lights strung across the street. Or try a chic place like ChoLon (Asian influenced in LoDo) or El Five (tapas with views).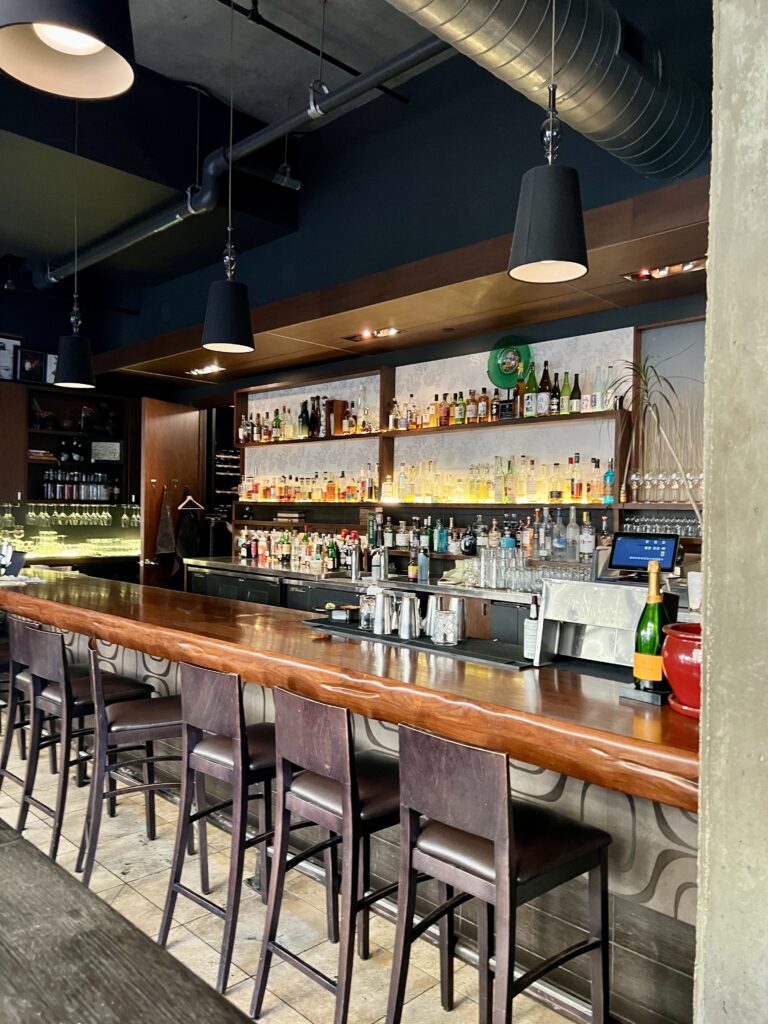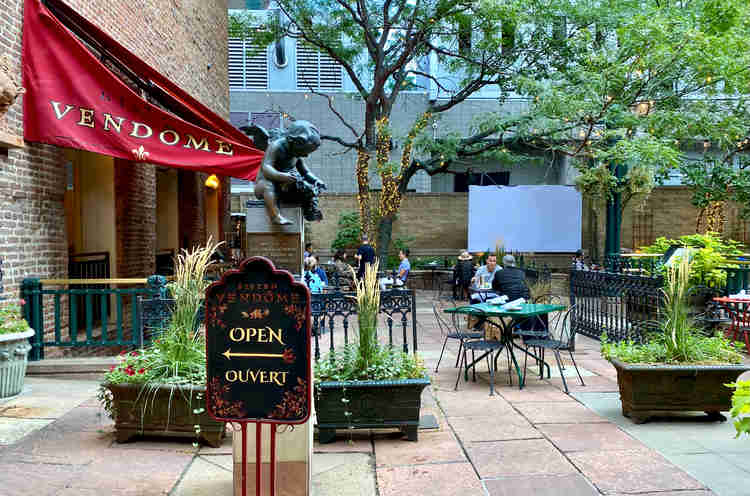 If craft beer is your thing, you can take a breweries tour in LoDo. Click here for a beer trail map put out by the city.
Denver is also a good place to take a food tour.
13. Evening: Show or Game
End your one day in Denver with a show or game. If you're a theater fan, take in a performance at the Denver Center for Performing Arts. The Buell Theater is the go to place for Broadway shows.
If you're a sports fan, Denver has plenty of sports venues. You can watch the Rockies (baseball) at Coors Field, the Broncos (football) at Mile High Stadium, or the Avalanche (hockey) at Ball Arena.
Since Denver is known for its craft beers, you could also do a craft brewery tour. Or even go on a haunted ghost walking tour.
Tips For Spending One Day in Denver
Here are some must know tips for your one day in Denver itinerary.
1. How To Get To Denver
If you are flying into Denver International Airport, the cheapest way to get to Denver is to hop on the light rail to Union Station. It's a 40 minute ride.
You can also grab a taxi of course. It will be around $60 to get downtown. Taxis in Denver are definitely more expensive than other cities.
If you need to grab a bite to eat first, there's another Root Down in Concourse C.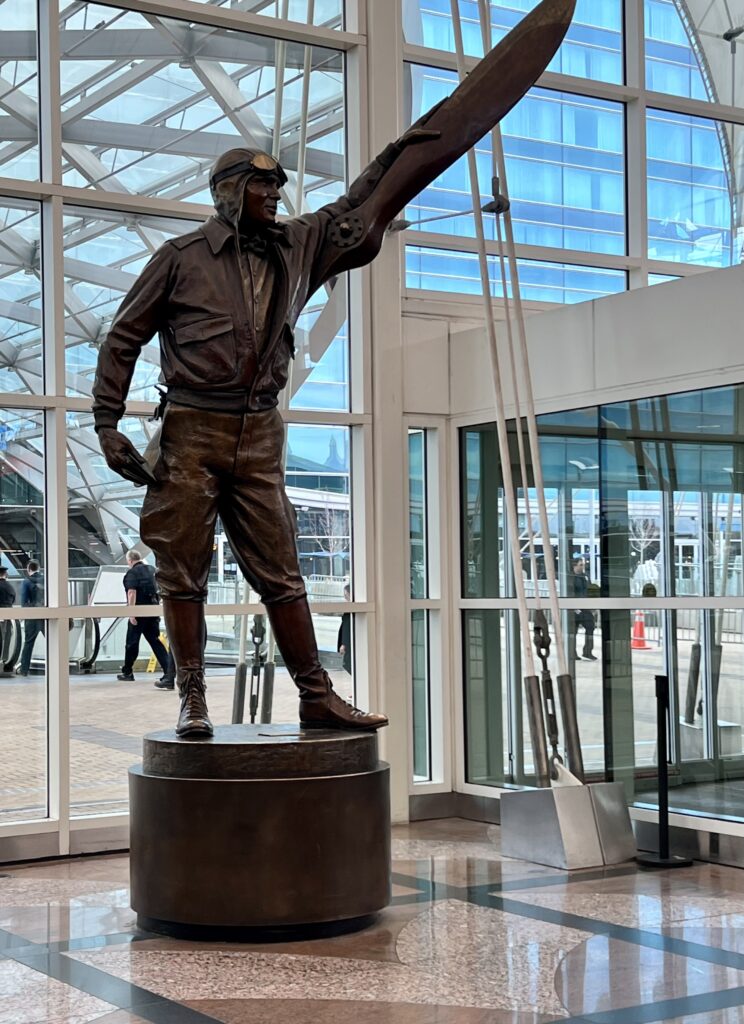 2. How To Get Around Denver
You can walk to most of the main sites in Denver. There is a free tram, the Mall Ride, that runs up and down the 16th Street Mall.
Denver has a light rail system. There is also a bike and scooter share system.
It's not ideal to drive around Denver. There is very little street parking, and it's almost impossible to park downtown. For a one day in Denver day trip, it's best to throw your car in a parking lot. Hoof it or take Lyft or Uber when you need to.
You can also get around Denver by taking a bike tour. You may also want to take a history and architecture tour.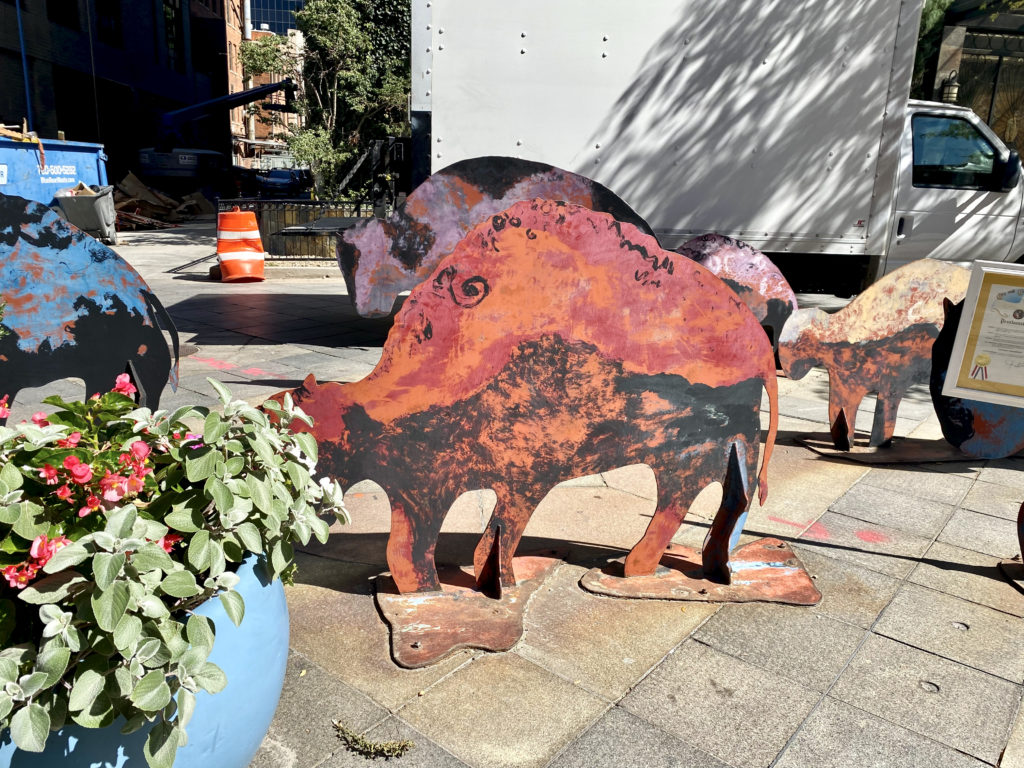 3. Where To Stay In Denver
Denver has a lot of great hotels, and many of them are brand new and shiny.
I really like the Art Hotel. Art work isn't just a design flourish. It's the main objective of the hotel.
Another cool hotel is the Maven Hotel at the Dairy Block. It's in a great location and the Denver Milk Market is right there if you need to grab food.
You can also try the hipster boutique Hotel Teatro in the LoDo neighborhood the Brown Palace Hotel and Spa in the downtown business district.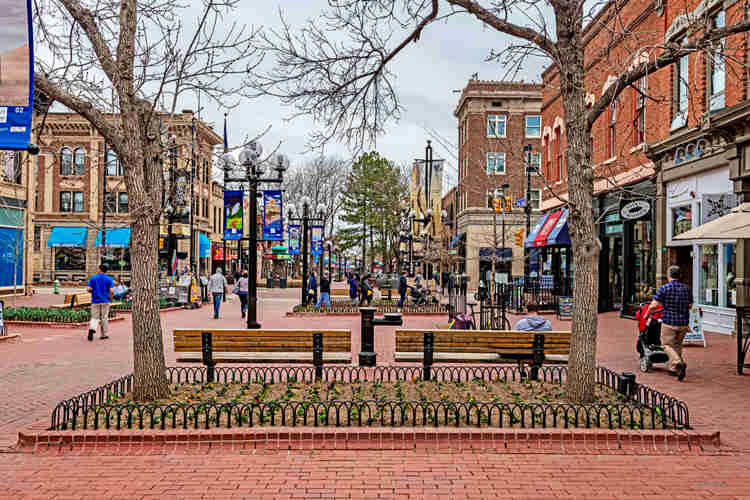 4. Extra Time in Denver?
If you have more than 24 hours in Denver, there's plenty to do to fill a weekend or more in Denver.
Here are some options in and around Denver to add to your Denver or Colorado itinerary:
1. Boulder
The laid back town of Boulder Colorado is a gorgeous high altitude town at the base of the Rocky Mountains. Boulder is located only 30 miles northwest of Denver, so the town is an easy day trip from Denver.
Boulder has a quaint downtown centered on pedestrian friendly Pearl Street Mall. It has university students, wide open green spaces, and perpetually blue sunshine-y skies.
Boulder's residents are seriously dedicated to outdoor living, including hiking, biking, and climbing. But you don't have to be an endurance athlete to enjoy the beauty of Boulder.
Boulder is a sophisticated place that, refreshingly, isn't a big city. It's a world class town, without the frenzy or traffic of a city. Each year, the outdoor vibe is increasingly leavened with artistic options and a serious farm to table foodie restaurants. Cute coffee shops and healthy food are the norm.
Here's my guide to the best things to do and see in Boulder and my guide to the best restaurants in Boulder.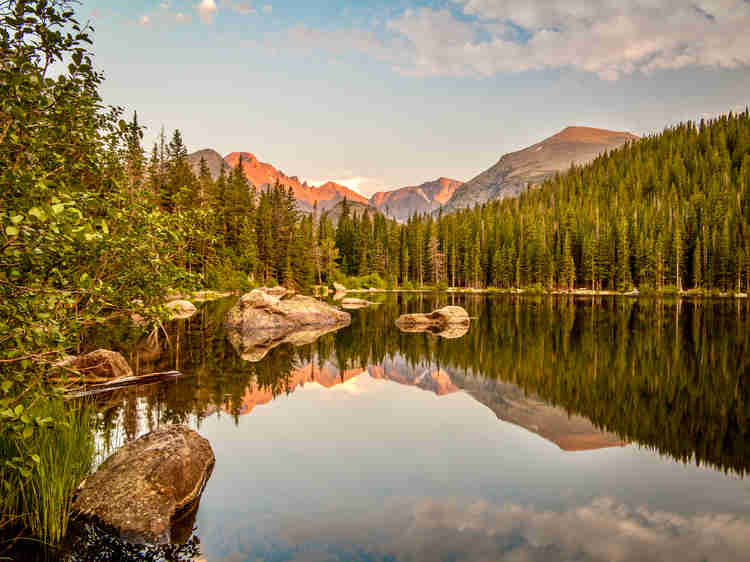 2. Rocky Mountain National Park
Have a car? Just 1.5 hours from Denver, Rocky Mountain National Park offers some of the best hiking in the area.
You can spot wildlife, enjoy stunning overlooks and waterfalls, and hike to your heart's content. Wear sturdy shoes, bring layers of clothing (and possibly wind gear), and water.
When I visited, I took the popular Bear Lake Nature Trail. That loop is lined with lakes fringed with blue-green spires of fir, spruce, and pine.
The classic 3.6 mile loop takes you past Bear Lake, Nymph Lake, Dream Lake, and Emerald Lake. Nymph Lake is especially fetching, with lily pads decorating its emerald hues.
You have to arrive early to park or take a shuttle bus to the trail. (There may be signs saying that the Bear Lake parking lot is closed, when it actually may not be.)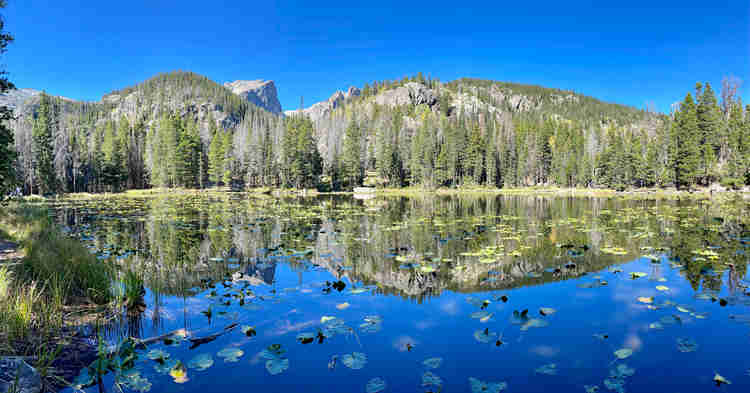 The Sky Pond, Glacier Gorge, and Cub Lake trails also come highly recommended. If you love to hike for waterfalls, Ouzel Falls is a moderately difficult 5.4 mile round trip.
You have to be organized to visit Rocky Mountain National Park. Timed entry tickets go on sale the 1st day of the month. 75% are sold then. 25% are reserved for the night before, when you can log on at 5:00 pm to grab a spot.
Want to take a guided tour to the park and get shown around by a pro? Click here to book a guided adventure tour or a guided tour that includes the park and the cute town of Estes Park.
When you're done explore the town of Estes Park. It's an adorable town with shops, eateries, and a seemingly never-ending string of old fashioned candy and ice cream shops.
For a bite to eat, try The Egg of Estes or a gourmet sandwich at Scratch Deli & Bakery.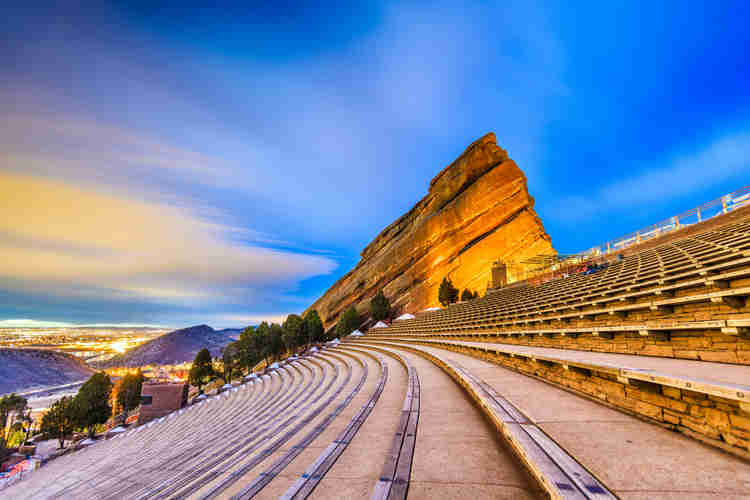 3. Red Rock Mountains Park and Amphitheater
Red Rocks Amphitheater is only 30 minutes away from Denver by shuttle or car. Click here for shuttle information.
Red Rocks is a great place to hike or mountain bike. And there's a panoramic view of Denver. You can also visit on a guided tour from Denver.
But it's mostly known as a live concert venue with tremendous acoustics. All the top bands have played there, even the Beatles and the Grateful Dead. A visitors center displays photos of prior concerts.
If there's not a concert scheduled, you can roam around the amphitheater. Red Rocks opens an hour before sunrise and closes an hour after sunset, so you have ample time to squeeze it into your Denver itinerary. If you're an early bird, you can start your day here before breakfast.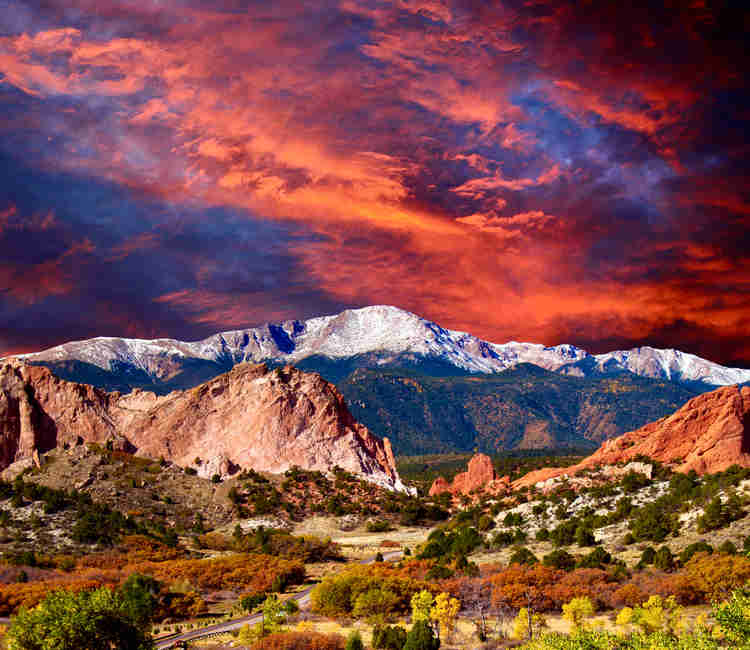 4. Colorado Springs
Colorado Spring's is the second largest city in Colorado and only 1:15 drive from Denver. There are plenty of things to do and see.
Head to the Garden of the Gods, whose red rocks will astound you with their natural beauty (though it can be quite crowded). Drive up Pike's Peak.
Visit the Broadmoar, a destination resort where you'll find some of Colorado Spring's best restaurants. There are plenty of small museums and a zoo for kids.
I hope you've enjoyed my 1 day in Denver itinerary. You may enjoy these other United States travel guides and resources:
If you'd like to spend one day in Denver, pin it for later.