Yearning for some small town all-American charm? New England has some of the most beautiful small towns in the United States.
Set on rocky shores or nestled in rolling mountains, New England's quaint towns are filled with historic landmarks, white steepled churches, and magnificent old world architecture.
The regional food is exquisite. You can dine like a locavore in a country inn or Gilded Age mansion. The lobster and lighthouses are endless.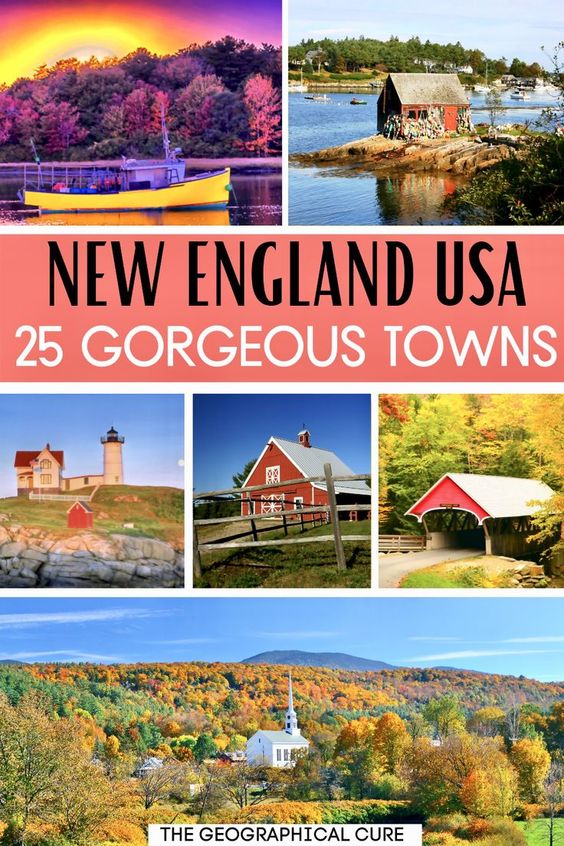 A perfect day could include strolling along a cliff path, sipping a Cape Codder on a front porch swing, boating, or leaf peeping on a fall day. Need I say more to convince you?
The New England states include Connecticut, Maine, Massachusetts, New Hampshire, Rhode Island, and Vermont. They cover the northeast corner of the United States.
I'm a born/bred/educated New England girl, with a lifelong obsession with this rugged and historic area of the US. I've put together a list of what I think are the 25 best and prettiest towns in New England, state by state.
Some of these towns are well known getaway destinations. Some make the perfect day trip from Boston. Others are hidden gems where you can escape the crowds.
You can pick and choose from the list to create and customize your own New England road trip or weekend itinerary.
25 Best and Most Beautiful Towns and Villages in New England
Let's hit the road and virtually tour the most quaint and picturesque towns in New England, for you New England bucket list. We'll travel from north to south, starting in Maine and ending in Connecticut.
1. Bar Harbor Maine
Perched on Frenchman Bay, tiny Bar Harbor is a charming seaside town in New England. It's adjacent to the magnificent Acadia National Park, so you can visit both in a single trip. The town's name derives from the twice daily tide drop, when a gravelly sand bar appears creating a natural harbor.
Take a stroll down West Street, a designated historic district. You'll see some fine old shingle-style mansions that survived the fire of 1947. The Village Green hosts concerts and art shows. The Abbe Museum is devoted to Maine's Native American heritage.
Bar Harbor is the perfect place to go kayaking or boating. You can take a 2 hour cruise.
You can hike Great Meadow Loop, which starts at the Village Green. Or stroll the shore path along Frenchman's Bay, which includes a self-guided tour marked with signs telling the history of Bar Harbor. And don't forget to have some lobster or go whale watching.
Where to eat in Bar Harbor: Burning Tree, Havana, , Mache Bistro, Side Street Cafe, Thurston's Lobster Pound, Beale's, Mount Desert Island Ice Cream
Where to stay in Bar Harbor: Bar Harbor Grand Hotel, The Bluenose Inn, Bar Harbor Inn & Spa
2. Camden Maine
Camden is an absolute jewel on the coast of Maine. It's a mecca for sailing and summering. And Camden offers a beguiling nexus of art, dining, and outdoor play. It fulfills Maine's slogan of "the way life should be."
Camden's Main Street is lined with shops and galleries. Stop by the Smiling Cow, the Cashmere Goat, the Owl & Turtle Bookshop, and the Leather Bench for some unique gift ideas.
At the north end of Camden's main shopping district, there's a pretty library with a lawn and benches set above the harbor. There's a great collection of photogenic schooners, sailboats, and yachts that make wonderful pictures.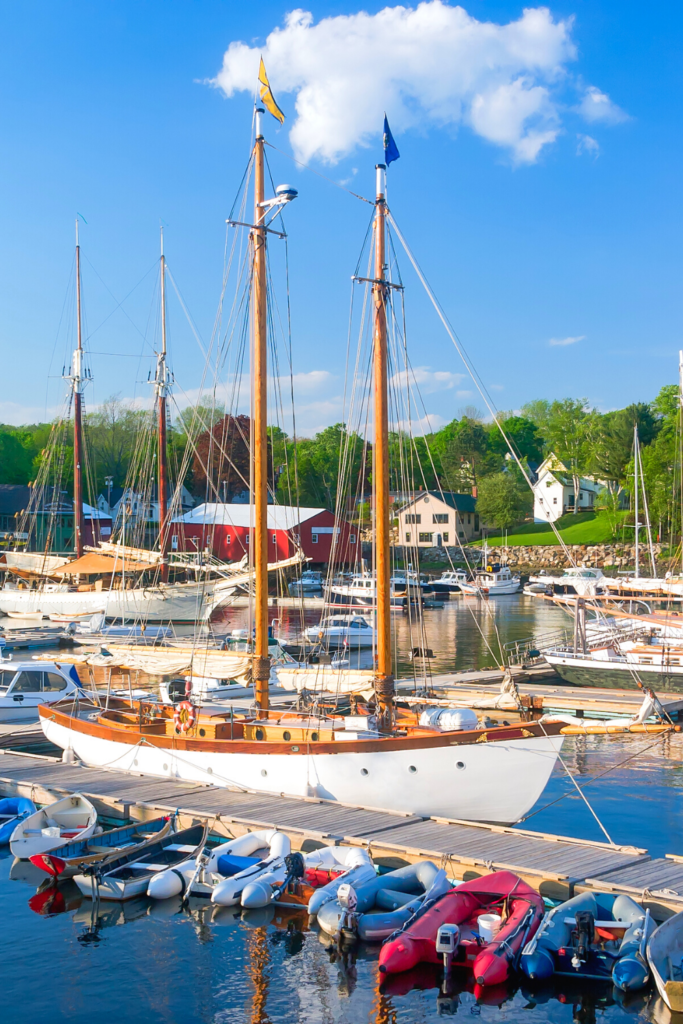 No visit to Camden is complete without taking in the view from Mount Battie. Take the 1.4 mile trail. At the top, you have a hawk's eye view of Camden and the islands of Penobscot Bay.
If you want to hit the beach, try Barret's Cove, a fresh water beach on Megunticook Lake. It's even quiet in the summer months.
Where to stay in Camden: Grand Harbor Inn, Camden Hartstone Inn, Camden Windward House
Where to eat in Camden: Fresh and Go, Oliver's Bistro, Long Grain, Primo, Natalie's Restaurant
3. Ogunquit Maine
Nestled along the coast, tiny Ogunquit is just an hour south of Portland. Ogunquit has been a resort village since the 19th century. It's like a mini Provincetown.
The word Ogunquit translates to "beautiful place by the sea." You can see why immediately.
Ogunquit is a popular summer beach destination in New England, and I came here often as a child. Ogunquit has two beautiful long beaches, Ogunquit Beach and Footbridge Beach. Footbridge is the quieter of the two beaches.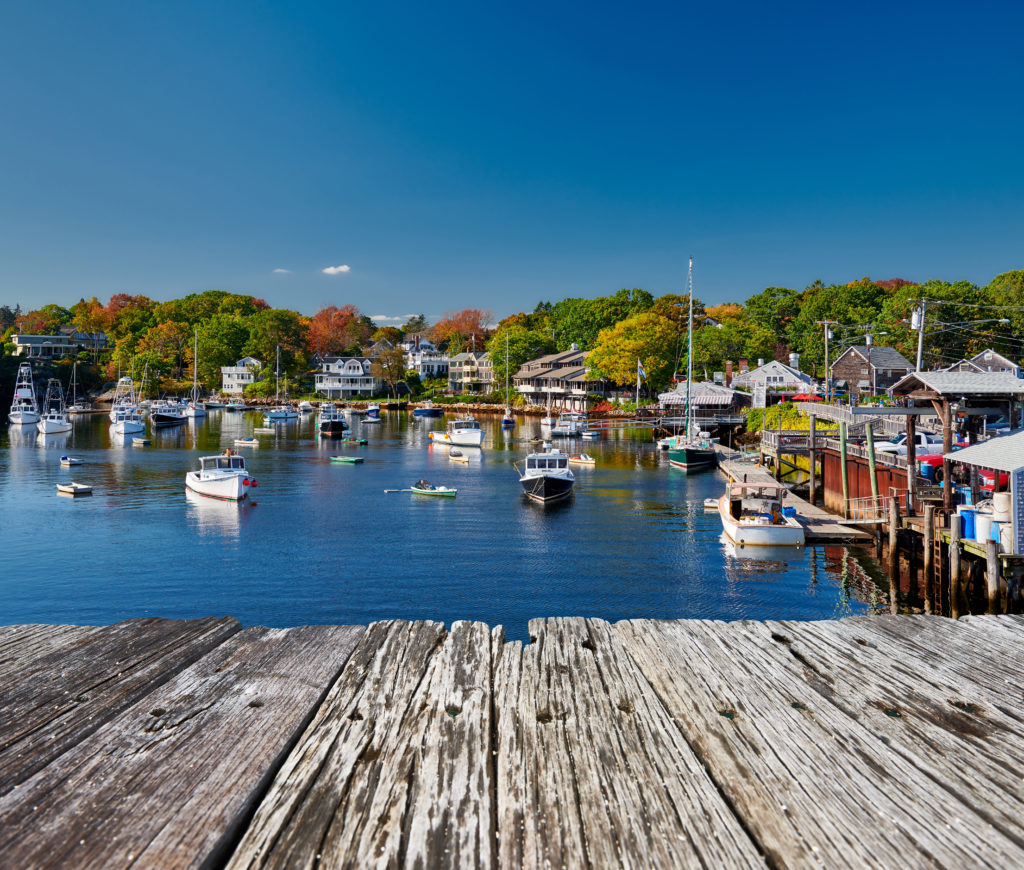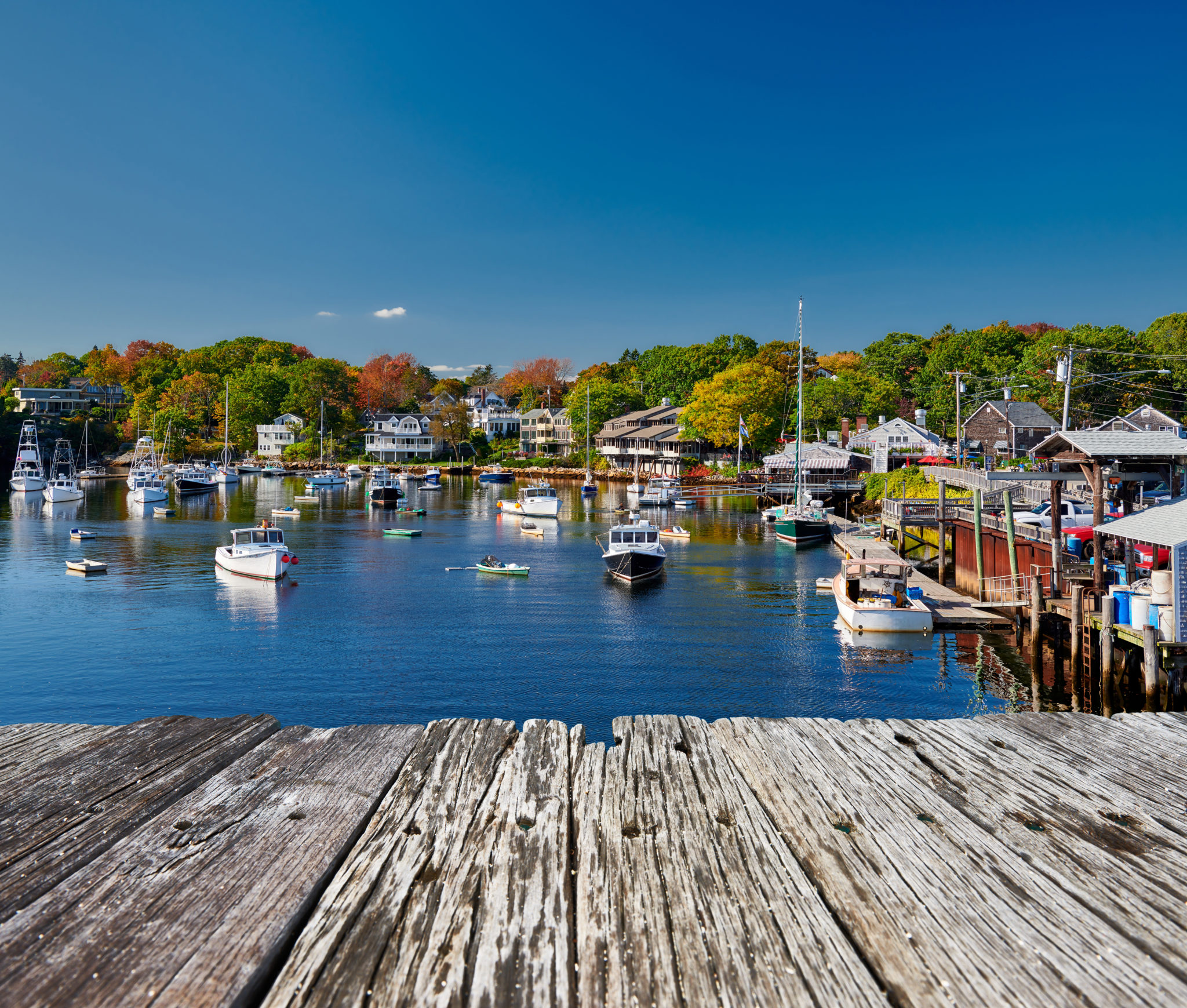 Ogunquit is most renowned for its coastal path, the Marginal Way. It's a paved 3 mile seaside stroll, starting at Ogunquit Beach and meandering to Perkins Cove.
Perkins Cove is a tiny artisans village, filled with sea-weathered buildings, where you'll find some art galleries and seafood eateries.
Where to stay in Ogunquit: Ogunquit River Inn Hotel and Suites,The Cliff House Resort, Sparhawk Oceanfront Resort
Where to eat in Ogunquit: Amore Breakfast, That Place in Ogunquit, Raspberri's, Bread and Roses Bakery, The Front Porch Piano Bar and Restaurant
4. Boothbay Harbor Maine
Boothbay Harbor is one of New England's most adorable small towns, known as the "boating capital" of Maine. Boothbay Harbor is a bit of a hidden gem in Maine where you can escape the crowds, even in the summer.
The tiny downtown is picture perfect, with plenty of shops and seafood joints. Maine's oldest bookstore, Sherman's Maine Coast Book Shop. If it's time for a lobster roll, pop into the Lobster Dock or Shannon's Unshelled.
When you're sated, a fun thing to do in Boothbay Harbor is hop on a boat. Boat excursions take you past Maine's iconic lighthouses and rugged coastline. You can take a tour to glimpse whales, seals, and puffins.
There are plenty of other outdoor options.You can ferry out to Monhegan Island, which has hiking trails. Or ferry over to Brunt Island, where you can hike and admire the lighthouse. Or reconnect with nature at the Coastal Maine Botanical Gardens.
Where to stay in Boothbay Harbor: Spruce Point Inn Resort & Spa, Harbour Towne Inn, Harborage Towne Inn on the Waterfront
Where to eat in Boothbay Harbor: Ports of Italy, Boathouse Bistro, The Thistle Inn
5. Kennebunkport Maine
Kennebunkport is a beautiful New England town. It's effectively the Hamptons of the Pine Tree State, known for its dramatic mansions. To see them, take a drive between Kennebunkport and its sister town Kennebunk.
Kennebunkport has a lively downtown, the epicenter of which is called Dock Square. It's chock full of restaurants, boutiques, and art galleries. There are plenty of patio cafes for people watching perches. The Clam Shack serves up fried claims and lobster rolls.
For a walking tour of Kennebunkport's historic buildings, start at the Brick Store Museum on Main Street. Head south and you'll see several extraordinary structures from the 18th and 19th centuries, including Lexington Elms, Horace Porter House, and Benjamin Brown House.
Summer Street is also an architectural showcase, with an array of Federal and Colonial buildings. To get the complete scoop, you can take a guided 90 minute tour of Kennebunkport's National Historic District. Buy tickets at the Brick Store Museum.
If you want to hit the beach, try Gooch's Beach along the Victorian-lined Beach Avenue. Or drive 10 minutes north to the beautiful 3 mile long Goose Rocks Beach.
Just two miles from Dock Square lies pretty Cape Porpoise. It's a tiny fishing village where you can see fisherman plying their trade.
You can browse the quaint general store or inspect kitchen goods in the delightful Farm + Table, housed in a red wooden barn. Goat Island Light is one of Maine's oldest lighthouses.
You can take a guided day trip tour from Boston to Kennebunkport.
Where to stay in Kennebunkport: Cape Arundel Inn and Resort, Hidden Pond Resort, Kennebunkport Captains Collection
Where to eat in Kennebunkport: The Boathouse Restaurant, the Burleigh, Mabel's Lobster Claw, Musette, Ocean Restaurant, Earth
6. Stowe Vermont
New England is awash in winter resort towns. But picturesque Stowe is an incredible year round destination you can't help but fall in love with.
Come summer, Stowe swaps skiing for hiking, golf, mountain biking, kayaking, swimming, and scenic drives up the winding Auto Toll Road.
Where mountainous Stowe really shines is its hiking trails, with a range of options to suit every level of experience. Some take you to towering peaks, others end in waterfalls.
When you're done hiking, snack on some apple cider donuts or indulge in a Vermont Maple Sugar Body Scrub at the Snowflake Spa.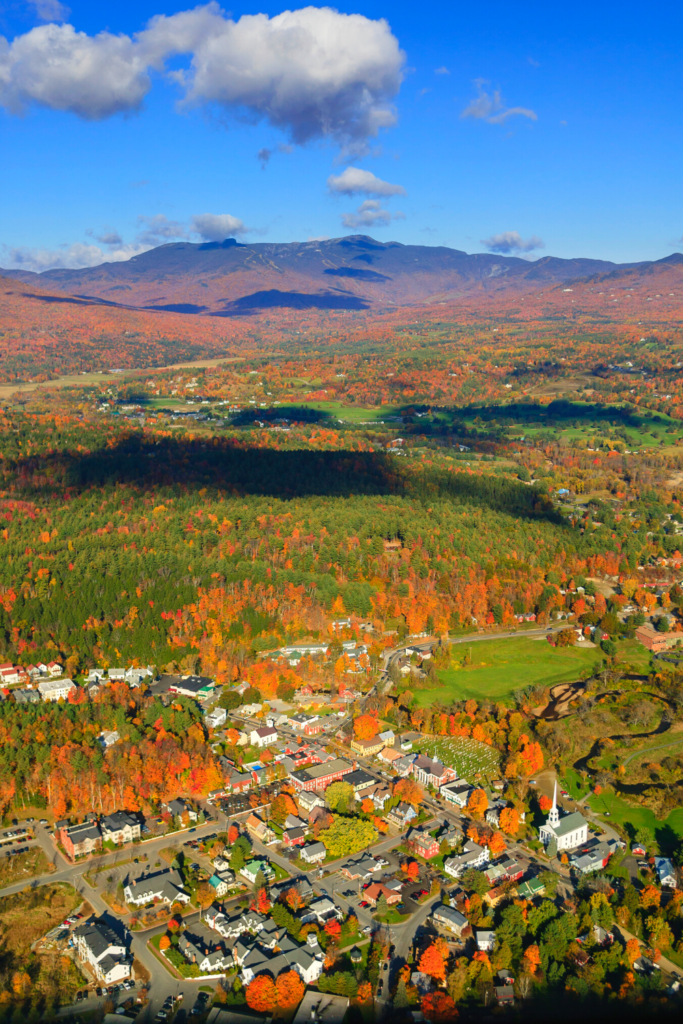 Not a hiker? For a magical experience, you can go hot air ballooning over the Green Mountains. Or see the fall colors from above on the Stowe Mountain Gondola.
Stowe has a romantic and picture perfect downtown. Its white steepled church is the focal point. The tiny Main Street is filled with boutiques, crafts stores, and antique shops. There are libraries, museums, theaters, and cultural organizations to keep your entertained.
Where to stay in Stowe: Lodge at Spruce Peak, Topnotch Resort, Trapp Family Lodge
Where to eat in Stowe: Plate, Cliff House, Bistro at Ten Acres, Hen of the Wood, Cork
7. Woodstock Vermont
Woodstock is a ridiculously picturesque town in New England. It looks straight out of a Norman Rockwell painting. Located in the Green Mountains, tree-lined Woodstock is dotted with covered bridges, wooden barns, and gorgeous homes.
Most of the well preserved buildings in Woodstock are listed on the National Register of Historic Places. You could spend the day strolling the cute downtown area with a town green, pretty library, and covered bridge.
There are plenty of boutiques, craft shops, antique stores, and bookstores. FH Gillingham & Sons is a classic Vermont general store.
For some exercise, just a short drive away is Quechee Gorge. It's a fairly easy (but steep) hike down to the base of the gorge. If the clear water sparkling in the sunshine entices you, there's a place to enter the river for a swim.
The best views are from the bridge. If you didn't get cheese earlier, now is the time to stock up at the Quechee Gorge Village
Woodstock also has a bounty of locally grown food. There are local cheesemongers, cider mills, and orchards. You can even tour a restored farmhouse, the Billings Farm and Museum, and pick up some raw cheddar cheese.
Where to stay in Woodstock: Kedron Valley Inn, 506 On The River Inn, Jackson House Inn
Where to eat in Woodstock: Barnard Inn Restaurant, Cloudland Farm, Keeper's Cafe, The Red Rooster, Mon Vert Cafe
8. Chester Vermont
If you're looking for an authentic Vermont rural experience, look no further than blissfully uncrowded Chester. It's located on the slopes of the Green Mountains, with the Williams River passing through.
In Chester, you'll find charming inns, stone houses, quaint churches, swimming holes, covered bridges, and farm to table restaurants
Chester is best known for its Stone Village and Chester Village Historic Districts. The Stone Village derives its name from the plethora of granite houses in the area. Chester Village gives off a classic Federal and Colonial aesthetic.
Chester is also home to cute boutiques, antique shops, art galleries, and some fabulous restaurants. There are some beautiful artisanal crafts at DaVallia Art and Accents and handcrafted jewelry at Sage Jewelry and Gifts. In the summer, Chester hosts concerts on the town green. And the Weston Playhouse puts on terrific theater.
Where to stay in Chester: Inn Victoria, Fullerton Inn, Stone Hearth Inn
Where to eat in Chester: Free Range Restaurant, Heritage Deli & Bakery, Pizza Stone VT, Alice's Restaurant
9. Burlington Vermont
In Vermont, there's a saying that "you can't throw a stone without hitting a poet/painter/potter." As the largest in my series of beautiful small towns in New England (at only 42,000), Burlington has developed a wonderful art scene.
To some, Burlington is akin to a mini Seattle — a politically and socially progressive enclave of college students, regional power brokers, and creative minds.
The heart of Burlington's downtown is Church Street Marketplace. It's a buzzing pedestrianized outdoor mall. You'll find hip sidewalk cafes, art galleries, and bars. And be entertained by street performers.
The jewel of Burlington's art scene is the Fleming Museum on the University of Vermont campus. The museum has a wide range of artworks and artists. In June, you can attend the Arts Alive Festival.
The Firehouse Center for the Arts also hosts year round exhibitions and art programs.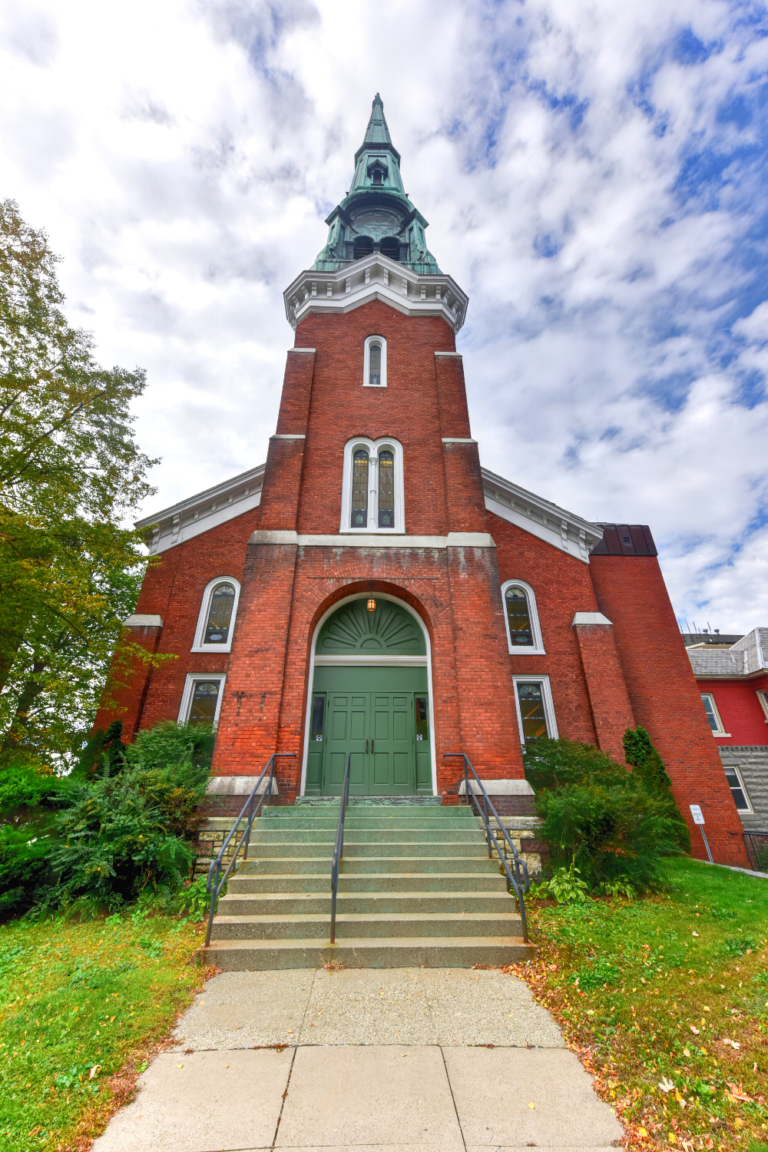 If you want to see a show, head to the Flynn Performing Arts Center. It's a fully restored art deco masterpiece. The Fynn hosts concerts, plays, and traveling Broadway shows.
If you're a foodie, Burlington will suit. It outshines much of the US with a bounty of locally grown food.
Farm to table eating isn't just trendy; it's a well established tradition. You may want to take a guided food and craft beer tour.
There's a Saturday farmer's market and even excellent street food at Farmers and Foragers Food Truck.
Where to stay in Burlington: Hotel Vermont, Hilton Garden, Hilton Burlington Lake Champlain, The Essex Resort
Where to eat in Burlington: Bleu Northeast Seafood, Hen of the Wood, Juniper, The Great Northern, honey RoadTrattoria Delia
10. Brattleboro Vermont
Located on the banks of the Connecticut River, Brattleboro is a gorgeous artsy town. Your first stop should be the Creamery Covered Bridge, a historic landmark dating from 1879.
Brattleboro's downtown has been revitalized. It's now full of art galleries, upper story artist studios, and a broad array of art venues.
The Brattleboro Art Museum in housed in a restored railroad depot. It presents 8 exhibitions annually and has pieces by Andy Warhol, Wolf Kahn, and Janet Fish.
Brattleboro also has a performing arts scene focused on classical music. The marquis venue is the Marlboro Music School. Brattleboro hosts the New England Bach Festival, a winter Chamber Music Series, and the Vermont Renaissance Festival (in nearby Vernon).
Typical of Vermont, Brattleboro also has a great foodie scene. Apart from the excellent restaurants, you can hit the popular Brattleboro Area Farmers' Market, held every Wednesday and Saturday from 9:00 am to 2:00 pm.
Or try the famed Dosa Kitchen, a food truck with a farm to table ethos serving a creative menu of Indian food.
Where to stay in Brattleboro: The Inn on Putney Road, Hampton By Hilton, Black Mountain Inn
Where to eat in Brattleboro: Mocha Joe's Cafe, Amy's Bakery Arts Cafe, Peter Havens, T.J. Buckley's
11. Hanover, New Hampshire
Dartmouth College is a bit of a family tradition. My father, son, and I all attended this fabulous school in rural New Hampshire. So naturally, I'm partial to Hanover (and all things New England, truth be told).
And I'm not alone. Forbes named it one of America's Prettiest Towns.
For a country town, Hanover packs a surprising art punch. It's accessible too, easily reached from Boston or Concord.
The best place to get your art fix is the wonderful Hood Museum of Art. It's one of the oldest teaching museums in the country. It has a large collection of artifacts and art dating back to Assyrian culture in 900 BC.
But it's not all ancient. The museum has a surprisingly good collection of contemporary art, with works by Rothko and Ed Ruscha.
It also showcases contemporary African and Native American art. Inside Baker Library, you'll find eye catching murals by Jose Clemente Orozco in the reading room.
Hanover is also home to the Hopkins Center for Performing Arts (the "HOP"). There, you'll find a wide variety of performing arts — plays, shows, concerts, special events, movies, etc. Here's my itinerary for spending one day in Hanover.
Where to stay in Hanover: Hanover Inn, Sixth South Hotel
Where to eat in Hanover: The Pine at the Hanover Inn, Lou's Restaurant & Bakery, Dirt Cowboy Cafe
12. Keene New Hampshire
A Monadnock Region gem and college town, lively Keene is a beautiful town in New England. Keene combines culture and the great outdoors. Keene offers stunning brick streets, charming maple farms, and quaint specialty shops.
Keene even has a white clapboard church with a soaring steeple, the United Church of Christ.
Keene has one of the loveliest and widest main streets in New Hampshire. The historic downtown area, Central Square, is an eclectic mix of old time shops, bookstores, and funky craft stores.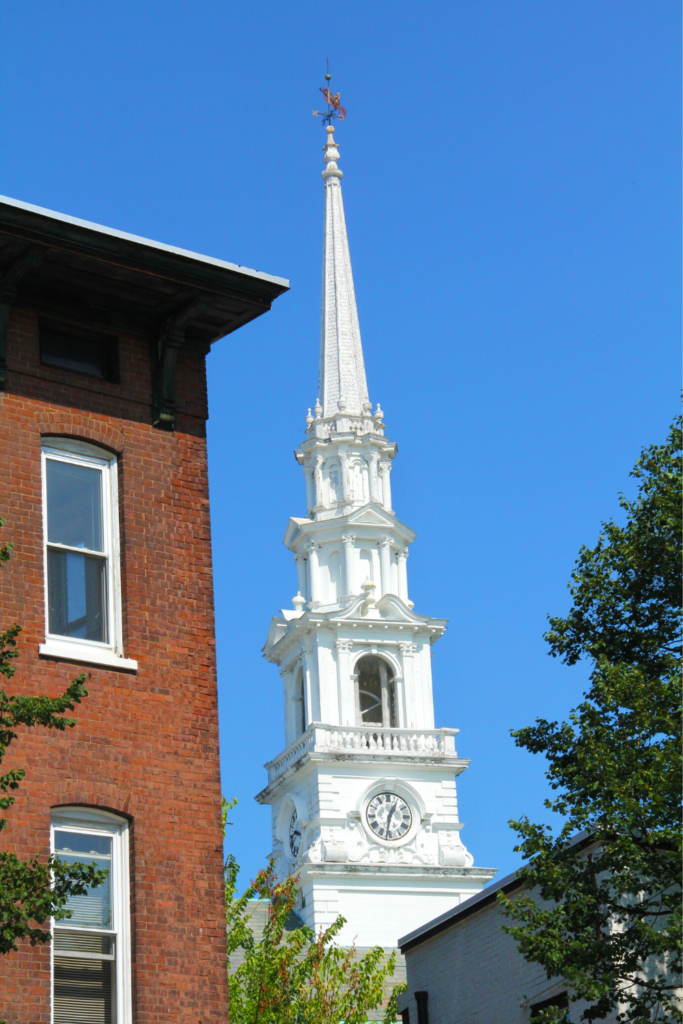 Keene is also home to covered bridges and museums. The Horatio Colony House Museum and Nature Preserve is housed in an 1806 Federal style building.
The museum houses historical artifacts for the history buff. The nature preserve offers miles of hiking trails for the nature lover.
Where to stay in Keene: Chesterfield Inn, Courtyard Keene, Hampton Inn
Where to eat in Keene: Luca's Mediterranean Cafe, Odelay Taqueria, Fireworks, The Stage
13. Peterborough New Hampshire
Peterborough is a charming New Hampshire hamlet set along the Contoocook River. Peterborough is rich in art and culture, with a charming downtown centered on Depot Square. Thornton Wilder's Pulitzer Prize winning play, Our Town, was based on Peterborough.
Peterborough has two theater groups and a renowned artist colony, The MacDowell Colony. The colony is the oldest artist's retreat in the US, hosting many exhibitions.
In 1997, it was awarded the National Medal of Arts. Peterborough is also known for its antique shops and galleries. Pop into the Sharon Arts Center for local art.
Nature lovers can head to Miller State Park, which has several trails (and a road) leading to the summit of Mount Monadnock. Edward MacDowell Lake has trails as well, in addition to a beach and boat ramp.
Where to eat in Peterborough: Pearl Restaurant & Oyster Bar, Waterhouse Restaurant, Harlow's Pub
Where to eat in Peterborough: The Hancock Inn, Birchwood Inn, Greenfield Inn
14. Portsmouth New Hampshire
Portsmouth has also made an appearance on Forbe's list of America's Prettiest Towns. Portsmouth is a small town in southern New Hampshire along the Piscataqua River.
It's known for its upscale farm to table eateries and art galleries. Portsmouth is just an hour away from Boston, making it the perfect day or weekend trip.
Portsmouth's downtown is adorable with activity centered on Market Square. You'll find classic white steepled churches, rustic brick shops, and sidewalk cafes. Portsmouth Book & Bar combines books, coffee, and live events.
History lovers should check out the Strawbery Banke Museum. It's a 10 acre outdoor museum featuring period gardens, preserved historic buildings and detailing the story of how the Portsmouth settlement was founded.
There are 39 historic buildings dating from 1695 to 1820. The Goodwin Mansion is the most impressive.
Prescott Park is a waterfront park near Strawbery Banke, which is great place to picnic. Enjoy the gardens and the Prescott Park Arts Festival, featuring concerts and foodie events.
In 2017, Travel & Leisure called Portsmouth the "Christmas Capital of North America." It's a wonderful New England Christmas destination.
"Vintage Christmas" is a month long celebration kicking off December 1. A trolley does a loop of the downtown and a candlelight stroll is held on weekends.
Where to stay in Portsmouth: Ale House Inn, Hotel Portsmouth, The INN Downtown, AC Hotel By Marriott
Where to eat in Portsmouth: Cure, Black Trumpet Bistro, Momba, Cava, Row 34
15. Chatham Massachusetts
The Cape is a no-brainer. But where to stake your claim? Try the inimitable charms of Chatham, a tony New England town where the homes induce jaw drops, the historic center is walkable, and the seafood is hauled in just offshore.
Chatham's curving Main Street conjures up low key elegance and old world charm. Chatham is the only Cape Code town bounded on three sides by water. It's consistently ranked as one of the US' best beach towns.
Chatham Lighthouse Beach is considered the most scenic public beach. It's set beneath Chatham's iconic lighthouse. This wild stretch of the Atlantic is the place for long walks and sunbathing (the surf is rough).
If you need a dose of culture with your beach retreat, head to the Orpheum. It's a restored vintage theater showing first run movies and classics. Or take in a play or musical at the Monomoy Theater, after browsing the casual to high end shops.
Where to eat in Chatham: Impudent Oyster, Del Mar Bar and Bistro, Twenty Eight Atlantic
Where to stay in Chatham: Chatham Wayside Inn, Queen Anne Inn, The Hawthorne, Captain's House Inn
16. Nantucket Town Massachusetts
Just 30 miles off the New England coast lies the idyllic small town of Nantucket. Nantucket is a place where you can simultaneously hit the beach and be visually stimulated.
In summer months, Nantucket can be a pricey paradise. Of course, the beaches (Jetties, Surfside) are stunning. But the historic center is also adorable with cobbled streets, historic residences, quaint shops, and innovative eateries.
More than a dozen art galleries are sprinkled around the downtown. On Union Street, an international roster of artists have contemporary works on display at the Art Cabinet.
Perhaps the top notch gallery is the Artists' Association of Nantucket (AAN). It features rotating art exhibitions by local, regional, and national artists.
If you'd like to attend a poetry reading or lecture, hit up the Nantucket Atheneum. You can listen to authors, historians, and university professors.
In June, there's the Nantucket Film Festival, where 30 independent films are screened at different venues.
Where to stay in Nantucket: Life House, Nantucket Hotel and Resort, White Elephant Hotel, 76 Main, 21 Broad Hotel
Where to eat in Nantucket: The Proprietors Bar & Table, Oran Mor, Greyson House, Dun, Brotherhood of Thieves, Straight Wharf
17. Siasconset Massachusetts
This tiny Nantucket town delivers classic New England style looks — sweeping panoramas of the Atlantic Ocean, rose-covered saltbox houses, and the Sankaty Head Light. The town is nicknamed 'Sconset. Nowadays, the former fishing houses give way to swanky mansions.
Sconset Beach is the best sandy beach on the north side of Nantucket. It's an easy walk from town.
Made of white seashells, the Sconset Bluff Walk is the most scenic walk in Nantucket. The public cliff walk leads from Siasconset to the cute Sankaty Head Lighthouse. It takes you by the most beautiful properties on the island.
Where to stay in Siasconset: Hotel Pippa, The Nantucket Hotel & Resort,
Where to eat in Siasconset: Sconset Cafe, The Chanticleer, Claudette's Sandwich Shop, Keeper's Restaurant
18. Newburyport Massachusetts
First settled in 1635, Newburyport is an immaculate seaside town in New England. It has a classic New England feel, with red brick streets, lobster shacks, and cobbled lanes. Plus "the Port" is only 35 miles from Boston, making it the perfect weekend getaway.
State Street is the heart of Newburyport. You'll find an eclectic treasure trove of shops — clothing boutiques, bookstores, cafes, and vintage shops. The Firehouse Center for the Arts is Newburyport's cultural hotspot, offering concerts, musicals, and plays.
When you tire of shopping, surf and sand lovers can hit the beach. Plum Island is only a 20 minute drive from Newburyport.
Plum Island has beautiful and beloved sandy beaches and dunes. And it's home to the Parker River National Wildlife Refuge, a hidden gem sanctuary with prime bird watching opportunities.
Where to stay in Newburyport: Blue Inn on the Beach, Essex Street Inn, Clark Currier Inn
Where to eat in Newburyport: Agave, Black Cow, Brine Oyster Bar, Giuseppe's Italian Restaurant, Revitalive Cafe & Juice Bar, Brown Sugar Cafe, Ceia Kitchen and Bar
19. Stockbridge Massachusetts
Settled in 1734 by British missionaries, Stockbridge may be my favorite beautiful New England town in the Berkshires. Stockbrige is blessed with simple charm and a fabulous line up of cultural attractions.
Three of the greatest American artists and authors called Stockbridge their home — Edna St. Vincent Millay, Herman Melville, and Norman Rockwell. James Taylor sang about the town in Sweet Baby James.
One of America's greatest treasures is the Norman Rockwell Museum. Rockwell was one of the greatest artists and illustrators in American history.
READ: Guide To the Best Museums in New England
Stockbridge was Rockwell's long time residence and what he called his "best studio yet." His titular museum is home to a year round series of rotating exhibitions of Rockwell's art and Saturday Evening Post magazine covers.
You can also visit Chesterwood, the home Daniel Chester House. It's the 1920s Colonial Revival house, complete with soaring studio, of the legendary sculptor and landscape architect.
Chester created the statue of President Lincoln seated in the Lincoln Memorial in Washington D.C. The estate also boasts beautiful hiking trails.
Apart from visual arts and historic, the Berkshire Theater Group provides performing arts entertainment. The IS 183 Gallery has a stash of regional and national art works.
Every summer, Stockbridge (along with the adjacent town of Lenox) hosts the Tanglewood Music Festival, a series of concerts across all musical disciplines.
Where to eat in Stockbridge: Once Upon a Table, Truc Orient Express
Where to stay in Stockbridge: The Red Lion Inn, The Inn at Stockbridge
20. Bristol Rhode Island
Located between Providence and Newport, Bristol is a beautiful New England town that's full of history and charm. With a red-white-and-blue painted stripe down Hope Street, it exudes Americana.
Bristol has everything you need for a relaxing break from the big city — fine dining, bike trails, art galleries, and ocean views.
A highlight of Bristol is the town's well preserved historic architecture. In Bristol, you'll find Colonial, Federal, and Gilded Age buildings.
Linden Place Museum features a stunning spiral staircase and movie memorabilia. Blithewold Mansion has immaculately curated gardens, hosts concerts in the summer, and offers dramatic harbor views.
If you like to hike or bike, the East Bay Bike Path will suit. It's a 14.5 mile paved path connecting Providence and Bristol, which gives you panoramic views of Narragansett Bay.
Where to stay in Bristol: Point Pleasant Inn, The Brenton Hotel
Where to eat in Bristol: The Lobster Pot, Roberto's, Persimmon, Beehive Cafe, DeWolf Tavern
21. Newport Rhode Island
Just two hours south of Boston lies the tony coastal town of Newport. Founded in 1639, Newport is a treasure trove of historic European-style mansions set against ocean views.
Think the Gilded Age's Astors, Vanderbilts, and Kennedys — families who built the first palatial mansions in the US. You may want to get oriented with a 1.5 hour guided walking tour of historic Newport.
Most of the mansions are on Bellevue Avenue and a few are on the waterfront. Built by Cornelius Vanderbilt, Breakers Mansion is Rhode Island's #1 attraction.
It's located on the scenic Newport Cliff Walk. You can take a guided tour of the mansion by trolley and enter the Breakers.
The Newport Art Museum is the core of the creative community. The Artists' Open Space serves up local and regional shows year round.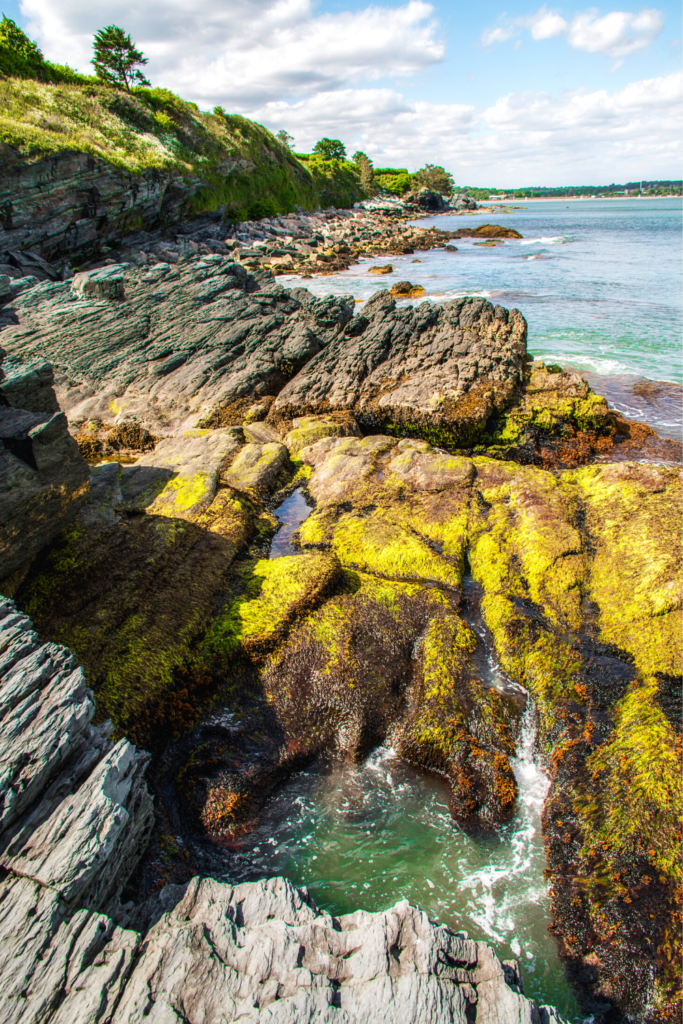 There's a dozen commercial galleries in town as well. Island Art is the best, noted for its contemporary pieces.
On the performance arts side, Newport really excels. It offers up everything from Shakespeare plays in Queen Ann Square to musical festivals dedicated to jazz, classical, and folk music in July and August.
There's also the Newport Fine Arts Festival in September.
Where to stay in Newport: OceanCliff Hotel, The Vanderbilt, The Chanler at Cliff Walk, Cliffside Inn
Where to eat in Newport: Market-Newport Gourmet, Twenty-Two Bowen's, Sardella's Italian Restaurant
22. Madison Connecticut
Madison is a place only East Coasters know about. This beautiful New England town proves the adage that good things come in small packages.
With a population of only 18,000+ residents, this Connecticut shoreline town delivers a major dose of quintessential New England charm.
During his time at Yale, Bill Clinton was so taken with Madison that he mentioned it in his memoir, My Life, calling it "especially old and beautiful."
One of the main draws of Madison is Hammonasset Beach State Park. There you'll find two miles of beaches, wetlands, woodlands, and a nice boardwalk.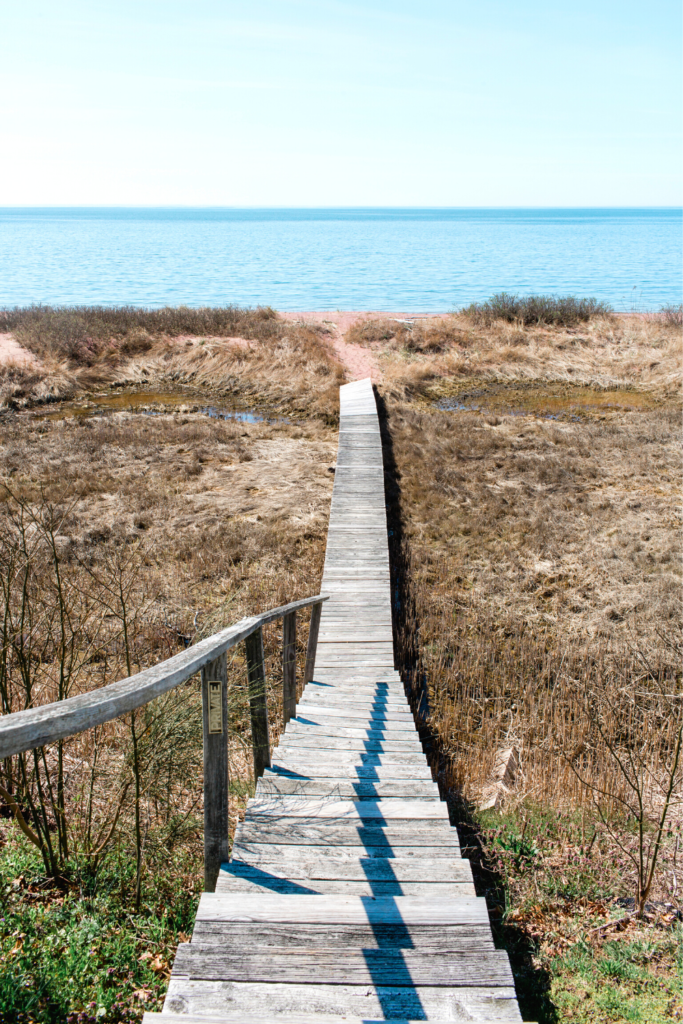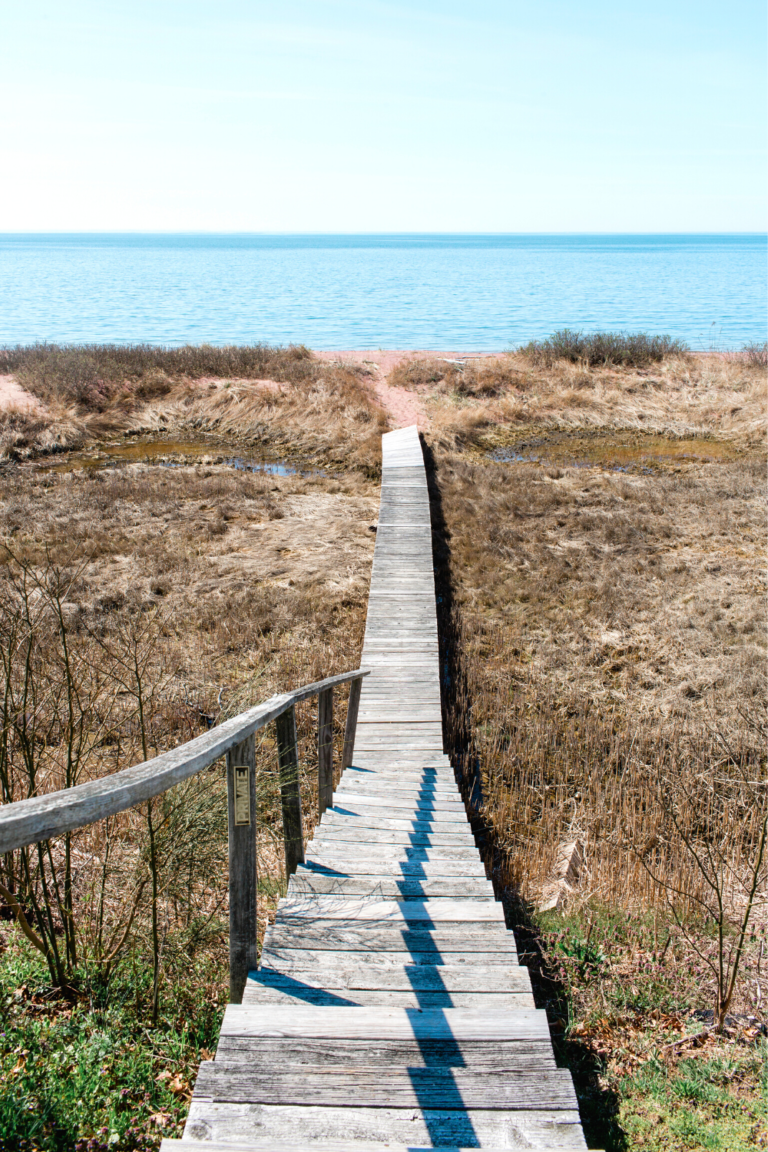 The town itself is charming and pedestrianized, full of shops and cafes. A popular haunt is RJ Julis Booksellers, one of the nation's finest independent shops for book nerds looking for the perfect read.
Madison is also a culture filled hamlet. A fun outdoor activity is walking The Sculpture Mile.
Created by the Hollycroft Foundation, it offers a unique museum-like exhibition that features art work by some of the nation's most significant sculptors.
Where to stay: Madison Beach Hotel, Madison beach Curio Collection By Hilton
Where to eat: Bar Bouchee, Chamard Vineyards Bistro, Moxie, Cafe Allegre, Elizabeth's Cafe
23. Essex Connecticut
With a bucolic setting on the banks of the Connecticut River and just a half hour from New Haven, Essex exudes small town charm. The beautiful New England town of Essex is consistently rated as one of America's best small towns.
Essex has a picture perfect harbor. It's scattered with charming inns and historic architecture. Essex seems halted in time, looking much as it did during the height of its ship building prosperity.
On Main Street, whitewashed houses jostle side by side, in early Colonial and Federal styles. Pop into the Griswold Inn, especially for its vaunted Sunday breakfast. The cute shop Good and Curiosities sells gifts with a historical theme.
Essex is famed for its riverboat tour, the Essex Steam Train & Riverboat. On a 2.5 hour tour, you can travel by train and boat through the countryside. By boat, you'll glide by farms, inlets, coves.
Where to stay in Essex: Griswold Inn, The Copper Beach Inn, Riverwind Inn
Where to eat in Essex: The Oak Room, Black Seal, Olive Oyl's, Abby's P
24. Kent Connecticut
Tucked into the northwest corner of Connecticut, historic Kent seduces. Its Main Street is a beautiful mix of shop and restaurants.
Kent has the area's highest concentration of art galleries. And one of Vermont's three remaining covered bridges, Bulls Bridge.
You can also get outside in Kent. Kent Falls State Park is home to an impressive series of waterfalls, including the state's tallest waterfall. Kent Falls drops in stages over a quarter mile stretch.
The nearby Appalachian Trail provides a well maintained 5 mile River Walk, leading from Kent to Cornwall Bridge. In Cornwall, you can admire the covered bridge and watch potters at work at Cornwall Bridge Pottery. You can also hike or cross country ski in nearby Macedonia Brook State Park, an especially beautiful place in fall.
Where to stay in Kent: The Inn at Kent Falls, Mayflower Inn and Spa
Where to eat in Kent: Kingsley Tavern, Ore Hill and Swyft, Fife 'n Drum
25. Mystic Connecticut
Mystic is calm and just exquisite, a charming waterfront town set on the shores of the Mystic River. It's a quaint downtown is filled with boutiques, galleries, and eateries.
On Main Street, you'll find Mystic Pizza, made famous by a kitschy 1980s movie. Mystic's main landmark is Bascule Bridge, the most photographed bridge in Connecticut and a perfect spot for river views.
Mystic Seaport is Connecticut's #1 attraction, an example of "living history." It covers 19 acres along the Mystic River. There are indoor and outdoor exhibits, including four vessels that are National Historic Landmarks. You can climb aboard or peruse the recreated village.
Where to stay in Mystic: Hilton Mystic, Hyatt Place Mystic, Mystic Marriott Hotel and Spa, Old Mystic Inn
Where to eat in Mystic: Abbott's Lobster in the Rough, Oyster Club, Friat Tuck's, David Pottie, Mystic Depot Roasters (breakfast), Octagon
I hope you've enjoyed my guide to the most beautiful towns in New England. You may enjoy these other New England travel guides:
If you'd like to visit the most beautiful towns in New England, pin it for later.