Planning a weekend in Denver? That's a great idea and I have the perfect 2 days in Denver itinerary.
Denver is nestled in the middle of the state of Colorado. It's a hub for delicious food, cool neighborhoods, art museums, and sports. The city also offers up myriad things that will please outdoor adventurers.
I fly to Denver several times a year, since my daughter lives there. I'm always finding new and interesting things to do.
Overview Of Weekend In Denver Itinerary
Here's a snapshot glance at what you can do with a weekend in Denver:
RiNo neighborhood
Union Station
Dairy Block
16th Street mall
Denver Art Museum
Larimer Square
Rocky Mountain National Park, Chautauqua Park, or Golden Gate Canyon State Park
Red Rocks Amphitheater or Water World
Meow Wolf or Botanic Gardens
Buell Theater or Craft Brewery tour
If you plan on seeing a lot of attractions, you may want to invest in the Denver City Pass.
Before You Go: Best of Denver
Below are some of the top hotels, tours, and experiences in Denver. Donʻt forget to plan ahead, especially in high season!
Best Tours:
Best Hotels: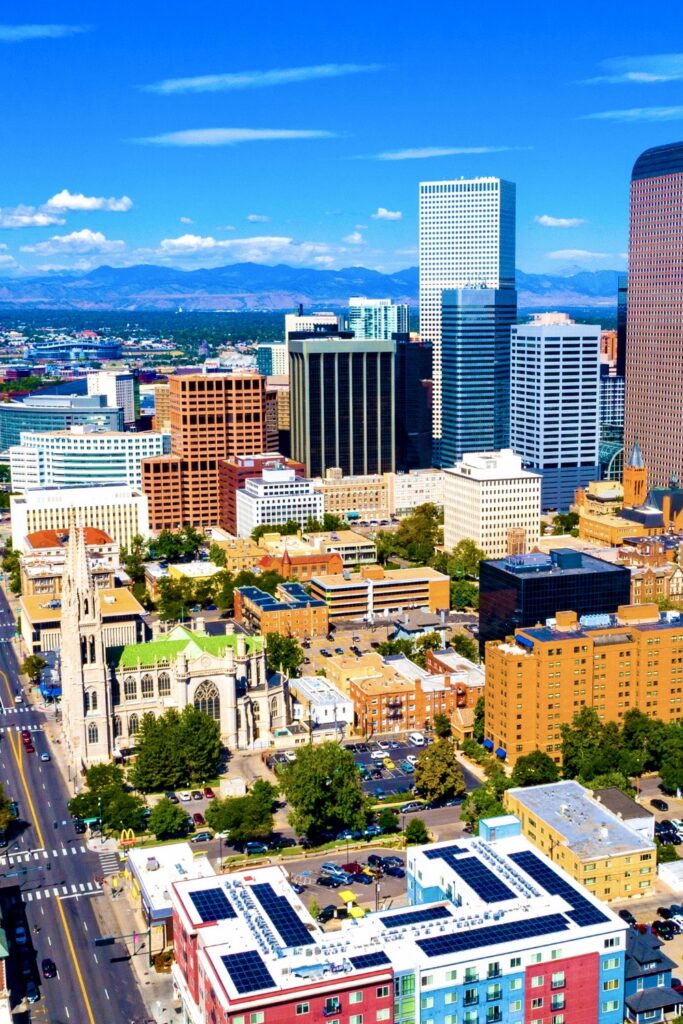 2 Days In Denver Weekend Itinerary
Day 1 of 2 Days in Denver
RiNo Neighborhood
Start day 1 of your weekend in Denver with coffee at Crema Coffee House in the River North or RiNo neighborhood in north Denver.
It's the perfect spot to kick off your 2 days in Denver itinerary. And visiting in the day means you can fully enjoy the colorful street art.
RiNo is a spread out creative hub. Once an industrial zone, it's now a gentrified and buzzy art center with artist studios and galleries.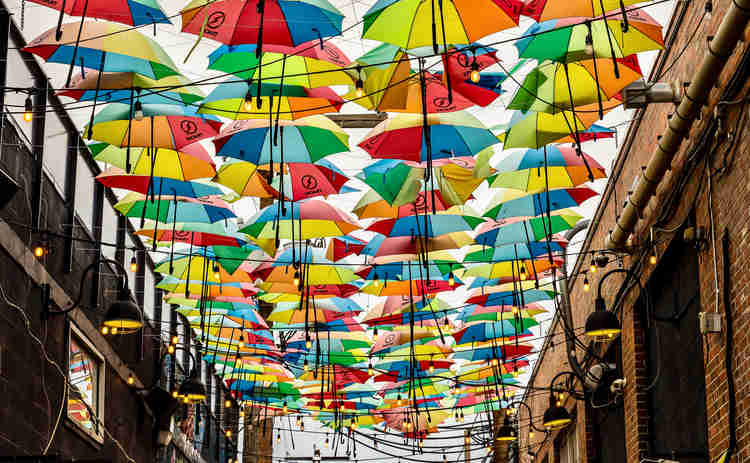 In this hipster neighborhood, you'll also find a burgeoning number of funky restaurants, craft breweries, and speakeasies.
The Central Food Market has take home produce, gourmet pizzas, and ice cream. The Source is a brick building with eclectic dining options.
RiNo is best known for its street art murals. You can even take a graffiti art tour.
For all the best things to do in RiNo, check out the RiNo website here. In September, Denver hosts a festival called Crush Walls, where the existing RiNo murals are "crushed" or repainted.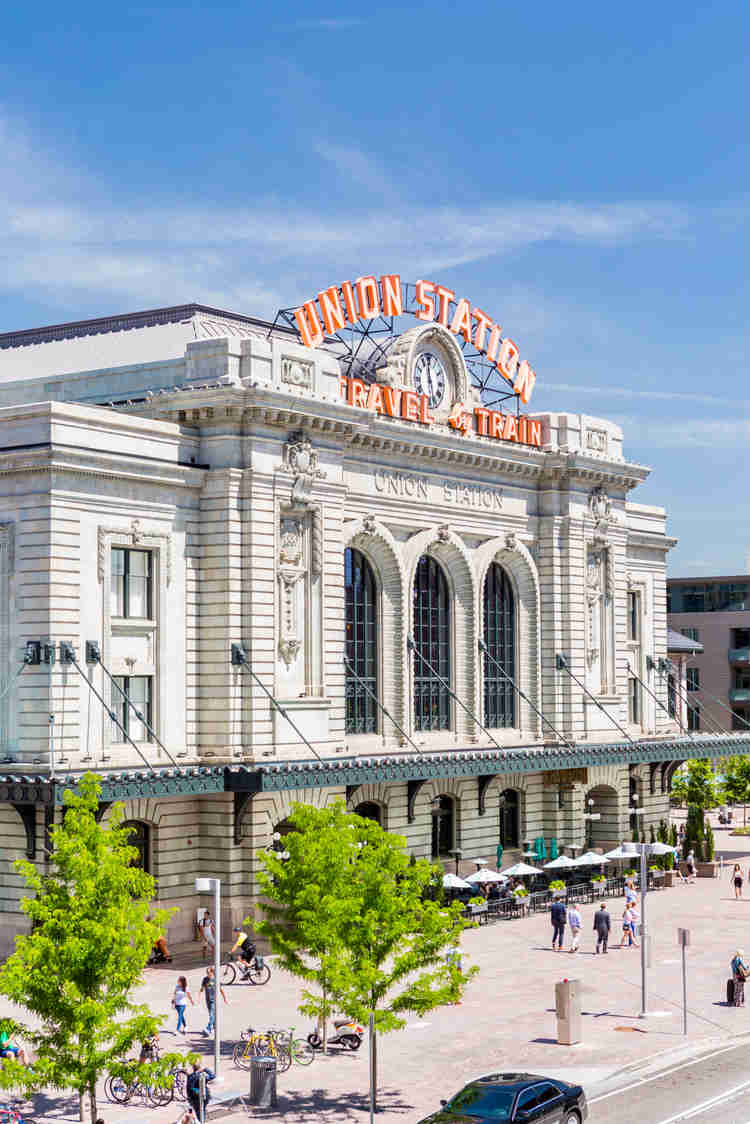 Union Station
Union Station is considered Denver's "living room." It's in center of Denver's Lower Downtown ("LoDo") neighborhood.
The fully renovated Beaux Art landmark is a hot gathering spot. The lobby is full of comfy sofas, long library tables, and soaring ceilings. You'll find loads of shopping in a restored vintage setting.
My favorite spots were Bloom (adorable gifts and home products), Tattered Cover Bookstore (a mini version of the Denver institution beloved by book worms), Pigrain Coffee Company, and Mailbox Ice Creamery.
If you're visiting on a Saturday, you'll find the Denver Farmer's Market in front of the station. It runs from from 8:00 am to 1:00 pm. Sample the local honey!
Dairy Block
The Dairy Block is also located in the LoDo district of Denver, just a few blocks from Union Station. It's essential a micro outdoor dining and pedestrianized area.
It consists of one charming alley strung with white fairy lights. In the winter, glowing snowflakes are added. You'll find all manner of shops, art galleries, restaurants, cocktail bars, wine bars, and a lively upscale food court (Milk Market).
Street art decorates the alleyway. At the far end is a large and whimsical milk splash sculpture. This sculpture is a great spot for photos.
16th Street Mall
Then, amble down the 16th Street Mall. It's a 1.2 mile long (12 blocks) pedestrian friendly street in the heart of downtown Denver. The mall runs all the way from Union Station to Civic Center Park.
It's lined with cafes, shops, restaurants, street food vendors, and street performers. There are plenty of whimsical sculptures of cows and other animals, along with some street art murals. In winter, you'll find the Mile High Christmas tree.
Be sure to step into Tattered Cover Bookstore. This bookstore is about the real reading experience. You can browse books from cozy arm chairs, rockers and chaise loungers.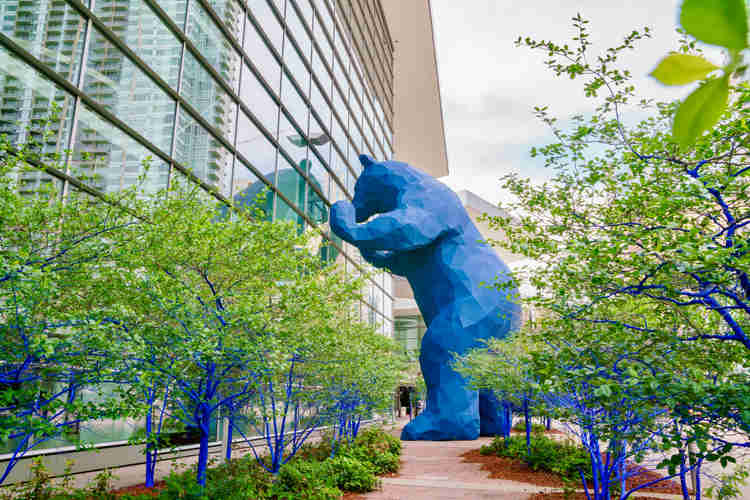 Be sure to get some delicious ice cream at Little Man Ice Cream. It's housed in a unique building, a 28 foot tall cream can.
And veer off to 14th Street to see one of Denver's most iconic art installations. It's a 40 foot tall curious blue bear peering into the convention center.
It was created by local artist Lawrence Argent. he was inspired by a photo of an actual bear peaking into a resident's home.
Denver Art Museum
For art lovers, the Denver Art Museum is a must visit on a weekend in Denver. It's an encyclopedic collection spread out over two buildings, the Hamilton Building and the newly renovated Martin Building.
It's especially strong in French Impressionism, Indigenous art, contemporary art, and Asian art.
You'll find works by Monet, Delacroix, Van Gogh, and John Singer Sargent.
The museum shop is one of the largest I've seen. There's an enormous selection of art inspired gifts, souvenirs, ceramics, jewelry, and art supplies. Plus, there are two cafes if you need something to eat or drink.
There are a bunch of other museums you could put on your Denver itinerary too, especially if you've already been to the main museum.
You can check out:
Clyfford Still Museum
Contemporary Art Museum
Museum of Nature and Science
Kirkland Museum of Fine & Decorative Art
Byers-Evans House
Children's Museum
Molly Brown House and Museum
National Ballpark Museum
In the evening, head to Larimer Square. It's a picturesque block in LoDo, listed on the National Register of Historic Places.
This is one of Denver's best social spaces. Fully restored historic red brick buildings line the block. A signature canopy of fairy lights adds charm. There are plenty of cute independent shops, eateries, and nightlife options.
Some of my favorite shops were Buckley House of Flowers, Element Home, Garage Sale Vintage, Milly Rose, and Scarpaletto.
This is a great place to have cocktails and dinner. A good option is Osteria Marco.
You can also sample Denver's live music scene at Larimer Lounge. Or take in some stand up comedy at Comedy Works.
Day 2 of 2 Days in Denver
On the morning of day 2 of your weekend in Denver, hit Snooze for breakfast. It's Denver's most popular breakfast place. You'll find all the usual traditional breakfast food, some served up with a twist.
I love Snooze's omelets and avocado toast. The cinnamon roll pancake is also quite decadent.
After you're fueled up, head out to the mountains. Start early so you can grab a parking space.
You have three main choices: Rocky Mountain National Park, Chautauqua Park in Boulder, or Golden Gate Canyon State Park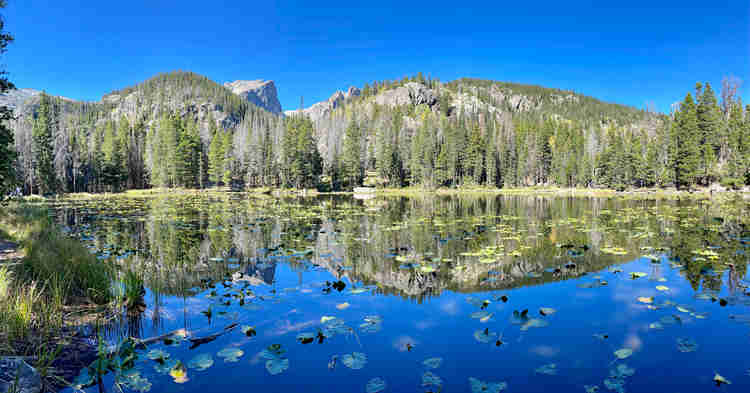 Rocky Mountain National Park
Less than an hour from Denver, the park offers some of the best hiking in the area and is essentially Denver's backyard.
You can spot wildlife, enjoy stunning overlooks and waterfalls, and hike to your heart's content. Wear sturdy shoes, bring layers of clothing (and possibly wind gear), and water.
When I visited, I took the popular Bear Lake Nature Trail. That loop is lined with lakes fringed with blue-green spires of fir, spruce, and pine.
The classic 3.6 mile loop takes you past Bear Lake, Nymph Lake, Dream Lake, and Emerald Lake. Nymph Lake is especially fetching, with lily pads decorating its emerald hues.
You have to arrive early to park or else take a shuttle bus to the trail. There may be signs saying that the Bear Lake parking lot is closed, when it actually may not be.
Another good hike is Sky Pond. On a hike, you will see Alberta Pass, The Loch, and the Lake of Glass. It's not uncommon to see some wildlife.
Want to take a guided tour and get shown around by a pro? You can book a guided adventure tour or a guided tour that includes the park and the cute town of Estes Park.
Have lunch in Estes Park. It's a cute mountain town full of family run shops and eateries. You'll find lots of ice cream and fudge.
Chautauqua Park
Chautauqua Park is about 35 minutes from Denver. It's right in Boulder. If you only have a few hours, hike the Flatirons, the town's most iconic hike.
After your hike, you can grab lunch or brunch in Boulder. For some ideas, you can check out my guide to the best restaurants in Boulder.
You can't go wrong with the beautiful Dushanbe Tea House, but you will need a reservation on the weekend.
READ: Best Things To Do In Boulder
Golden Gate Canyon State Park
Golden Gate Park is about 50 minutes from Denver. One of the most popular trails is the 2.5 mile Raccoon Loop Trail. It's very dog friendly, if you're traveling with furry ones.
In the afternoon, you have three options. Depending on your interests, you can go to Red Rocks, Water World, or Meow Wolf's Convergence Station.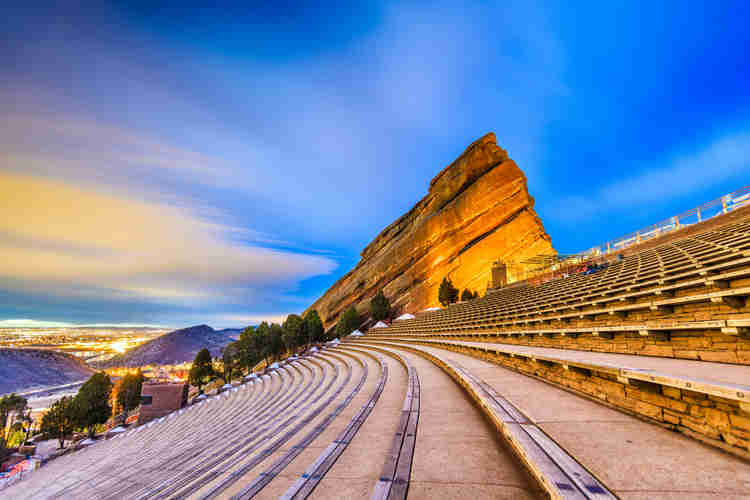 Red Rocks Park & Amphitheater
Just 10 miles from Denver, Red Rocks is the go to place near Denver for concerts. But it's not just a cool concert spot.
It's one of the world's only naturally occurring perfect acoustic amphitheater. Musicians of all levels have played at Red rock since 1941.
In addition to concerts, you can also enjoy movies, shopping, and dining. You can watch a short movie about the history and geology of Red Rocks at the visitor's center.
Water World
if you're visiting Denver in the summer, head to Water World. It's one of the largest water parks in the United States. Click here to book a ticket.
There's a variety of thrilling water rides, play areas, and wave pools. Make sure you go on Voyage to the Center of the Earth and the Lost River of the Pharaohs.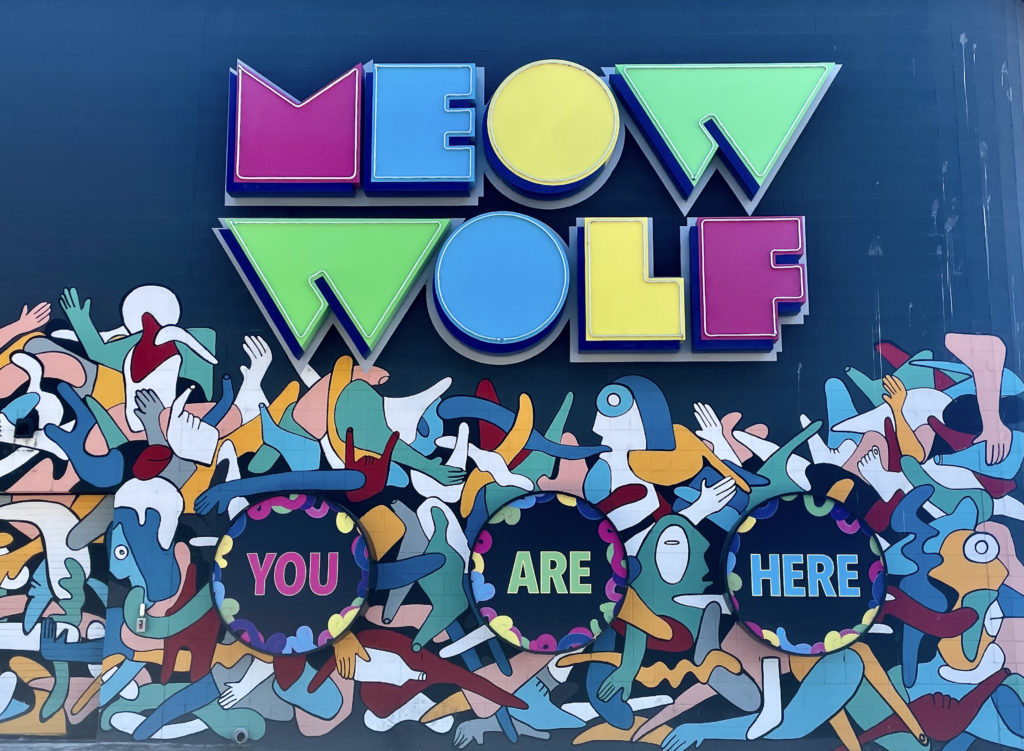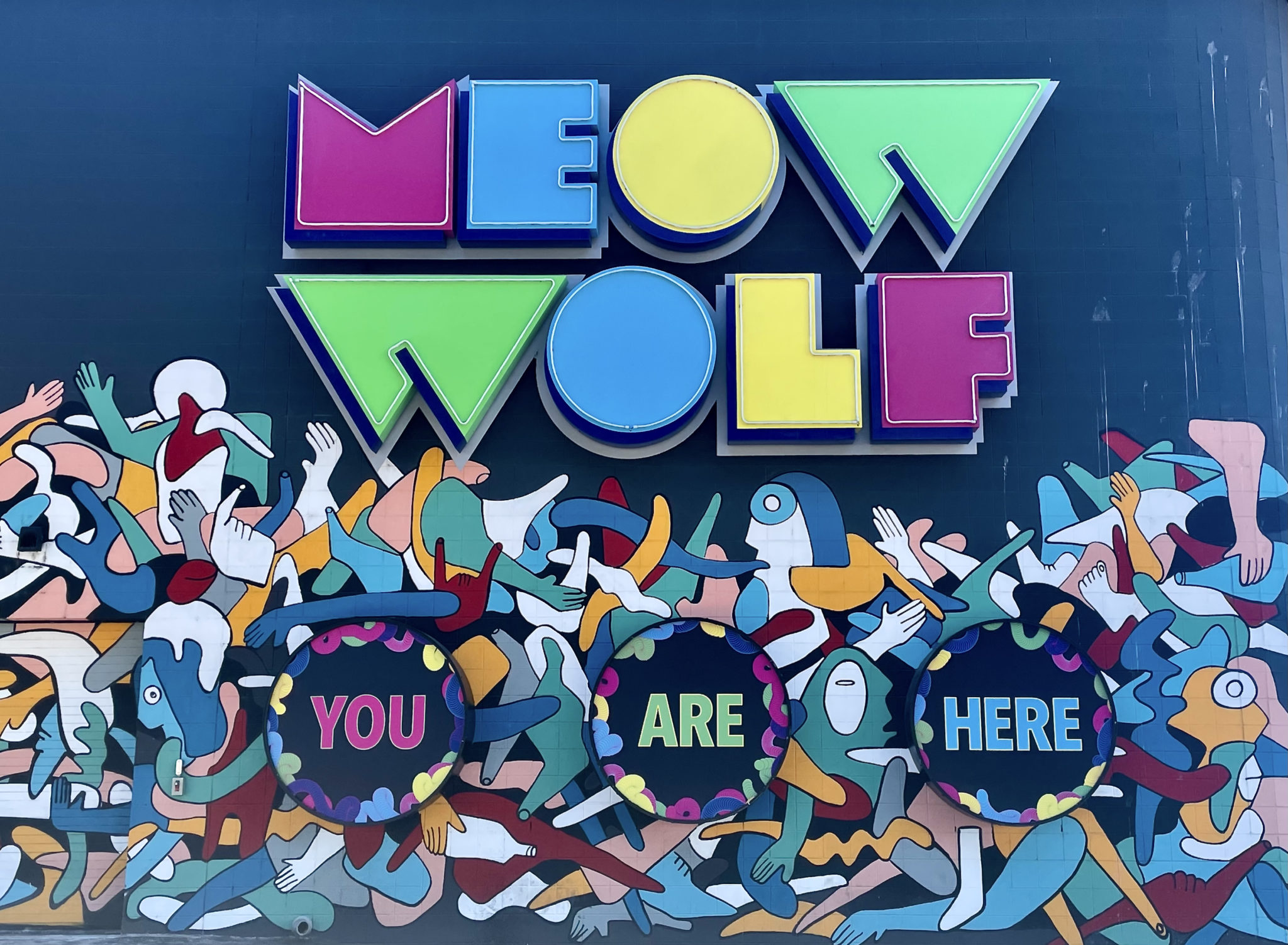 Convergence Station
Another great thing to do with a weekend in Denver is to pay a visit to Convergence Station, a trippy art space designed by the cutting edge art group Meow Wolf.
Meow Wolf Denver is an immersive art installation featuring a paranormal motif. The station is designed as an interplanetary transit hub where four different worlds have converged.
The installation is a massive (70+ rooms) psychedelic maze of beautiful art and absurdist spaces. The visually stunning exhibit is part original contemporary art, part sci-fi theater, and part film set.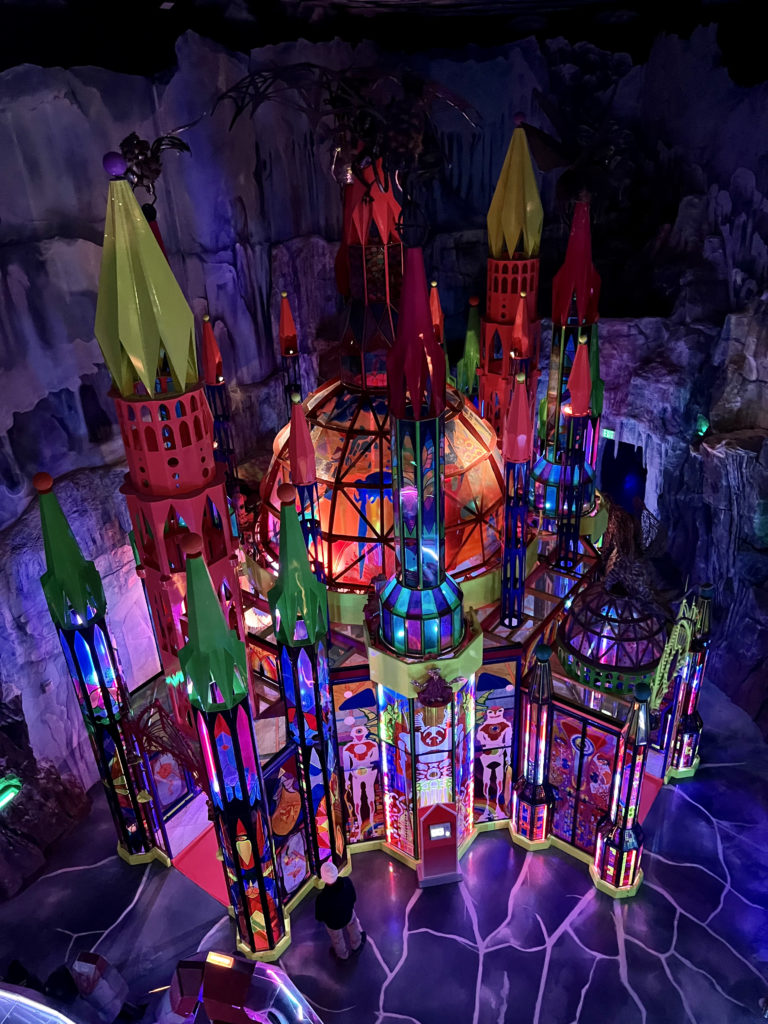 In the dimly-lit exhibition space, there are secret doors, hidden experiences, and tiny cage-like rooms and openings. Even a psychic tent.
If you're too over-stimulated, there are some decompression rooms to escape the chaos.
I loved the space and you can read my complete review of Meow Wolf Denver.
Denver Botanic Gardens
Another idea for the afternoon of your 2 days in Denver itinerary is to visit the Botanic Gardens. It's rated among the top 5 in the United States.
The gardens are beautiful and continually changing with the season. There are plenty of benches to plop down on to enjoy the scenery. If hunger calls, you can check out the Hive Bistro, which features ingredients from the gardens.
Click here to pre-book a ticket for the gardens.
Polish off your weekend in Denver with dinner at ChoLon. It's a modern Asian restaurant that's my favorite place to eat in Denver.
It's a great pre-theater spot. So I suggest you dine well and then hit a show at Buell Theater, the go to place for Broadway shows. It's just a few minute walk from the restaurant.
If you don't like Asian food, I've also had great meals at Apple Blossom (American), Spuntino (Italian), and Cantina Loca (Mexican).
Alternatively, if you're a sports fan, Denver has plenty of sports venues to fill your evening. You can watch the Rockies (baseball) at Coors Field, the Broncos (football) at Mile High Stadium, the Nuggets (basketball), or the Avalanche (hockey) at Ball Arena.
Since Denver is known for its craft beers, you could also do a craft brewery tour. Or even go on a haunted ghost walking tour.
Tips For Spending A Weekend in Denver
Here are some must know tips for spending 2 days in Denver.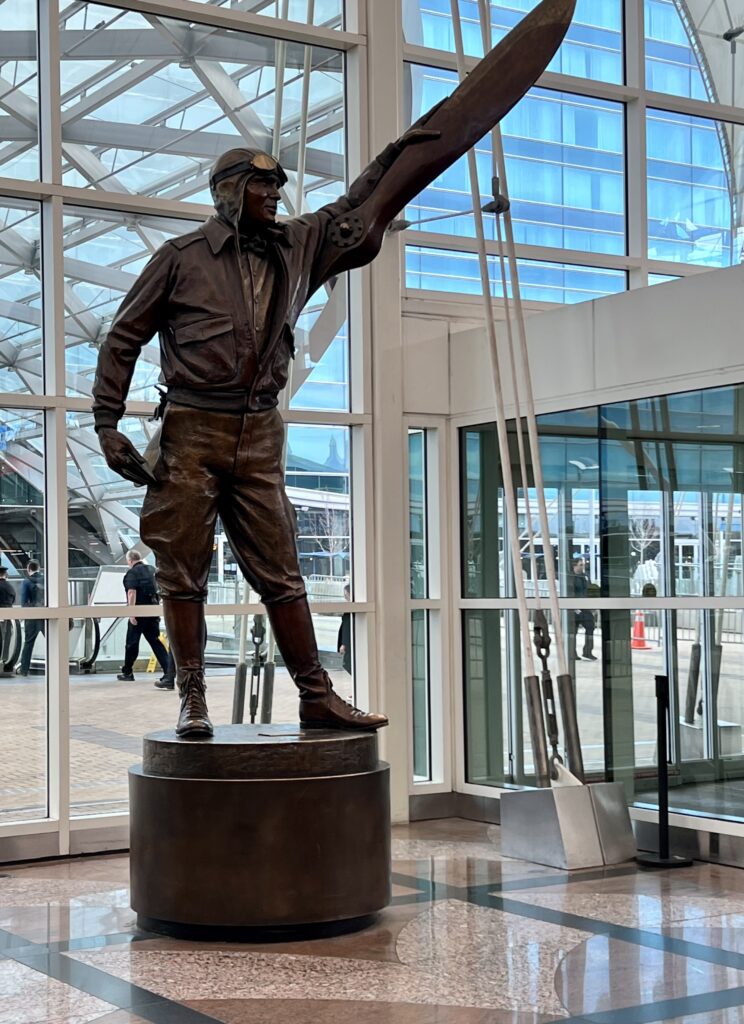 1. How To Get To Denver
You can fly into Denver International Airport. The cheapest way to get downtown is to hop on the light rail to Union Station. It's a 40 minute ride.
If you are flying into Denver, I advise renting a car for your weekend in Denver. The downtown area is about 30 minutes from the airport. Renting a car will give you flexibility to drive into the mountains.
If you don't want to rent a car, you can get to Denver by rail, taxi, Uber, or Lyft. Ride sharing apps are quite a bit cheaper than taxis. You can also book a private transfer.
2. How To Get Around Denver
You can walk to most of the main sites in Denver. There is a free tram, the Mall Ride, that runs up and down the 16th Street Mall.
Denver has a light rail system. There is also a scooter share system.
You can also get around Denver by taking a bike tour. You may also want to book a history and architecture tour.
Like many cities, Denver also has a bike rental program, with bike lanes connecting the city's parks and attractions. You can rent by the hour, day, or week. You'll find over 80 stations to check out and return bikes.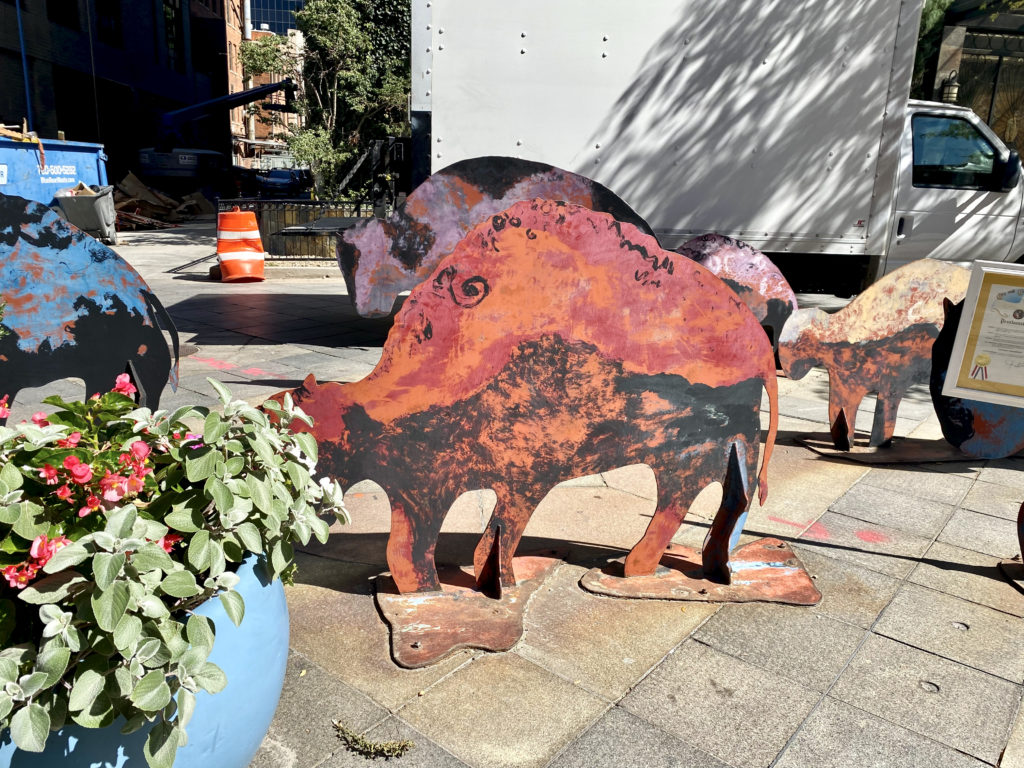 3. When To Visit Denver?
Denver is a year round city. The best time of year to visit depends on your personal interests.
If you are coming to hike, spring is a beautiful time to visit with wildflowers blooming and nice temperatures.
Summer is the most popular time to visit. It's always sunny and warm and there are a wide variety of festivals then. If you want to see the Chalk Art Festival, where 200 artists create beautiful pieces on the pavement, schedule your visit for mid June.
Fall is also a good time to go to Denver. You can see the leaves changing color and it's a great time to hike.
Winter, of course, is a busy time in Denver. People flood in for the winter sports.
4. Where To Stay in Denver
There are a wide variety of places to stay in Denver. You can check out Air Bnb. If you prefer a hotel, there are literally hotels galore with new hotels opening all the time.
The Warwick Denver has one of Denver's only rooftop pools. The Curtis Hotel is a pop culture themed Hilton hotel with stylish rooms.
I also really like the Art Hotel. Art work isn't just a design flourish. It's the main objective of the hotel.
Another cool hotel is the Maven Hotel at the Dairy Block. It's in a great location and the Denver Milk Market is right there if you need to grab food. It has over 400 pieces of original art.
You can also try the hipster boutique Hotel Teatro in the LoDo neighborhood or the historic and posh Brown Palace Hotel and Spa in the downtown business district. The Brown is a Denver landmark that's been around since 1892.
For pure luxury, you can check out the Four Seasons. It has a popular bar and steakhouse, Edge.
If you are spending a weekend in Denver to ski, there are also some ski resorts close to Denver.
The Keystone Resort is about 1.5 hours from Denver. It's known for its size and quality of runs. There are also cute cafes to warm up with hot chocolate or coffee. About 50 miles west of Denver, Loveland is a great ski resort for beginners.
I hope you've enjoyed my 2 days in Denver weekend itinerary. You may enjoy these other US city travel guides and resources:
If you want to spend a weekend in Denver, pin it for later.