Planning a visit to beautiful Beacon Hill in Boston and wondering what to do? This guide covers all the top attractions and best things to see and do in Beacon Hill.
This colonial chic part of Boston is one of New England's most adorable and classic neighborhoods. When you conjure visions of early America, you picture Beacon Hill.
Beacon Hill is nestled behind the iconic gold dome of the Massachusetts State House. It's an extremely pretty and tranquil cluster of steep gaslit streets, brick sidewalks, and flower boxes. Beacon Hill is regularly listed as one of the most beautiful neighborhoods in America.
America's first professional architect, Charles Bulfinch, designed many of the dignified Federal and Georgian style homes. They were built for Boston's Protestant merchant elite, known as the Boston Brahmins.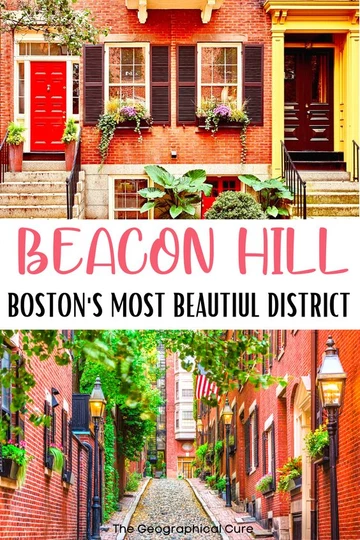 But, while traditional, Beacon Hill isn't stuck in the past or overly gentile. Today, Beacon Hill charms with picturesque streets, farm to table eateries, tony small-scale shops, and amazing hidden gem house museums.
If you love mossy cobblestones, old houses, and historic landmarks, you should put Beacon Hill on your Boston itinerary. I go virtually every time I'm in Boston, just to step back in history and relive the American Revolutionary period.
After all, Beacon Hill is one of the most ancient places in America and the only neighborhood in Boston that's a designated National Historic Landmark.
>>> Click here to book a Beacon Hill walking tour
Top Must Visit Attractions in Beacon Hill
So what are the best things to see and do in Boston's Beacon Hill neighborhood? I've been to Boston many many times and lived there.
Here are my recommendations for the top must visit attractions that you can't miss in beautiful Beacon Hill. They range from stately mansions to historic period museums.
1. Massachusetts State House: Symbol of Freedom
This magnificent hybrid Neo-Classical and Federal style State House is one of the best things to do and see in Boston. It reflects the ebullient nature of a newly freed republic.
Like much of Beacon Hill, it was designed by Charles Bulfinch. The state house was completed in 1798, and is the oldest building on Beacon Hill.
On July 4, 1795, Samuel Adams and Paul Revere laid the cornerstone on land that once served as John Hancock's cow pasture. The red brick building's first dome was wooden. In 1802, patriot Paul Revere covered it with copper to prevent water leakage. In 1874, the dome was gilded in 24 carat gold.
The Massachusetts State House is open to the public. You can take a guided or DIY tour weekdays from 10:00 am to 3:30 pm.
Guided tours are approximately 30-45 minutes. You'll learn about the history and architecture of the building and see the House and Senate chambers.
The Nurses Hall has murals of important Civil War episodes. Memorial Hall or the Hall of Flags is where regimental colors were returned after Civil War conflicts. The third floor houses the House of Representatives.
The third floor also has a newly refurbished library. When you walk in the door, cast your eyes up to the 4th floor.
The Freedom Trail Tapestry hangs in a place of honor. This 6′ x 11′ tapestry was stitched by members of the Massachusetts Chapter of the American Needlepoint Guild.
The newest addition to the State House is the Great Hall, which was completed in 1990. Topped by a glass dome, this was previously an open air courtyard and is used for special ceremonies. A clock hangs in the center of the room.
Be sure to admire two statues on the state house grounds. One is Cyrus Dallin's statue of Anne Hutchinson, who was driven out of Boston in 1638 for not conforming to Puritanism. The other is a statue of John F. Kennedy that was a gift from the people of Massachusetts.
Address: 24 Beacon Street
2. Boston Anthenaeum: A Library Built By Brahmins
At the foot of Beacon Hill lies Boston's oldest library and one of its oldest museums, the Boston Athenaeum. When you pass through its red leather doors, you'll discover one of Boston's most beloved hidden gems.
An athenaeum is a studious sanctuary. Athenaeums are named after the Greek goddess Athena, devoted to research and learning.
A designated National Historic Landmark, the Boston Athenaeum is one of the oldest and most esteemed private membership libraries in the United States. A
And it's the most beautiful library-haven you've never heard of, with Colonial decor and Louis Comfort Tiffany painted ceilings.
Opened in 1849, the Boston Athenaeum is right in the heart of the city, at the foot of Beacon Hill and adjacent to Boston Common.
Past library members include luminaries and patriots such as John Quincy Adams, Ralph Waldo Emerson, Amy Lowell, Henry Wadsworth Longfellow, and Daniel Webster.
Today, the collection boasts over a half million volumes, beautiful paintings, sculptures, rare books, and manuscripts. There's a special emphasis on the history of Boston.
You'll also find books of New England, English and American literature and fine and decorative arts. If you're a culture vulture or bookworm, the Athenaeum is a top attraction in Beacon Hill.
Address: 10 1/2 Beacon Street
READ: Complete Guide to the Boston Athenaeum
3. Boston Common: Boston's Oldest Green Space
Boston Common is the oldest city park in the US. It dates back to 1634. In Boston's early days, the park was used for cattle grazing and as a training field for the British militia.
Much like the green in the Tower of London, the Common was center stage in American history. It was used for hangings, duels, and spirited oratory.
Today, the Common's historic green lawn is used as a playground. The Common hosts public celebrations, concerts, Shakespeare plays, and holiday festivals. Speakers like Barack Obama and Martin Luther King Jr. have used the Common to rally New Englanders.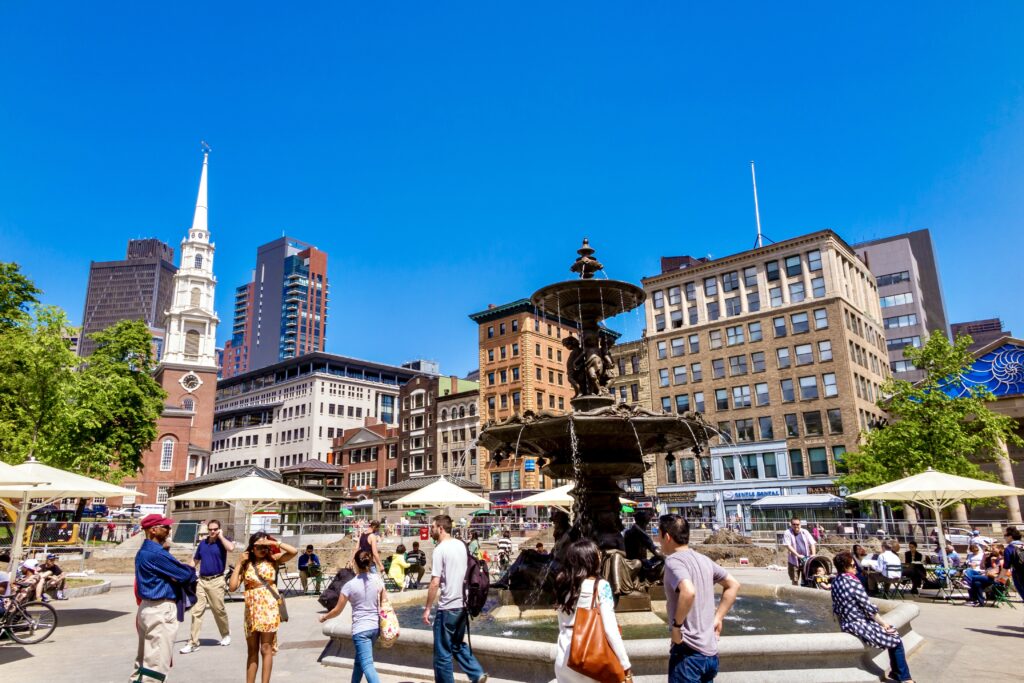 Boston Common is also the first stop on the Freedom Trail, a historic 2.5 mile marked walking trail.
Boston Common is adjacent to Boston Public Garden. I think this is Boston's prettiest green space. So plan to spend some time here too.
Boston Common is also a two attraction and the first stop on the Freedom Trail, a historic 2.5 mile marked walking trail. Boston Common is adjacent to Boston Public Garden. I think this is Boston's prettiest green space. So plan to spend some time here too.
>>> Click here to book a Freedom Trail walking tour
Address: 139 Tremont Street
4. Old Granary Burying Ground: Patriot Resting Place
Right behind the Boston Athenaeum, you'll find Granary Burying Ground. It's the most visited cemetery in Boston. Old Granary is the third oldest burial ground in Boston, dating back to 1660.
The cemetery is the famous resting place of many freedom-loving patriots, including Paul Revere, John Hancock, and Samuel Adams. The victims of the Boston Massacre are also buried here, in the Adams' family tomb.
The first and largest monument that you'll see is the Benjamin Franklin Monument. No, the great man isn't buried there. But his family is.
The monument to the wealthy John Hancock, who helped fund the revolution, is easy to spot as well. The quirkiest grave is that of Mary Goose, purportedly of nursery rhyme fame.
Most people visit Old Granary to pay their respects to Paul Revere. His grave is directly behind the Franklin Monument, in the shape of a pedestal. Paul Revere, of course, was made famous by the Henry Wadsworth Longfellow poem The Midnight Ride of Paul Revere.
It's free to enter the graveyard, which is open every day from 9:00 to 5:00 pm.
Address: Tremont Street
5. Nichols House Museum: Home of a Colonial Suffragette
Nichols House Museum is another Bulfinch-designed beauty and a top attractions in Beacon Hill. Built in 1804, it was one of the first private dwellings on Beacon Hill.
Arthur Nichols, a medical doctor, purchased the house in 1885. The museum is a turn of the century tribute to their accomplished and progressive daughter, Rose Standish Nichols.
Born in 1872, Rose bucked tradition, never married, and ruled the roost. An iconoclast and suffragette, she traveled extensively, collected antiques, and pursued interests befitting an upperclass "new woman" who led a more public life. She held Sunday tea parties and encouraged Salon-like talk.
Encouraged by her uncle, Augustus Saint-Gaudens, a leading 19th century landscape sculptor, Rose pursued her interest in landscape design and wrote three books about garden design.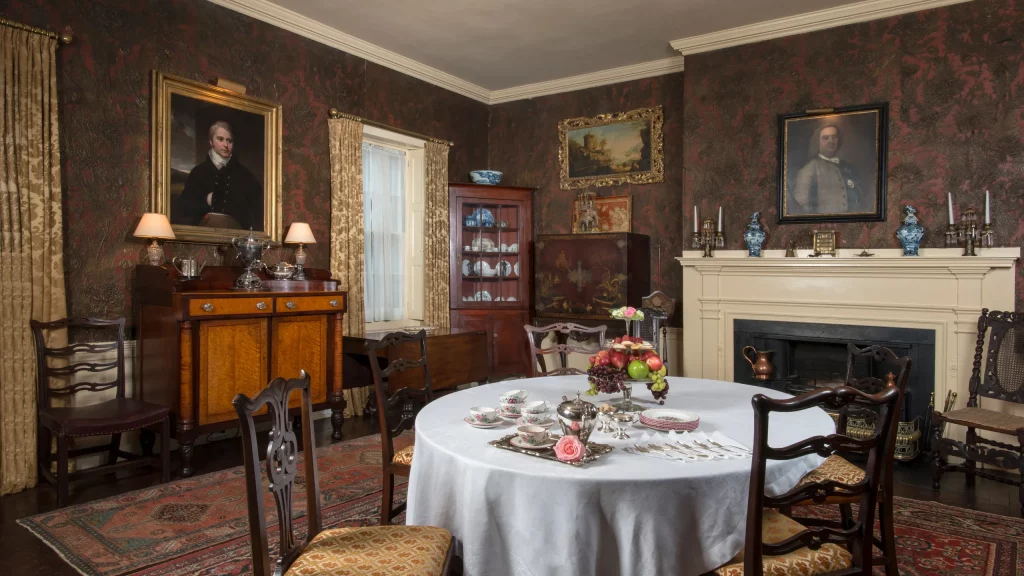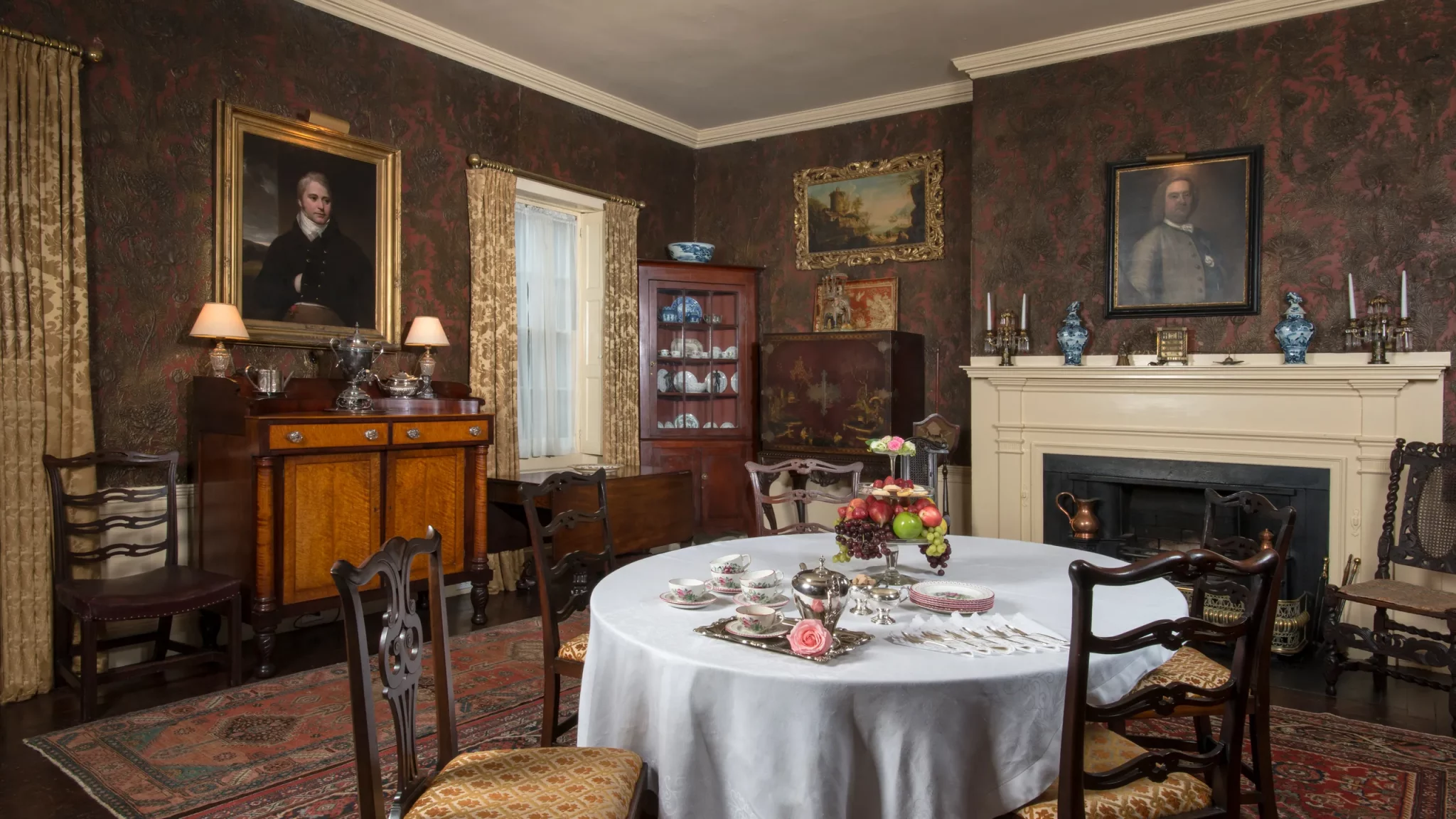 She published pieces for magazines such as House Beautiful, Horticulture, and House and Garden. In 1915, she helped found the Women's International League for Peace and Freedom.
On the ground floor, you'll see Dr. Nichols' medical examination room and office.
The largest and most elegant rooms are on the second floor. Climb the spiral staircase and gasp at beautiful examples of furniture and art that Rose collected on her travels.
The guest bedroom is furnished in the Colonial Revival style, with linoleum flooring resembling rough-hewn boards and pegs. In Rose's bedroom, you'll see the Rose-created crewel bed hangings. The pattern is based on a Colonial era design that she saw at the Museum of Fine Arts in Boston.
Address: 55 Mount Vernon Street
6. Acorn Street: Prettiest Street in the United States
Acorn Street is America's most photographed street. Just south of Louisburg Square, Acorn Street is often called the most beautiful street in America.
The narrow short lane just screams "Beacon Hill." You'll might feel like you're in an 18th century romance novel.
Do the obligatory selfie amid its cobblestones and townhouses. Or, like me, just take a photo. Be sure to wear comfortable shoes to brave the cobblestones and uneven sidewalks.
7. Louisburg Square: Boston's Toniest Address
Louisburg Square is reputedly Boston's most expensive address. It's a tony area with brick sidewalks and gaslit streets. Louisburg Square is lined with New England red brick bow fronted homes designed by Bulfinch.
It has a tiny patch of greenery surrounded by a wrought iron fence. A statue of Christopher Columbus stands in the center.
The Greek Revival homes on Louisburg Square were built in the 1830s. The homeowners themselves own the square. Even the parking spaces are deeded.
Over the years, Louisburg Square has been home to millionaires, famous homeowners, and politicians such as Bulfinch himself, Louisa May Alcott, Williams Dean Howell, and John Kerry (who still lives there).
8. Sunflower House: Queen Anne House in Yellow
The Sunflower House, also known as the Sunflower Castle, stands in contract to Beacon Hill's traditional Federal architecture. The colorful Queen Anne style residence was built in 1848. But its present appearance dates from 1878, when it was renovated by Charles Luce.
The first floor is painted bright yellow stucco. The second story and the roof are covered in a red English fish scale tiles. Above the front door, you can spot a black iron griffin. Directly above the griffin, under the large gable in the roof, is a wooden carving of a sunflower.
In the 1860s, the Sunflower House was occupied by artist Frank Hill Smith. He was an artist who created the ceiling frescoes in the Representatives Hall of the Massachusetts State House.
In the early 20th century, it was the home of watercolor artist Gertrude Beals Bourne and her husband, architect Frank Bourne. It's still a private home today.
Address: 130 Mount Vernon Street
9. Charles Street: Beacon Hill's Main Drag
Dating from the 19th century, elegant Charles Street hugs the base of Beacon Hill. It's the main shopping and dining street in Beacon Hill.
Charles Street is one of Boston's toniest shopping districts, especially if you like boutique stores rather than chain brands. Charles Street was also the birthplace of the antique trade, and you'll find many quaint antique shops.
There are also several hip clothing stores — Ouimillie, Paridaez, Holiday, and December Thieves. For adorable children's clothing, try The Red Wagon. If you're into skincare, check out the Follain retail store. Definitely don't walk past Beacon Hill Chocolates without stopping in for a treat.
If you're hungry on your Beacon Hill walkabout, Charles Street is the heart and soul of Beacon Hill's dining scene. Options abound.
For brunch or a casual dinner, stop in for a farm to table meal at Panificio or try the perennial neighborhood favorite, Paramont, which first opened in 1937.
Figs is the best spot for wood fired pizza and homemade pasta. For a fancier meal just off Charles Street, try No. 9 Park, housed in an elegant townhouse.
If you just want a coffee, newbie Café By Salon is located inside Salon Design, a contemporary design gallery and home decor store. It's a great place to fuel up and munch on a freshly baked pastry while browsing the unique collection of designer home goods.
10. Mount Vernon Street: Urban Culture
Mount Vernon street has famously been called "the most civilized street in America." Most of the developers of the Beacon Hill neighborhood chose to build their own homes here.
To walk the length of Mount Vernon Street is to step back in time. You don't need an agenda. Just stroll and go cheek to jowl with the stately brick homes.
Jonathan Mason built three Bulfinch-designed homes at #55, 57, and 59 for his three daughters.
Number 55 was eventually passed on to the Nichols family, and ultimate became the Nichols House Museum. And Mount Vernon Street is also where you'll find the Sunflower House.
11. Rouvalis Flowers: Ravishing Floral Displays
Rouvalis Flowers is just too pretty to miss if you're looking for things to do in Beacon Hill. This iconic spot is the most gorgeous flower shop in Boston.
You'll feel like you've been teleported to Europe. Established 40 years ago, Rouvalis is a family-owned flower shop that's located on the corner of Pinckney and West Cedar streets.
Rouvalis Flowers has ever changing seasonal displays. It never looks the same and is always worth a photo. You can get a custom bouquet. Or pick out unique plant containers or garden ornaments.
Address: 40 W Cedar Street
12. Otis House Museum: Boston's Wealthiest Colonial
This grand mansion was also designed by the ubiquitous Bulfinch. The Otis House straddles Beacon Hill and the West End, in a spot formerly known as Bowdoin Square.
It was the first of three homes built for Boston politician and eventual mayor Harrison Gary Otis in 1796. Otis was the richest man in Boston.
Outside, the Otis House is all Federal style. It's one of Boston's earliest three story brick homes. It has a symmetrical facade with five bays and a fine Palladian window on the first floor with a lunette above.
Inside, the Otis House has been restored to its 1800 appearance. Its paint colors and carpets are rather loud yet historically accurate. Bostonians had more flamboyant taste than the more muted Virginia colonials. There are pairs of rooms on either side of the central hall, which was the entertaining space.
In 1960, the Otis House was carefully renovated. Today, it sits, rather incongruously, against a backdrop of modern office buildings.
Address: 141 Cambridge Street
13. Gibson House Museum: Gaudy Victorian Beauty
To really step back into the past, stop by the stately Gibson House Museum on Beacon Street. Designed by Edward Clarke Cabot, the historic brownstone is a bit of a hidden gem in Boston.
But it's a perfect time capsule of mid 19th to early 20th century domestic life in Brahmin Boston.
The Gibson family lived there from 1859 to 1954. Beginning in 1936, Charles Gibson, the grandson of the original owner, decided to preserve his family's home intact. The Gibson House opened as a museum in 1957.
The Victorian house is an unassuming brownstone that conceals a perfectly preserved 1954 interior.
Today, you can take a guided tour of the 4 story landmark. It has a Victorian ventilator shaft, a 15 piece bedroom set, Japanese leather wall paper, imported carpets, and a period kitchen.
Address: 137 Beacon Street
14. Prescott House: a Beacon Street Historic Landmark
Beacon Street is lined with beautiful urban mansions facing Boston Common. The bow front William Pickering Prescott House (#55), designed by Asher Benjamin, is one of the best. History wasn't just made here. It was written and filmed here (starring in the film Wish Man.)
Prescott House was built in 1808 for American's first great historian, known for his Spanish War treatises. In 1944, the National Society of Colonial Dames of America purchased the mansion. 20 years later, it became a designed National Historic Landmark.
The museum offers tours. You can inspect the mix of Federal, Victorian, and Colonial Revival styles. There's a faithfully restored library and study.
The study has Prescott's noctograph on display, one of the first devices to help the visually impaired write. The Prescott House also has a large costume collection of 18th century garments.
Address: 55 Beacon Street
15. Museum of Science: Electrifyingly Good Museum
Boston's Museum of Science celebrates technology and innovation. The museum was the first in the United States to unite all sciences under one roof — natural history, geology, astronomy, computing, etc. The popular museum draws 1.5 million visitors annually.
The museum is renowned for its interactive exhibits. It also houses New England's most advanced digital theater, the Charles Hayden Planetarium. The museum's west wing contains the atmospheric Elihu Thomson Theater of Electricity.
Just as popular is the Mugar Omni Theater, opened in 1987. The latest film technology projects science and nature documentaries on a domed wraparound IMAX screen.
You can also explore the Hall of Human Life (life sciences biology), the Pixar Exhibit (exploring the technology behind Pixar animation), and the Yawkey Gallery (examining the museum's water location).
Address: 1 Museum of Science Driveway
Where To Stay In Beacon Hill
Beacon Hill has some top notch hotels. You can check out The Boxer, a hip boutique hotel with contemporary bedrooms.
The Liberty is a painstakingly renovated hotel in a historic building. Each room overlooks a beautifully landscaped courtyard.
The elegant Whitney Hotel is a luxury boutique hotel that's a refined gem.
I hope you've enjoyed my guide to best things to see and do in Boston's Beacon Hill. If you love New England, you might also enjoy these other travel guides:
If you want to see the top attractions in Beacon Hill, pin it for later.