Here's my complete guide to visiting Balboa Park. It tells you everything to see in Balboa Park and gives you must know tips to have an efficient visit.
Balboa Park is a 1,200 acre urban museum and garden complex in San Diego. It's a cultural, horticultural, and architectural oasis dressed up in fetching Spanish Colonial Revival architecture.
It's dubbed the "Smithsonian of the West." This is a bit of an overstatement. Yet, the complex has a remarkable collection of museums, cultural institutions, and other attractions.
History Of Balboa Park
Balboa Park boasts a storied history that traces its origins to the late 1800s. The park's inception can be traced back to 1868 when San Diego's leaders designated a vast expanse of 1,400 acres as public parkland.
However, it was the Panama-California Exposition of 1915-1916 that truly transformed the park. This grand event celebrated the opening of the Panama Canal and ushered in a period of significant development.
During this time, the iconic Spanish Colonial Revival-style buildings, which have since become synonymous with Balboa Park, were constructed. After the fair closed, San Diegans, who loved the beautiful Spanish Colonial architecture, lobbied to keep the buildings.
The subsequent California Pacific International Exposition of 1935-1936 added even more to the park's landscape, cementing its reputation as a cultural and architectural treasure.
Throughout the 20th century, Balboa Park continued to evolve, becoming a bustling hub for arts, sciences, education, and recreation.
There have been ongoing renovations, improvements, and continued development, all aimed at maintaining its cherished status as a focal point of San Diego's cultural and recreational life.
Today, the park stands as a testament to the city's dedication to preserving history. It fosters arts and sciences. It provides a vibrant space for residents and visitors to enjoy a myriad of attractions, museums, gardens, and events.
Tickets & Tours For Balboa Park
Here are some tickets and tours you might consider booking to visit Balbo Park:
If you are targeting just one or two attractions, you can also purchase tickets onsite.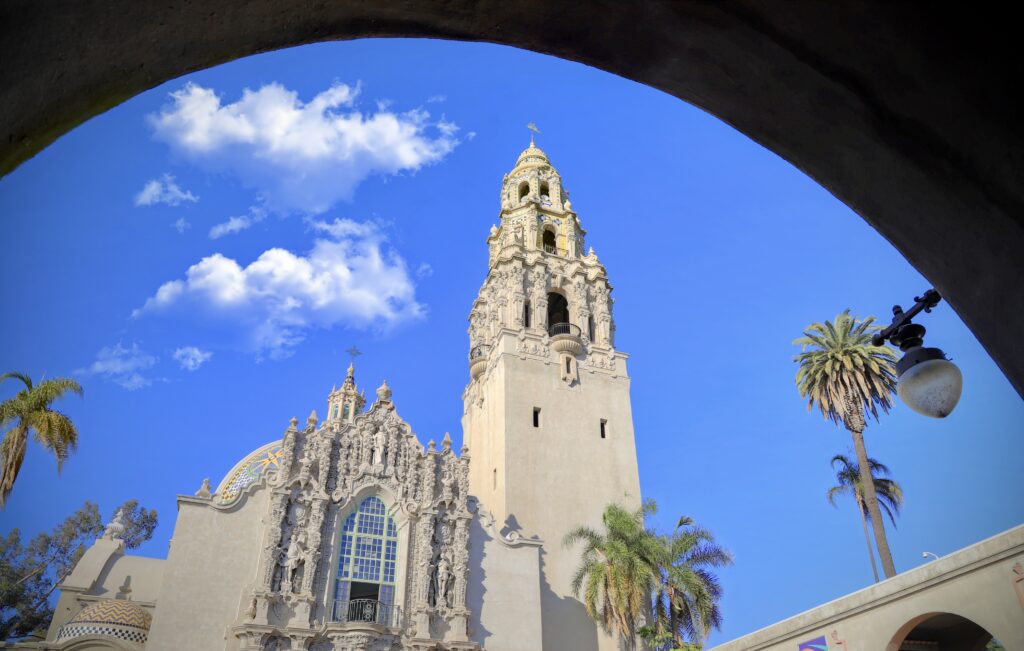 Guide To Balboa Park: What To See
Here are some of the top attractions and must see highlights of Balboa Park.
1. Overview & Orientation
Balboa Park features a square-shaped layout with two canyons slicing through it from north to south. The park is divided into three primary zones: East Mesa (recreational facilities); Central Mesa (historic and cultural attractions and the zoo); and West Mesa (serene walking paths).
While exploring, you'll likely find yourself spending considerable time in Central Mesa. The central hub is El Prado, the main promenade.
For a smooth start, consider visiting the Hospitality House initially. Apart from its aesthetic charm, this is where you can grab a park map, facilitating your navigation and exploration.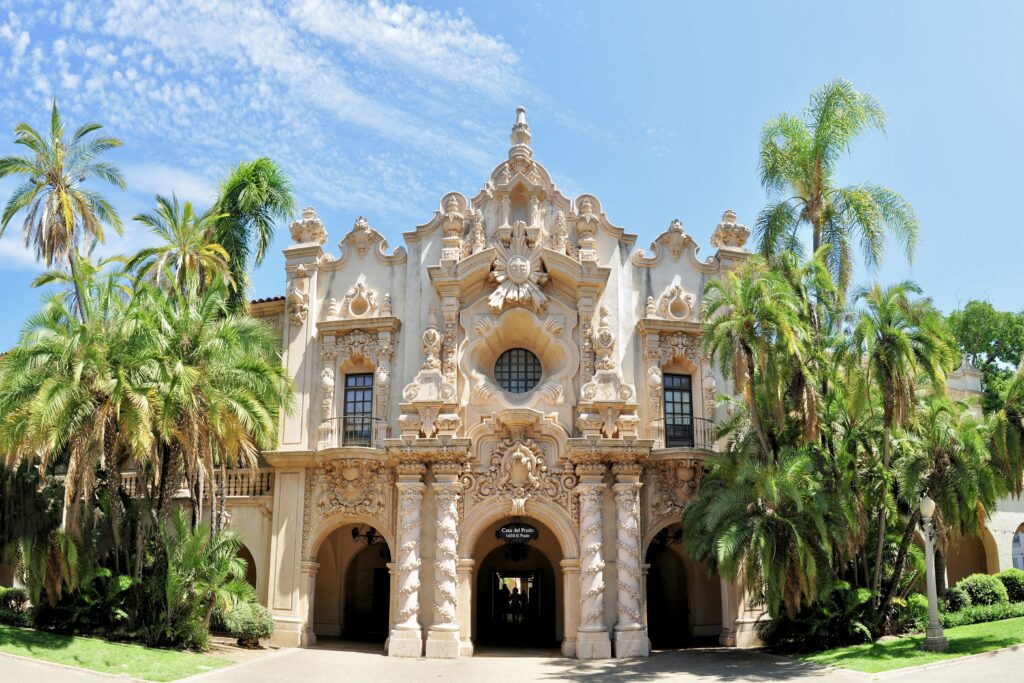 2. Casa del Prado
Casa del Prado is a simply gorgeous building housing several cultural organizations and serving as a hub for various artistic activities. It houses a theater, youth symphony and ballet conservatories, and the San Diego Floral Association.
At first glance, the facade sort of resembles a Spanish Colonial church. The entrance is elaborately ornamented with saints and cherubs. Angel faces frame the rose window.
There's a covered walkway that runs the length of the building in front of El Prado.
3. Casa de Balboa
The Casa de Balboa embodies the distinctive characteristics of Spanish Colonial Revival architecture. It was originally built in 1915. It burned down in 1978 and was rebuilt with public and private support.
The exterior of Casa de Balboa boasts stuccoed walls, red-tiled roofs, and ornate detailing. Arched doorways, decorative wrought ironwork, and intricate tile work contribute to the building's picturesque appearance.
You can even spy unique corbels — buxom ladies that appear to hold up the building.
Inside the Casa de Balboa, the architecture continues to evoke the charm of Spanish Colonial Revival style. Visitors are greeted with elements like exposed wooden beams, terracotta flooring, and intricate tile patterns.
Most of the building is used for exhibition space.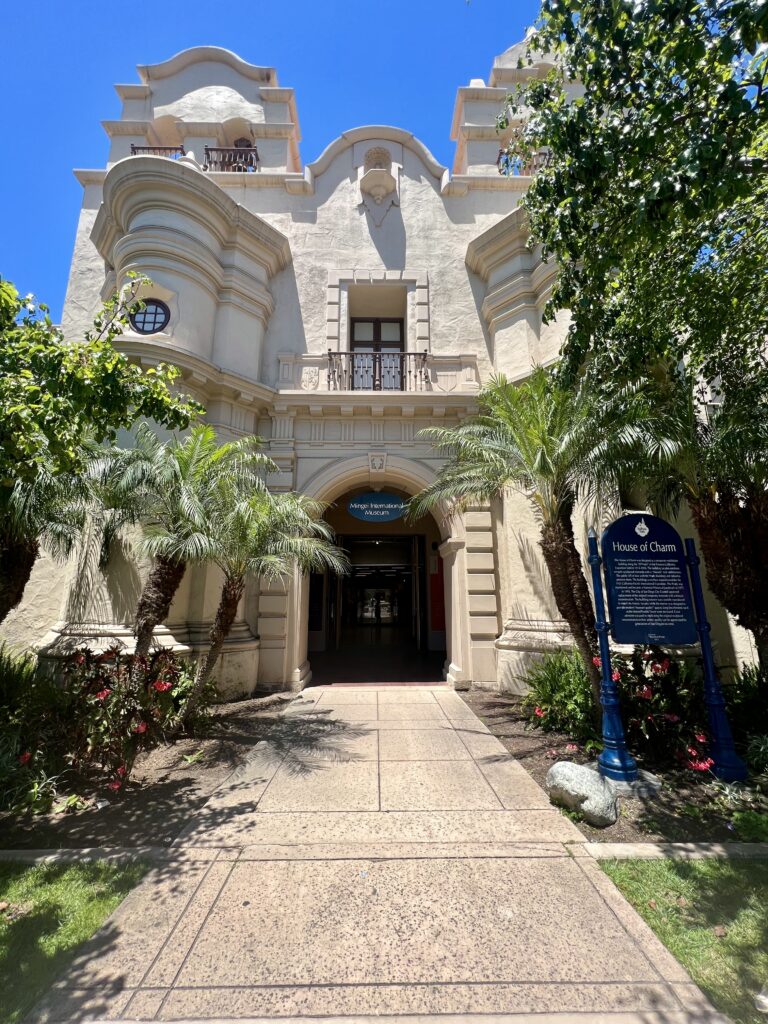 4. House of Charm
This pretty structure was designed as a temporary exhibition for the Panama-California Exposition held in 1915-16. The architecture combines the Spanish "Mission" style and ornately sculptured elements.
The public fell in love with the building and rallied to preserve it. In 1993, replaced the temporary structure with a historic reconstruction.
The building houses the San Diego Art Institute and the Mingei International Museum.
New exhibits open every 4-6 weeks in the institute, which is a pay what you wish museum. The Mingei museum focuses on folk art, craft, and design from all cultures of the world (more on that below).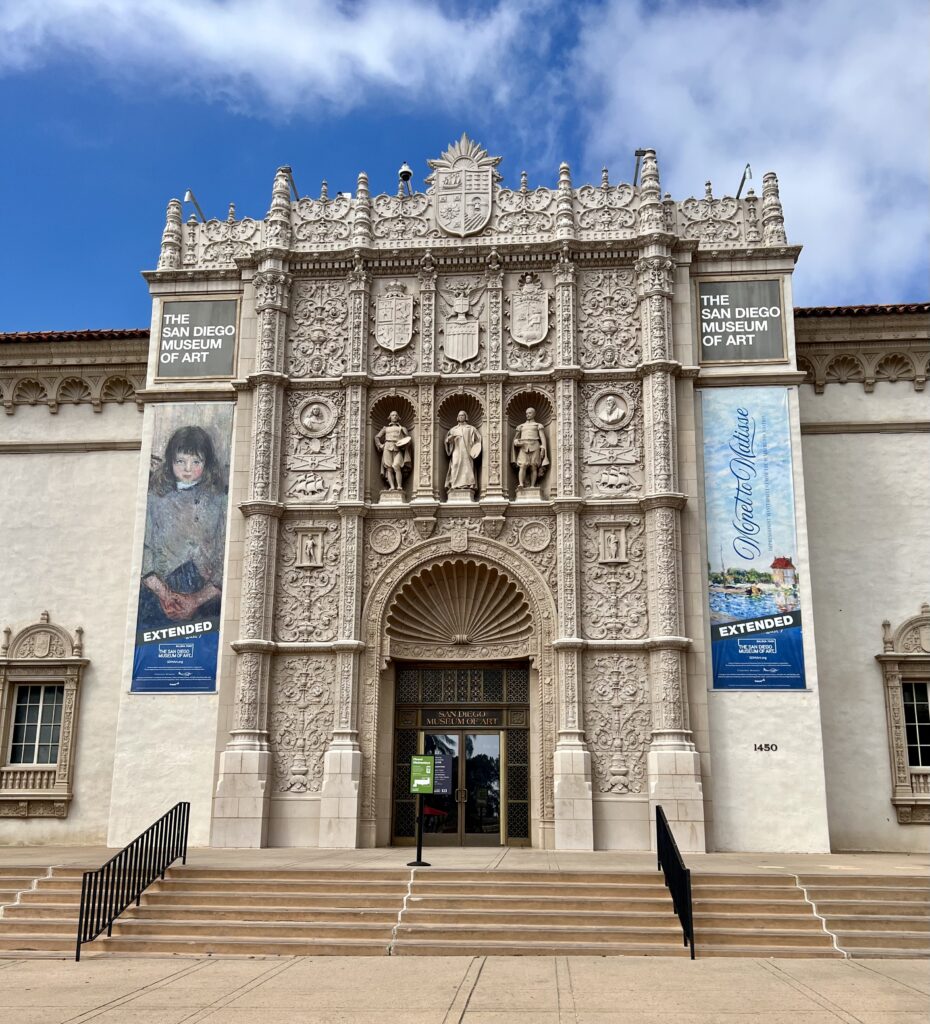 5. Museums In Balboa Park
There are a whopping 18 museums in Balboa Park. Here's an overview of the best ones.
San Diego Museum of Art
As an art enthusiast, this spot holds a special place in my heart in Balboa Park. It proudly stands as the city's largest museum, drawing in hundreds of thousands of visitors annually.
The museum's facade is a true marvel. It's an intricate design that pays homage to the plateresque style of the 16th-century Renaissance.
This facade serves as a captivating prelude to the treasures within. Delve deeper, and you'll encounter sculptures nestled within niches. They depict revered painters such as Ribera, Velázquez, Murillo, Zurbarán, and El Greco.
The museum spans two floors and has 20 galleries. There is an extensive exhibition space primarily on the first floor. There's also an exhibition shop and a more extensive museum store, both brimming with literature and art-centric gifts.
The collections span the globe, featuring European, American, Asian, and Latin American art. I found myself particularly captivated by the Asian art collection, the rich Spanish old master paintings (the likes of El Greco, Zurbarán, and Murillo), as well as few super rare gems: Giorgione and Luca Signorelli paintings.
A dynamic aspect is the museum's hosting of temporary exhibitions, providing a fresh perspective. During my visit, there was an excellent exhibition on Georgia O'Keeffe and Henry Moore.
For a more information, you can check out my guide to the San Diego Museum of Art, which offers further insights, information, and tips for visiting.
San Diego Natural History Museum
Also known as "The Nat," the San Diego Natural History Museum explores the natural world through exhibits, interactive displays, and educational programs. The building was created by the same architect who designed the Museum of Art.
When you walk up the steps, you can admire the elaborate ornamentation around the arched front door. There are little animals hidden in the decoration, reflecting the type of museum inside.
The museum features animals, plants, and minerals from the San Diego and Baja California regions.
In 2001, the museum received a major remodel. It now has a spectacular entry atrium, three levels of exhibits, a 300 seat giant screen theater, and a nature themed gift shop.
>>> Click there to book a ticket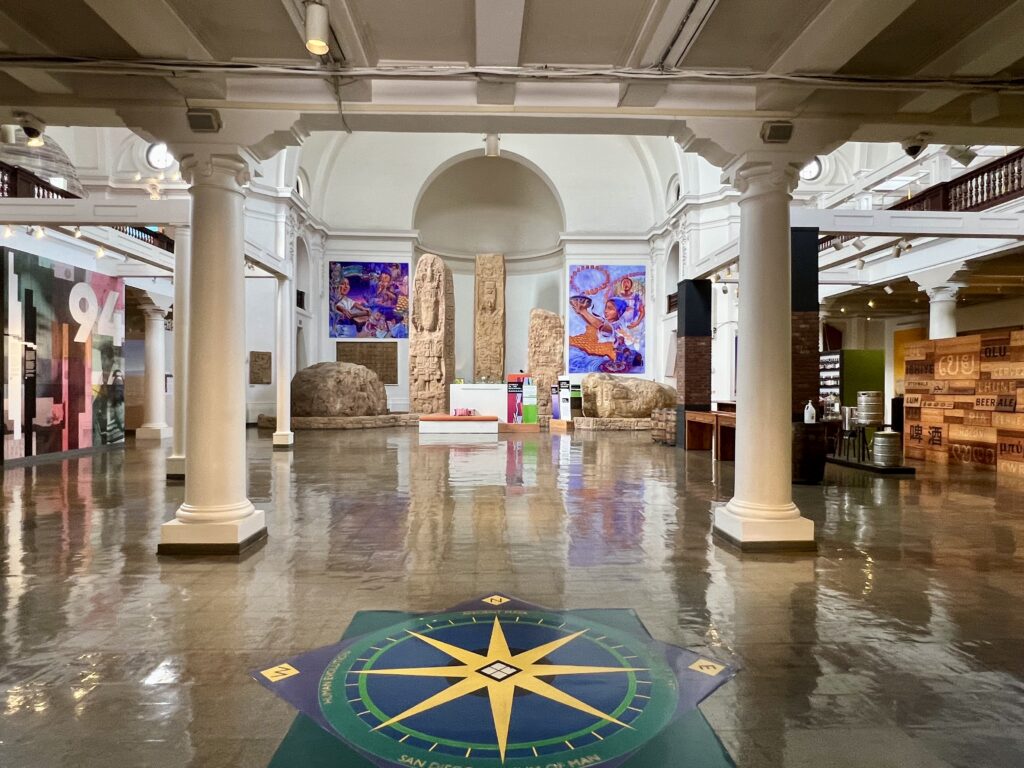 Museum of Us
Formerly known as the Museum of Man, the Museum of Us is a popular attraction that delves into anthropology, cultural history, and human exploration. Its aim is to tell the diverse story of mankind and explore what defines us as citizens of the world.
There are unique exhibits on privilege, race, secrets, and culture. It also tries to explain how to make the world a better place for all.
The museum also boasts one of the best gift shops in the park complex.
Across the street in the Casa de Balboa, you can also see a rather gory exhibition on cannibalism with the admission ticket. You'll hear real stories of cannabalism throughout history.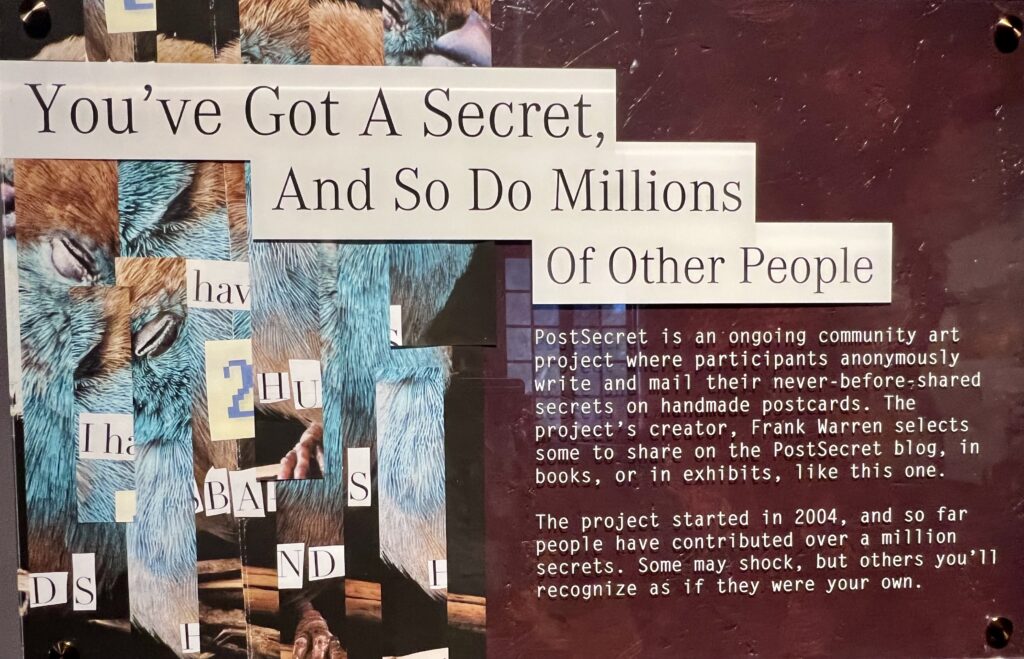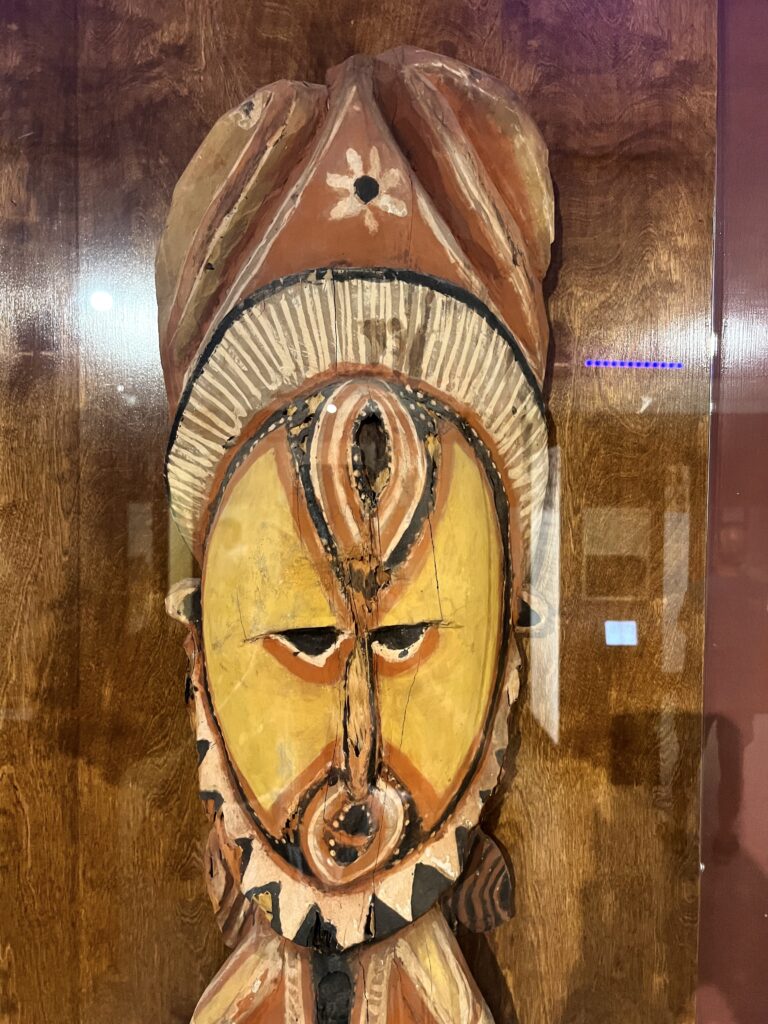 It's more common than you might think. It might be an act of survival, revenge, or healing.
The best part of the museum visit is climbing 152 steps up the California Tower, which offers up splendid 360 views from the eight floor. You can only climb the tower on a 40 minute guided tour.
The tower is 200 feet high and one of the most photographed things in the park. The dome has a bold majolica design of Spanish Moorish ceramic work. The 100 bell carillon in the tower tolls every quarter hour.
You'll need to plan ahead to take this $10 tour. Check the website for exact times. Only 6 guests can go on a tour at any given time.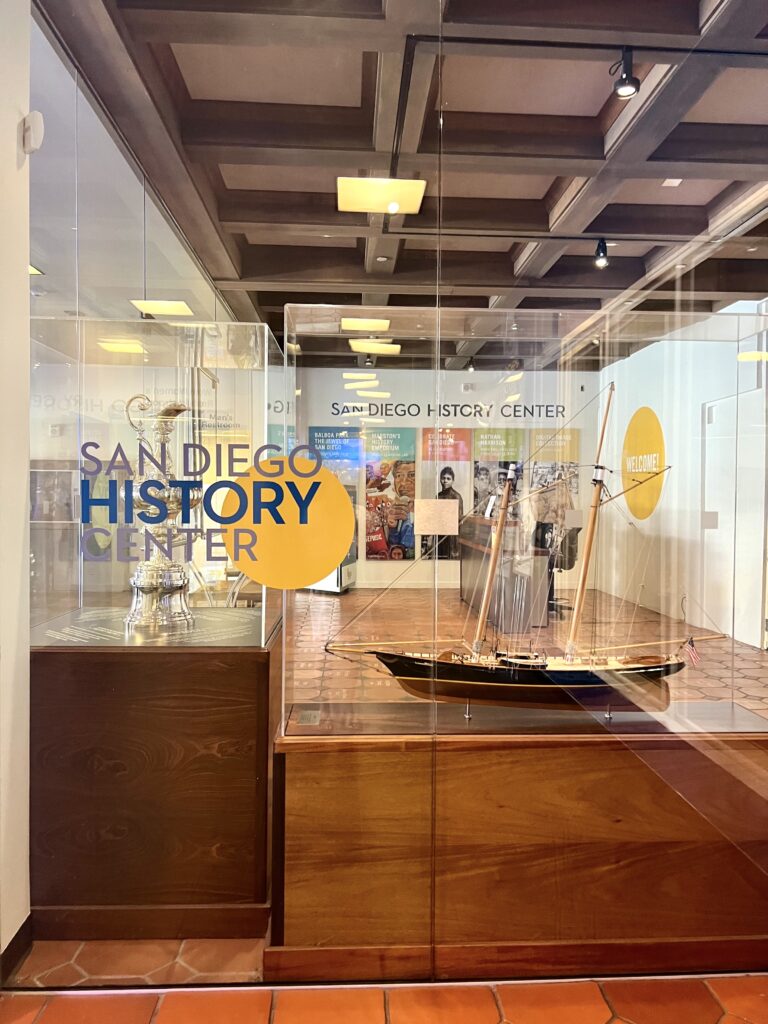 San Diego History Center
The San Diego History Center is an institution dedicated to preserving and showcasing the history of San Diego and the surrounding region. It houses photographs, artifacts, documents, and artworks.
It serves as a hub for exhibitions, educational programs, and research related to the cultural, social, and historical heritage of San Diego County. There are exhibits, a research library, special events, and educational programs.
San Diego Air & Space Museum
With a focus on the history of aviation and space exploration, the Air & Space Museum showcases aircrafts, space artifacts, and interactive exhibits.
The museum boasts an impressive collection of aircraft, spacecraft, and artifacts spanning various eras of aviation and space exploration. Visitors can explore the evolution of flight, from the Wright brothers' pioneering aircraft to modern jets and spacecraft.
There is a diverse array of historic aircraft — military planes, vintage biplanes, experimental aircraft, and even replicas of notable aircraft from aviation history.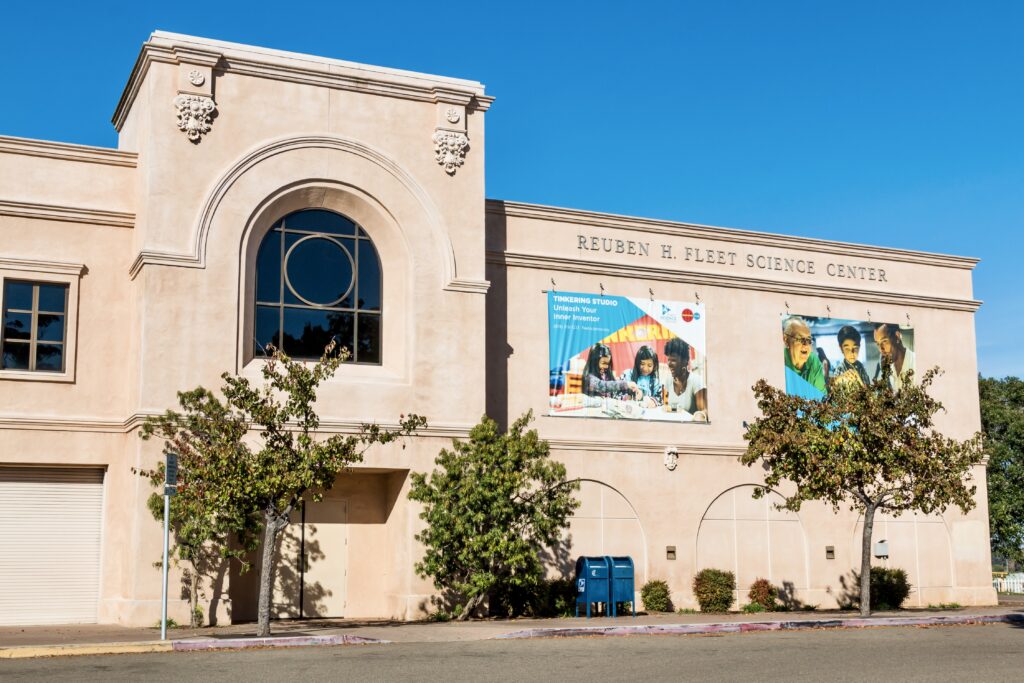 Fleet Science Center
The Fleet is an interactive science center that's great for all ages. It features more than 100 hands-on exhibits and educational programs. It's also the site of the world's first tilted dome IMAX theater, which opened in 1973.
The "So Watt" exhibition delves into San Diego's electricity generation methods. "Kid City" is a playful haven for kids under 5, offering textures, movement, and shapes to explore, complete with a ball wall and fire station.
There's even a dedicated area for infants. Temporary displays have ranged from "Grossology" to "Mythbusters: The Explosive Exhibition."
There's a science oriented gift shop and Galileo's Cafe. The outdoor seating overlooks the fountain in Plaza de Balboa.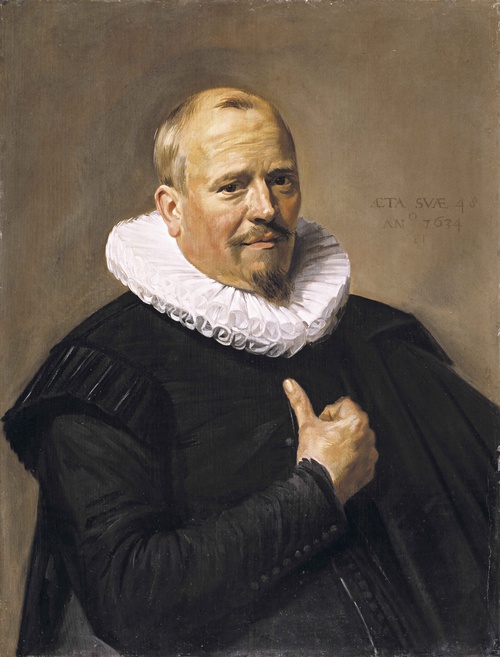 Timken Museum of Art
The Timken Museum of Art is the only modern building, mid-century modern in style, in the Balboa Park. It's a newly renovated jewel box that's an absolute must see for art lovers.
It was built by architect Frank Hope to house a small collection of Old Masters owned by the Putnam Foundation.
The Timken houses an impressive collection of European and American artwork, including masterpieces from the Dutch Golden Age. You'll find pieces by Rembrandt, Murillo, Van Dyke, Frans Hals, Rubens, Paolo Veronese, and Zubaran.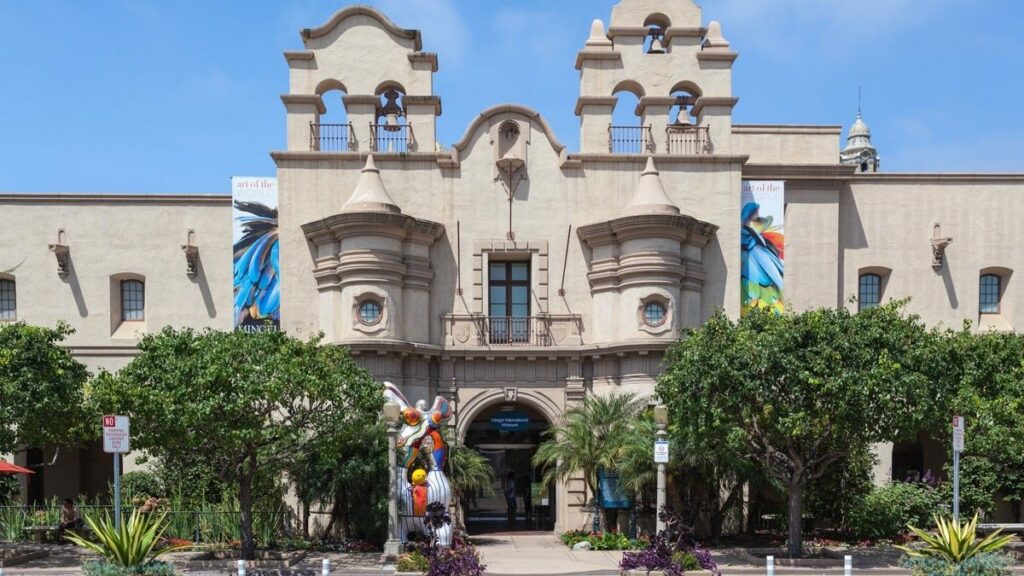 Mingei International Museum
The Mingei International Museum is a treasure trove of global folk art, crafts, and design.
One of the most captivating displays is the pinata exhibition. This display marries whimsy and contemplation. It showcases a life-size lowrider car, delicate butterfly formations, and enchanting mythical creatures, all ingeniously crafted as piñatas.
While there, don't miss the delightful cafe and an impressive store brimming with textiles, jewelry, and baskets sourced from around the world.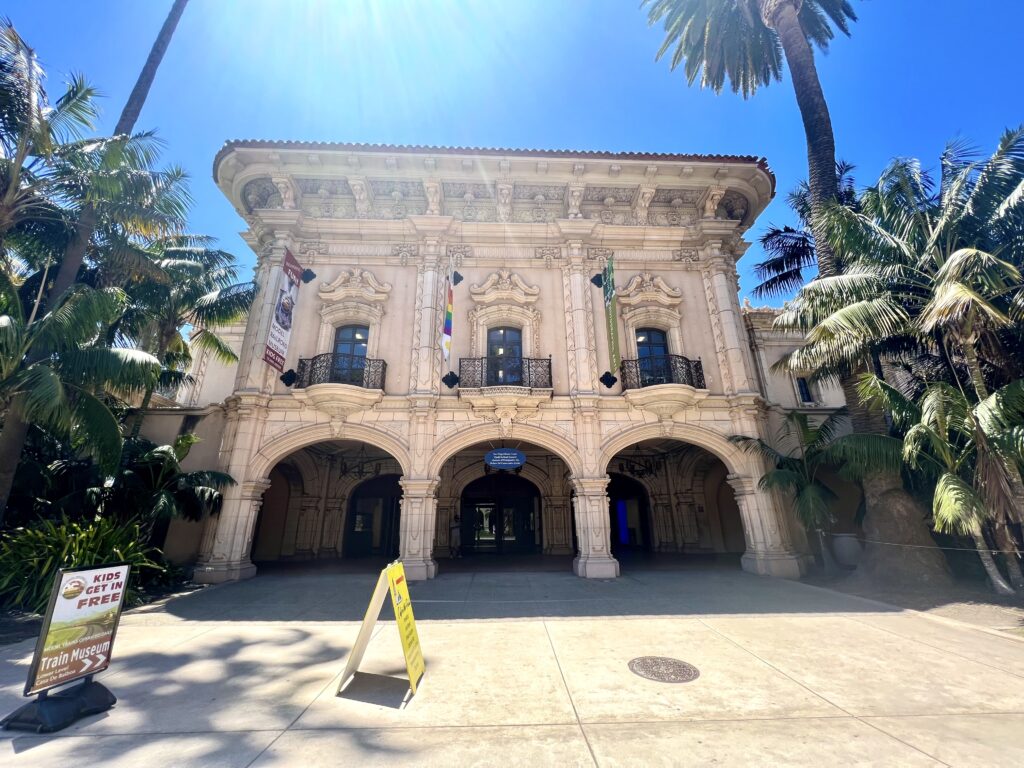 San Diego Model Railroad Museum
This is the world's largest accredited model train museum. It contains enormous miniature representations of California railroads.
The displays showcase scenes from different parts of the world and different time periods. And they're so intricate. You'll see miniaturized worlds of perfectly crafted miniature landscapes, buildings, vehicles, and people.
Museum of Photographic Arts
Another fun Balboa Park attraction, the Museum of Photographic Arts highlights the work of the world's most noteworthy photographers and cinematographers. There are photography exhibits, modern film screenings, and even workshops that allow all ages to enjoy a visual learning experience.
Budget-conscious college students are often drawn to this museum, as it replaces conventional admission fees with a pay-what-you-wish approach.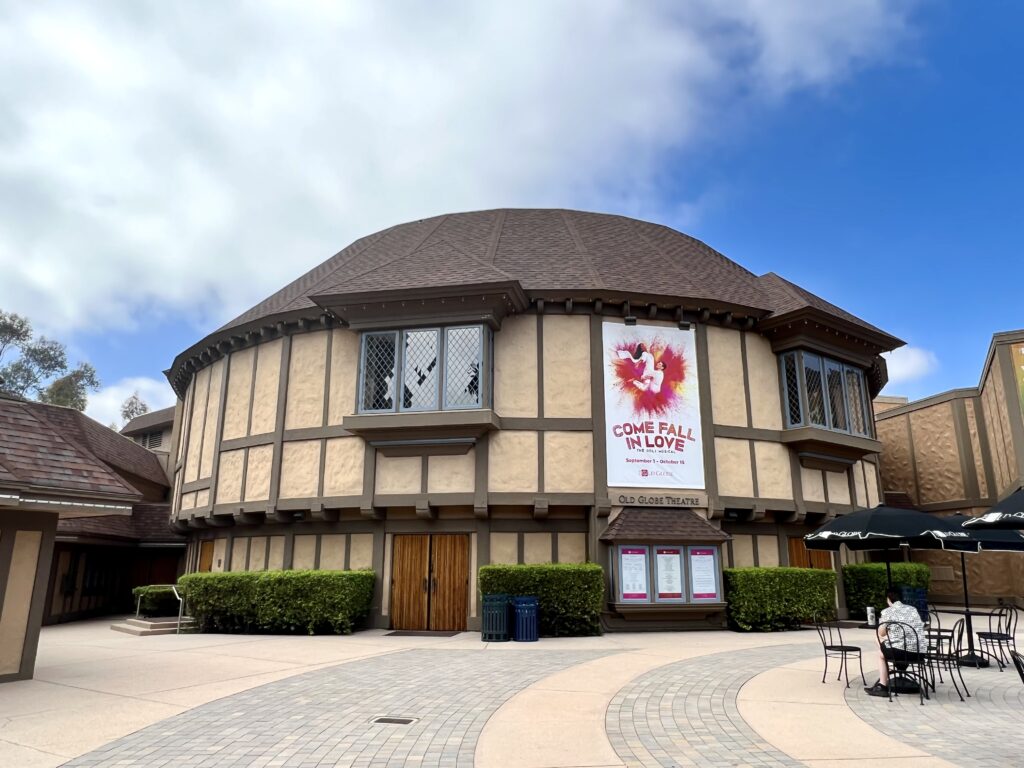 6. Old Globe Theatre
The Globe Theater in London is a unique theatrical space associated with the bard, William Shakespeare. It's a half-timbered and thatched roof reconstruction of the old theater where Shakespeare acted and directed. Most of Shakespeare's tragedies were specifically written for the Globe.
San Diego's version of the Old Globe is a replica that was built in 1935. Like its London counterpart, it's an Elizabethan style theater in the round, hence the term "globe."
The Old Globe comprises several performance spaces. The Old Globe Theatre, the main theater, hosts classic and contemporary plays, musicals, and special events throughout the year. It's an indoor venue with a proscenium stage.
The Lowell Davies Festival Theatre is an outdoor theater that's the setting for the annual Shakespeare Festival. The Sheryl and Harvey White Theatre is a flexible space used for a range of productions, from dramas to comedies.
You can stop by the box office and see what's playing.
7. Spreckles Organ Pavilion
The Spreckles Organ Pavilion boasts the largest outdoor organ in the world. It was built by the Austin organ Company.
The organ is capable of playing the full range of Organ masterworks. The organ and pavilion were installed for the 1915 exposition. They were the gift of the Spreckels family, heirs to a sugar fortune.
Los Angeles architect Harrison Albright designed the pavilion in an Italian Renaissance style. Like everything else in the park, it's undergone many renovations and expansions.
In the summer, you can attend the International Organ Festival and listen to some of the world's most accomplished organists. The pavilion also hosts numerous other music performances.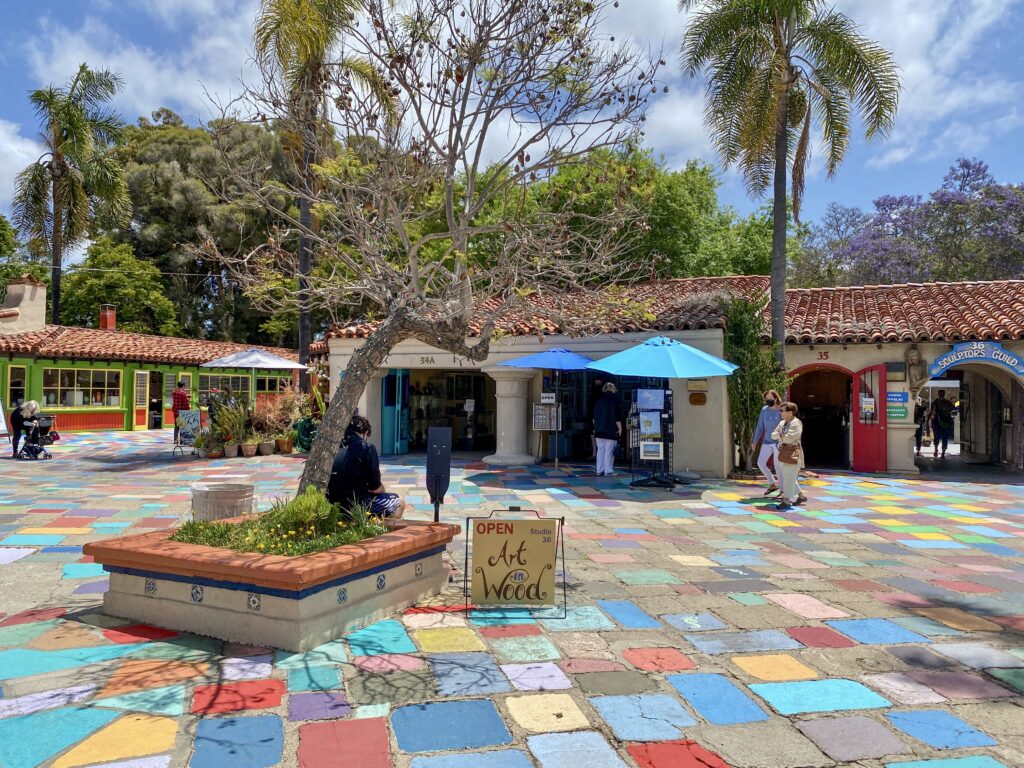 8. Spanish Village Art Center
From a sidewalk near the Natural History Museum, you can access the Spanish Village. It was designed to resemble a typical Spanish village and is primarily used as an artist colony.
The complex has colorful pavements and buildings and terracotta roofs. In the working studios of over 200 artisans, you'll find everything from sculpture to painting to handmade jewelry. And most of the items are for sale!
You can watch daily demonstrations in studios and on the colorful courtyard. There's also an onsite glass blowing facility.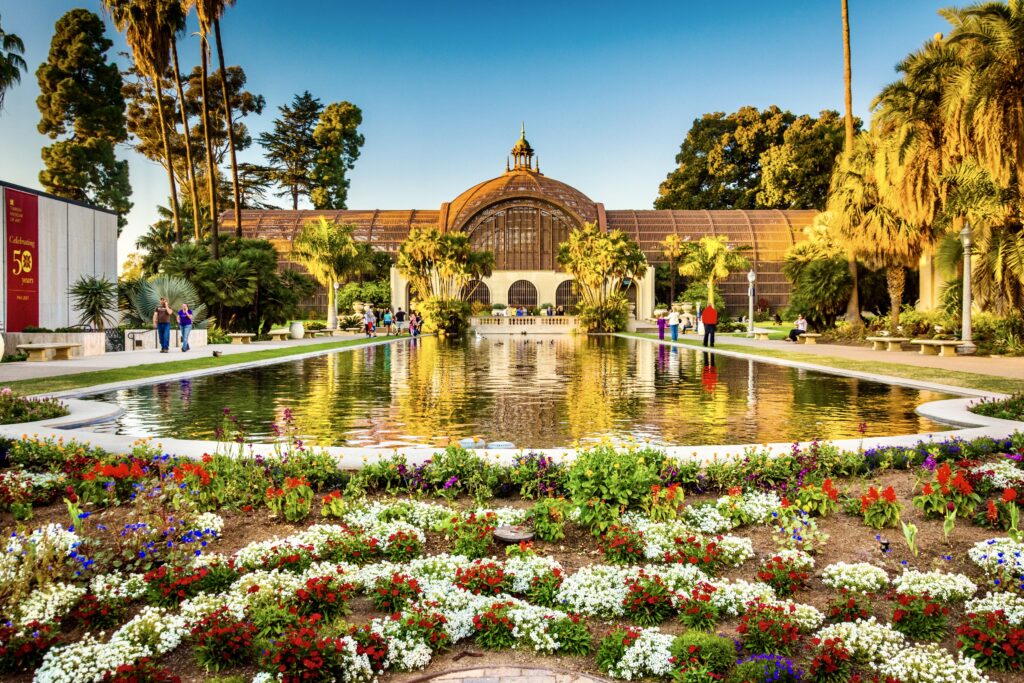 9. Gardens In Balboa Park
There are quite a few gardens in Balboa Park. Here are some of the highlights:
Lily Pond & Botanical Building
This is one of the loveliest spots in Balboa Park. On the lily pond, you may see a family or ducks and (sometimes) a great blue heron. There are floating lotus, water lilies, and other aquatic plants.
Behind it is the Botanical Building, a popular photo spot. It houses a diverse collection of more than 2,100 permanent plants — tropical plants, orchids, ferns, cycads, and palms.
Throughout the year, there are seasonal flower displays. The building is free to enter, if you're interested in horticulture.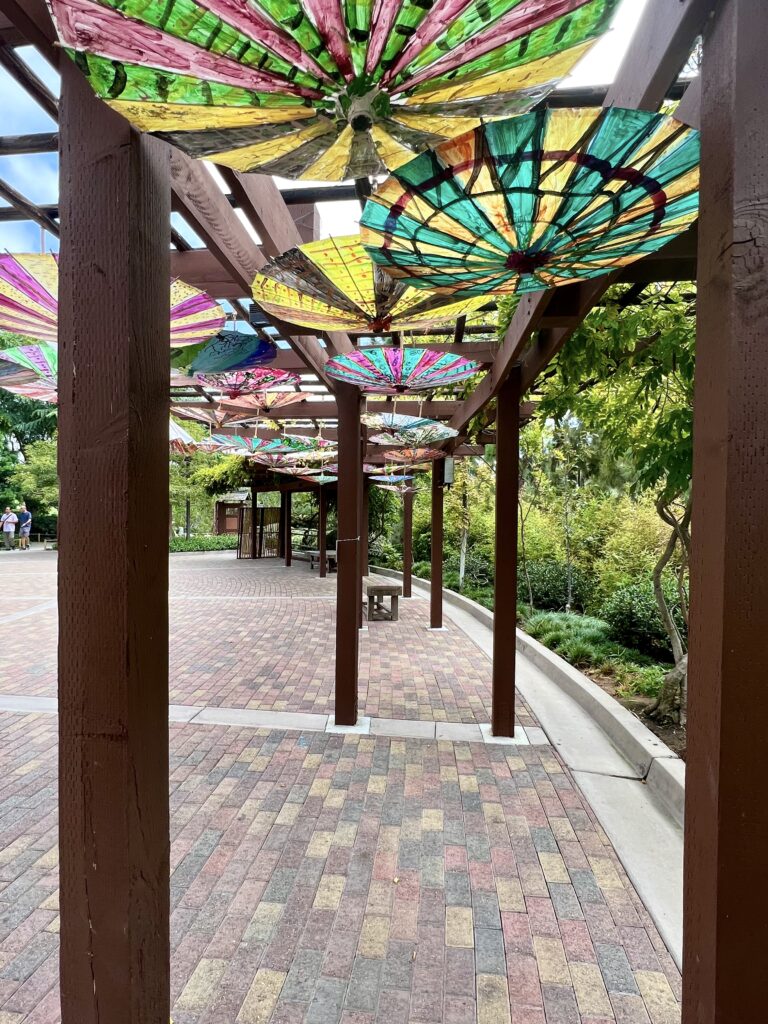 Japanese Friendship Garden
This exquisite Japanese Friendship Garden stands as my personal favorite garden in Balboa Park.
It's a harmonious blend of traditional Japanese horticulture and cultural elements. The shady garden unfolds across its three distinct scenes: water, pastoral, and mountain.
Named after its Yokohama counterpart in Japan, it's a haven for diverse flora that varies with the seasons — from winter magnolias and black pines to pomegranates, pears, myrtles, hydrangeas, cherry blossoms, and azaleas. Yet, the prevailing hue is a soothing green.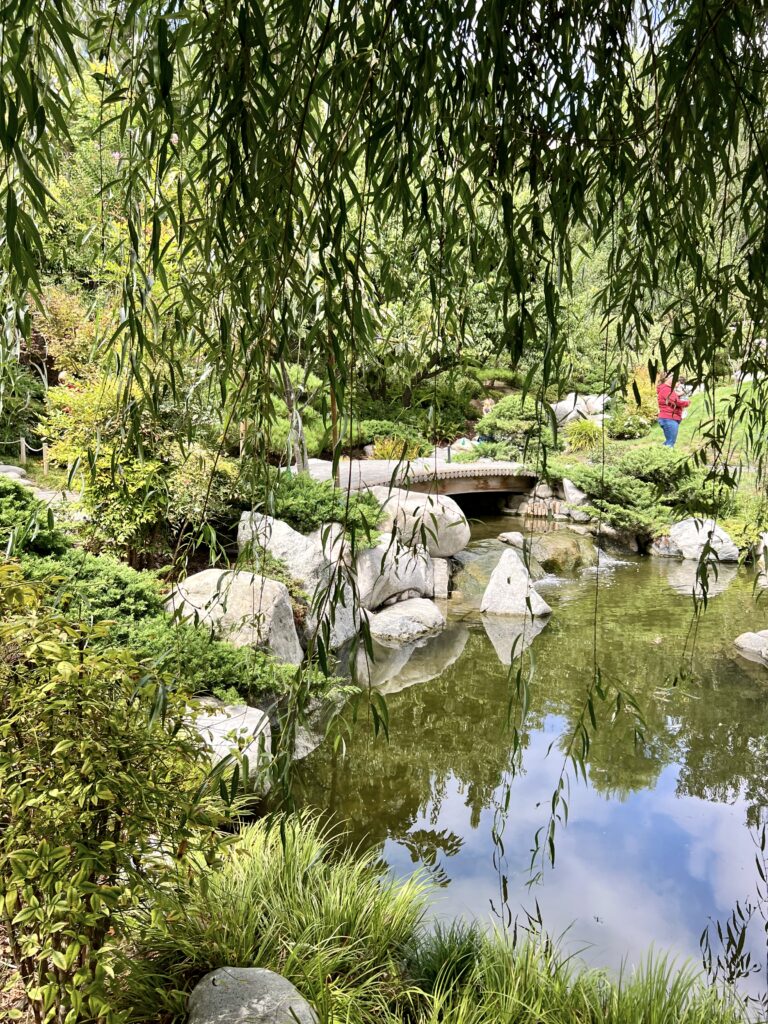 A cornerstone of Japanese design, meticulously chosen stones imported from Japan grace the garden, infusing it with authenticity.
As you meander along gracefully curved pathways, a delightful "hide and reveal" concept beckons, adding an element of intrigue to your journey.
The upper garden features a koi pond mirroring a mother turtle's form, a serene sight to behold. The lower gardens cradle a 280-year-old, 12-foot bronze statue of Kannon Bosatsu, evoking an aura of reverence.
These grounds offer a plethora of enriching programs — from yoga and ikebana, mediation, and breath fitness.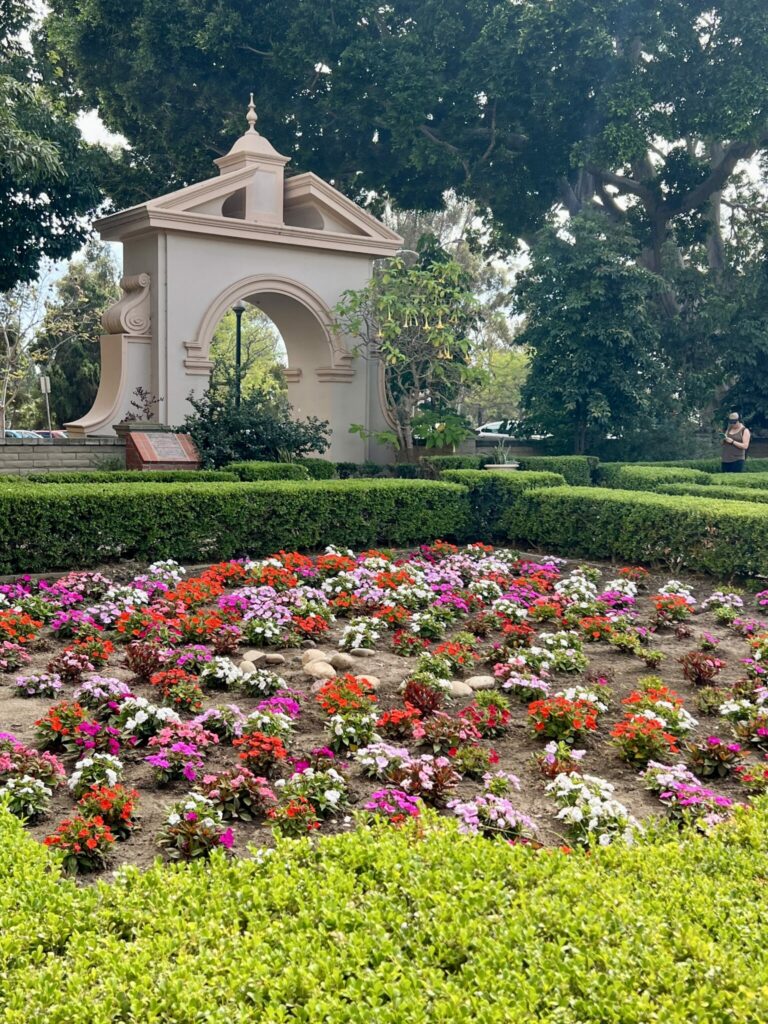 Alcazar Garden
If you want to channel Seville Spain, take a wander through the Alcazar Gardens. During the 1915 exposition, the flower beds were planted with red and yellow flowers, the colors of the Spanish flag.
The space was redesigned in 1945 to recreate a formal Moorish formal garden from the Royal Alcazar in Seville.
There are more than 7,000 flowering species, a beautiful tiled fountain, and a pergola at the west end.
Inez Grant Memorial Rose Garden
The rose garden covers nearly three acres on the canyon rim. There are over 1,700 roses of 200 varieties. It's been voted on of the top 12 rose gardens in the world.
You'll see roses year round because of San Diego's mile climate. But they are cut back in December to encourage regrowth, so that is not the ideal time to see them.
Desert Garden
If you like desert plants, plan to visit the Desert Garden in January through March. This is when the blooms of over 1,300 plants peak. There are cactus, aloes, and agaves from around the world.
10. San Diego Zoo
If you exit the Spanish Village, a sidewalk lined with trees leads about two blocks north to the San Diego Zoo.
The zoo is a timeless favorite for visitors of all ages. Spanning 100 acres, this wildlife sanctuary provides refuge to over 12,000 animals from around the world.
Originating from the visionary mind of Dr. Harry M. Wedgeforth, the zoo stands as a testament to his pioneering spirit in crafting "cageless" exhibits.
These exhibits authentically replicate natural habitats and showcase the groundbreaking efforts made with animals like California condors, rhinos, flamingos, and pandas.
For an optimal experience, consider an early morning visit to catch the animals in their active hours before their midday rest. Some creatures also come alive in the afternoon, allowing you to observe their energy and behaviors.
Once you enter, you can pick up a map to find your favorite exhibits. (You an find one online as well.) You should pre-book an admission ticket and/or a ticket to the safari park.
Practical Guide & Tips For Visiting Balboa Park
1. How To Get To Balboa Park
If you're driving, you can easily reach Balboa Park via major highways and streets. The park has multiple entrances, and parking is available in various lots throughout the park. Keep in mind that parking may be limited during busy times.
San Diego's Metropolitan Transit System (MTS) offers bus routes that connect to Balboa Park. You can use MTS buses to reach the park from different areas of the city.
In addition, the San Diego Trolley's Orange Line has a stop near Balboa Park at the "City College" station, which is within walking distance of the park's western entrance.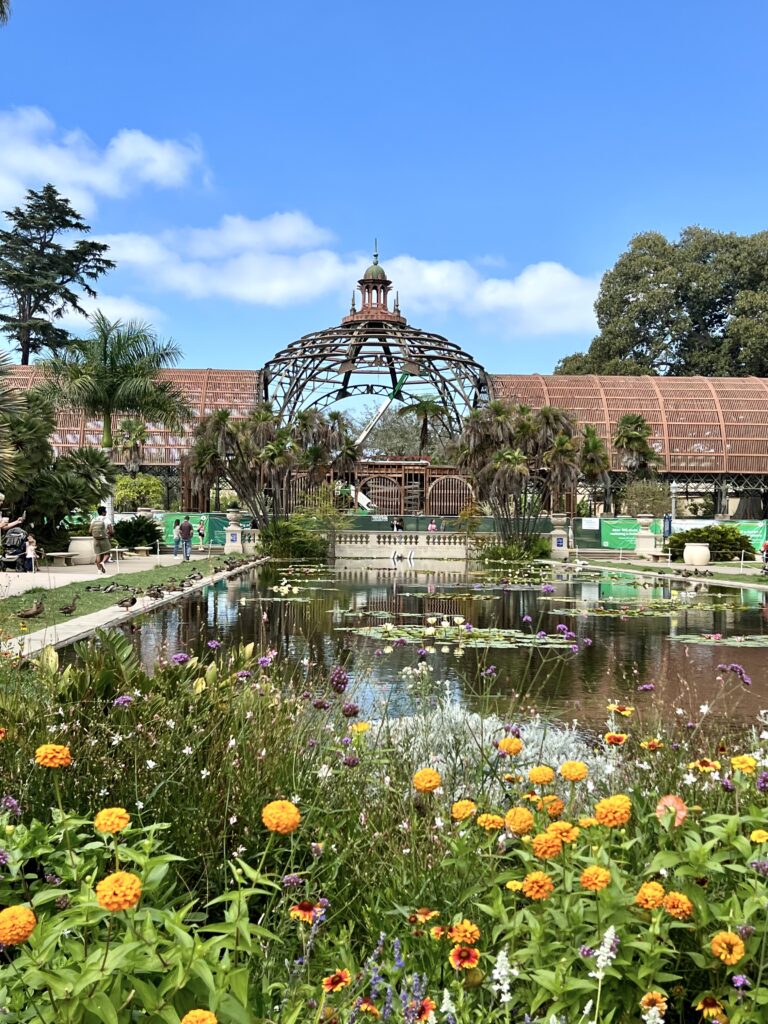 Once at the park, you can walk everywhere. There's also a free tram that runs daily and stops at the three major parking lots (Inspiration Point, Organ Pavilion, and Federal).
2. Tickets
Admittance to the park grounds is free.
I recommend that friends and family coming to San Diego use the Go San Diego Pass to make seeing the city's attractions easier and less expensive.
However, if your itinerary emphasizes Balboa Park attractions, take a look at the Balboa Park Explorer pass. You can also buy single tickets for each attraction.
If you want to visit X attraction in Balboa Park, check the website to see what days it's open. They vary quite a bit.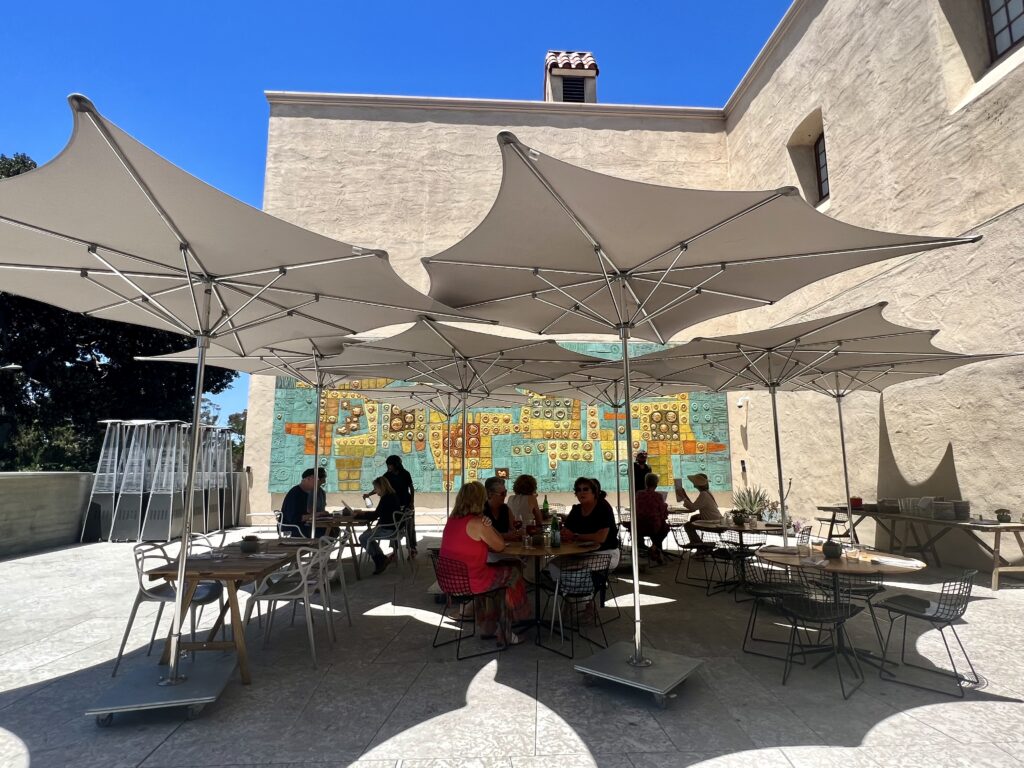 3. Where To Eat In Balboa Park
If hunger calls, here are some options for eating in Balboa Park.
The Prado Restaurant: Known for its elegant Spanish ambiance and delicious California cuisine, The Prado offers a dining experience in a historic building. It features indoor and outdoor seating and is a popular choice for both lunch and dinner.
The Tea Pavilion: Located within the Japanese Friendship Garden, The Tea Pavilion offers a serene setting for enjoying Japanese tea and light snacks. It's a tranquil spot to relax after exploring the garden.
The Sculpture Court Cafe: Situated within the San Diego Museum of Art, this cafe offers a casual dining experience with a variety of salads, sandwiches, and beverages.
Artifact at Mingei: Located inside the Mingei International Museum, this cafe serves light refreshments, sandwiches, salads, and coffee. It's a cozy spot to recharge after your museum visit.
Albert's Restaurant: Nestled within the San Diego Zoo, Albert's Restaurant offers a dining experience surrounded by lush gardens and wildlife. It's a unique opportunity to dine in a zoo setting.
Panama 66: This restaurant is adjacent to the San Diego Museum of Art and offers an open-air dining experience with craft beers, cocktails, and a menu of sandwiches, salads, and more.
Cafe in the Park: This is a casual spot where you can grab açaí bowls, burgers, sandwiches, and paninis. It's in the Casa de Balboa building.
If you'd like to eat at El Prado, you should reserve in advance or try to get a reservation when you first arrive.
Depending on when you visit, you may also see food trucks on the Plaza de Panama. You can also grab a coffee or quick bite at Daniel's Coffee (Spanish Village Art Center) or Prado Perk (House of Hospitality).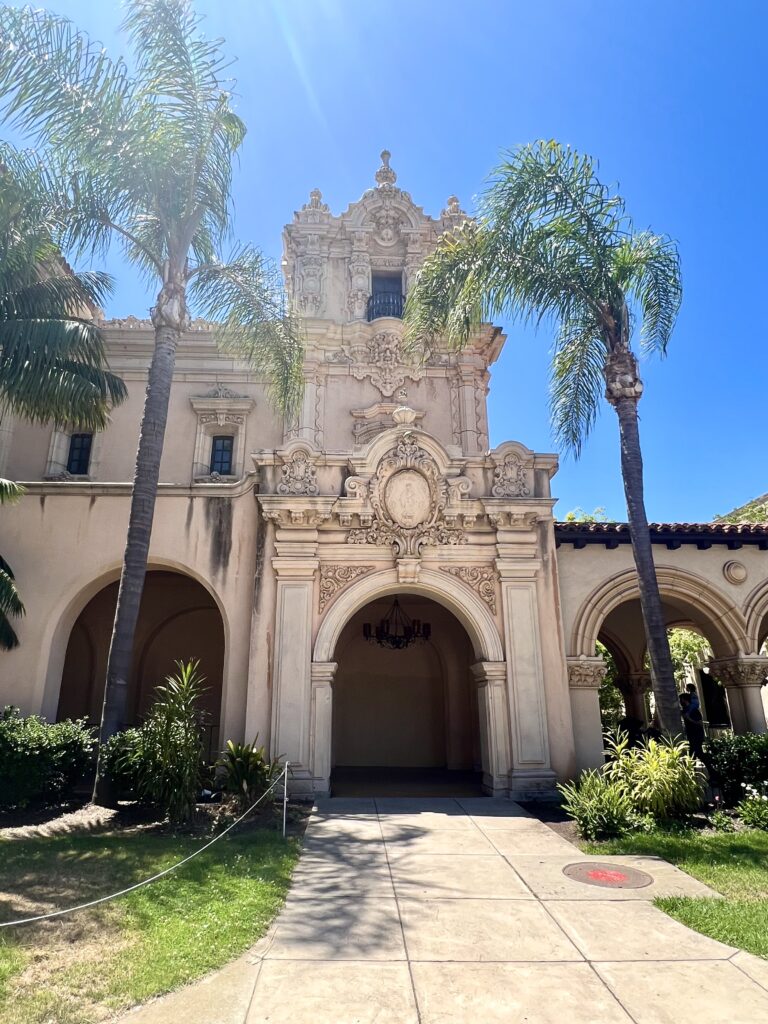 4. How Much Time Do You Need At Balboa Park
If you're just looking for a quick overview of Balboa Park, you can spend a couple of hours strolling through the main areas, enjoying the architecture, and visiting one or two key attractions.
To get a more comprehensive experience, plan for a half day (about 4-5 hours). This will give you time to explore a few museums, wander through the gardens, and enjoy a meal or snack at one of the cafes.
If you're an art or culture enthusiast, you could easily spend multiple days exploring the park. If you have time, it's most pleasant to visit different museums or attractions on different days to fully appreciate the diversity of offerings.
If you plan on doing the park and zoo together, you could spend a half a day at each venue. But multiple days would be better. The zoo is massive.
5. When To Visit Balboa Park
Balboa Park is a year-round destination. Summer draws the most crowds. Still, it's never overly hot.
If you are coming to see the gardens, spring is the best time to visit. If you're visiting in the fall months, this is when many of the festivals happen.
6. Where To Stay Near Balboa Park
If you'd like to stay near the park, maybe to facilitate multiple visits, there are quite a few hotels nearby:
The US Grant is an elegant 5 star luxury hotel. It was built in 1910 by Ulysses S. Grant Jr., the son of the 18th President of the United States. Since then, the hotel has been a symbol of luxury and elegance for over a century.
The Westgate Hotel is a luxury hotel, with classic architecture, exquisite furnishings, and a rooftop pool. It has several dining options and is renowned for its Afternoon Tea service.
Andaz San Diego is a 4 star hotel concept hotel by Hyatt. It blends historic architecture with modern design.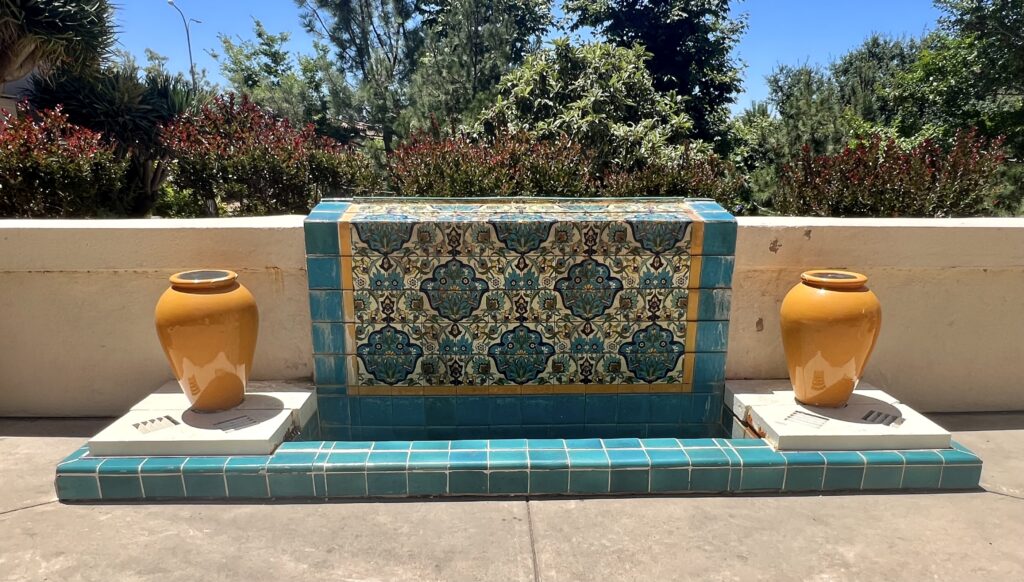 7. Other Information
Address:1549 El Prado San Diego 92101
Map: You can download a map here.
Phone: +1 619-239-0512
WEB: Visit website
I hope you've enjoyed my guide to Balboa Park. You may find these other California travel guides useful:
If you'd like to visit Balboa Park, pin it for later.